March 29, 2023 Home Los Angeles Life Shopping
10 Ideas to Maximize Closet Space in A Small Apartment - That Actually Look Good
Clothing and Accessories storage and organization when you have a tiny closet, or no closet at all is one of the never-ending struggles of life as a city girl. 10 years of living in New York City Apartments taught me to to make the most of every corner, wall, and inch to store and display my clothing and shoe collections. I've tried everything so you don't have to and I've rounded up all of my best discoveries, tips, and space-saving products here!
I'm just a girl, staring at tiny city bedroom, asking it to be a Texas-sized walk in closet.
1. Utilize your walls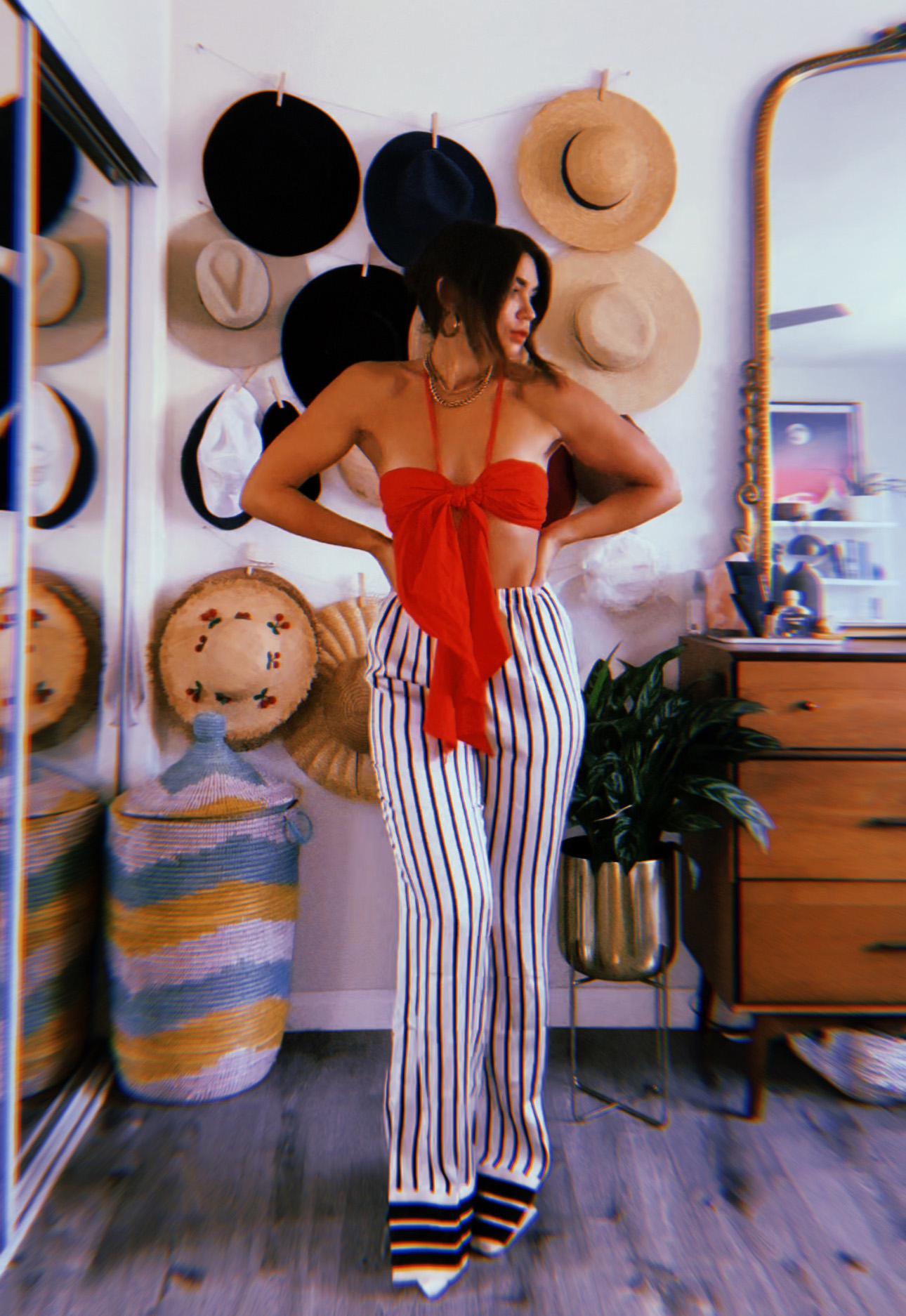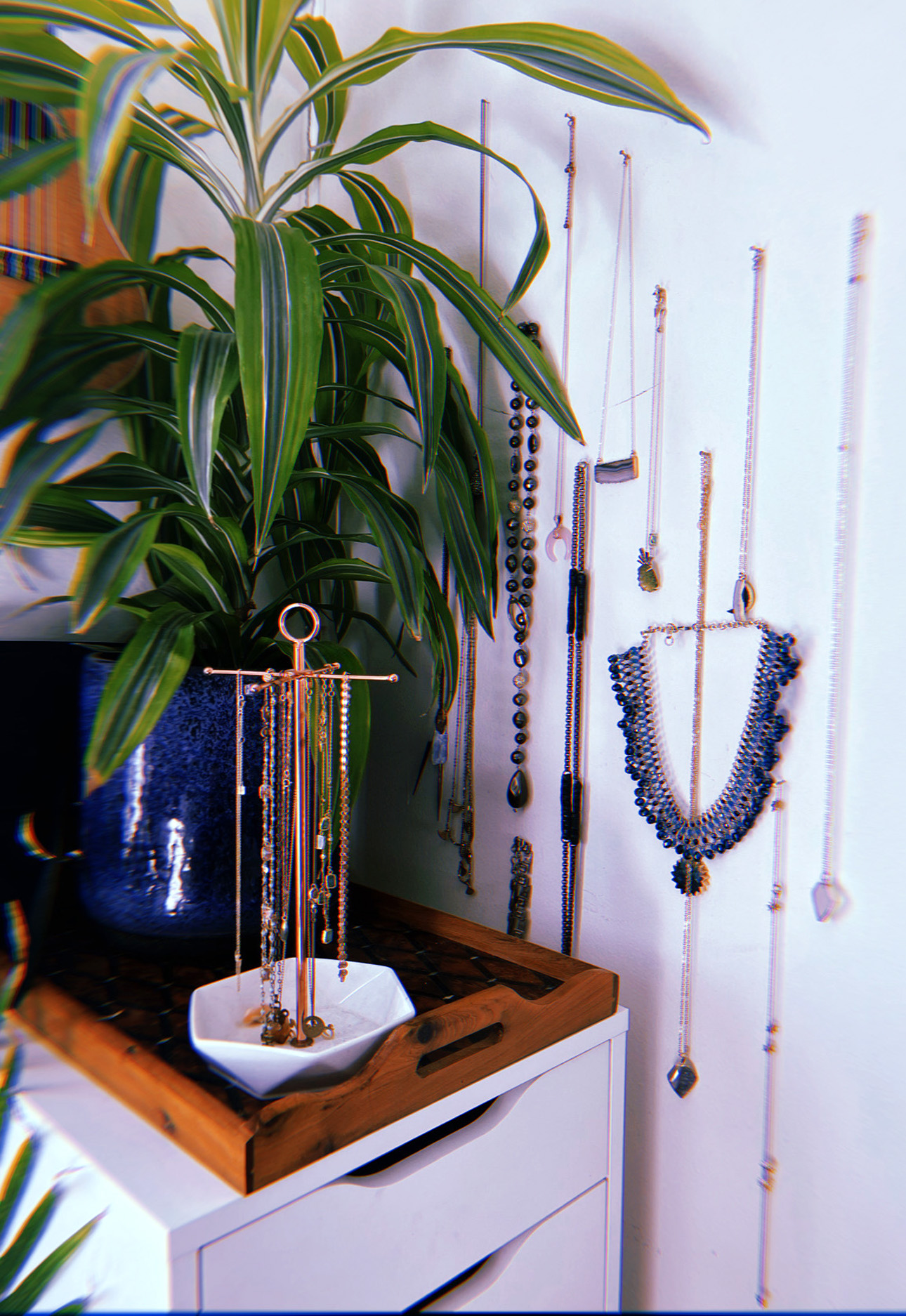 One of the first things I learned when I moved to New York was that when space is limited - go vertical. This is also interior organizers' first rule when organizing smaller spaces. One of the keys to maximizing your closet and storage space is using as much vertical wall space as you possibly can.
For organizing my closet into our one-bedroom apartment, I created as many storage areas as I could by going all the way up my walls to display sunglasses, jewelry and hats. I would always record TikToks in front of my hat wall, and people constantly left me comments asking about it - and it is incredibly easy to copy yourself with just nails, twine and clothespins. All of the supplies you need are linked here.
To get the most out of your wall space, there is nothing as usable or more universal than floating shelves. Display your favorite items on them, or use aesthetic storage bins to create essentially an extra dresser!
2. Use Over The Door Storage
Leave no surface or wall unconsidered!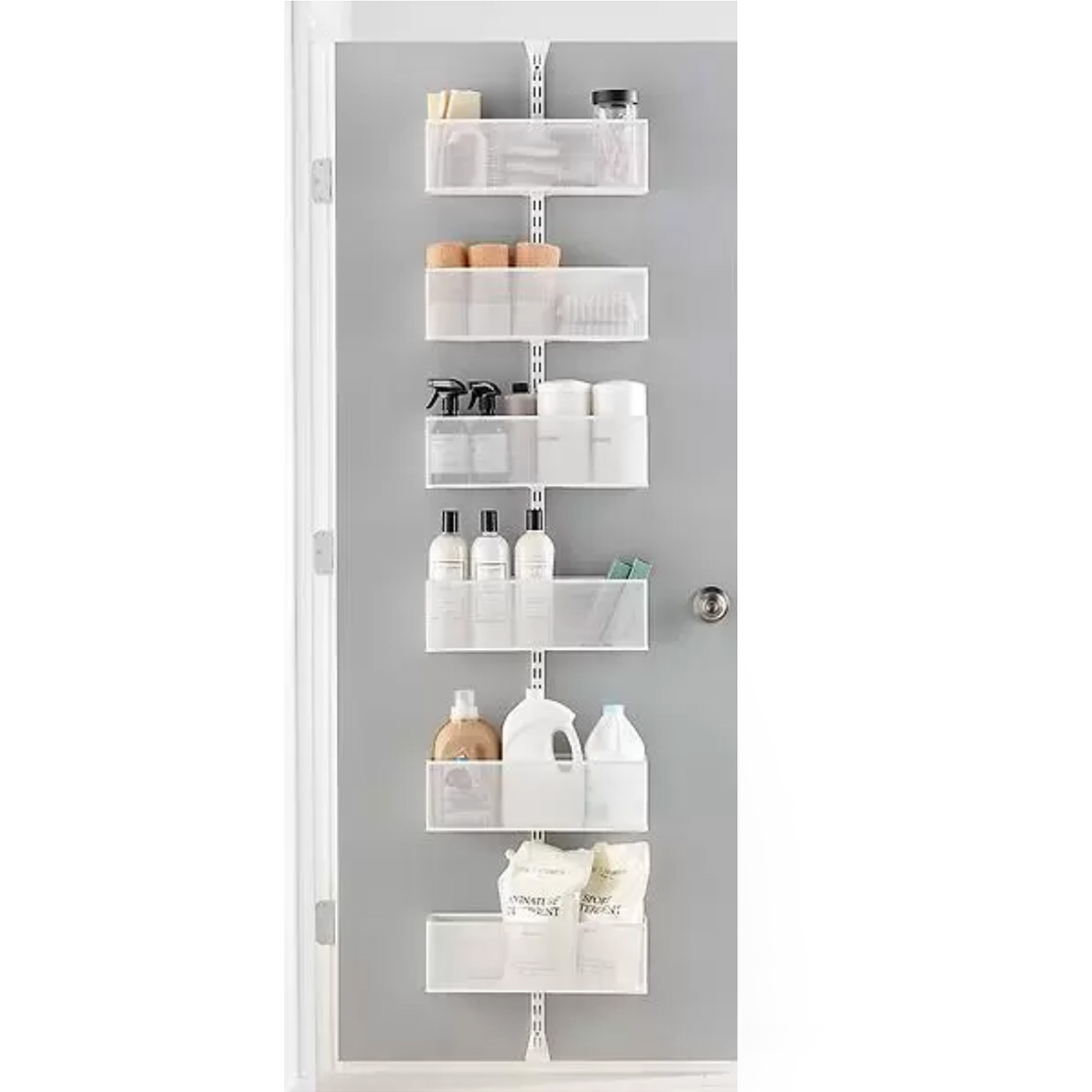 Over the door storage can look cheap (and bring back memories of freshman year college dorms) if done wrong, but can be incredibly useful when done right. I have this exact rack from The Container Store on the inside of my closet door and I could not be happier with it! The racks holds itself with tension so there are no screws or holes needs - which is great for renters and owners alike, and the mesh baskets are chic enough to look great in a closet. I use mine to store and organize all of my additional accessories like caps and beaniese, decorative socks, tote bags and surprisingly so much more.
This rack also works really well on the inside of a bathroom door (you could store SO many beauty and bath products in here) or the inside of a kitchen pantry.

3. Repurpose acrylic nail polish holders: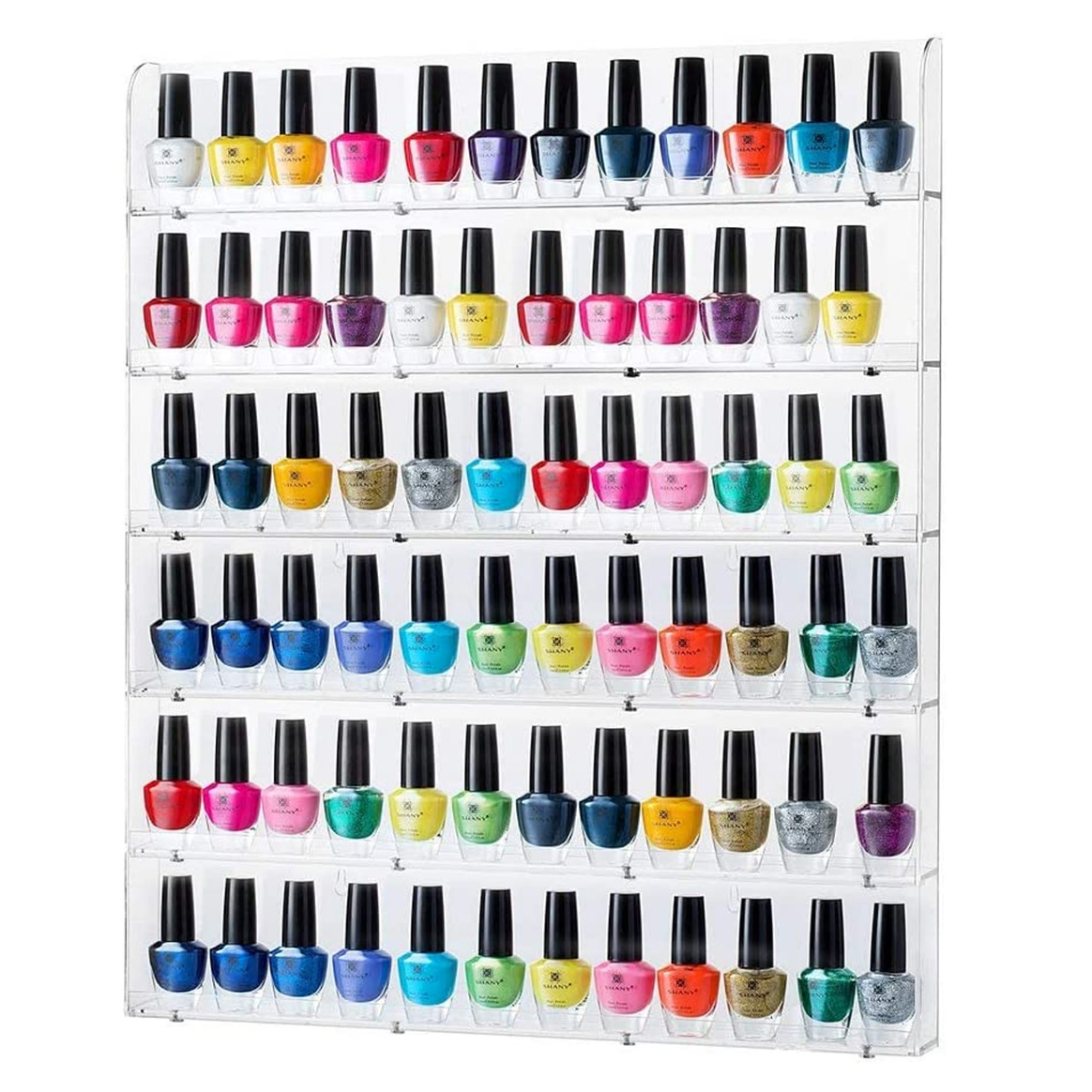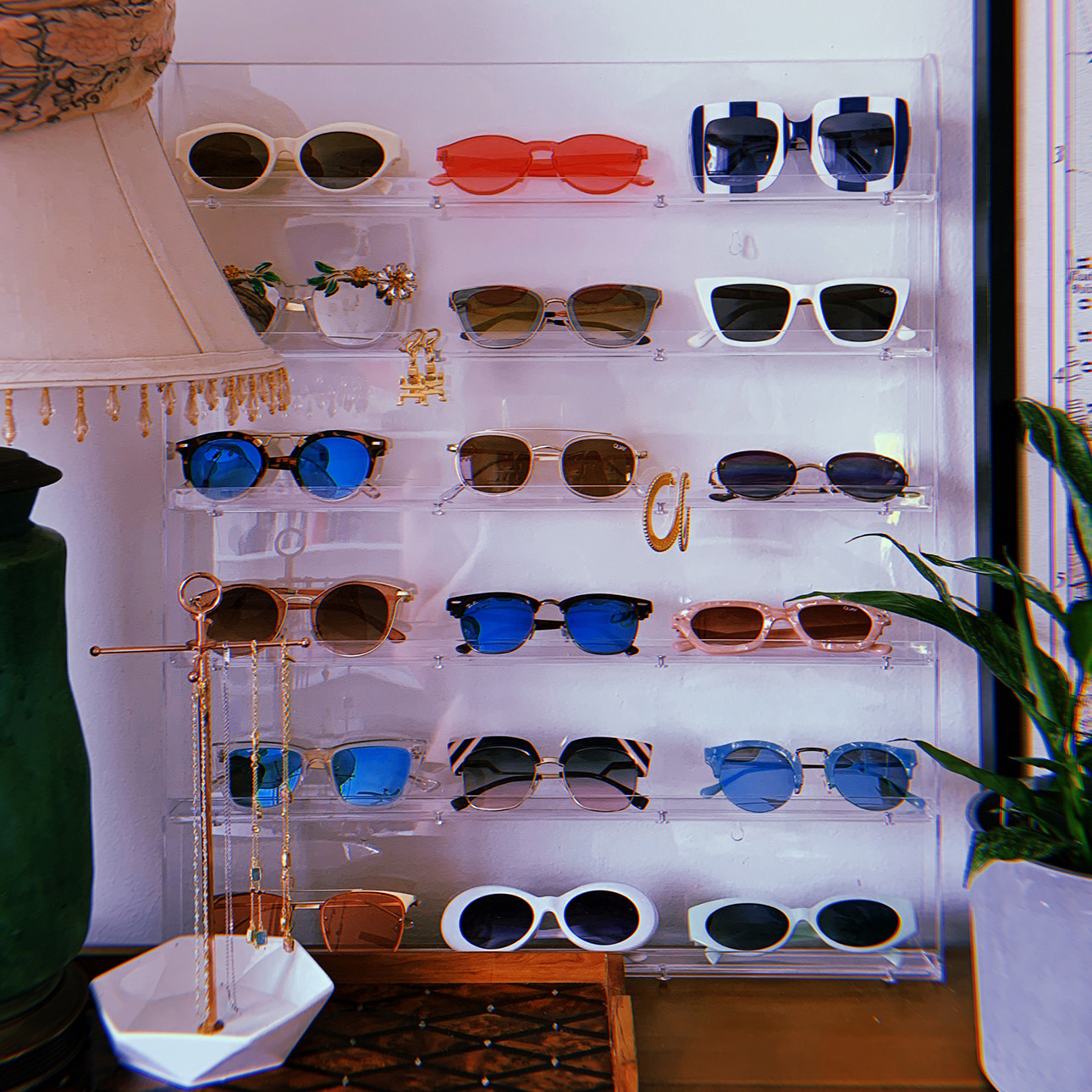 Use acrylic nail polish holders from Amazon to create a zero-footprint sunglasses wall - this can be displayed on top of a dresser or table with a slight lean against the wall, or hung on any wall, and create a perfect low-profile way to display your favorite sunglasses.
I have three of these exact holders stacked on top of each other on the back of my bedroom door for a massive sunglasses display that doesn't take up any room. I love the way it looks, and I love being able to see my entire collection all in one place. It's not excessive if you call it a collection!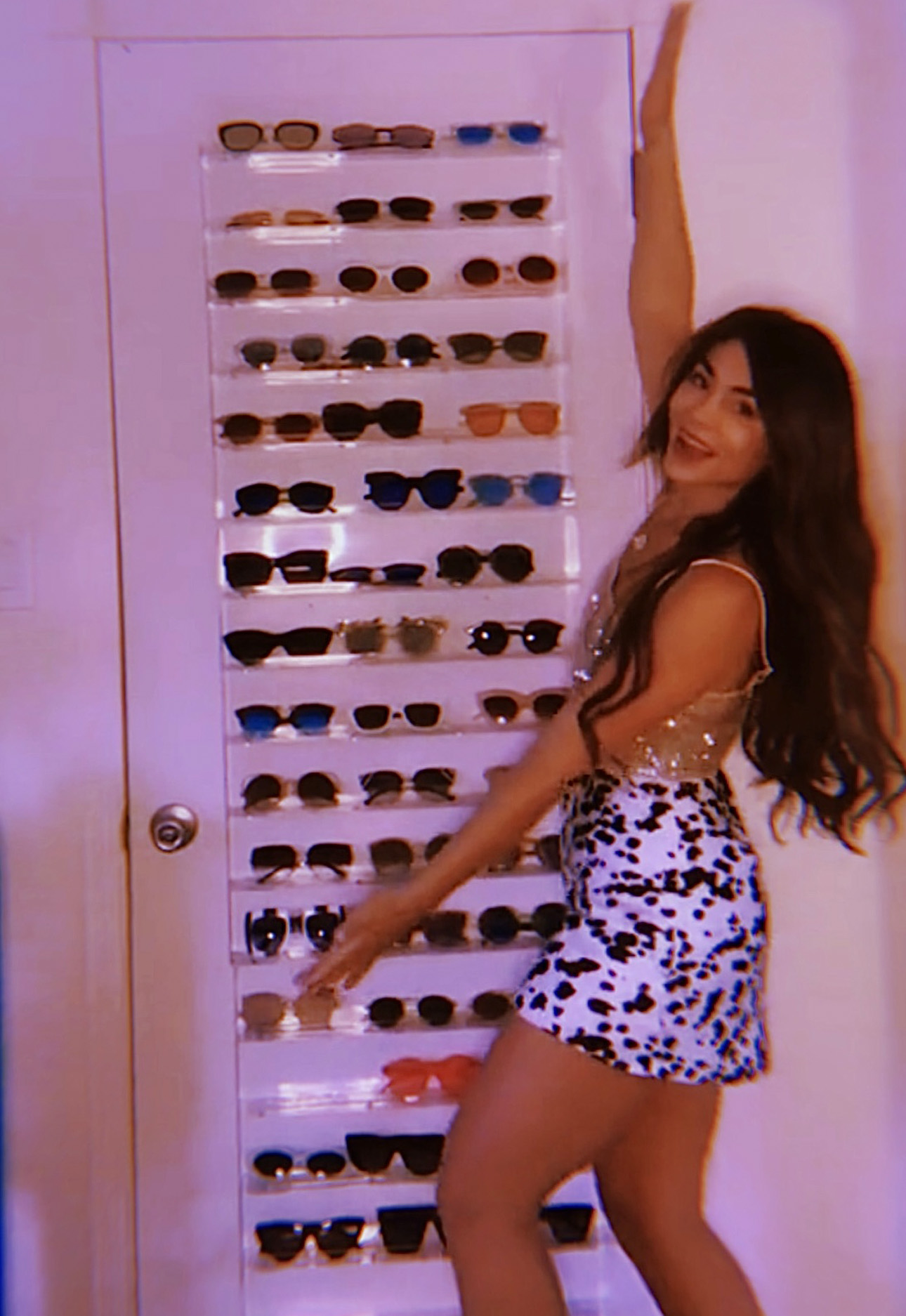 While having this display on a wall instead of a door would be preferable, I had no issues with the glasses falling off unless the door was aggressively slammed. It works!
4. Use slim velvet hangers to make the most of closet hanging space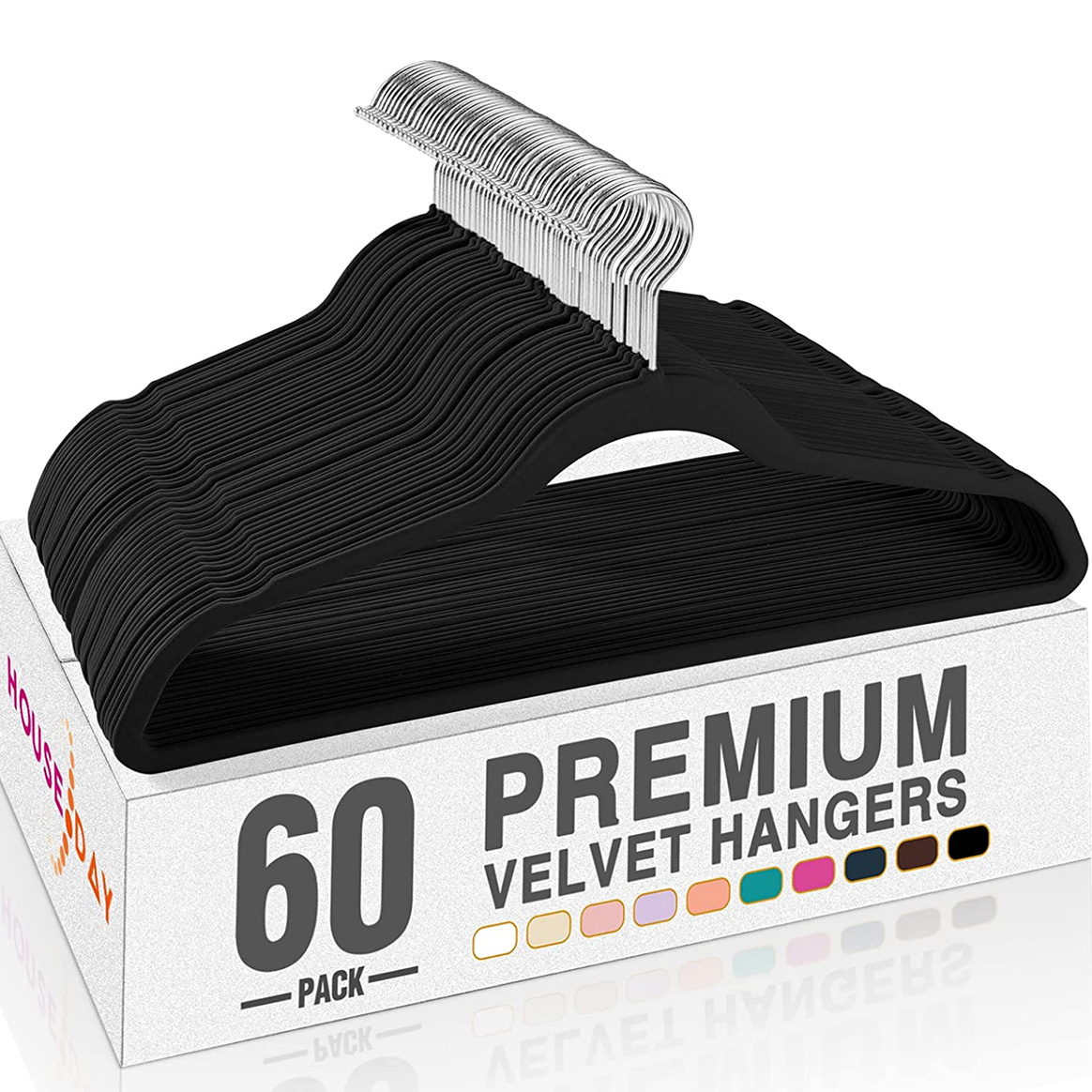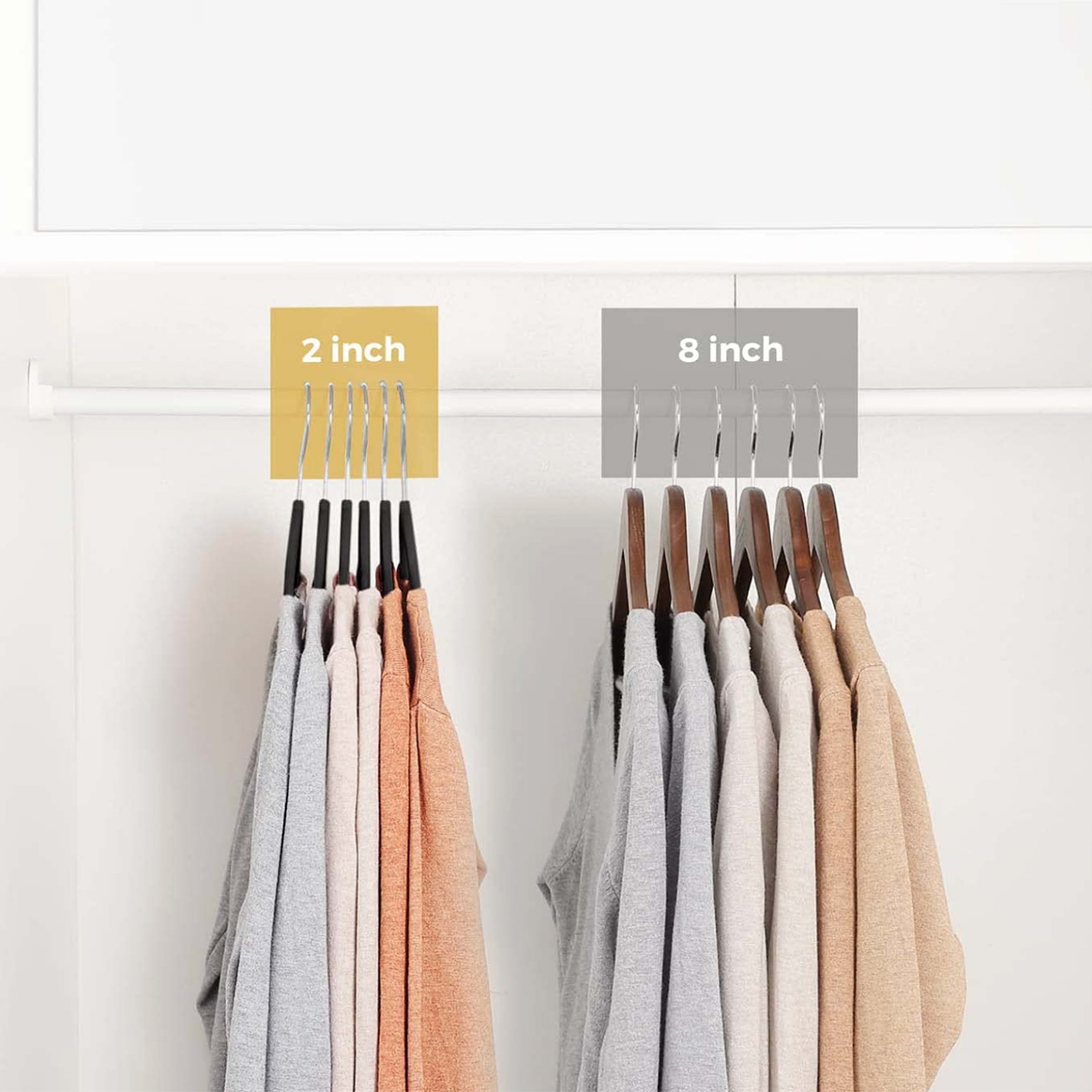 If you are using a mishmash of random plastic and dry cleaning hangers, or even worse, thick wooden hangers - the time has come to swap them out for a set of velvet hangers. I have sworn by these for years and years and apartment to apartment. They take up the least amount of space possible, leaving you as many inches as possible for hanging items - plus having matching hangers makes even the smallest closet look so much cleaner, more organized and simply better. Not to mention, slippery fabrics like silk and polyester stick to the velvet naturally, so your items never slip off or fall onto the floor.
These hanger packs come in every color you can think of, but I typically stick to black for easy consistency if and when I need to buy more - and come in packs of up to 150, so you can easily swap every hanger in your closet in one order. You won't regret it!

5. Tiered clip hangers for skirts and pants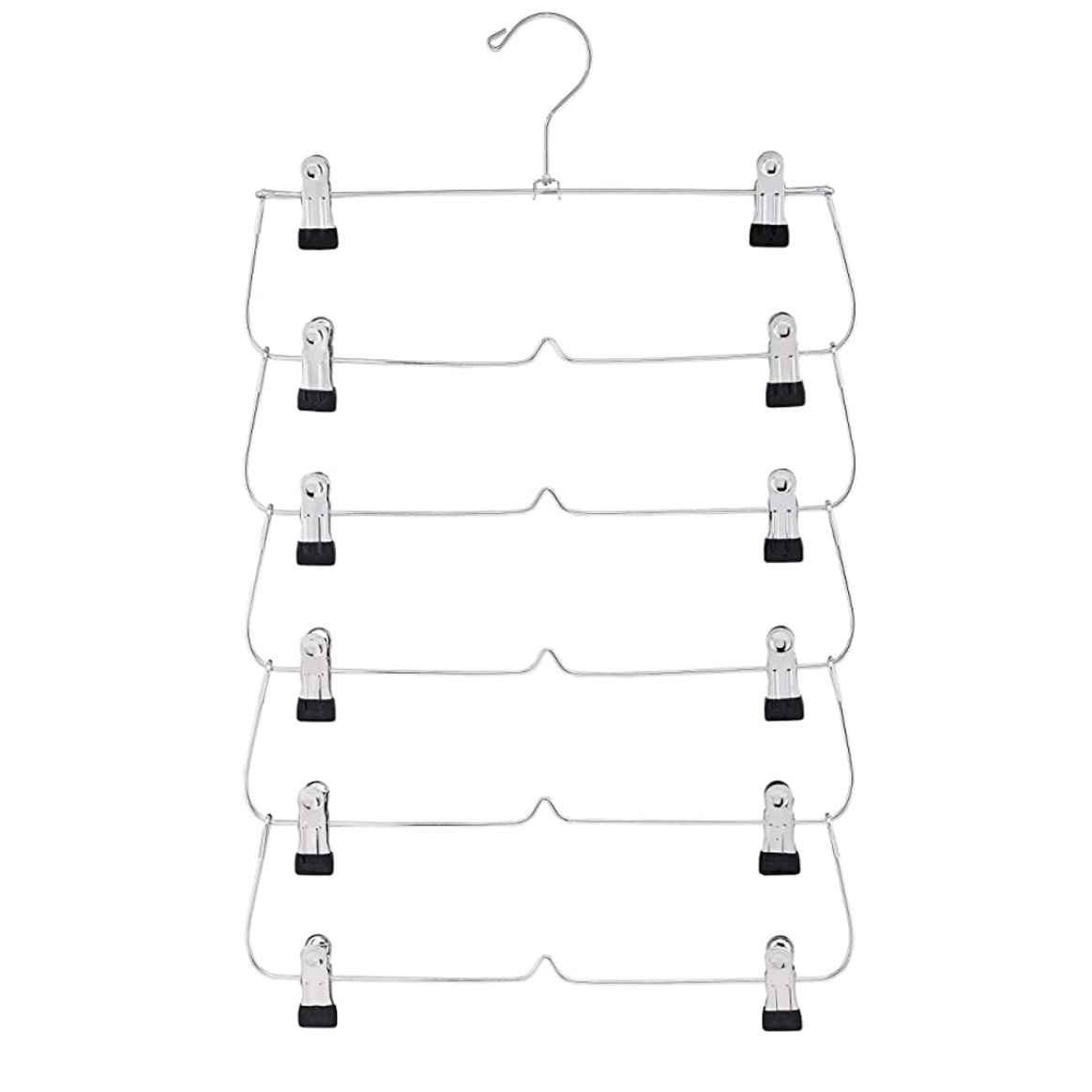 Similarly to the velvet hangers, if you're not using tiered clip hangers for pants, skirts, shorts or anything else that needs grips to hold up, it's the time to switch. This is by FAR the best space-saving way to hang bottoms, and allows you to hang up to 6 times the amount of items in the same length of closet rod! I have been using these for years and group similar items to each rack so it's always easy to see exactly what I have and which is the best option.
As a bonus, the tightly packed nature of using tiered hangers means that items get a bit of compression, leading to less wrinkles and creasing. Your clothes have never looked better!
6. Shoe Risers are made for Shoe Lovers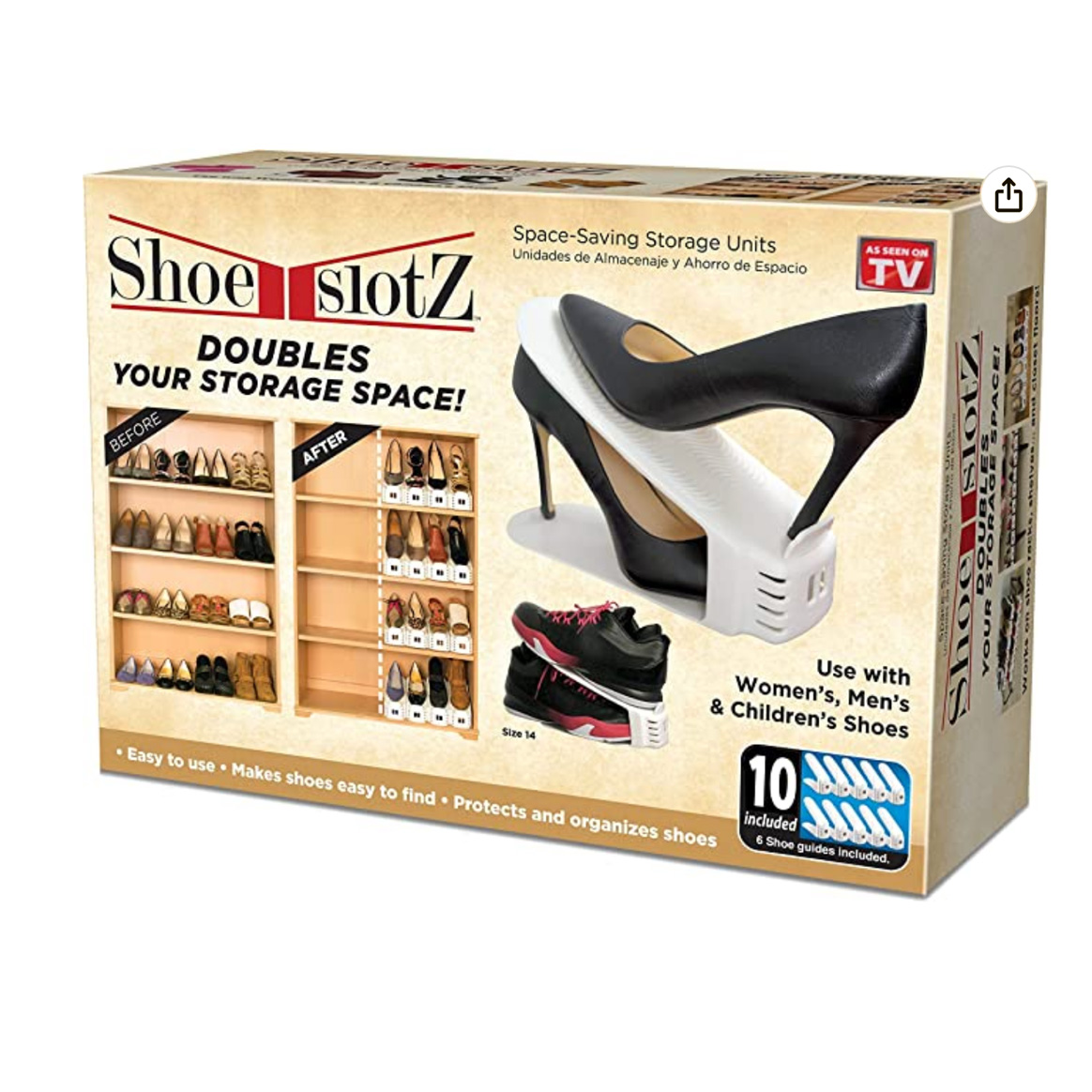 Starting with a shoe rack is essential - but did you know you can double the amount of pairs that you can fit into the same space?
Every time I share a photo of my shoe closet, I get so many questions asking about my shoe risers, and it always feels like I'm sharing an unknown secret - they are one item that simply works really well at maximizing space. Shoe slots is an amazing way to stack your shoes to halve the amount of space they take up without dirtying or damaging them, as the layers protect the bottom shoe. I've found that these have enough room for even 5" platform heels, or flatter ankle boots and claim to fit shoes up to size 14.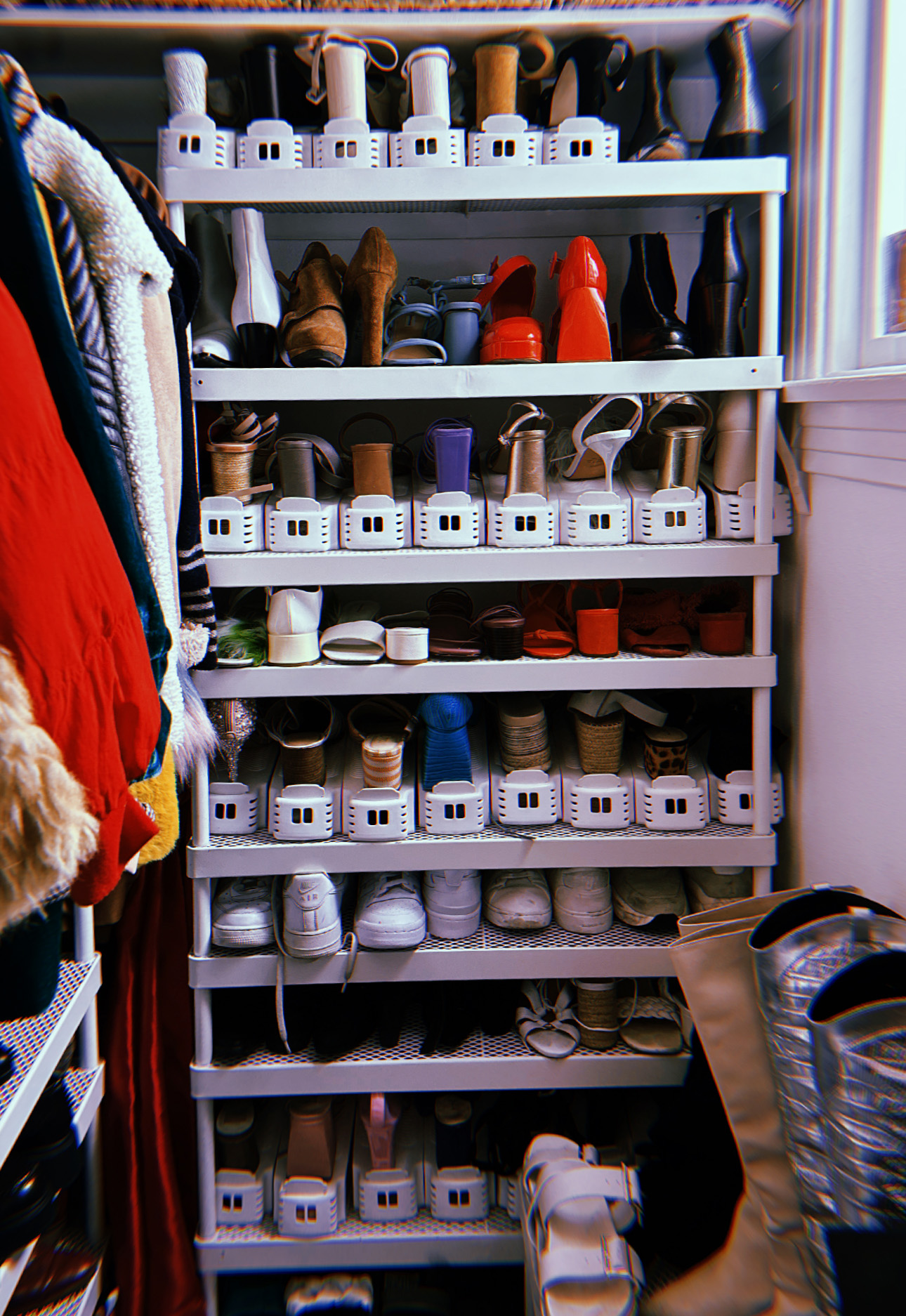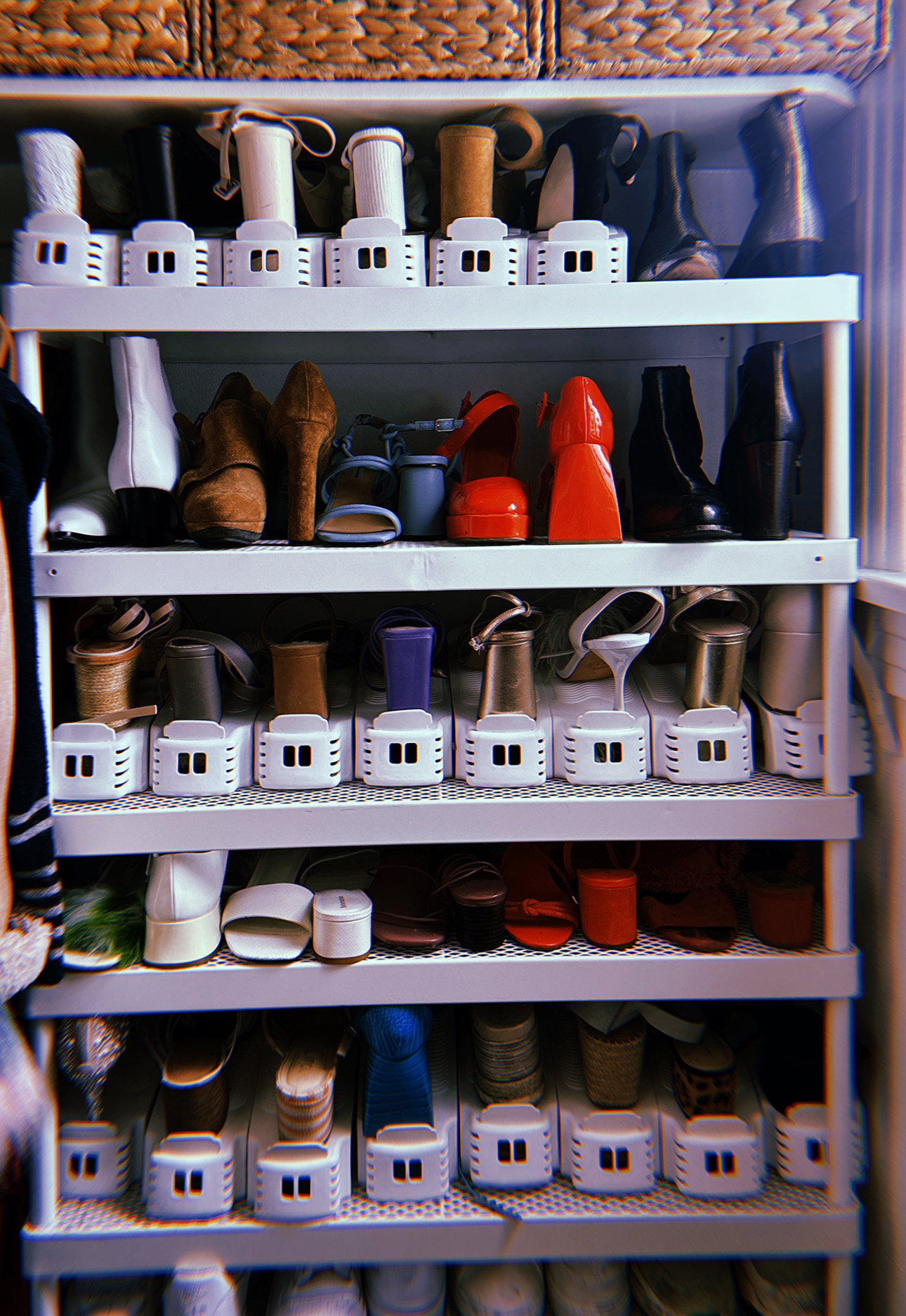 *perfection*
7. Don't forget Under The Bed Storage
Using the space under a bed for storage is the oldest trick in the book, but it's a classic for a reason. If you are struggling for storage space and can't fit much underneath your bed, the first thing to do is to get bed risers - which increase the amount of clearance under your bed.
There are two main methods for under bed storage - using the most accessible areas as "drawers", and using the deeper middle area for deeper storage. When I was living in New York and not traveling much, I would put my out of season clothes into my suitcases and store those deep under my bed. After moving to LA, I keep my most used items in easy pull-out bins right underneath my side of the bed - pajamas (for easy access and putting away straight from bed), gym clothes (because that's the first thing I usually change into in the morning), and sweatshirts.
The key to utilizing this method while still keeping a great looking space is simple - buy an oversized comforter or blanket that effortlessly hangs over the sides of the bed grazing the floor, hiding everything you're keeping underneath it all and giving the illusion of a minimalist space.
8. Spinning Organizers for Beauty Storage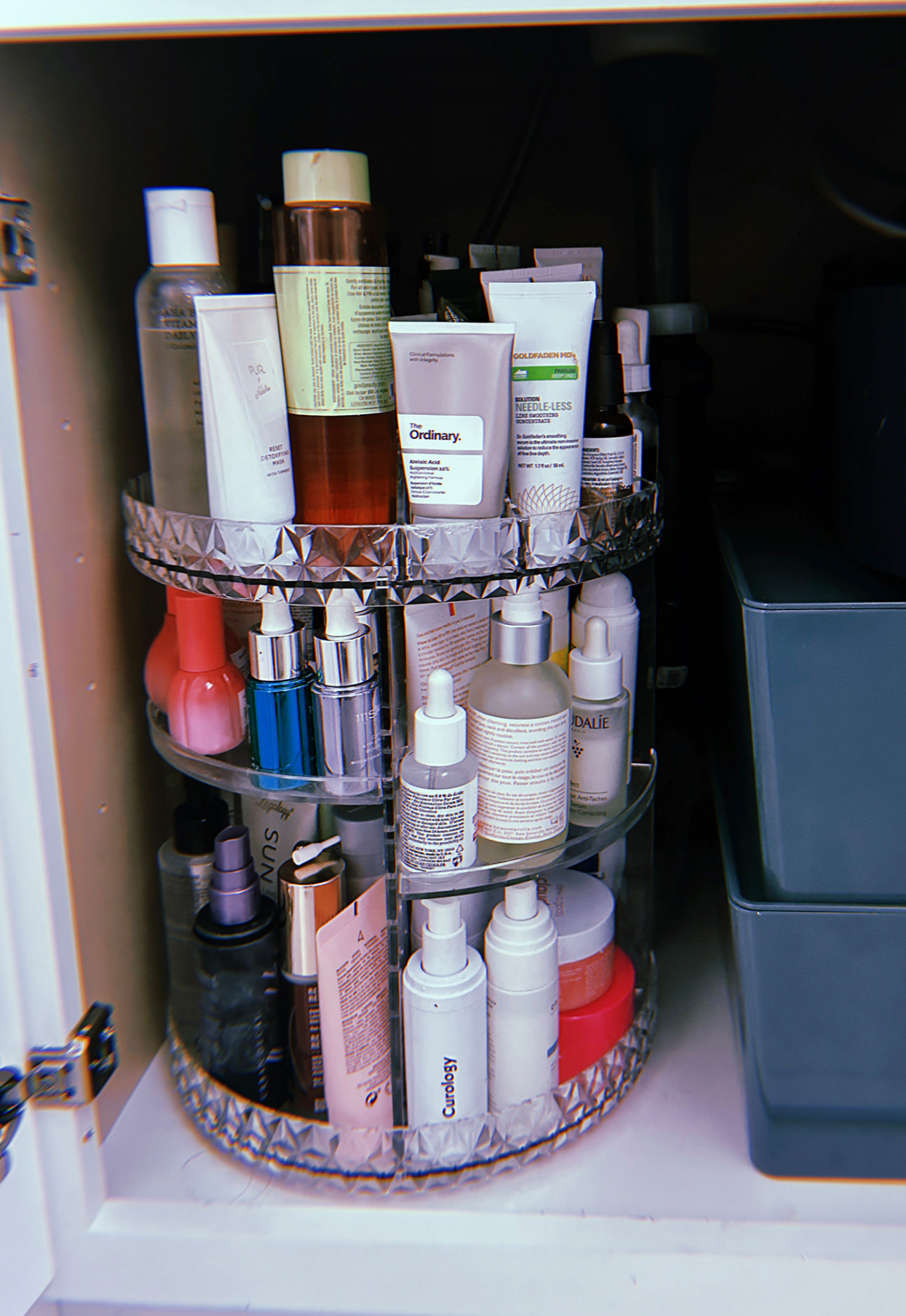 I've always been a huge fan of a lazy susan in just about every situation. Hard to reach shelves, condiments in the fridge? Put them on a spinner. I've had this exact triple level beauty organizer for years, and it has been one of my greatest bathroom purchases I've ever bought - I can fit everyone on this one piece and always be able to see what I have. If you don't have the height available for this one, try a smaller model, or mini-drawers instead.
9. When all else fails, add an extra clothing rack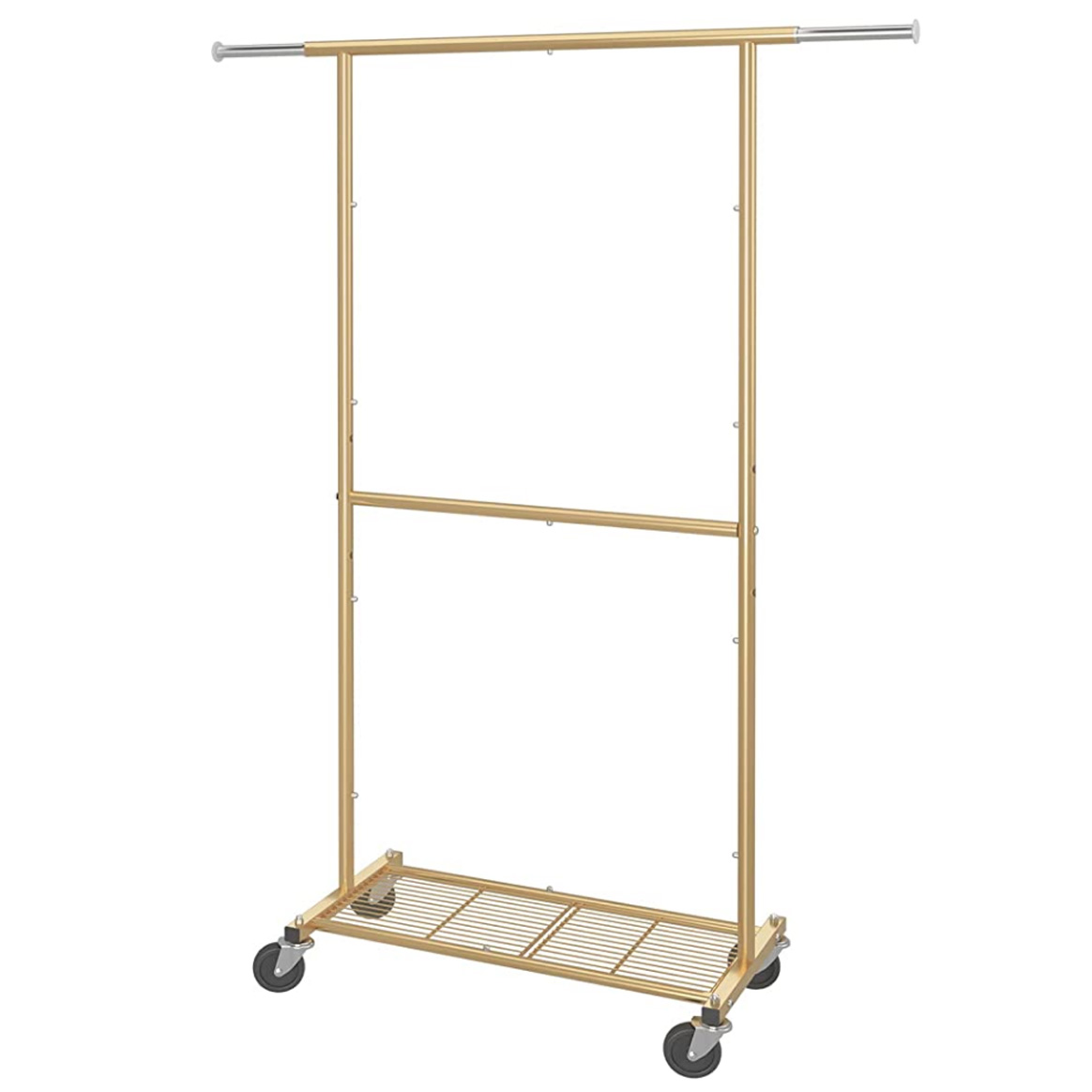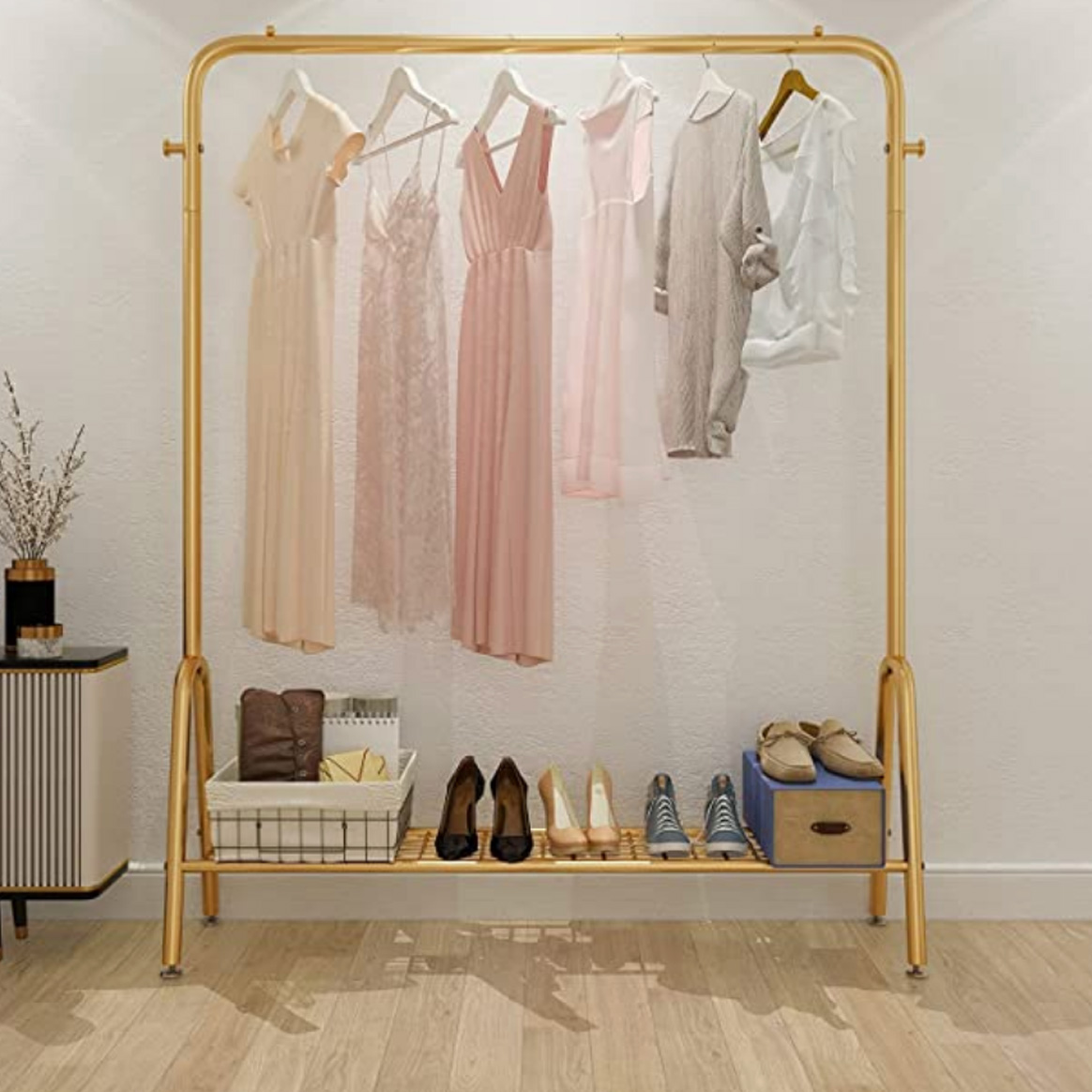 As your wardrobe grows, there often inevitably comes a time when you just can't maximize anymore, and you need to bring in external support. I know, I know, we all try to put it off as long as we can, but sometimes there's no way around adding a hanging rack!
I went with the exact two-tiered one above because the two levels created double the hanging space for tops and shorter dresses, the extending racks added extra room for long dresses, and I needed a rolling feature to make moving the rack around easily when needed - and I am very impressed with how smoothly this rack moves even when it is full of clothing.
In past apartments, I've also used copper pipe, corners, and good anchors to build a floating clothing rack in an underutilized corner - which can work out really fantastically when done right! Either way, at the end of the day, adding the space you need is just worth it!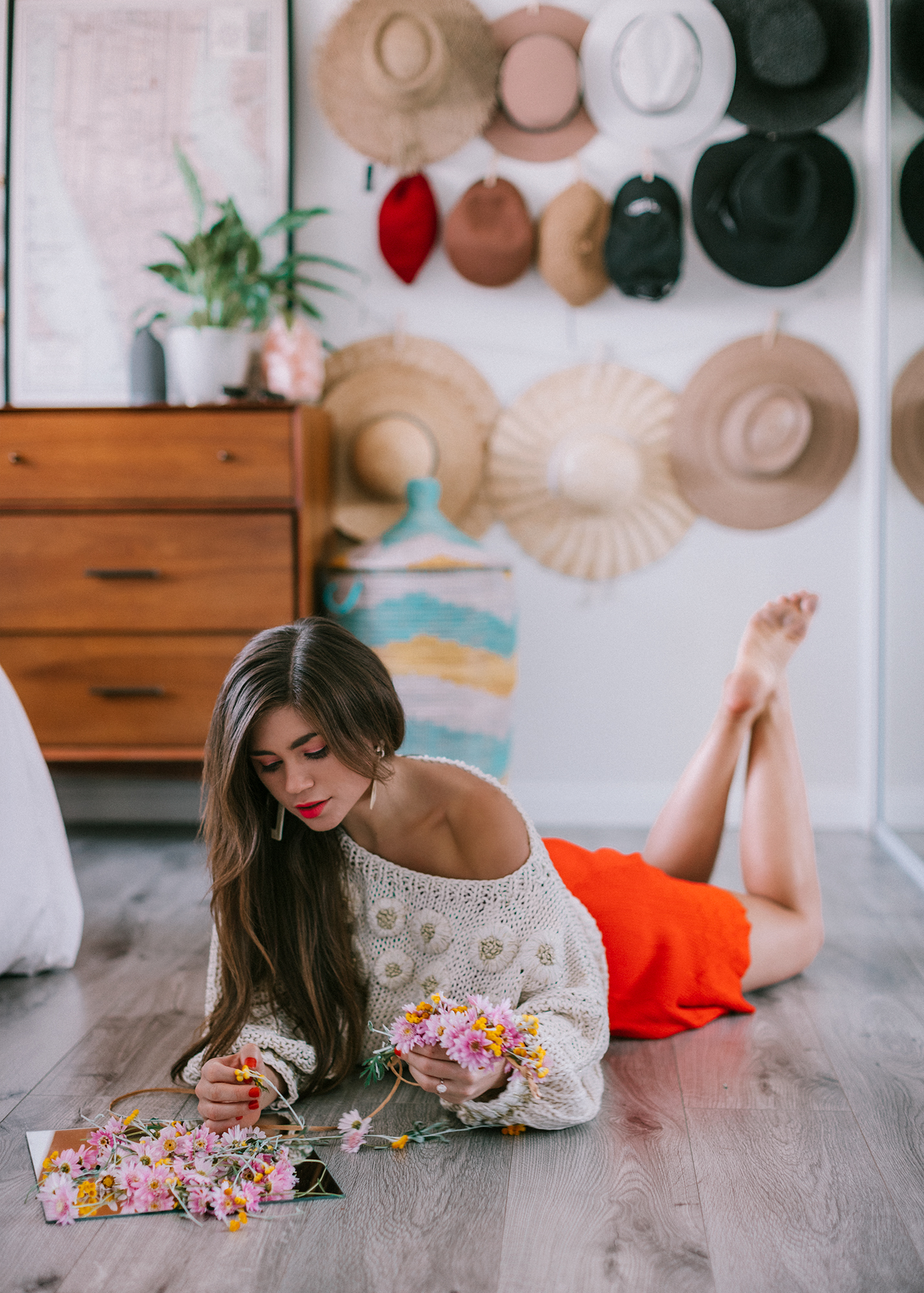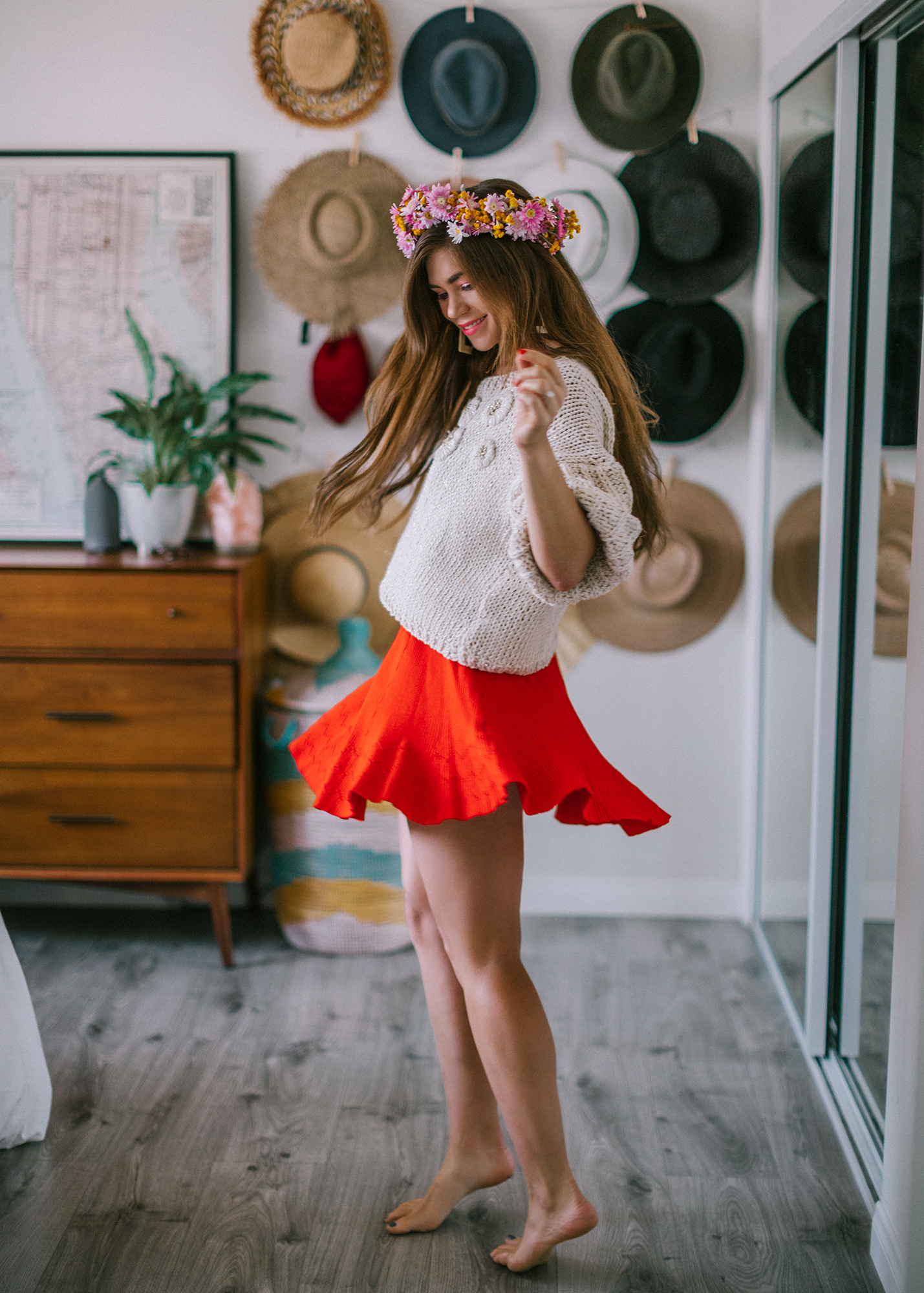 When you have storage *and* still have room for activities!
LIKE THIS POST? PIN IT FOR LATER AND SHARE IT WITH OTHERS!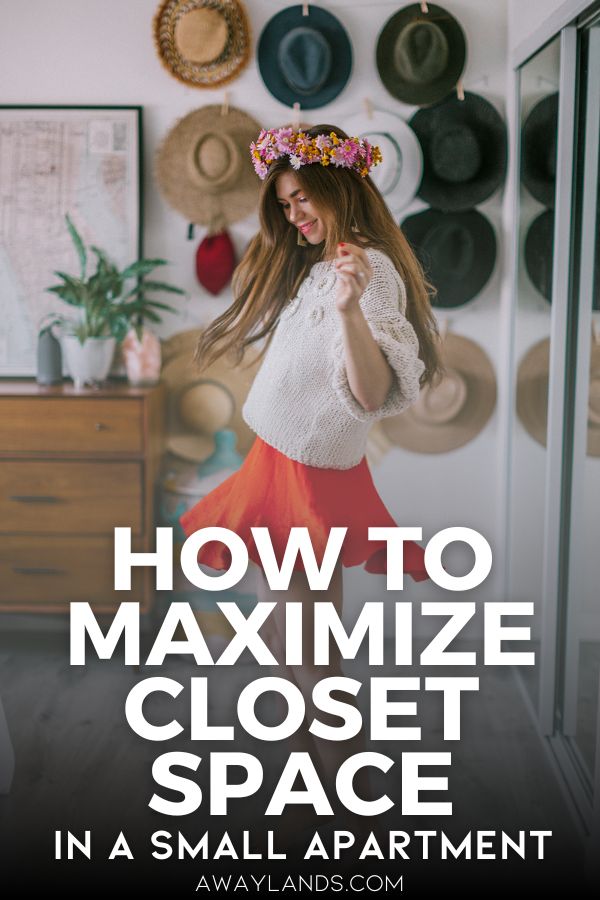 XX