July 15, 2019 Style Los Angeles Life
A Santa Monica Summer Day in OluKai Footwear
Sponsored by Zappos
Hey! It's Brandon here - I've subbed in for Amy for the day, and am taking a well-needed break from video editing (and screaming at Adobe Premiere crashes).
On to sunnier subjects...
We've been patiently awaiting summer here at our home in Santa Monica. We've gone from May Gray, to June Gloom, to July… Oh, Why? If you drive about 10 minutes inland towards the center of LA, you'll often find clear blue skies, but here by the beach, we constantly battle with that dreary marine fog, even well into the summer. We finally got a bit of sun this past weekend, so we decided to head to beach and try out some new footwear from OluKai.
Zappos and OluKai footwear reached out to me recently to try out some of their new sandals and footwear inspired by Hawaii and made for the beach. The process of ordering was super simple. As a Zappos Rewards member, you get all sorts of free perks such as free expedited shipping and early access to events and sales. Free expedited shipping is so helpful when you're constantly packing for the next trip, like Amy and I.
With the sun finally peeking through, we slipped on the new kicks and decided to head out on our bikes for some sun and tacos. I got to try out the new OluKai Nalukai Sandals in Husk and Amy got the OluKai Pehuea Li Sneakers in Tapa. When we first slipped these on, we were both surprised at how incredibly comfortable they were. They felt durable and well-designed, with a nice soft and curvy sole to hug your feet. The leather on the sandals felt super soft and smooth, and very high quality. Amy loved the soft sole and canvas design of the sneakers.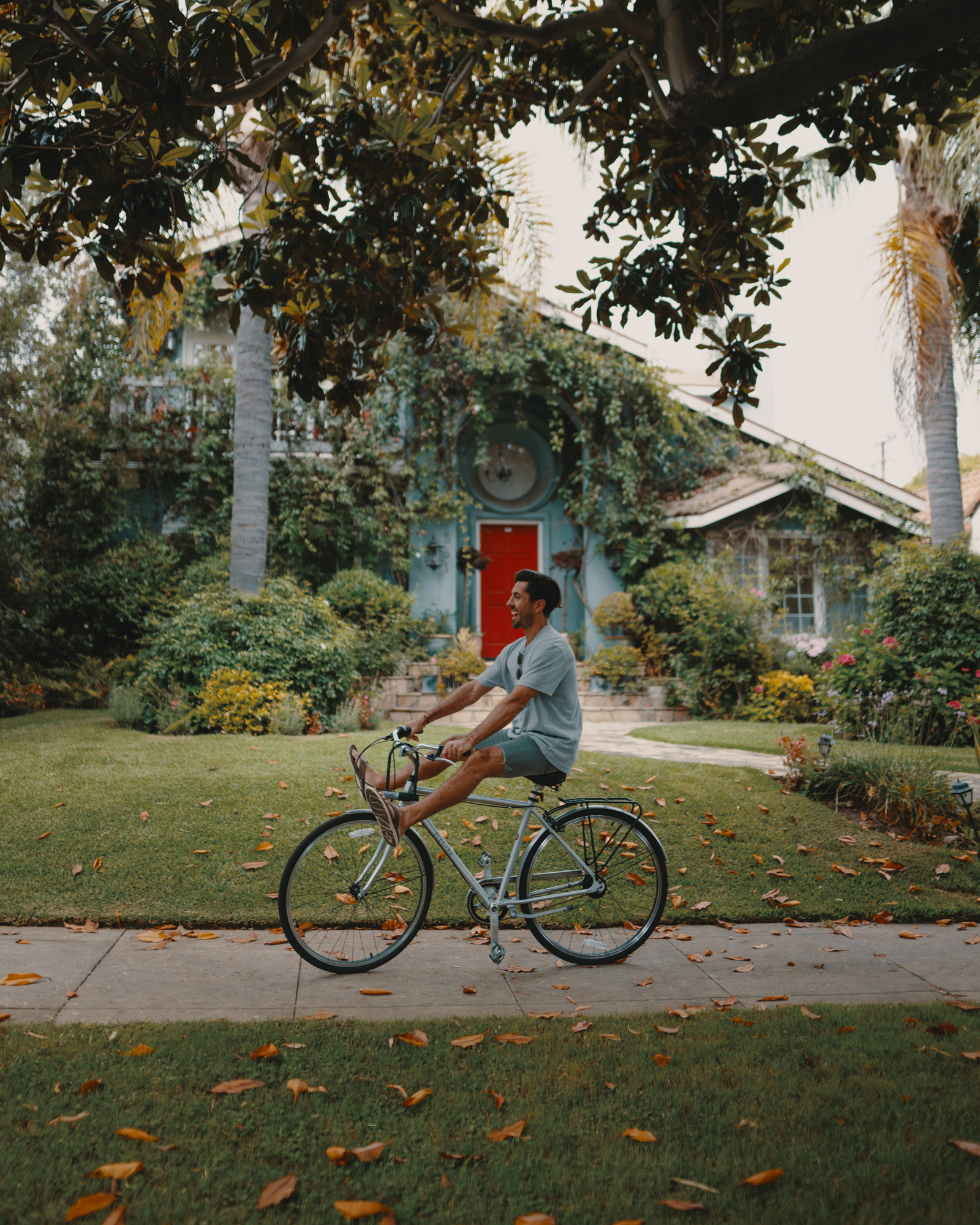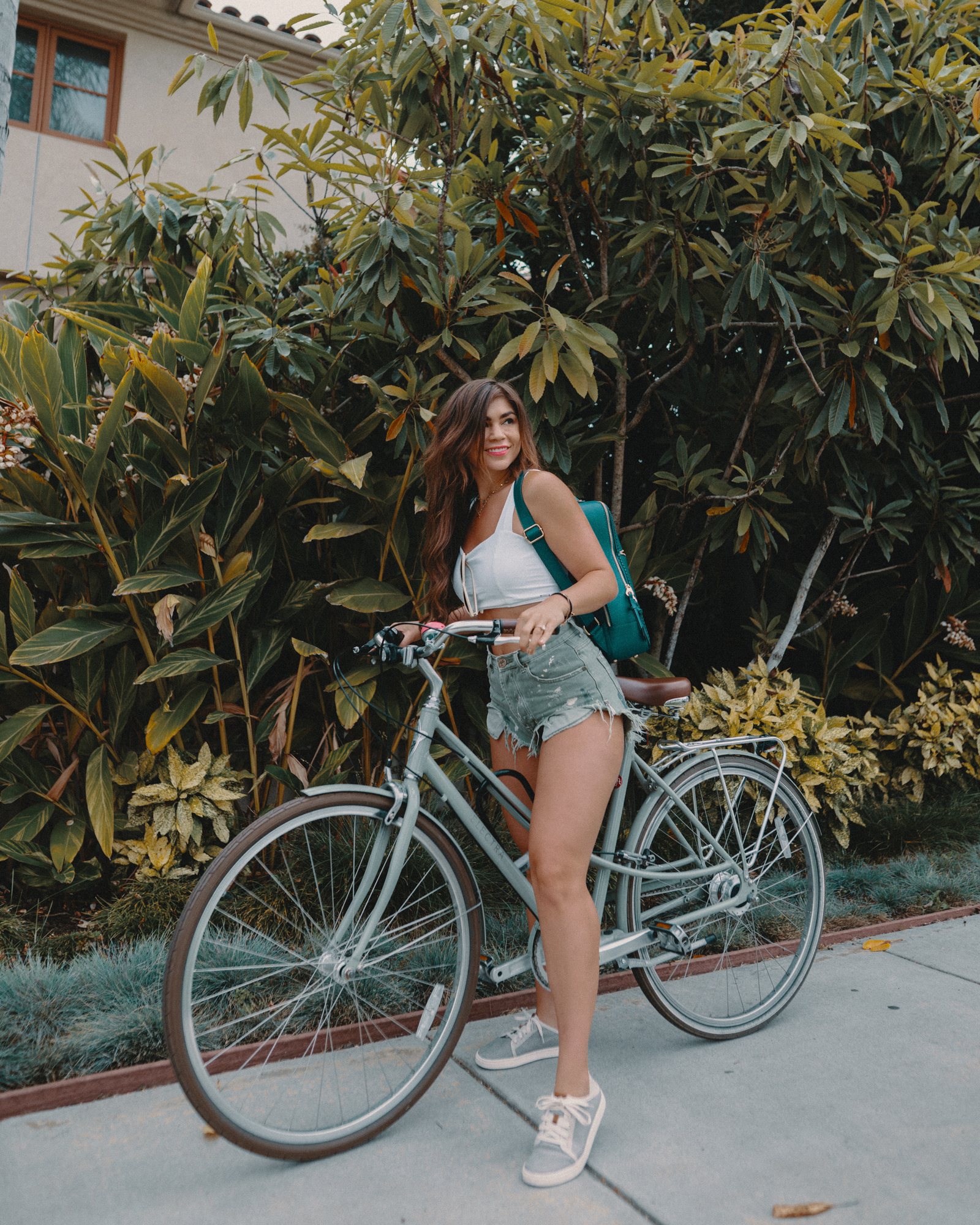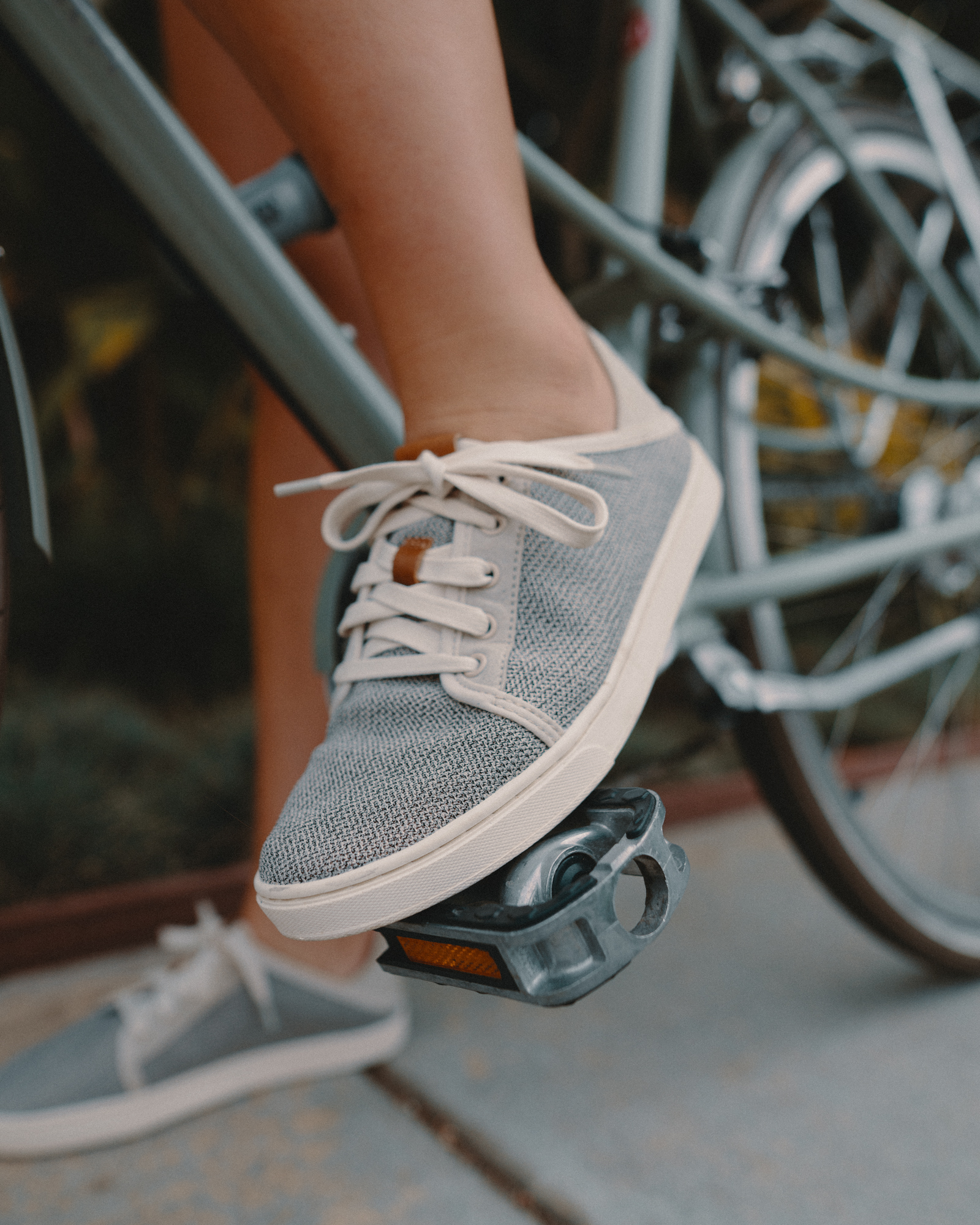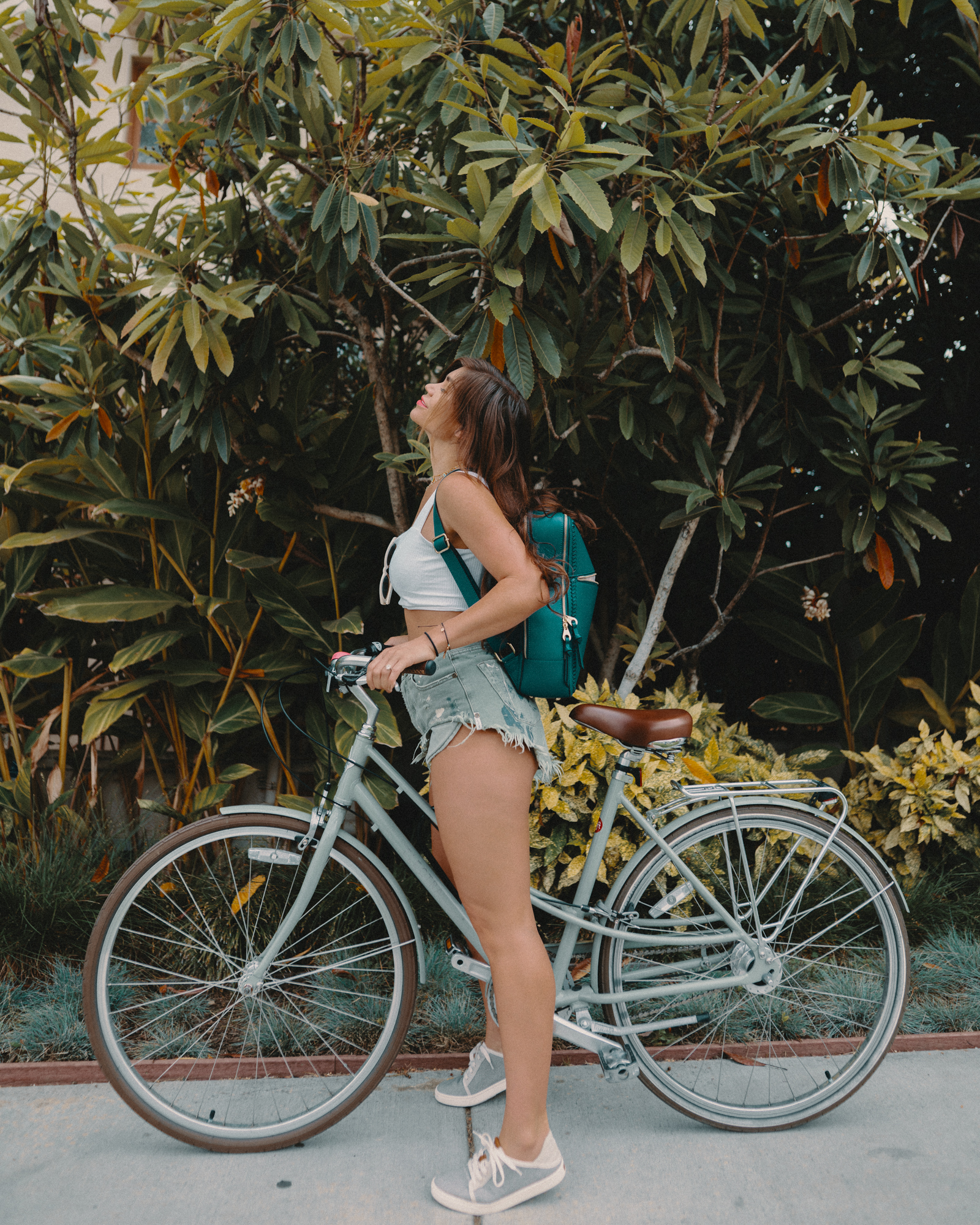 Before the beach though, you must make an obligatory taco truck stop.
This little gem, La Isla Bonita in Venice Beach, was actually where I took Amy on our first date six years ago! They have incredible burritos, tacos and quesadillas, but probably the most renowned thing here is the Ceviche Tostadas! They're always made with the most fresh fish, and finished with some avocado and a zest of lime. They are a MUST, especially for summertime.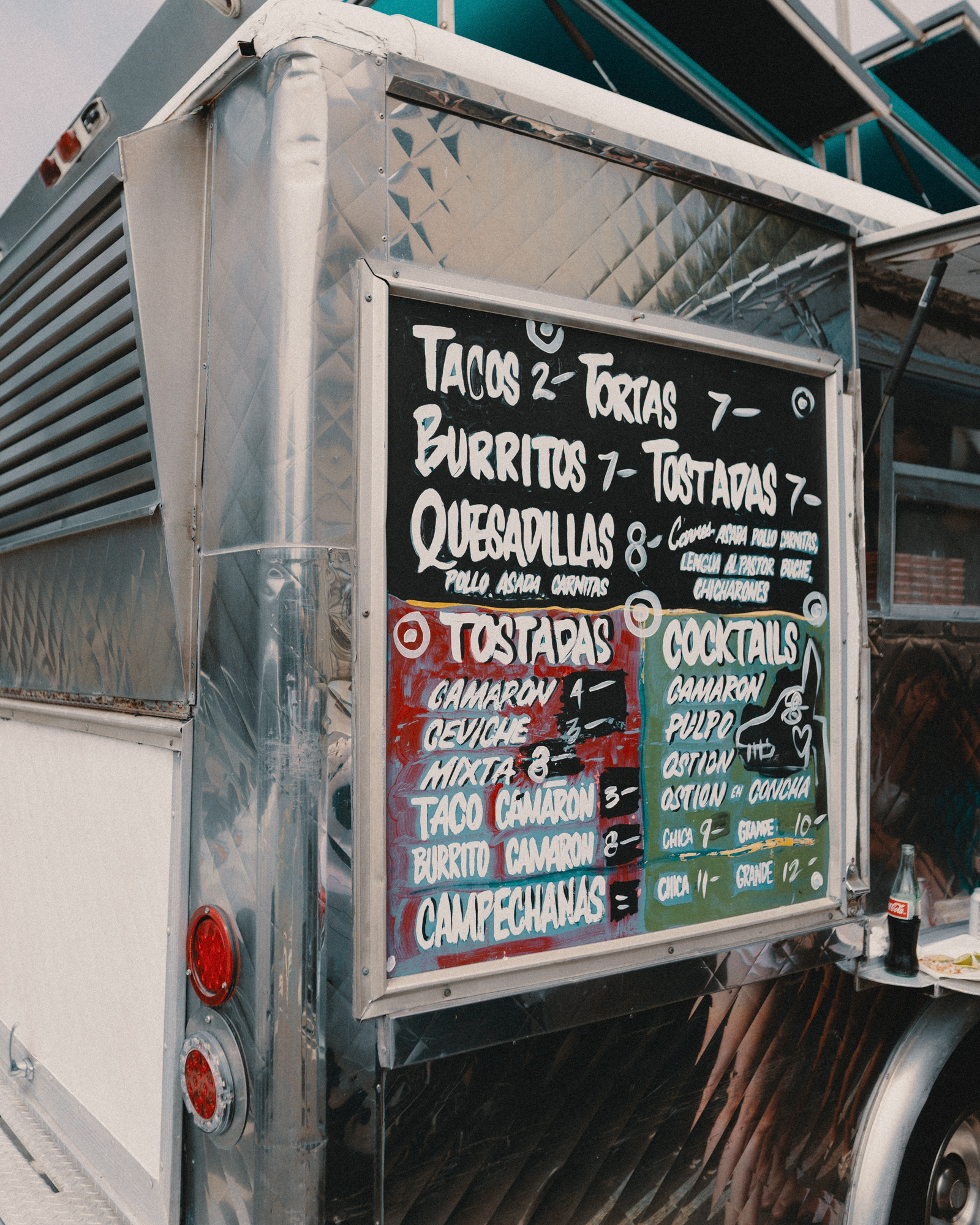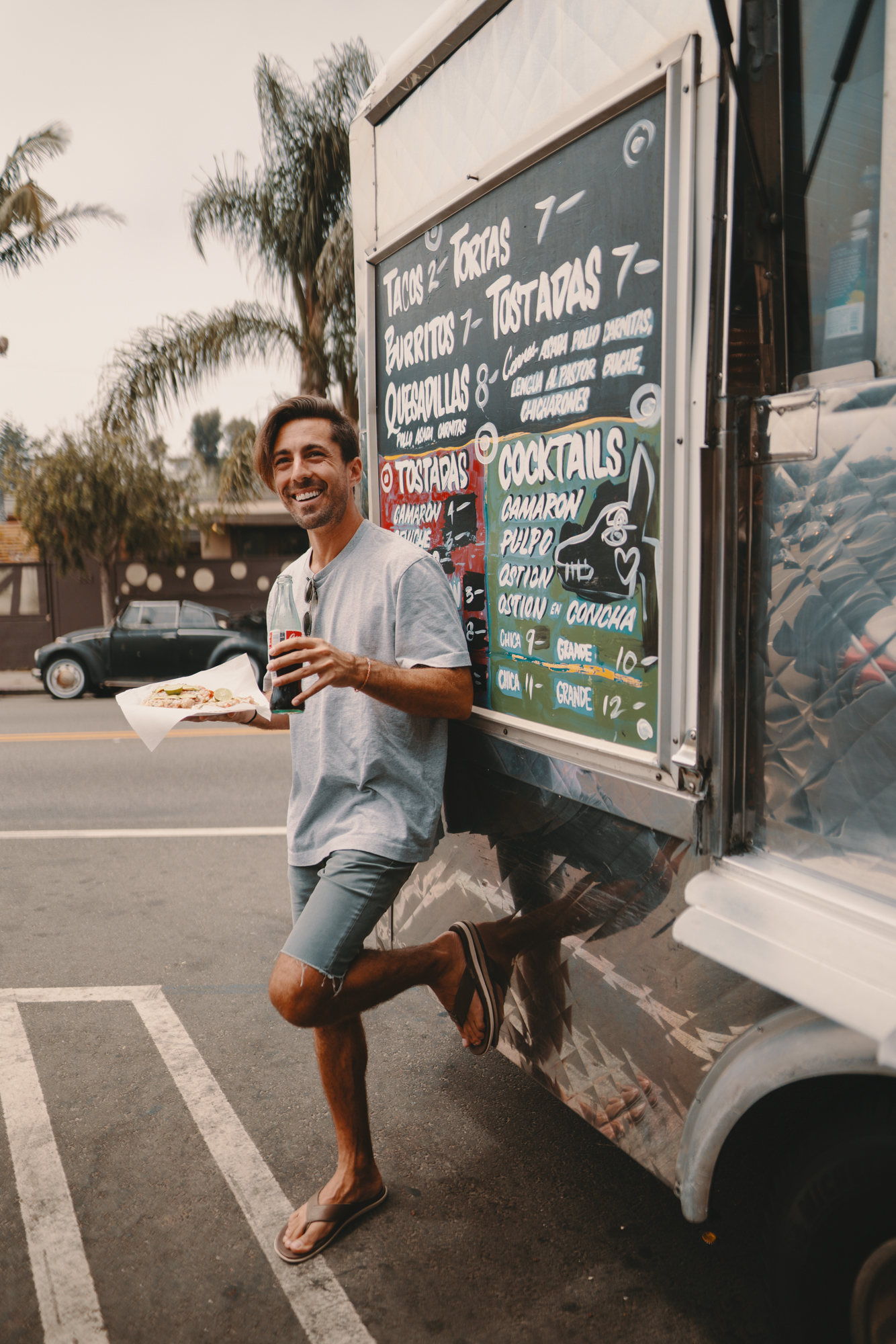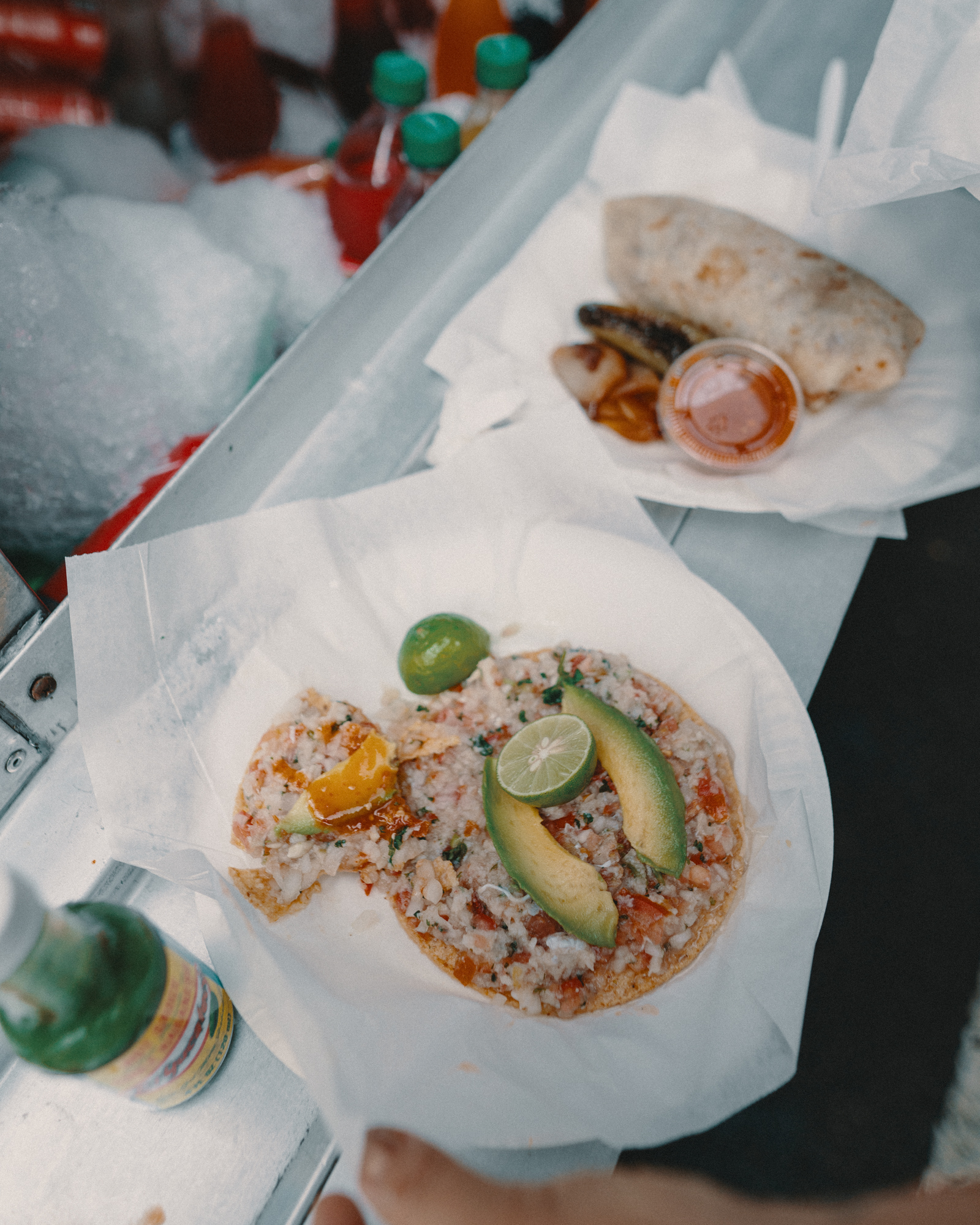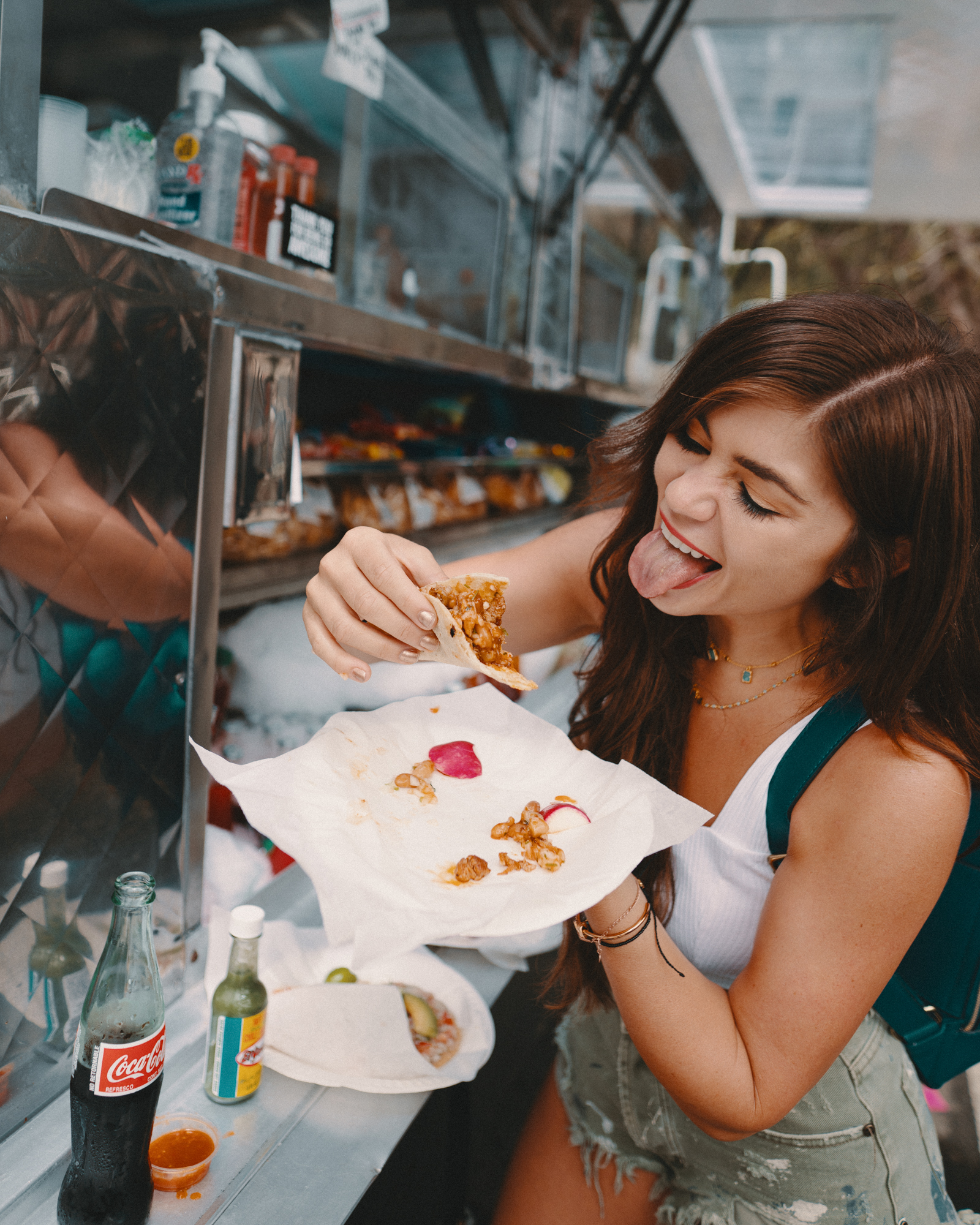 After we killed tacos, burritos and ceviche tostadas, it was time to bike to to the beach!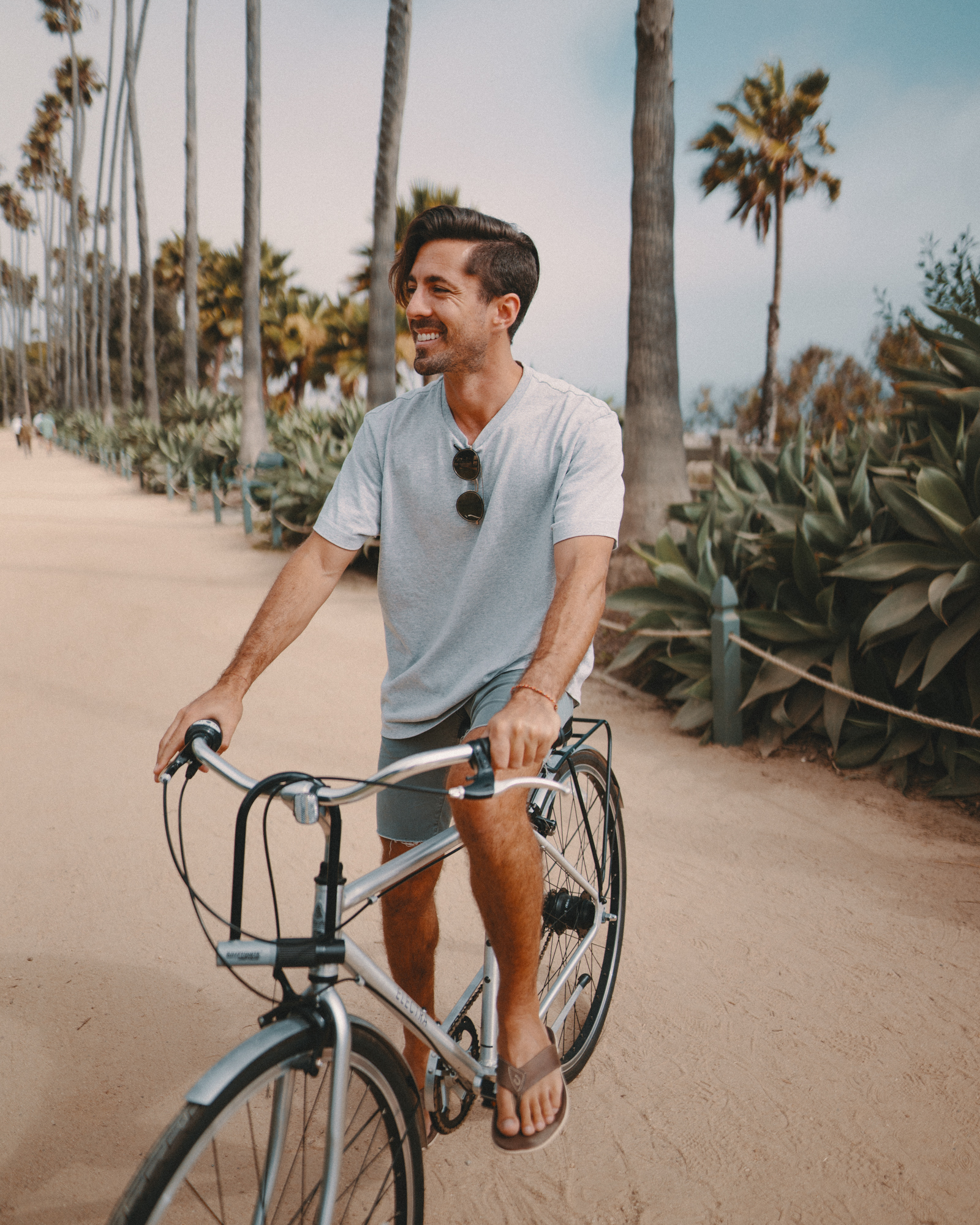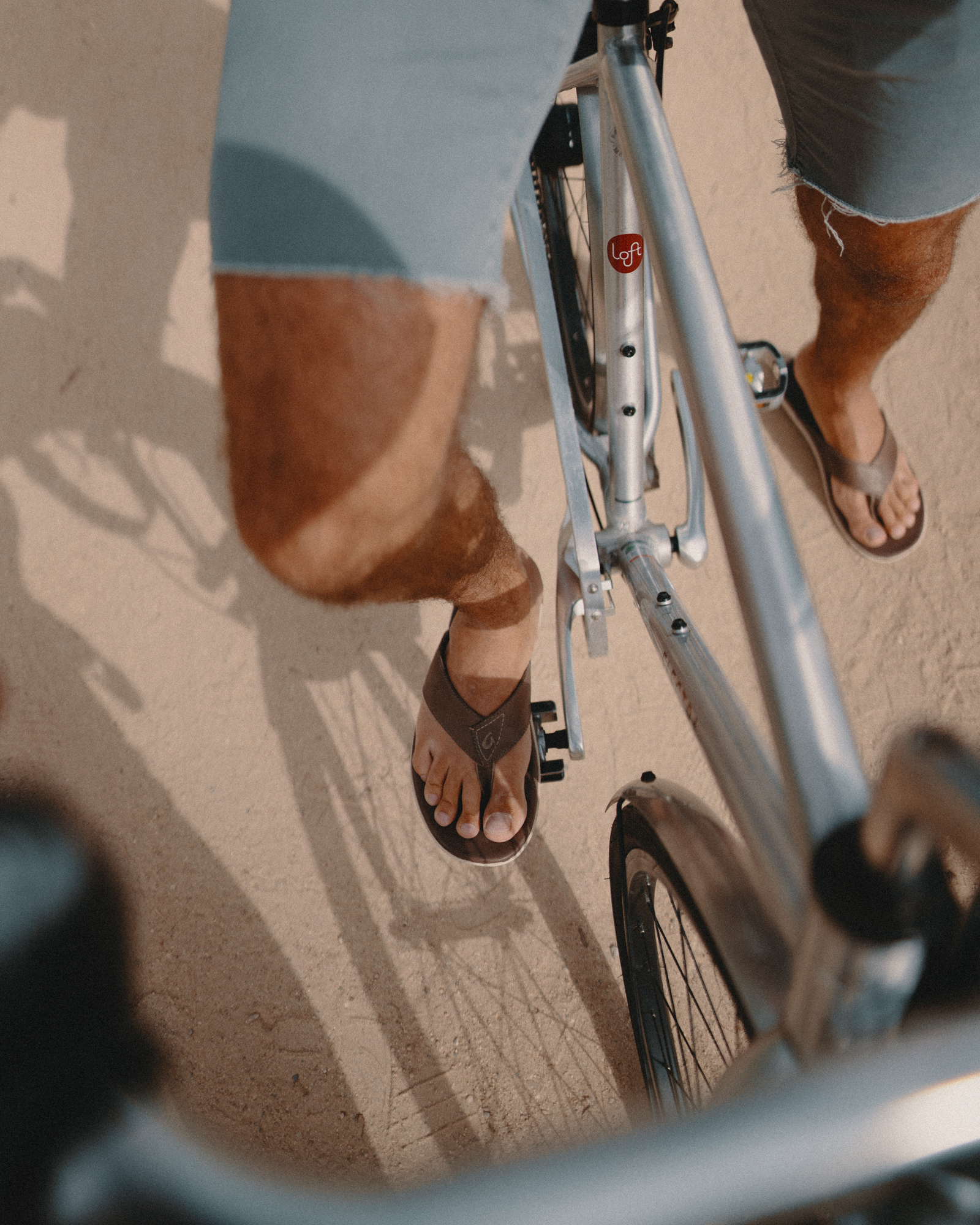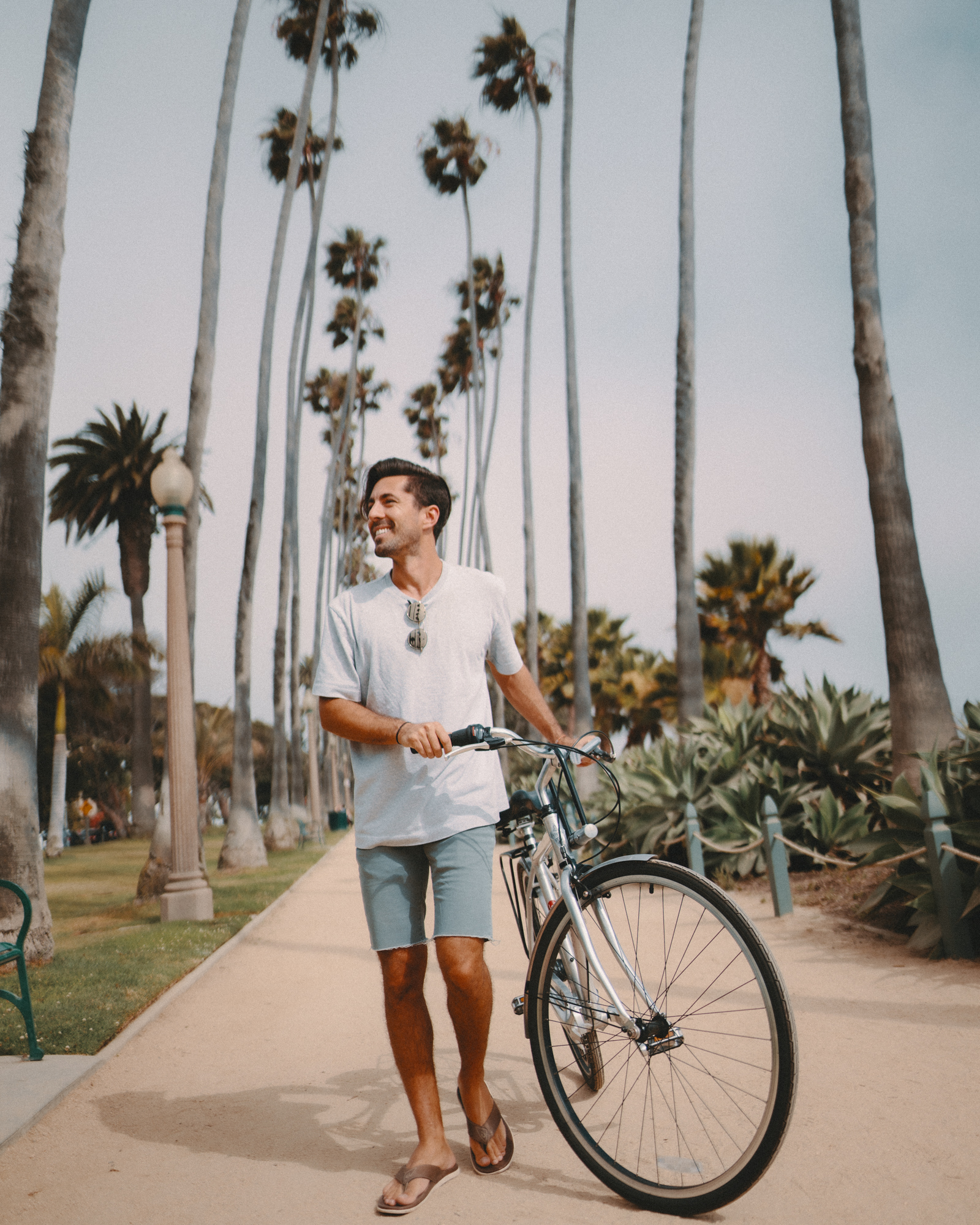 We made it to Santa Monica State Beach, our closest local spot to hit the sand.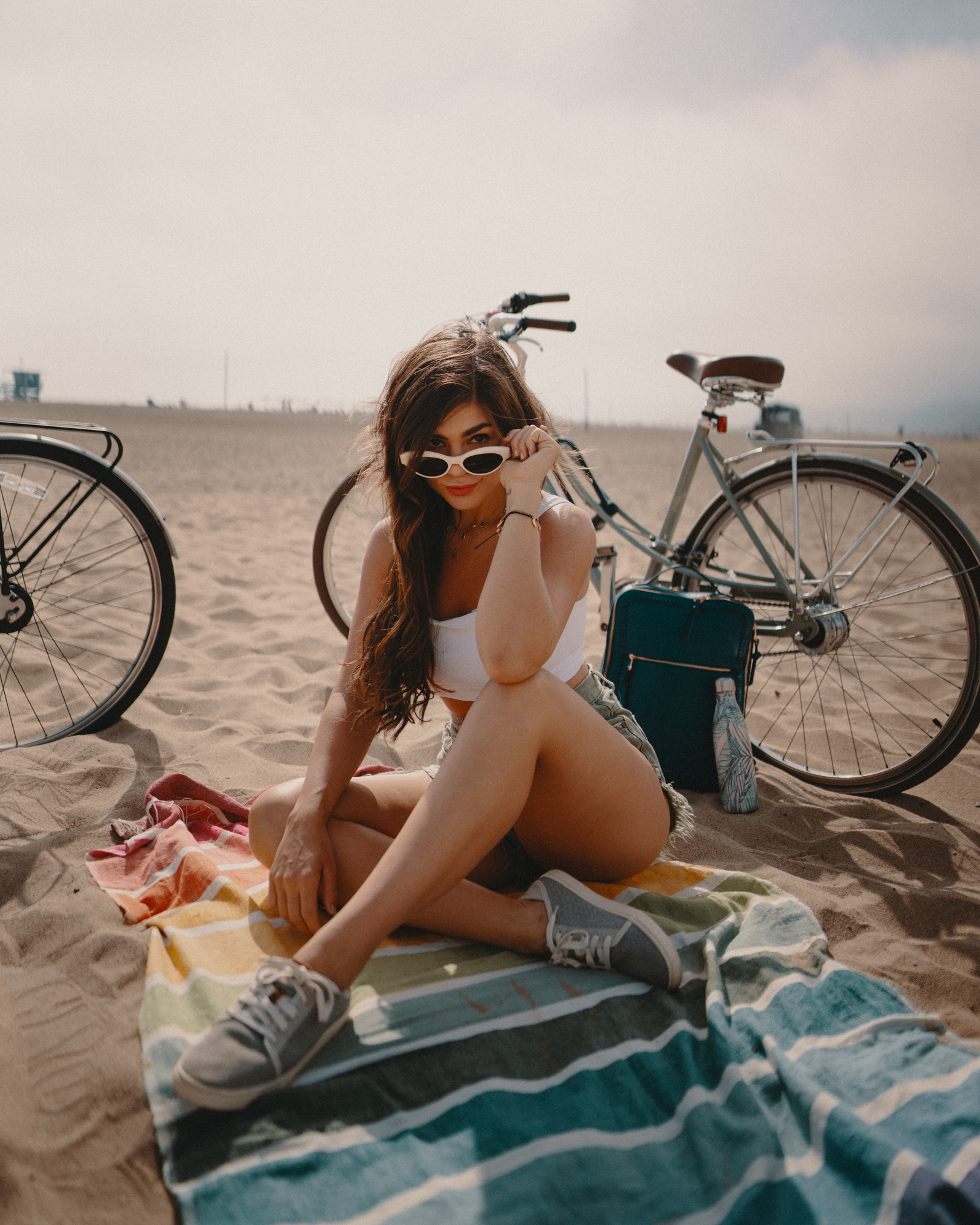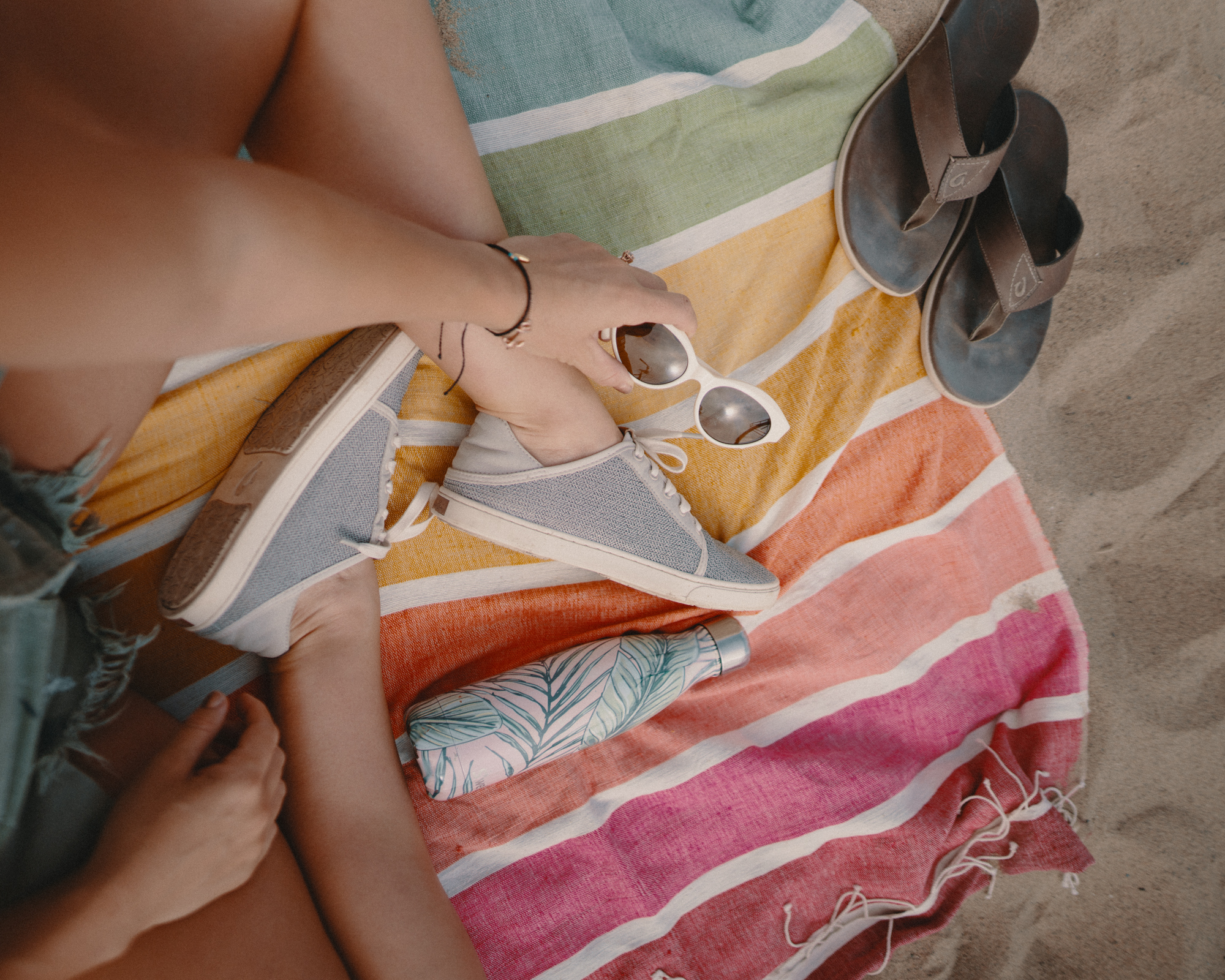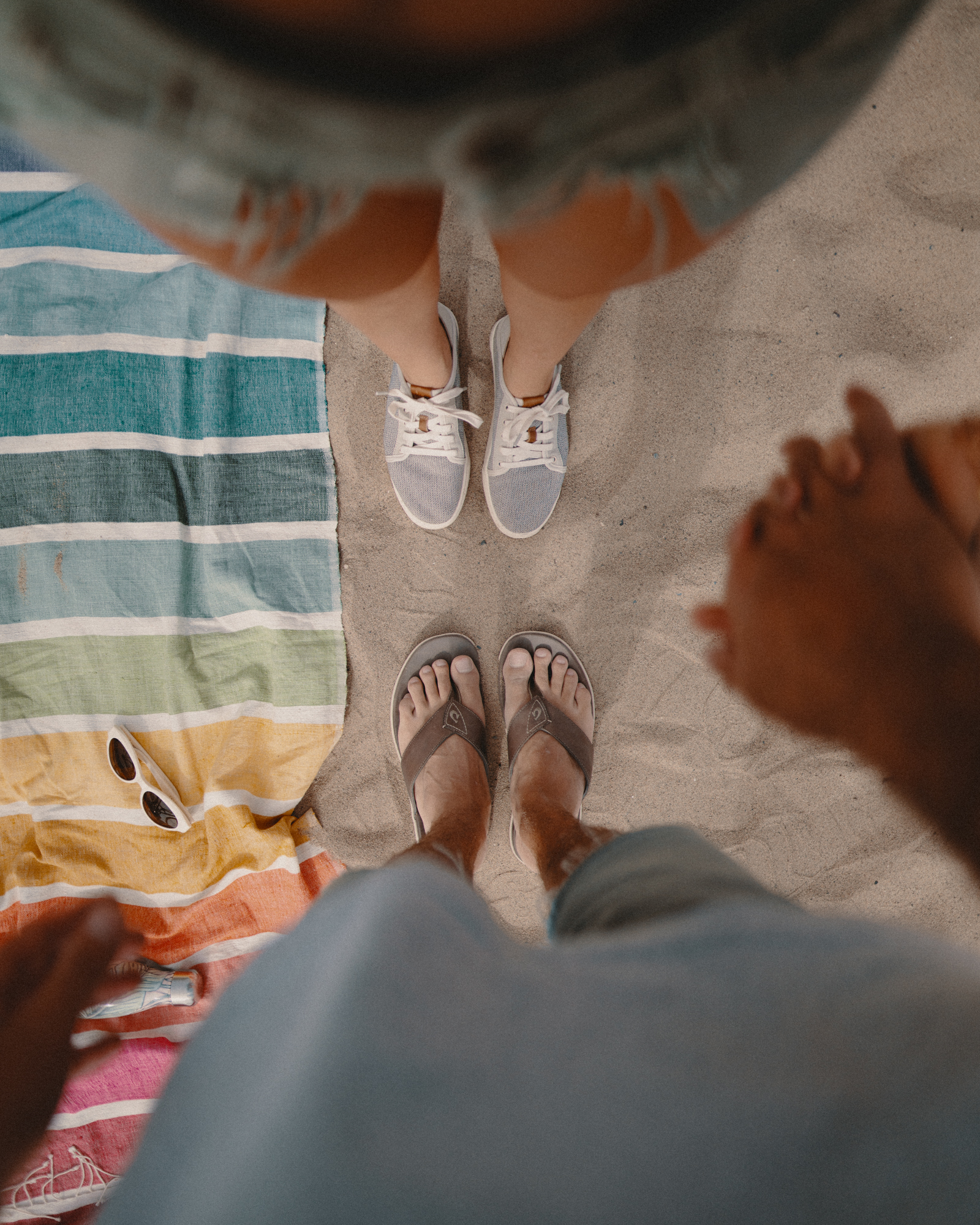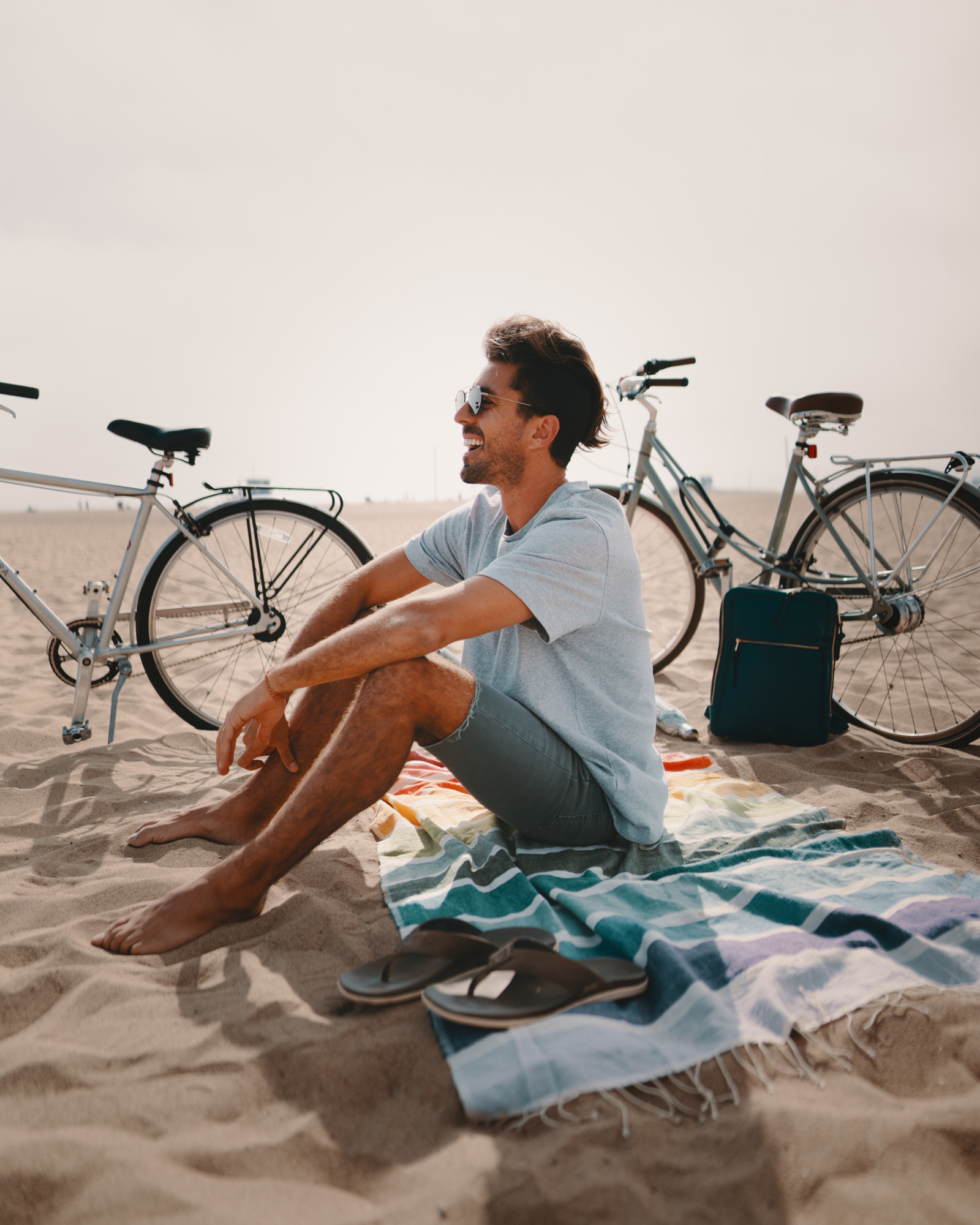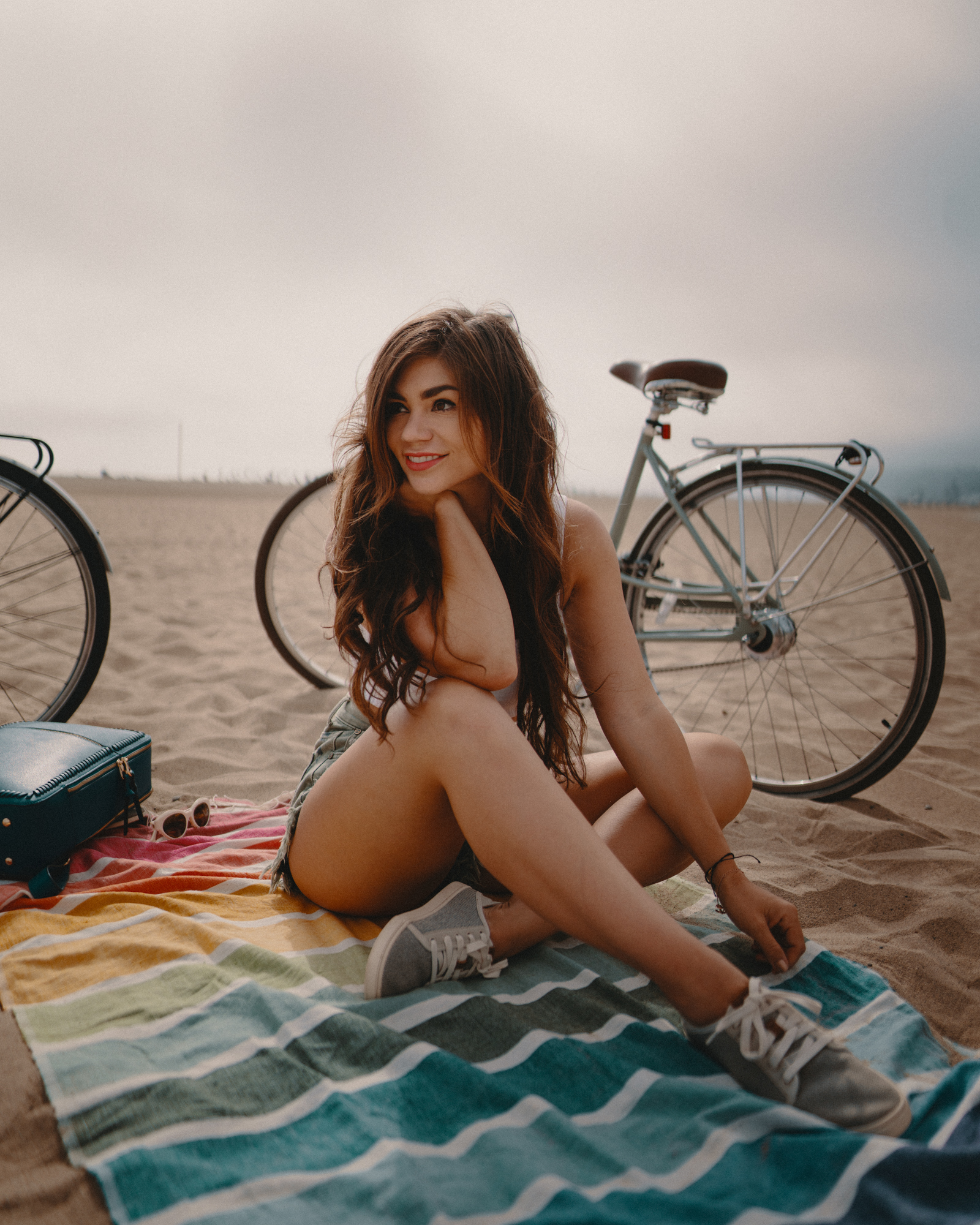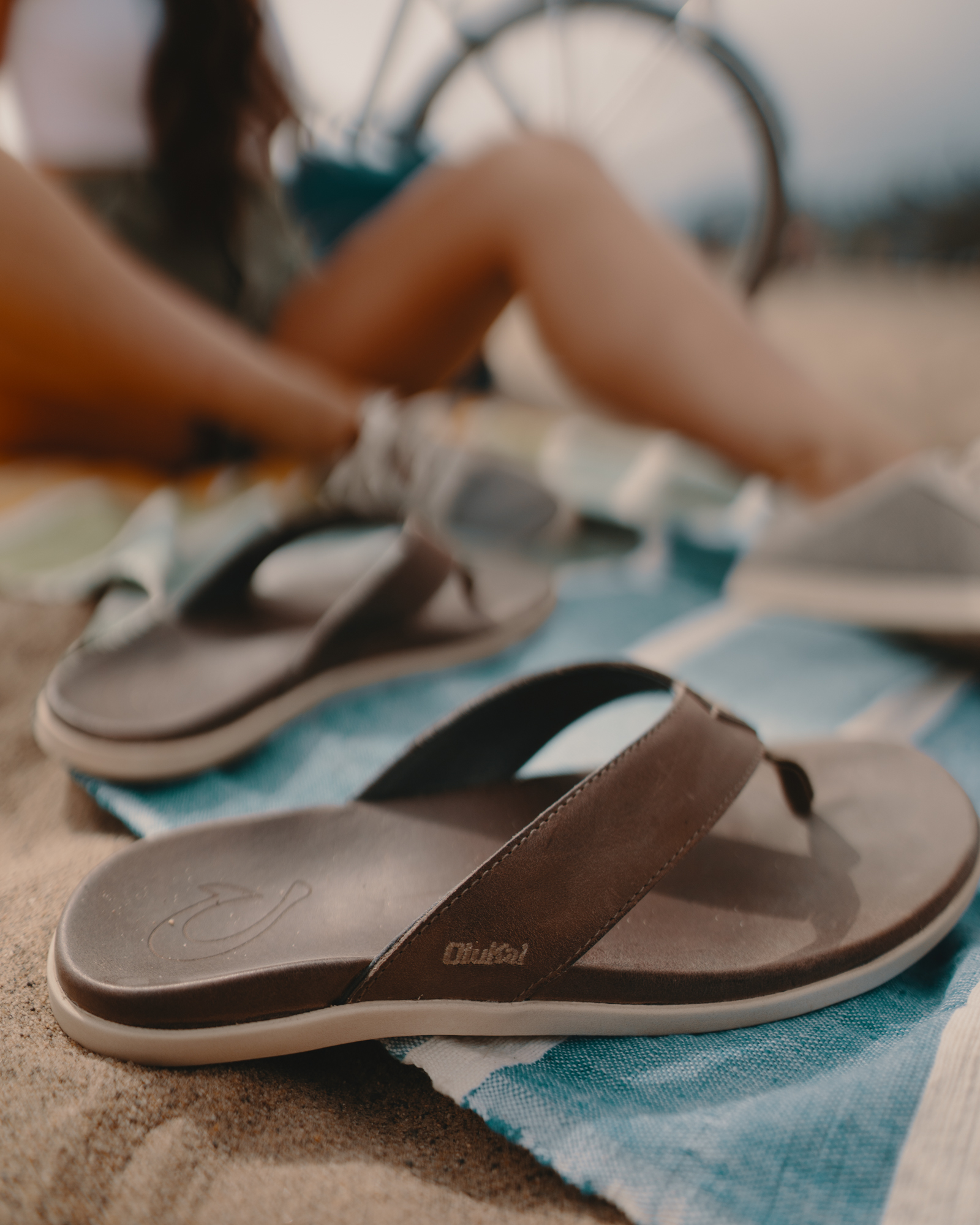 And it wouldn't be a proper beach day for Amy and I without the normal shenanigans...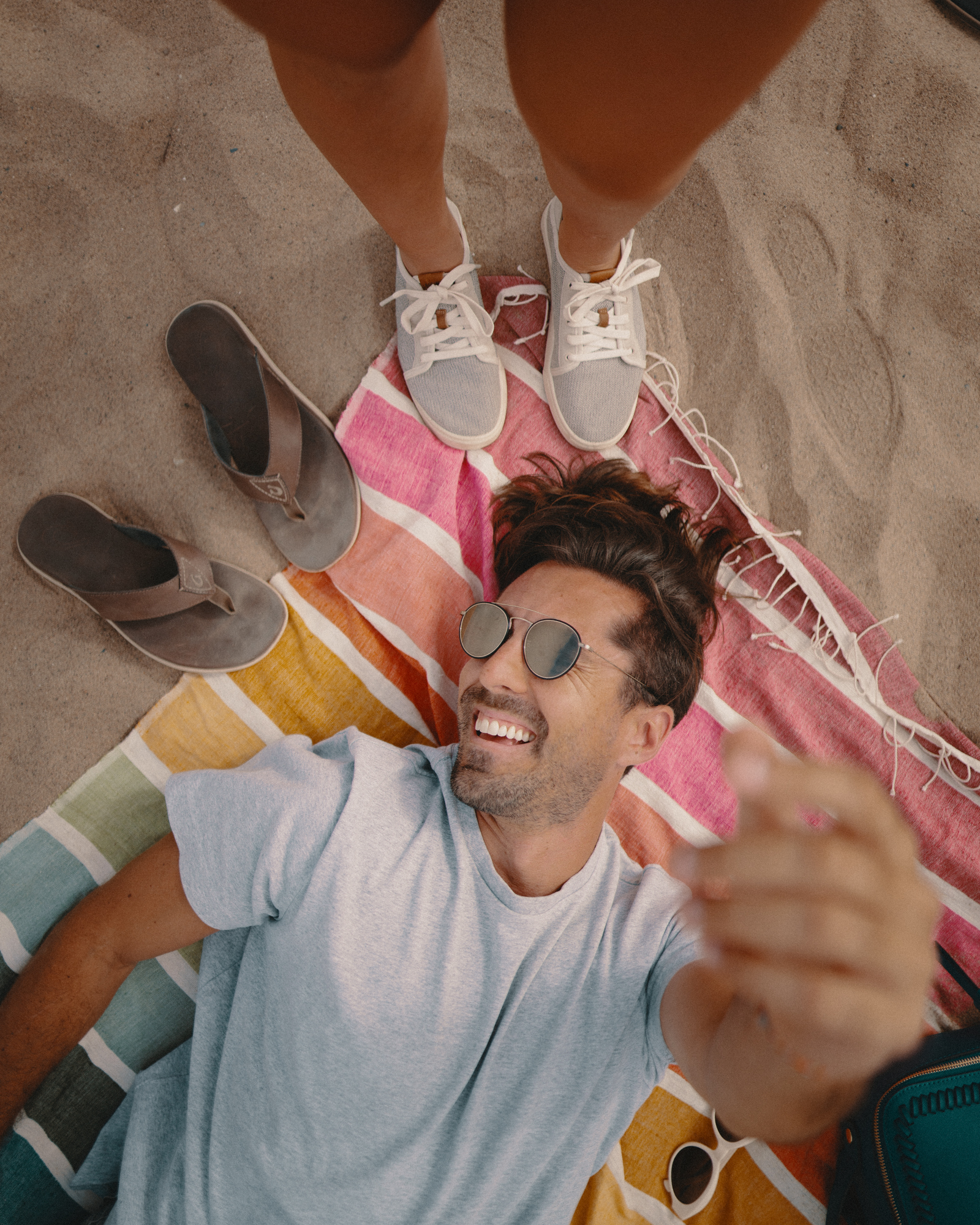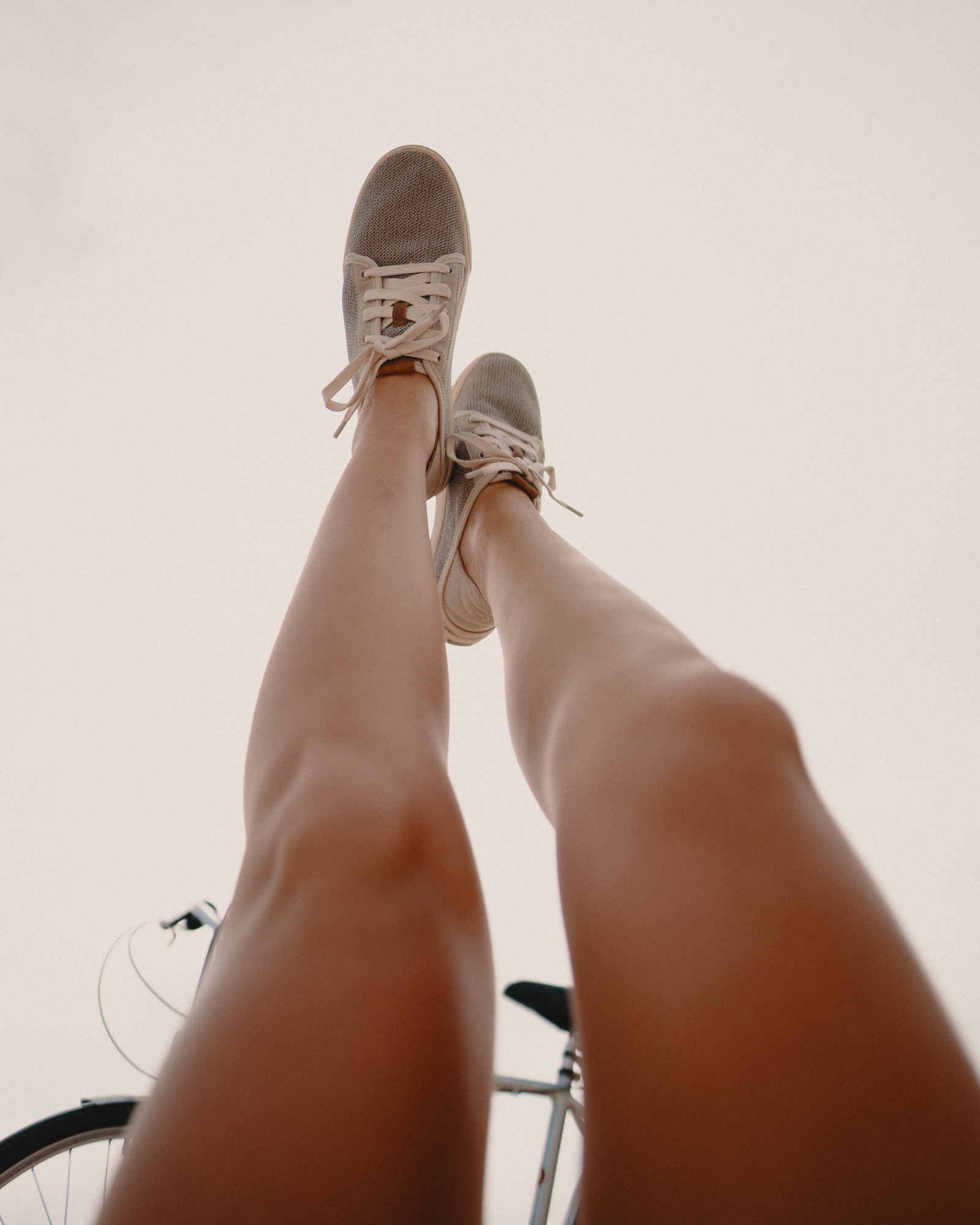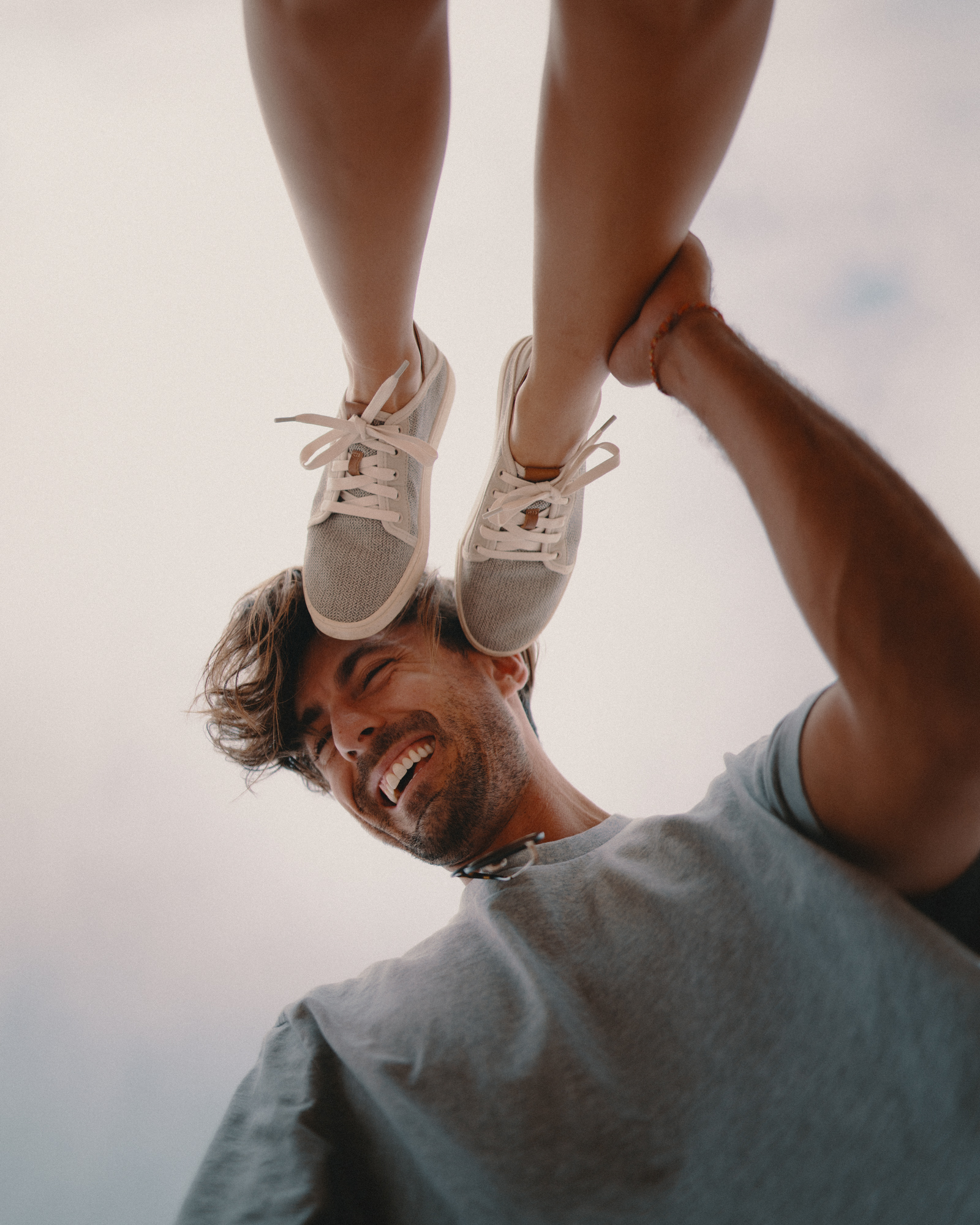 We made a quick caffeine stop on the way home, before we got to editing all this. I love cold brew in the summer!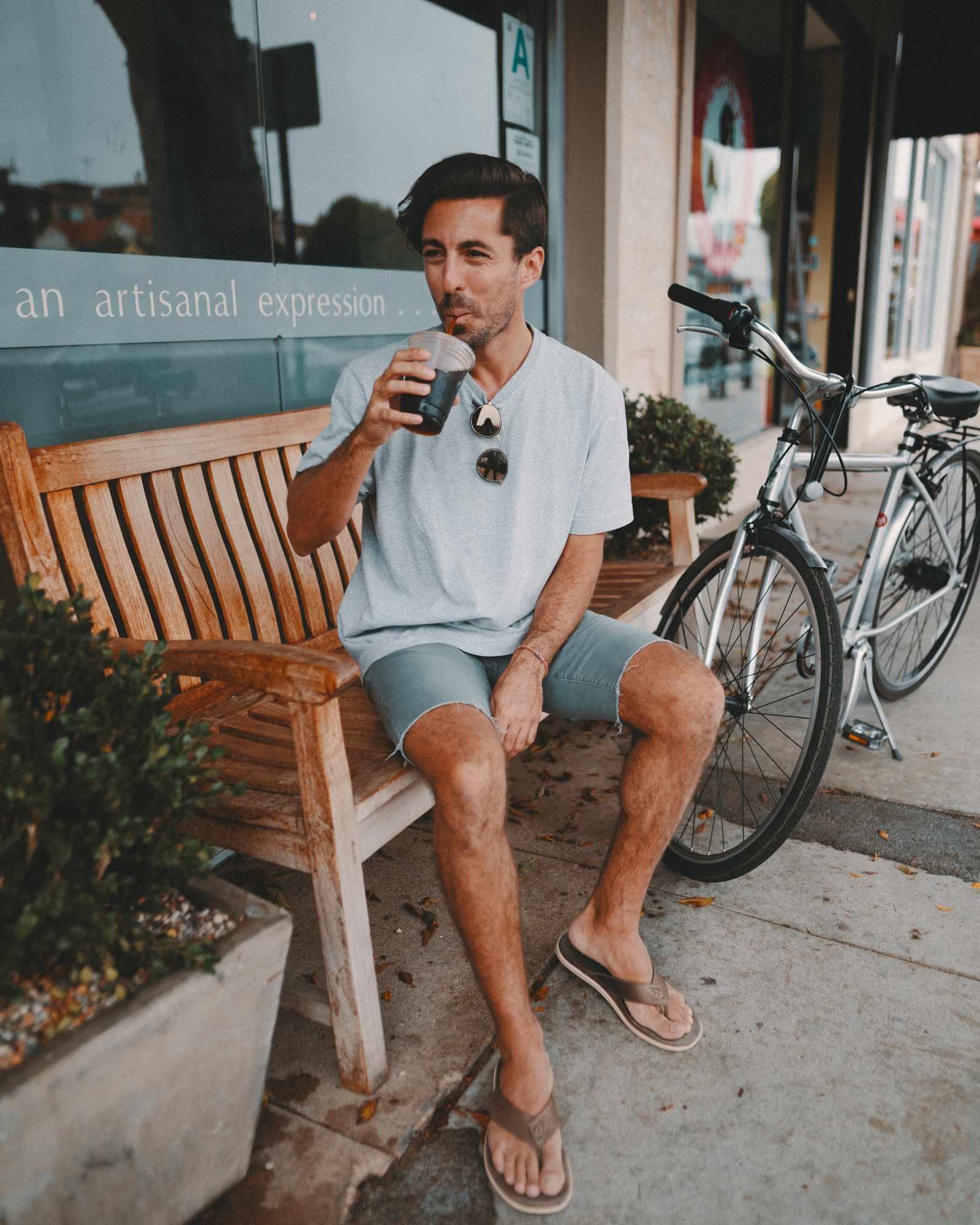 The Bottom Line: These are incredibly comfortable yet refined footwear, a perfect and easy-on go to for our oceanside lifestyle.
Here are some key takeaways after wearing these out for the day:
Comfort - These are SO cozy, seriously - our feet thanked us. We're both very active, and Amy often has issues with sore plantar muscles, I keep telling her to toss the heels for part of the week and find a comfortable shoe to wear. I think she found it!
Multi-Purpose Practicality - We both grew up in a little beach town, and I've always had several pairs of sandals in my closet. I wear them ALL THE TIME - to water the plants on our roof, when I go out to grab groceries, a casual walk around the neighborhood, or with jeans when I don't feel like lacing up. The curves of the Nalukai sandals hug my feet like no other, which is why they're sitting by my front door ready to slip on, and our now my new favorite pair.
Styling - The colors provided by OluKai and Zappos are perfect neutrals to complement several different styles - whether you're wearing jeans, board shorts, or a bikini!
Craftsmanship - These are incredibly well constructed pieces of footwear. The leather on the Nalukai sandals is a smooth, soft grain, high quality type that I love. These are slightly heavier than your normal sandals because of that leather quality and solid construction of the sole. The Pehuea Li Sneakers are of a super lightweight canvas construction, but the soles are solid and padded inside. The stitching is impeccable and for sure built to last.
Price - I would say these fall into the more premium price range. The OluKai Pehuea Li Sneakers in Tapa will run you $99.95 and the OluKai Nalukai Sandals in Husk at $109.95. However, the craftsmanship and build quality is top notch, you can really feel it both in the material used, the design (e.g., perfect curvature of the soles), and just the solid overall feel when you pull these out of the box for the first time.
We'll both be wearing these to the beach for the rest of summer and beyond!
Shop these both at Zappos:
And don't forget to sign-up to become a Zappos Rewards Member to get free expedited shipping and more.
ALOHA!