January 29, 2019 Style Wedding & Marriage
Bride Practice - Sunset Wedding Shoot with Bhldn at El Matador Beach, Malibu
I was never the kind of girl that was obsessed with weddings. As a kid, I always saw myself getting married, I always wanted to get married and have a wedding, but it wasn't something I planned, thought about much, or dressed up as. But then shortly after Brandon and I started dating (way back in 2013), he told me that he wanted to marry me, and we casually started planning our wedding - just putting together the basic ideas of where (Big Sur) and what kind (uncomplicated, fun, woodsy with a tropical twist.)
Finally(!!) at the end of last summer, we got engaged officially! And then the exciting - and so daunting - task of actually putting together our dream wedding became real. We decided on late summer 2020 for the big day, so we are taking the slow road to our wedding. After dating for 5 years, neither of us wanted to rush through being engaged, we wanted to savor it, let the glow linger around us and not go into a panic trying to put an entire destination wedding together as quickly as possible.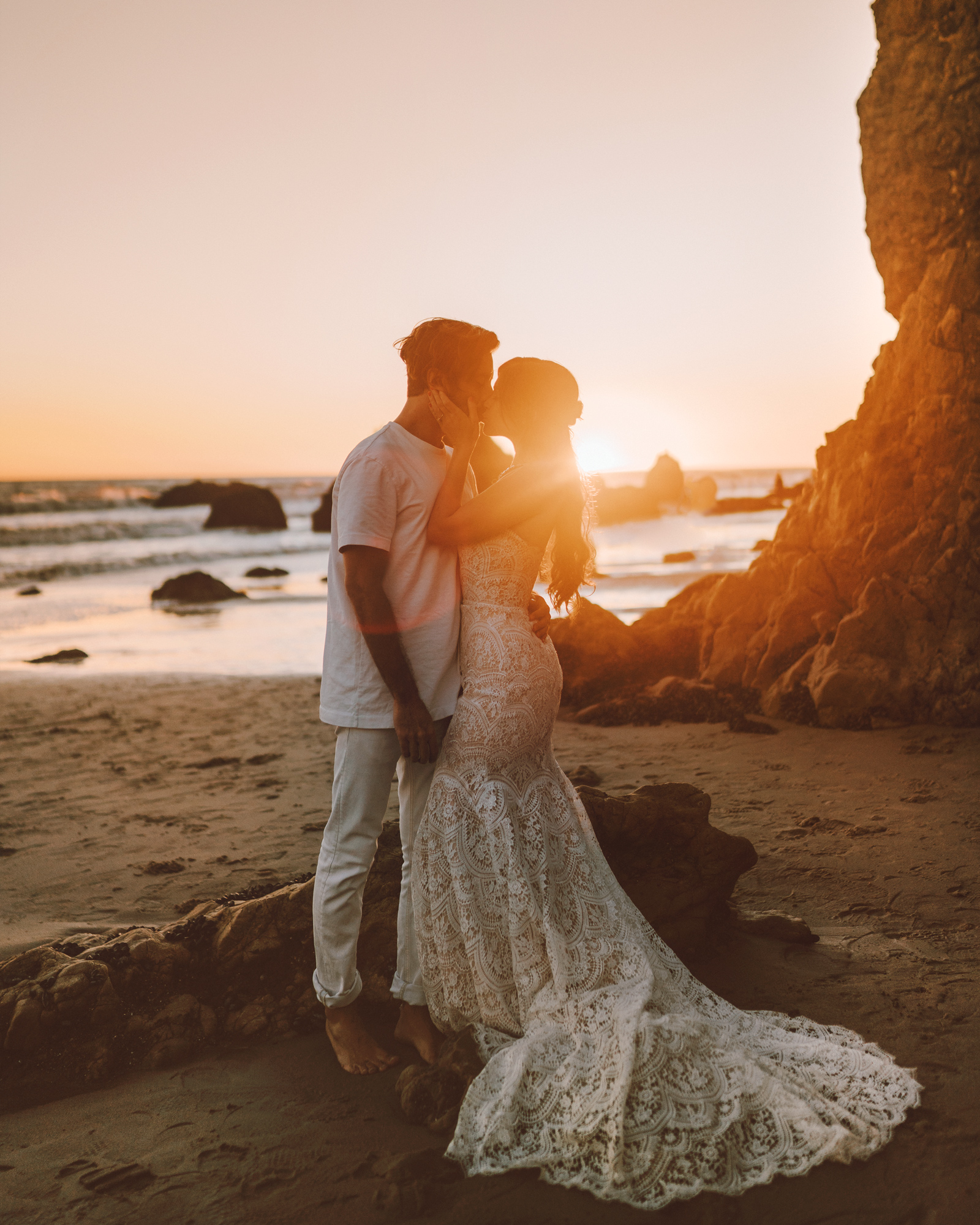 But it wasn't like I could wait ANOTHER two whole years to wear a wedding dress. Are you kidding me?
If you've seen our photos at all, you probably already know this about me, but I LOVE dressing up. I have since I was 2 years old and insisted on wearing a ballet tutu over every single thing I wore for a year; or all through elementary school I only wear dresses that "spun" (which is Honestly. Still.True.) I have always chosen my travel outfits thematically, and jump at every chance I've had to wear an Authentic Dirndl at Oktoberfest, a renaissance princess costume in a French Castle, or a real Sari for an Indian Wedding. And, arguably, dressing up for your wedding is one of the most important outfits of your life.
When Bhldn reached out to us about shooting a dress from their new Spring collection, I was so incredibly excited to get the chance to practice being a real Bride for an evening. Since we're waiting a while, I hadn't had the chance to go try on wedding dresses yet, so this was the first time I had ever put one on - which was emotional, and exciting, and made my heart flutter.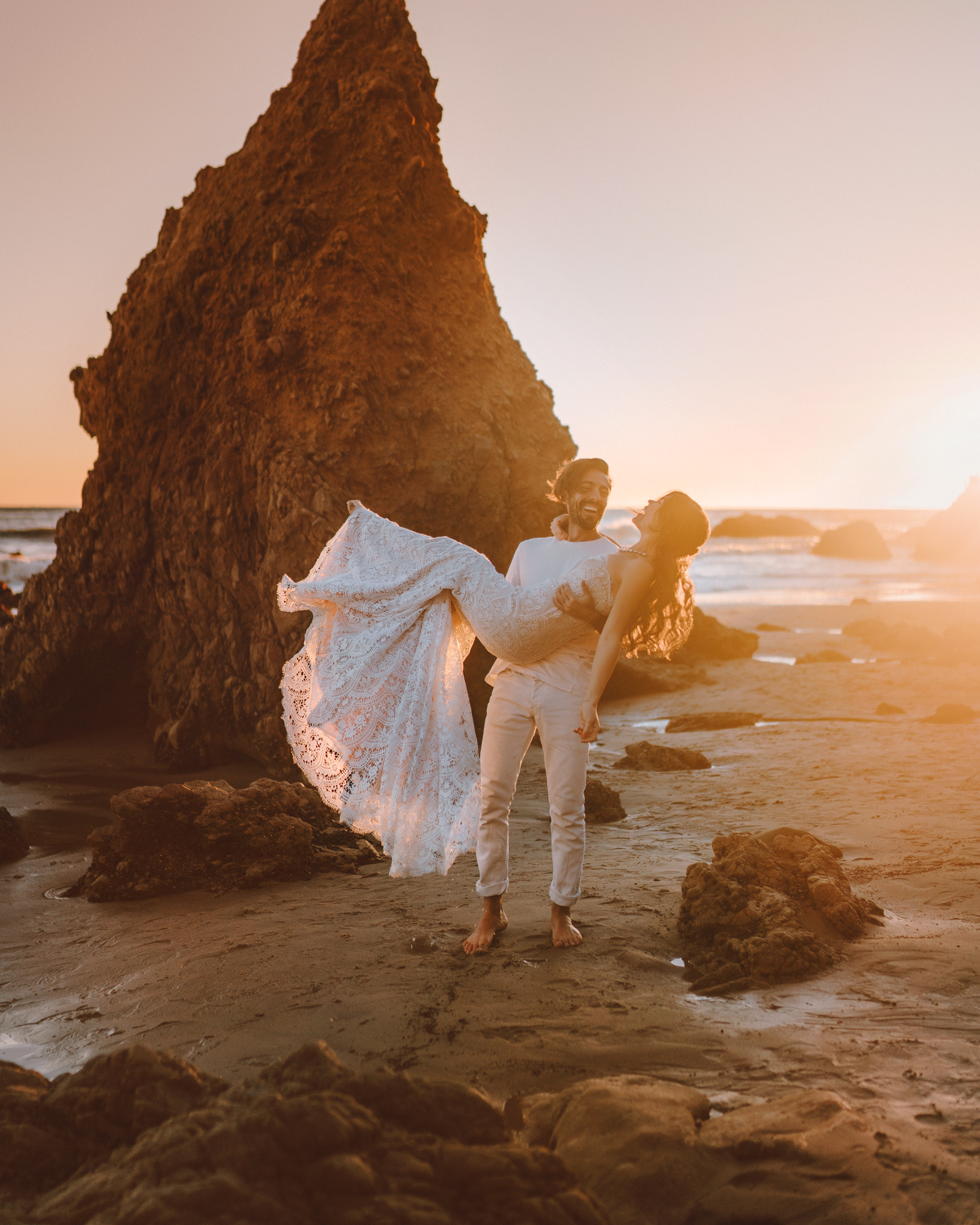 Brandon and I have long discussed what we should do with our wedding photos - taking and editing photos of ourselves is such a huge part of our lives, that entrusting someone else with the task is unnerving and a little terrifying. I know exactly how I like to look in photos, how I like my focal lengths, lighting, color processing, details - can we trust that to someone else for something so important? We're going to have to, but I loved taking the chance to shoot some early wedding photos of ourselves, something I believe we will incorporate into our actual wedding.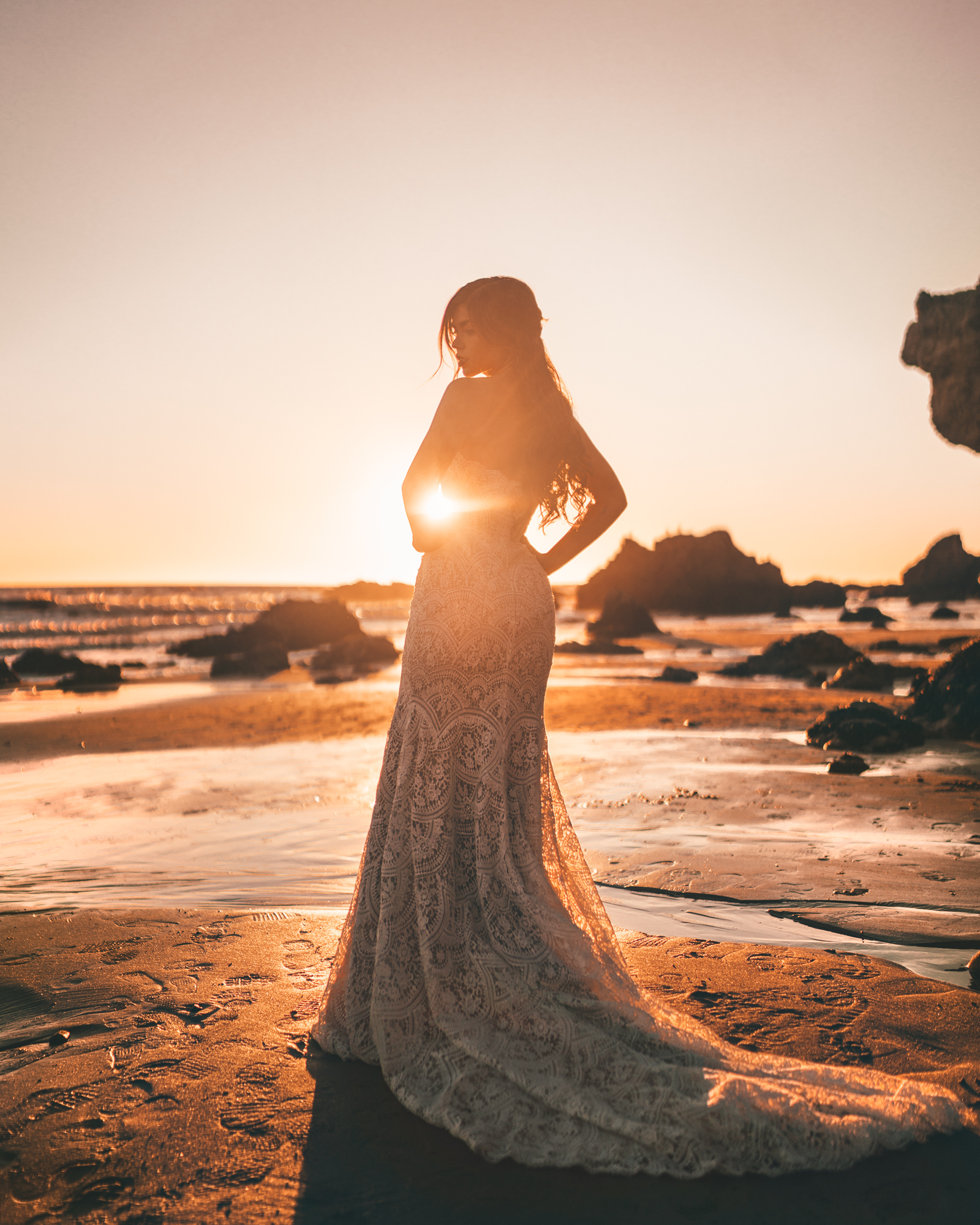 We drove up the coast to El Matador in Malibu, arriving just before sunset. It is one of my favorite beaches to shoot in the area - the rock formations, the caves, and the wide expanse of sand at low tide is so picturesque as the sun sets - but it is no hidden secret. We affectionately refer to El Matador as Instagram Beach, as the sun starts setting, there are never any less than 10 photoshoots of varying levels of professionalism happening - everything from huge productions with a hundred people and 4 trailers, to High School kids with iphones. The Tuesday night we went, there were even two other brides there. But the beach is big enough that it's not too hard to get an area mostly to yourself.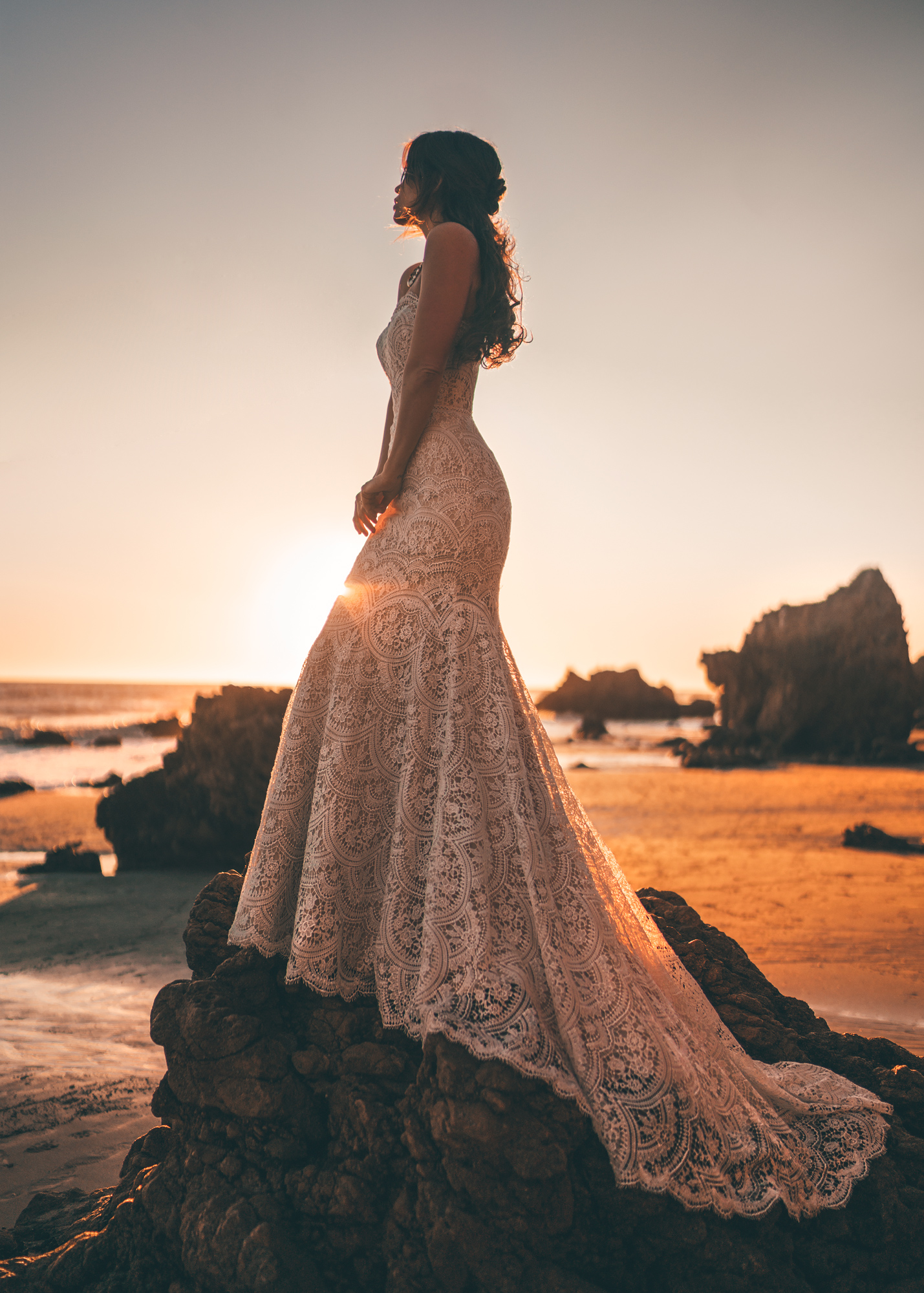 And I just love everything about this dress.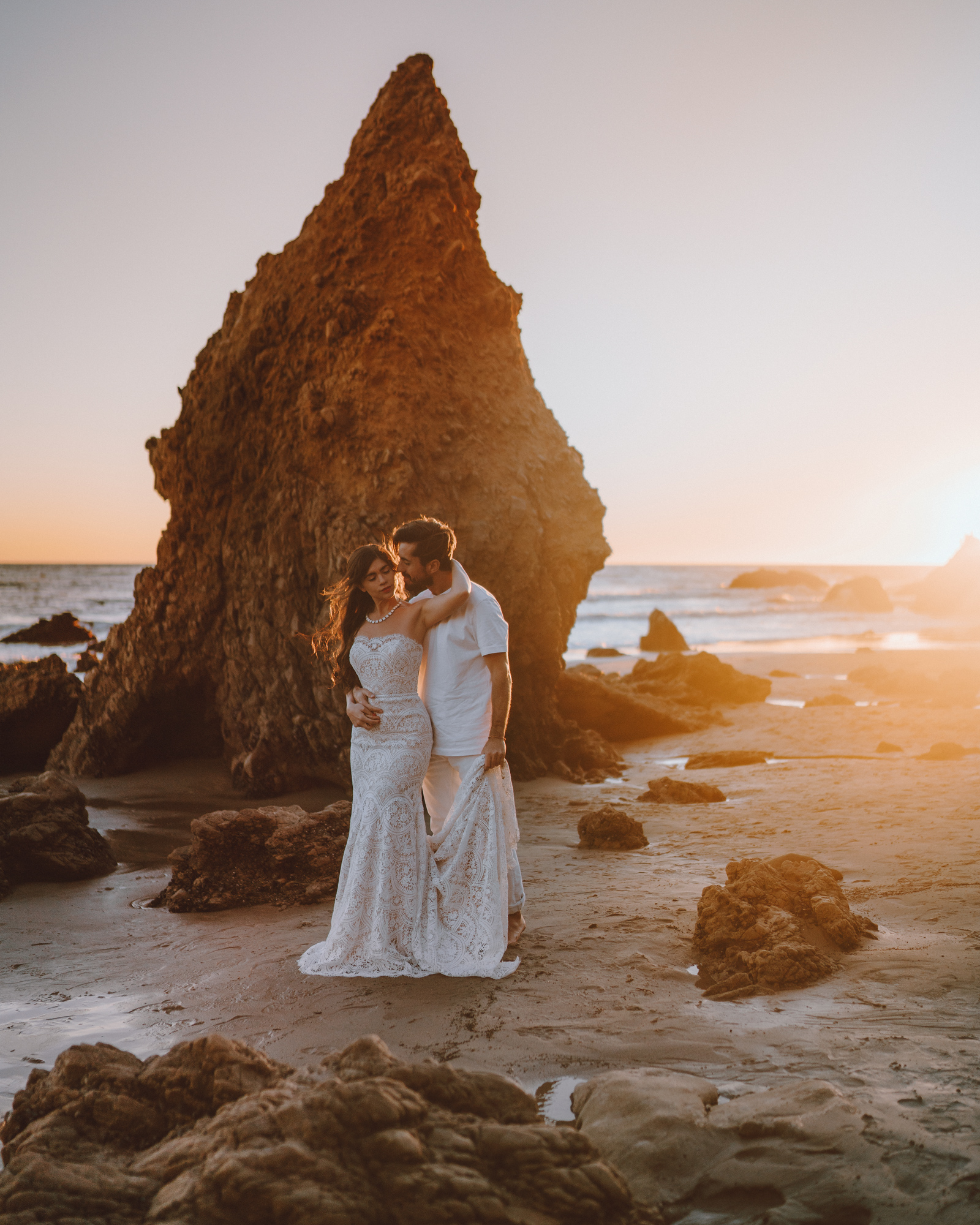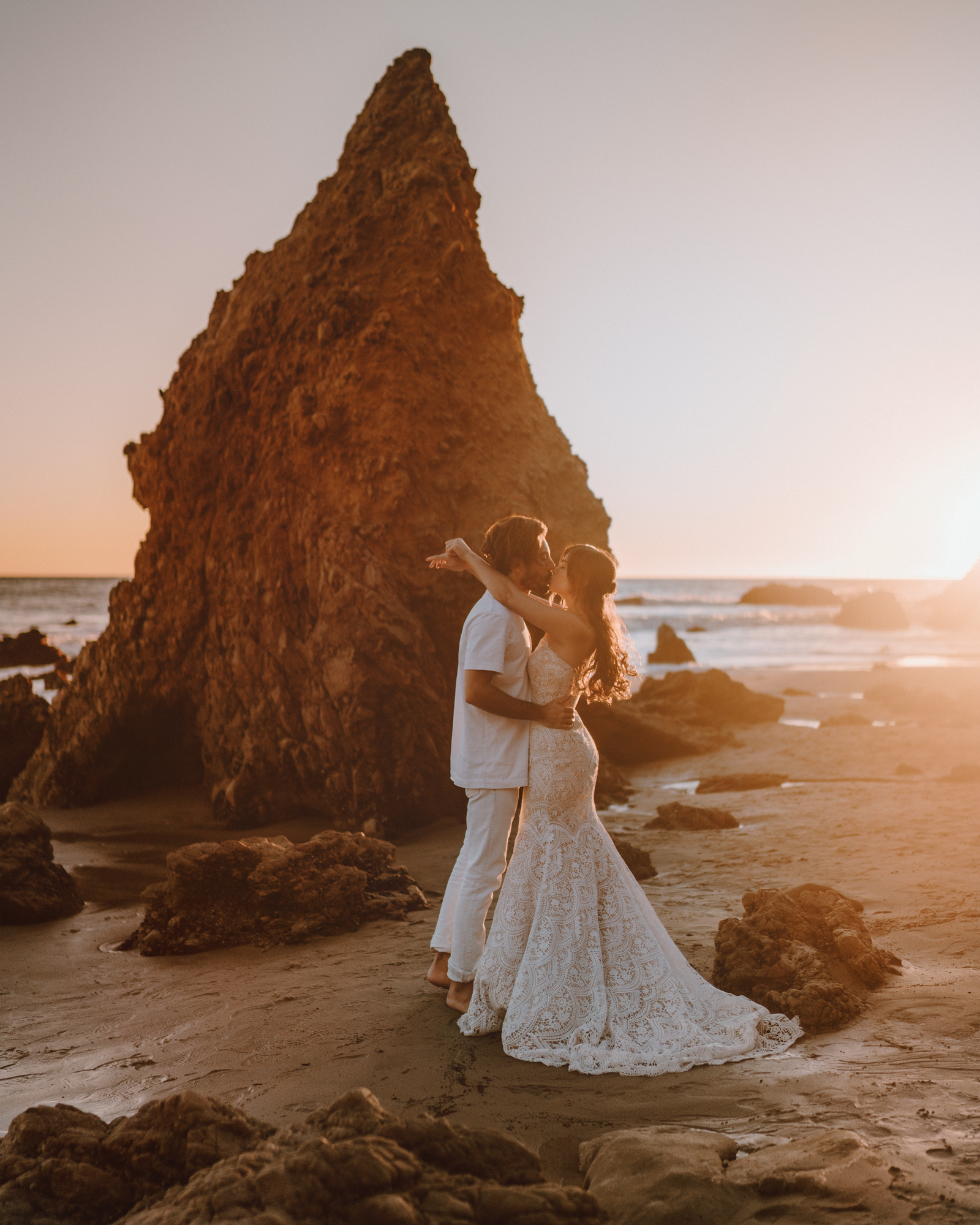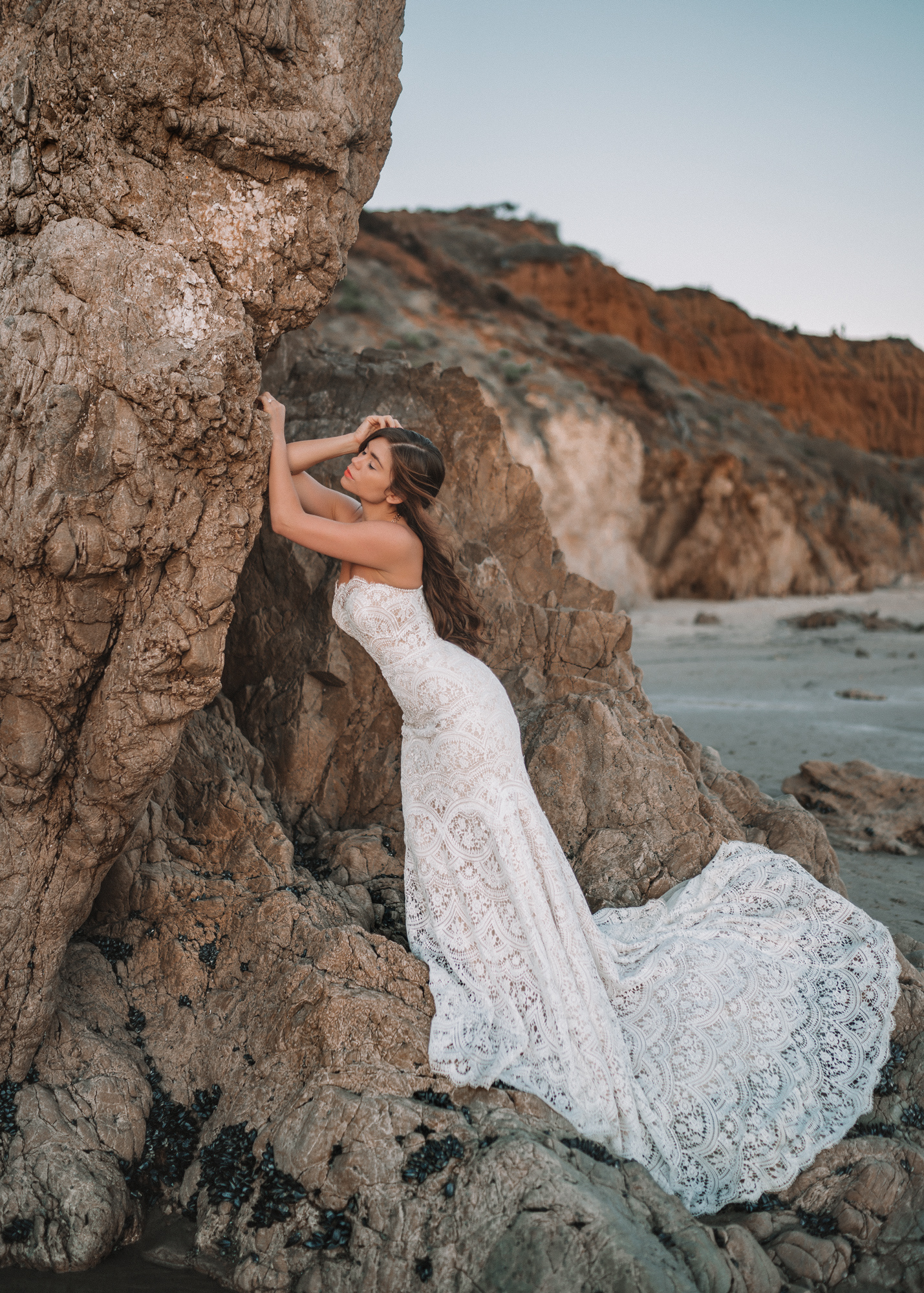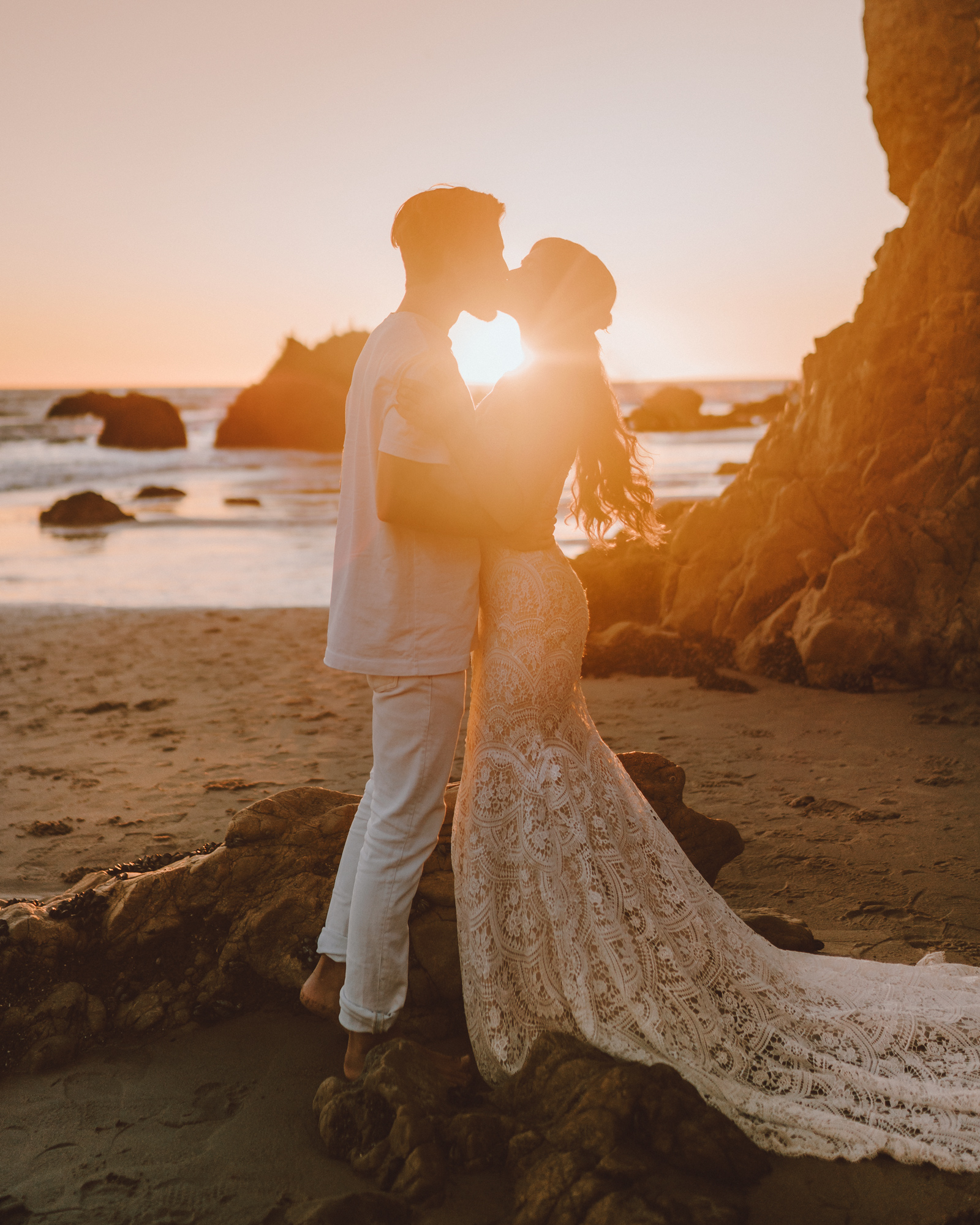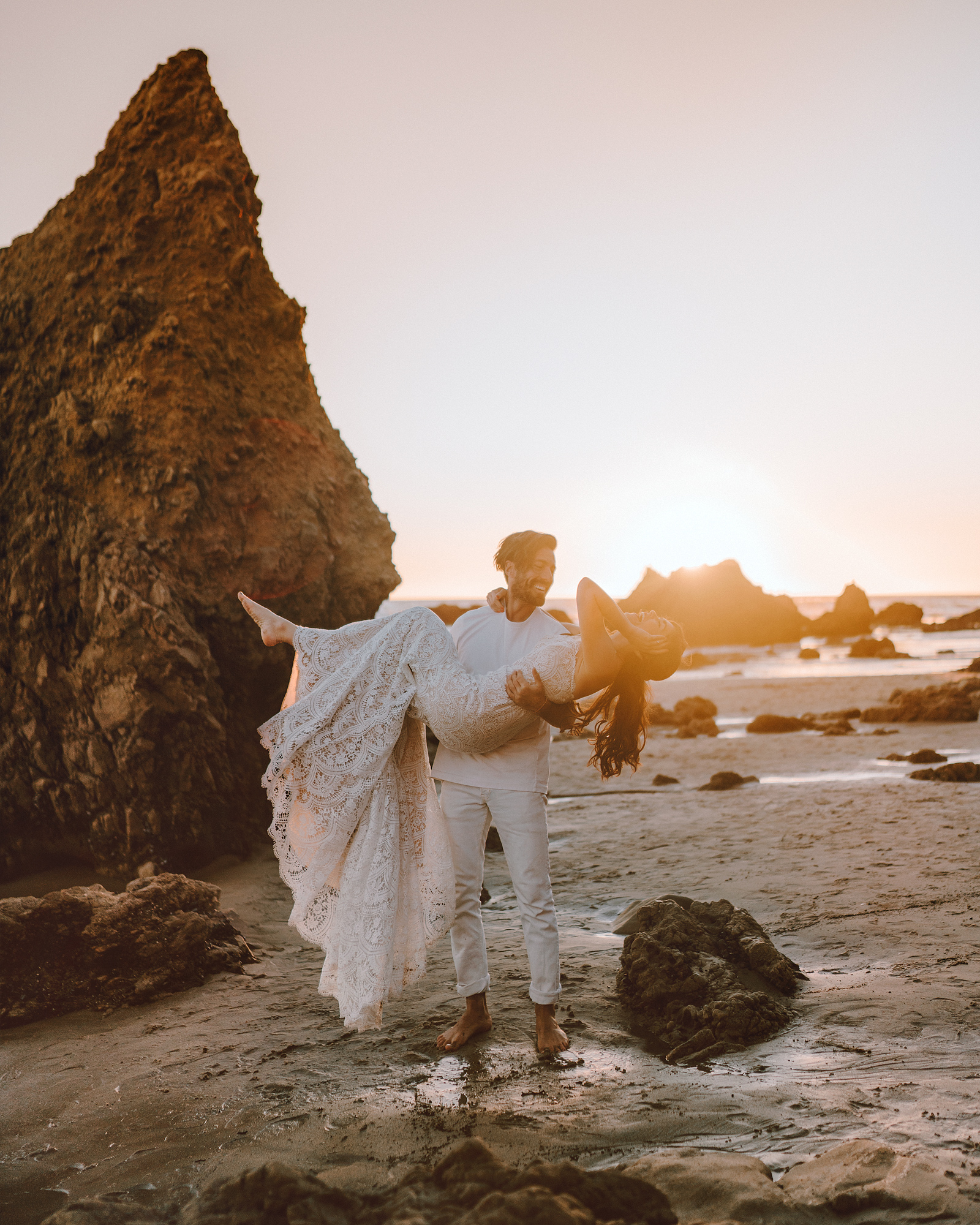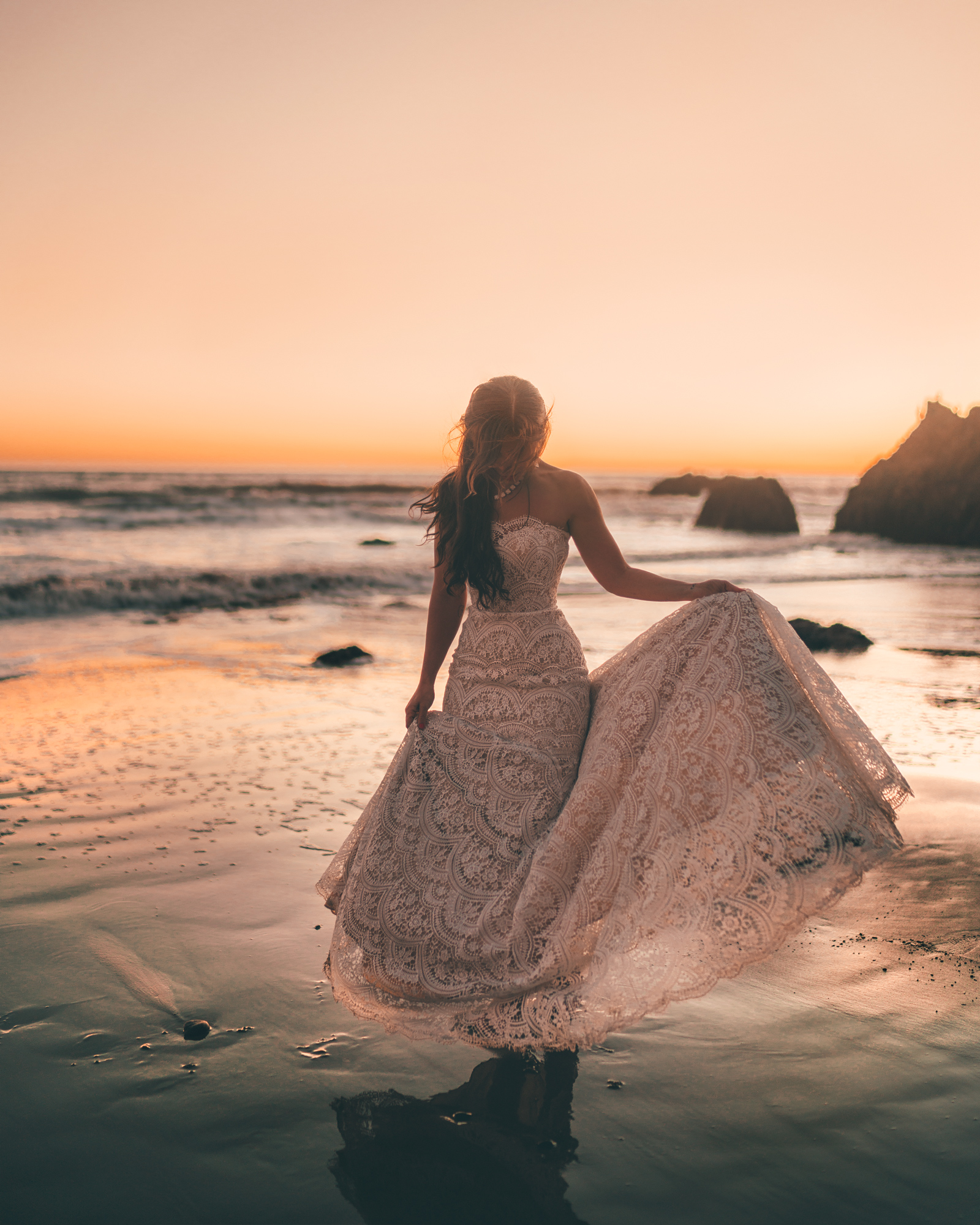 Until the next one. ♥