March 21, 2019 Travel Adventures Hotels And Resorts
On Safari Near Cape Town: Gondwana Game Reserve, South Africa
Going on a Safari in Africa is one of those things that I think is on pretty much everyone's bucket list. Even before the modern mainstream-ization and accessibility to travel, the fortunate and adventurous have been traveling to Africa to wonder at the wildlife. (See - Out of Africa and The Crown) Going on a safari has always been on our 'someday' list, and when the opportunity came up to finally take our first trip to Sub-Saharan Africa (Previously having only been to Morocco), we know this was one experience we absolutely had to have.
The problem: we were flying in and out of Cape Town and only had a week, and most of the major parks and game reserves are much farther East and North - Kruger National Park is clear across South Africa and a flight away. Then we discovered Gondwana Game Reserve - just a 4 hour drive from the city along the famed Garden Route, and were so excited to be able to fit it in to our trip! We were nervous as we started planning out the trip - would we be safe making the drive? And after reading through lots of research and forums reassuring us that the Garden Route was an extremely safe and easy drive, we were ready. (And yes, we felt 100% safe the entire time!)
After our first few days in Cape Town, we set out early in the morning to make our way to Gondwana by lunchtime. We turned off the highway into the unpaved roads of the park, and within about 30 seconds of pulling into the gate, were met with a giant ostrich just next to our car! Upon entering the first gate, we signed our waivers (as it is an open park, the animals roam freely and you need to acknowledge that you may find yourself next to a rhino, elephant, or lion at any time.) and submitted our fingerprints to get through the gates. As wild animal poaching is still a major issue in Africa, the park has serious security, a 24-hour anti-poaching team that drives through and monitors the animals, and fingerprint locked gates around every road.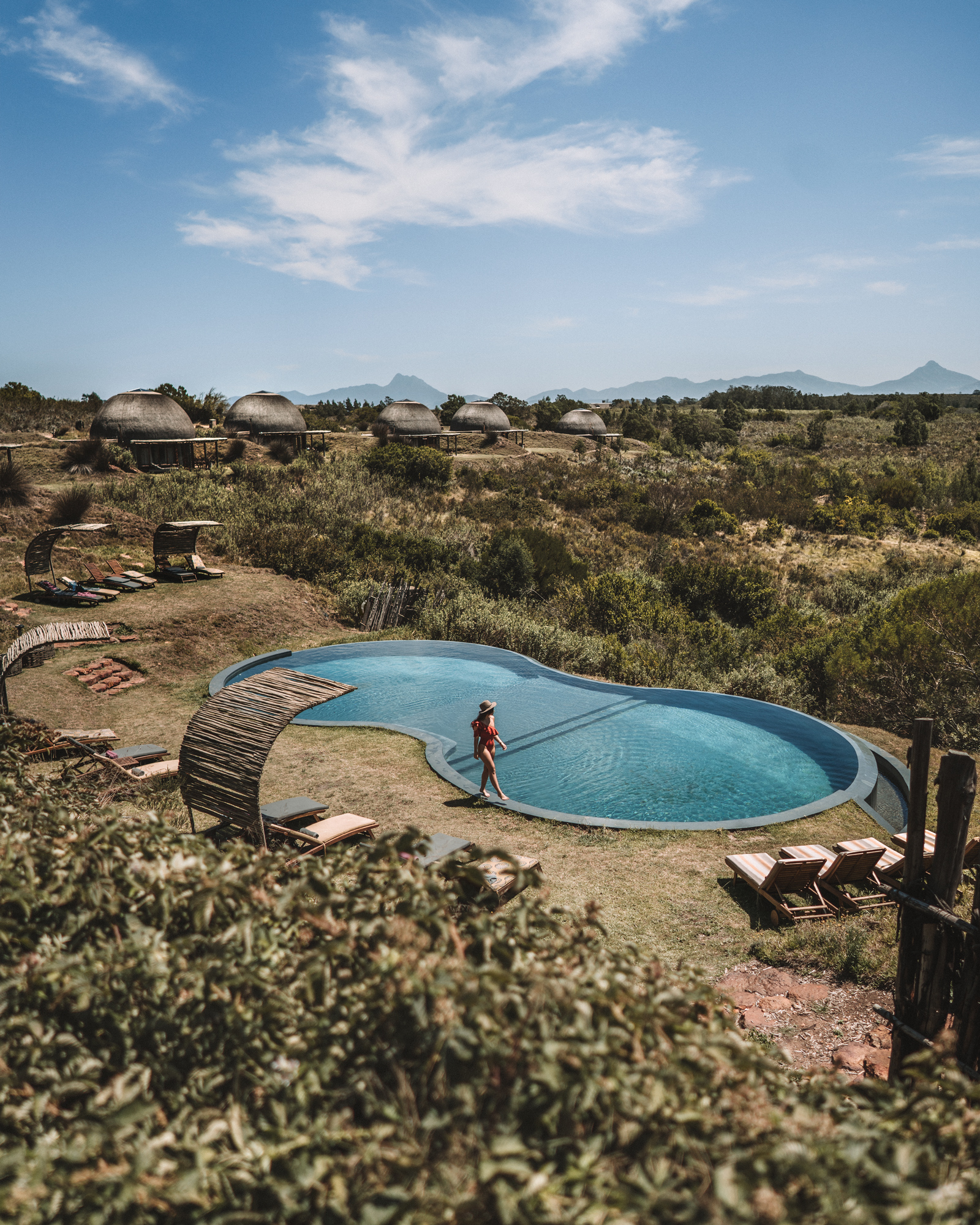 We drove a couple of miles through the grounds before entering the Kwena Lodge area and found this view from the lobby! Right as we arrived, there were elephants drinking out of the pool, but unfortunately we didn't get our cameras ready in time to capture them. My biggest regret of our whole trip was not immediately jumping in the pool with the camera to get a photo with them. Can you imagine the epicness?
While staying at Gondwana Game Reserve, we had the chance to experience amazing animals that we had previously only seen in zoos, roam around their natural habitat. The reserve is home to the Big 5 (Lions, Elephants, Leopards, Rhinos, and Buffalo), as well as hippos, giraffes, zebra, wildebeest, ostriches, and so many more. The term Big 5, we learned, was named by big-game hunters, and refers to the five most difficult animals in Africa to hunt on foot - previously I assumed that it meant the five most popular big-name animals. Gondwana is the sole free-roaming Big 5 protected wildlife reserve in the Southern Cape, which made it an amazing option for us, as we were not traveling to other areas of South Africa during this trip. One other note that we loved, Gondwana has a very strong focus on conservation, breeding, and treating the animals entirely as if they are unprotected and completely in their natural habitats. Nothing is manufactured, or intervened with - the lions hunt at their own will and are not artificially fed.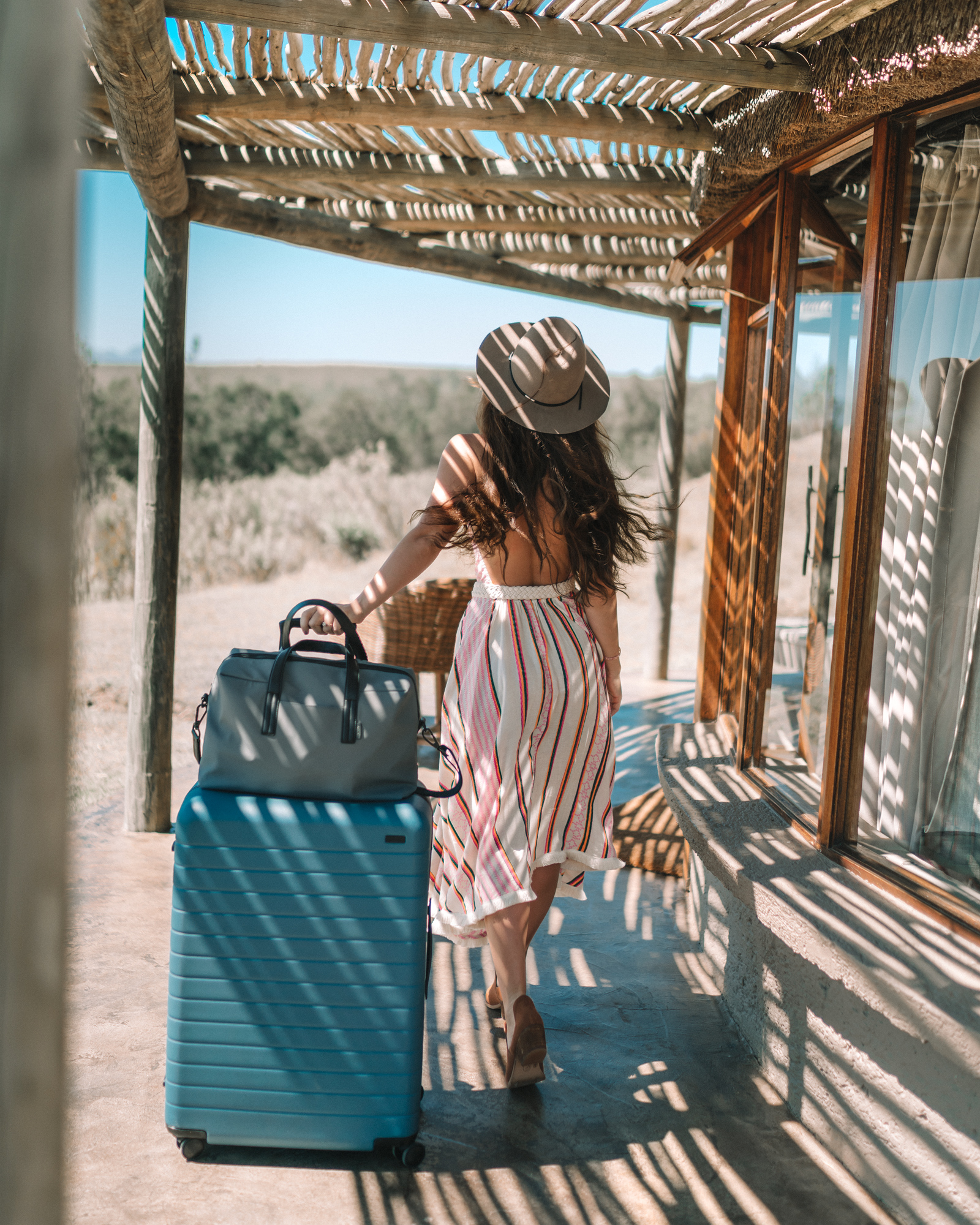 Checking into our suite at the Kwena Lodge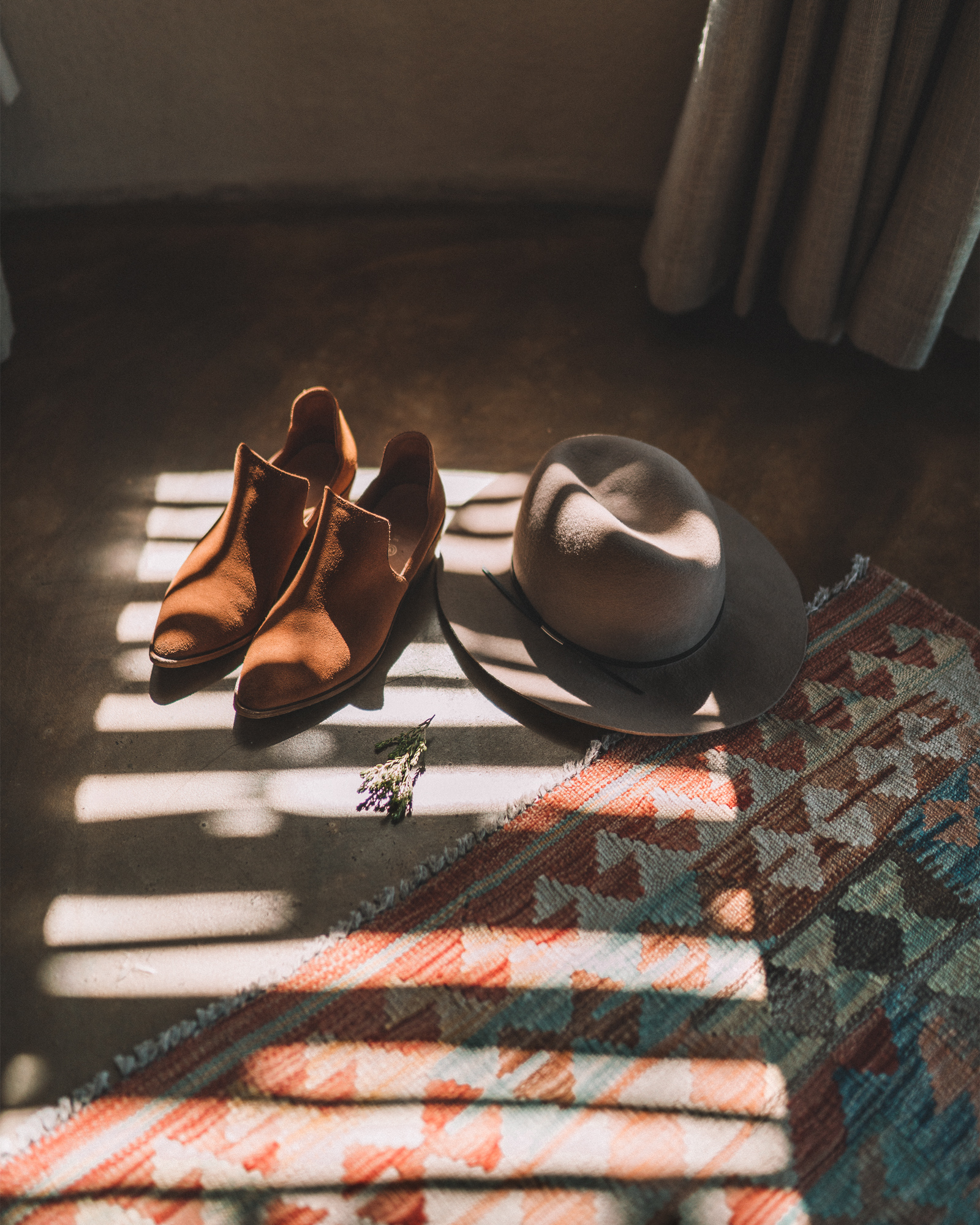 Safari Details in the afternoon light.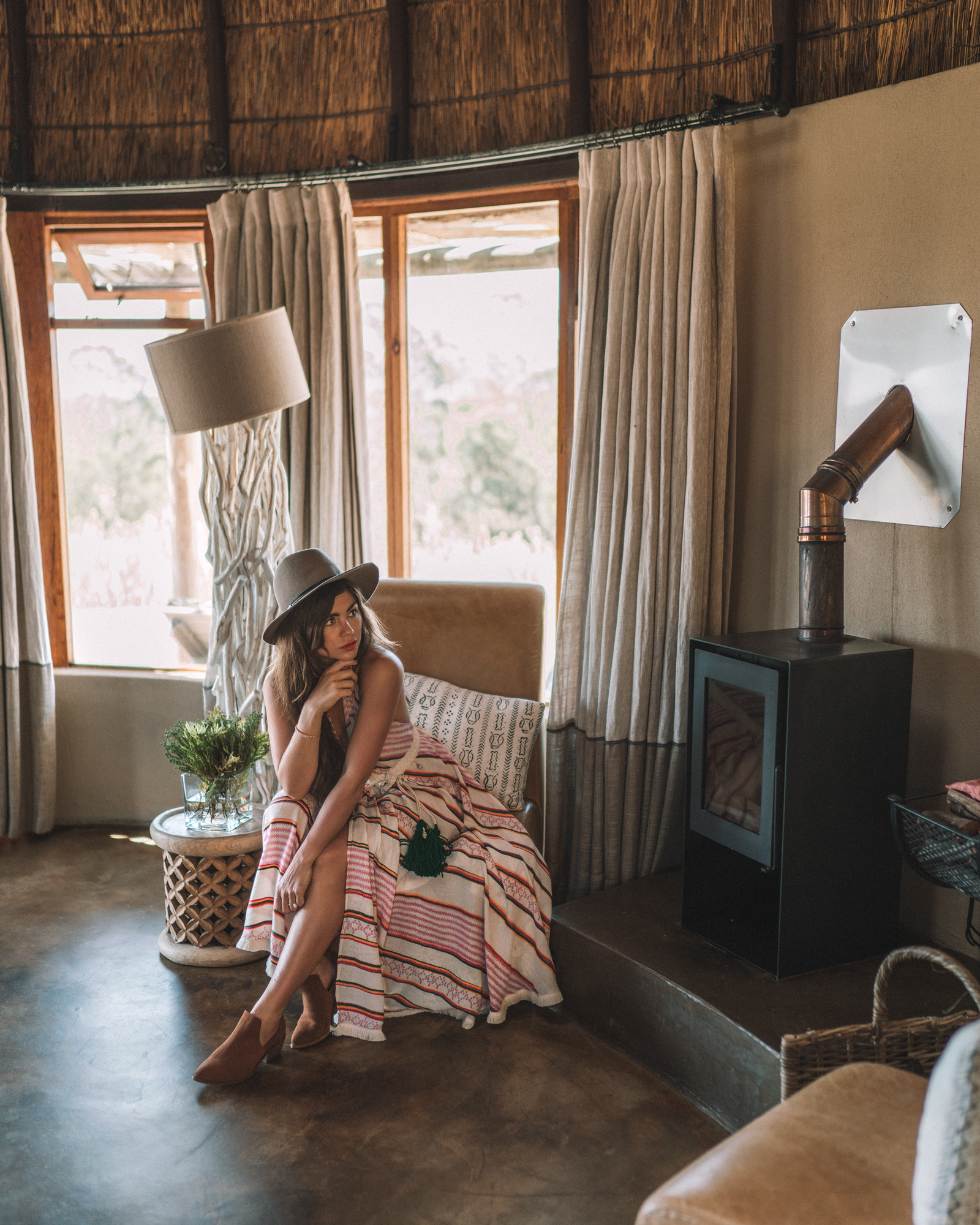 The rooms here are gorgeous, circular, luxury huts, that perfectly integrate into the landscape. You feel like you are out in nature without roughing it at all - big comfy beds, air conditioning and heat, and lots of room. We could have spent a week here and not have gotten tired of staying in the room.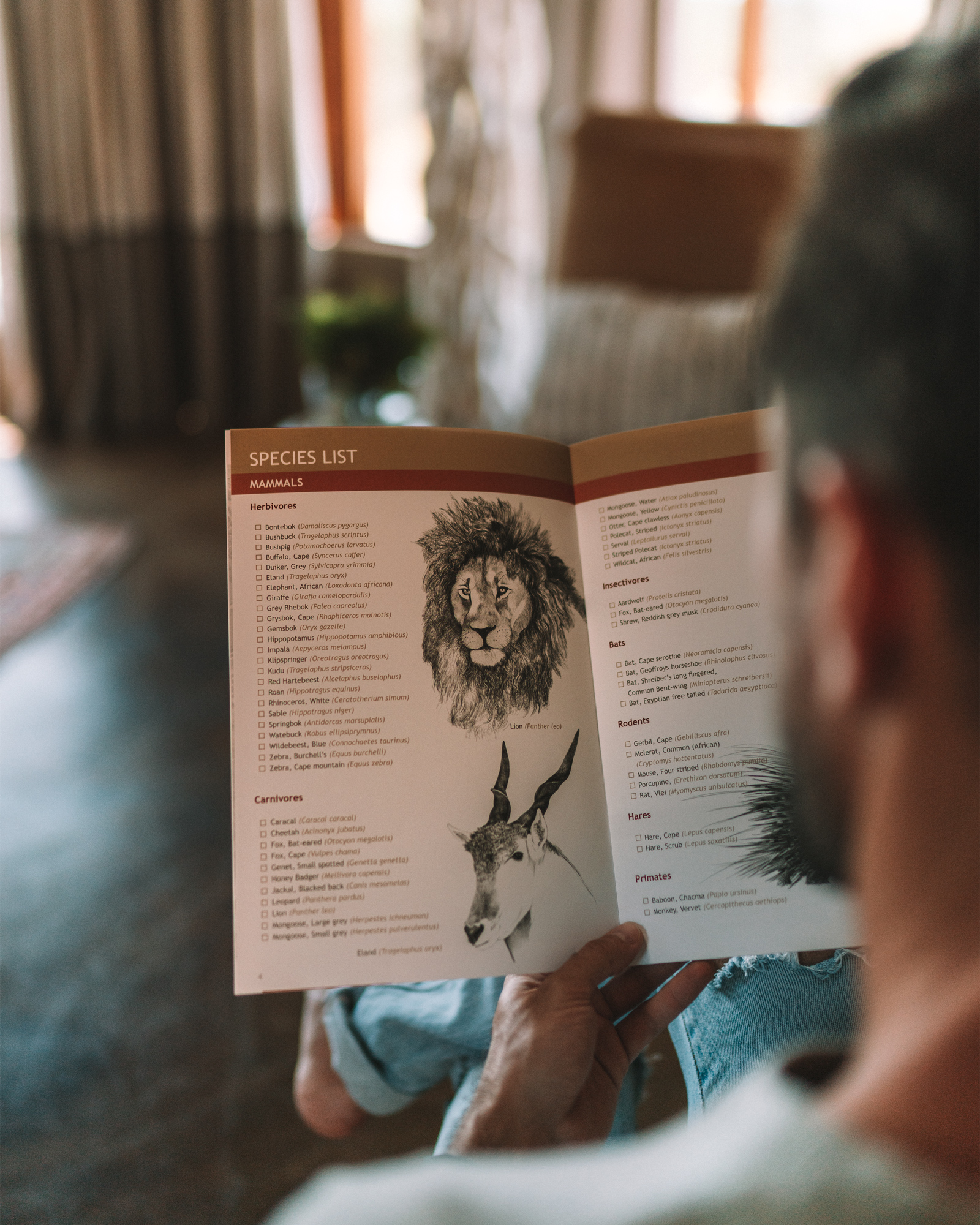 Preparing for our first safari with the animal sighting checklist. Brandon is obsessed with Lions and Cheetahs.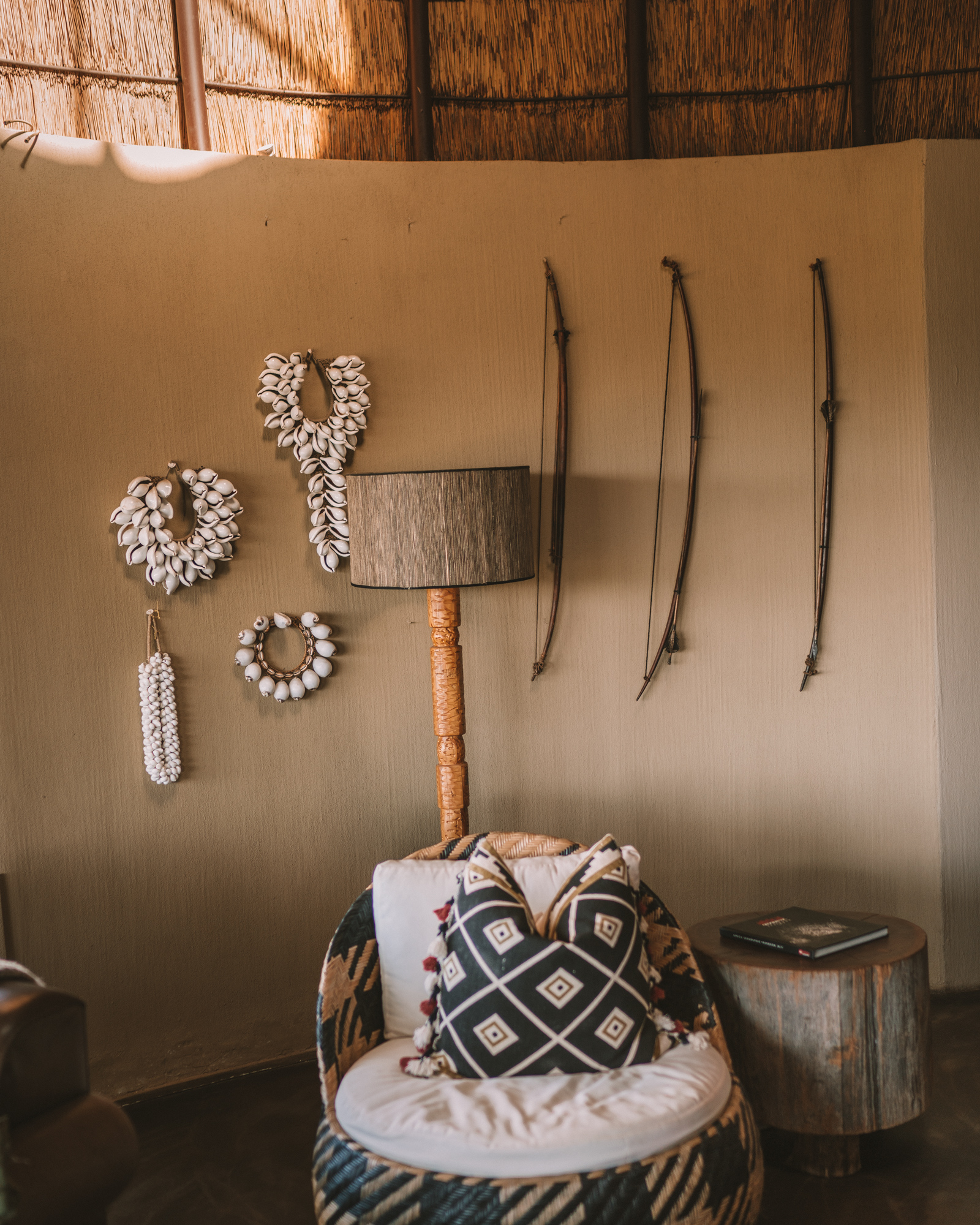 We met our Safari guide and the rest of the guests in the lounge at 4:30PM to head out for our first sunset safari. Gondwana has an afternoon tea and drinks set out before you go out, where you can meet people and get ready for the evening. It's a really lovely way to being, but we were just way too excited to go experience the park for the first time!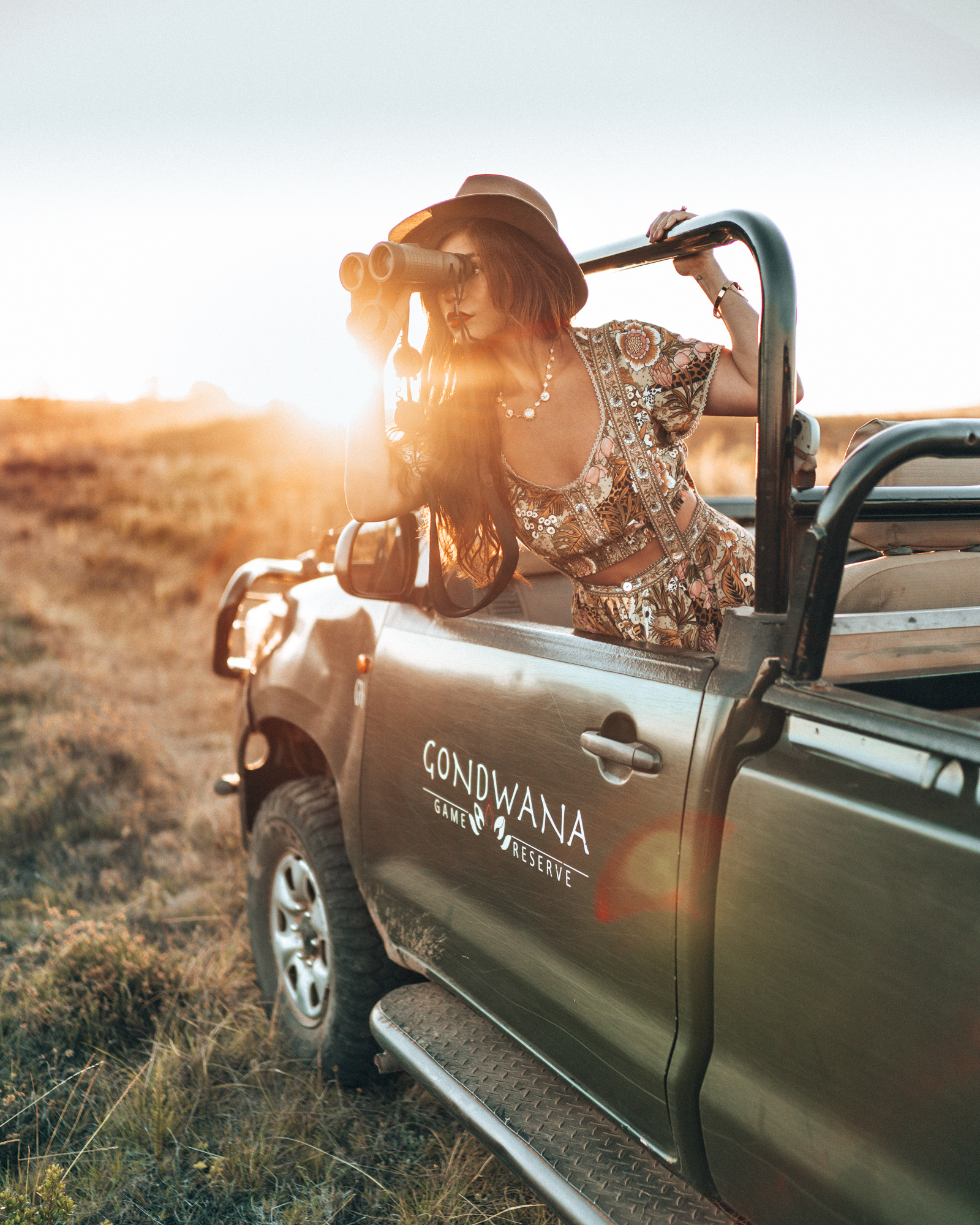 And we're out on Safari! I (of course) very carefully planned this outfit from Spell to wear on my maiden Safari experience.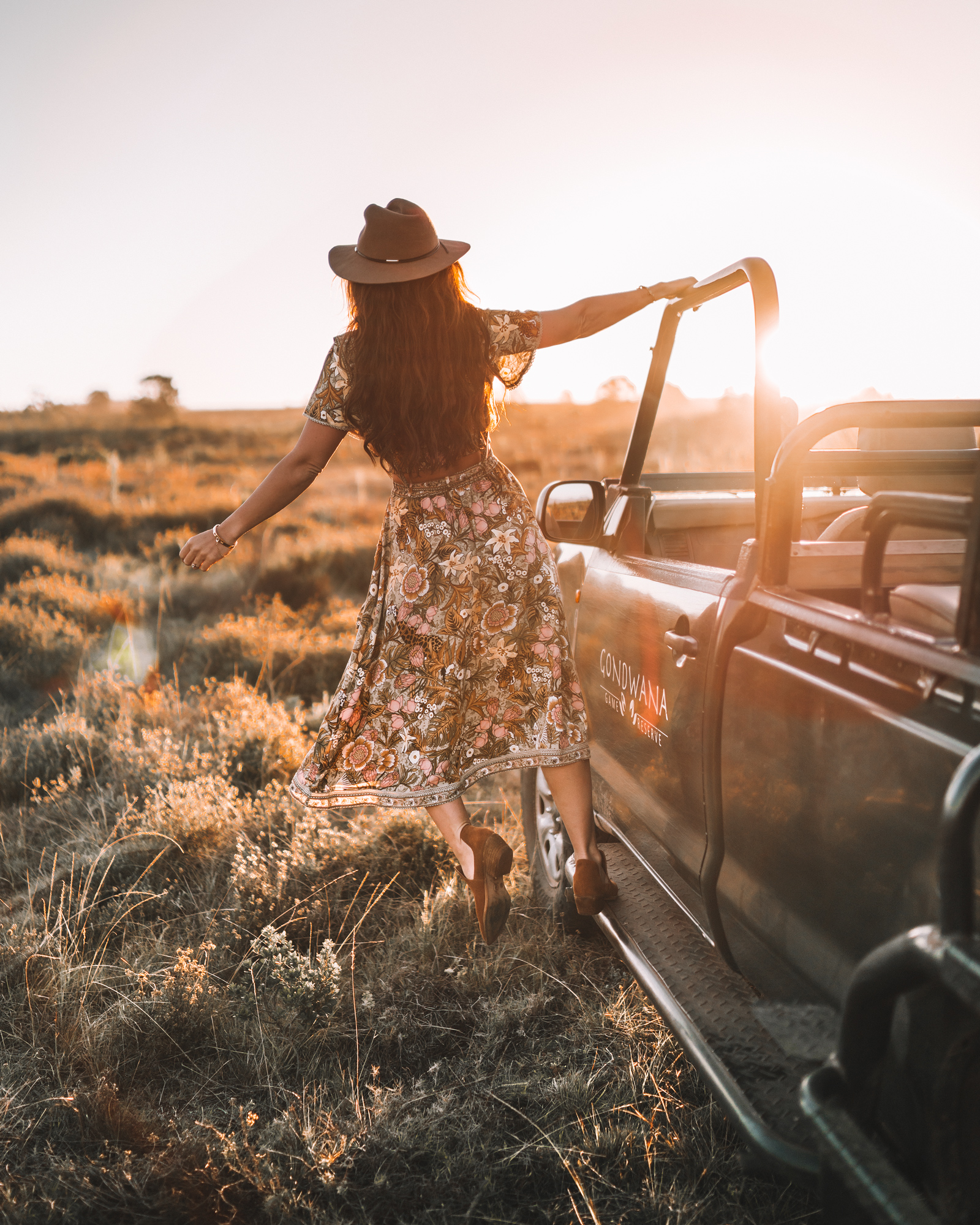 Towards the end of our safari, we pulled out into a clearing for drinks and snacks with our guide as the sun set behind us - our favorite was the locally made Biltong (dried meat similar to beef jerky, that comes in a wide variety of local animals - we really liked the Kudu!)
And now, for the good: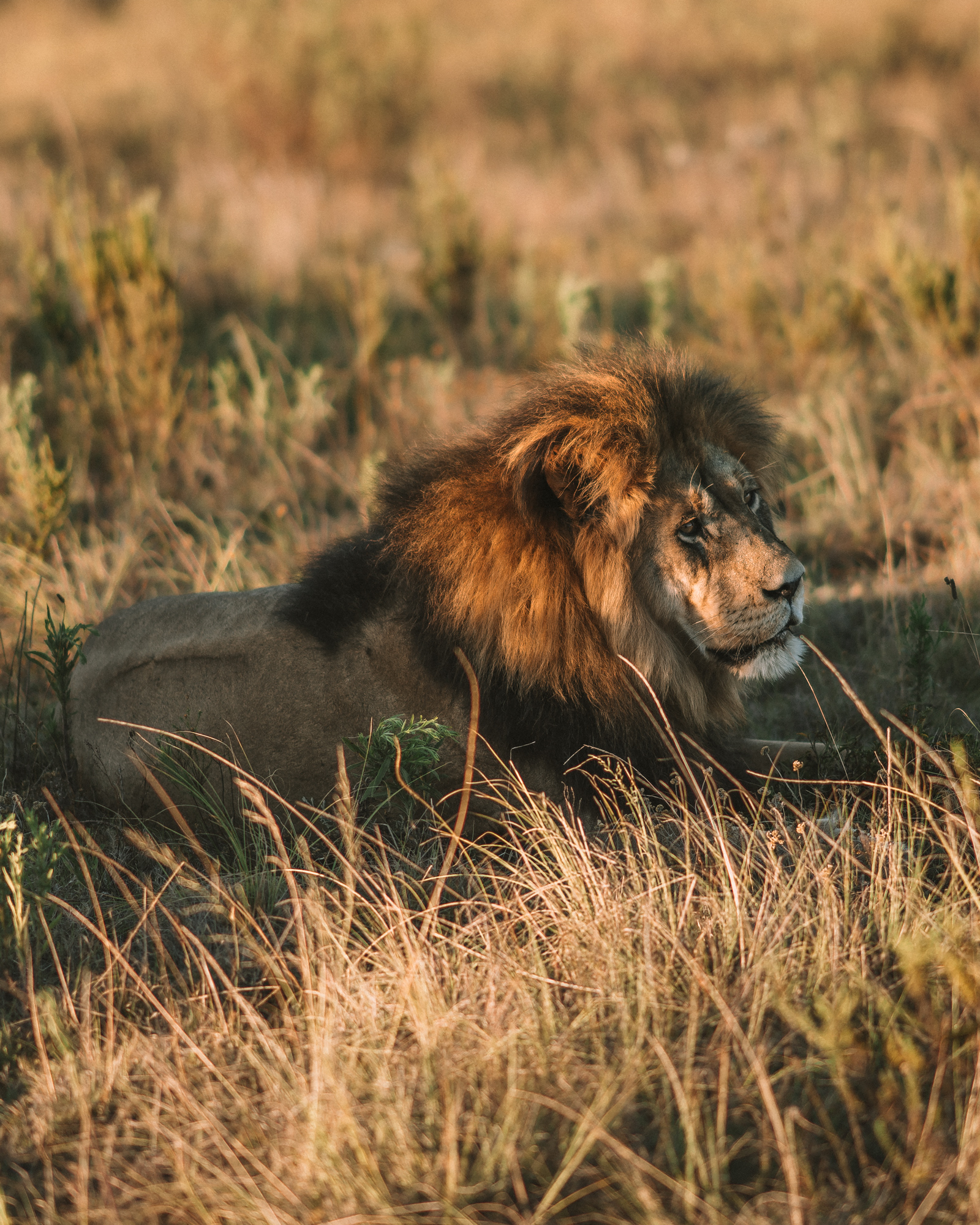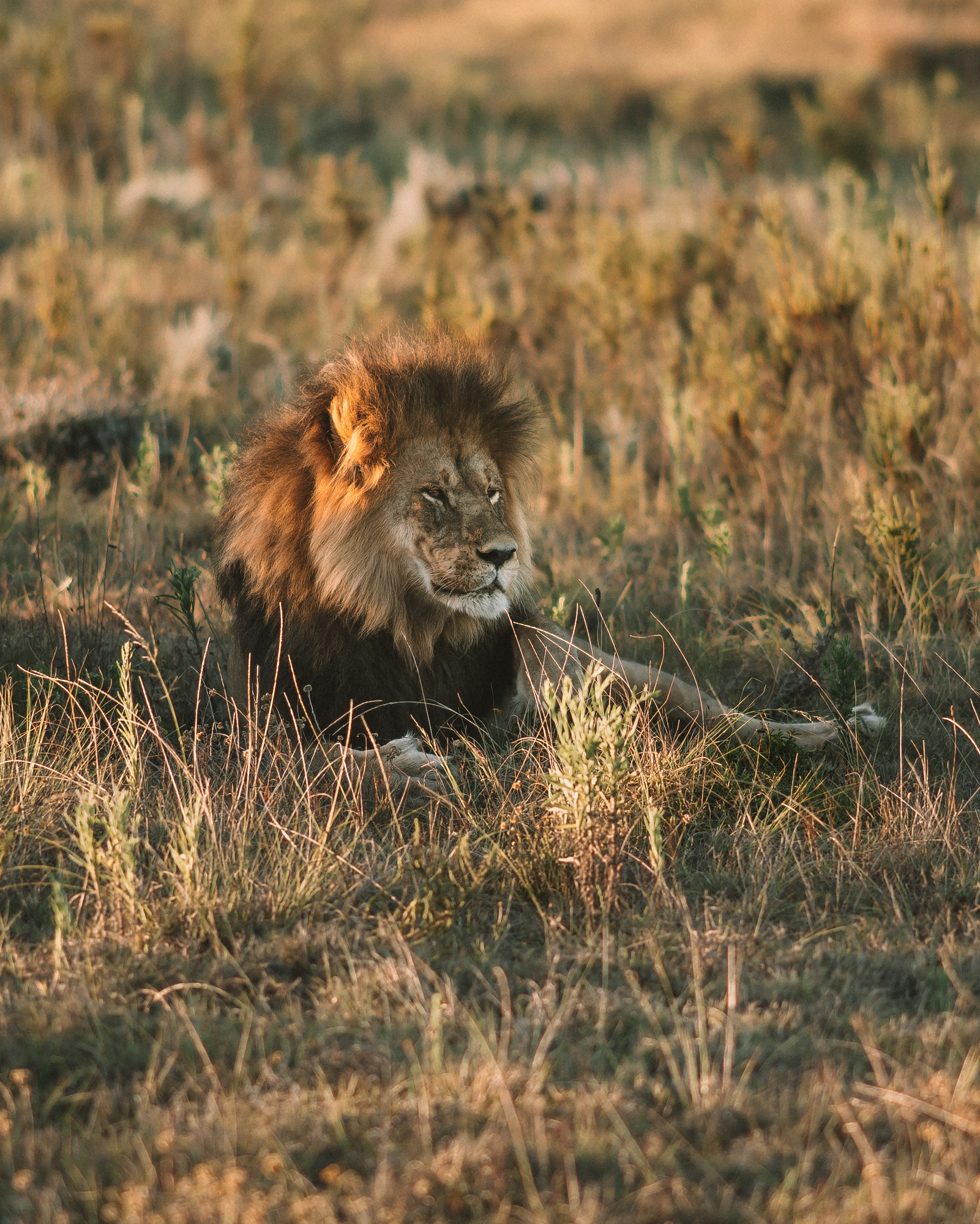 The king! There is an entire lion family here on the reserve, but unfortunately they were hiding out during our drive. We were really excited to see this sleepy kitty though. The way they move and act so much like housecats has always astounded me.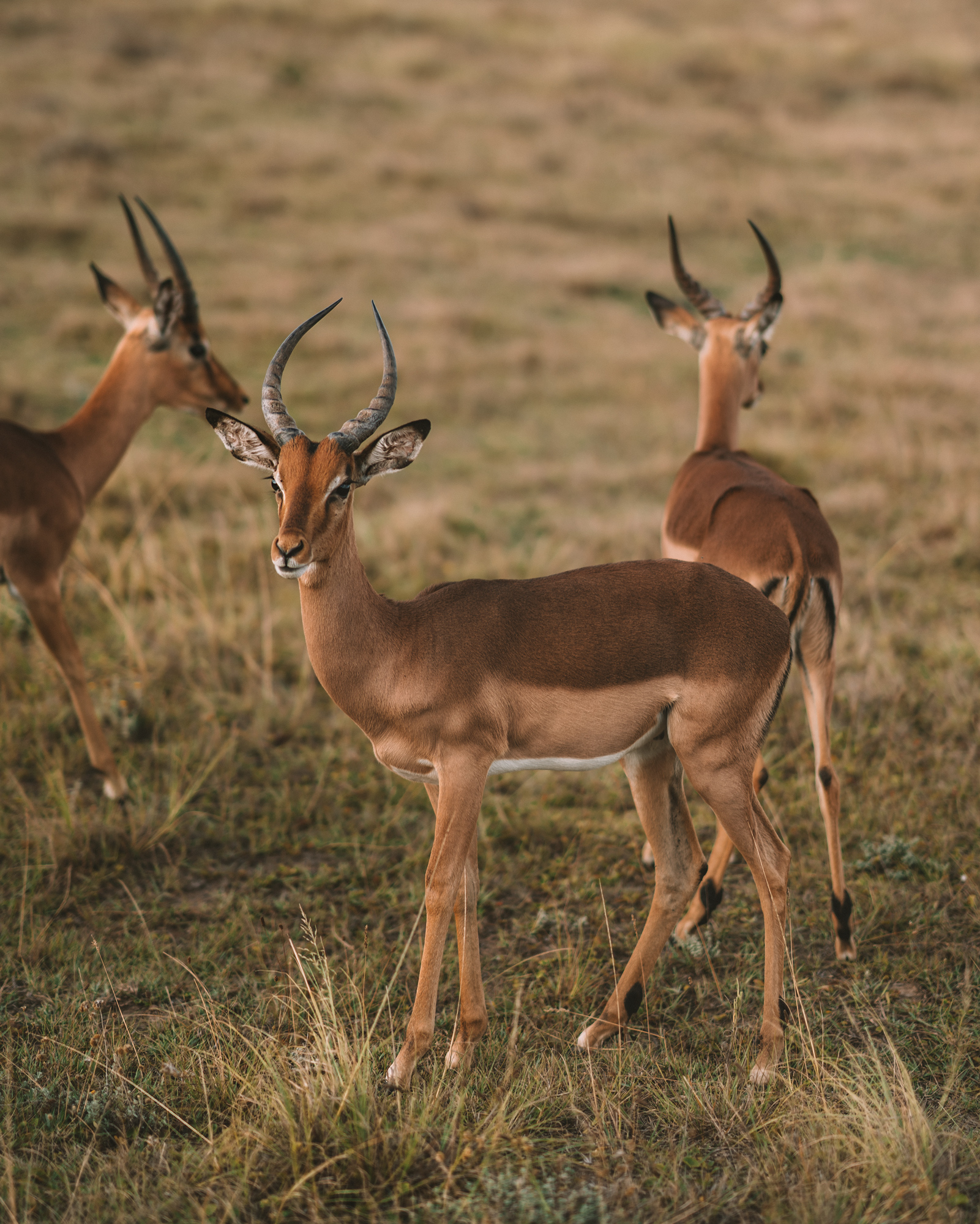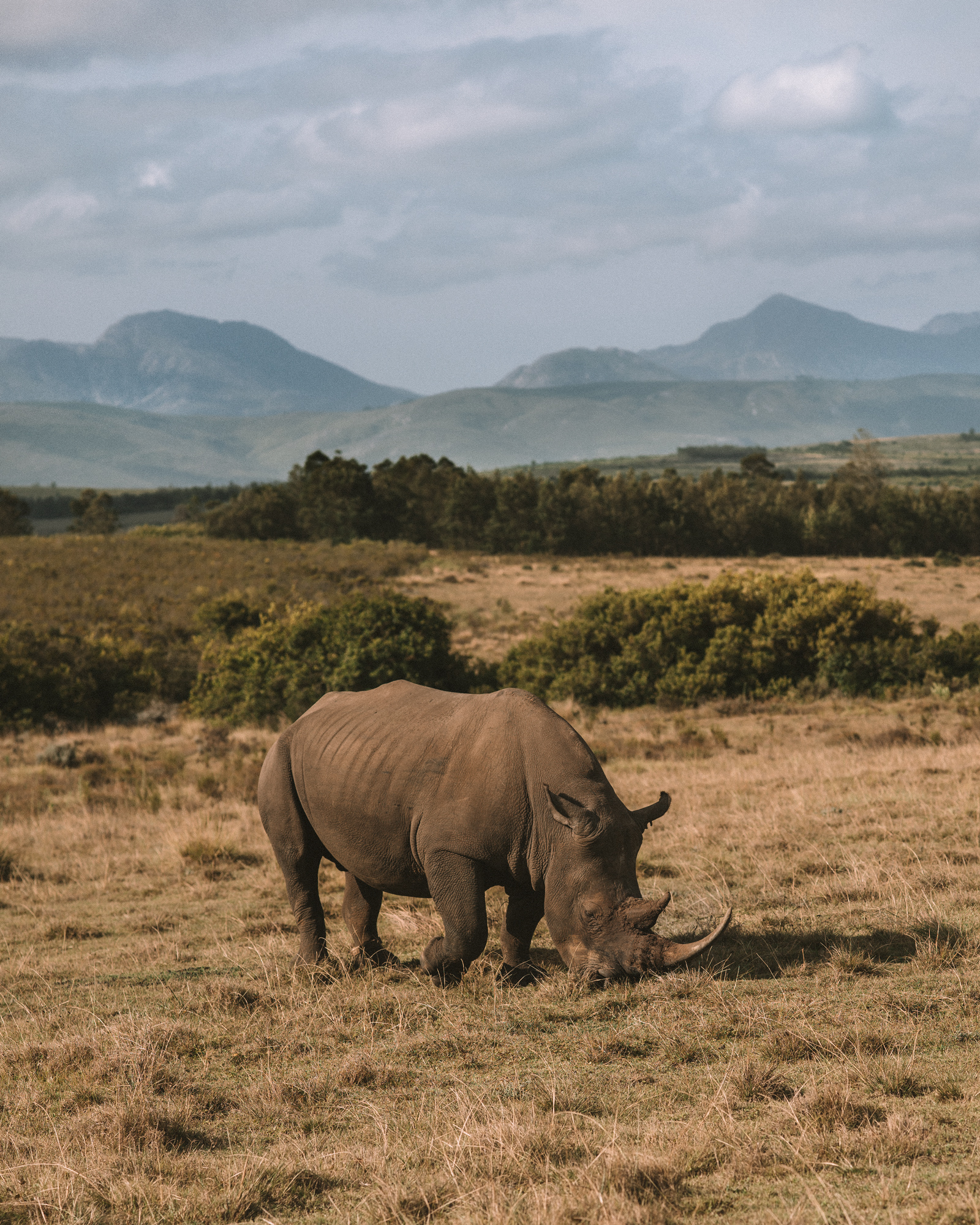 One of the rarest animals we encountered here were the Southern White Rhinos, and I realized while watching them that I don't think I had ever seen a rhino with it's full horn intact before - so many of the ones I have seen in zoos have been rescued or had their horns removed previously. Doesn't he look so much more elegant with the sharp-tipped horn?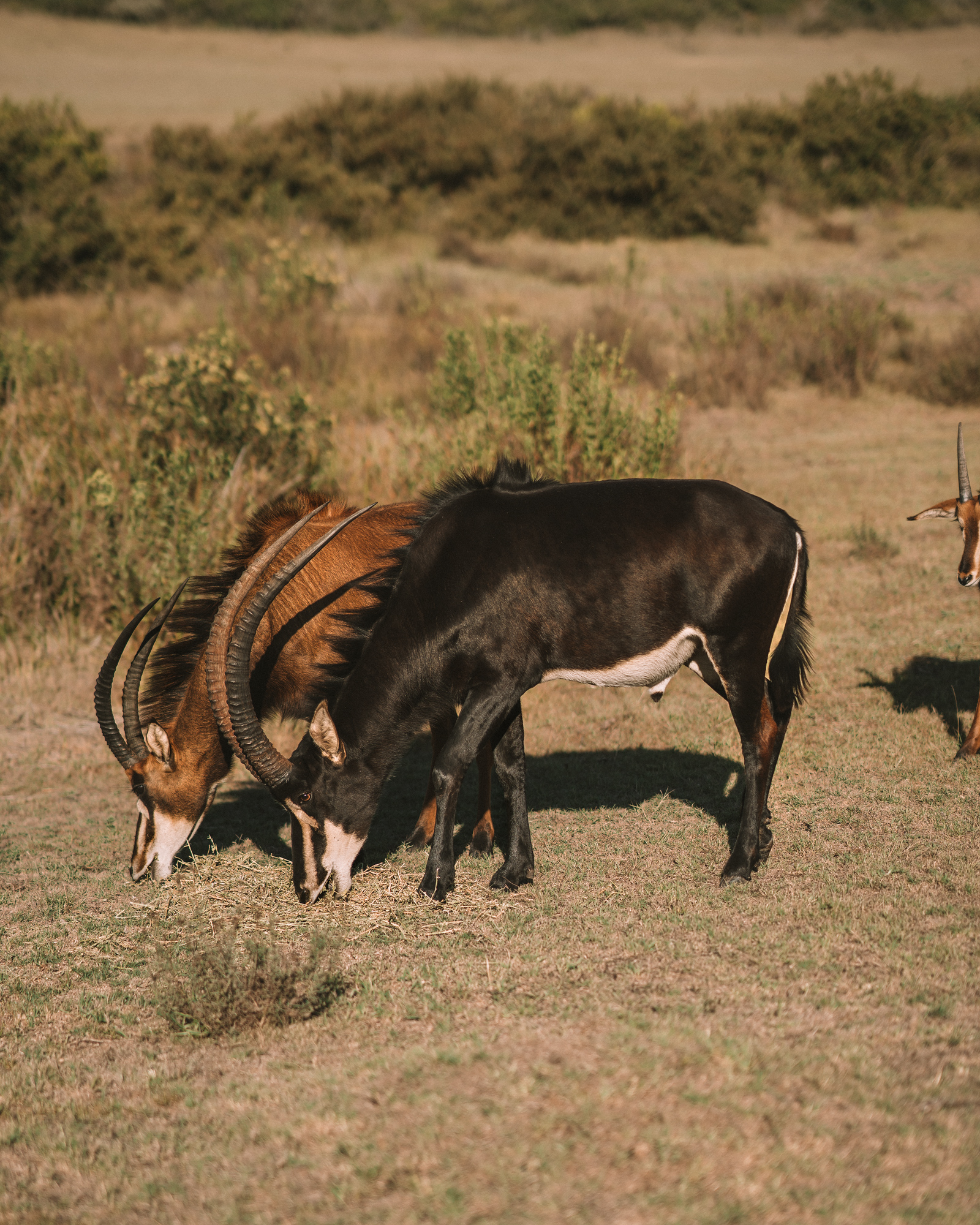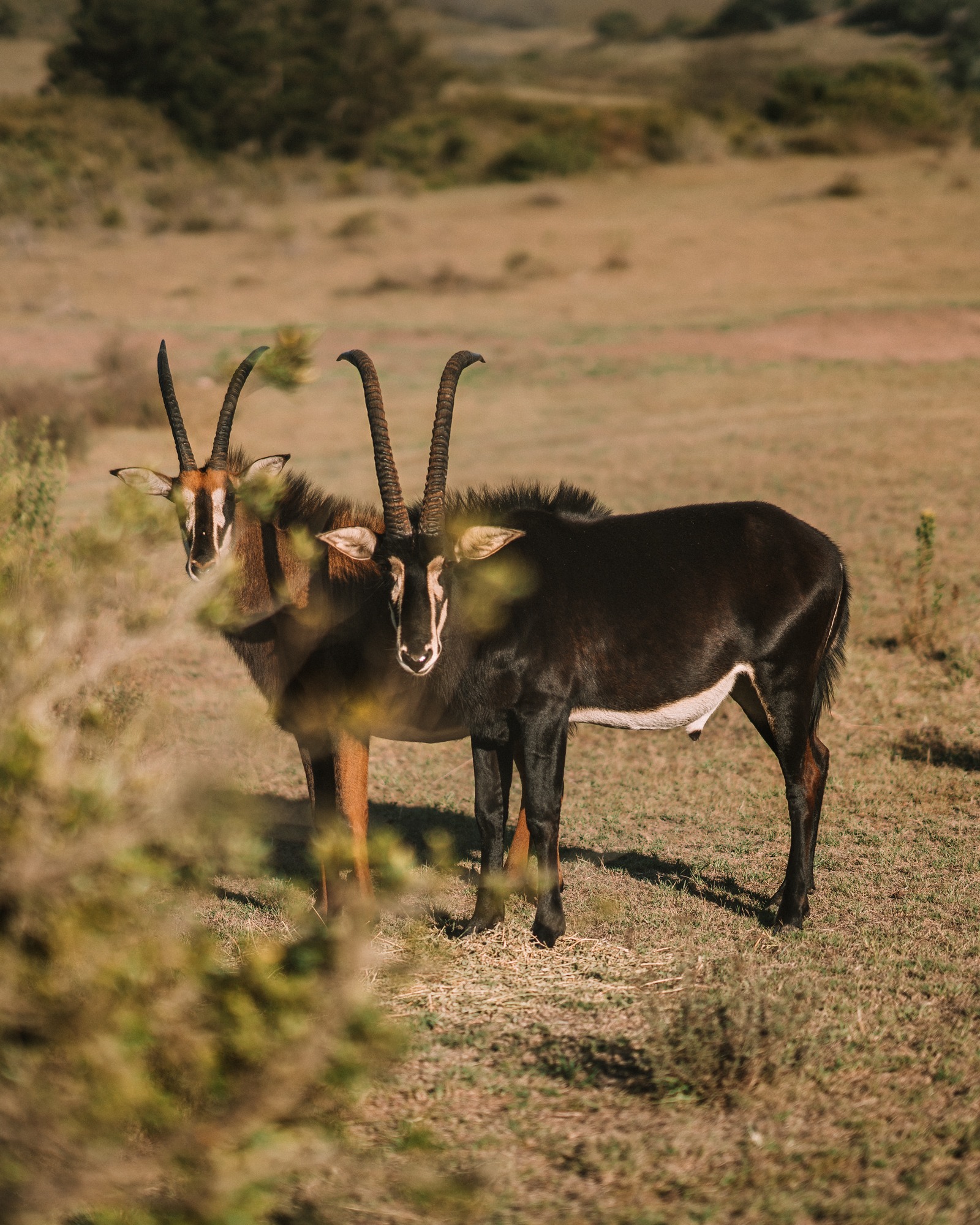 And speaking of horns!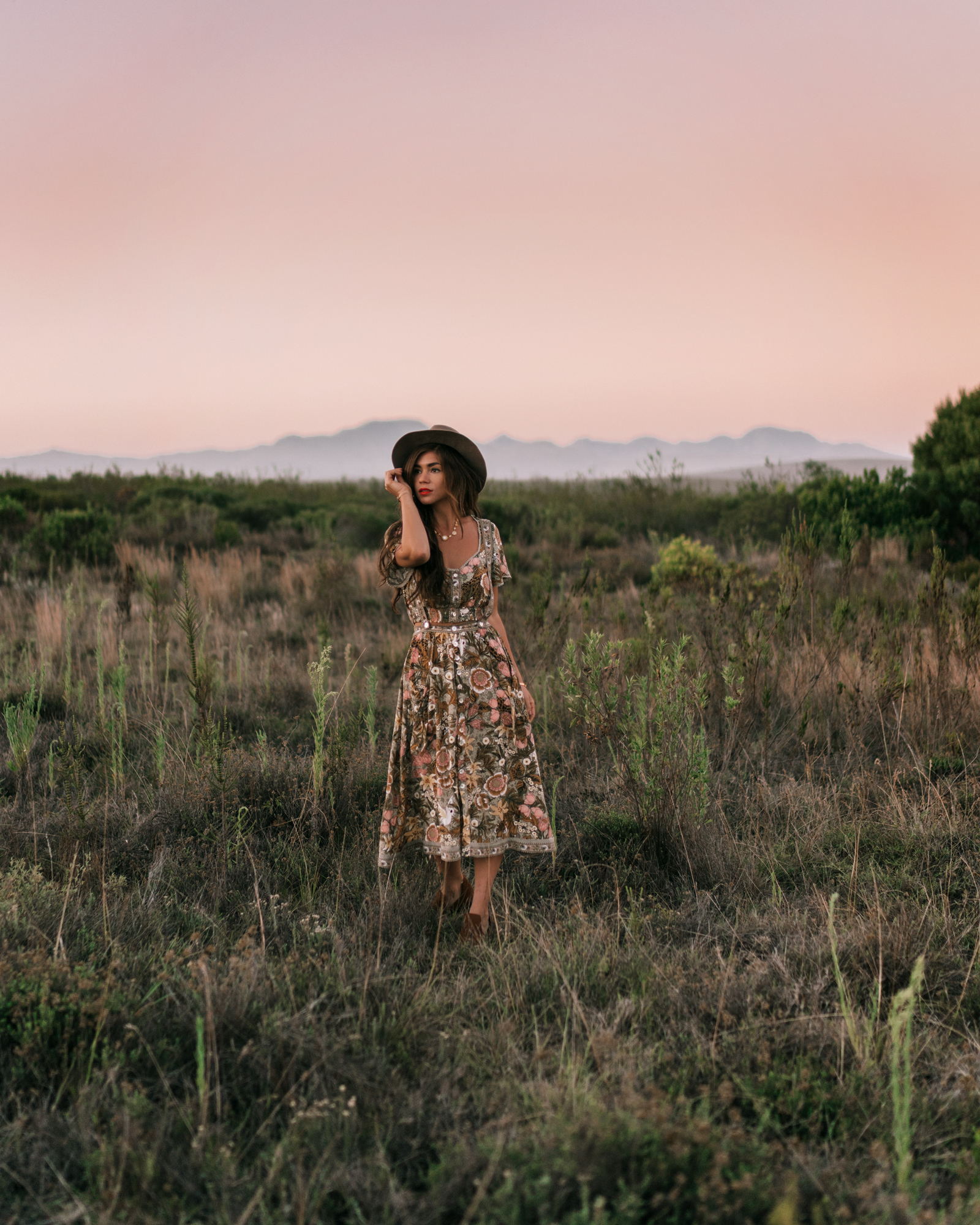 Walking out in the bush at sunset.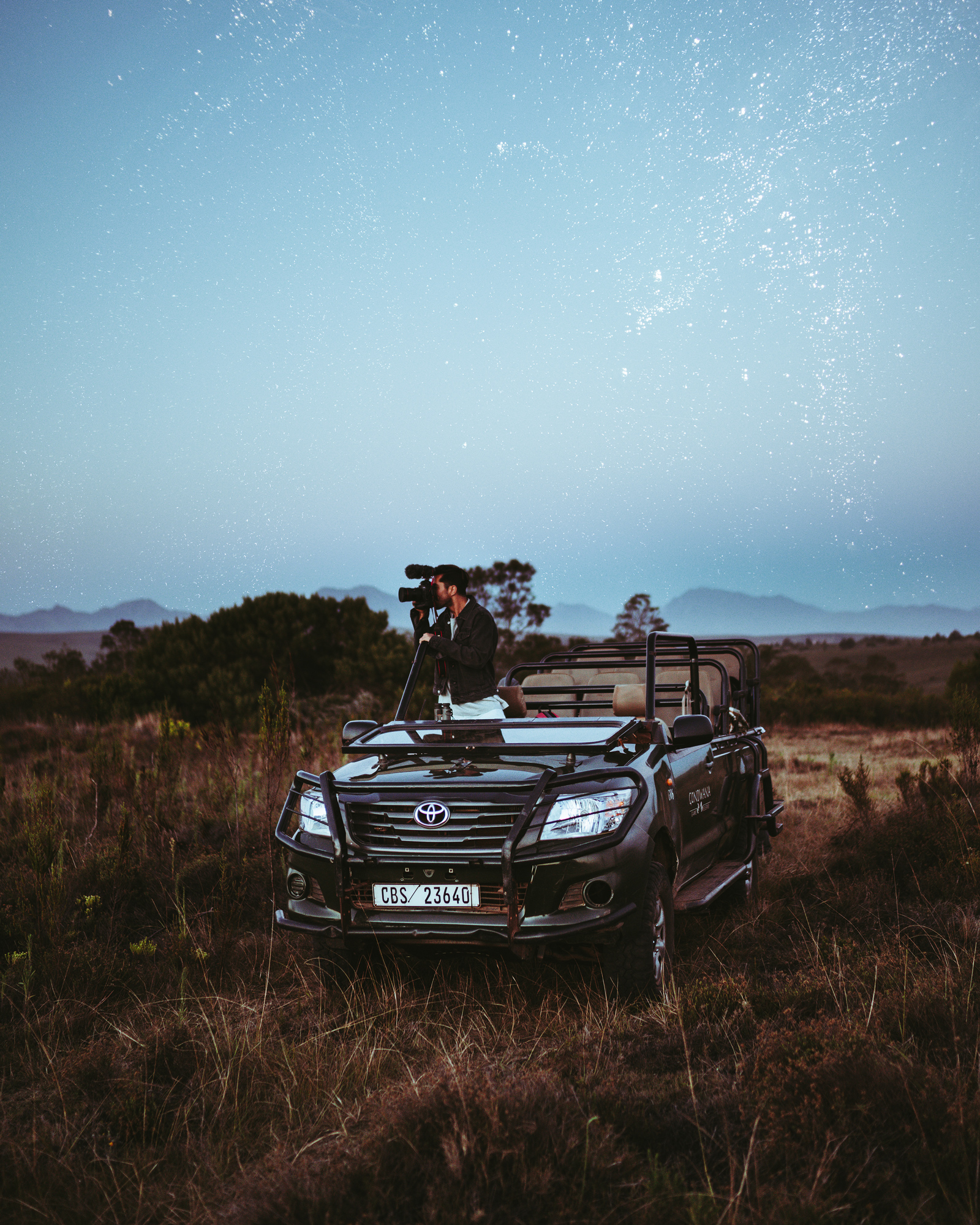 After the sun went down and the night chill started coming in, we headed back to the lodge for dinner, wine, and rest. Our first safari experience was so incredible, we couldn't wait to do it again!
After dinner, the stars in the sky were so incredible that we took the chance to get this one shot before heading to bed.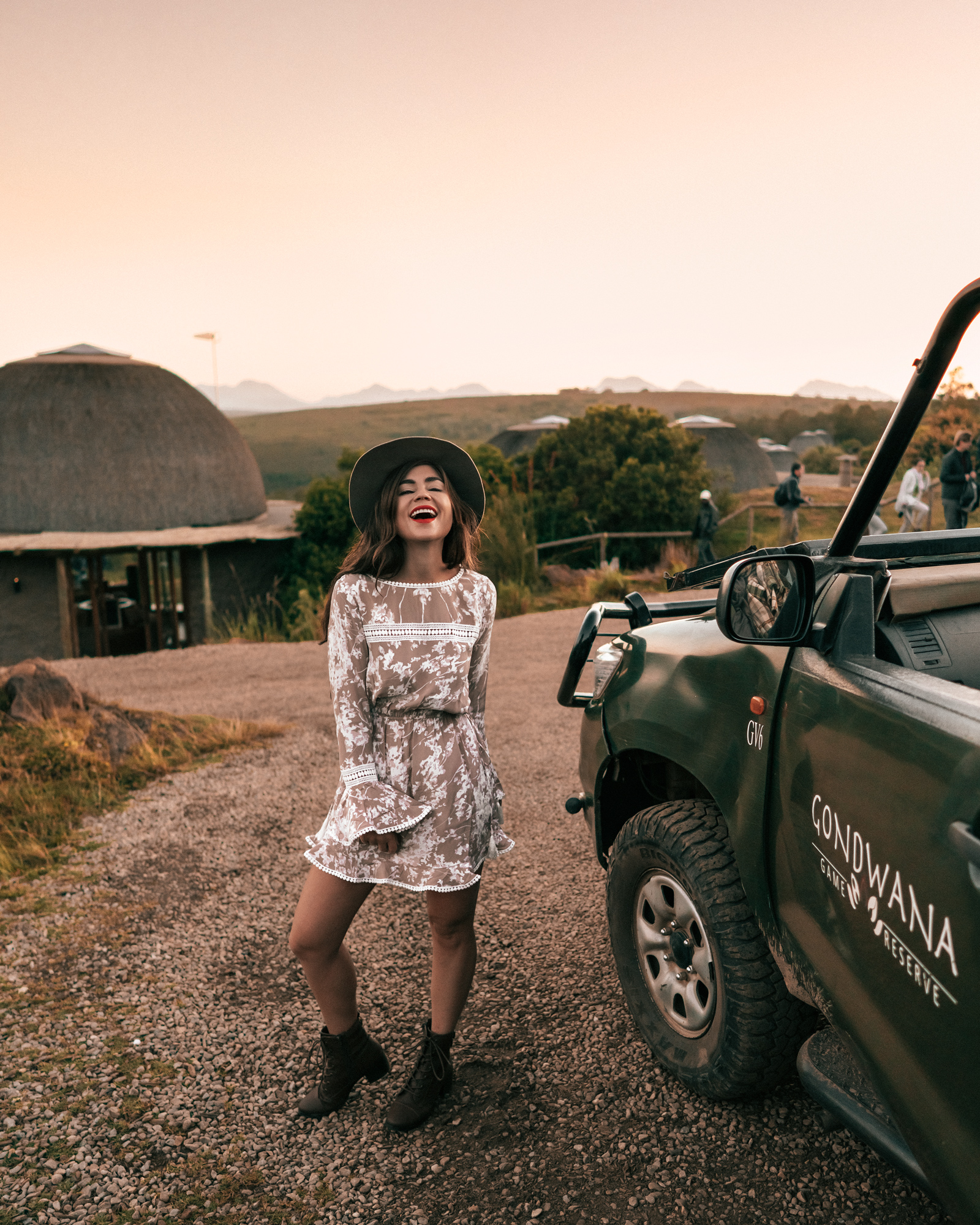 Anddddd we're back! We awoke at 5AM to get on the road before the sun rose.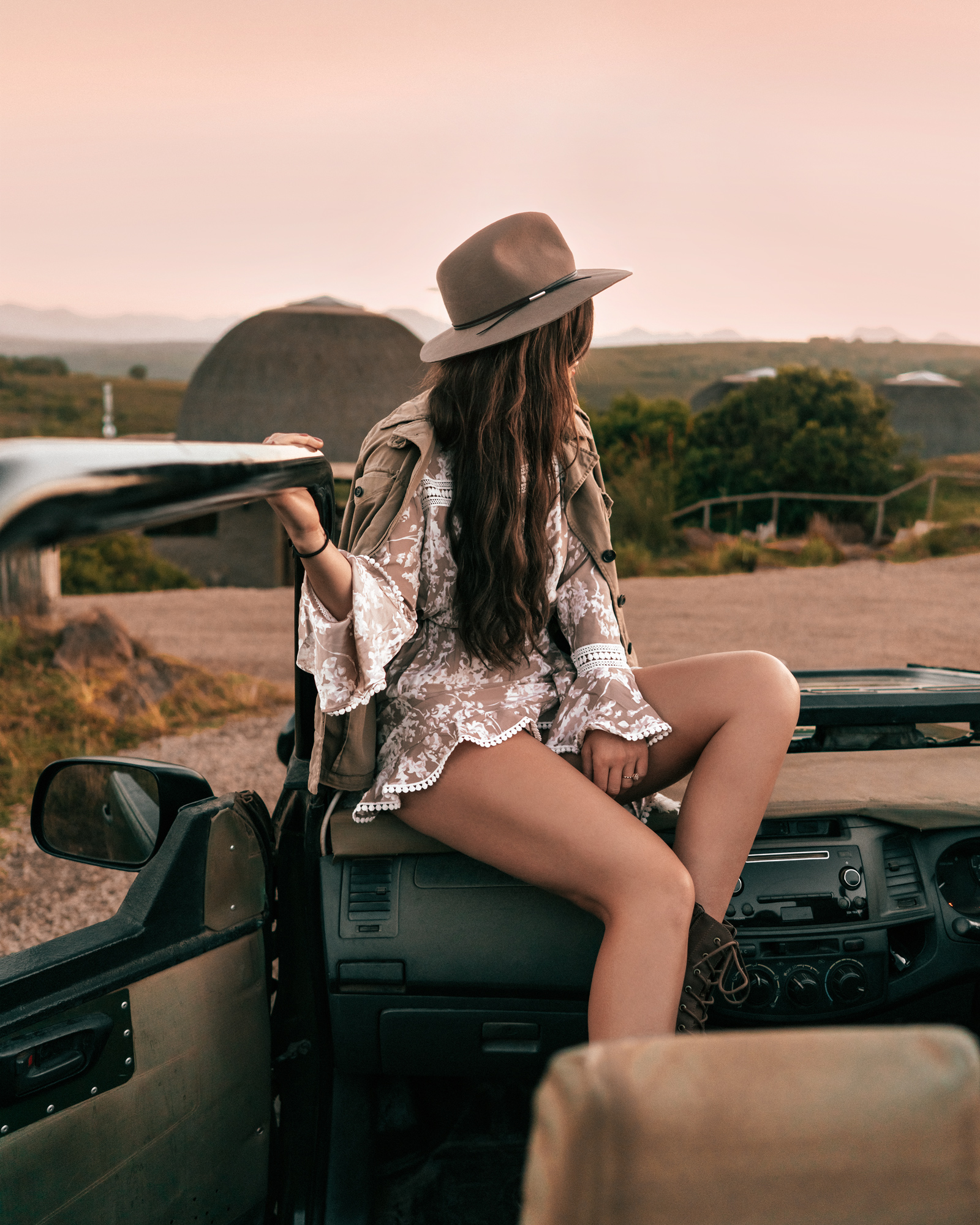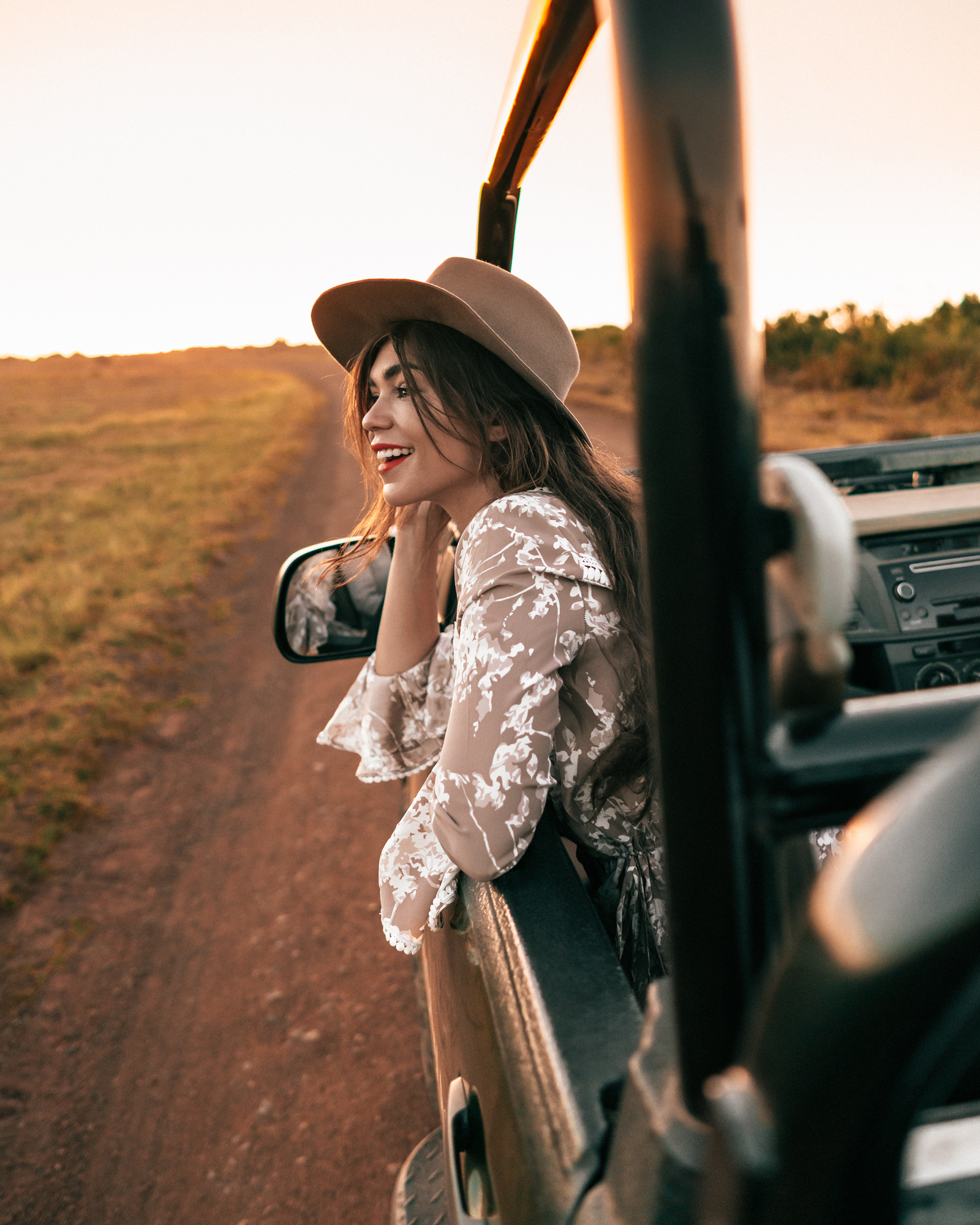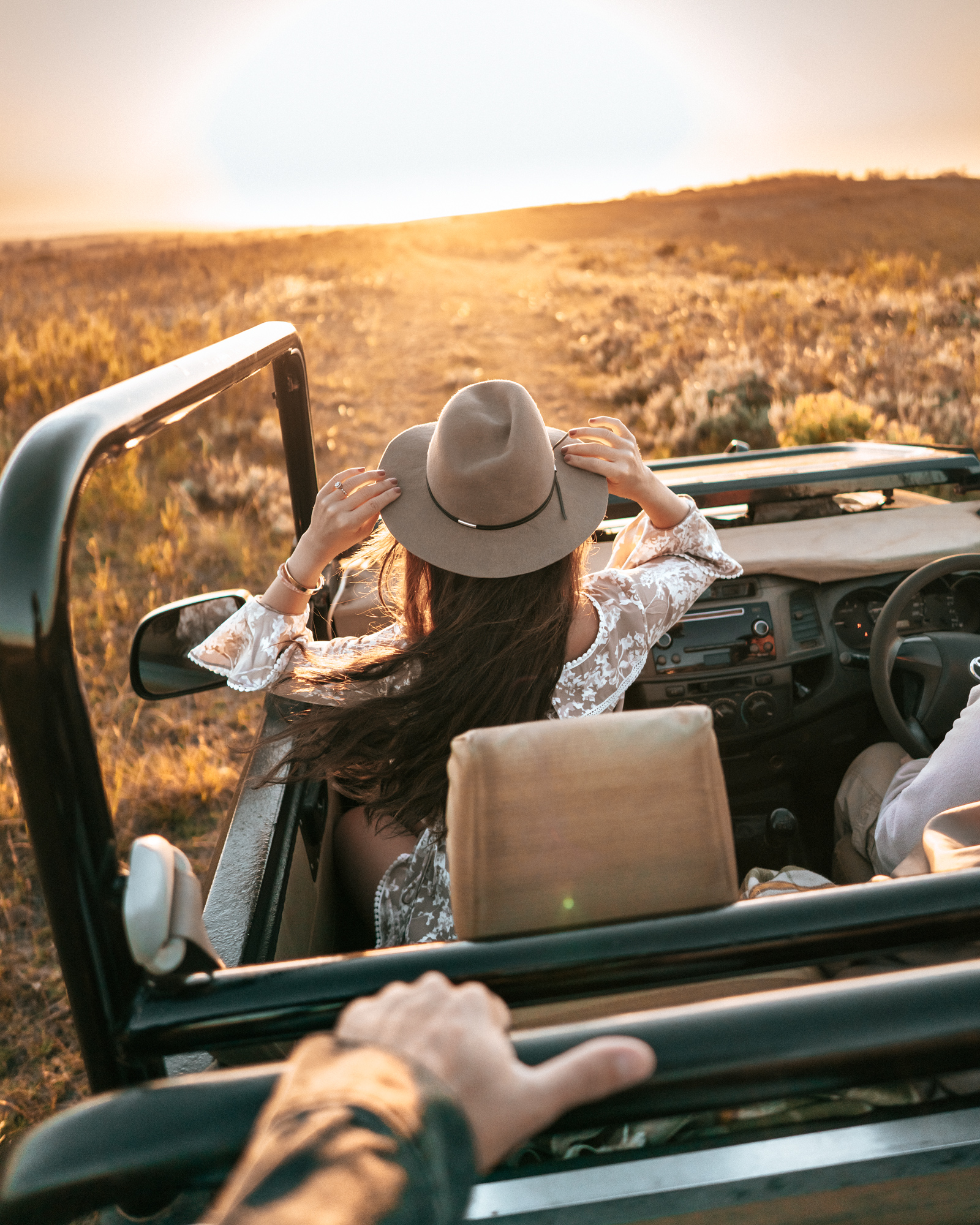 And the early wake up call was worth it for this amazing dawn sunrise light.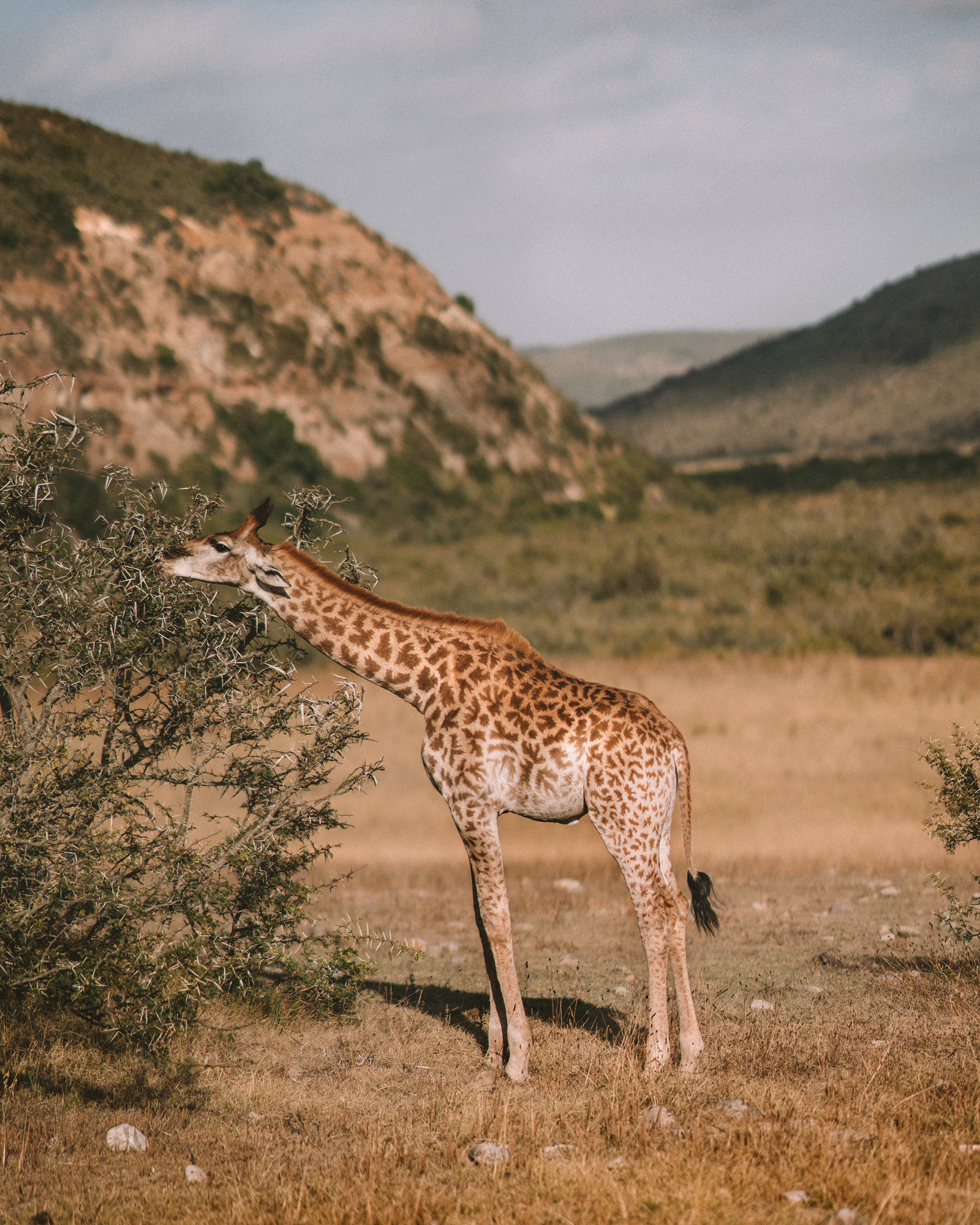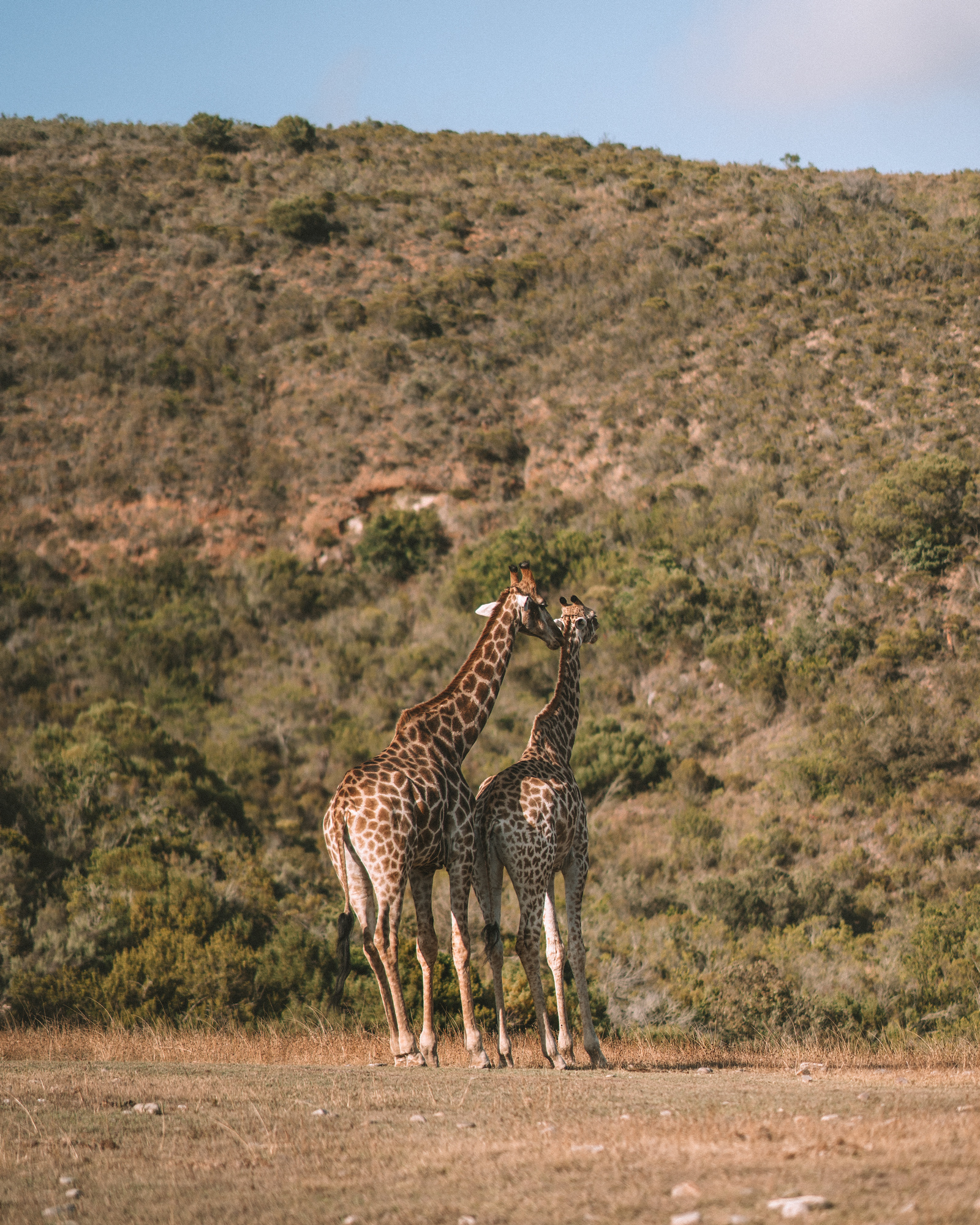 The highlight of our morning safari was this family of giraffes! We drove to a different part of the park where they usually roam and luckily, they were here as expected.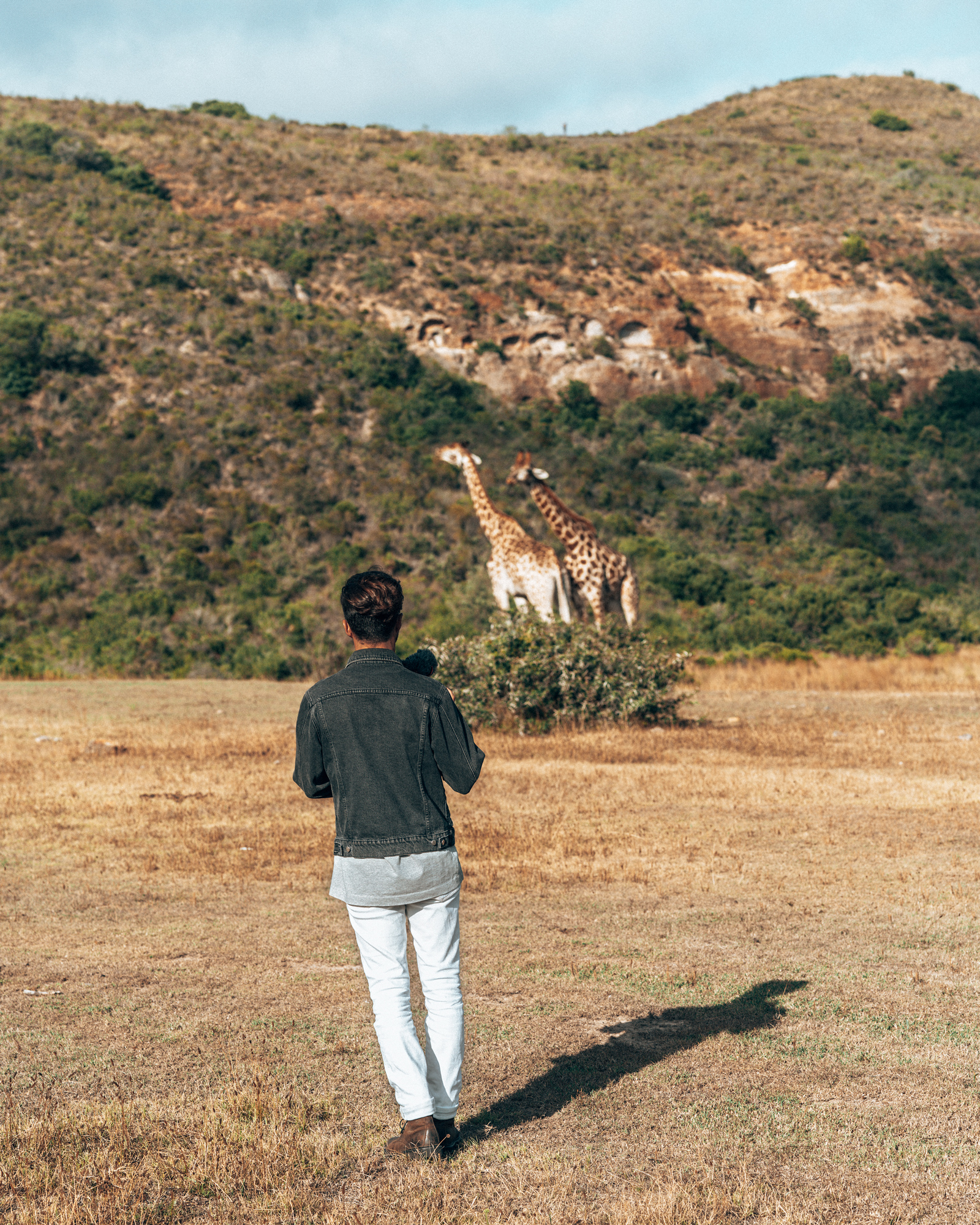 We got to get out of our van here and have coffee and breakfast with the giraffes.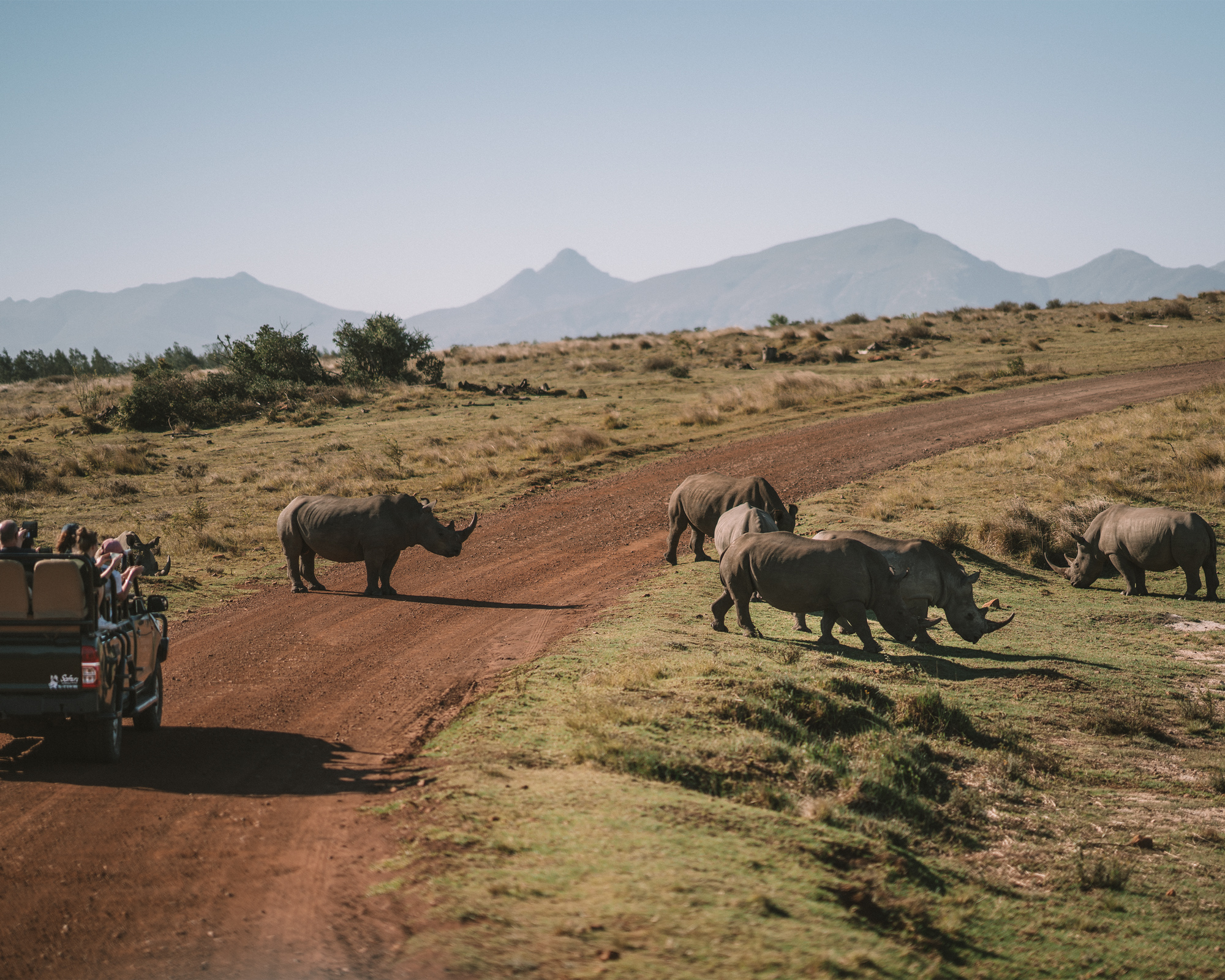 A little bit of what the experience here is like, this is how close the trucks were to the family of rhinos! We felt like the guides did a great job of observing the animal's temperament and comfort level, to get us close without upsetting them.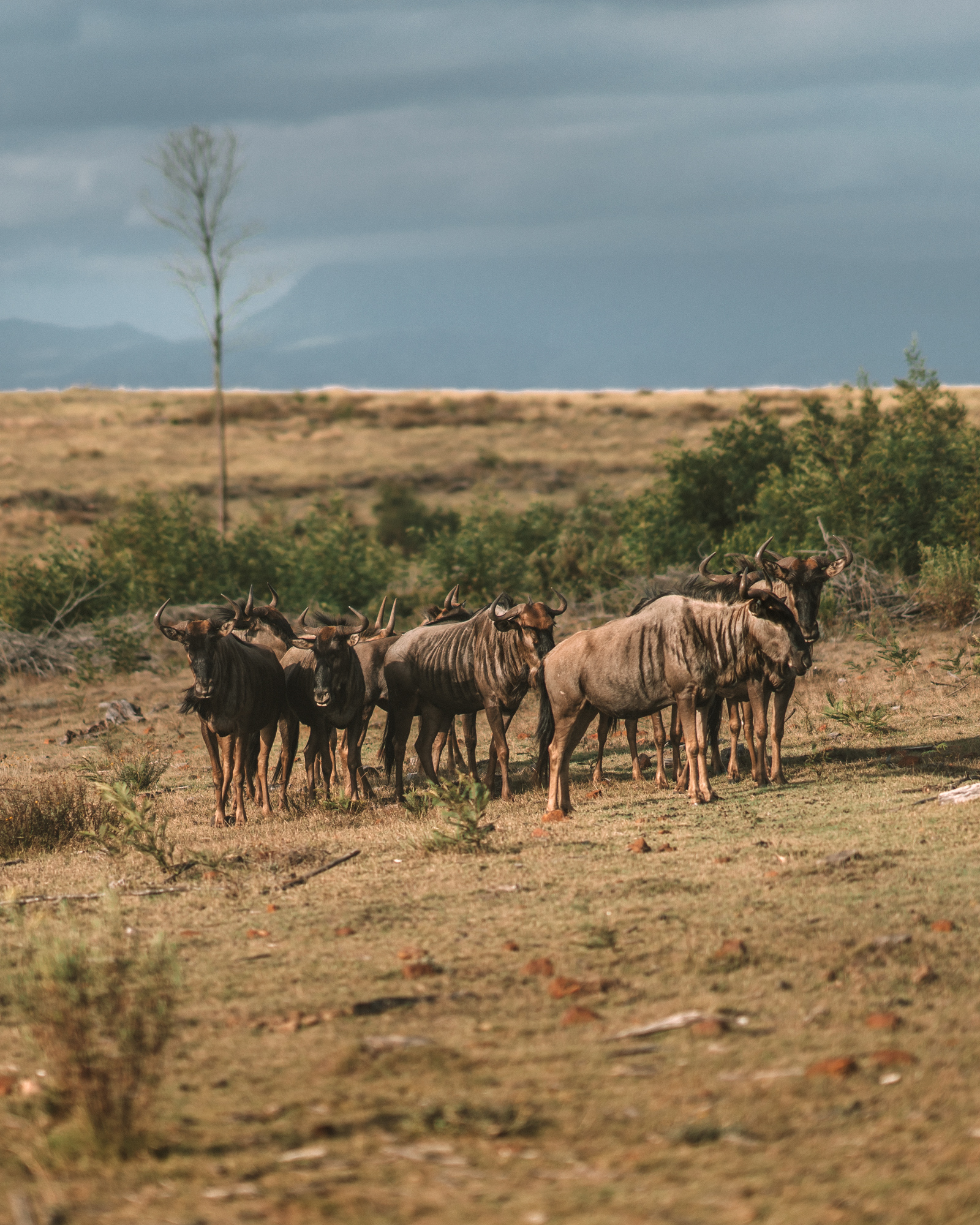 A pack of wildebeest!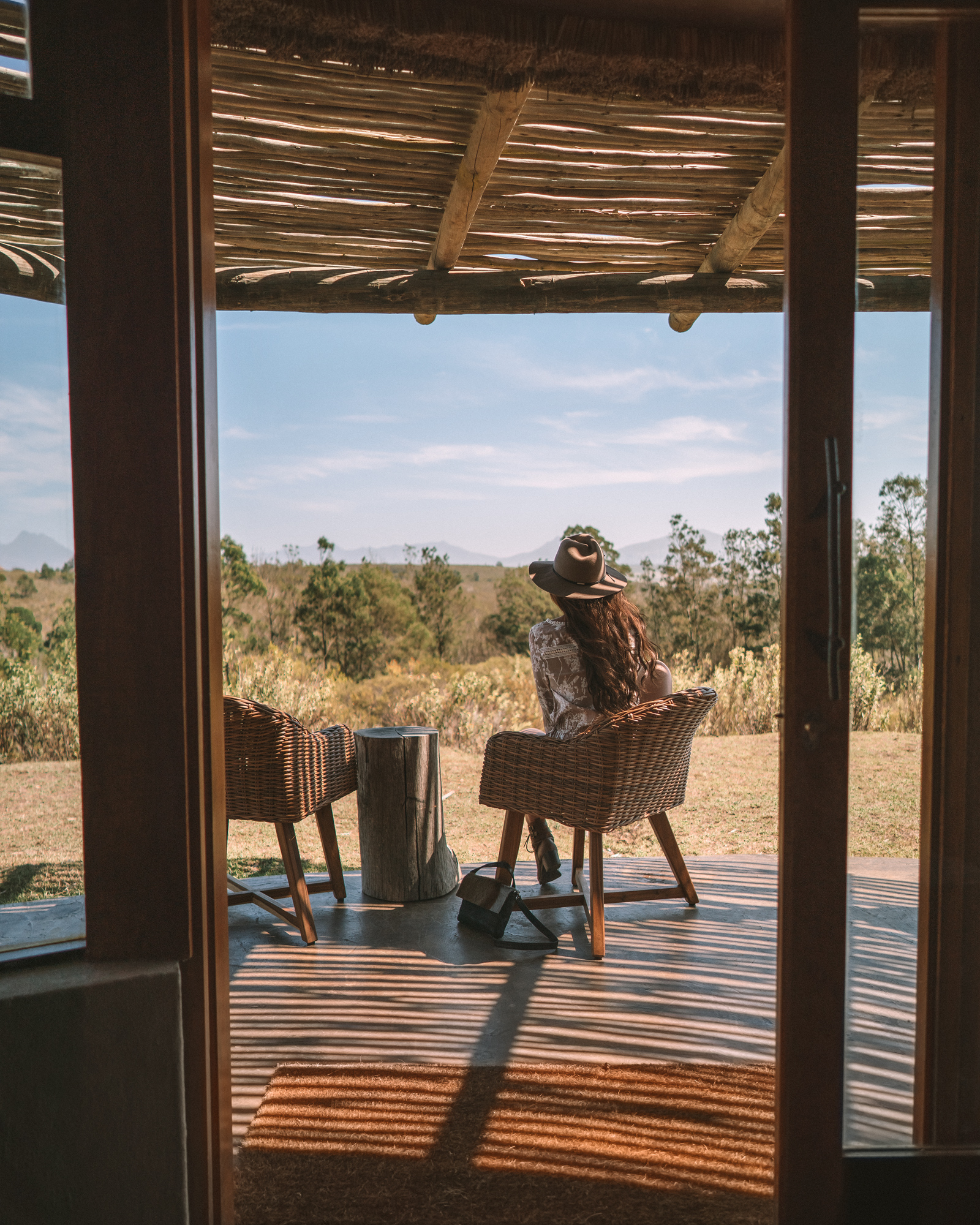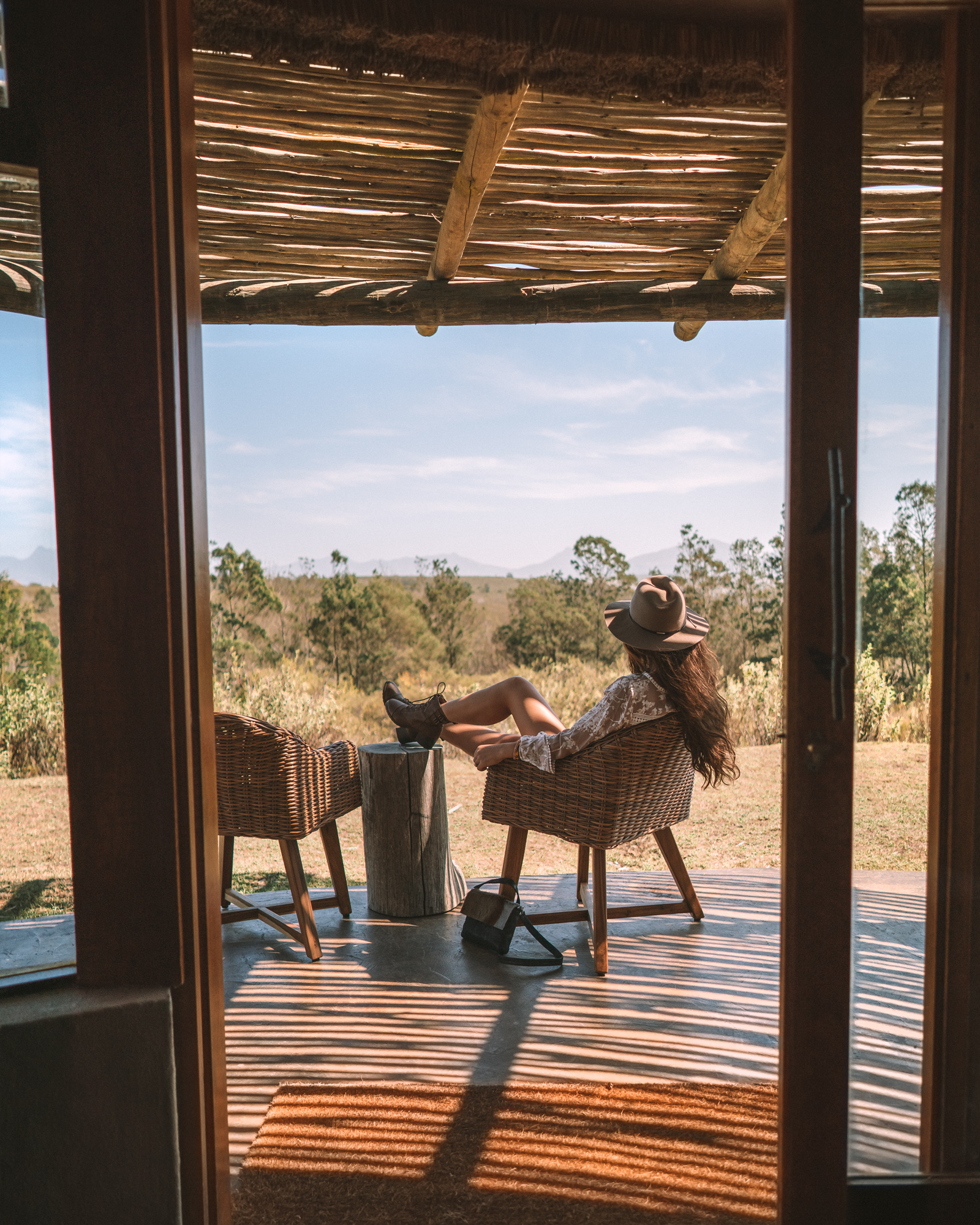 I have a bit of an obession with slated roofs and the zebra striped light it gives - I fell in love with the look in Morocco, and have sought it out ever since. I LOVED the patio of our room for catching the breeze and just relaxing a bit.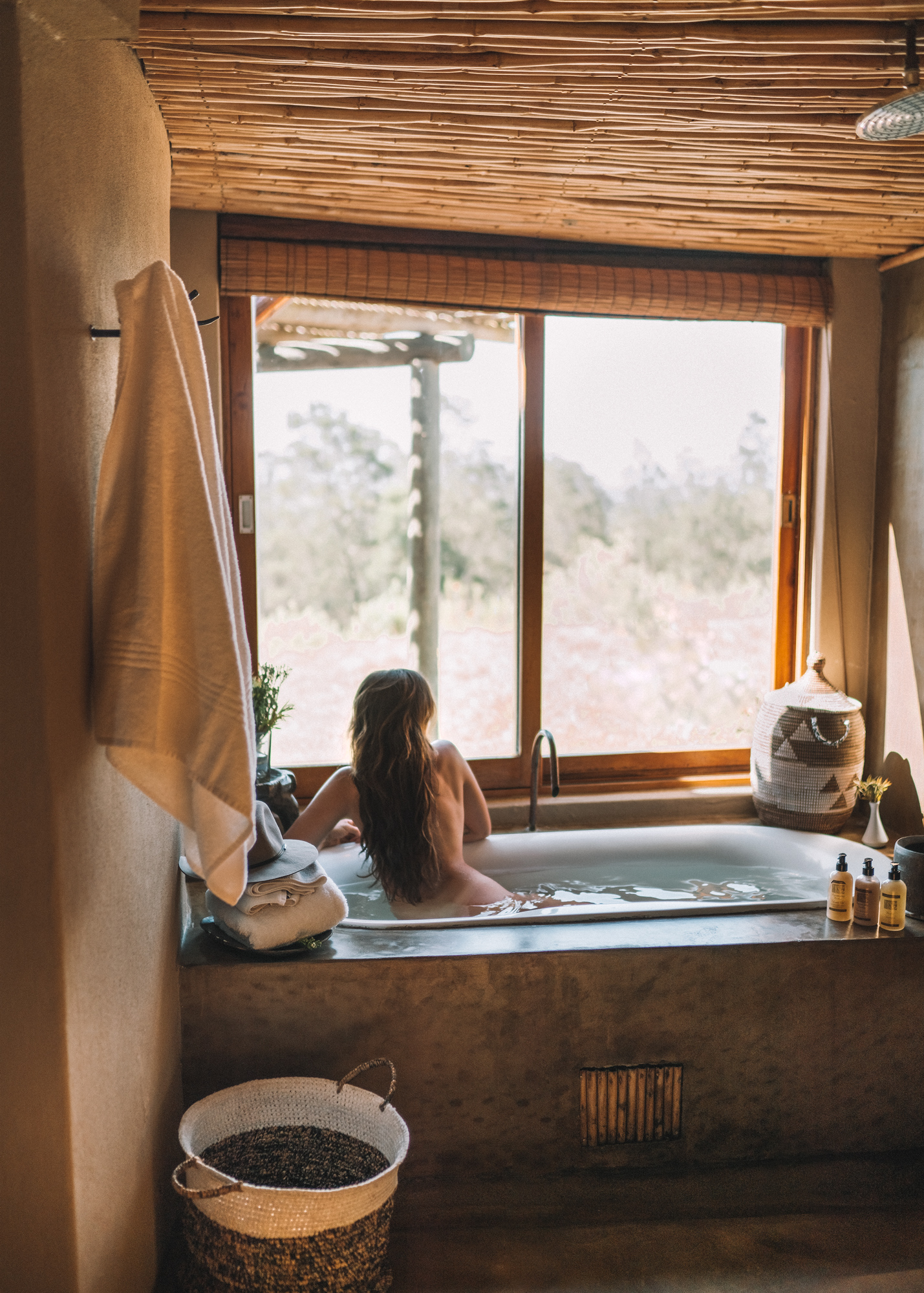 This bathtub was too perfect not to use - and was such a nice, refreshing way to clean up after being out in the bush all morning.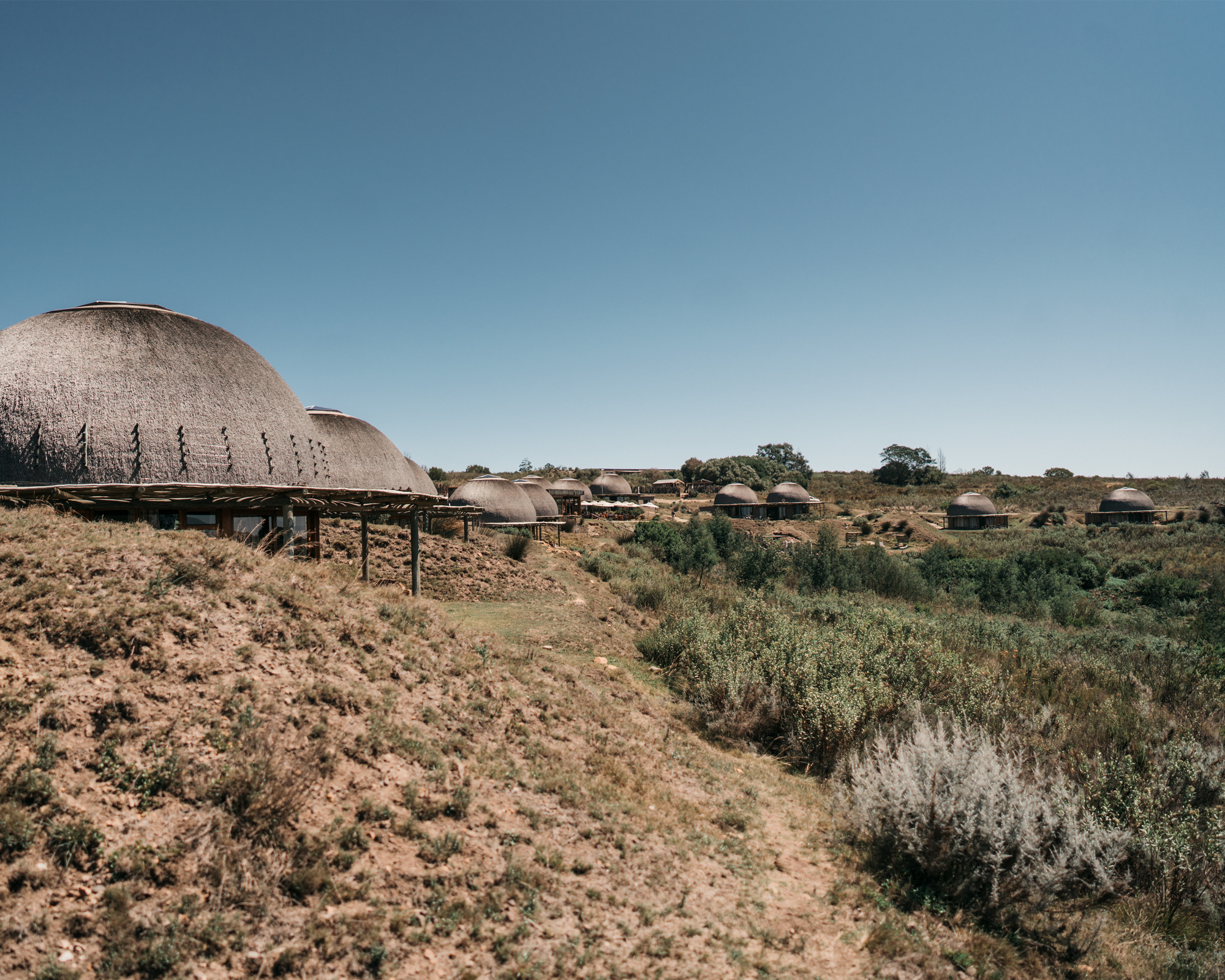 Huts dotting the landscape.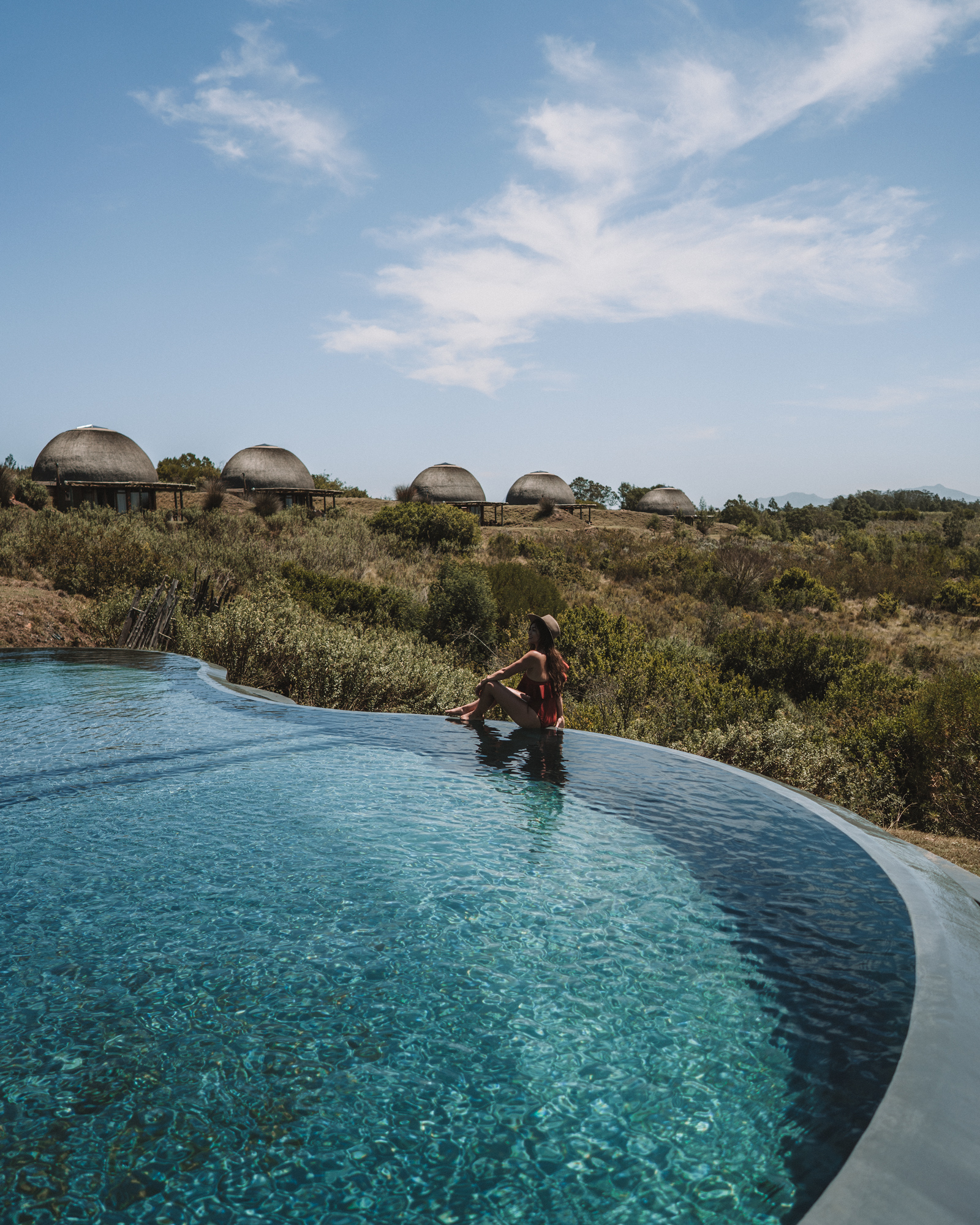 Between the dawn and dusk safaris, your day is free to enjoy here. The weather was just perfect (thank you Southern Hemisphere!) and we took most of the afternoon to swim, sun, and rest out at this oasis of a pool.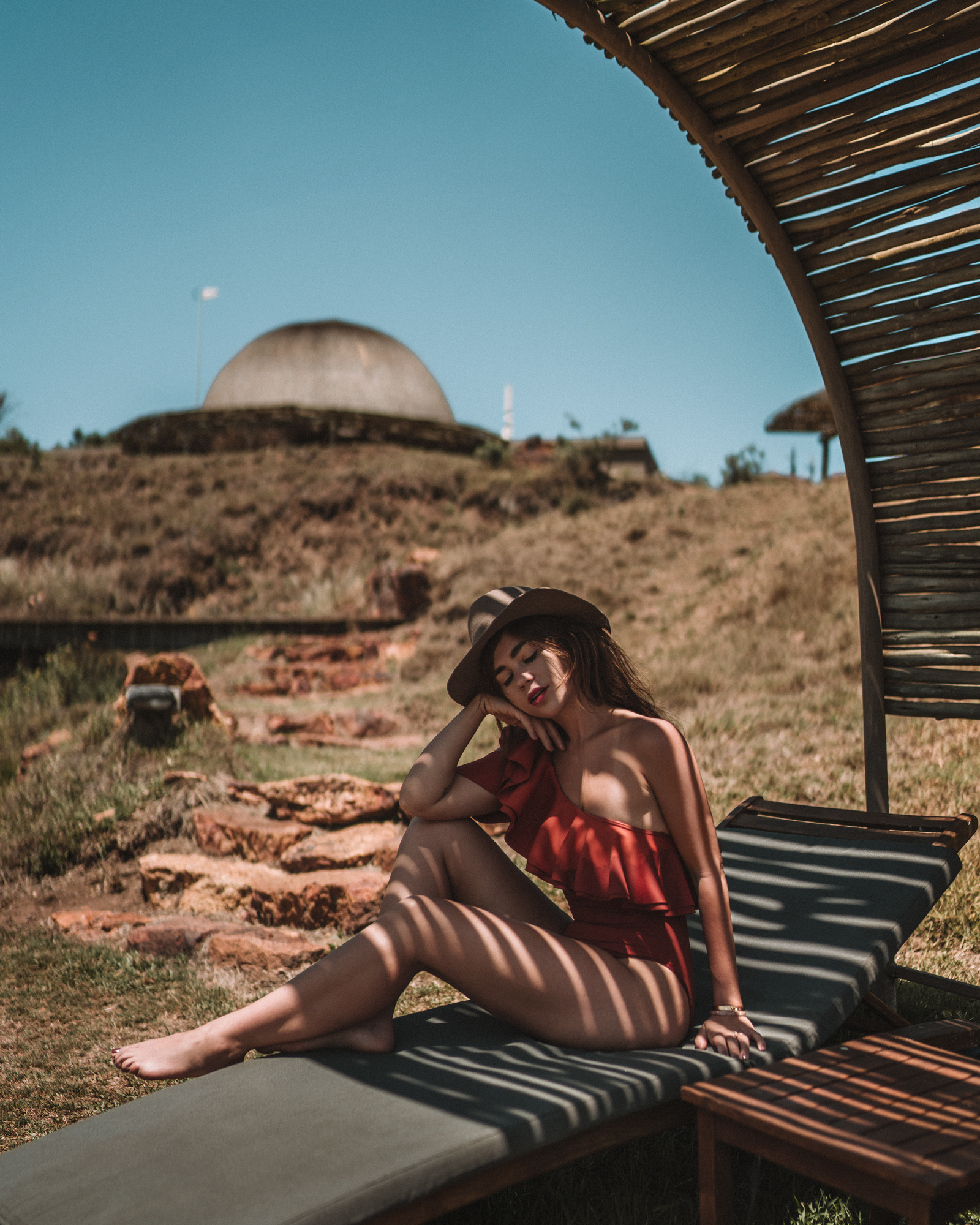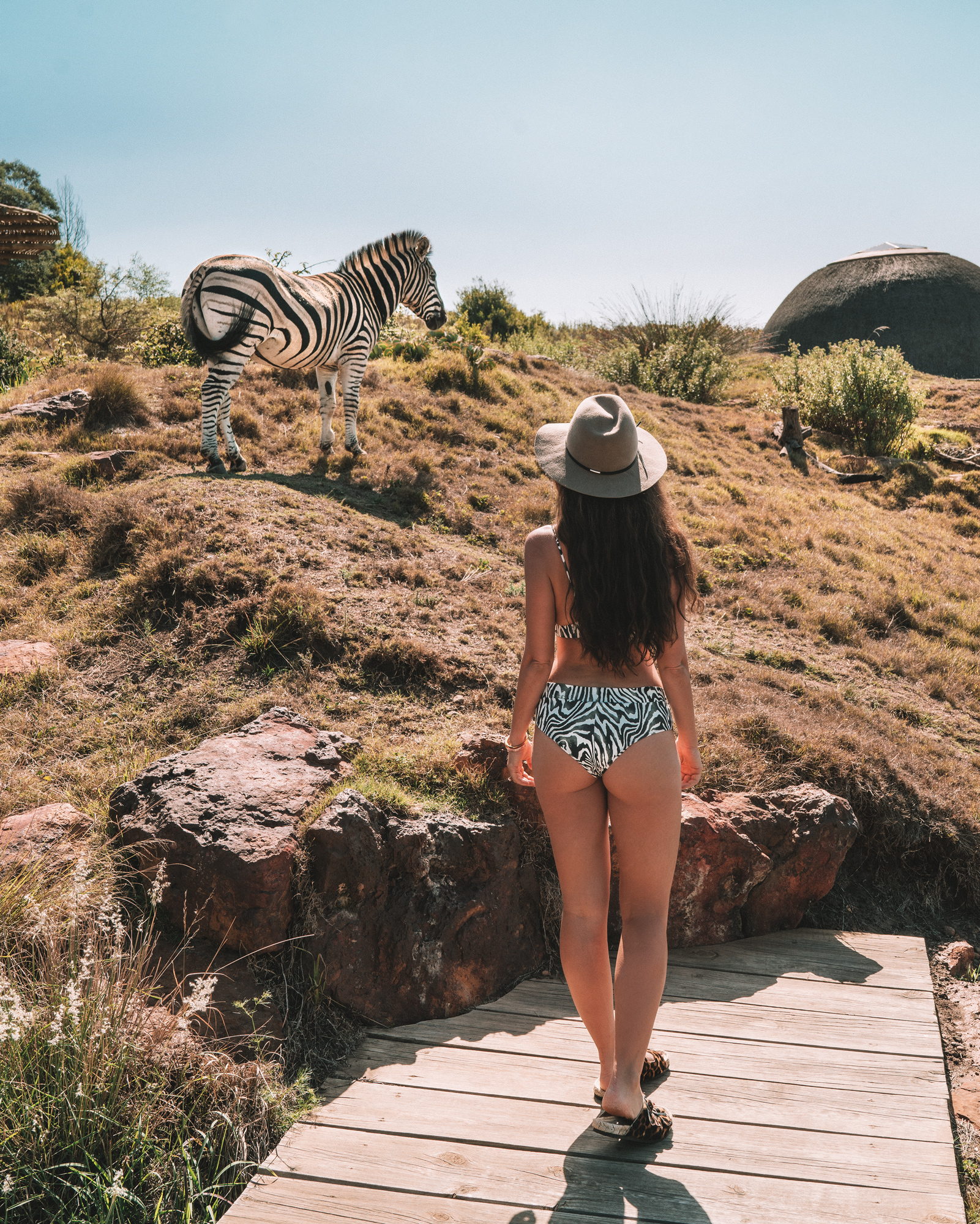 When you encounter a zebra while wearing zebra print!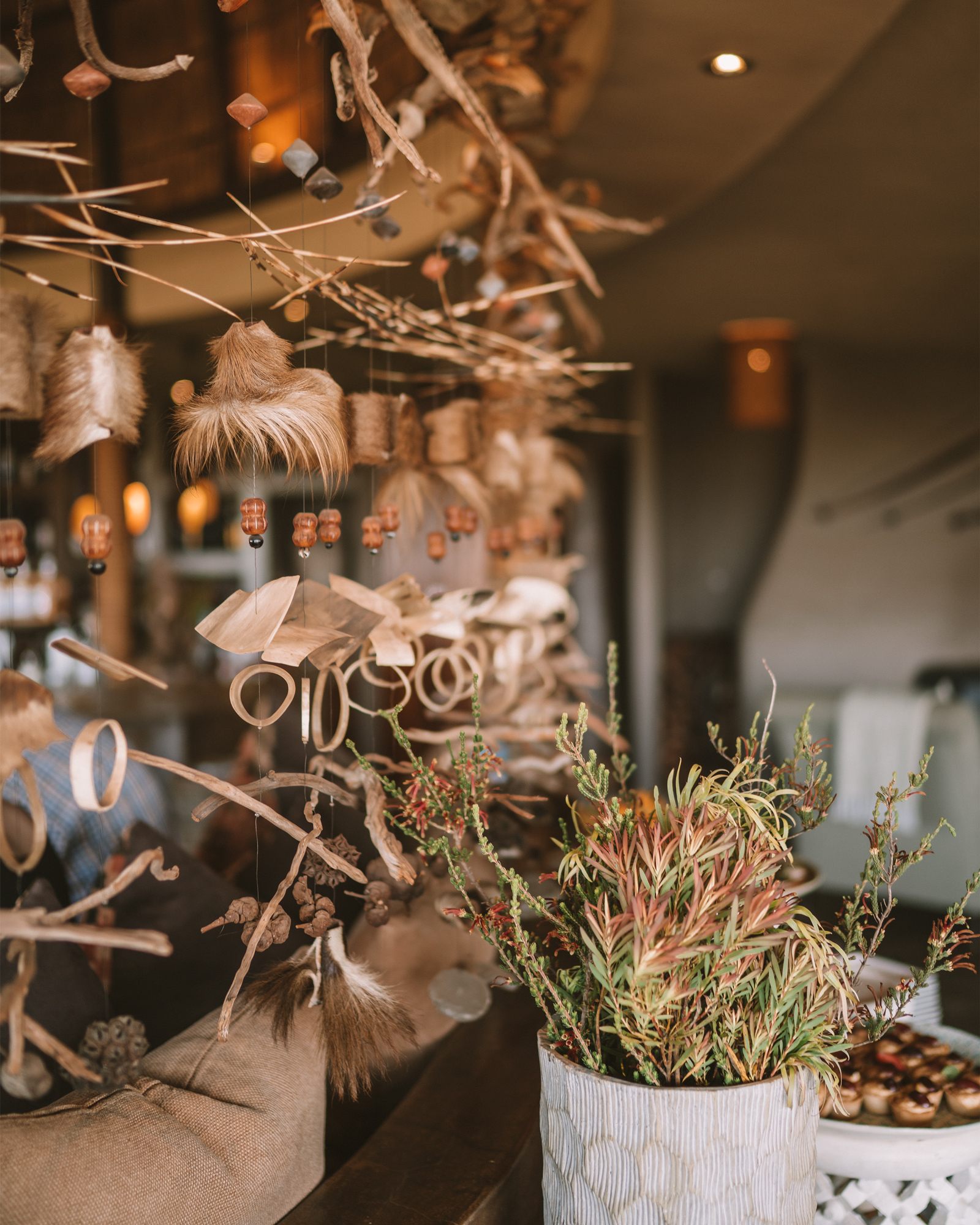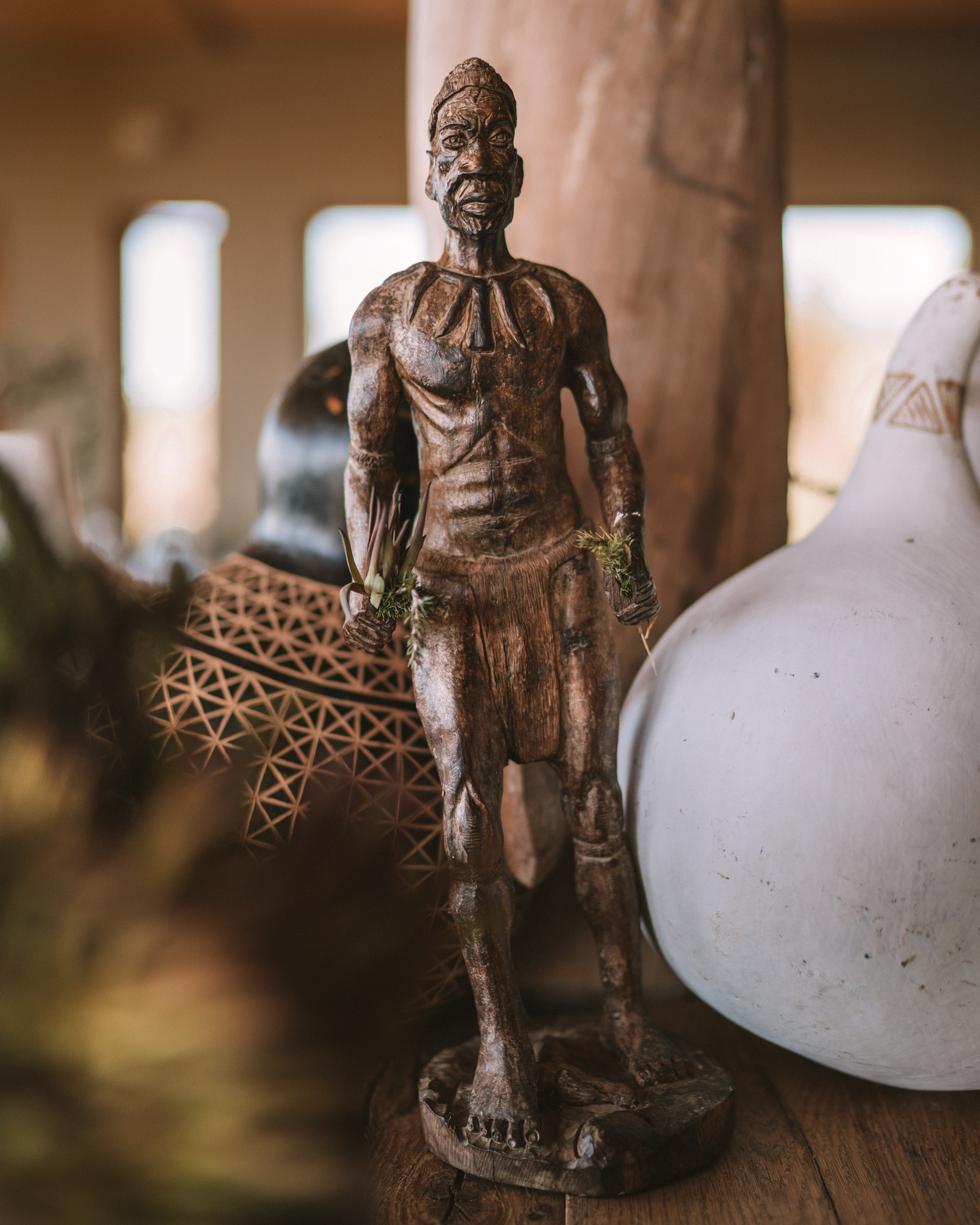 A few lodge details - all of the decor at Gondwana was impeccably done, and every time we entered a room, we noticed more and more that we hadn't seen before.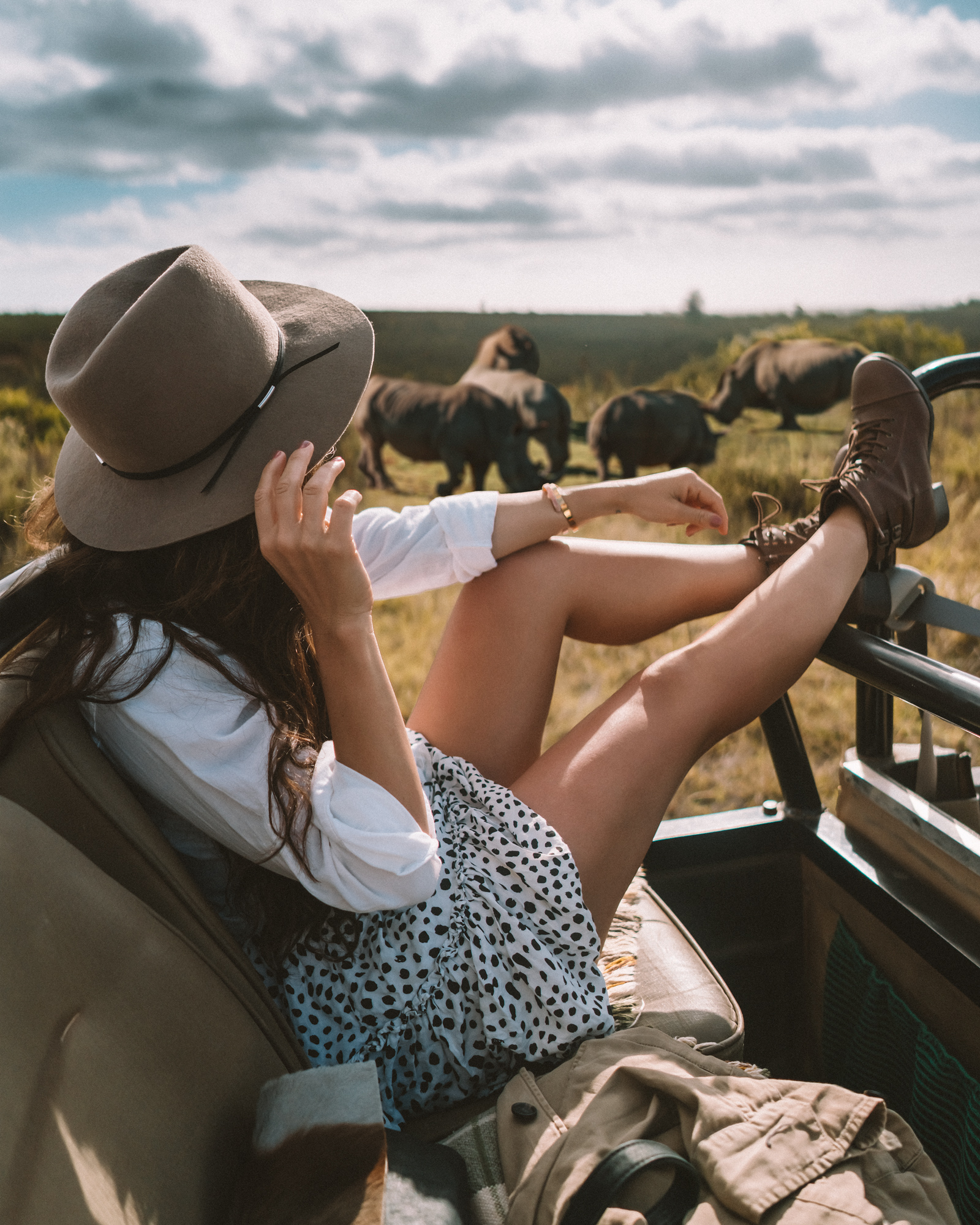 Me and the rhinos on our last afternoon safari!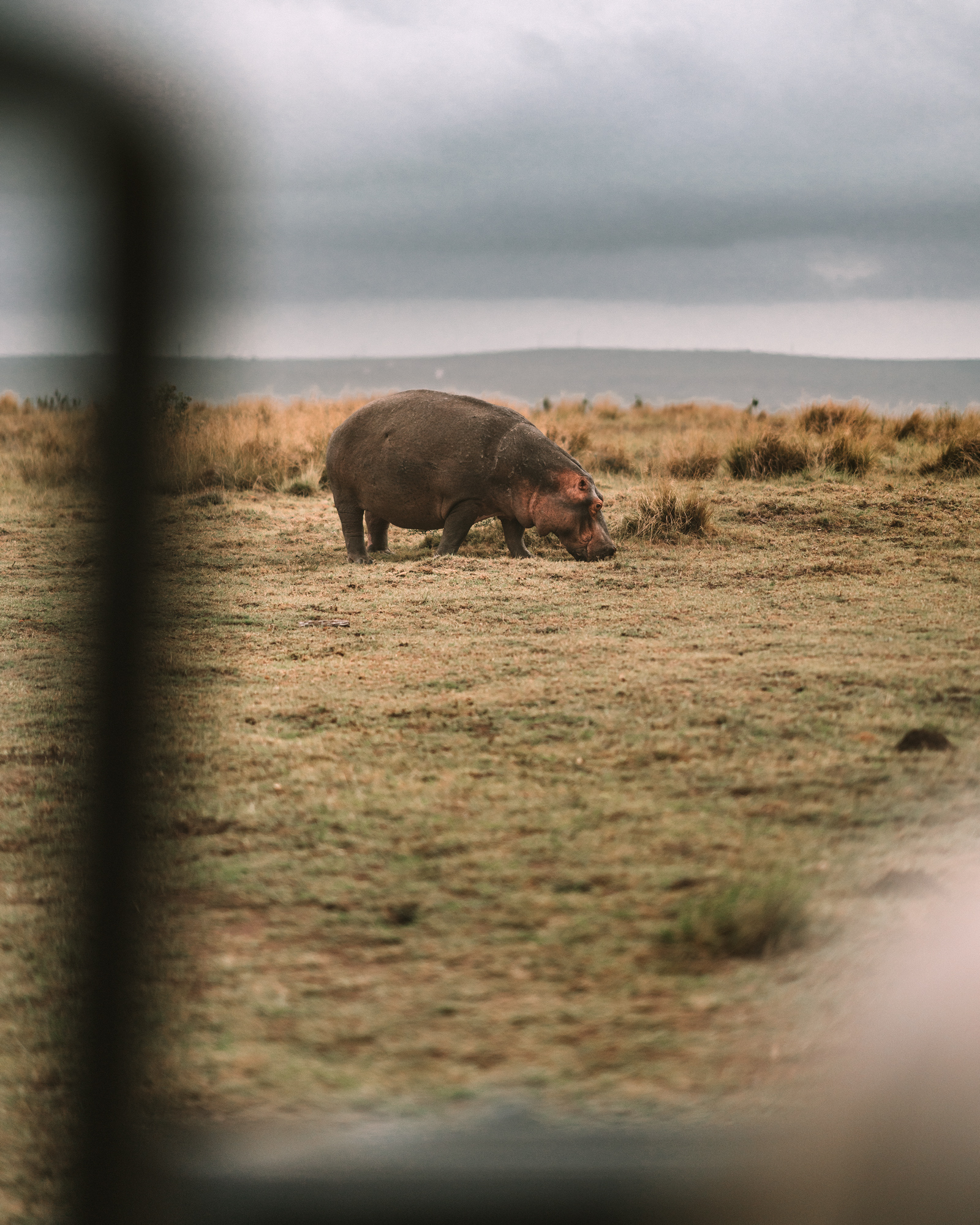 A rare sighting of hippos outside of their watering holes. It turns out, hippos only LOOK friendly, and are actually the most deadly and dangerous animals in Africa.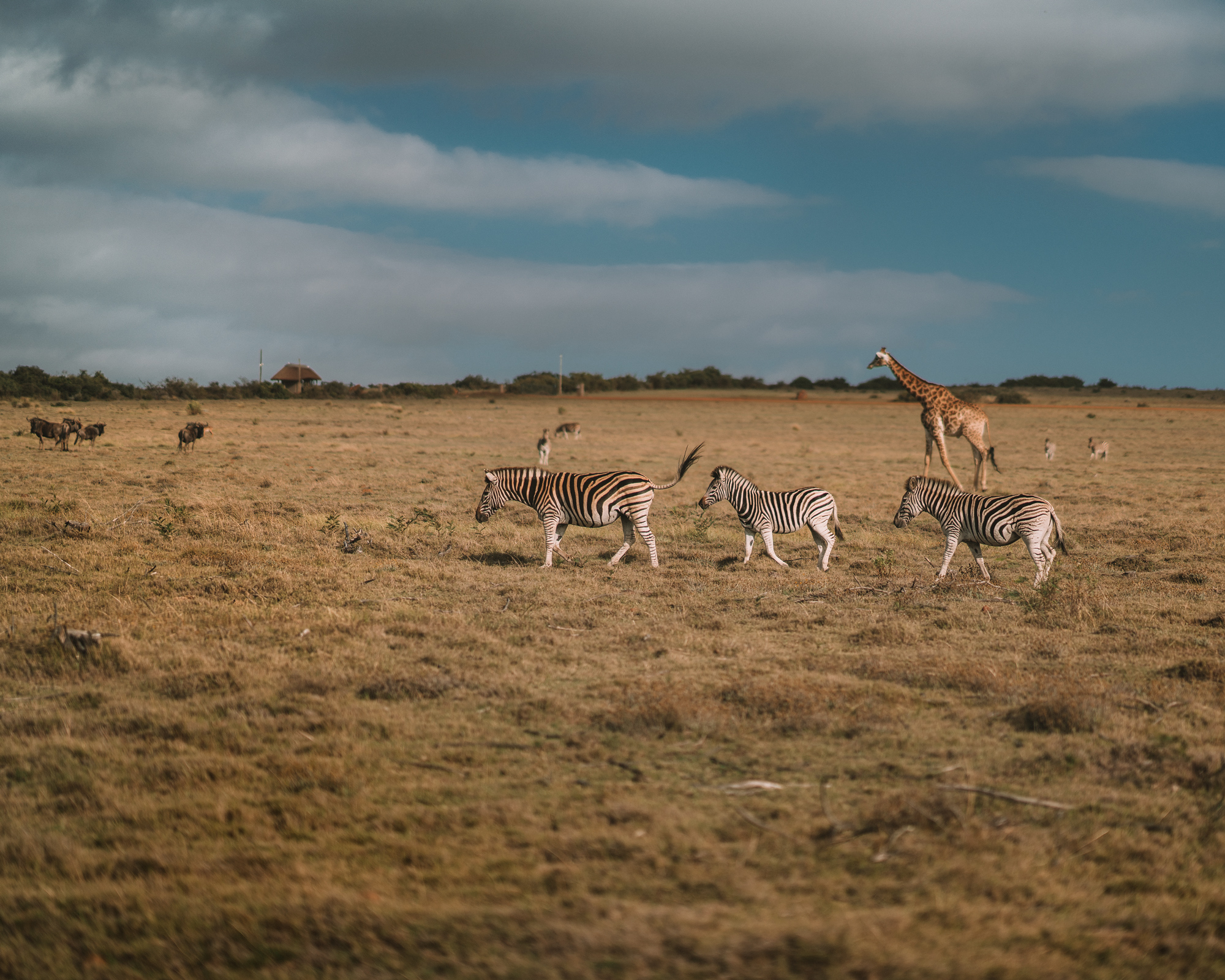 Out on the plain in the late afternoon - I loved the way all of the animals wandered freely together here - it reminded me so much of the Lion King.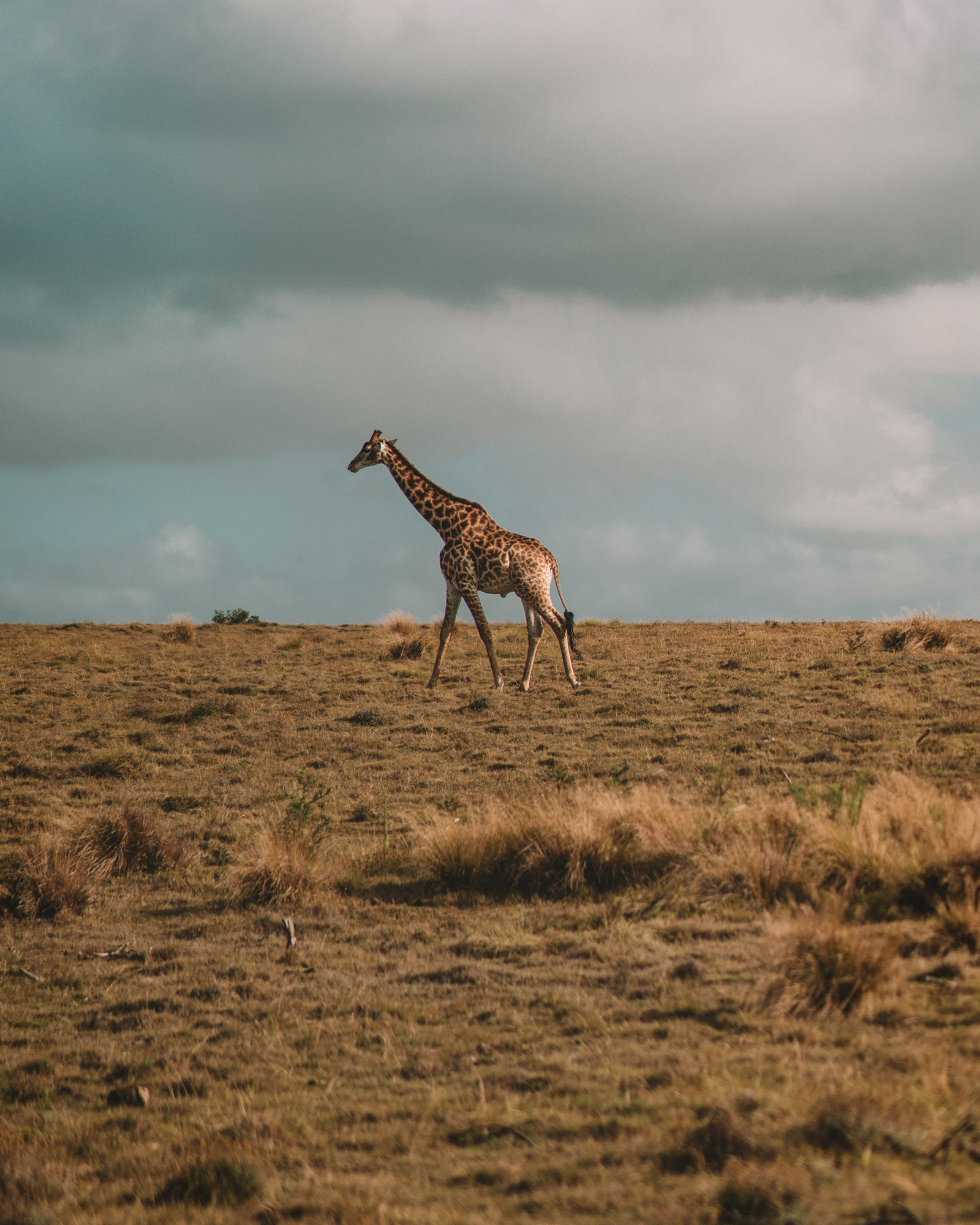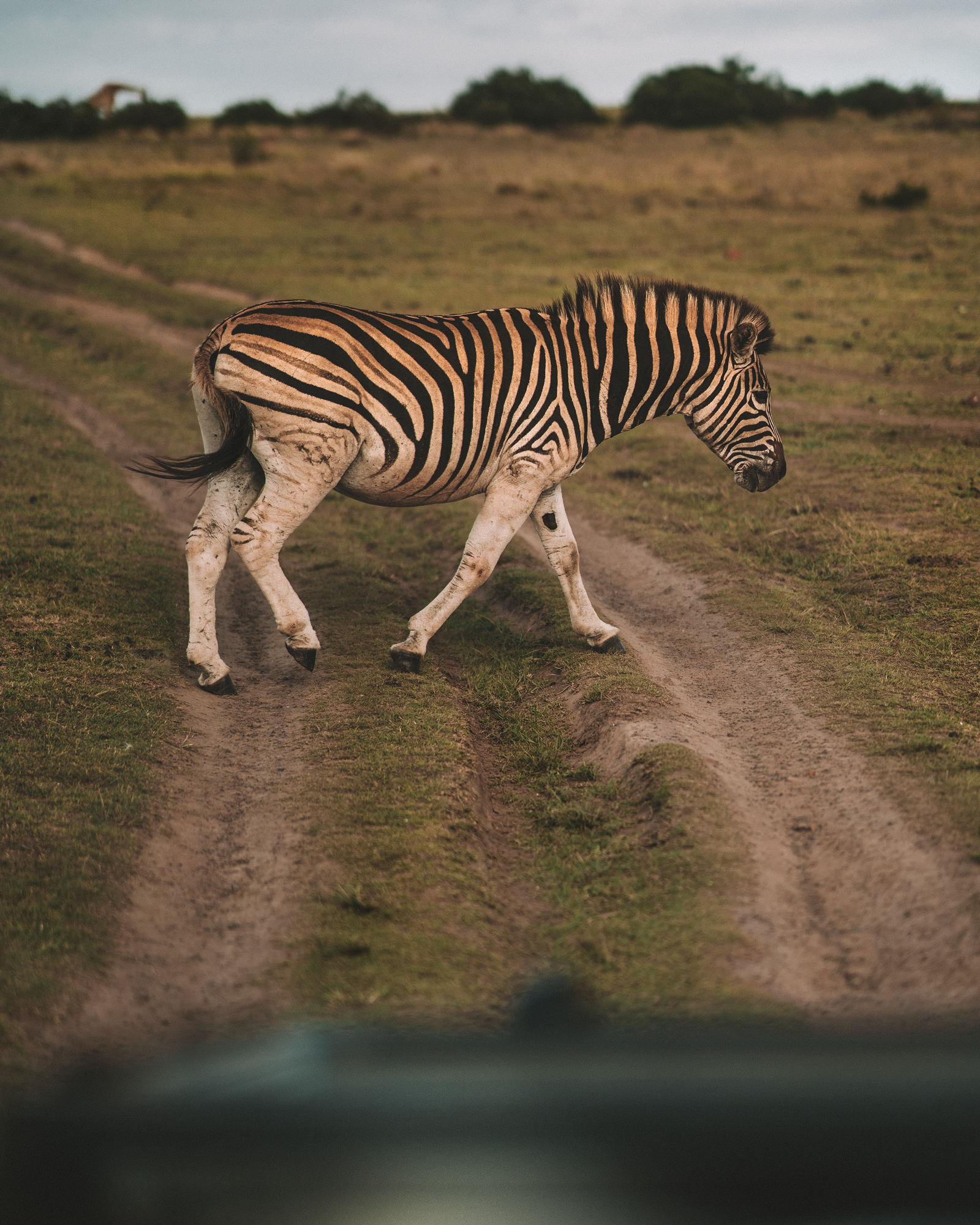 Yield for zebras.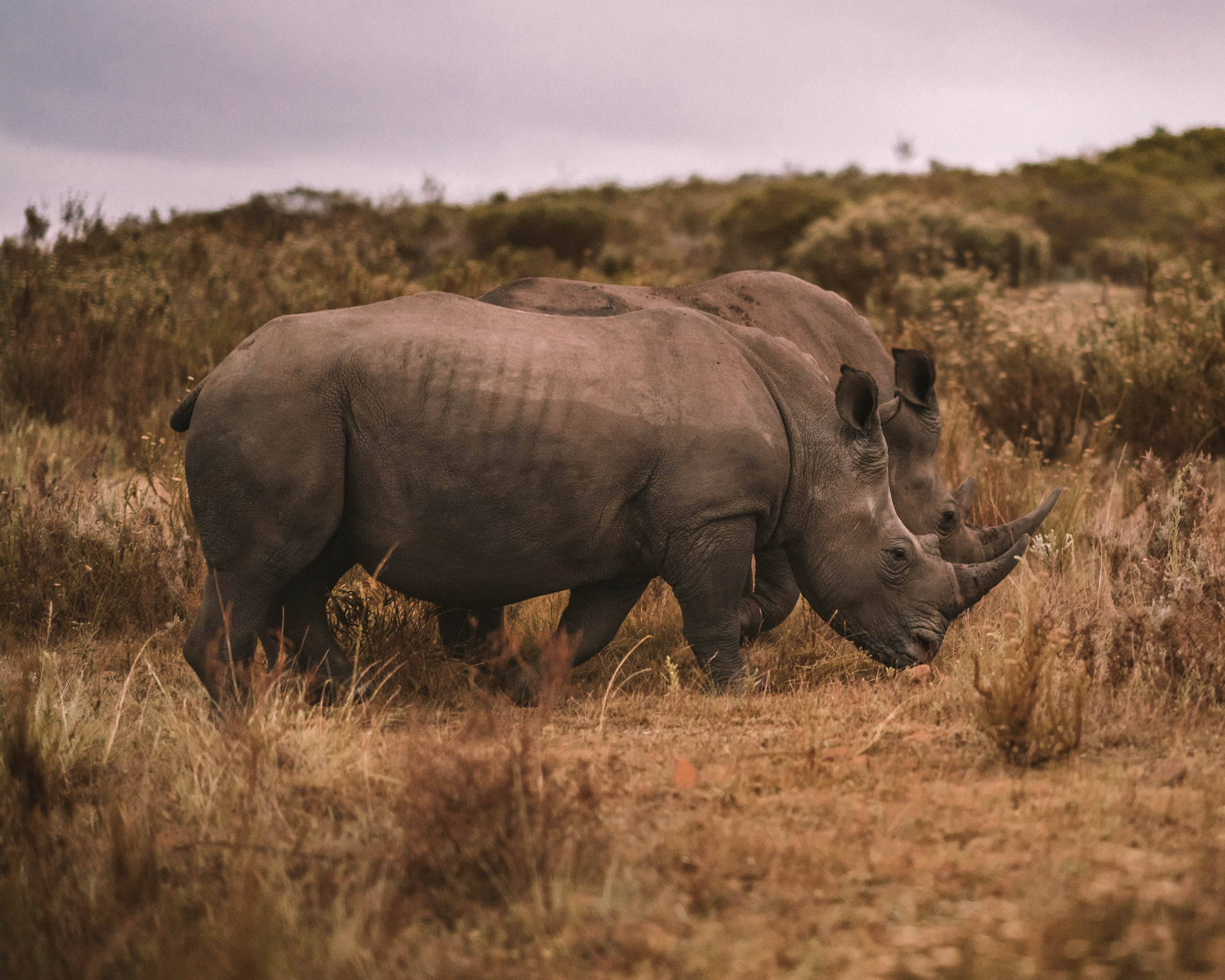 And one of our last spottings of the evening, this pair of rhino lovers up close and personal, just as the sun crossed over the horizon.
Would we recommend Gondwana for a safari? Absolutely! We only stayed here for one night, due to the reserve being 100% occupied for the rest of our entire trip (February is high season, as a huge number of Europeans escape the winter for warmer weather down South), but I would say that two to three nights here would be perfect. The location is a perfect stop for anyone driving the garden route, and if you are just in Cape Town, the trip out goes by quite quickly. From here, we drove straight to the Winelands for a completely different South Africa experience - stay tuned for the next blog for more on that!
Shop Safari Style: