April 16, 2023 Travel Guides
The Saint Martin and SXM Festival Travel Guide: How to Have the most fun in the French Caribbean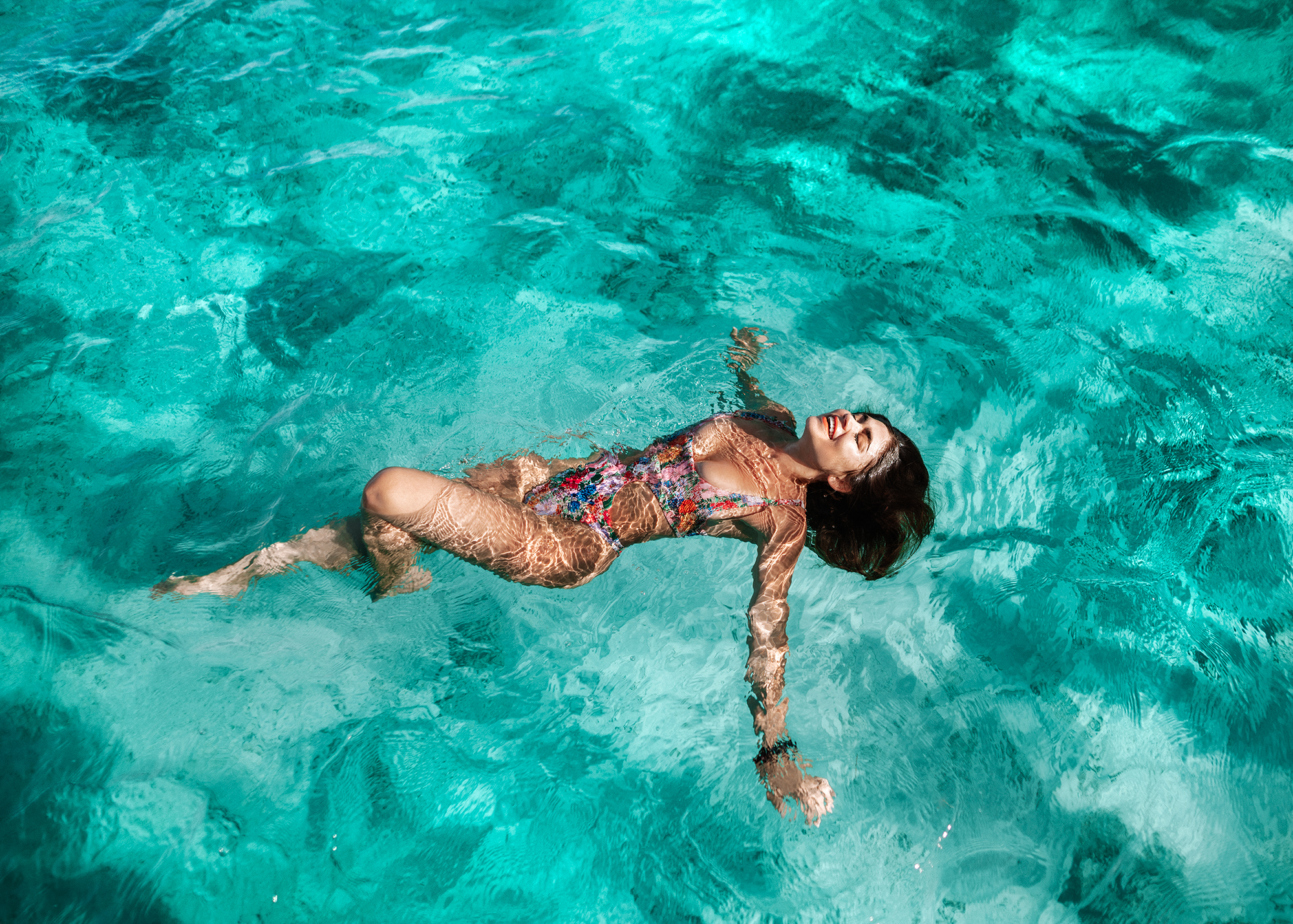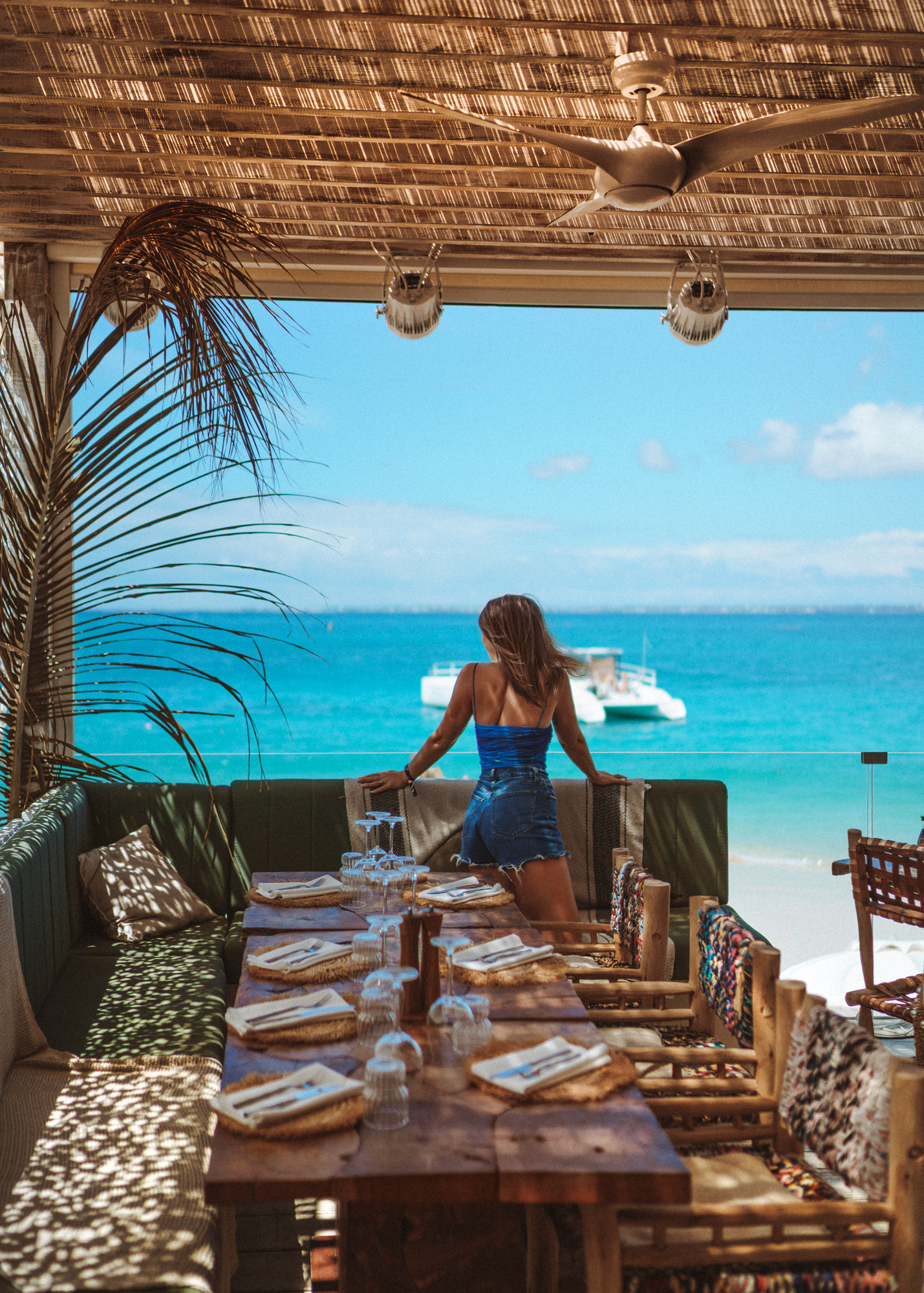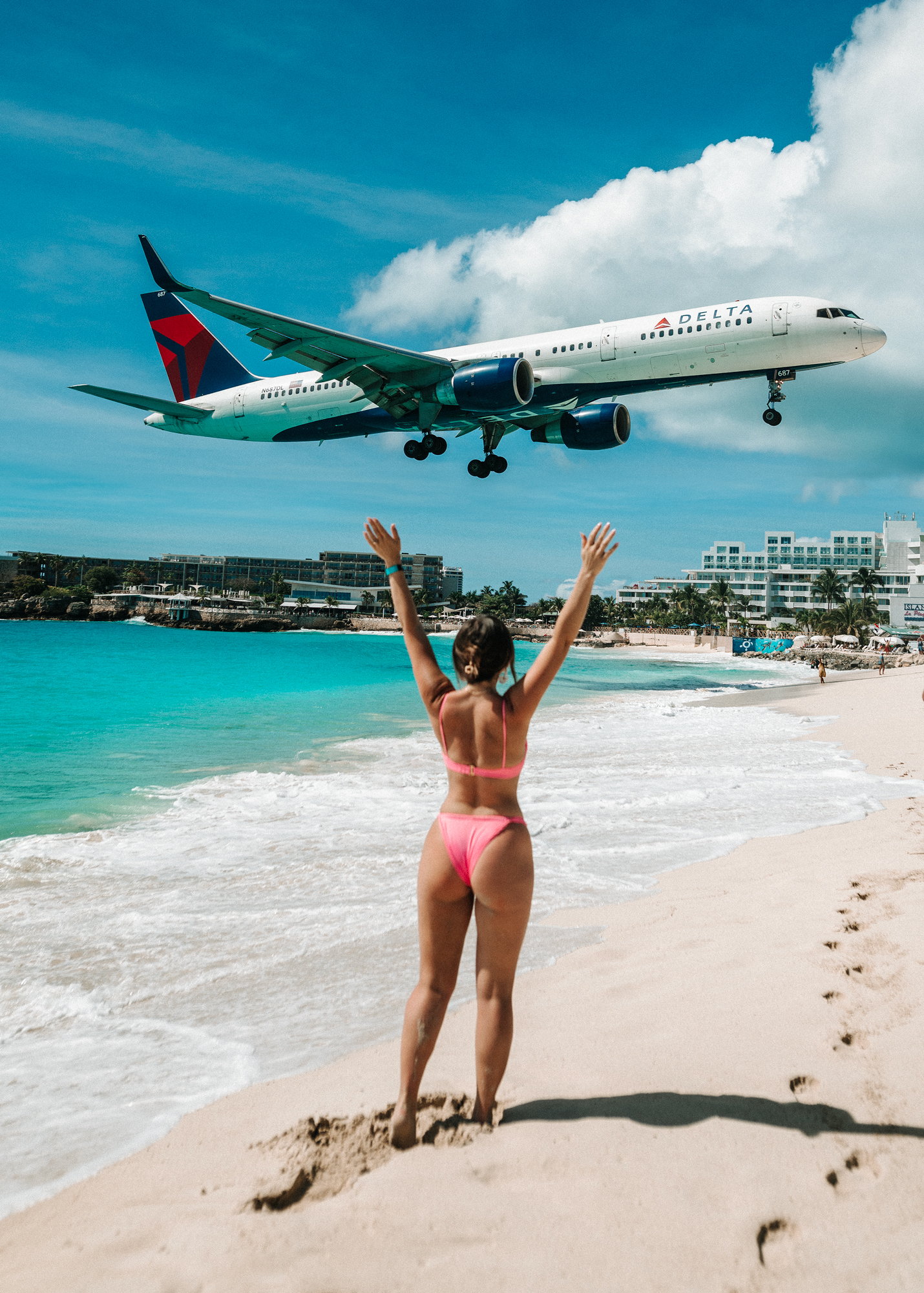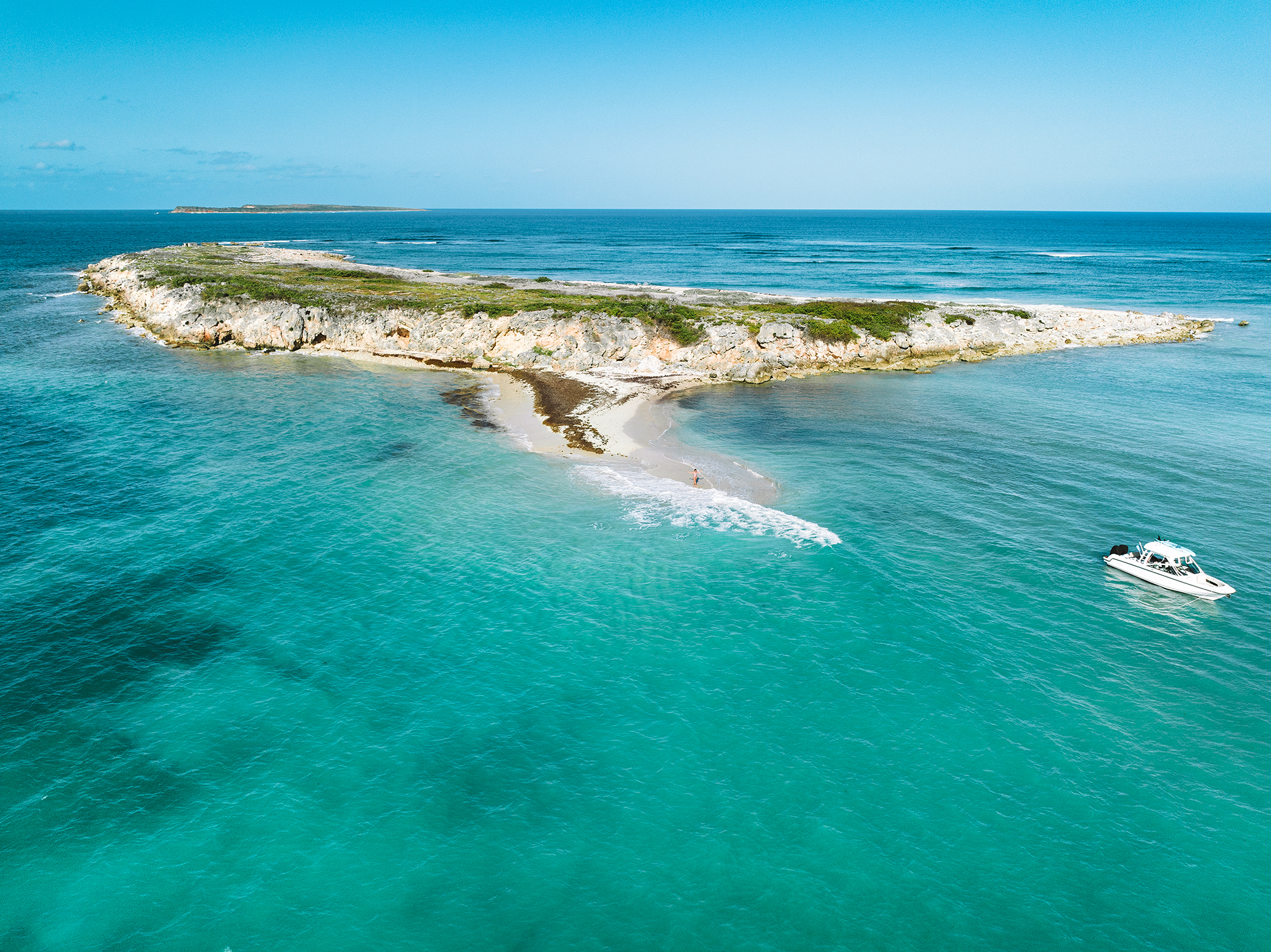 SXM Festival is the electronic music festival that Fyre Fest wished it could be - set against the pristine beauty of Saint Martin in the French Caribbean. Everything you need to know to have the ultimate tropical island festival experience - and travel tips for what to do, where to stay, and all the best restaurants and beaches on Saint Martin
Getting There and Getting Around:
Princess Juliana International Airport (SXM) is the main airport on the island and is served by major airlines from North America, Europe, and the Caribbean. Due to the Dutch and French colonization and continued interest in the island, Saint Martin is a great Caribbean option for Europeans, as there are direct flights to the island from both Paris and Amsterdam. Check out the best flight prices here!

Renting a car is the easiest and by far most popular way to get around the island, and there are several car rental companies located right at the airport and in the main towns, for easy access. St. Martin drives on the right-hand side of the road, which makes it easy for Americans and most Europeans (sorry Brits). One thing that really surprised us about Saint Martin is that traffic can be very heavy during the afternoons, despite being not a very large island, so it's best to plan trips accordingly. You ideally should be on the side of the island you would like to spend the afternoon through sunset by the early afternoon, and try to group the sites, restaurants, and beaches you want to see by location, to avoid wasting valuable time criss crossing the island in traffic. Check out the best rental car prices here!


Parking on the island is relatively easy, but not the easiest, for the major areas like Grand Case and Moho Bay, plan to park in a lot and walk a bit to your destination.


Alternatively, there are plenty of taxis to get around the island if you would prefer not to drive yourself - but I would recommend it to get the best experience!
When to Travel to Saint Martin:
The best time to visit is from December to April when the weather is mild, the skies are sunniest, seas are calm, and rainfall is low. The summer months, from May to November, are more humid, and the chance of rainfall increases. As with the rest of the Caribbean, the island is in a hurricane belt, and the hurricane season runs from June to November. We have been to the Caribbean in hurricane season many times, and the weather is unpredictable - sometimes you will get lucky and have a perfect week, and sometimes you will be caught in a storm. If you are can, plan to visit during the peak or shoulder season, to have the best chances of a perfect holiday.
What To Pack:
Reef Safe Sunscreen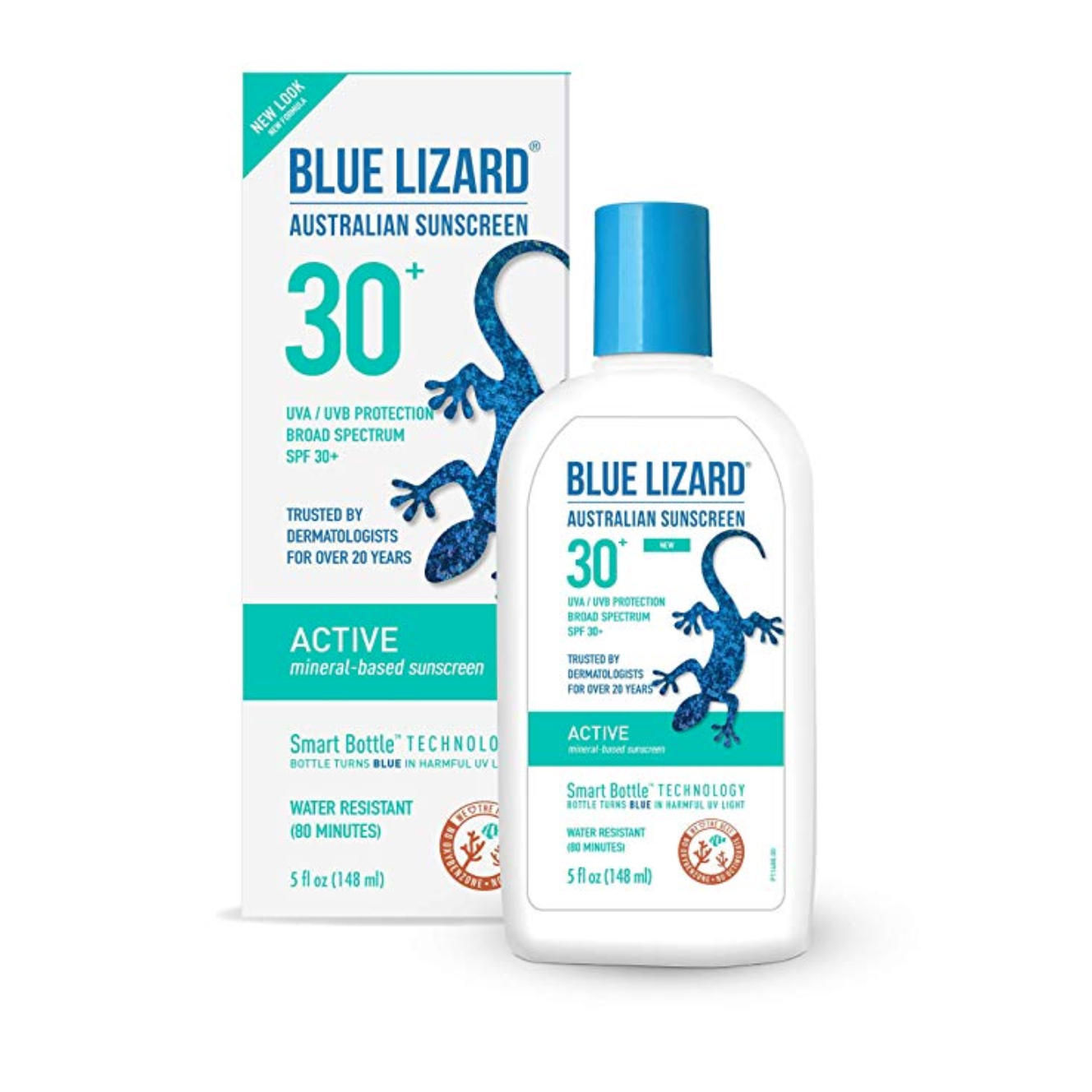 We all know that sunscreen is #1 - especially if you're going on a winter or spring escape and haven't seen the sun in a while. However, the ingredients in many traditional sunscreens can damage the delicate tropical reefs, and its important to only bring reef-safe brands. Buying ahead of time and bringing this with you will often save quite a bit compared to buying them on the islands.
Banana Boat has a great value family-sized bottle for under $10, and I love this Hurley waterproof spray-on 50 SPF for active days. For face sunscreen under make up, I swear by Supergoop Unseen Sunscreen.
An Extra-Long Iphone Charging Cable and a Universal Plug Adapter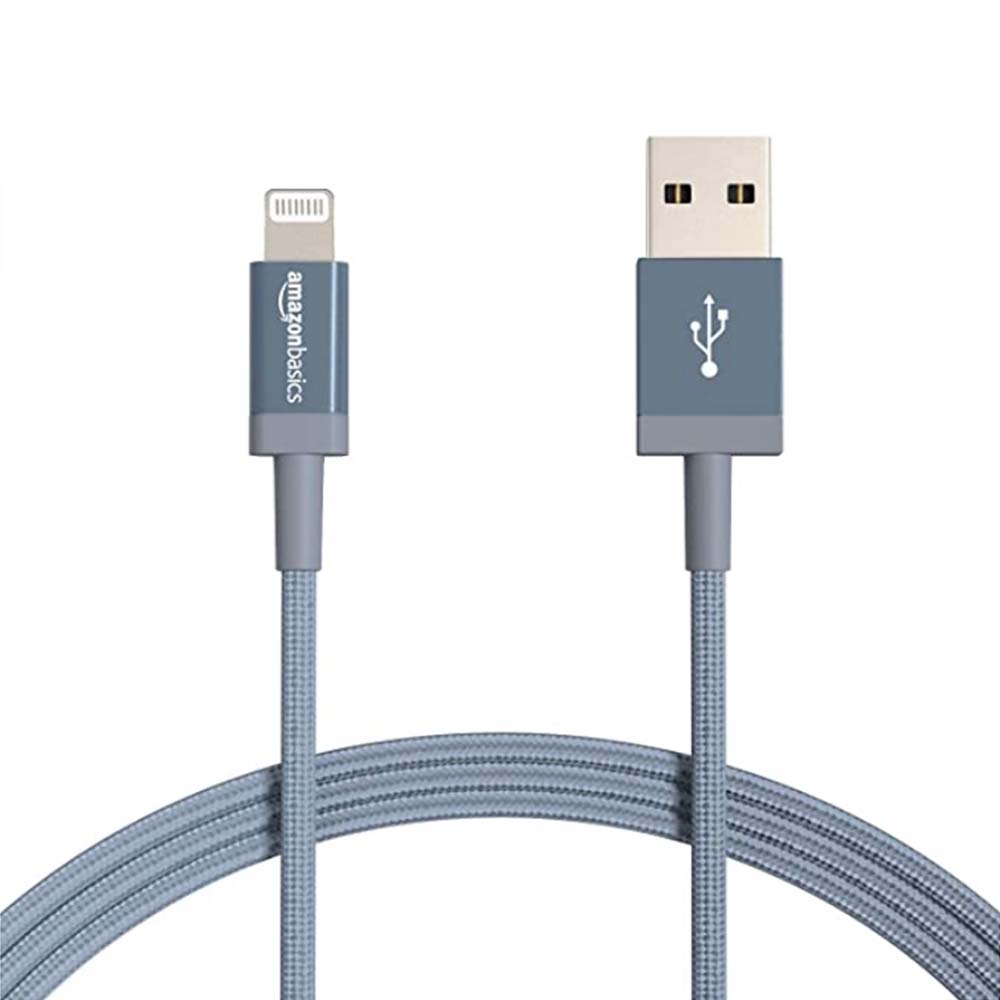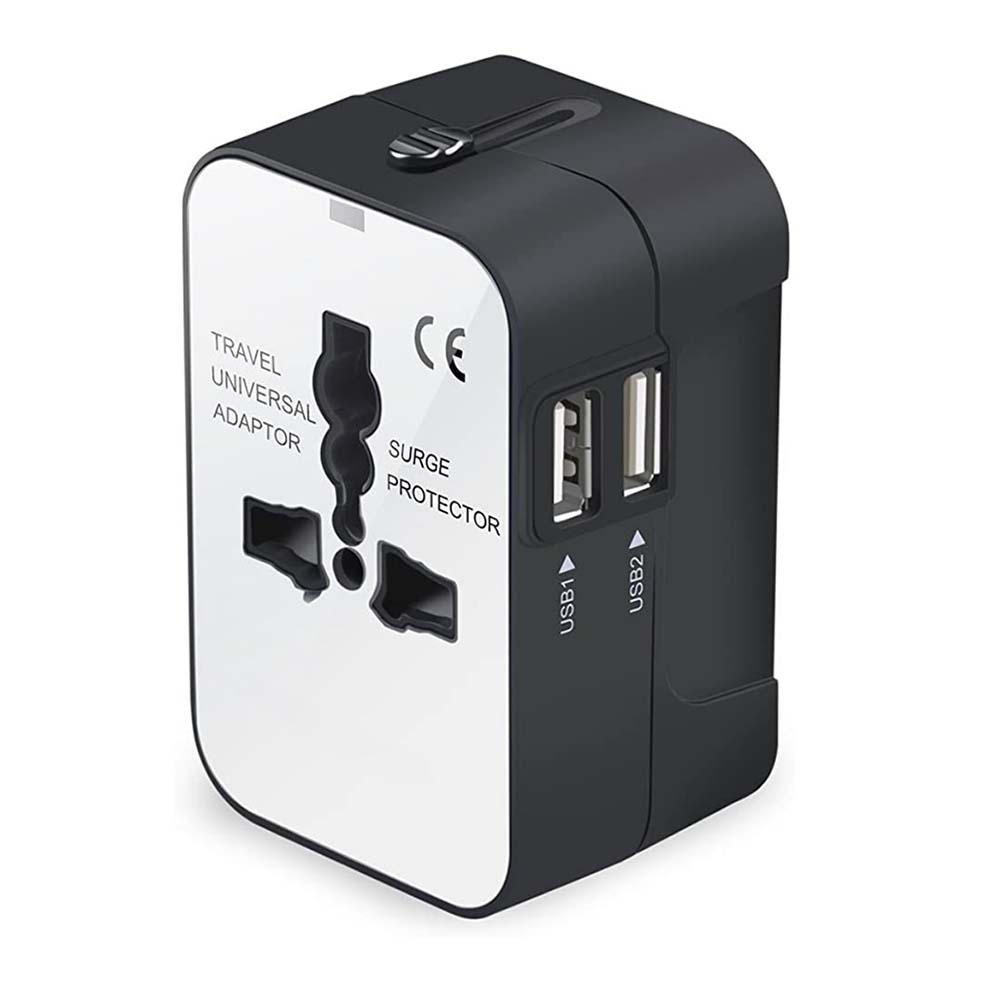 I know it's not just me that finds nothing more frustrating than a hotel that doesn't have plugs right next to the bed and not being able to charge my phone at night. A couple years ago, we bought a couple of these exact 6' cables and leave them permanently in our travel backpacks so we always have them with us - I usually only go with native Apple products, as cheaper alternatives tend to break easily, but these Amazon Basics cables have held up amazing over multiple years. These also work great for charging in airports and anywhere where plugs can be in short supply. For even more flexibility, you can also opt for a 10 Foot version.
We found that we needed an international plug adapter to charge our devices and to use my hair tools - as Saint Martin uses European plugs, and most outlets were not international. While many resorts (especially newer and remodeled high-end properties) will often have universal outlets, they aren't guaranteed and sometimes there can only be one universal per room or none at all. I always keep a converter to be safe, and love this style as you can charge 3 items with only one outlet, using the included USB ports.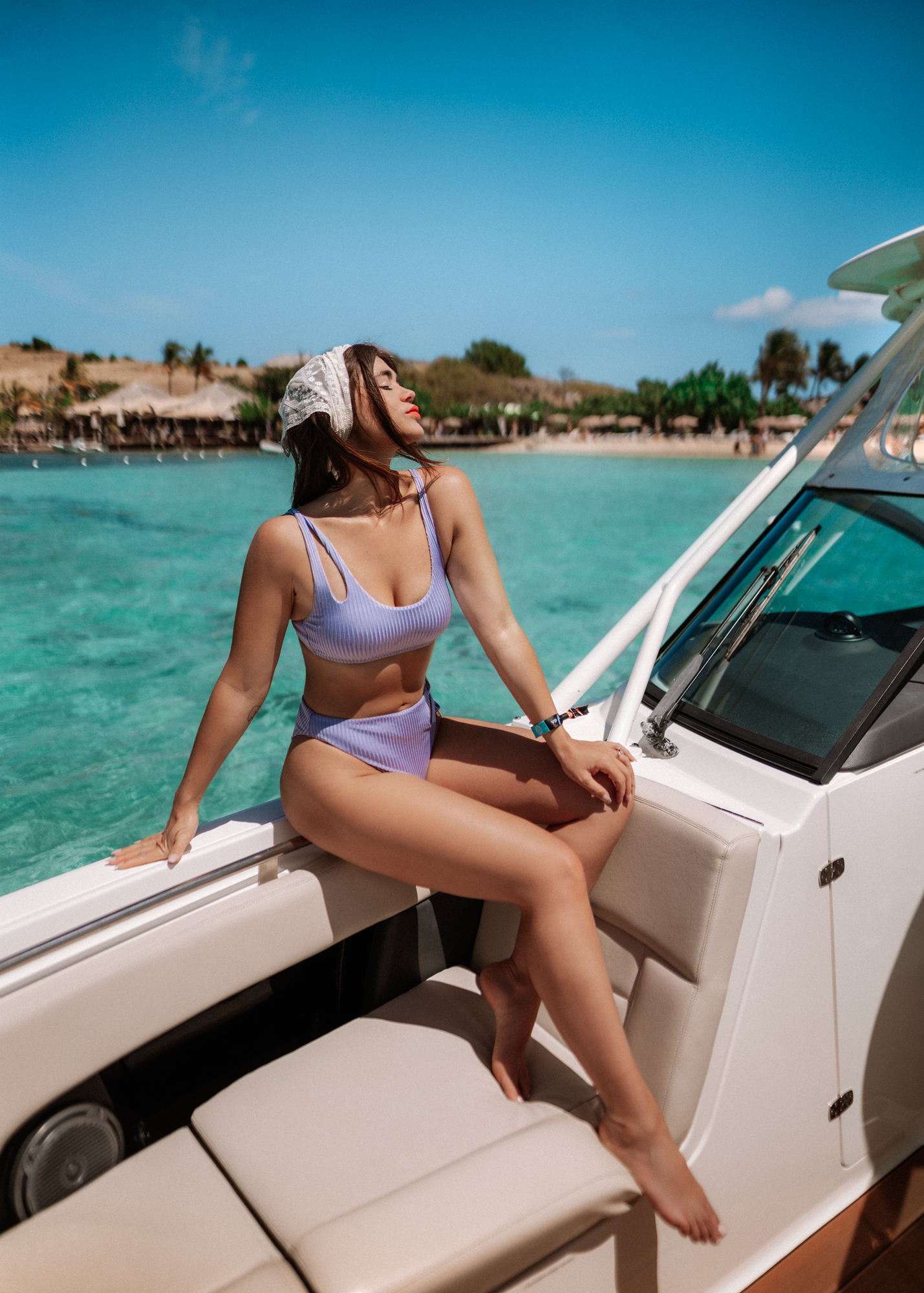 Where To Stay: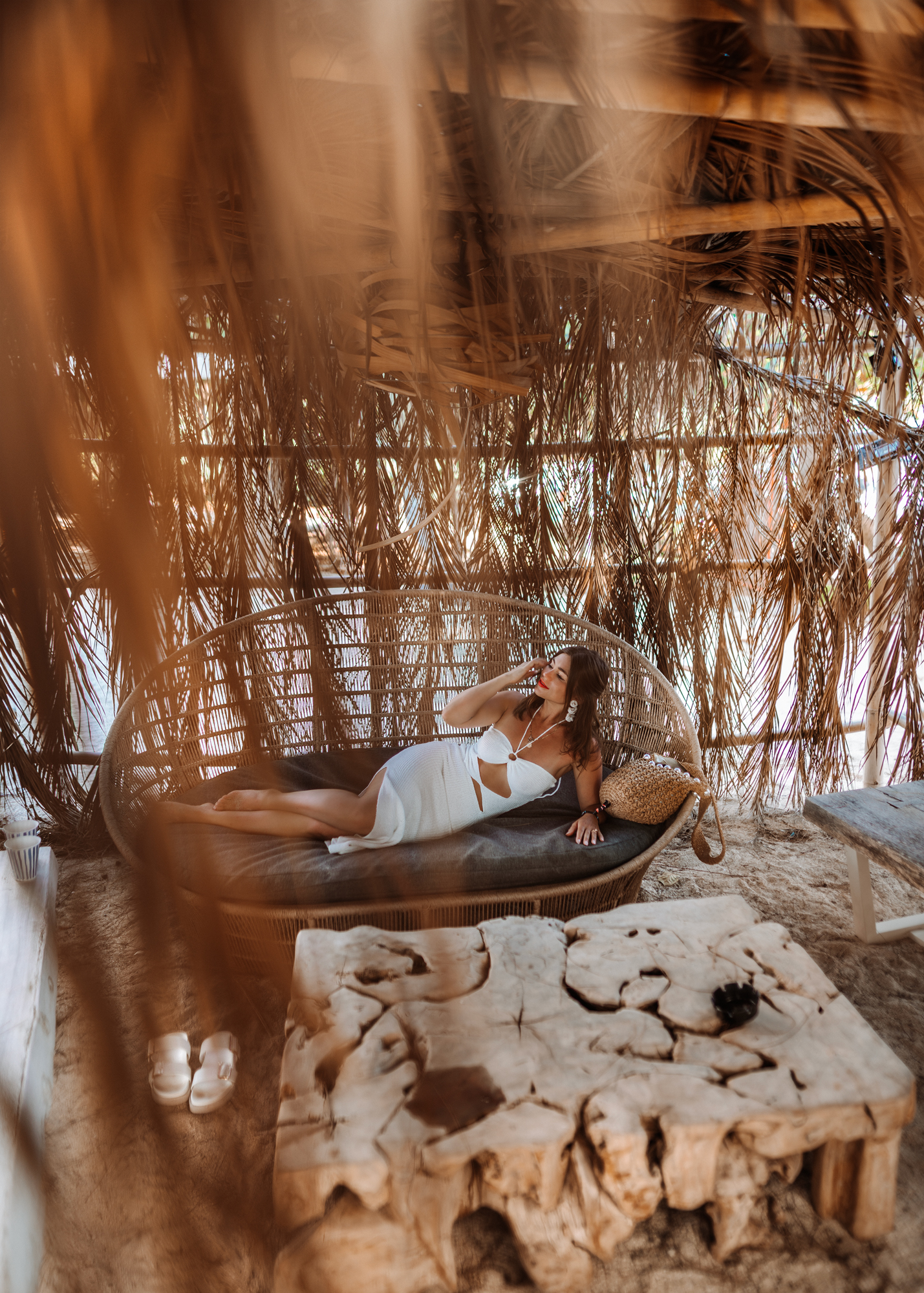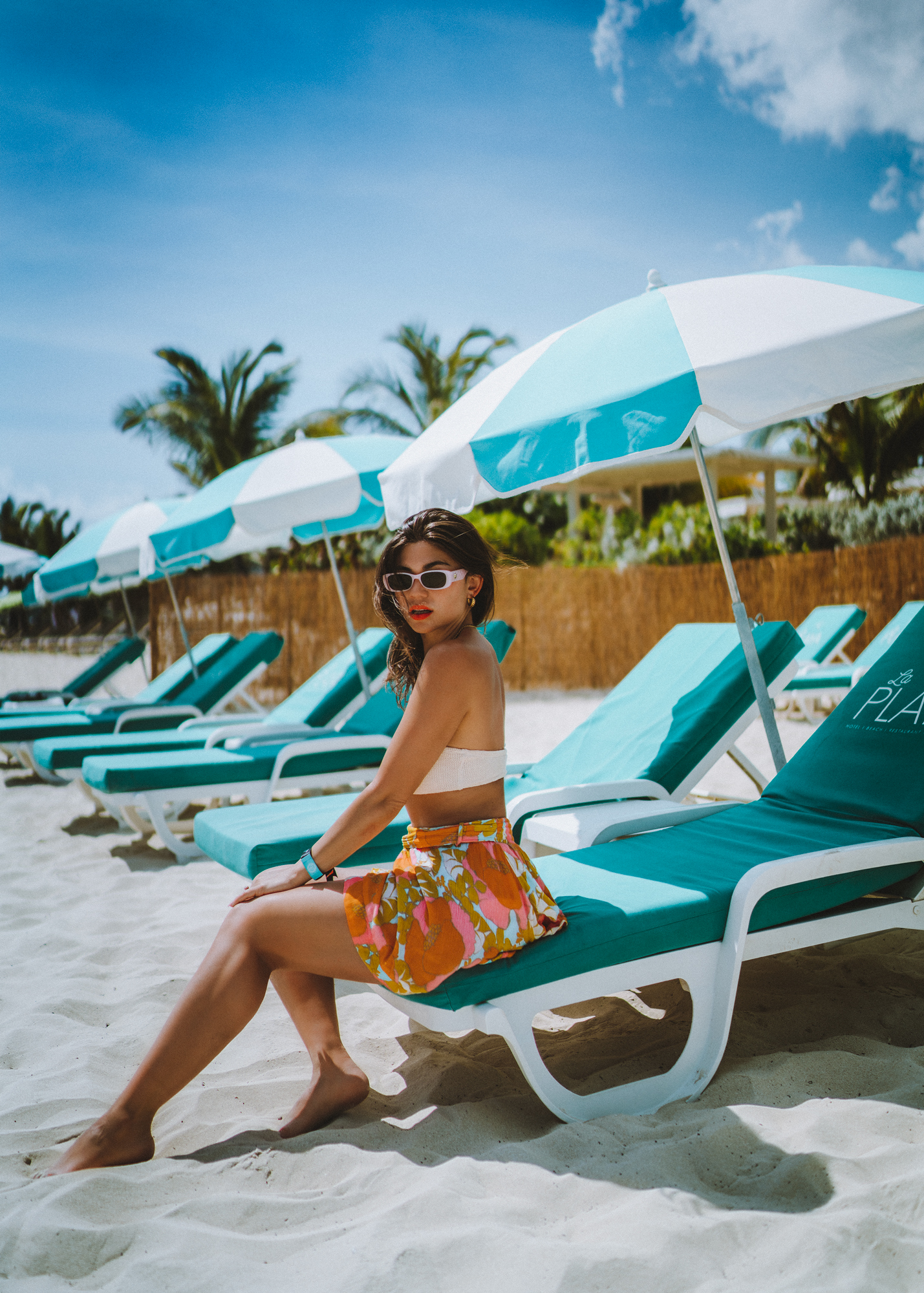 We stayed at La Playa Hotel Saint Martin, which we found to be just perfect! La Playa is a charming and cozy boutique hotel located in the heart of Orient Bay, which is one of the best and most pristine beaches on the island. Our room was comfortable and quiet, and we ate the included breakfast every morning with our toes in the sand.
La Playa Hotel also offers a private beach area with lounge chairs and umbrellas, perfect for soaking up the sun and relaxing, and one thing we loved was that the hotel is a very short walk (less than 5 minutes) to many of the island's top restaurants in Orient Bay, as well as being a quick 10 minute drive to Grand Case.
Grand Case Beach Club: This beachfront hotel offers guests spacious rooms and suites, two pools, a restaurant, and a beautiful beach. It's perfect for those who want to relax and unwind. Check out discount prices here!
Secrets Saint Martin: Saint Martin's best inclusive! Located on the French side of the island, Secrets Saint Martin is a luxurious adults-only resort with stunning ocean views, world-class dining options, and a private beach. The reviews and photos for this property are unbelievable - I definitely want to stay here! Check out discount prices here!
Belmond La Samanna: This luxury resort is situated on a private beach and offers guests beautiful rooms and suites, three restaurants, a spa, and various water activities. It's perfect for those who want a luxurious vacation. Check out discount prices here!
Shop My Looks:
Where to Eat in Saint Martin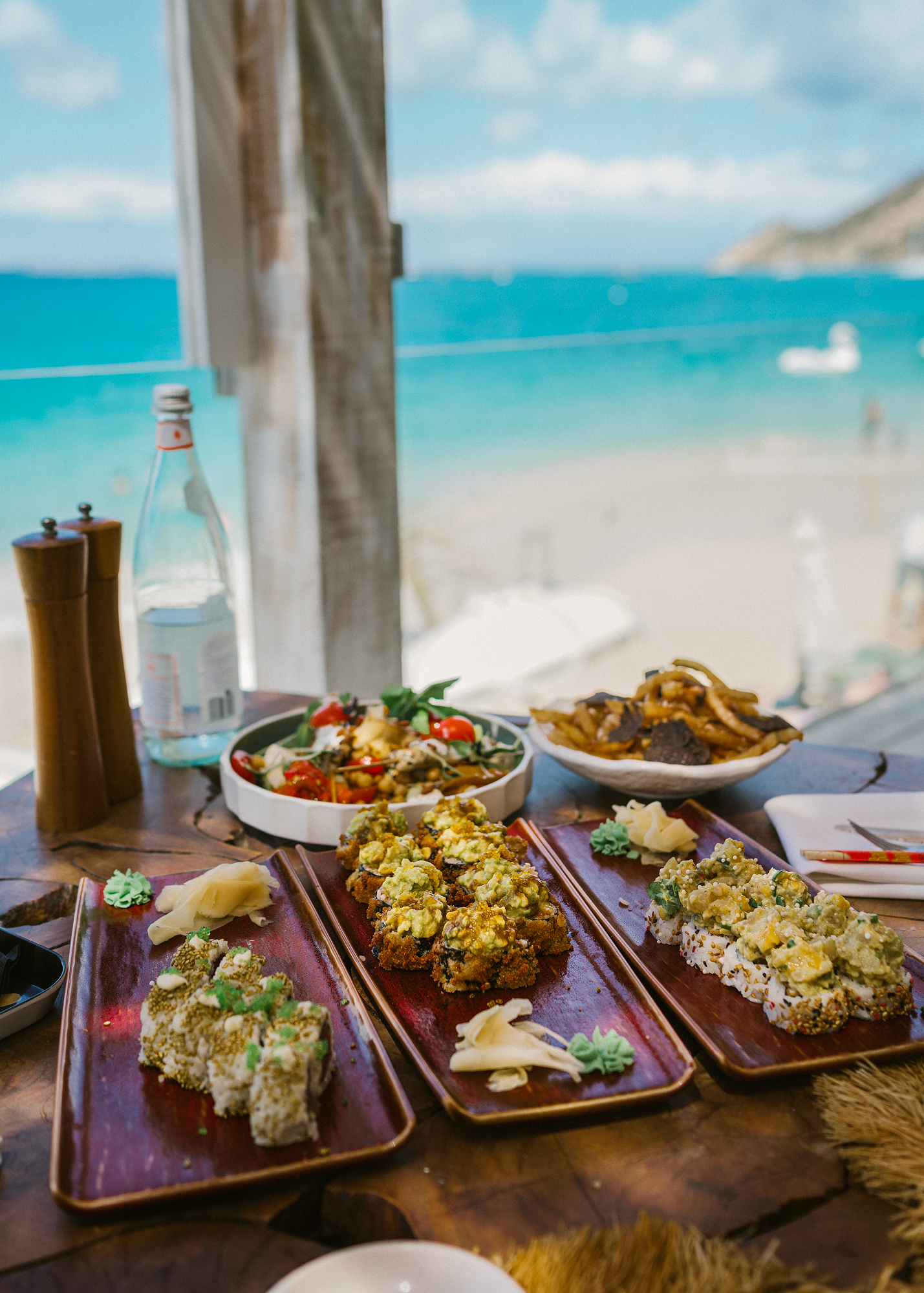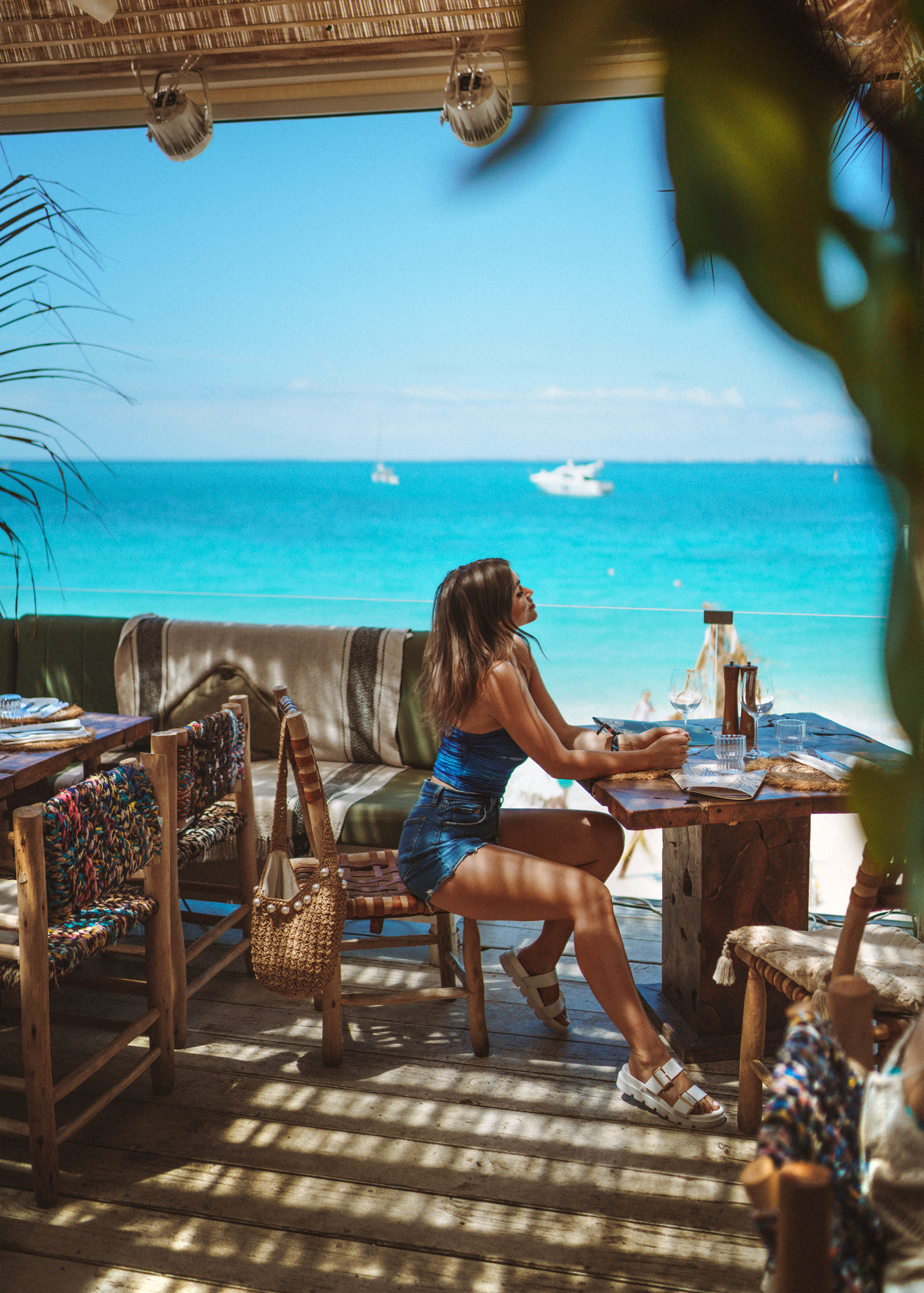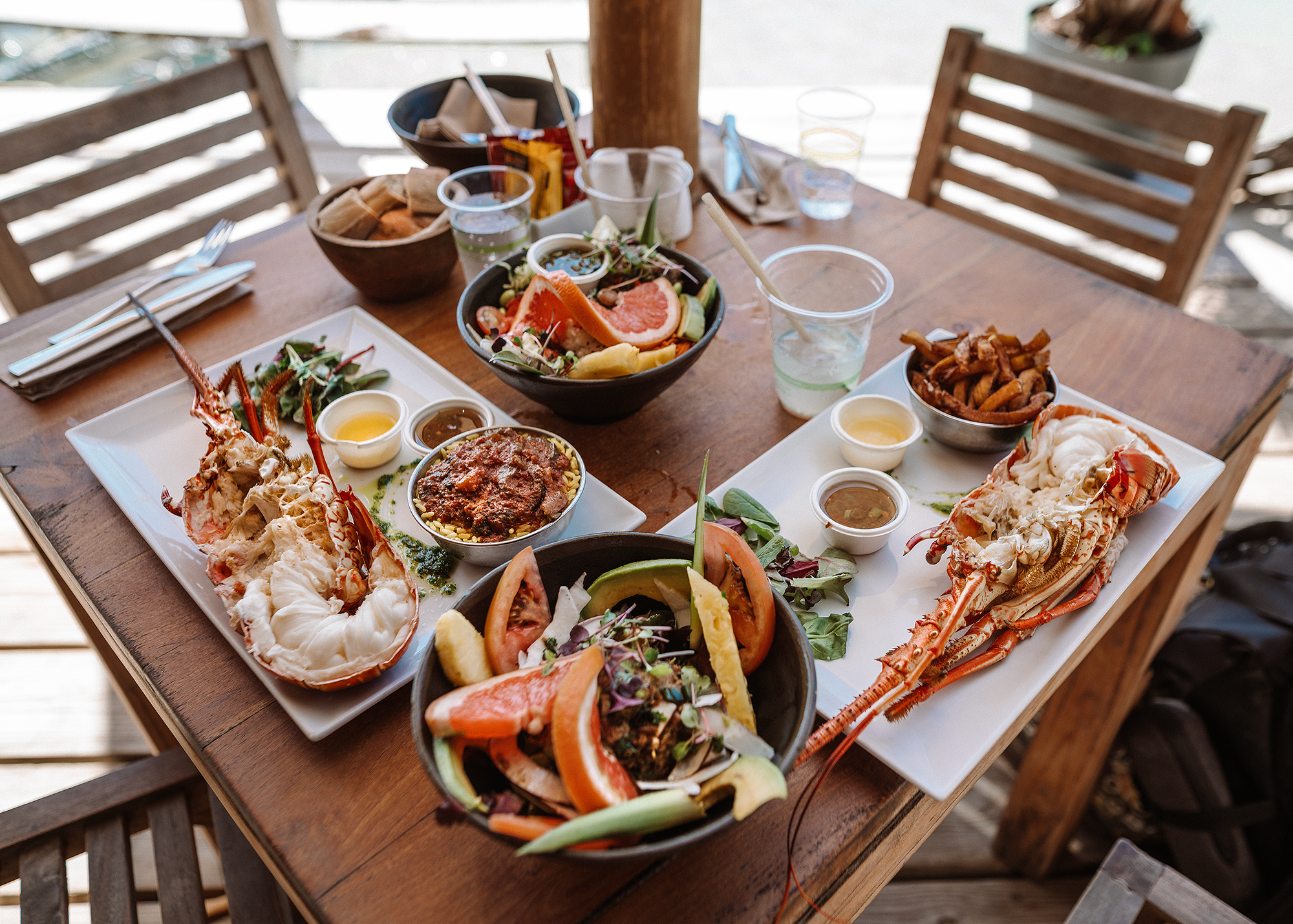 St. Martin is known for its diverse culinary scene, with most restaurants combining the island's French and Creole influence with unique flavors, local produce and flavors, and always fresh, local seafood. Of anywhere we have been in the Caribbean, Saint Martin has by far had the best food - not a single meal we had was disappointed! Here are some of the highlights and restaurants you absolutely need to save for a trip to the French side of Saint Martin:
Ocean 82: This French restaurant is perched right over the ocean in Grand Case and offers guests stunning views while they dine. They are well known for their lobster dishes and impressive wine list. Stand out dishes for us were the tuna tartar trio and French onion soup! Spoilers: we had french onion soup at almost every dinner on Saint Martin, and every single one was incredible!
Rainbow Cafe: This beachfront restaurant has a beautifully plated food worthy of photos, a huge wine list, and the vibiest decor and music - lunch here feels like you're at a party in both Tulum and the Greek islands. We had a flight of sushi and salads for lunch, and everything was fantastic.
Villa Royale: This local restaurant right on the main drag of Grand Case has the most authentic island feel of anywhere we ate - and is a well known local spot and a great place to try traditional St. Martin cuisine - we couldn't get enough of the cod fritters and baby back ribs.
Karibuni: This restaurant on Pinel Island is accessible by a 30-second shuttle from your boat or by swimming up to the bar. The lobster here is some of the freshest we've ever had - the lobster "tanks" are open to the ocean right in front of the restaurants, so the lobsters stay in the ocean until the moment you select yours for lunch. Either come here for the day on the ferry and spend the day on the beach, or stop here for lunch on a boat cruise! In an island of great food, this restaurant was really a stand out experience for the views, the food, and the perfect island ambience.
Esmeralda Restaurant at Orient Bay: This restaurant was highly recommended to us by locals more than once! A fine-dining restaurant that serves up fantastic French and Caribbean cuisine, using only the freshest local ingredients. We didn't have a chance to eat here personally, but the recommendations were all glowing so I had to include it - this is definitely top of our list for next time.
Maison Mere: Located in Grand Case, this traditional French restaurant offers local produce and creole flavors. They serve beautifully plated dishes of very high-end cuisine - of all the French onion soups we had, the one here was the hands-down winner. Every detail of dinner here is exquisite - including a traditional French cheese cart to select from after dinner.
Don't miss the grocery stores - One of my favorite things about French islands is that the grocery stores are always loaded with amazing selections of cheese and wine! We found the grocery stores here to be fantastic and affordable - grab a few drinks and snacks to take around with you.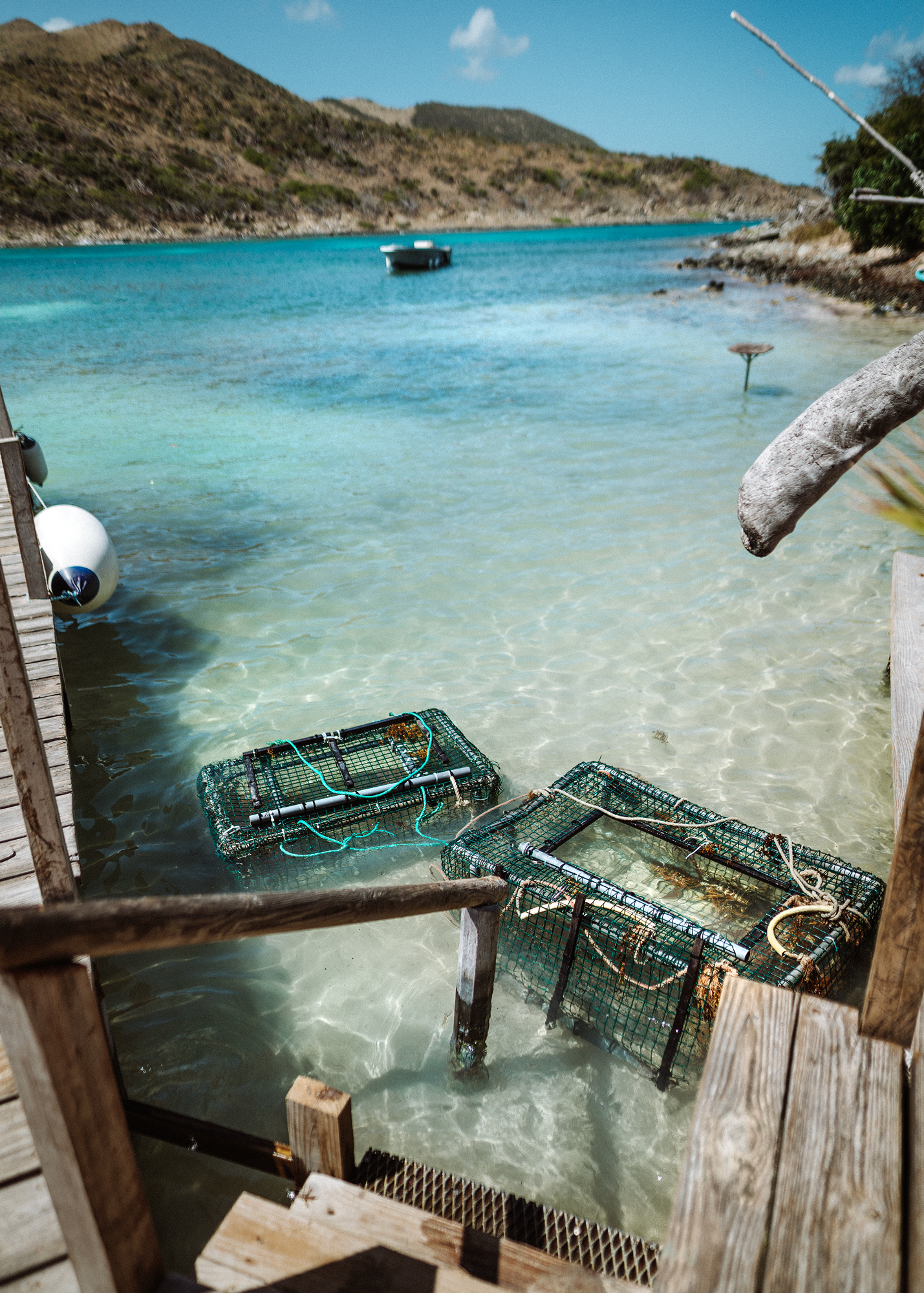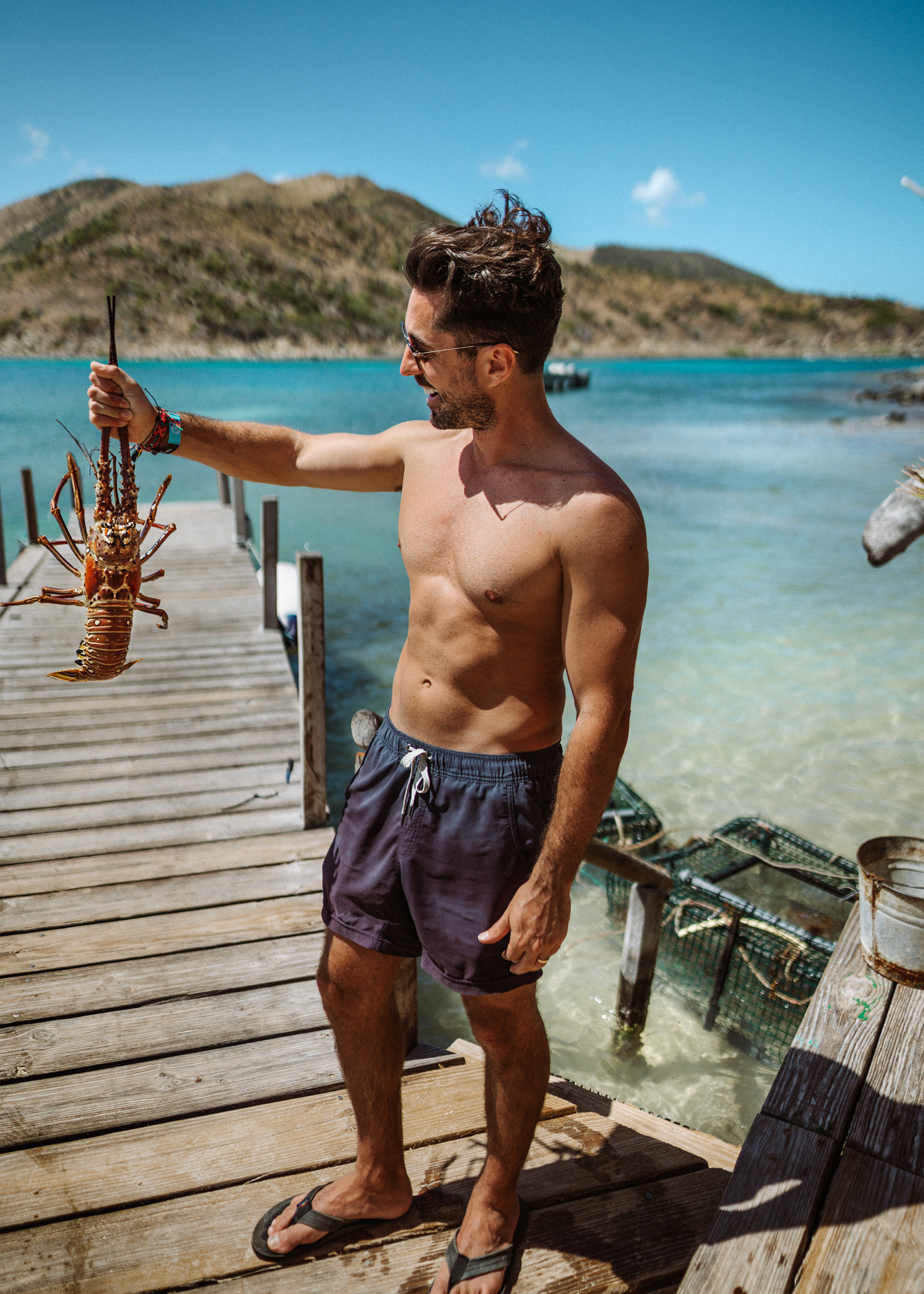 Shop Vacation Style:
Everything to know about SXM Festival:
A 5 night electronic music festival on a tropical island? Say less.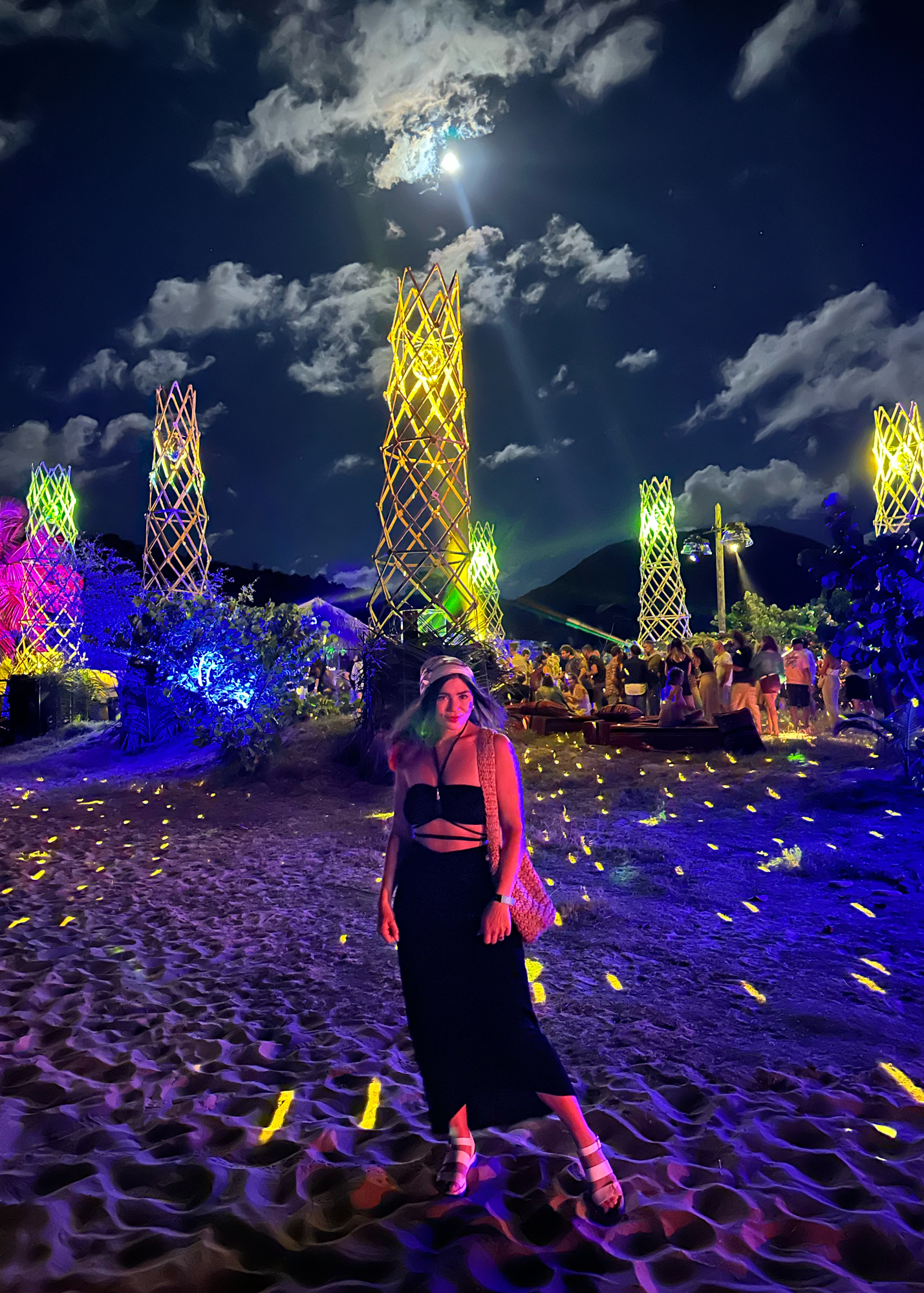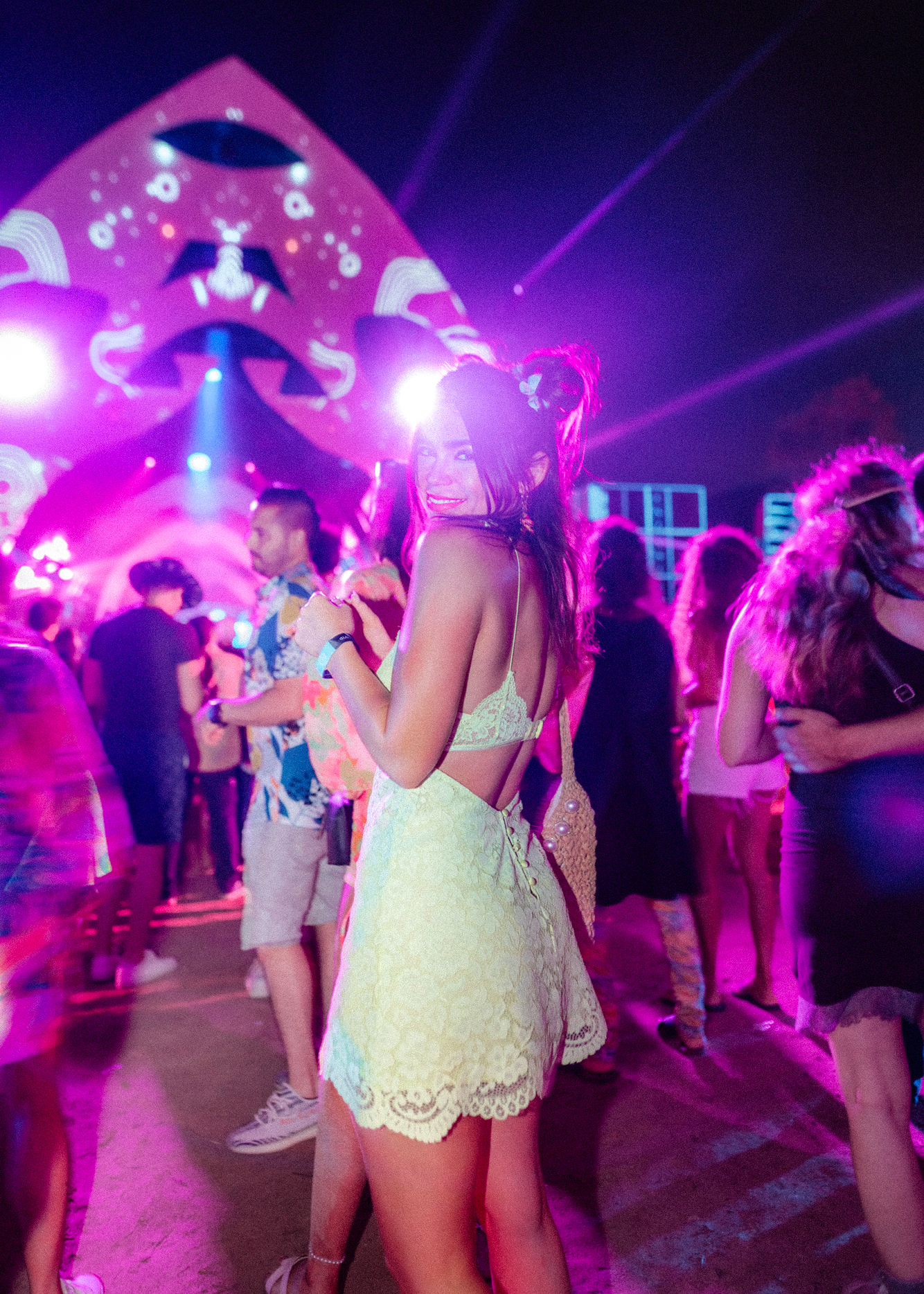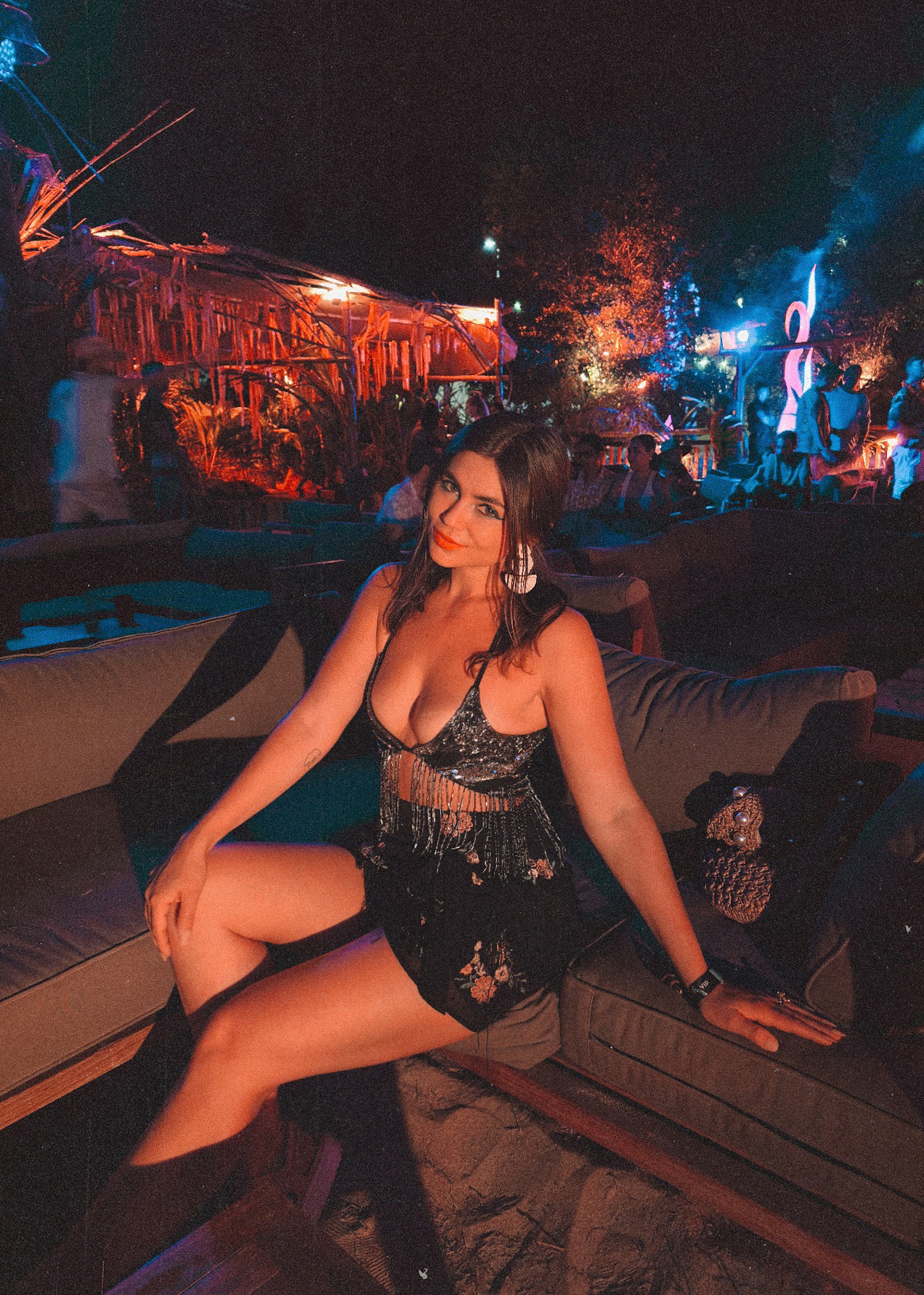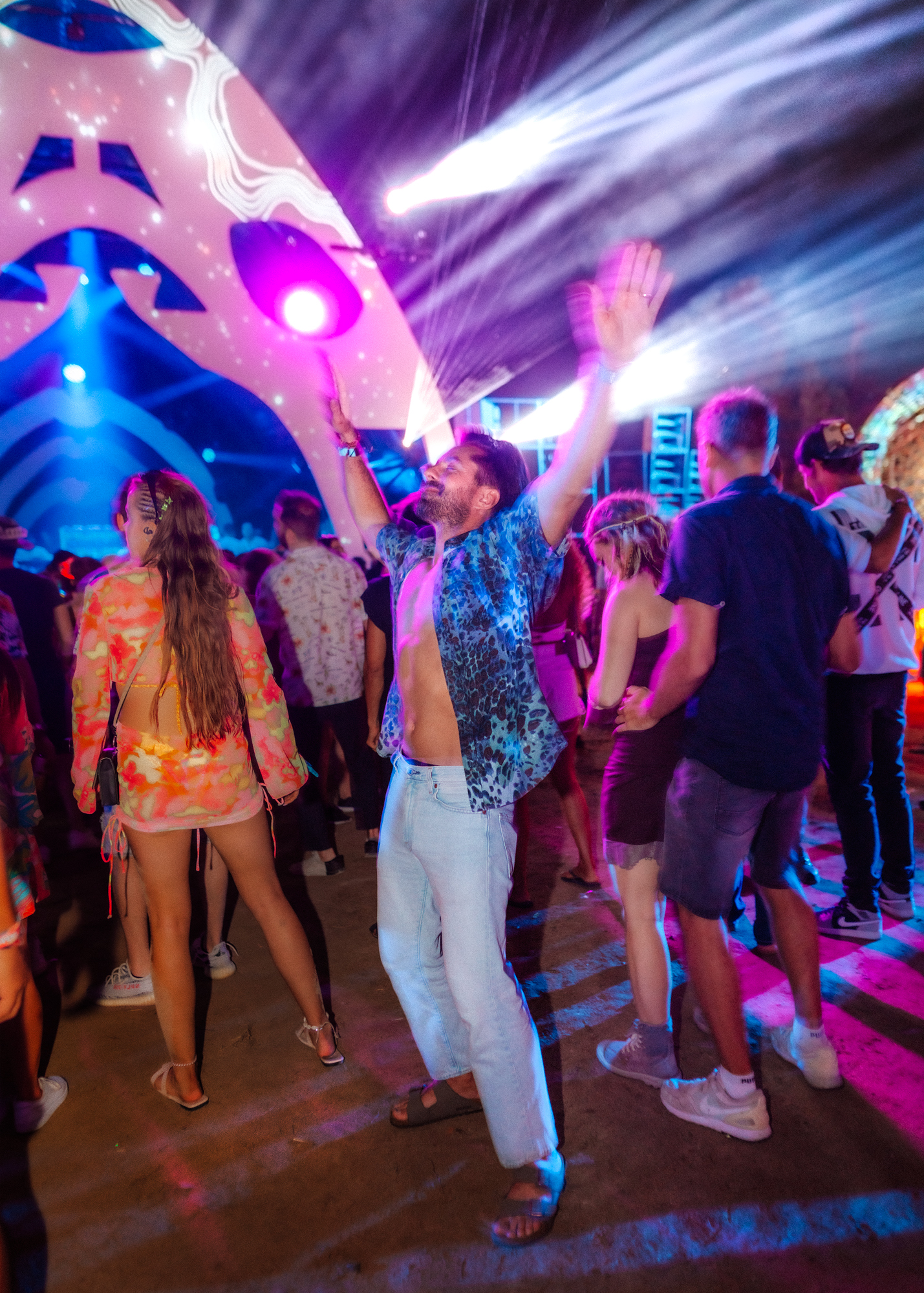 SXM Festival is an electronic music festival that takes place annually on Saint Martin. It was founded in 2016 and quickly gained popularity among festival lovers and became a major event in the electronic music scene. We were told that the festival is the only time of the year you can drive into and park at Happy Bay - usually it is blocked off to the public and to visit the beach you need to hike it.
SXM Festival usually takes place over a week in March (so there is usually absolutely perfect weather) and features over 50 international and local DJs and musicians performing across multiple stages, starting at 9PM every night, and going until sunrise - although we never made it that late. We loved the two stages with a walking path between them on the sand, which made it easy to explore and go from stage to stage. The festival itself was really chill compared to some of the bigger ones - we were never squished in a big crowd, always had enough room to dance and move, and people were overall very friendly. Dancing in the warm, Caribbean night air was absolutely perfect - warm enough to be completely comfortable, but never too hot or sweaty.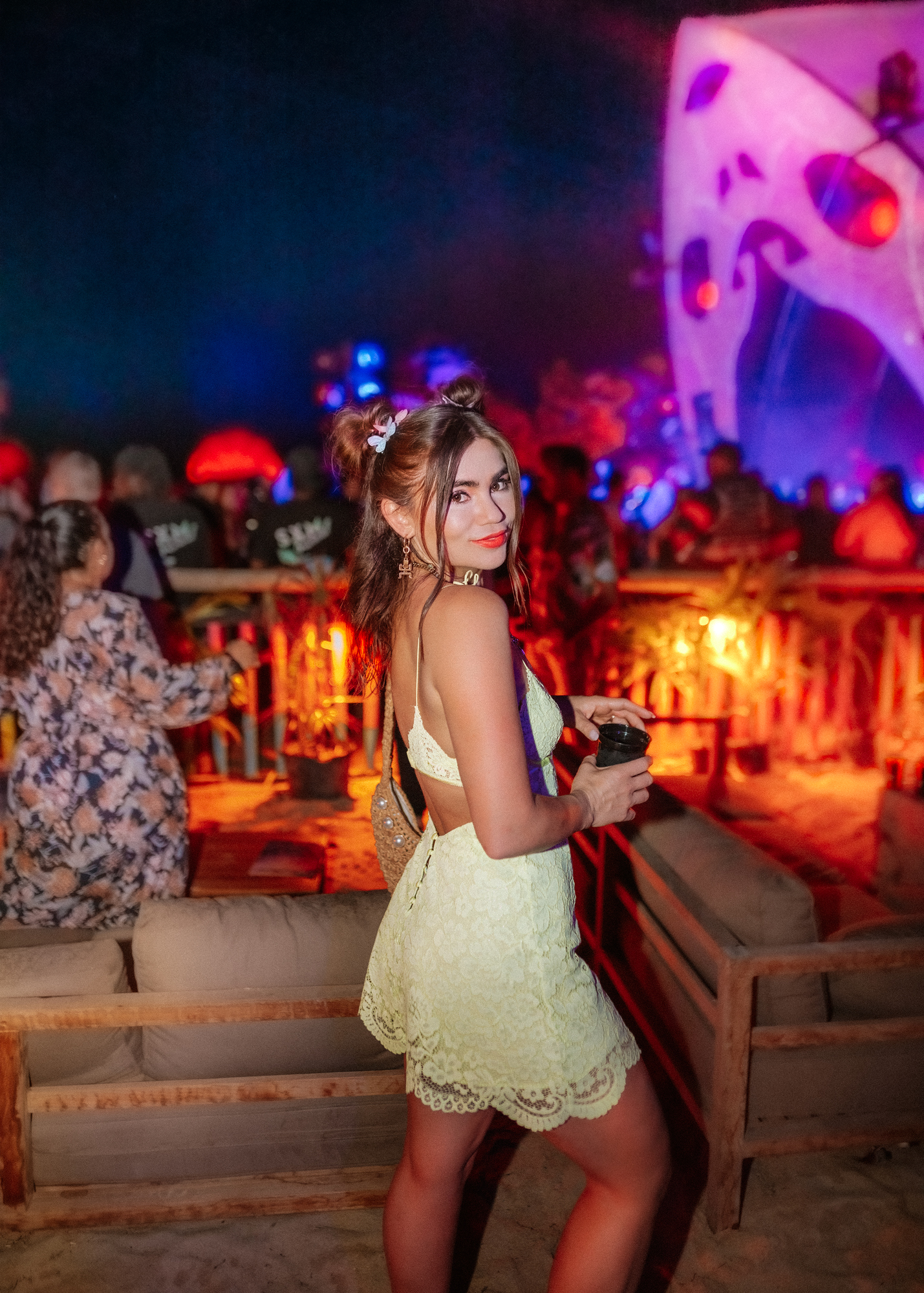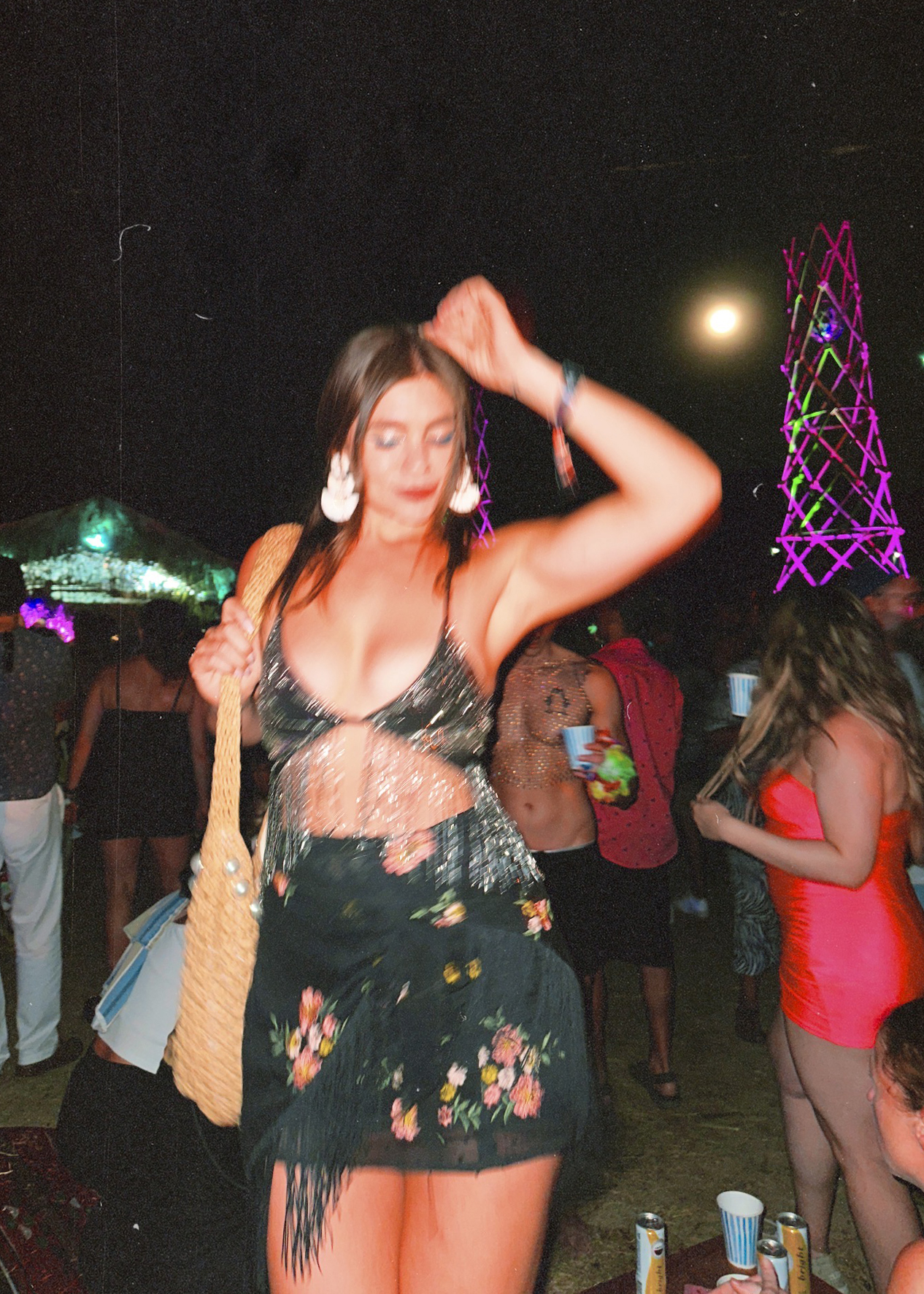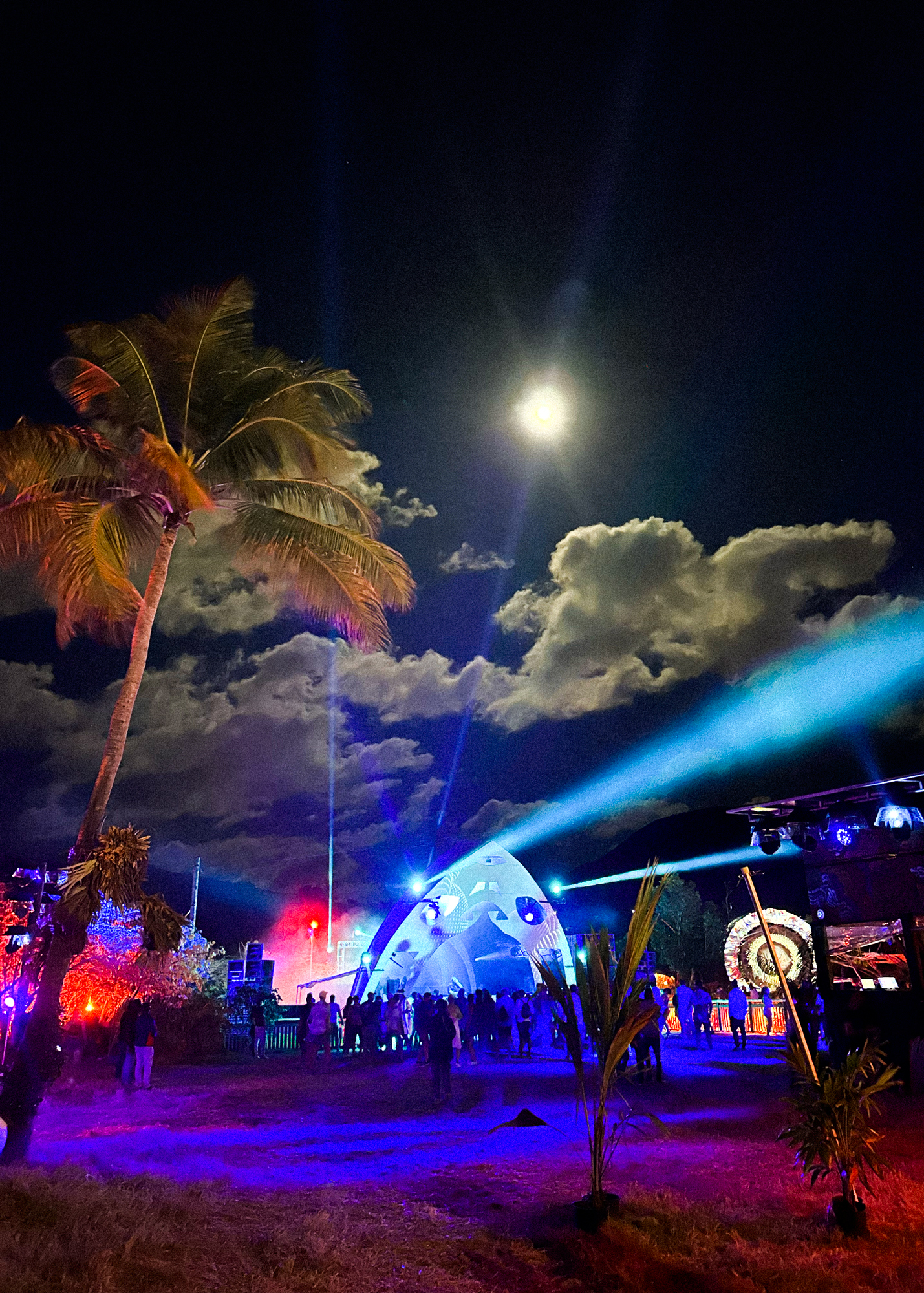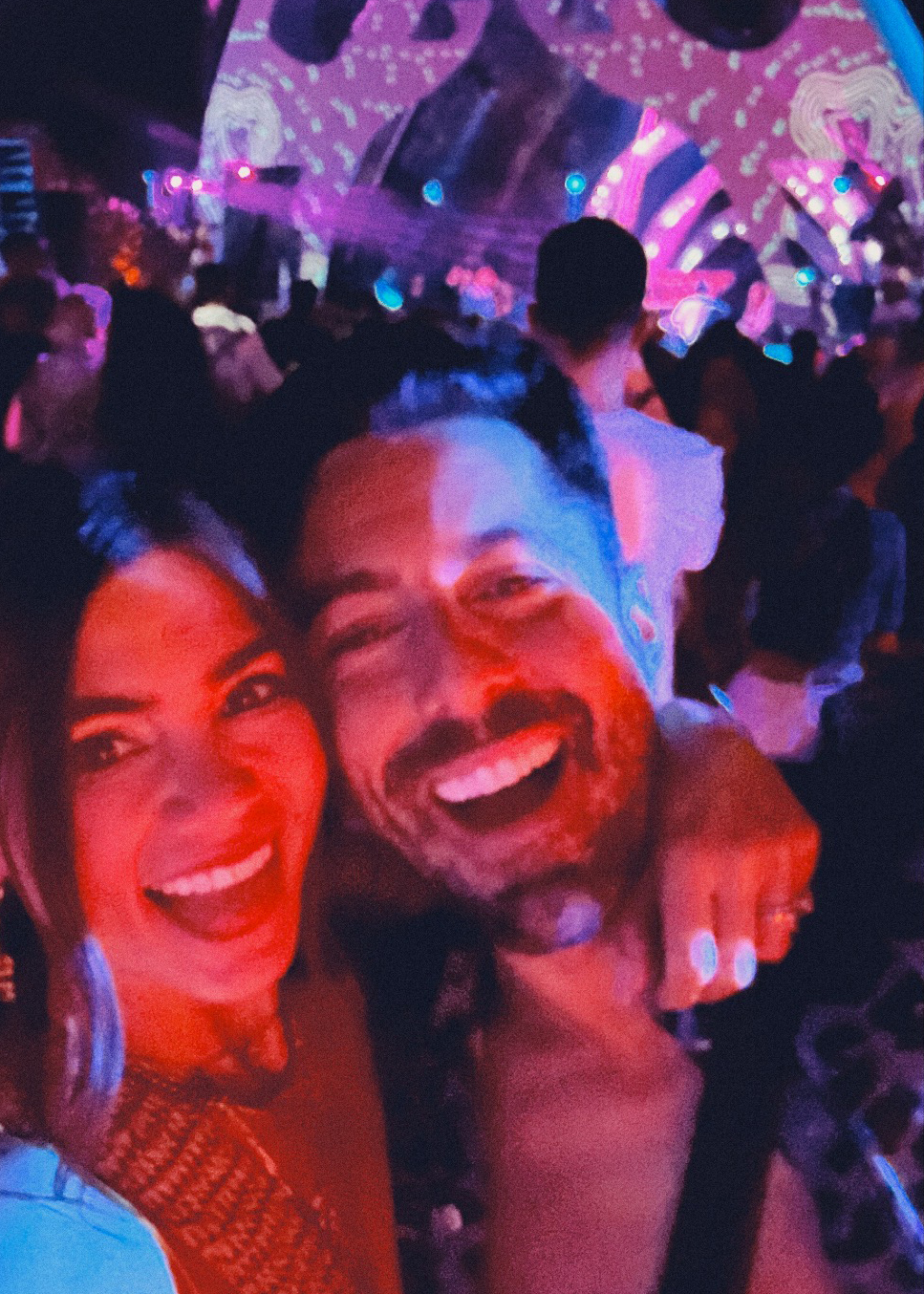 In addition to the two main stages, there are multiple bars, food stands, side stages with dancers, and vendors of all kinds selling merch, festival gear, and handmade clothing and crafts, as well as art pieces and light installations all over the festival area, lounge areas, and plenty of restrooms. The crowd's festival wardrobe ranged from simple shorts and tee shirts to full-on rave festival gear.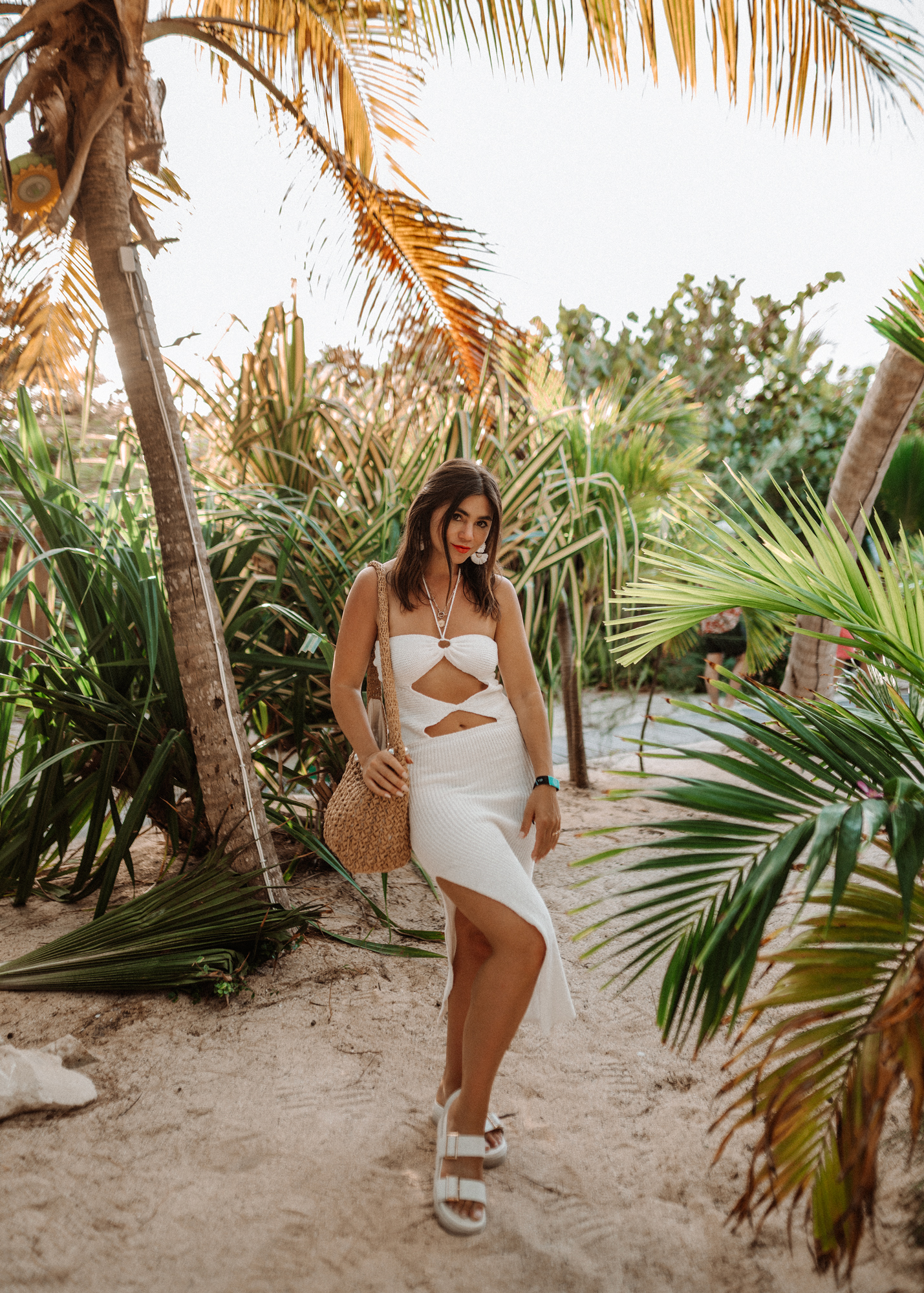 In addition to the nightly DJ sets, SXM Festival also offers a variety of day parties and activities, including boat parties, beach parties, and sunset parties.
Magnetic Mag describes SXM Festival perfectly with the headline:
Overall, the entire festival truly feels like an amazing, beautiful experience for both seasoned festival lovers and people like us that aren't regular attendees - it's not overwhelming, the festival is planned perfectly, and the location could not be better. We had so many things we wanted to do with our days that we didn't stay up and party all night - we mostly had a few drinks, danced until 12-2am, and came back to our hotel to get enough sleep to have life in our days. But if you are looking to just party 100% of the time, SXM festival is perfect for that as well!
Check out the festival website here for line-up, tickets, information, and get on their email list for upcoming events!
Shop Festival Style:
What to Do in Saint Martin: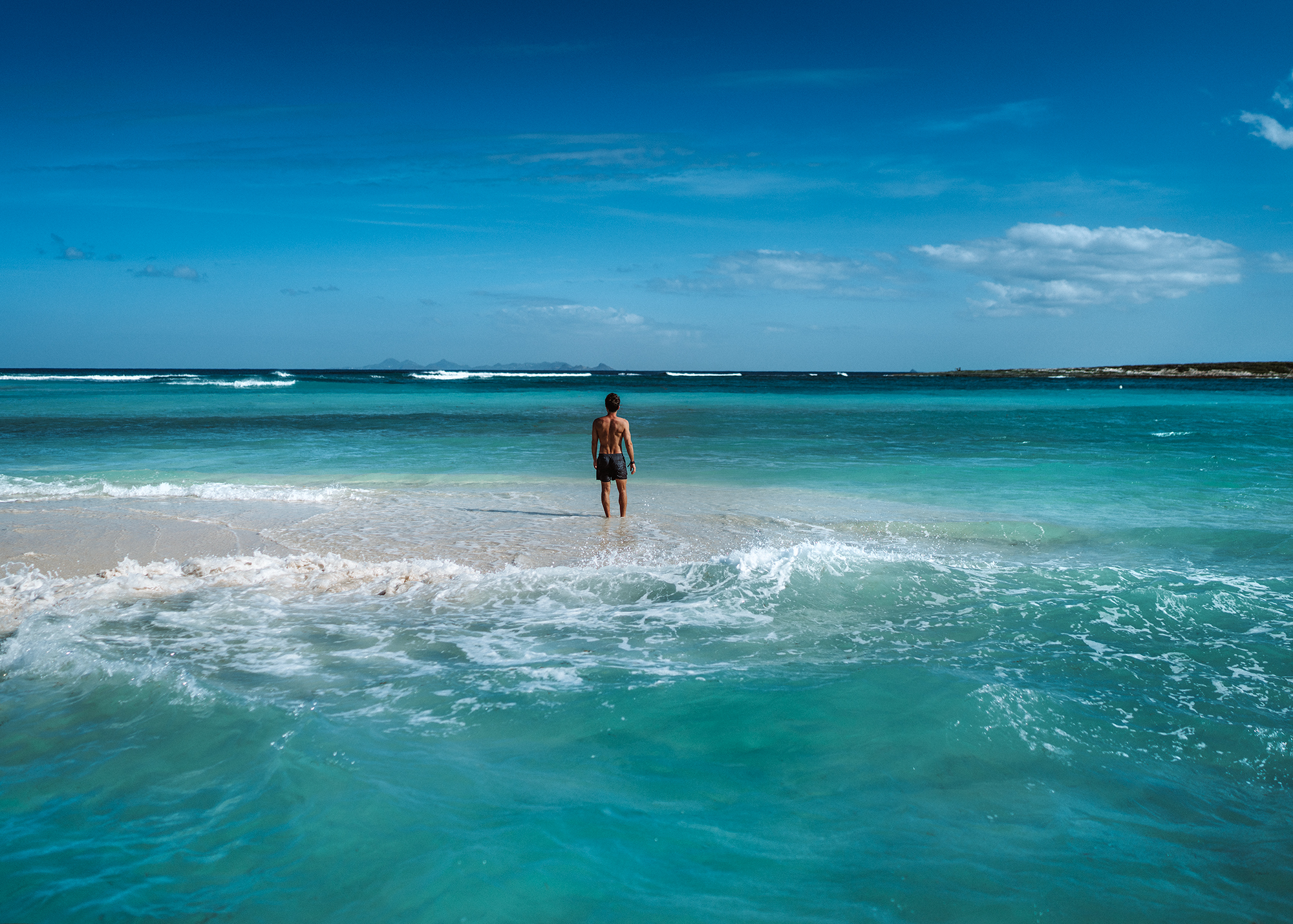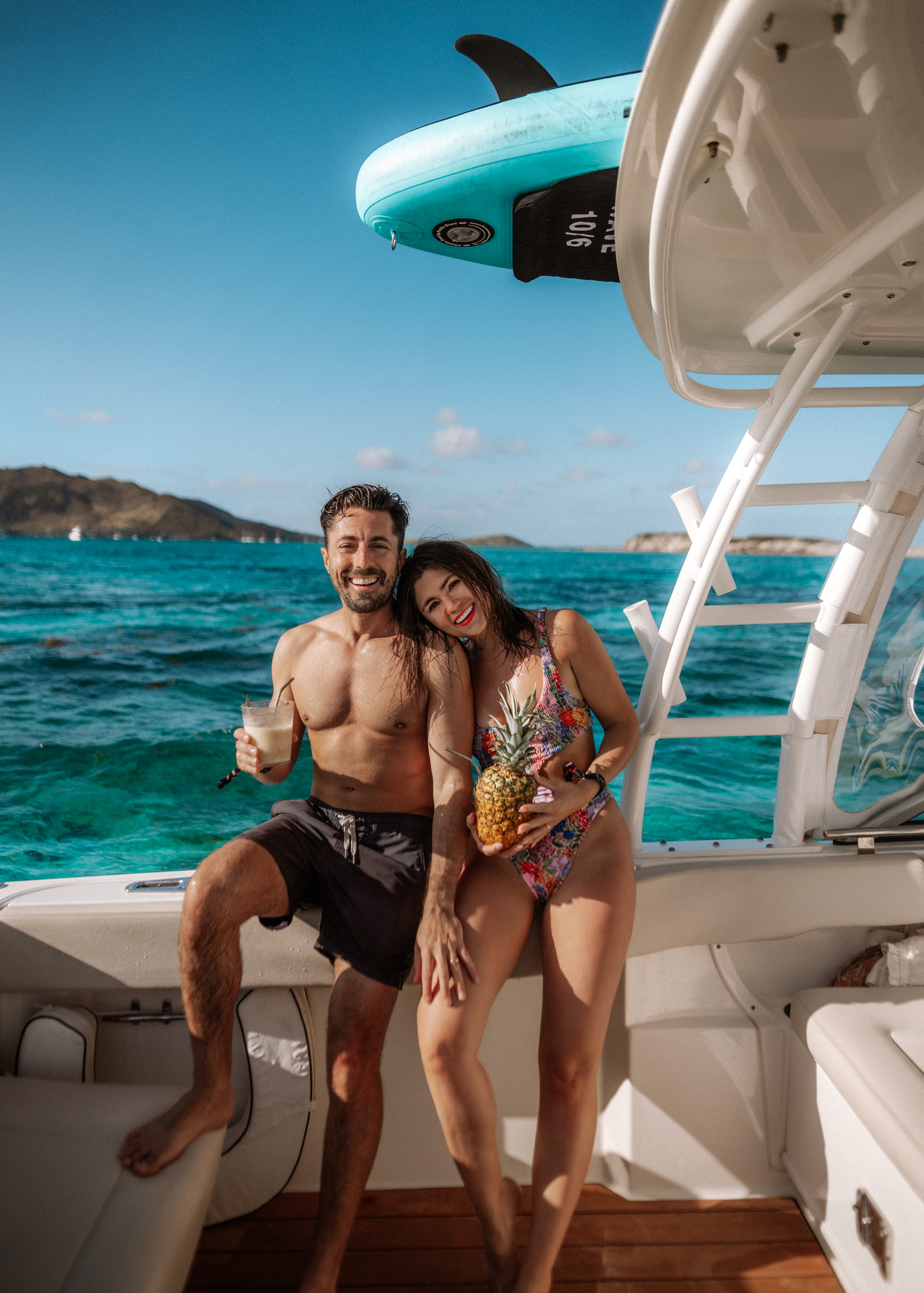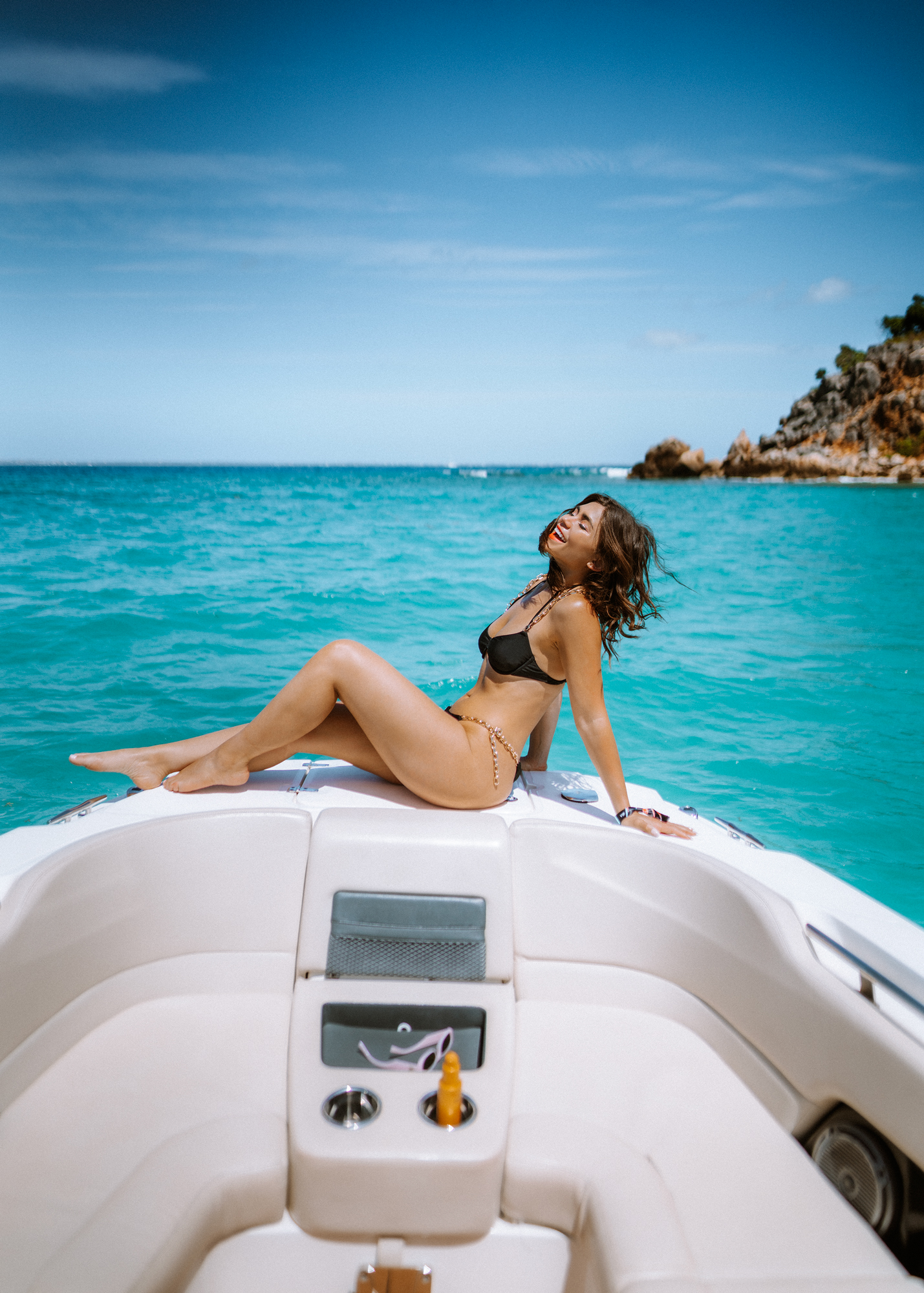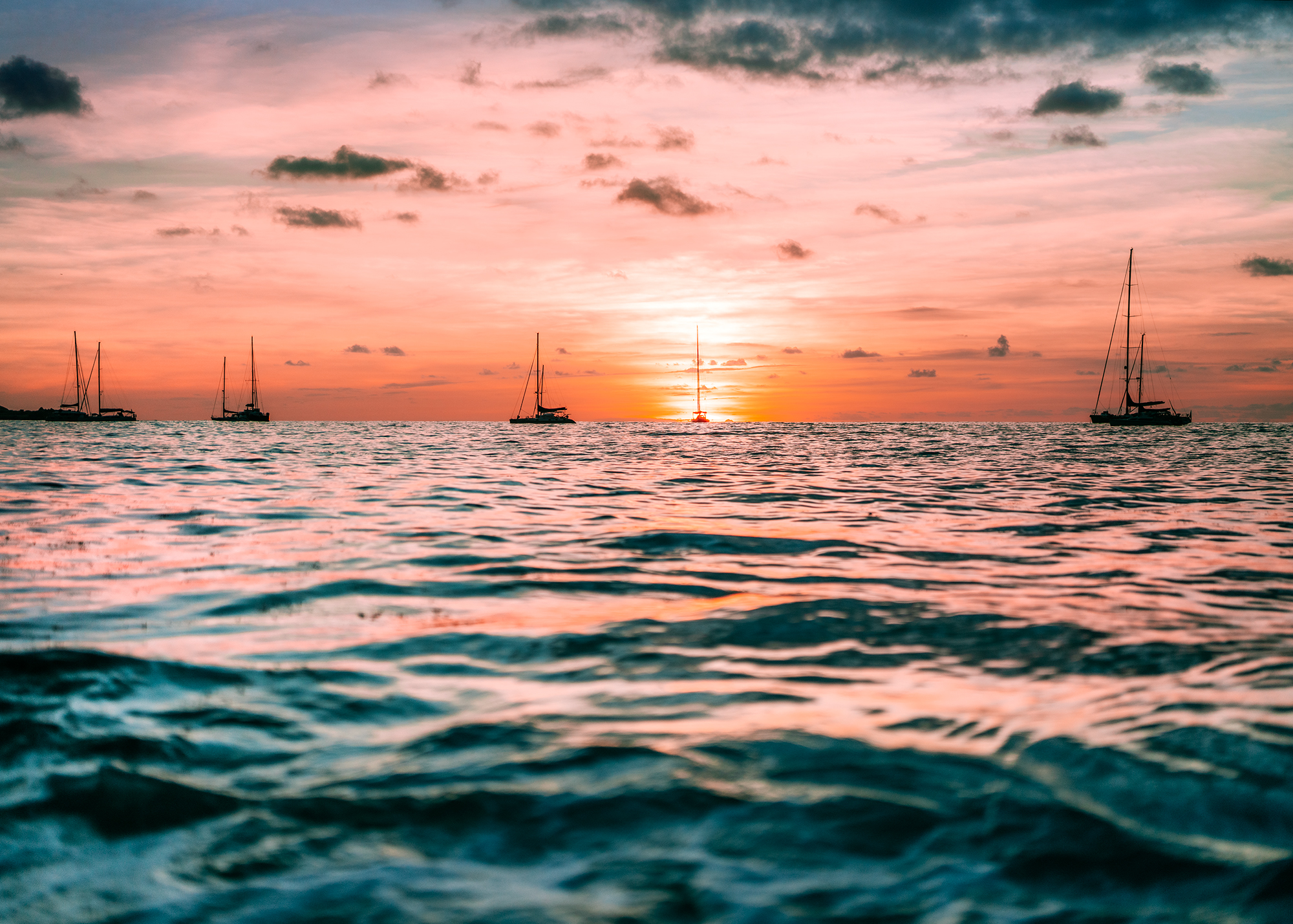 We always say that "boat day is the best day", and a day with Captain Jo Boat Charter really is! The company offers a range of private boat charters, from sunset cruises to full day snorkeling and island excursions, and even day trips over to the neighboring islands of Anguilla or St Barths.
We had a full ocean adventure day, starting by cruising to Isle Tintamarre, swimming in the crystal-clear water to the beach of the island, and later on to Pinel Island, with a fresh lobster lunch at the amazing beach restaurant Karibuni. We finished our day with cocktails, a stop at a sandbar and then back to the harbor at sunset. If you have one day on Saint Martin, this is absolutely how you should spend it!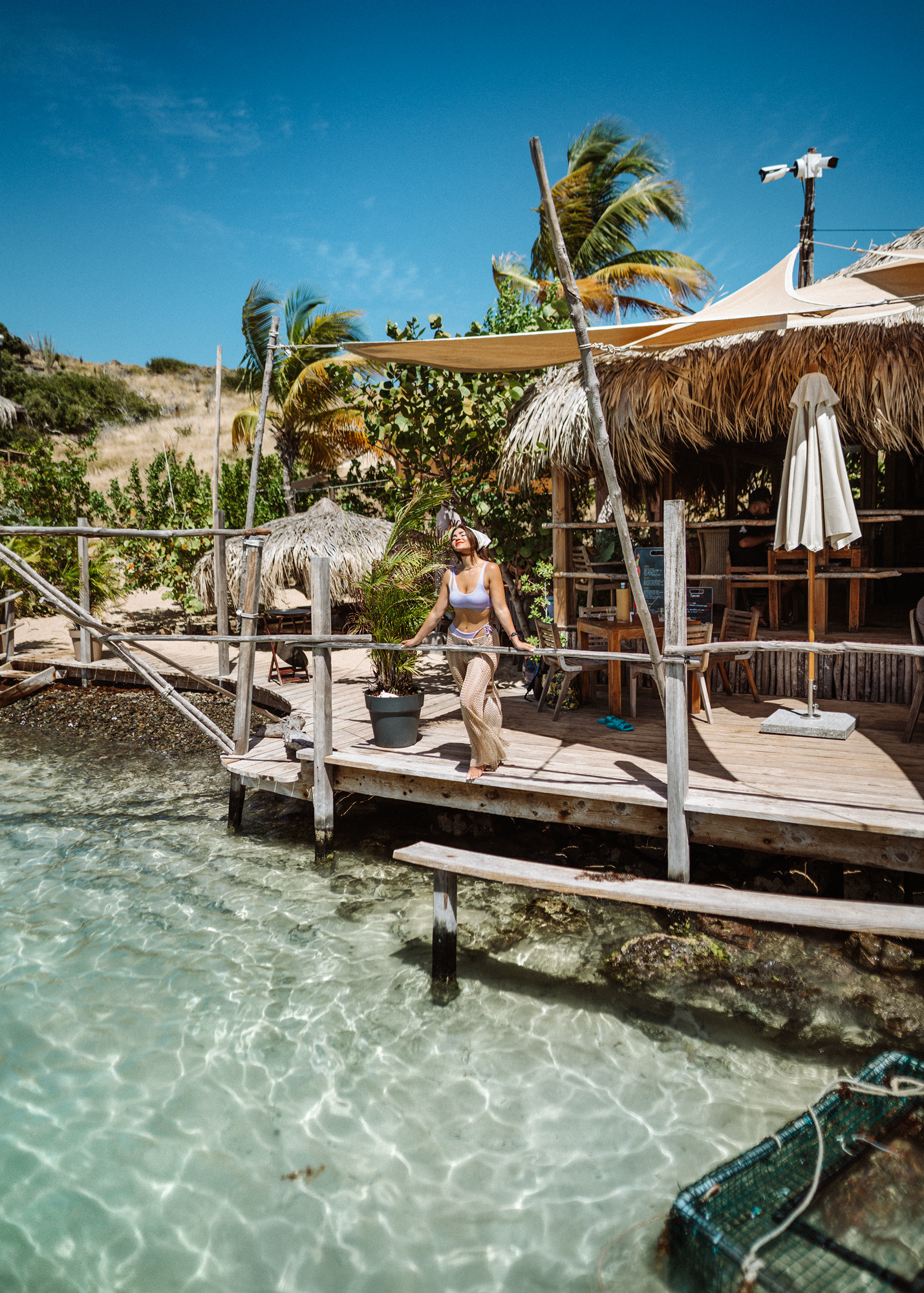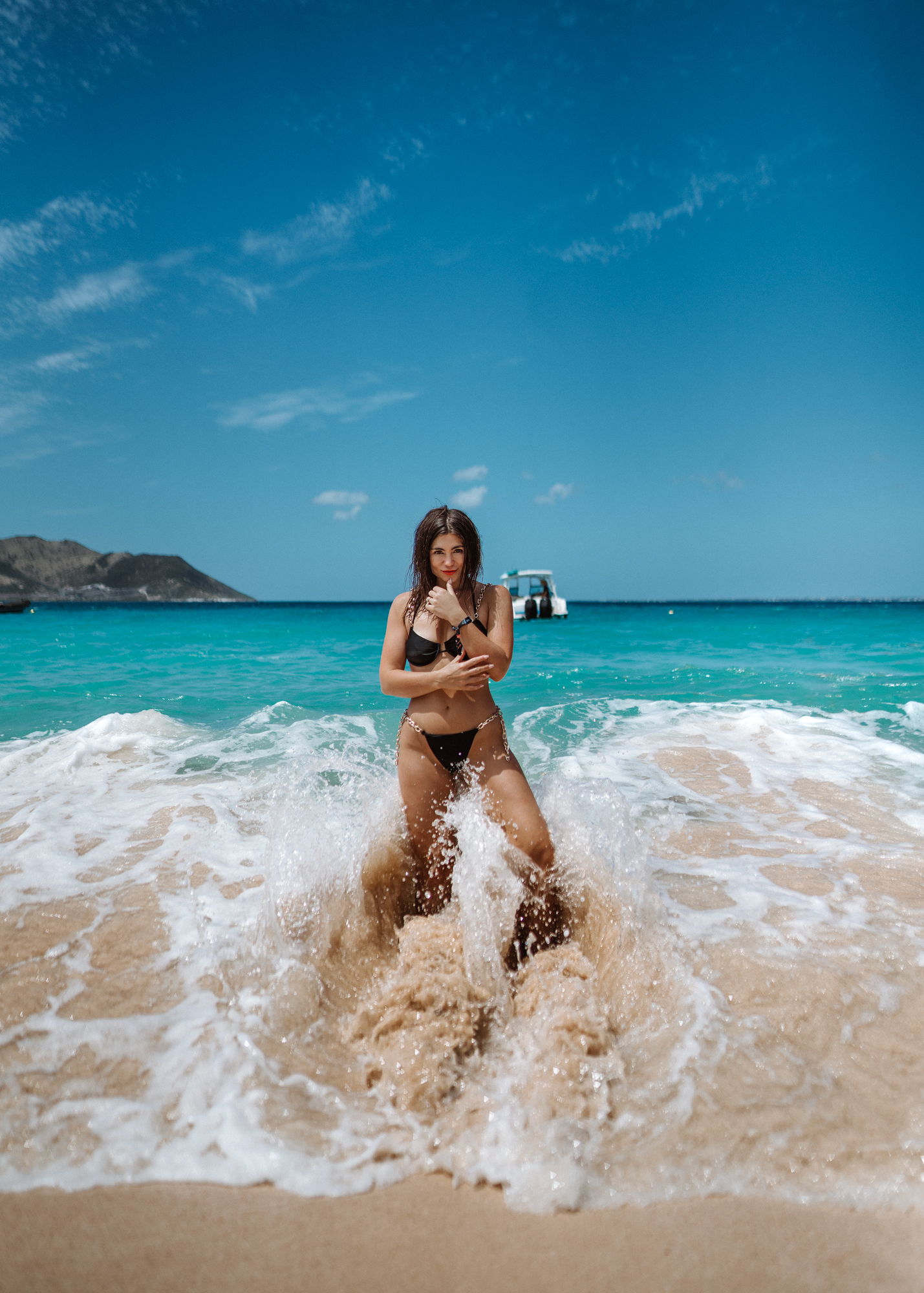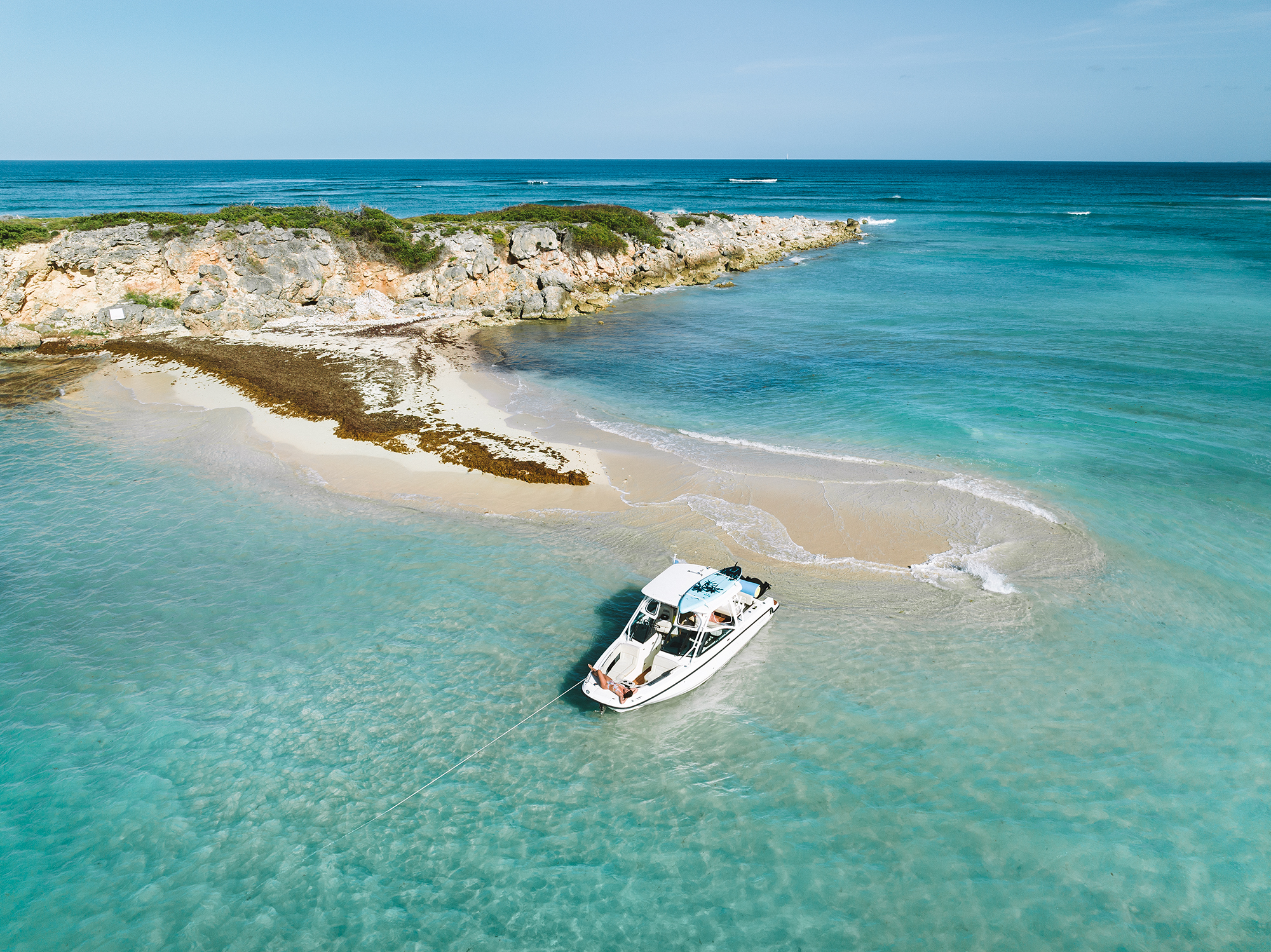 2. Watch the planes land at the world famous Maho Beach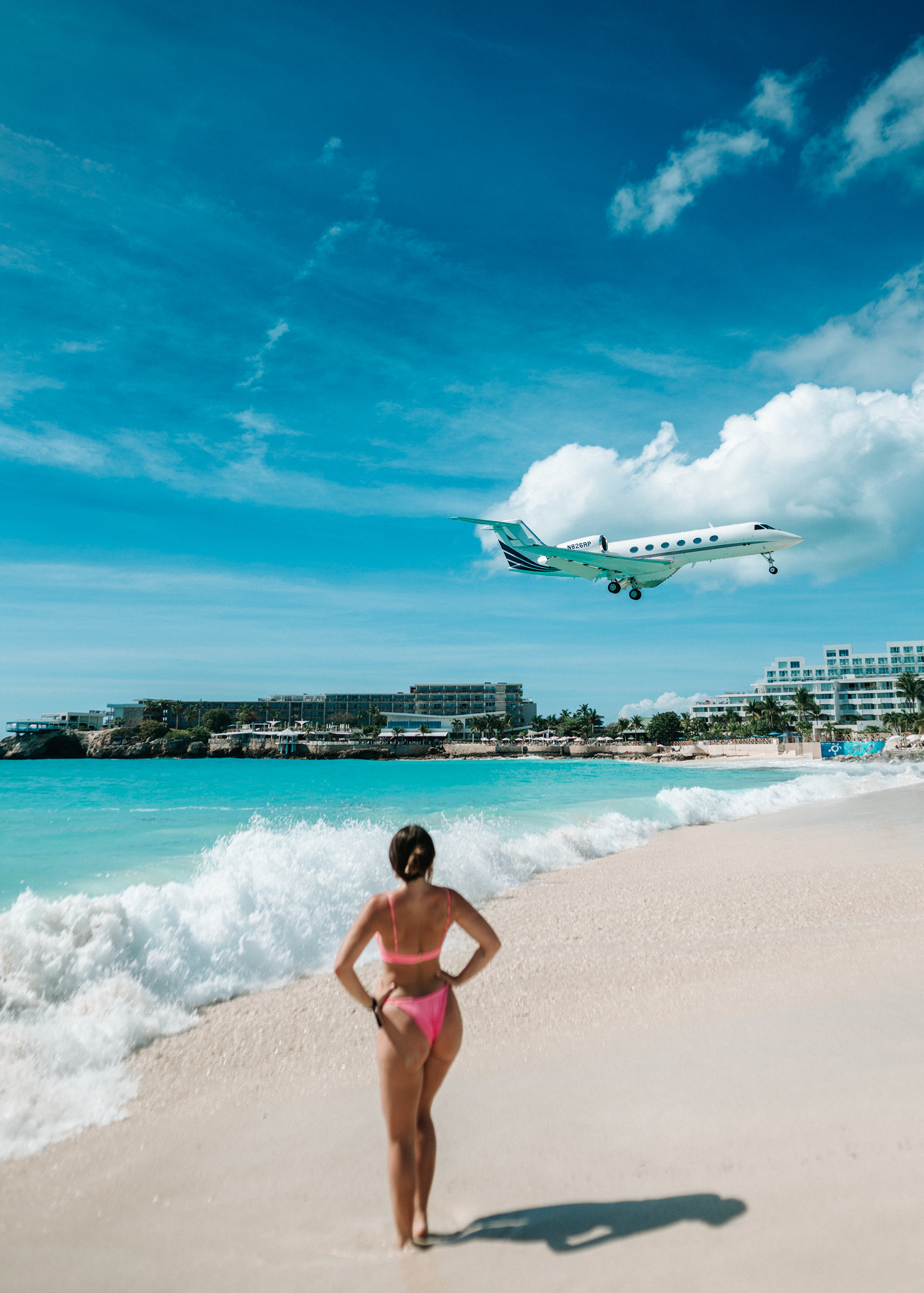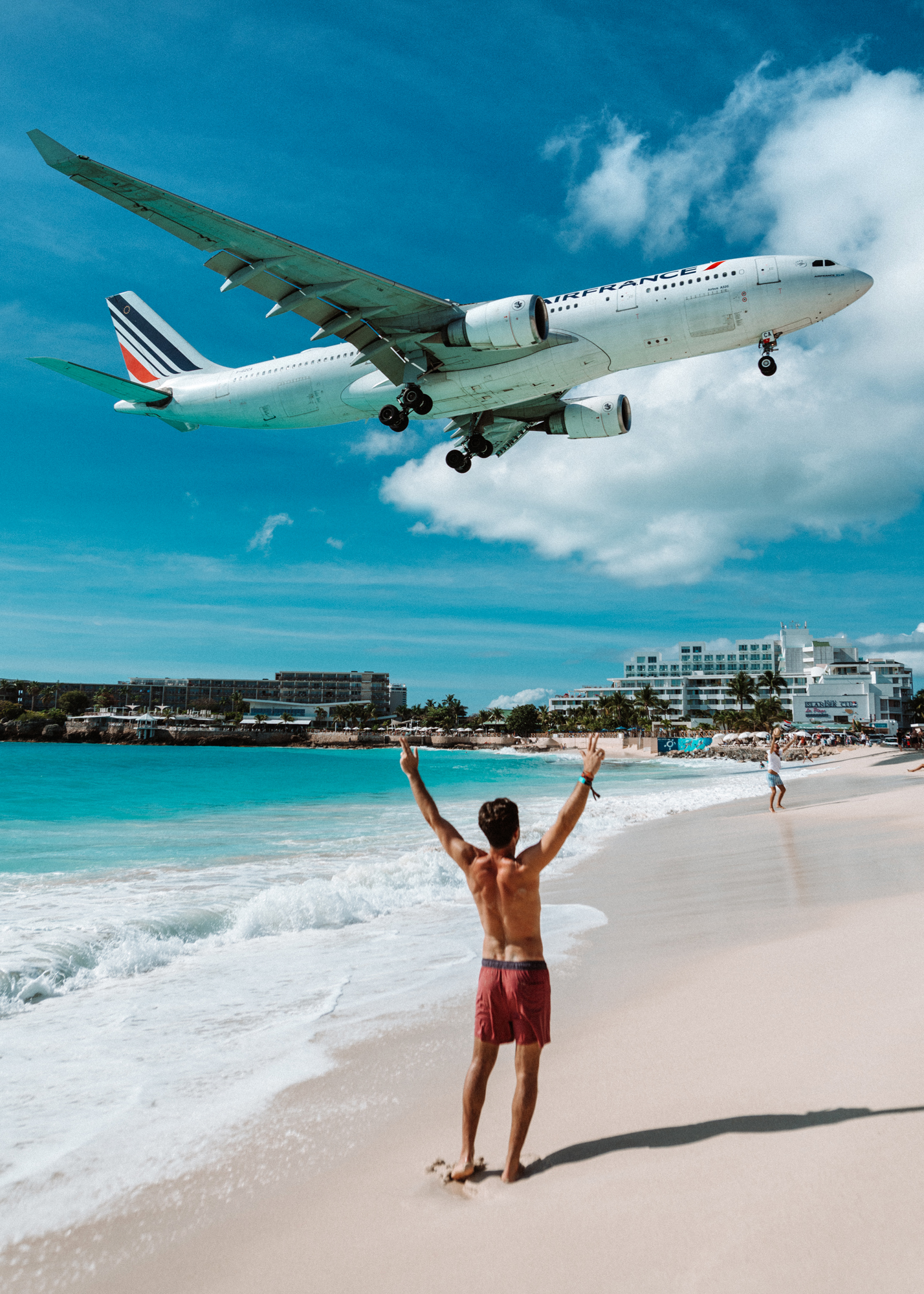 This was the one thing that Brandon wanted to do the most on Saint Martin! The island is well known for Princess Juliana International Airport - particularly its landing runway right over the beach. Both private jets and major commercial planes land on this runway, and in the afternoons, big jets from the US and Europe land right over the beach and you can see them incredibly close up, making for great photos. Depending on the tides and currents, the water on this beach can range from a flat, crystal-clear lagoon or crashing with heavier waves.
The two best ways to enjoy the beach here are to either visit the Sunset Beach Bar on the far side of the beach and have a drink or two while the planes come in, or to rent beach chairs right on the sand - you can get 2 chairs plus an umbrella for just $20 and bring your own drinks, which is what we did and it was perfect!
3. Make your own perfume at Tijon Parfumerie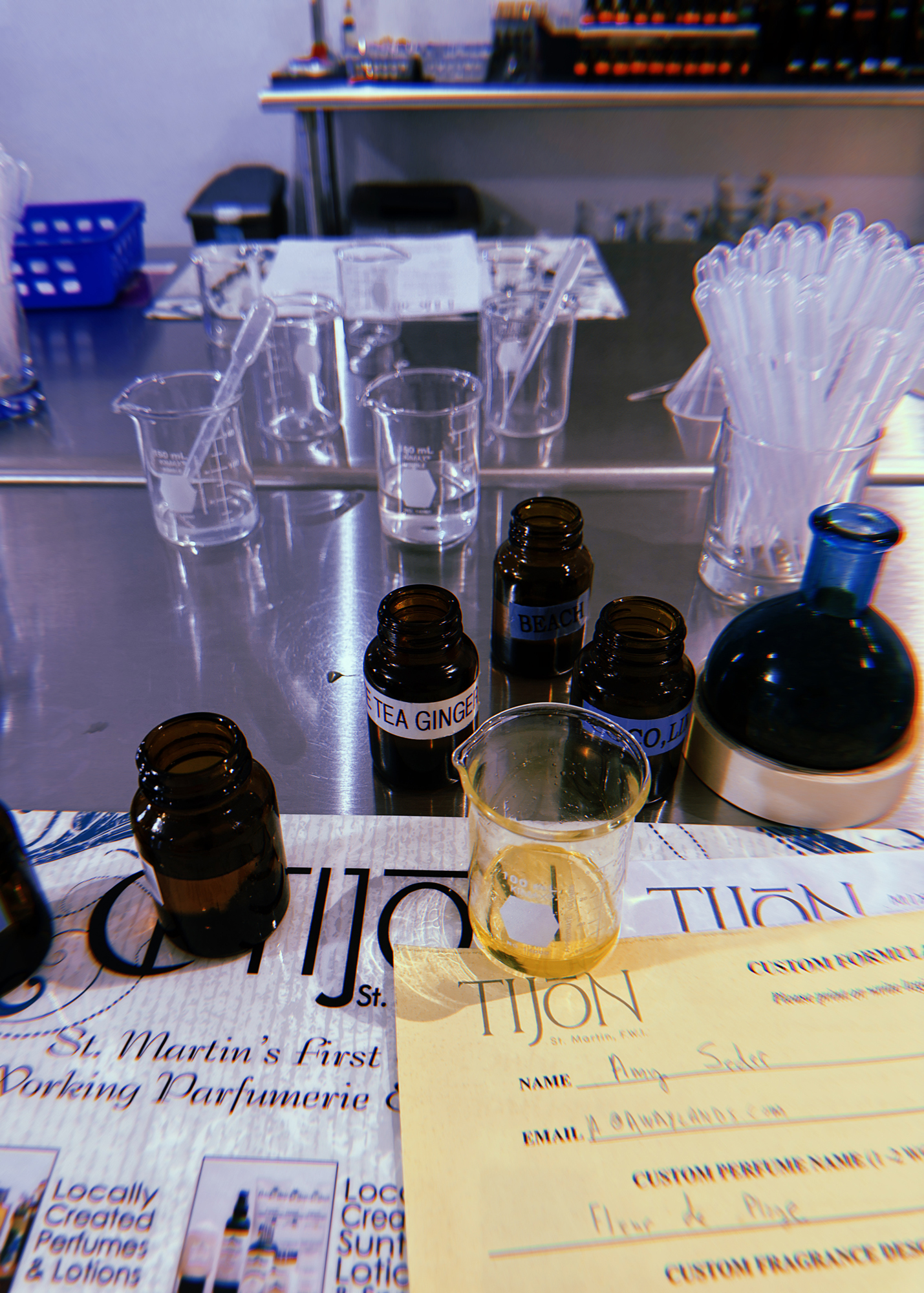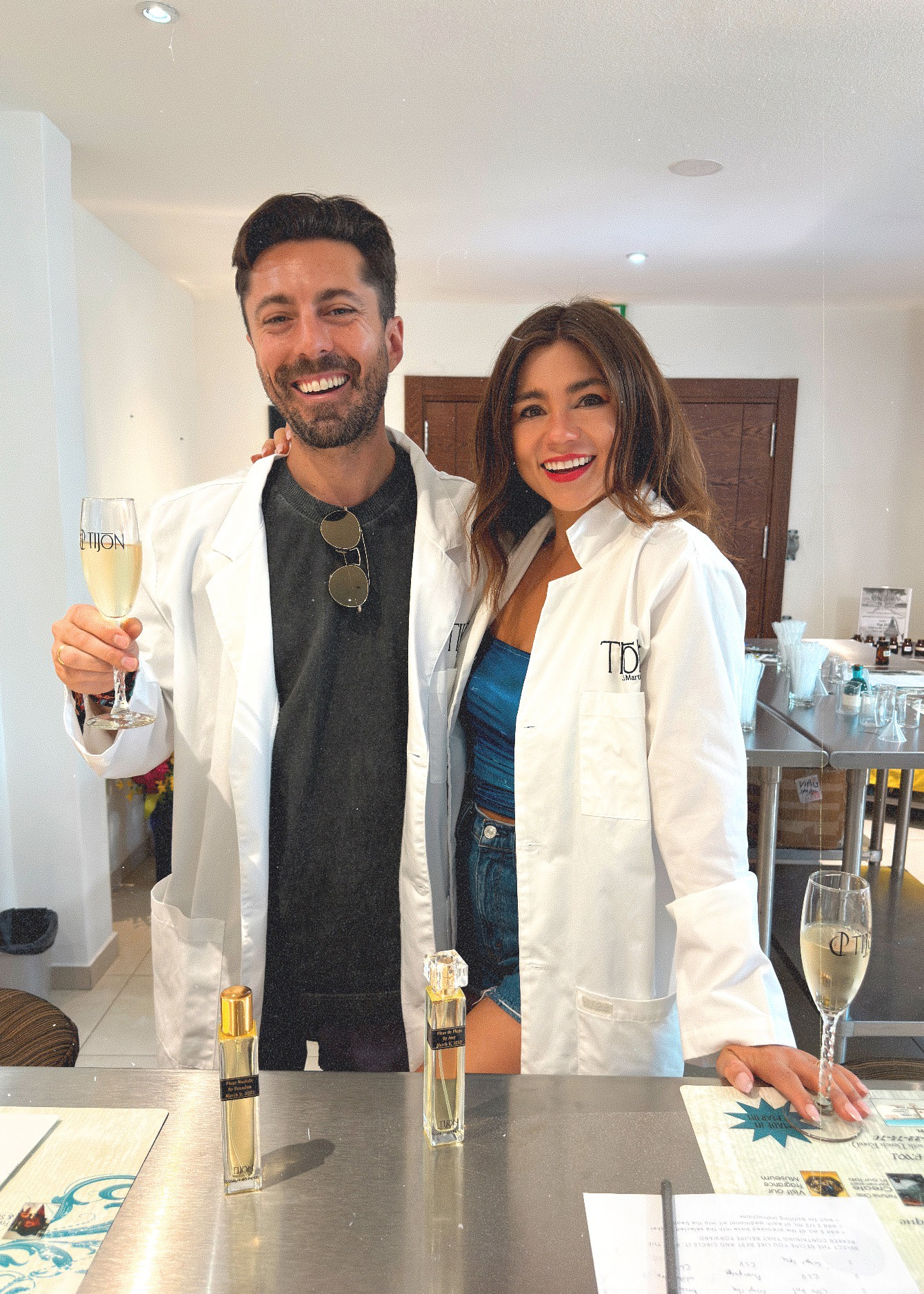 Tijon Parfumerie is a unique experience in St. Martin, where you can create your own fragrance from over 300 oils, blending them to create a scent that is completely personalized to you. We had never done anything like this before and were surprised at how much we really enjoyed the experience! This is also a perfect indoor activity for a day where it might be raining, or you just need a break from the sun and heat for an hour or two. The full experience takes around 90 minutes.
Both Brandon and I had a ton of fun concocting our ideal perfumes - we brought them home and have been wearing them regularly!
4. Explore The Best Beaches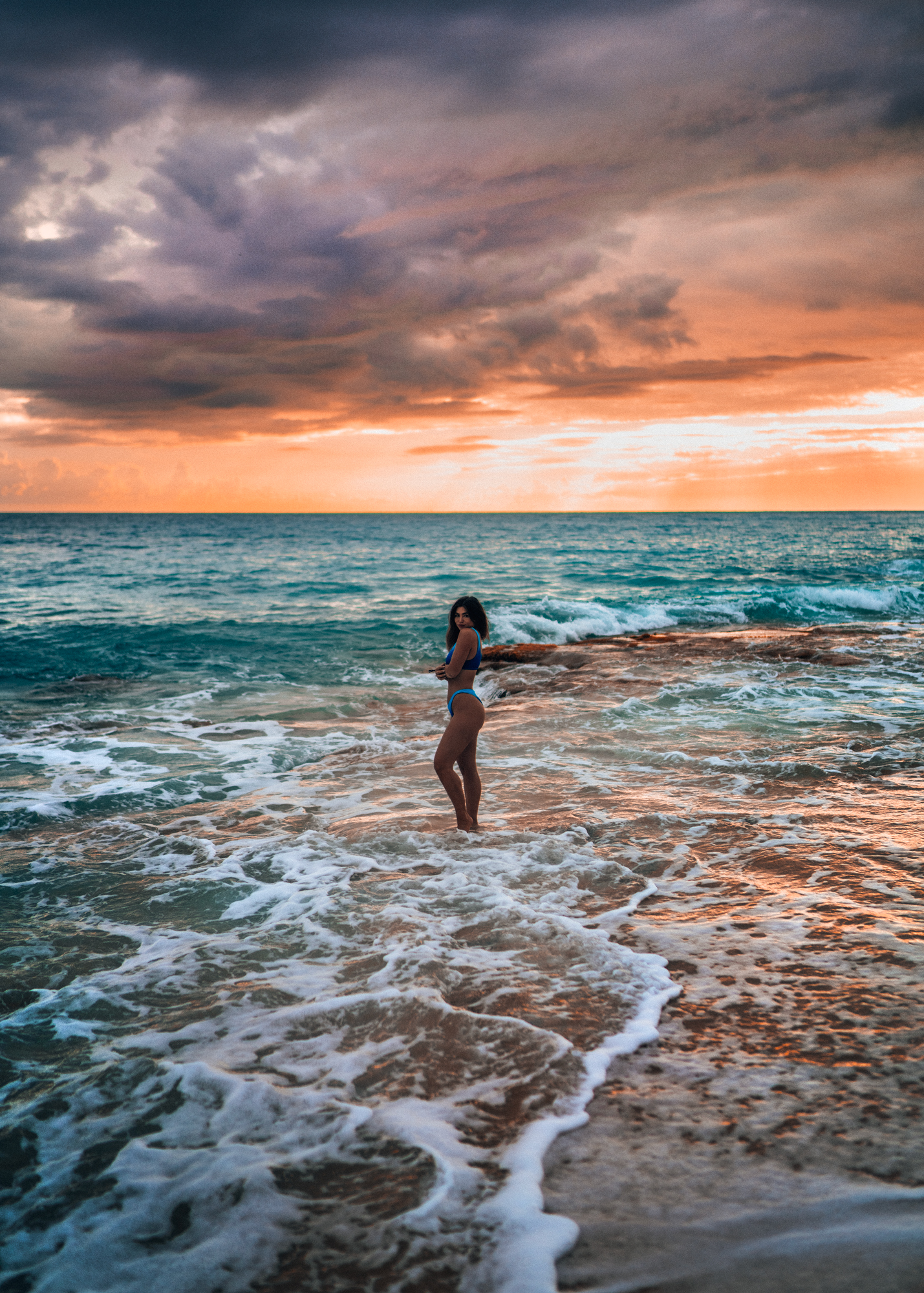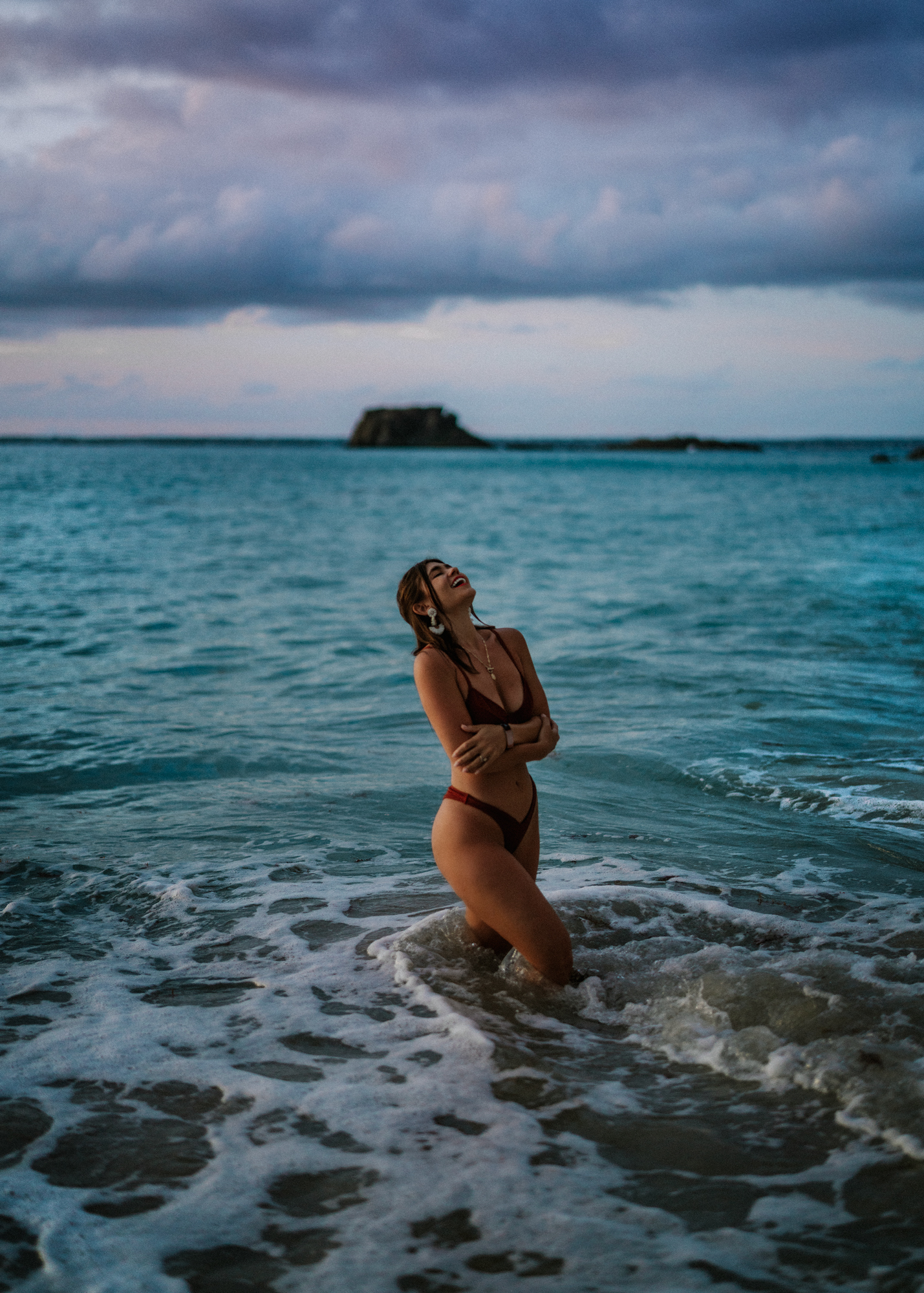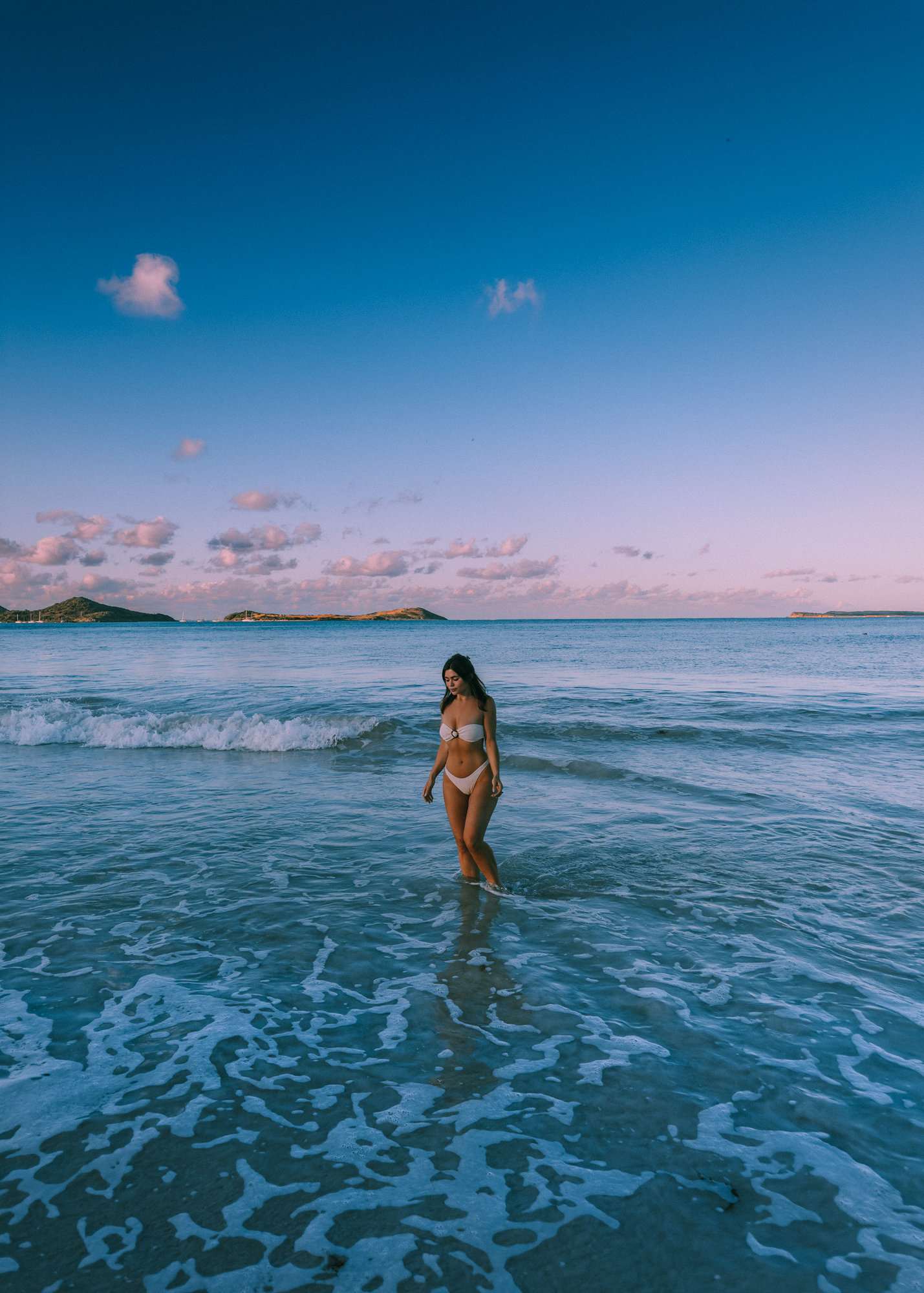 Saint Martin's Best Beaches:
Orient Bay Beach - One of the most famous and largest beaches in Saint Martin, Orient Bay is lined with restaurants, water sports activities, and beach bars. Definitely stop here for a visit if you don't choose an Orient Bay hotel!
Mullet Bay Beach - This stunning, crescent-shaped beach is located on the Dutch side of the island and offers crystal-clear waters, white sand, and plenty of palm trees for shade.
Friar's Bay Beach - With clear turquoise waters and a relaxed atmosphere, Friar's Bay Beach is a favorite among locals and tourists alike. The beach is surrounded by cliffs and palm trees, and there are plenty of beach bars and restaurants to enjoy.
Anse Marcel Beach - Located on the French side of the island, Anse Marcel Beach offers calm, clear waters and a picturesque bay surrounded by lush greenery. There are also several high-end restaurants and a marina in the area.
Baie Rouge Beach - This long and wide beach on the western end of the island offers plenty of space to spread out and enjoy the sun. The beach has calm waters and is surrounded by cliffs and greenery.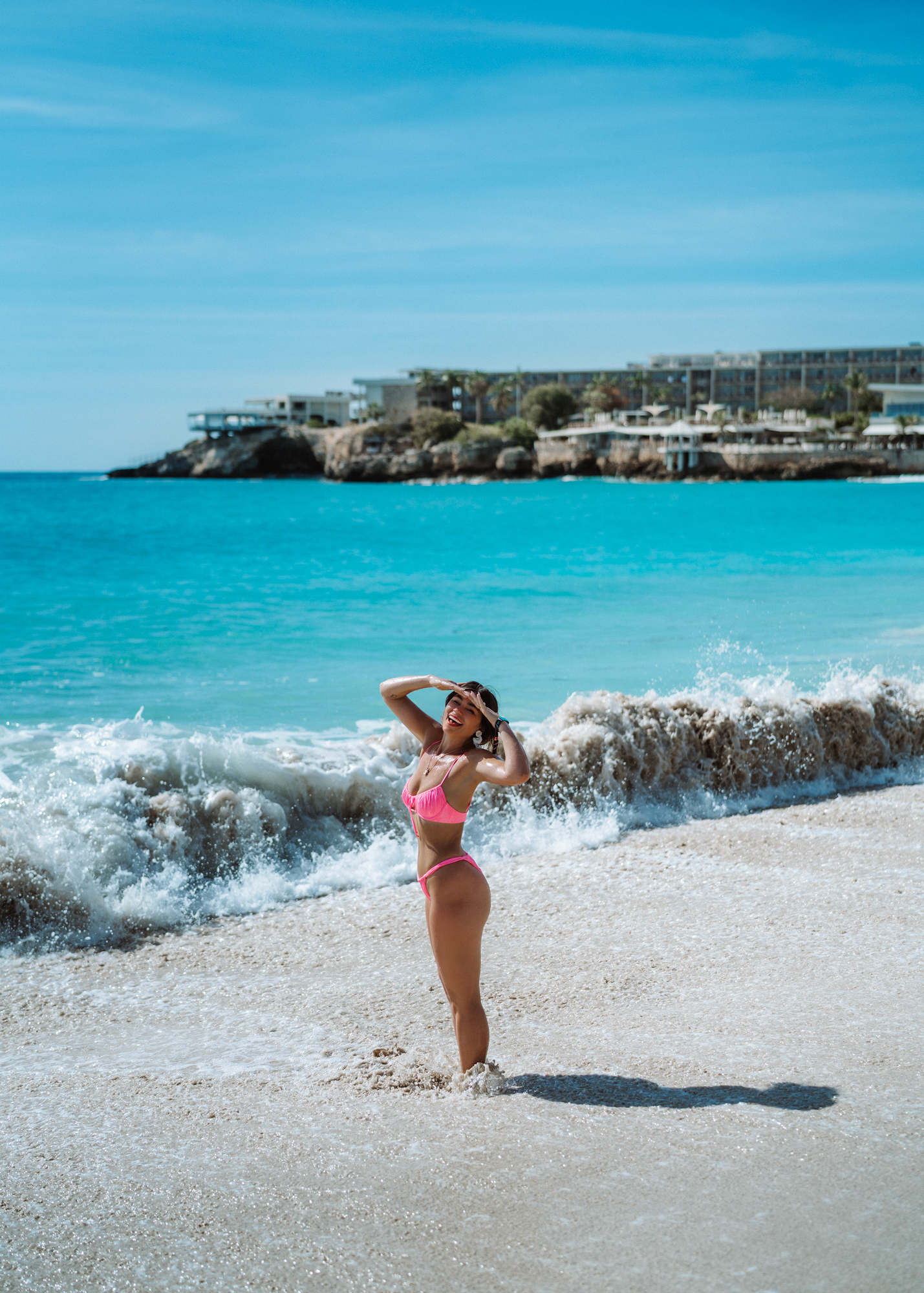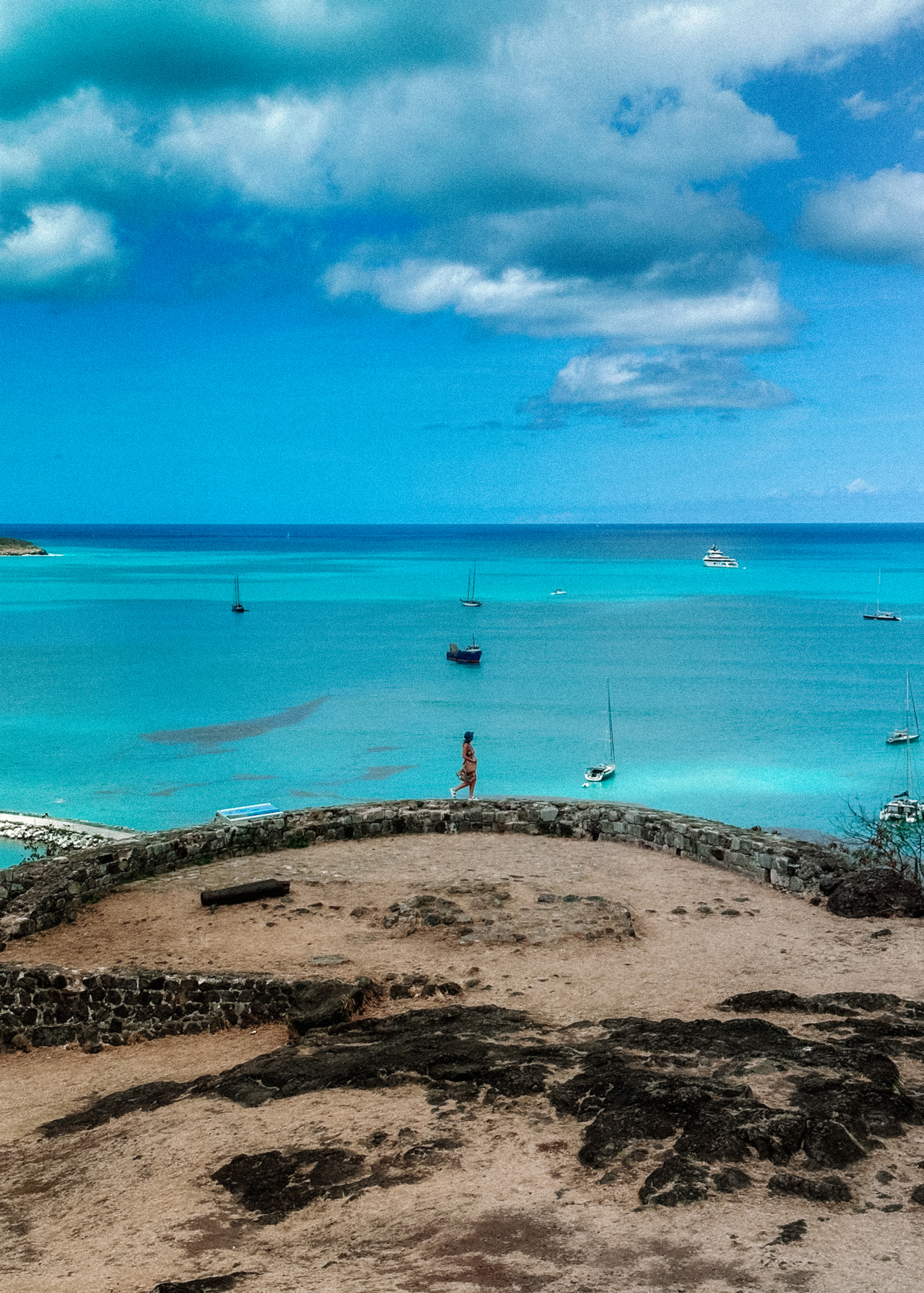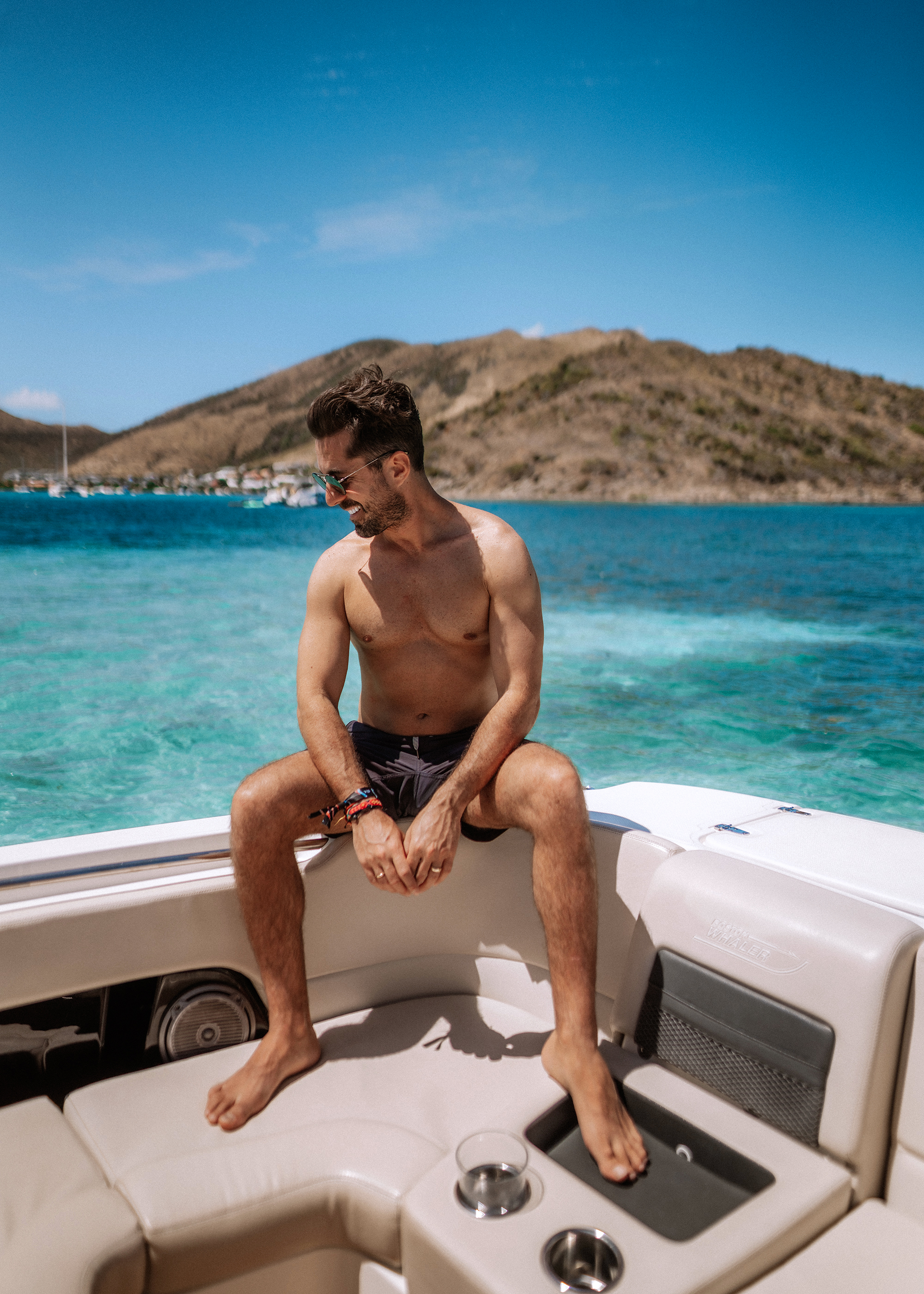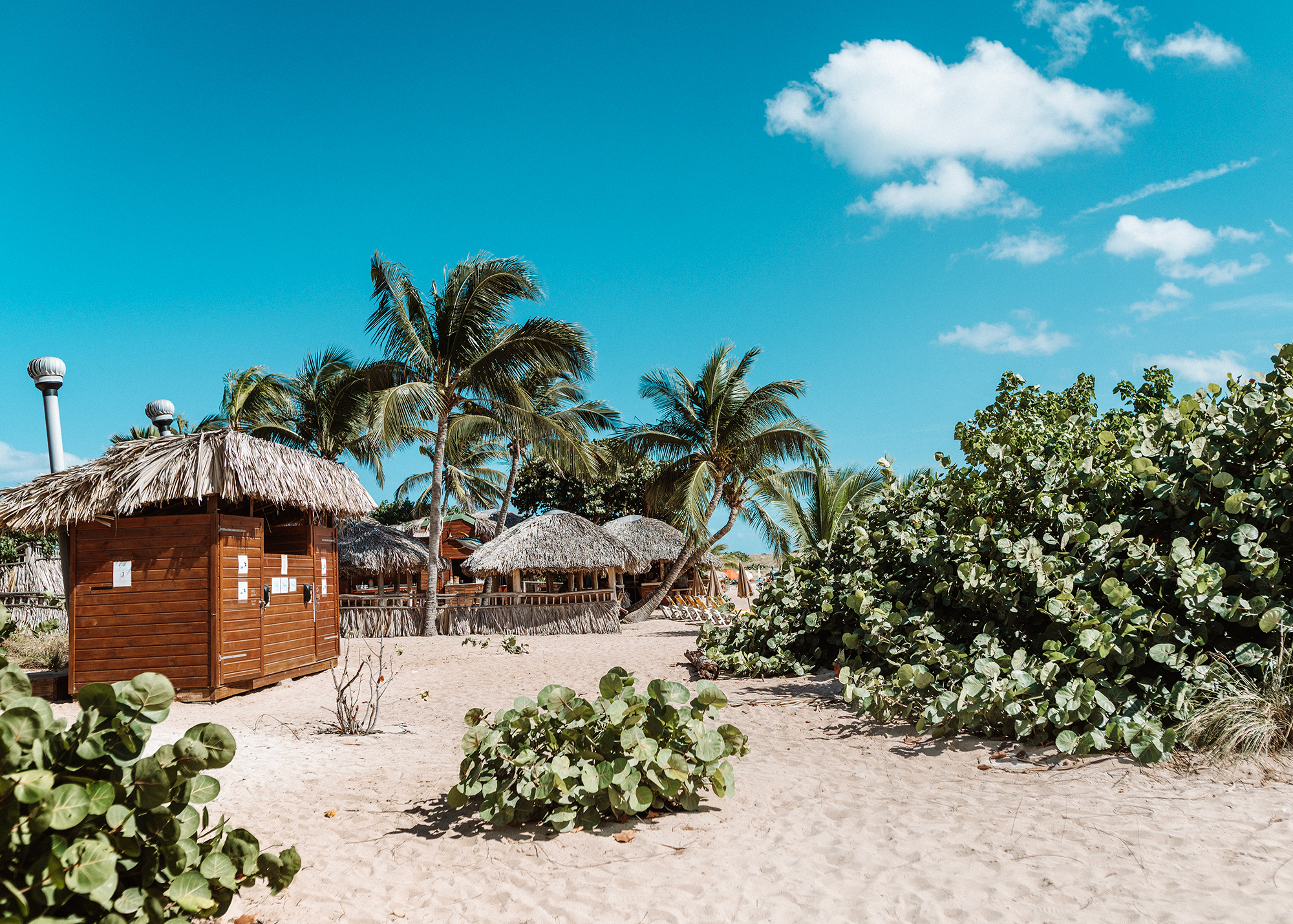 LIKE THIS POST? PIN IT FOR LATER AND SHARE IT WITH OTHERS!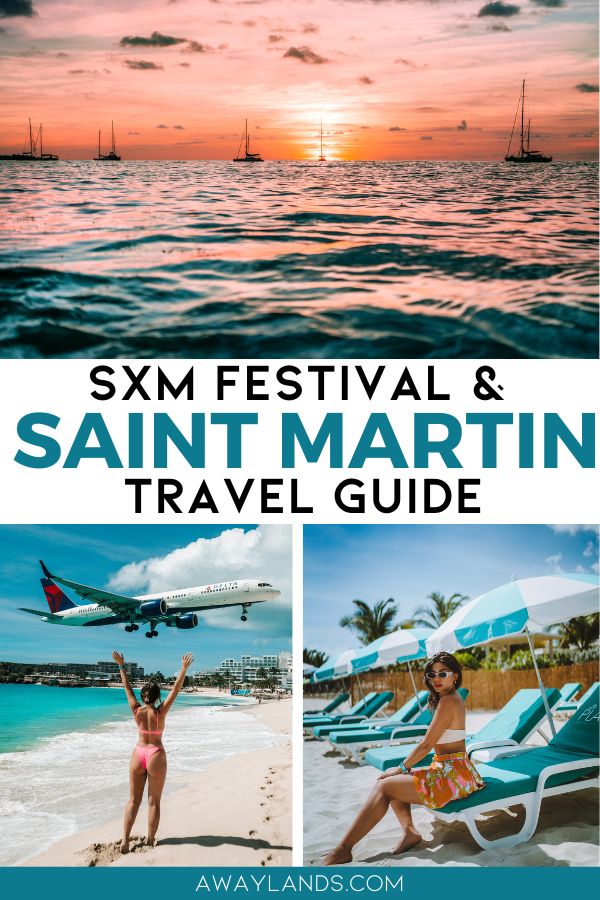 xx