March 11, 2019 Hotels And Resorts
Waking Up in All-Inclusive Bliss at Sandals Royal Barbados
I've never been an all-inclusive traveller. When Brandon and I were always traveling on our own, we usually booked small, independent hotels or Airbnbs and hardly ever stayed at proper resorts - and only once did we opt for an all-inclusive. One of our first trips together was a quick weekend getaway to Bermuda, where we added on an all-inclusive option to our hotel. Bermuda is not an inexpensive island to visit, so it made sense for the price - and we had the most amazing weekend of eating lobster BBQs, drinking piña coladas at 9am, and grabbing a couple of extra beers to throw in our motorbike and take with us as we explored the beaches. I know a lot of travelers don't consider resort trips as "real travel" - and I understand it to an extent. But sometimes you just want to have FUN.
I've come to discover that going the all-inclusive route can sometimes be the best - when you want to truly vacation, when you want a break, when you want to go somewhere with a group of friends and drink in the sun all day, when you want to stay out all night and eat cheeseburgers in a pool at 3AM, when you don't want to take your traveling too serious. I could not only travel this way, but mixed in with other experiences - I have come to truly love a good few days at a resort.
Which was exactly what we experienced at Sandals Royal Barbados - a super fun weekend in the sand & sun. Sandals uses the term 'Luxury Included' Vacations, and I can understand why - premium restaurants, wine and liquors, and watersports are all included with your stay, and not frustrating add ons, as I have seen elsewhere.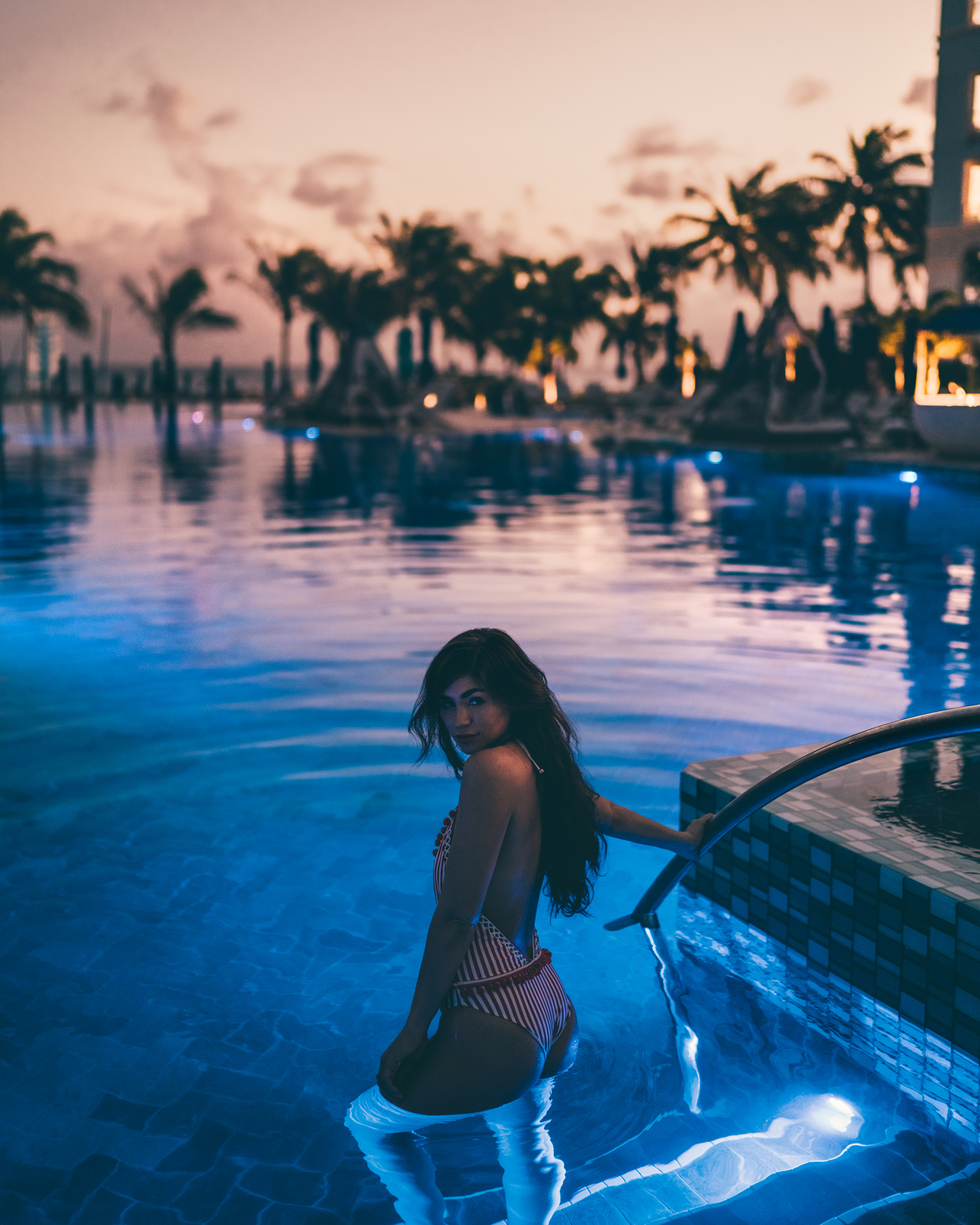 Our flight landed in the late afternoon and it took a couple of hours to get through baggage and customs, so by the time we arrived at Sandals, the sun had already set - but I was so excited to be back somewhere tropical that I couldn't wait until the next morning to go out. The main pool here could be quite a party in the day, but was so peaceful at sunset.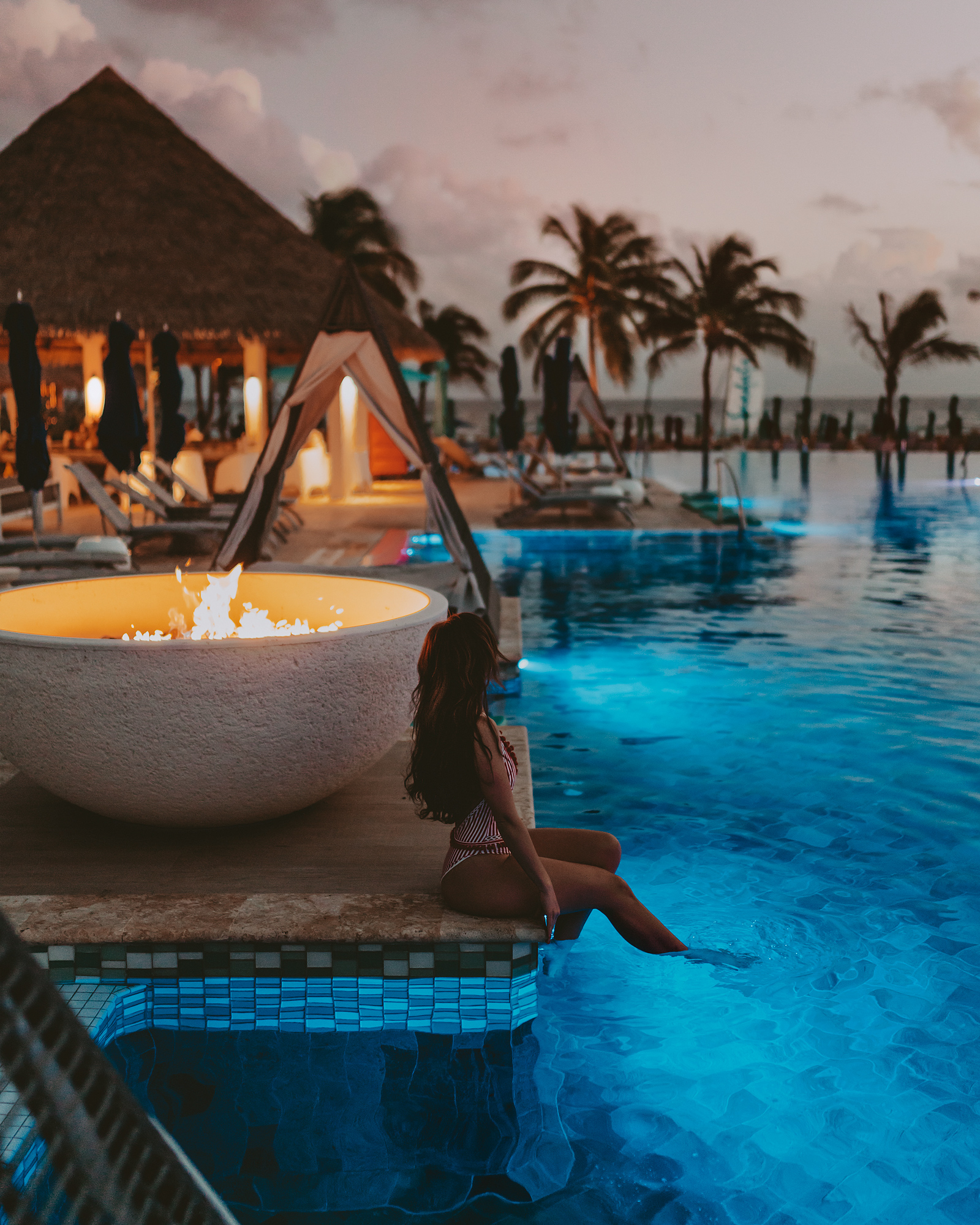 And this giant firepit was feeling goooood as the sun set.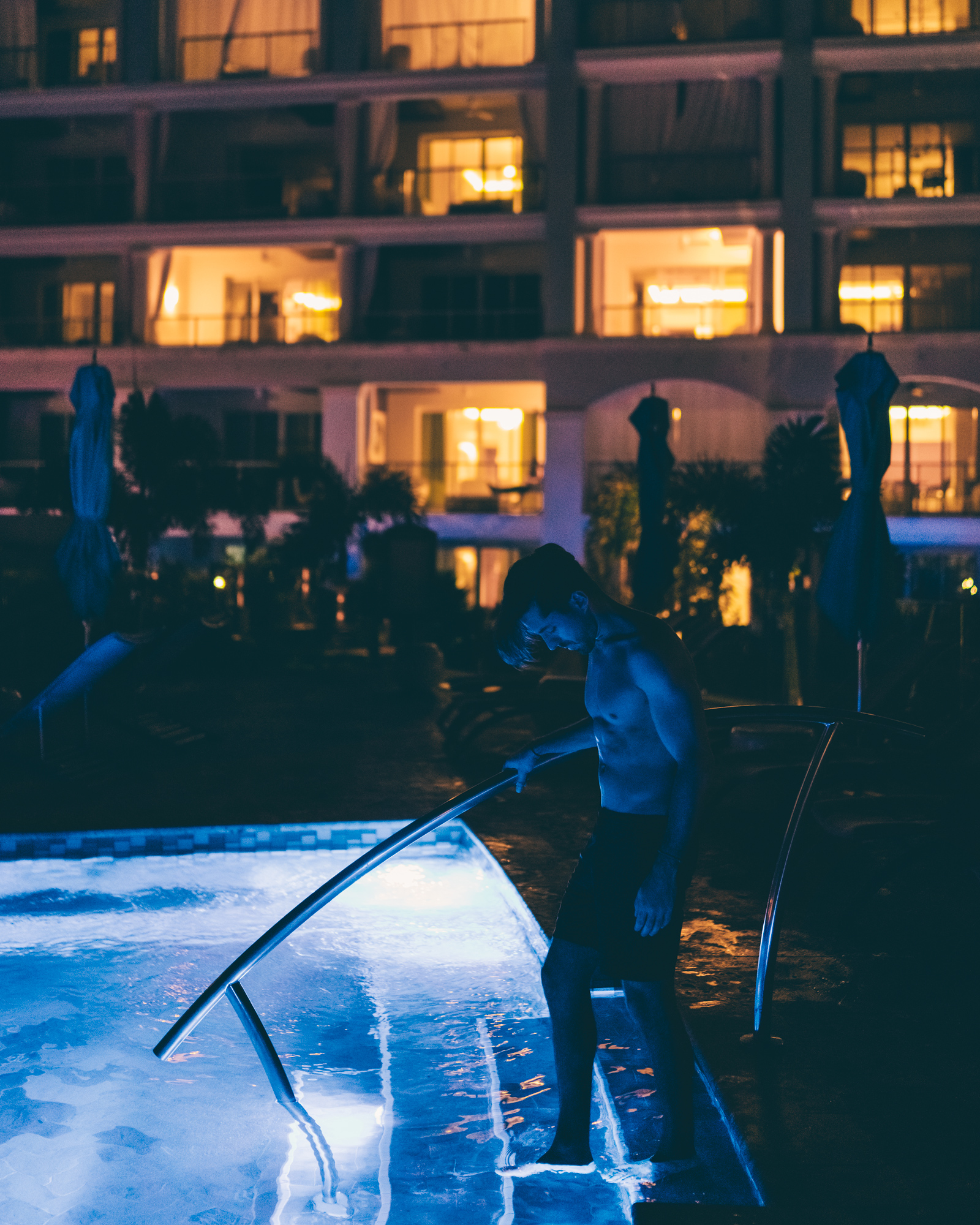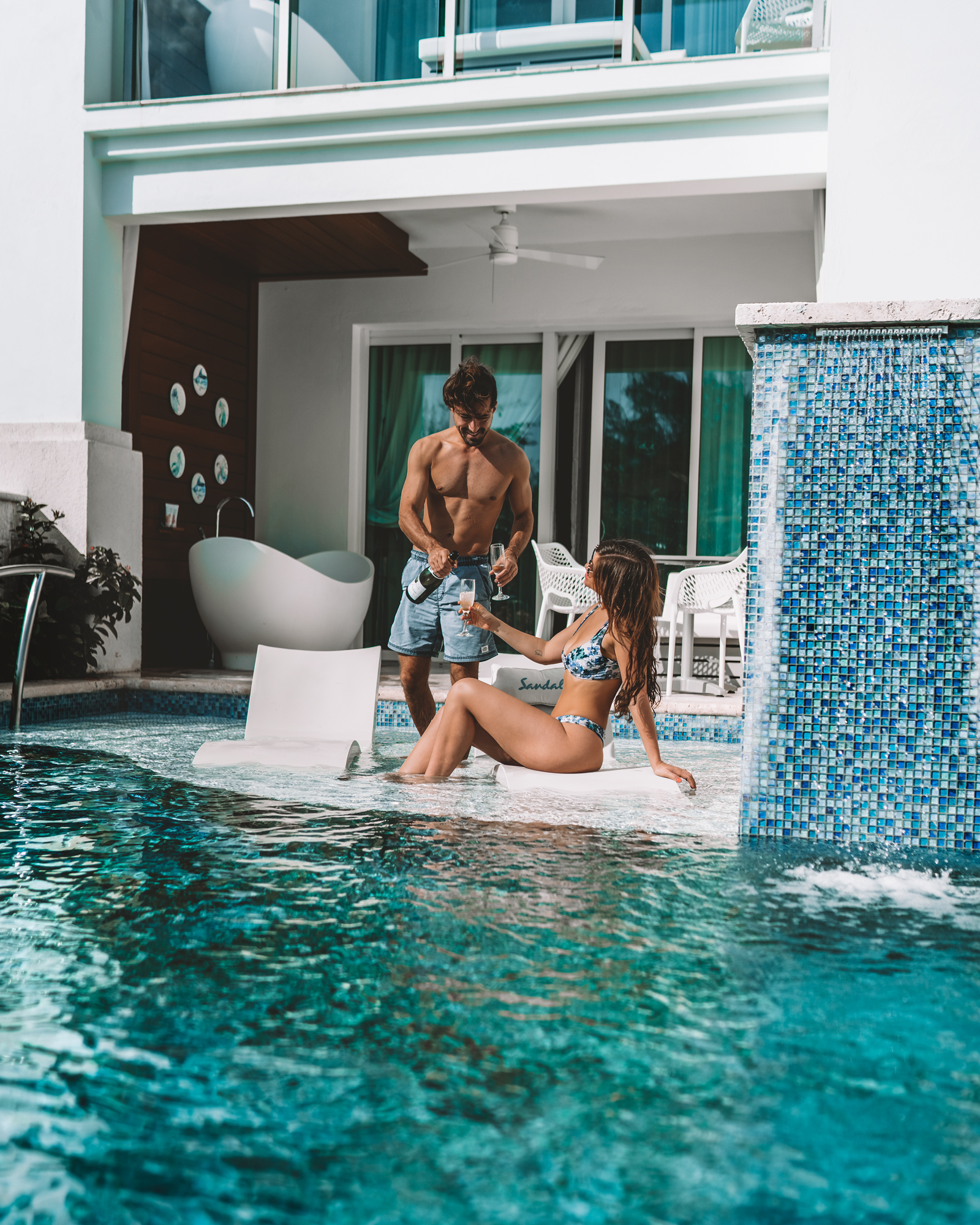 Waking up in our swim-up room. One super fun thing we found about staying at a high-end all inclusive was that the staff here wants to get you DRUNK. Or just living your best life. We would regularly come back to our room to find bottles of champagne on ice, bottles of red wine in the evenings with chocolates, and a full (included) liquor bar in our mini-fridge. We had to indulge a bit with some morning champagne.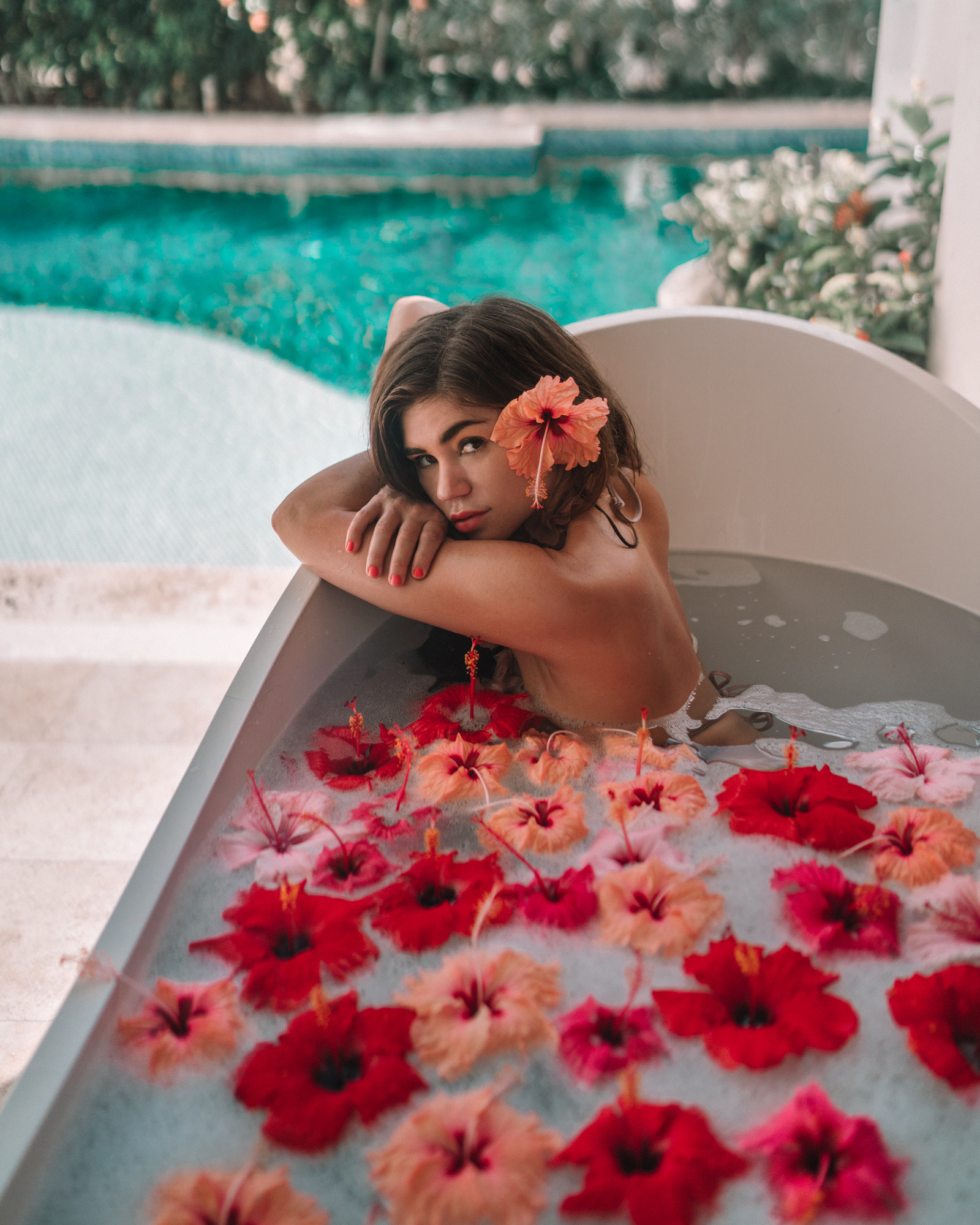 And a bathtub of my dreams.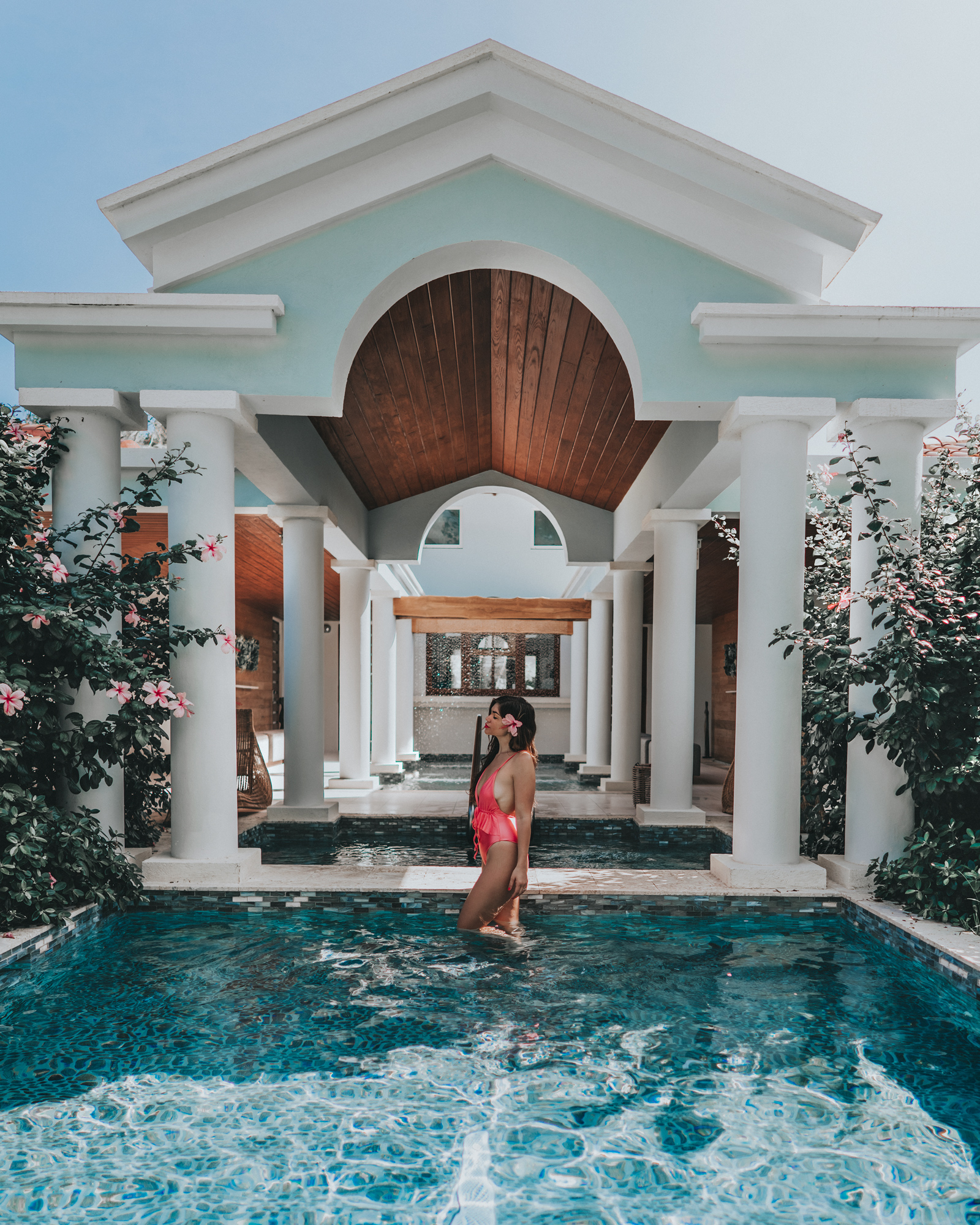 One of our first stops here was (naturally) the spa. One of my absolute favorite things in the world is a good massage, and I try to take every chance I can to visit a spa after long red-eye flights. We came just to enjoy our massages, but walking through the spa area, I knew we were going to have to take some photos here - the spa is one of the nicest I've seen.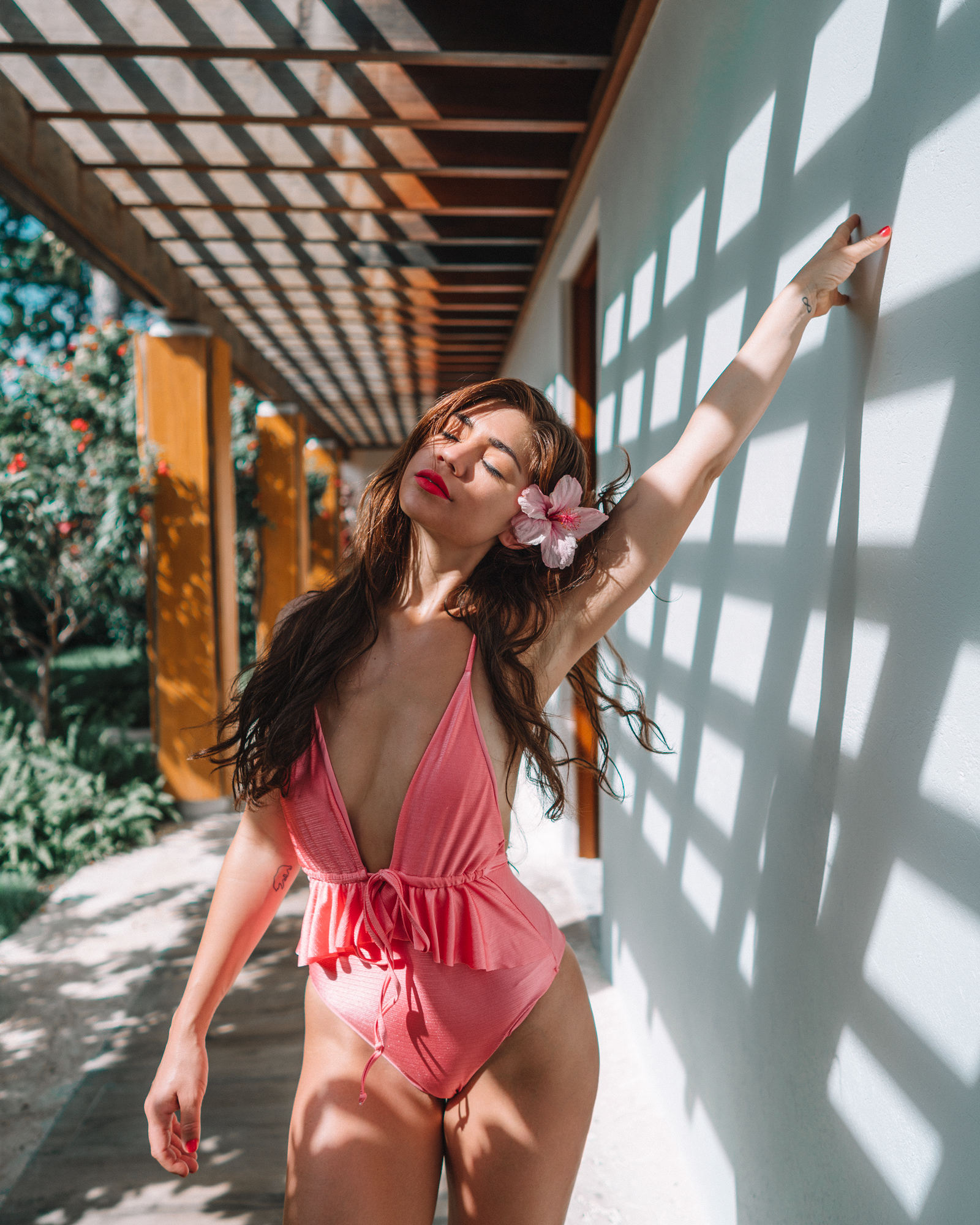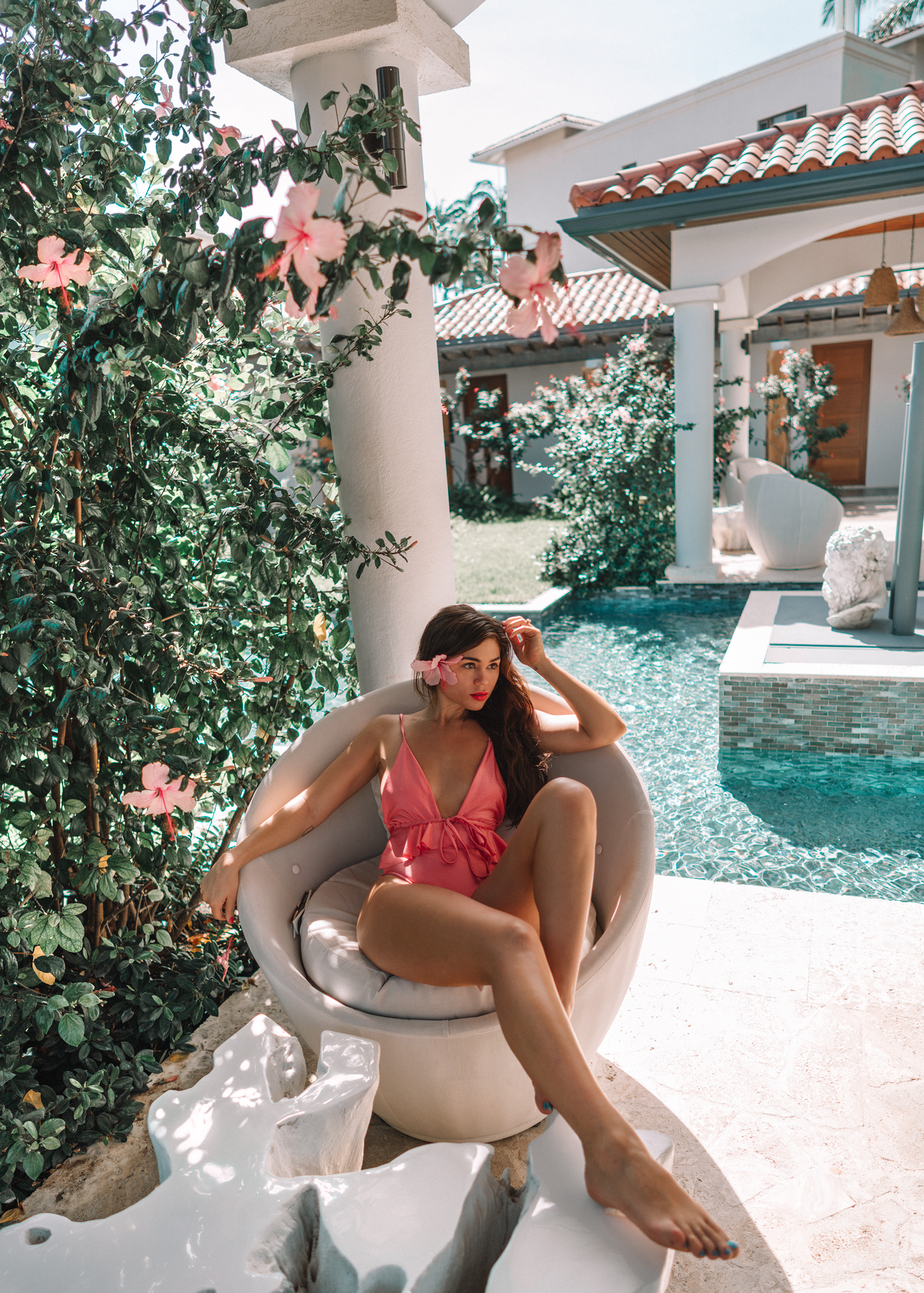 I couldn't help but throw on my bathing suit and some lipstick and get a few photos.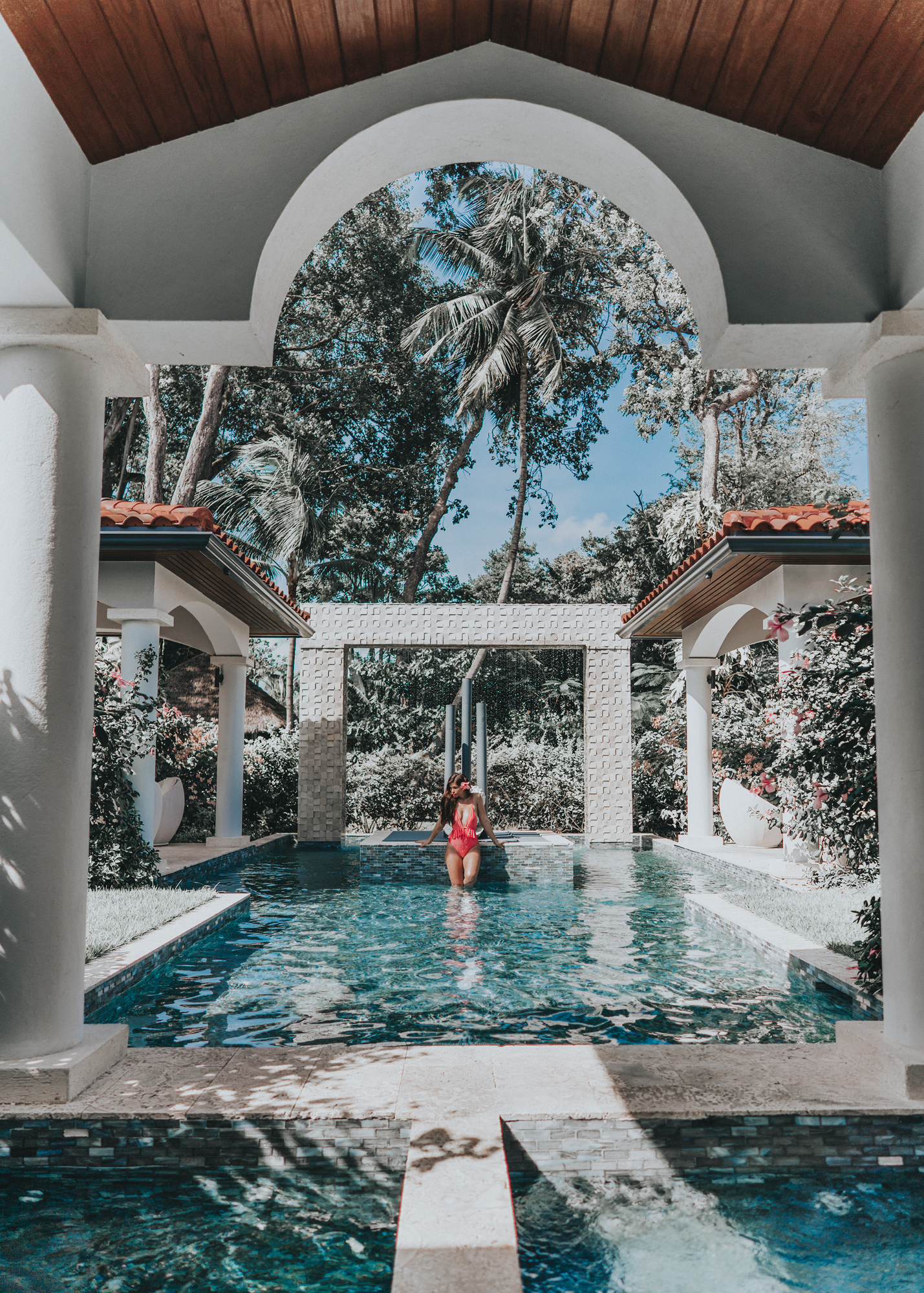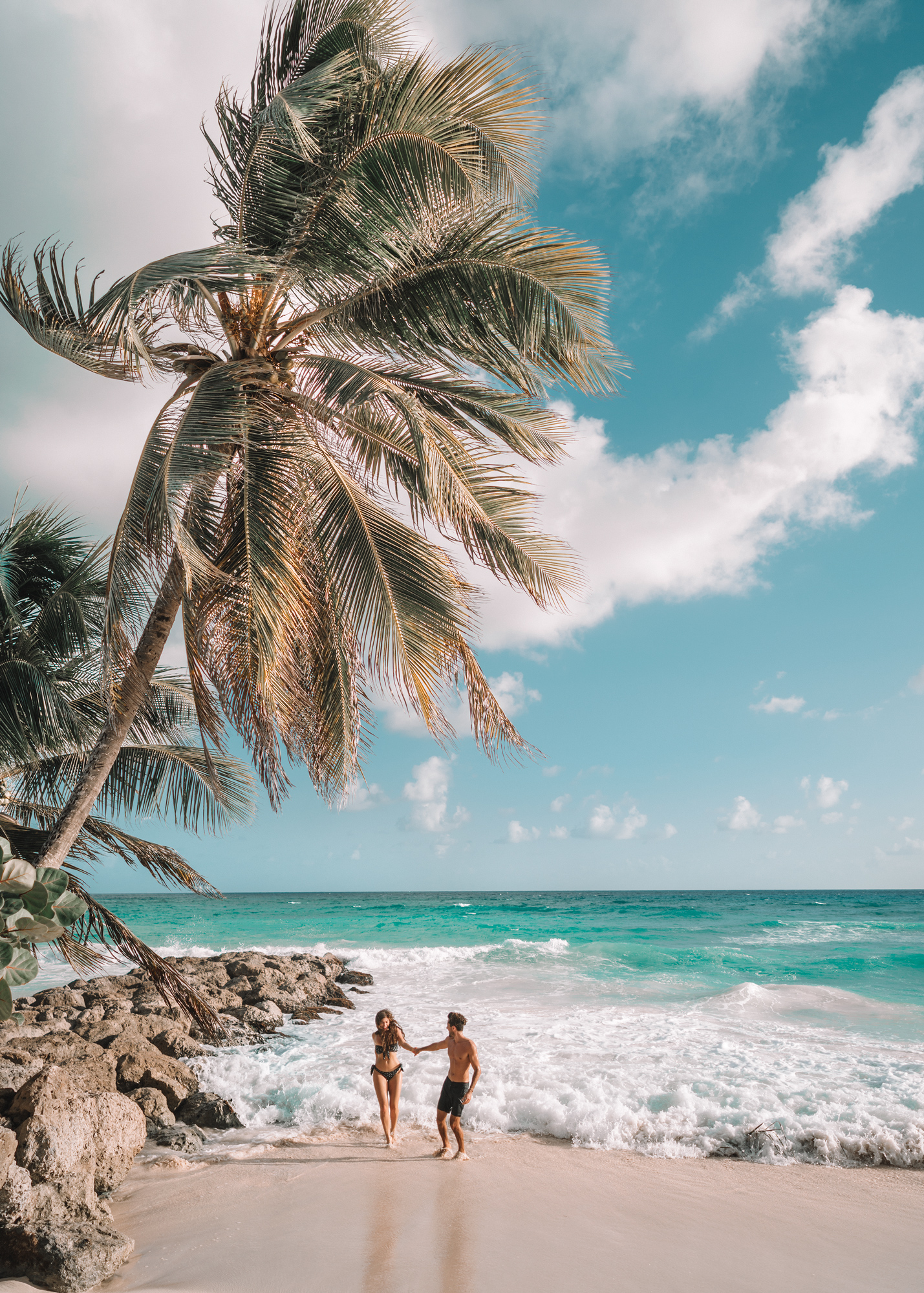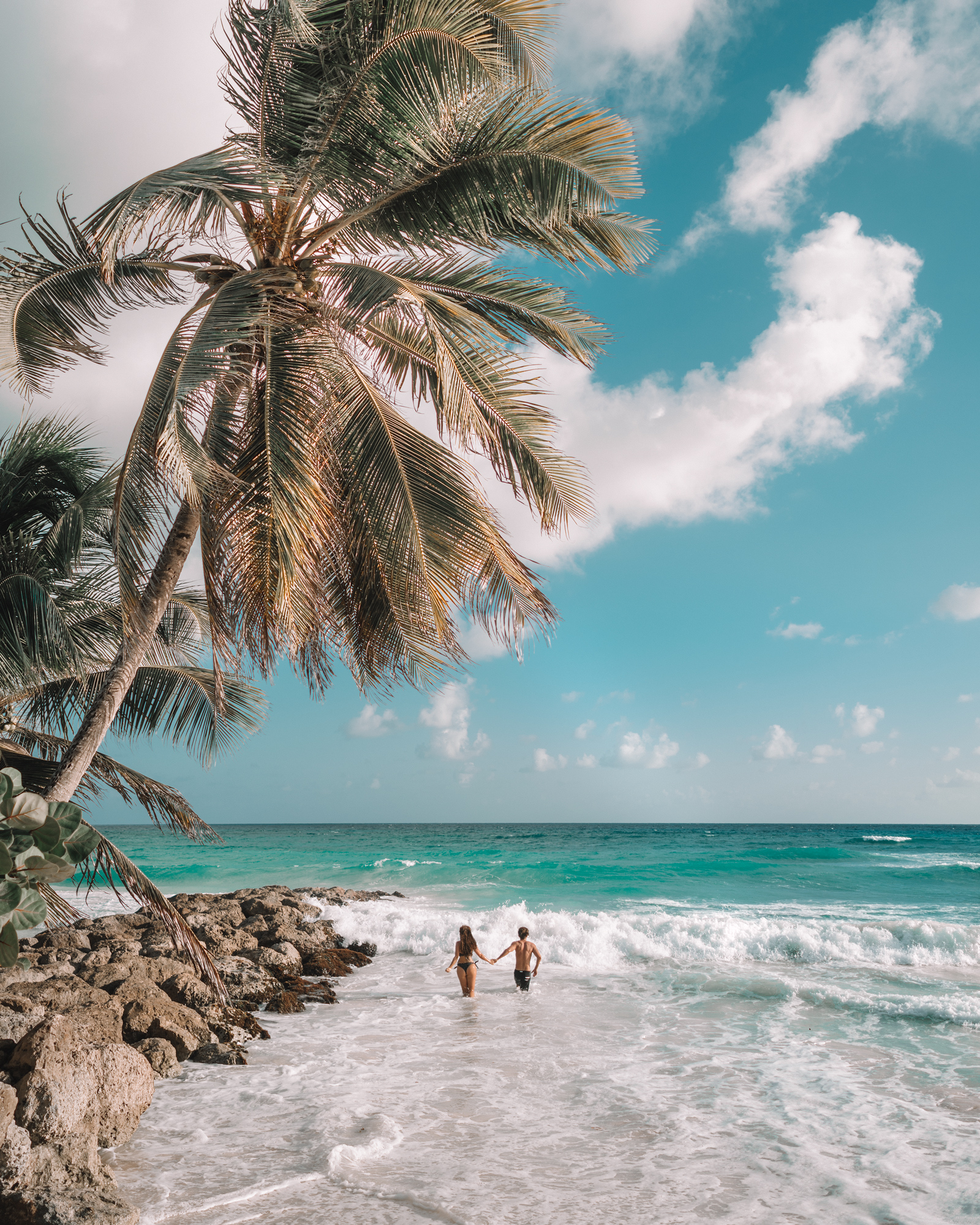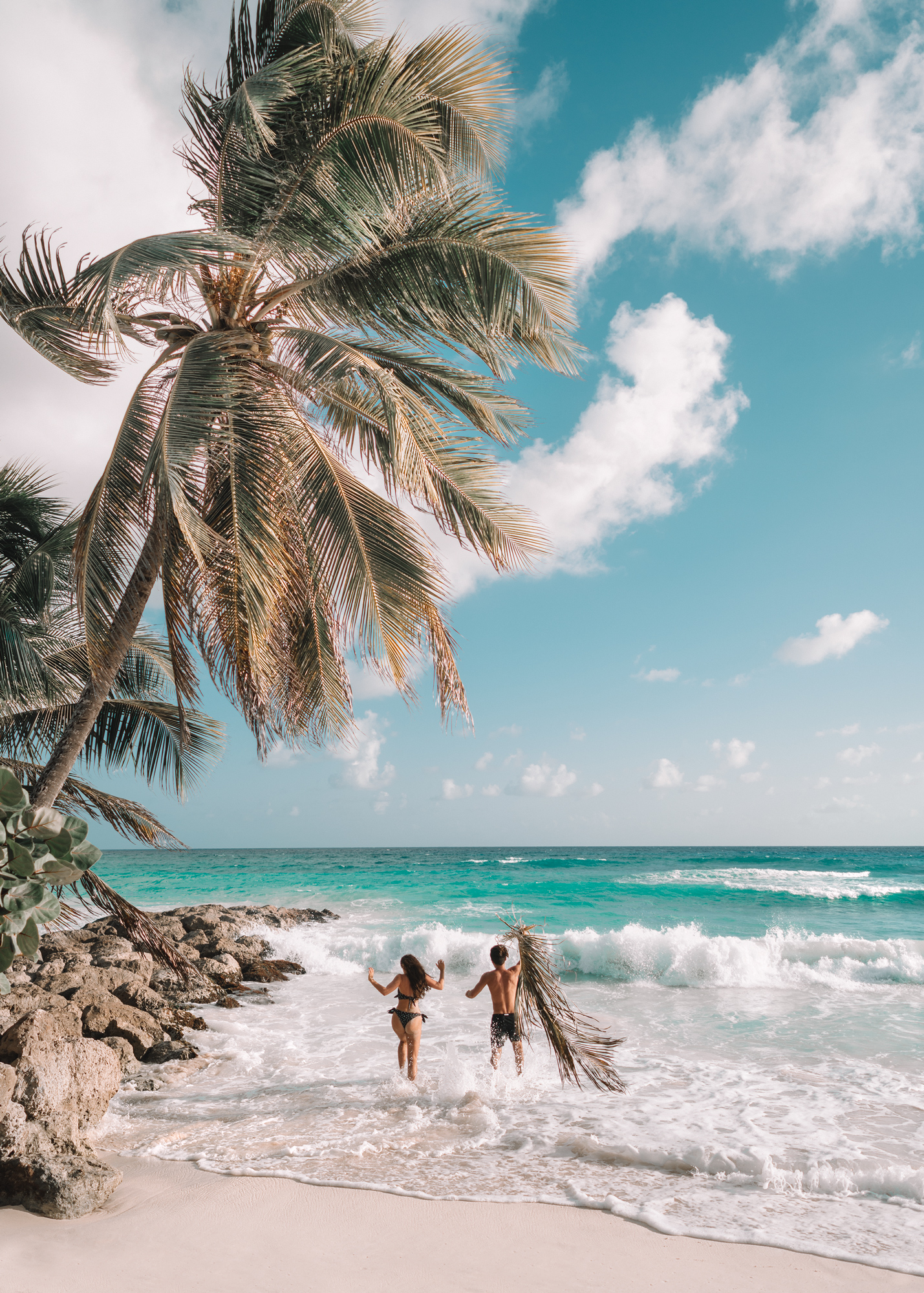 This trip was our first time in Barbados, and like the other Caribbean islands we have seen the beaches are just stunning - aqua water, powder white sand, and pure tropical perfection.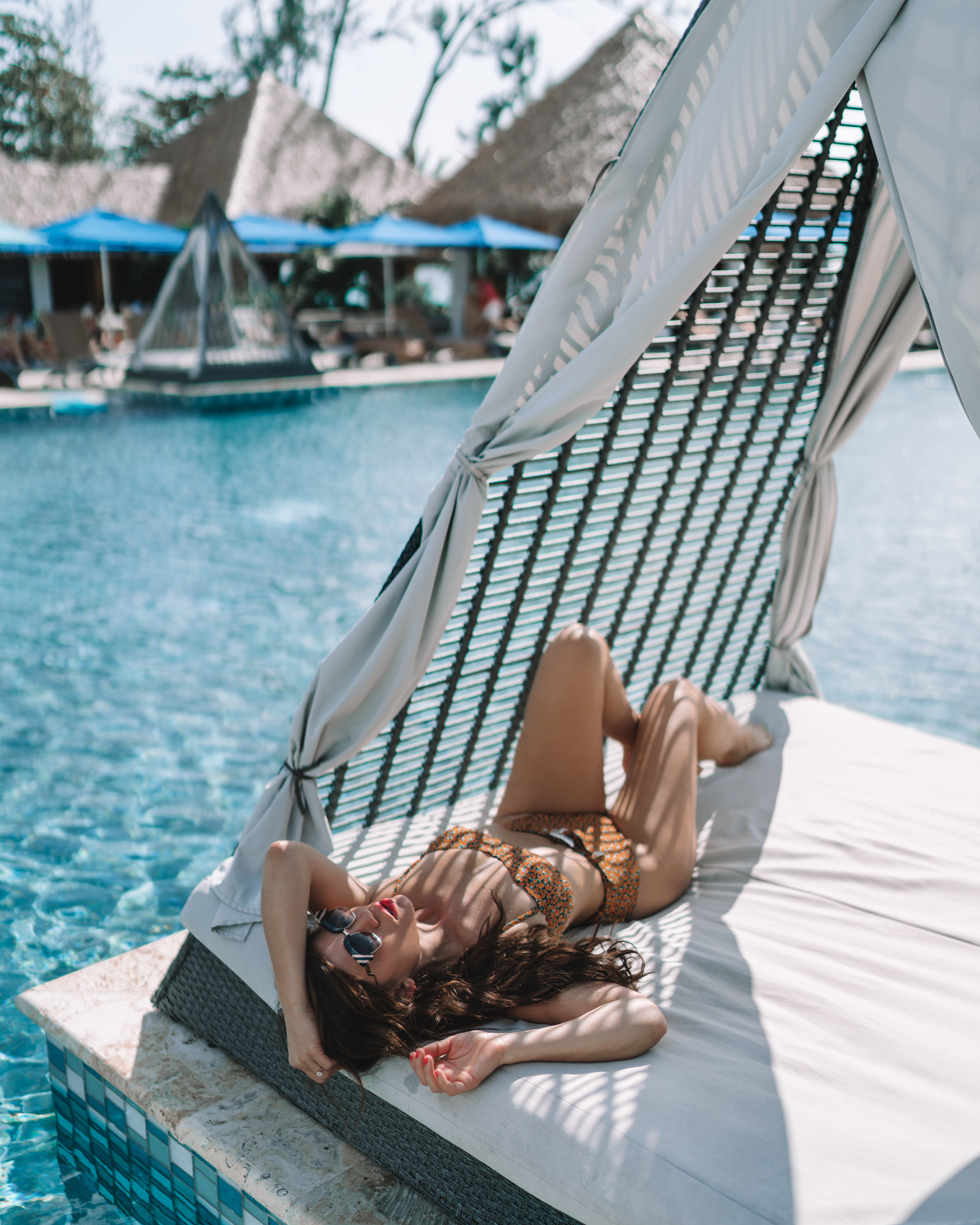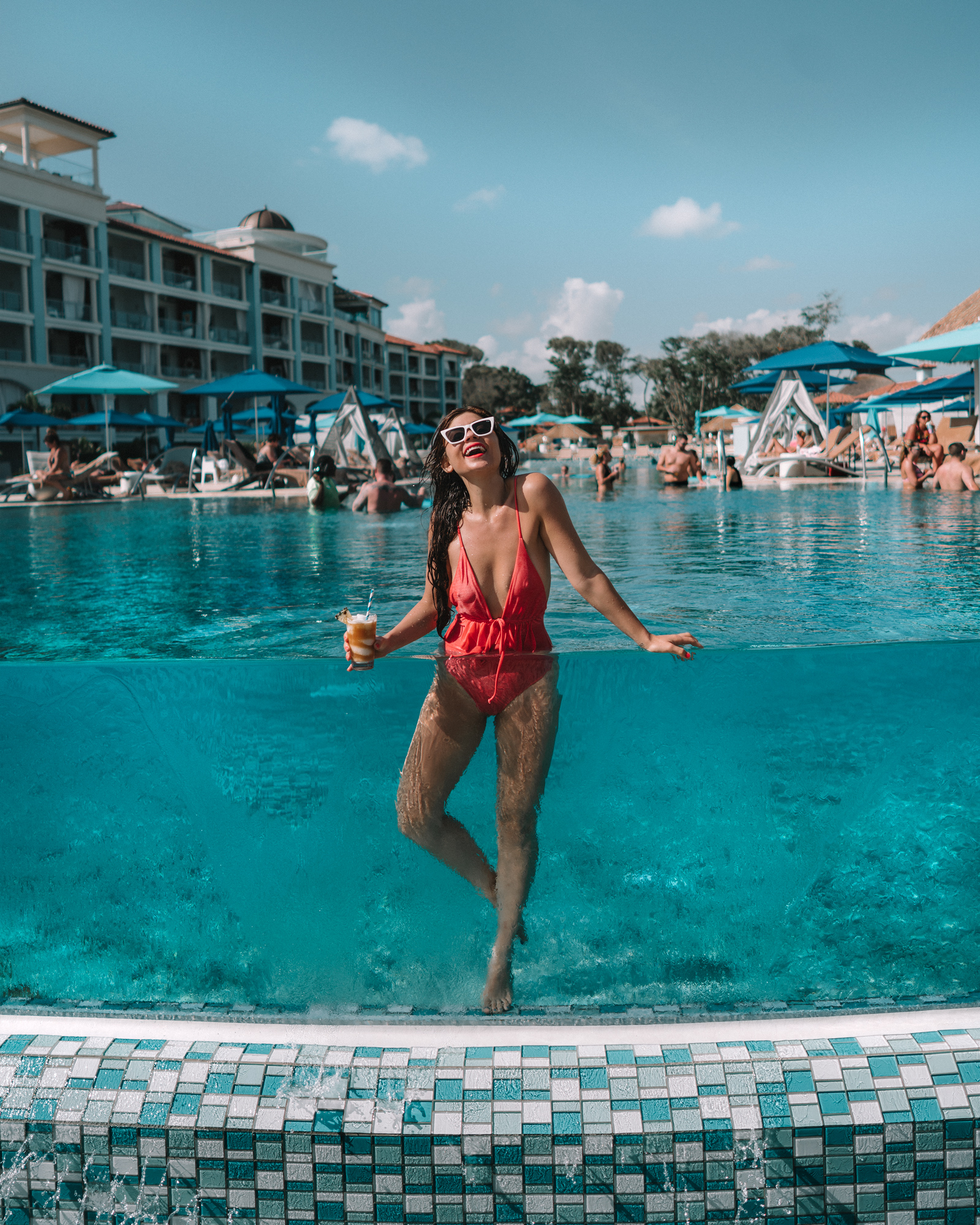 Everyone had way too much fun playing with the optical illusions in this glass-sided infinity pool - at an angle, it looks like your head is completely independent of your body due to the light refraction in water. Somehow, the gag never got old.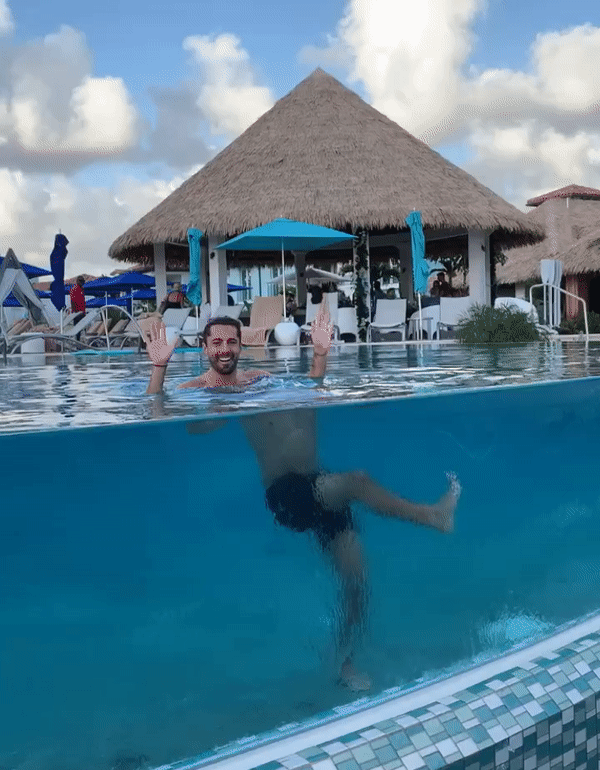 Never.
Got.
Old.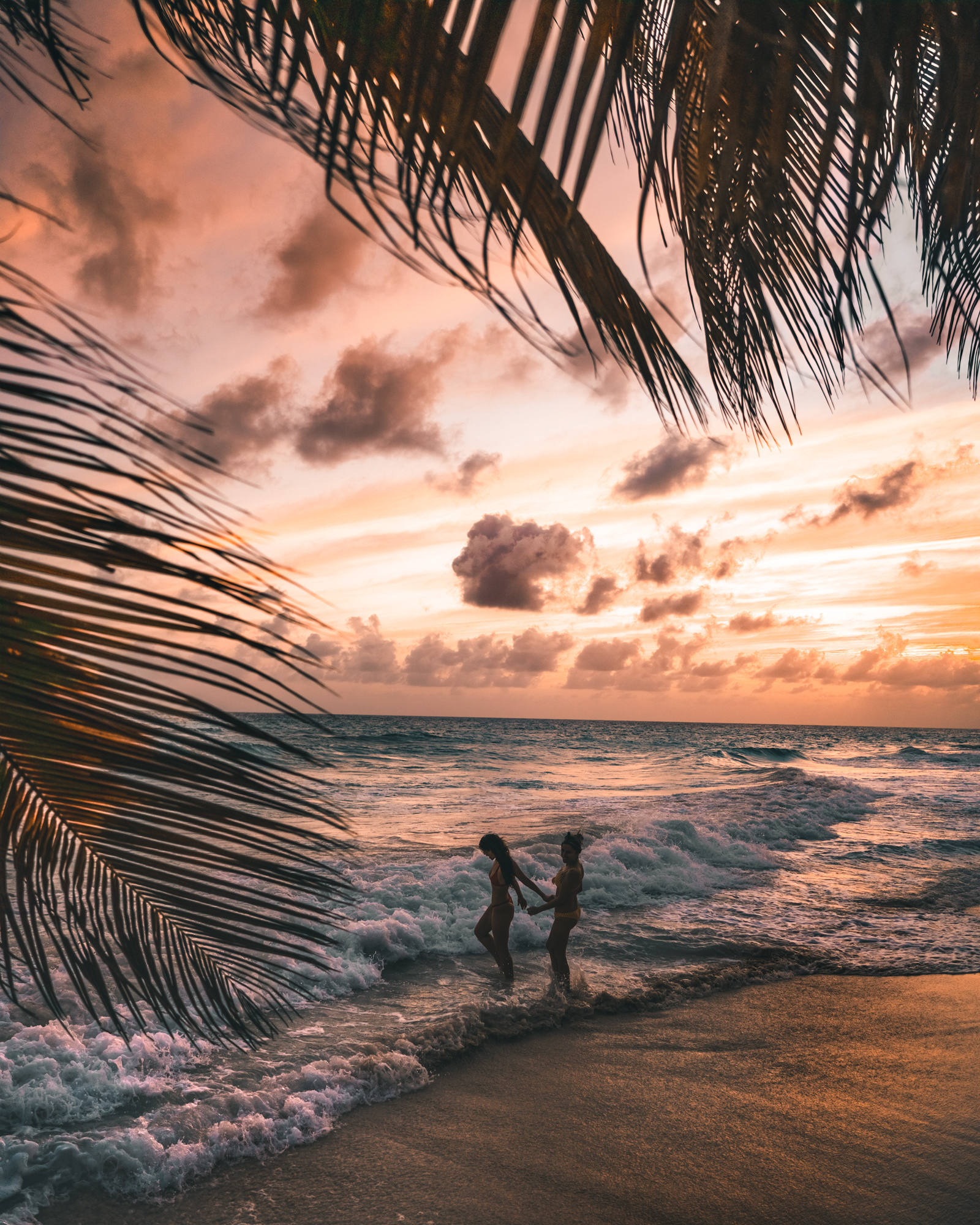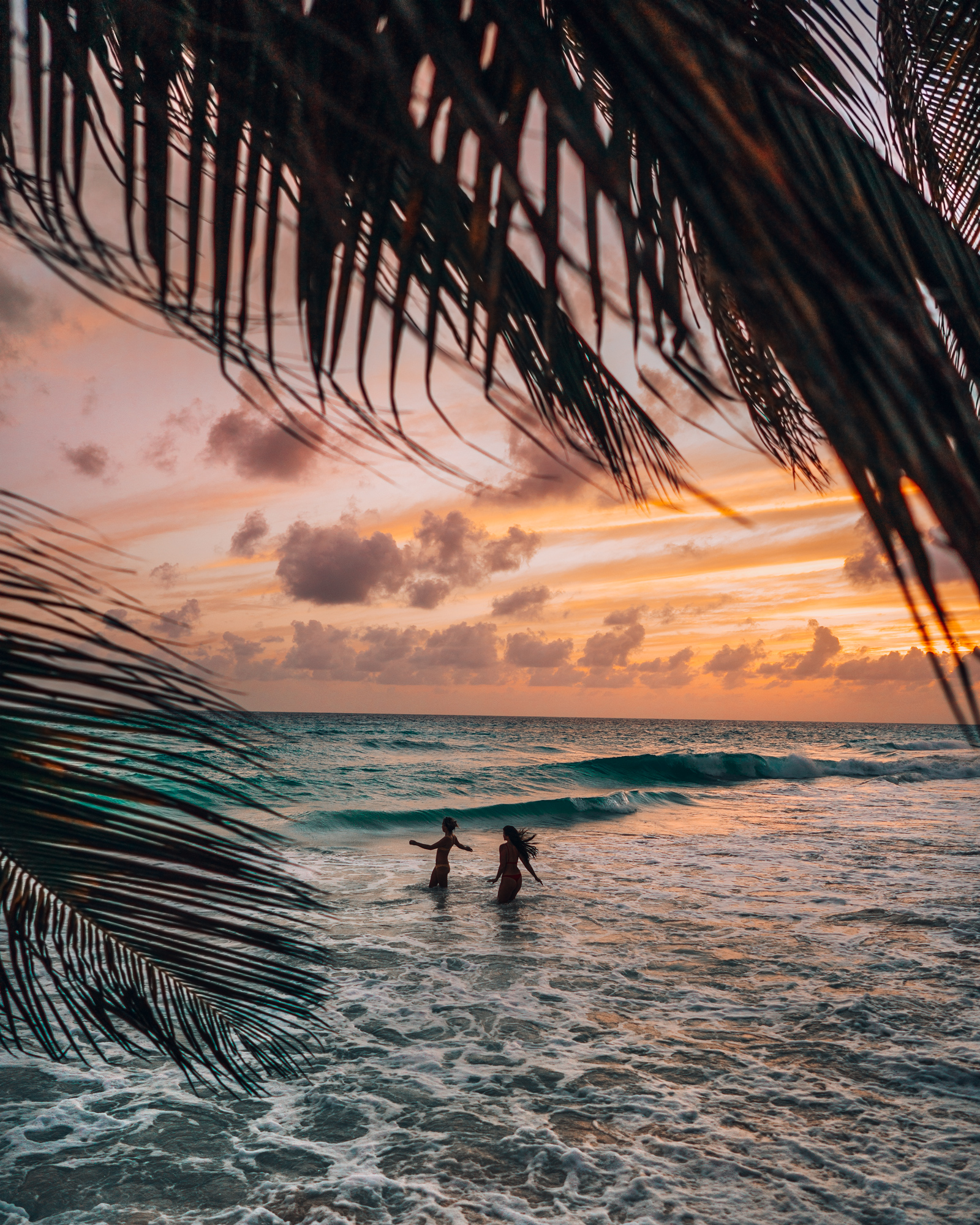 When we arrived, we discovered that our friends Katie and Xavier from XKFlyaway would be joining us for the weekend! We met them on our trip to Marfa, Texas over the summer and were so excited to have the chance to spend time together again. Brandon and I always love the chance to meet and get to know other couples that live and work and travel together all the time - it can be a lot, and it's nice to share stories and helpful suggestions with others that know exactly what we go through in our wild life.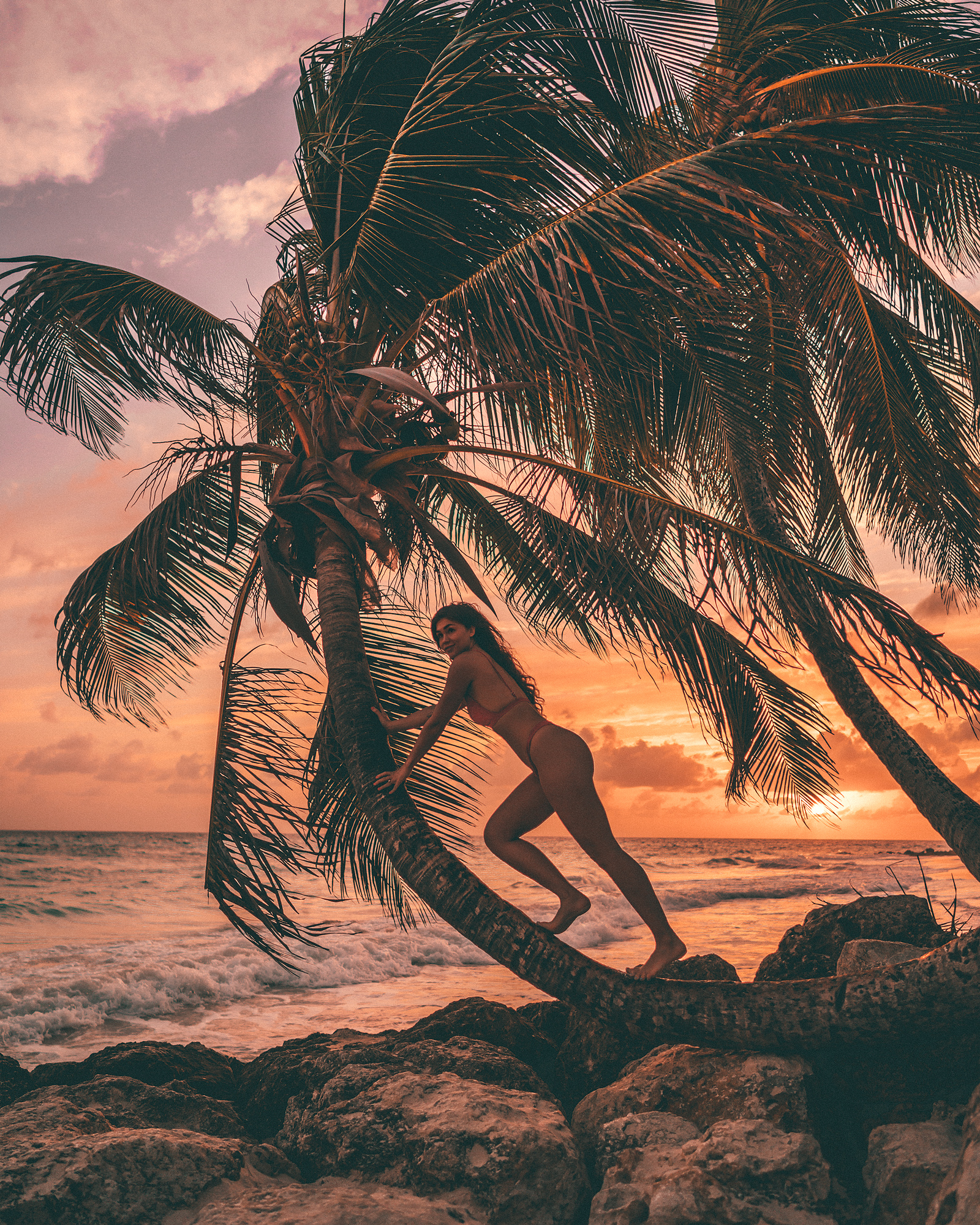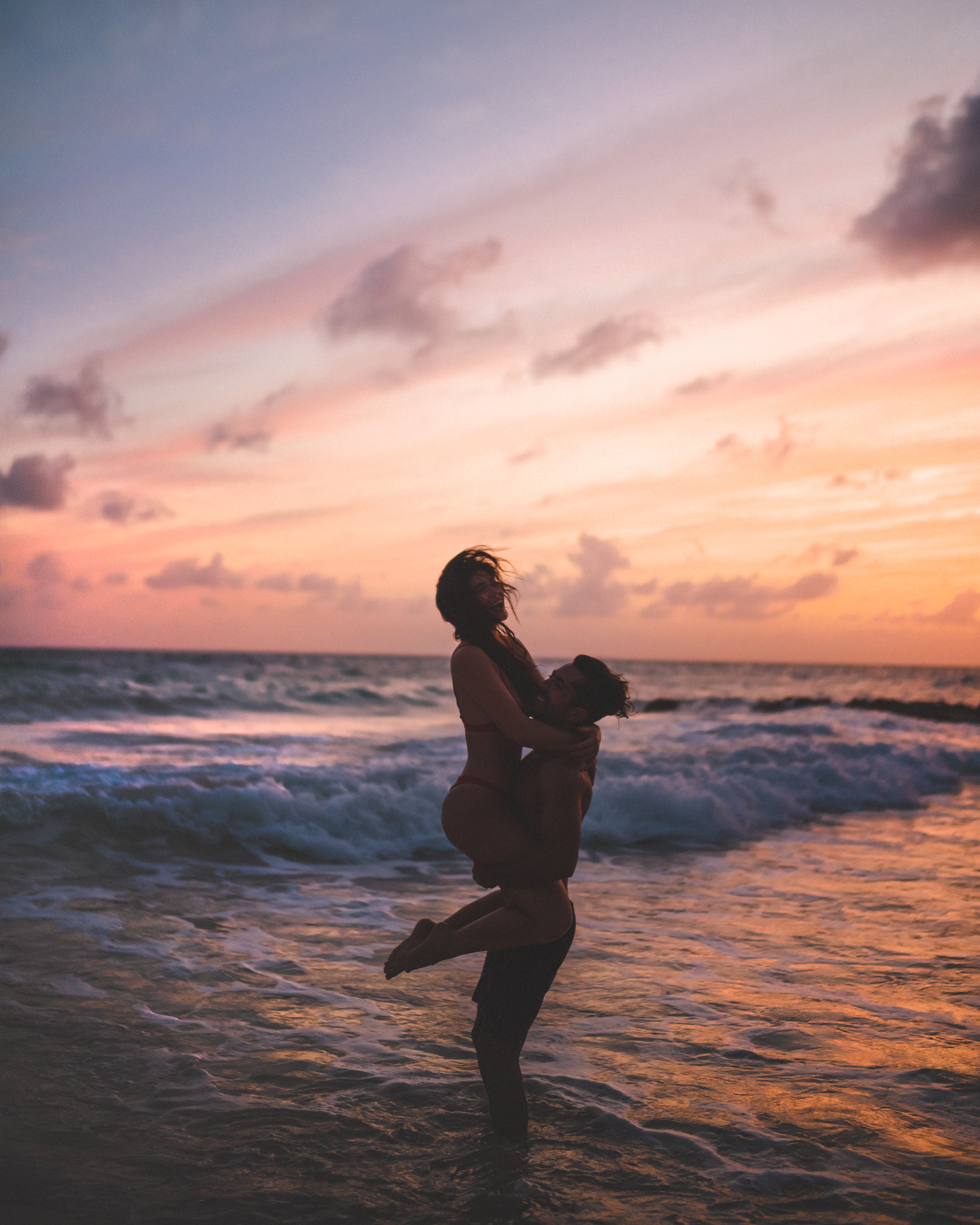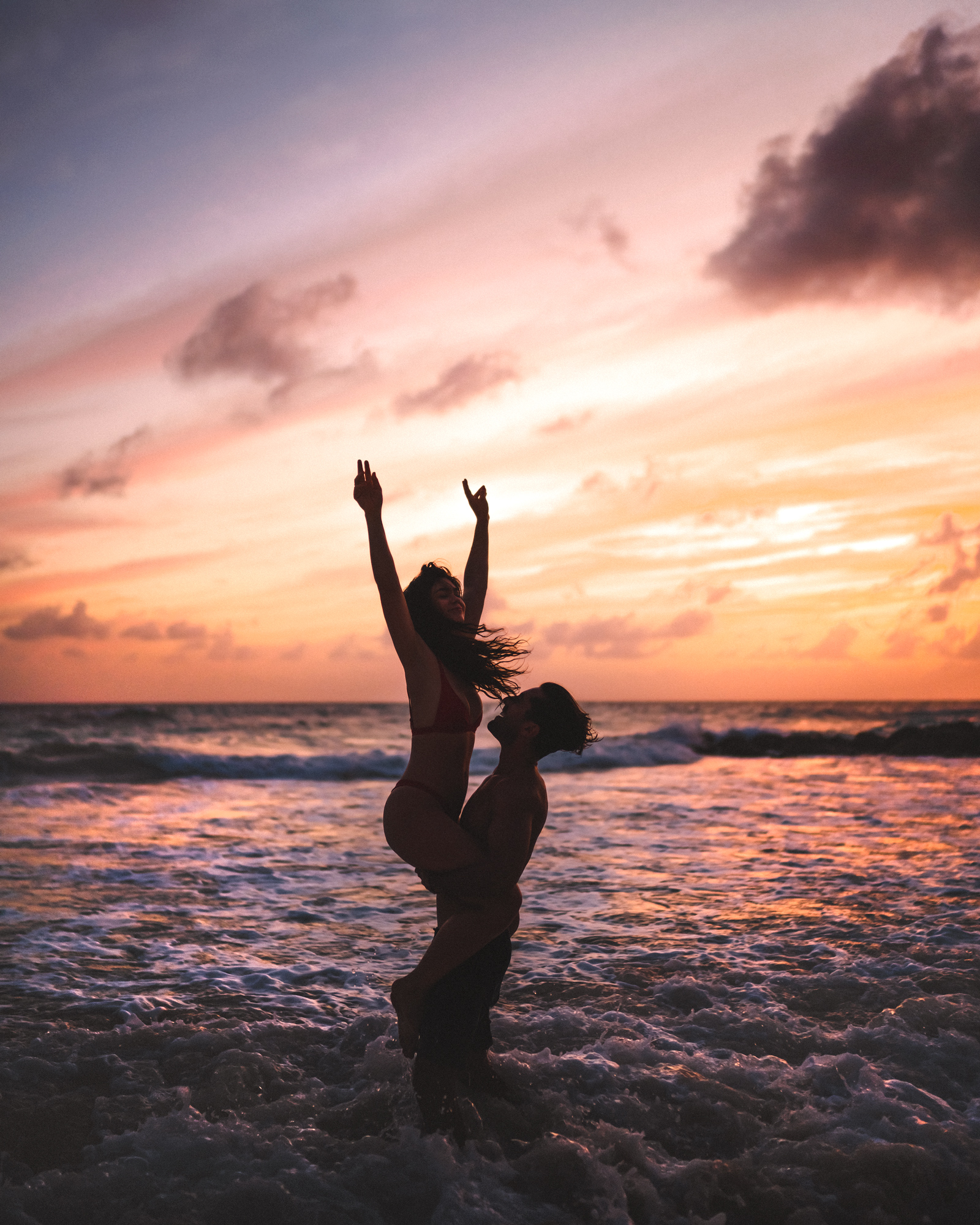 The four of us were running around the beach and shooting, this amazing sunset came through unexpectedly - and one of the most incredible ones we have seen in a long time.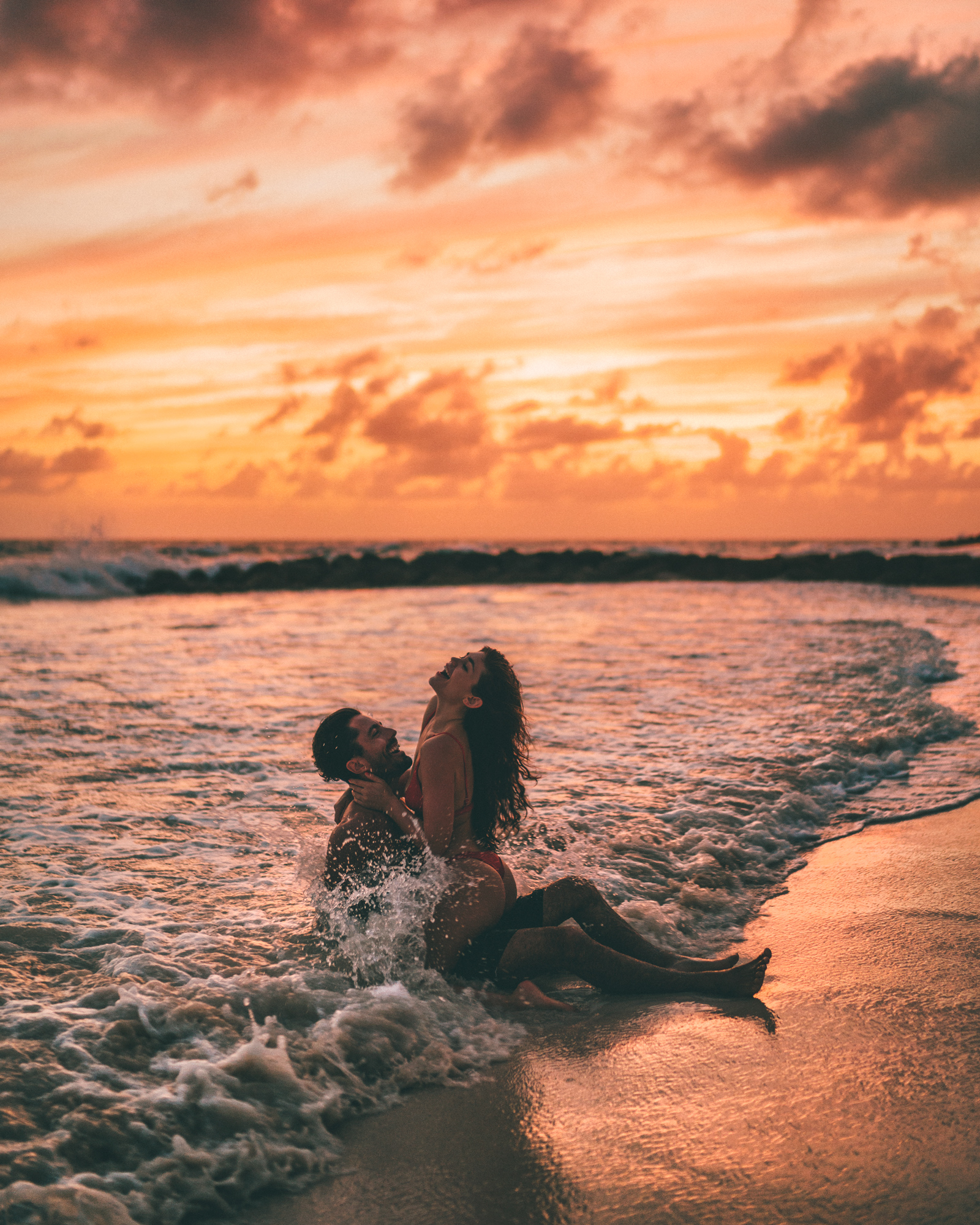 We are so used to shooting and doing everything by ourselves - just Brandon and I and tripods and intervalometers and drones, all the tricks of being a two-man-show. But the reality of working just the two of us, is that there are a lot of shots we can't get on our own. A lot of moments that come in so fast, or in places that are filled with water or wind or the edges of cliffs where it is just impossible to create the images we dream of because logistically, we just can't create them with the two of us. This was one of those moments - and we were so happy to have Xavier with us to capture the moment.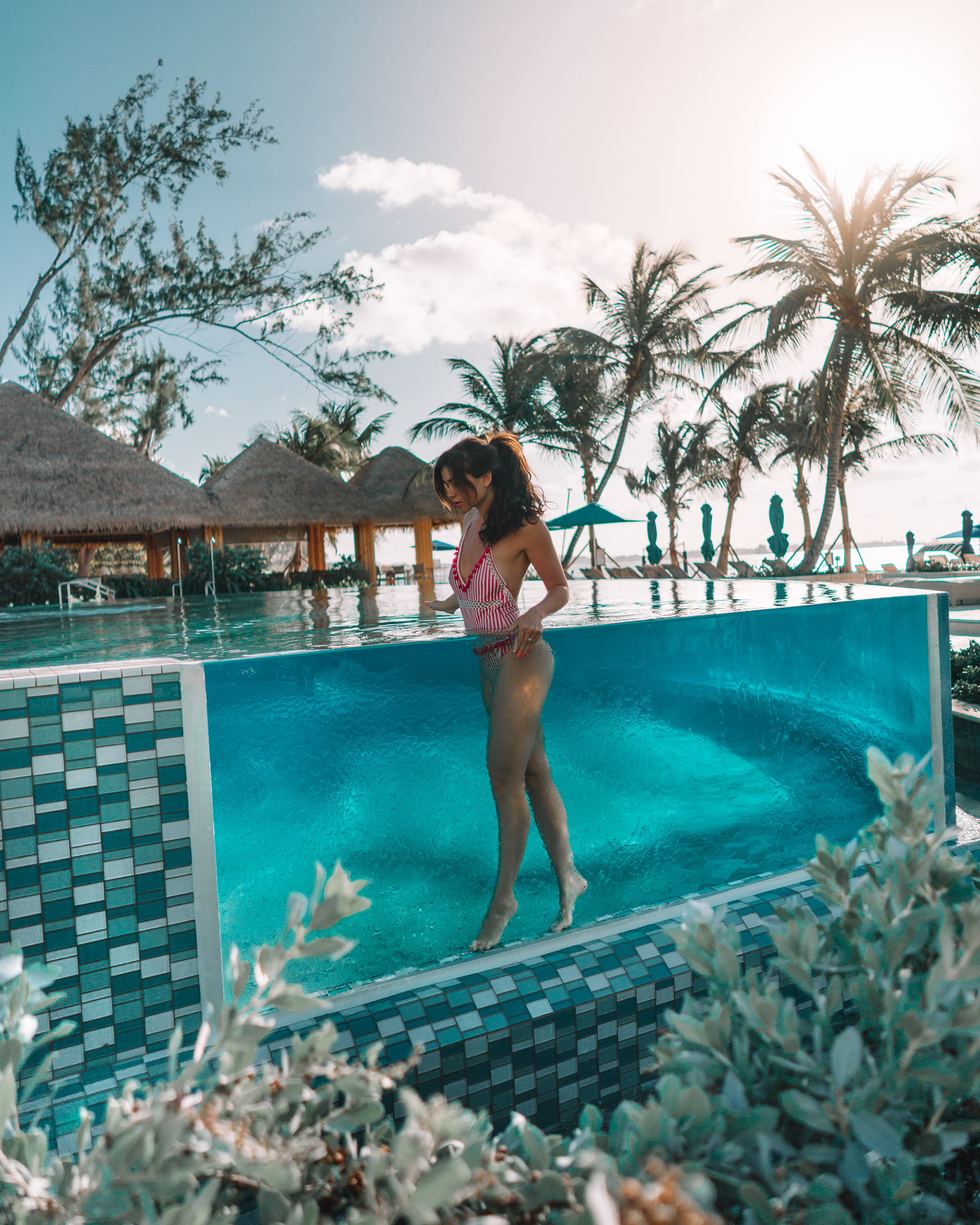 The next morning, we were committed to spending the entire day on the beach soaking up as much as possible - LA has been cold and we needed to soak in all the summertime we could!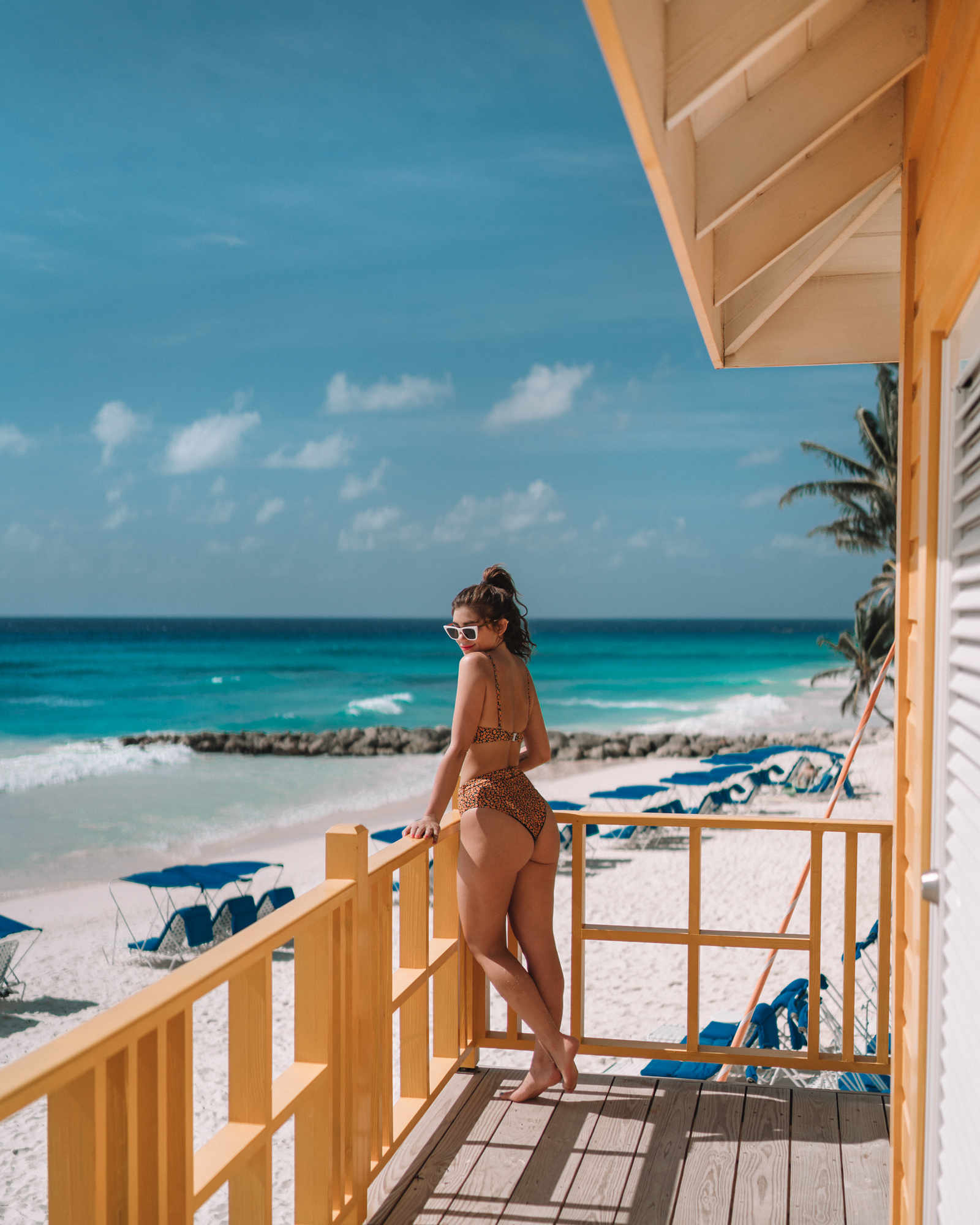 Cruising down to the very end of the property, we found the cutest little lifeguard tower.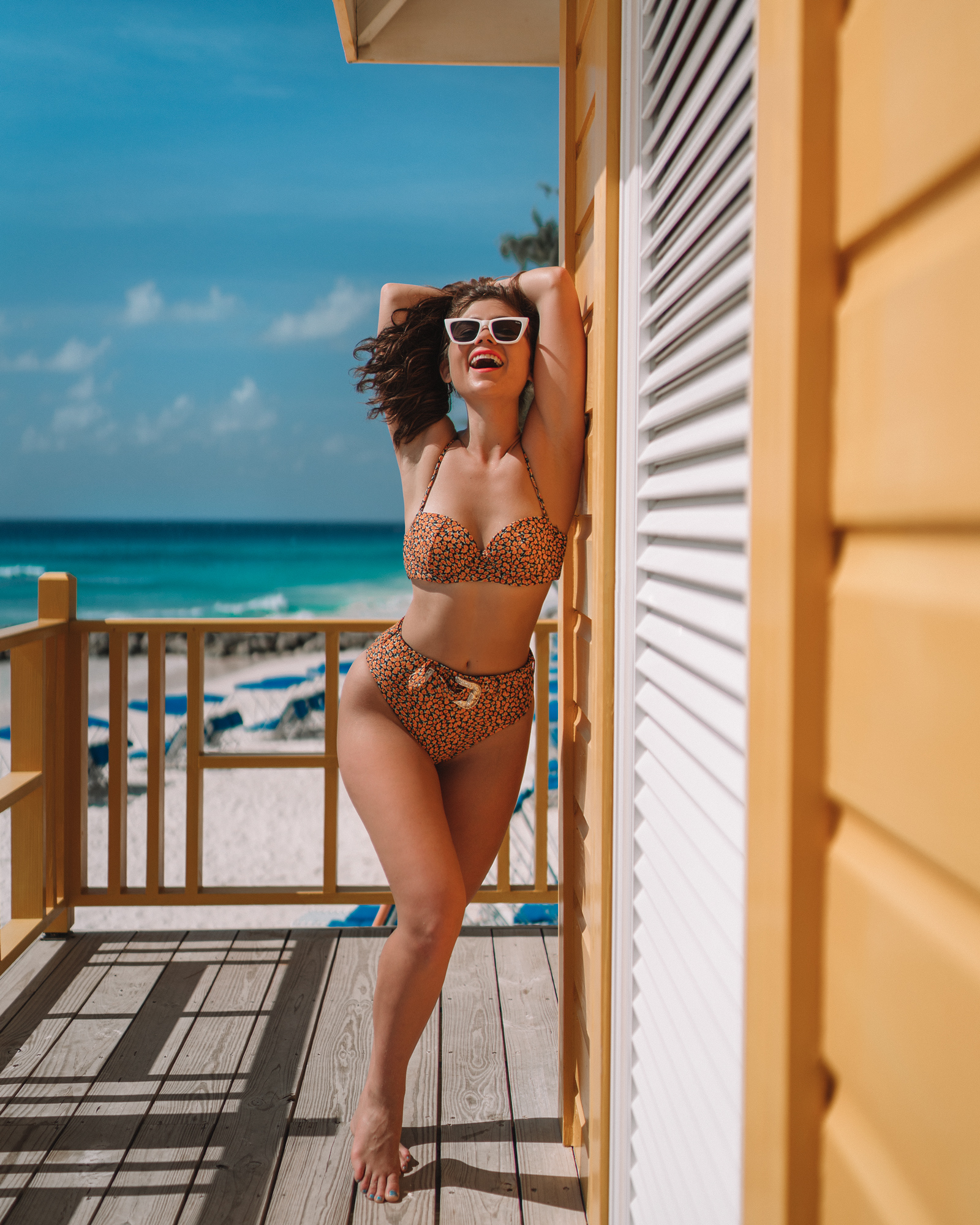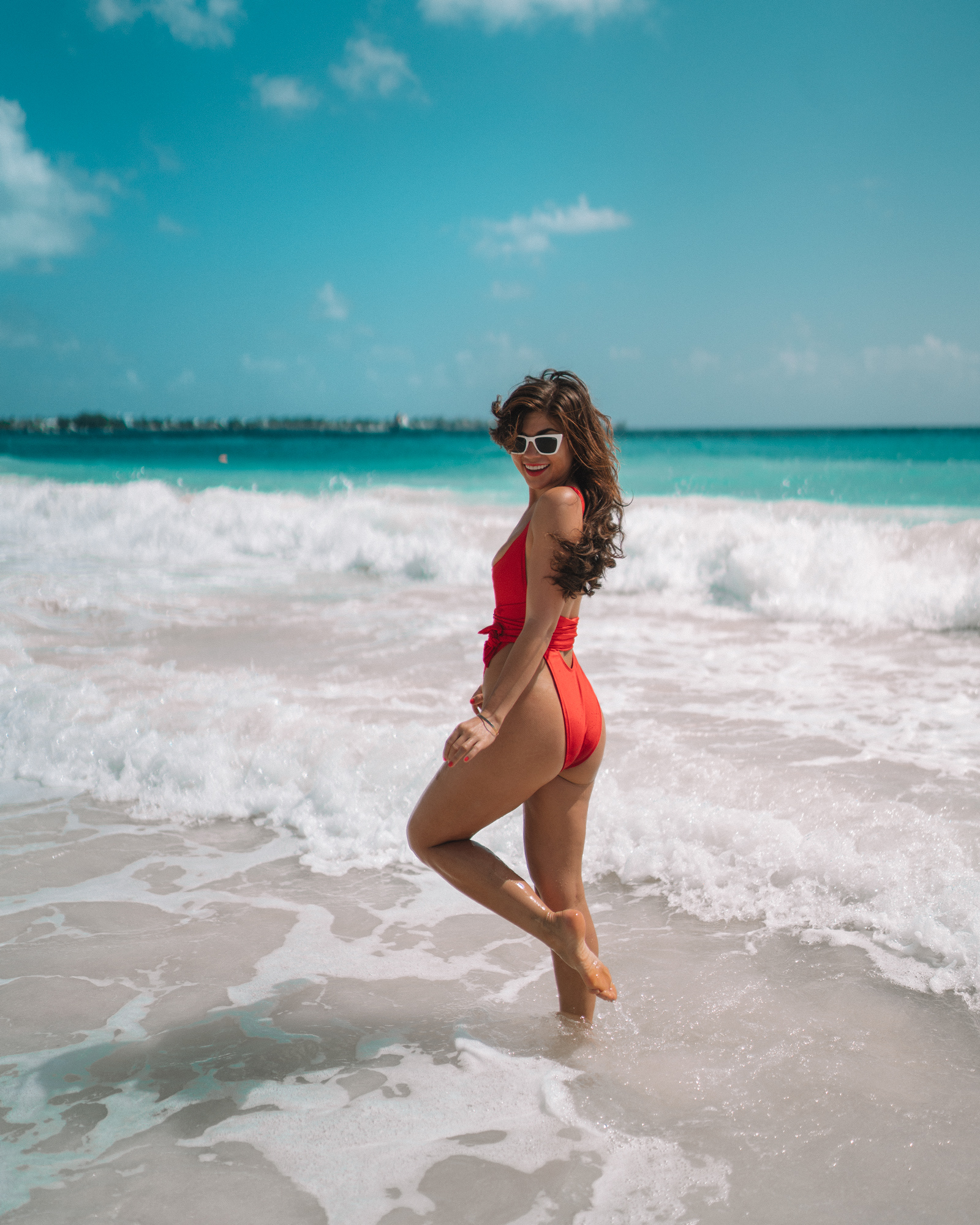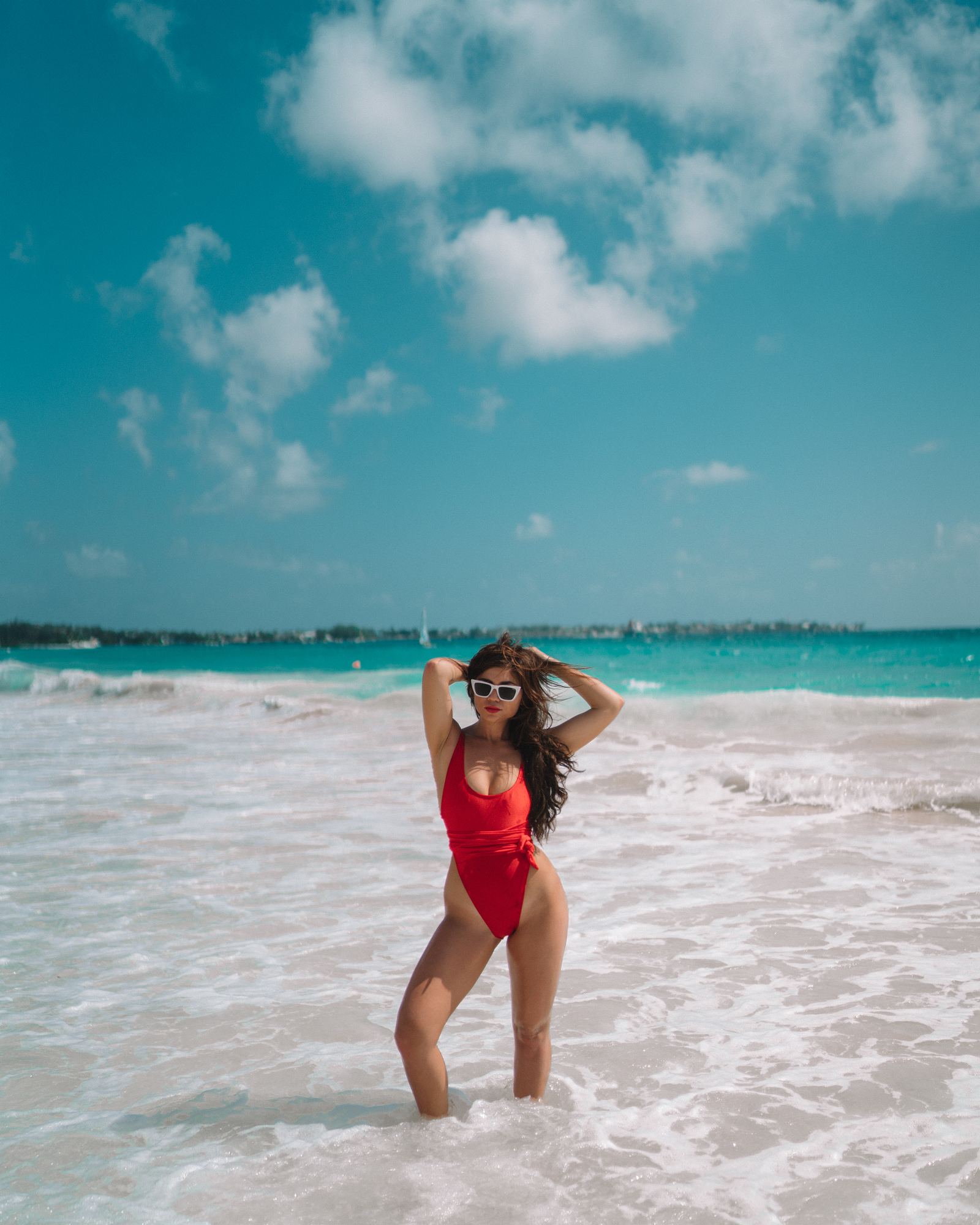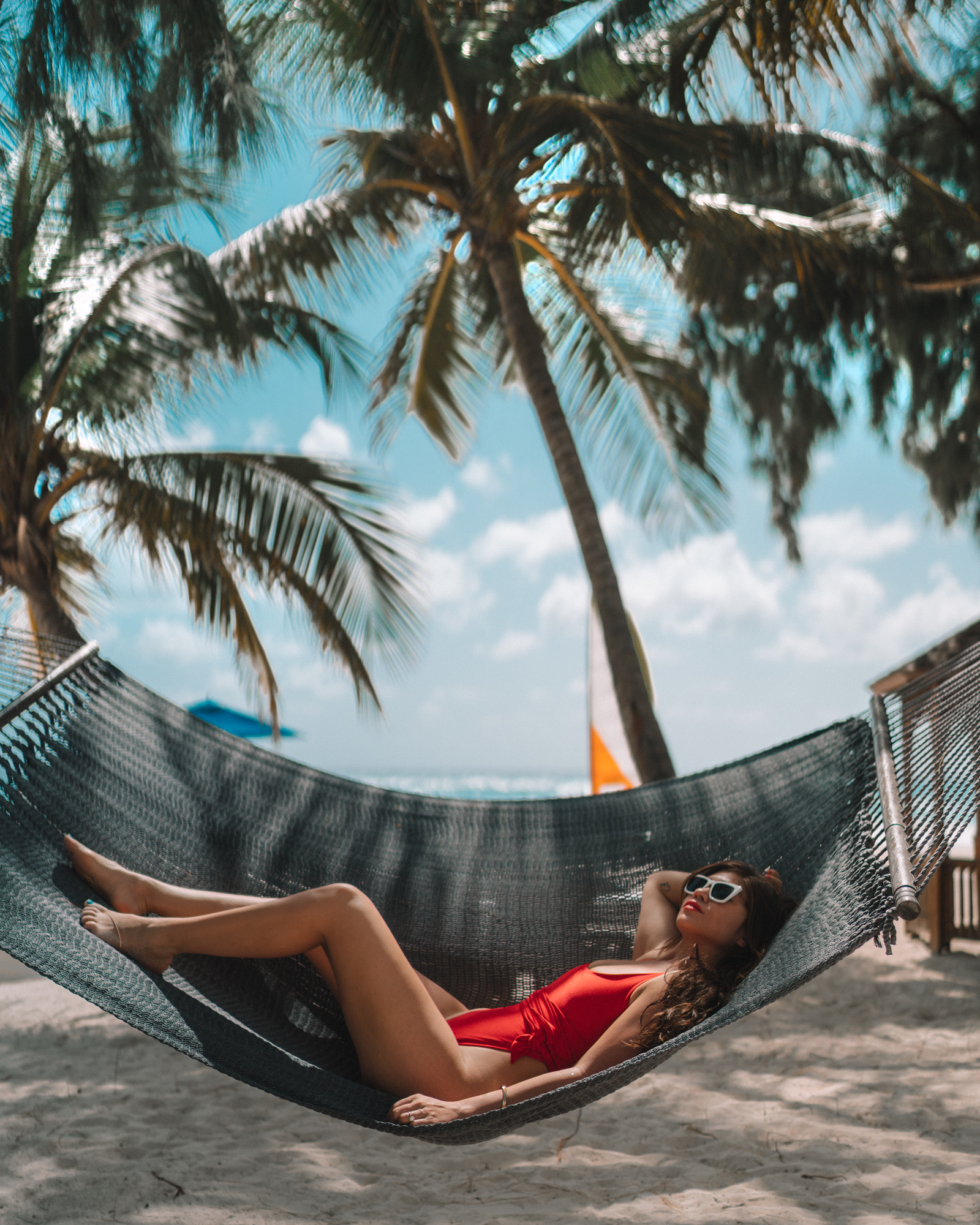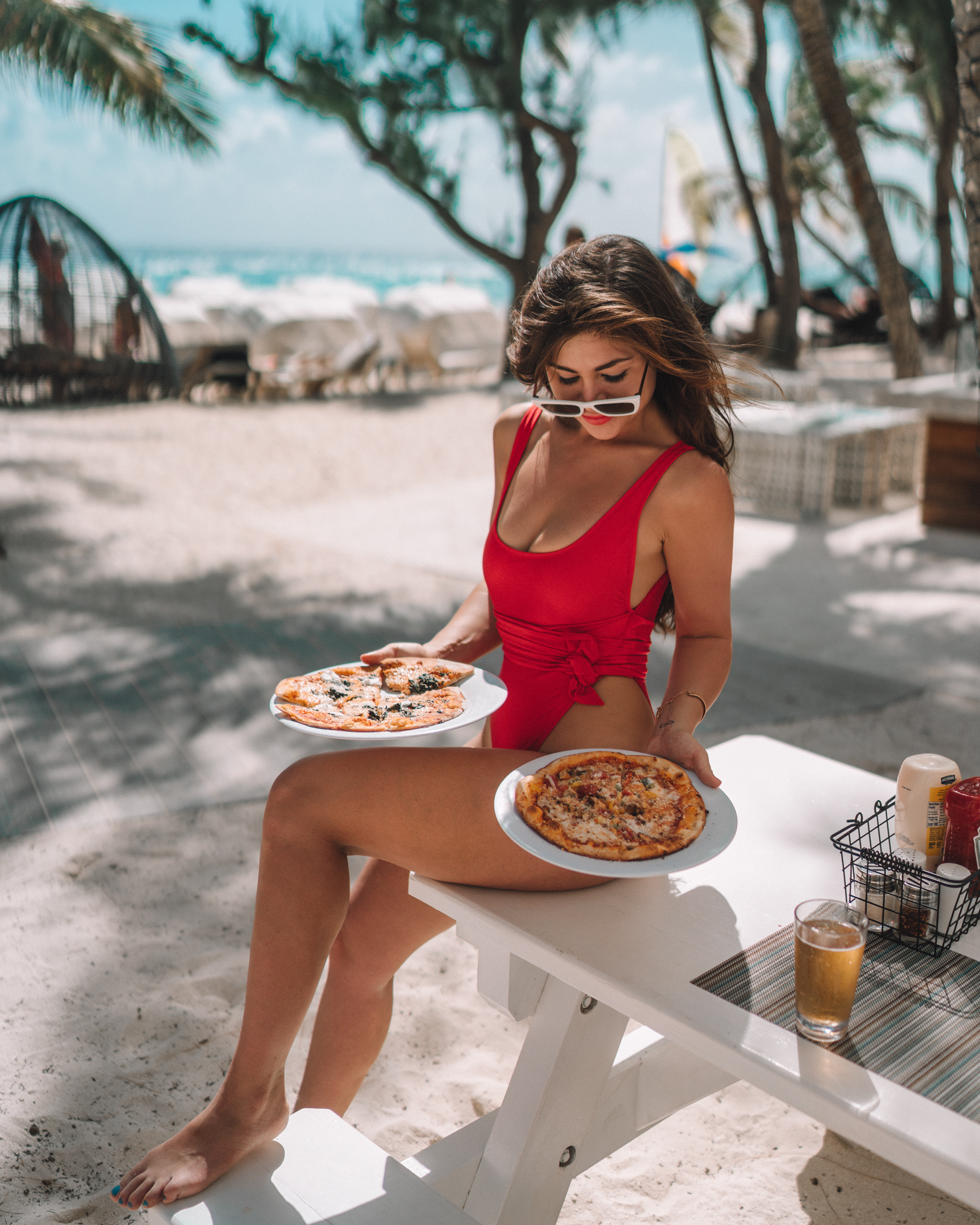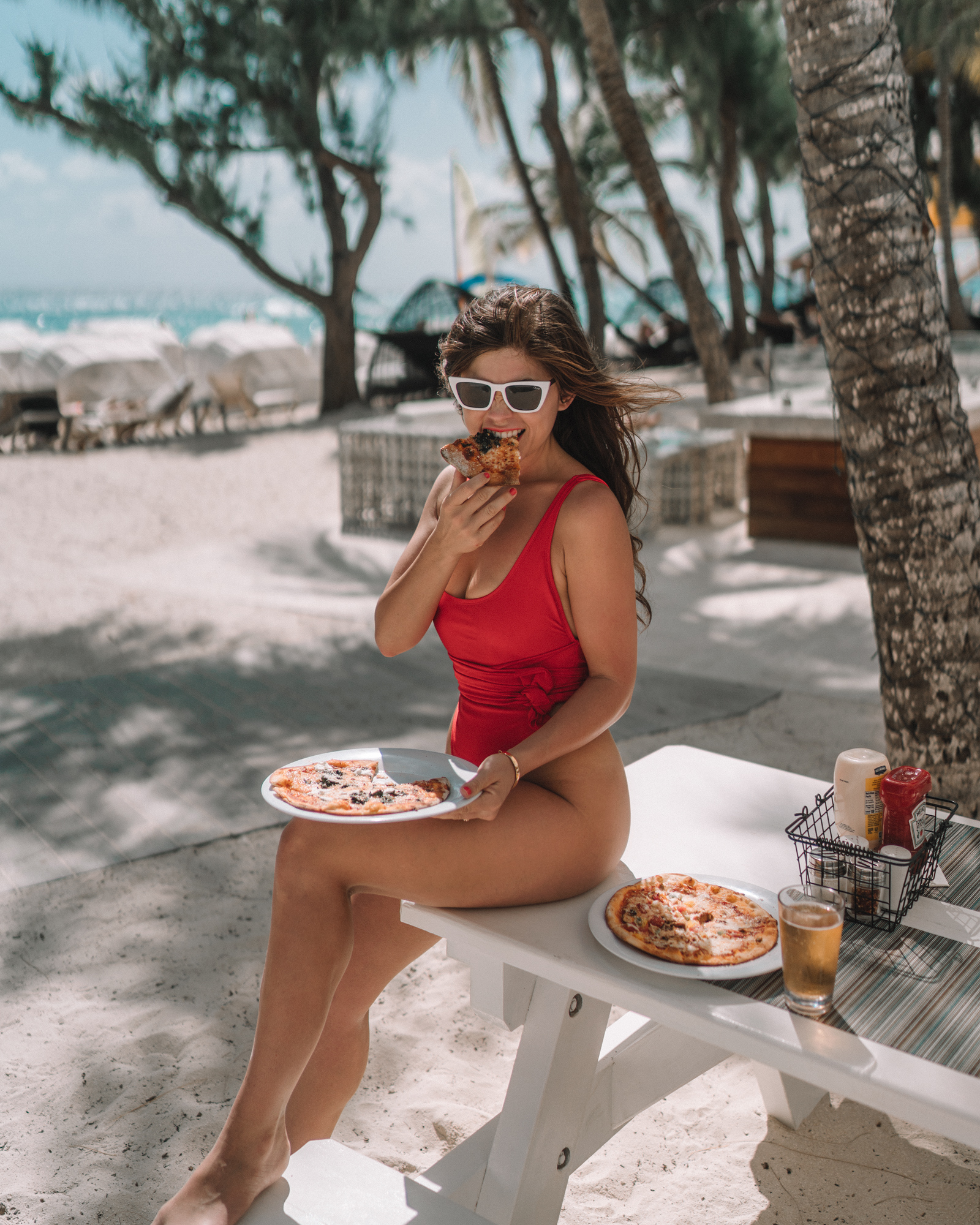 So we ate at a number of nice restaurants at Sandals - fine French dining, steaks and lobester, and an amazing Indian dinner on our last night - but this beachside brick-oven pizza spot might have been our favorite of all. Is there anything that pizza on the beach?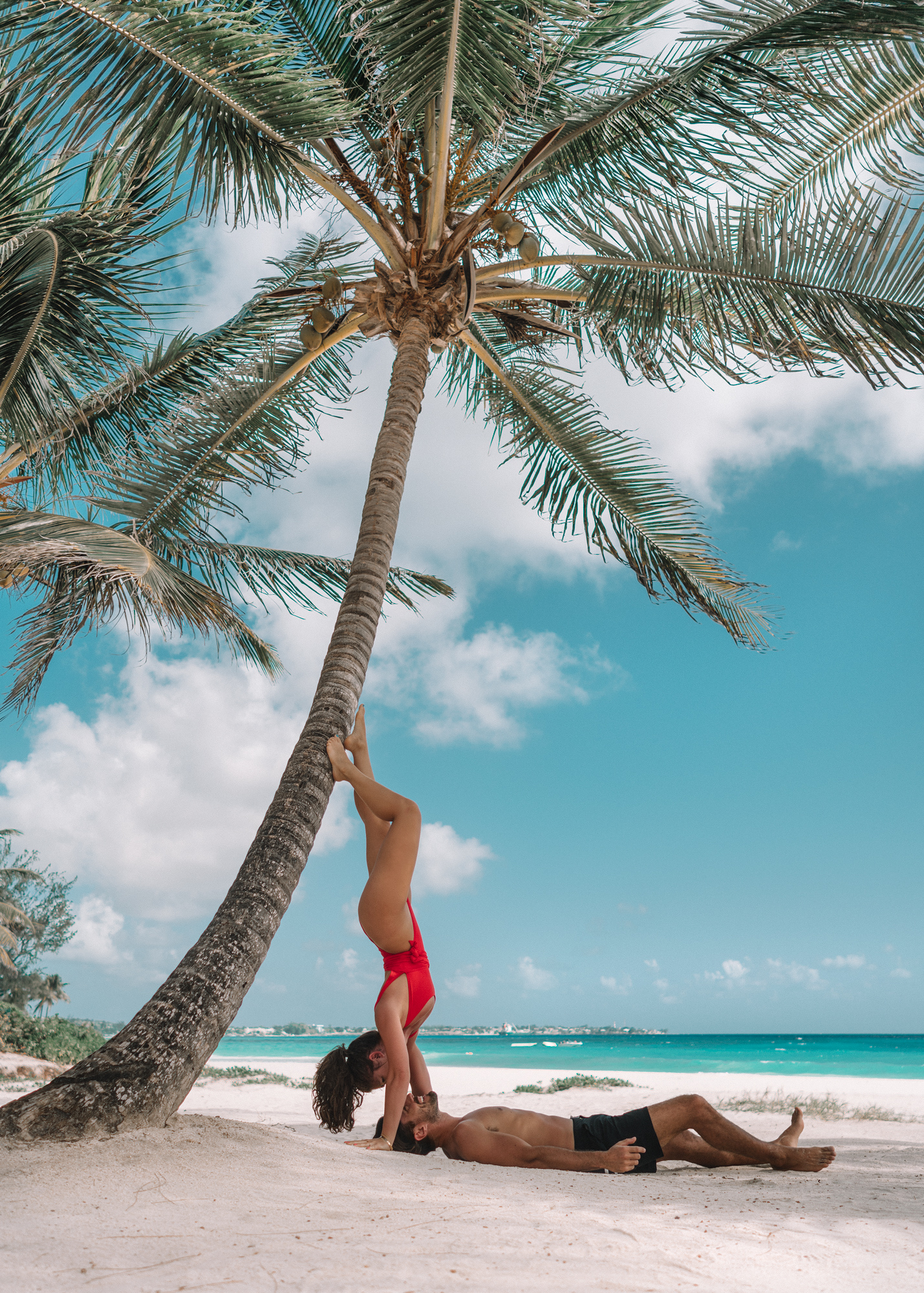 I have to be honest - getting this photo was a LOT harder than it looks.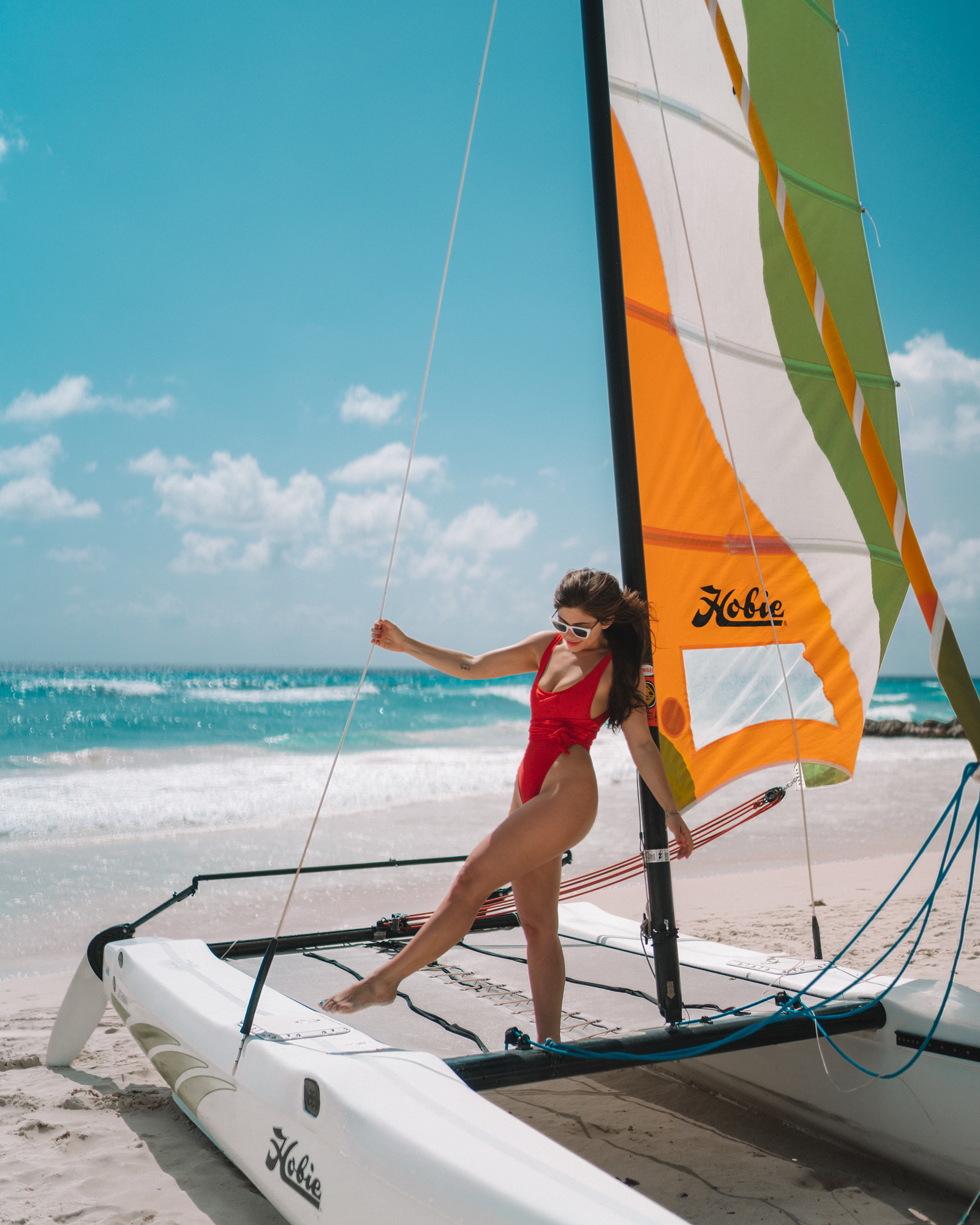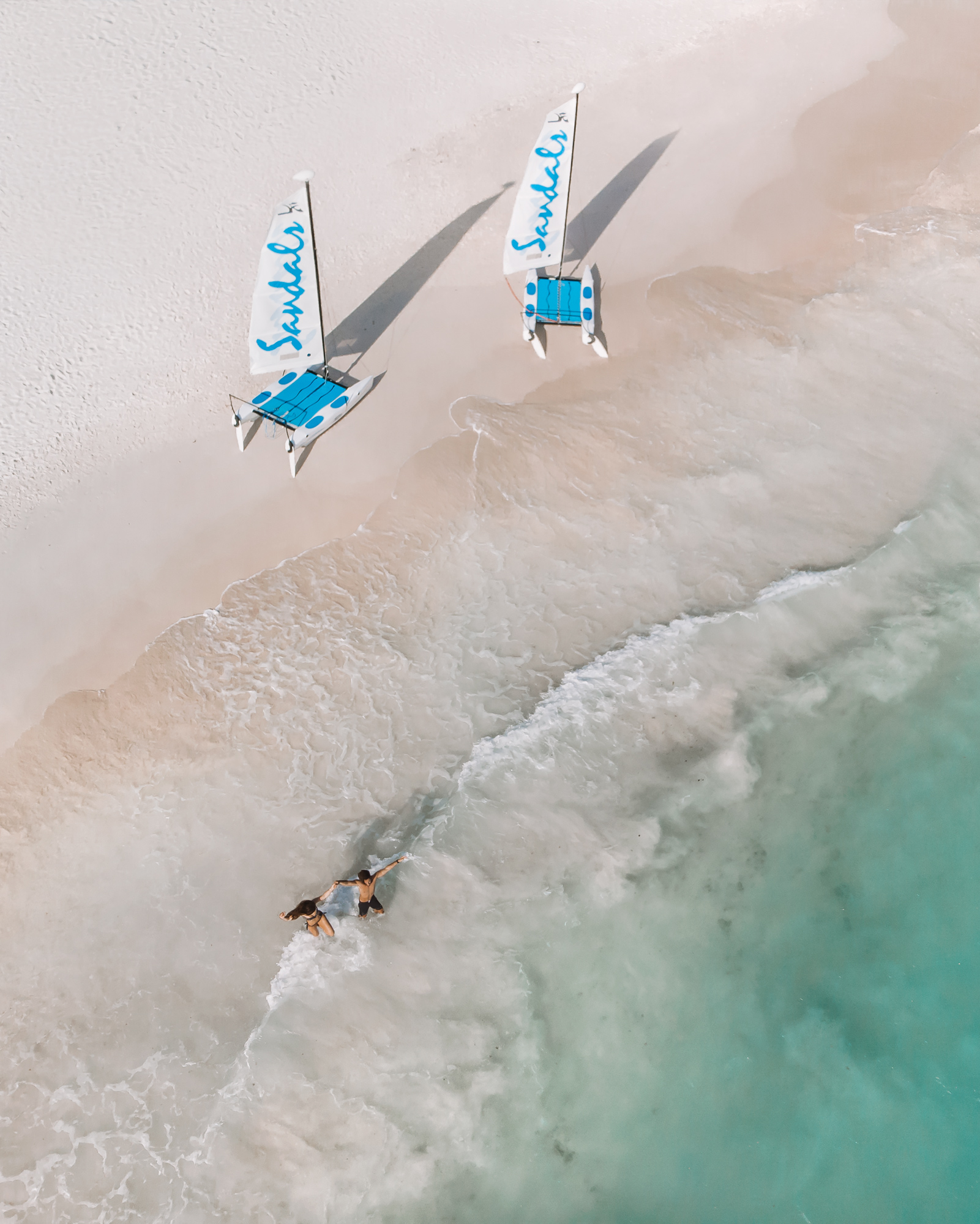 All of the beach things!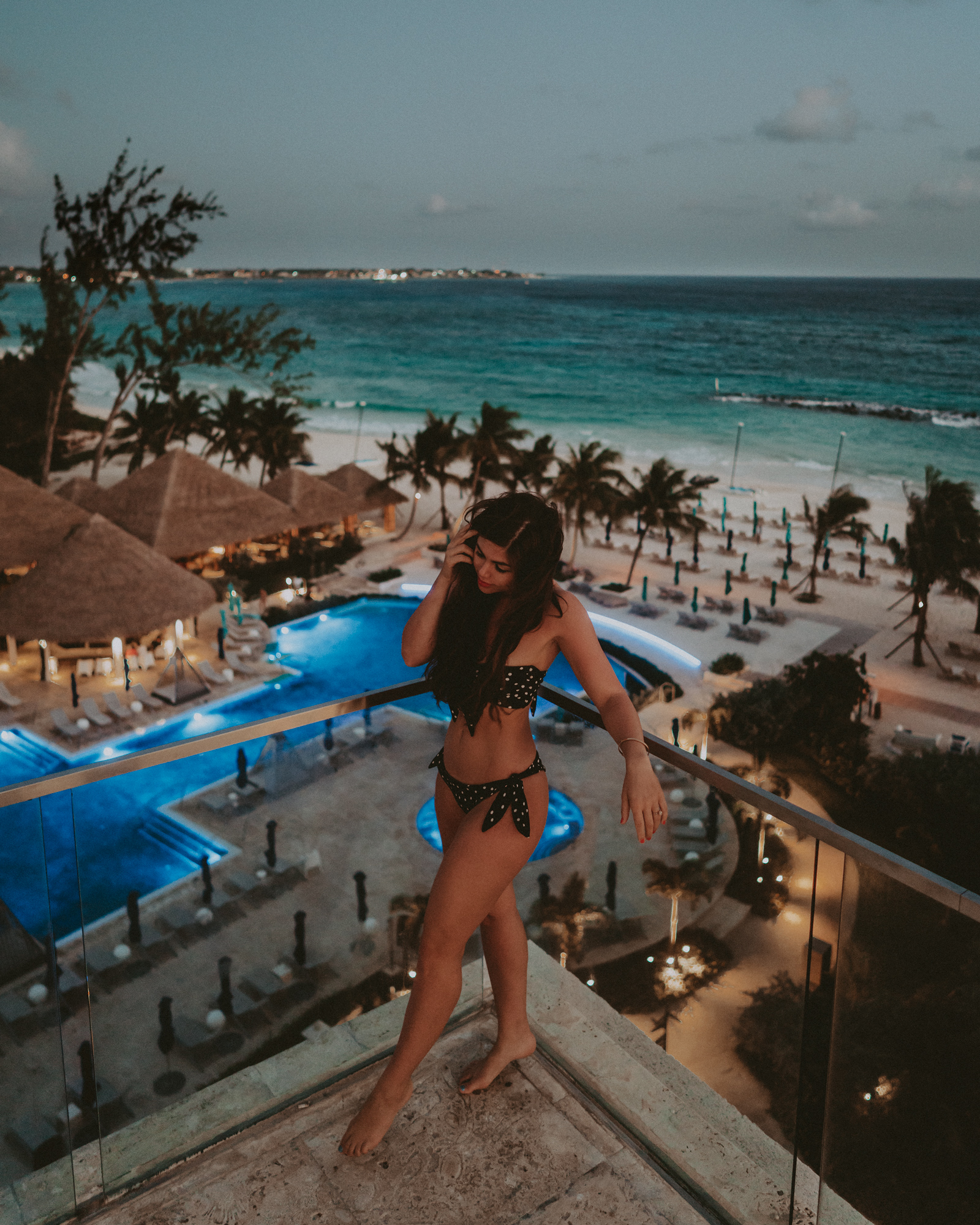 Watching sunsets from the rooftop pool - I always love watching all of the lights twinkle on after the sun goes down.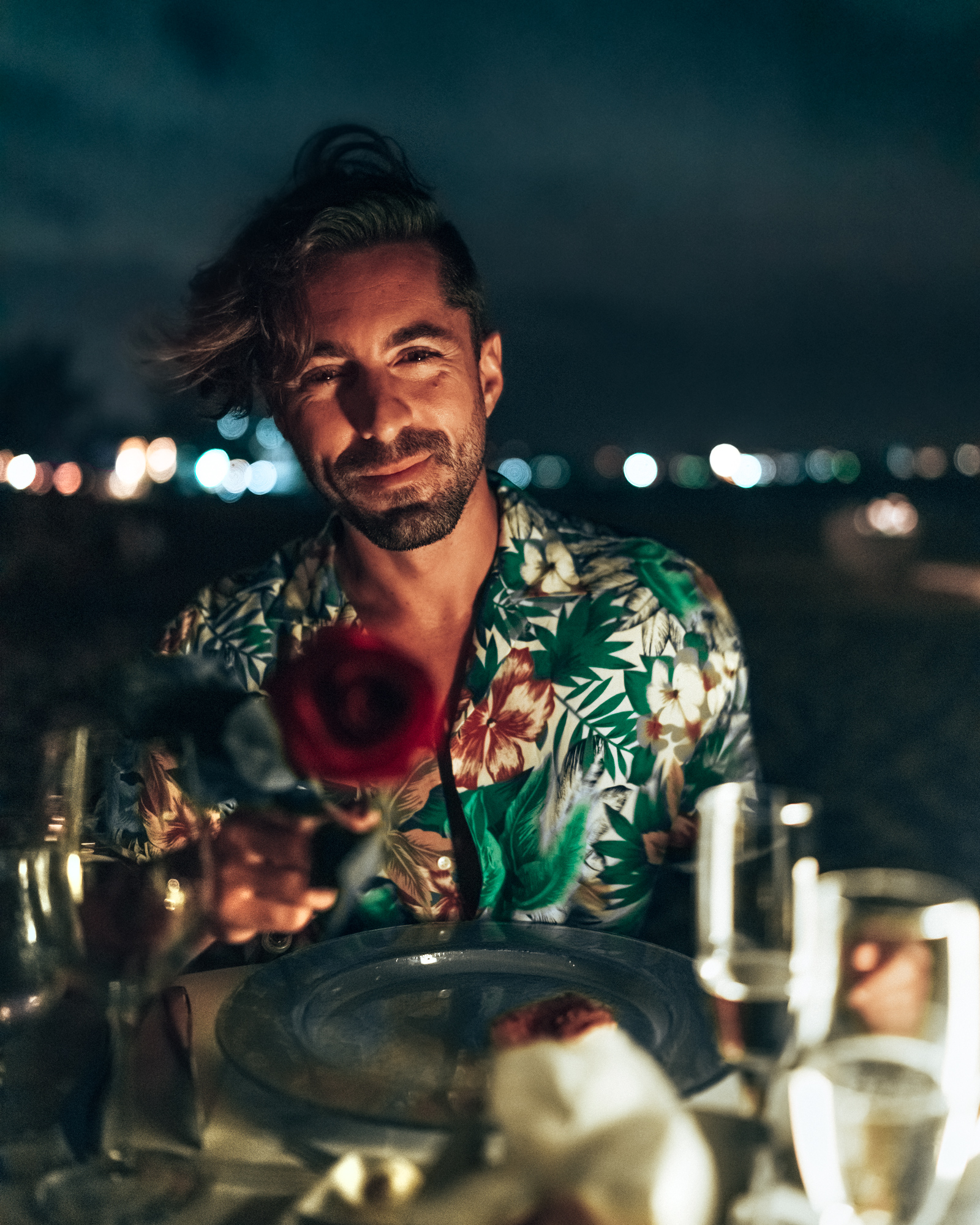 For our last night in Paradise, a dreamy, romantic dinner down on the sand.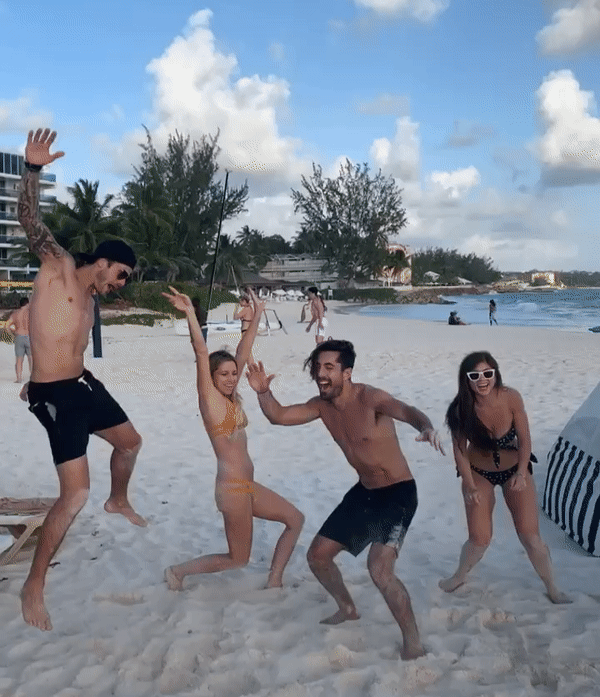 Until we meet again, Barbados!
Shop My Resort Style: