February 20, 2022 Hotels And Resorts
Xcaret Arte Hotel: The Best All-Inclusive Resort in Cancun, Mexico
An all-inclusive, adults-only Rivera Maya hotel with great food, endless bars, beautiful grounds, and a pristine beach-front? Xcaret Arte Hotel delivers - and is the best all-inclusive in the Cancun area. Yes please!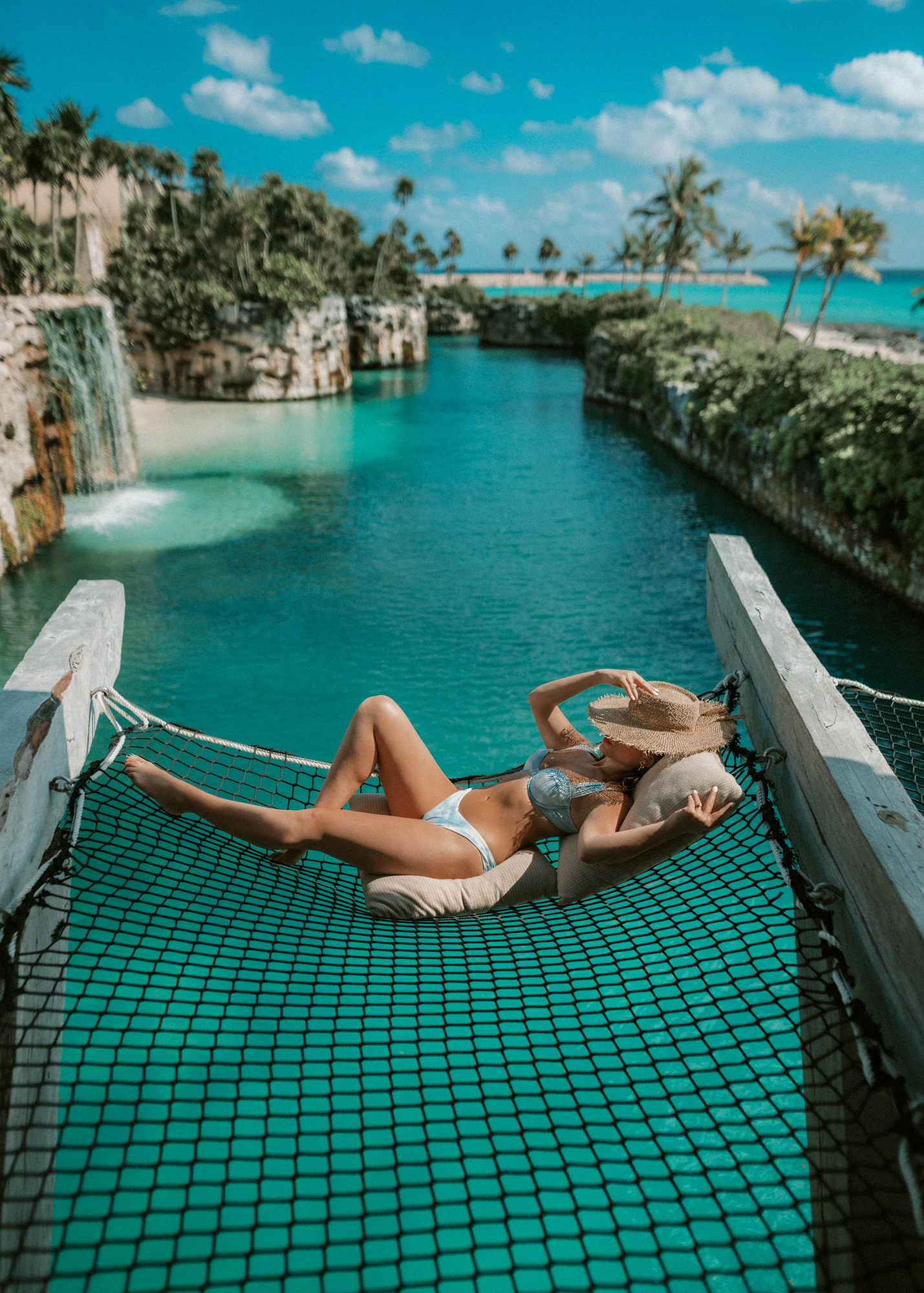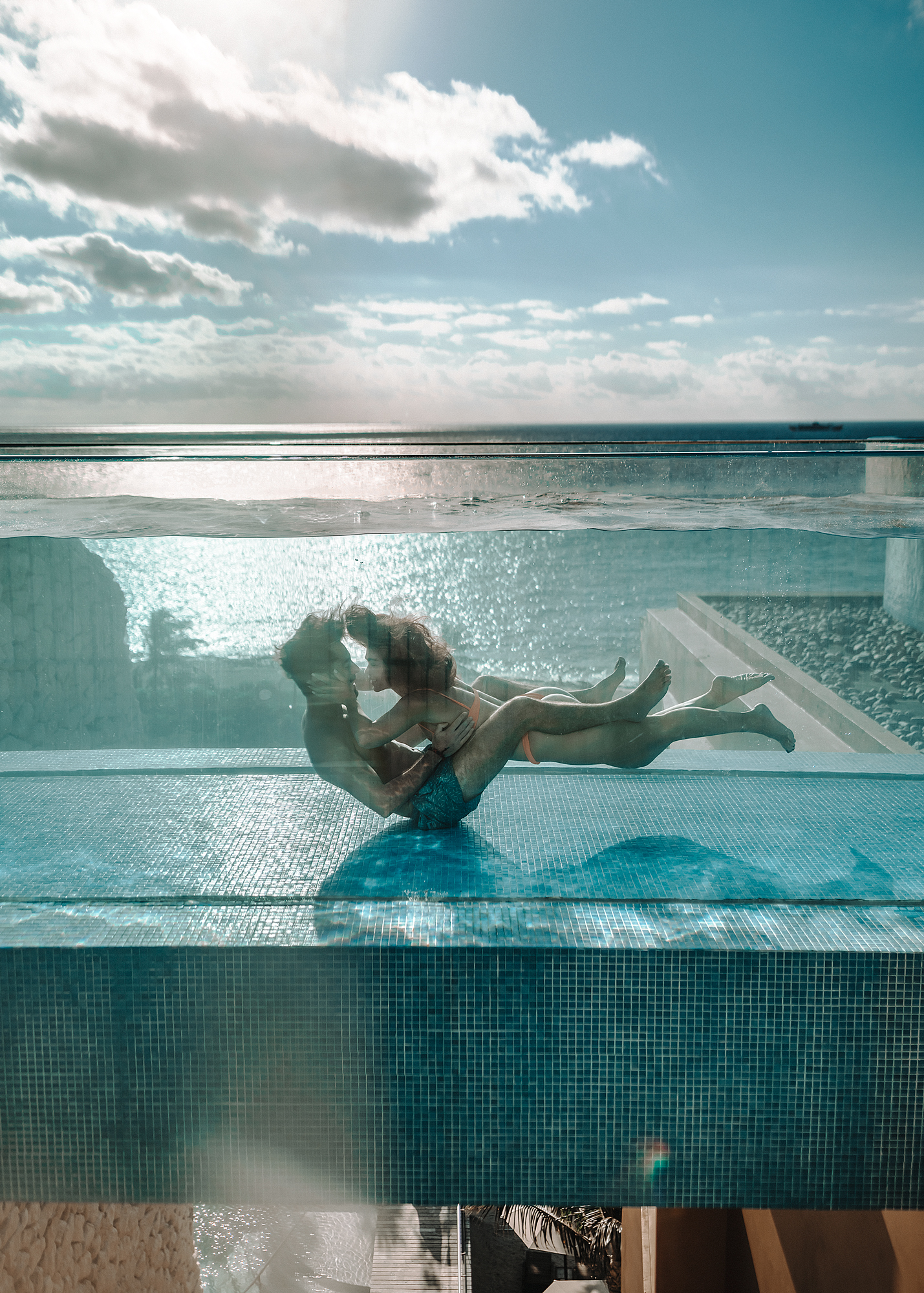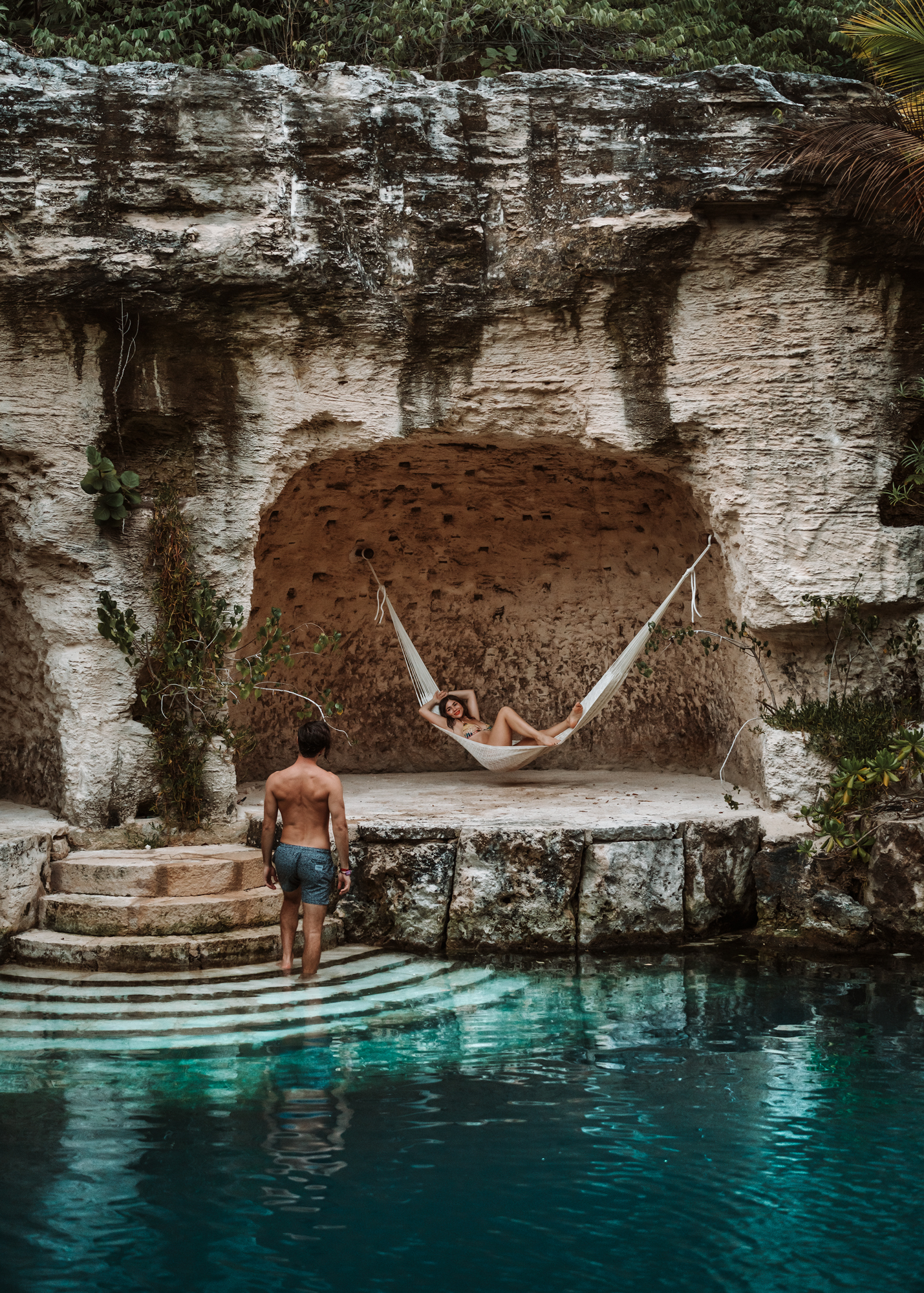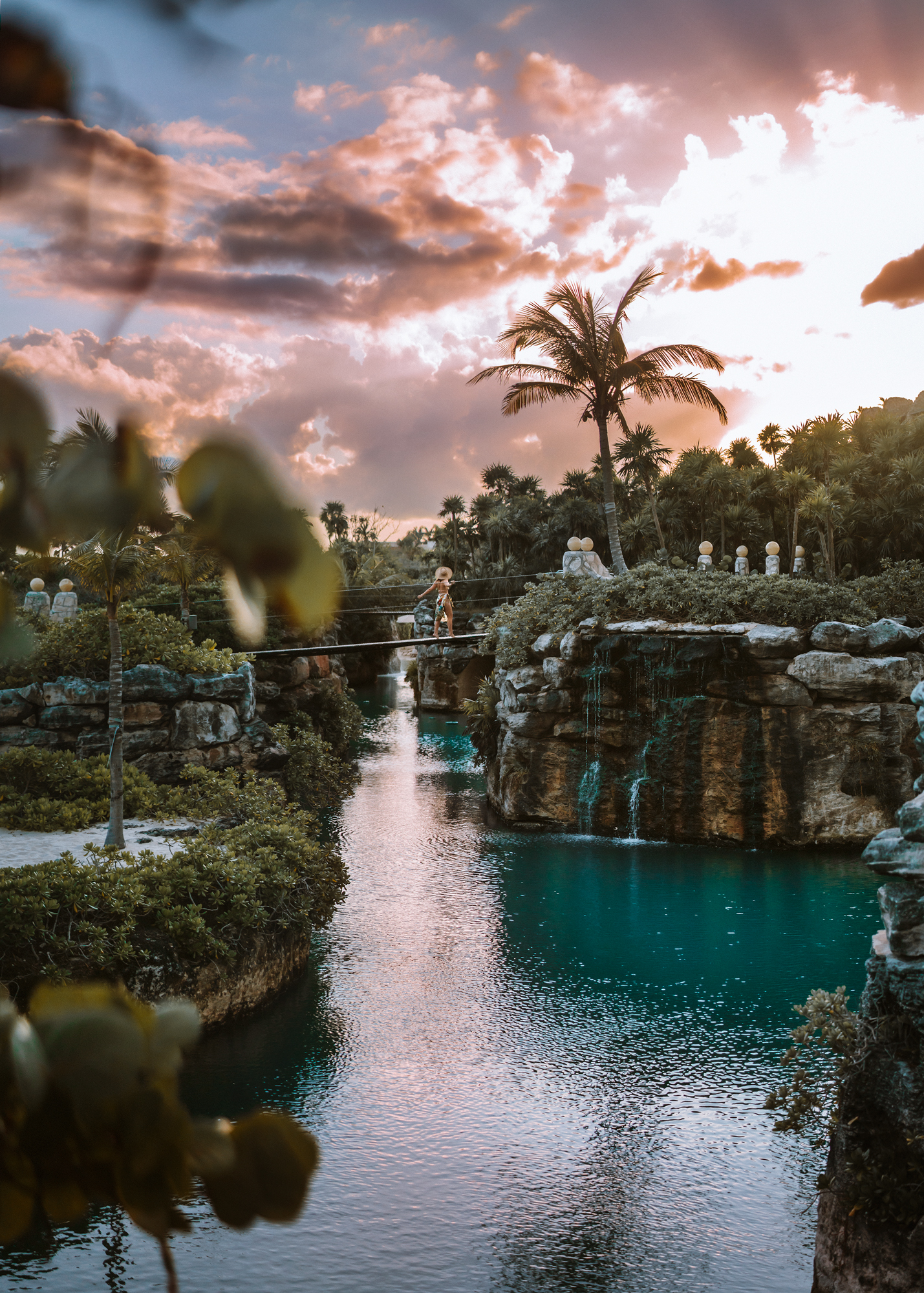 What makes a great resort, and especially a great all-inclusive resort? As a travel photographer for many years now, I have experienced the absolute best highs and lows of travel and hotels, and after much scientific research, this is the definitive list:
Great Food - All-Inclusive resorts especially are not known for their food, as so much of it can be mass-produced and overall a lower quality. A true stand-out (and often hard to find) mark of a high-quality all-inclusive hotel is excellent food, and a variety of cuisines. If the food is exceptionally good, then you know everything else is likely to be as well.
Great Buffets - Yes, this is a subsidiary of food - but a very important one. Sit-down restaurants are an amazing part of a luxury travel experience, but if you're on a time-crunch with activities, in a rush to get to the beach, eating at off times, or just tired of longer meals, having a great buffet or two is so important to a perfect hotel stay.
Convenient Bars & Good Drinks - Swim up bars, cocktail bars, restaurant bars, beach bars! Most people who are looking for at all-inclusive hotel options are wanting the full, open-bar, mimosas with breakfast and piña coladas in the pool type of vacation, and a good hotel has to deliver.
A Great Vibe - A great resort is a mix of a fun, upbeat party, and chill, luxurious, relaxing in the sun days. And unless you're traveling with the whole family, one of the best ways to keep that vibe consistent is to only go for adults-only experiences.
Large, Beautiful Grounds - Unless you're very close to a city, you'll often spend almost all of your time at a resort outside of your excursions/activities. A great resort has a lot to discover over a few days - with multiple pools, restaurants, activities, and areas to walk around and enjoy.
Helpful Service - There's a phrase that the most luxurious of service is one you don't see happening - everything just appears clean or taken care of when your back is turned. The best hotel service is help when you need it, and peace when you don't. Xcaret Arte offers private butlers that you can text with all of your questions, reservations, or if you need directions - which went such a long way!
A Variety of Experiences - Whether that be on property or off property excursions, a really good vacation is full of variety of experiences - whether you're more into adventures, or relaxing.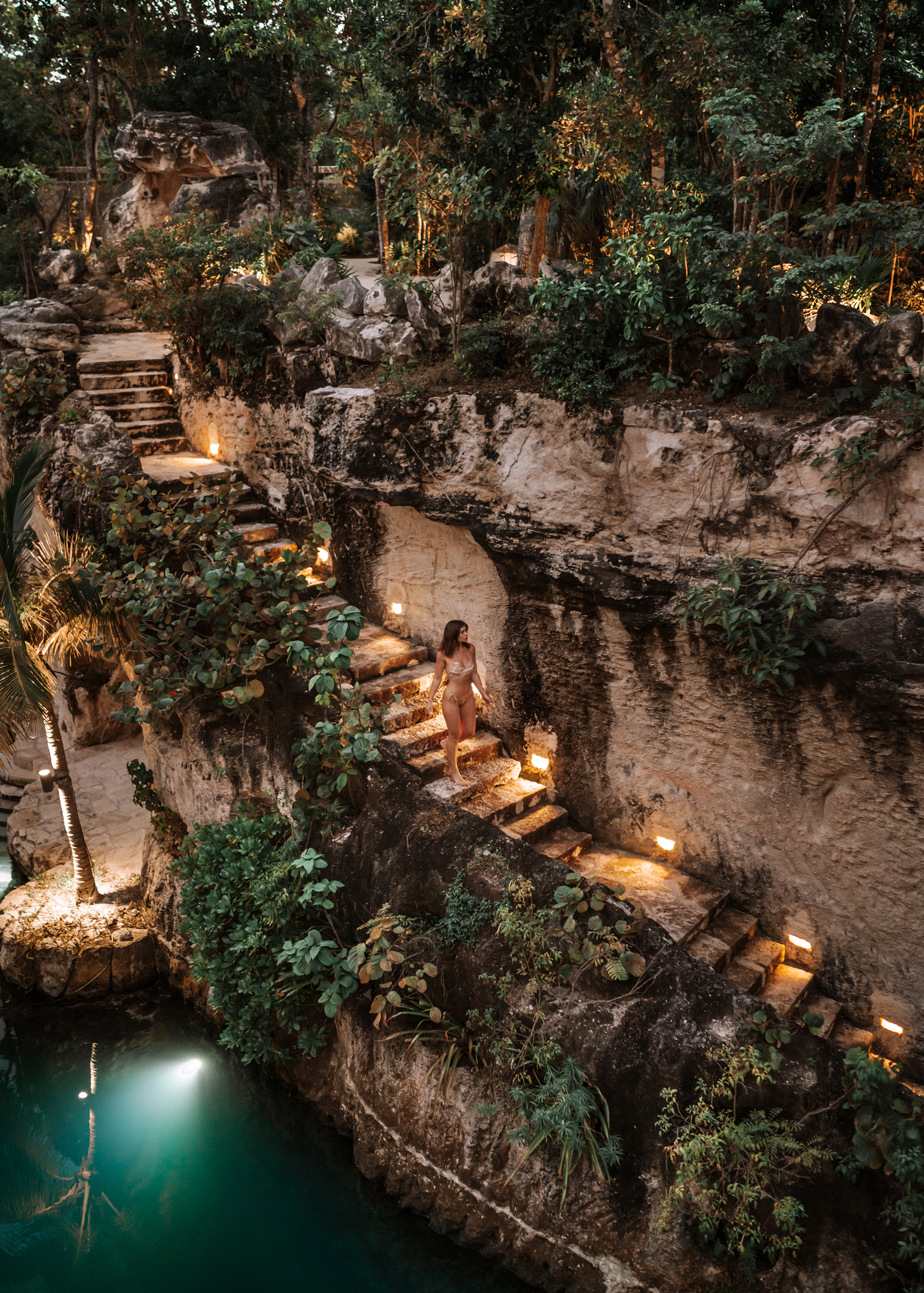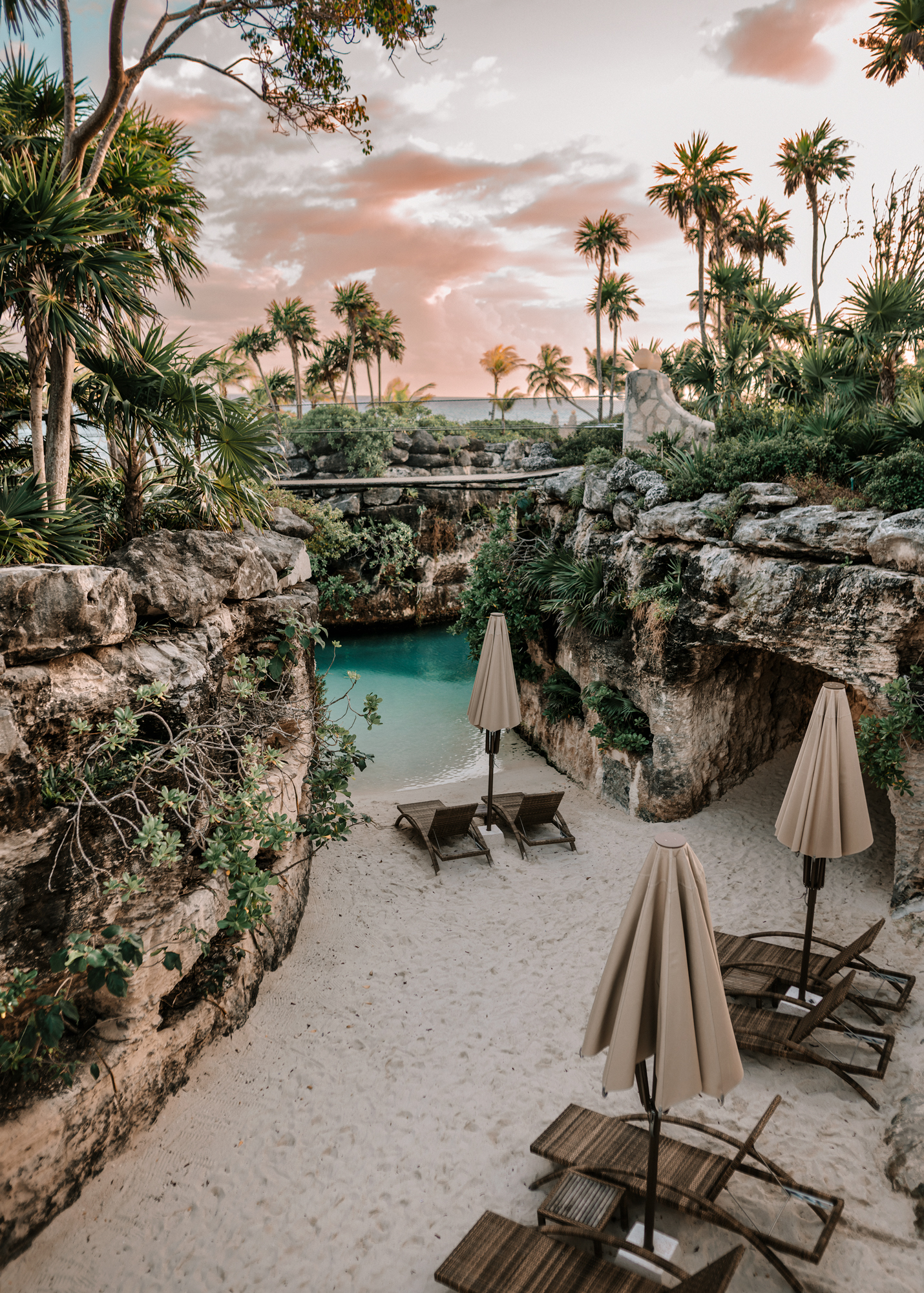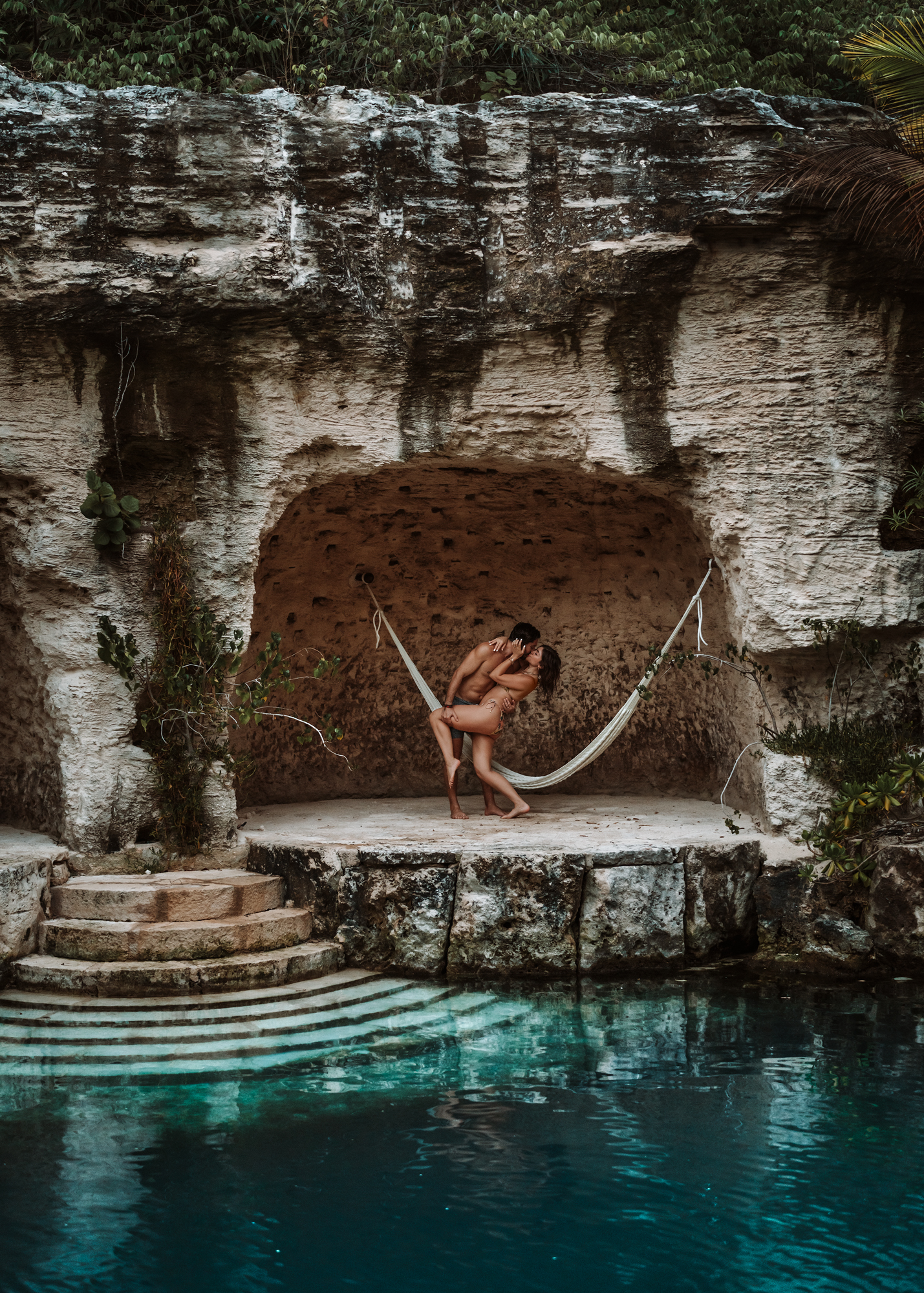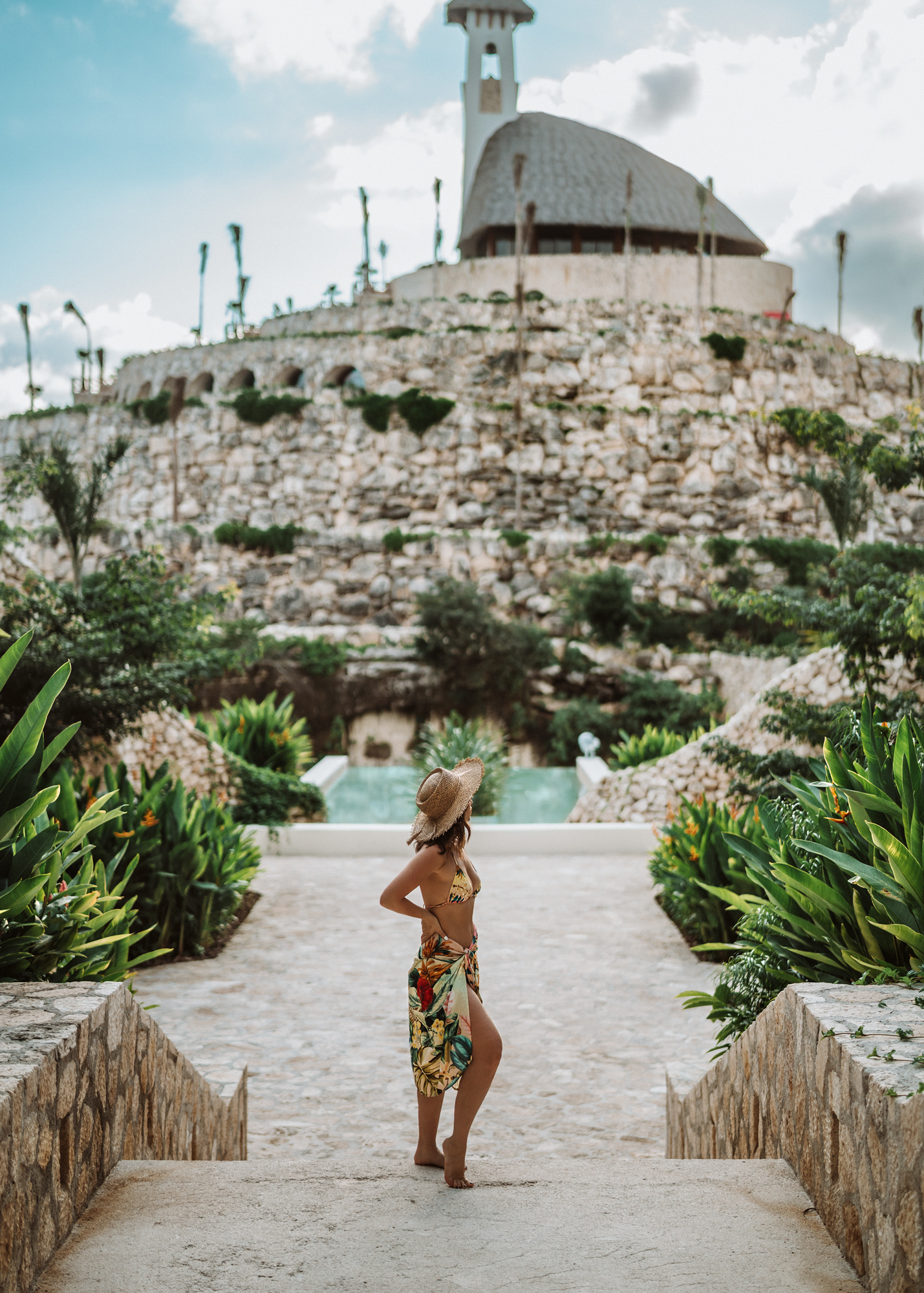 Are you ready to book yet? Check the best prices at these links -
The Food / Restaurants: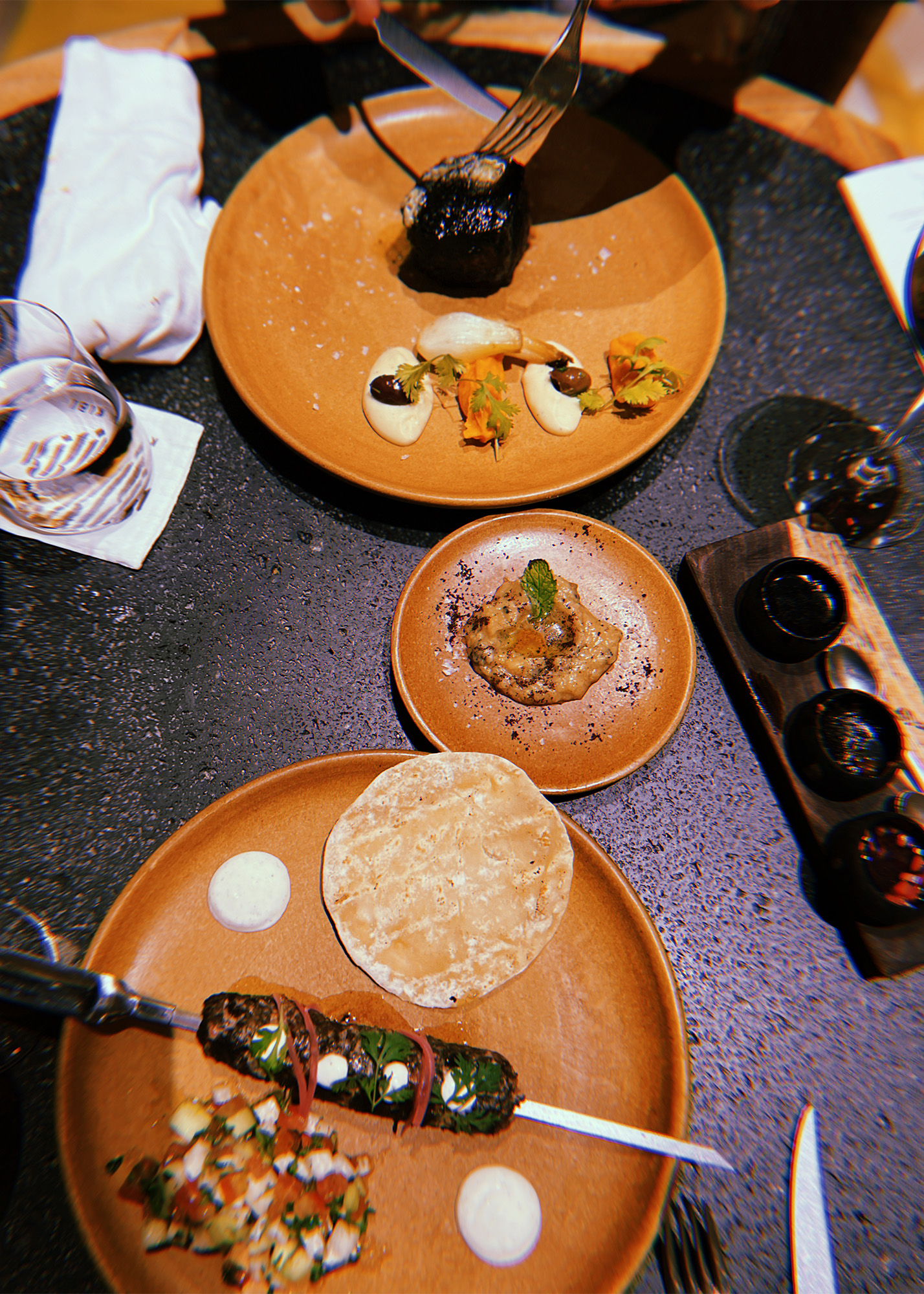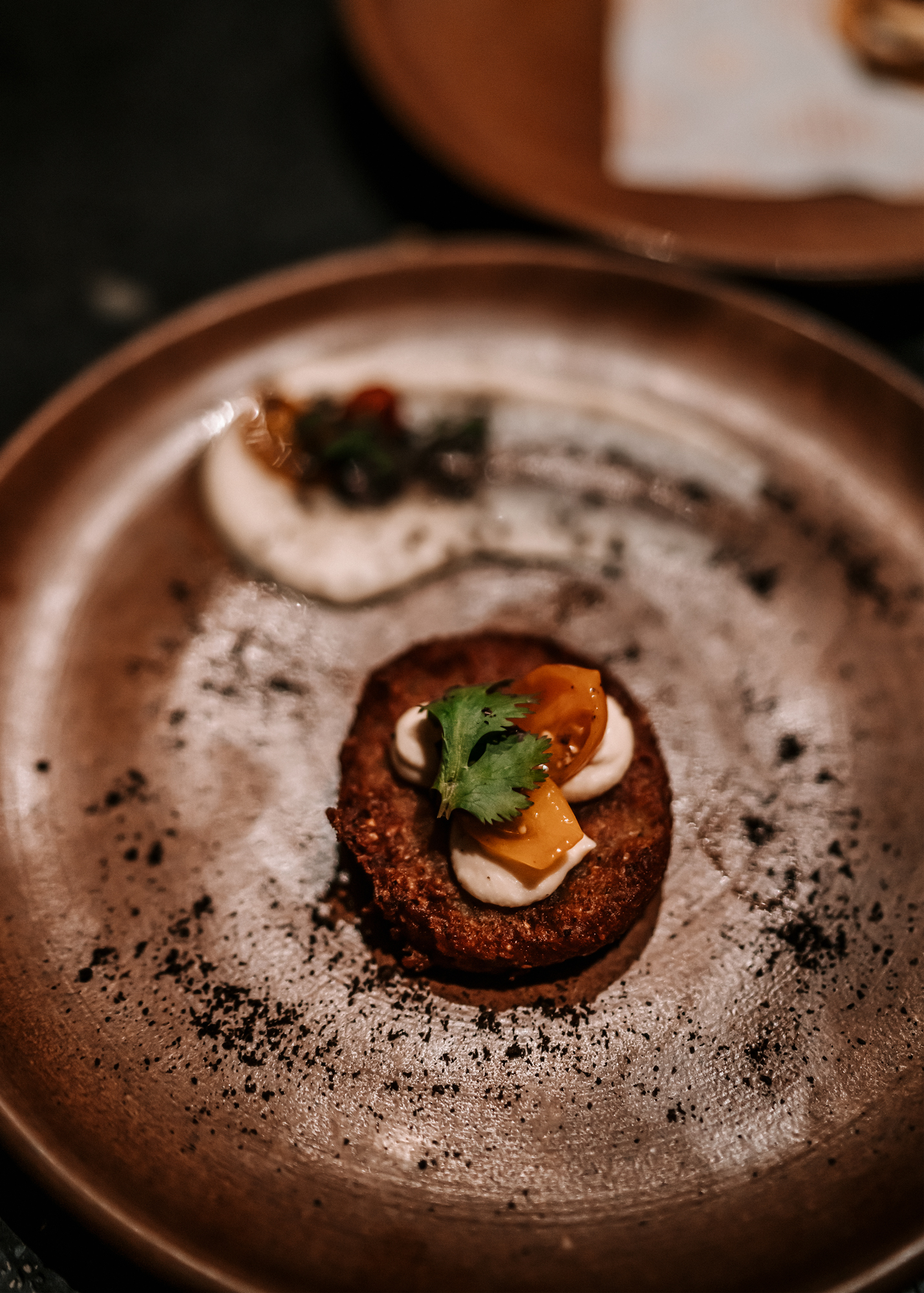 Highlights from Dinner at Kibi Kibi restaurant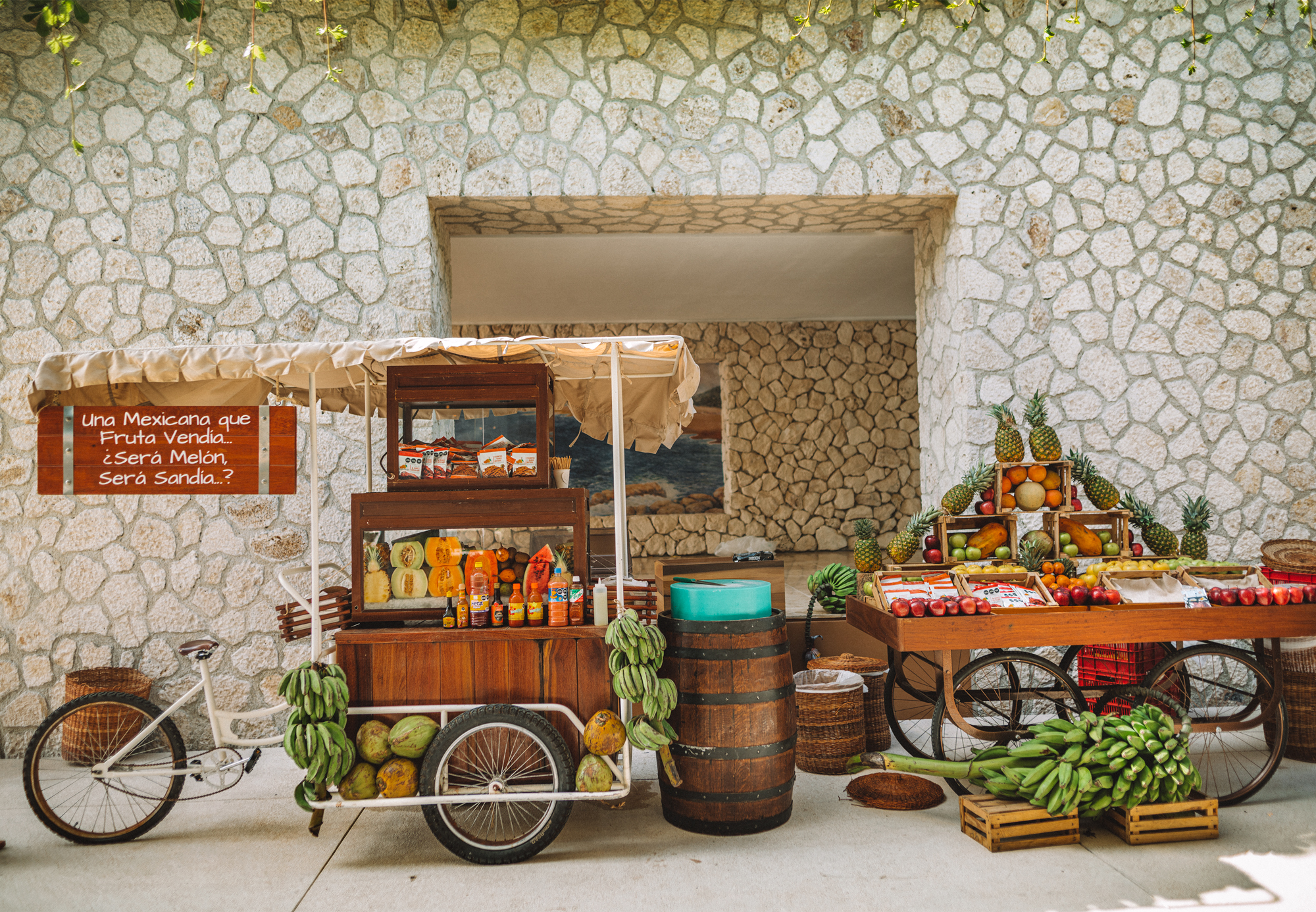 The pool-side afternoon fresh fruit stand
One of the biggest standouts of Xcaret Arte that make me recommend the resort so highly is the incredible food. Especially for an all-inclusive, Brandon and I were consistently impressed with the food here, both in the authentic Mexican dishes and the international themed restaurants. We shared a number of meals with friends with food allergies and restrictions, and all the restaurants did a fantastic job of accommodating their dietary needs.
Kibi Kibi Restaurant - Yucatan cuisine with Lebanese influences.
This one is well worth a reservation! The roasted garlic here was unreal, we ordered at least three orders of it. Stand outs were the rib eye, lamb kofta, and wines from Mexico's own Valle de Guadalupe
Mercado de San Juan Restaurant - An insanely large and high-quality buffet
We ate breakfast here every morning, instead of trying any of the other restaurant options for breakfast, we were so happy with this buffet that we kept coming back for more. Don't miss the tamale station, the cold press green juices, and the chilaquiles verde!
Tah-Xido - Japanese, with Teppanyaki tables
I always love a teppanyaki show! Dinner here was both really fun and delicious - get the surf and turf option and sake!
XAAK - A tribute to regional food with Pre-Colombian influences that celebrates Mexican cuisines and its origins.
This was the only restaurant we really wanted to try and didn't get a chance to - but we heard that it is incredible. Make a reservation for this one if you can!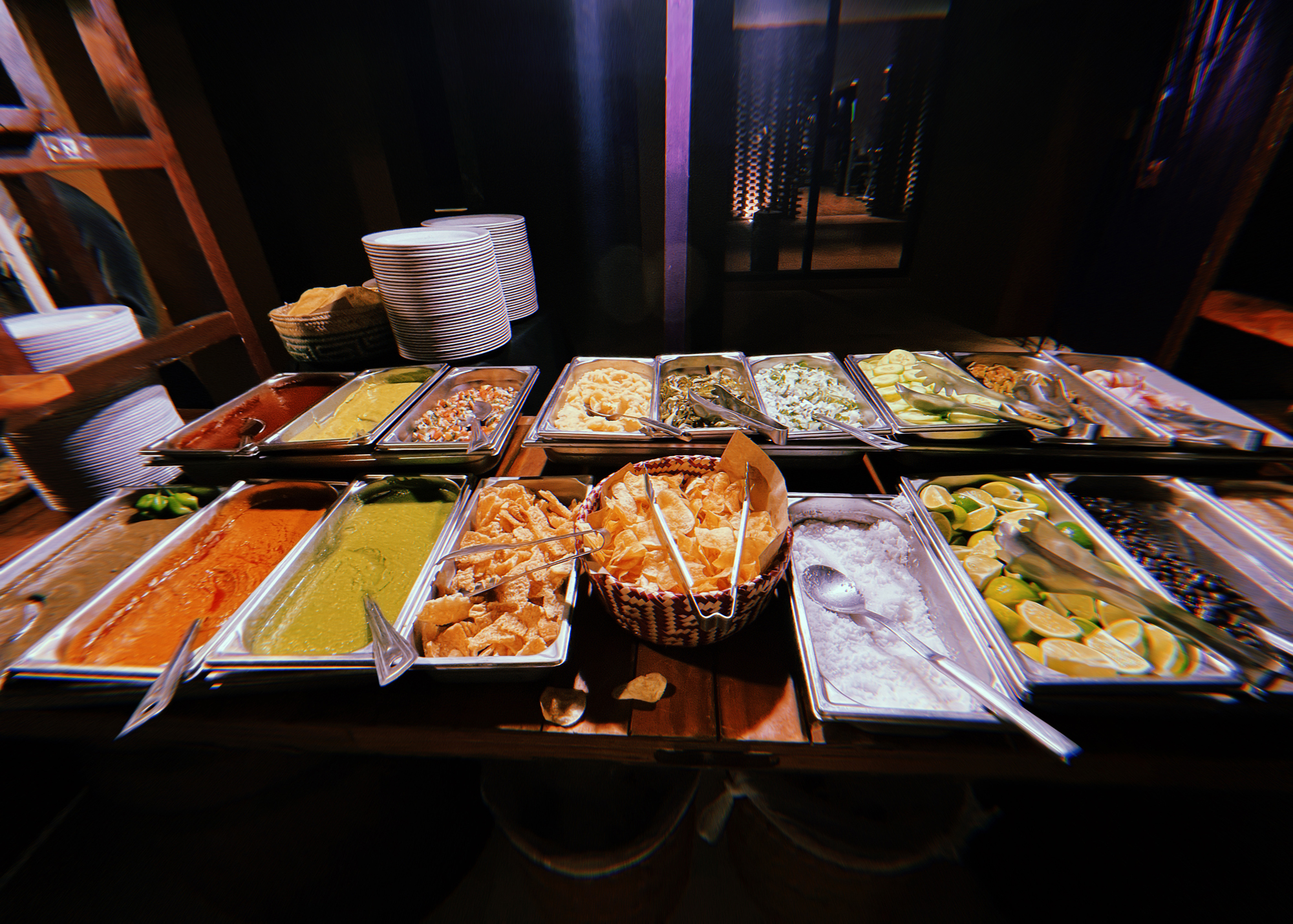 The last night taco stand - We stayed out at the El Deseo speakeasy bar on our last night (this one is actually quite hidden in true speak-easy fashion - ask your butler for help finding it!) and upon leaving the bar after a few margaritas, this amazing taco appeared in front of us like a beautiful mirage. As local Los Angelenos, there is nothing we love more than late night tacos to end a wild night, and this one did not skimp on the details - this was as authentic as they come, and we were so happy to have a couple of tacos to soak up all the tequila.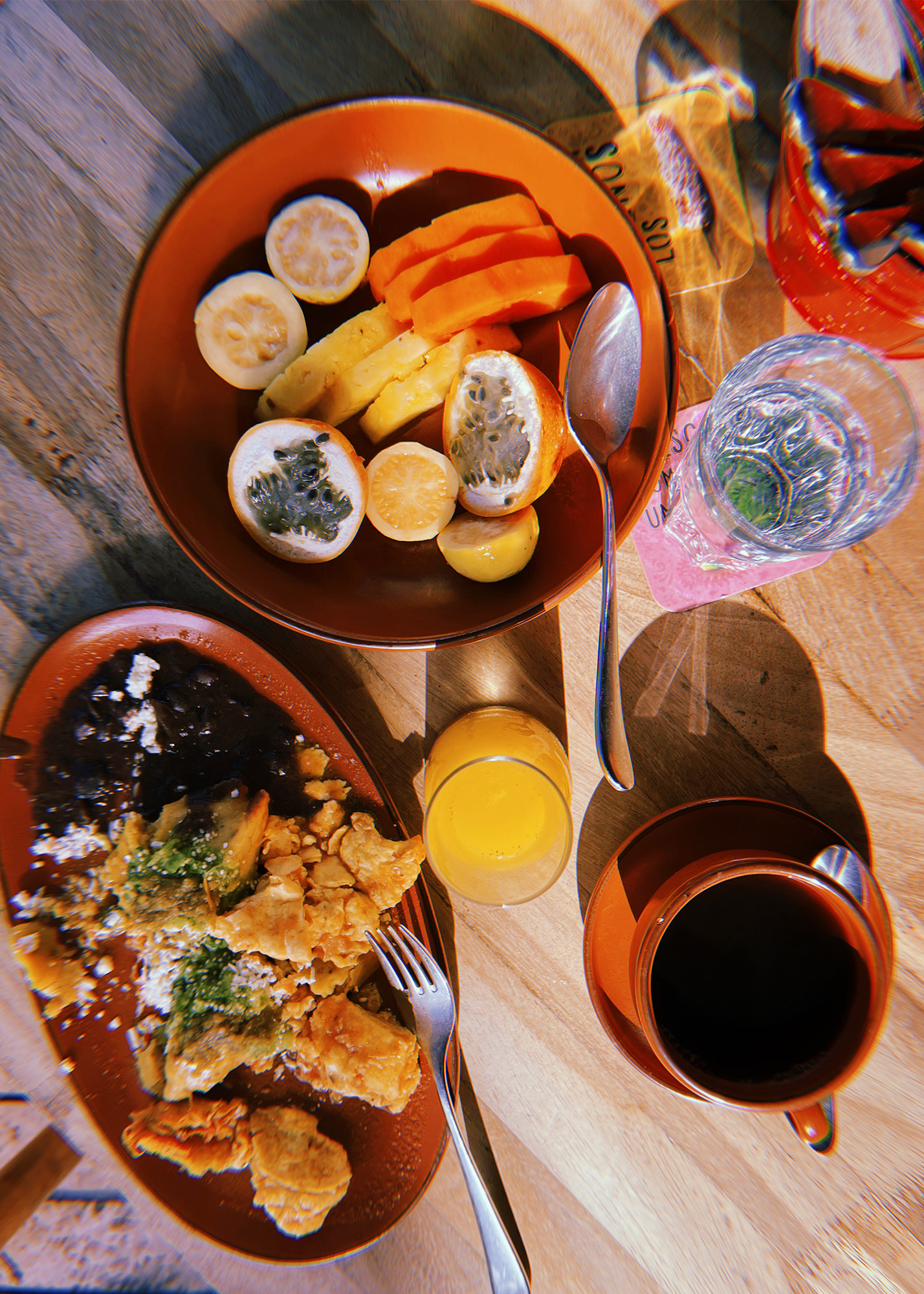 Highlights from the breakfast buffet at San Juan Mercado - I stopped at the Oaxacan station every morning for refried black beans, and eggs cooked in pork red sauce.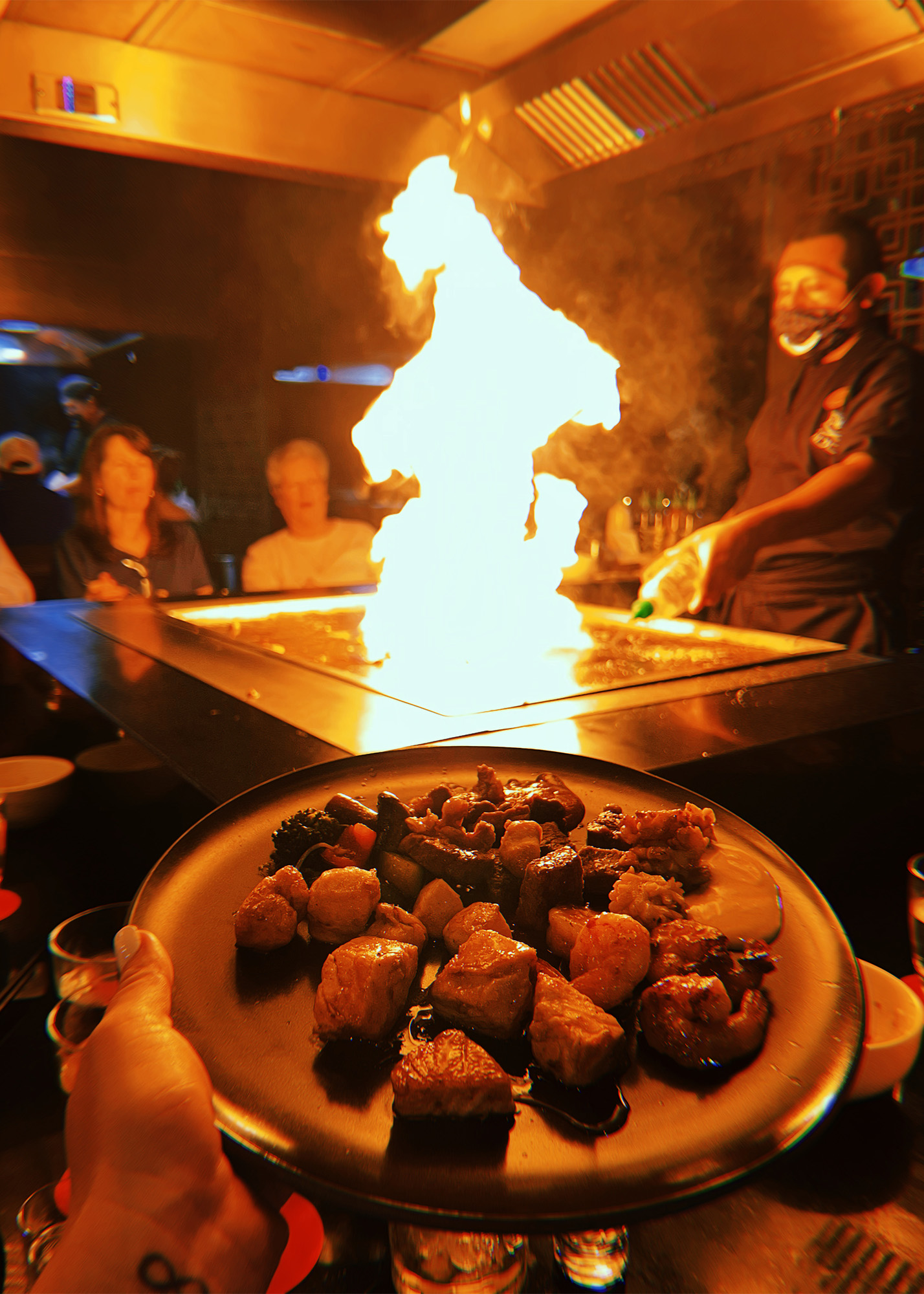 Dinner and a show at Tah-Xido
The Drinks / Bars: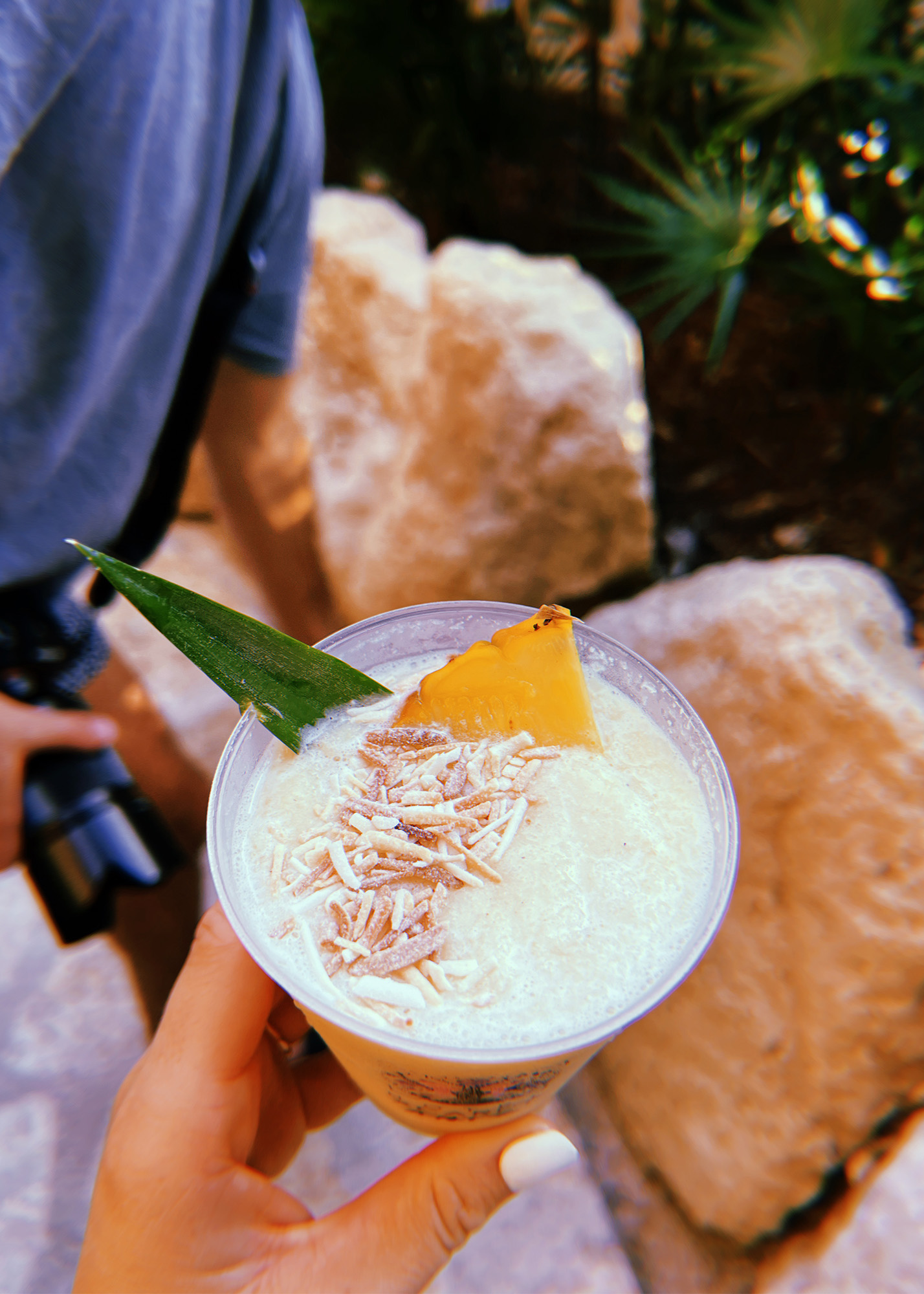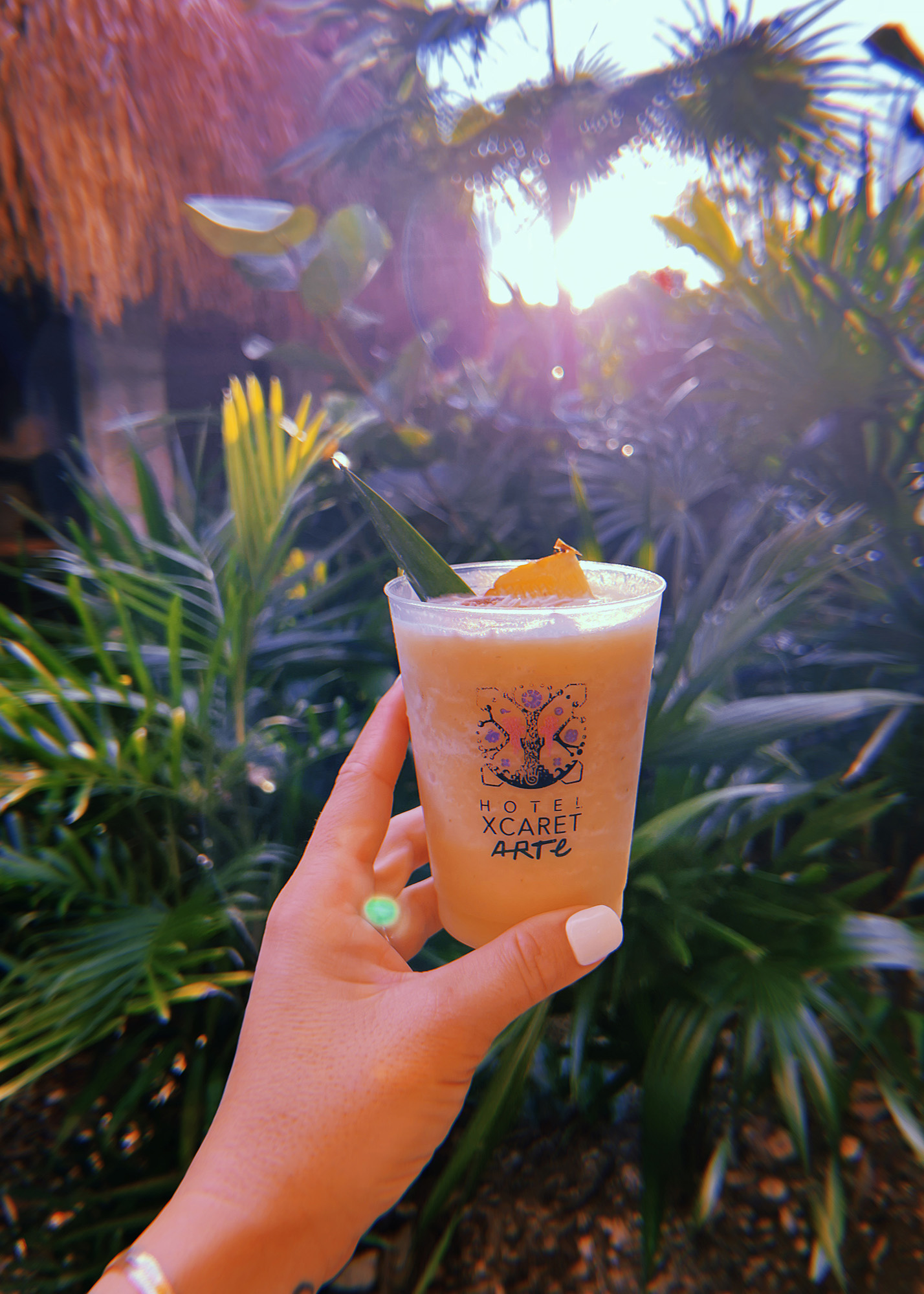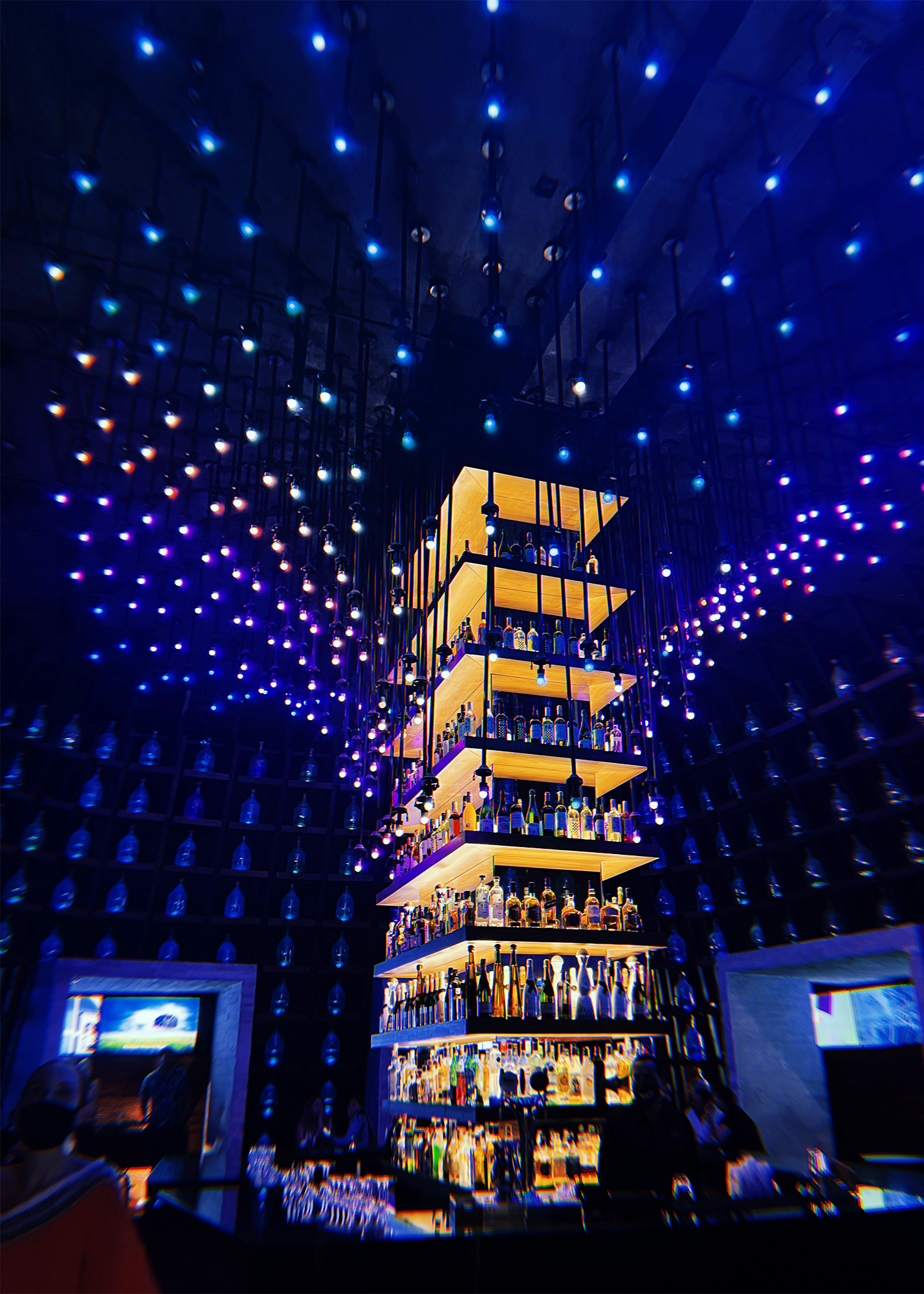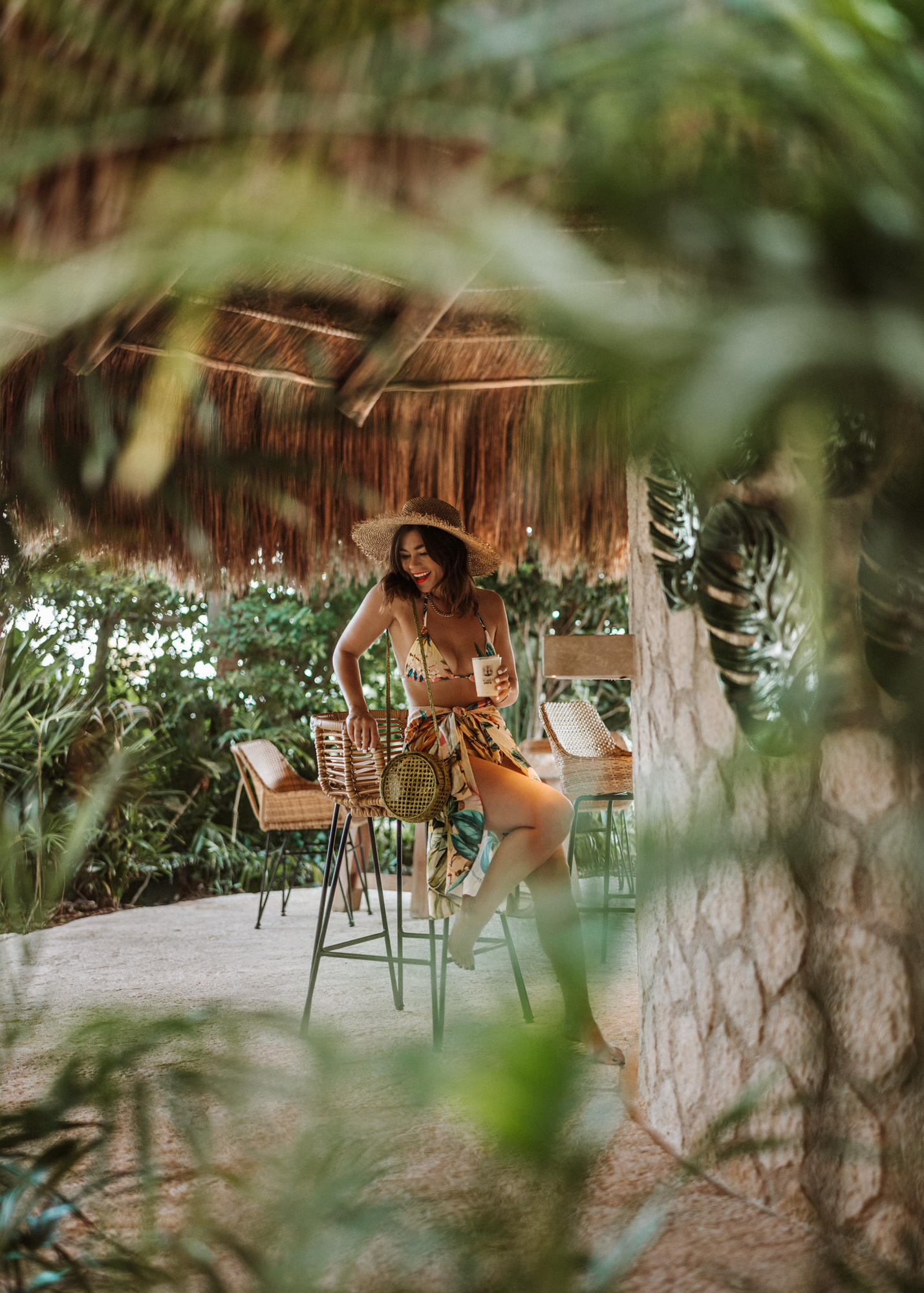 Honestly, we didn't drink too much on our trip besides some wine and margaritas with dinner, but the bar options were plentiful - it constantly felt like we would turn a corner and find a beautiful little bar hidden in the jungle (like the one pictured above!) But just look at the detail on my little sunset piña colada - the dried coconut and pineapple topper and the decorative leaf. I never see this kind of detail at all-inclusive bars and it was such a delight. The tequila selection was also quite expansive and kept Brandon happy!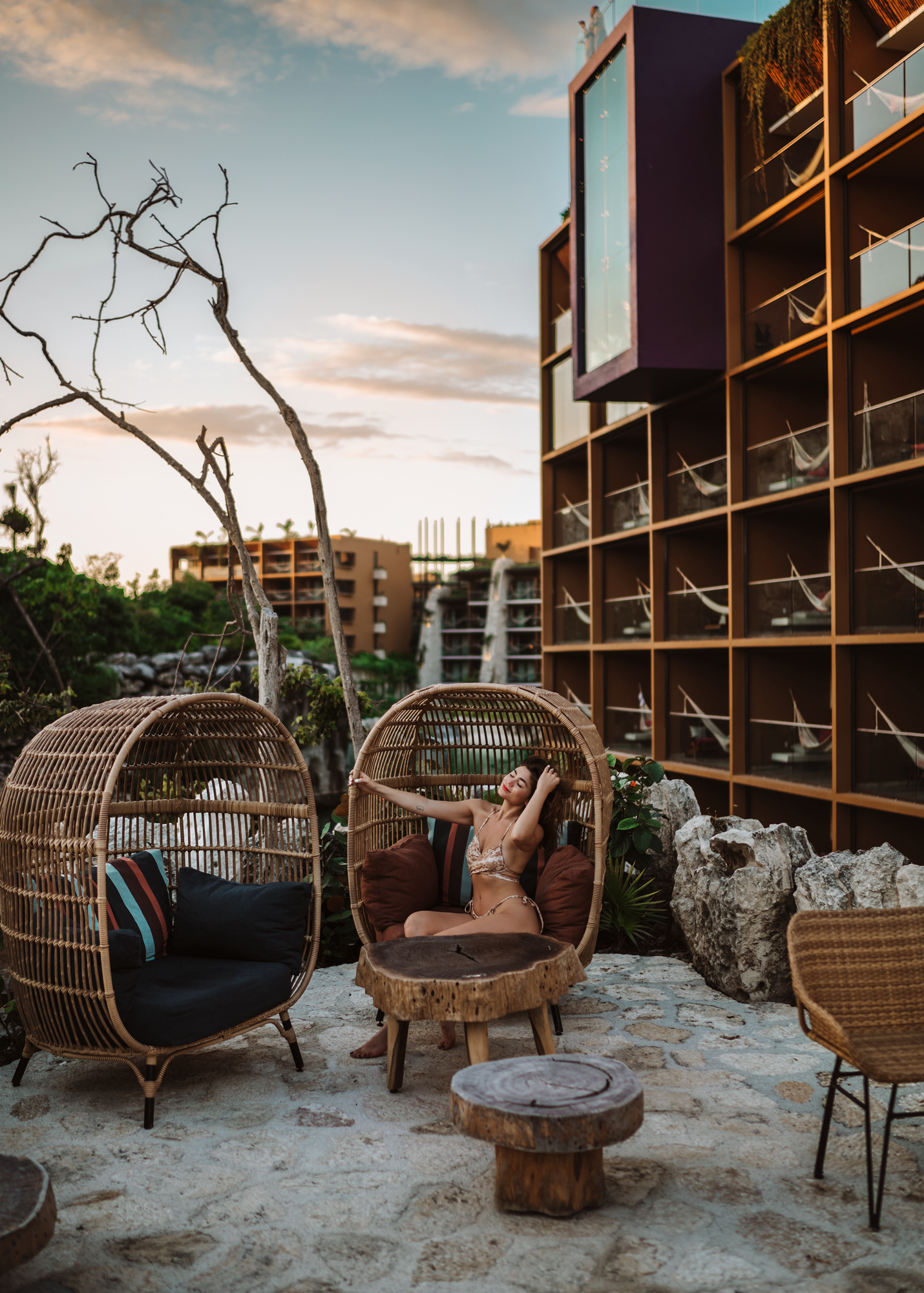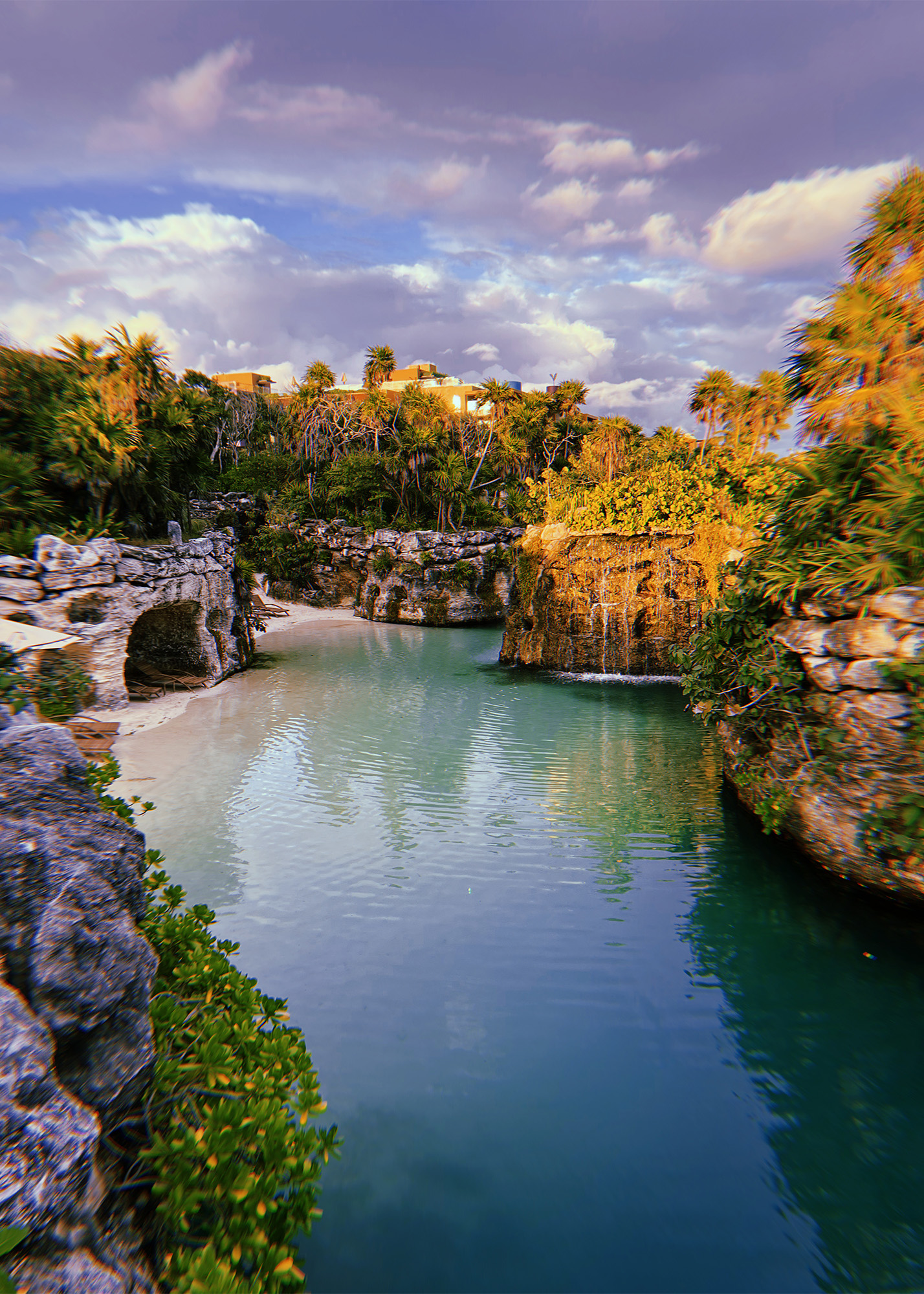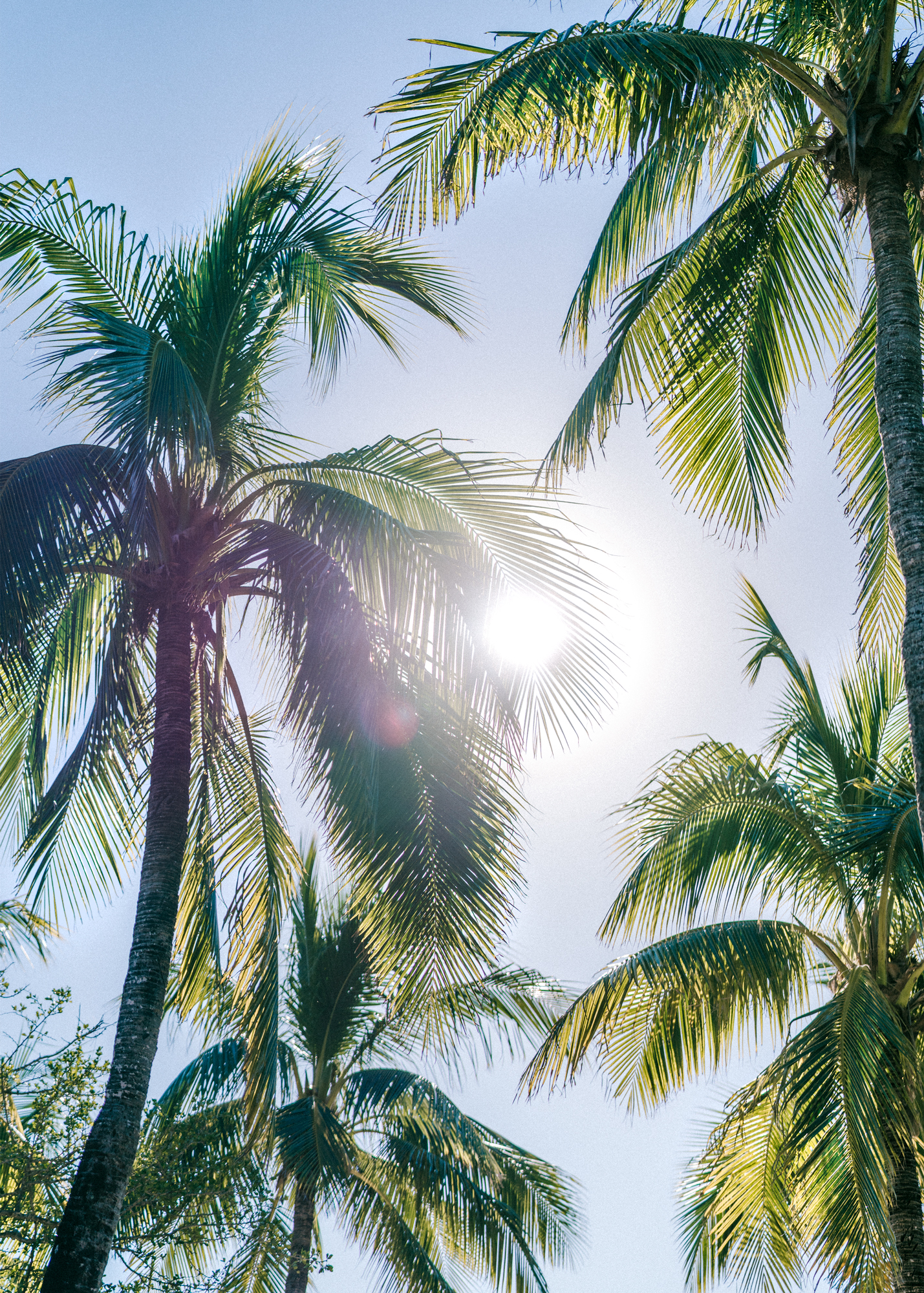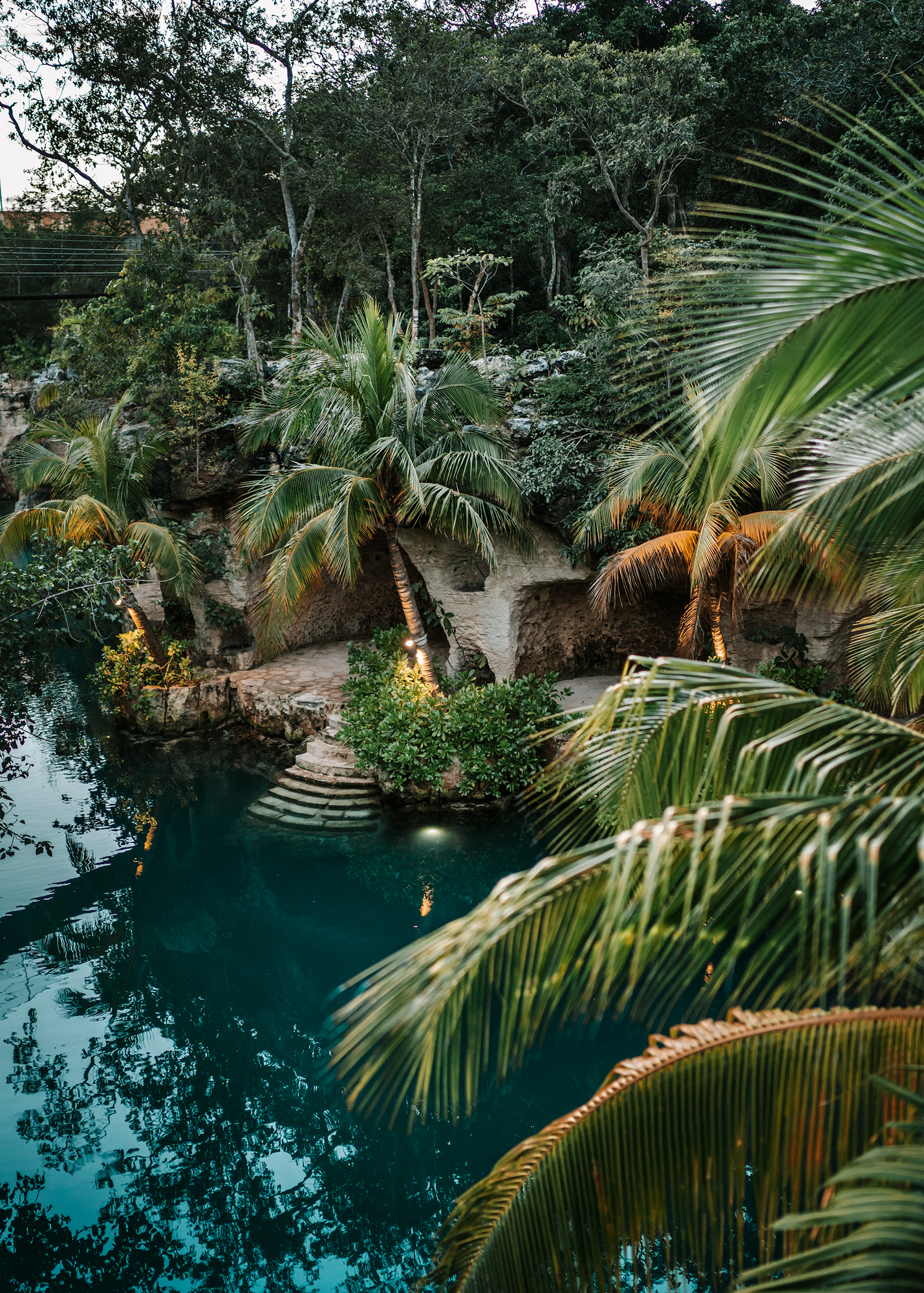 What To Do:
If you're not familiar with Xcaret Group, the group owns a multiple of amusement parks, tours, and adventure excursions all over the Quintana Roo area, where you can do everything from Ziplining, White Water Rafting and Off-roading, to touring Cenotes and Chitzen Itza, to experiencing Xenses or Xcaret Fuego - the entire area has endless options of what to do.
We spent one day in the tropical water of Xel-Ha, and one day swimming, repelling, and kayaking in cenotes with the Xenote Tour. One of the coolest parts of Xcaret, is that you can book the "All Parks All Fun All Inclusive" package - meaning that your excursions, including Xcaret, Xel-Há, Xplor, Xplor Fuego, Xenses, Xoximilco, Xavage, and Xenotes, as well as all meals and drinks - are included in your hotel booking. Which means you have the opportunity to explore as many of the parks and you want without any additional costs, and you know exactly how much the entire trip will cost you upfront. This price also includes airport and excursion transfers. I LOVE this all-in-one idea, because I hate calculated costs when I'm traveling and taking care of everything in advance means that I can relax and enjoy as much as possible.
Check out the best prices on a true all-inclusive experience here.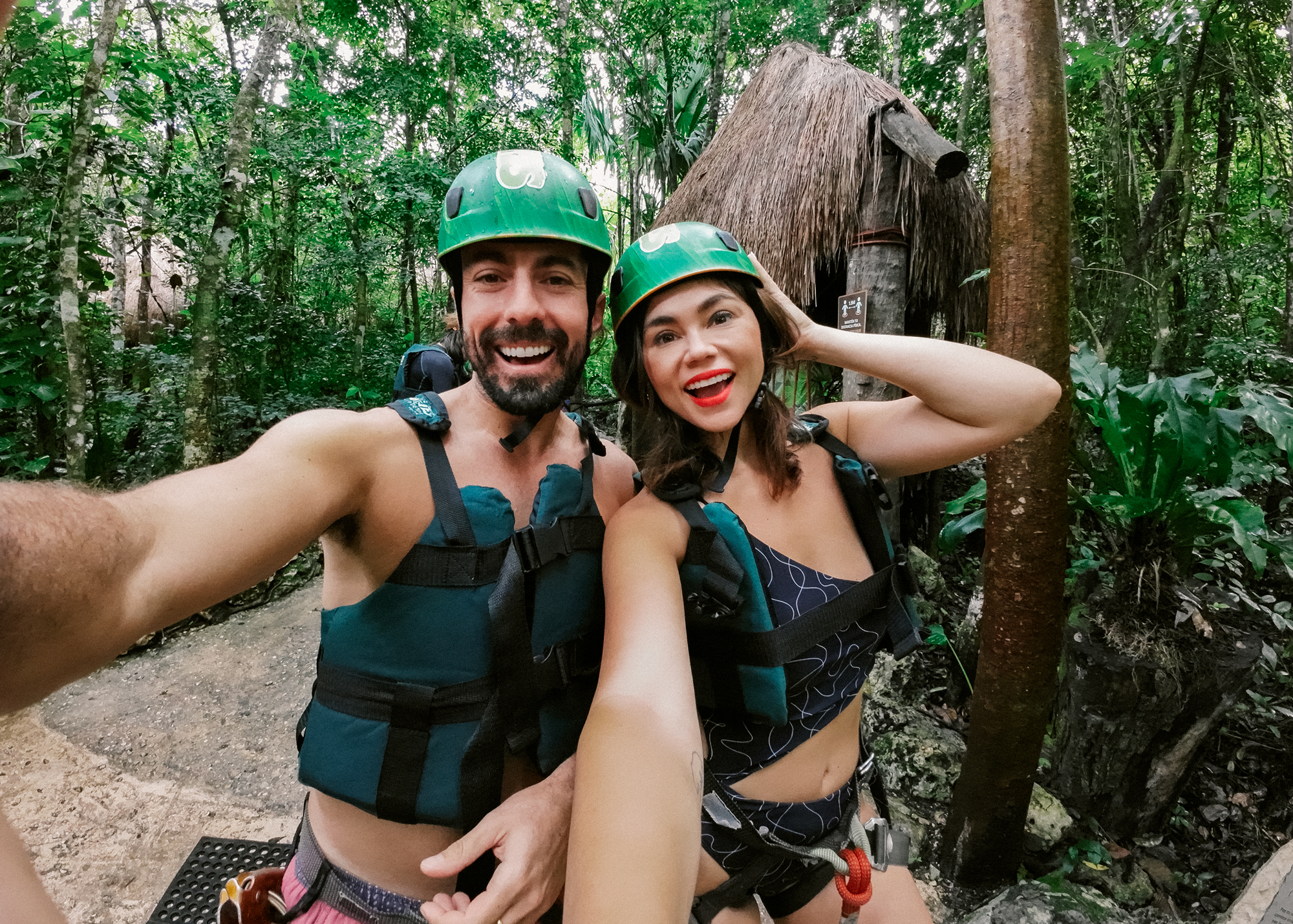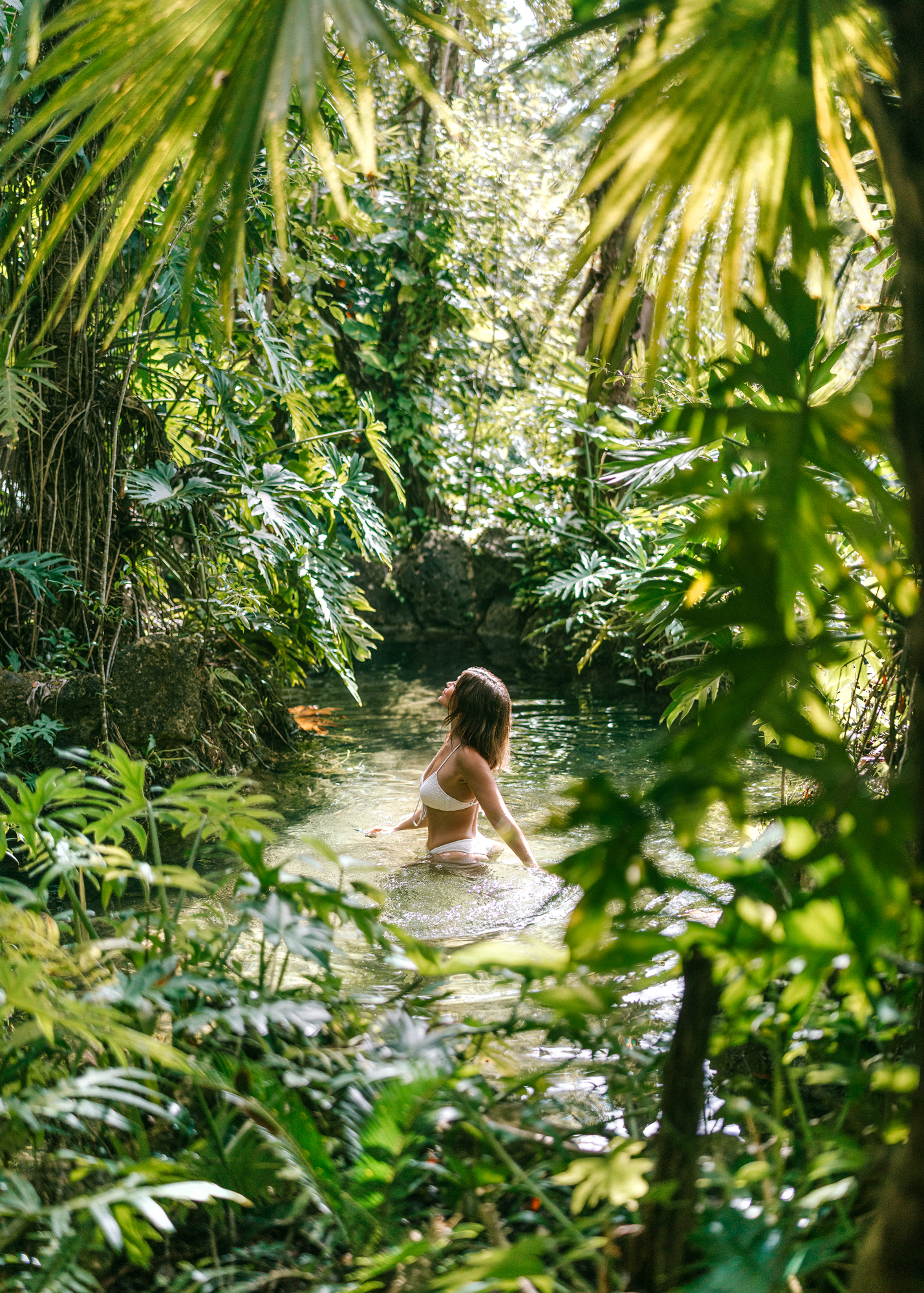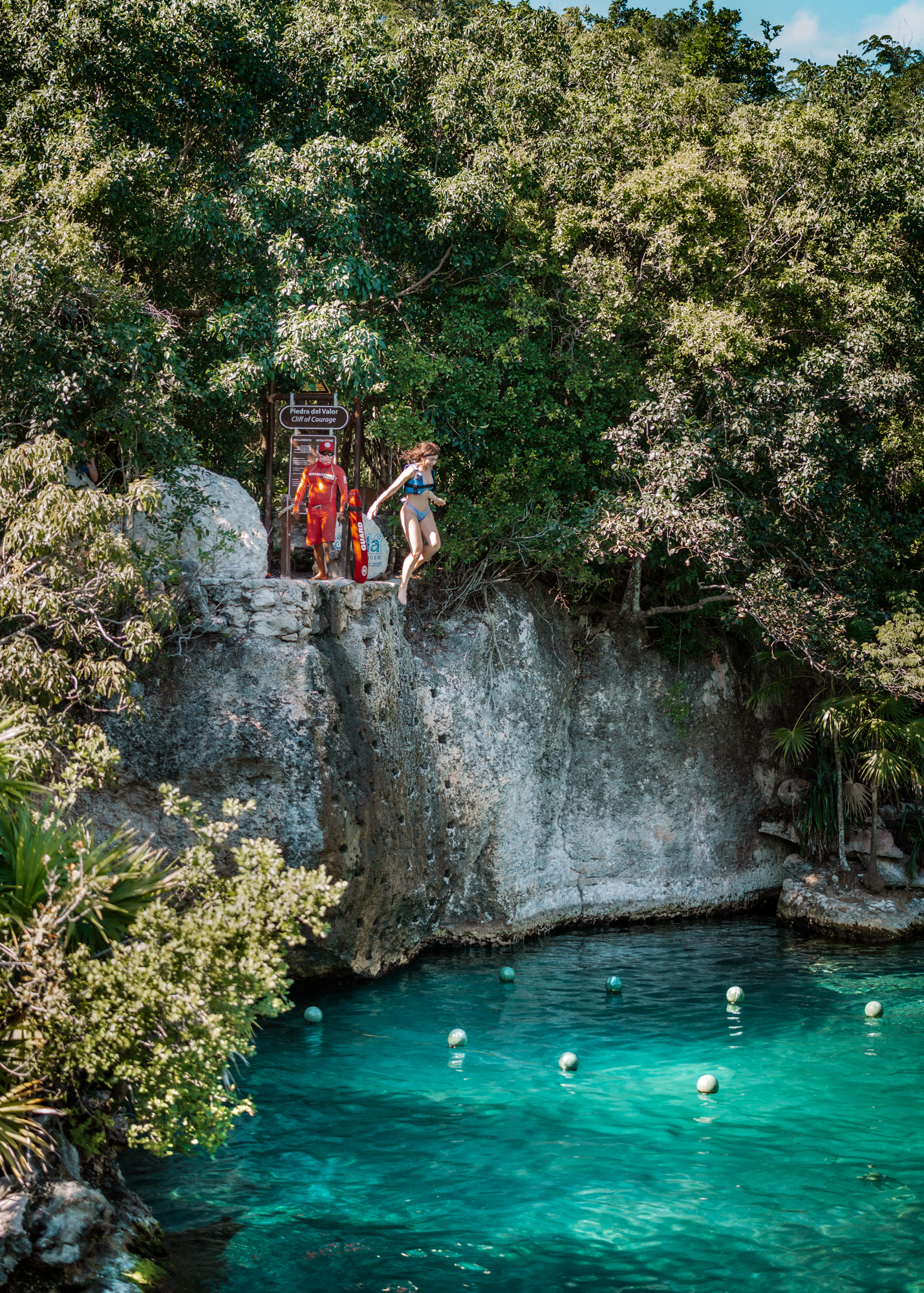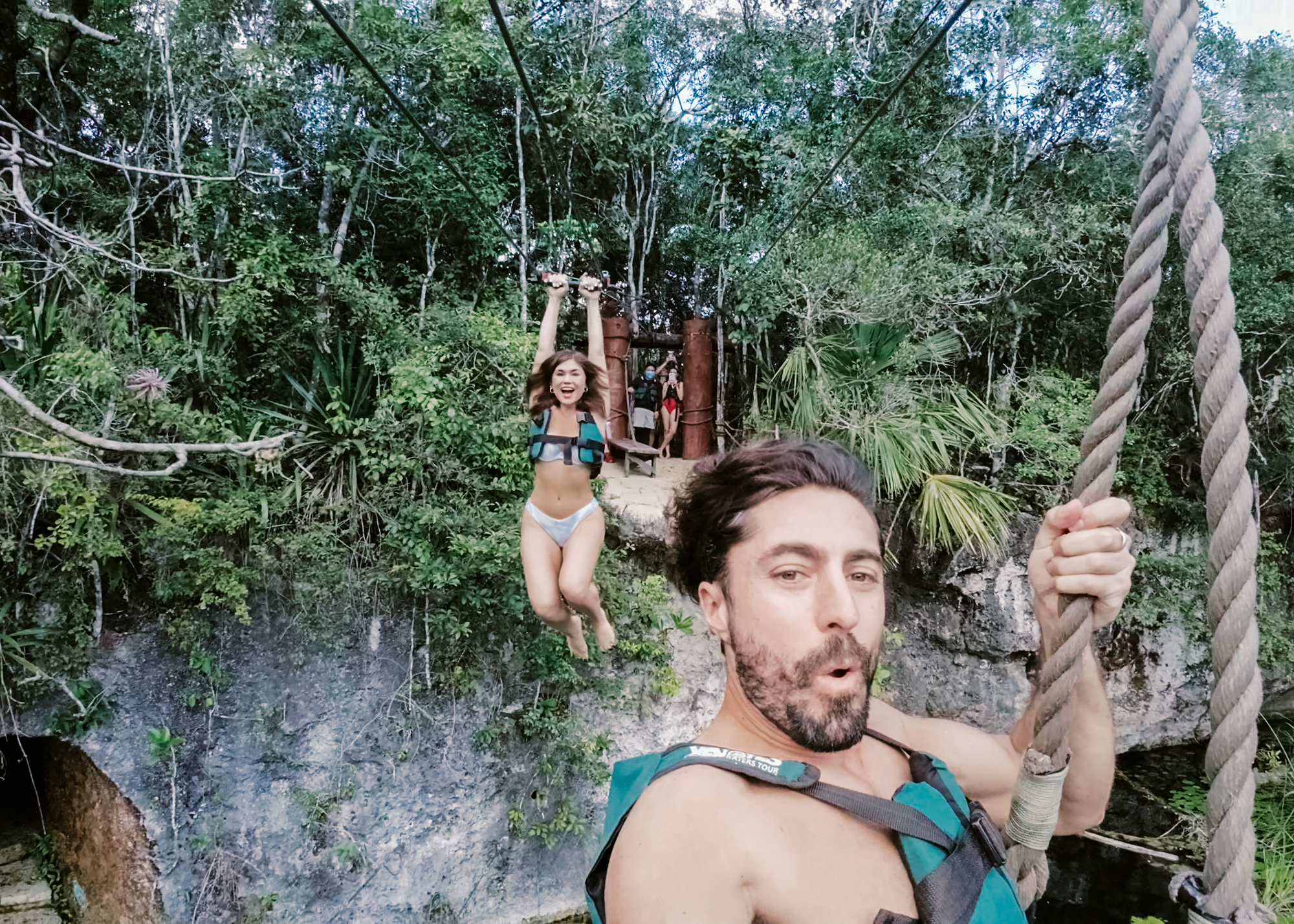 We spent one day at Xel-Ha waterpark and one day on the Xenotes excursion - and had so much fun!
What to Pack:
A few items not to forget....
A Beachy Tote Bag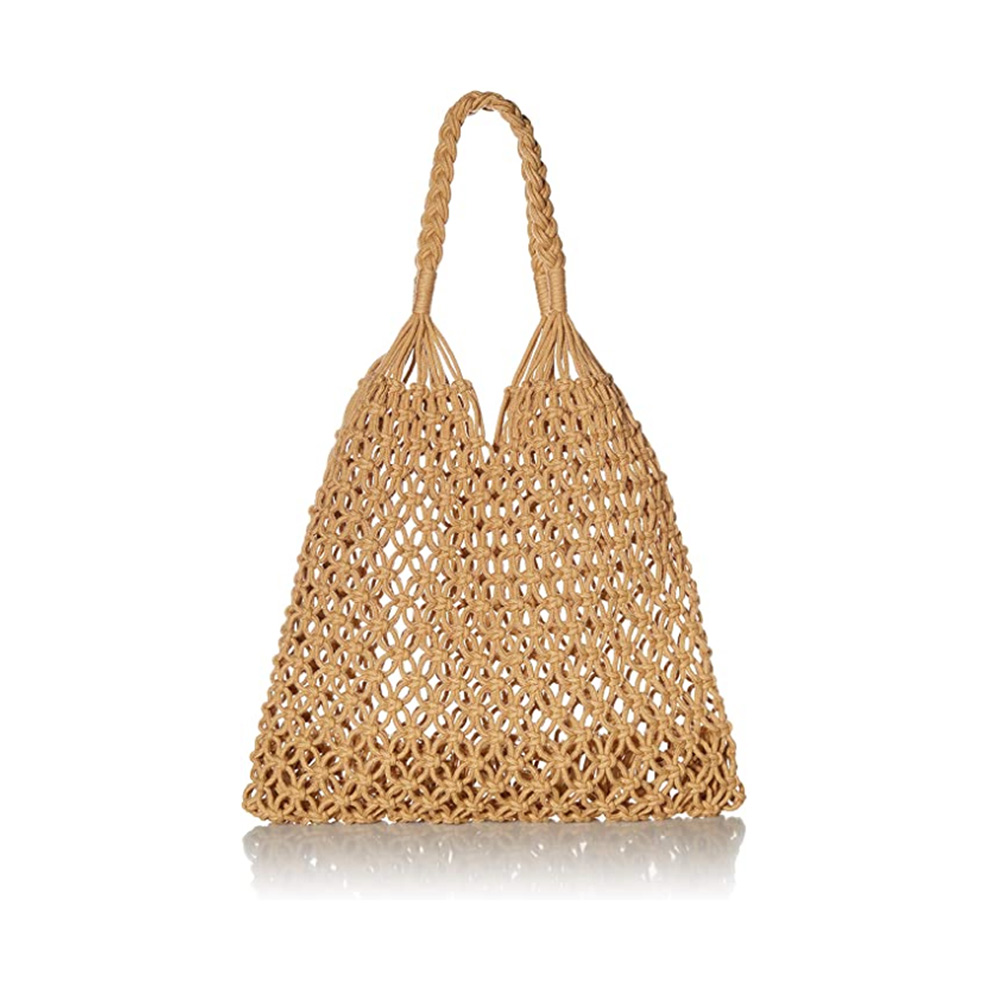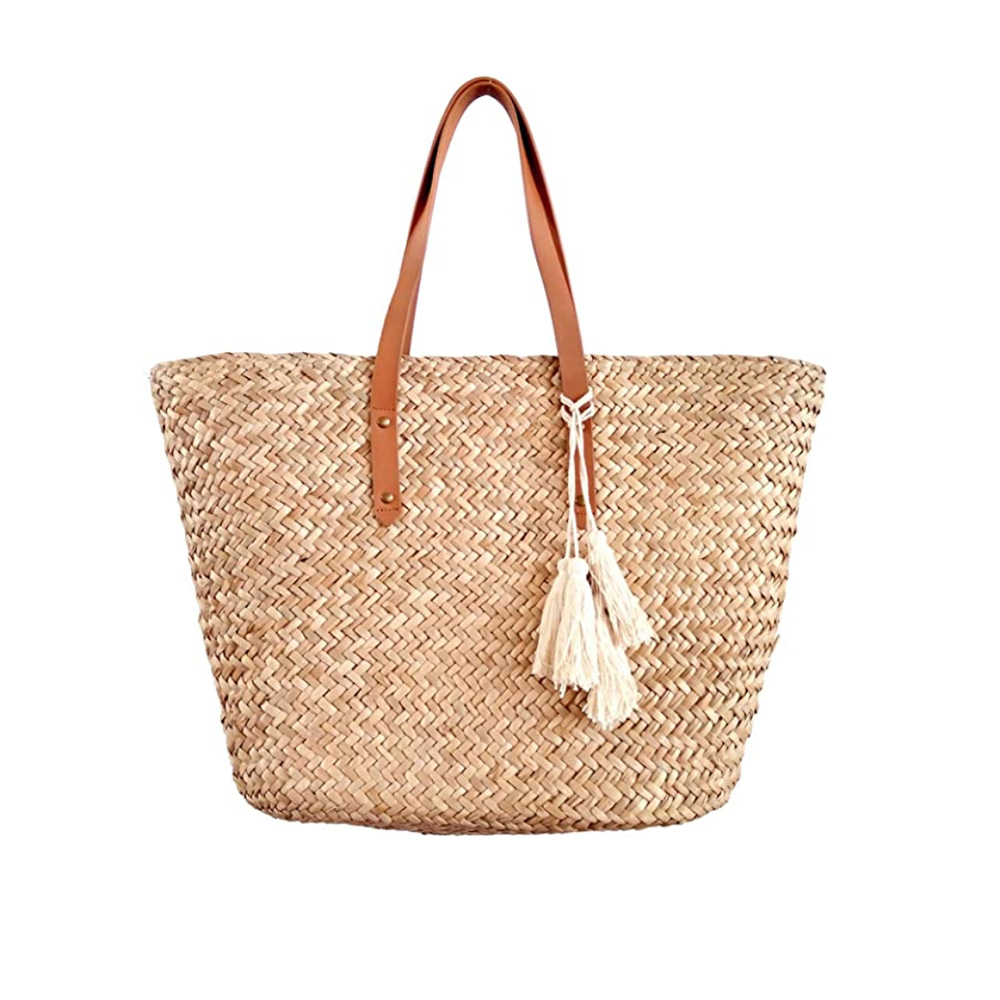 Always ideal for carrying all your essentials to the beach and pool, and out on excursions.
Travel Tripod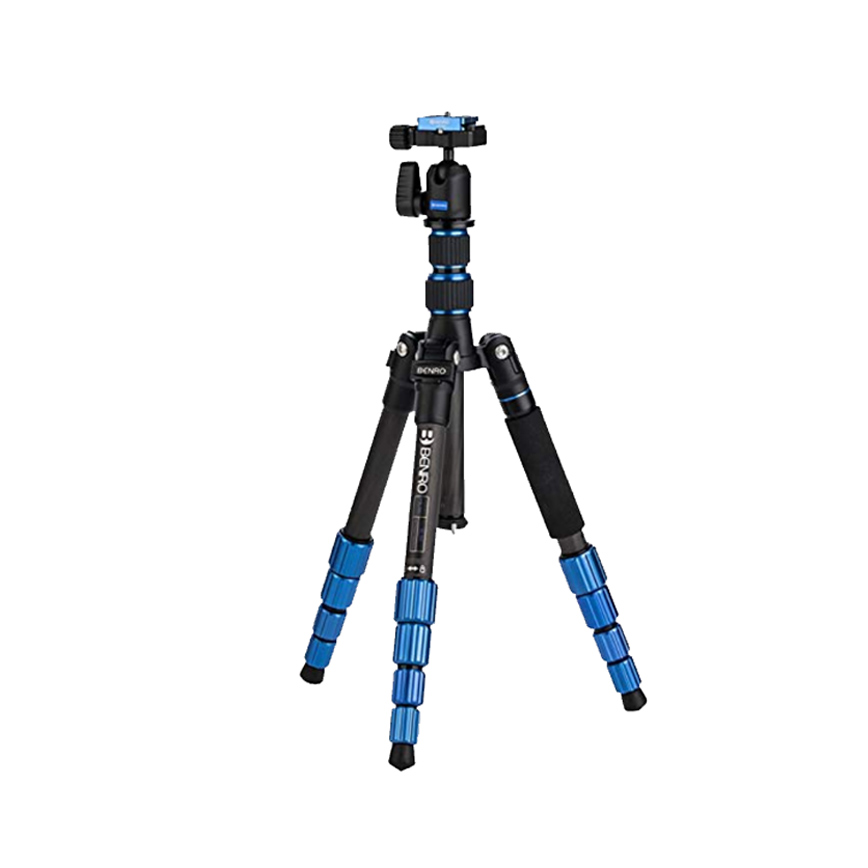 For the best vacation pics. A place this beautiful needs extra photos.
This is the one I have used and traveled with for years, or check out a more affordable option here.
Supergoop Unseen Sunscreen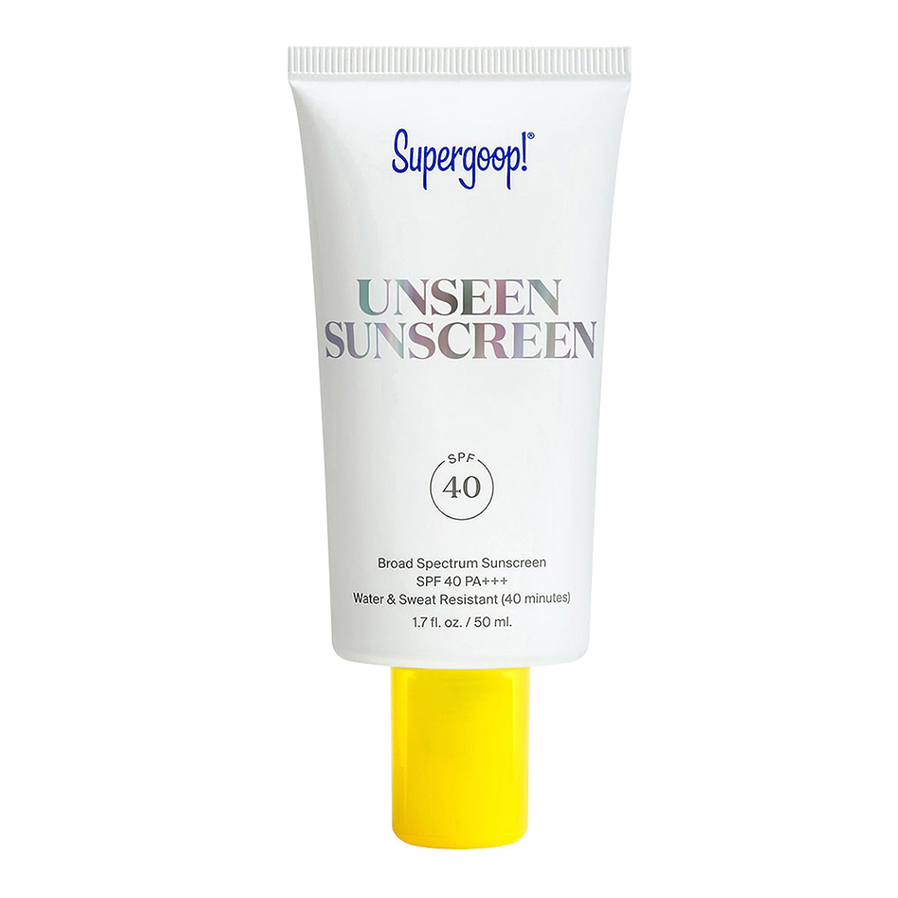 Hands down, Supergoop is the best face sunscreen of all time. The clear formula doesn't discolor even the darkest of skin tones, and feels like a high-end make up primer - there is nothing better for wearing under make-up. I wear this under my make-up every single day, and especially when I'm out in the sun. Check it out on Sephora here or on Amazon here (where it has a perfect 5-star rating).
Elevated Flat Sandals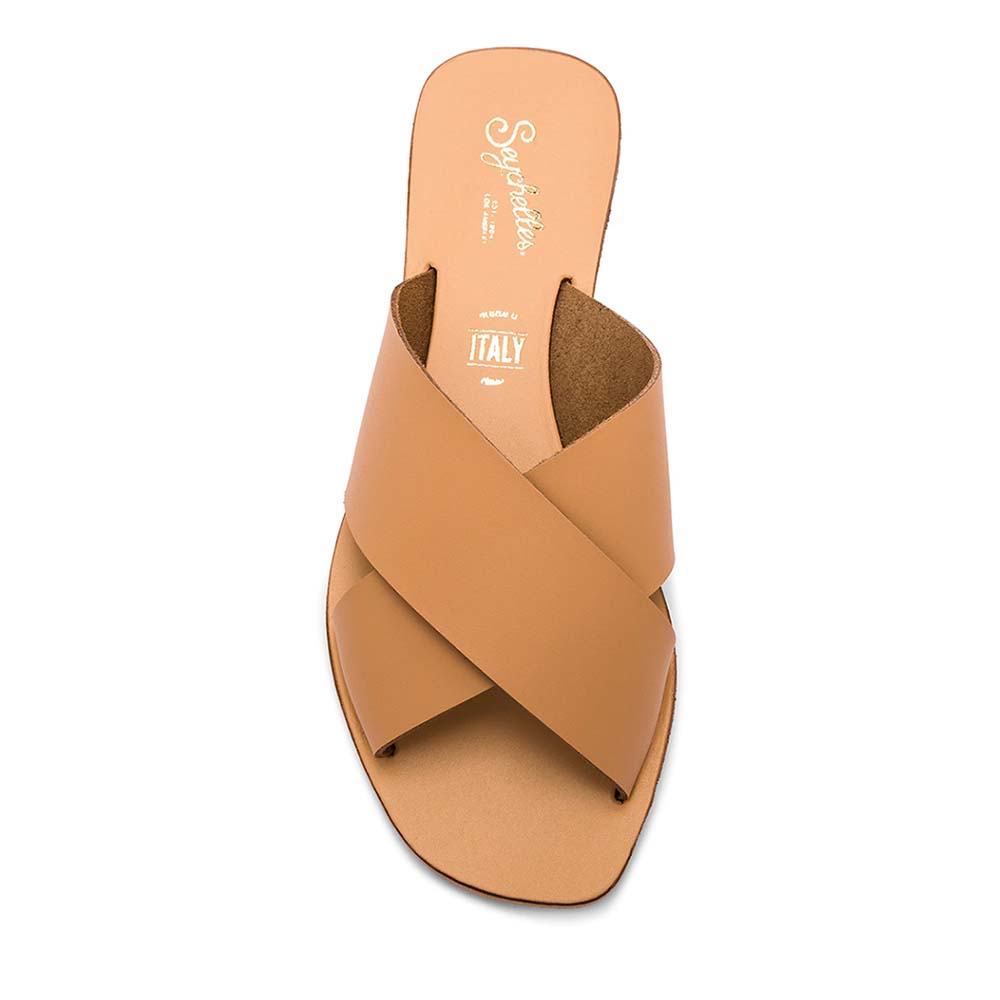 I always intend to wear heels when I'm on vacation, and never actaully do. Instead, pack some elevated slip on sandals, for easy walking and kicking off in the sand, but a more fashionable look than flip flops. So effortlessly chic.
Maybelline Super Stay Matte Ink Lipstick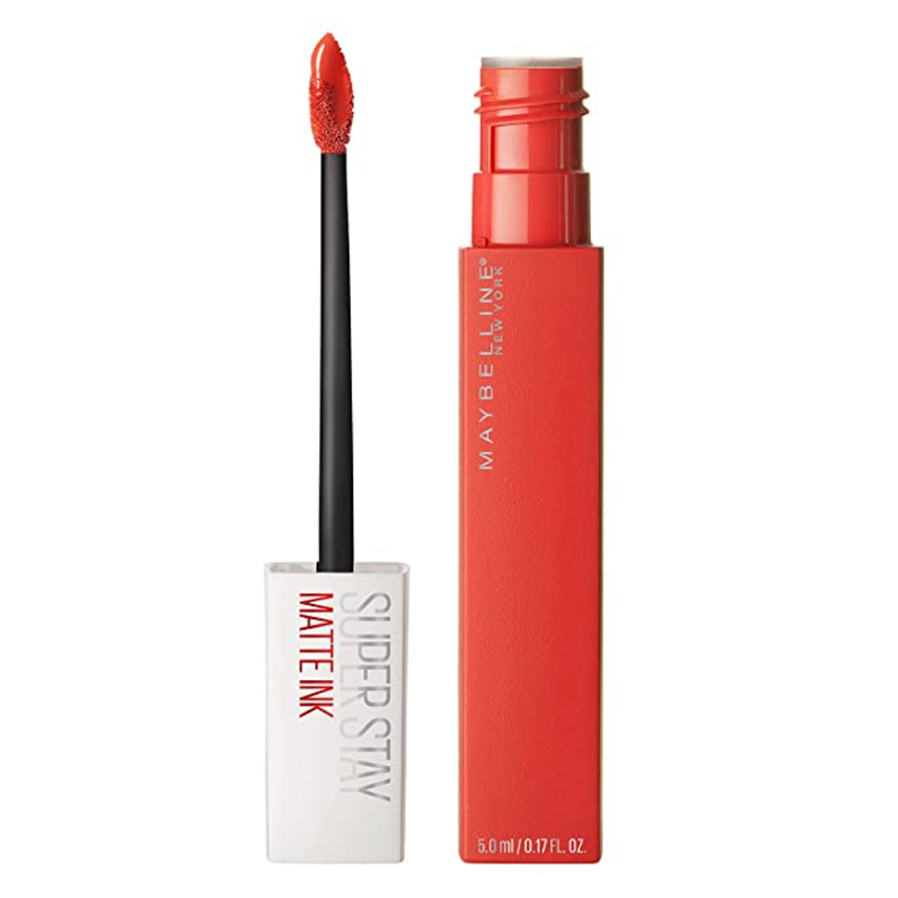 I have been wearing this exact lipstick every day for the past 4 years - it is fully waterproof, doesn't rub off of anything, and lasts all day. I have posted about this damn lipstick over and over and over again because I'm so obsessed - DailyMail even wrote an article about my love for Maybelline. My The color I always wear is Heroine.
Oh and did I mention - IT'S ONLY 8 DOLLARS
Oribe Hair Oil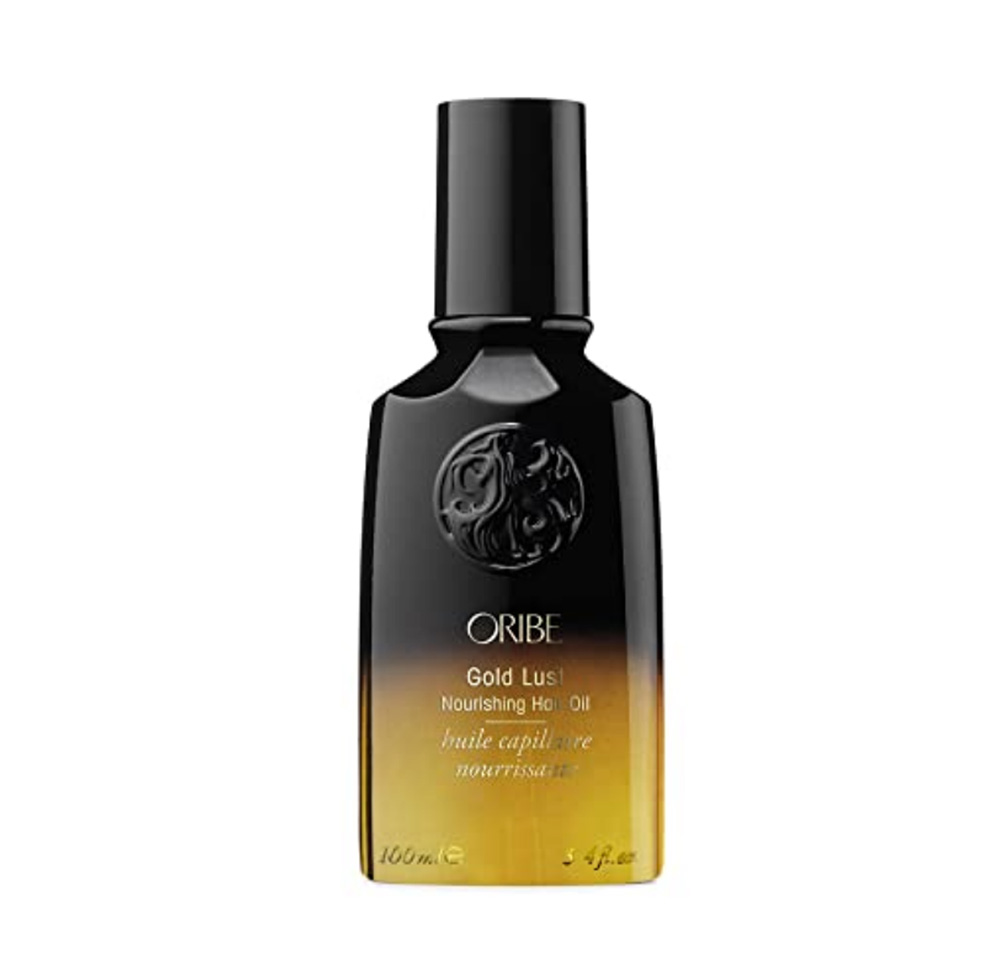 I am obsessed with all things Oribe and have swapped almost all of my hair products to Oribe brand - they are truly amazing and worth the price for protecting your hair and helping repair damage. A little goes a long way, and even this smaller bottle lasts much longer than you would think! To single out one item, this hair oil in particular is incredible because it works for both styling and protecting your hair. I will apply some through the ends of my hair when it's wet after a fresh wash, and then use a thin layer again to smooth flyaways and frizz after styling.
If you're looking for more, the entire Gold Lust collection is universally revered. I use the shampoo and conditioner daily, and my hair has never been better or grown faster. (Tip: once you try it and confirm that it works for your hair type, buy the larger sizes for a better cost per use value. They're a bit expensive up front but last seriously forever!) I've had these exact bottles in my shower for months of almost daily use and have barely made a dent.
You can also shop the Oribe collection on Revolve, Dermstore, and Sephora.
Reef Safe Sunscreen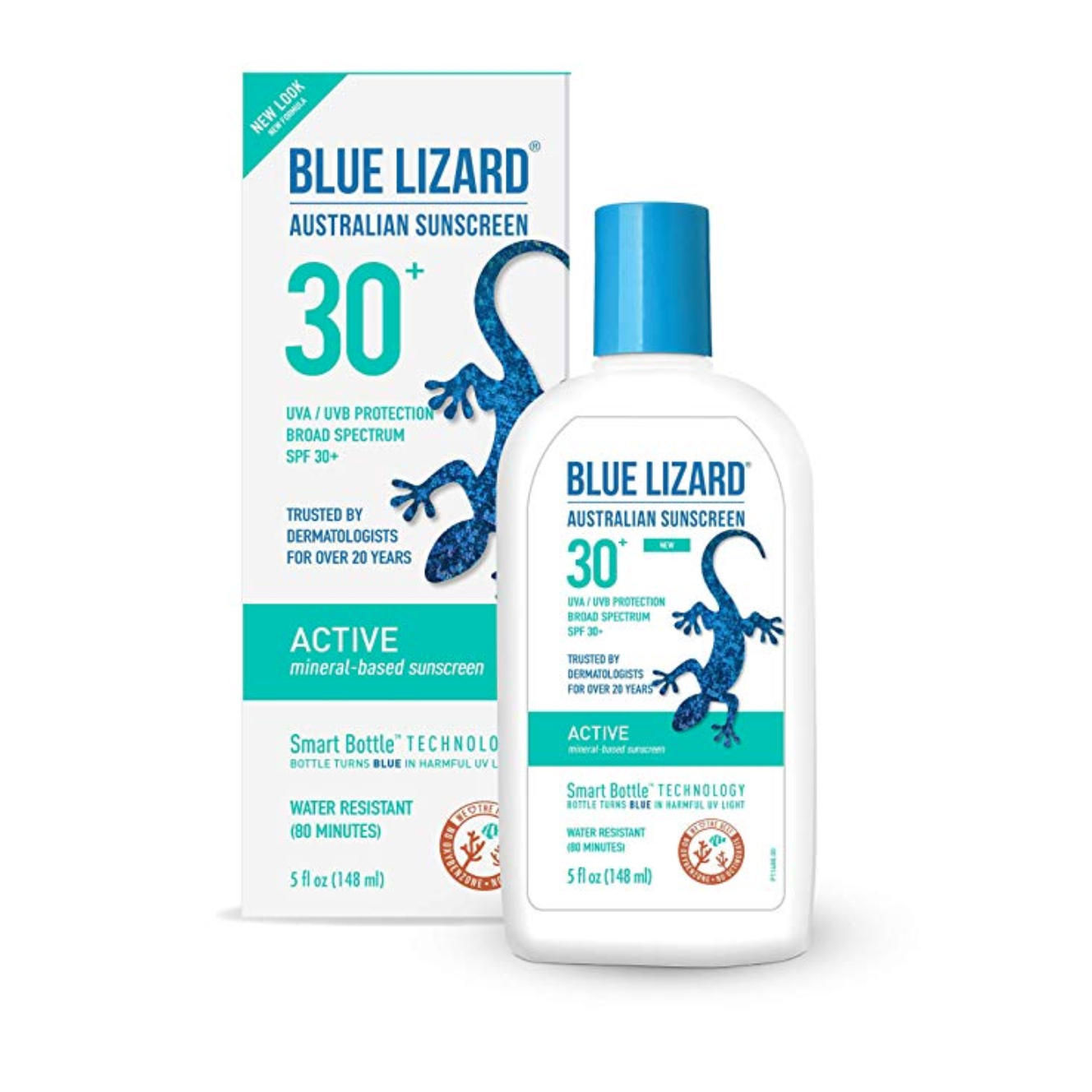 We all know that sunscreen is #1 - especially if you're going on a winter or spring escape and haven't seen the sun in a while. However, the ingredients in many traditional sunscreens can damage the delicate tropical reefs, and its important to only bring reef-safe brands. Buying ahead of time and bringing this with you will often save quite a bit compared to buying them on the islands.
Banana Boat has a great value family-sized bottle for under $10, and I love this Hurley waterproof spray-on 50 SPF for active days. For face sunscreen under make up, I swear by Supergoop Unseen Sunscreen
More Swimwear than you think
I end up wearing my bathing suits almost everywhere - with shorts and an open kimono top for breakfast, under a wrap top for going out to eat or exploring, and always at the hotel pool or beach. You want to make sure you never have to put on a wet one, and have enough to always be able to mix up your looks! I love dressing up a cute one piece in place of a shirt and will just wear a sportier style instead of a sports bra for getting active.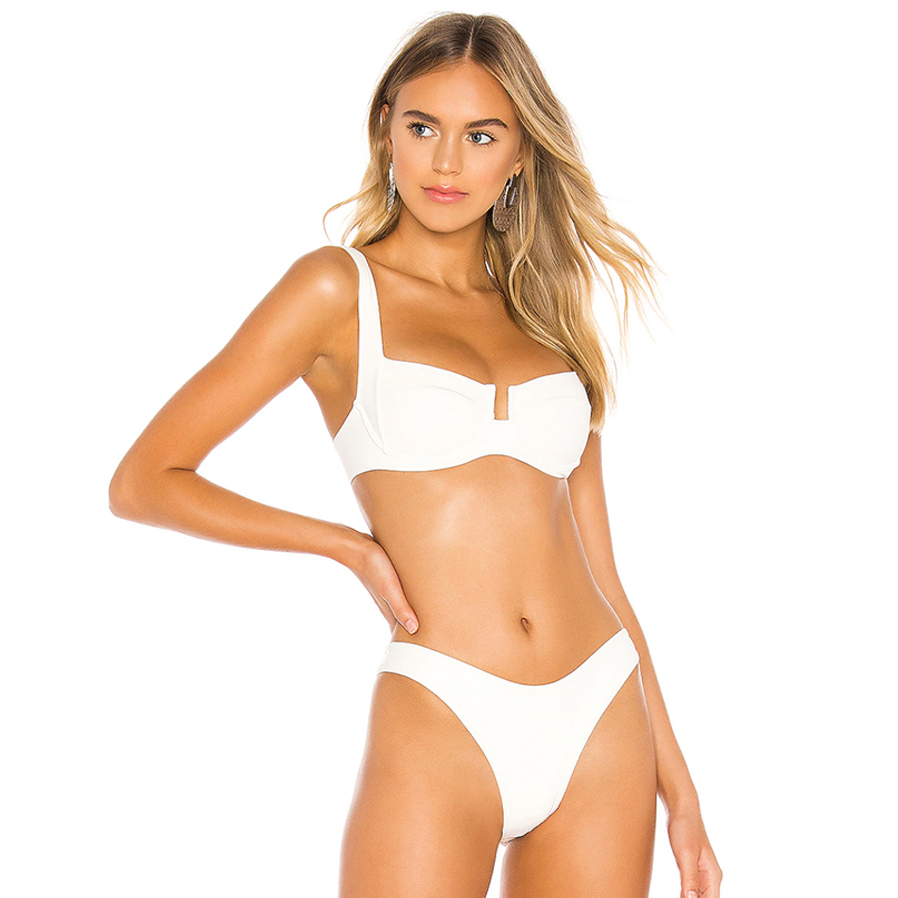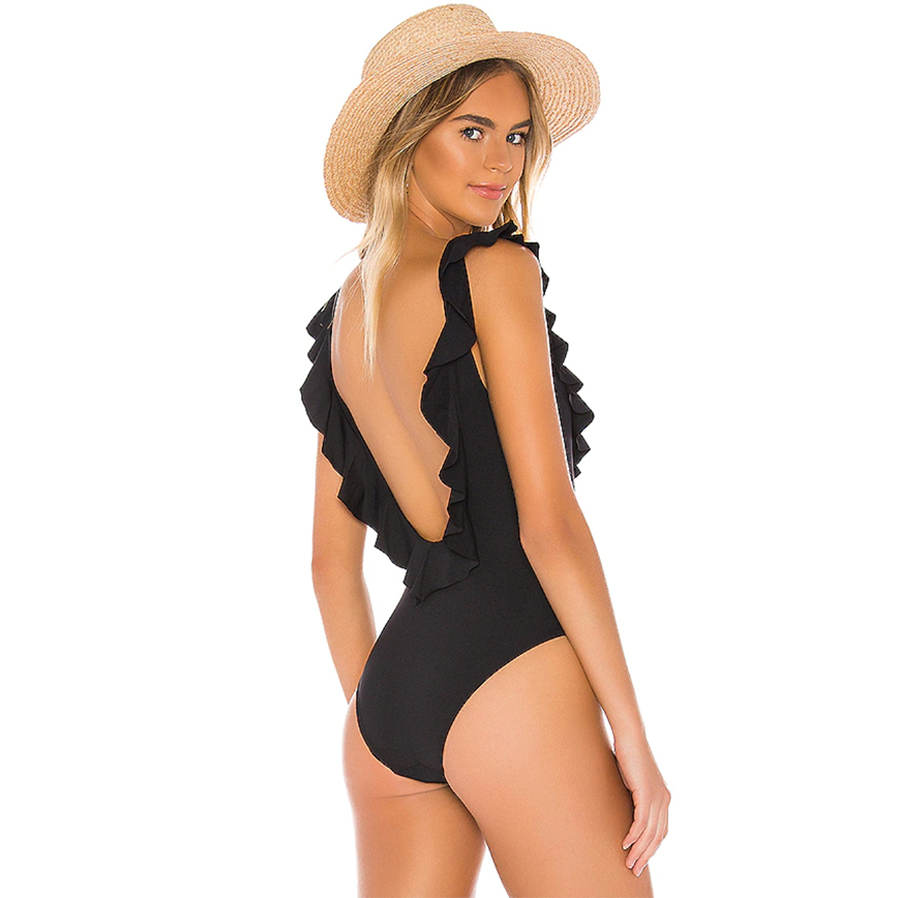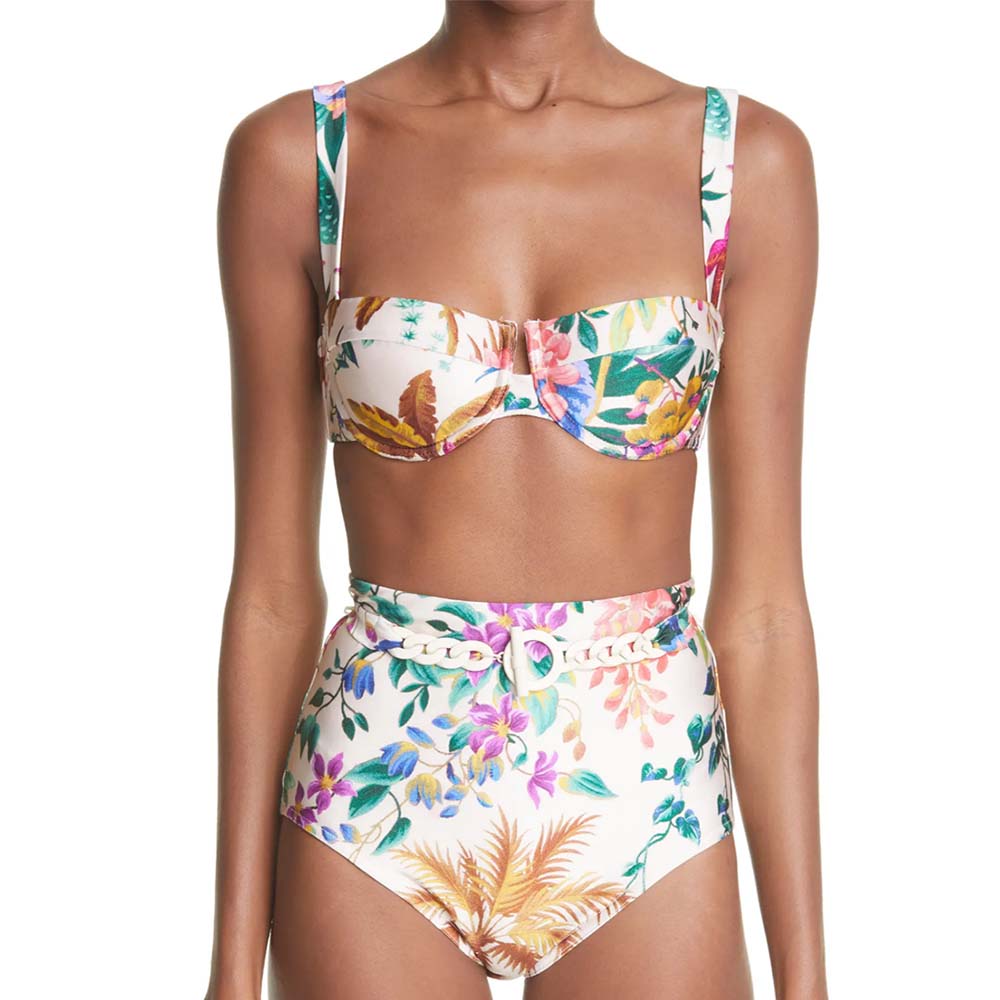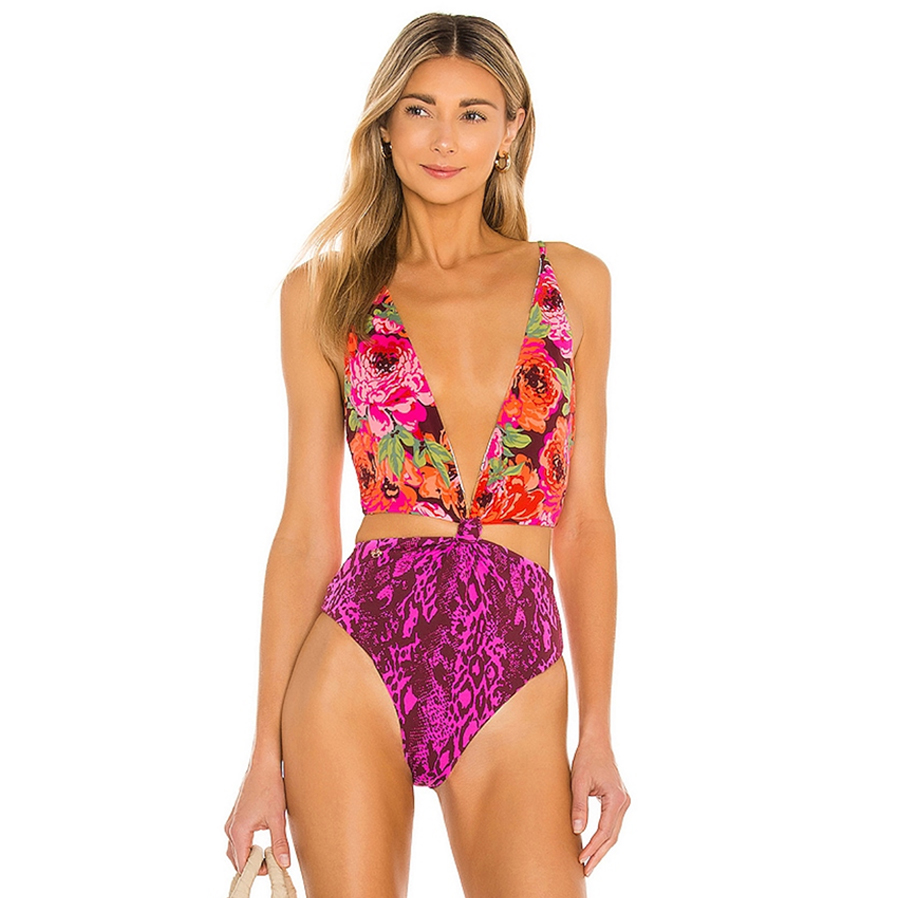 Not sure where to start looking? My favorite places to shop for unique and high quality swimwear are: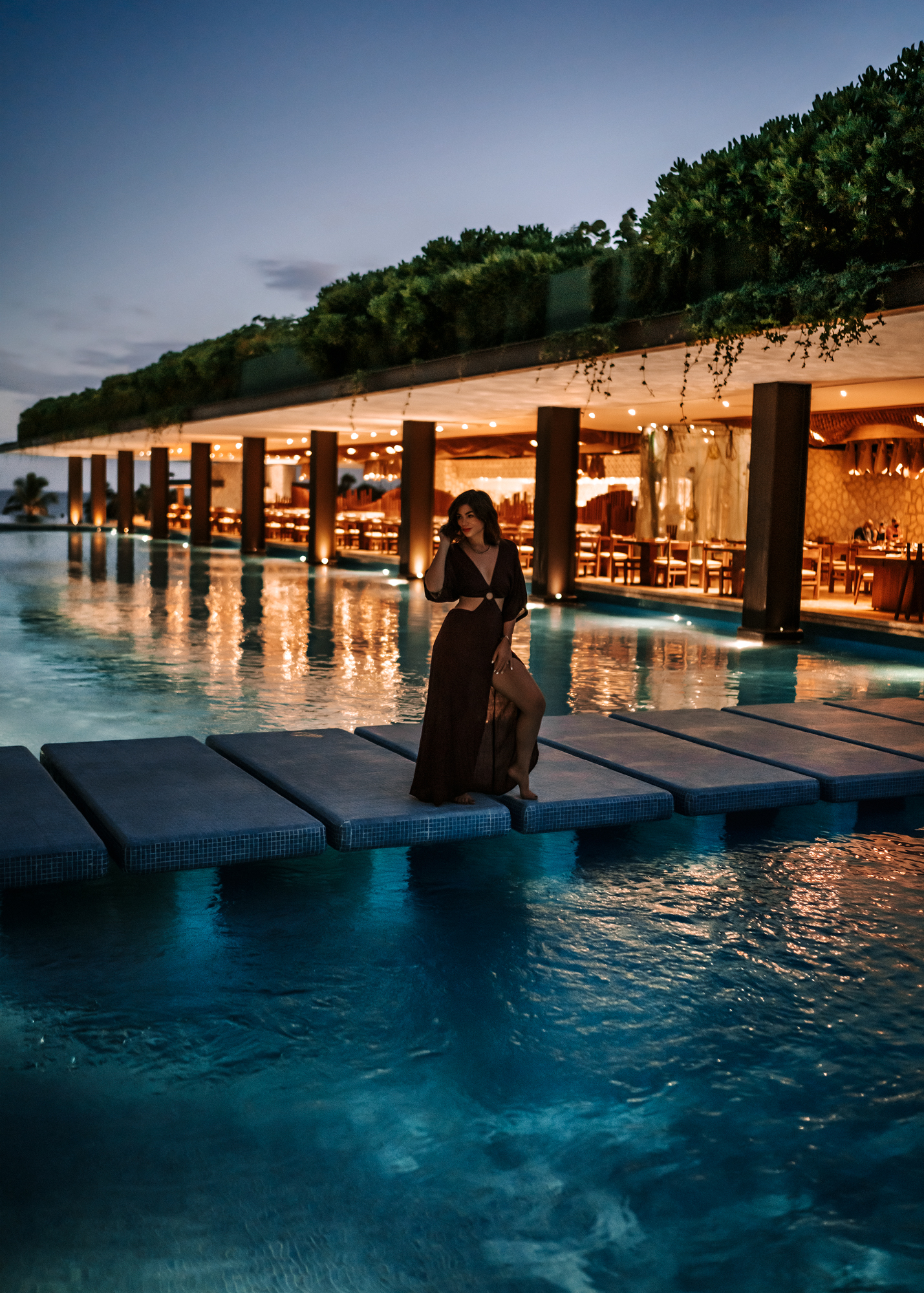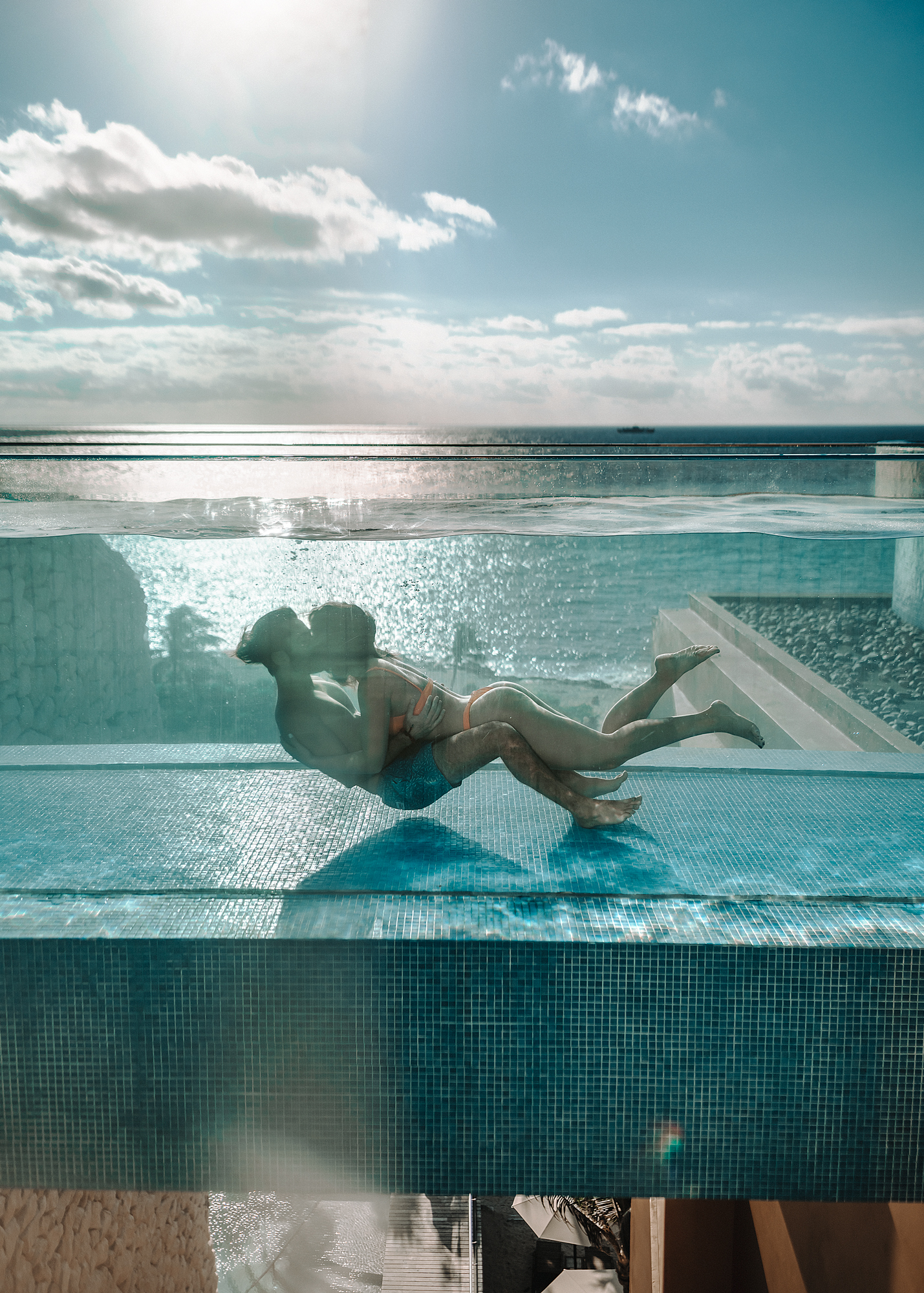 The Biggest Downsides:
I value myself on being extremely honest in my reviews, and that means sharing both the best parts, and the negatives or downsides. We were honestly blown away by s many aspects of Xcaret and enjoyed our stay here immensely, there are really only two negatives that stood out to me.
Navigating the property is quite confusing. The grounds are beautiful and expansive, and the more you wander around, the more hidden areas you find - which we enjoyed, however if you're actively trying to find a certain spot, it can be quite difficult. There are a number of level changes throughout the hotel and even Brandon, who has an excellent sense of direction, took a few days to orient himself with the hotel. There is some signage, but additional navigation signs around the hotel would be very helpful. Tip: If you're looking for a particular restaurant or area you're not familiar with, text your butler ahead of time and they will personally walk you over there - we asked for this many times and our butler was a lifesaver!
As of January 2022, we felt like the covid safety protocols were a bit much and overbearing - including not being able to help yourself at the buffets, and some areas asking guest to wear masks outside. While I'm sure this makes some guests feel more comfortable, with almost all areas of the property being open-air, it sometimes felt a bit much. However, this is obviously only temporary, and once these protocals are lifted, we would be VERY interested in returning to Xcaret Arte!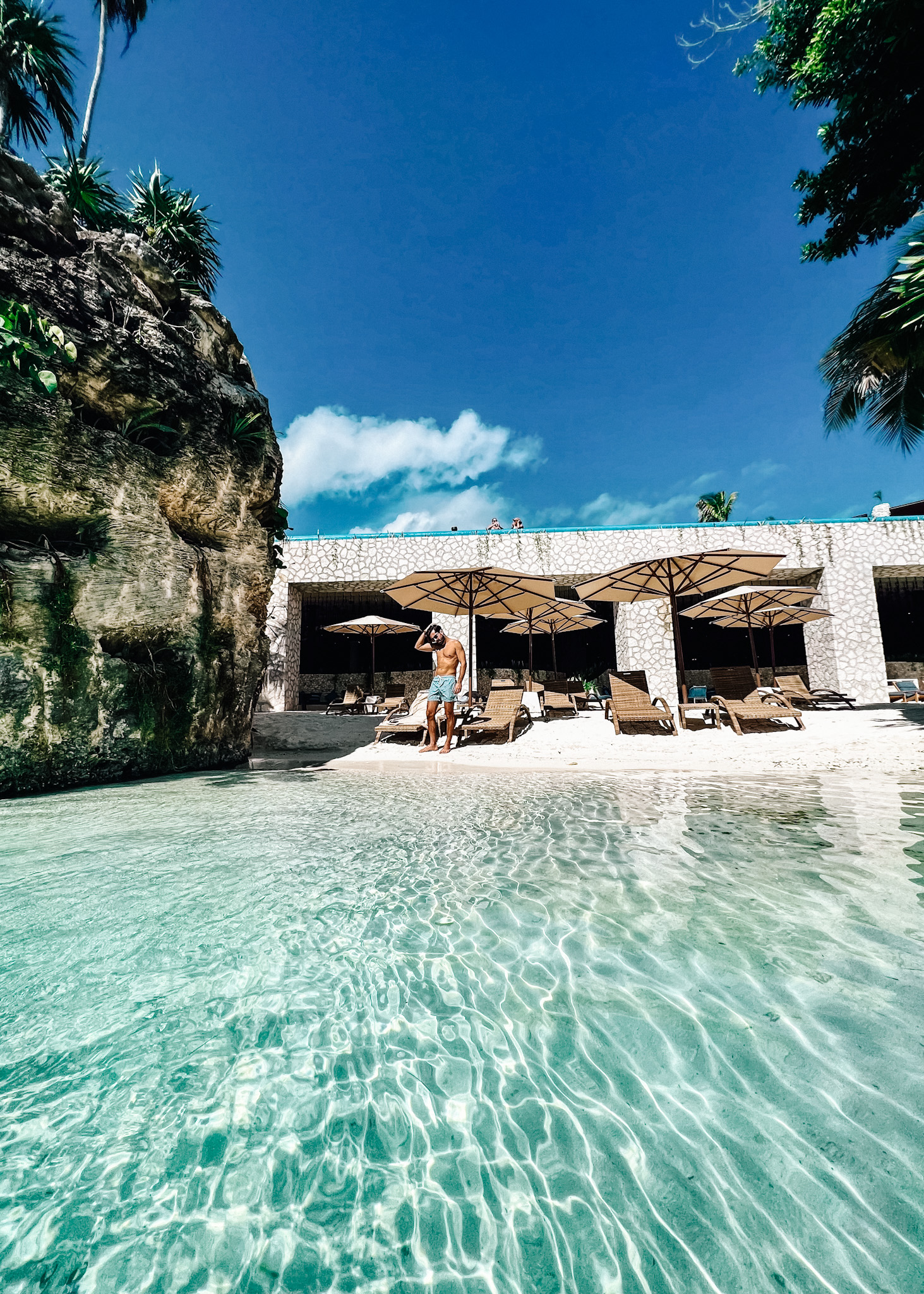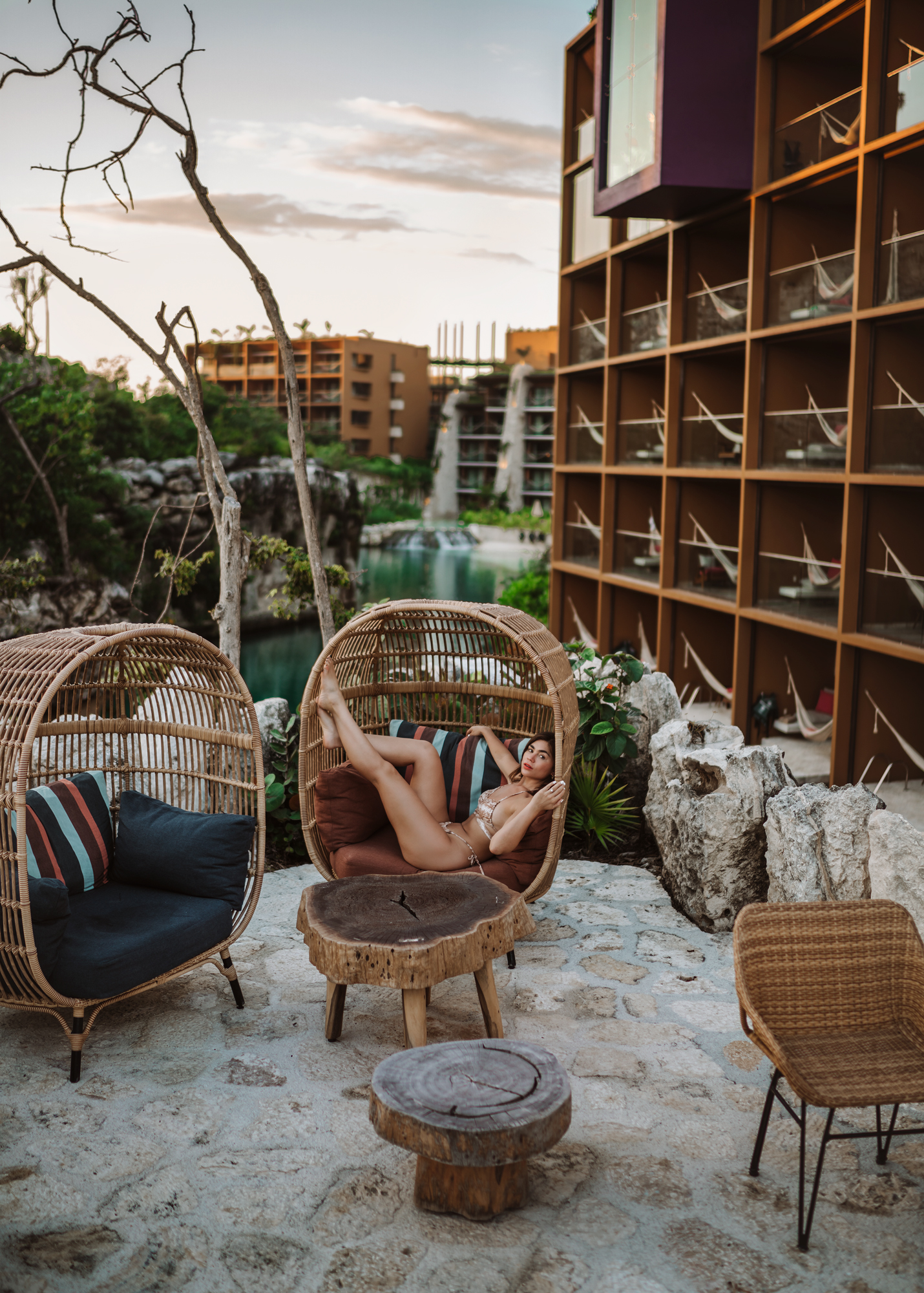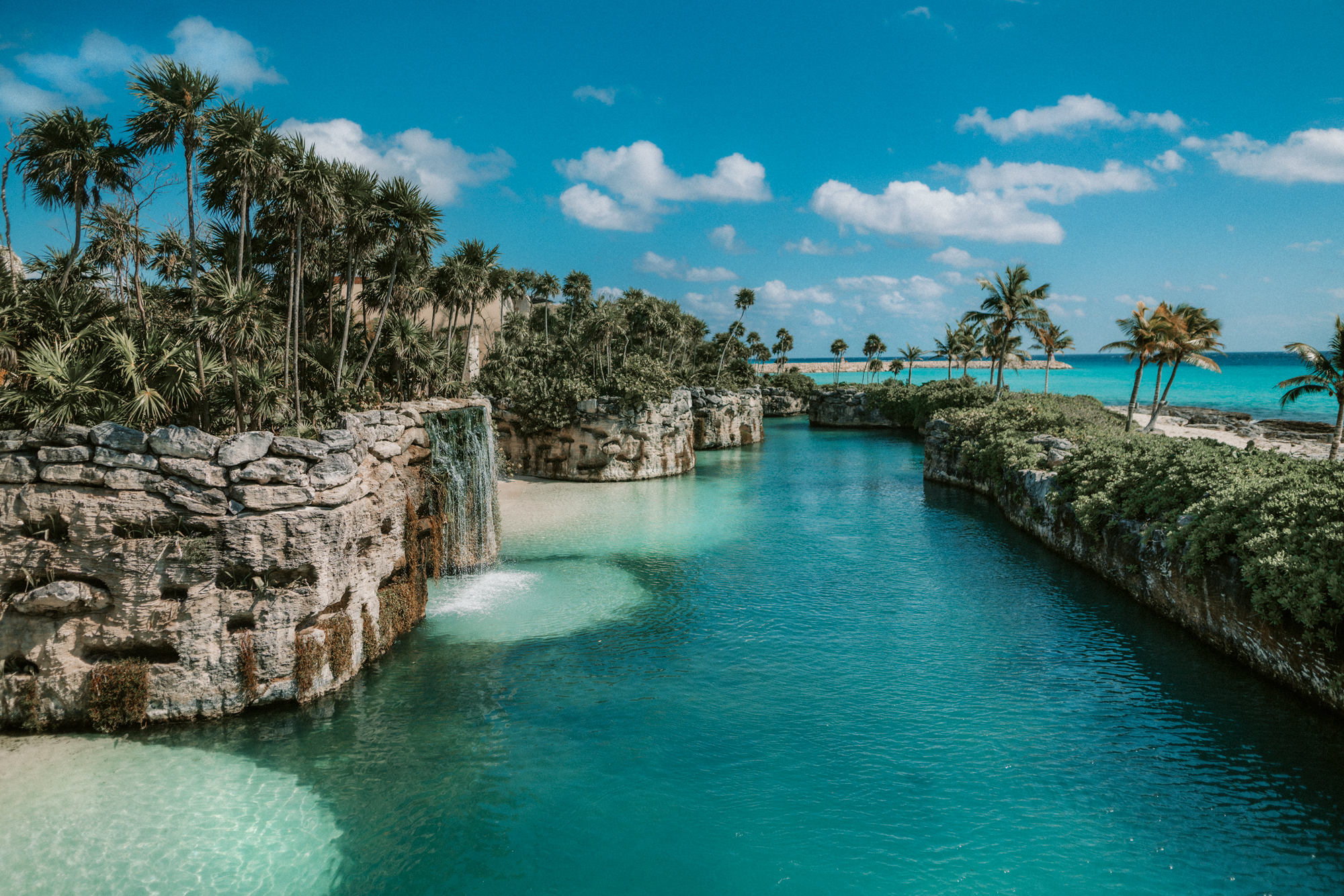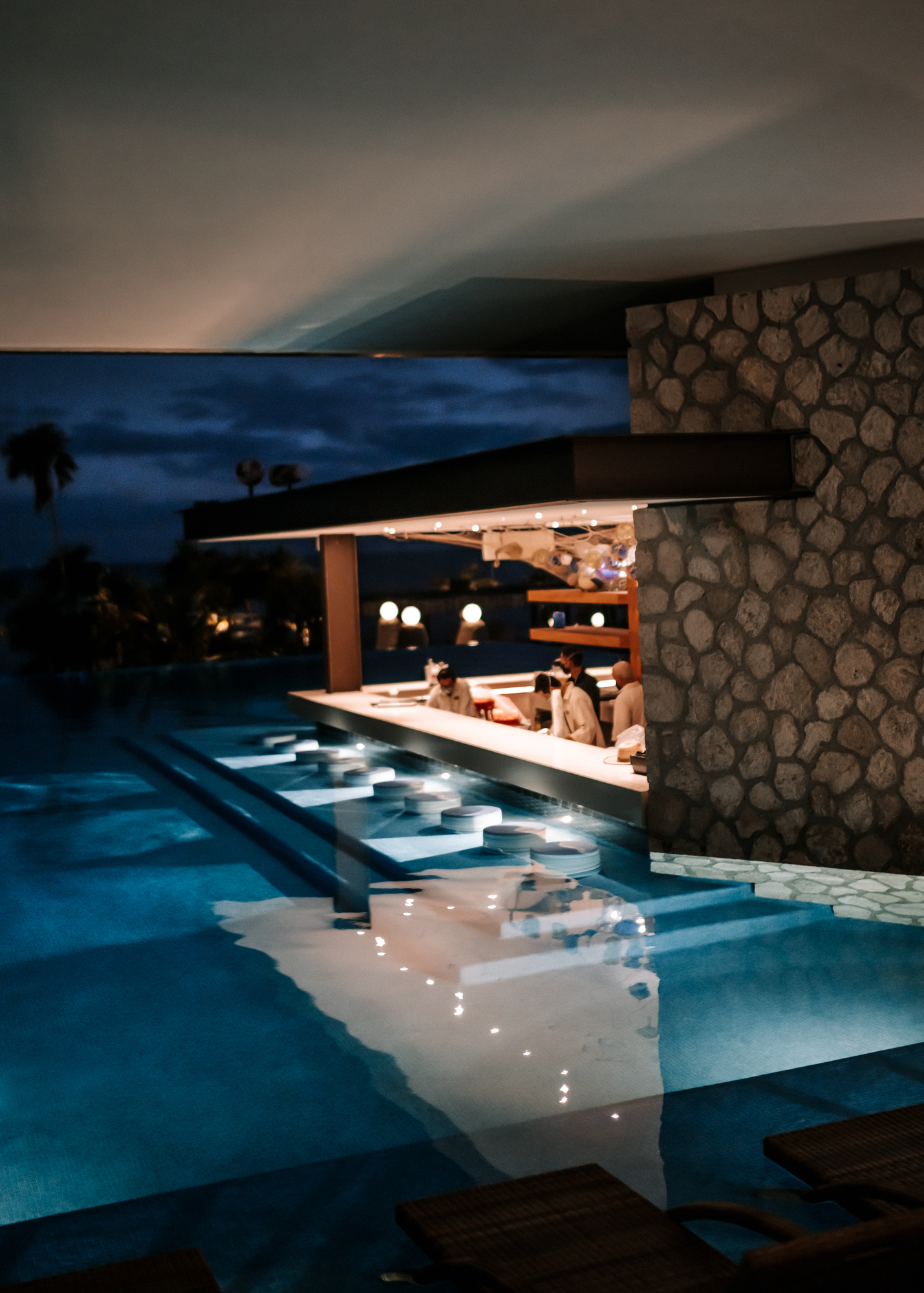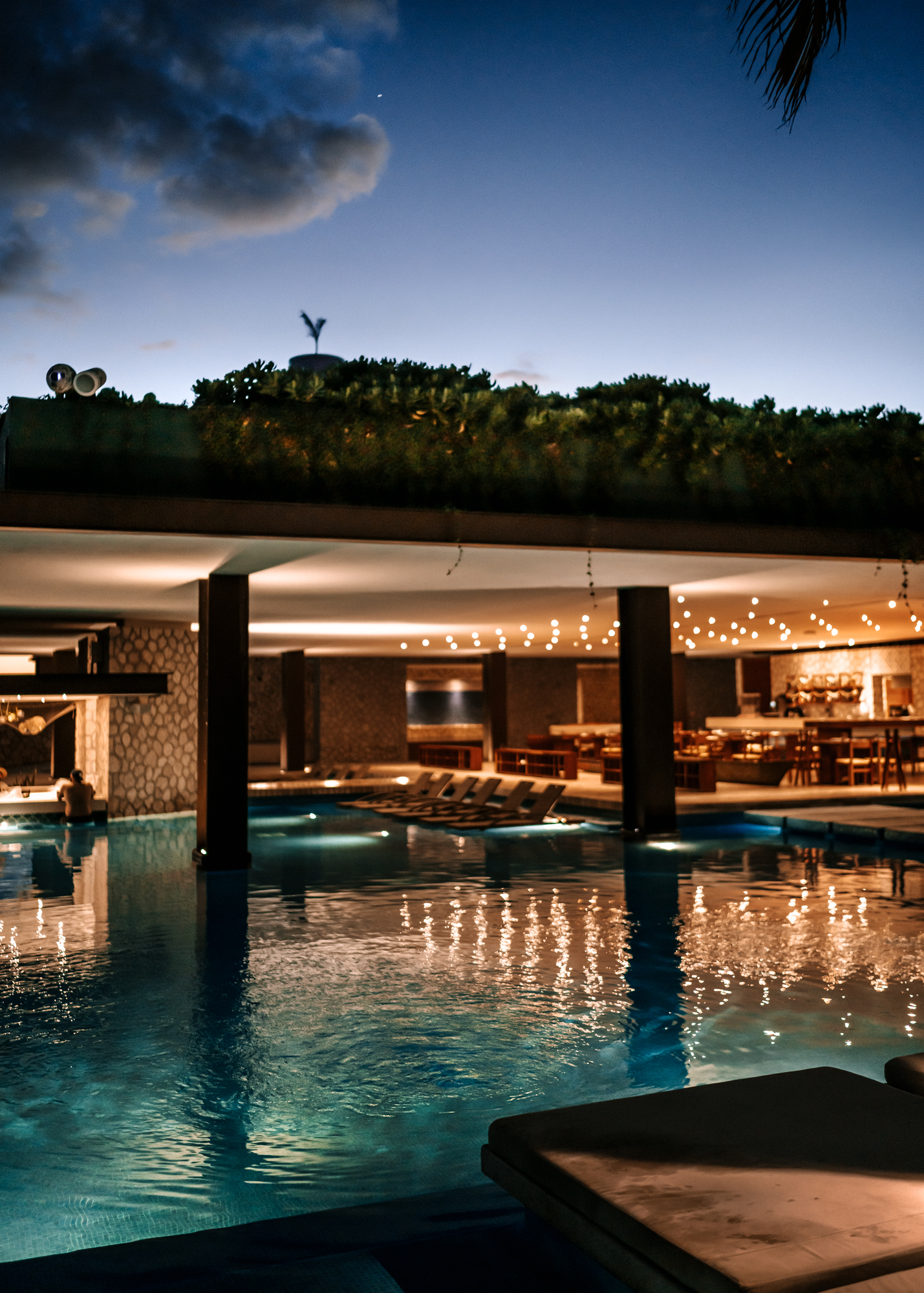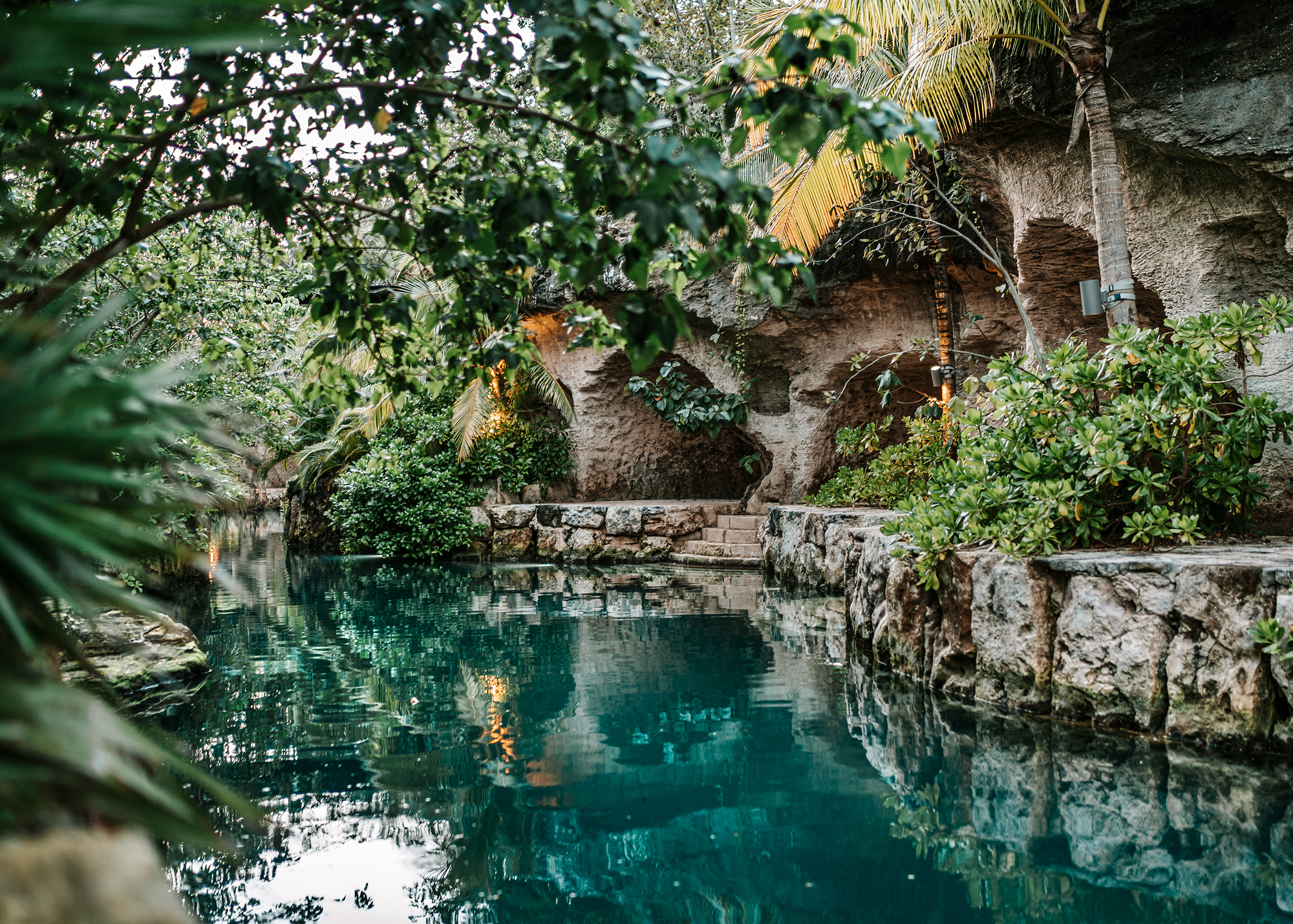 LIKE THIS POST? PIN IT FOR LATER AND SHARE IT WITH OTHERS!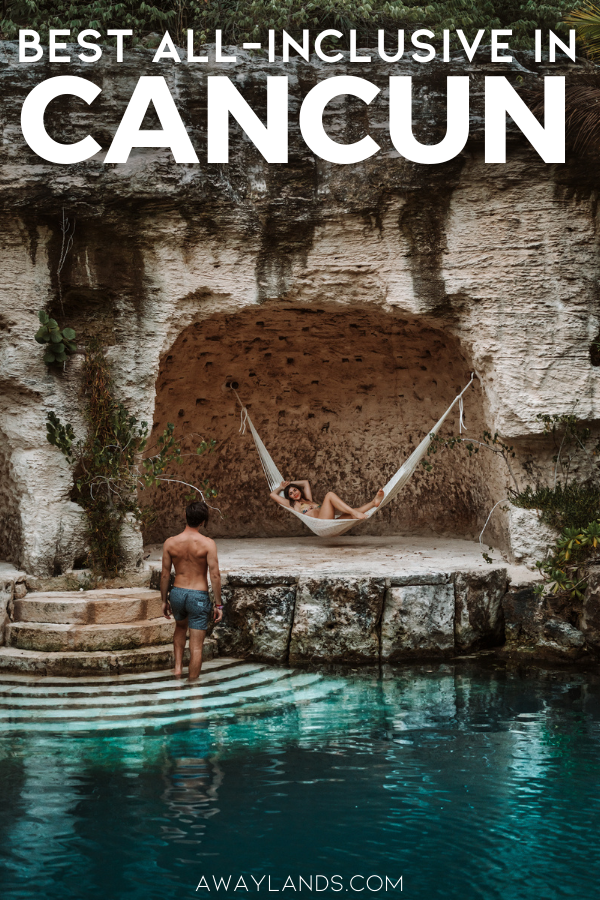 XX