December 4, 2020 Photography
12 Christmas Photo Ideas For Fun Holiday Photoshoots
Looking for something new and creative for this year's Christmas photos? Whether you're a couple, a family, or shooting solo, I've pulled our best holiday photoshoots over the years - and some photography tips!
1. Under The Tree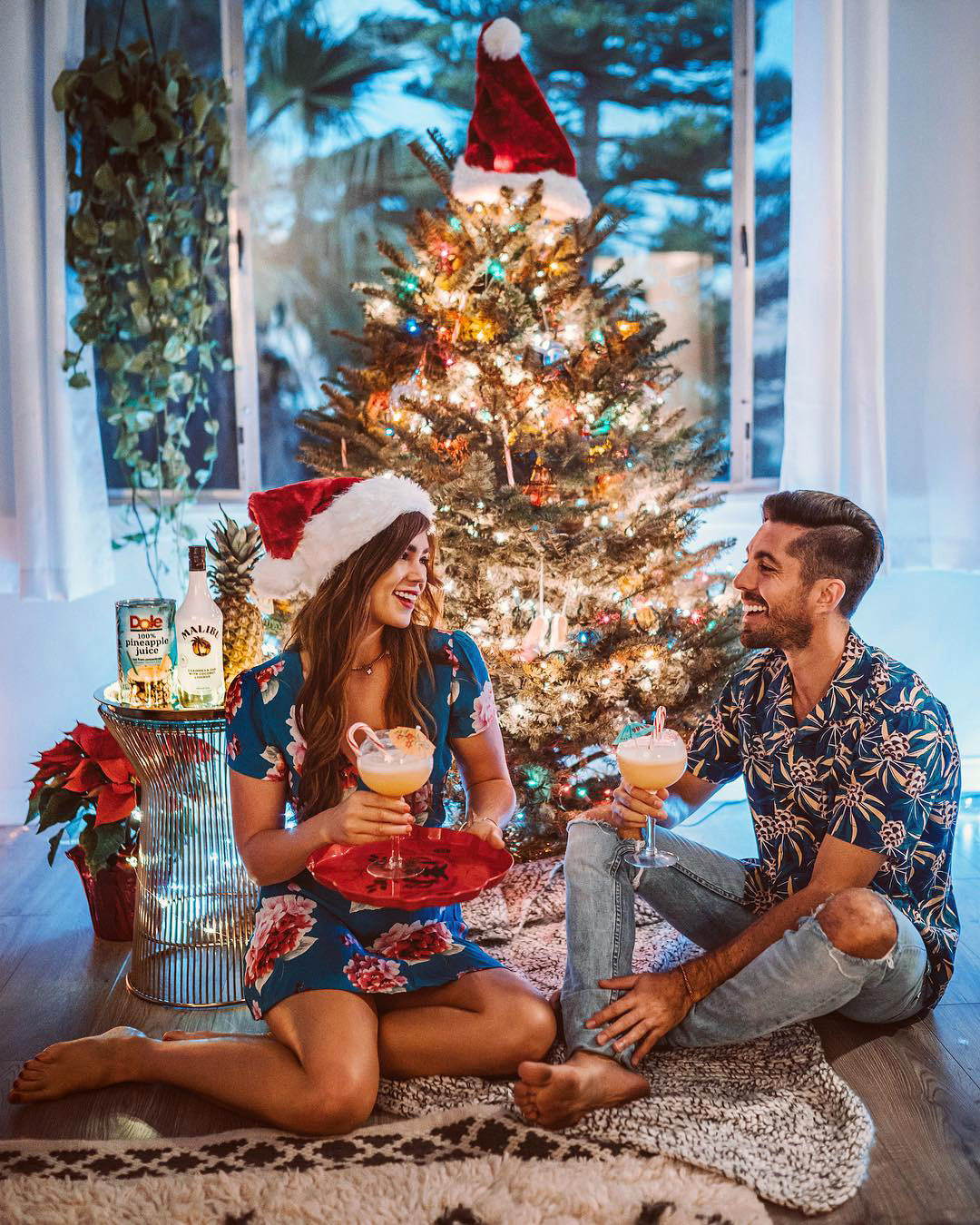 First things first. For the month of December, for most of us, our Christmas Trees dominate our living rooms and become the centerpiece of our homes. Use it! In this photo we went for a bit of a tropical Christmas Tiki Party vibe for a project we were doing with Malibu Rum, but the Christmas glow is universal.
Photography tip: Your tree will often photograph a glow best at around dusk, when there is still ambient daylight but not bright sun.
2. Explore Malls and Public Displays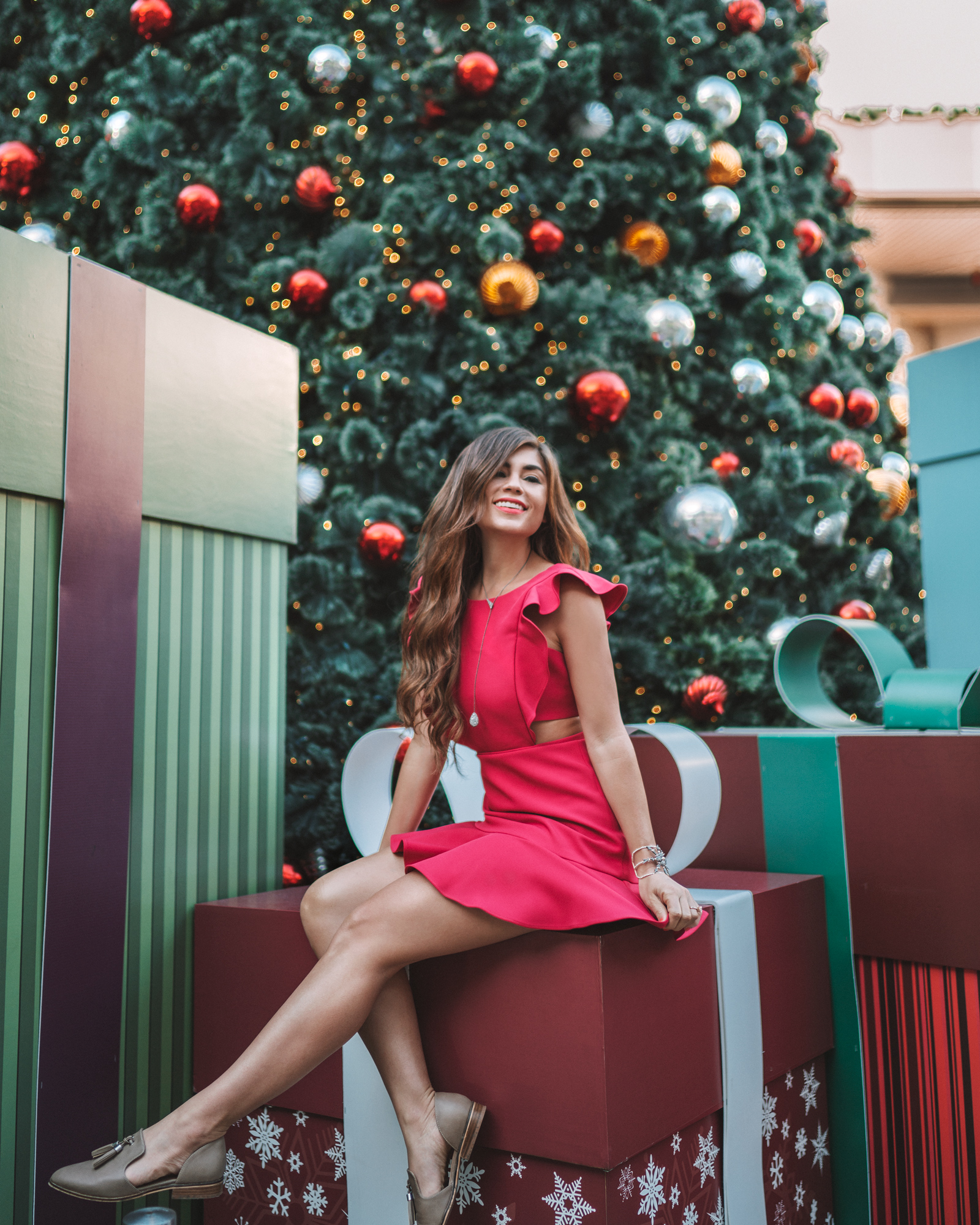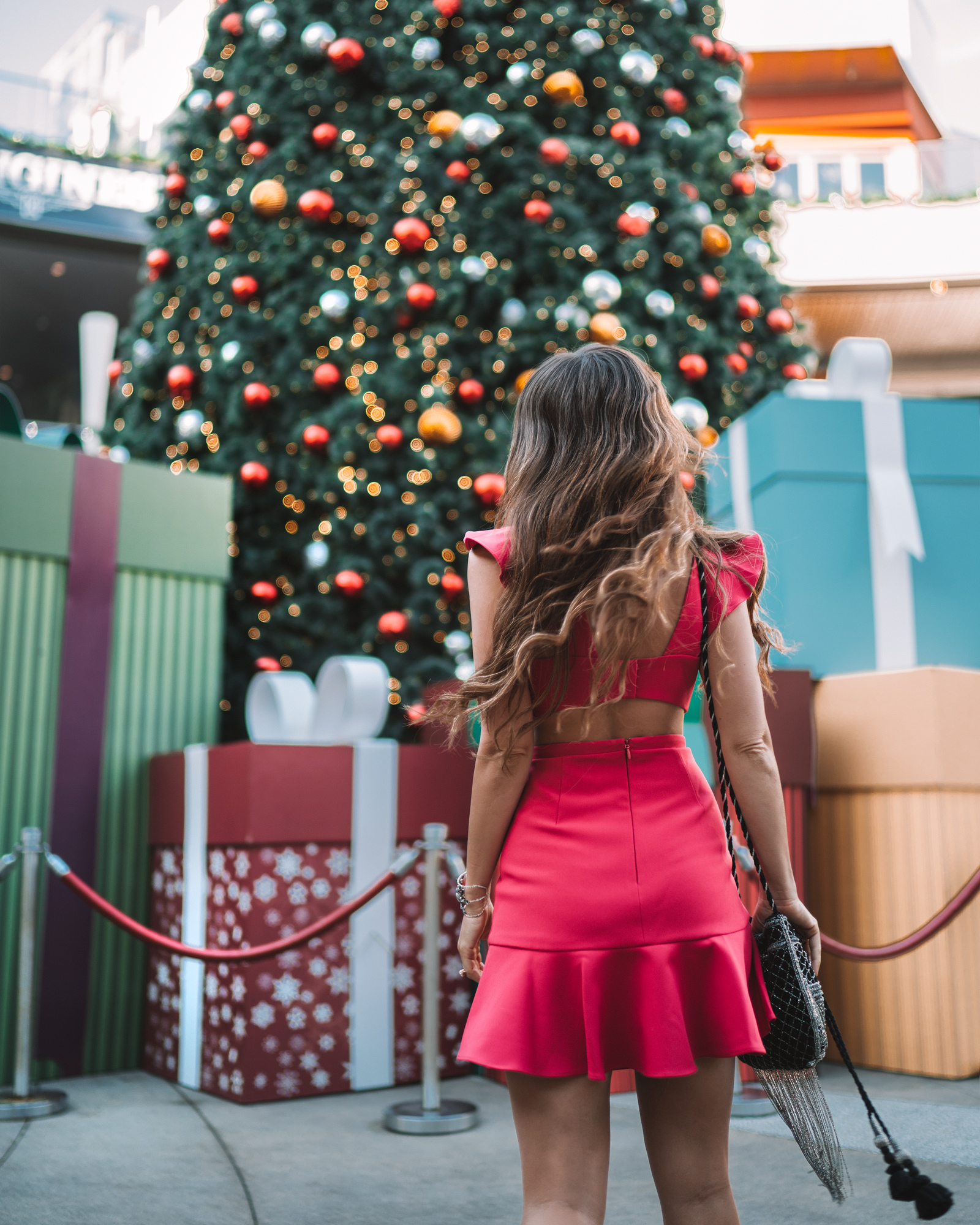 Shopping malls, and central town squares usually put up big Christmas displays! Since we live in LA and don't have winter here, this is usually the most seasonal scenes easily available. While things might look a little difference in 2020, most cities are still putting up fun Christmas displays!
Photography Tip: Early mornings are always the last crowded time of day pretty much everywhere, and is how we shoot most cities when we're traveling. Lights will glow the best at dawn/dusk and on cloudy days.
3. Hold a string of lights in front of the camera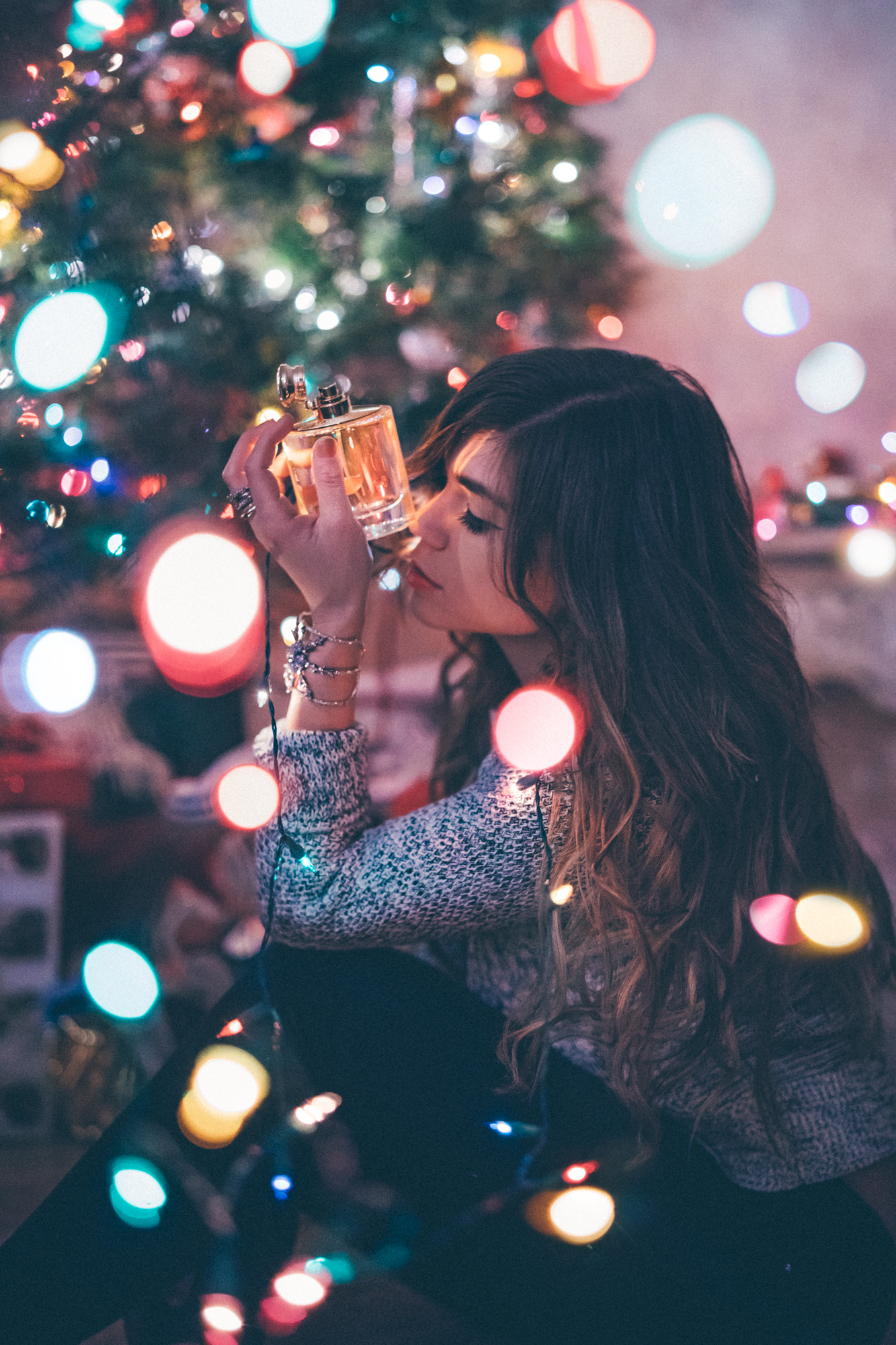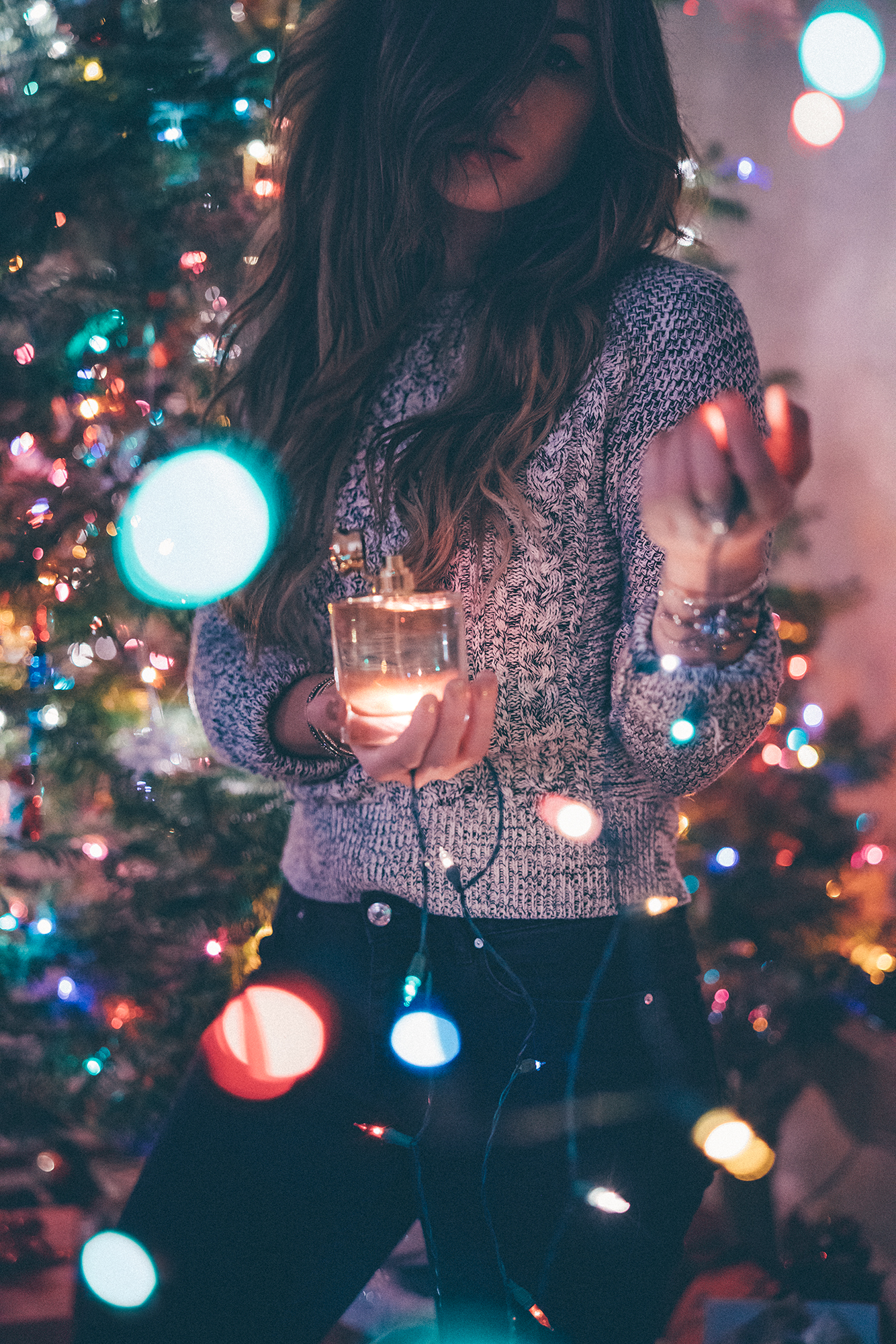 I'm always a huge fan of shallow depths of field and shooting through something in the foreground (which is pretty easy to spot if you're a regular reader.) For Christmas especially, this adds so much extra sparkle. For these photos, we held out a couple of strands of lights right in front of the camera lens to create extra glowing orbs.
Photography Tip: The shallower the f/ stop on your lens is, the stronger this effect will be. The camera on newer model Iphones have gotten good enough to create this effect somewhat, but this works best with a camera with a proper lens (I always shoot images like this at f/1.4 - click here for my detailed photography gear guide!)
4. Wearing Sparkles in the Snow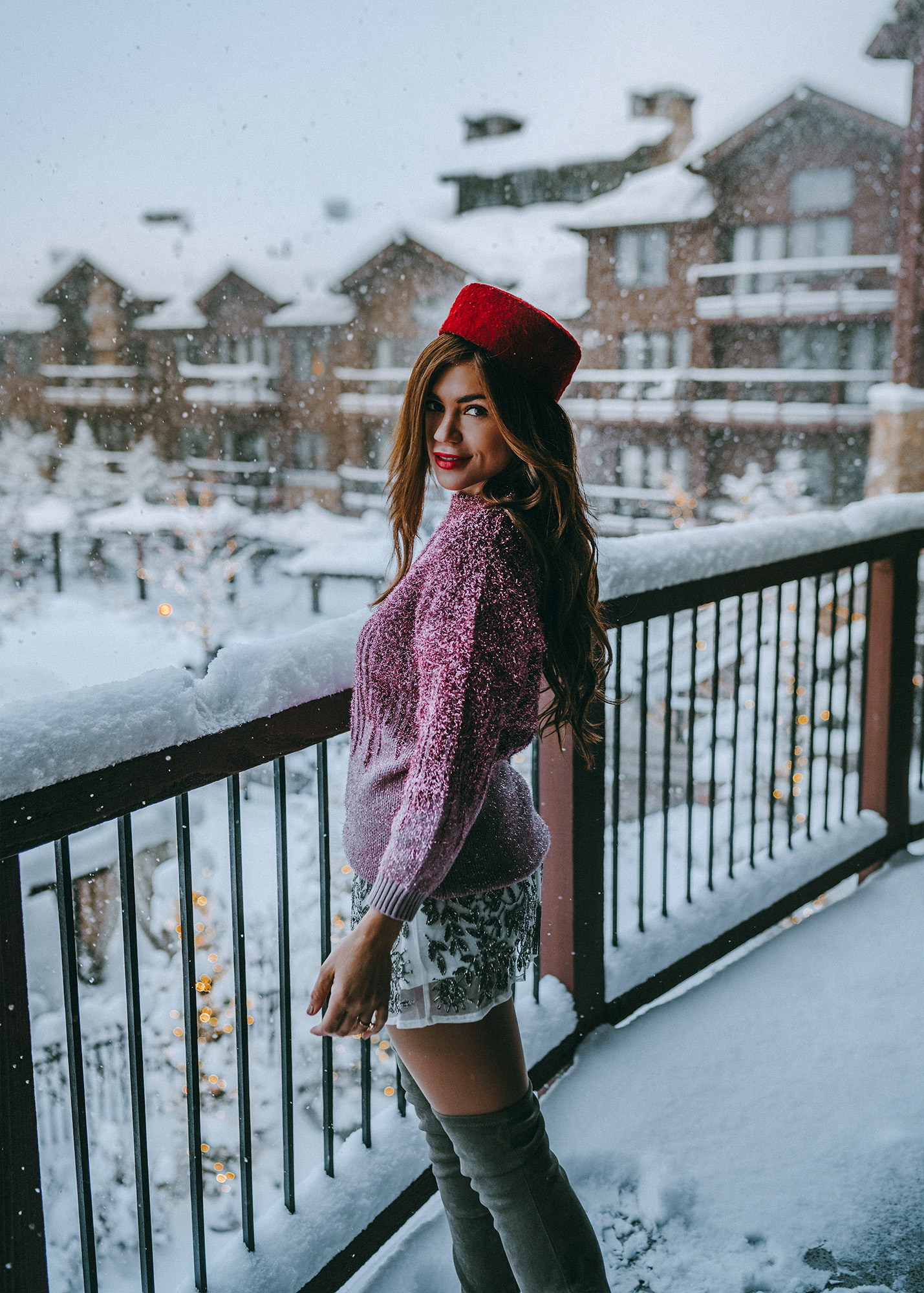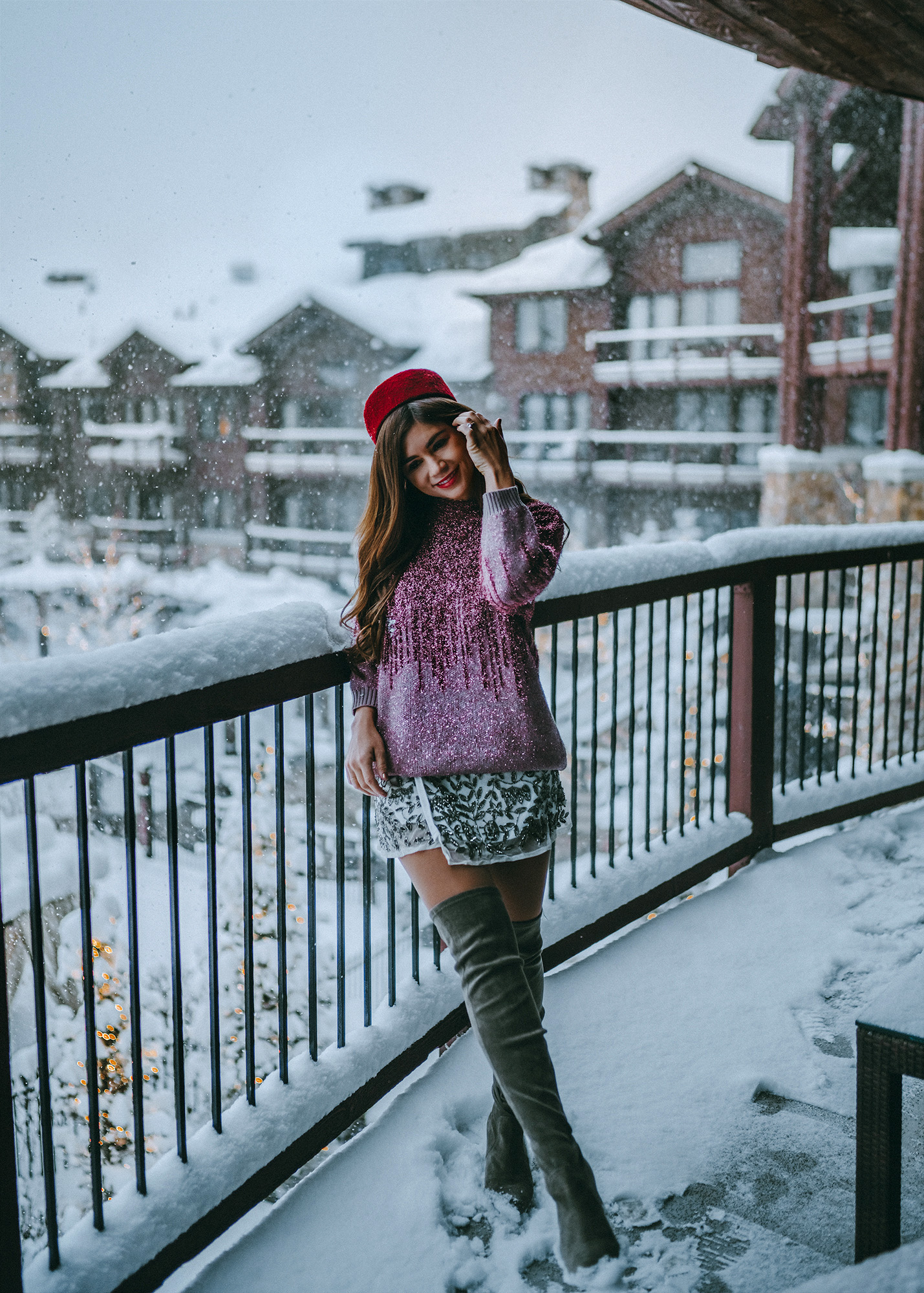 Without including any actual Christmas items, doesn't the snow and sparkle on sparkle just say Holiday to you? If you're in or around the snow, pop on your best sparkles and let the scenery do the work for you!
5. Glamorous Christmas Displays and Fancy Malls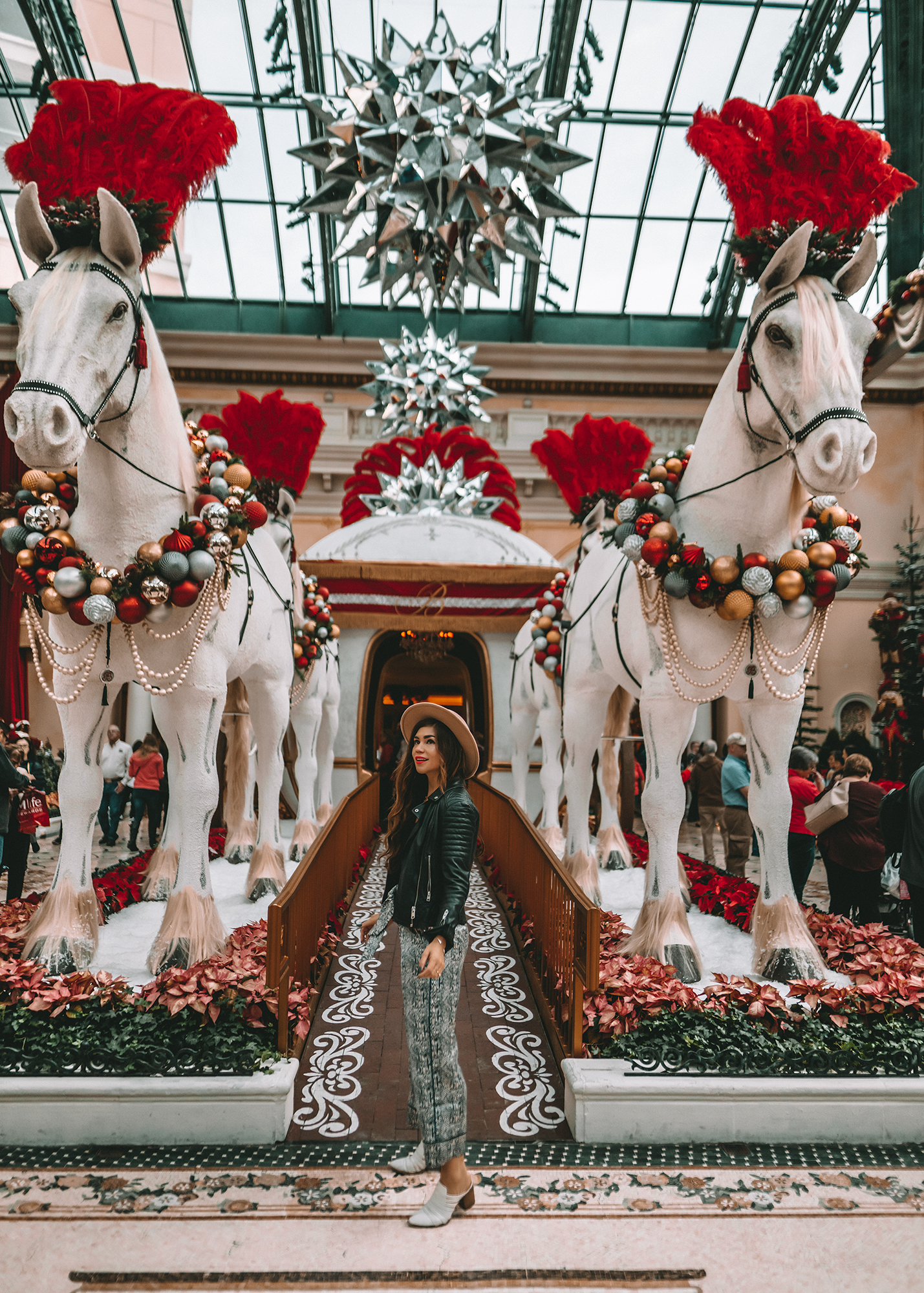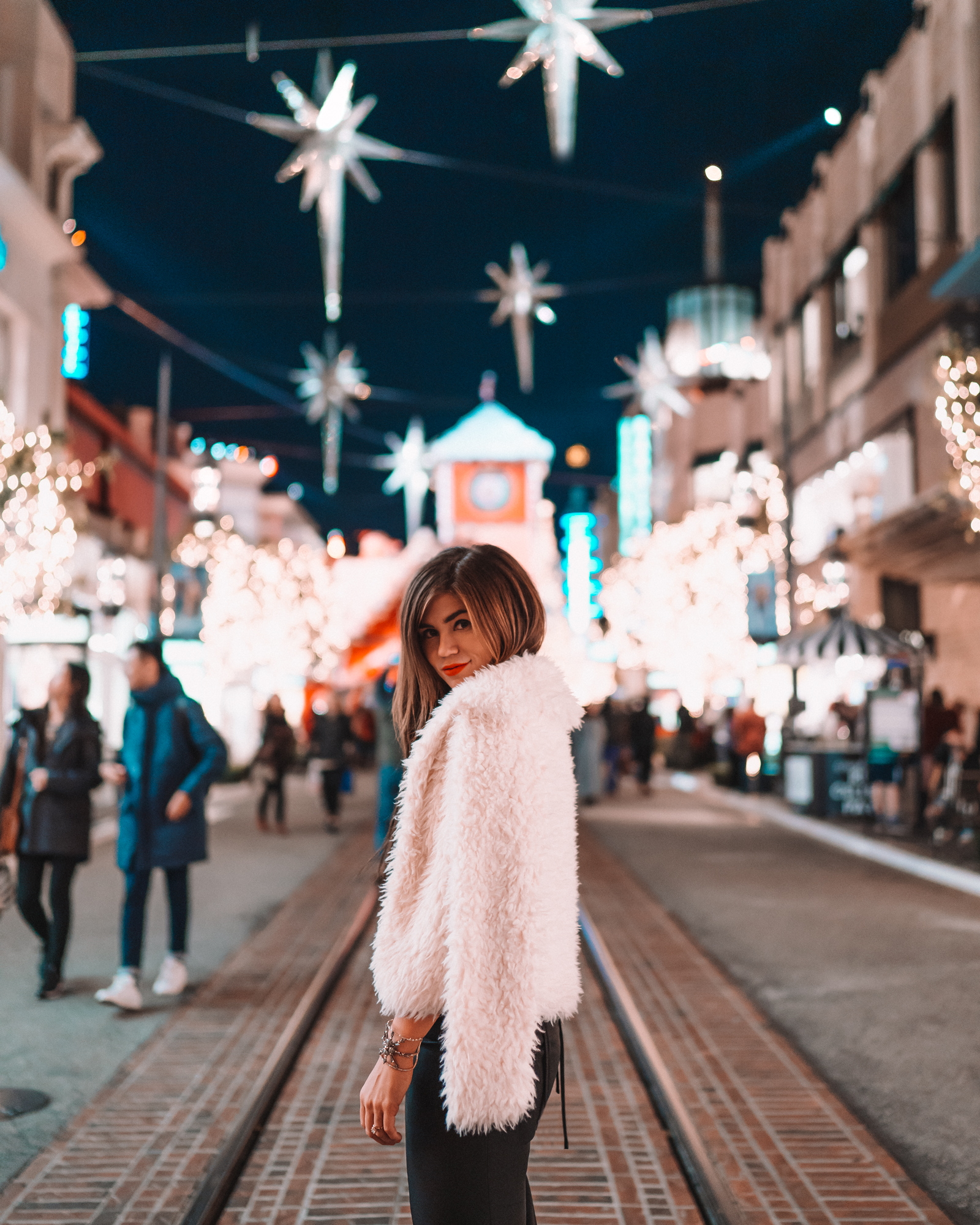 High-End malls and department stores have the BEST Christmas displays! In New York, head to Midtown for the famous windows of Bloomingdale's, Saks Fifth Avenue, and Tiffany's - and of course the giant tree at Rockefeller Center. In Los Angeles, The Grove mall has artificial snow most nights all through December as well as lights and Christmas villages at every corner. Your local luxury stores likely have some of the same!
Photography Tip: I love to shoot these at night to really see the glow of all the lights! Most stores are well-lit enough to get photos with any setting, but a proper camera, a higher ISO (light sensitivity) and your lowest possible aperture (f stop) will make getting a clear shot much easier!
6. Or go for a different approach at big-box stores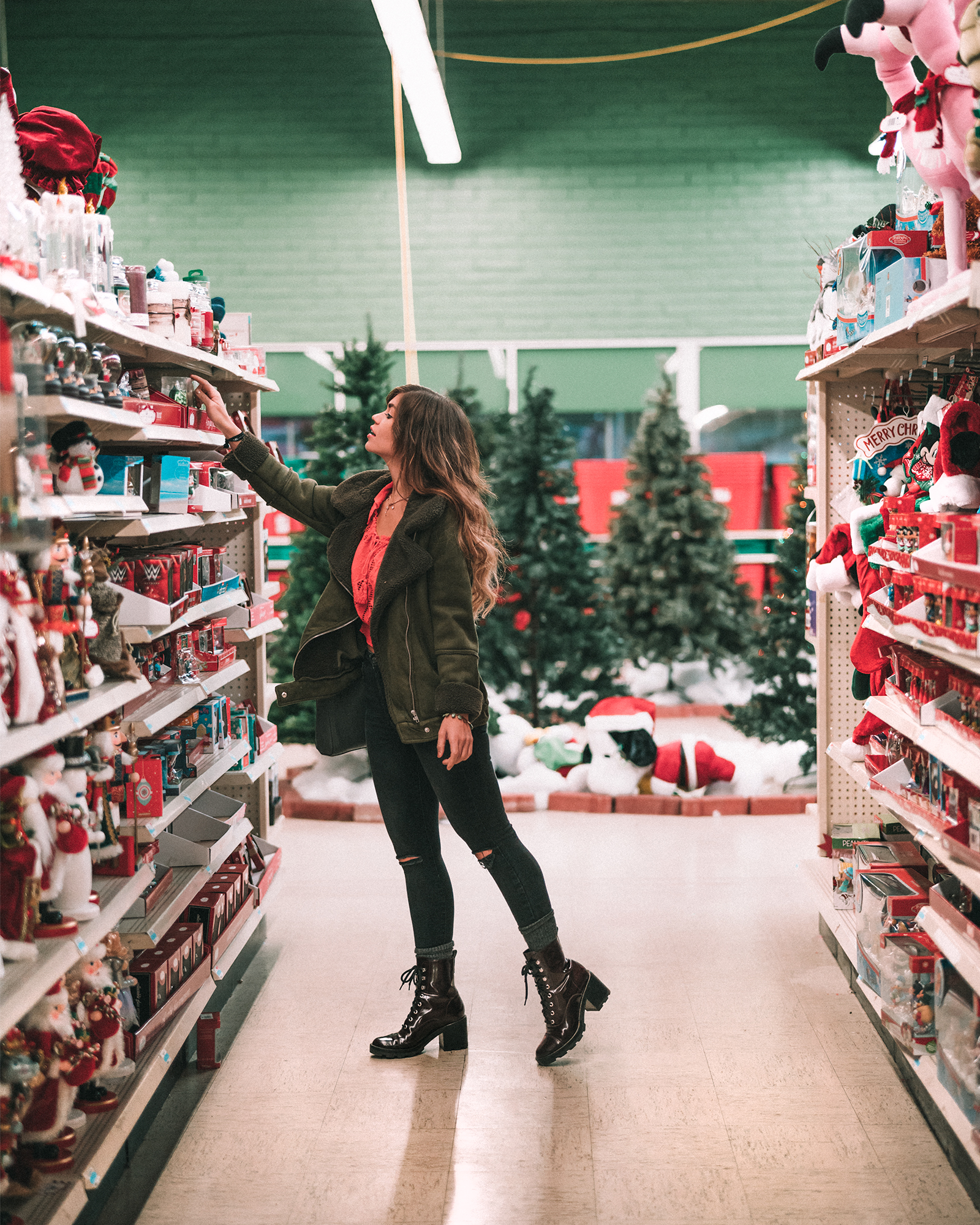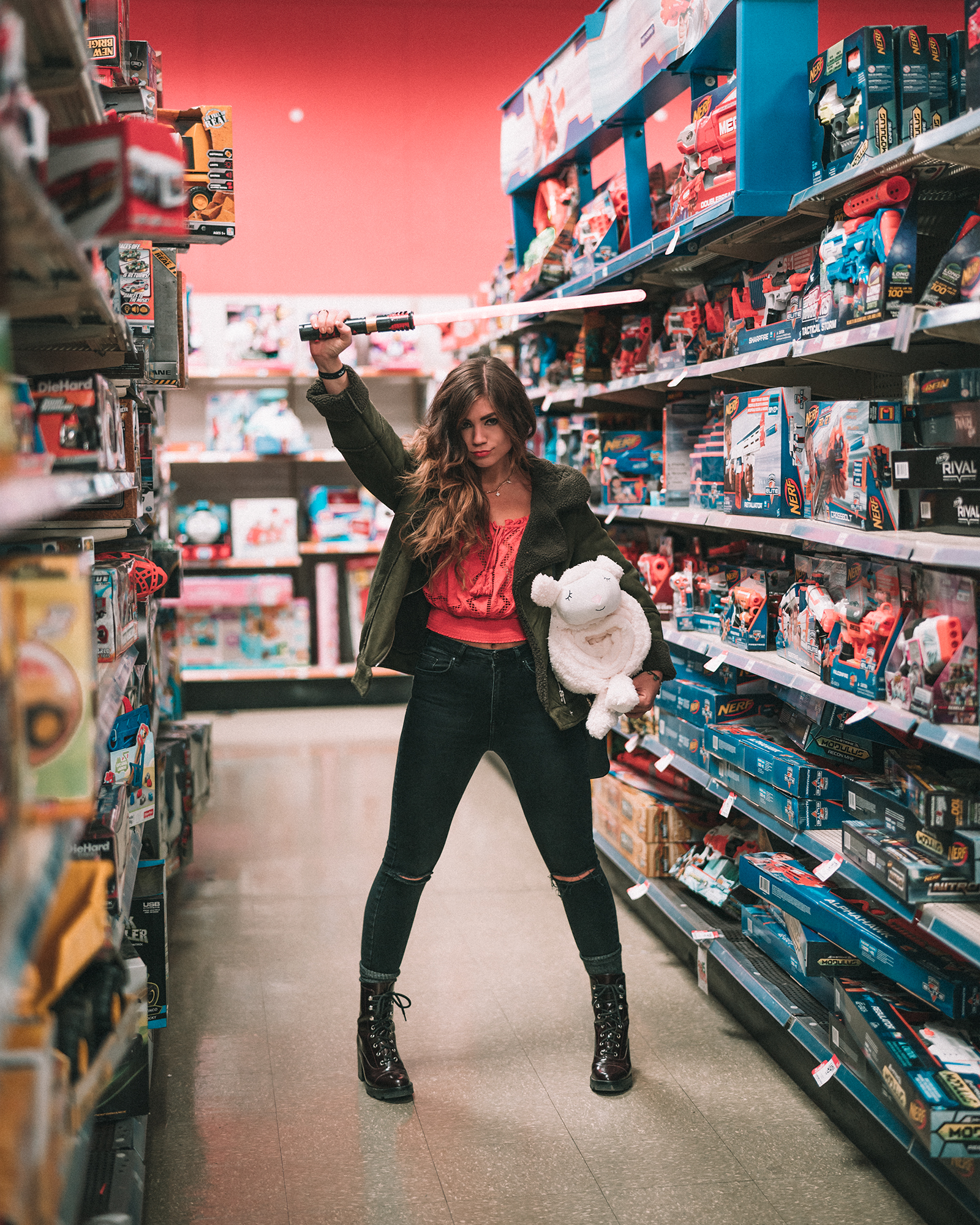 We shot these at a local K-Mart for a project a few years back! There's something a little more fun and reminiscent of childhood Christmases (and the most important part - shopping for TOYS!) at a more accessible shop.
Photography Tip: Honestly, most stores DO NOT CARE if you run around with a camera taking photos. As long as you're not moving too many things around, making anyone's job harder, or preventing other shoppers from getting what they need, we've found that no one ever bothers you.
7. All of the sparkly lights!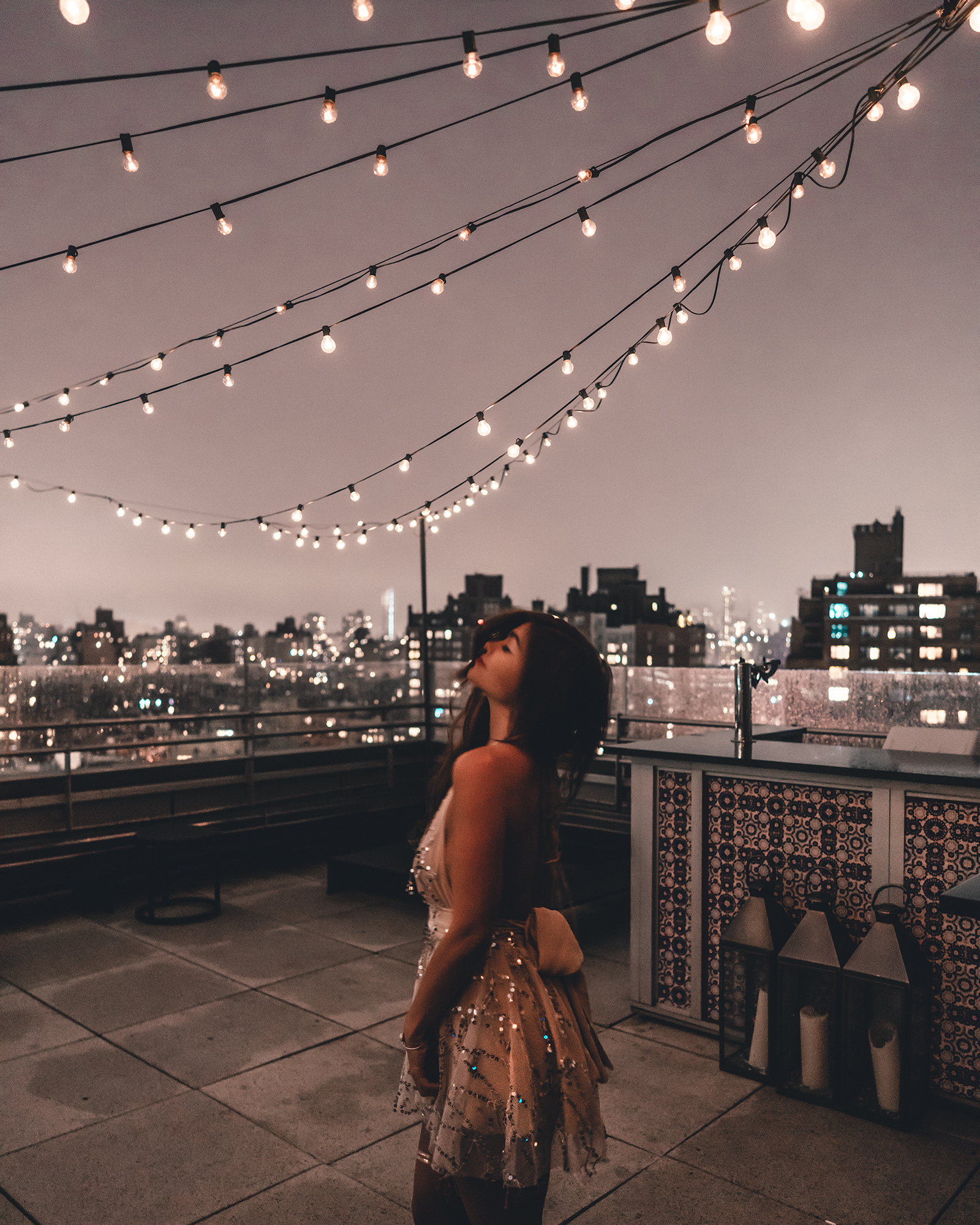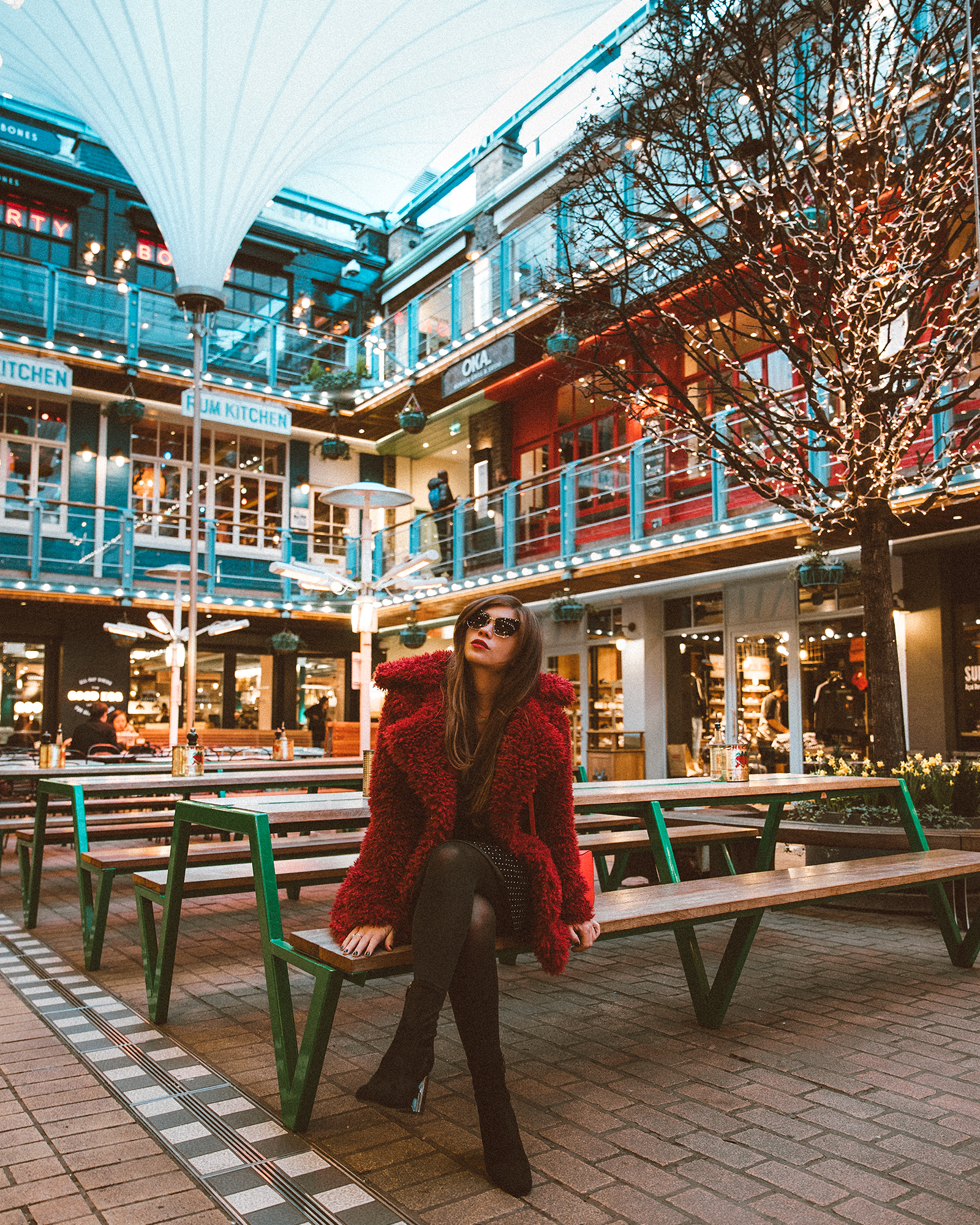 These don't need to be Christmas lights - any sparkle will do! These photos were both shot in the winter after Christmas was over, but I love the holiday feel the lights still give.
8. Winter Wonderland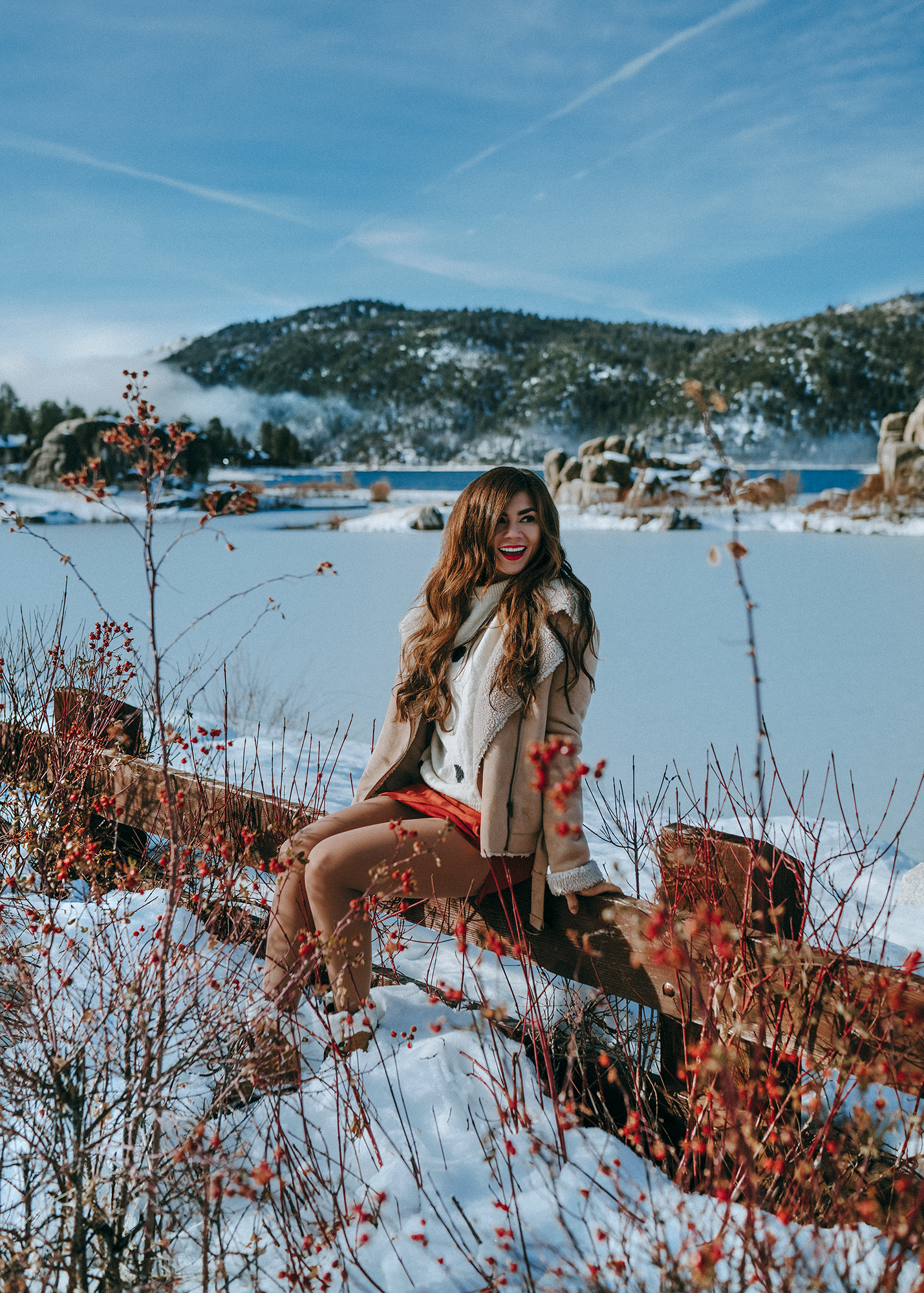 Last December, we got out of LA for a quick weekend in the snow just a couple of hours away, and found the winteriest wonderland at nearby Big Bear Lake! The red flowers here next to the frozen lake give an even more holiday feel - and crank it up even more with red coats, santa hats, sparkles, or reindeer ears!
Photography Tip: When editing your photos, turning the color temperature just a little cooler (bluer) will make images look more icy and convey a frozen winter feel.
9. Christmas in the Sun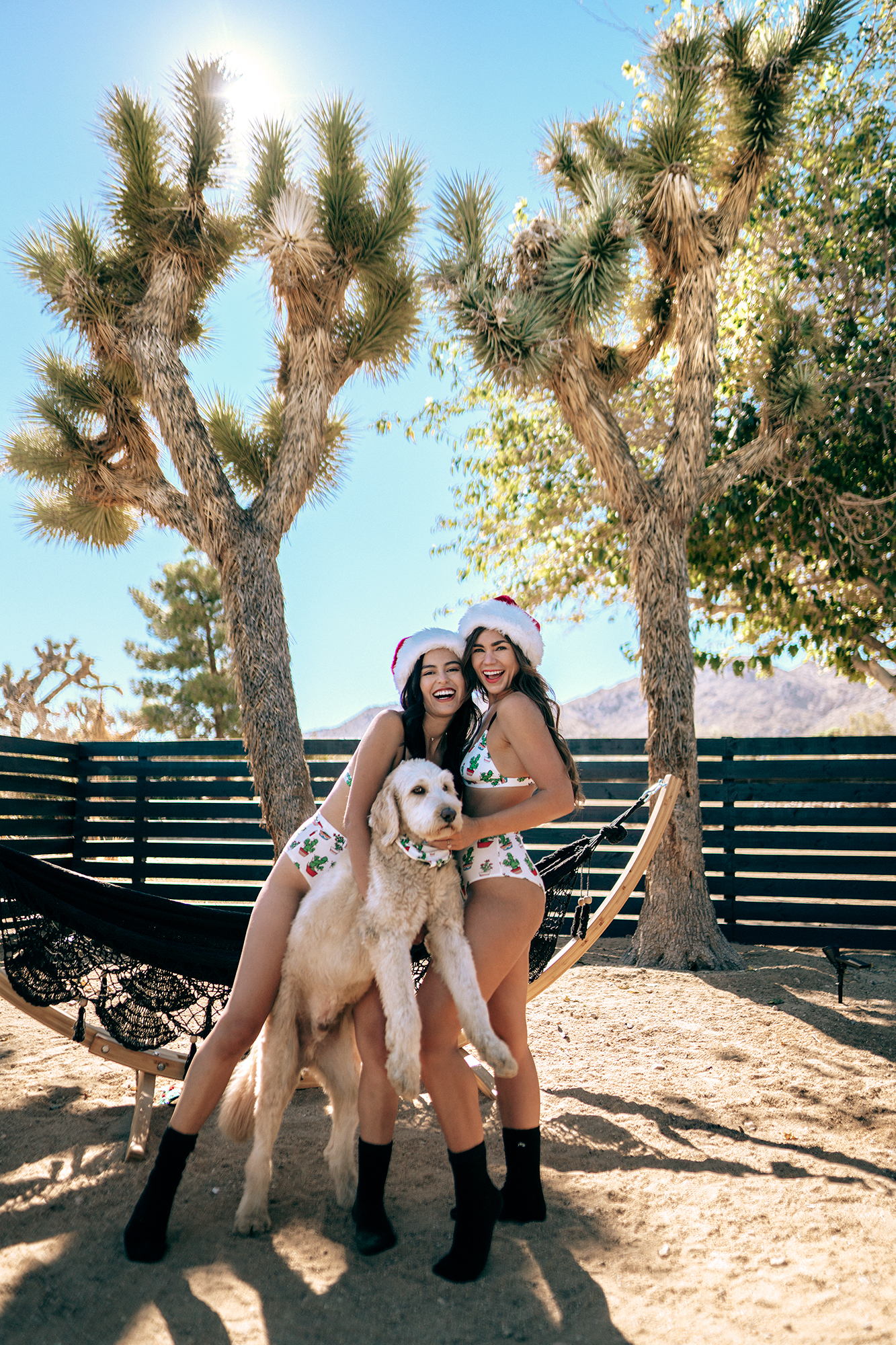 Celebrating Christmas in a sunnier location or maybe even on a tropical vacation (Christmas in Thailand has been one of my favorites to date)? Pack a Santa hat, and take it to the next level with a red swimsuit, and step out into the sun!
10. A Cozy Log Cabin, Day or Night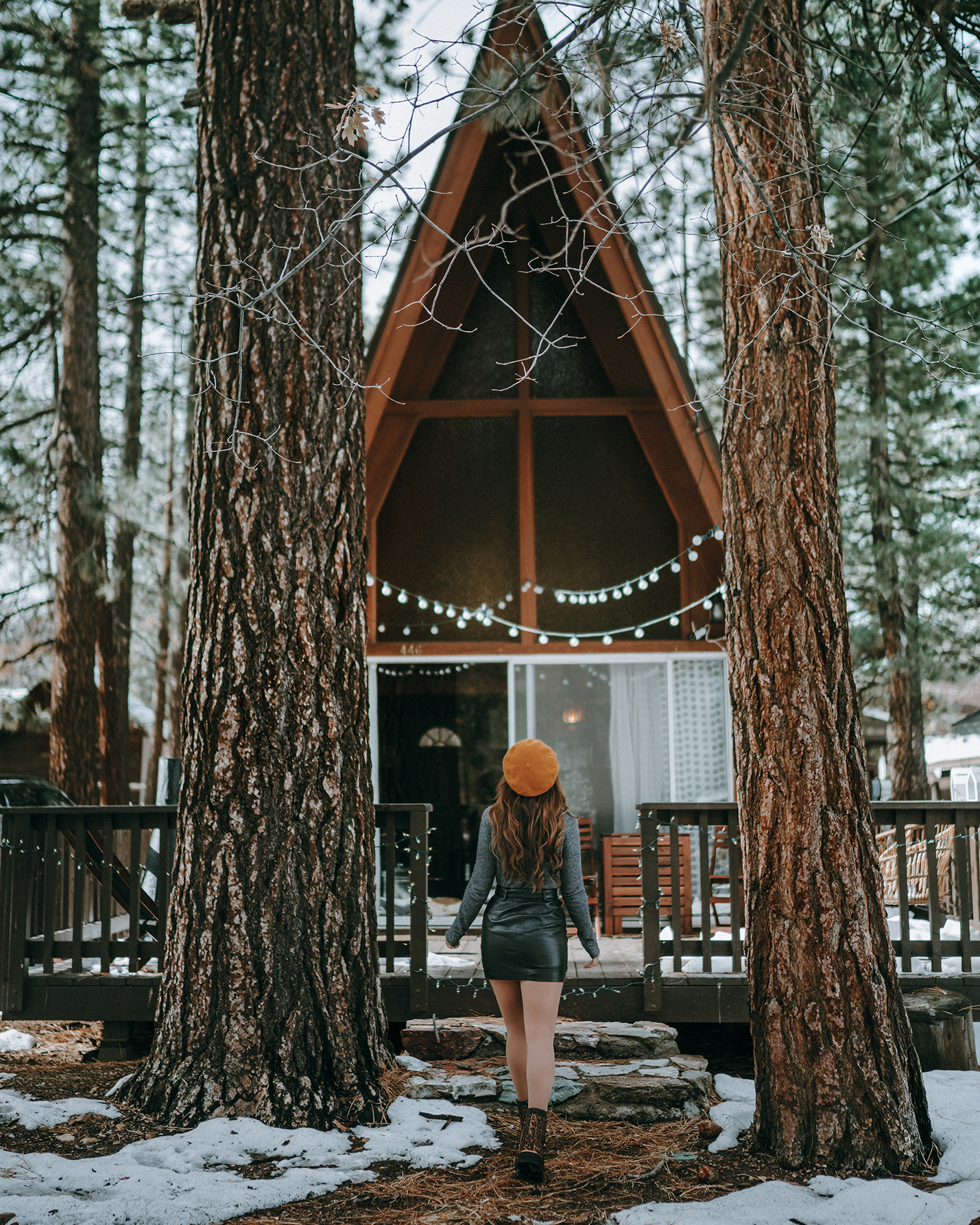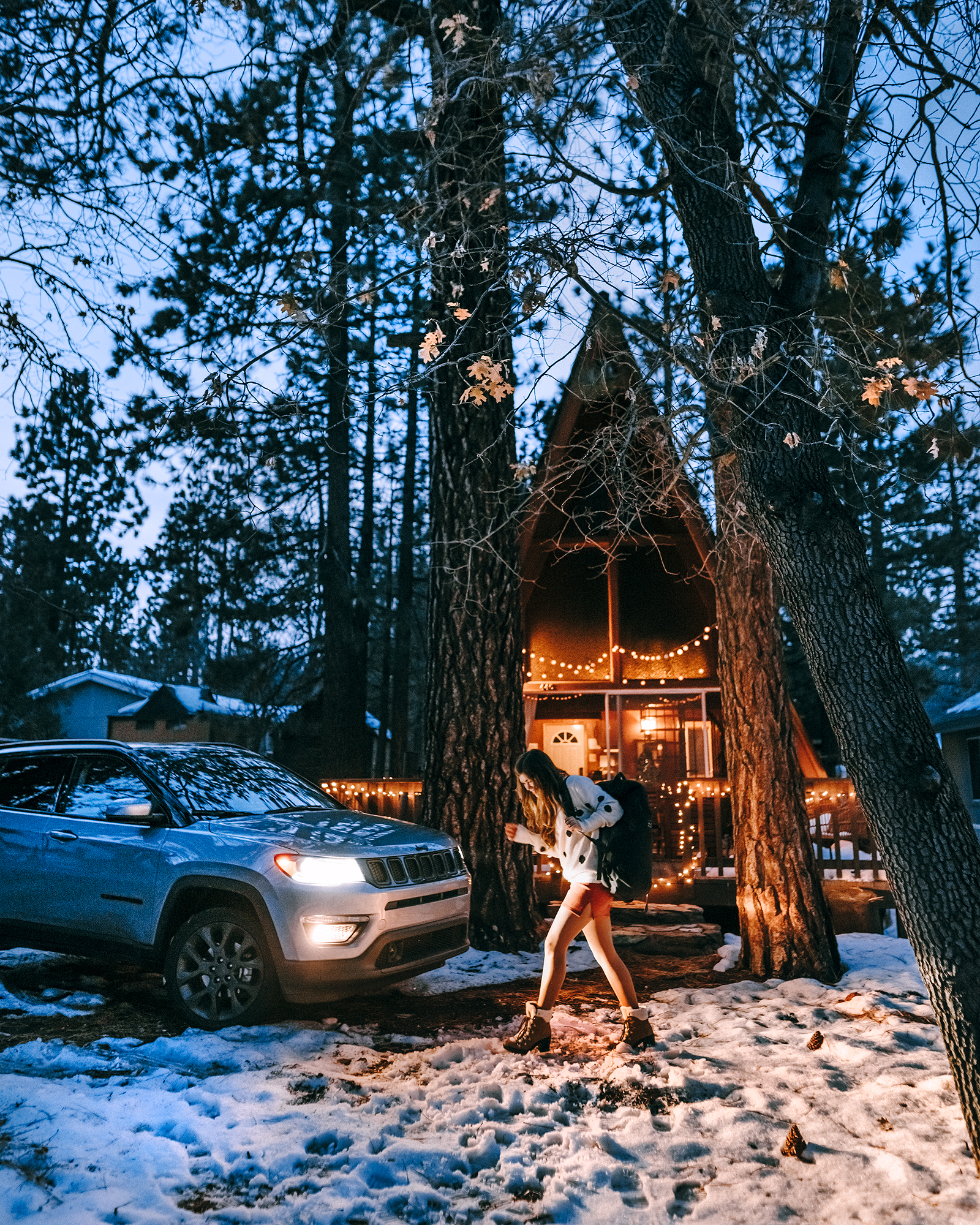 A-frame cabins in the snow are PEAK winter. We brought these Christmas lights with us and strung them around the outside of the cabin for the extra glow and cheer.
11. Add some sparkle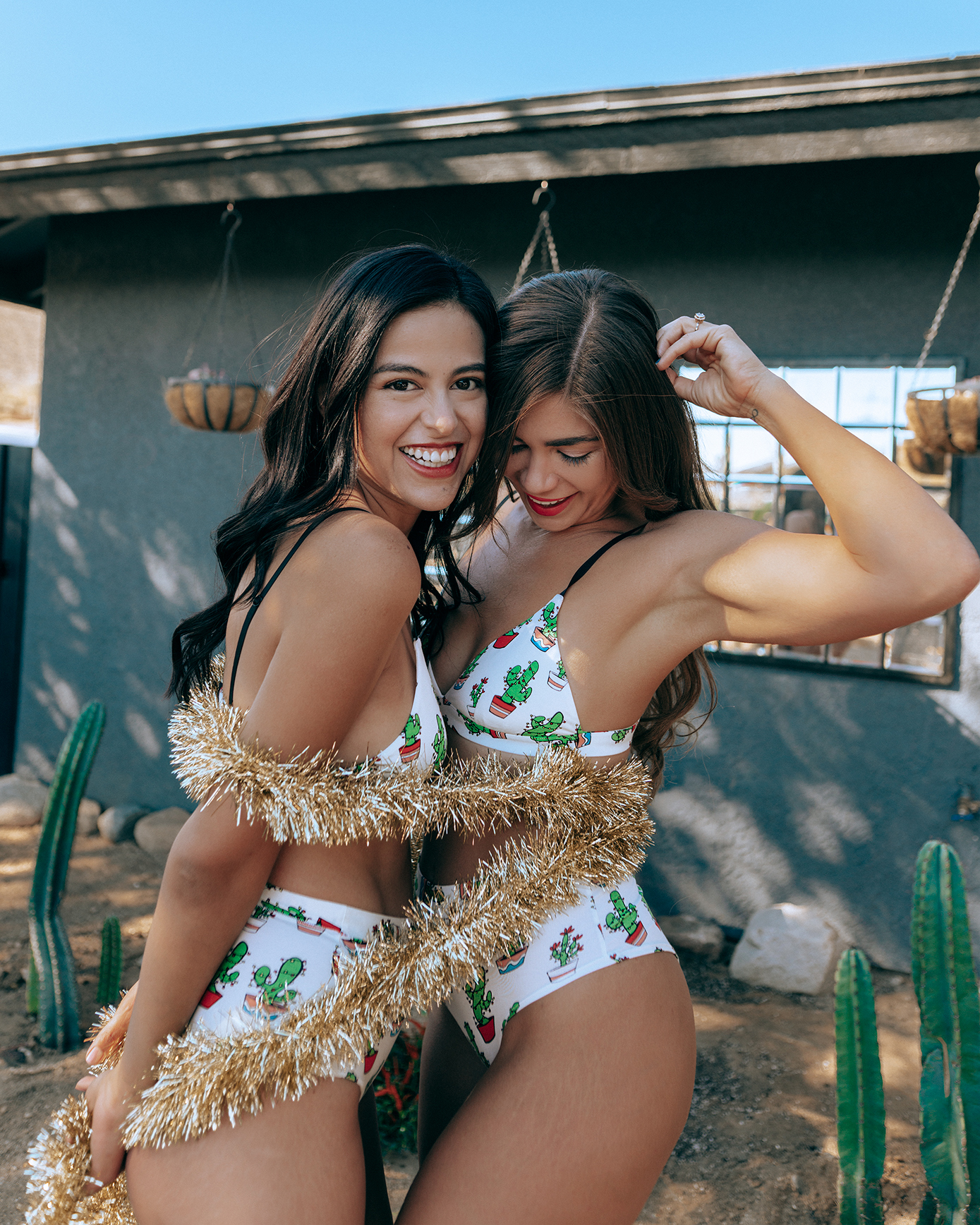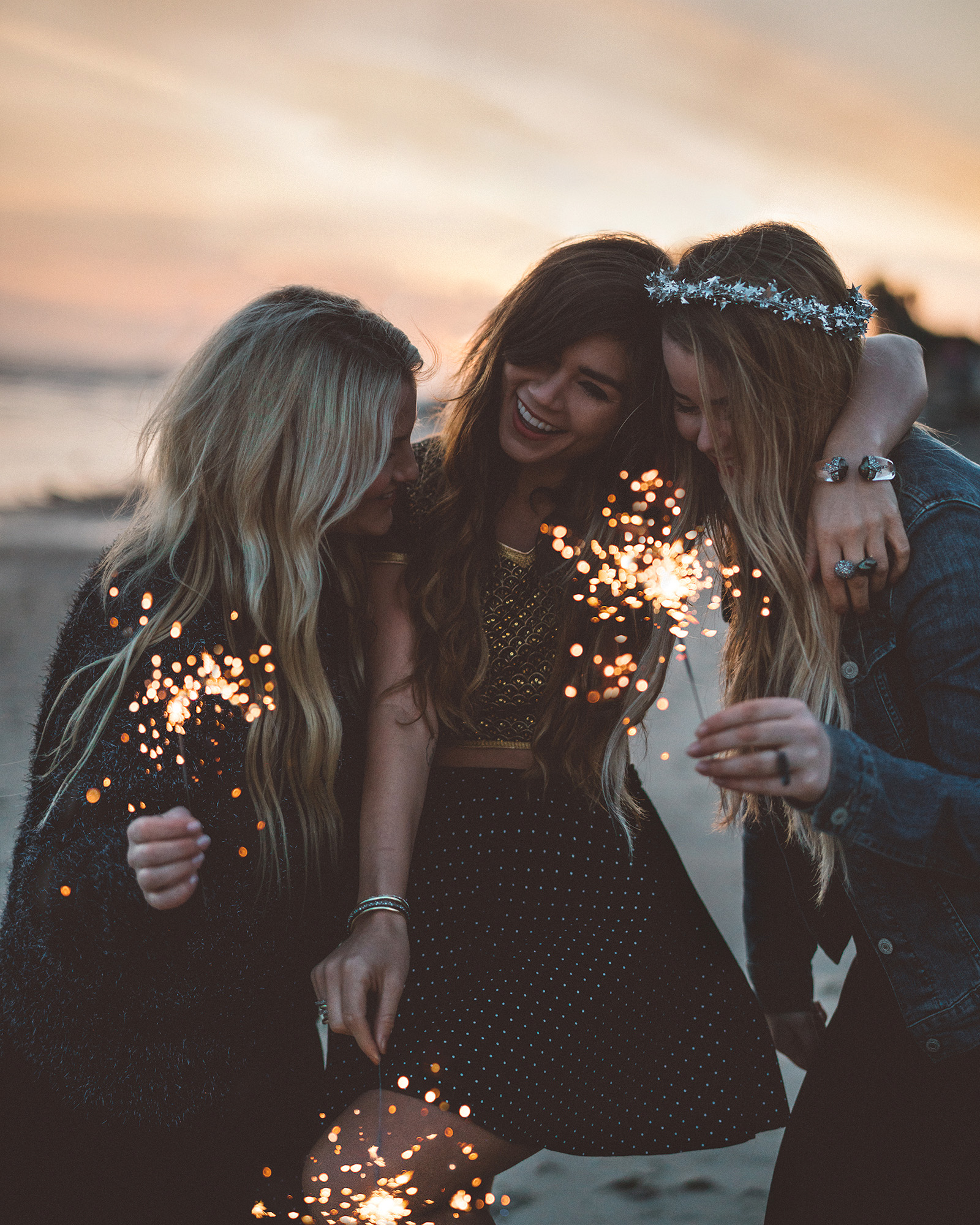 Wrap yourself in a tinsel garland, pull out some leftover sparklers from 4th of July, throw some bows on it, put your baby into a stocking, the possibilities are endless! I love Christmas for how loud and over the top and sparkly it is - it feels like the one time of year where more is more and anything goes!
12. When in Doubt, Just Add Falling Snow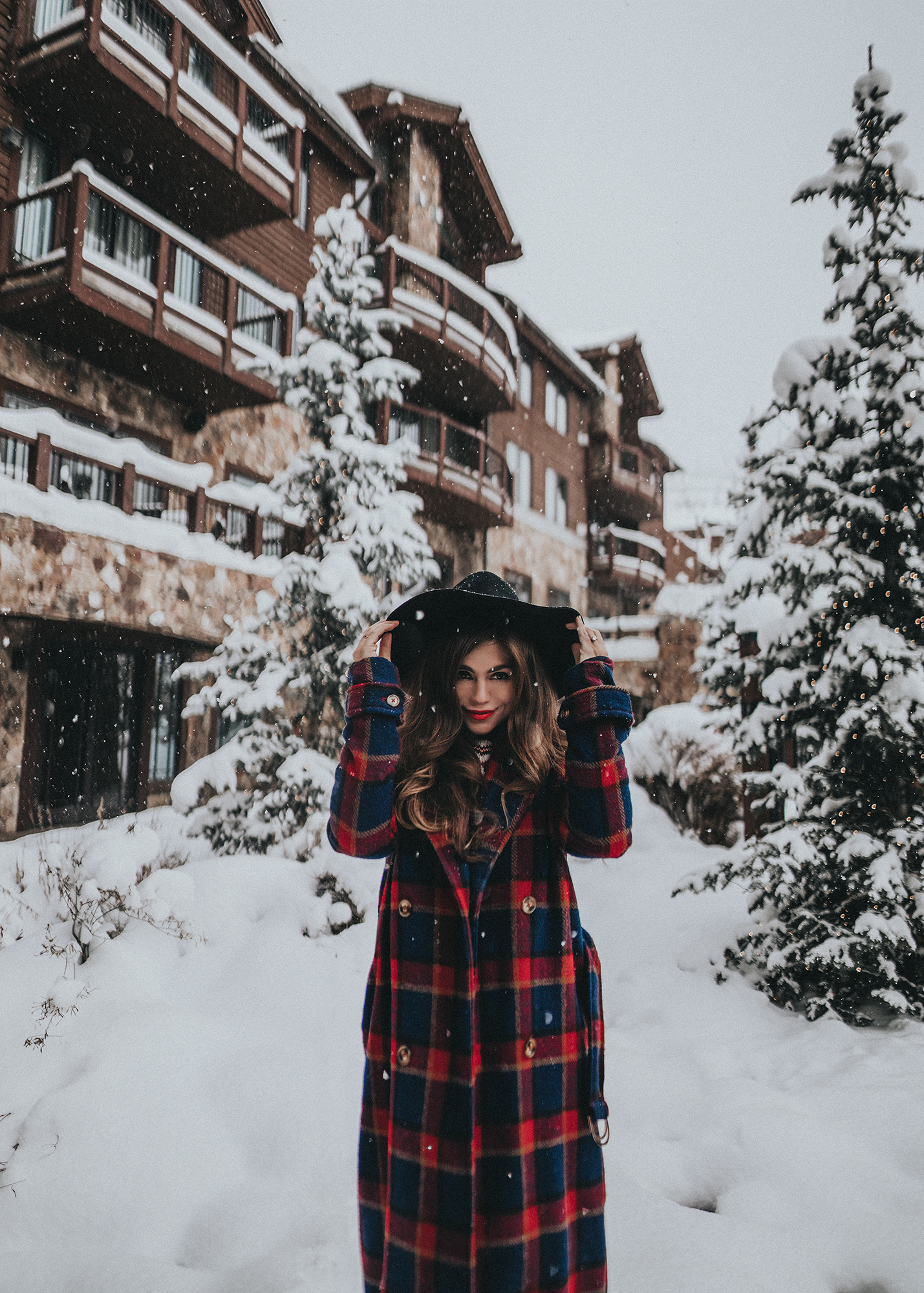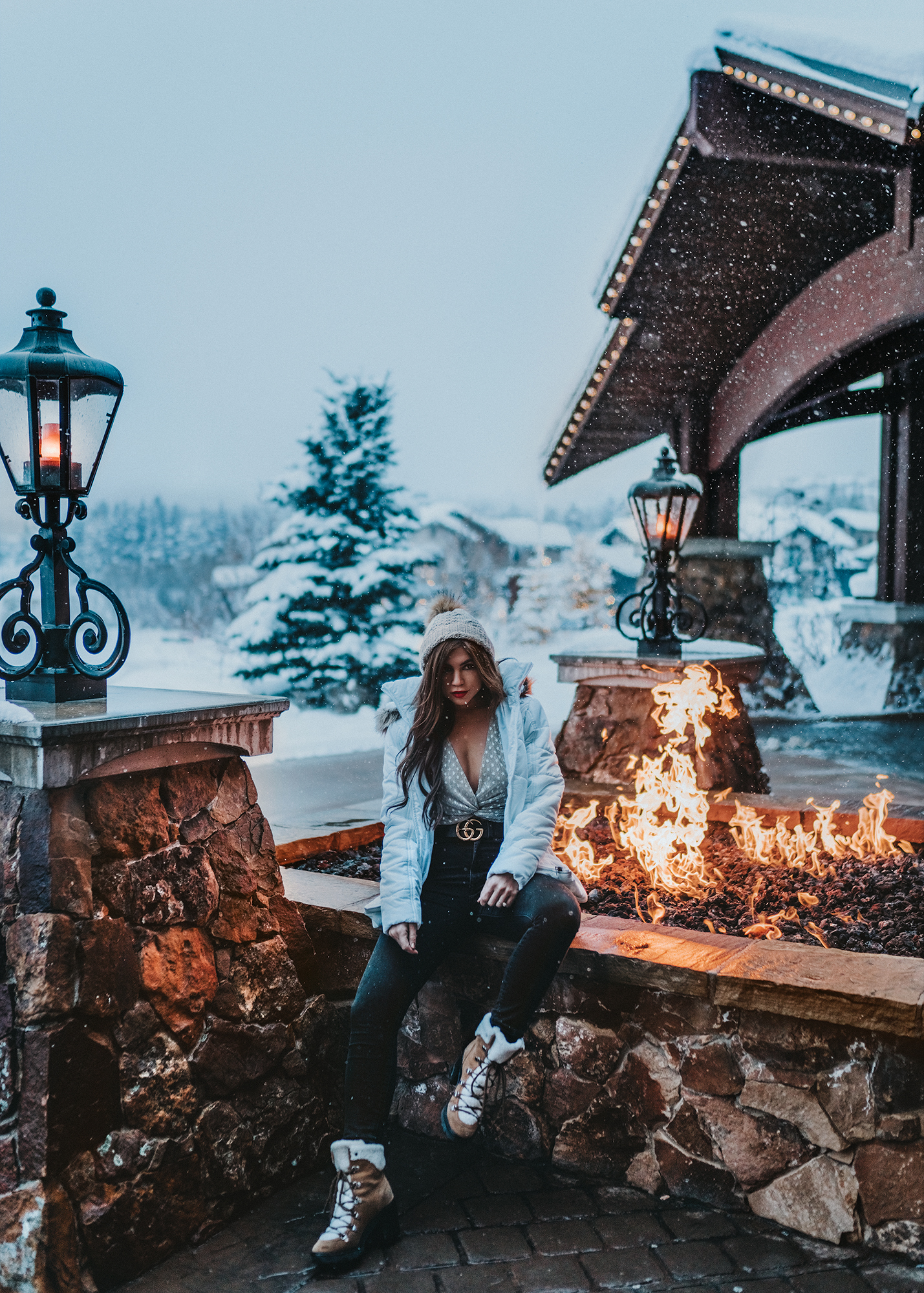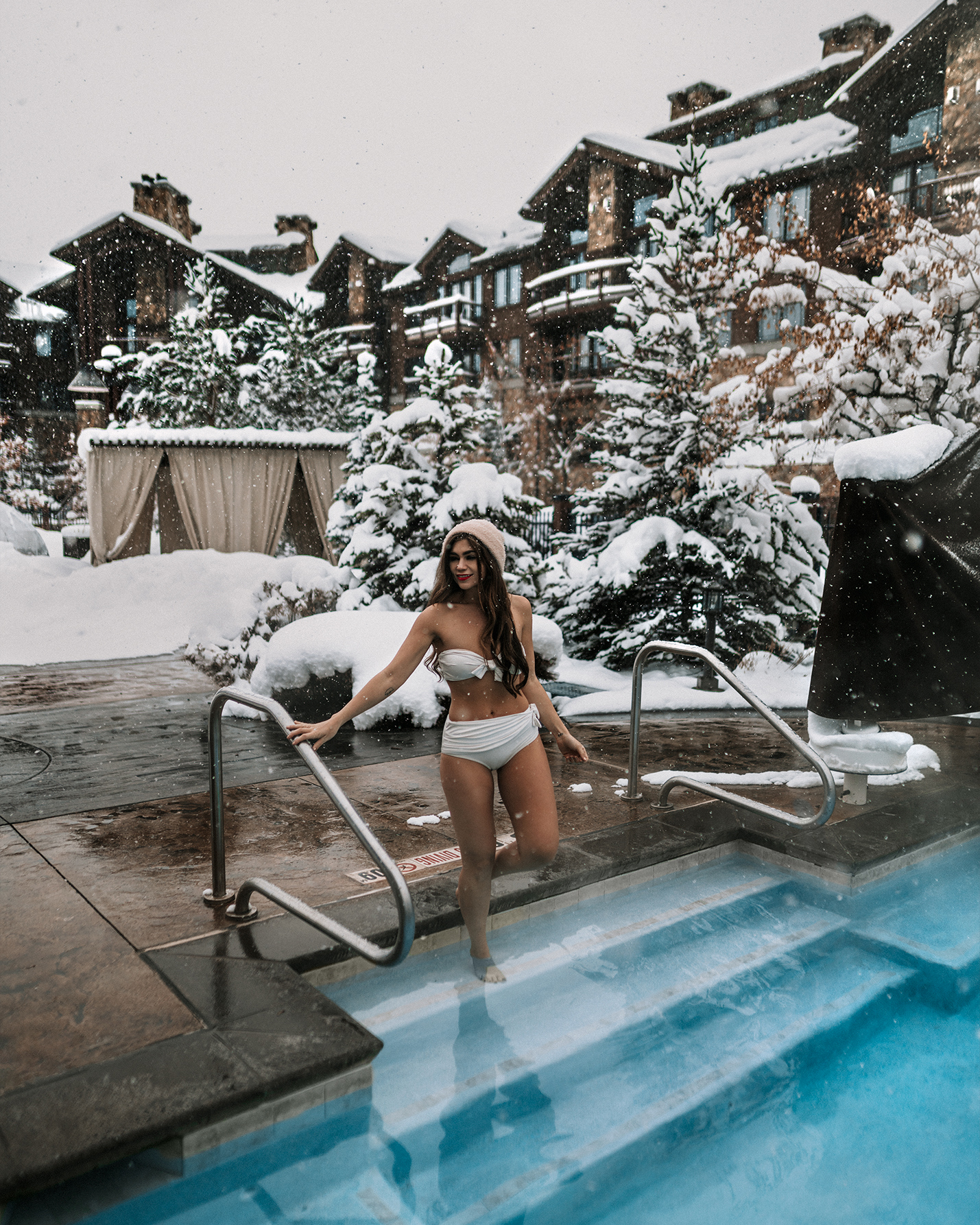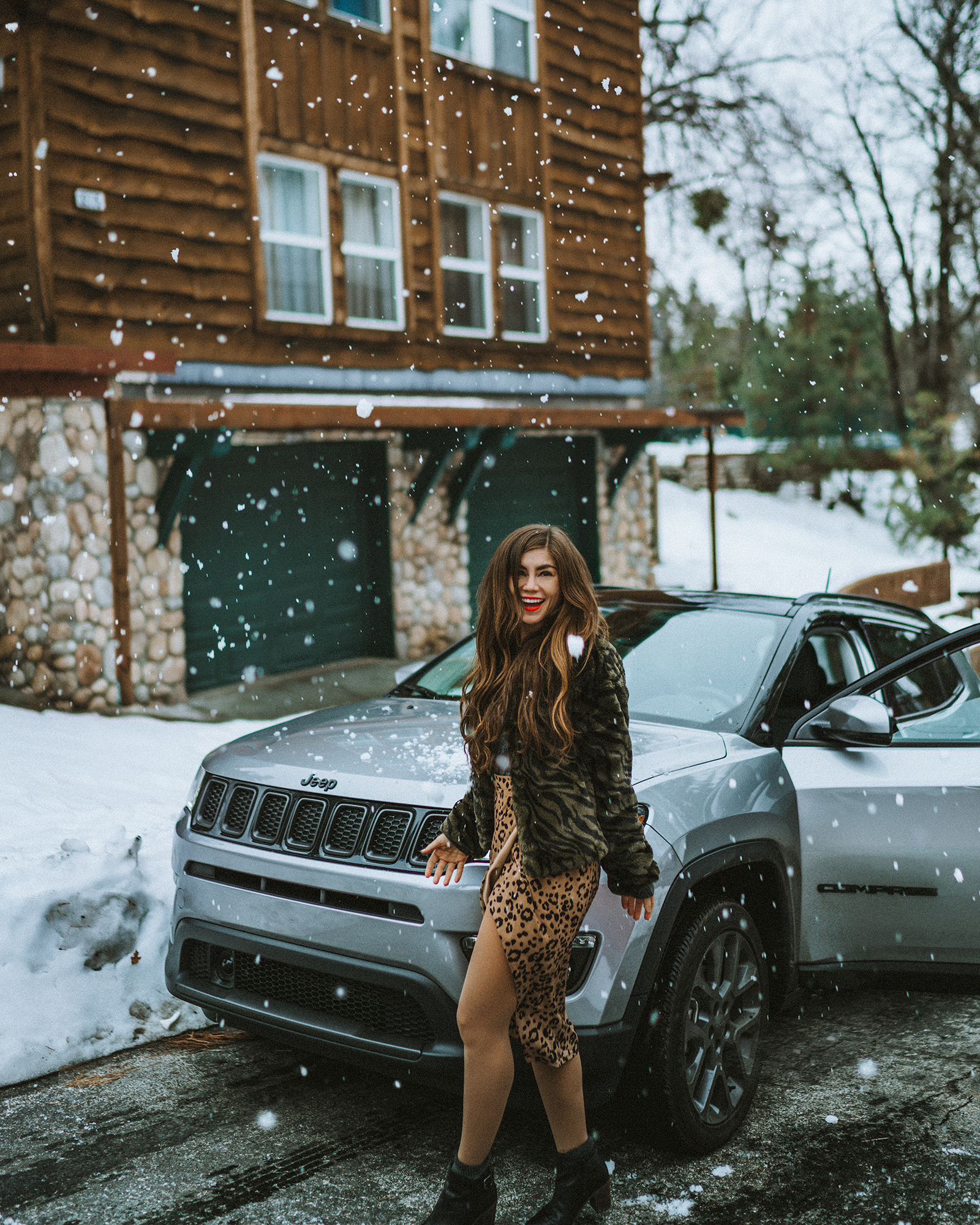 Everything looks better in the snow!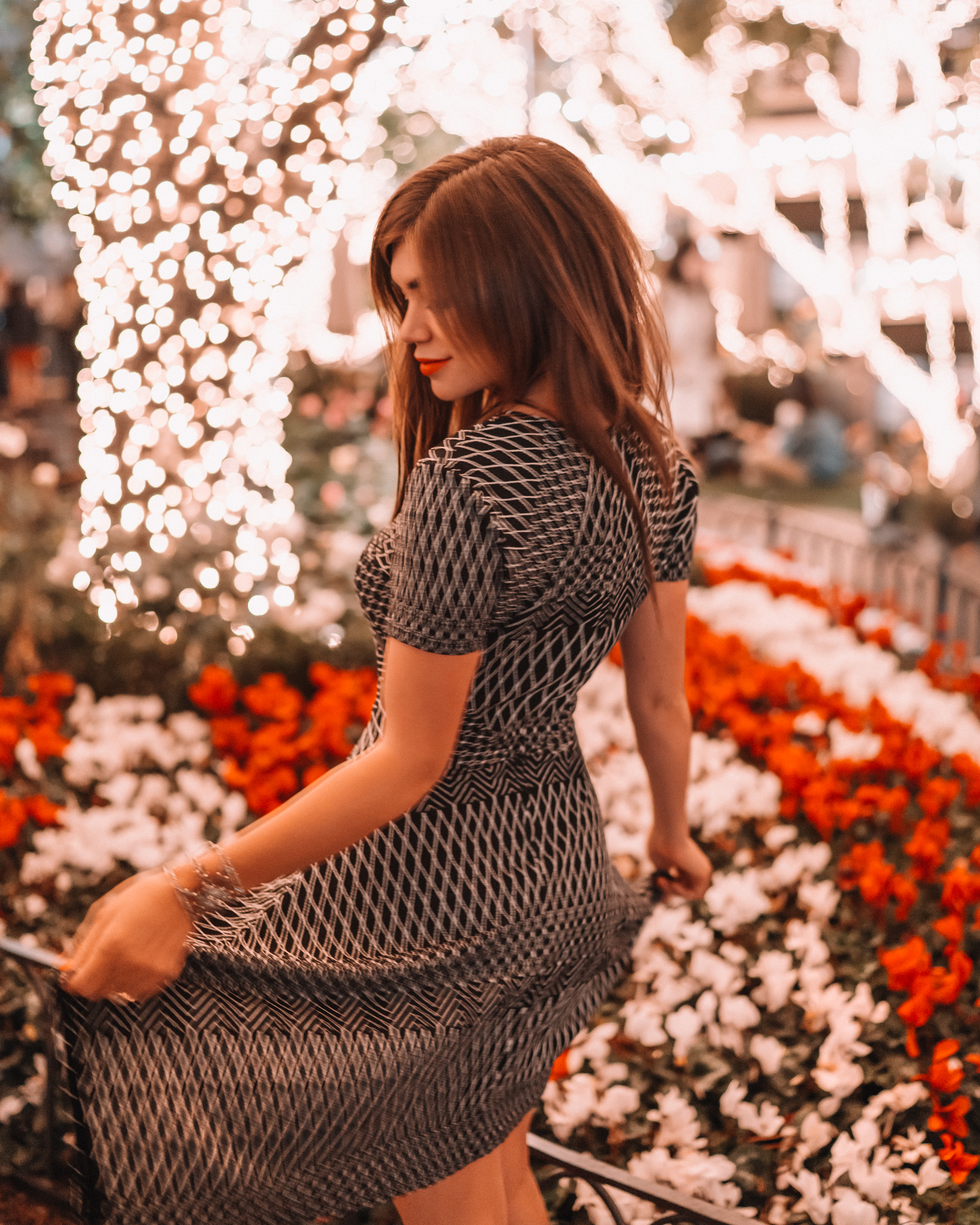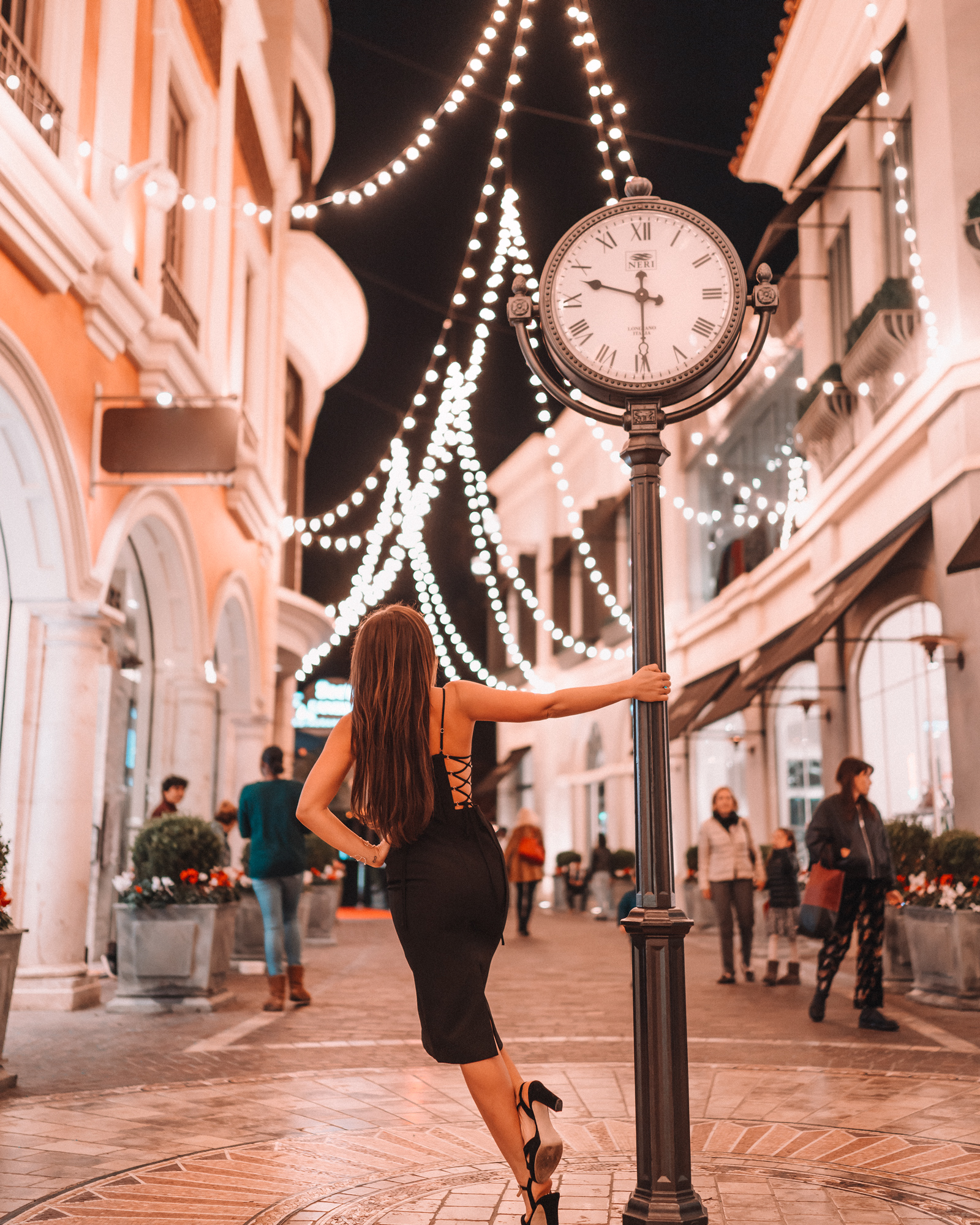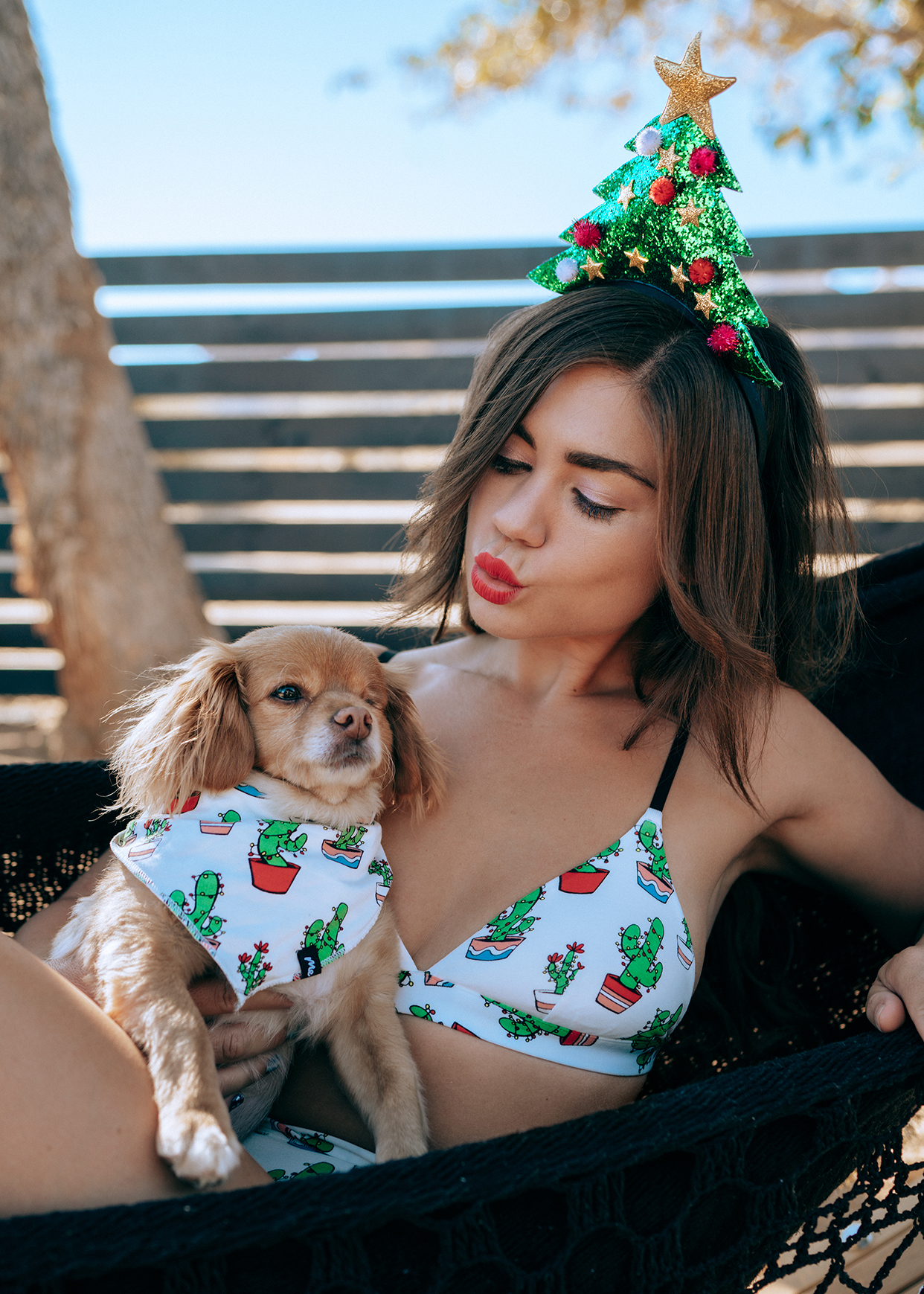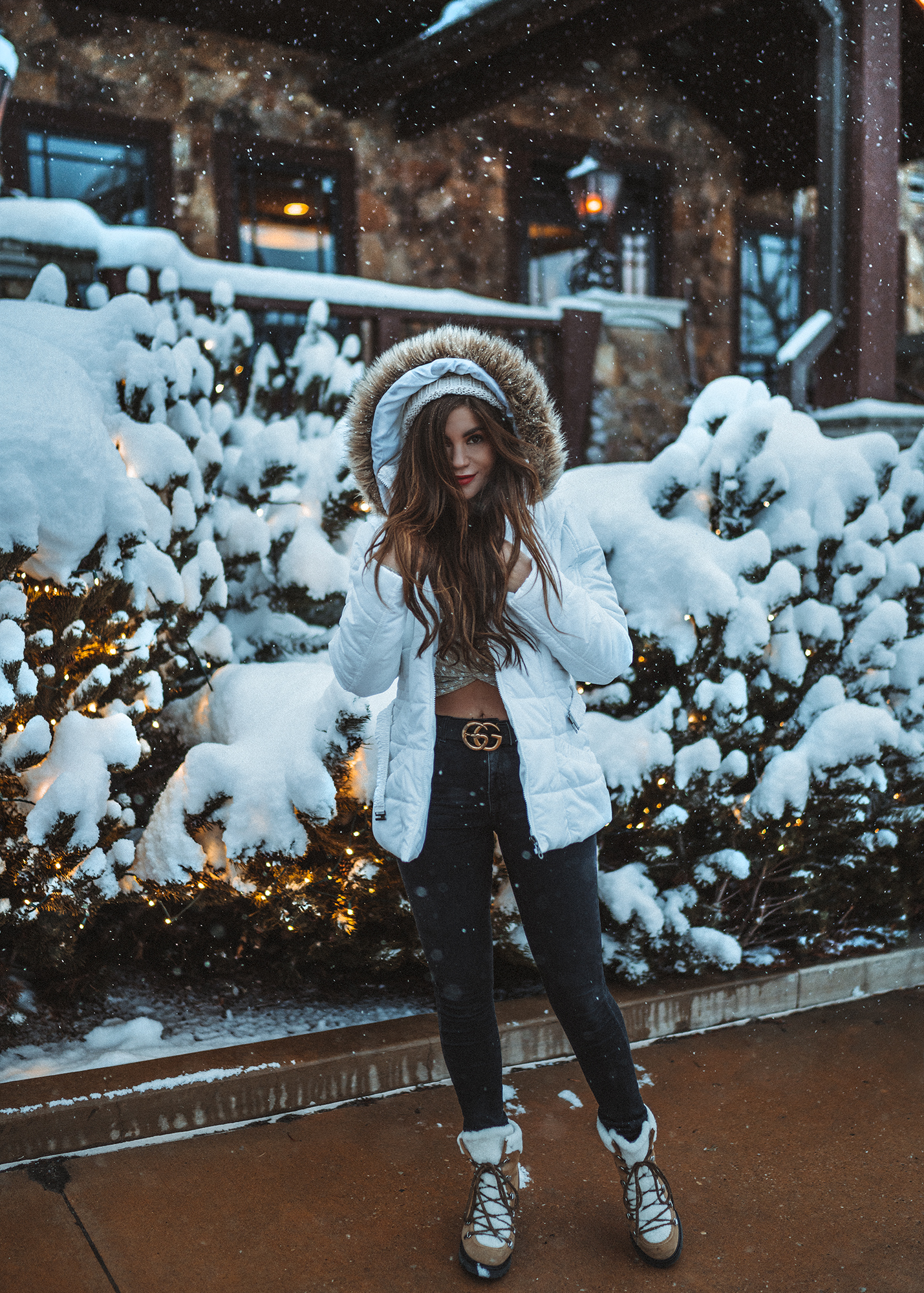 Happy Christmas!