May 24, 2019 Hotels And Resorts
Brooklyn Homecoming at The Williamsburg Hotel
I could speak endlessly about my love for New York City - the place I dreamt of moving to starting at age 14, the city I rushed through college to get to as soon as I could, the place I made my home. I spent close to ten years in New York City - from my start in a not-really-yet-gentrified Crown Heights, to hopping around Manhattan neighborhoods trying to find the version of New York that I fit in to. It was finally, a few years in to my New York living, when I hopped the L train and moved to Williamsburg that I finally felt at home. Williamsburg was everything that I wanted the East Village to be the year before - the neighborhood was alive and vibrant, easy to get around, and I finally started to feel like my long-held New Yorker dreams were finally coming to fruition. I lived in a tiny railroad apartment on top of a taco shack with windows that didn't lock, ceilings I was convinced were going to cave in, and neighbors I never once met; but it was just a few steps from the train, cheap, and had big windows and a fire escape. I bought a bike and learned to distance run, I made a whole new group of friends, I took the L train to 38th and 8th Monday through Friday, I went out to bottomless brunches on Saturdays and stayed out until 4AM. I was youngish and single and after a few years slogging through the worst parts of moving to New York, I found my home - and my happiness.
When Brandon and I started dating and he moved to New York, we moved out of my tiny little box and into one of the towers at the Williamsburg Waterfront. We joked that they barely let us in - we were in a studio apartment, on the very lowest floor, overlooking the parking lot - but we filled our little home with plants, named it the Tiki Shack, and loved our life there. We meticulously maximized every inch of our studio, threw indoor pool parties in the winter, and would take the train to work together in the morning. We would go for summer walks along the waterfront, with the Manhattan skyline glittering over the water and hatched our wild plans to leave this beautiful life we had built behind - to trade it in in search of travel and adventure.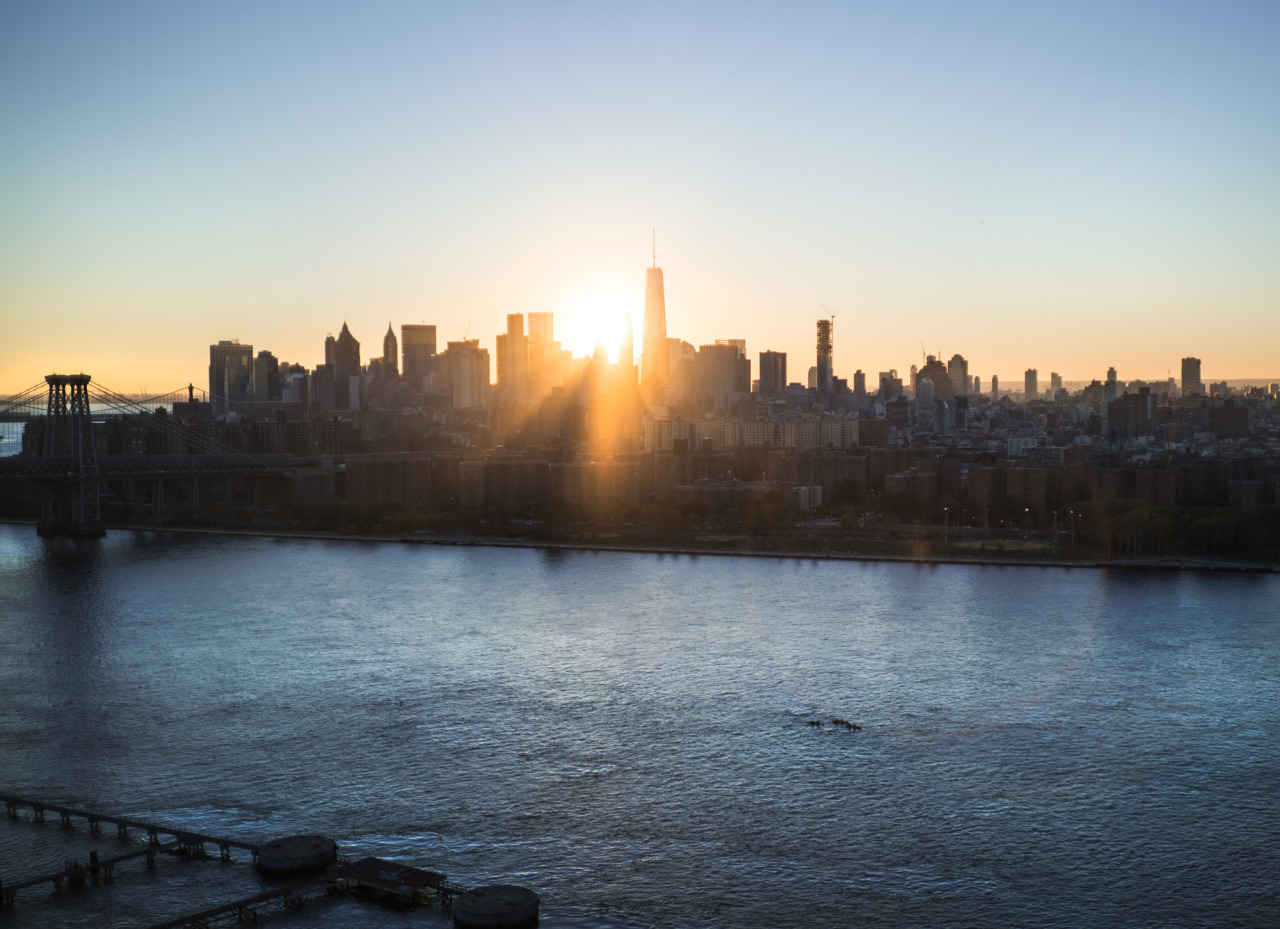 We have been out of New York for not even three years now, and this life both feels like so, so long ago, and like we have just barely left - and the one thing I know for sure is that we don't spend nearly as much time back in the city as I wish we did. However, when we only had a few days between a project in Europe and a wedding up in The Catskills - I knew that my city was calling me back home for a few days.
New York is constantly changing, and since our leaving in 2016, so much has been added to the neighborhood - we were so excited to stay at the fairly new Williamsburg Hotel - just a few blocks from our old home! On our last trip to New York, we were staying in Manhattan and didn't visit the neighborhood at all - and finally returning to the one place where my heart really feels at home felt so incredible, and right, and like it was filling up so much of what I have been missing and craving the past year.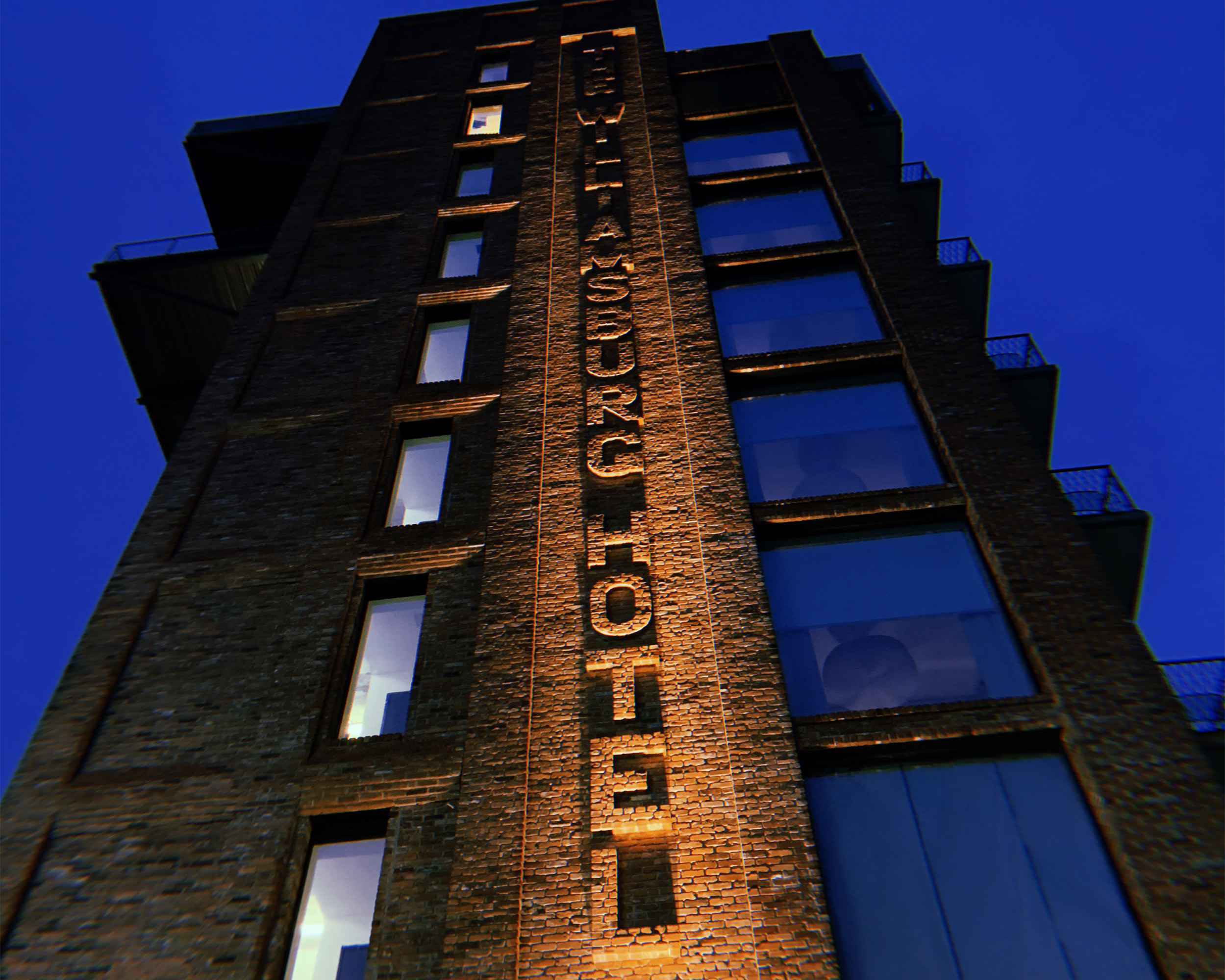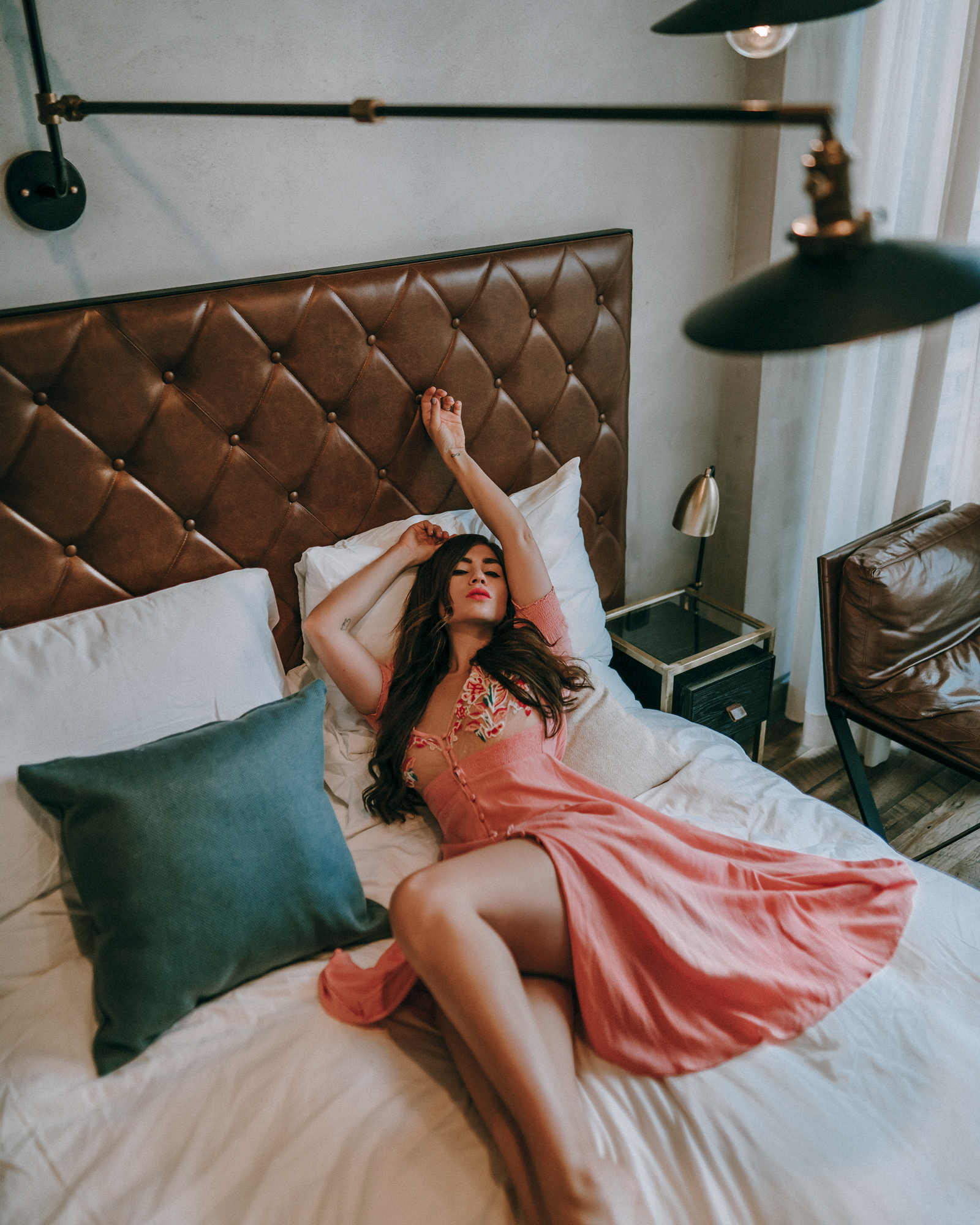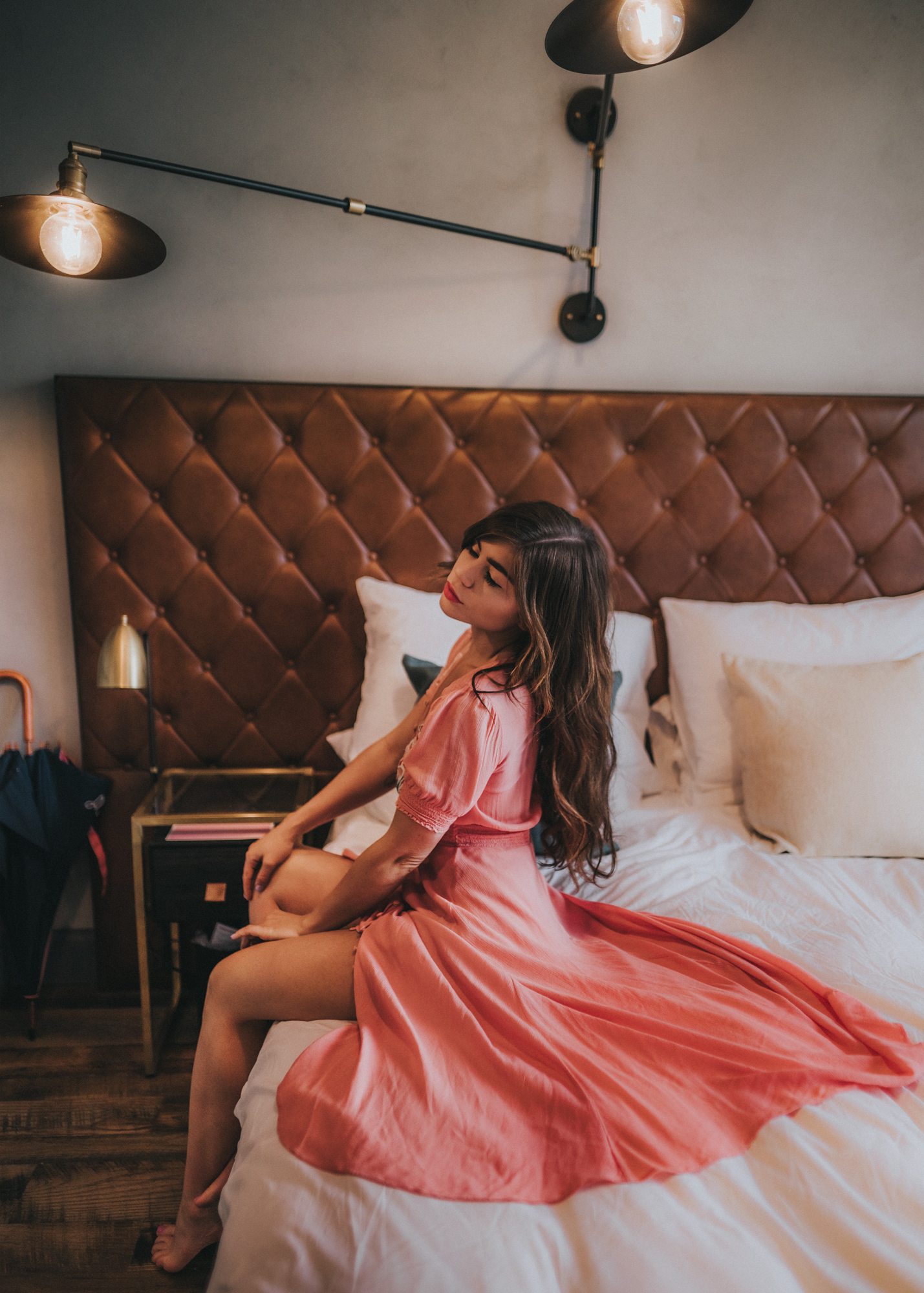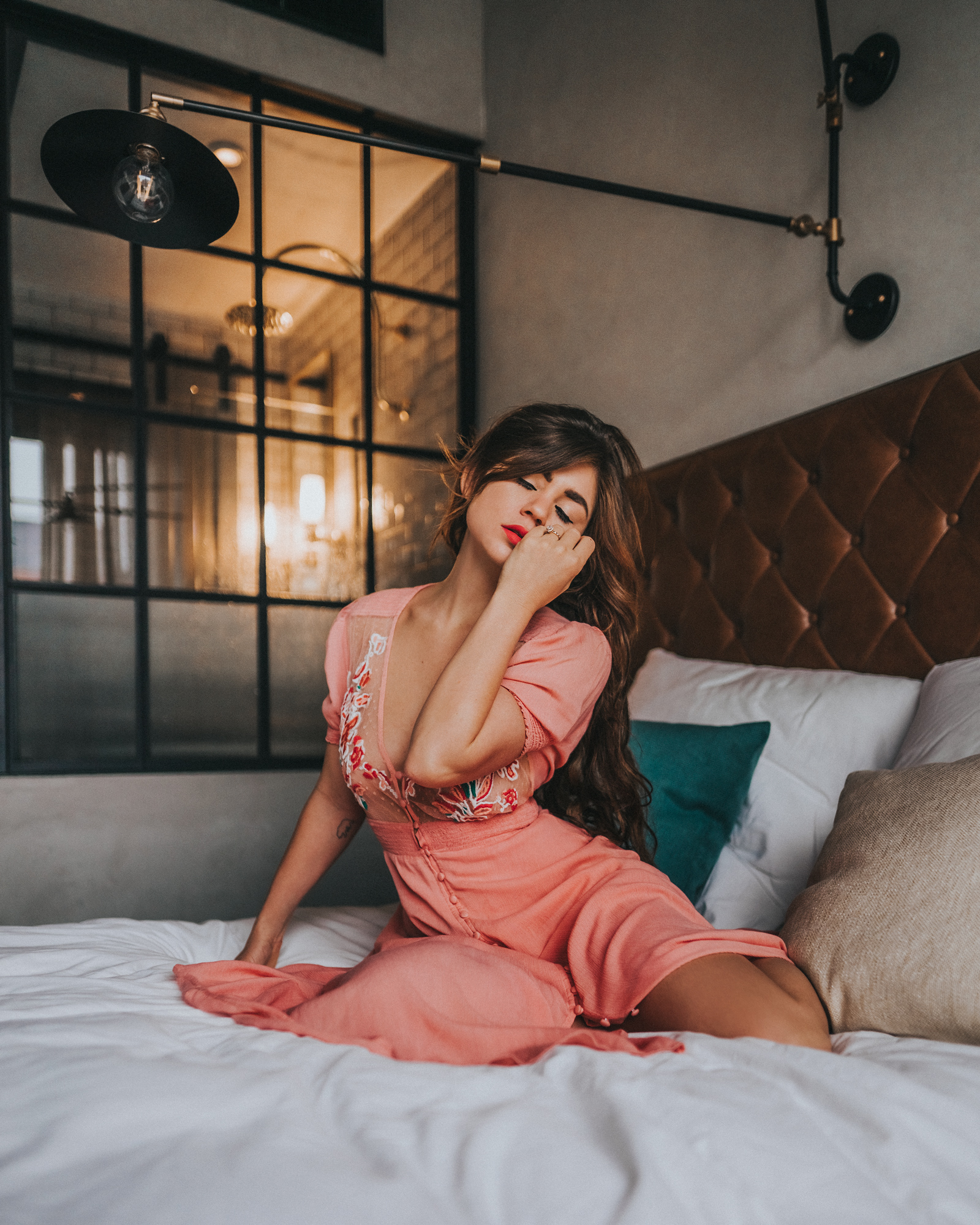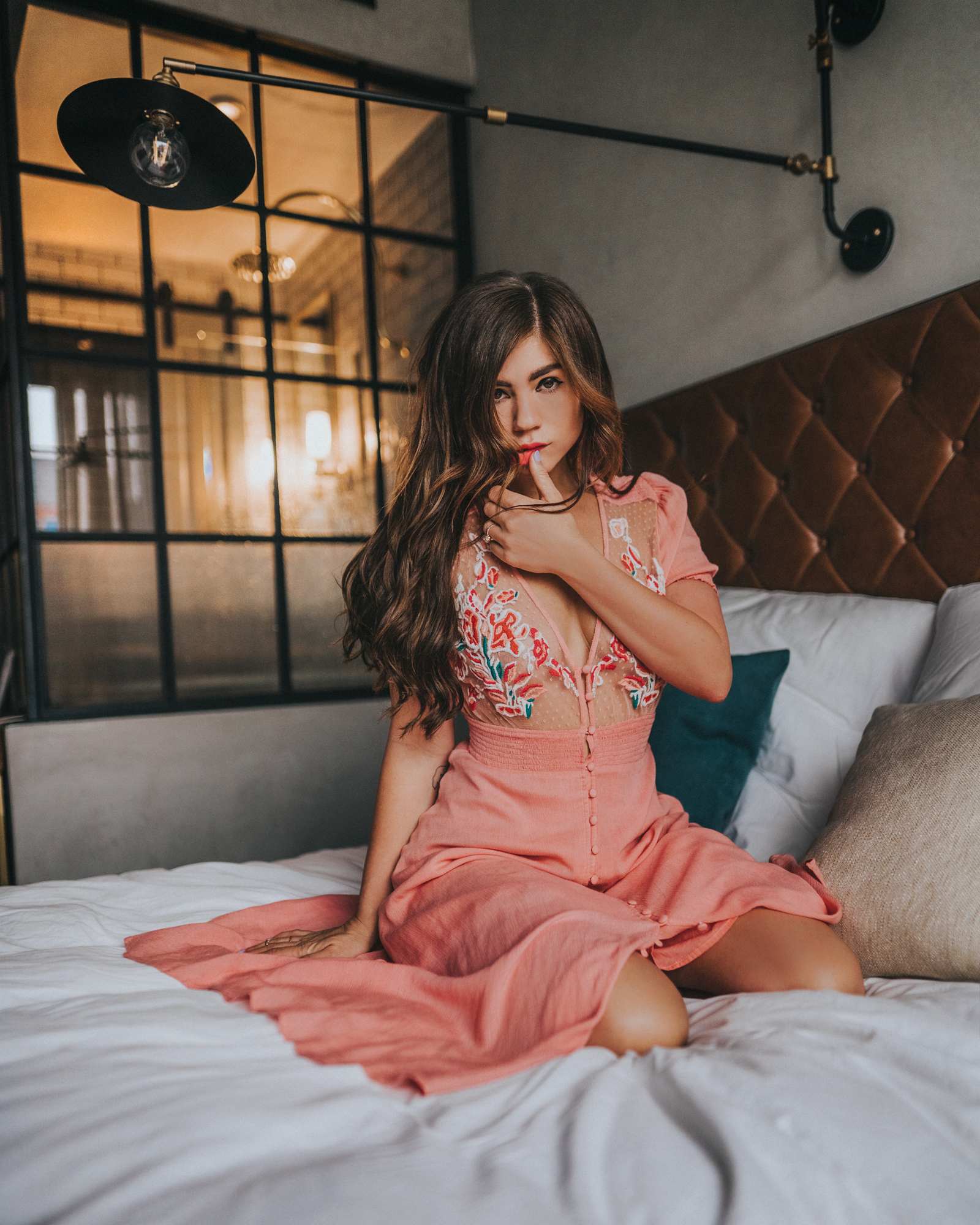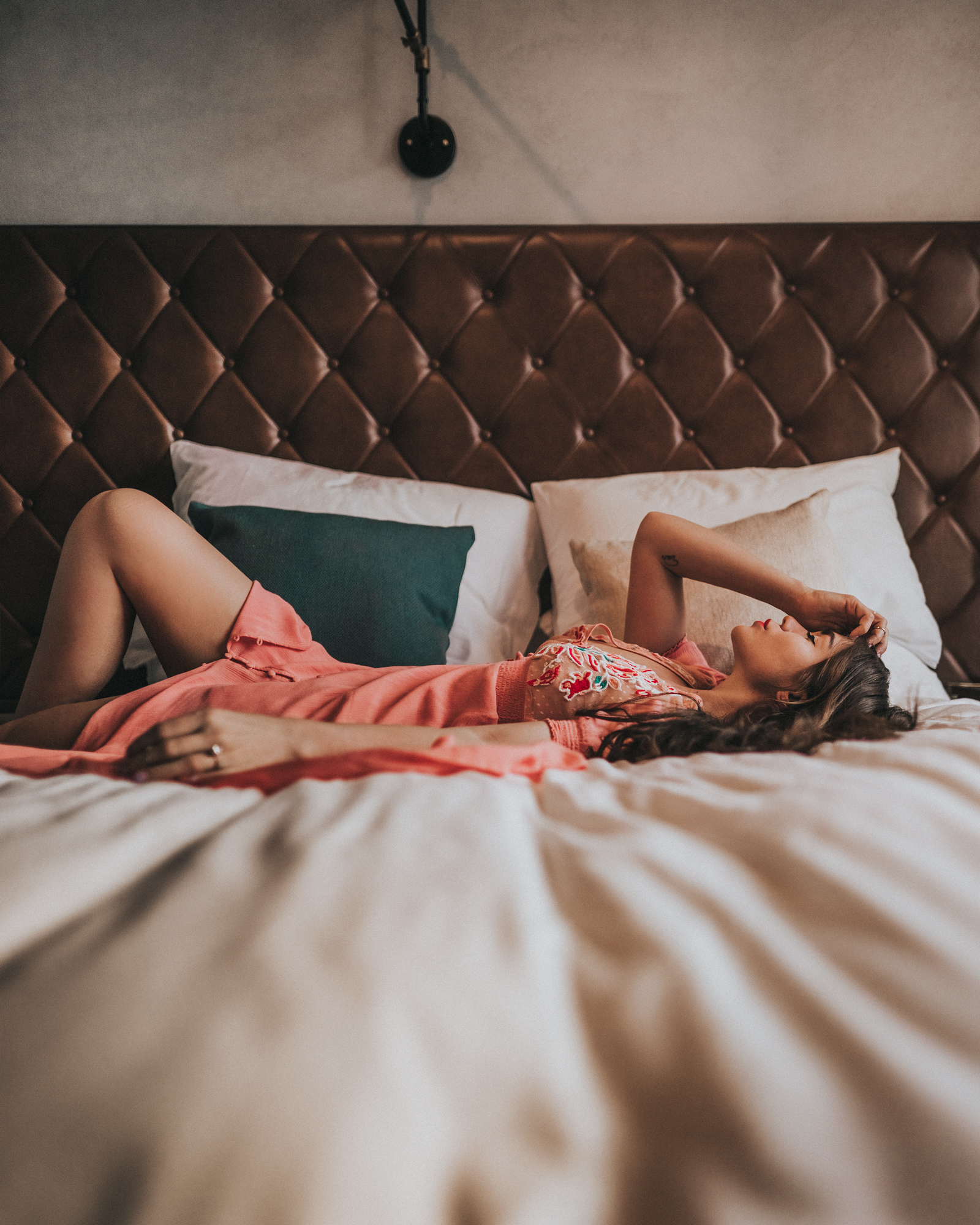 I have a thing for hotel beds - I love sinking into their soft, feather, squishy, cloudiness. Our room here was cozy and comfortable, filled with great design elements and balcony with a view out to the Manhattan skyline - unfortunately our couple of days here were filled with freezing rain and low-hanging clouds. But in the proper warmer months, the balconies would be perfect for sunsets, bathrobe-clad mornings and a nice cool breeze.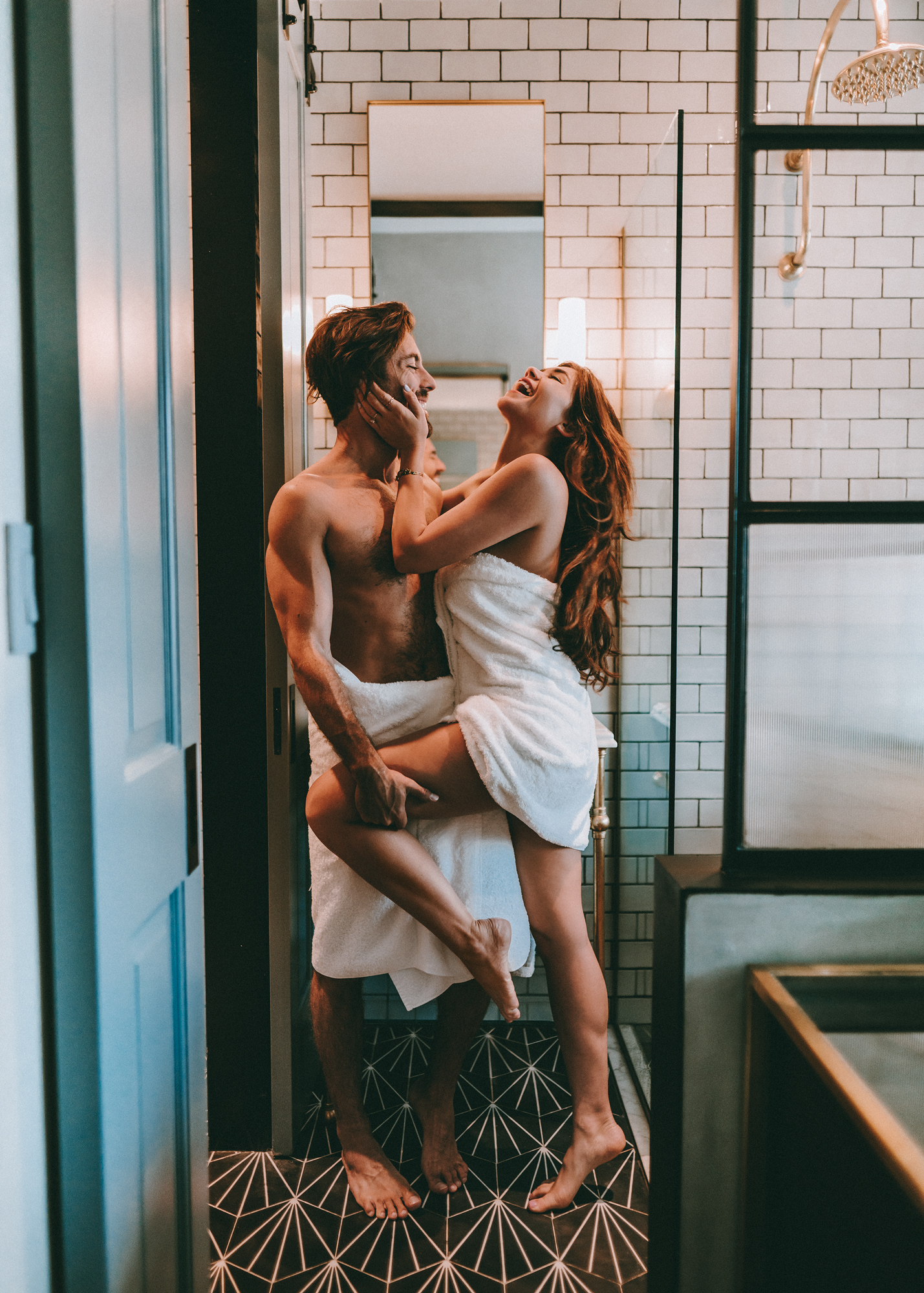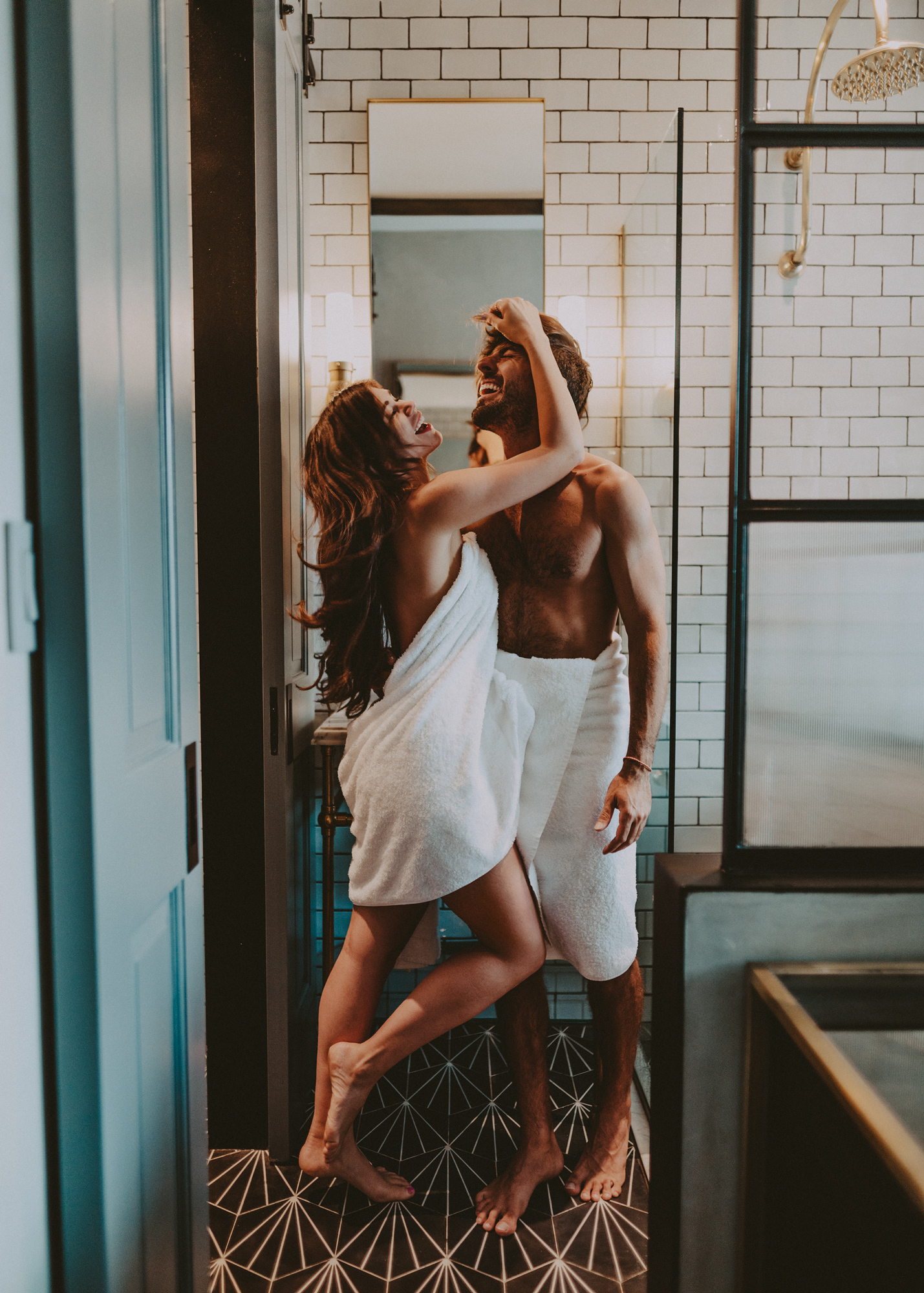 Can we take a minute to talk about this gorgeous bathroom? I have a bit of an obsession with good tile work, and have been collecting ideas for a future home someday (which may or may not ever happen - Brandon would rather buy a plane instead), and this bathroom definitely made the list. I have never seen factory windows used in quite this way before - I loved the idea as a way to get natural light into the bathrooms, as well as a way to call back the classic style and history of the neighborhood.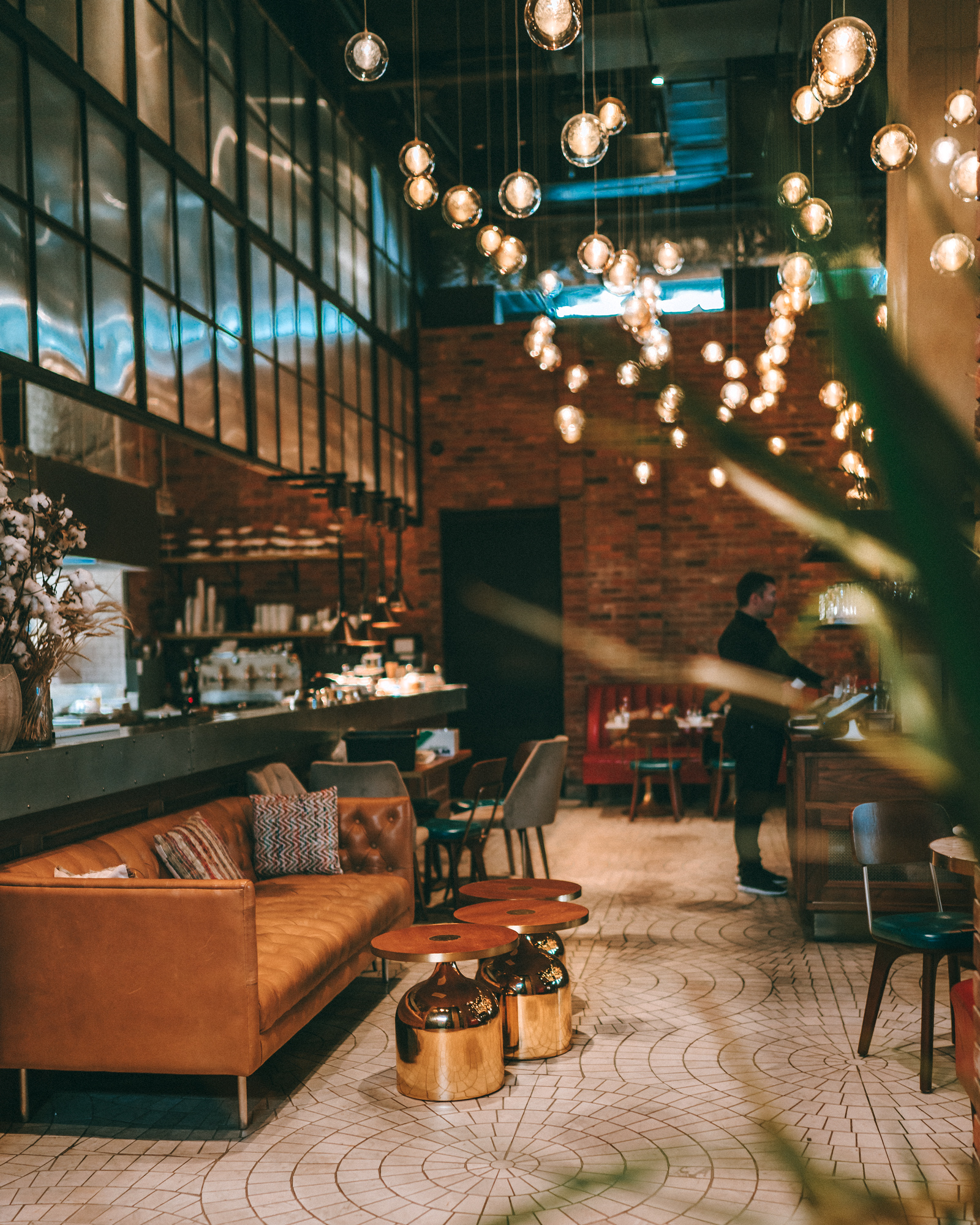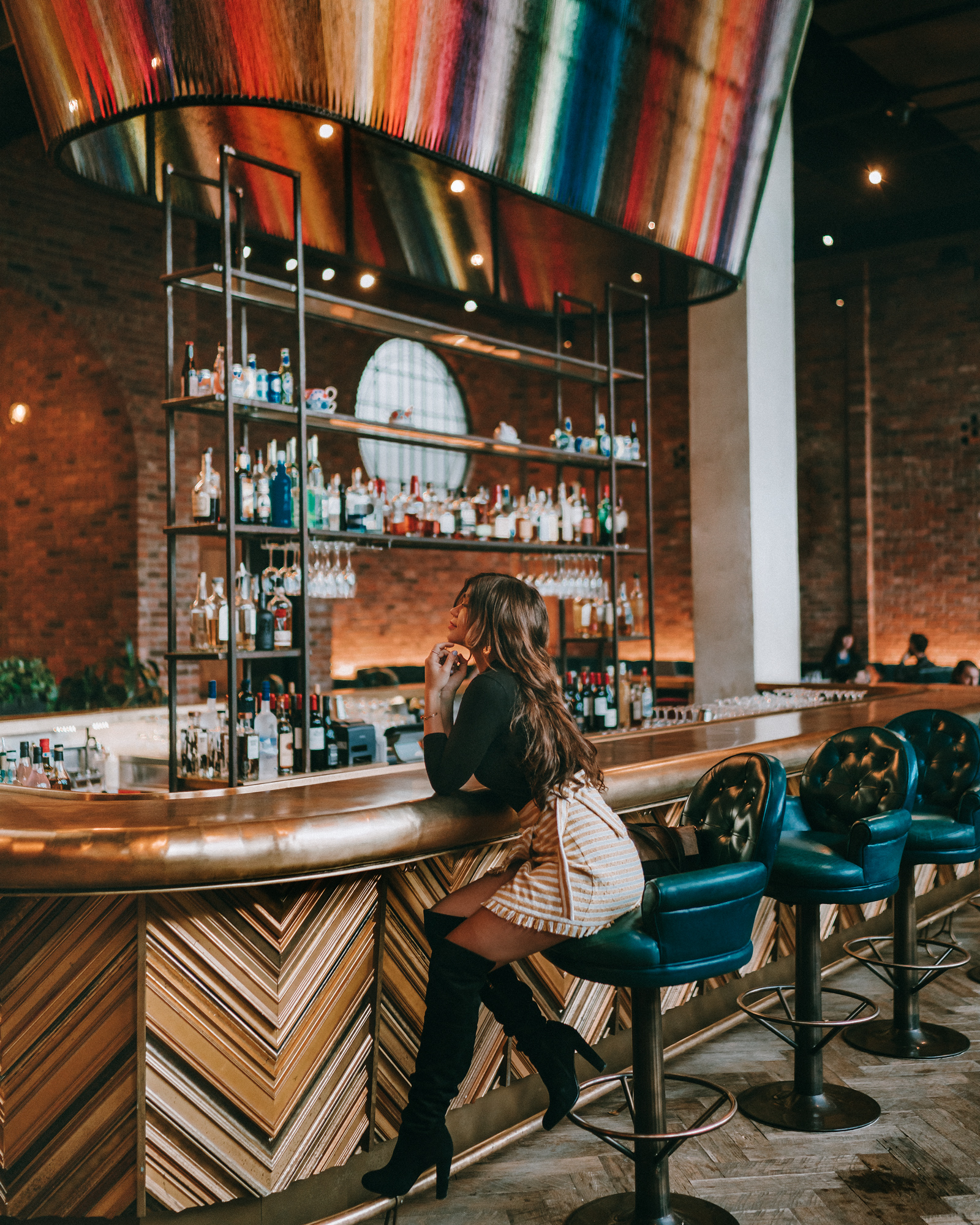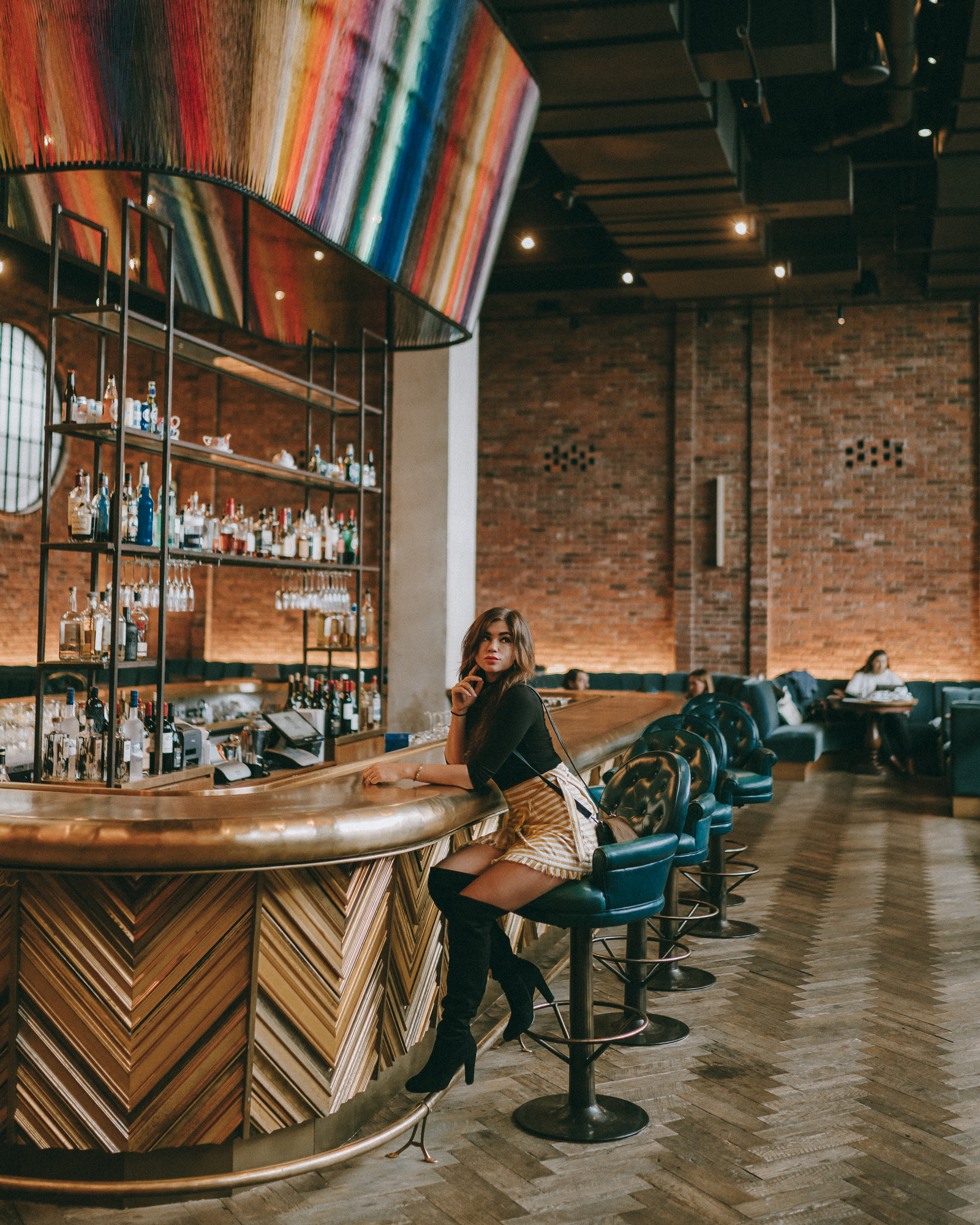 The gorgeous bar where the lobby meets the Harvey Restaurant.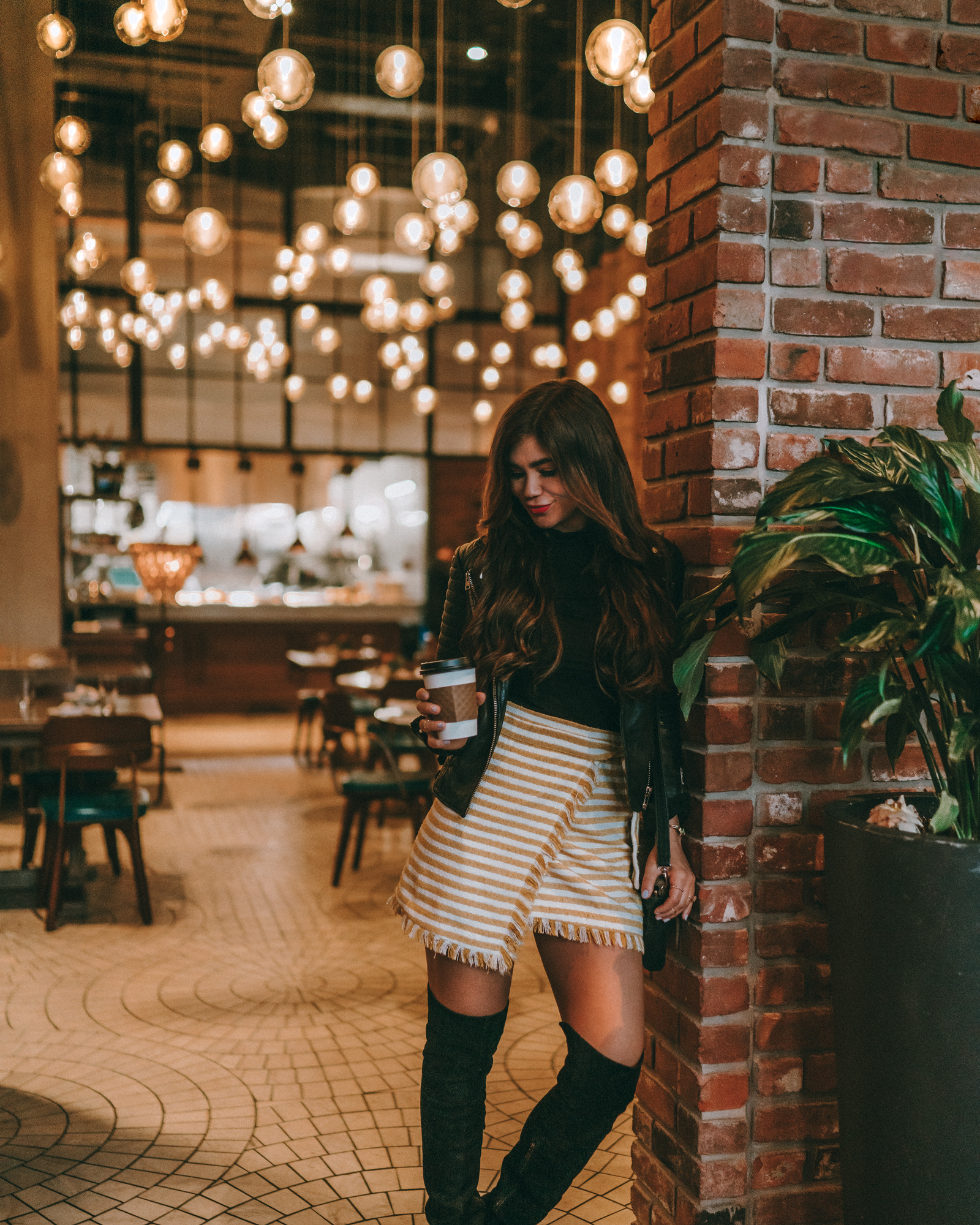 We needed a few of these free coffees at the bar to head out into the 40 degree day. This was not how I remembered New York in May!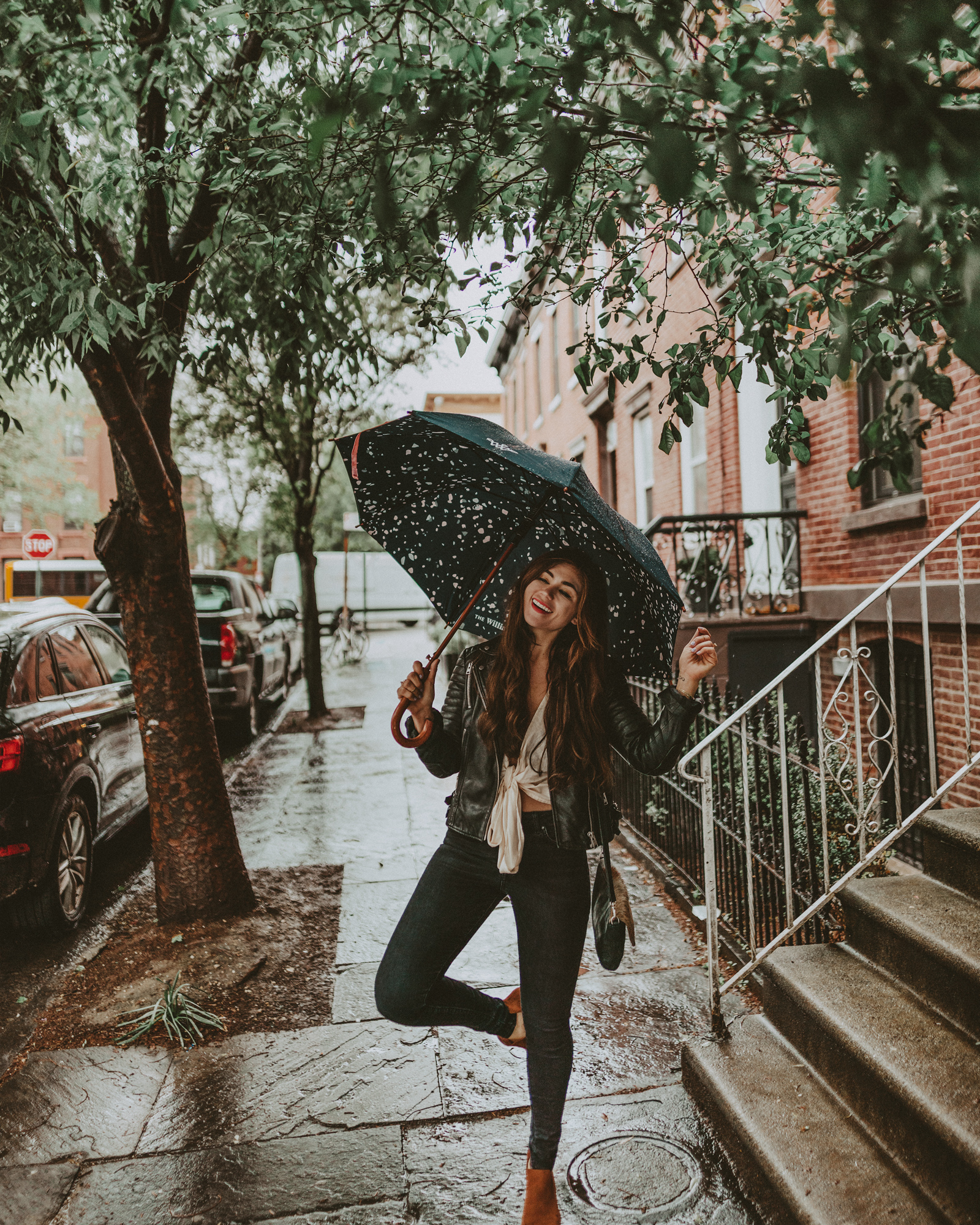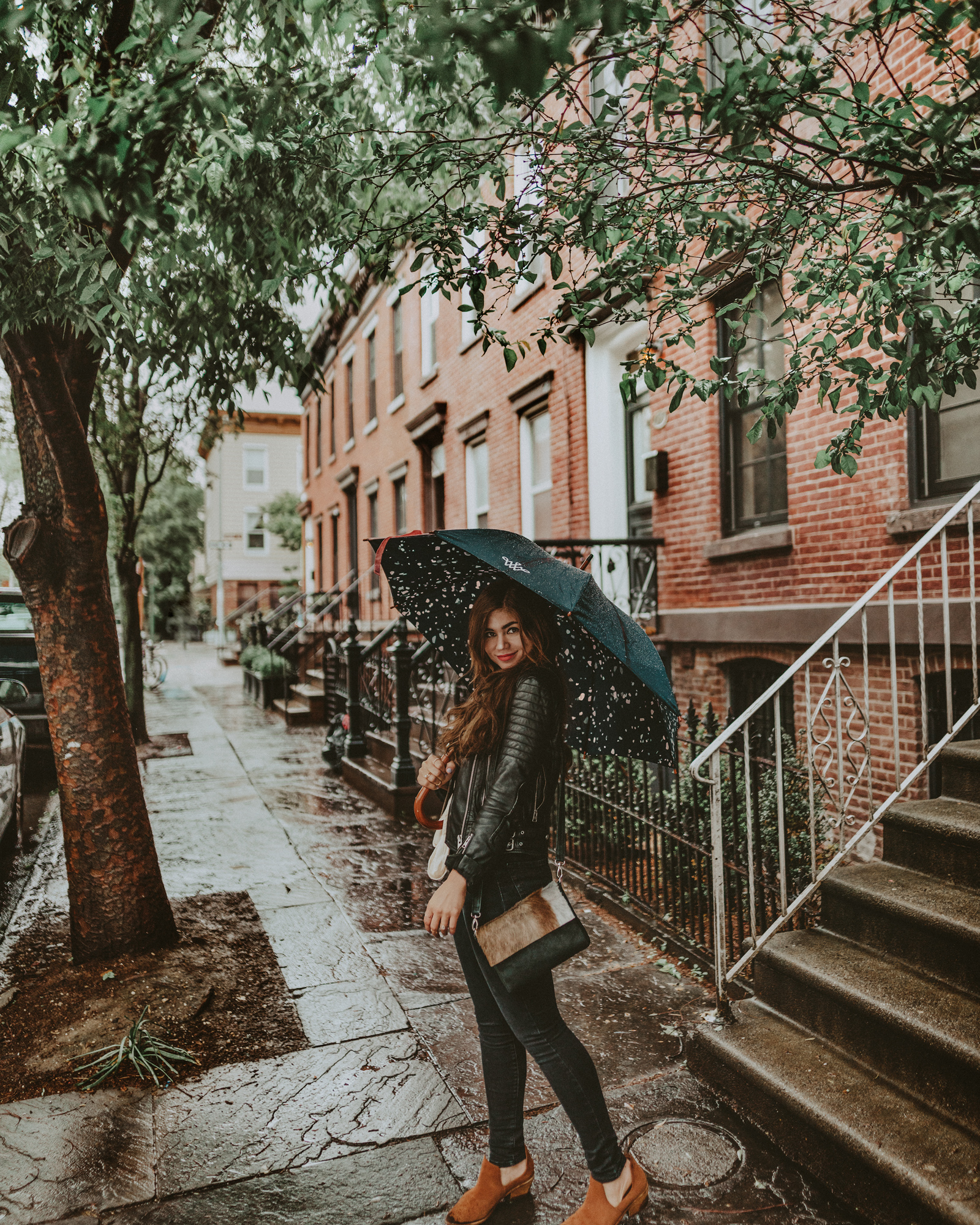 Luckily the hotel had great umbrellas in our room for us - because we definitely needed them!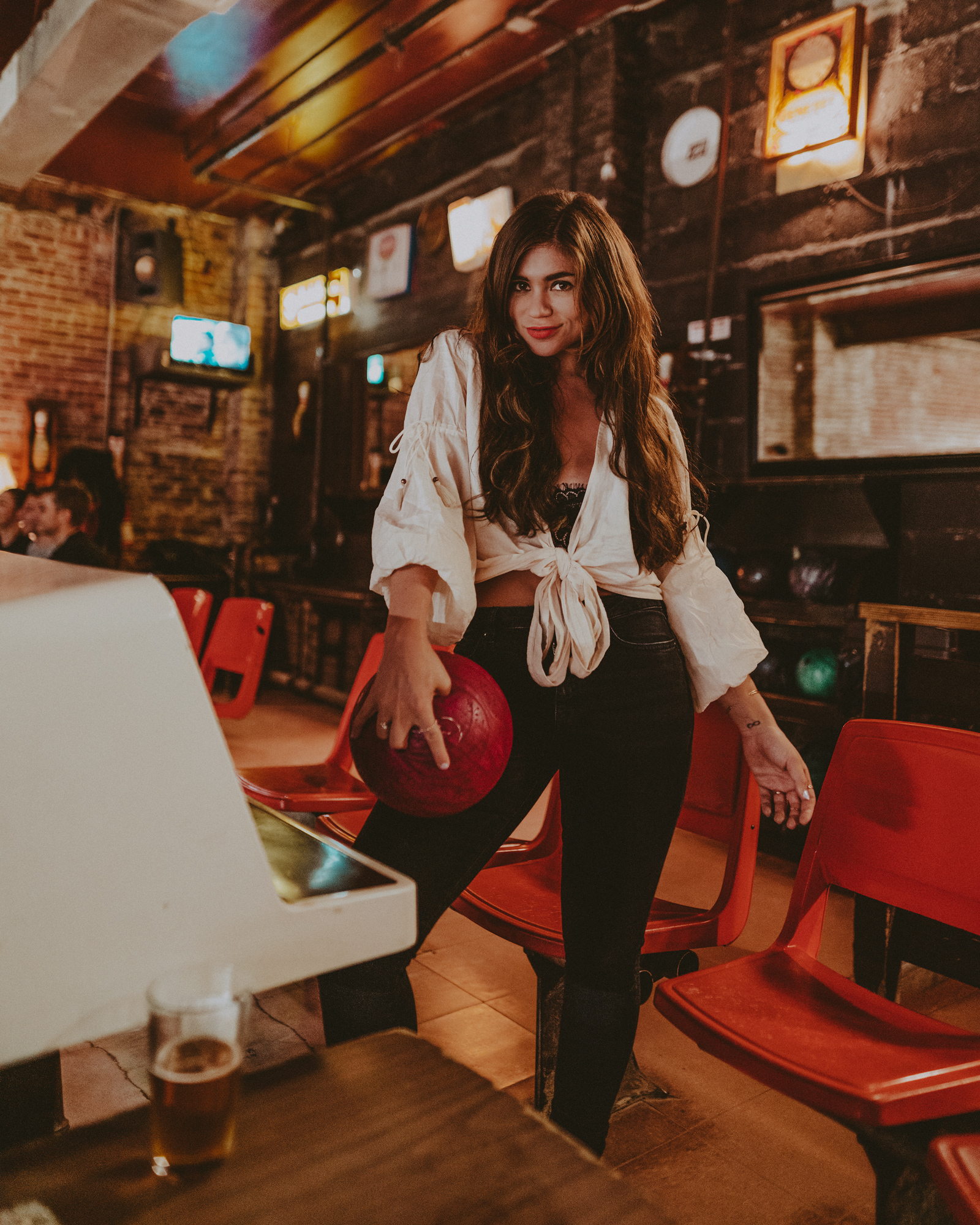 The one stop we really needed to make here was returning to The Gutter - the dive bar bowling alley where our entire story began. Way, way back when Brandon and I were just casual friends, he was just visiting New York from LA and ended up meeting up with me here. Our first kiss was at this bar, and I have never forgotten the exact memory of standing at the crowded bar enveloped in people, and feeling like we were the only two people in the world. It has been years since we had been, so we had to come back for a game and throwing some balls down memory lane. (Too cheesy? :-P) Brandon won.... by a lot.
A few neighborhood highlights and old favorites from the weekend: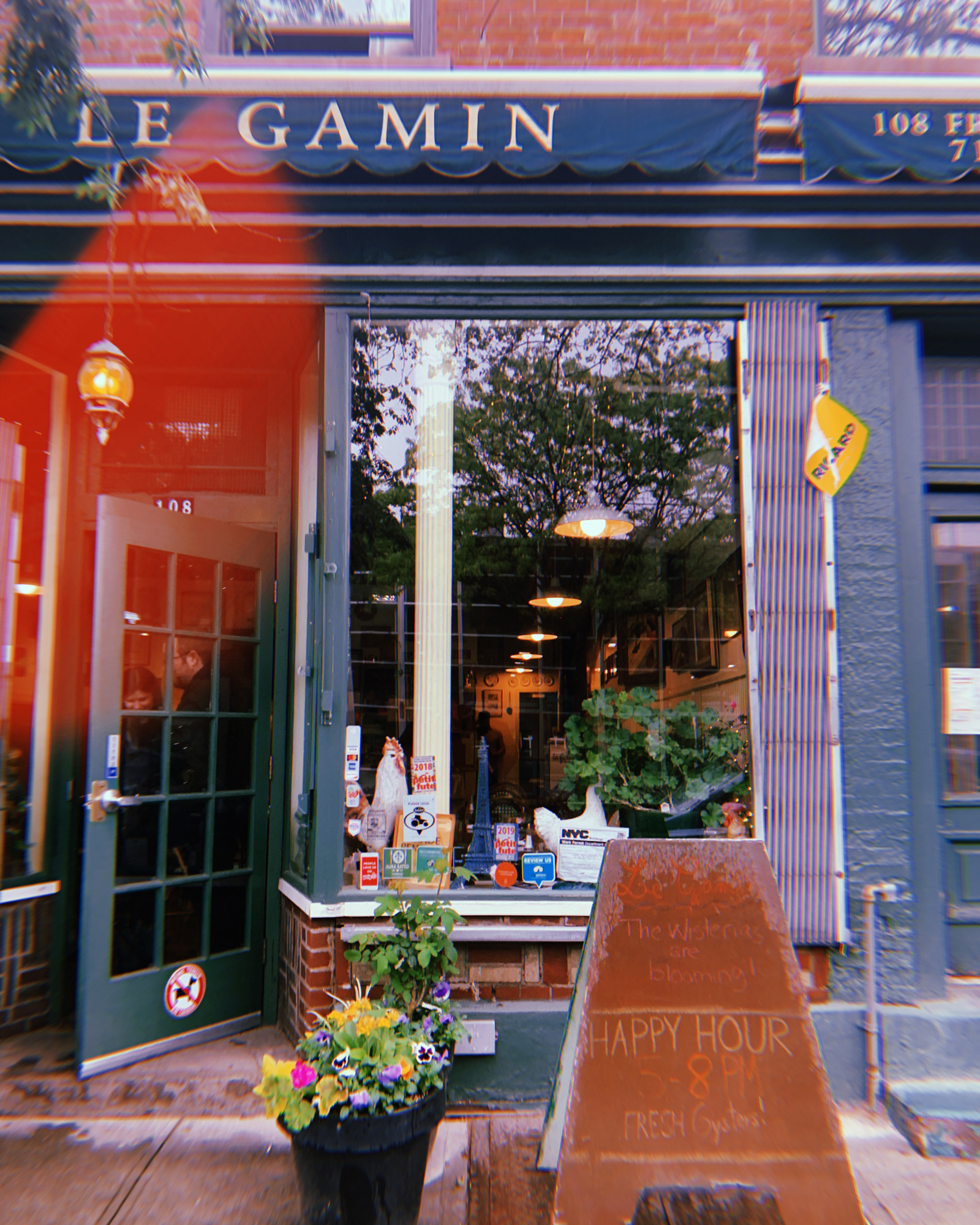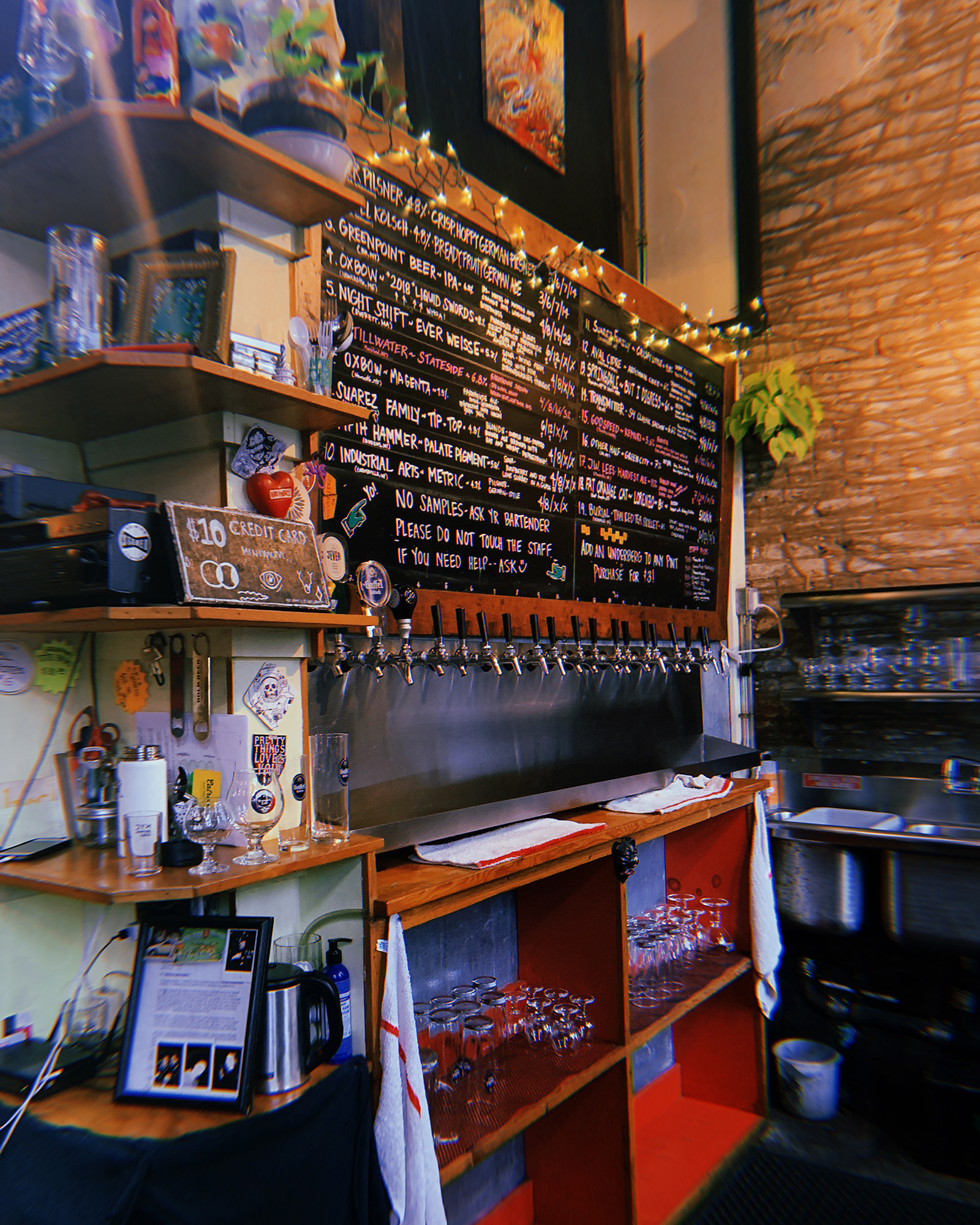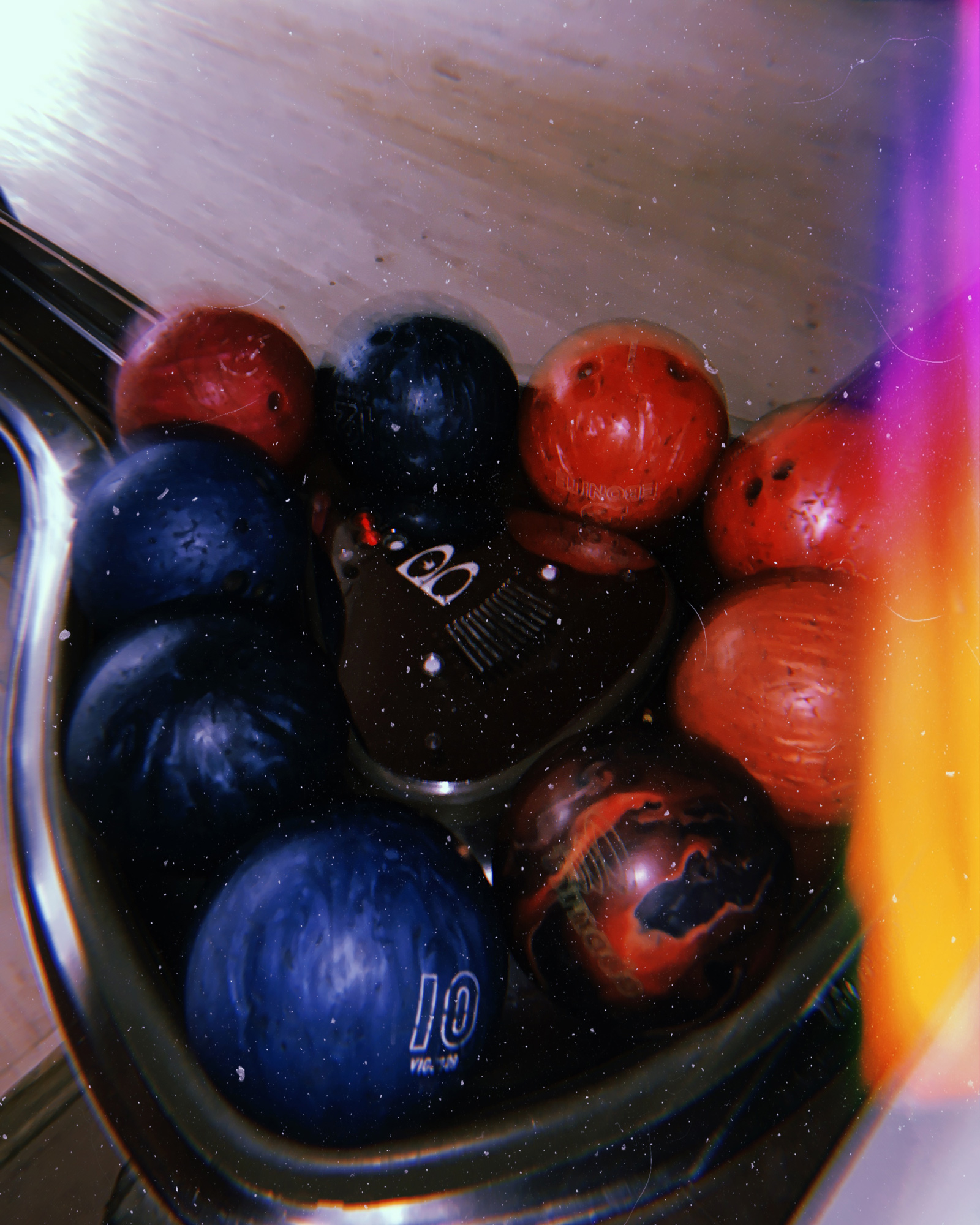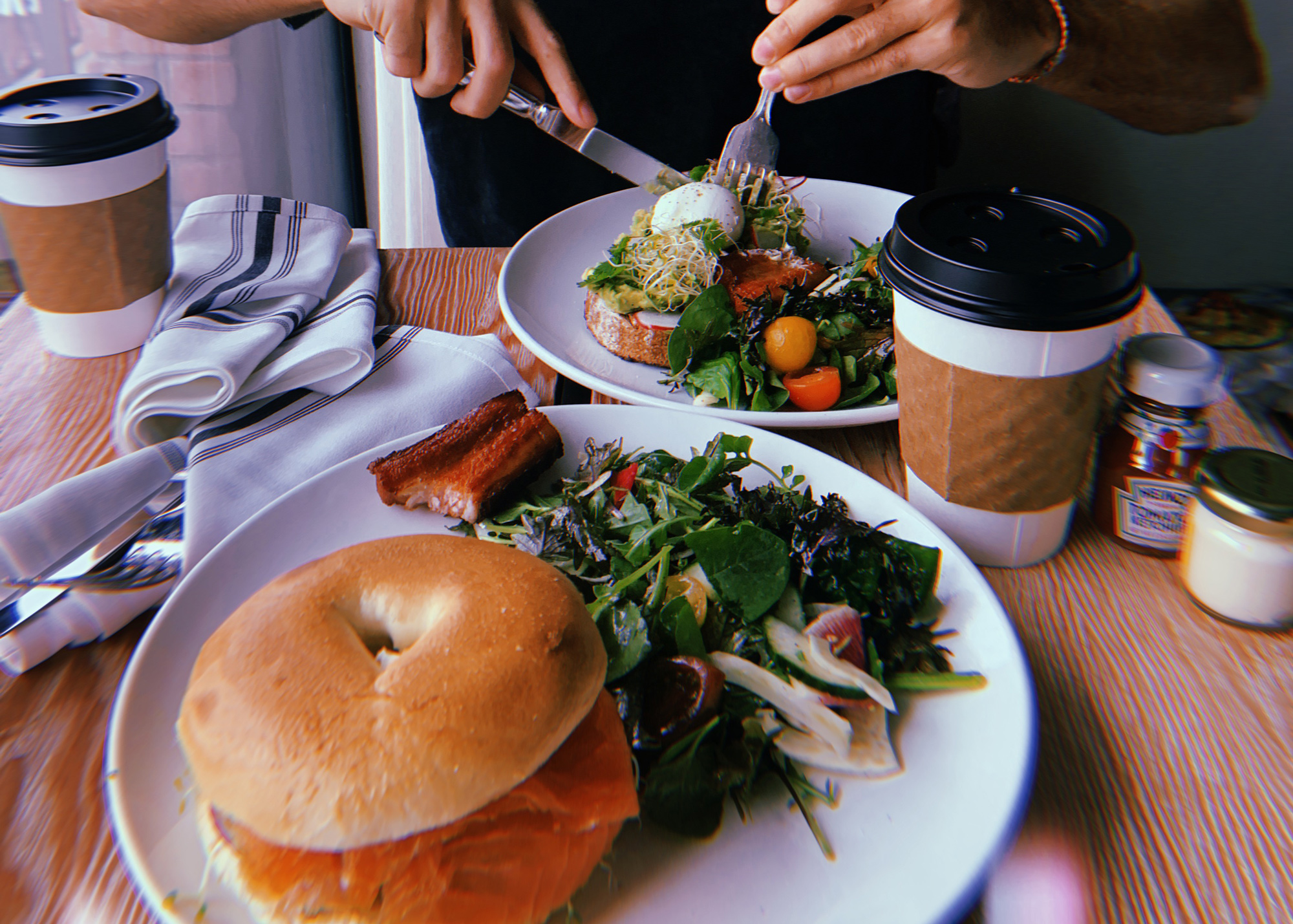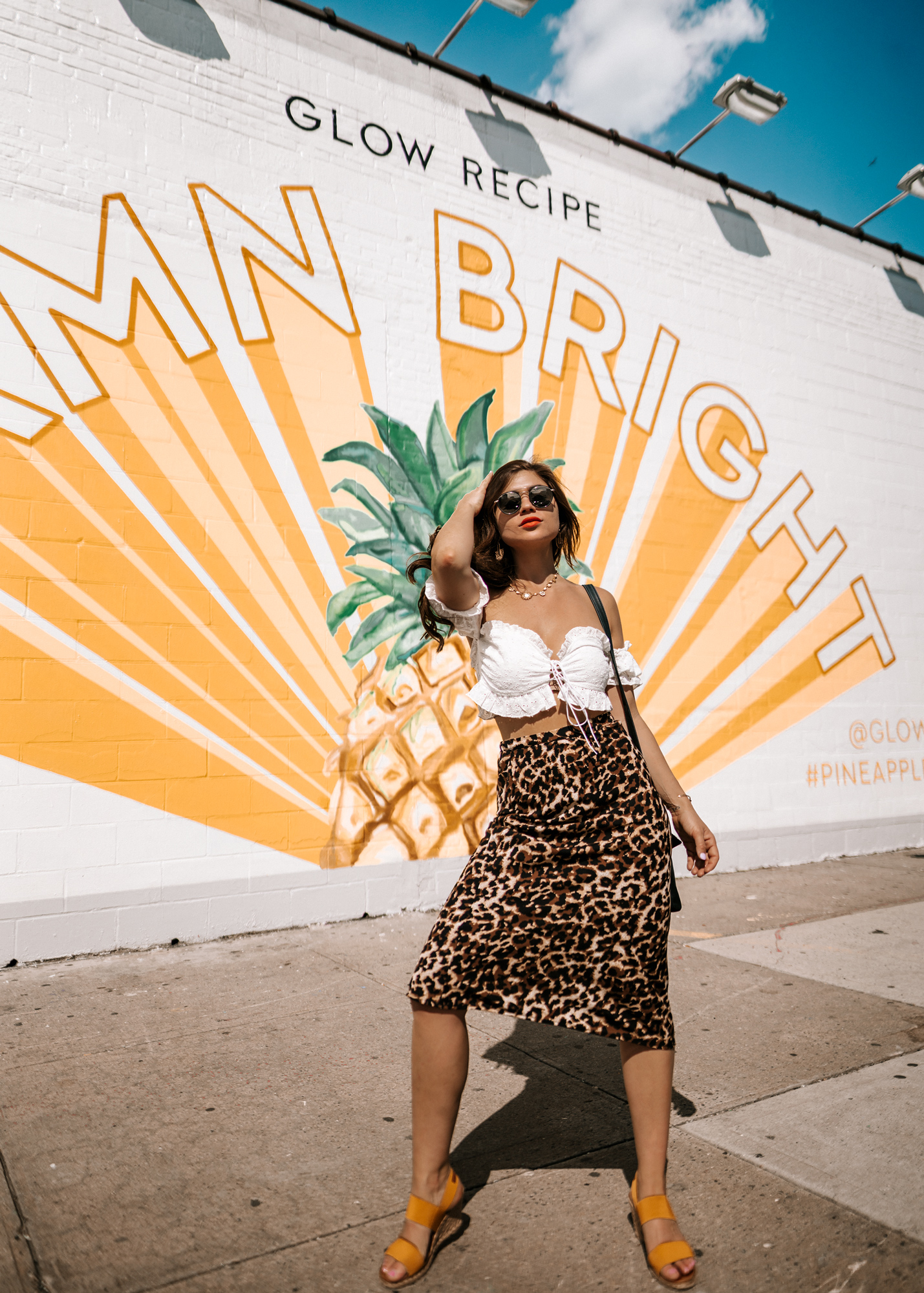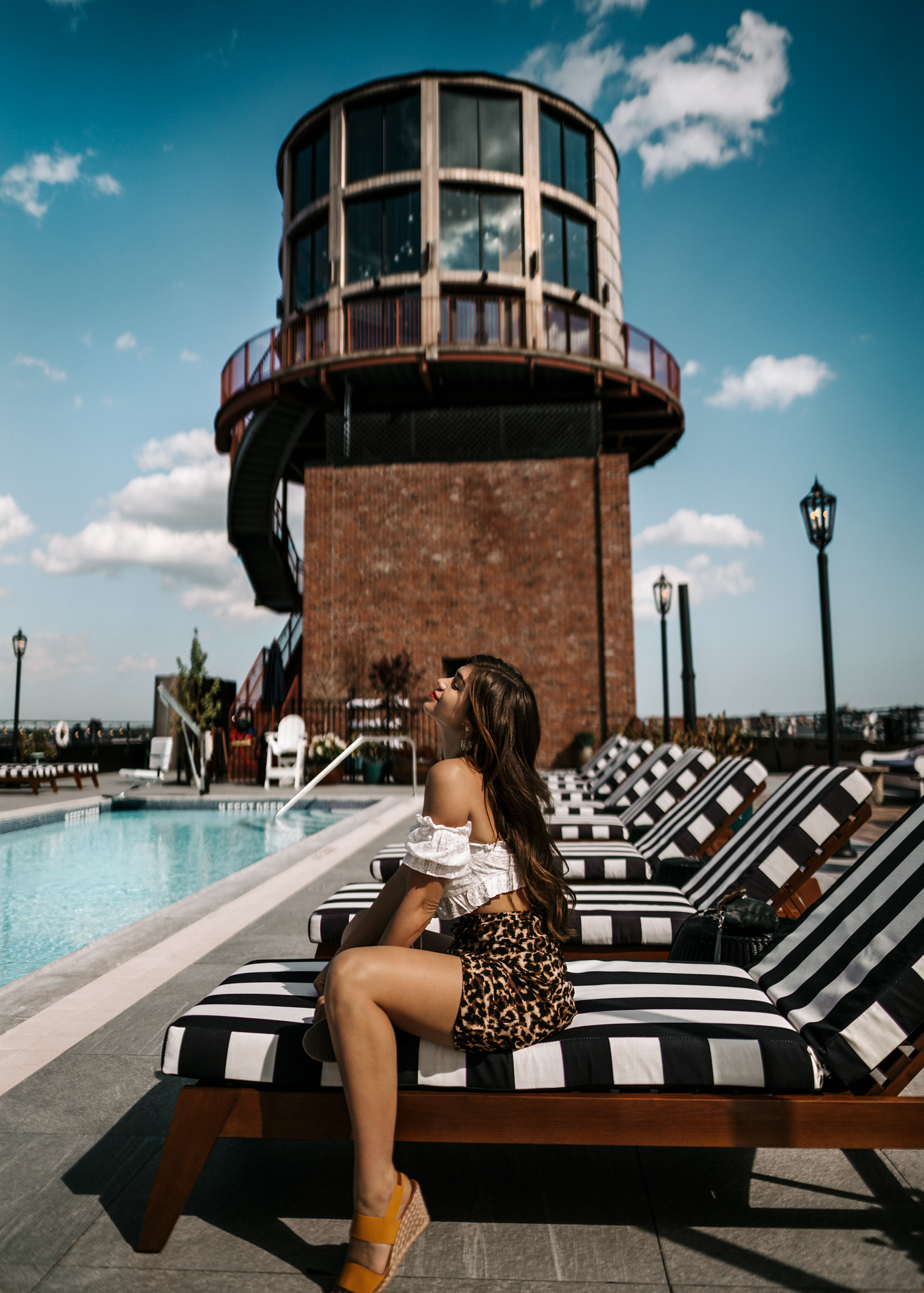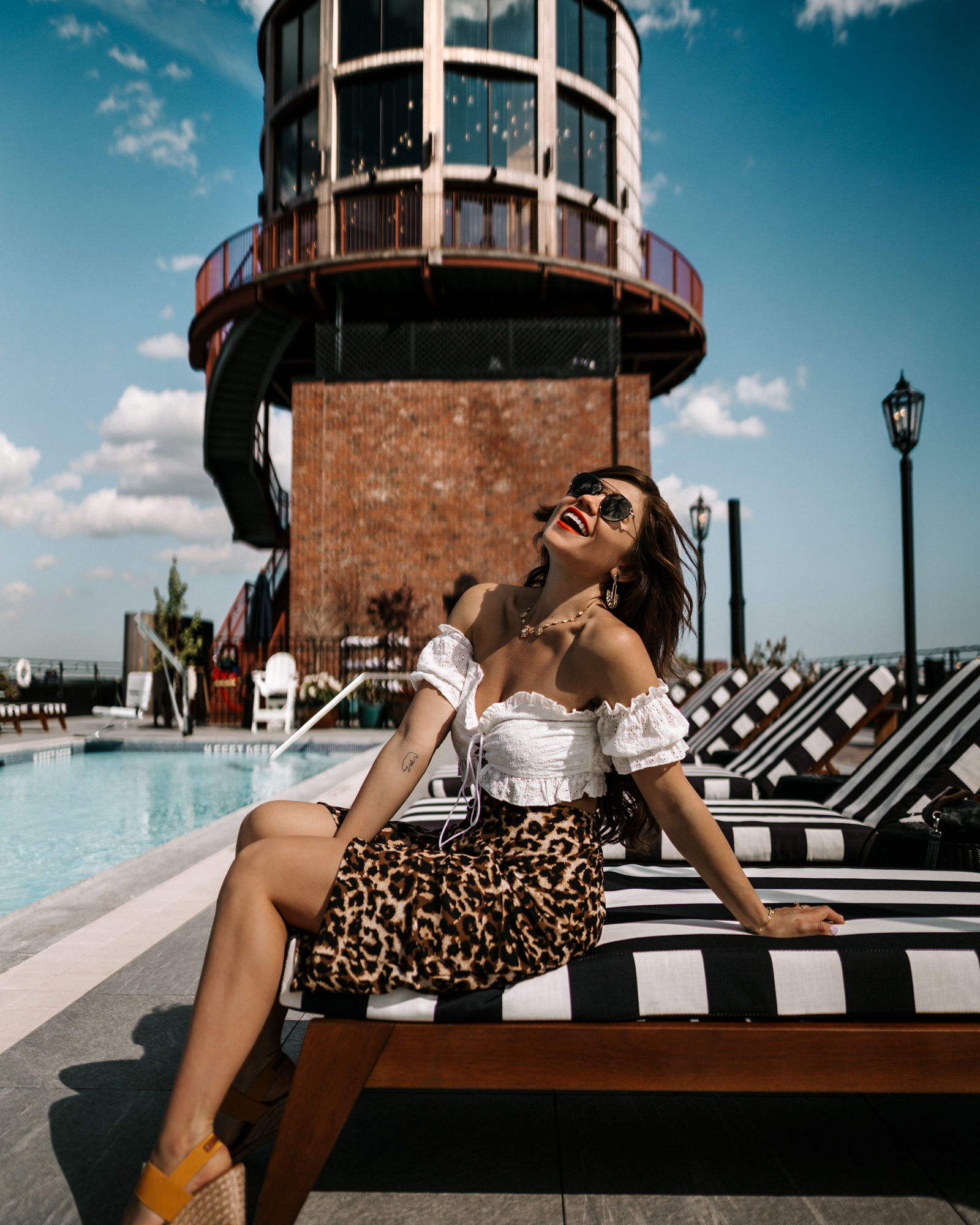 During our stay, the sky never opened up, and the sun never came out, so we were unable to check out the rooftop pool bar at the hotel - but on our very last day in the city, we came back to the neighborhood for a few errands, and had to jump back up here to see what we were missing - I wish we would have had the time to lay out and swim the day away, the roof here is incredible!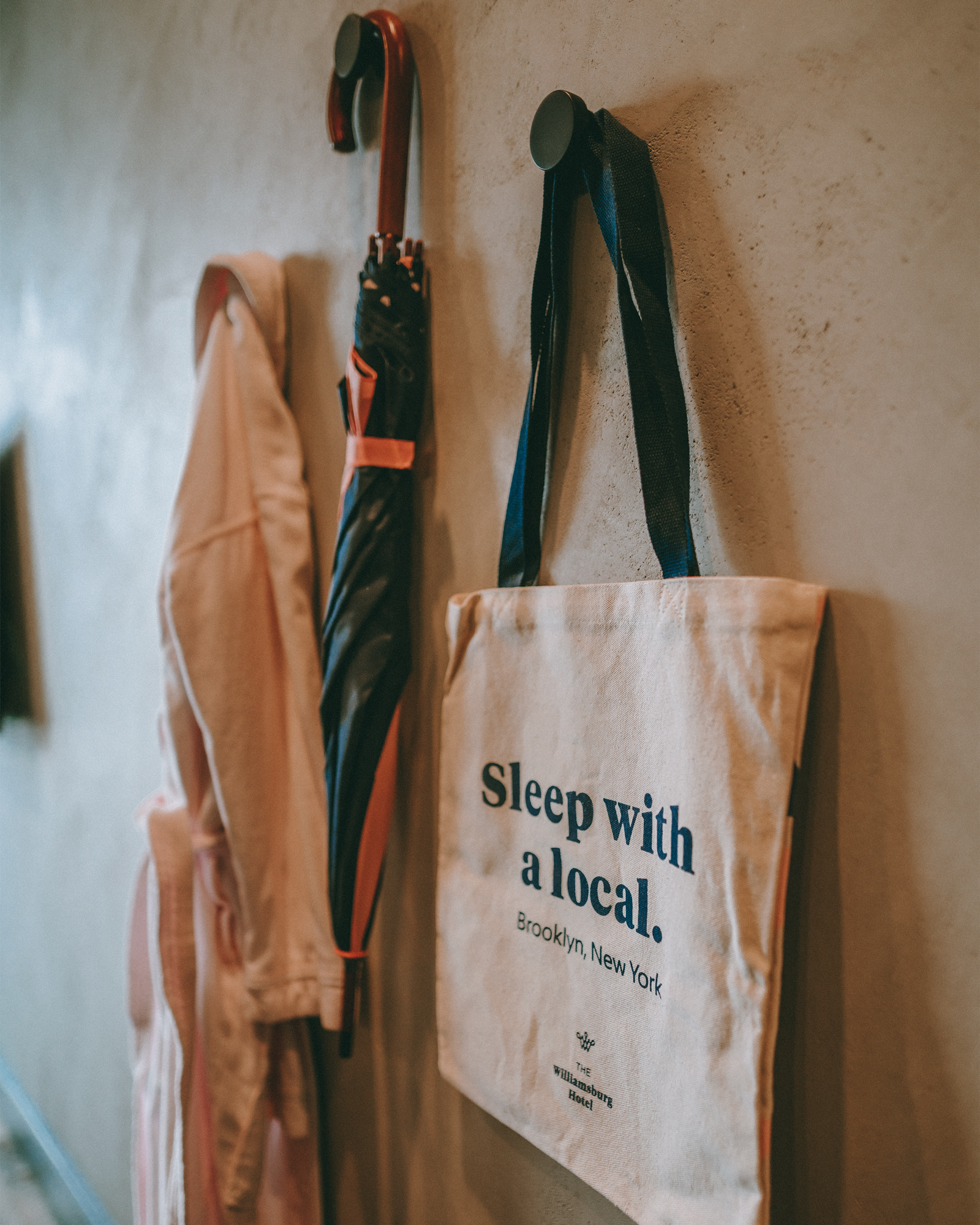 Thank you, Williamsburg Hotel, for bringing me back home, so I can sleep like the local I still consider myself to be - because I earned it!
Shop My New York Looks: