November 5, 2018 Travel Adventures
Bucket List - A Hot Air Ballon Ride Over The Dubai Desert
Dubai is a place we had wanted to go to for a long time - it seemed like such an otherworldly destination, this mix of ancient culture and a brand-new playground of a city. I have heard for years how you can do anything in Dubai - name it and if you spend enough money, it can be done.
We were so excited when we found out that during our Andaz Campaign, we would get the chance to stop in the city for just a couple of days. Then even more excited when we got the idea to do a Hot Air Balloon tour over the sand dunes! My favorite movie growing up (and possibly still my favorite movie now...) was always The Chipmunk's Great Adventure - where they race around the world in hot air balloons. And riding in one ourselves was an experience on Our Wanderlist since we set out on our great adventure. We had been teased with the possibility of balloons on a couple of other trips this year - but due to weather and scheduling, it has never worked out. Finally, this was our chance! Our whole trip was booked with Platinum Heritage, which we highly recommend!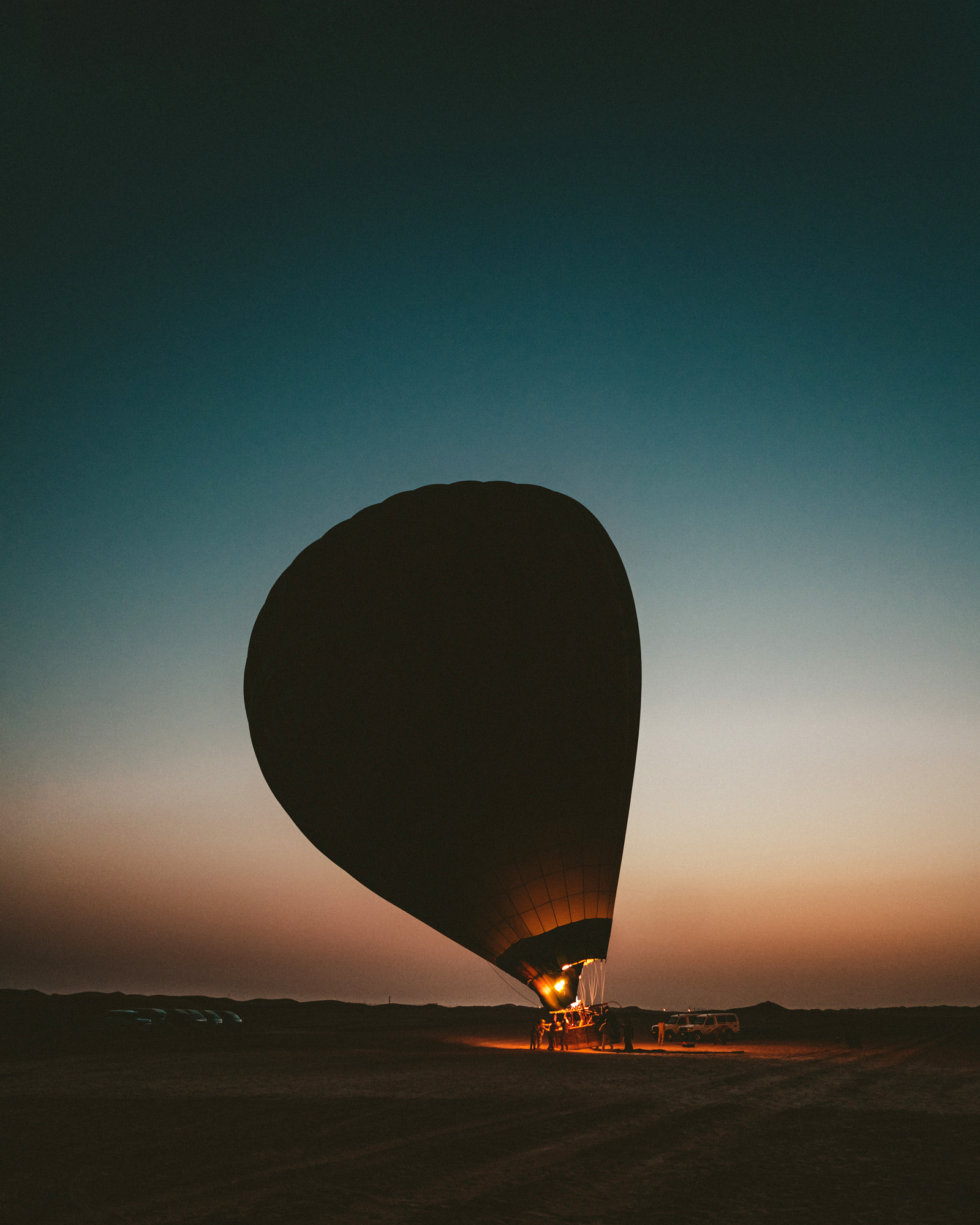 We woke up before dawn for the 45 minute drive out to the dunes and found out that going up at sunrise isn't just to watch the sunrise - it's the only time of day the air is cold enough for the balloons to take off. At this time of year, they physically can't fly in mid-day when the Arabian sun burns at full heat.
I'm always a little nervous with new things - about how it's going to feel up there, about being trapped in a small space with other people, and if it will make us motion sick - but being in the air in the balloon was so incredibly calm and peaceful. The balloons travel with the wind, so if the winds are blowing dramatically, being inside the basket feels stable, as you just blow along with it.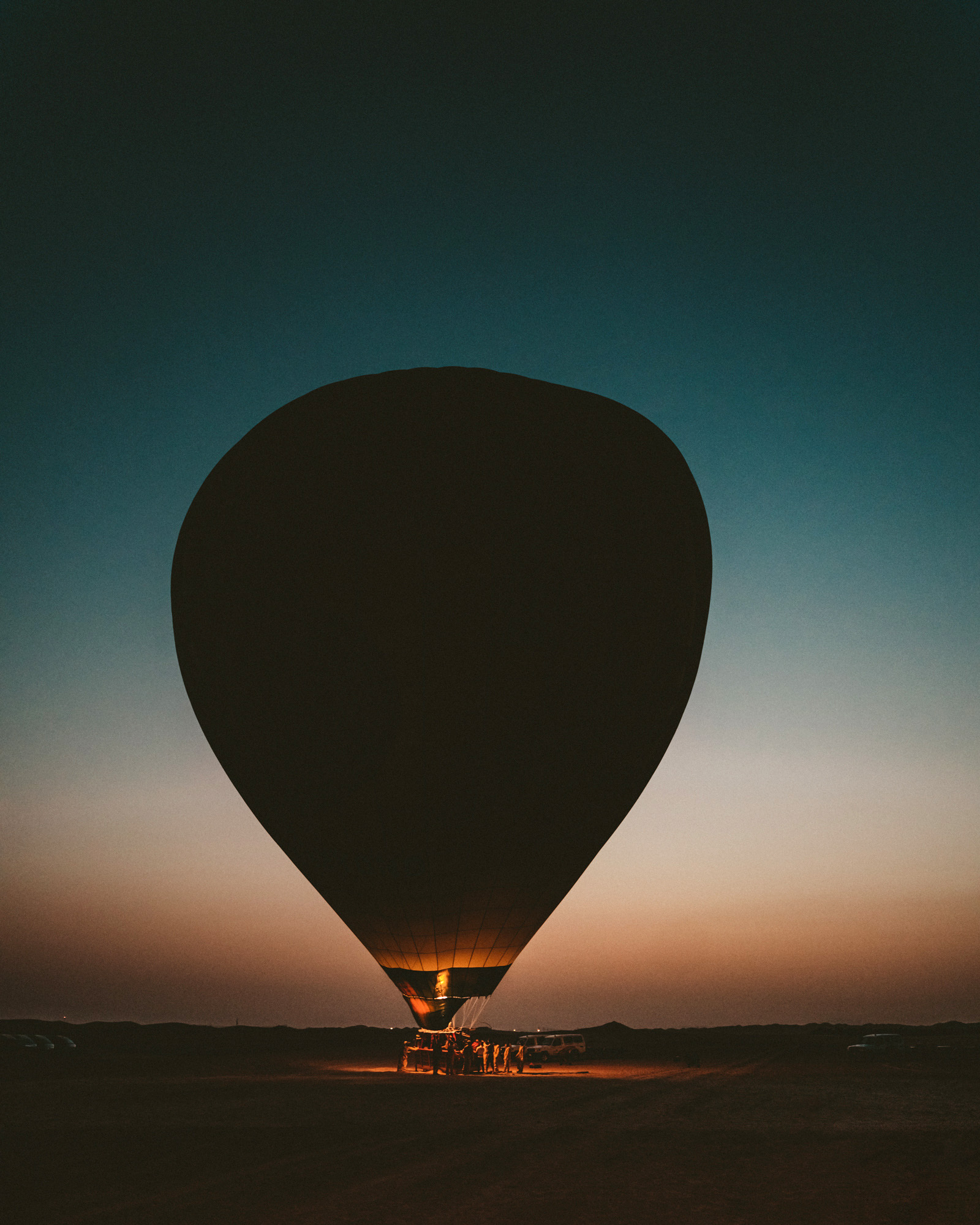 Firing up the balloons just as the dawn light started to break through.
I had no idea the balloons would be this large! I'm not sure what I pictured exactly, but it was smaller than these.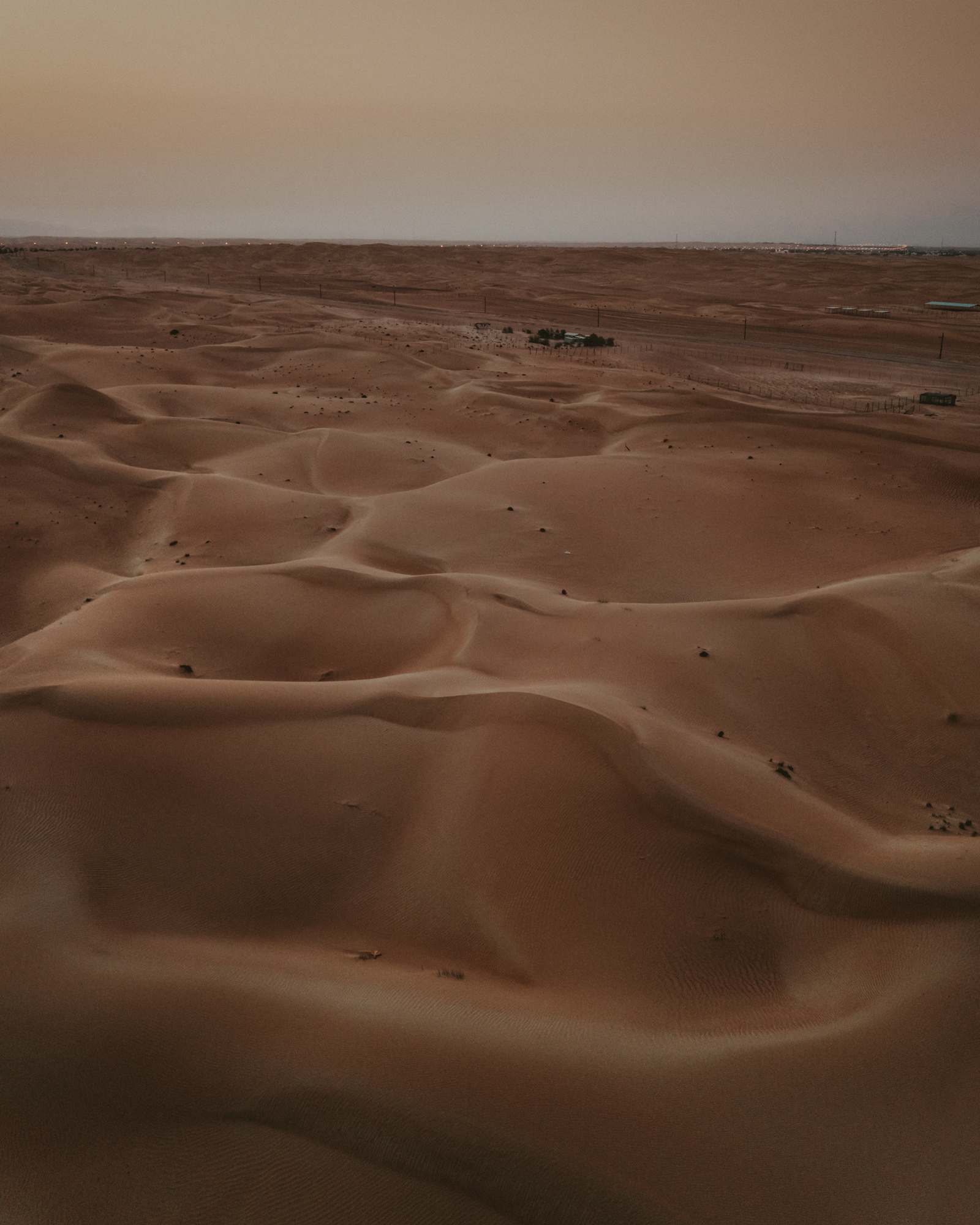 Endless desert views before dawn.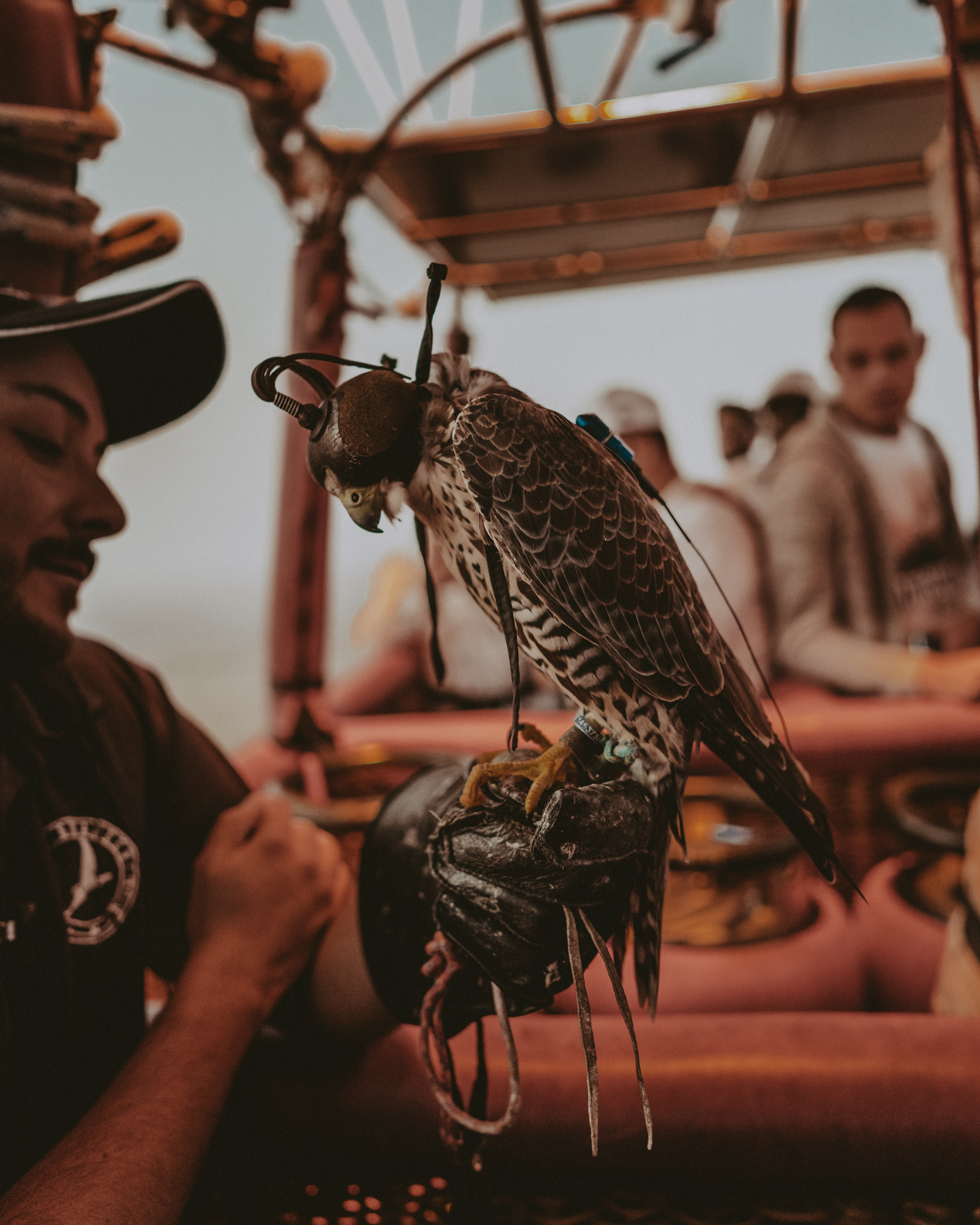 And! bonus! We got to fly with a falcon.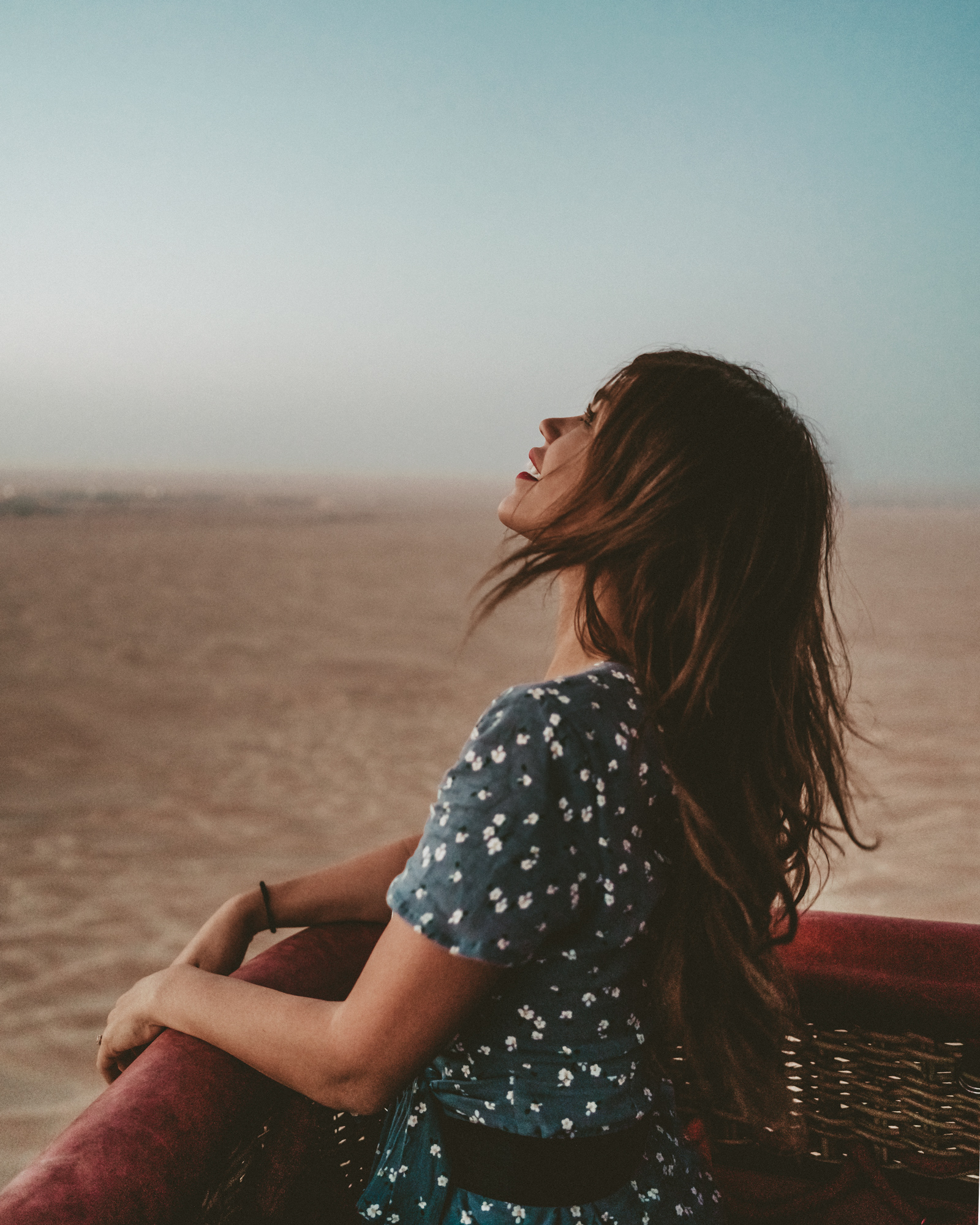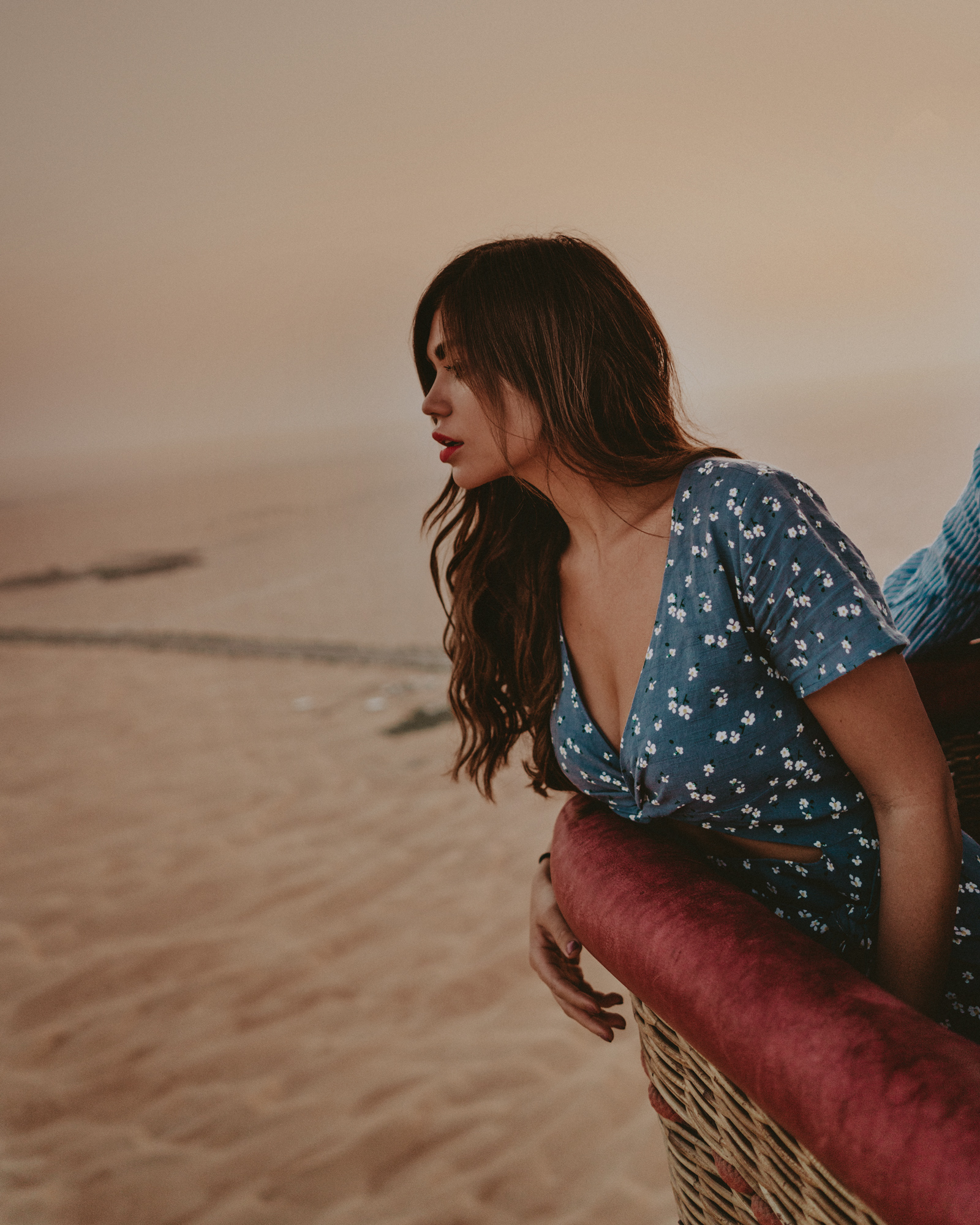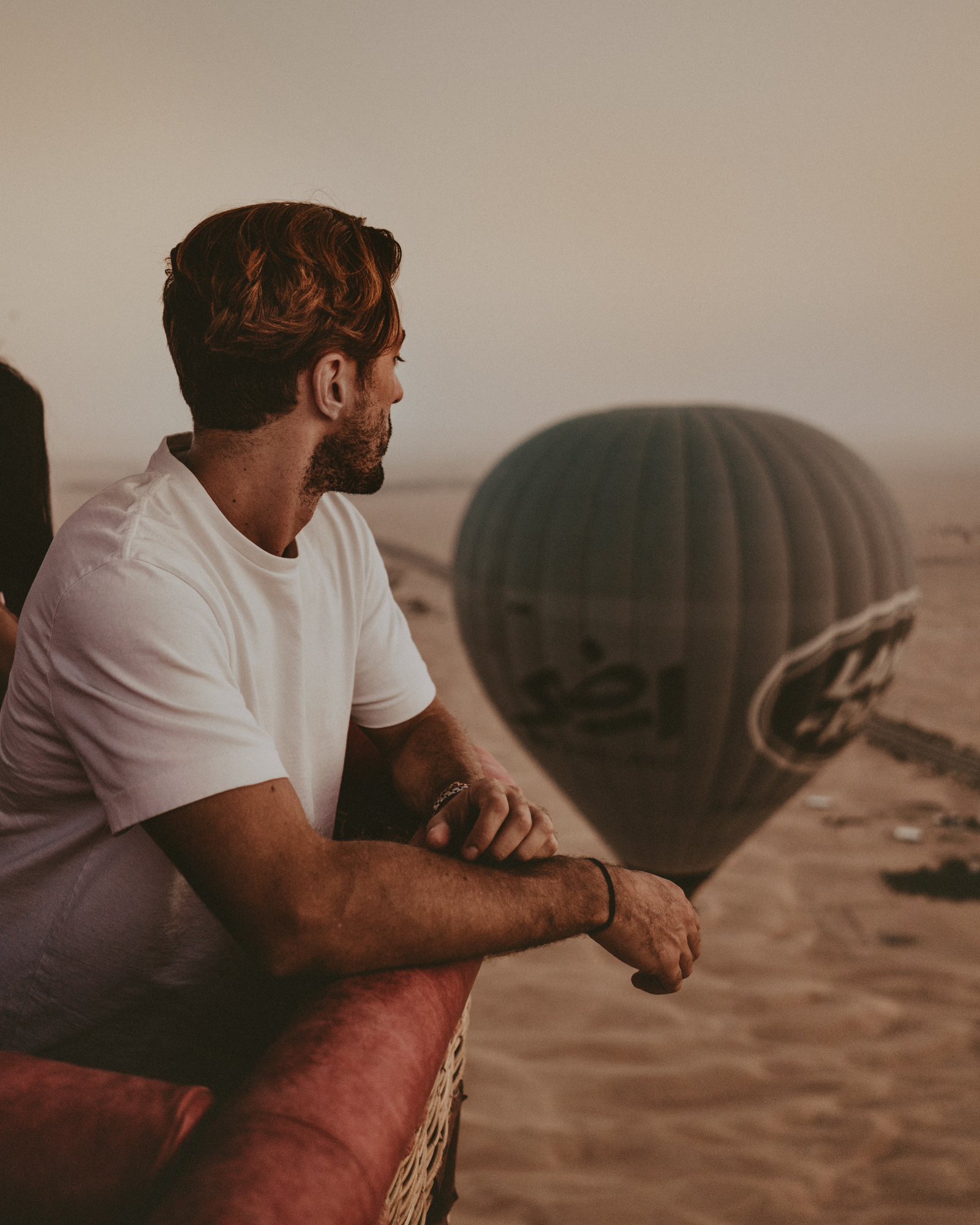 Taking in the desert views.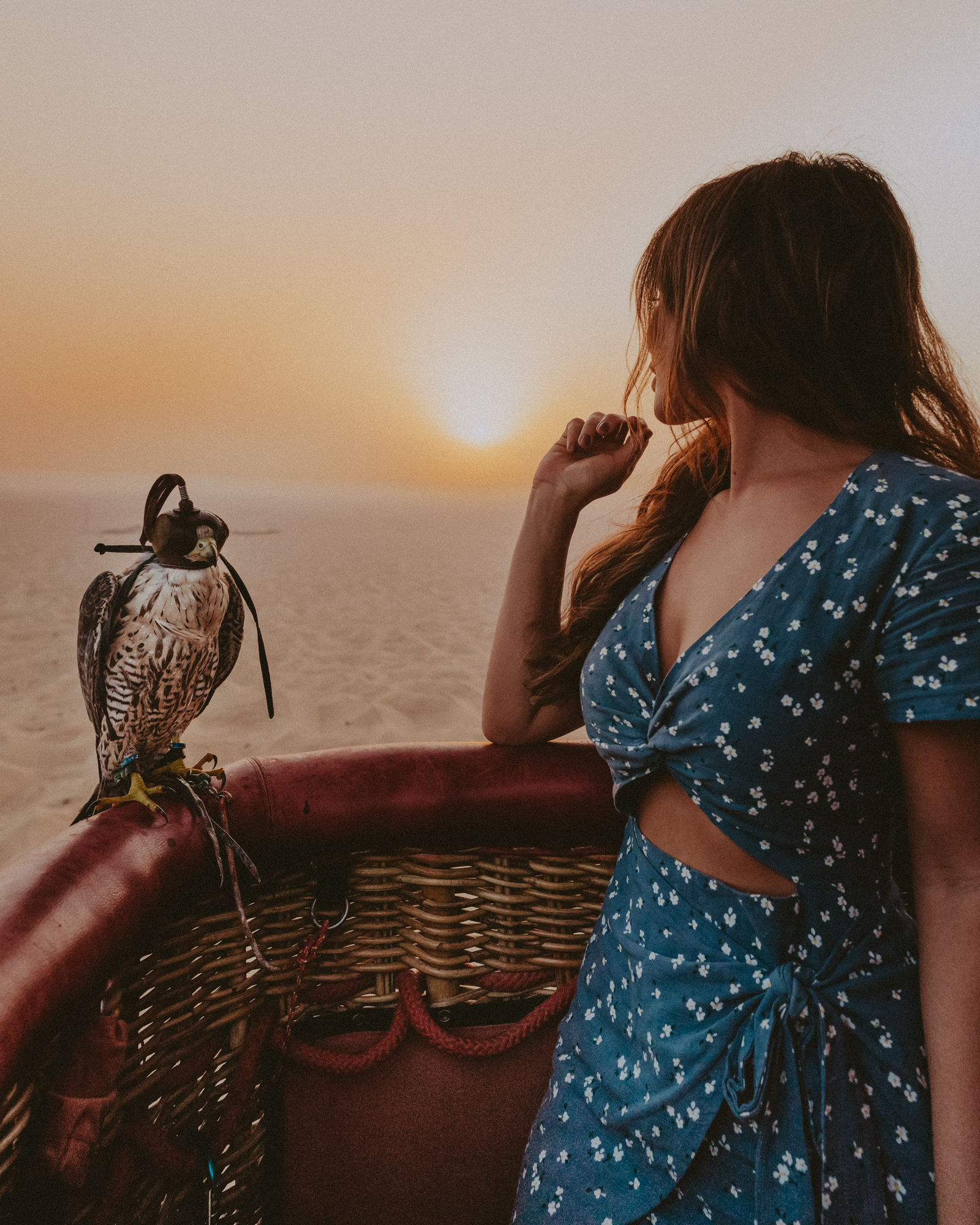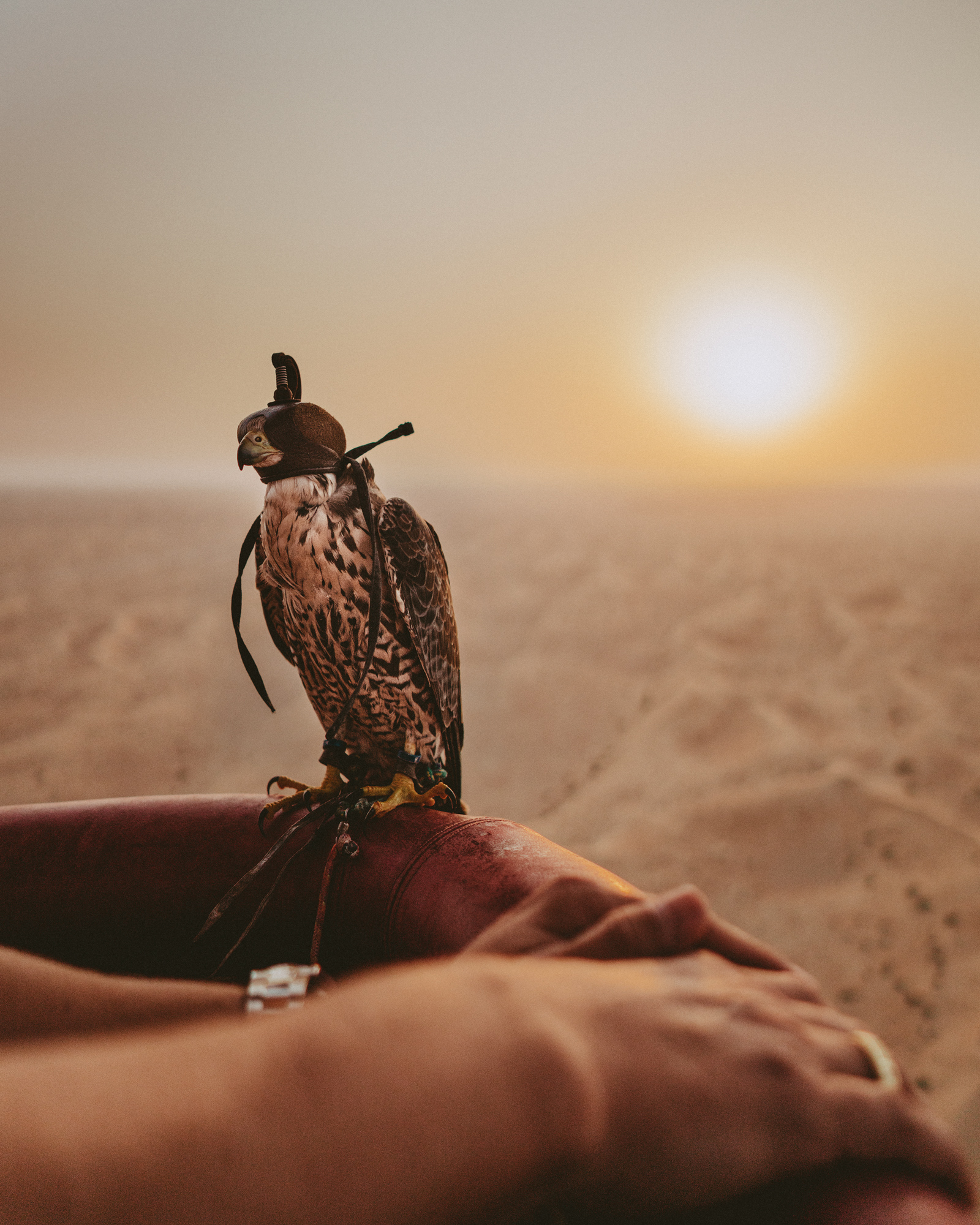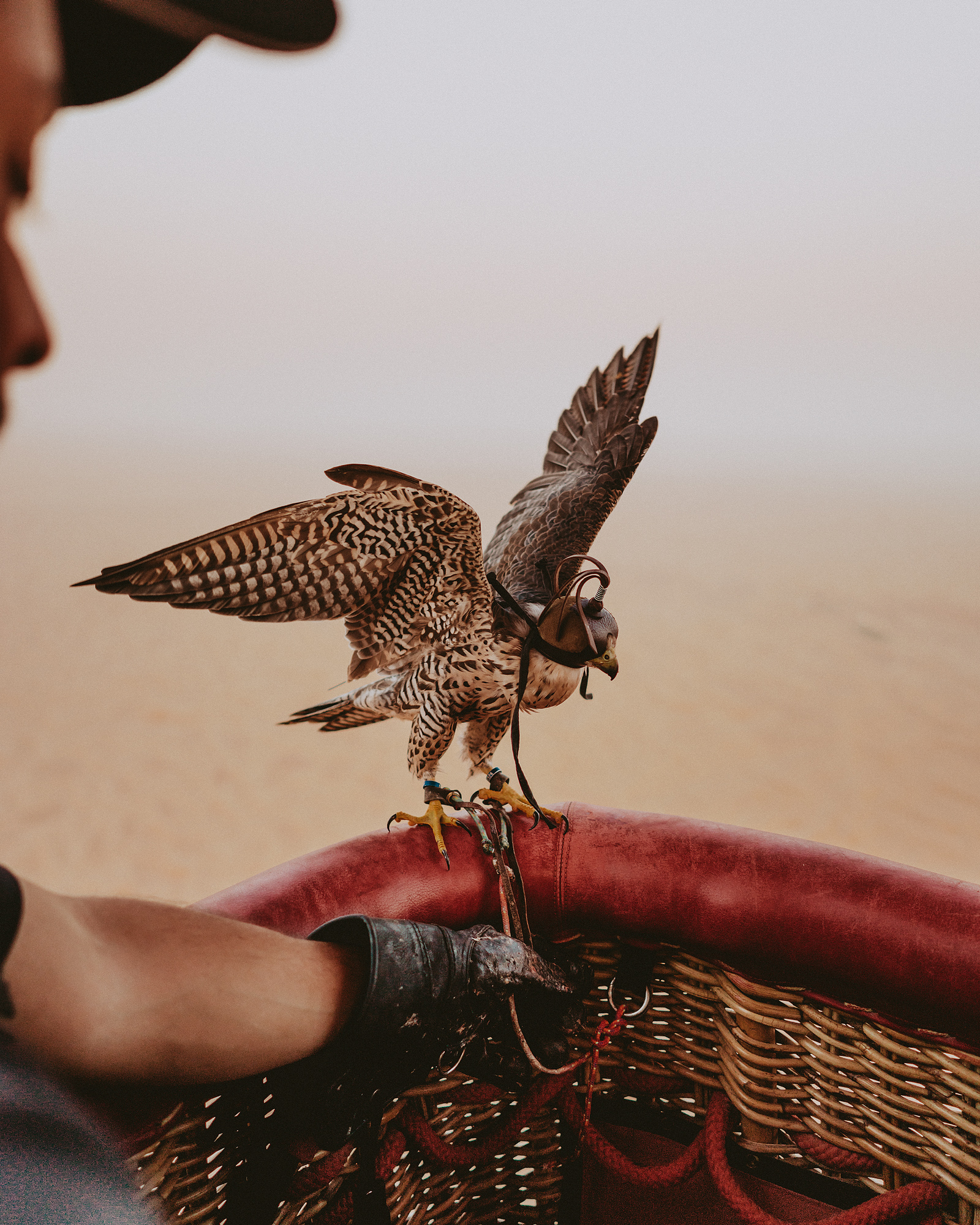 We were both so excited to watch the falcon in action. When we got to full height, the falconer took off his helmet and let him soar free - then he came back for a nice steak breakfast.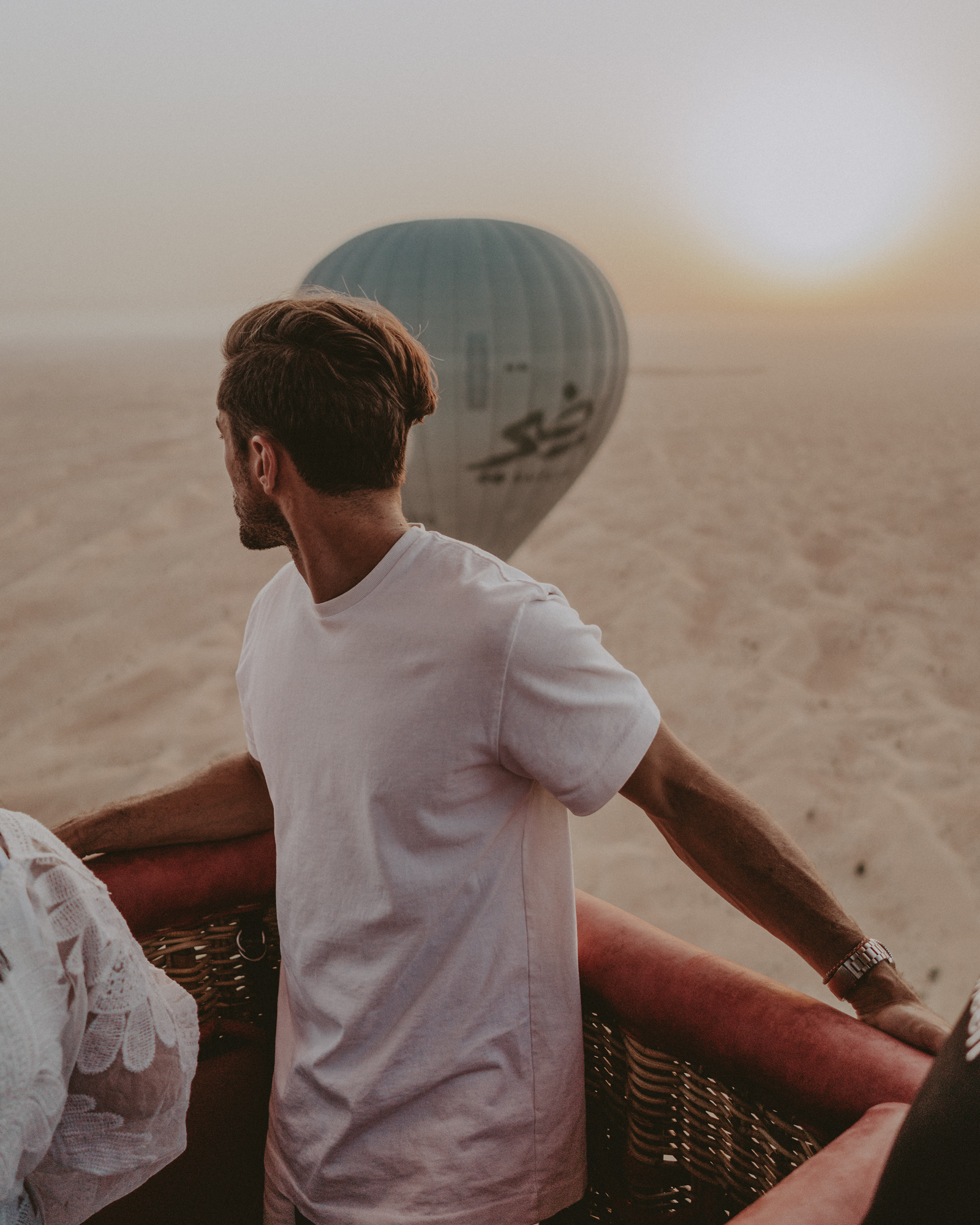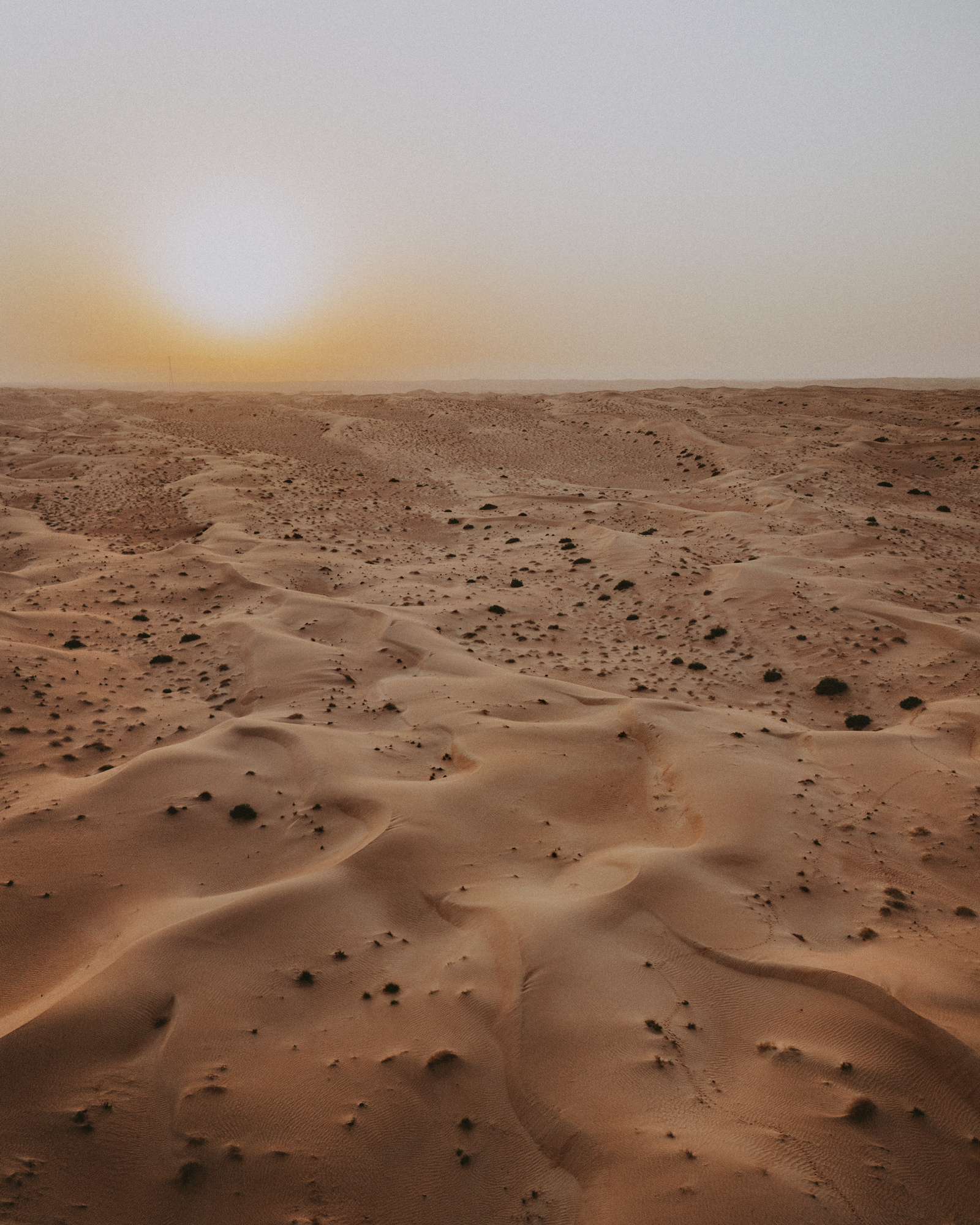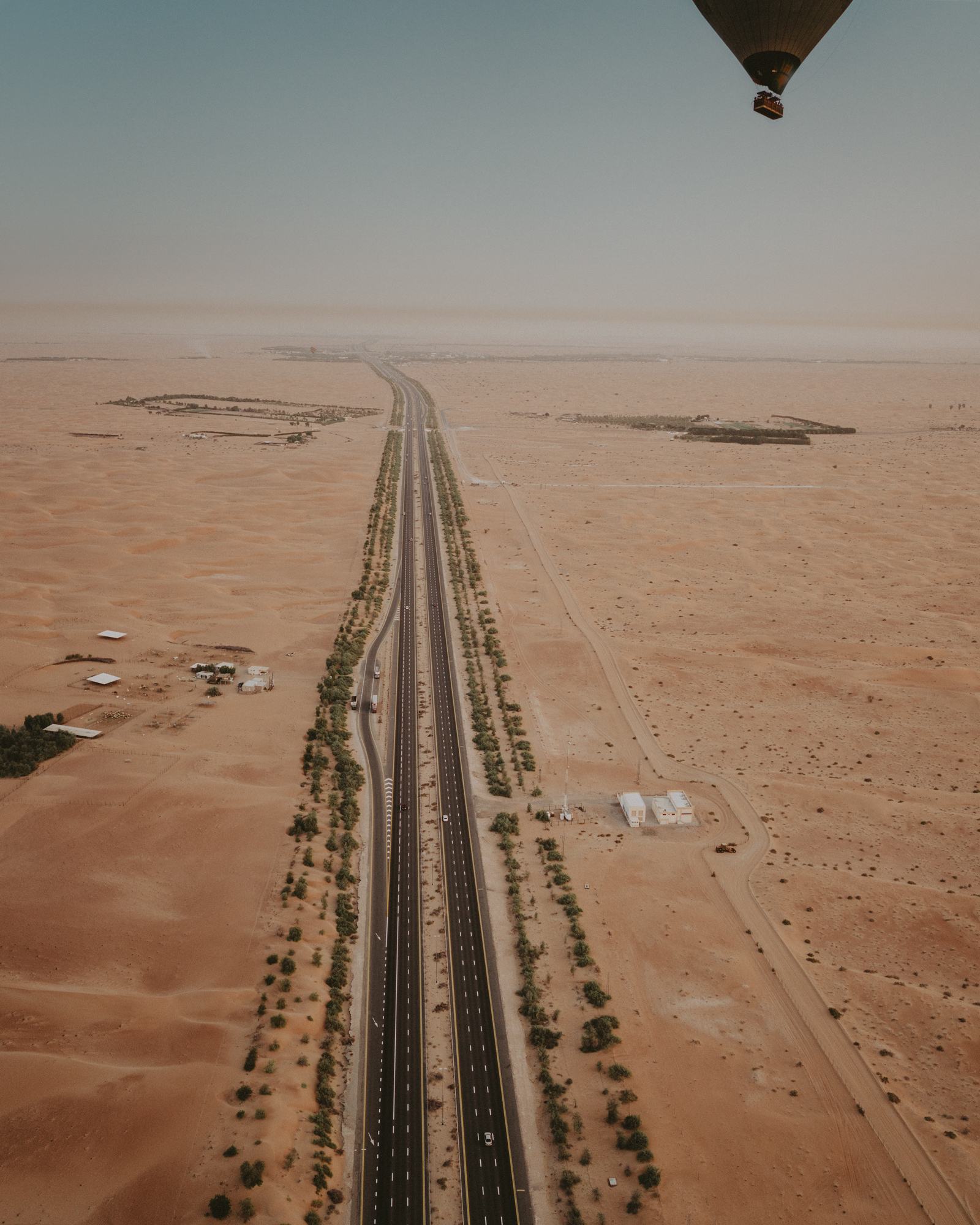 We couldn't tell as were driving out, because it was still dark, but the roads out to the desert between the dunes are just amazing.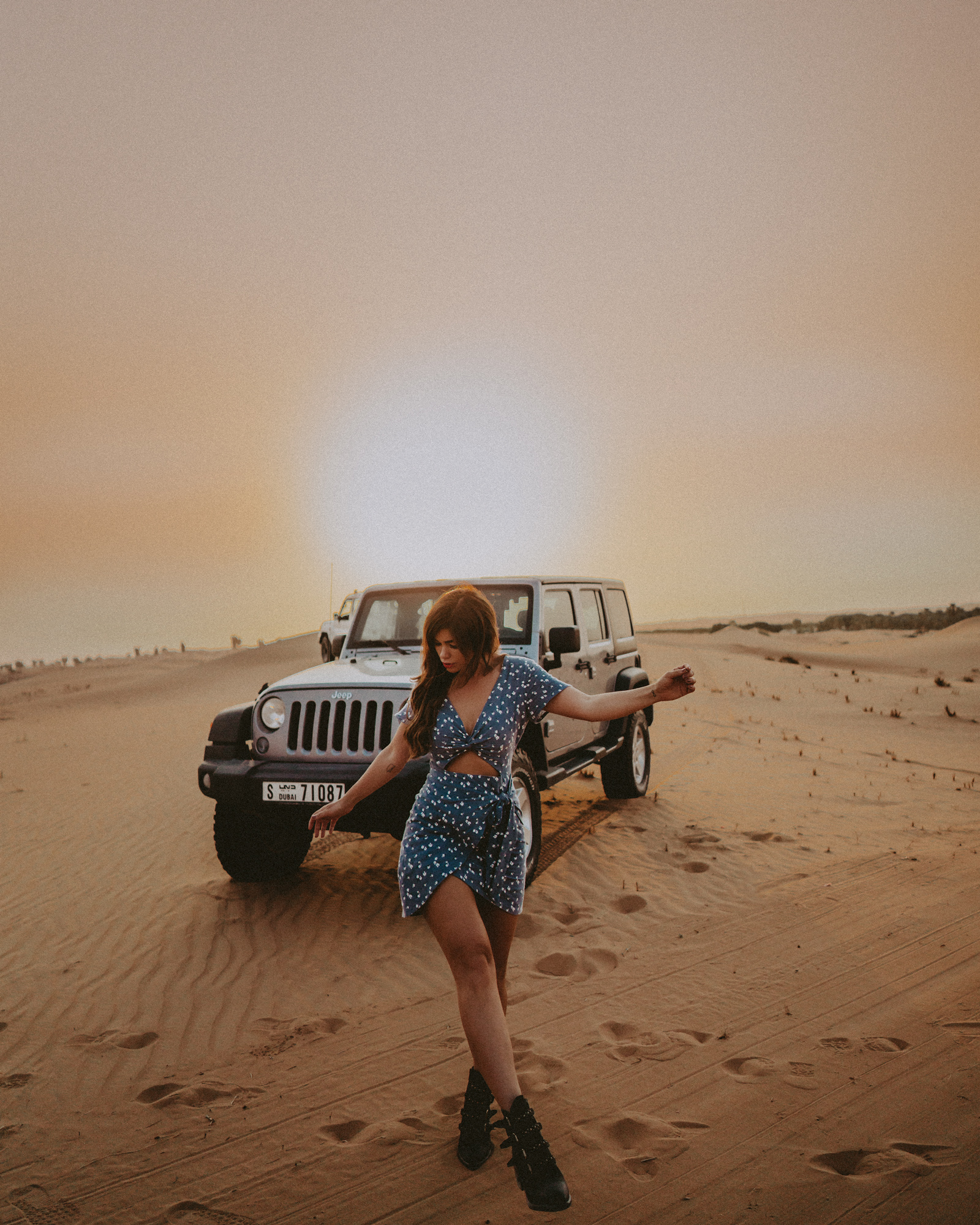 .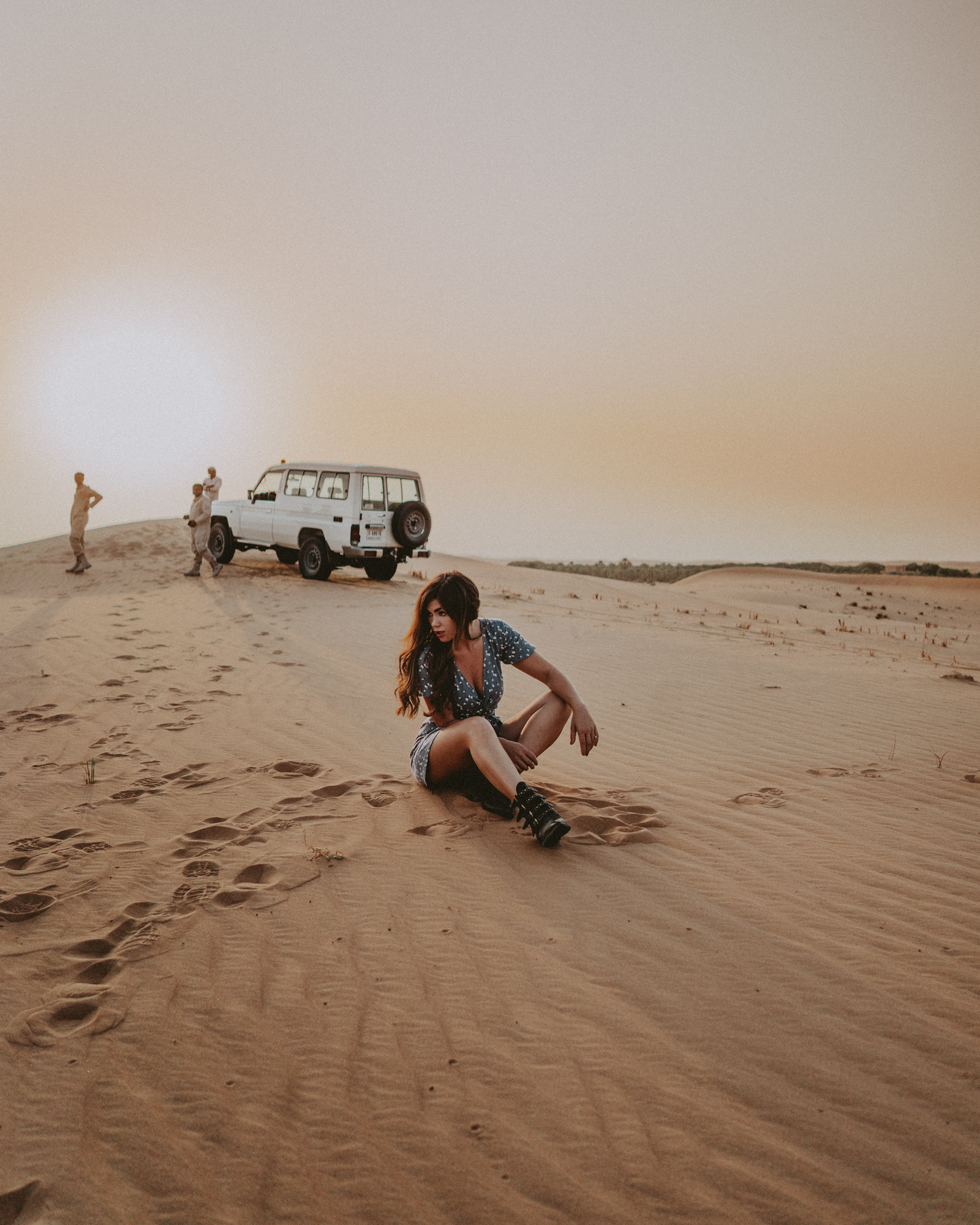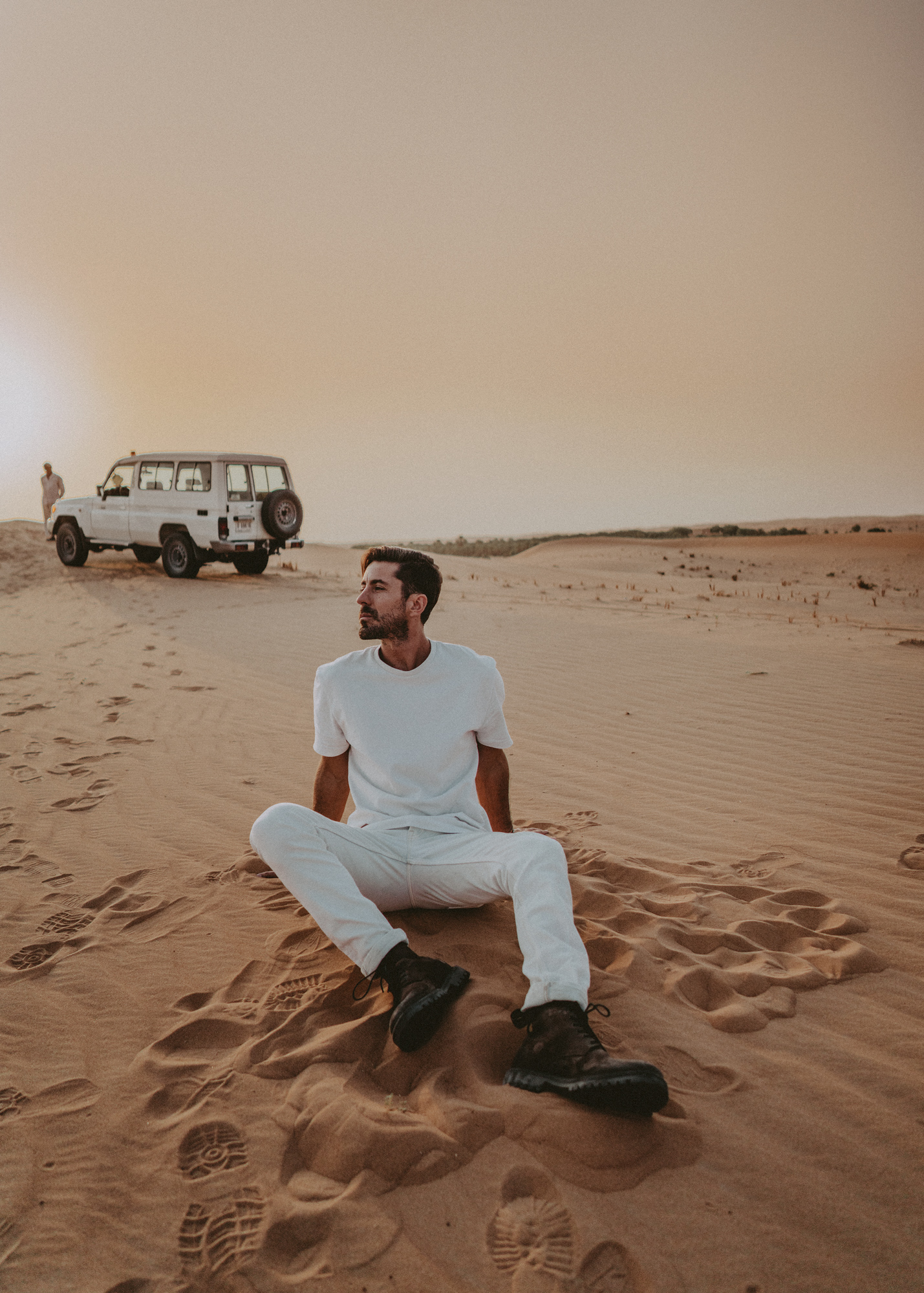 We've both been dreaming of going back to the sand dunes since our trip to the Sahara in Morocco. There is something just so incredibly photogenic, alien, and majestic about endless dunes. My only regret from this trip was that we didn't have more time to really head out into the dunes, explore, and shoot - but we only had 2 days in Dubai. I know we will back before too long.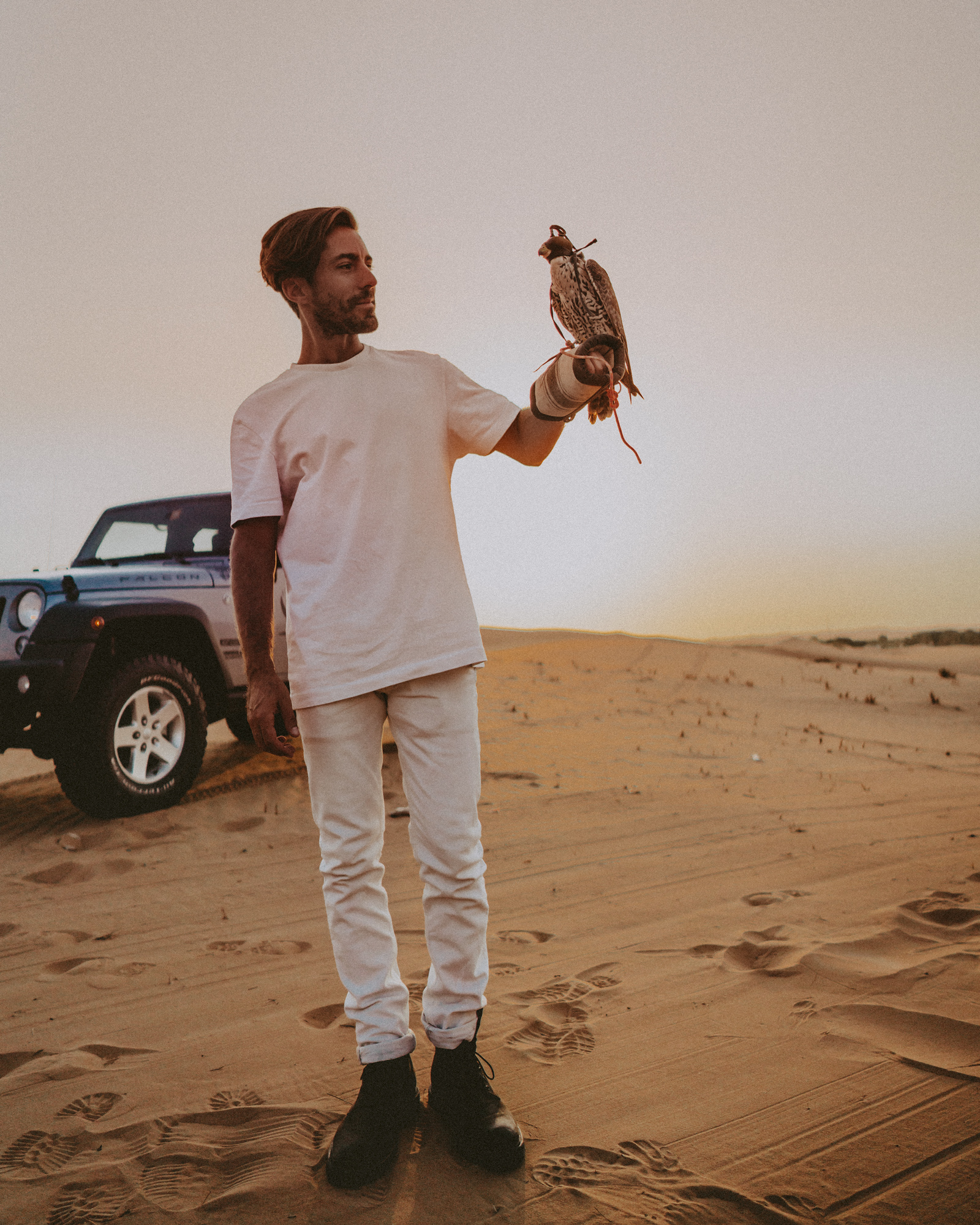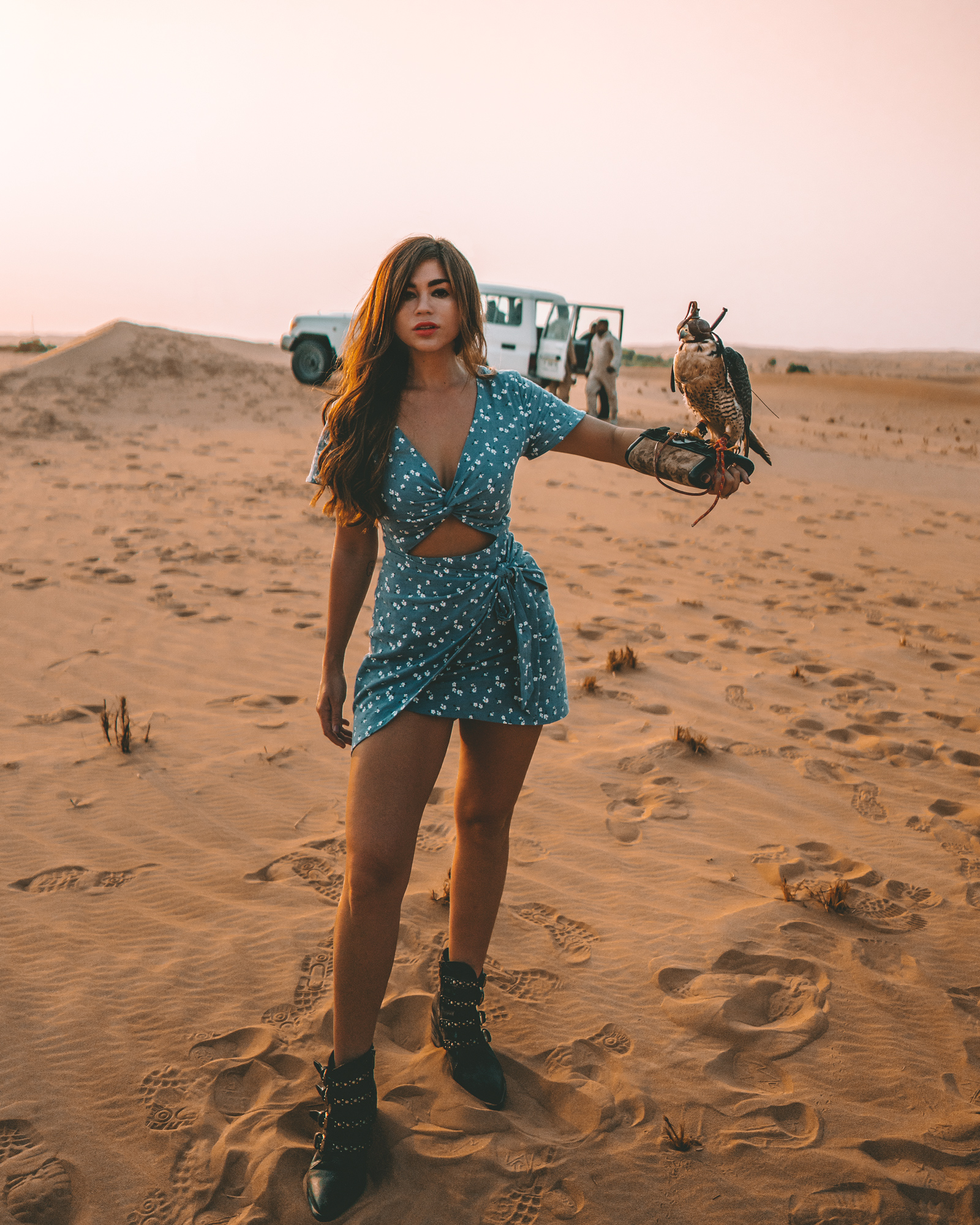 And we got to hold Ivan, the falcon! I felt like such a badass here.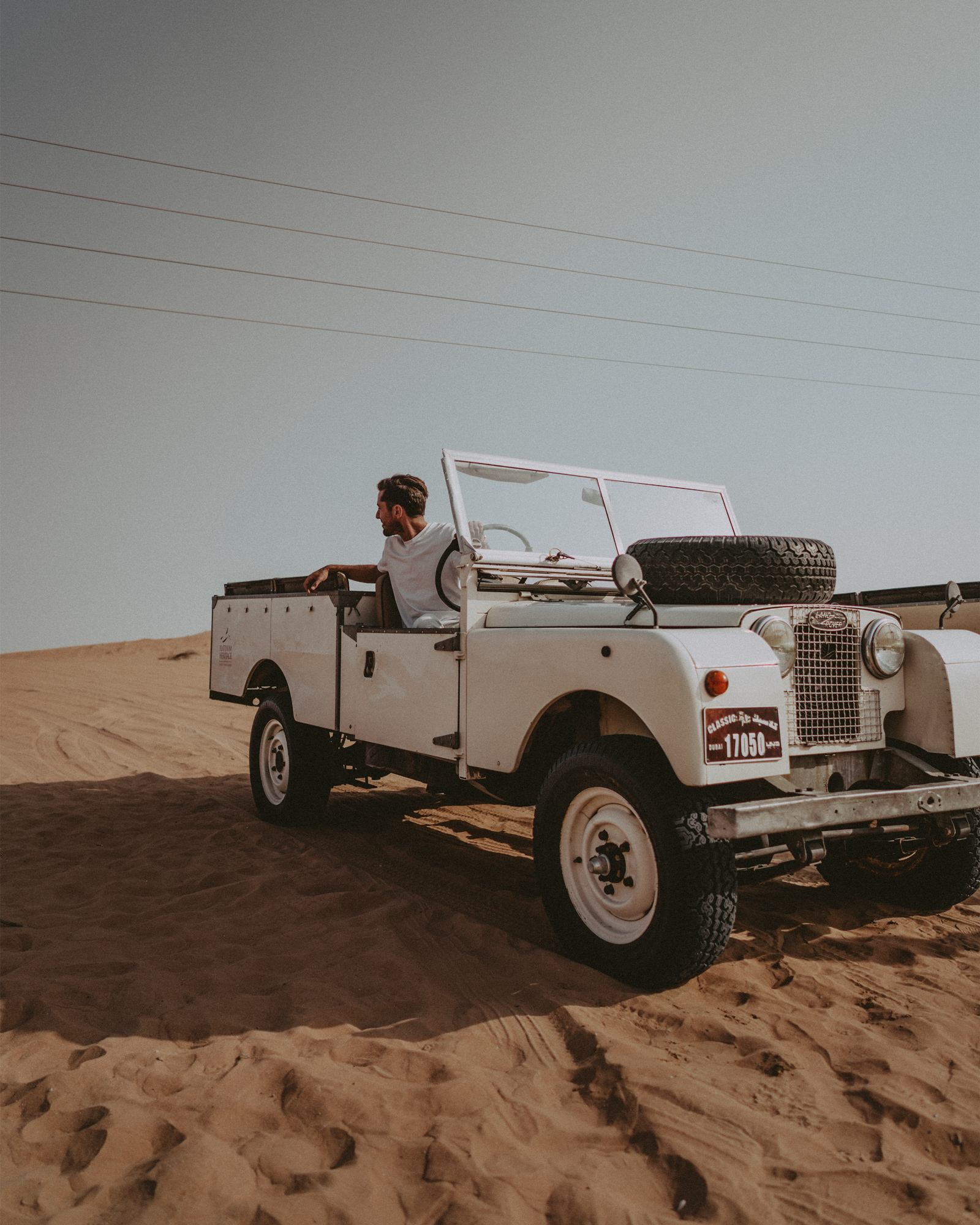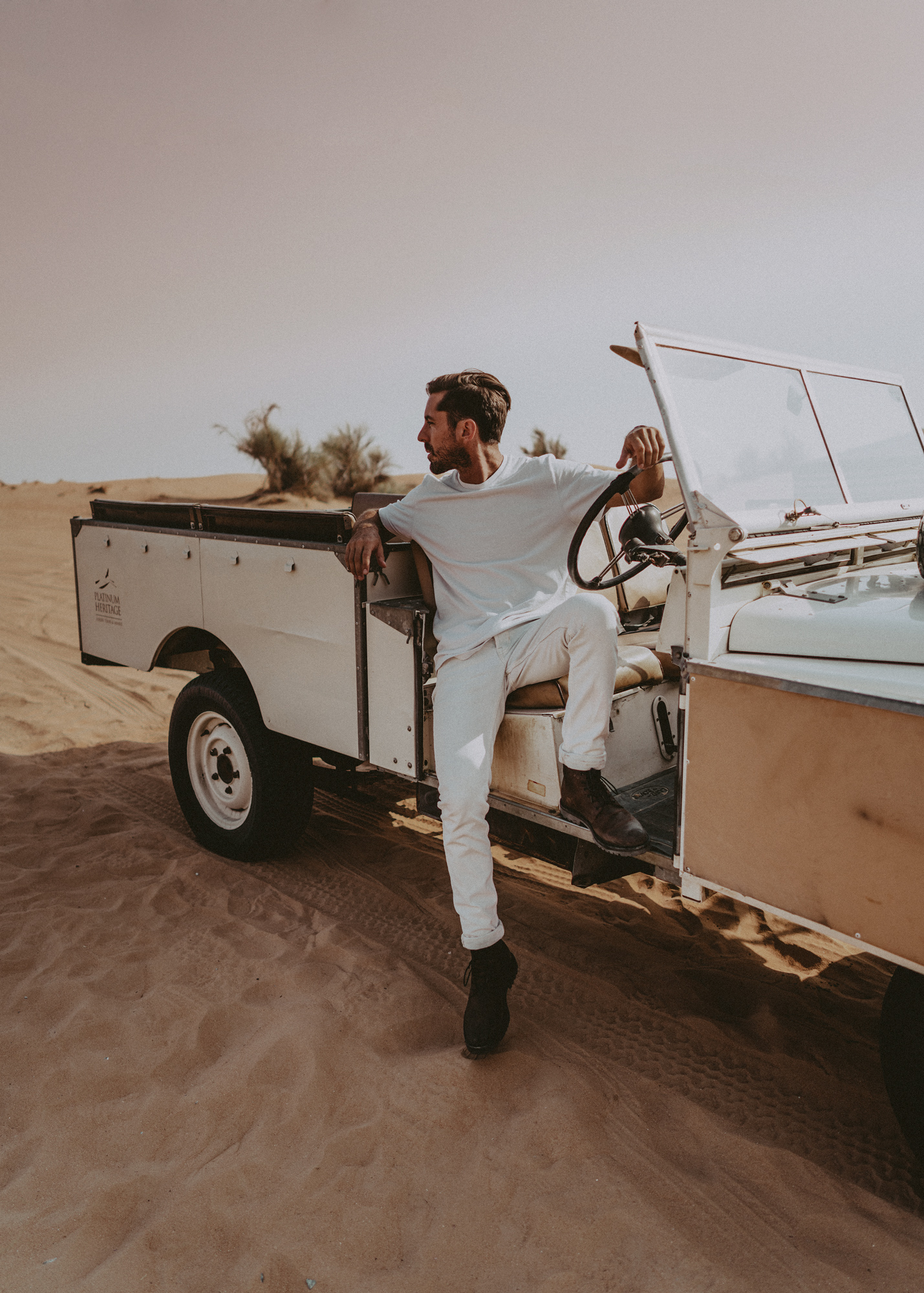 Then we cruised out deeper in the desert in these vintage LandRovers. And I definitely wish we had more time to shoot with them! Brandon looks like a badass though, doesn't he?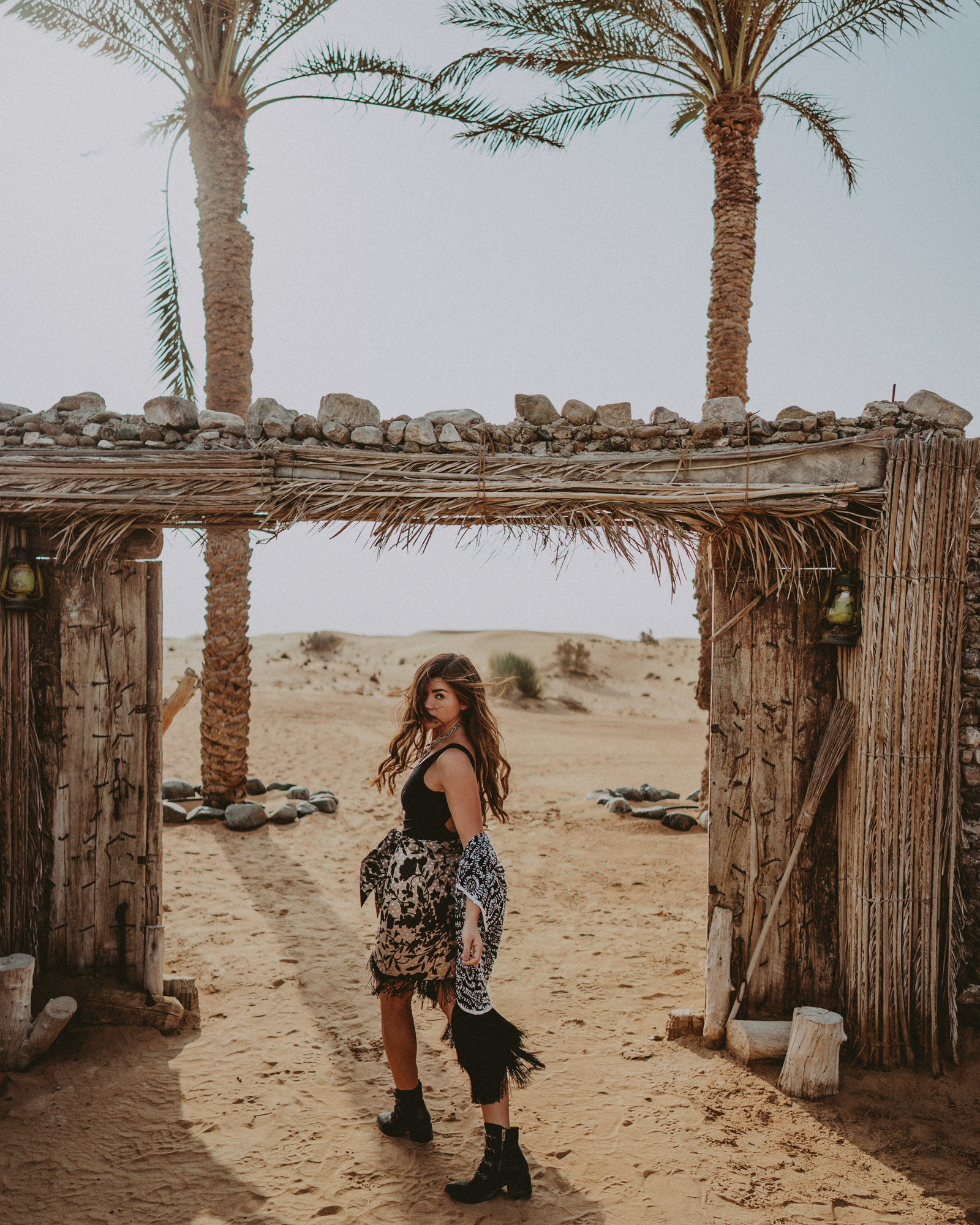 We arrived at this gorgeous desert camp for coffee and breakfast. At this point we had been awake and running around for hours - but it was only about 7:30AM.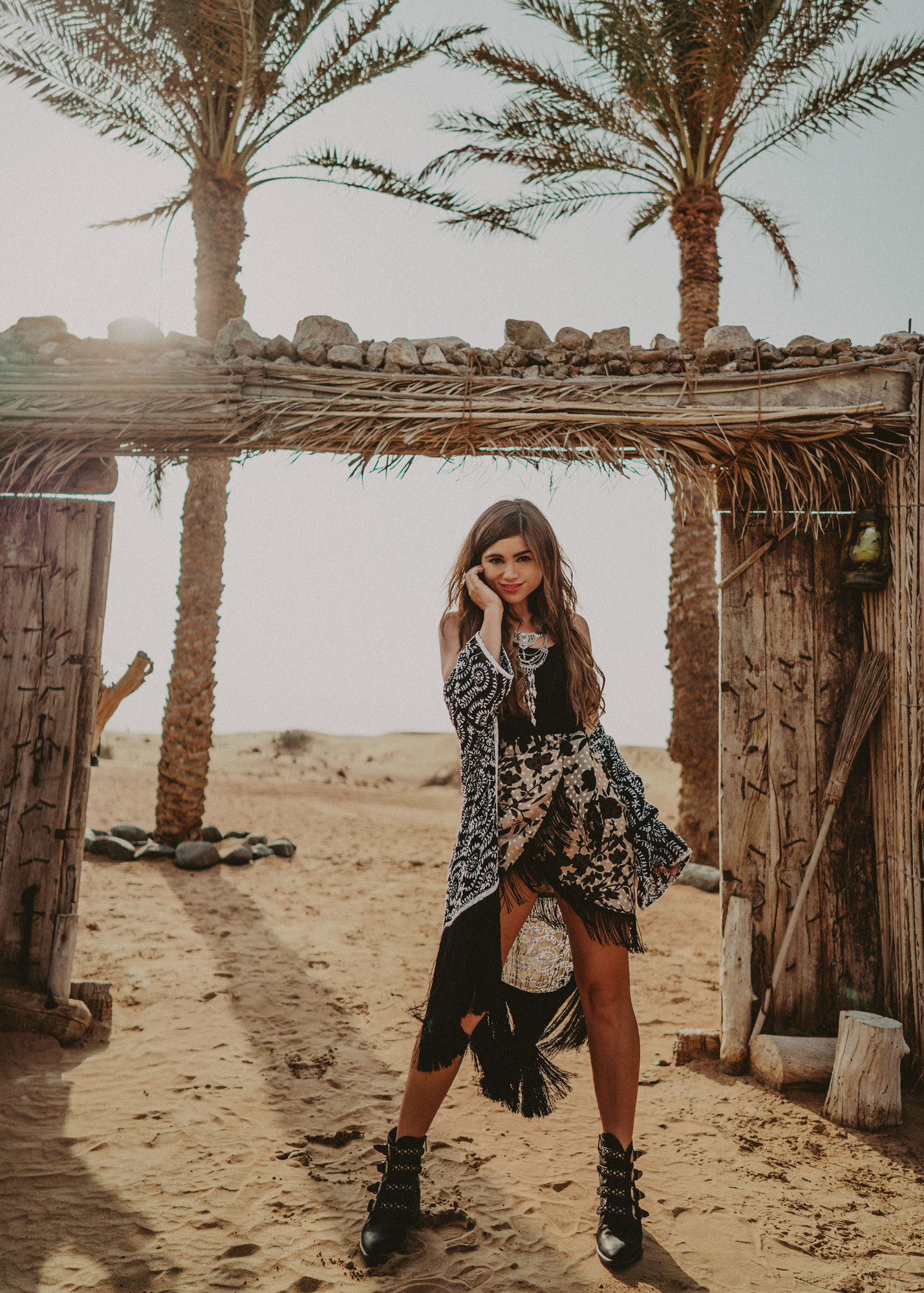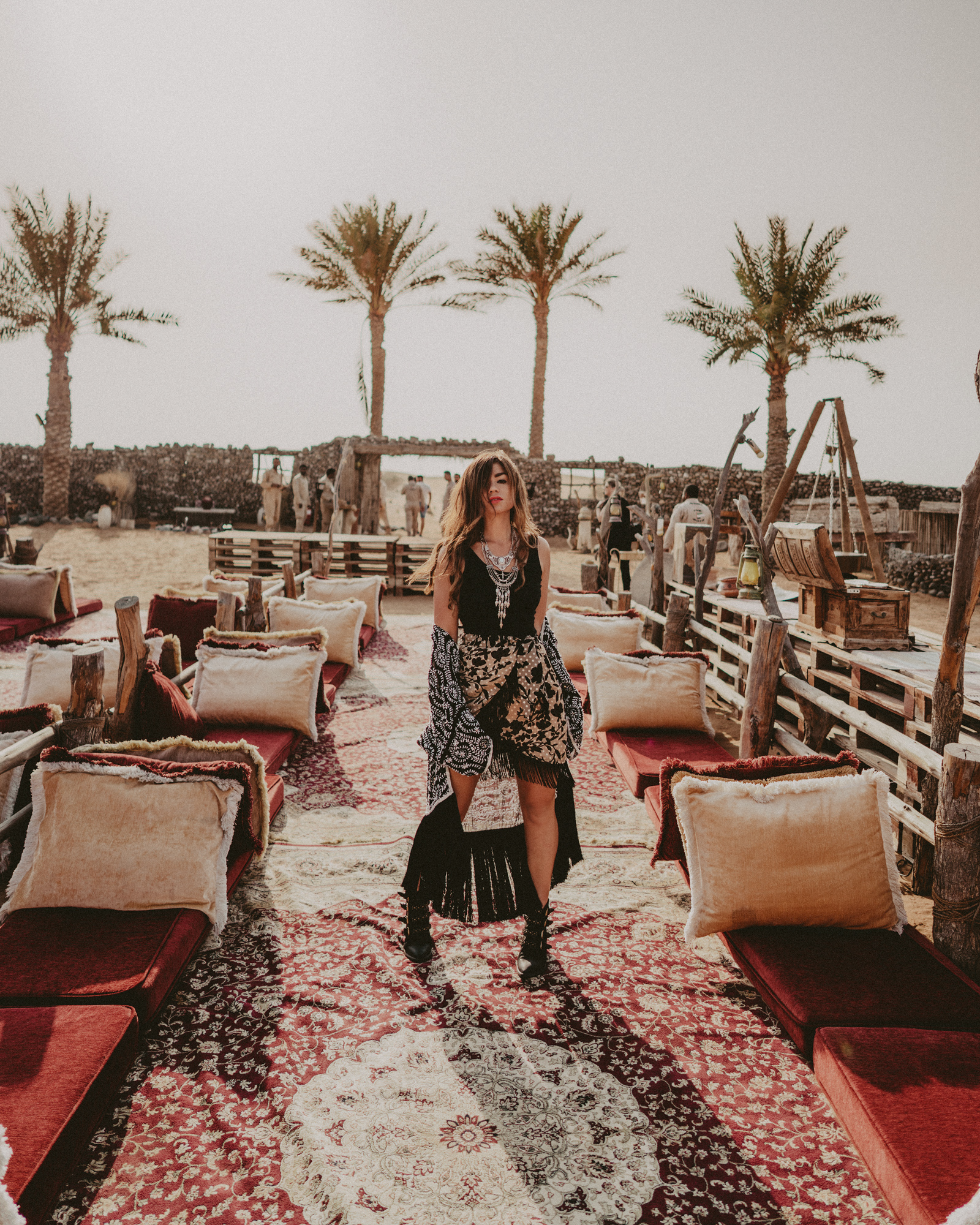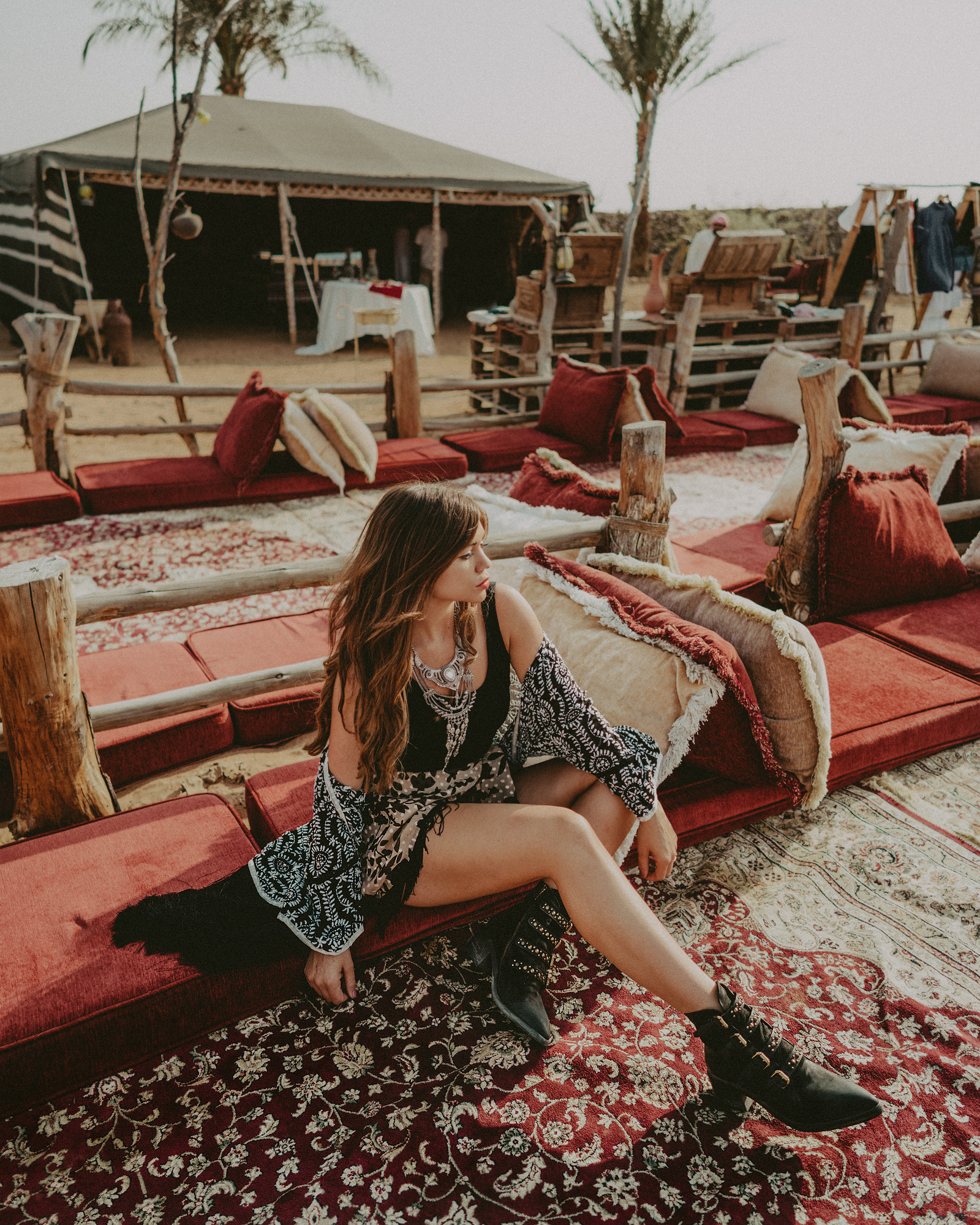 Everything out here was so impeccably decorated, I would have stayed all day if they would have let me - but unfortunately we were only booked for a few hours, so after breakfast it was time to head back to the city!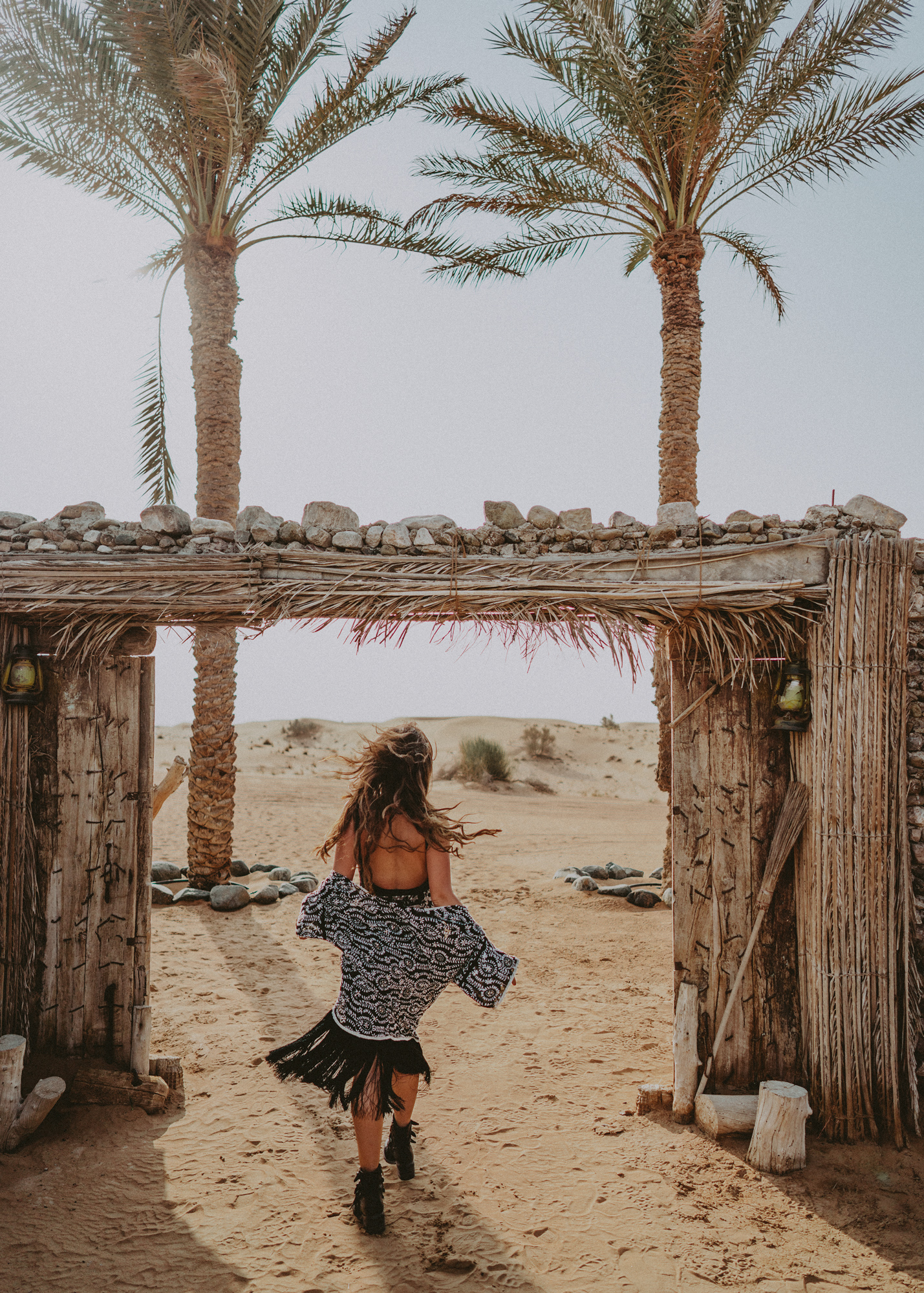 For just a few early morning hours, this was one of the coolest experiences we've had so far. I was so excited to finally get to taste the Middle East - this was our first trip to the region, ever. The food, the buildings, the aesthetic, the mix of cultures, the ancient civilizations, and the landscapes are all so interesting and so different from the rest of the world. I'm hoping that in 2019 we will make it back to this area a few times - to Jordan, to Egypt, to Israel, and Oman are all countries so high on our list of places to explore.
Shop This Post: