April 19, 2018 Style
Exploring The Palm Springs Desert & Festival Fashion with Revolve - #REVOLVEfestival 2018
The Mojave Desert, and Palm Springs in particular, has always been a special place for Brandon and I - we both spent our childhoods coming out to the desert regularly, and it was our very first trip together. When I came home for Christmas and we very first started dating, we took off on a California road trip - first up the coast to Big Sur, and then out to Palm Springs. We have come back over and over since being home - for last year's superbloom, for Desert X, and for just exploring in the ultra-hot summer heat.
But - neither of us had ever made it for Coachella Weekend, until now. When Revolve invited us out for their epic 2-day party that is Revolve Festival.
My first stop was to the Revolve Social Club in LA to get all of my looks for the weekend - walking in was a feeling that can only be described as kid in a candy store - so many amazing pieces to shop from, and so many excited people buzzing around the shop and pulling out all the stops. I have always loved dressing up, from as soon as I could stand, and festivals give you the chance to take it to the next level, and wear the most insane, outrageous, scandalous, wild, and brilliant outfits that you wouldn't feel comfortable in public in anywhere else - but at a party like these - anything goes! I loved experimenting with my styles, pushing the envelope, and just having fun with my weekend looks.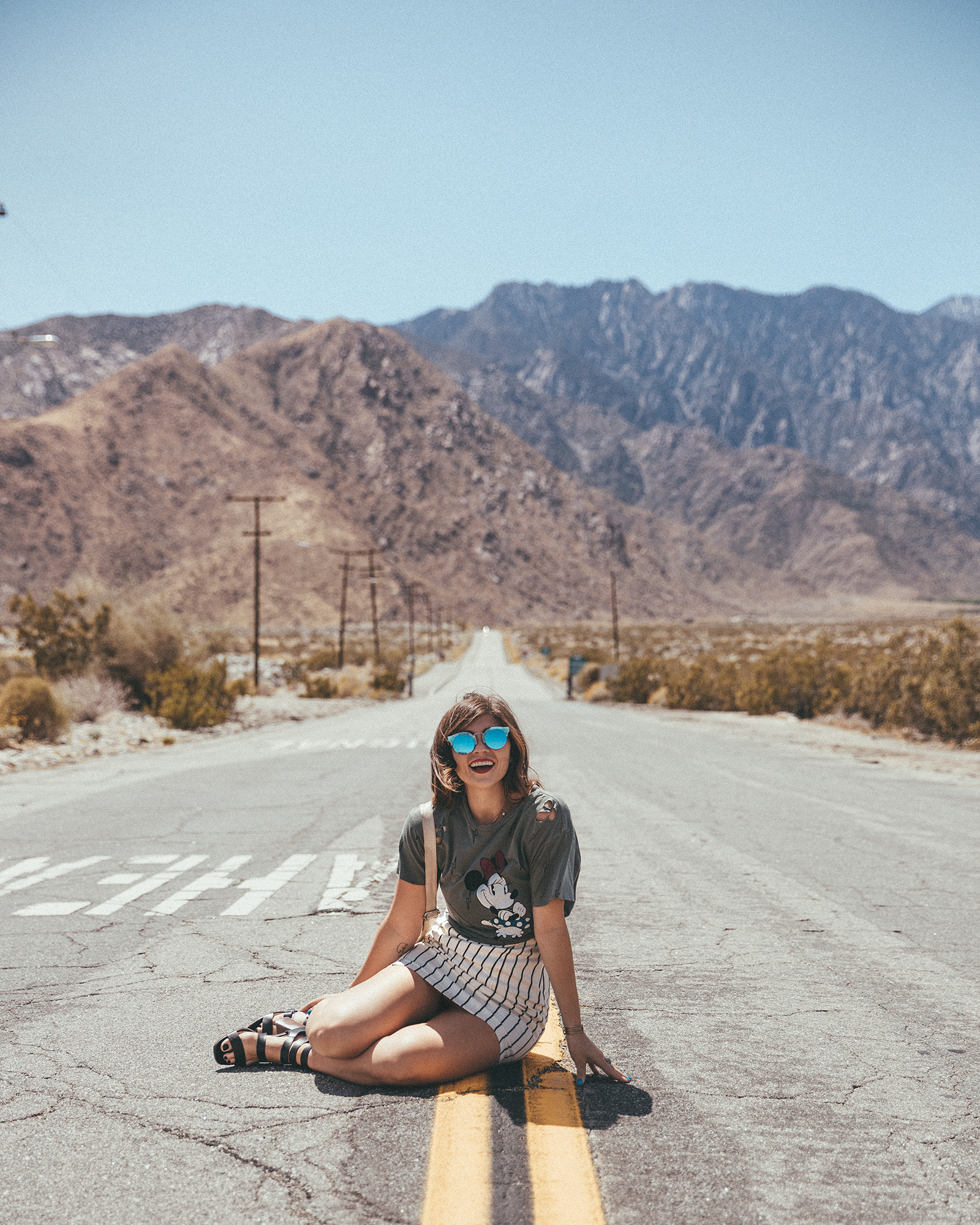 The desert landscapes still excite me. Isn't this street just the most perfect perspective?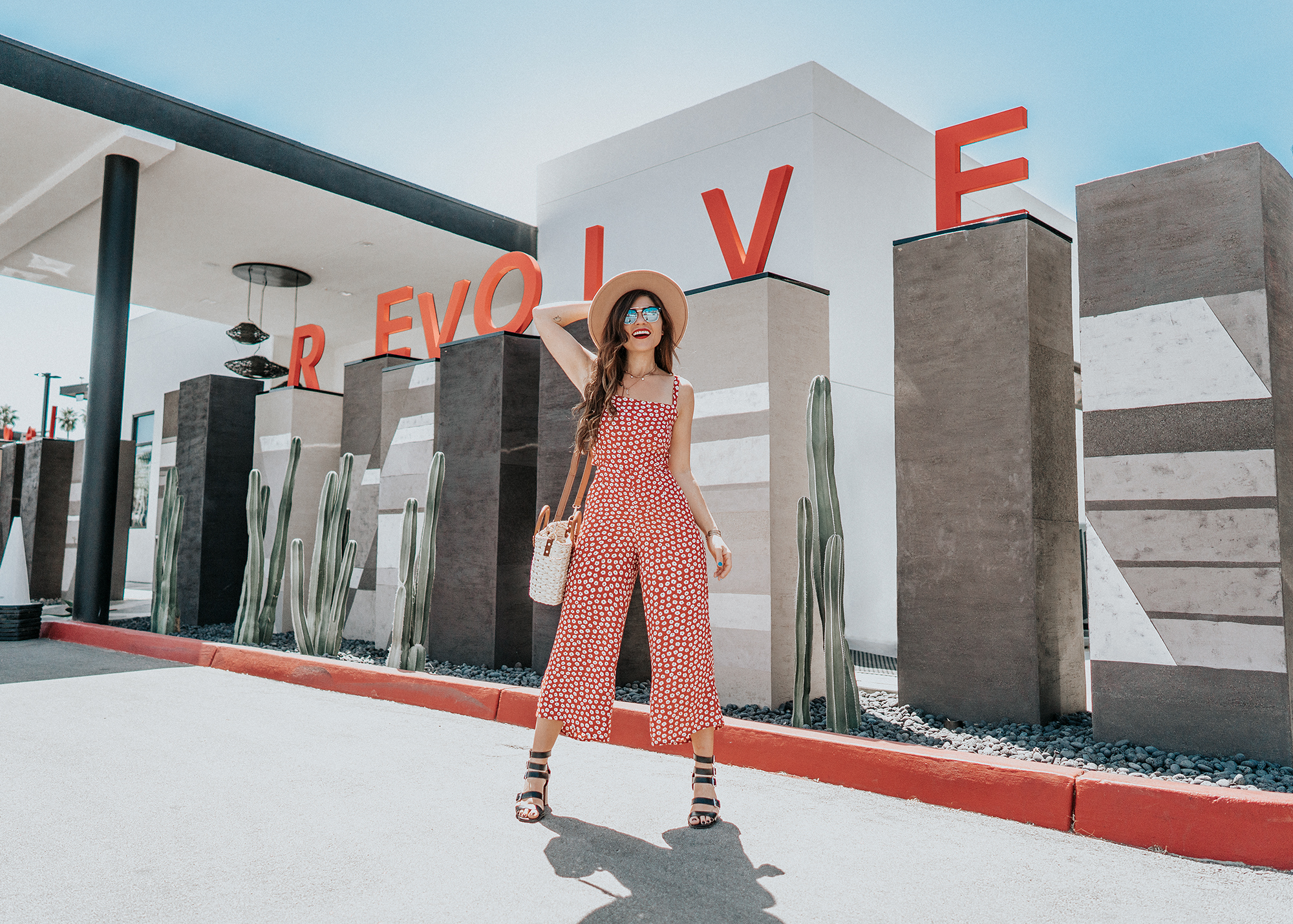 Our first stop - Hotel Revolve to pick up our wristbands and check out the start of the pool party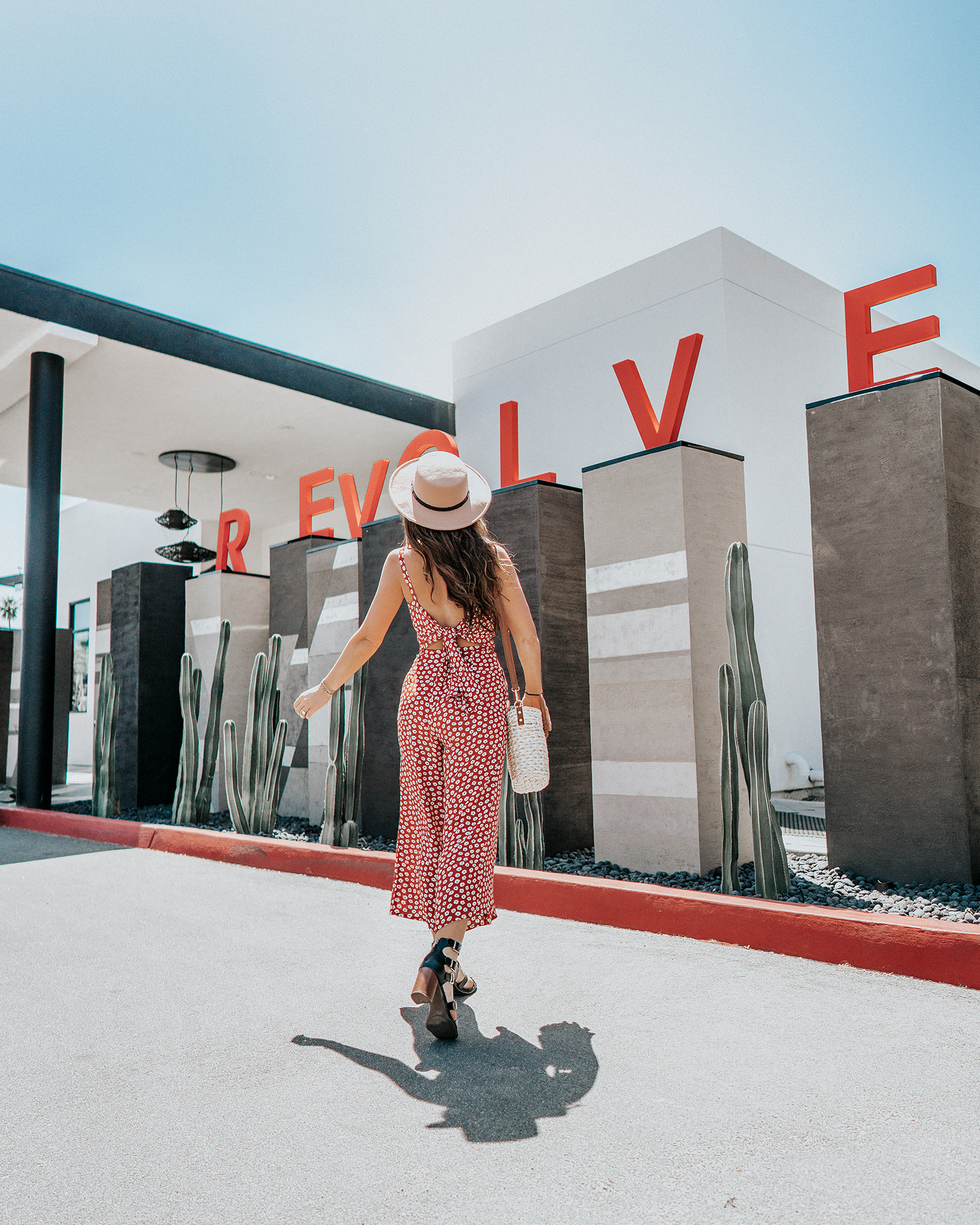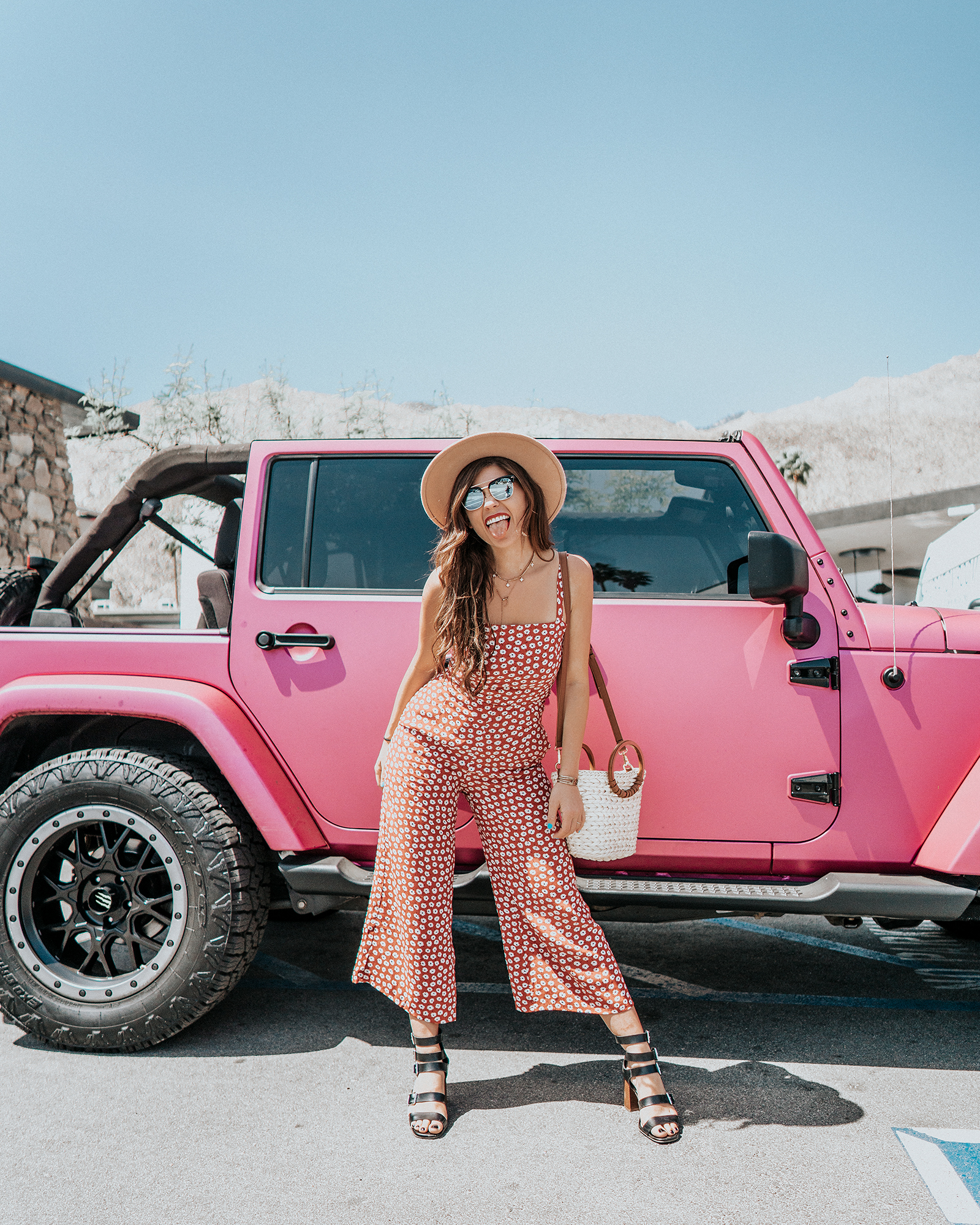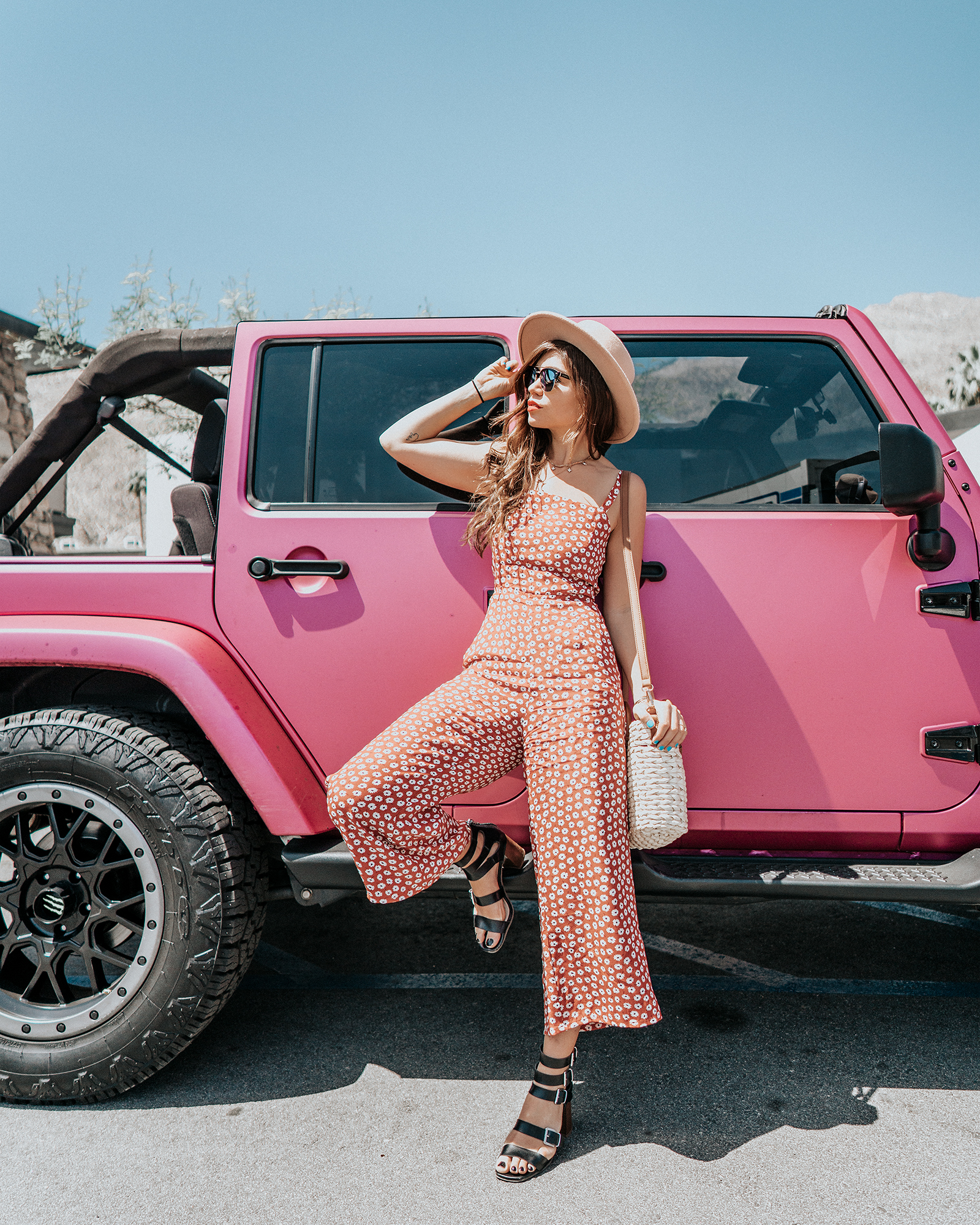 This hot pink jeep was parked just outside - and it was too perfect to resist!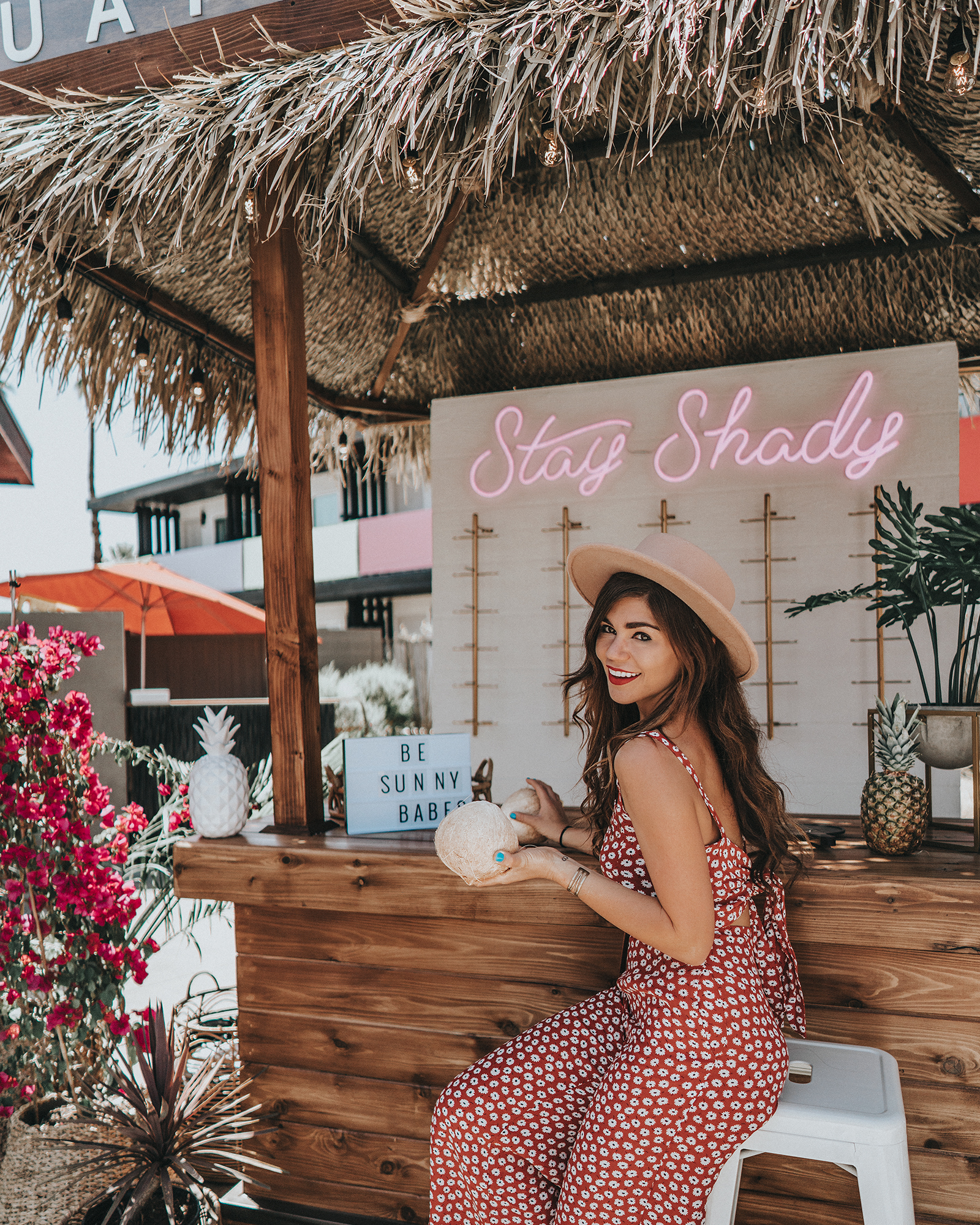 The Quay Sunglasses booth was the cutest tiki bar I've found!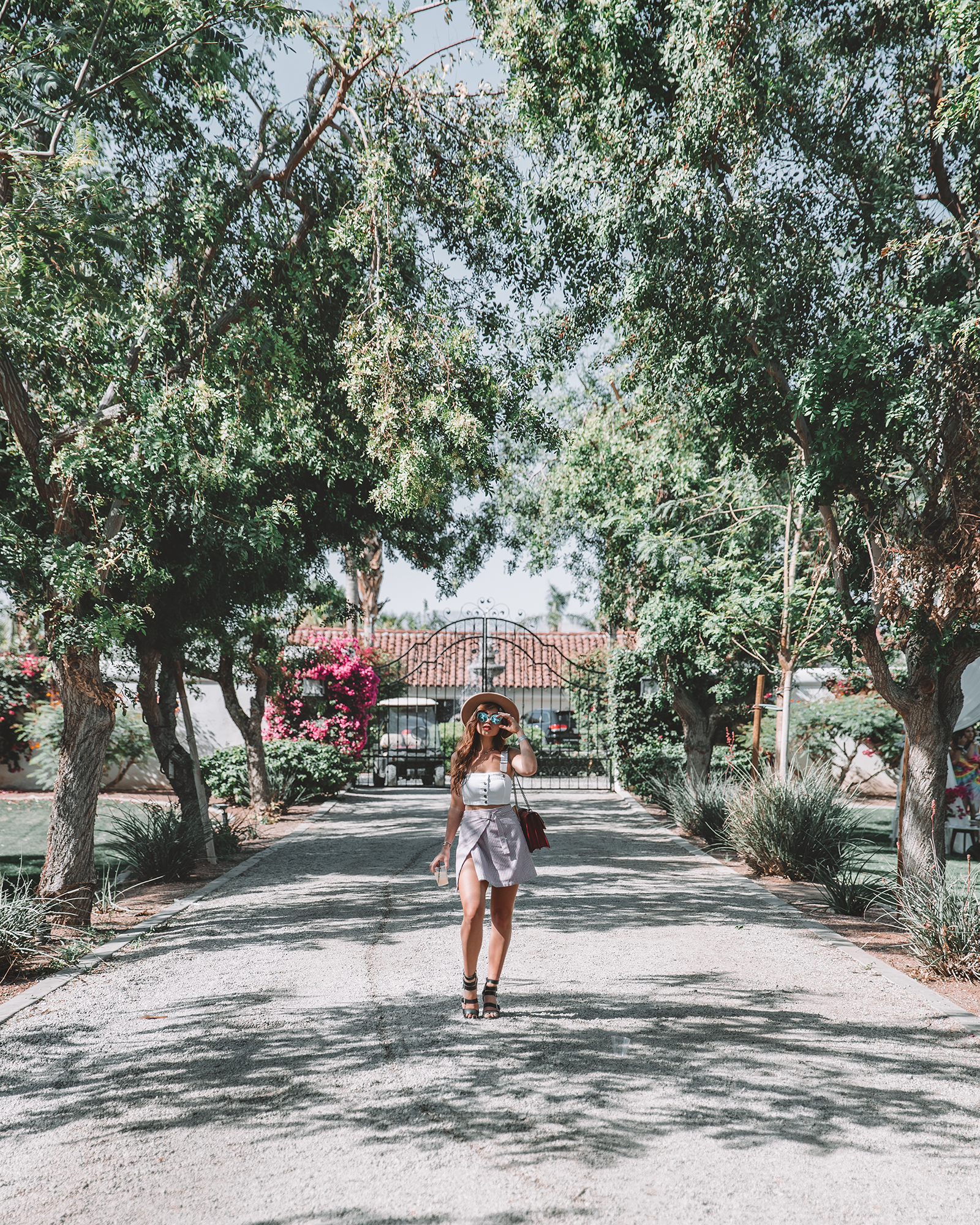 On Friday, we warmed up for the weekend with #lostinthemirage, hosted by Vammped & Genies. One of my favorite parts of stoping by these parties - roaming the endless Estates in La Quinta.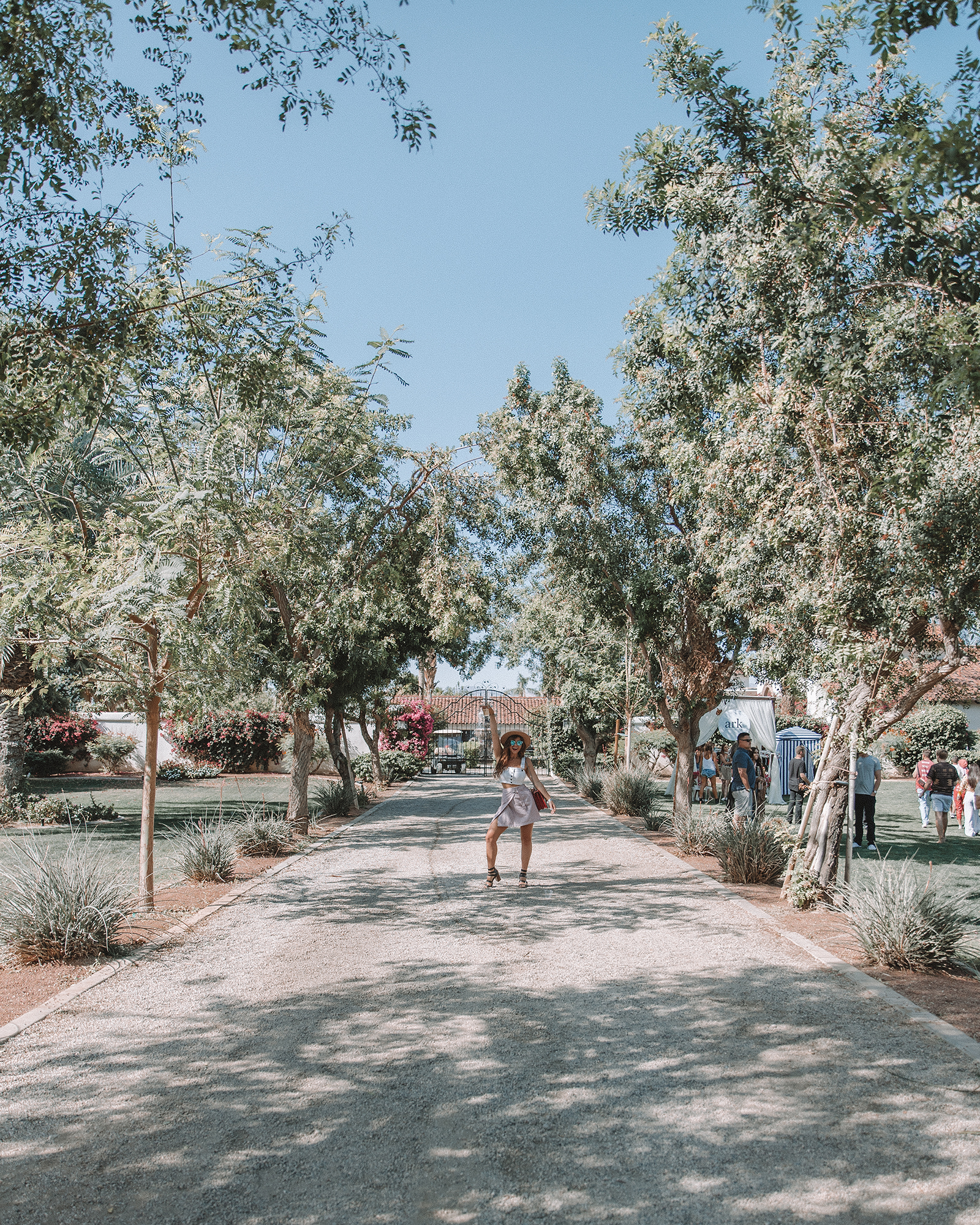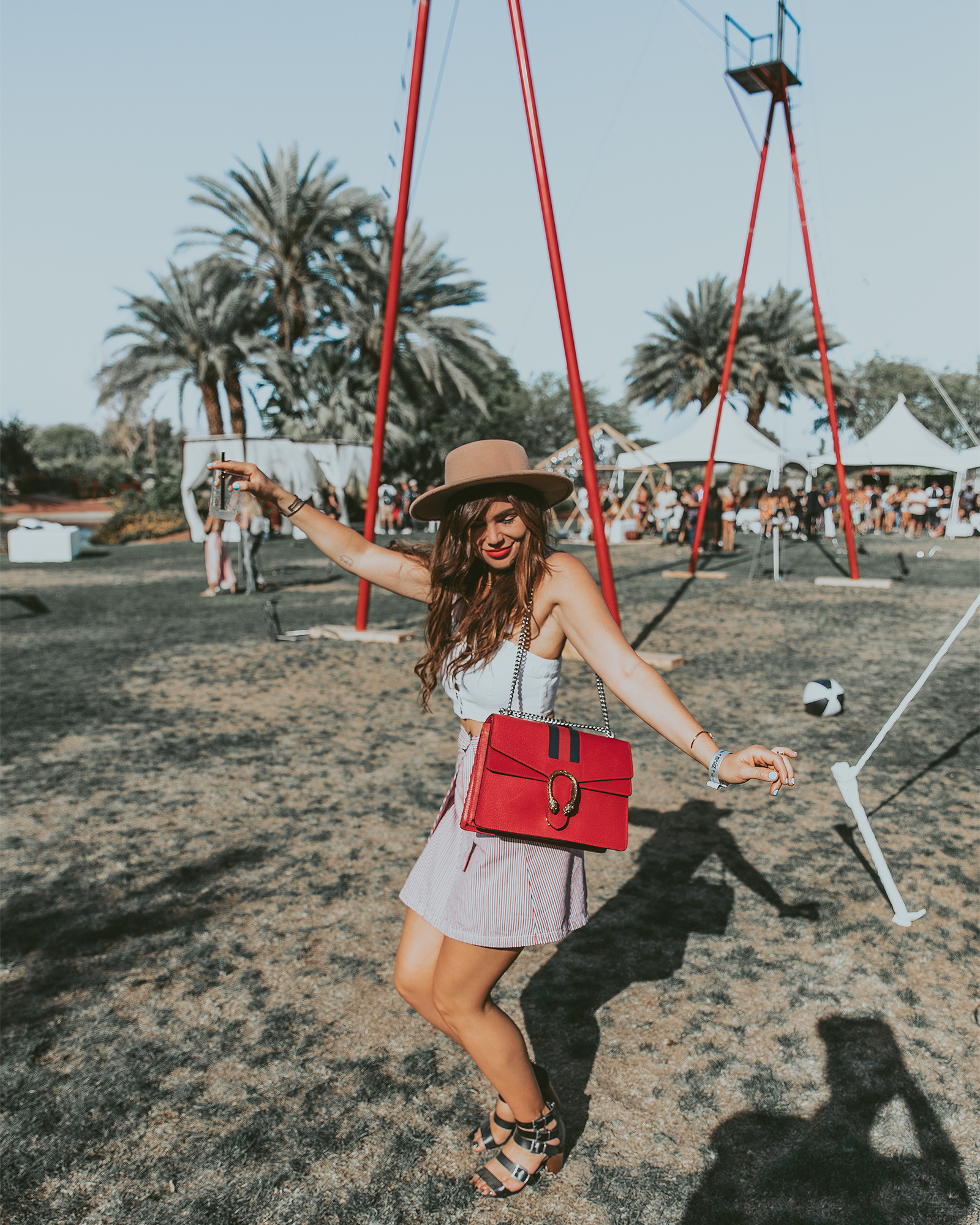 I decided to ease into my festival fashion, with an outfit that I would feel comfortable in anywhere - I came to dance and wanted to be able to! Wearing a top from BB Dakota X Revolve and my Gucci bag is a rental from TrendLendNYC. Looking back on the weekend, I wish I would have gone even bigger with my looks - more sparkle, more accessories, more drama. Looks like next year I'm going to have to hit festival season harder!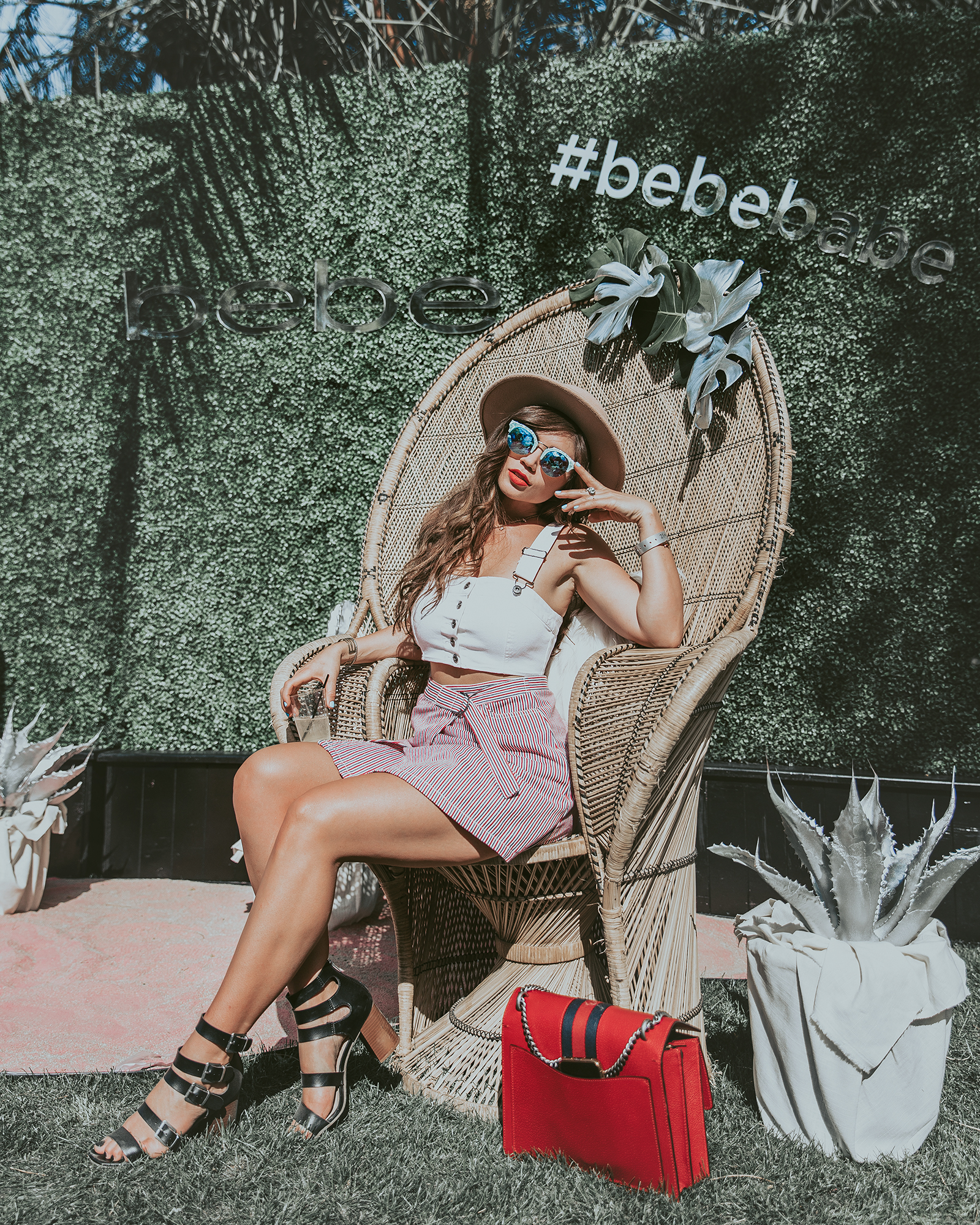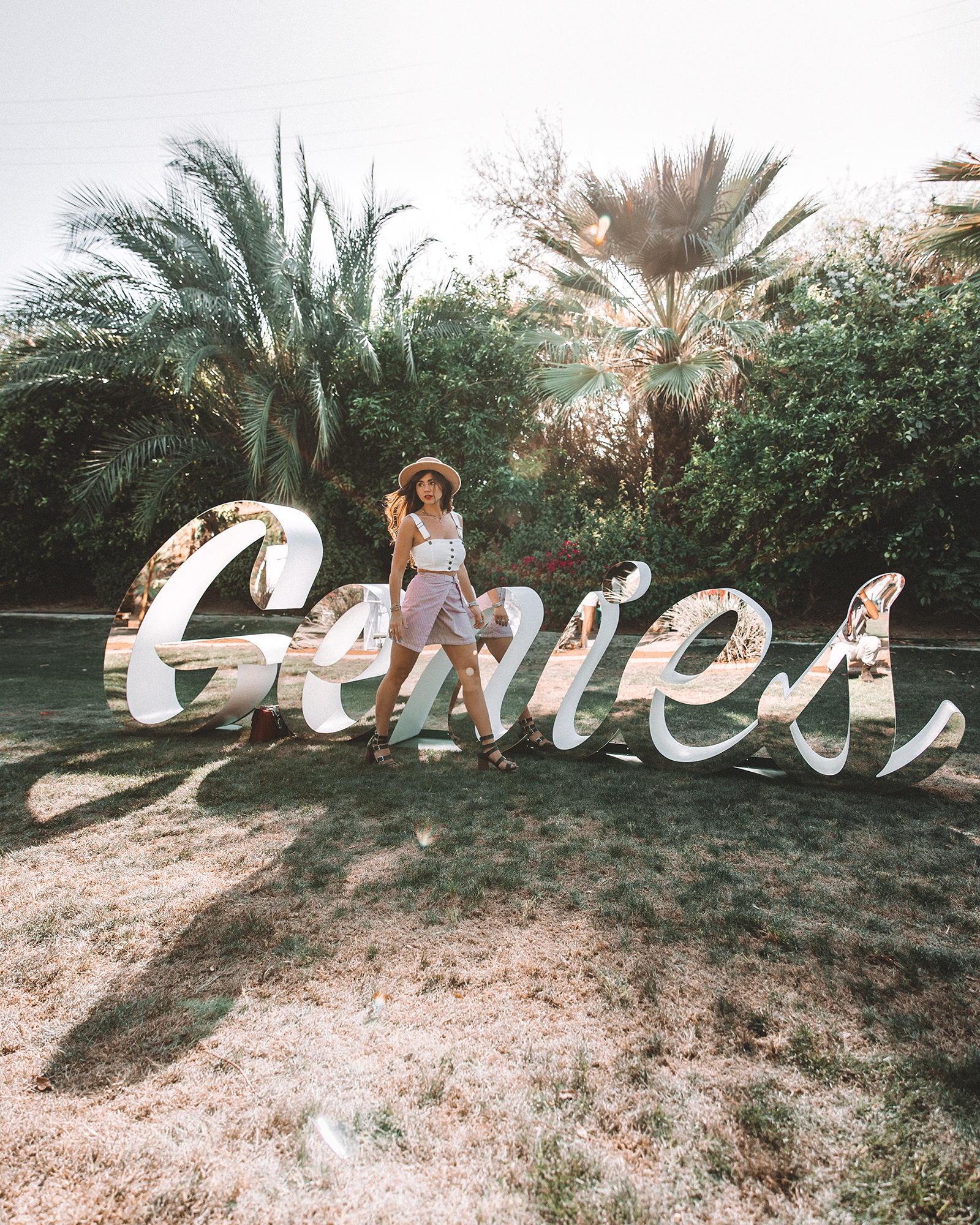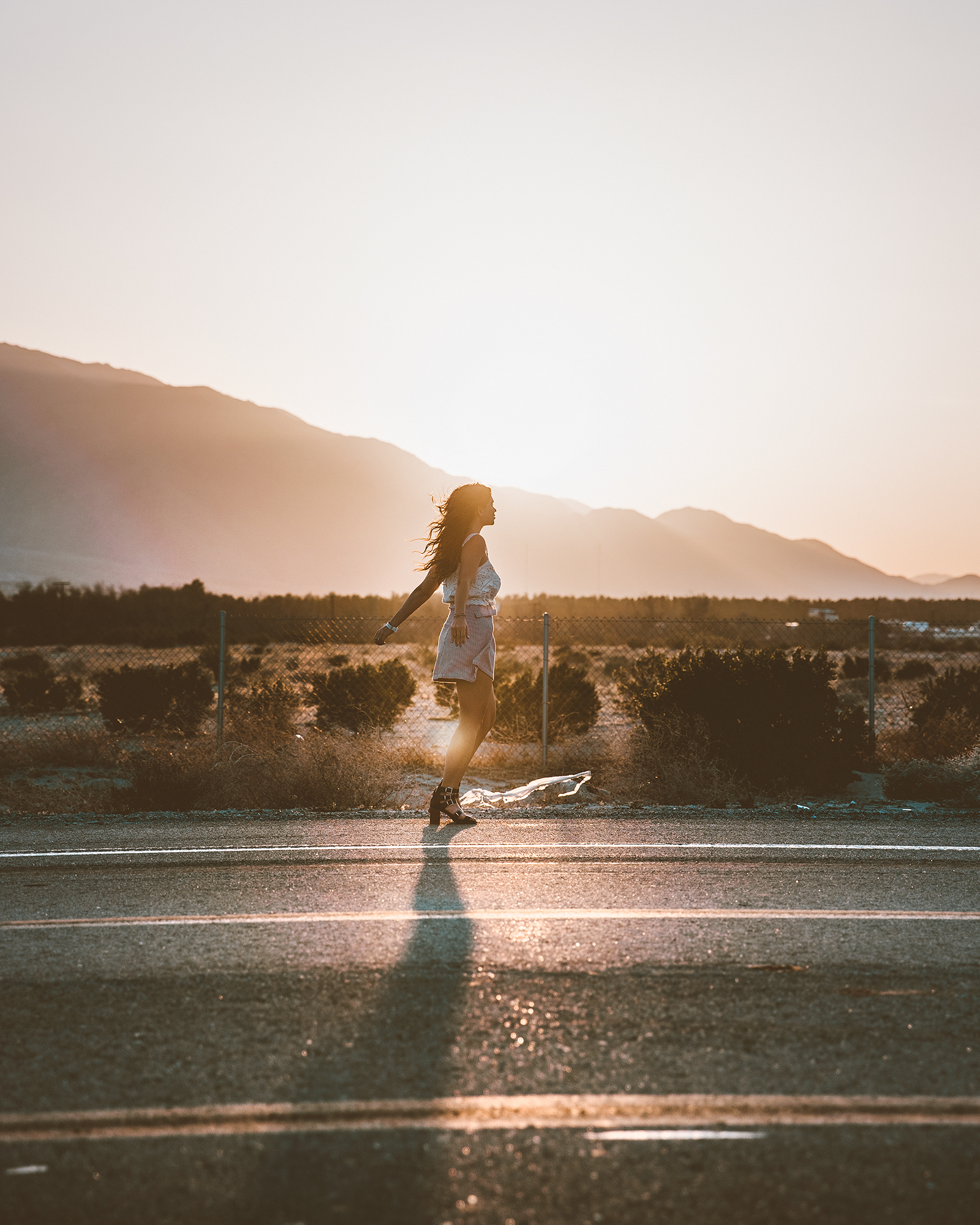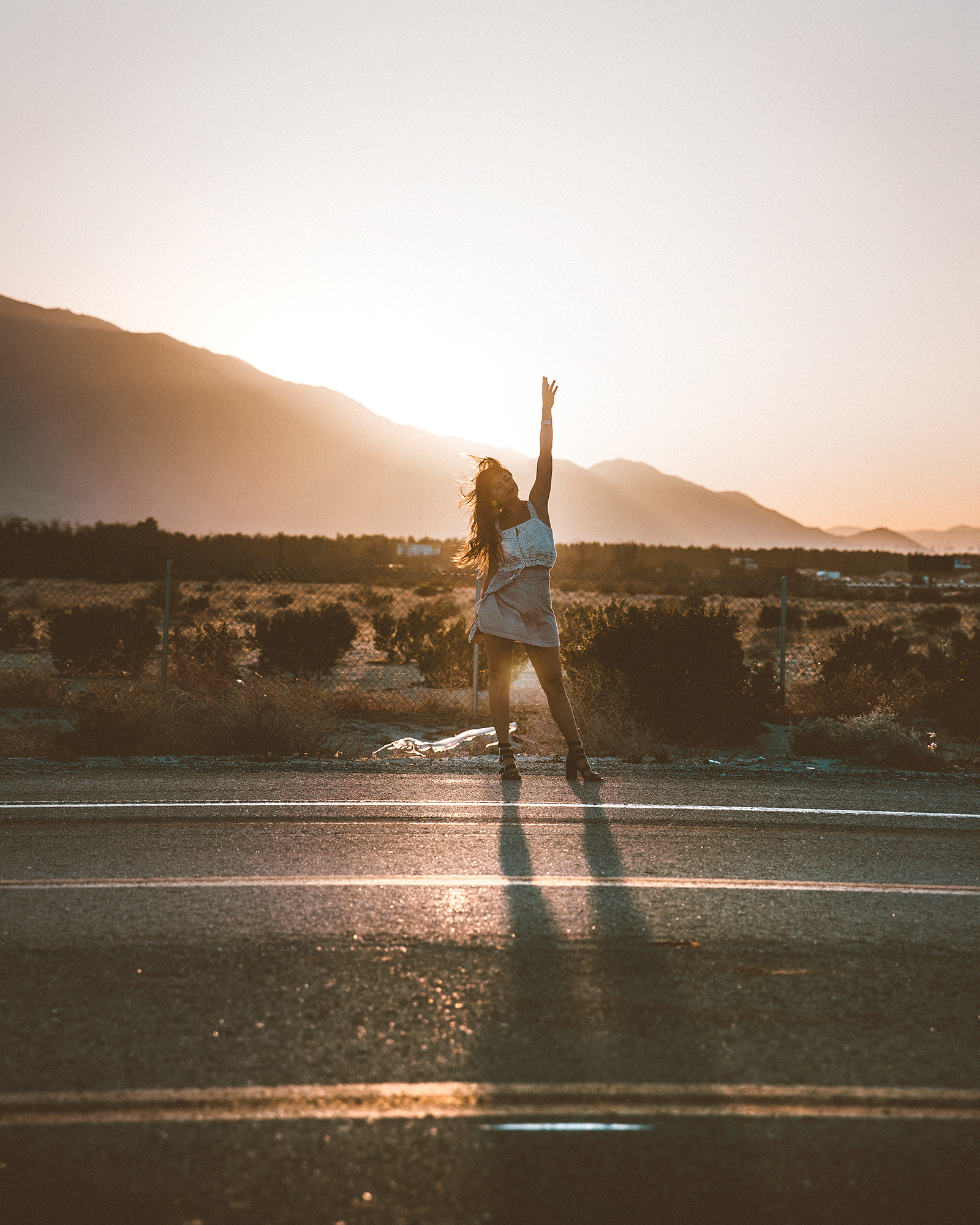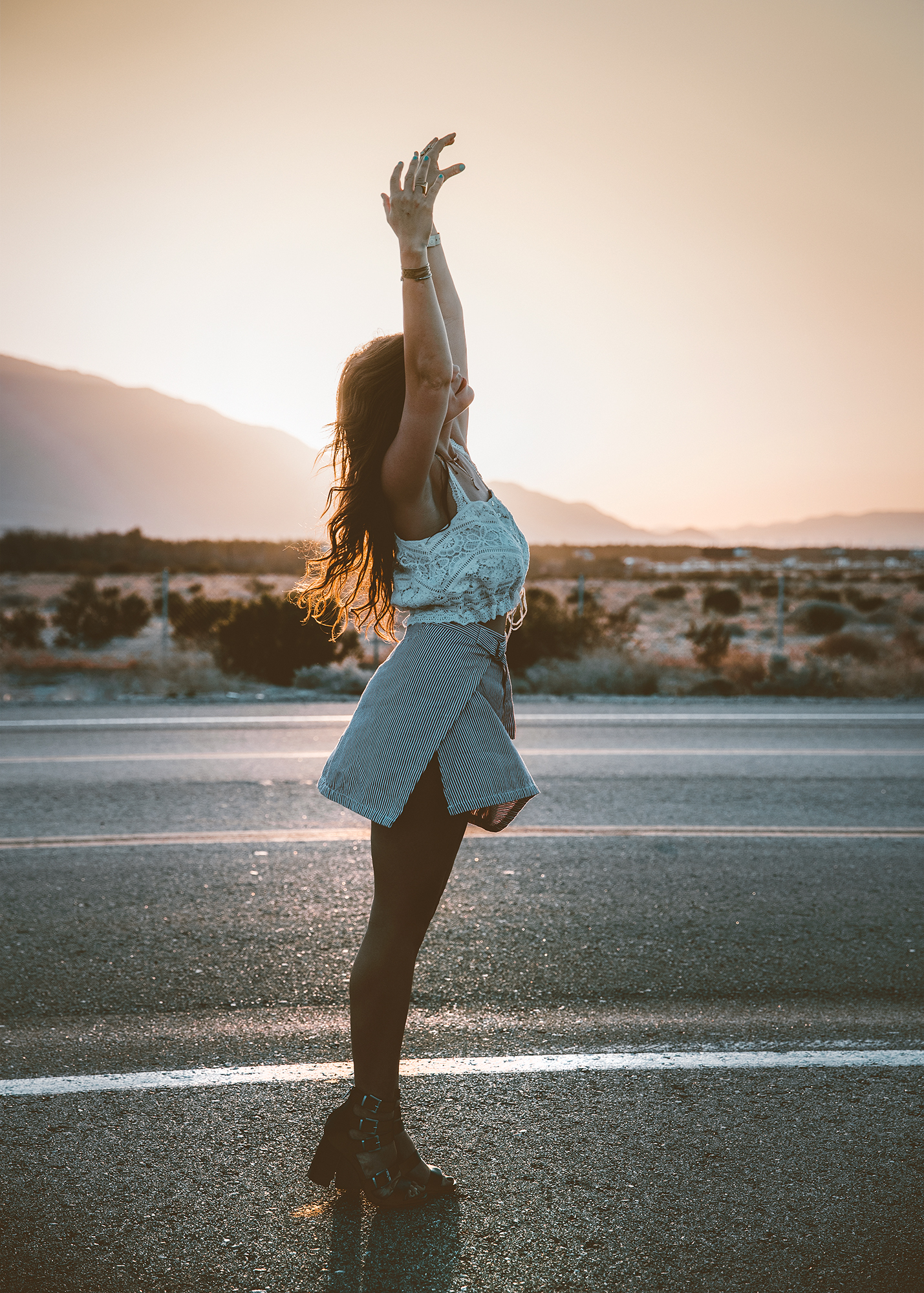 I can never resist running into a desert sunset.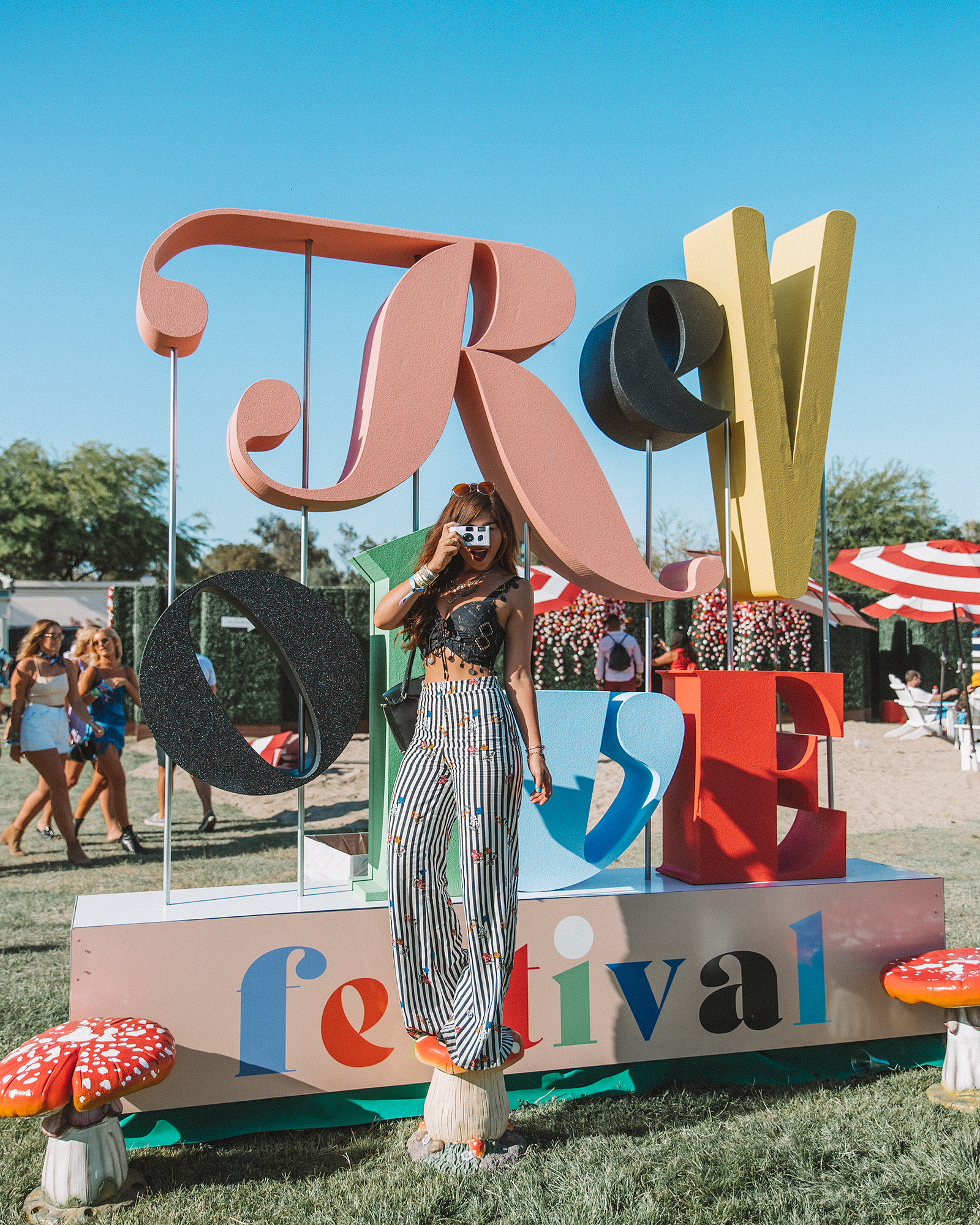 Now for the main event! We arrived at Revolve Festival later on Saturday afternoon to the party in full swing - with photo opp stations everywhere, endless bars flowing, pizza and acai bowls, and a parade of gorgeous girls everywhere - the energy was electric. This was my favorite outfit of the weekend - with pants by Lovers and Friends, a House of Harlow top, and a black leather backpack for hands-free dancing.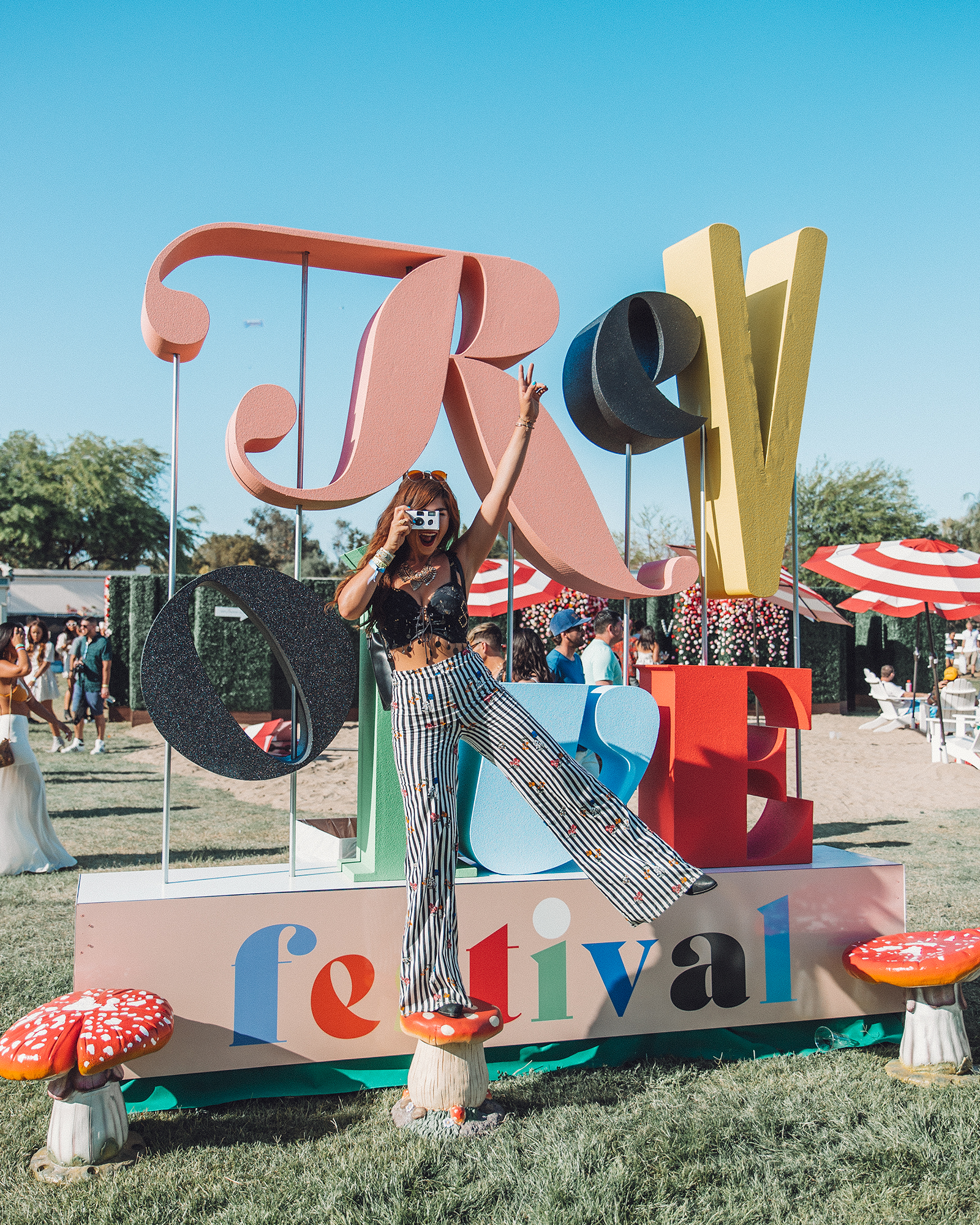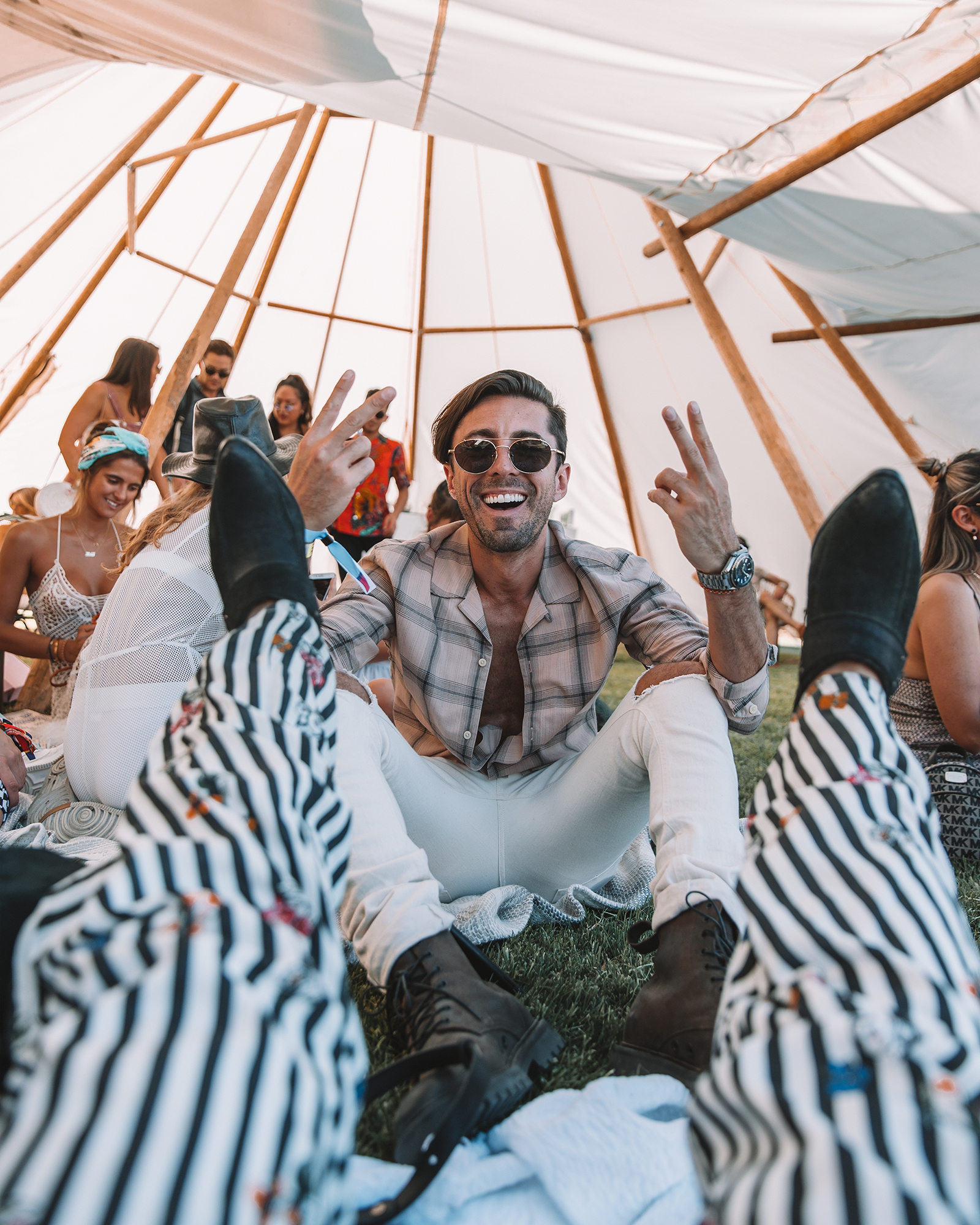 Doesn't Brandon also look fly here? We's wearing All-Saints head to toe. Shop his shoes, and shirt for more!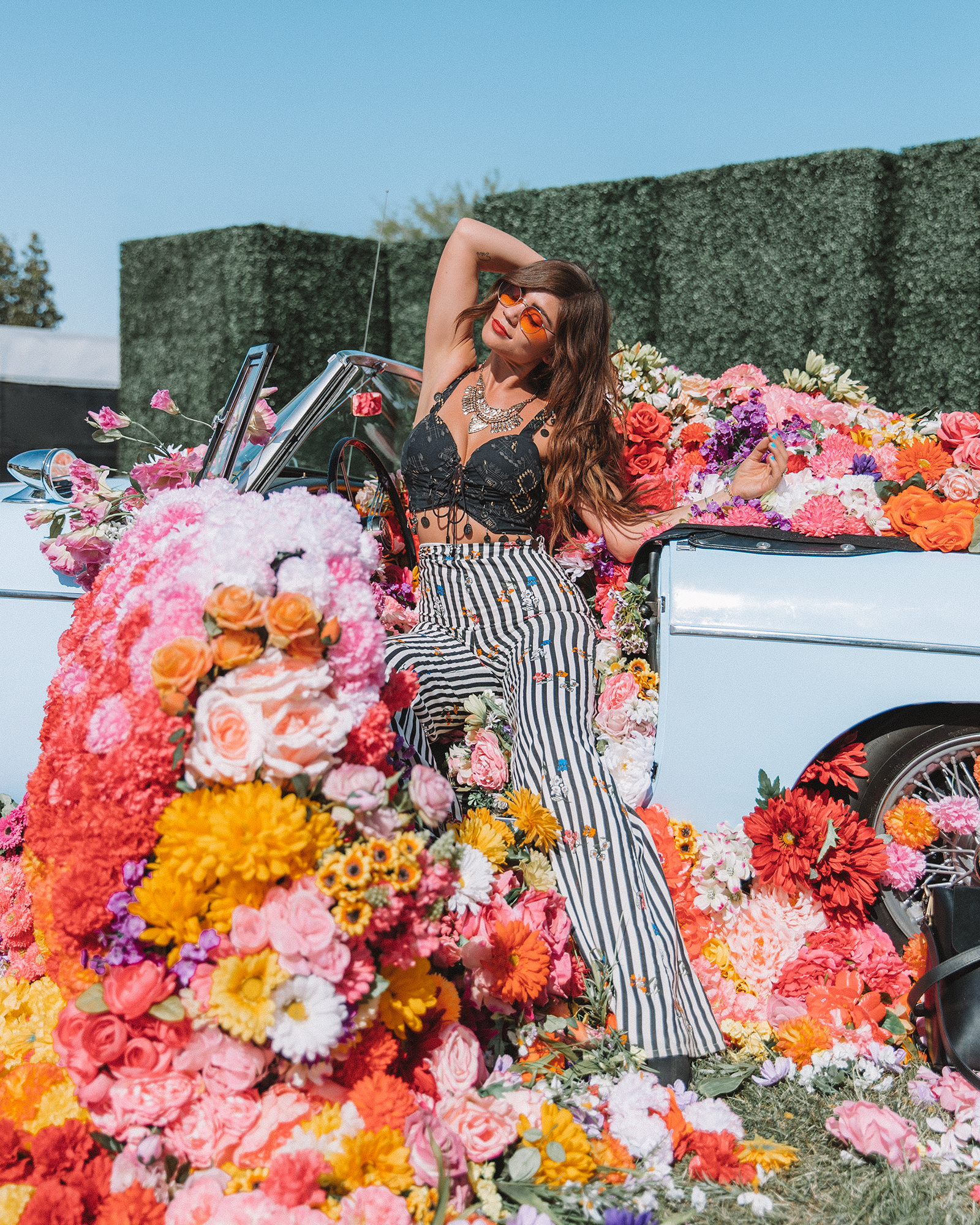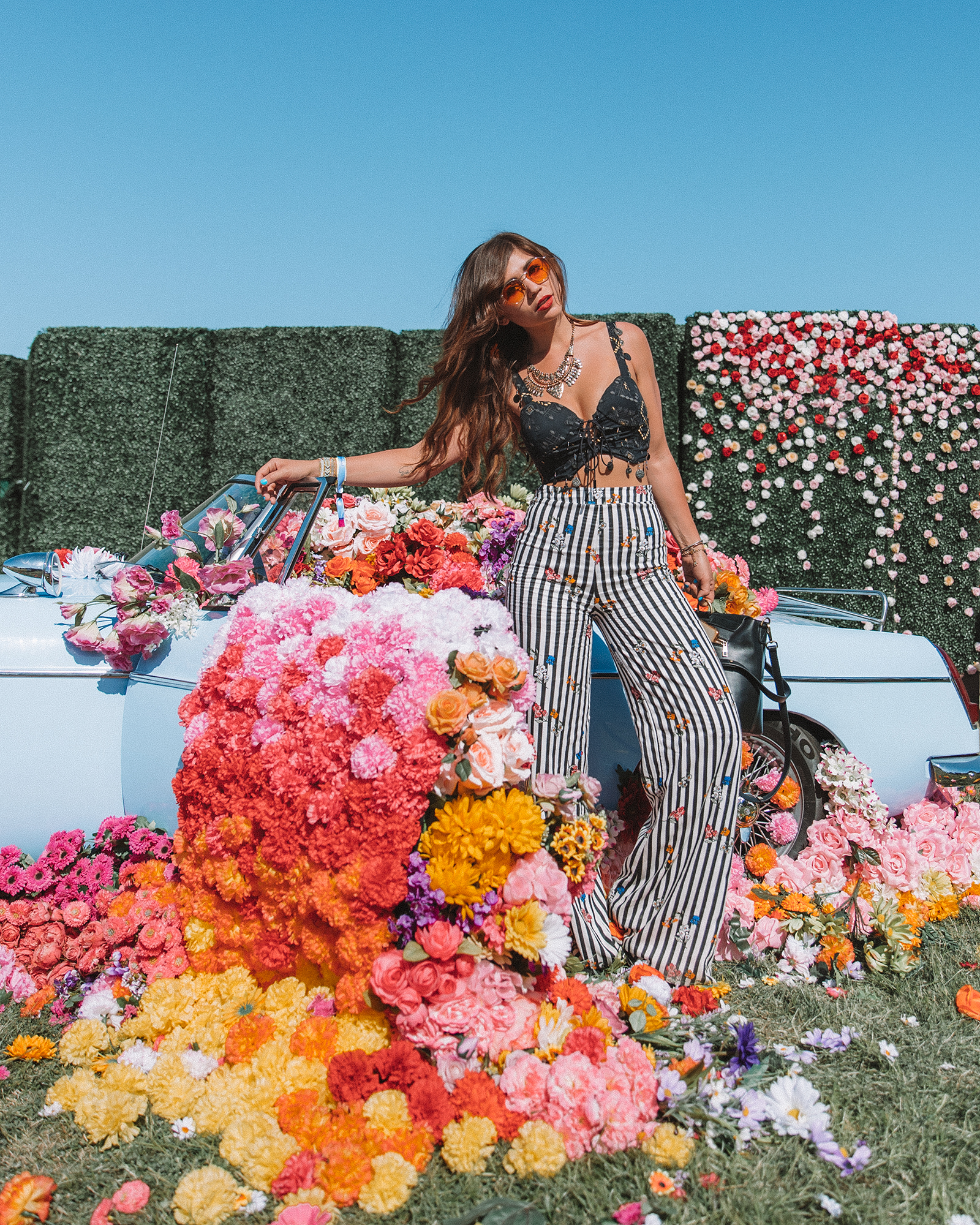 This flower-filled car was one of the coolest set ups I've seen! So many people took amazing photos here, I wish we would have had time to do more!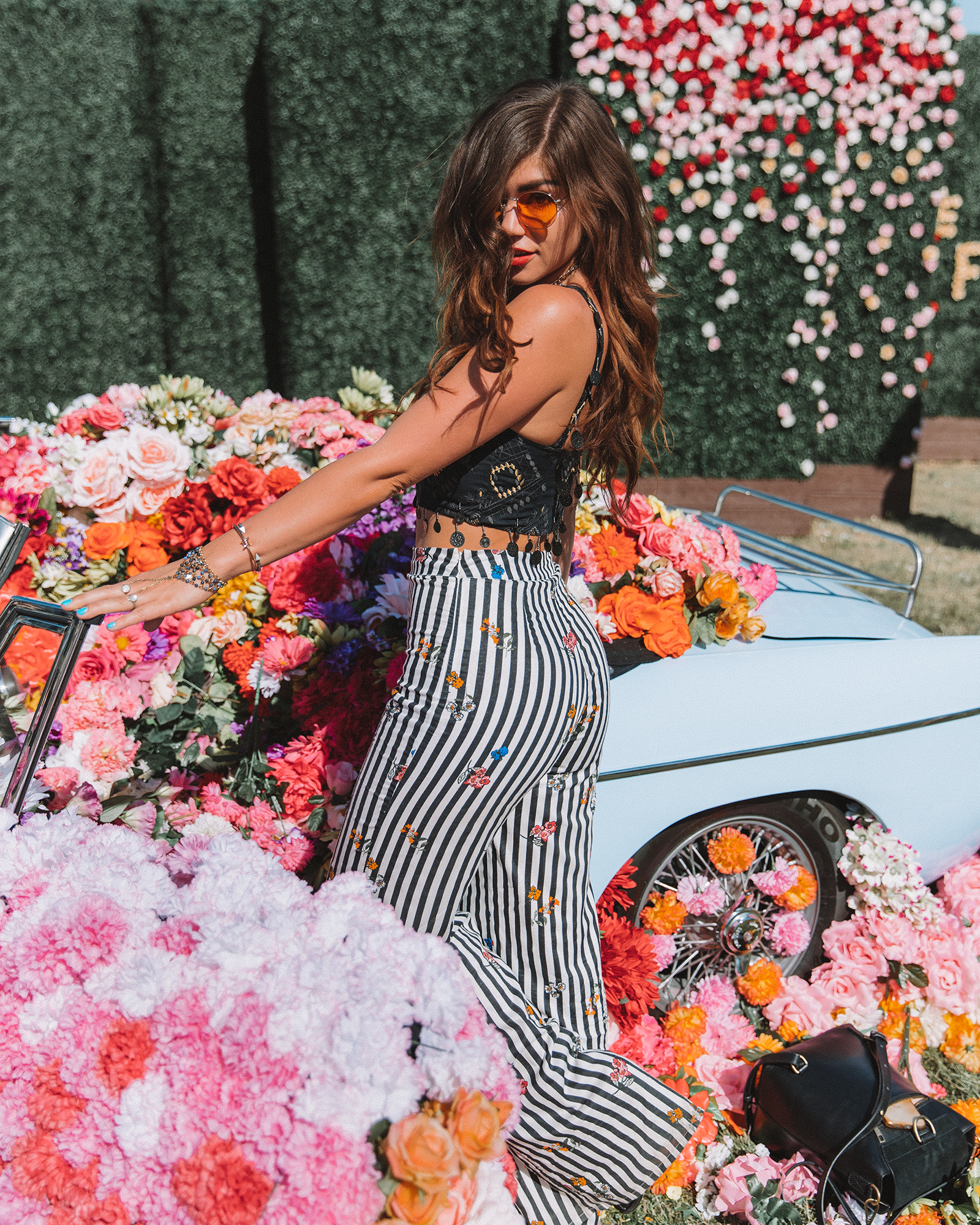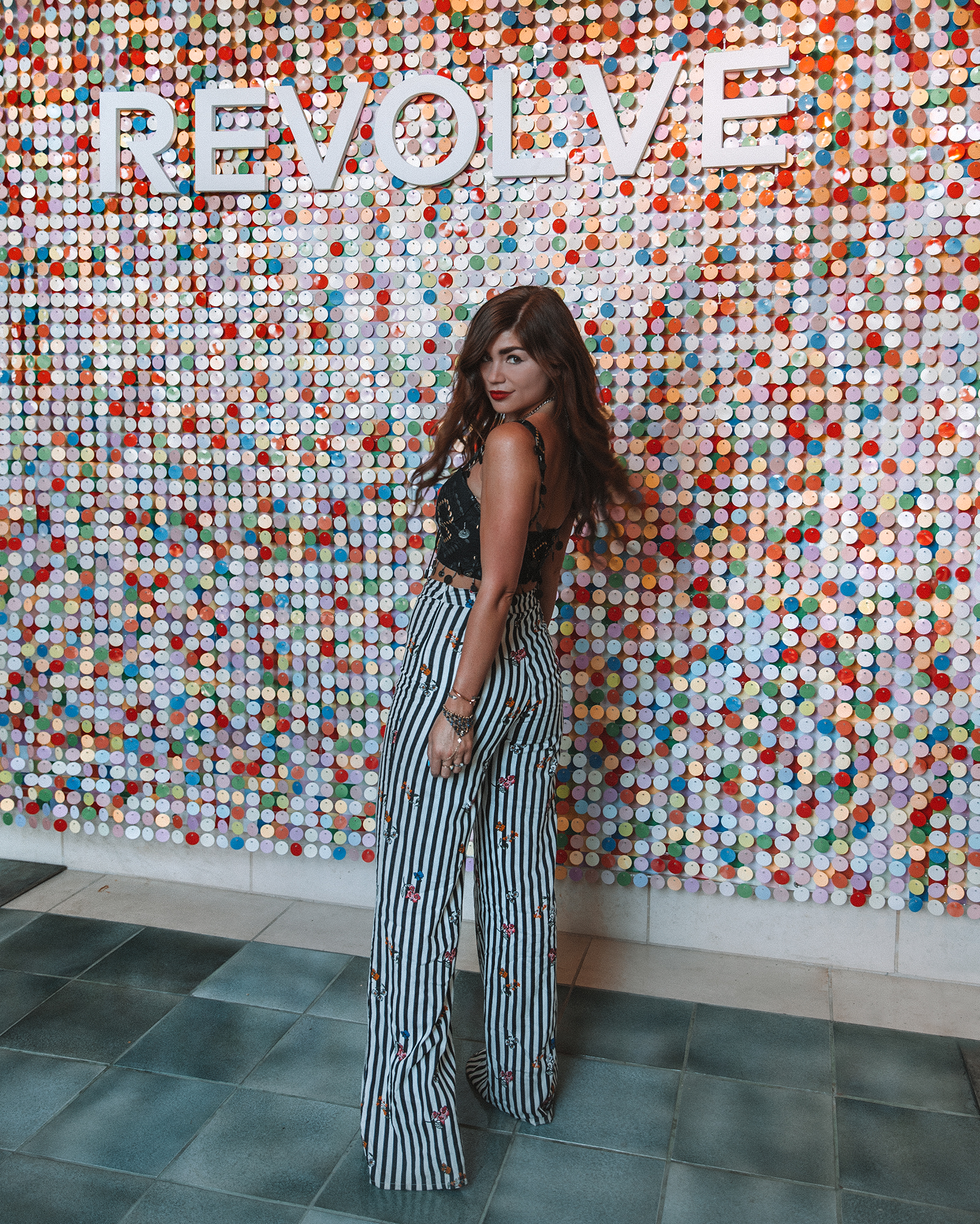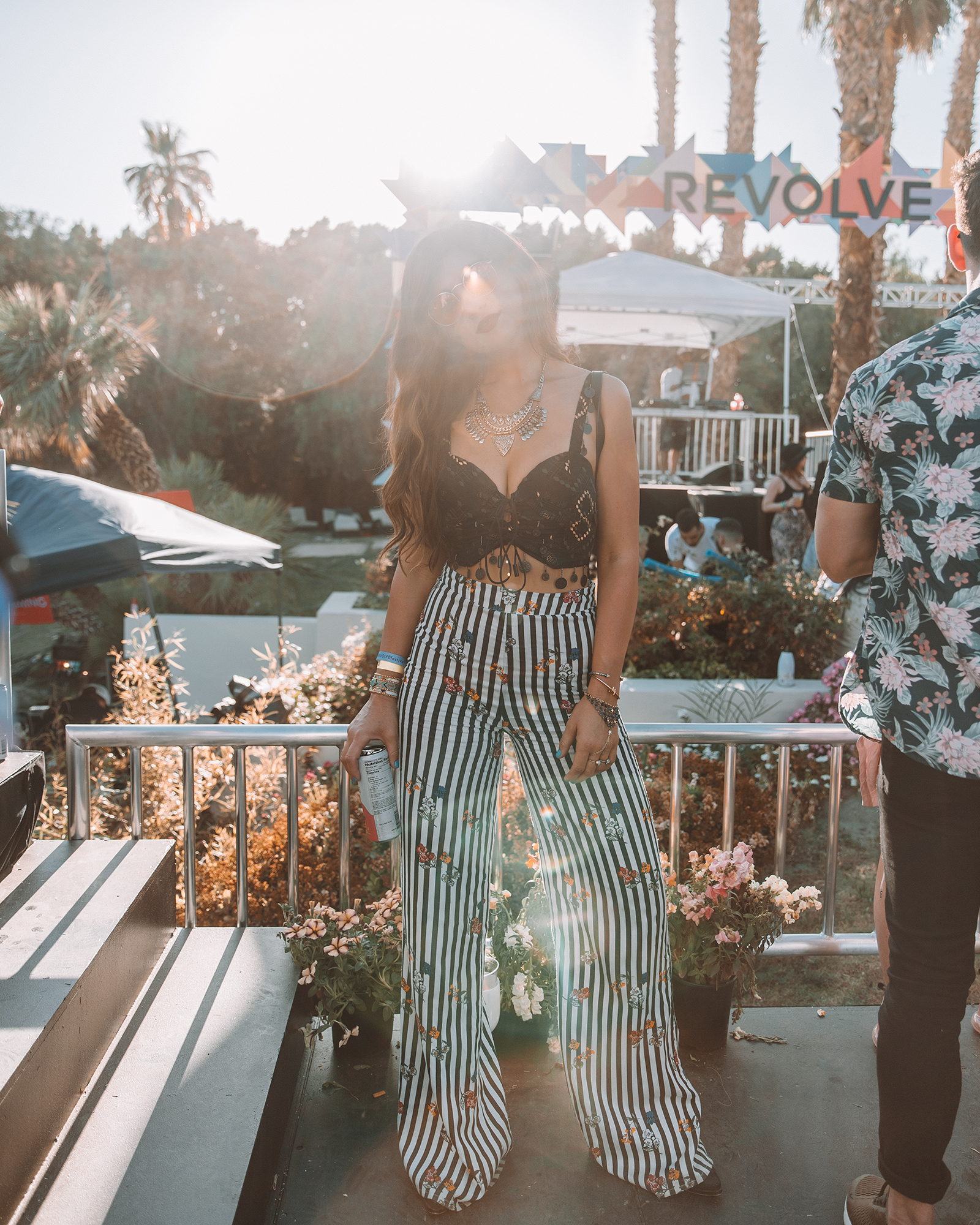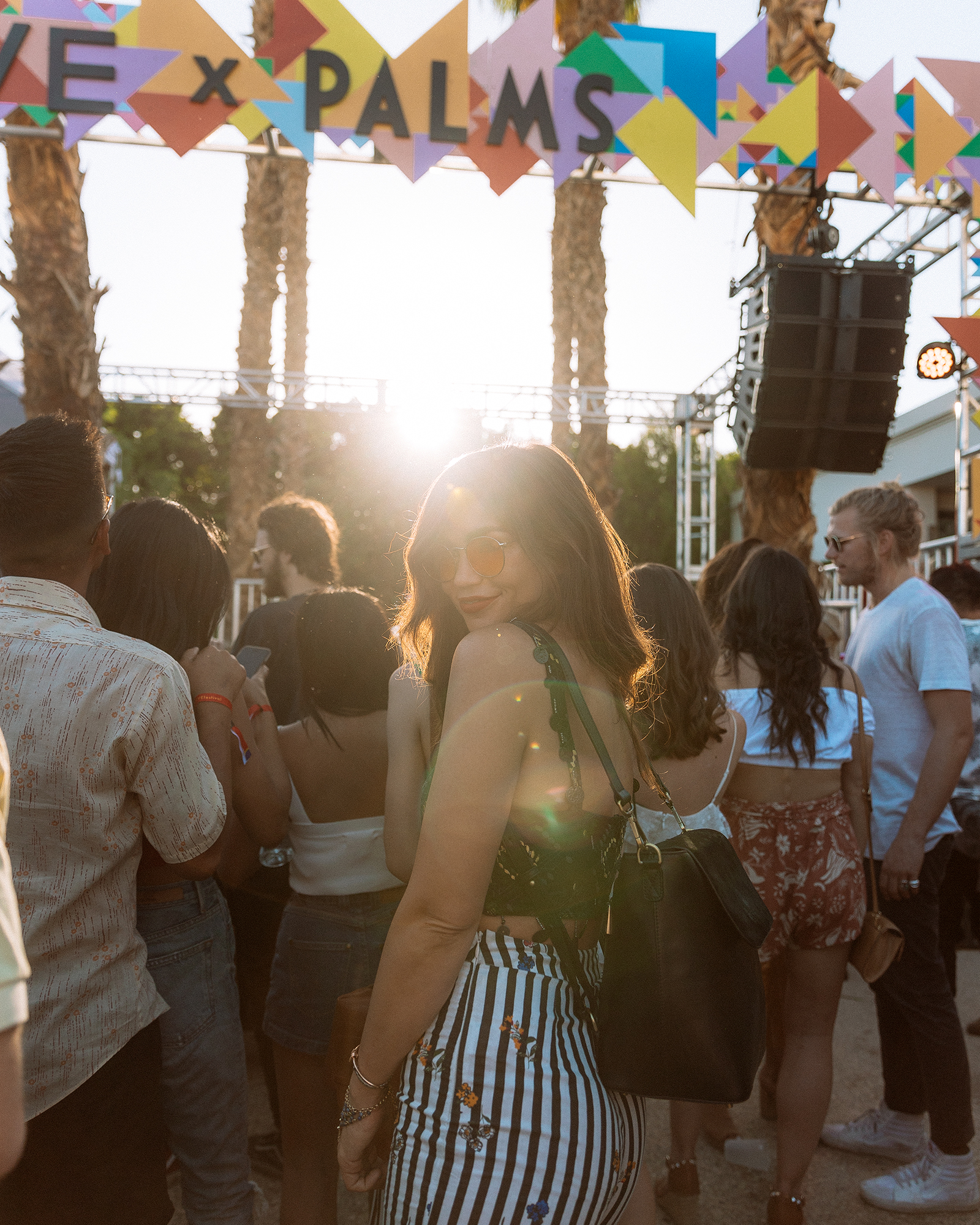 Dancing my way into the sunset!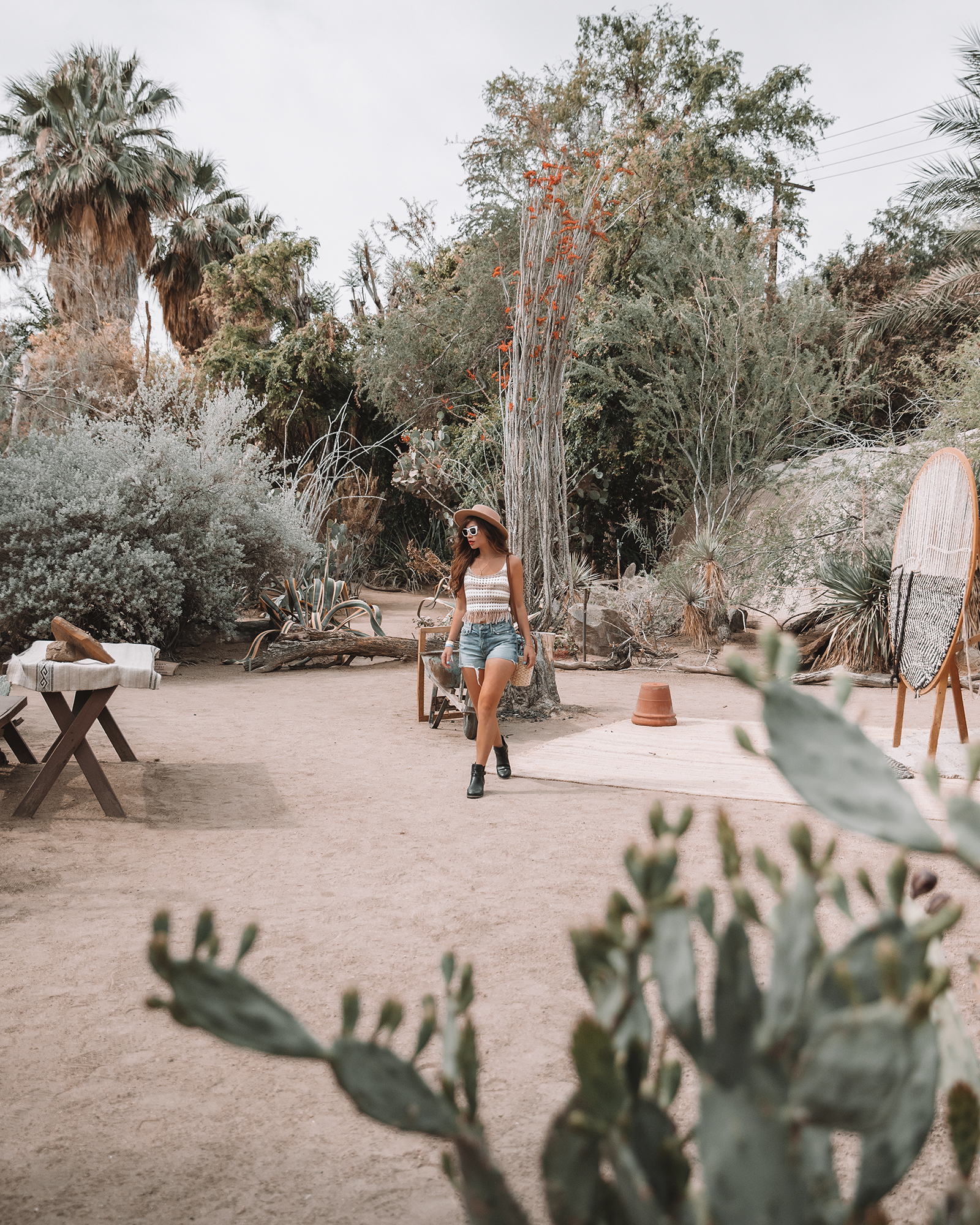 Sunday morning started off with a trip to the Moorten Botanical Gardens in Palm Springs - a cute little place I have been meaning to visit every but had yet to make it to until this trip.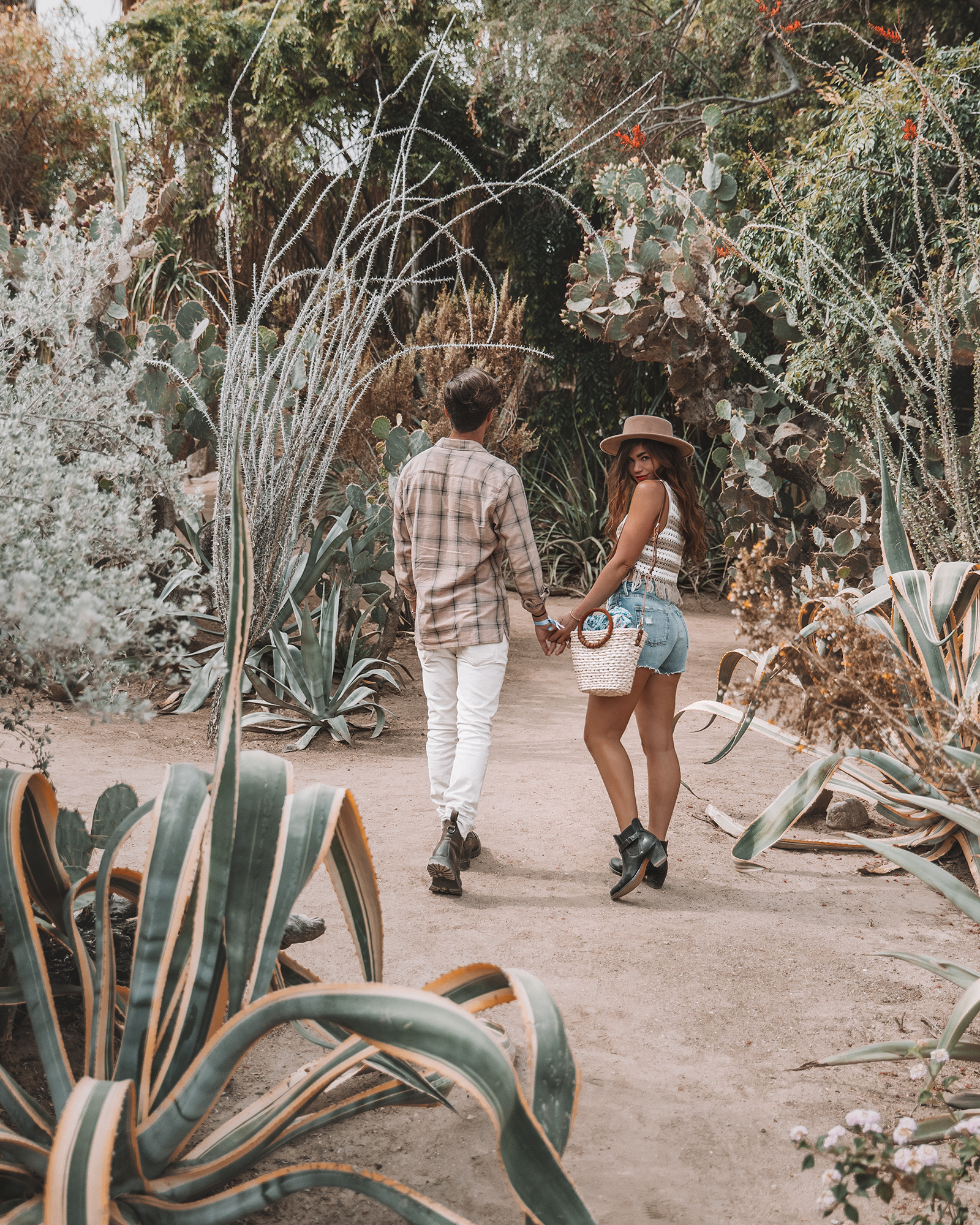 The grounds are small, but every bit is filled with perfect desert details and vignettes.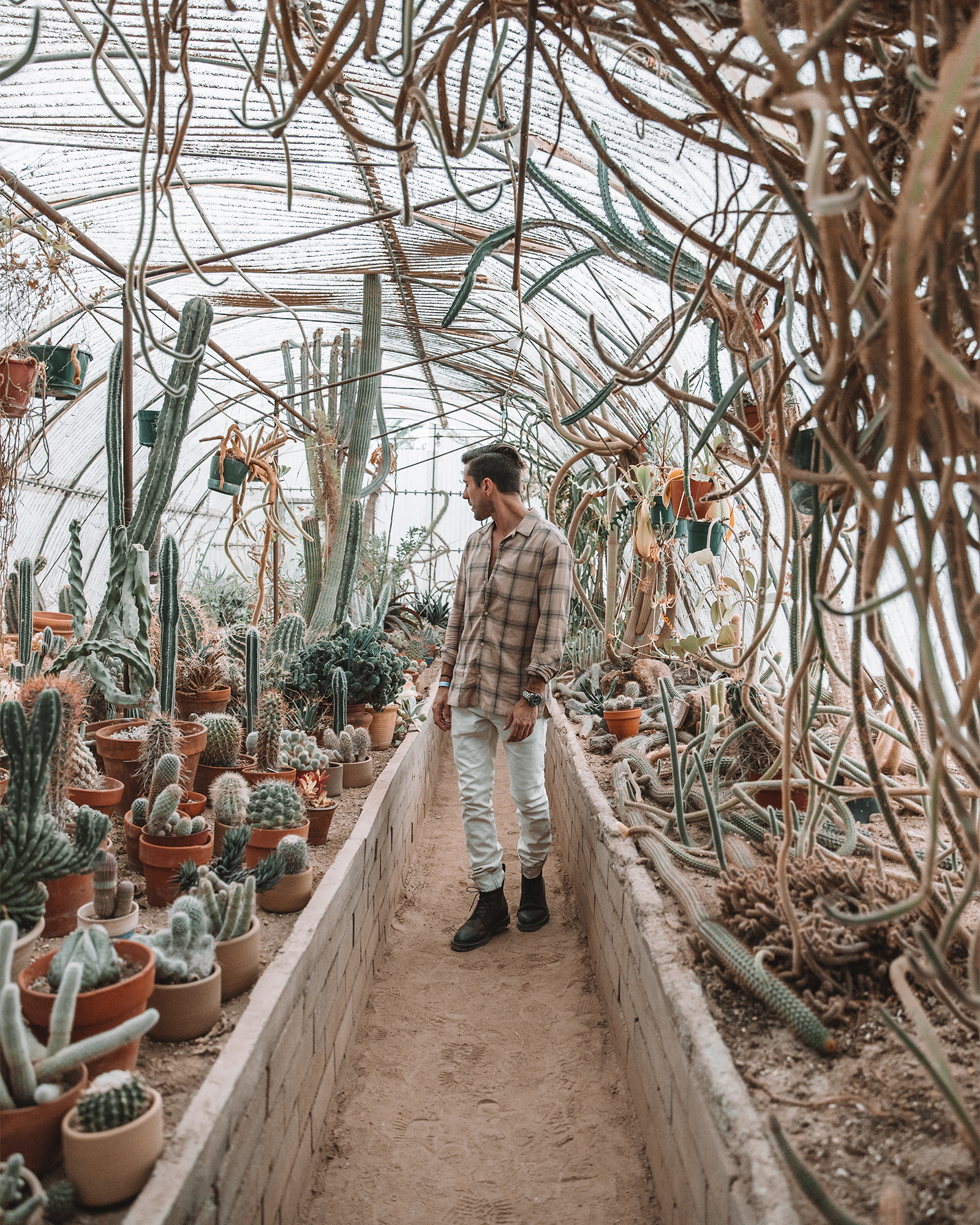 And the famous Cactarium!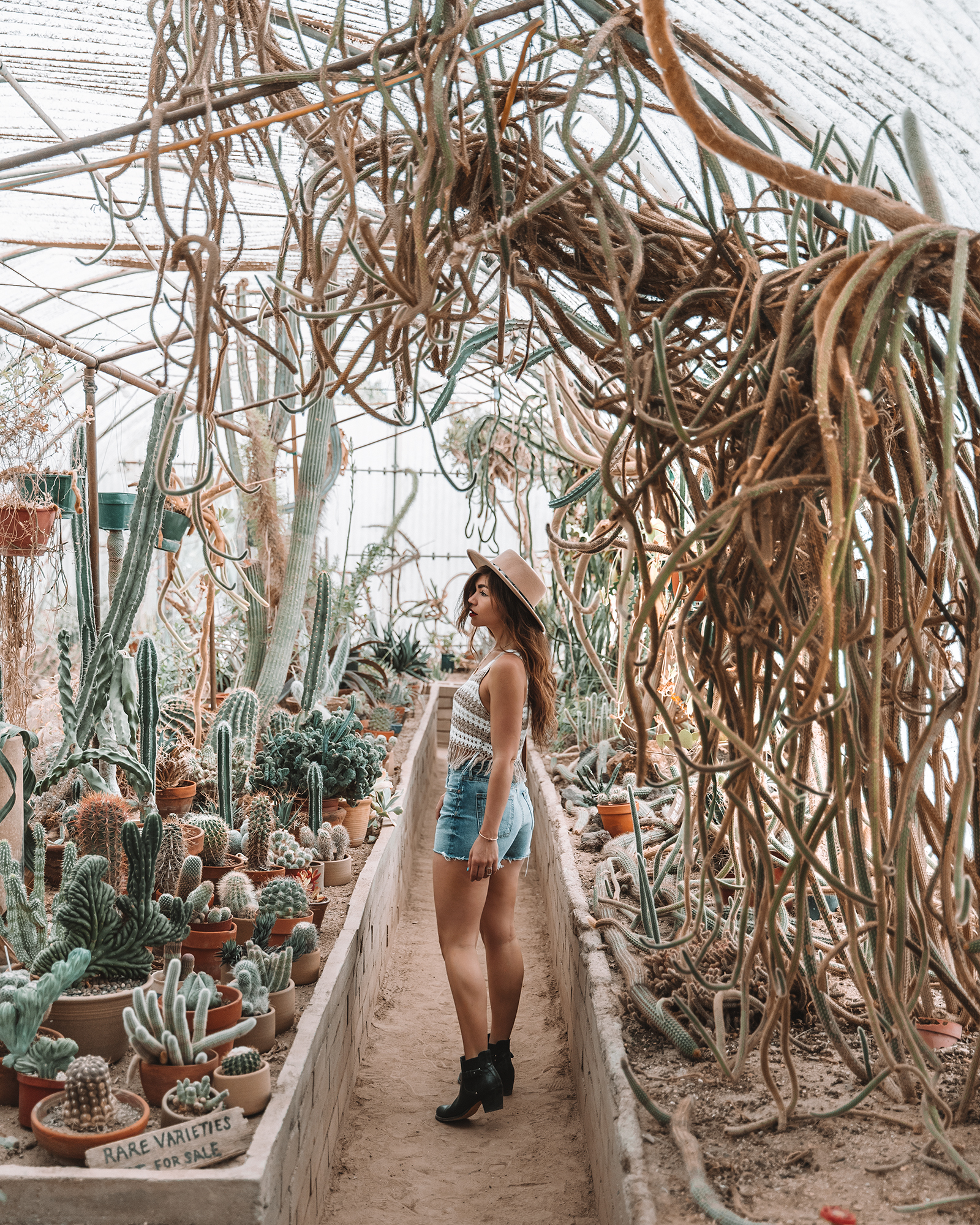 I kept it super casual, but still with a desert festival feel with GLRFRND denim shorts and a Tularosa crochet - because I am never one to not keep to an outfit theme for a trip.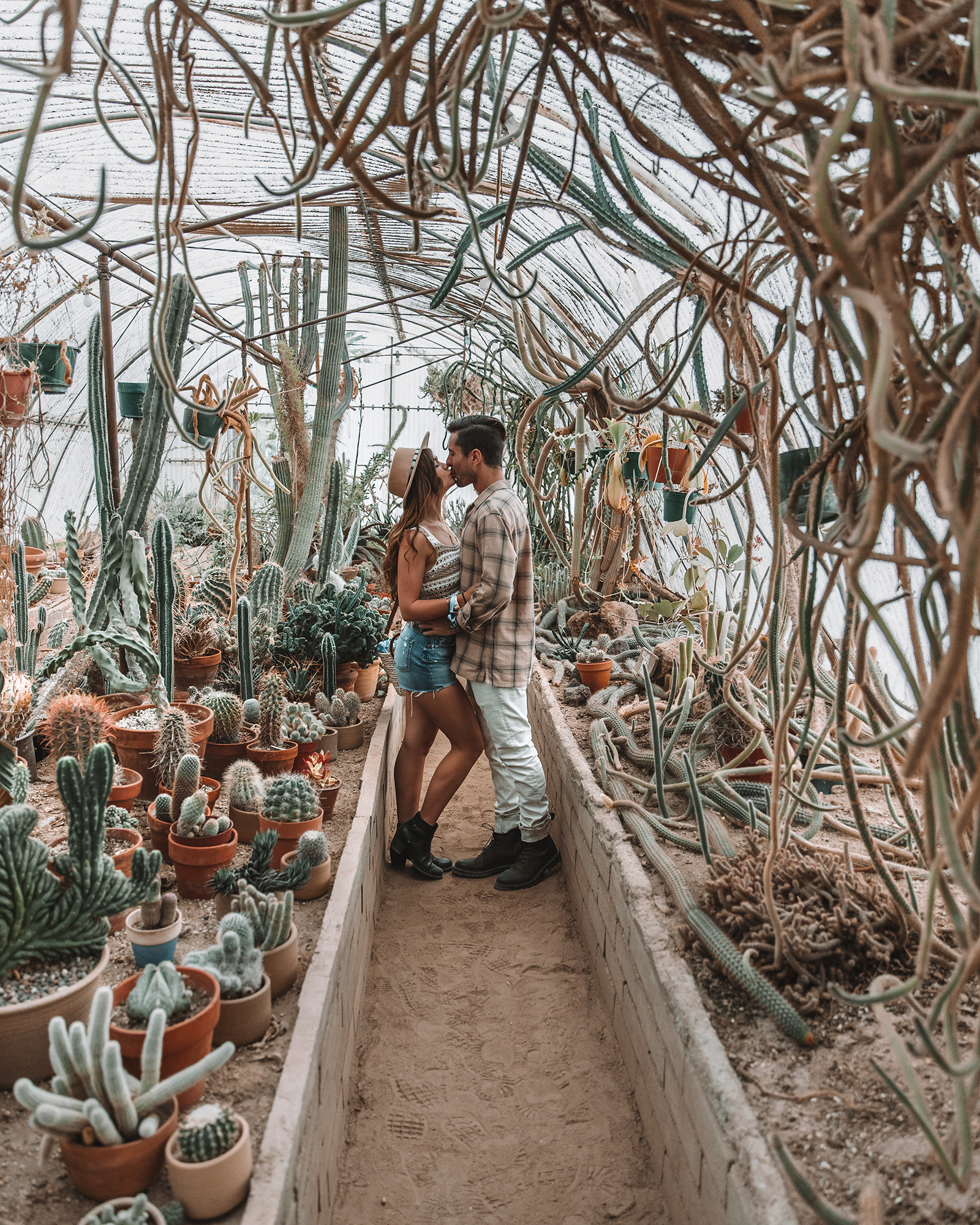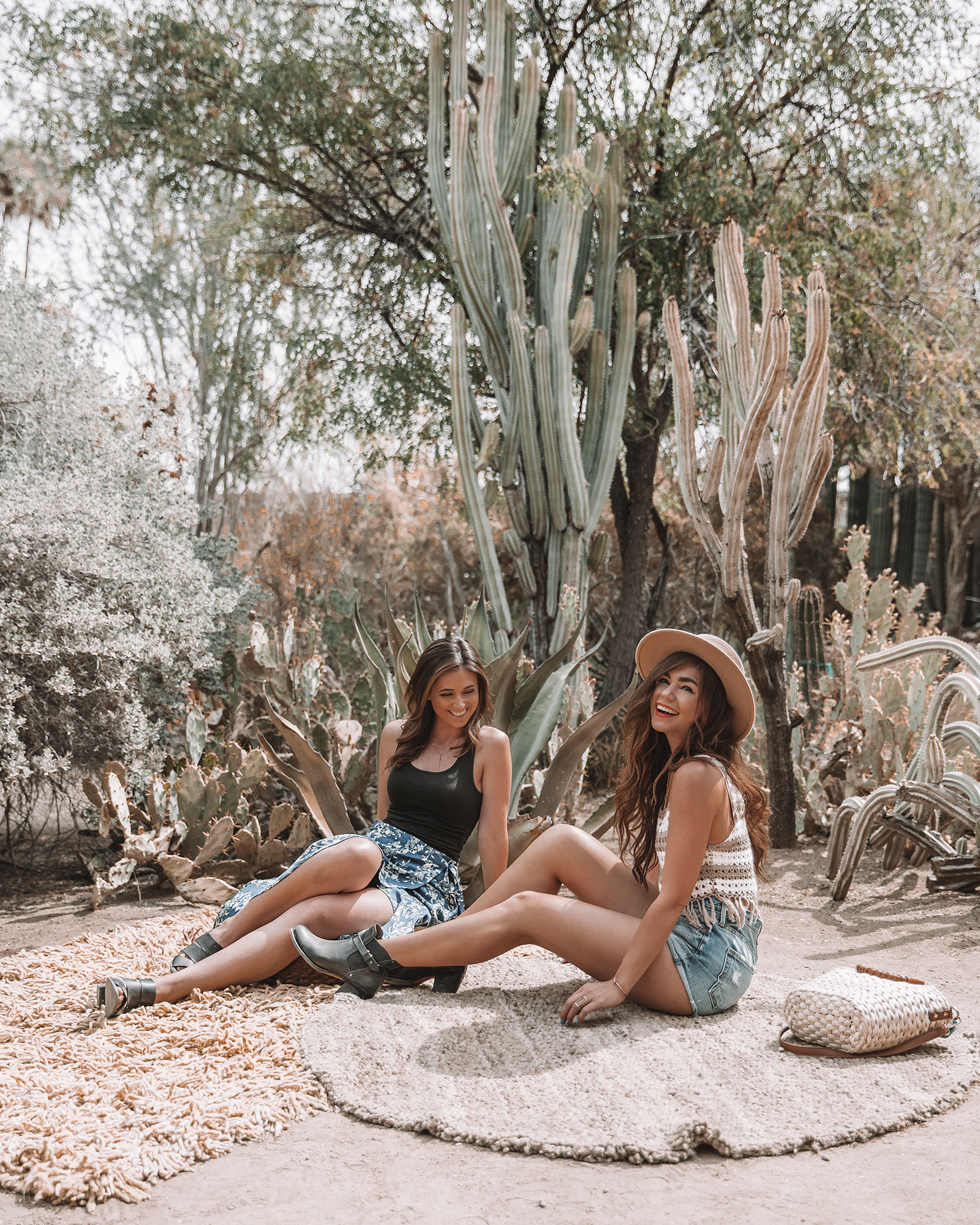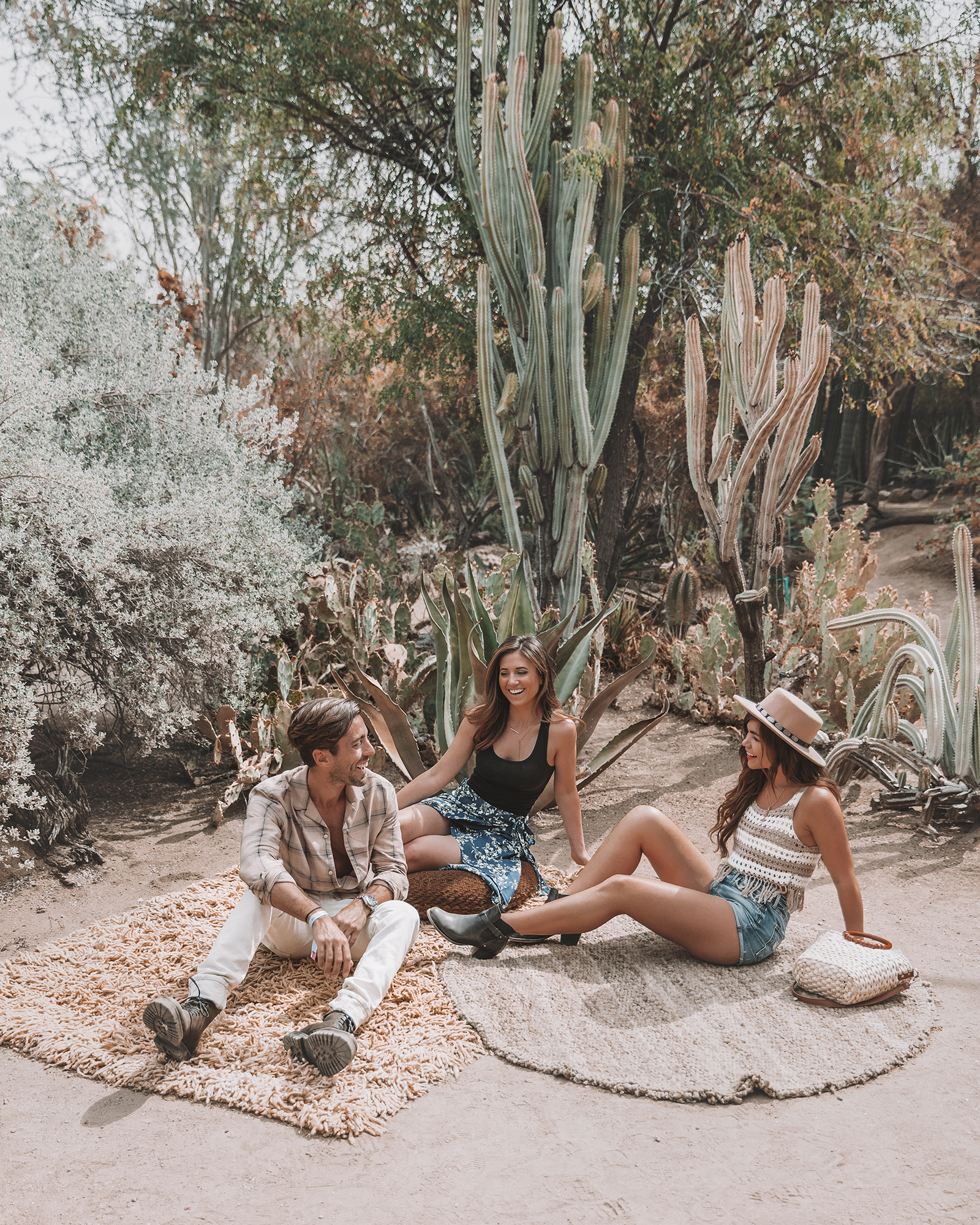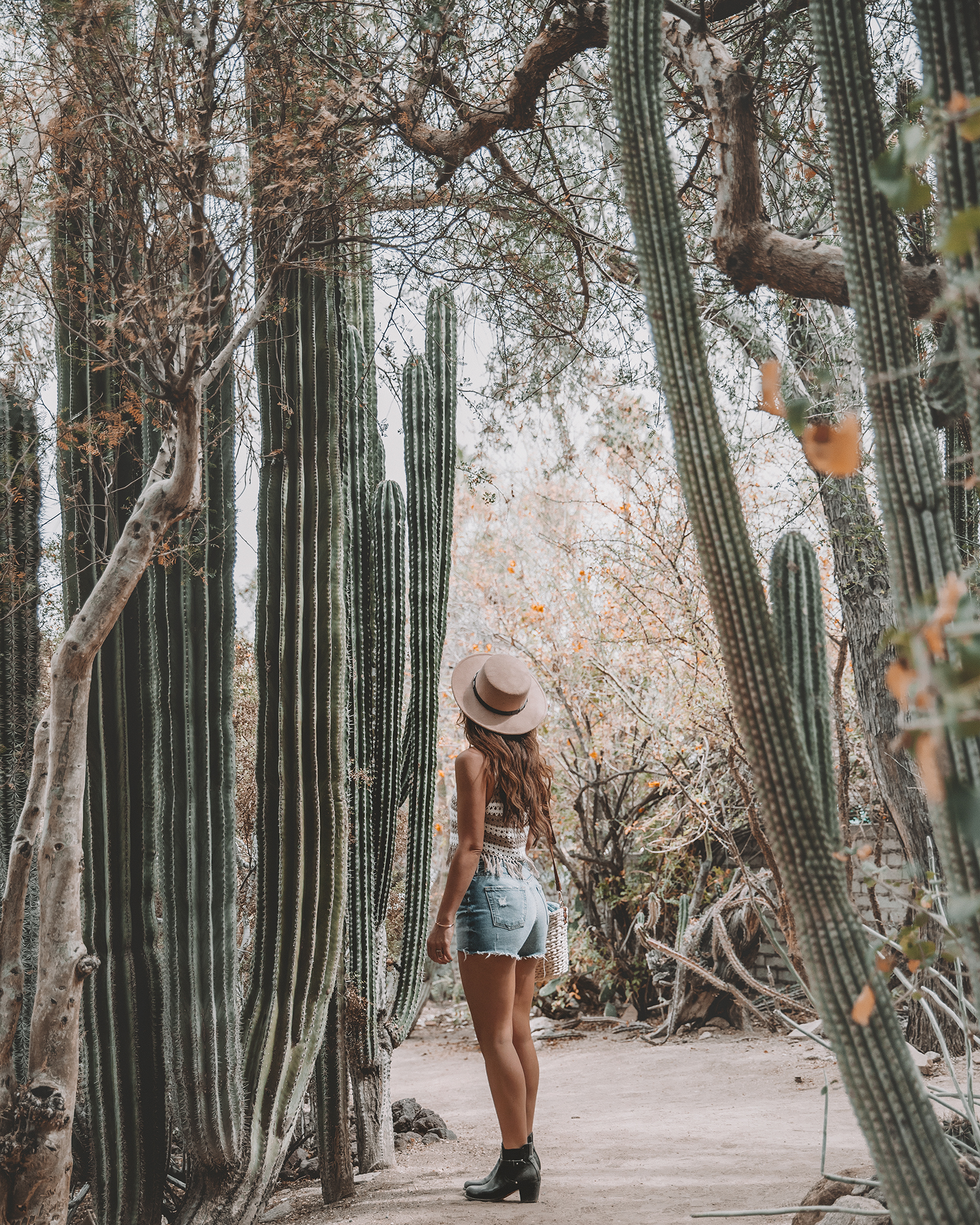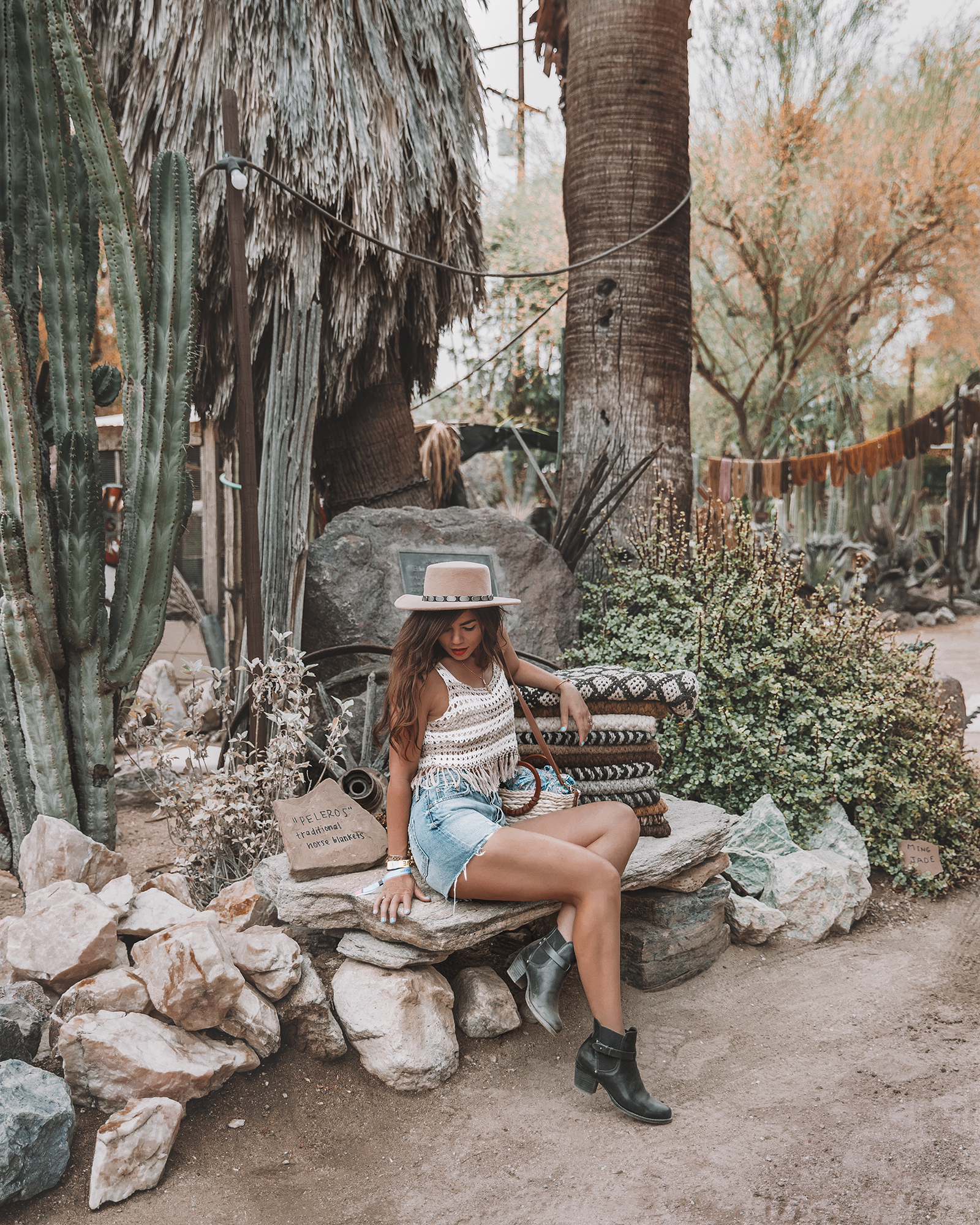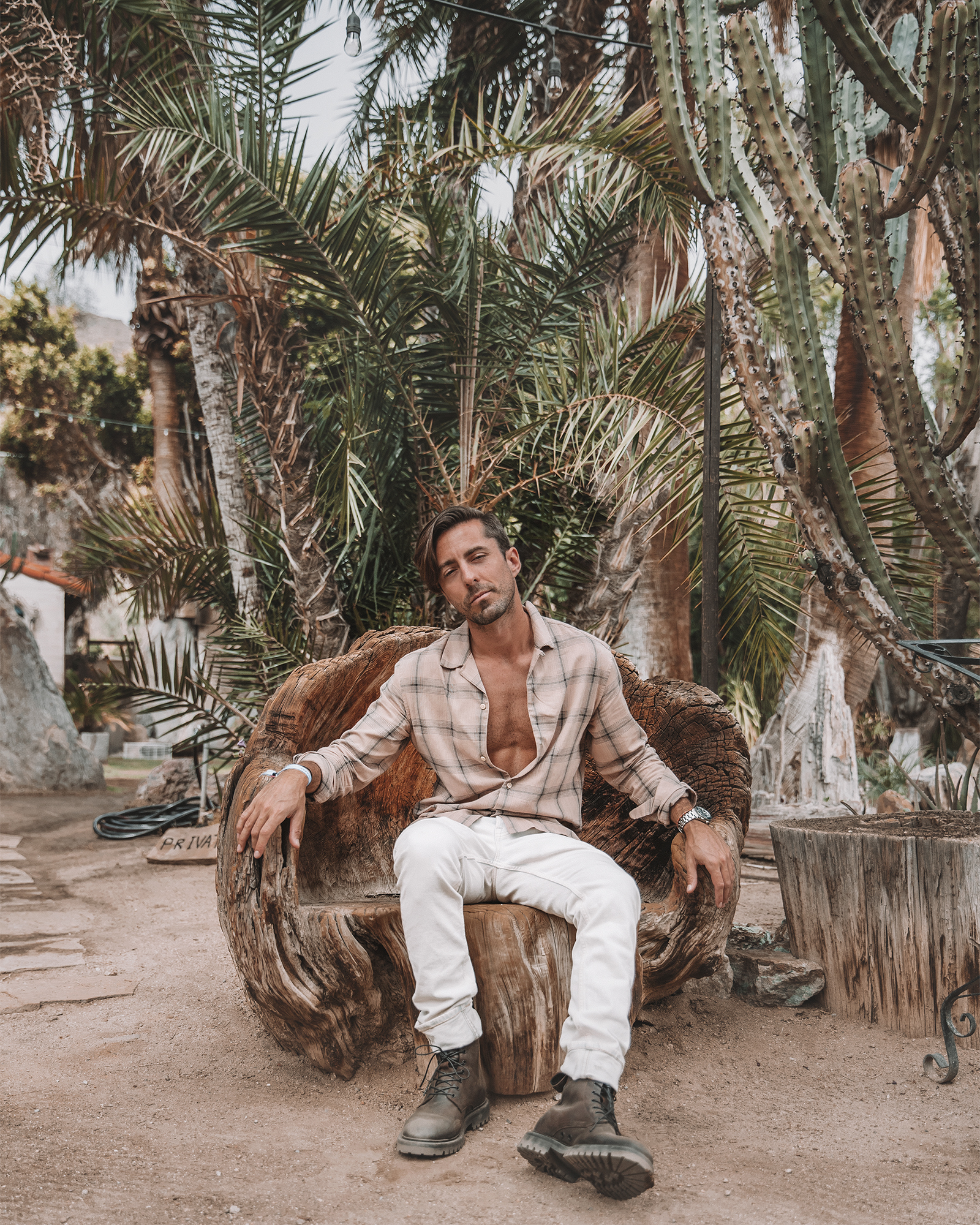 The king of the desert.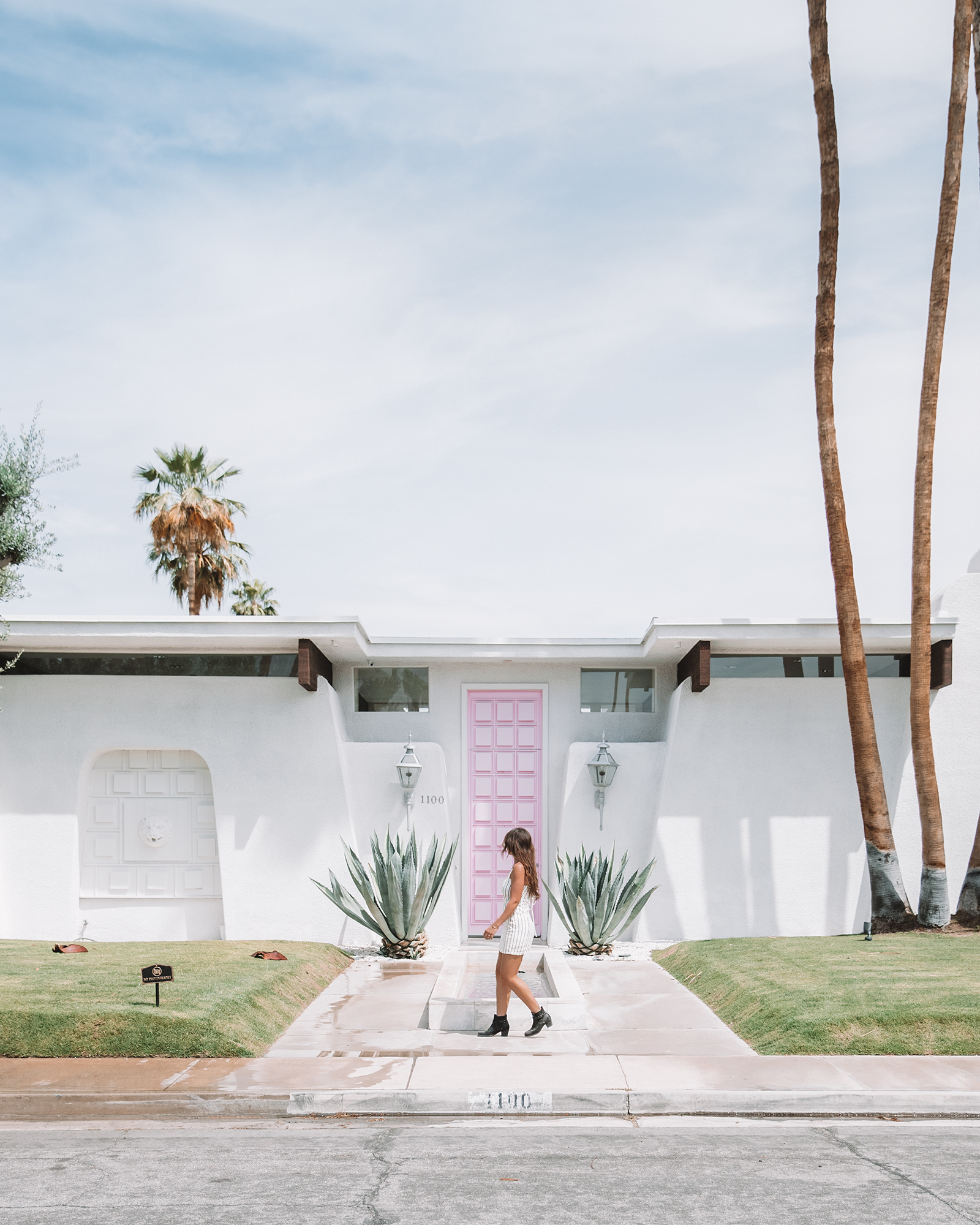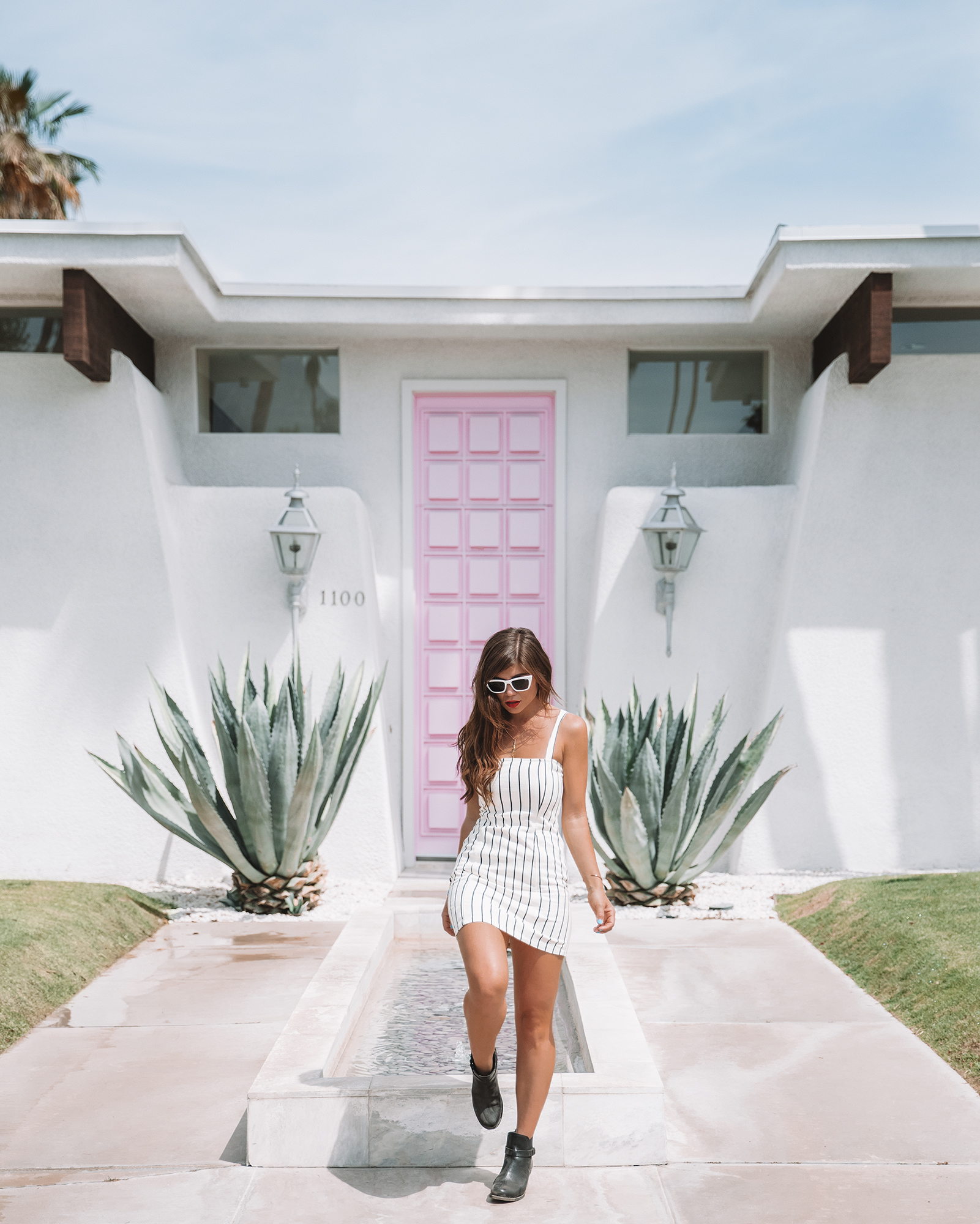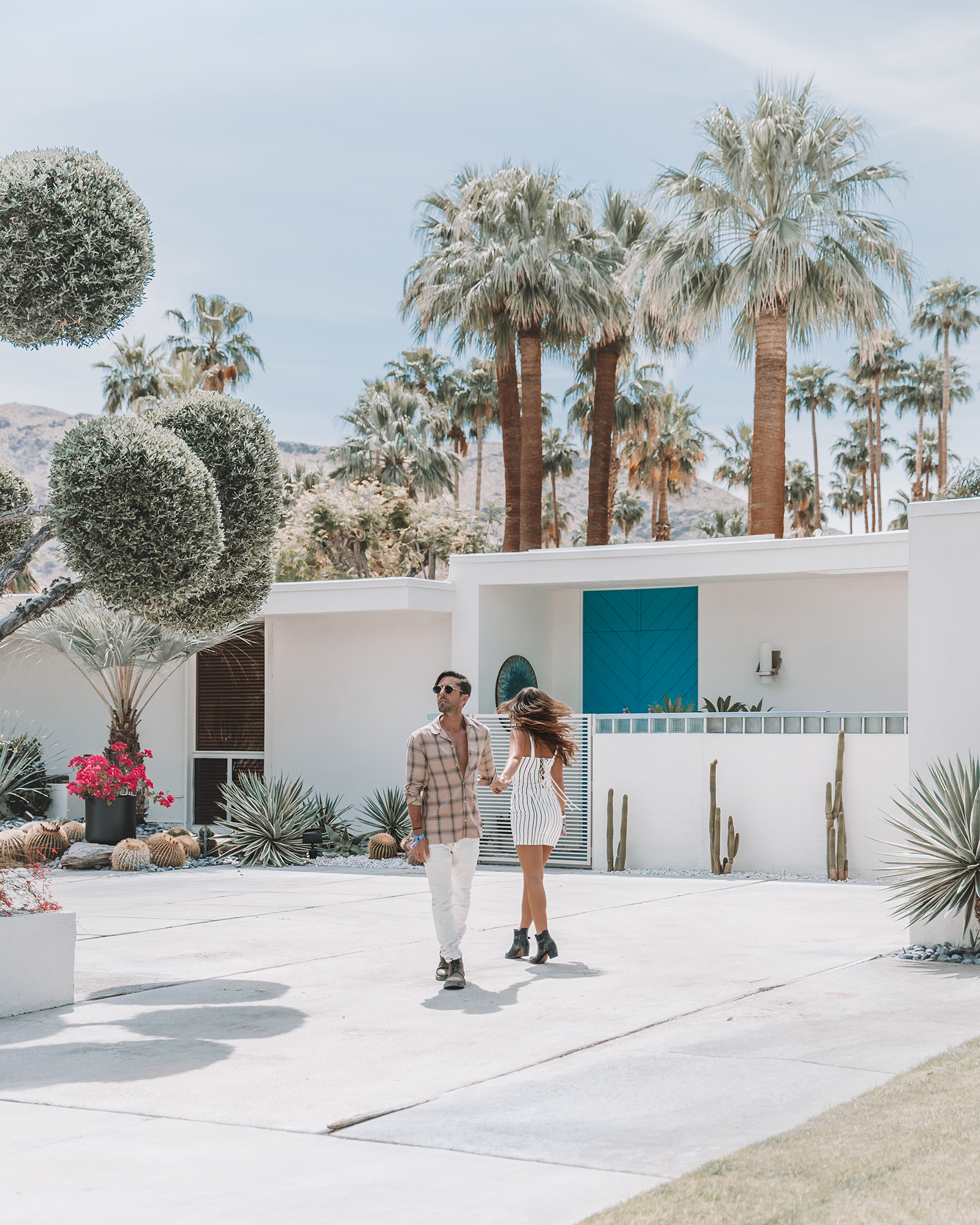 Exploring the Palm Springs architecture in the nicest neighborhood in town - I love the midcentury desert design, and was loving every home we walked by here. Can I move in?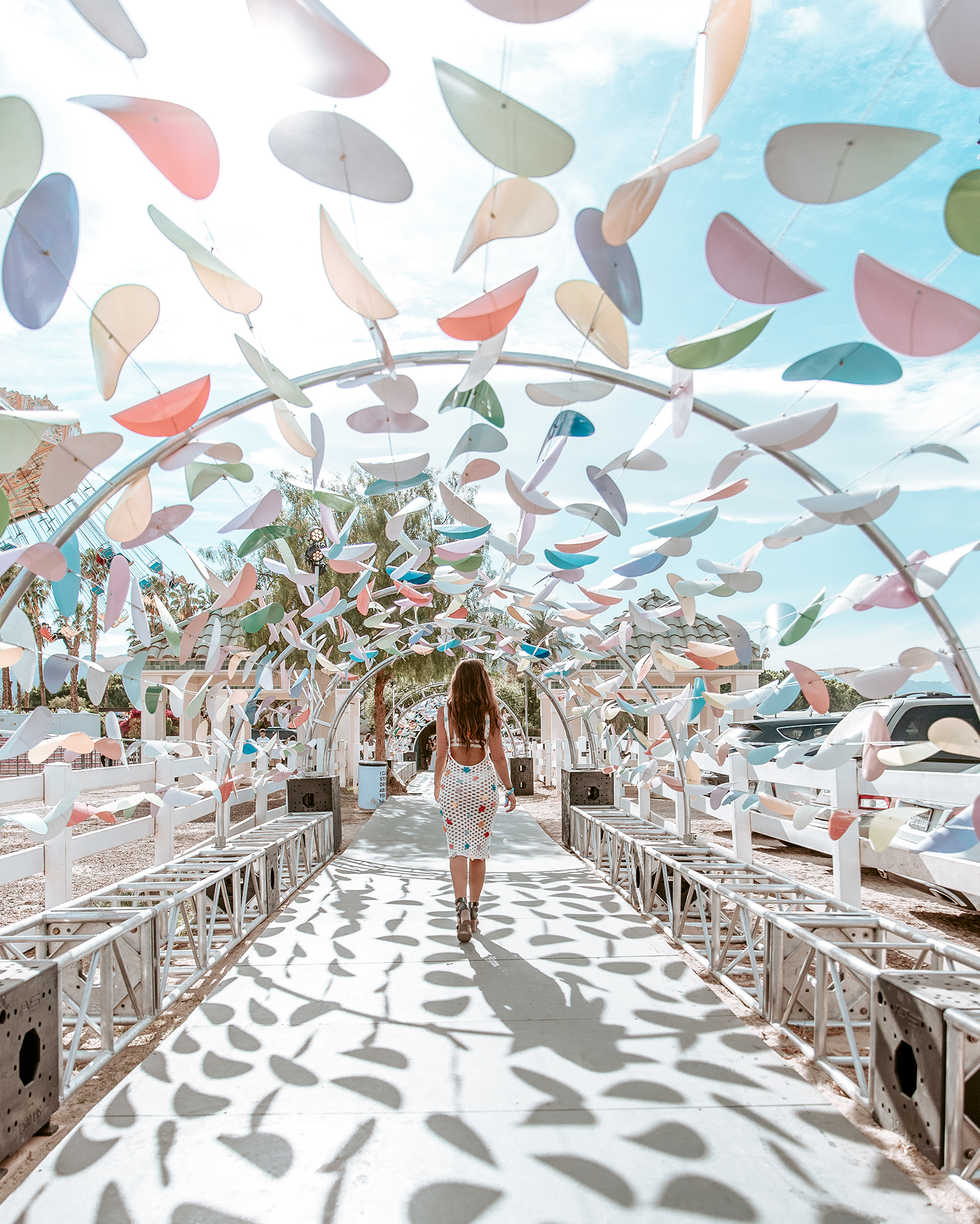 Walking in to Revolve Festival Day 2, and taking my look even bolder - with a crotchet dress over nothing but a Tavik Bikini. I was planning on wearing my boots here - but they hurt my feet too much from the day before, so I ended up with these sandals again!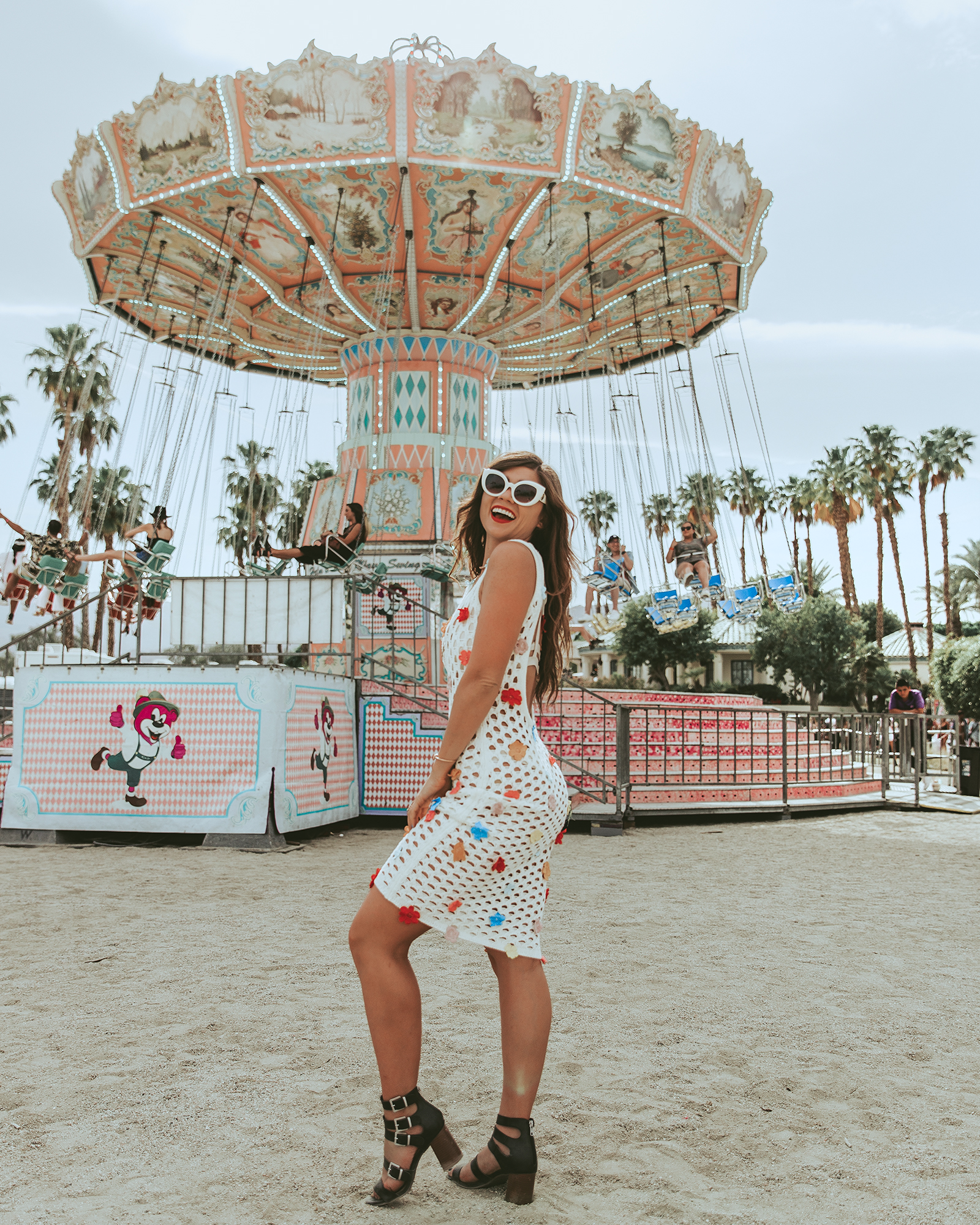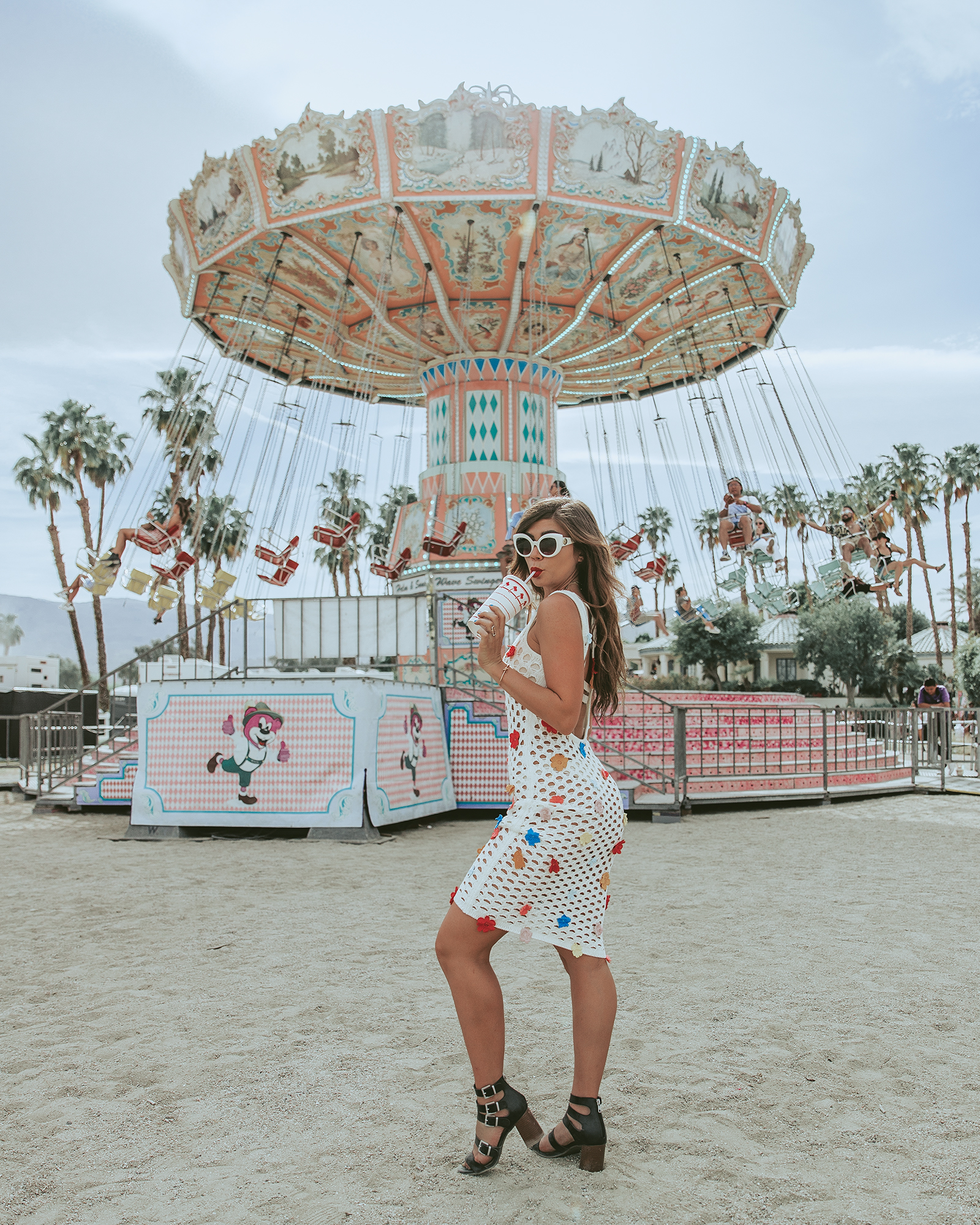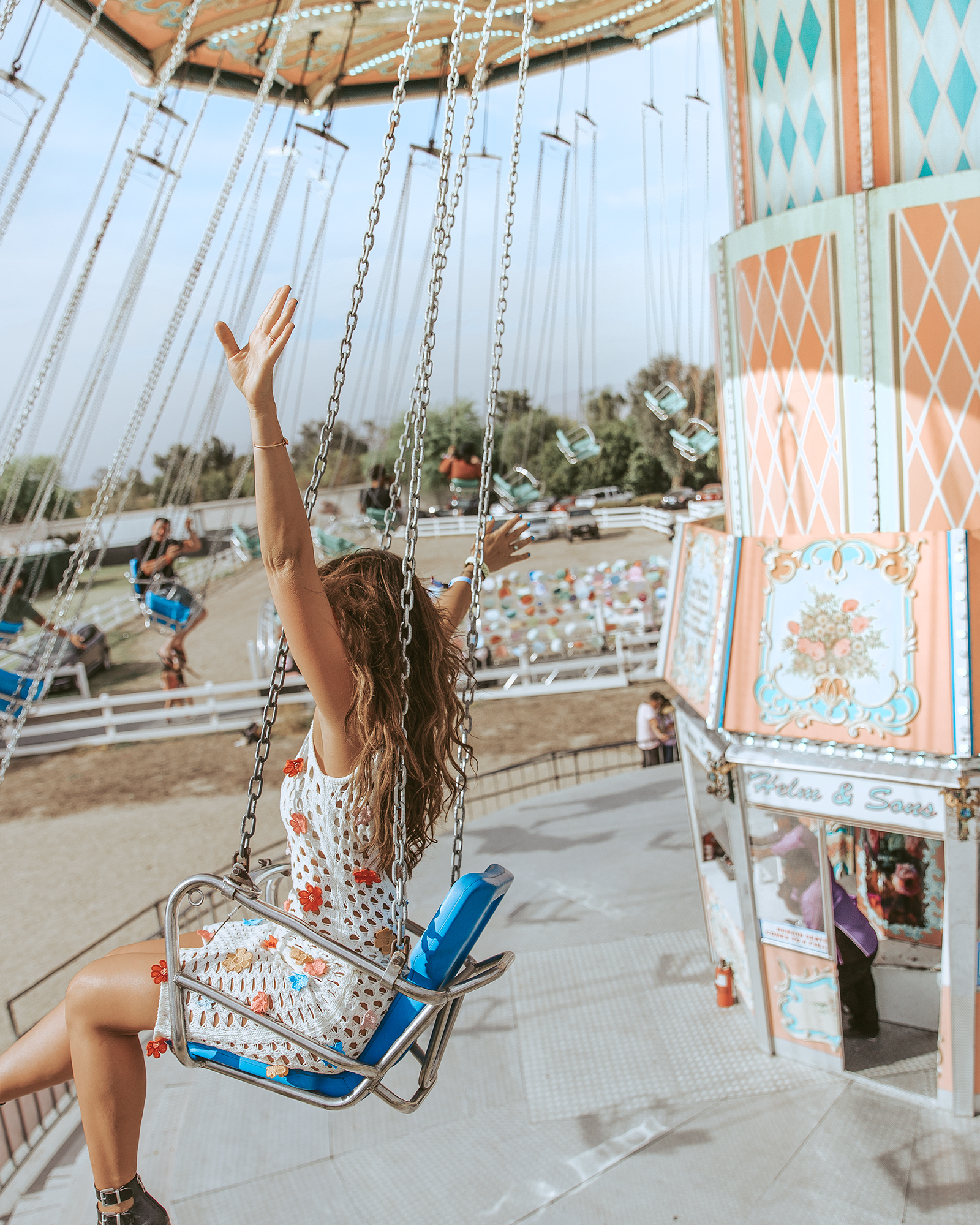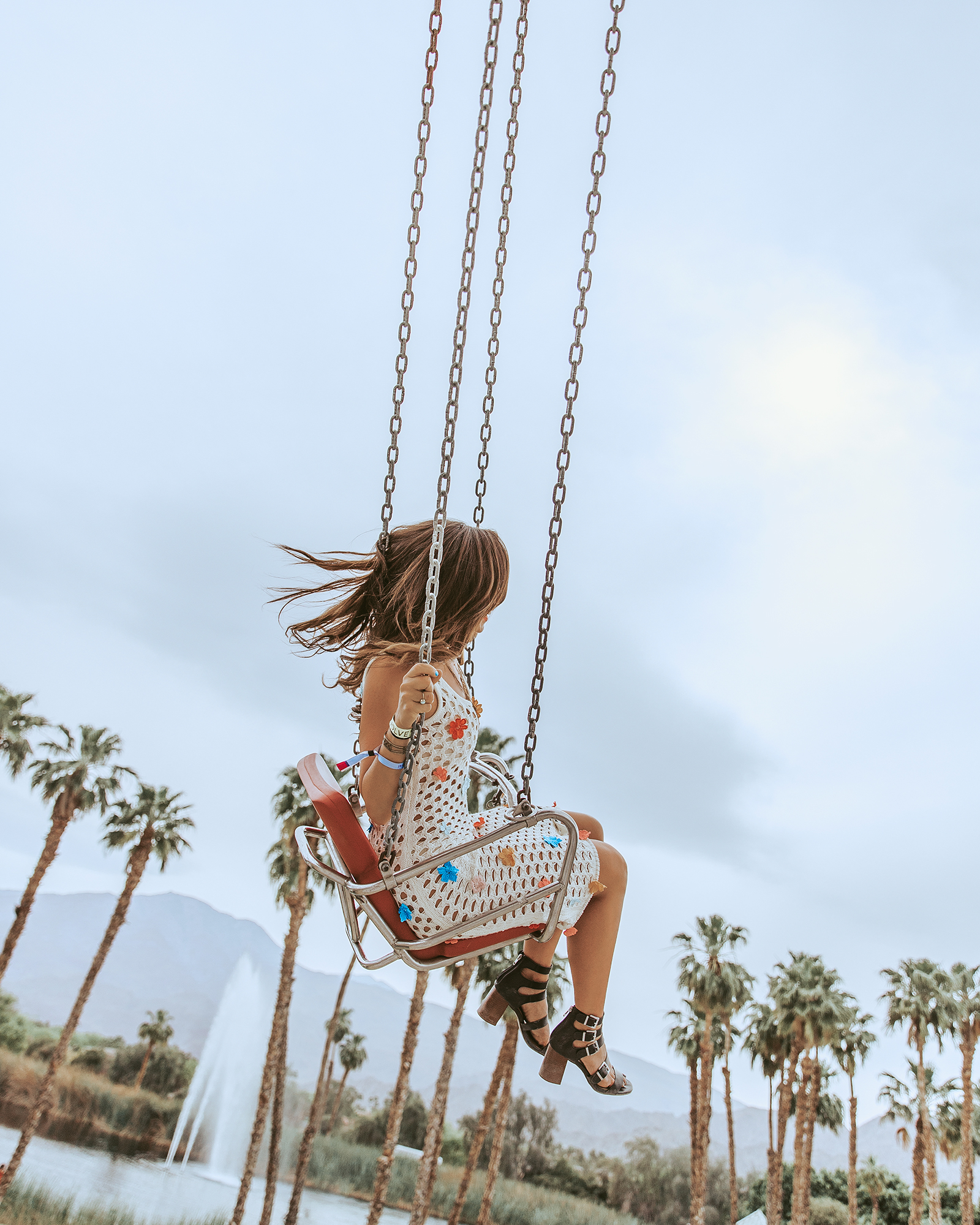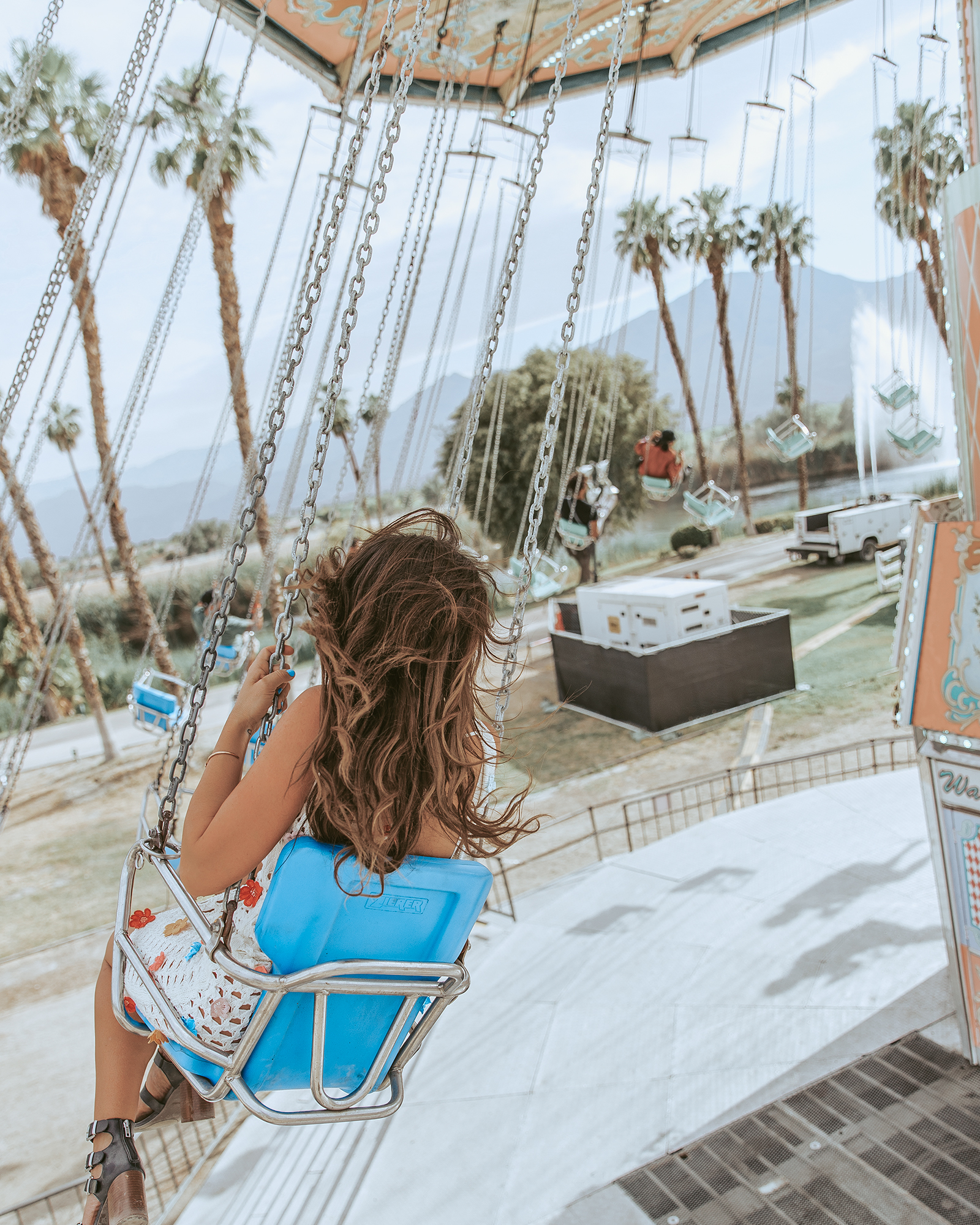 Today we conquered the swings, and I had the best time. I haven't completed the blog post that I've been working on for months, but my phobia and anxiety used to control my life - debilitatingly, oppressively control almost every thought and decision and action for so many years. And I have spent the last few years working so hard to fight my fears and force myself to try the things that scare me - whether it's cross-the-world flights, foreign foods, long boat rides, or this. This was the first ride I had been on in almost 20 years, and I feel so liberated and excited that I finally got to enjoy the thrill again.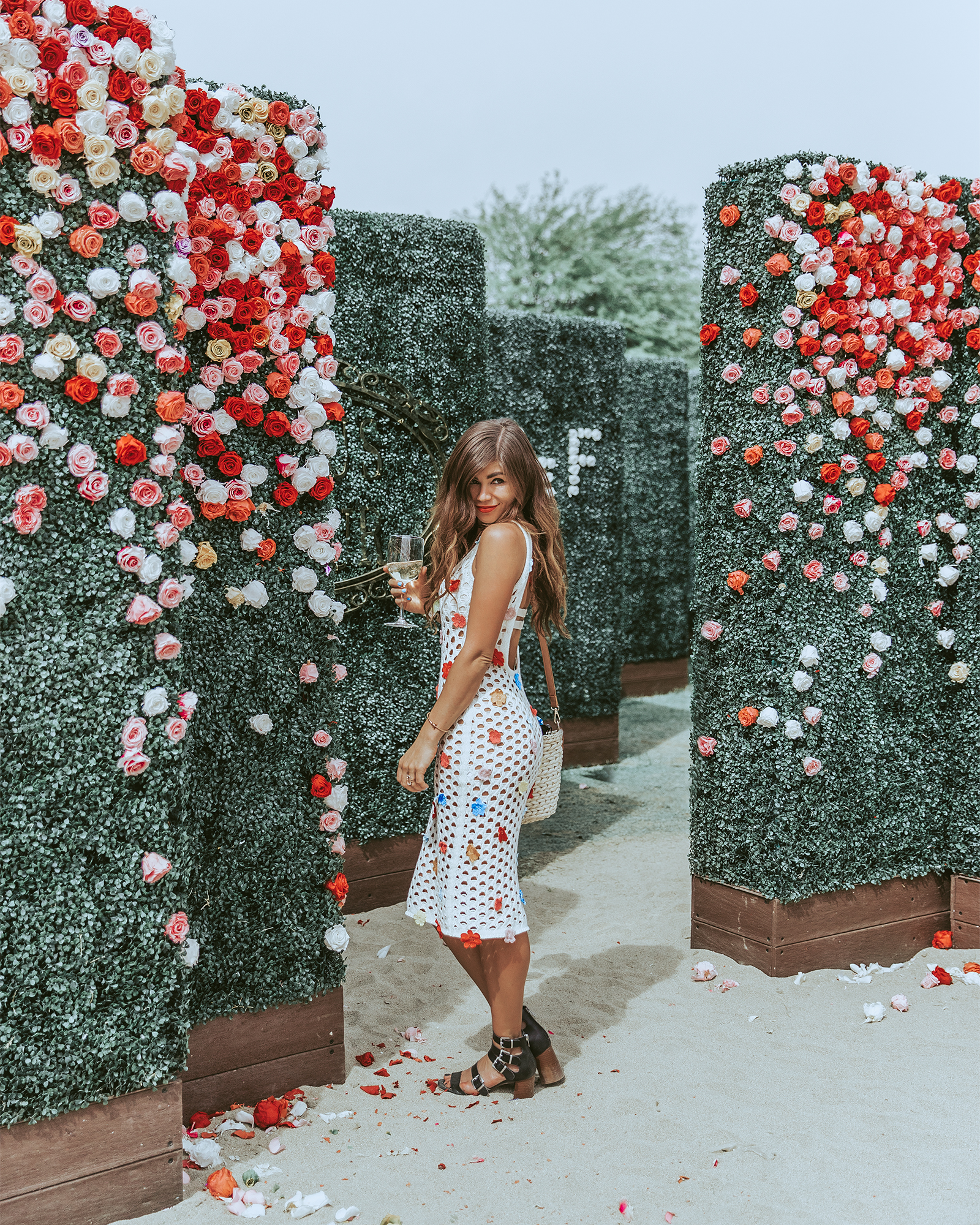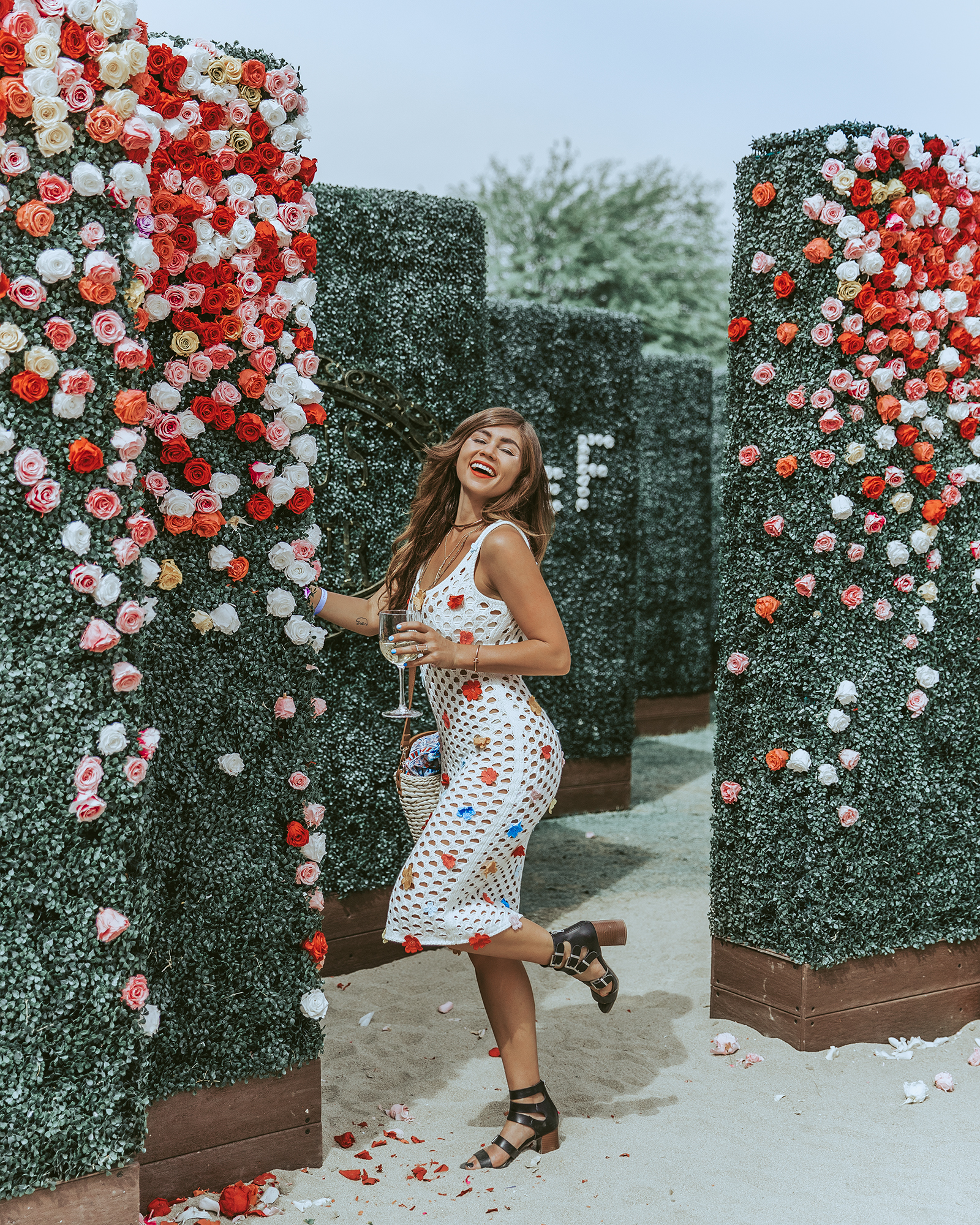 Inside this rose-filled maze, was the rosé bar!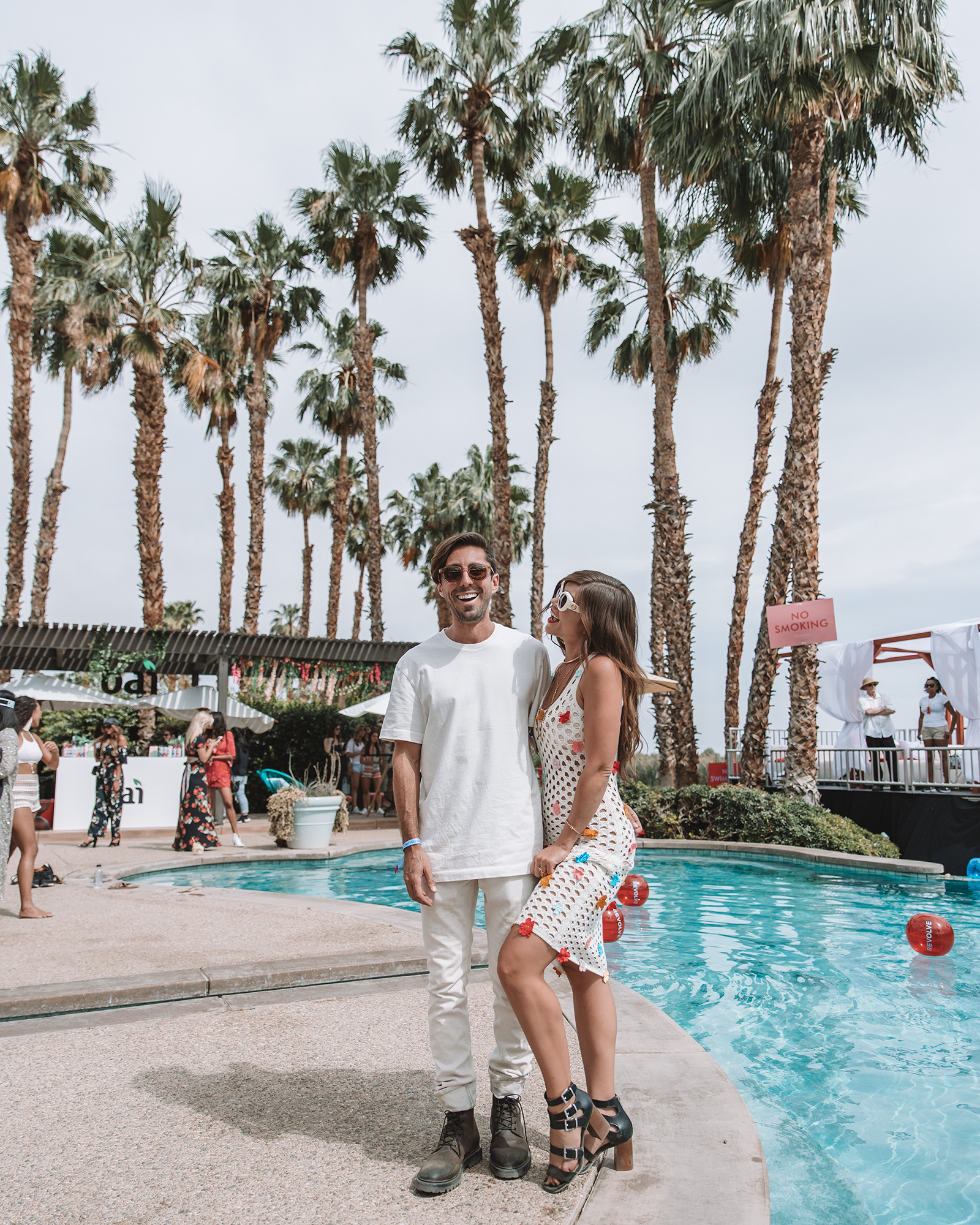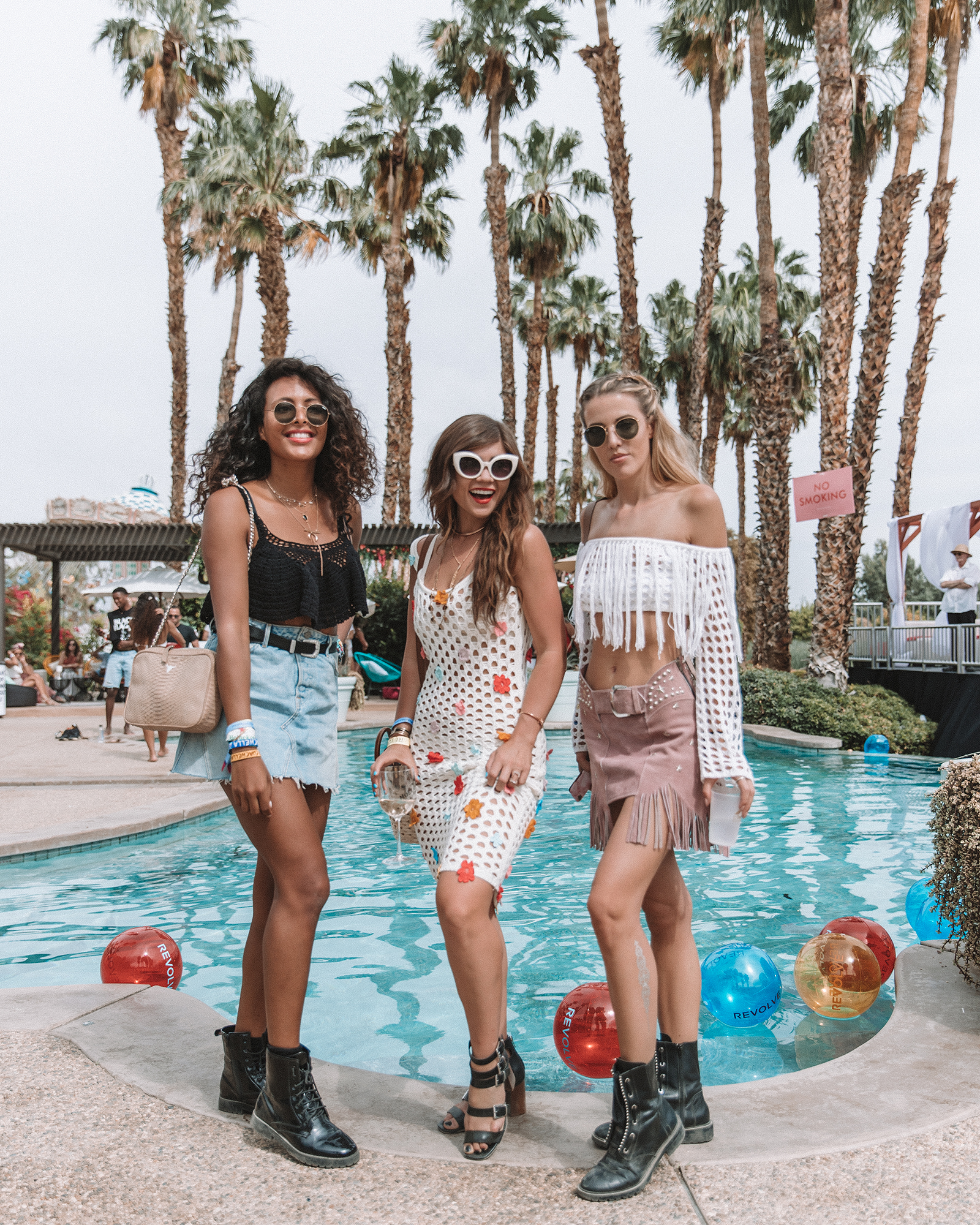 By the pool we ran into some Instagram friends in town from France - Helene and Meryl! I love getting the chance to meet people in real life. (also, French girls are tall!)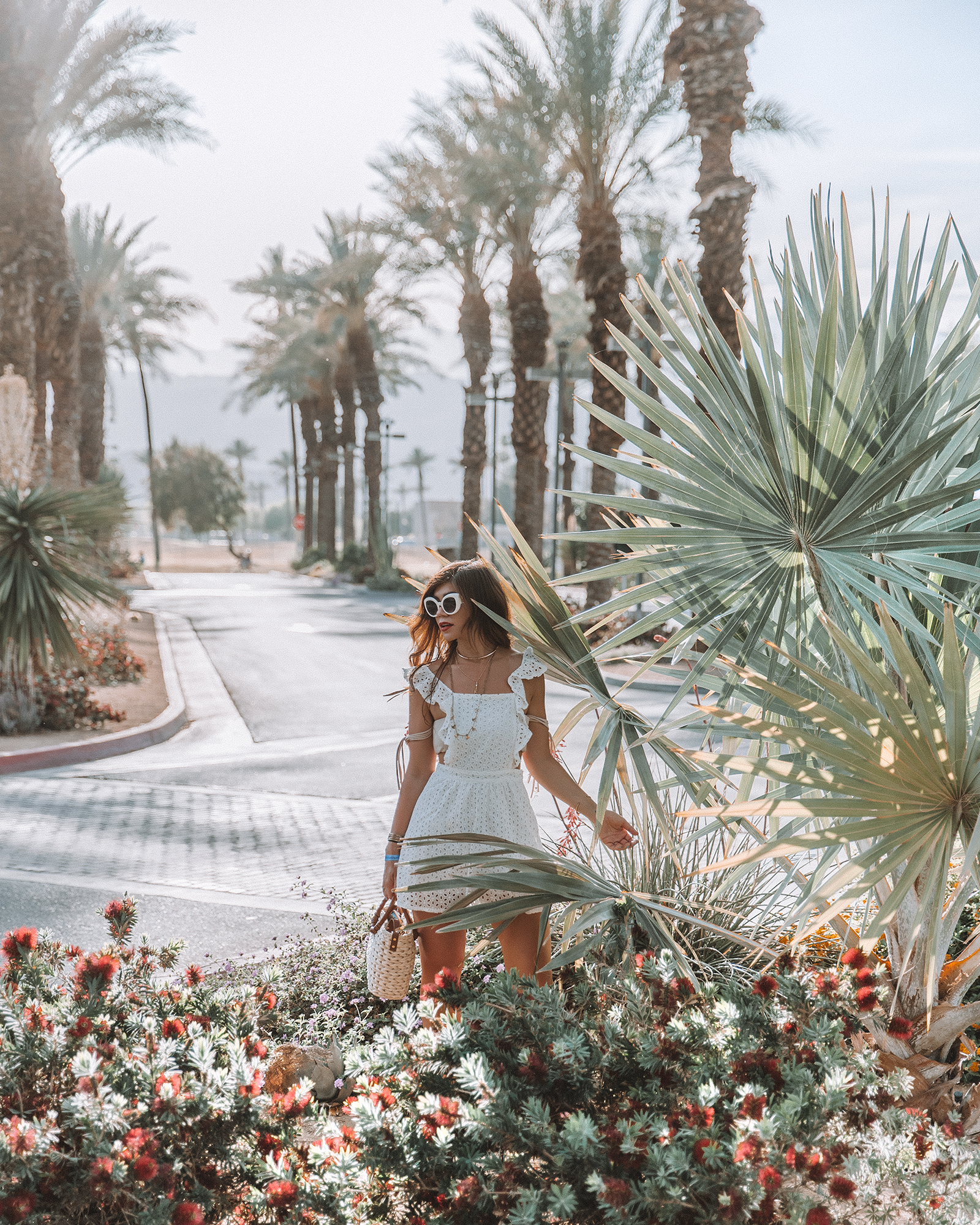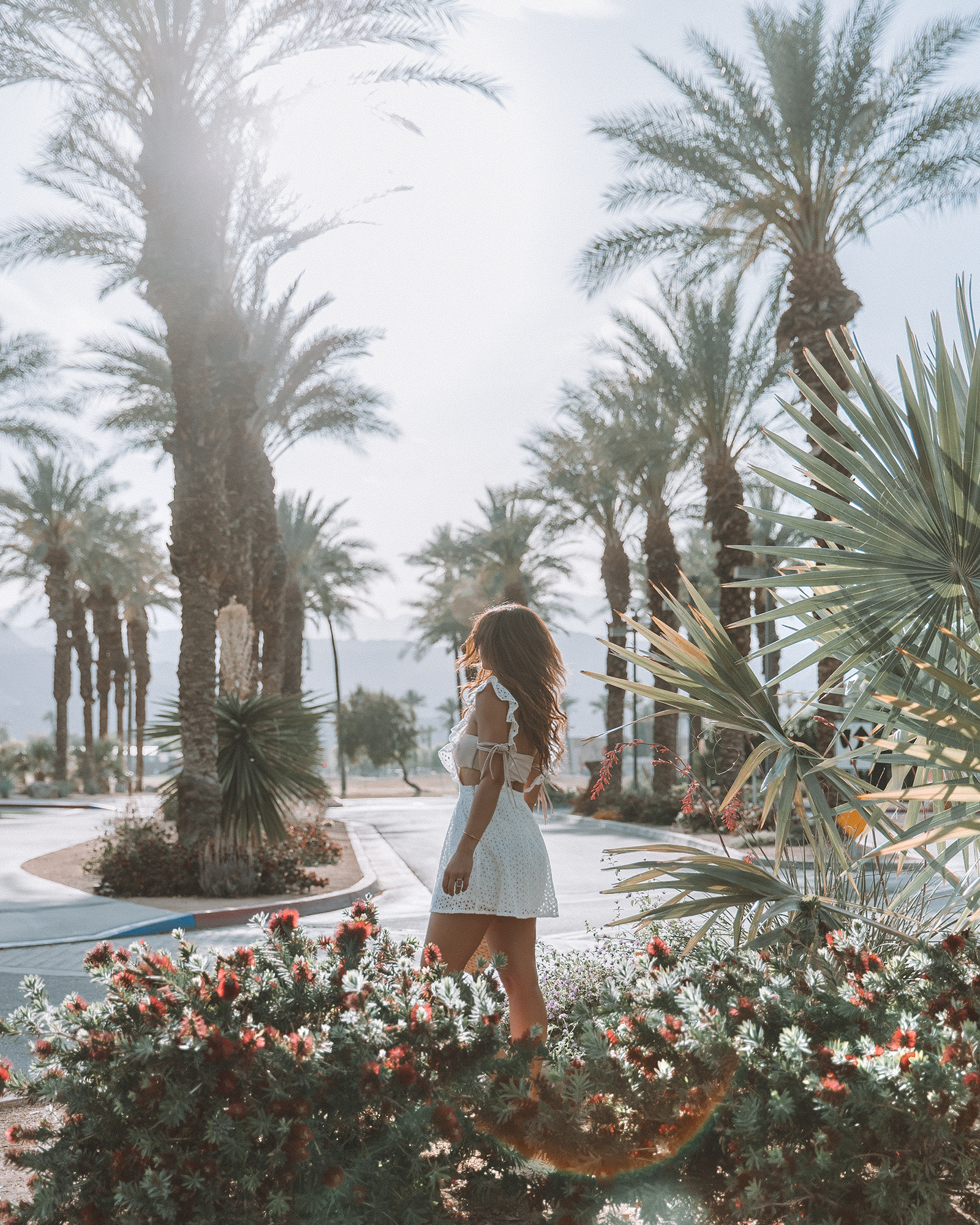 One last outfit change - A pinafore dress from BB Dakota for that late afternoon sun.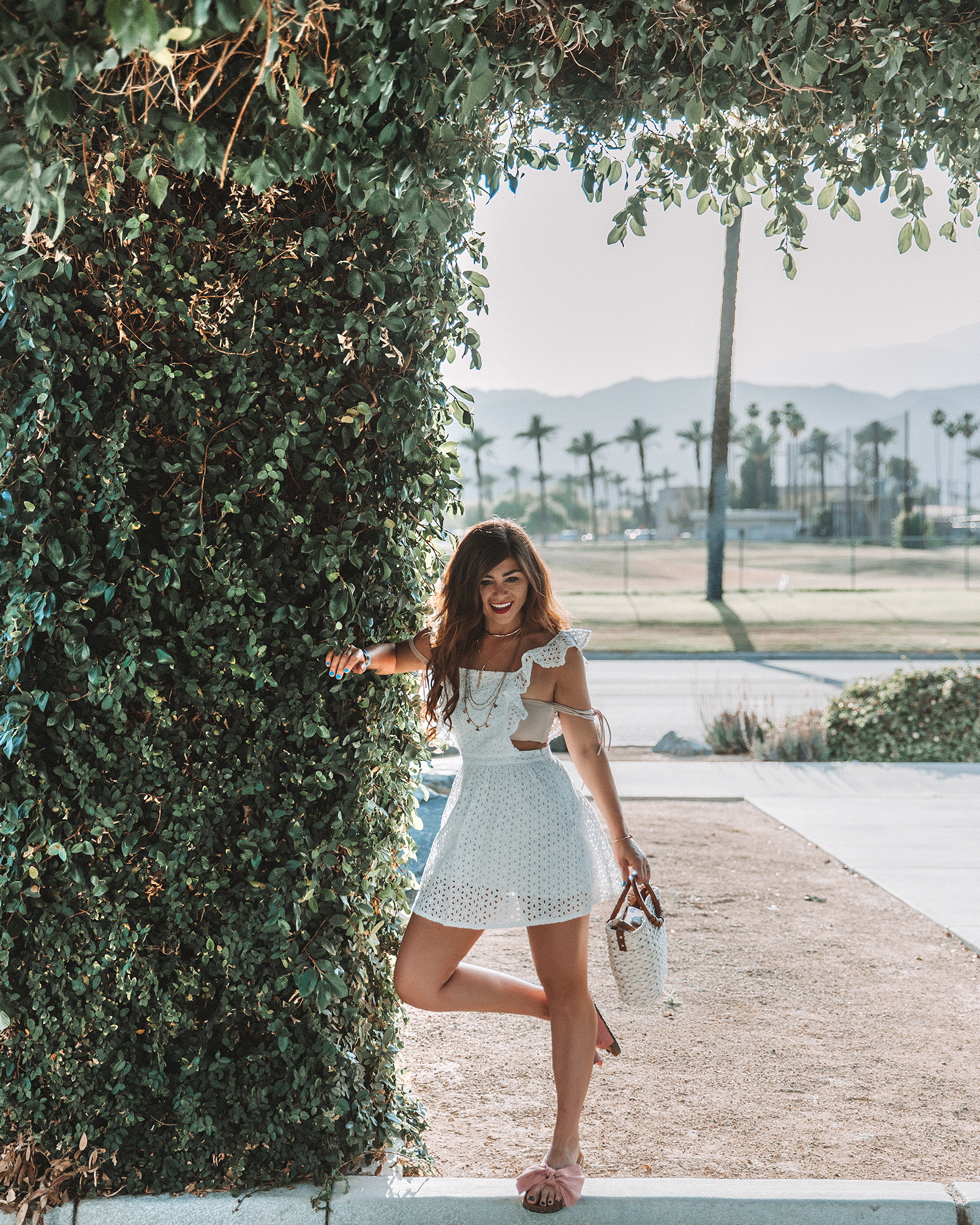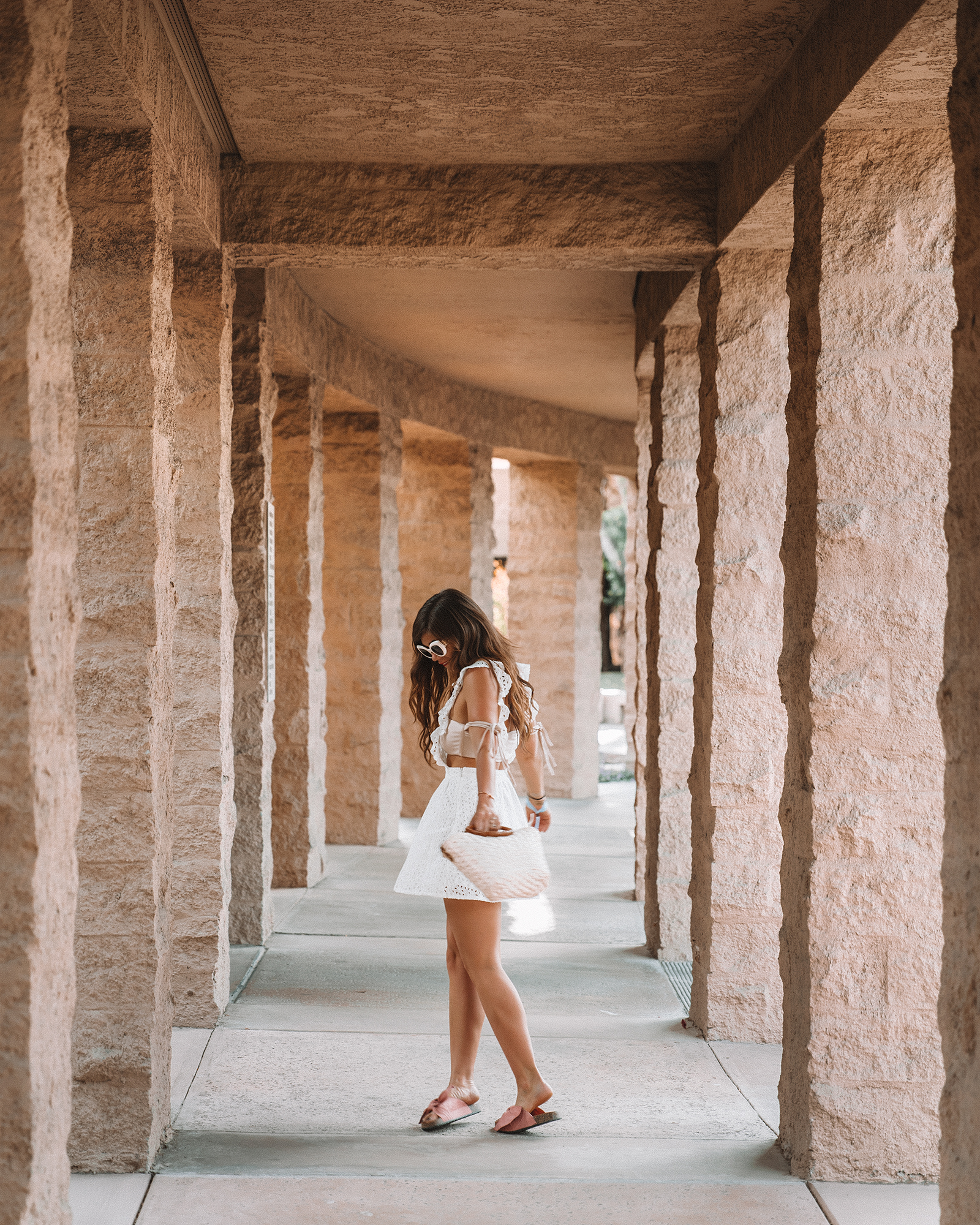 The truth behind these photos - we were charging our car in this parking lot, and started wandering around. We were surprised to find a gorgeous city center and park where we were, so we took advantage of it to shoot while we were waiting. I've been thinking of starting a photo series of "where we charge" - since we keep finding cool spots we never would have found otherwise.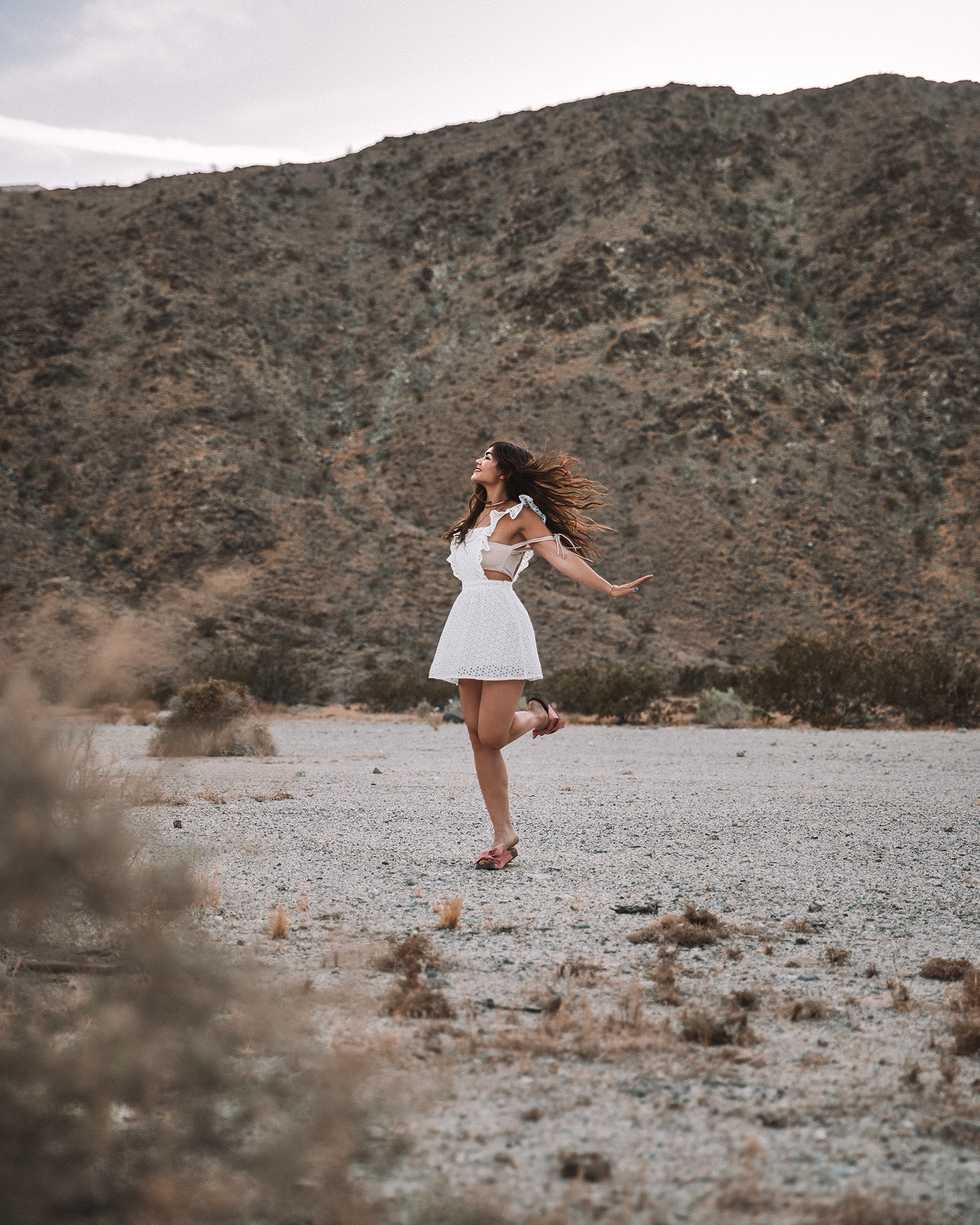 That just after sunset desert glow.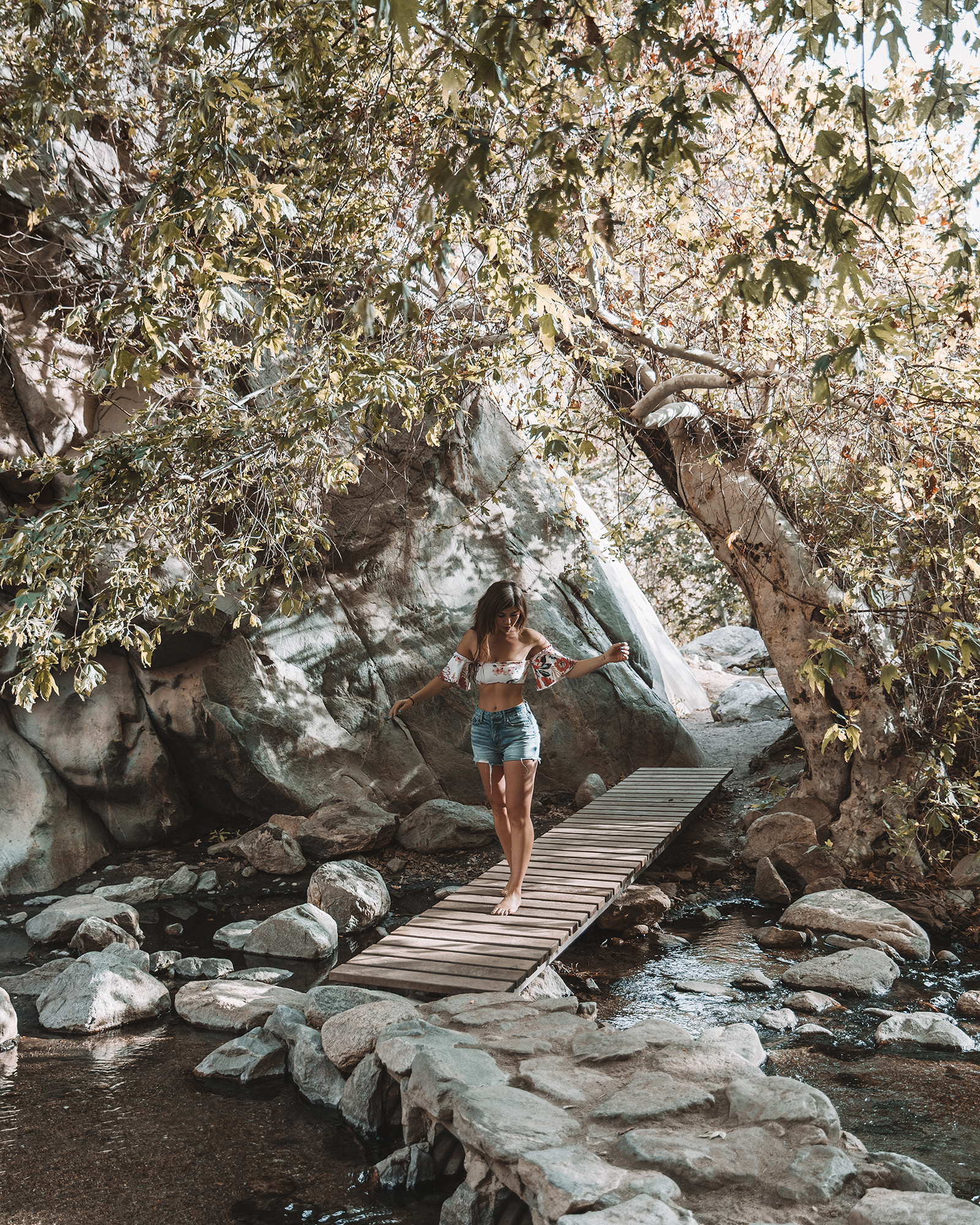 Our last stop before heading back up to LA to end the weekend - an early morning hike up to Tahquitz Canyon in Palm Springs.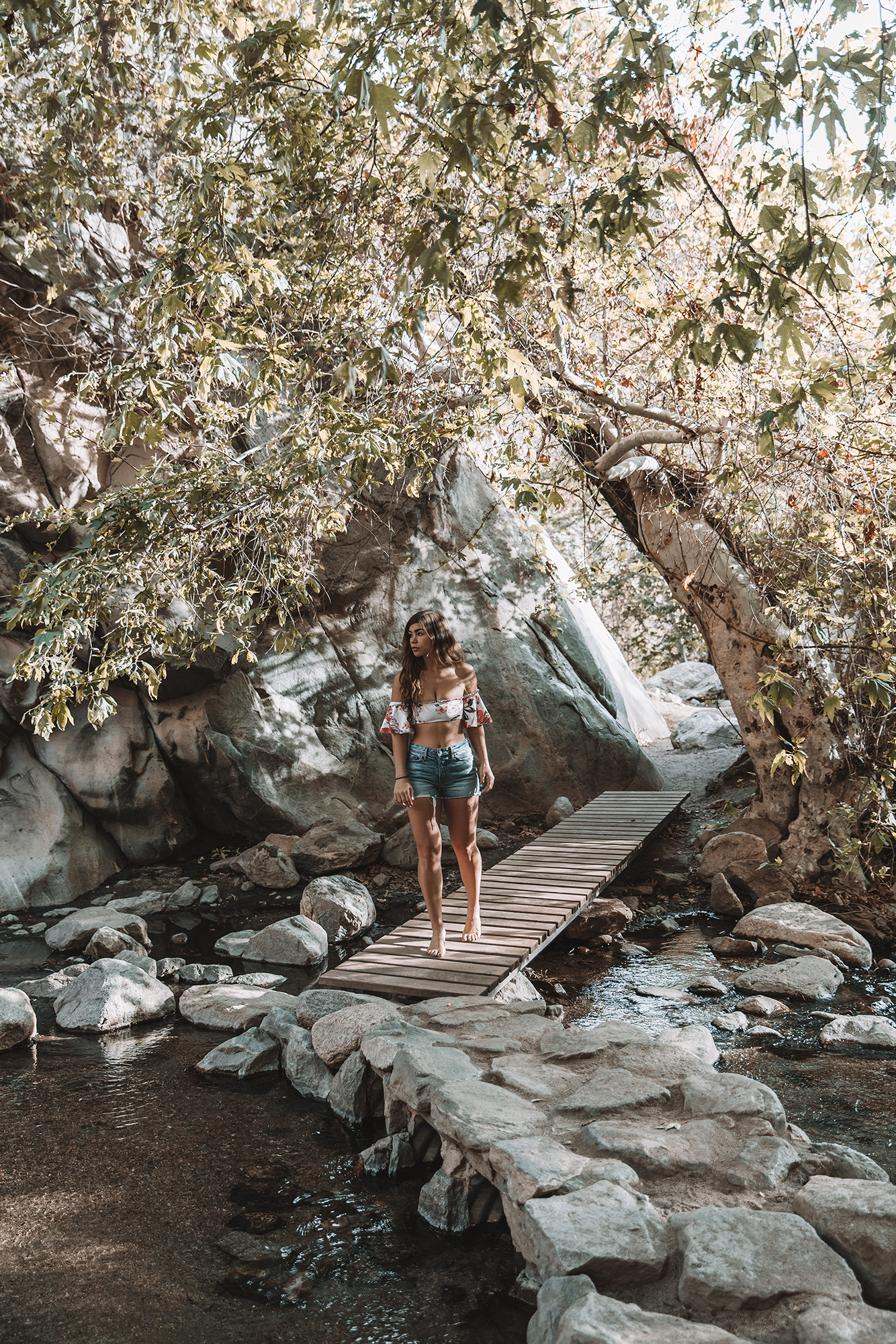 We had never made it up here before - and had no idea it would be so lush and green!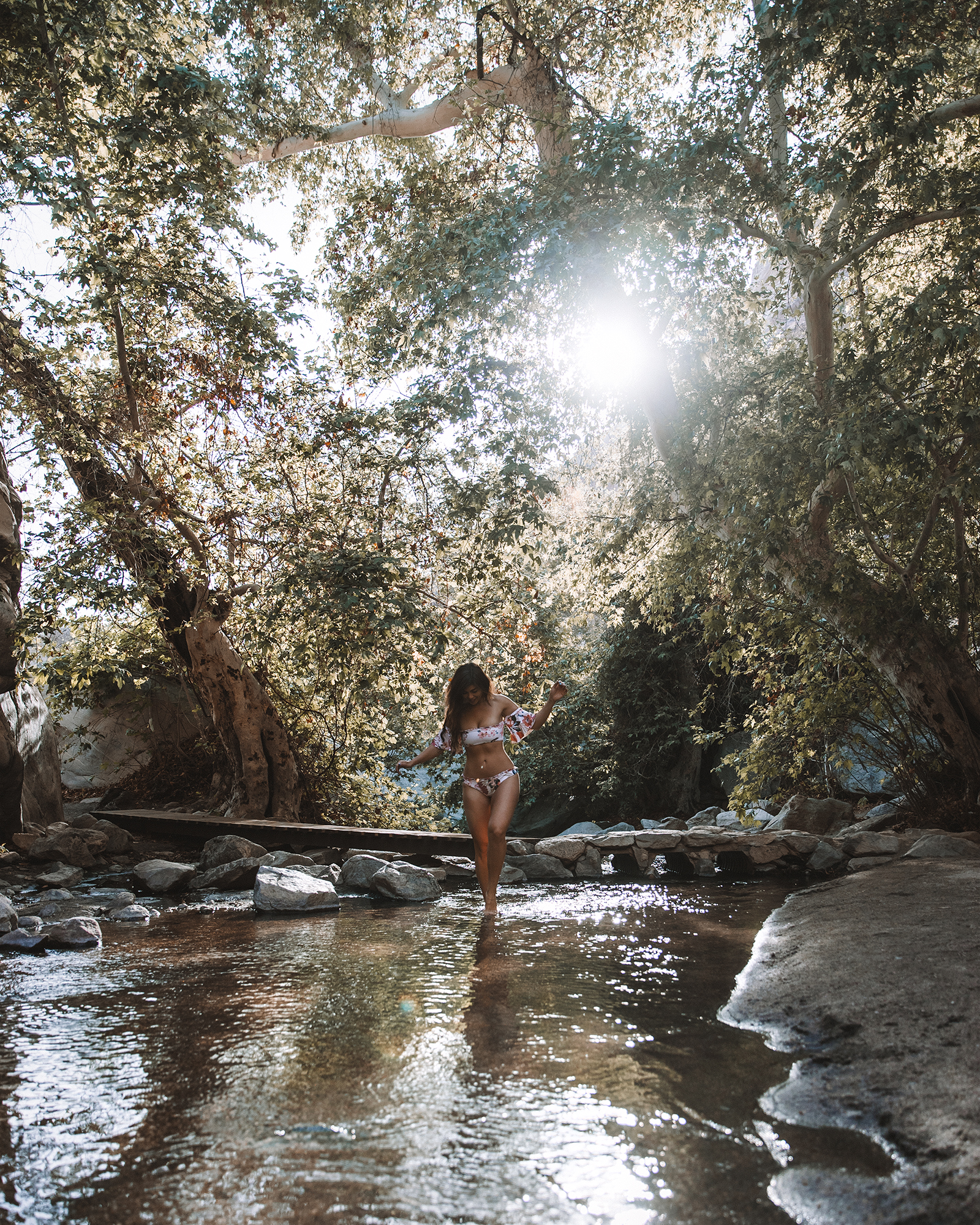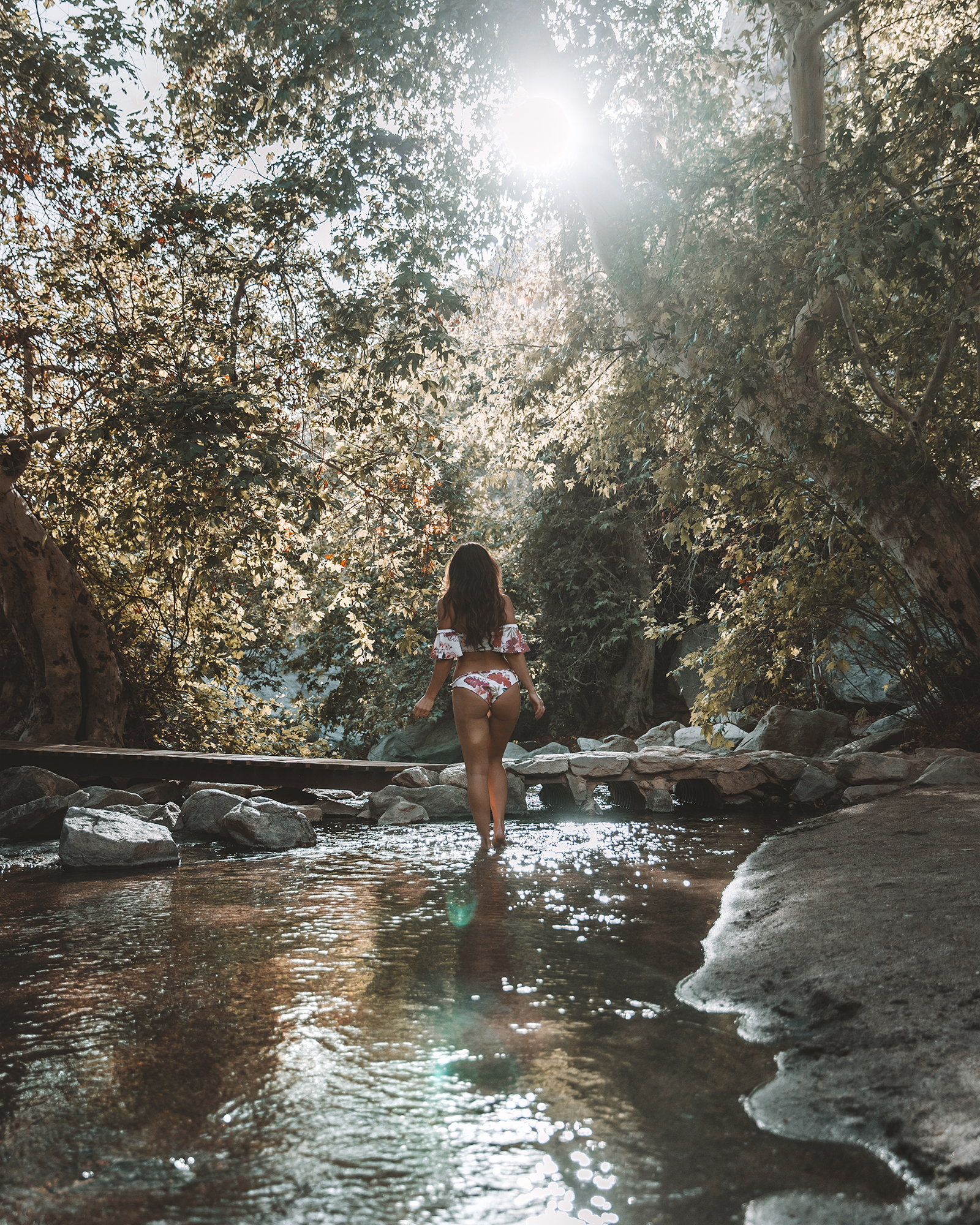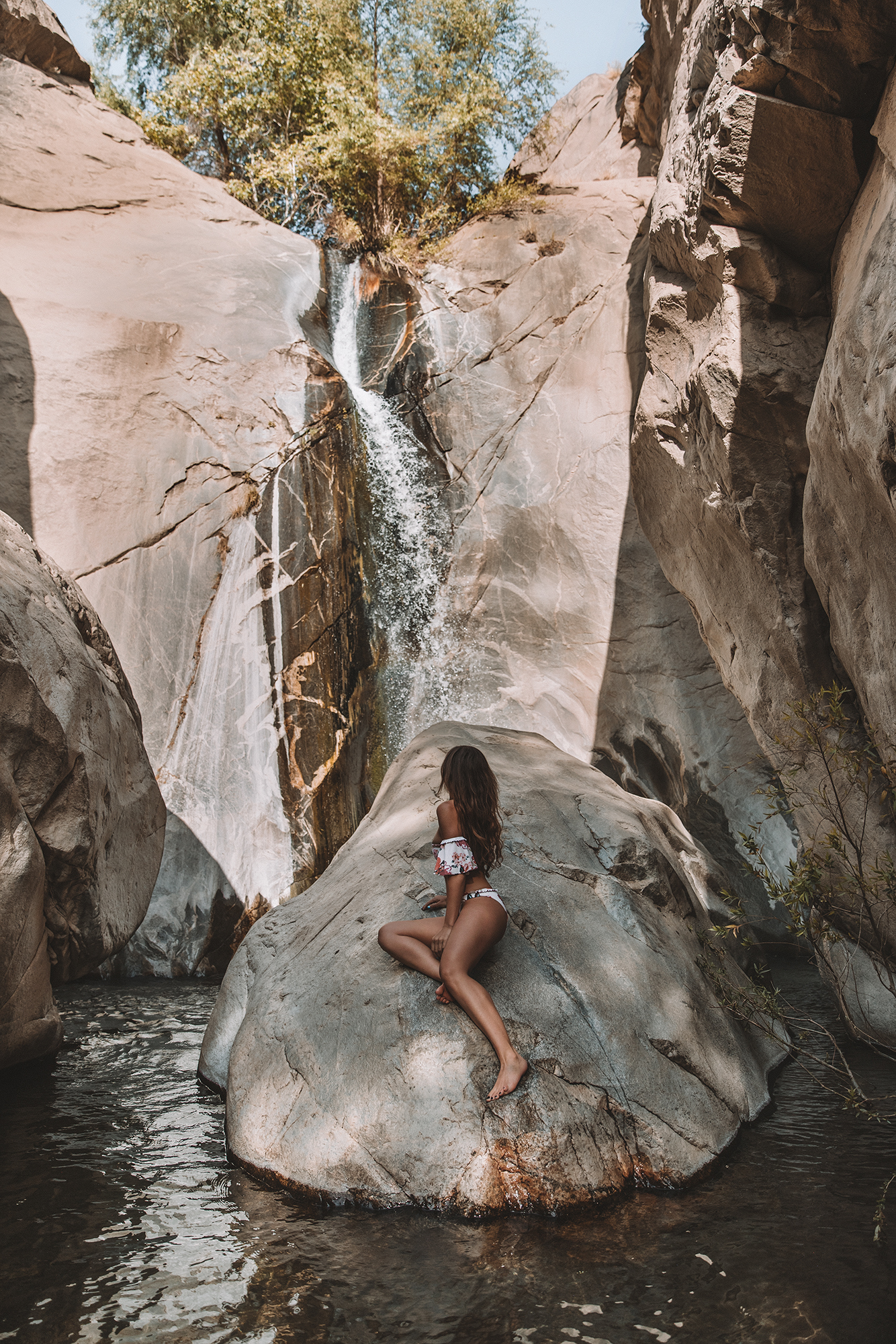 I felt like such a mermaid here! Wearing this perfectly flowy bikini by Tularosa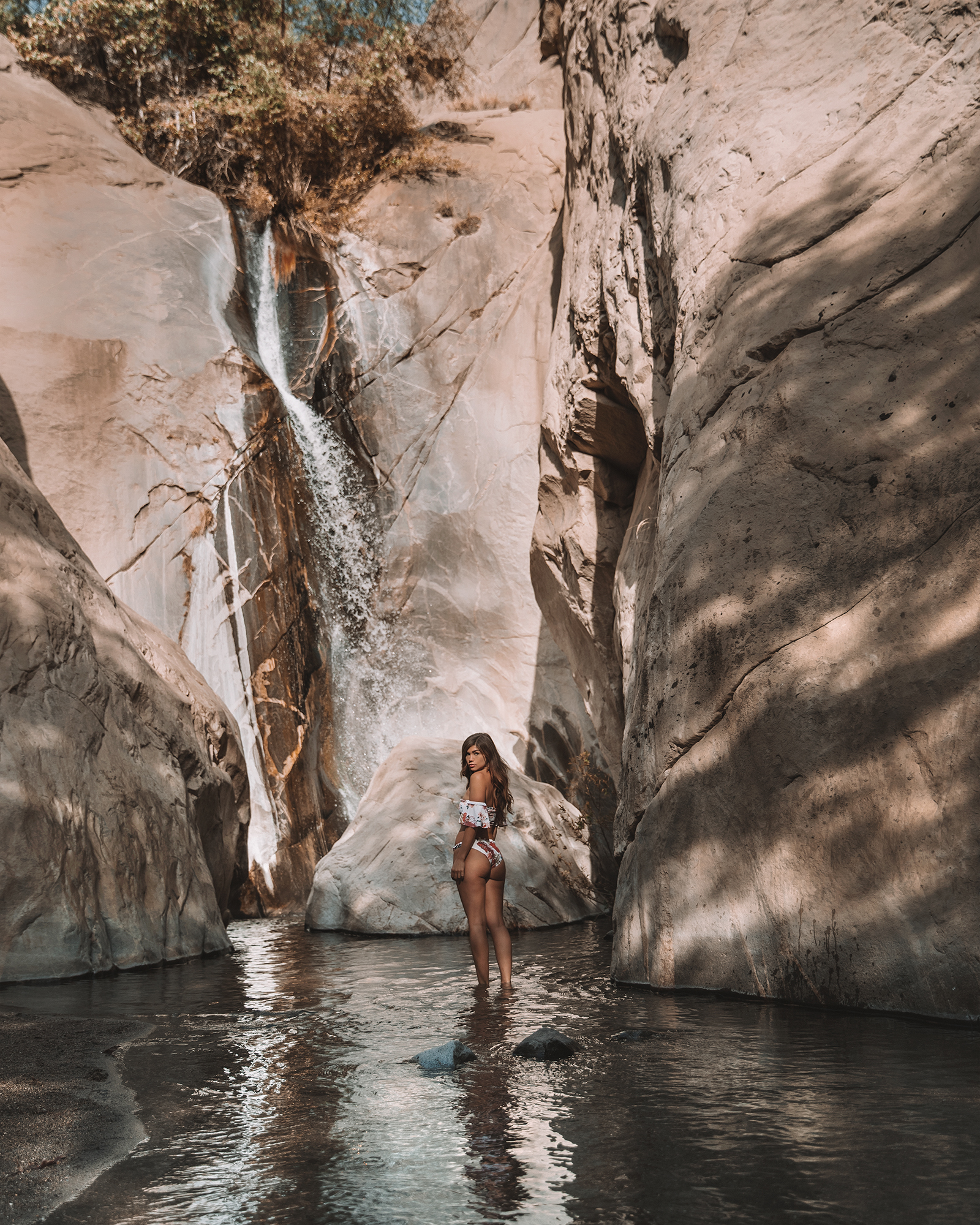 This place is magical! A mountain spring oasis high up in the desert.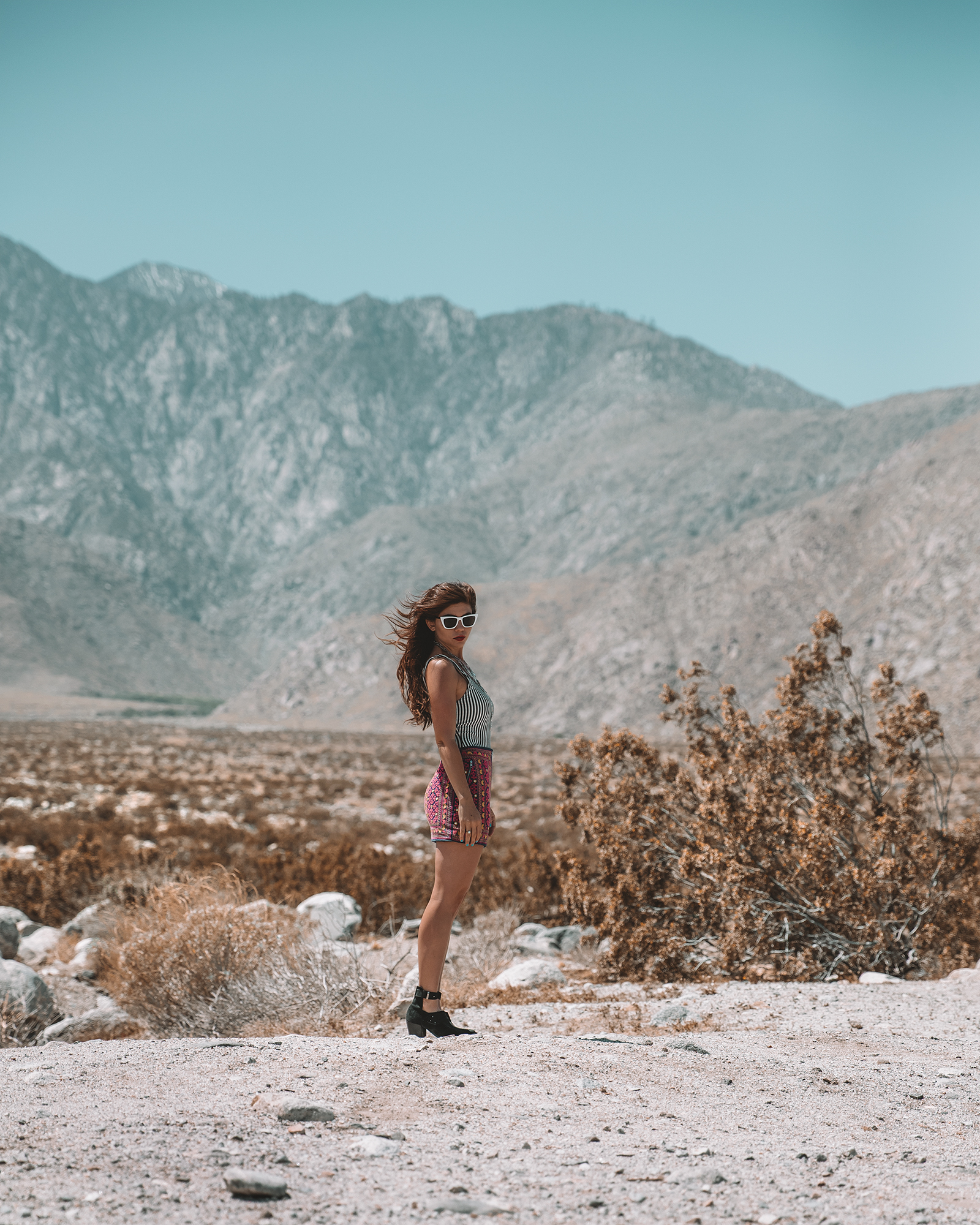 One last desert stop before the long, hot drive back to LA, and one last outfit change!
Our weekend in the desert was such a fun experience, but I think next year we need to actually go to Coachella! Already putting it on our 2019 Calendar.
Watch the film!