January 21, 2021 Travel Guides
How To Get To Sedona, Arizona's Secret End of The World Trail
The most stunning view I have ever seen is deep in Arizon's Coconino National Forest. It is an adventure to get to - a hike to traverse and climb and a truly a national wonder. Here is every detail you need to know.
Pulling up to the End of The World in the Coconino National Forest feels like discovering the Grand Canyon.
After 90 minutes of bumpy, slow, off-road driving, just as you're about to get to the spot you begin to see the sky open up and pure sky beyond the treeline. The ground drops below you and opens up an endless canyon, looking all the way back to Sedona from its Northern Rim, with gravity-defying rock formations all along the cliff's edges.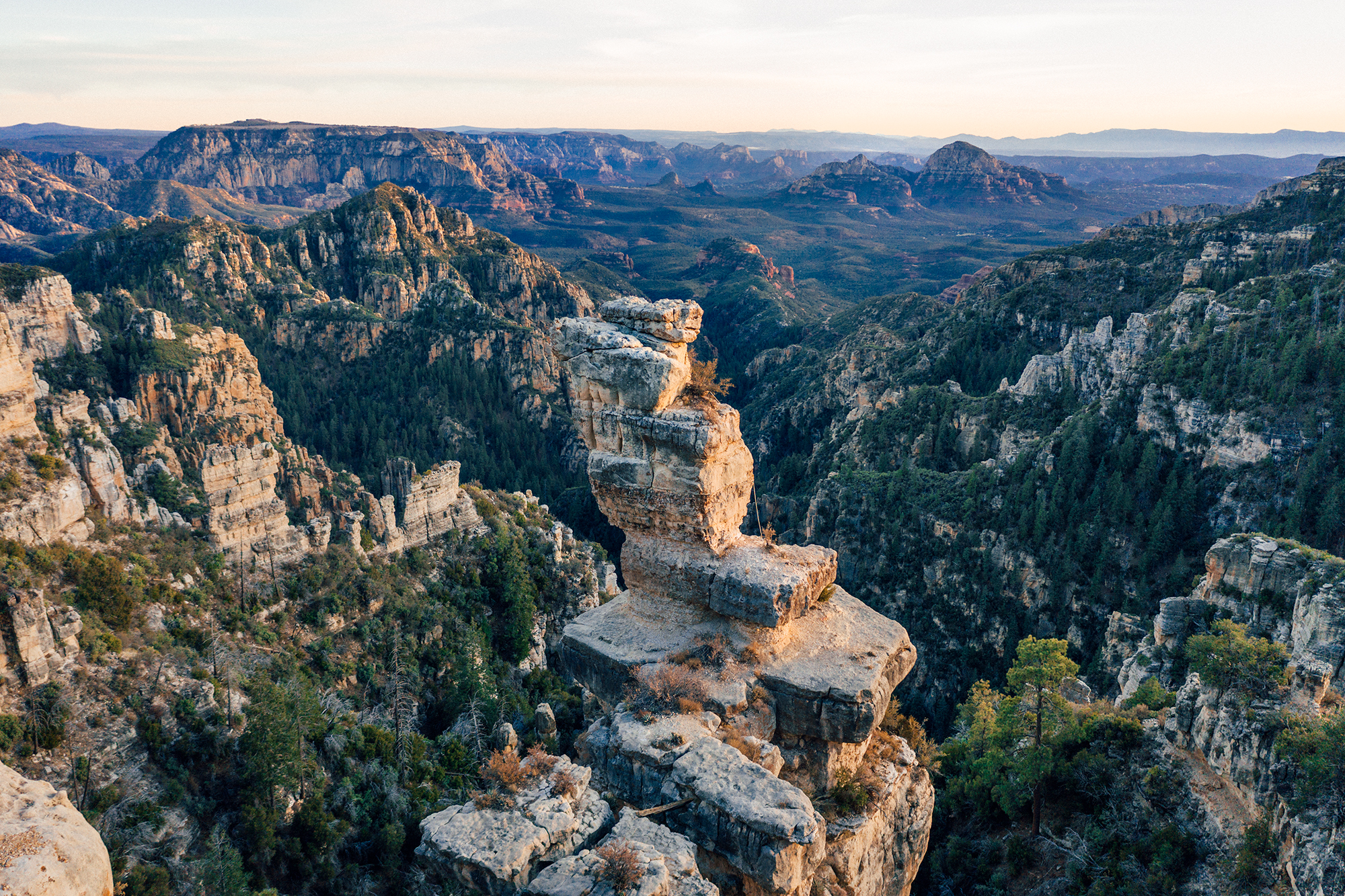 When we were planning our Southwest Road Trip last summer, I saw one photo of these rocks and was so incredibly blown away. I knew I had to make it out here, and was grateful when I was able to find the coordinates. However, upon seeing how much of a drive it was (and that we were traveling in a smaller, standard car) we chose to skip it on our trip. When we came back to Sedona and were able to spend a few days here, we knew that we couldn't skip the End of the World again.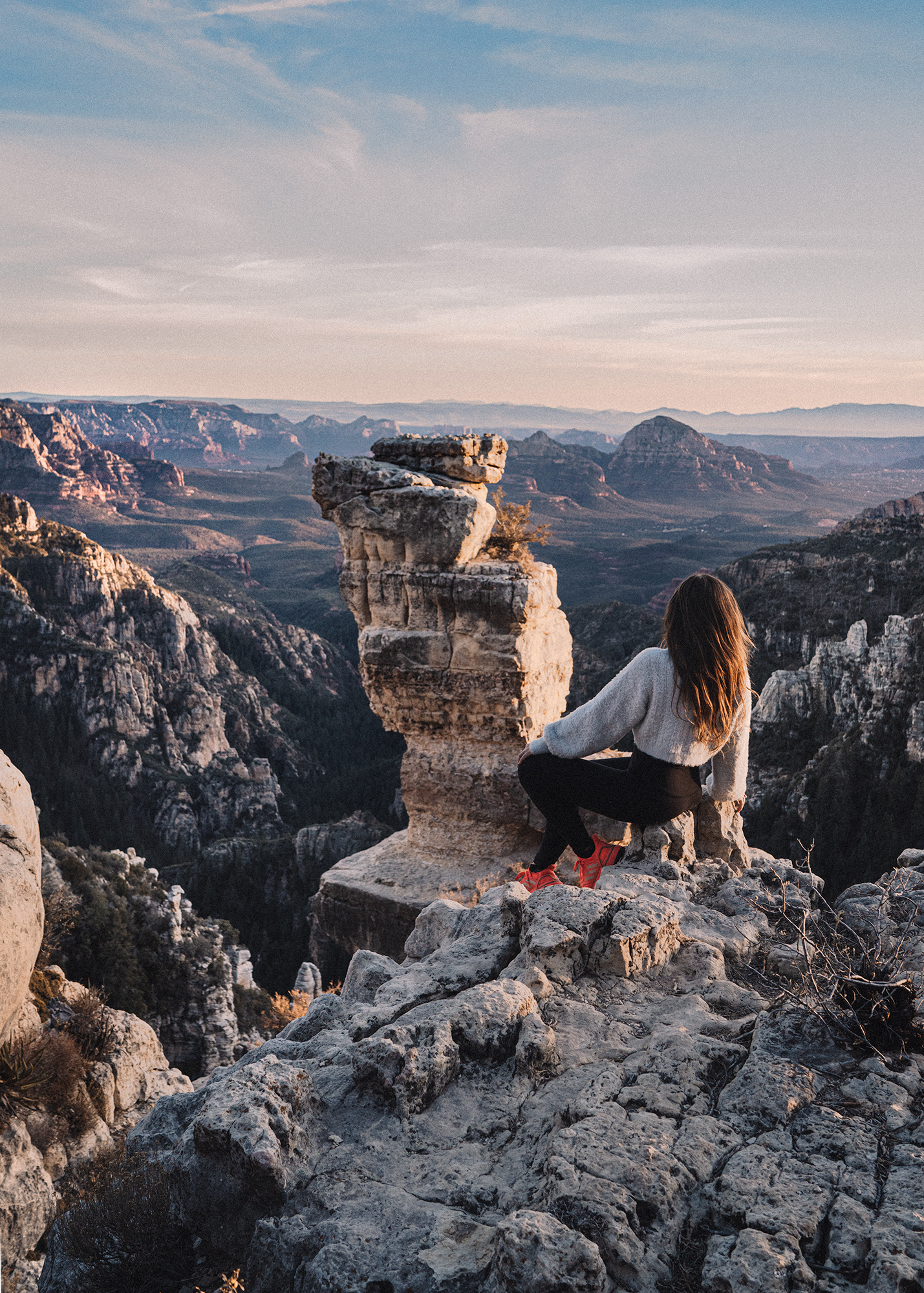 To be clear, this is not a hiking trail - this is a very long backroads drive, and then a very quick (but steep and unstable walk) to the viewing points. In our entire journey, we only saw two other vehicles anywhere in the forest - it was like we were completely alone in this dream world. I've discovered that this is a favorite spot of local rock climbers!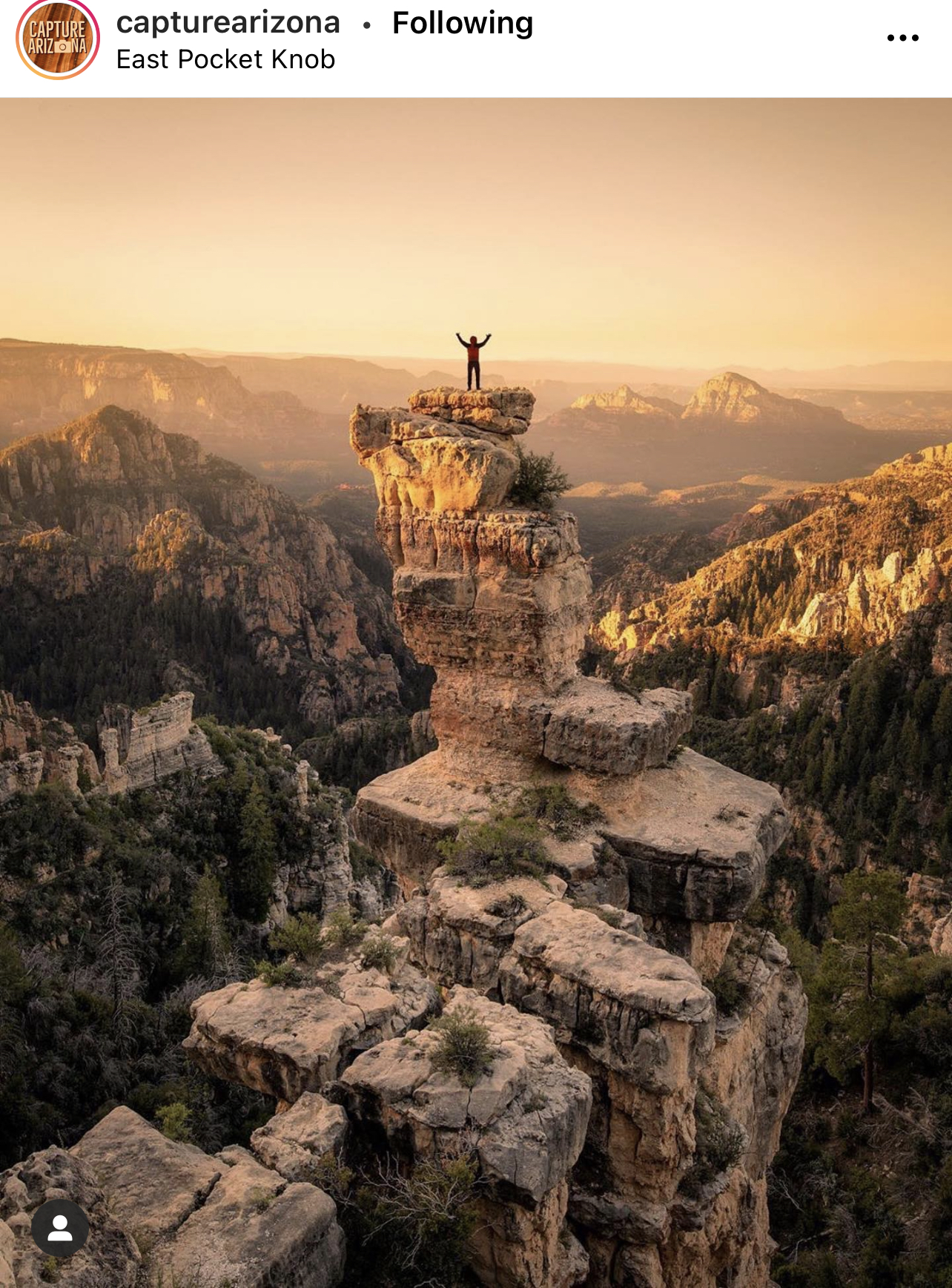 It is possible to climb the tower, however it is not easy or for the faint of heart. You should have either real rock climbing experience and skills, or proper climbing safety equipment to attempt (preferably both). It is easier to get to the bottom rocks of the tower, but still requires quite a bit of agility and climbing skill. Despite being very experienced hikers ourselves, we ultimately chose to stay at the top of the rim and not attempt to go part way up, out of an abundance of caution and with sore muscles from 9 miles of hiking the previous day. This is very off the grid and very at your own risk, so be safe!
Note: Before traveling out to this area, make sure you have all of the following:
You Will Need:
4-wheel drive, and to be comfortable driving off road. A Jeep or a truck would handle these roads best, but our Volvo SUV did fine, but we pushed it to about it's reasonable limit. Brandon has had a lot of off-road experience, and felt comfortable driving - I would not have!

Dry weather. This area can be dangerous in the rain and snow, and the roads are not driven often enough to keep snow down - we saw a bit of snow on our drive, even during a particularly dry winter. I read that the roads are often completely impassable deeper into winter - so plan accordingly.

A downloaded Google Map of the area - service cuts out for most of the forest

A warm jacket, if you are staying until sunset the temperature drops off very quickly and by the end of the evening we were both shivering even in our parkas.

A few hours - the drive is a solid 2 hours from Sedona, each way.

Food and water. Just in case of an unforeseen emergency, make sure you are prepared!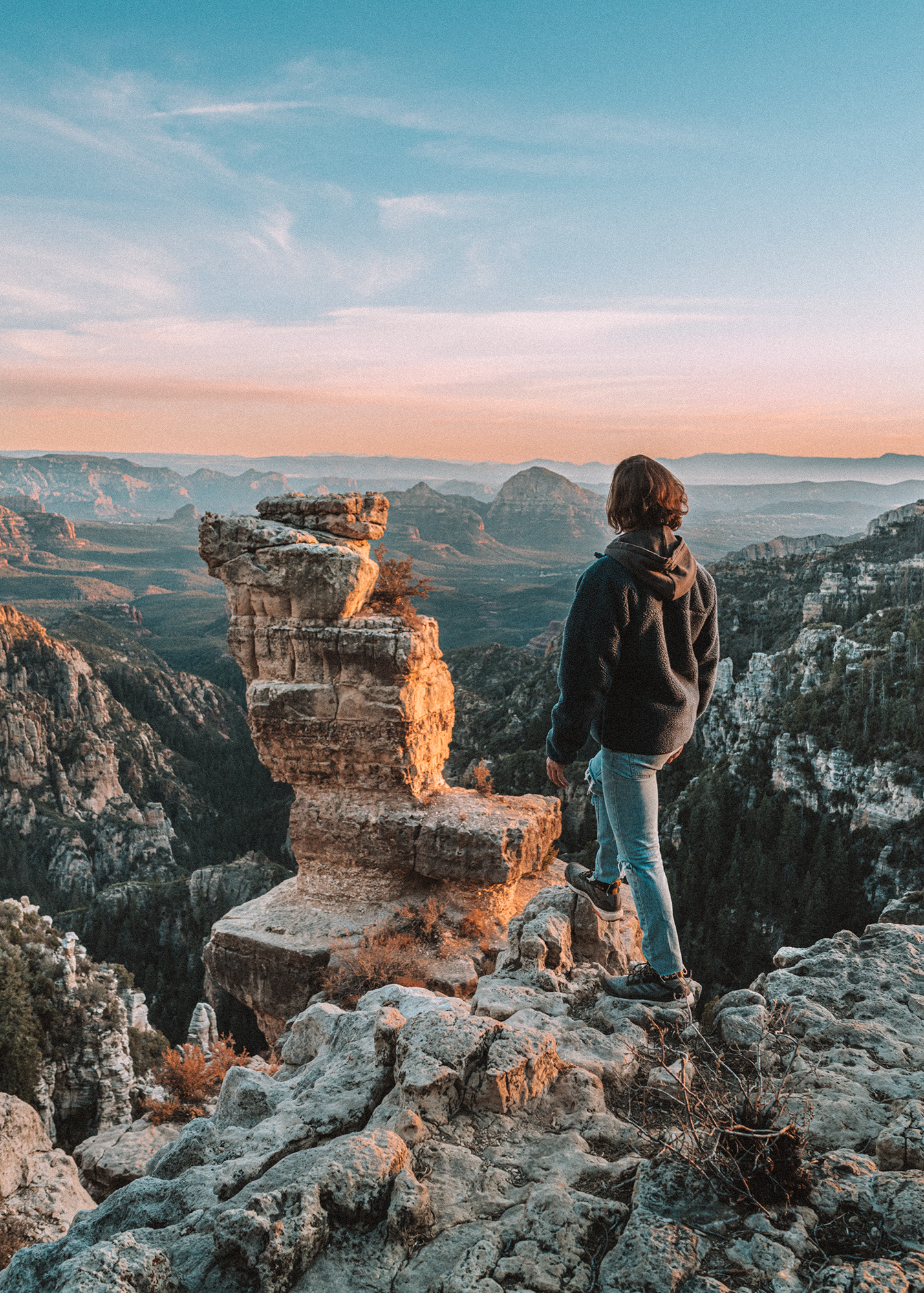 The Drive:
Once you get off the 89A and travel on the county roads, there is no more paved highway and the roads are a mix of pure dirt, loose gravel, and wild off-roading. If you stick to the main road that Google suggests, the drive is much easier than on the network of other roads. Our way out was much easier than our way back - we lost the main road and the side-rocks got much rockier, softer, and more difficult to navigate. As long as you follow the map to the GPS coordinate, have appropriate weather, and a vehicle that can handle the drive, you should have no trouble.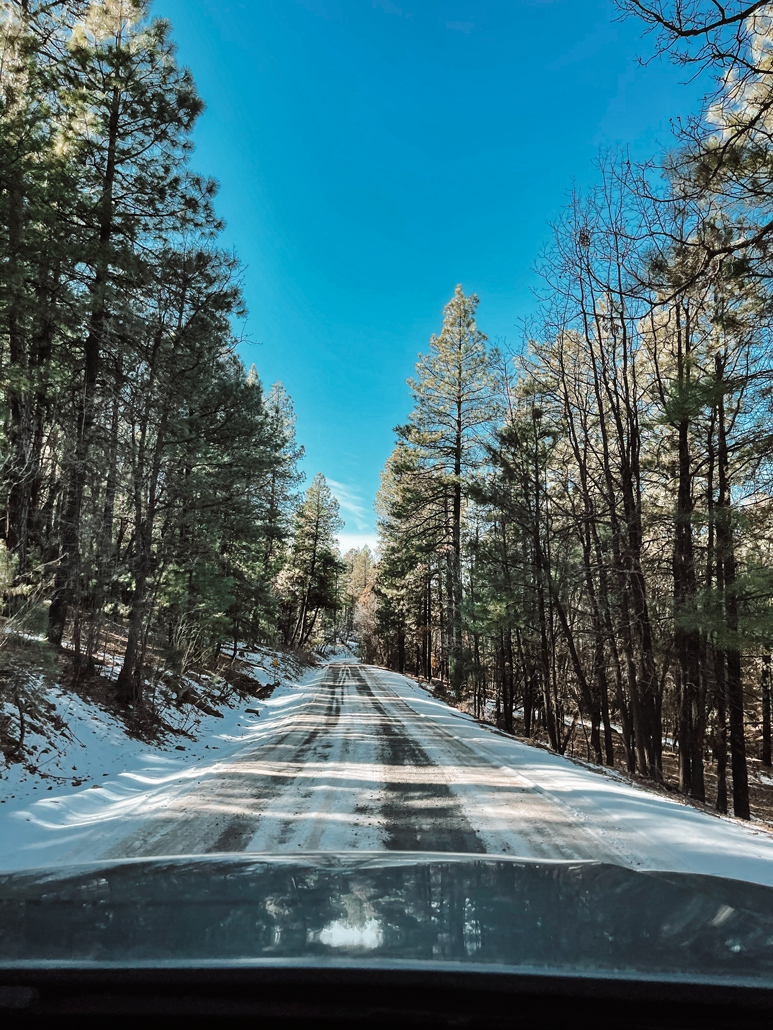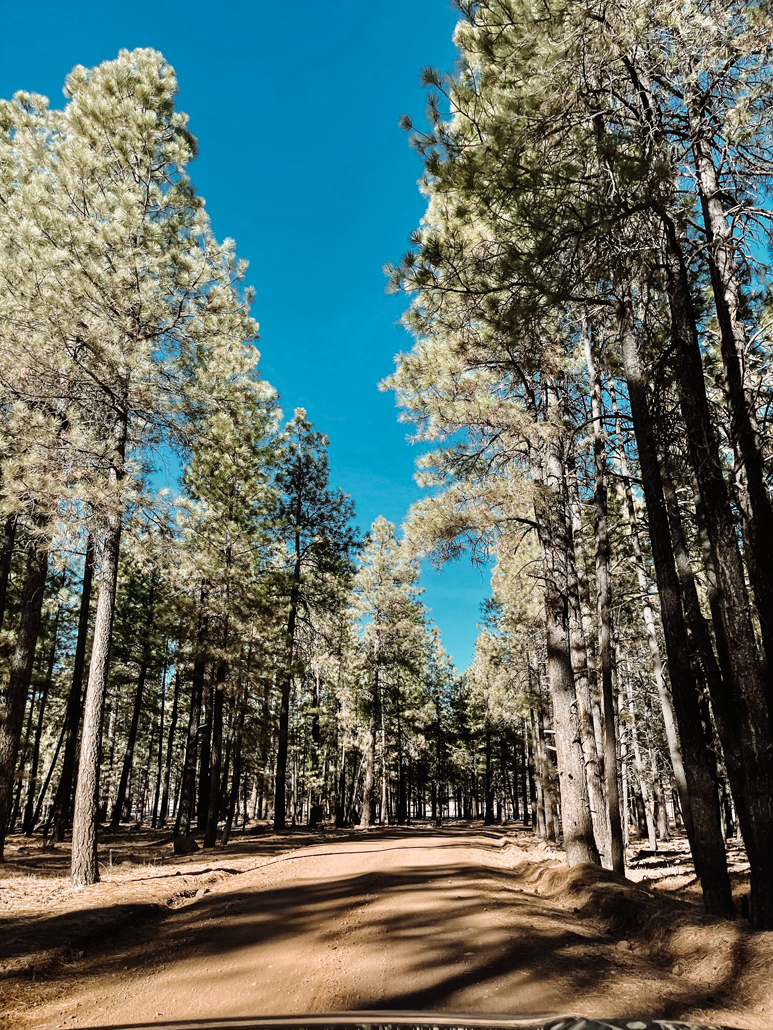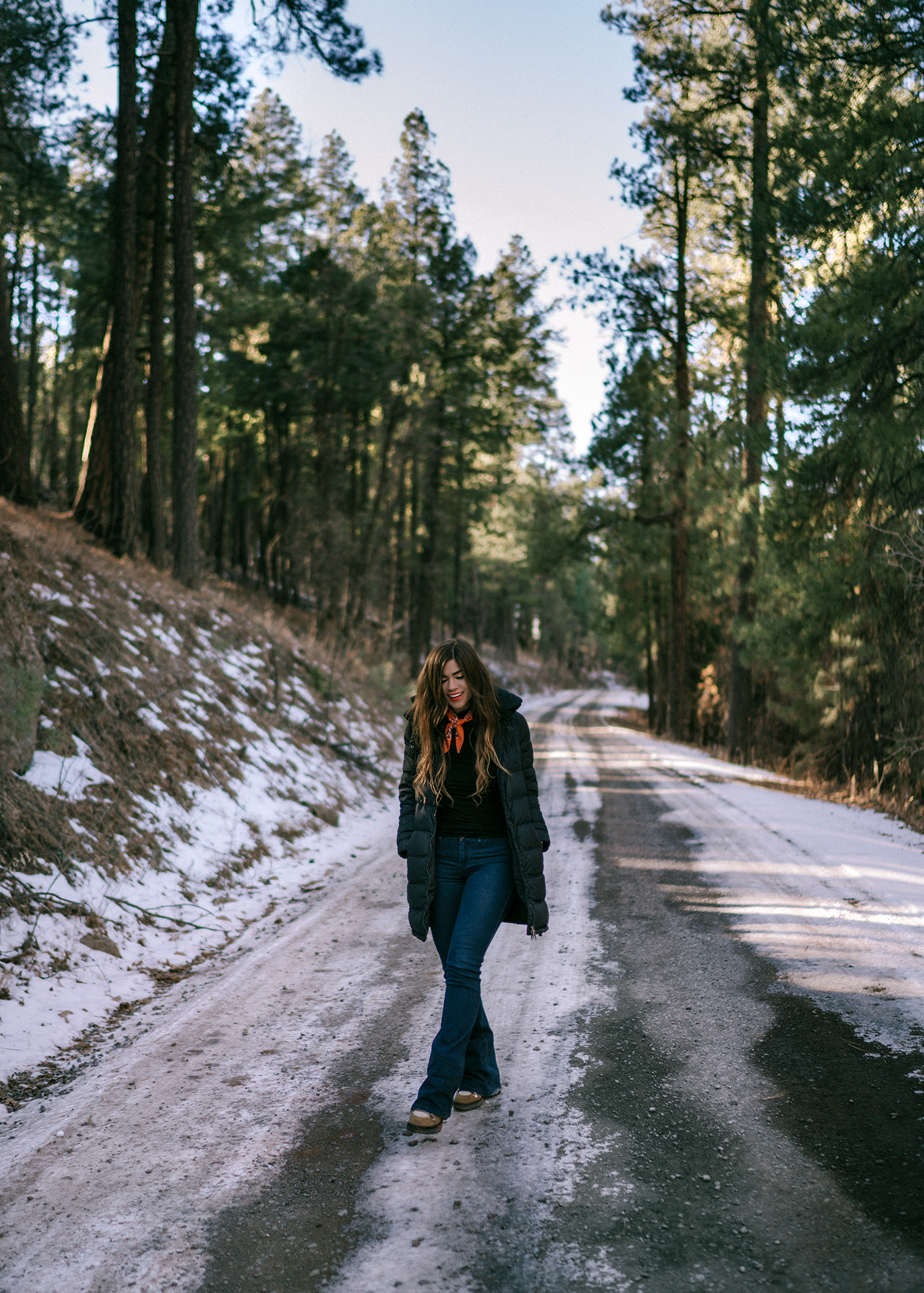 We found some snow!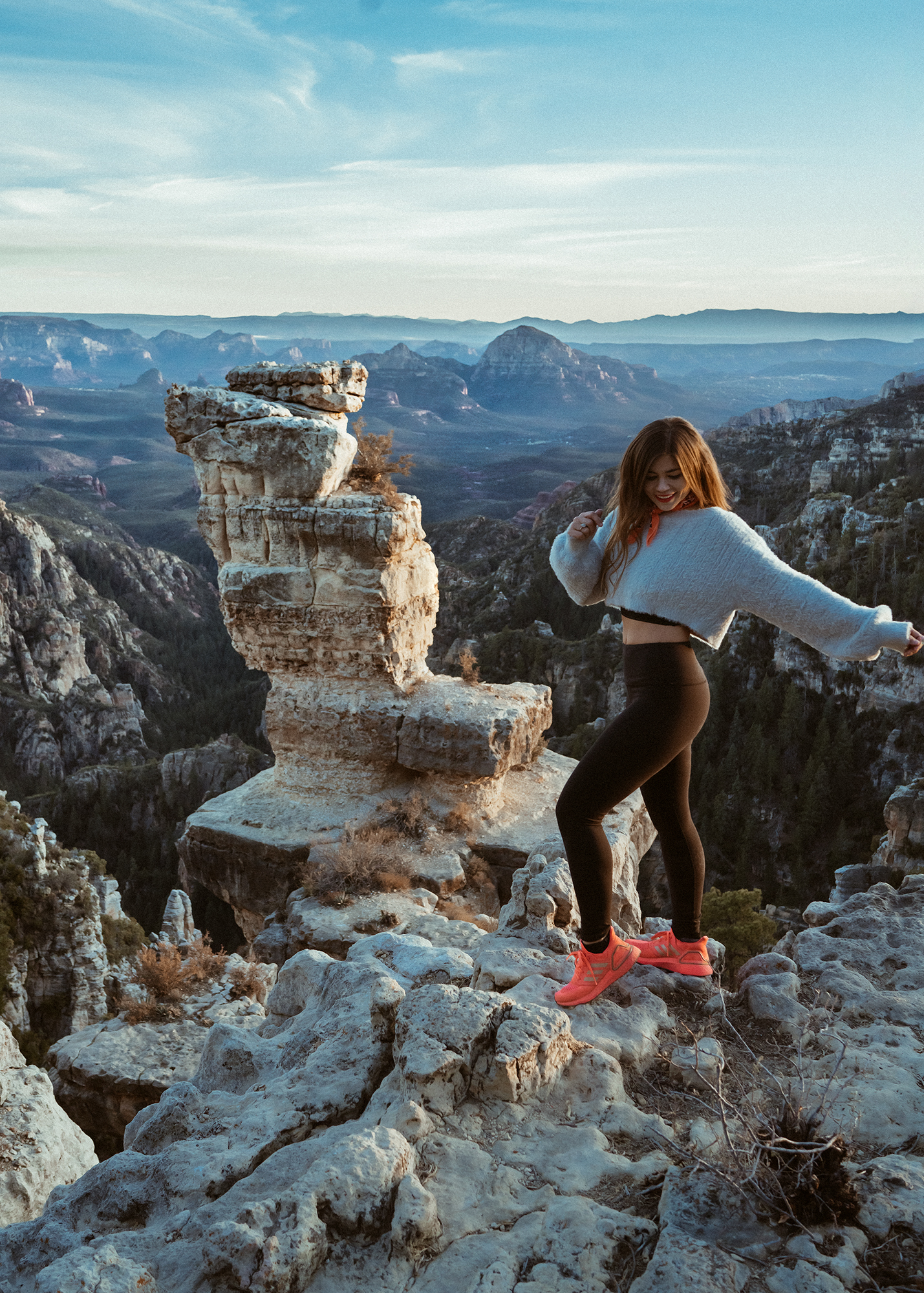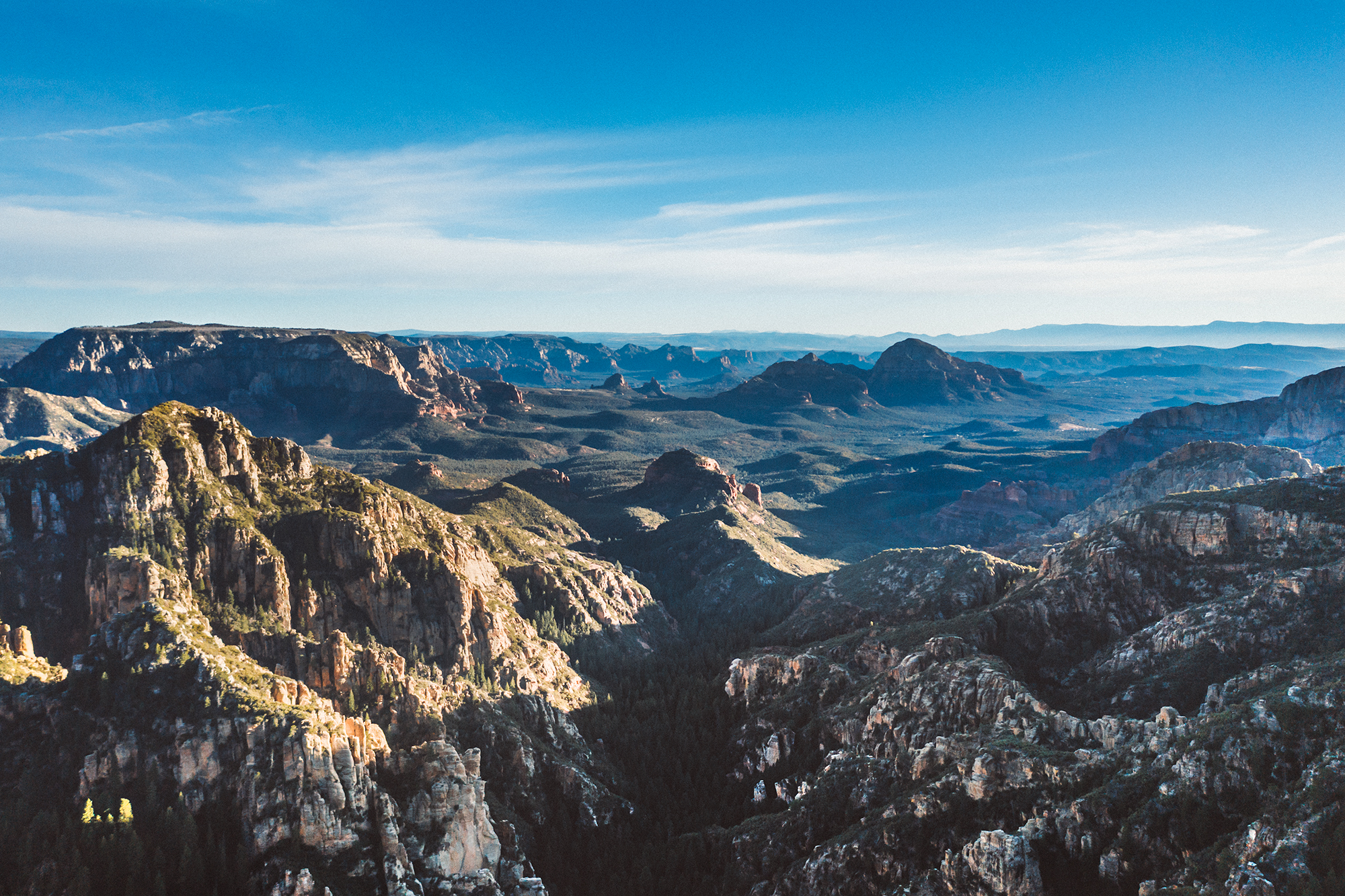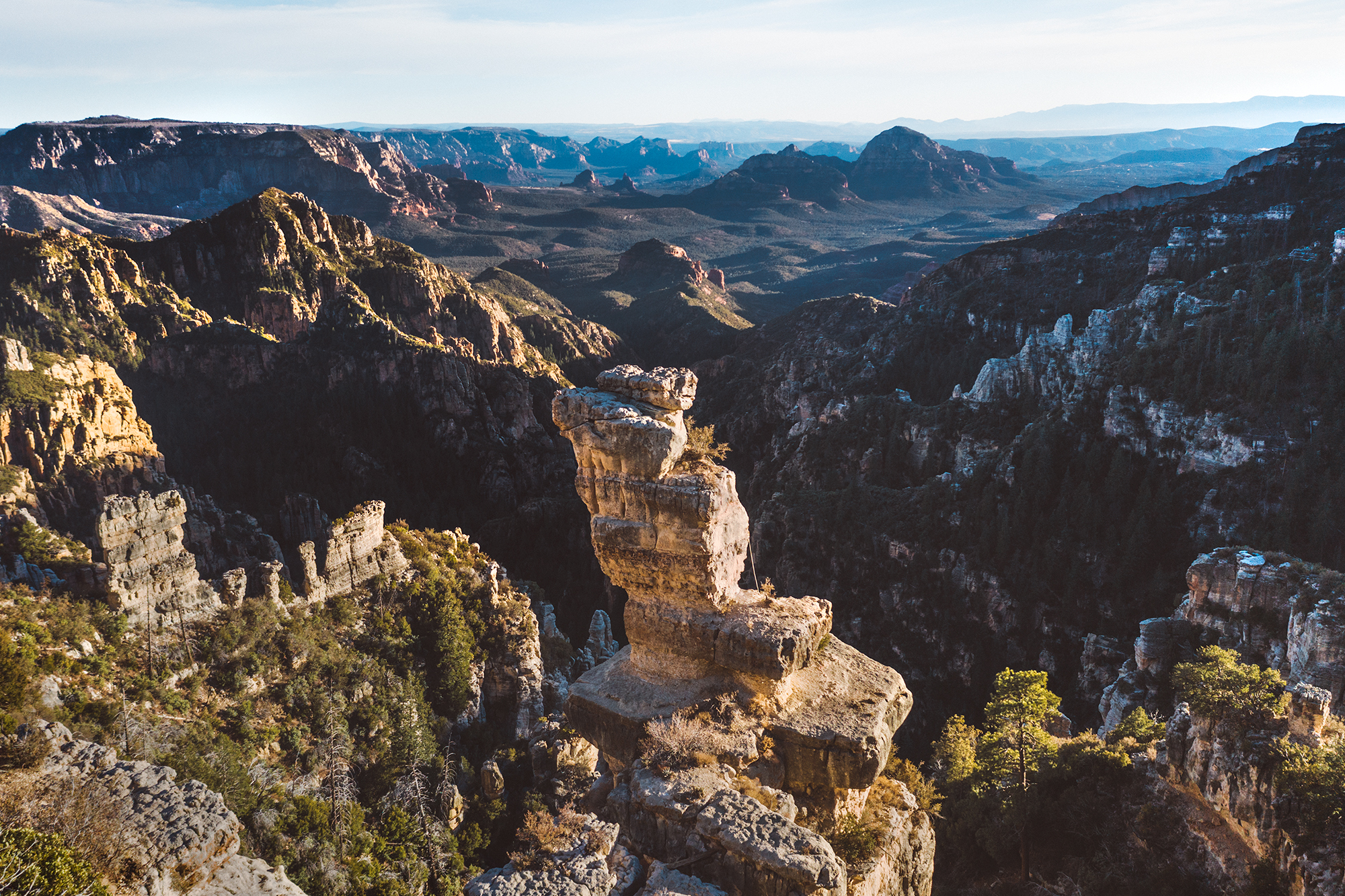 And couldn't stop trying to capture the views. It's almost impossible to capture in photographs the depth and wonder of this place.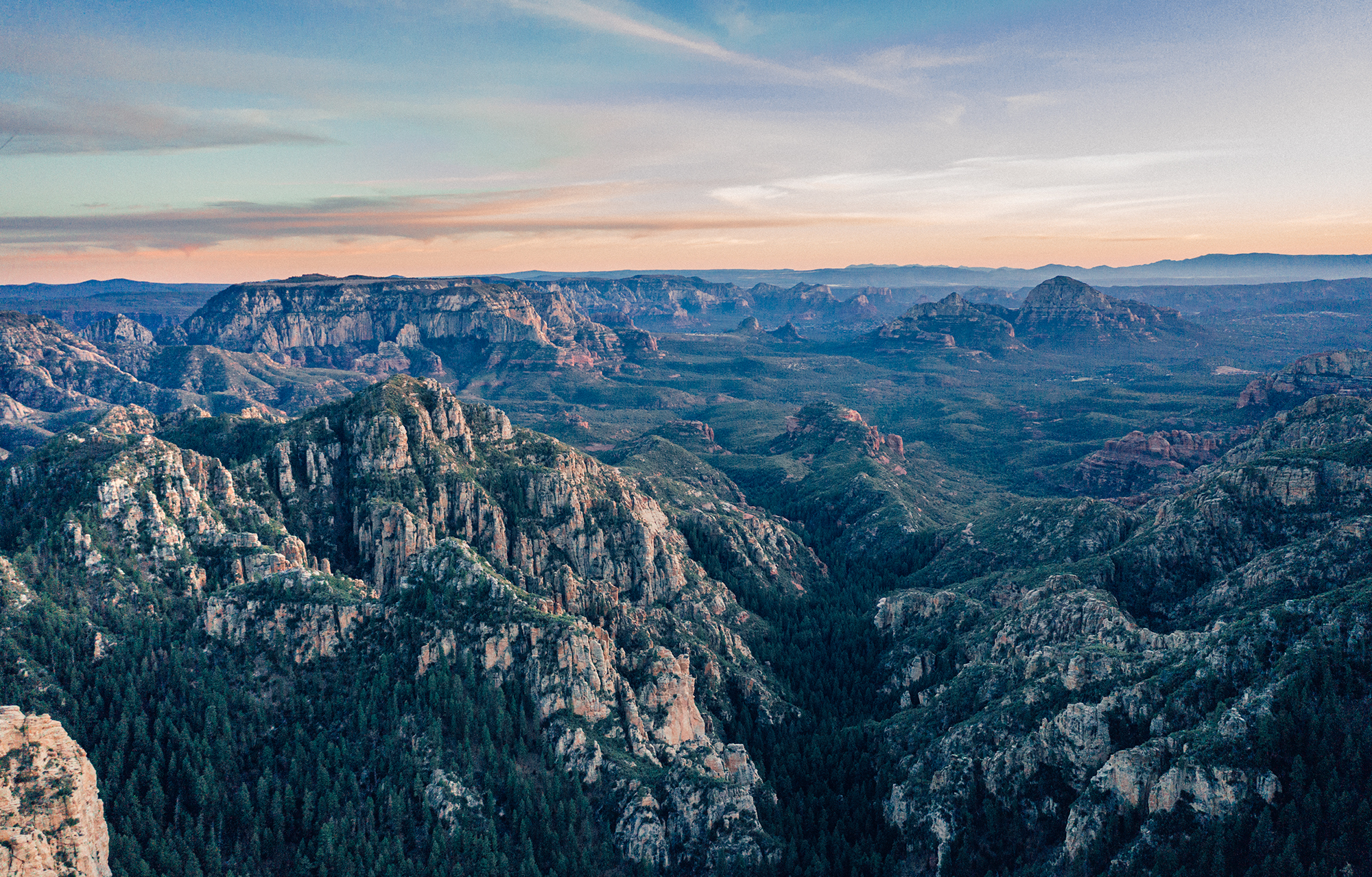 And the sunset here... just incredible.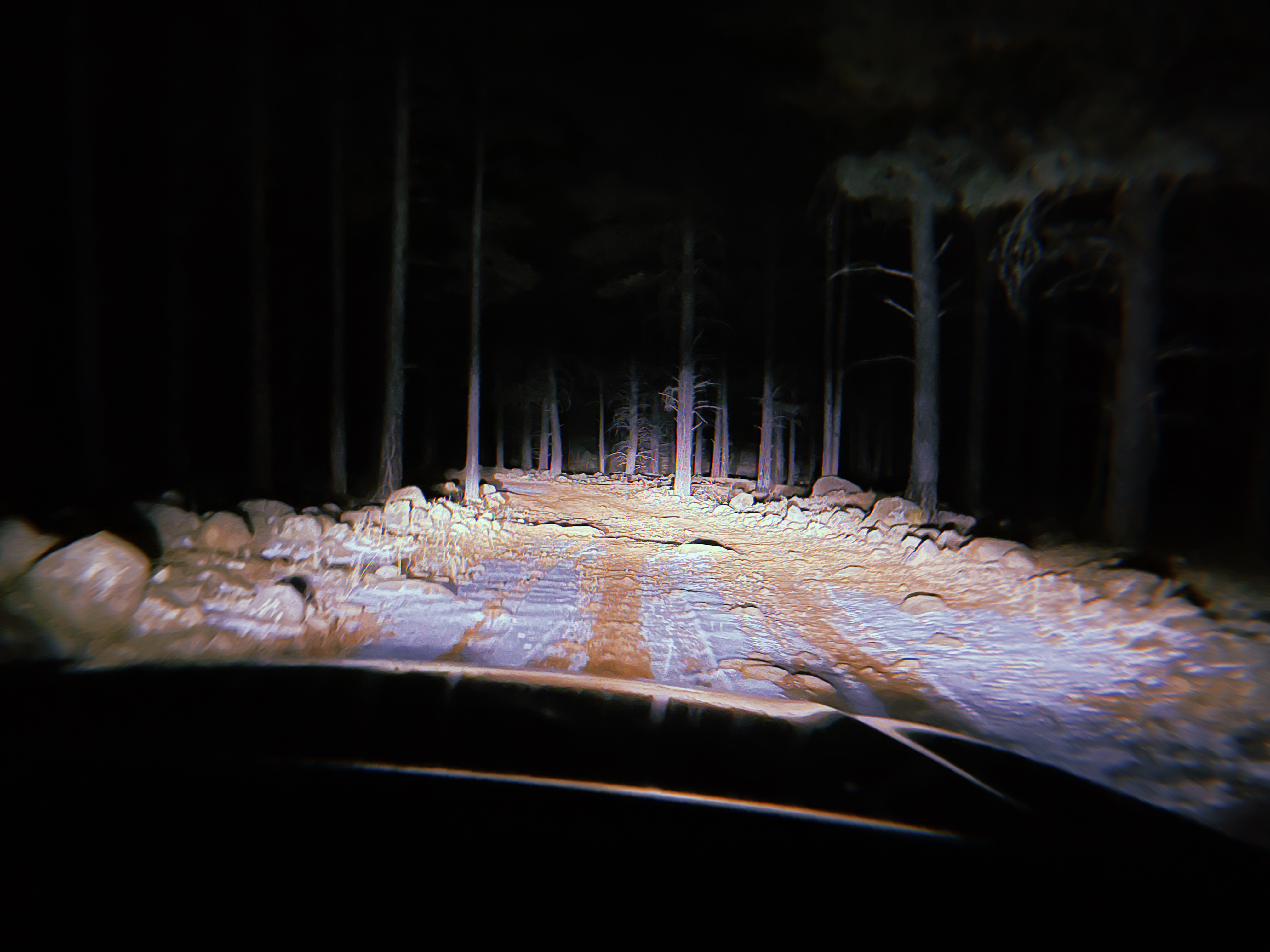 ...And our drive home. We stayed until after the sun set and made our way back in total, complete darkness. The road out was much easier for us to follow than the road back, but there is quite a network of roads (some that our car recognized, some that google maps recognized - not always the same ones) that lead you back to the highway. I won't say that this didn't feel like a start of a horror movie... but we took it slow, made sure to take the smoothest possible roads, and slowly worked our way back to the main highway, and back to Sedona.
While I'm sure someone will comment at me about this - what is the point of travel blogs if they don't tell you how to get to a place yourself? One thing that drives me crazy in the outdoor community is the constant need to keep locations secret. It can be incredibly elitist - who is anyone to say that they are more deserving of experiencing nature than anyone else? What gives some people the right to be somewhere while it is everyone else that is ruining it. It's been one of the major points of conversation with my fellow travelers and bloggers over the years. Be careful, be respectful of nature, be mindful, be safe - and enjoy. The Google Coordinates are exactly here.