July 12, 2020 Travel Guides
The Perfect 7-Day Southwest Road Trip Itinerary
From Los Angeles, a National Park Tour of the American Southwest is one of the most incredible road trips you can do. My 7 Day Itinerary gives you the best of the best, on a quick timeline, without too much driving time - AND with all of the most scenic photography opportunities. Drive through Arizona, Utah, and Nevada see some of the greatest sites on the USA's map - from deserts to canyons to mountains.
This itinerary is a photographer's dream, designed to give you two chances to experience every park at it's best - both in late afternoon and sunset, and early morning, when the crowds are the lowest and the light and temperatures are at their best. Enjoy your mornings, spend the hottest, harshest mid-day hours driving to the next destination and arrive at the ideal times.
Day 1: Los Angeles to Palm Springs
Day 2: Joshua Tree to Sedona
Day 3: Sedona to The Grand Canyon South Rim
Day 4: Grand Canyon to Monument Valley
Add a Day: Page, Arizona and Antelope Canyon
Day 5: Horseshoe Bend, Lake Powell, Bryce Canyon
Day 6: Bryce Canyon to Zion National Park
Day 7: Zion to Valley of Fire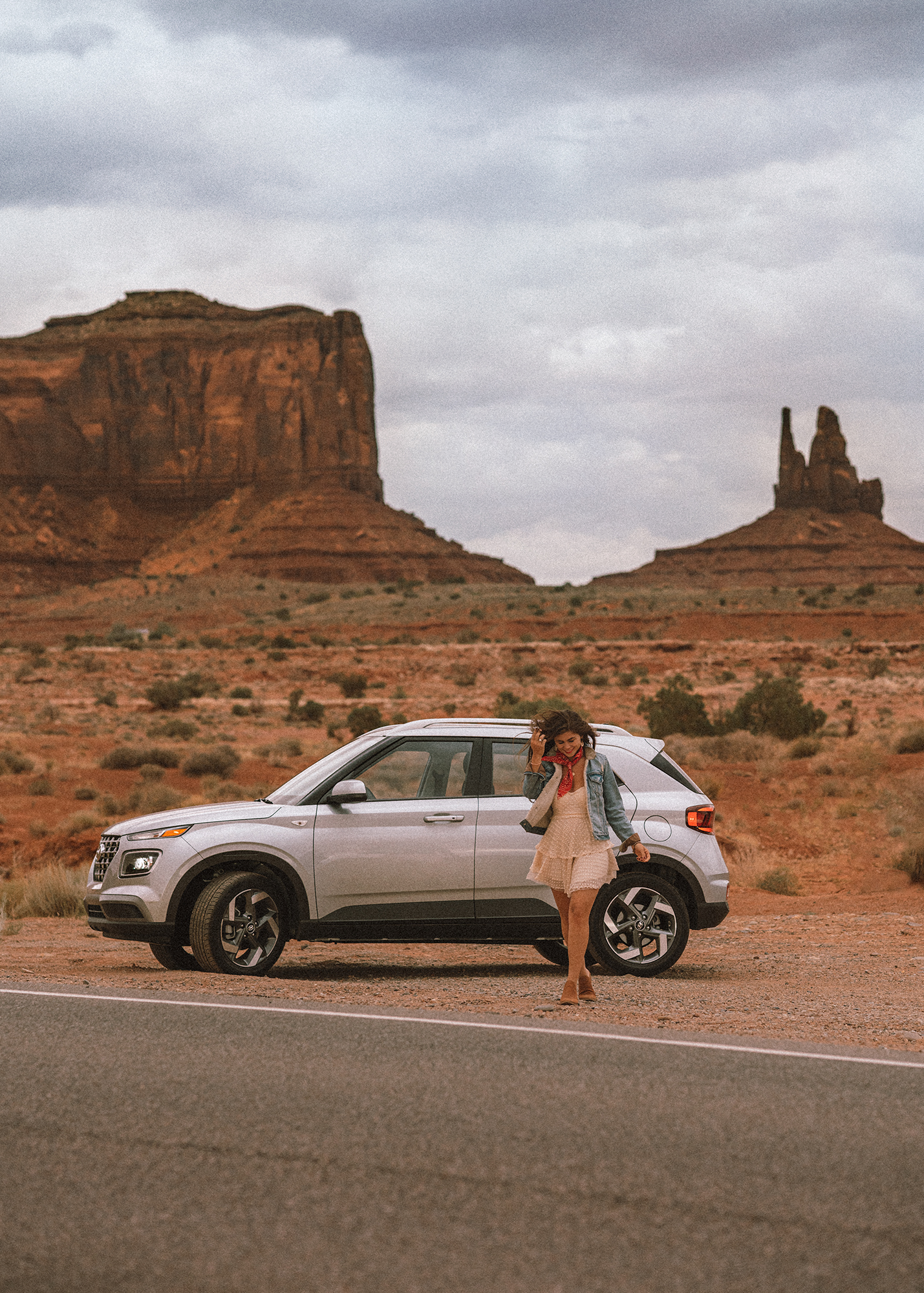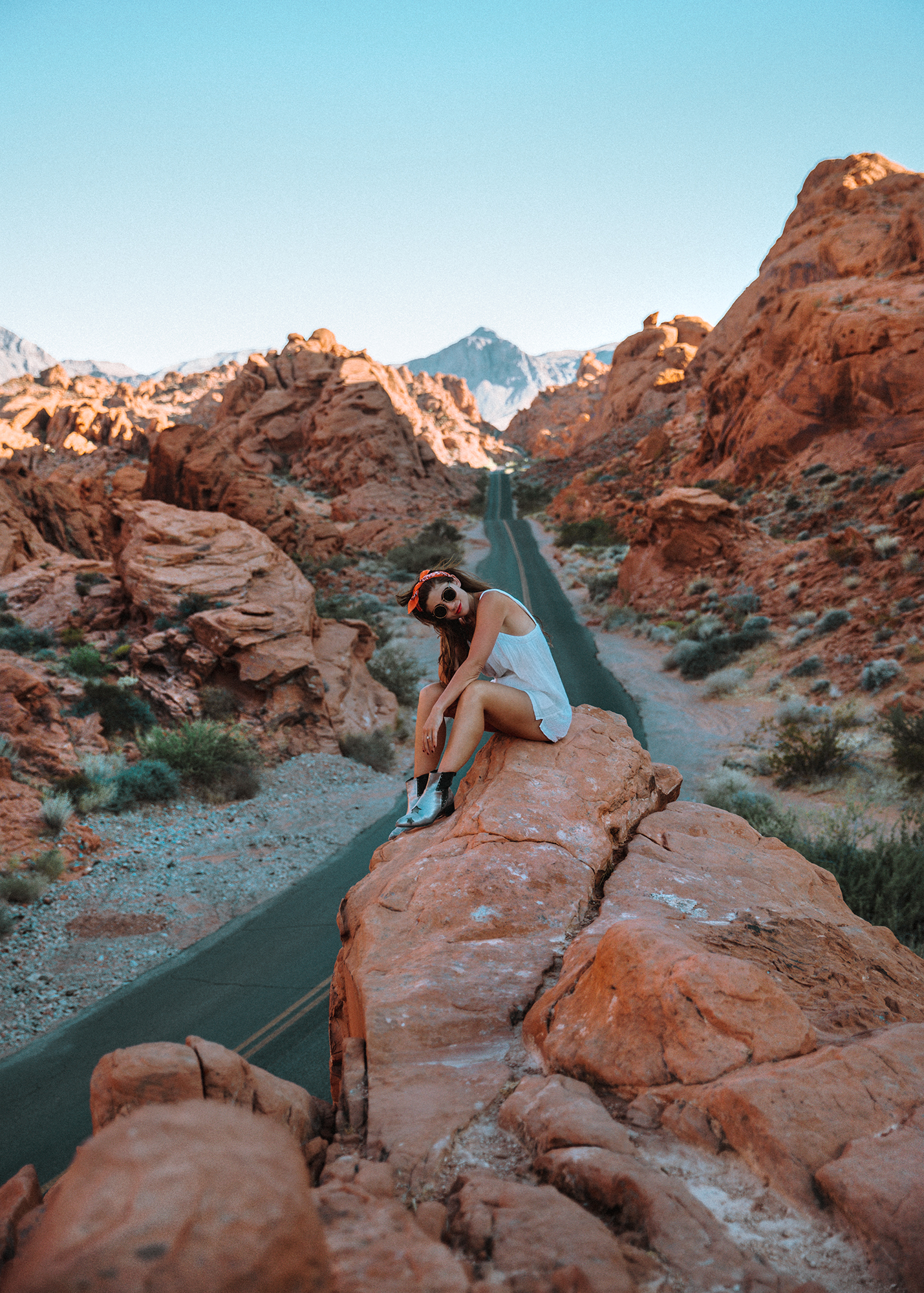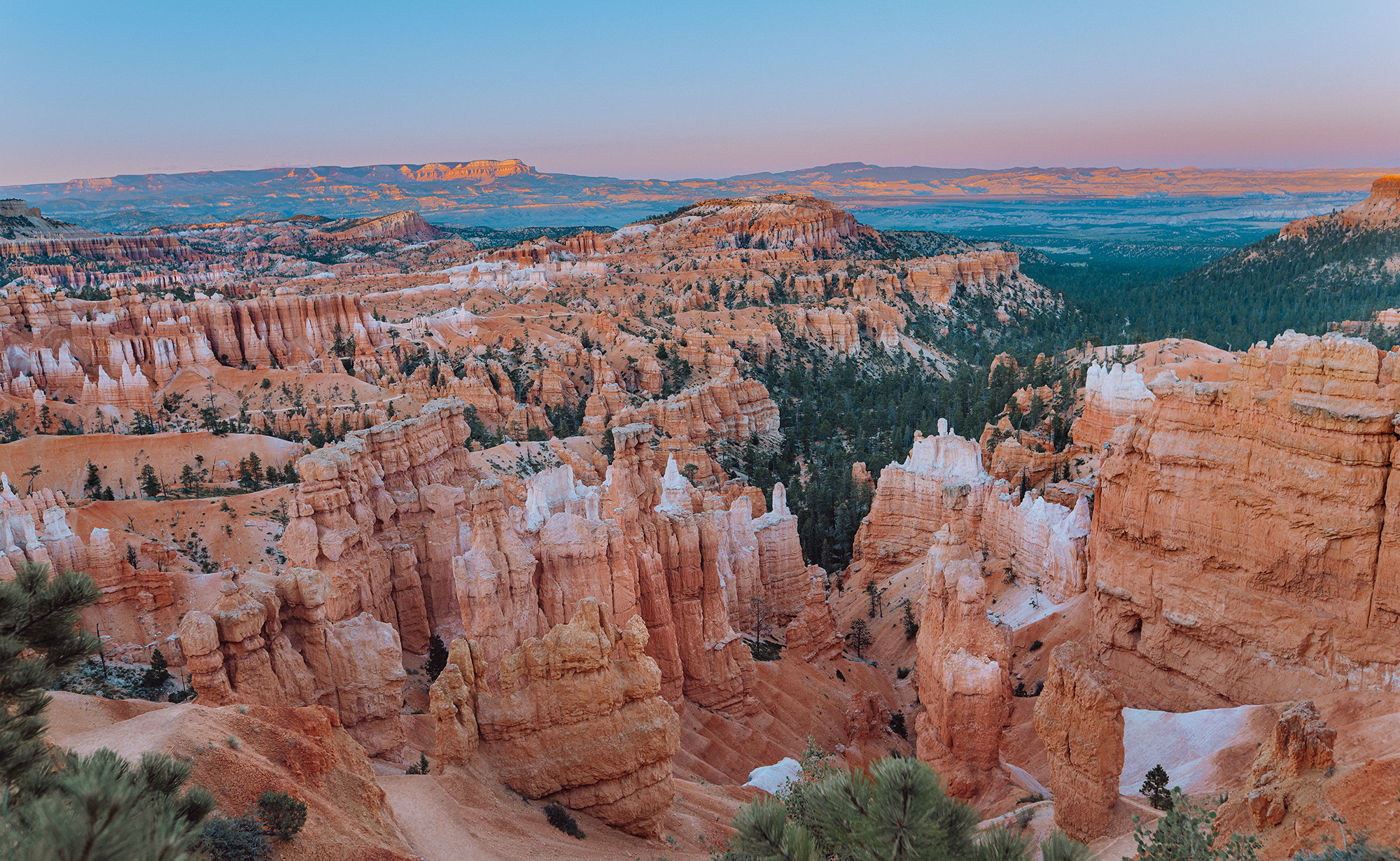 Start your Journey from Los Angeles with a stop in the California desert. Explore the beauty of Palm Springs and make your first National Park stop at Joshua Tree National Park.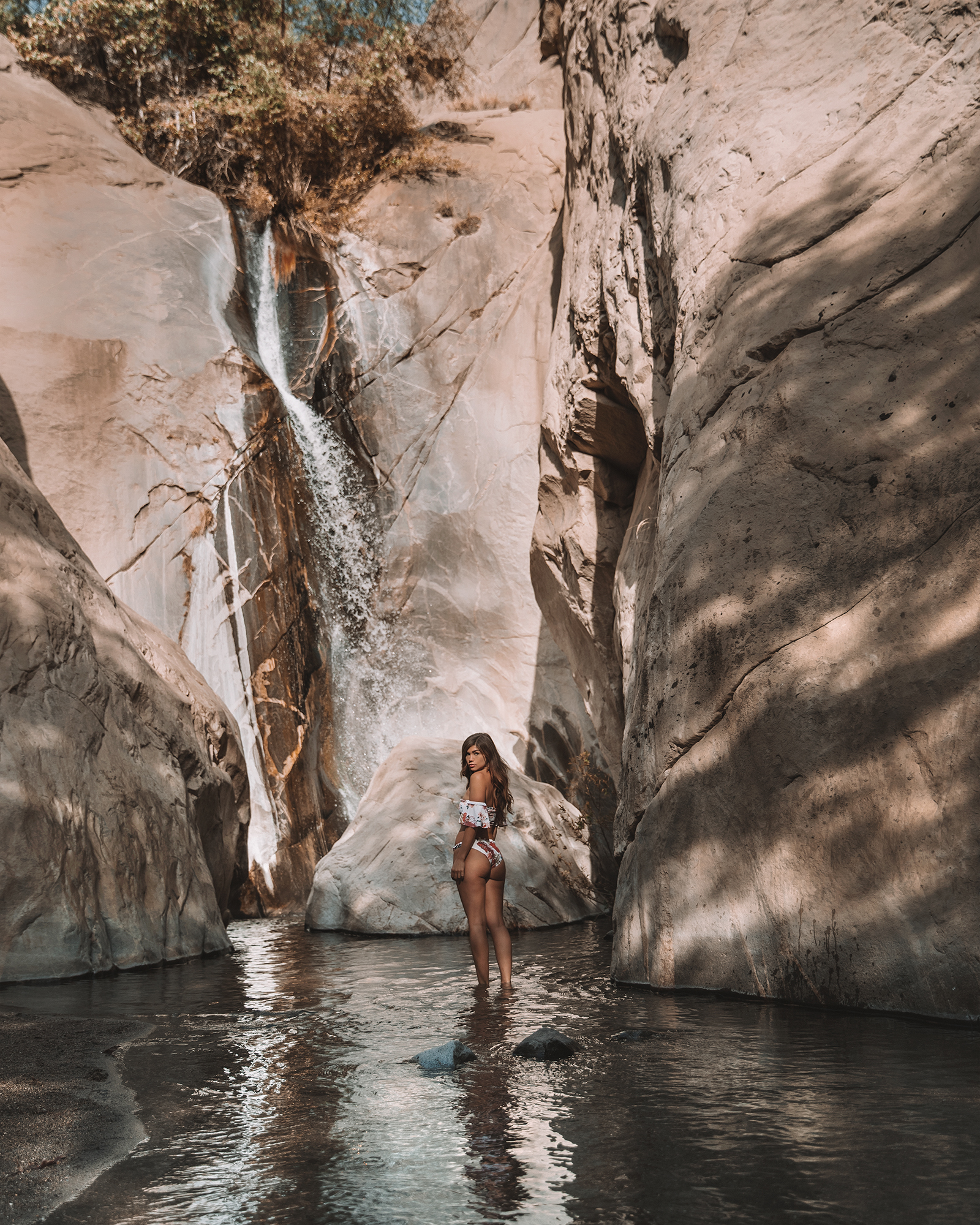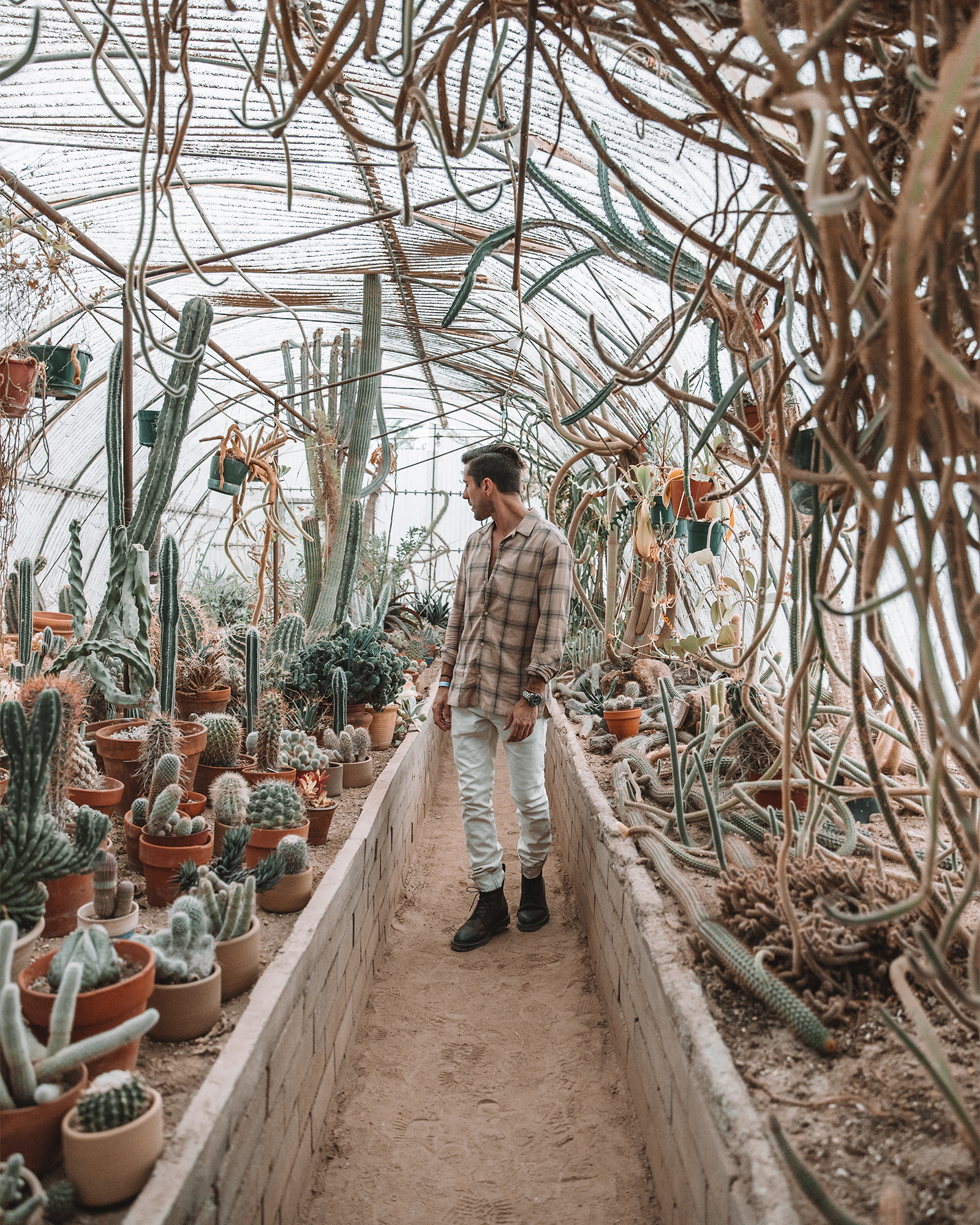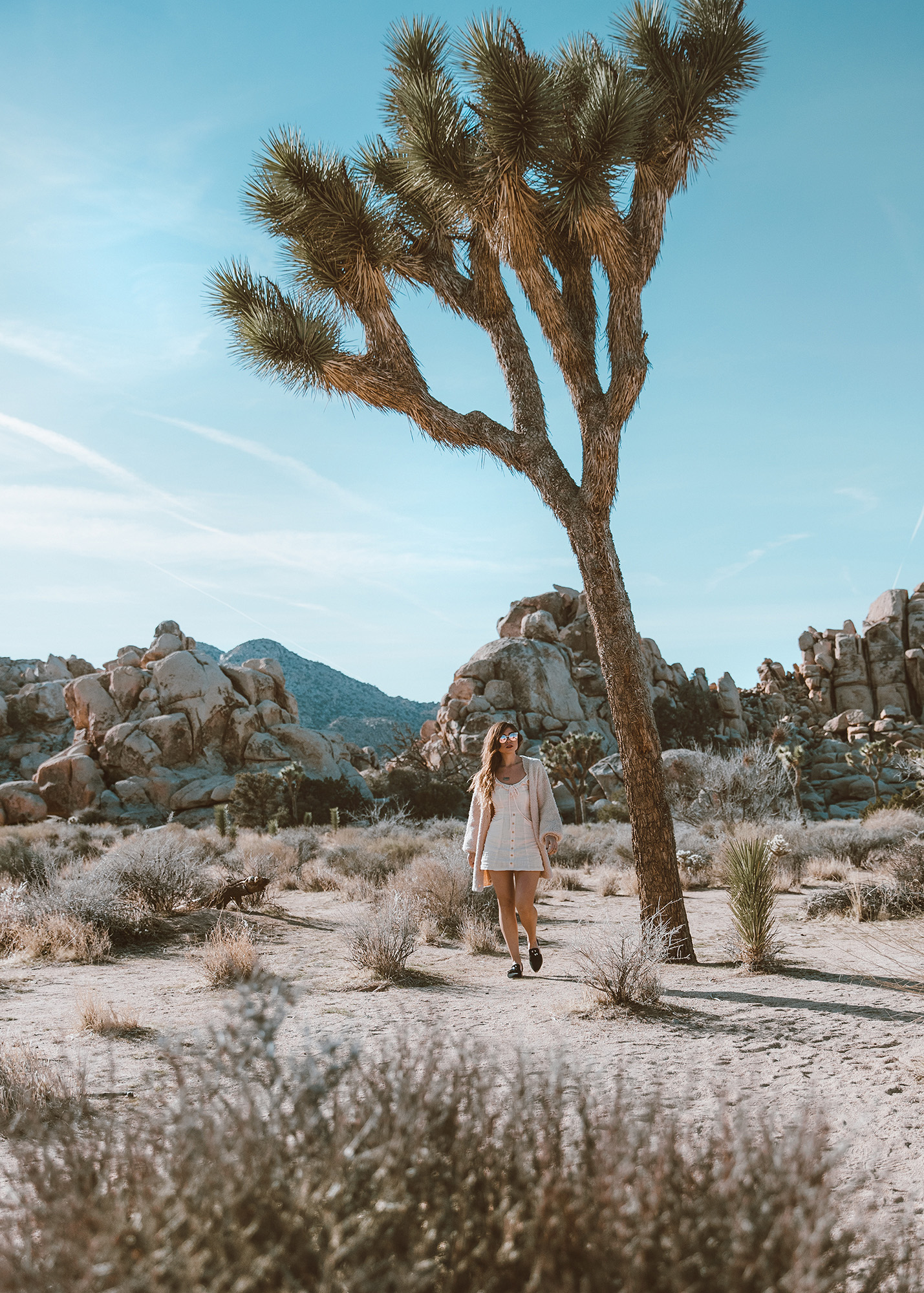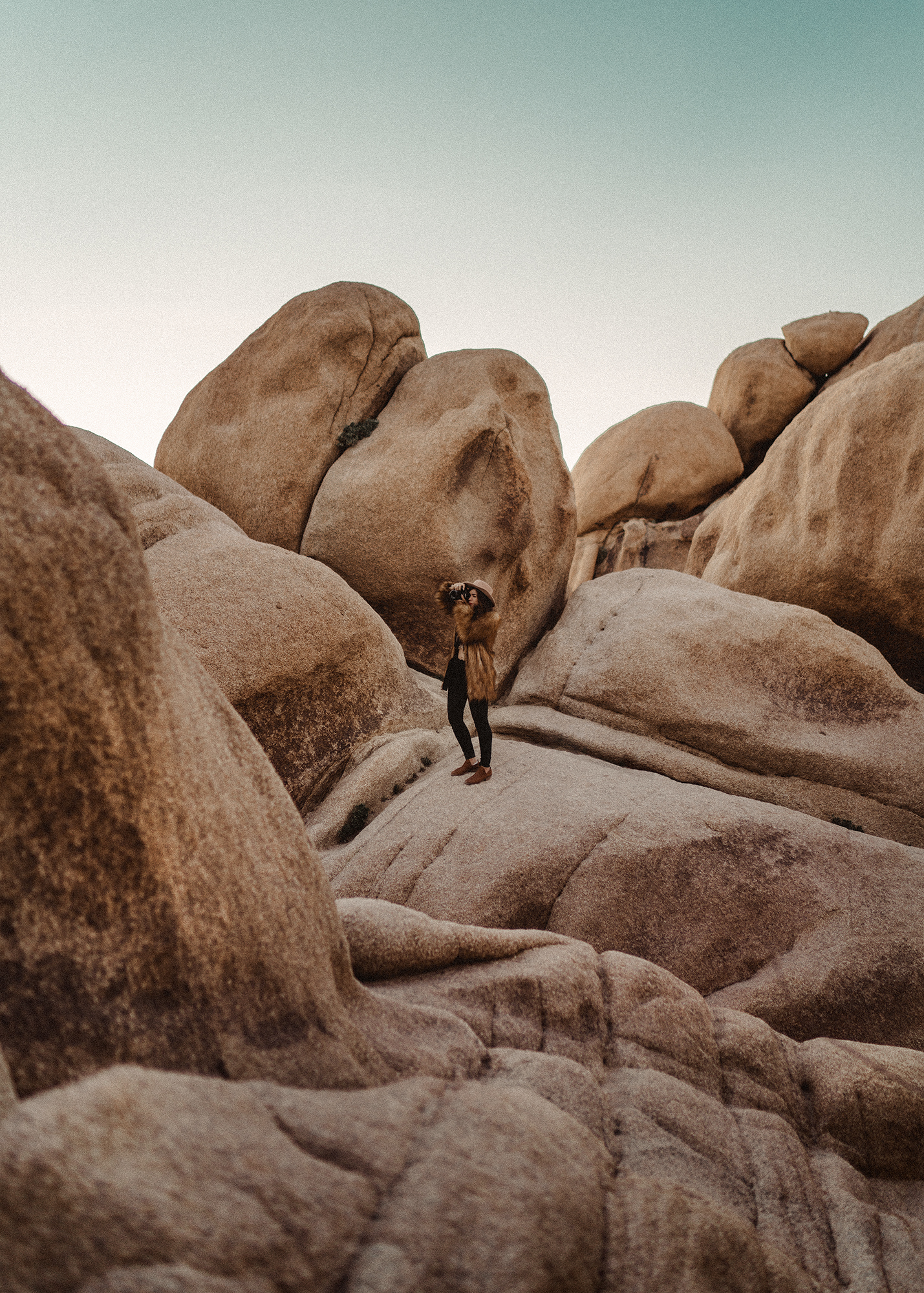 Driving Time: 3 Hours
What to Do:
Morning: Are you excited to get started! In the morning and drive 2-2.5 hours from Los Angeles to the desert and stop in Palm Springs for lunch. If it is your first time in Palm Springs, spend a couple of hours exploring downtown and the iconic architecture. Visit the Moorton botanical garden and walk through the cactatorium or take a short hike to Taquitz Canyon and a dip in the waterfall here.
Day: In the afternoon, drive on to Joshua Tree National Park, there are great sites at either the North or South entrance, so either is great! If you're taking this trip in the spring, you might encounter some gorgeous Superblooms on this route. When you reach Joshua Tree National Park, don't pay the regular entrance fee. Buy an annual, unlimited National Parks pass for $80 - you're going to use it a lot on this trip! You can buy this right at the entrance gate. Depending on how much time you have when you arrive, check out some of the hiking trails, or just take a scenic drive and walk around through whatever looks interesting. One of the great things about Joshua Tree is that there are areas to park all over the park where you can pull in and just walk around - no predetermined trail required.
Sunset: The sunsets within Joshua Tree park are legendary - but make sure you have a jacket, even in the height of summer, because as soon as the sun goes down the temperatures drop dramatically. Find a nice rock to climb and watch the sunset in the park, then head to dinner (Pappy and Harriett's!) and your hotel.
Where to Stay:
The 29 Palms Area of Joshua Tree has some very affordable motel accommodations.
Americas Best Value Inn Twentynine Palms - This hotel is WILD! Seriously look through the photos to check out the themed suites - there's a jungle set, a cave interior, and one that has the bed inside a 1950's car. Plus every room has in-room hot tubs. Brandon and I have a deep love for America's Best Value Inns after staying in one at Newark Airport way back in 2014. From $60/night
Motel 6 Twentynine Palms- A simple, but well-rated Motel with a pool and a hot tub for $50/night. If you're looking for more adventure and care less about the aesthetics of your hotel, this is a great option to save on accommodation costs.
OR Palm Springs has some of our favorite hotels anywhere.
The Ace Hotel & Swim Club - A Palm Springs icon with famous pool parties, this hotel is design-focused and is always a good time! From $160/Night.
Korakina Pensione - A little-known boutique property that is BEAUTIFUL. I am dying to stay here myself! From $179/Night.
Where to Eat:
Travel Tips:
Head out on the earlier side for the 5-hour drive to Sedona - drive straight to the Devil's Bridge trail, then head into town for dinner and a rest.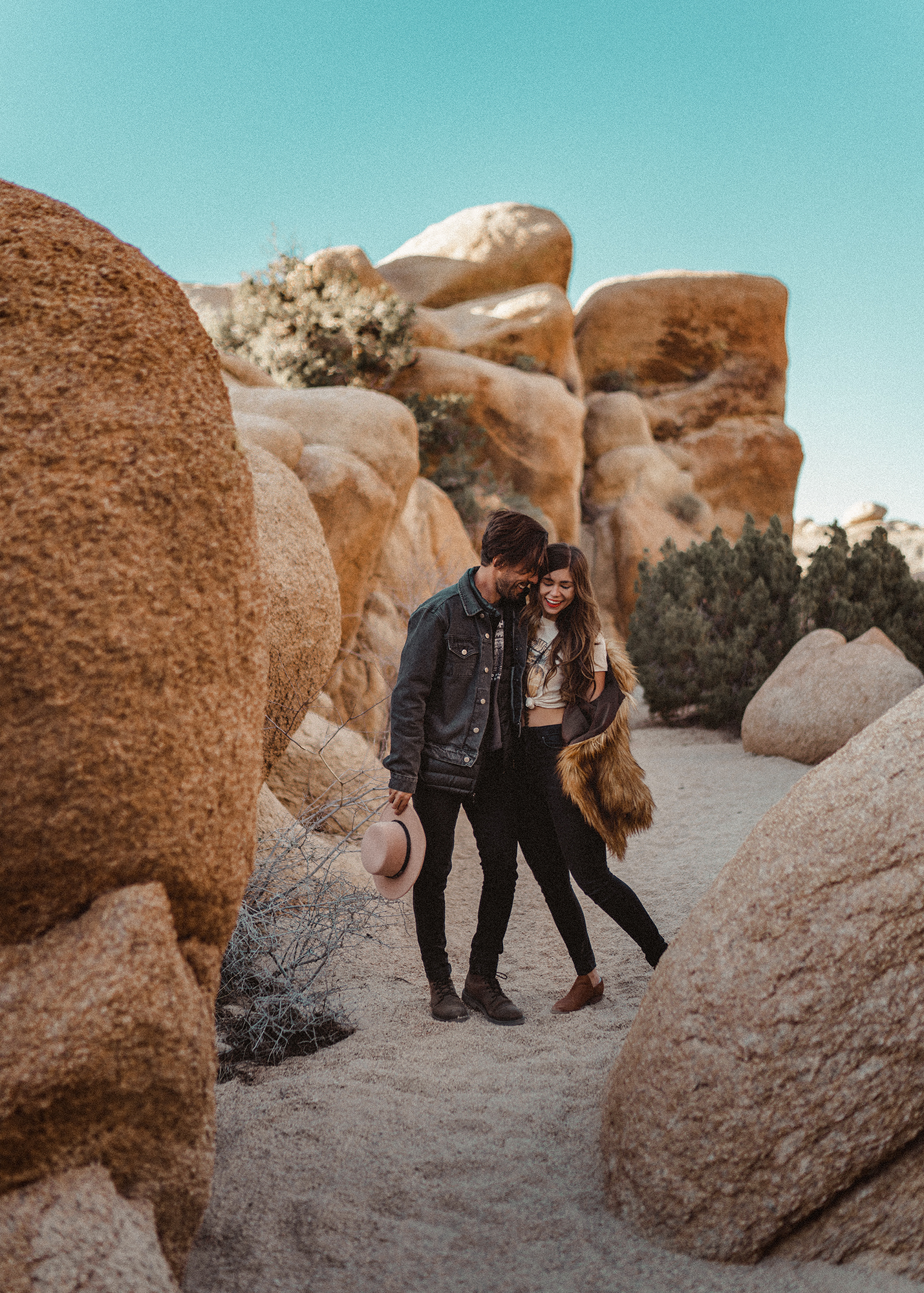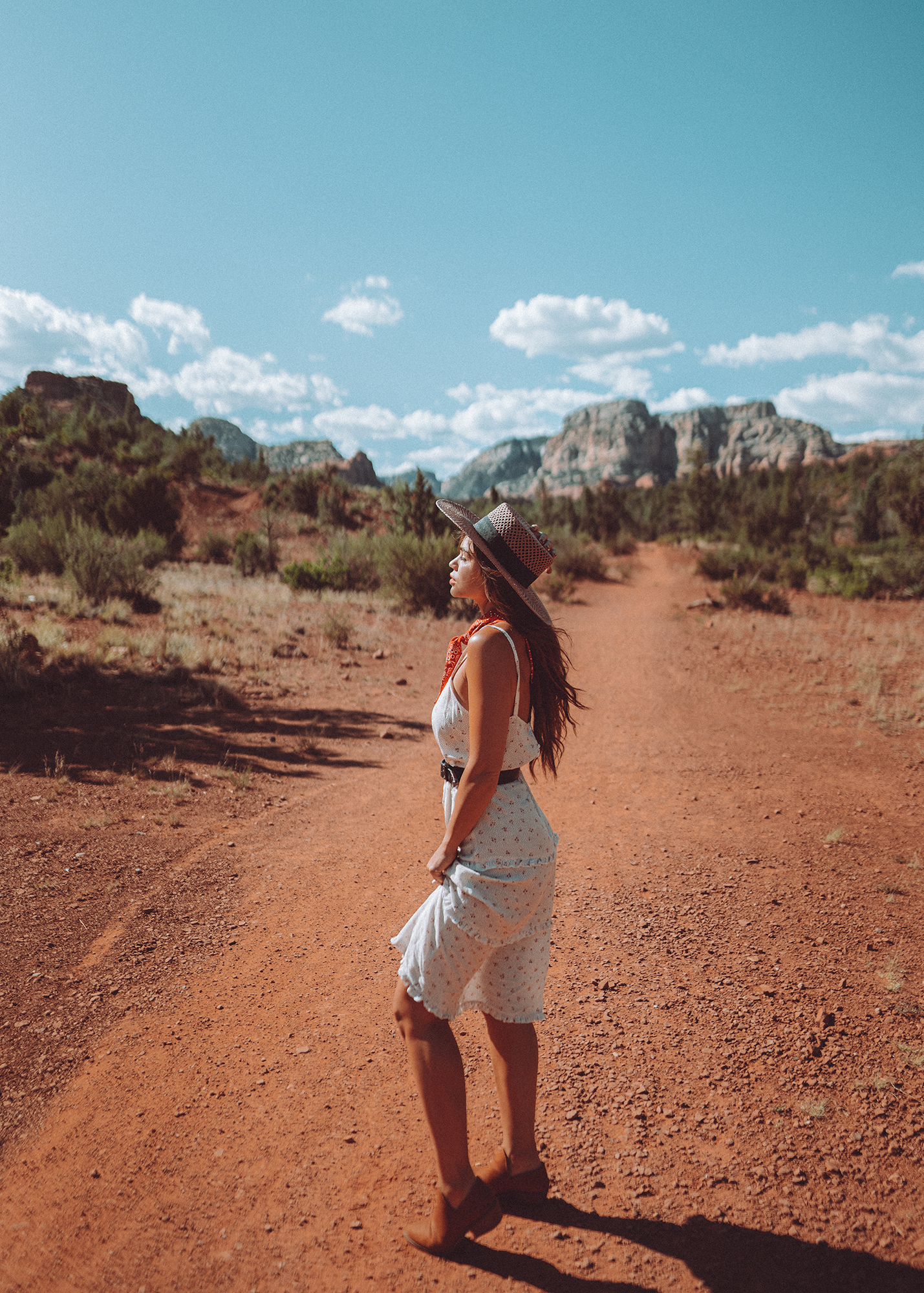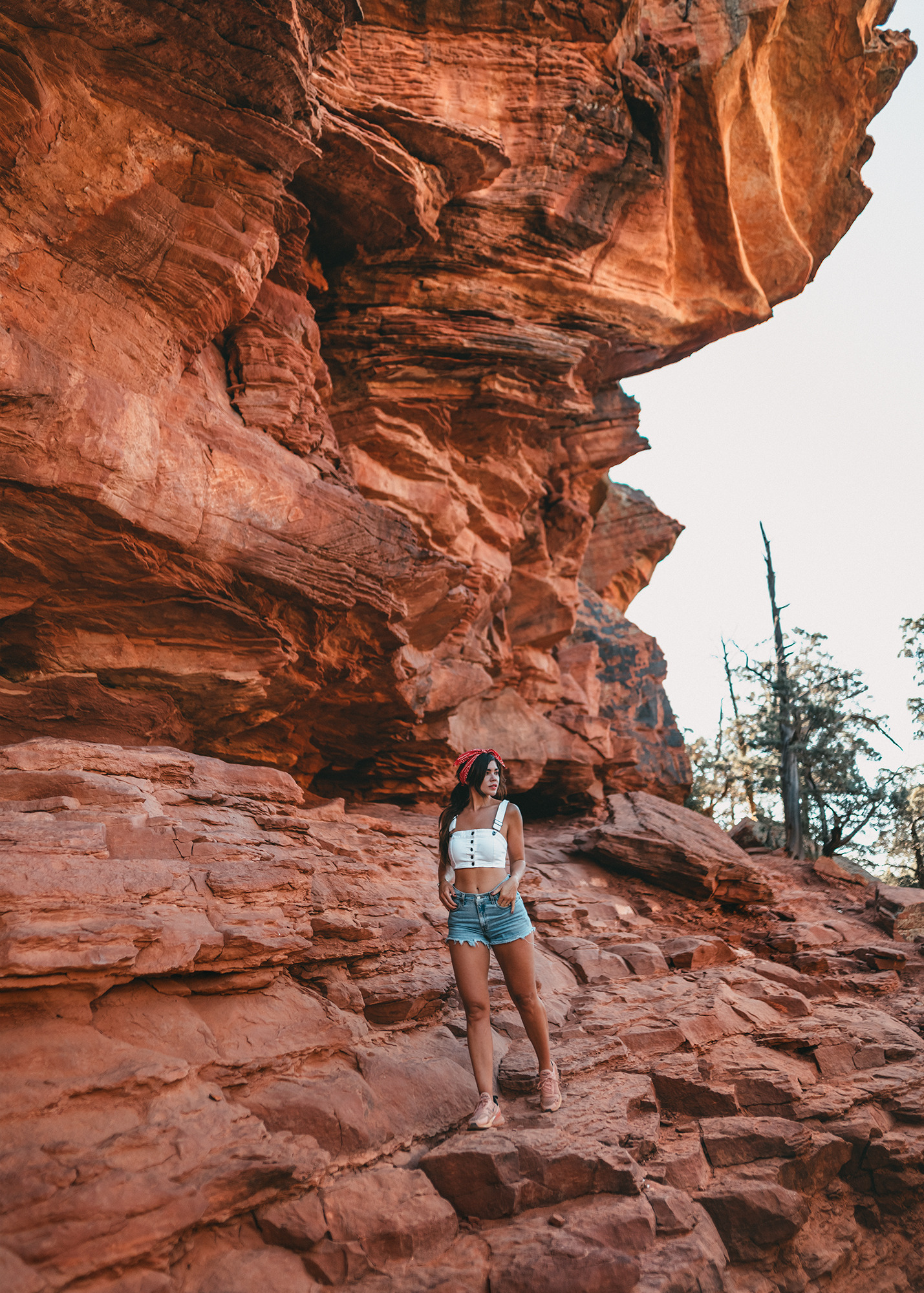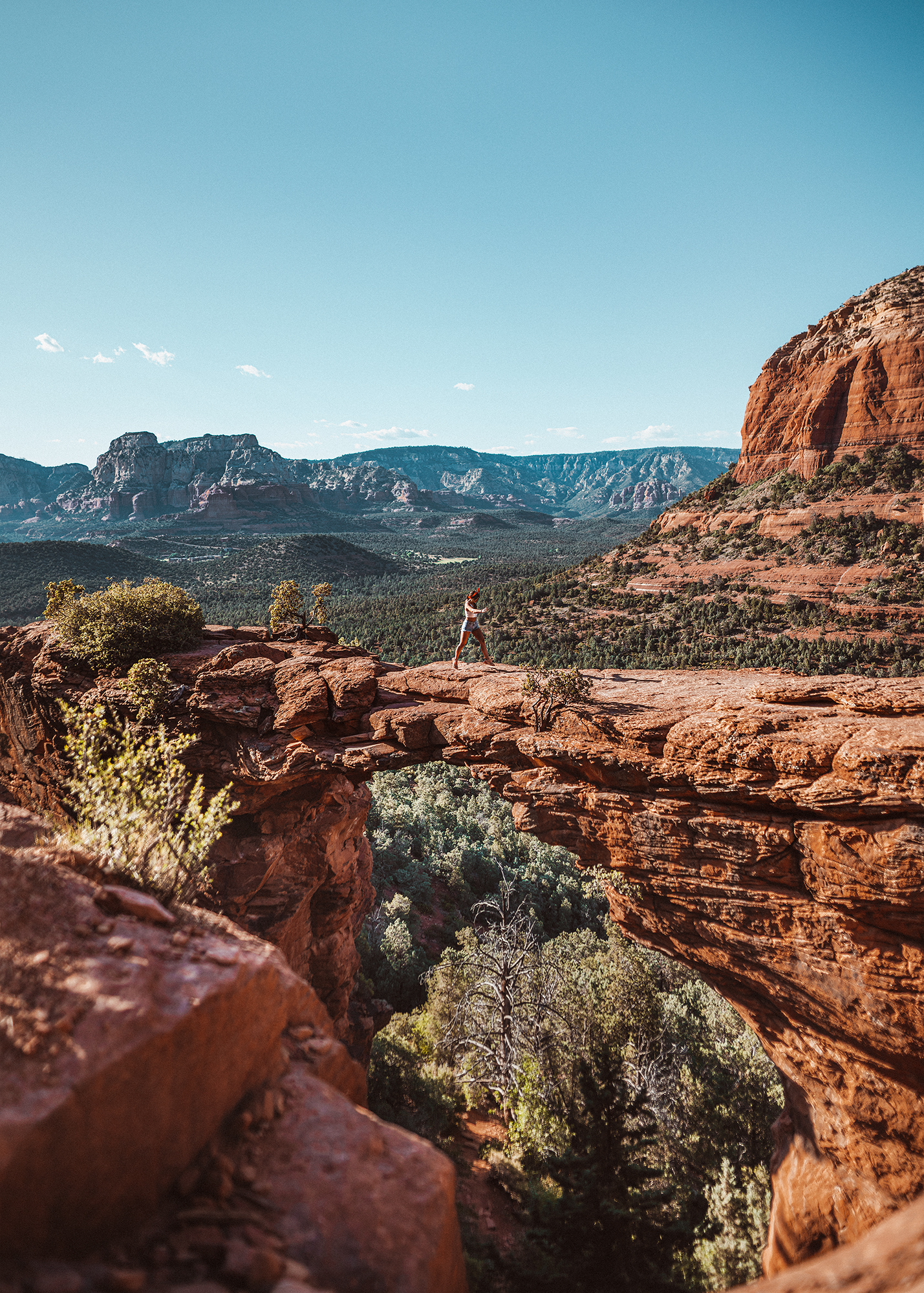 Driving Time: 5 Hours
What to Do:
Morning: If you didn't get enough of Joshua Tree on Day 1, head back into the park in the early morning for another hike or scenic drive.
Day: Head East into Arizona. With a 5-hour drive today, make sure to leave by around 11AM to get to Sedona with plenty of time to explore. Drive straight to the Devil's Bridge trailhead.
Sunset: In the late afternoon, take the Devil's Bridge hike to the iconic bridge seen here. The hike is 4 miles round trip (out and back) and not very strenuous - but make sure to bring lots of water because it is HOT, and the elevation has changed quite a bit from Palm Springs! Relax and stay at the bridge until the sun starts to go down, then head back down before it gets too dark. If you have more time, check out Merry Go Round rock for a great sunset viewpoint.
Where to Stay:
Where to Eat:
Natural Sisters Cafe - Stop here for breakfast before you head out, it's a Joshua Tree classic with lots of vegan and healthy options for breakfast and lunch.
Fiesta Mexicana: A colorful, festive, really fun Mexican restaurant with great food! We picked up a massive tray of fajitas here as well as a couple of to-go margaritas, and enjoyed them at the hot tub of our Inn! It made for a really great, casual night in Sedona.
The Hudson: A New American eatery with a killer view from the outdoor terrace.
Travel Tips:
Stop at one of the big grocery stores here to reload your snacks for the next couple of days - there aren't as many near the Grand Canyon and along Monument Valley
Heading straight to the Devil's Bridge trail instead of going to town and checking into our motel first was a HUGE timer, and after the drive, it's so good to get out and immediately start exploring!
Sedona is known for its energy vortex areas. If you're into energy, crystals, etc, the exact spots might be really cool to check out. Some people swear by it!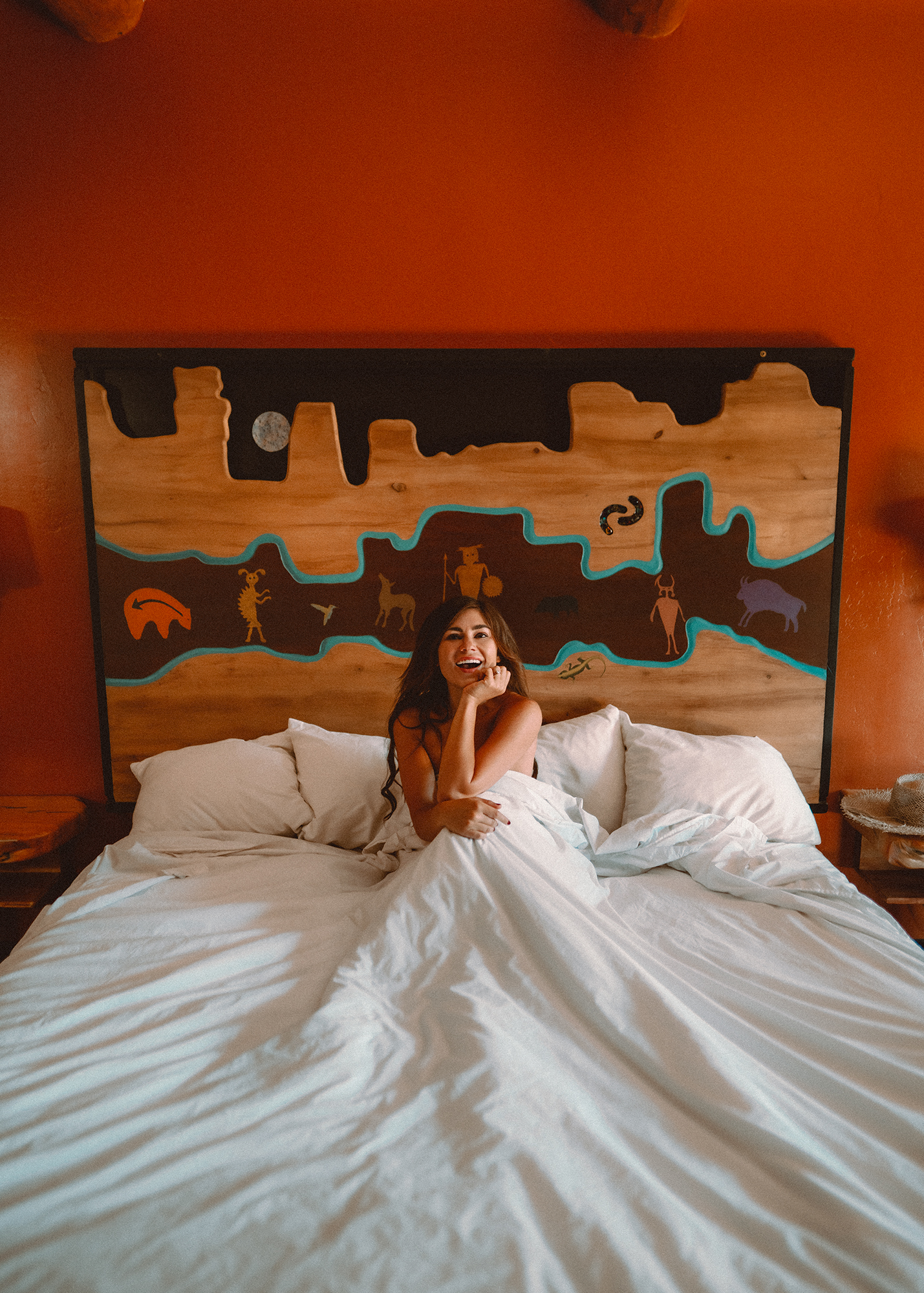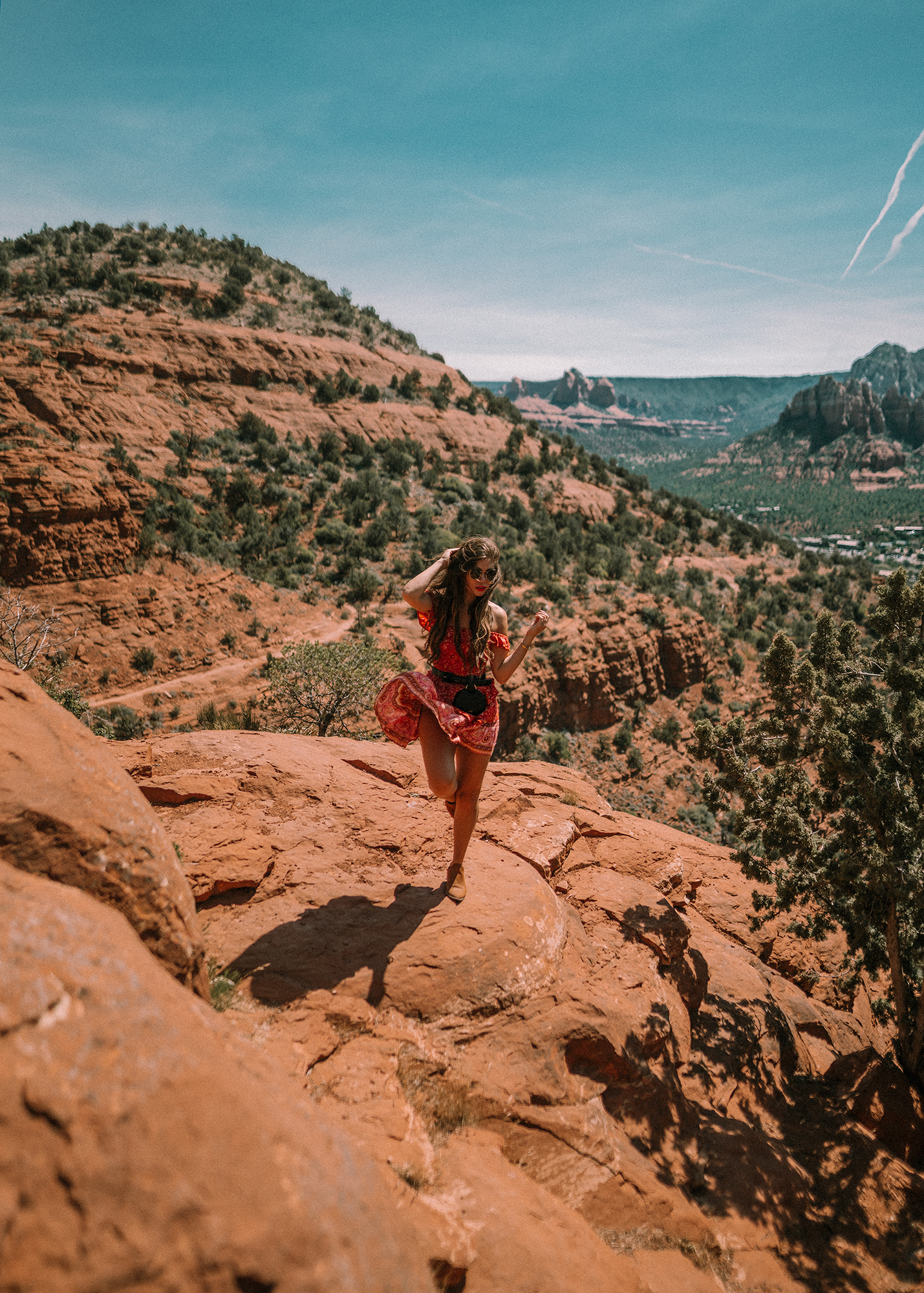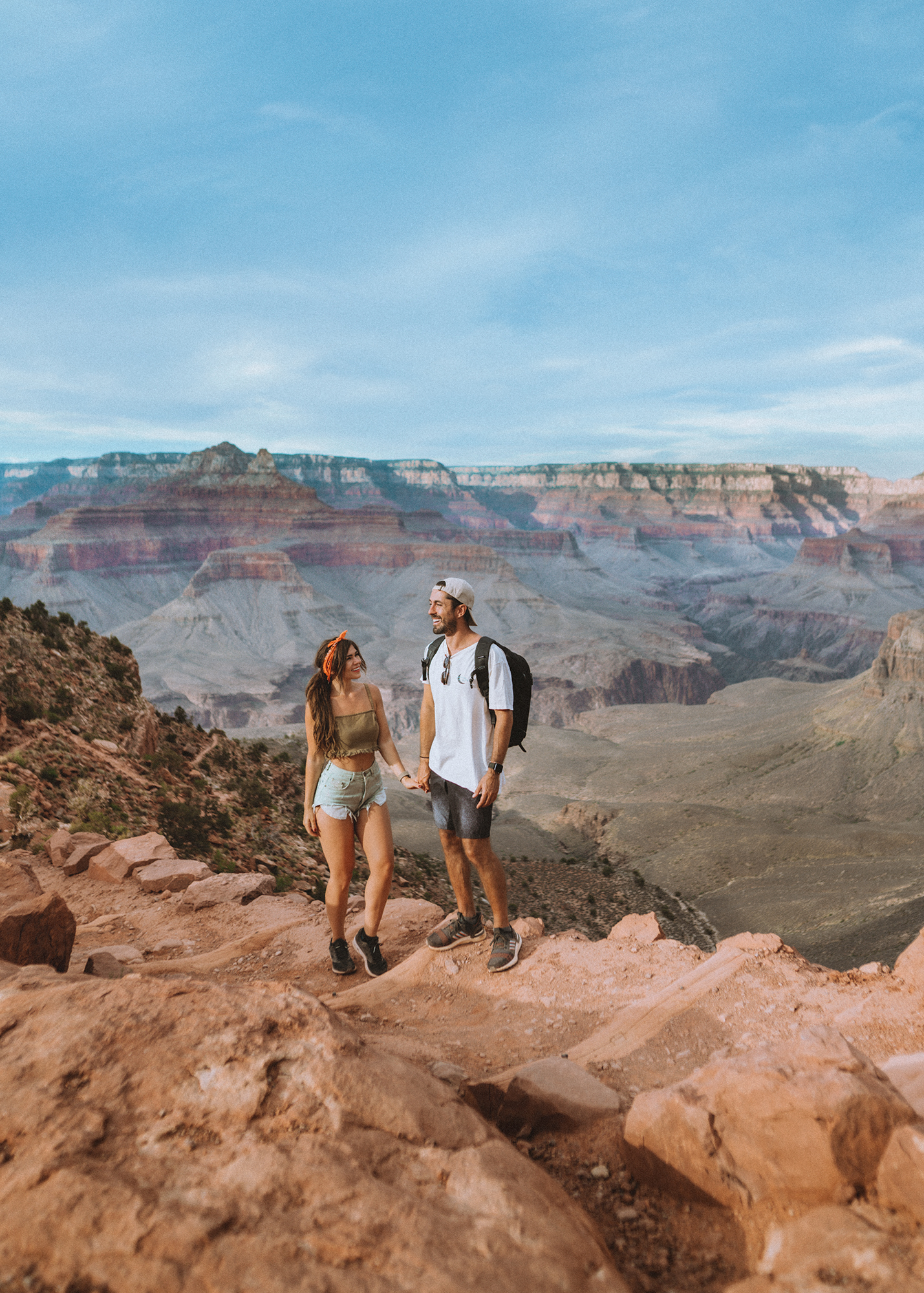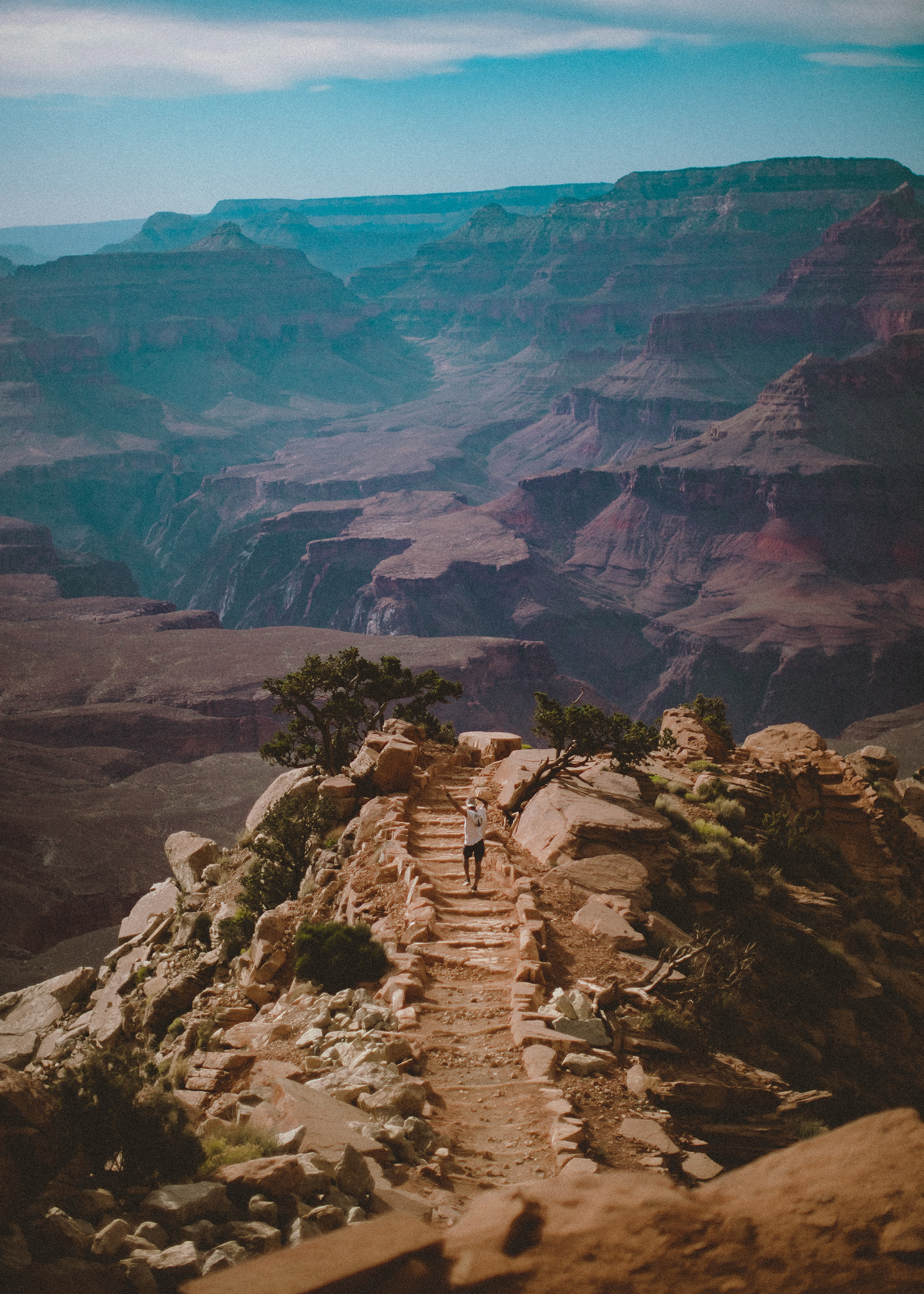 Driving Time: 2 Hours
What to Do:
Morning: Drive up to the Sedona Airport for a stunning lookout point - and a hiking trail if you want to get in a morning hike. We found out that the airport trail here is one of the Sedona Vortex energy spots. I didn't feel any energy particularly, but it was very windy.
Day: In the summer, check out Slide Rock State Park or Oak Creak Canyon for red rock natural swimming pools and a great place for photos or to take a dip on a hot day. These areas get very busy on weekend days, so get here early if it's a weekend. These are both on the way to the Grand Canyon from the main town of Sedona.
Sunset: Drive up to the Grand Canyon South Rim, and first stop at the Visitor's center for the first viewpoint. Even from the railing, the views into the canyon are truly breathtaking. The perfect afternoon hike into the Grand Canyon is the South Kaibab Trail to Skeleton Point - a 6 mile round trip trek. You can actually follow this trail all the way to the Colorado River at the very bottom of the canyon (it's around 18 miles and a massive elevation change to do the entire round trip trail, it's recommended not to do it all in one day unless you are in peak physical shape.) but you don't need to do the entire trek to enjoy! The best views are on the first couple of miles (the above photos are from this trail.) Make sure to have 3 full hours before sunset to make the trail - the uphill second half is quite steep, and you'll want to take a lot of photo stops. Make it back to the top of the Canyon and watch the sunset from the Canyon ridge.
Where to Stay:
Where to Eat:
Travel Tips:
Canyon hikes are different from most hikes because you're climbing down instead of up - so the most difficult part of the hike is the second half. Make sure to bring even more water than you think you need, the Grand Canyon is one place you do not want to run out of water!
Staying at one of the lodges within the park is ideal and puts you in the best spot for early mornings, but the town is only about a 10 minute drive (and is where you might have to go for dinner in summer hours with later sunsets) so no worries if that's what available!
If you want to stay or camp within the park, you might need to make a reservation quite a bit in advance, as they tend to book up. However traveling in July 2020, we were able to book a hotel inside the park same day.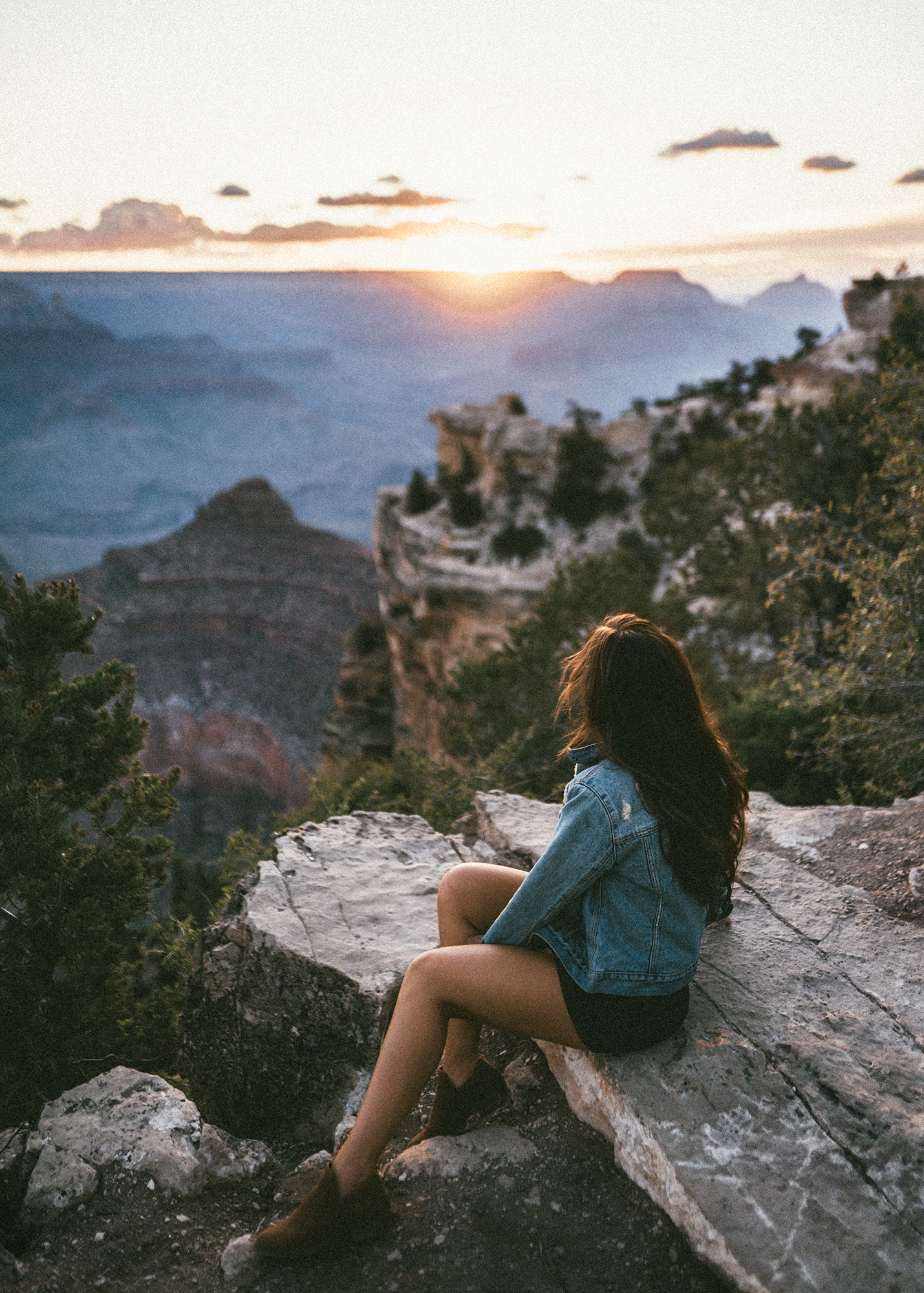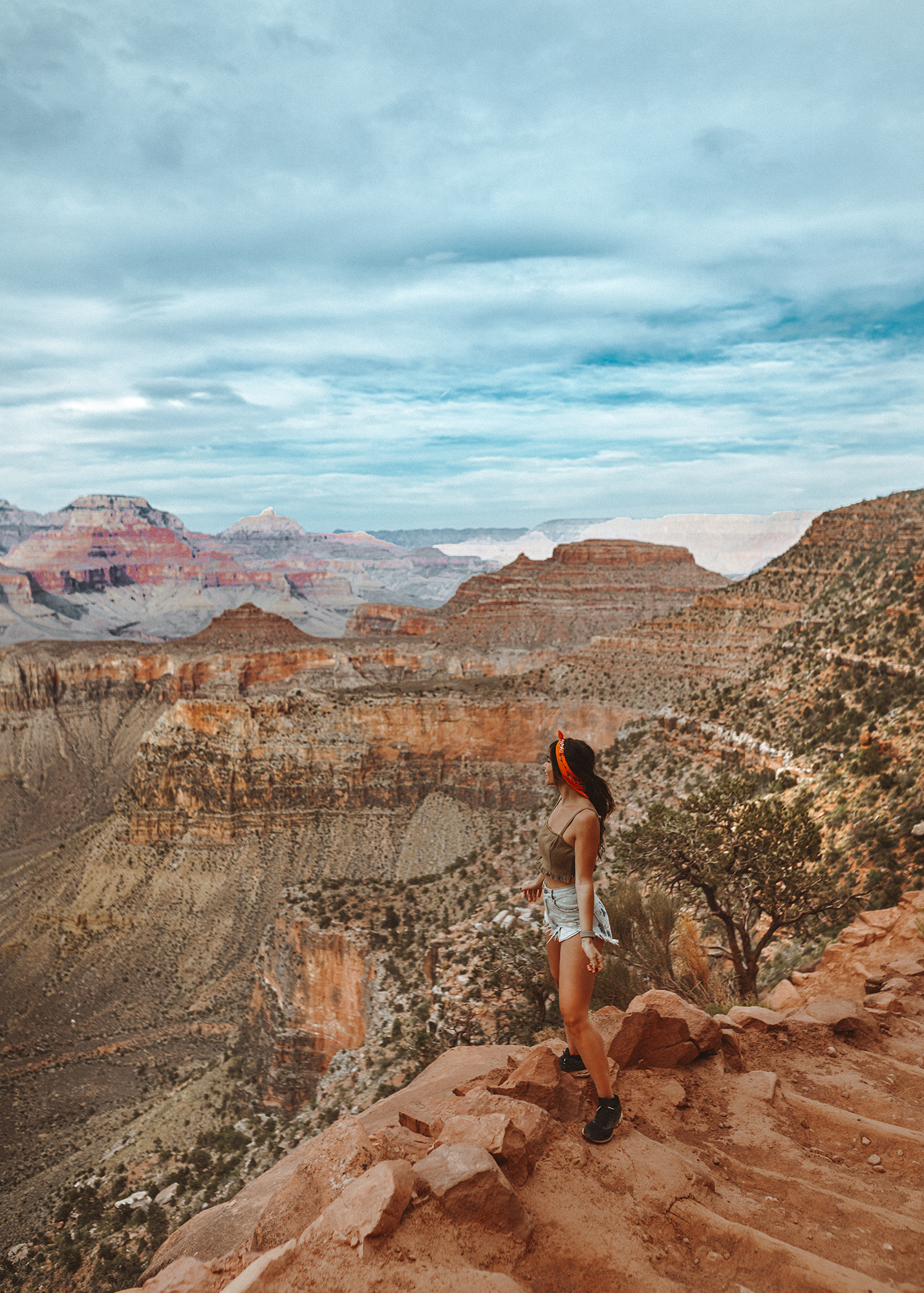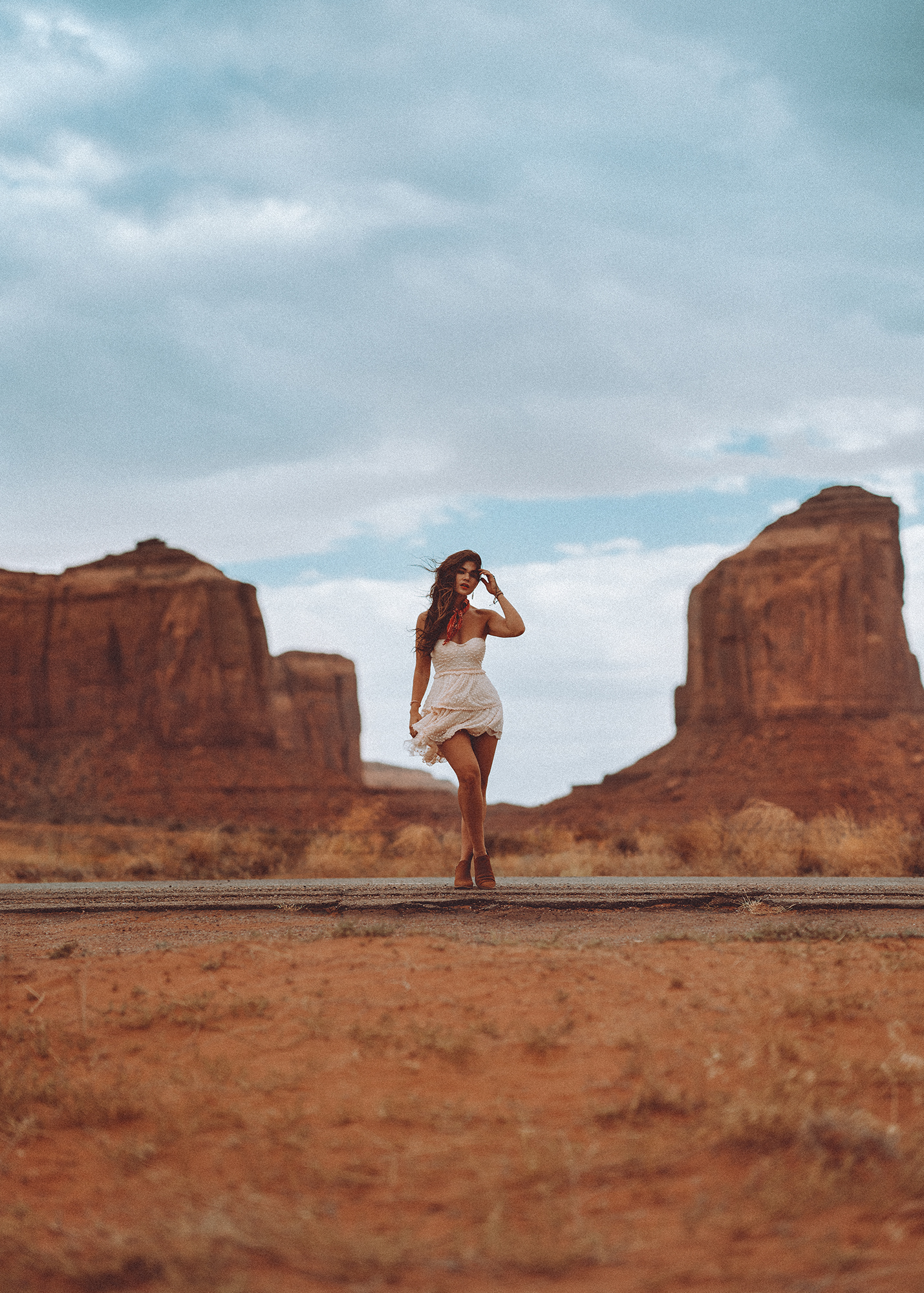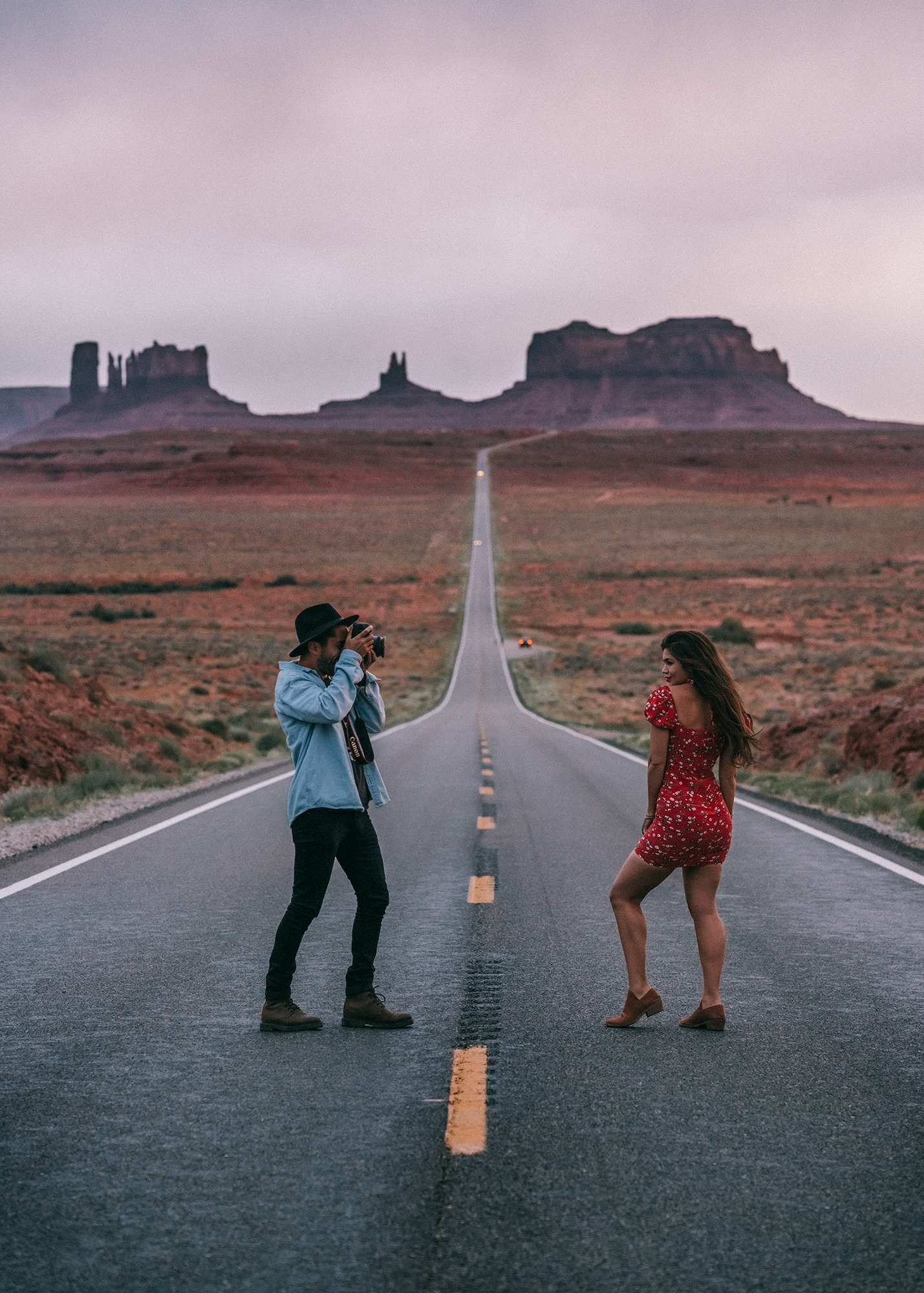 Driving Time: 4 Hours, 6 Hours if you drive to Page, Arizona
What to Do:
Morning: If you only get up for sunrise once, do it today! Watching the sunrise over the rim of The Grand Canyon is truly worth waking up at 4 or 5AM for. Bring your camping blanket and a jacket - it is cold in the morning! Once you're up, you could go straight for an early morning hike, or head back to your lodge for breakfast.
Day: After breakfast, drive East through the Navajo Nation to Monument Valley. As of July 2020, the more direct route here, Highway 64, is closed so this drive is around 4-4.5 hours. In better times it's only 3 hours! But the scenery is varied and beautiful. Drive, make stops, and enjoy the views! The interior roads of Monument are currently closed but we felt taht the drive is still very much worth it - the scenerry from the main roads is still stunning.When the Navajo Nation is not on lockdown, there are little shops along the highway where you can buy blankets, jewelry and handmade crafts.
Sunset: The Forrest Gump point at Sunset and later at dusk is the perfect time for photos here. We ended up getting stuck in some deep clouds and rain, but the usually clear sunset photos here look amazing! After dusk you could stay at one of the local hotels or campgrounds here (very few were currently open) OR head back West to Page, Az to set you up for the following day.
Where to Stay:
Goulding's Lodge & Campground: A simple lodge and campground right at the base of the iconic monuments. From $90/night with Valley View rooms from $160/night.
The View Hotel, Monument Valley: Simple Cabins and an RV campground with an amazing location right in the Valley. Next time we come to this area, we're definitely spending the night at one of these out here!
Days Inn Lake Powell: We drove to Page and stayed at this simple but very comfortable motel, and were very happy with our stay at such a low price. Big rooms and comfy beds right in the middle of Page. From $55/Night.
Where to Eat:
Maswik Food Court: A simple food court with a few different options for breakfast. We had some surprisingly good breakfast burritos here after our Grand Canyon Sunrise.
There are very, very limited options once you enter Navajo Territory, especially right now. We stopped at a Jersey Mikes on our way out and ate that for both lunch and dinner. Be prepared!
Travel Tips:
There are very few restaurants or services in the Monument Valley area, especially right now as the entire Navajo Nation is on lockdown. Bring food with you! The best decision we made on this trip was to get extra giant sandwiches for lunch on our way out - and save the second half in our cooler for dinner. Without these we would have been very hungry and cranky, because after 7PM here, even the gas stations were no longer open.
The famous Monument Valley road (pictured above) is not within Monument Valley, it's actually a bit east of it. Put "Forrest Gump Hill" into your Google Maps to take you to the exact spot.
If you have an extra day or more time, drive farther East and check out Mexican Hat, The Valley of the Gods, and Gooseneck Park. I already knew we need to go back soon and explore these areas more!
If you're heading farther into Utah to Moab or Arches National Park, Monument Valley can easily be a quick pass-through stop.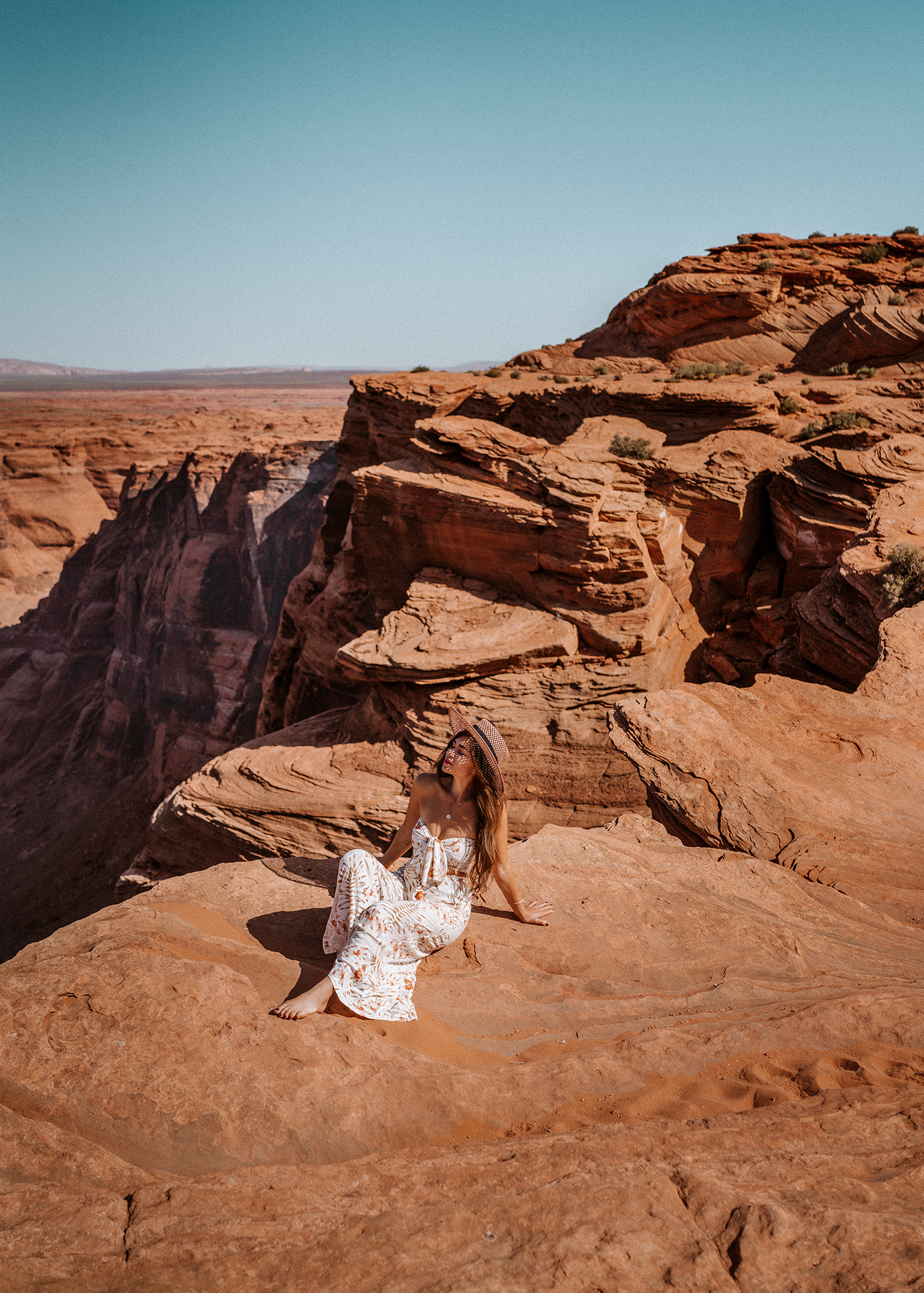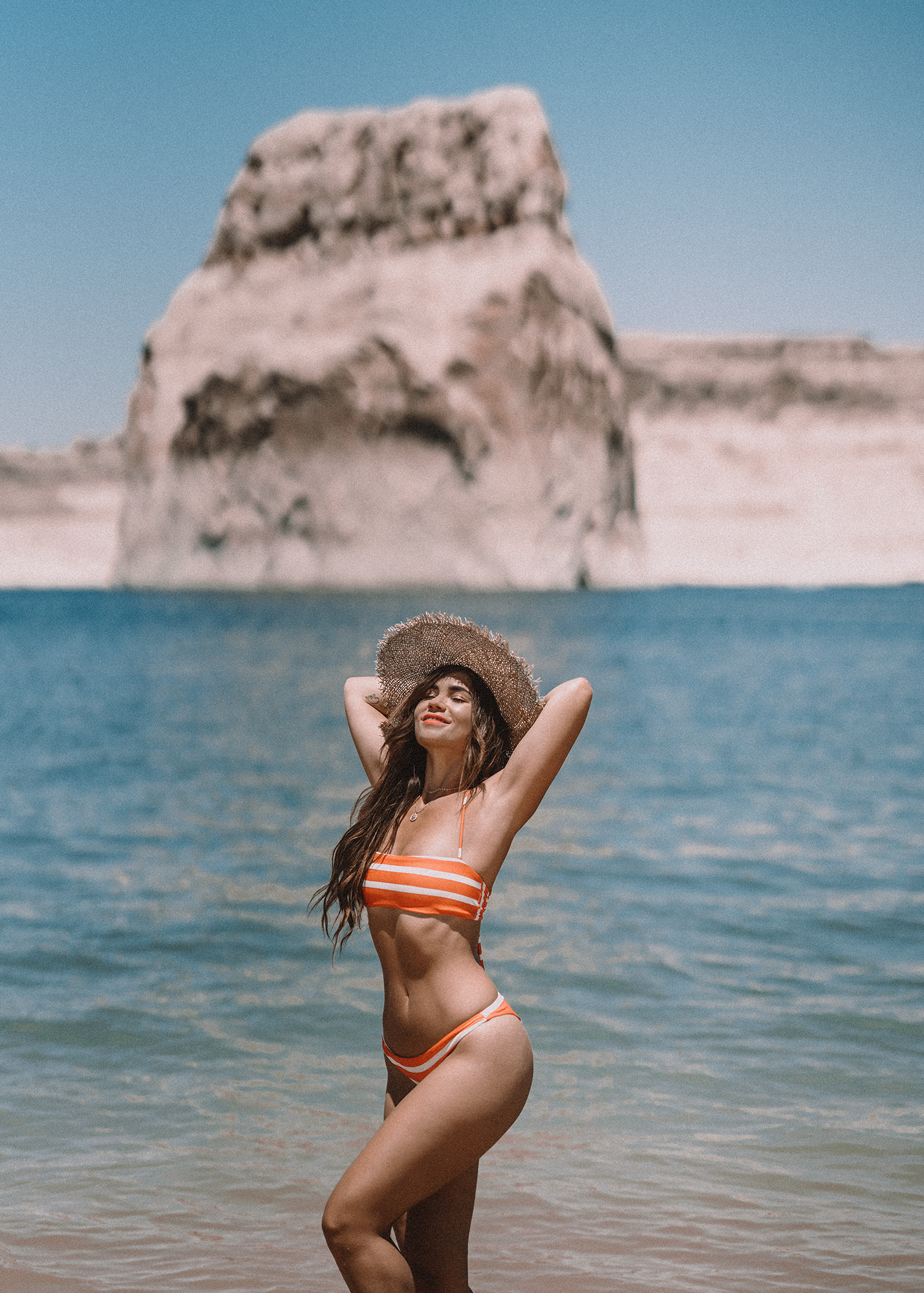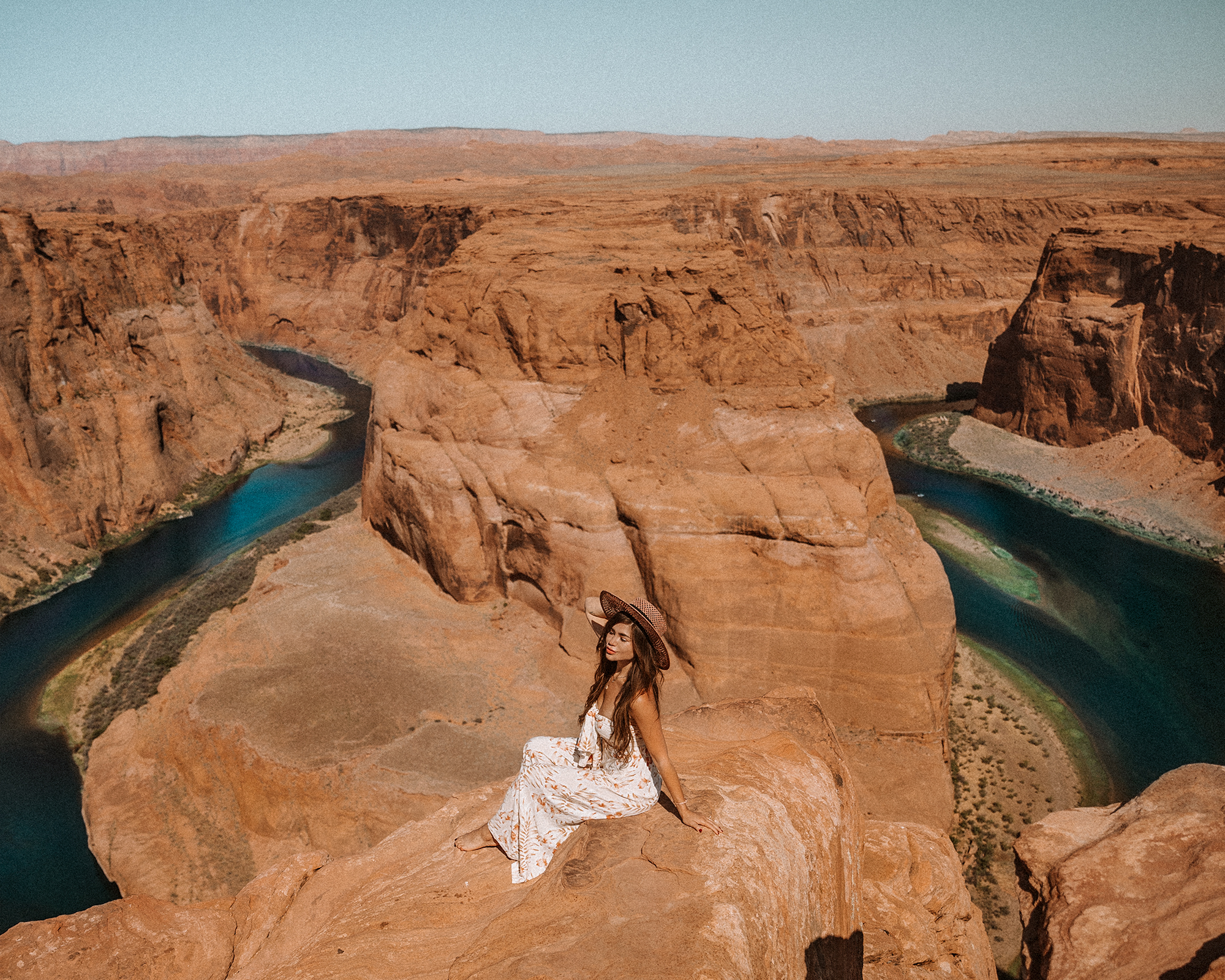 Driving Time: 2 Hours
If you have more time to add to this itinerary, I would do it here! Page, Arizona is such a central spot with so much to do. One of the things I would have loved to do on this trip and couldn't is Antelope Canyon. As the famous canyon is on Navajo land, it was completely closed to visitors. One of my other regrets on this trip was going to Horseshoe bend in the morning and not at sunset - the view here is really made for sunset and dusk, and I felt like the site was pretty underwhelming in the bright daylight.
If we were to do this trip again (and things were open as usual), I would spend the night in Monument Valley and explore that are a bit more, then head back to Page, go to Antelope Canyon, and then finaly make it to Horseshoe bend for sunset. This will have to wait until next time!
OR another option for this day would be to spend an entire day at Lake Powell. Rent a boat or a jetski and explore the inlets of the lake - most of the best scenery is only accessible by boat and this could be really fun way to break up the trip and all of the Mountains, canyons, and hiking with a fun day out on the water.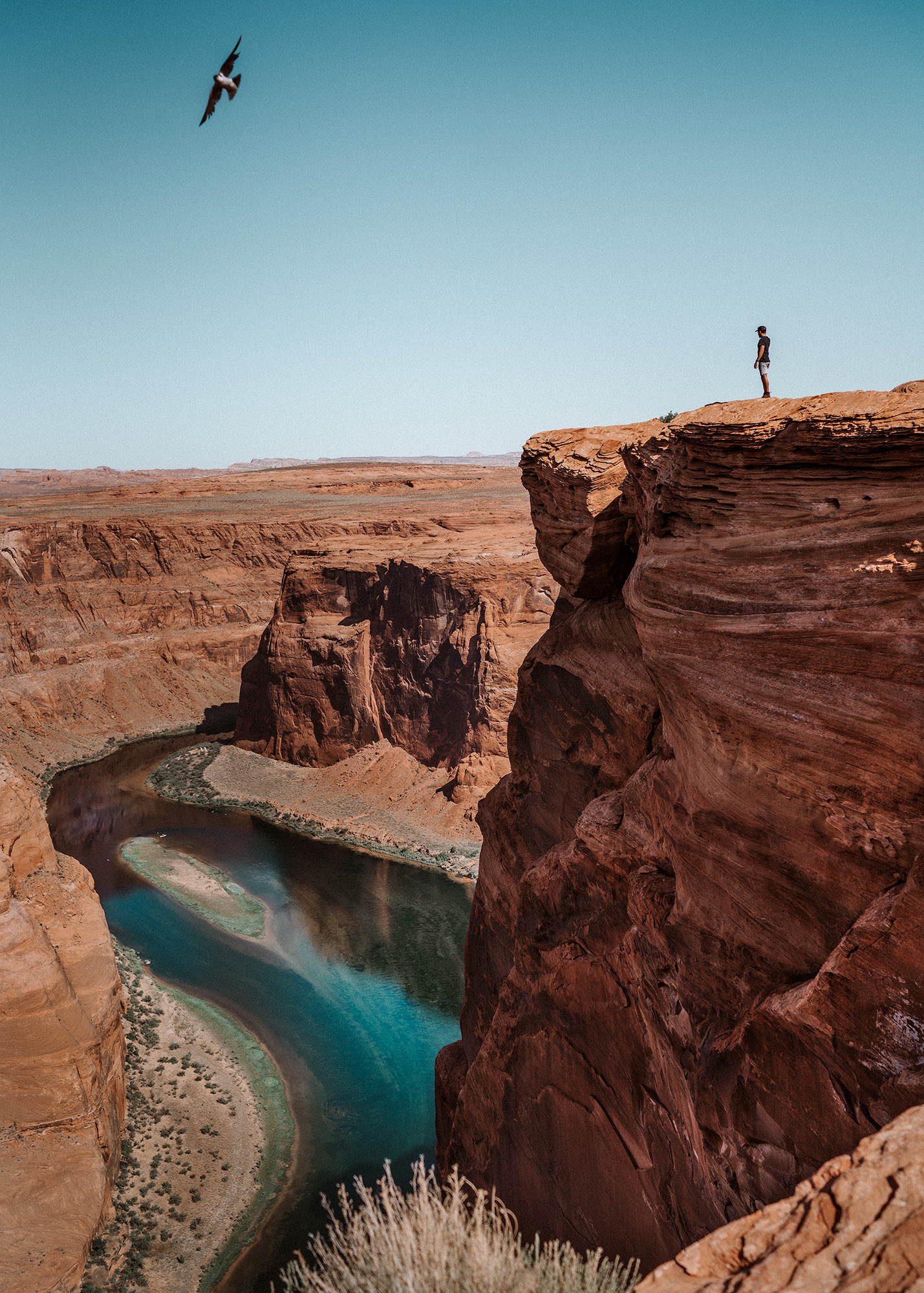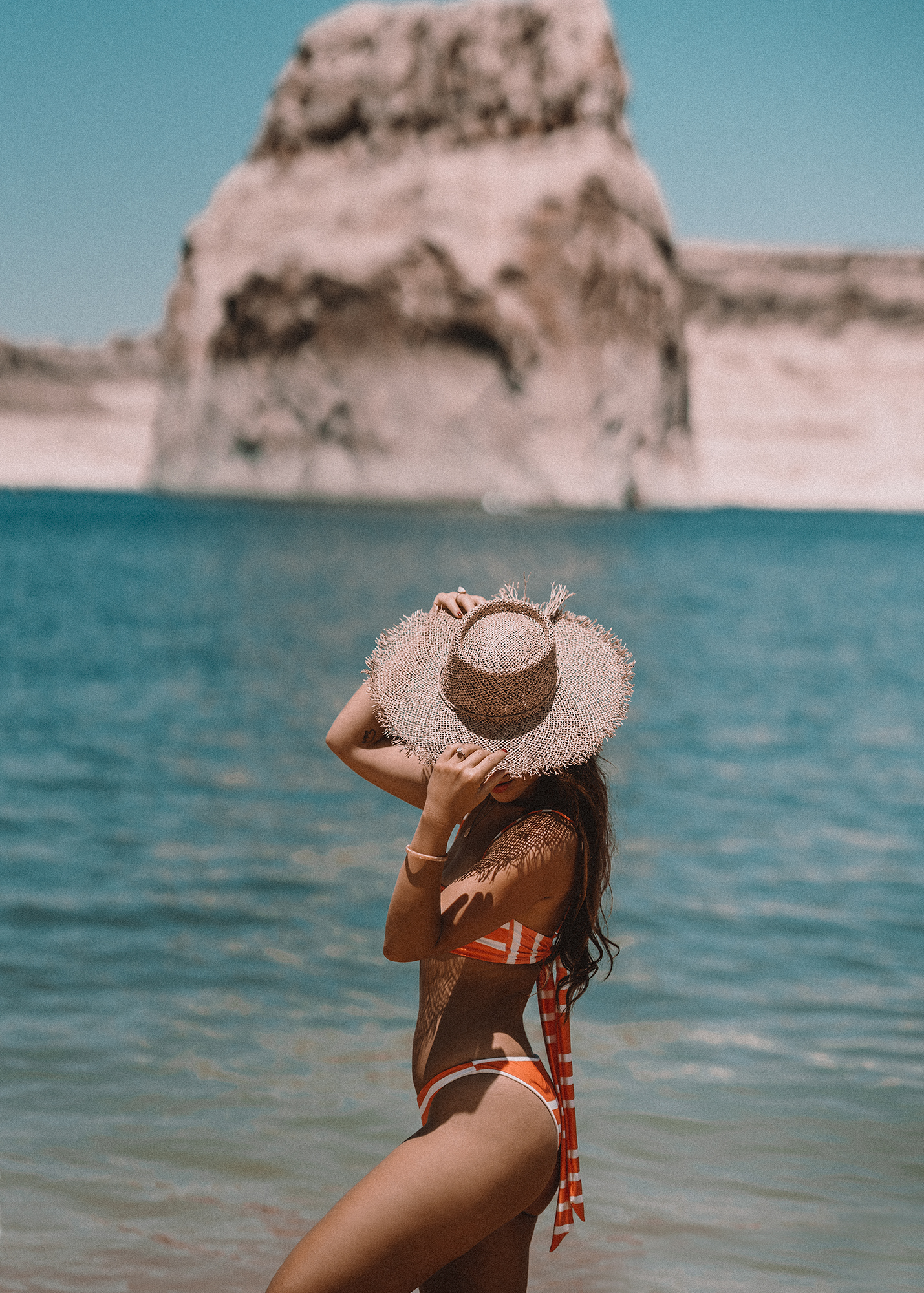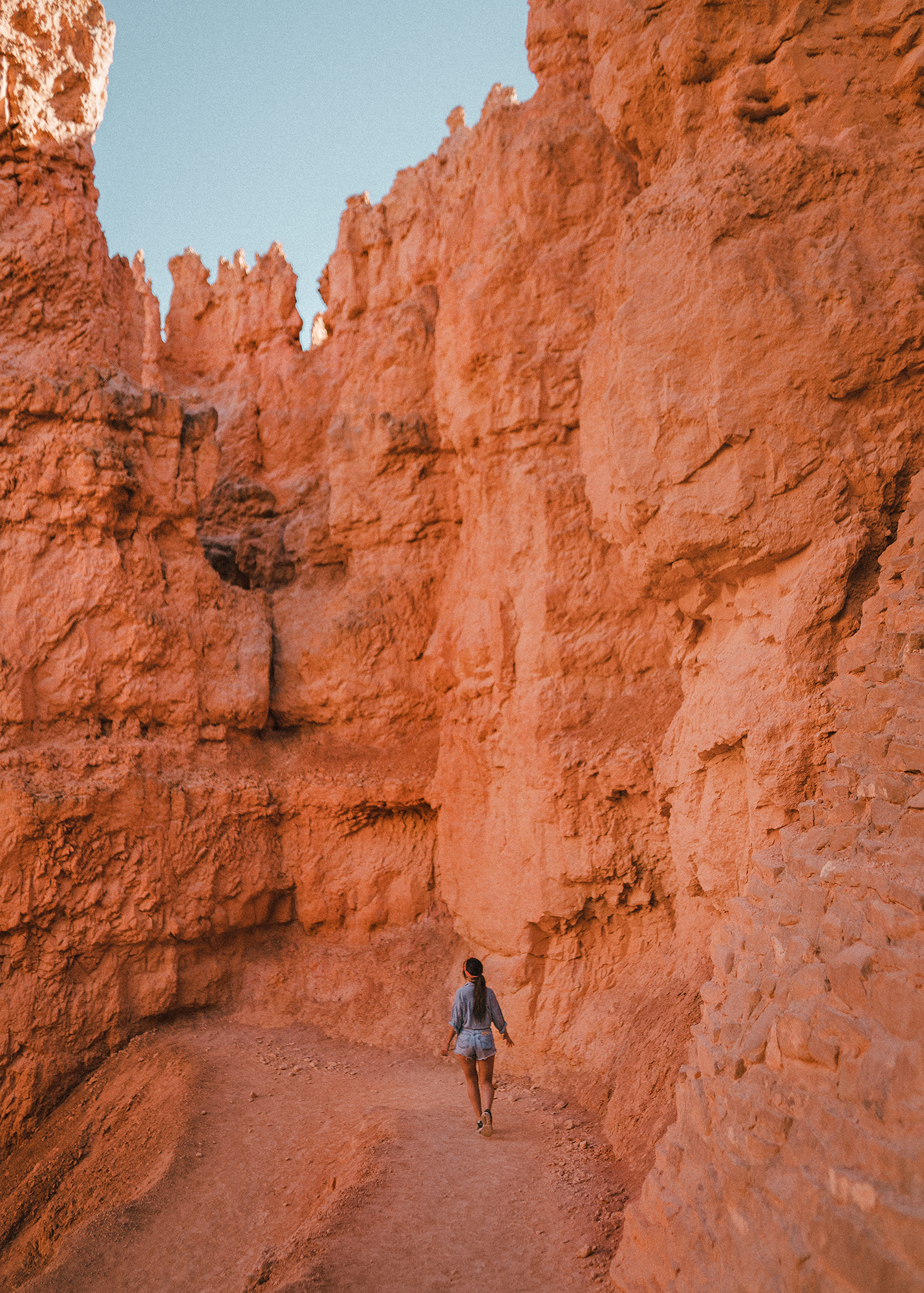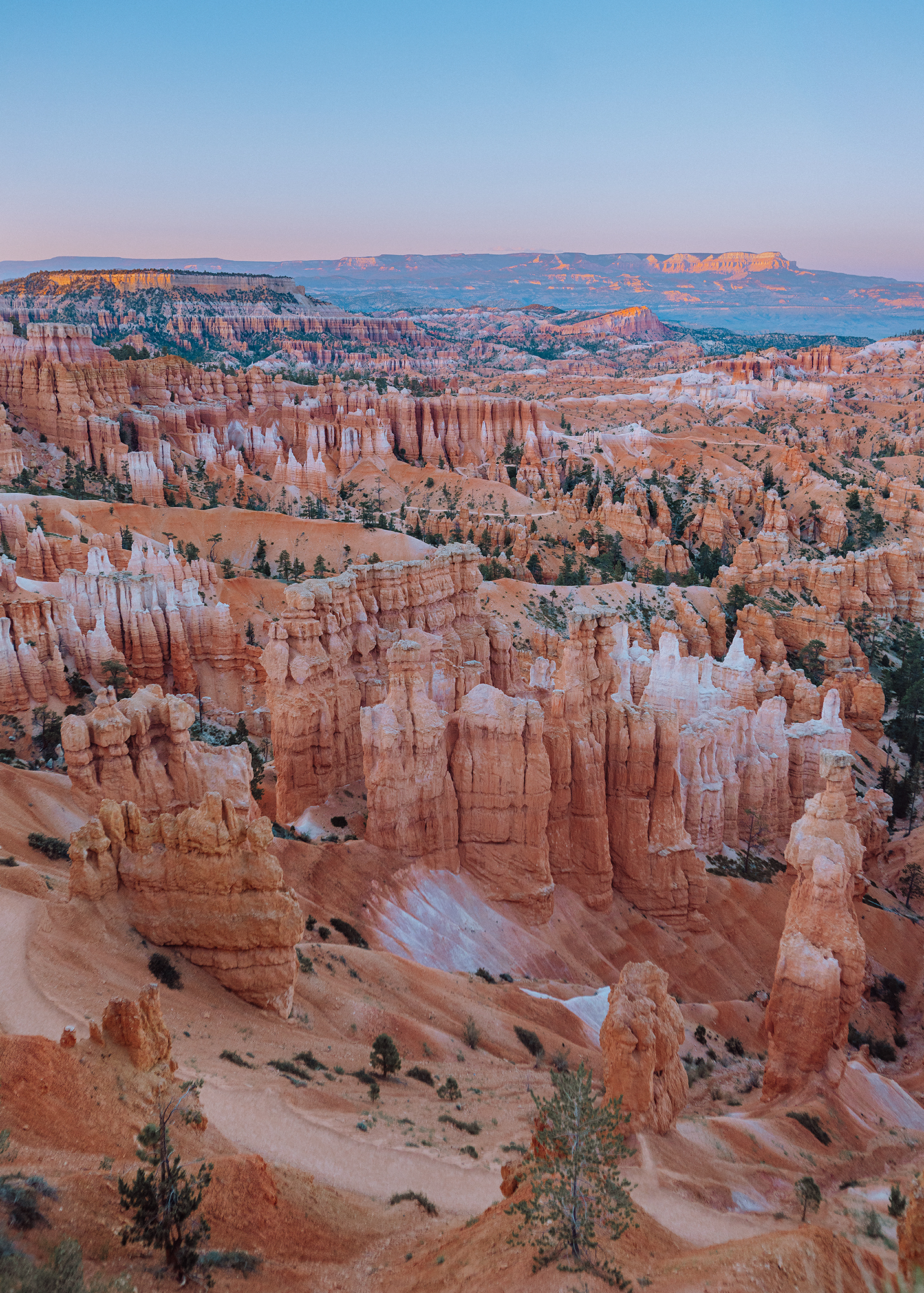 Driving Time: 2.5 Hours
What to Do:
Morning: Head to Horseshoe Bend as early as you can make it out of bed after the late night drive from Monument Valley. The walk to the main site is about 3/4 of a mile and it is very flat but sandy. I wore sandals and wished that I had regular shoes on the walk. After exploring Horseshoe Bend, stop in town for some breakfast.
Day: Stop by Lake Powell for a couple hours of relaxing in the sun and swimming. Lone Rock beach is one of the easiest spots to pull up, park, and get walk right into the lake to swim - many of the other areas are only accessible by boat. We stopped here for a couple of hours and jumping into the lake on a hot day felt amazing!
Sunset: By early afternoon, drive North to Bryce Canyon. Bryce is one of the highlights of the trip and you want to be able to explore it a bit before the sun goes down! Go to the Navajo Trail and the Wall Street path. The geology of Bryce Canyon (the bright orange columns are called Hoodoos) is incredible, and so truly breathtaking in person. This is one of the most unique places I have ever been in the world, and I absolutely loved it here. The trails are a very short walk from the parking lot and the views start as soon as you pull up. Since you don't need to hike far into the canyon for the views, this is a fun spot to where a cute outfit (if that's your kind of thing - and you know it's mine!)
Where to Stay:
Best Western Ruby's Inn: A surprisingly large lodge right in the mini-town adjecnt to Bryce Canyon. It seems like almost everything in this town is part of Ruby's. The rooms here are perfectly accommodating and the location can't be beat. From $140/night.
Best Western Plus Bryce Canyon Hotel: dfOf the two Best Westerns located next door to each other here, this one is the more high-end option, with an indoor and outdoor pool and hot tub. This is about as upscale as Bryce Canyon gets! From $180/night.
Camping in this area is a great lower-cost option as well! Just be mindful that temperatures here vary wildly. While it was 80 to 85 degrees in the middle of the day, night temperatures dropped to 35 degrees! if you're camping, plan accordingly.
Where to Eat:
Ranch House Grill: The best breakfast spot in Page! This classic American diner has a southwest twist and gigantic portions. Try the chile verde pork omelette or the chili relleño breakfast.
Ebenezer's Barn and Grill: Come here for dinner and a show to get into the western spirit - this spot is famous for it's live country and western music nightly.
Ruby's Inn Cowboy Buffet: A cute, classic western diner that is open fairly late for the sleepy little town, with some solid food choices.
Travel Tips:
Stay at Bryce Canyon for a bit after the sun goes down. The dusk light over the Hoodoos is so photogenic and just magical! But bring a jacket, the temperatures here drop very quickly.
At Lone Rock Beach, only drive onto the sand if you know your car can handle it, has 4 wheel drive, and you're comfortable driving on sand. People get stuck here often!
Bryce Canyon is probably the least developed of the National Parks on this trip - the hotel and food options are good, but limited and very unfancy compared to Zion.
The information on Zion National Park is pretty confusing, here's the quick breakdown: the 9 Highway drives right through the park, and is a stunning drive. This main road you can drive through and park at turns outs easily. A turn off of this main road is The Scenic Drive within Zion, along which most of the major hikes and attractions are. This road doesn't allow many cars in to drive or park, and in normal times there are free shuttle buses that you can freely hop on and hop off anywhere along this route. As of summer 2020, due to Covid-19, these buses are suspended OR when brought back, have their service reduced, cost $1 a ride and need reservations in advance. The best way to get to and around the scenic route this summer is by bicycle or E-bike, and we highly recommend E-bikes! But that's not until tomorrow's itinerary.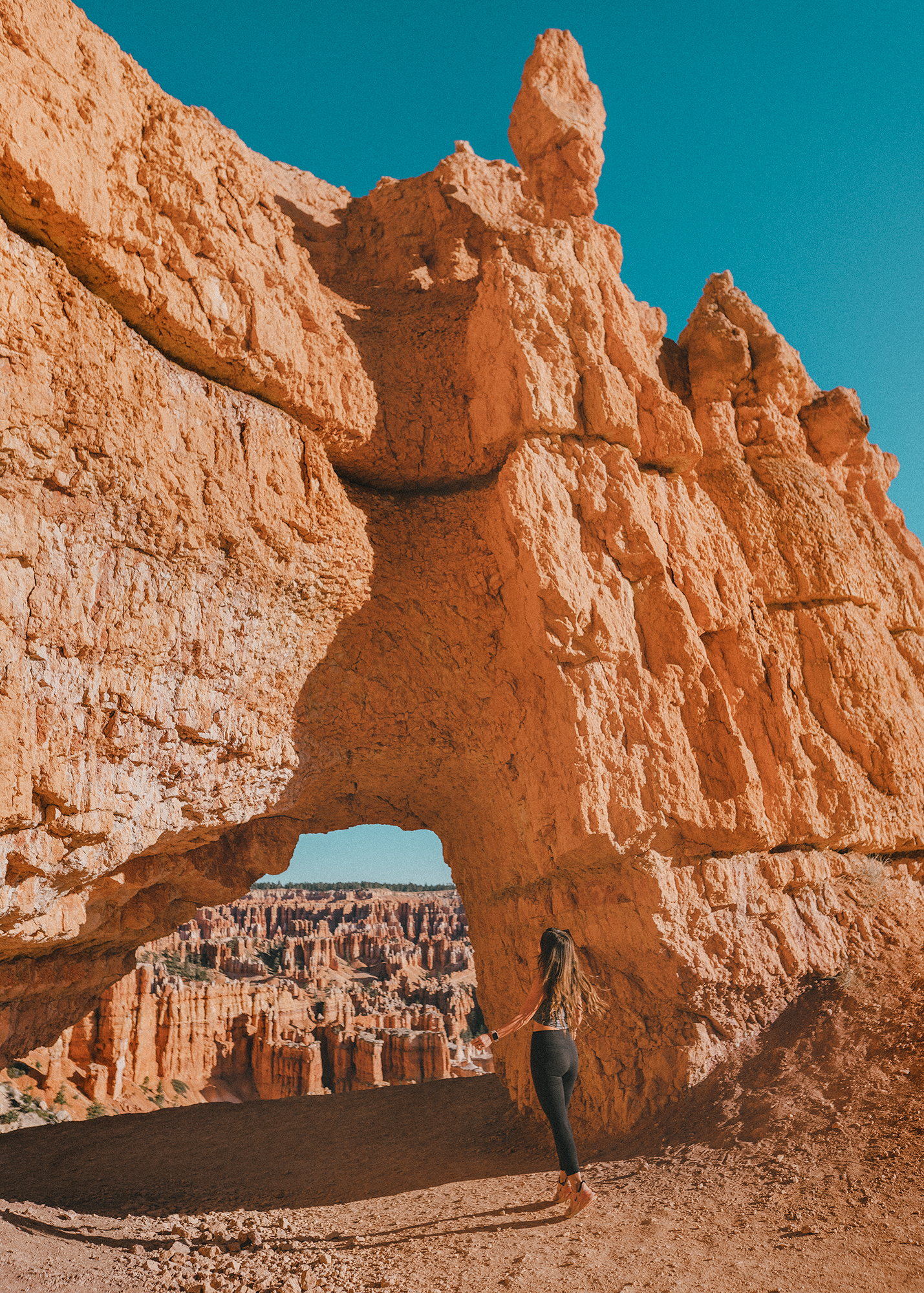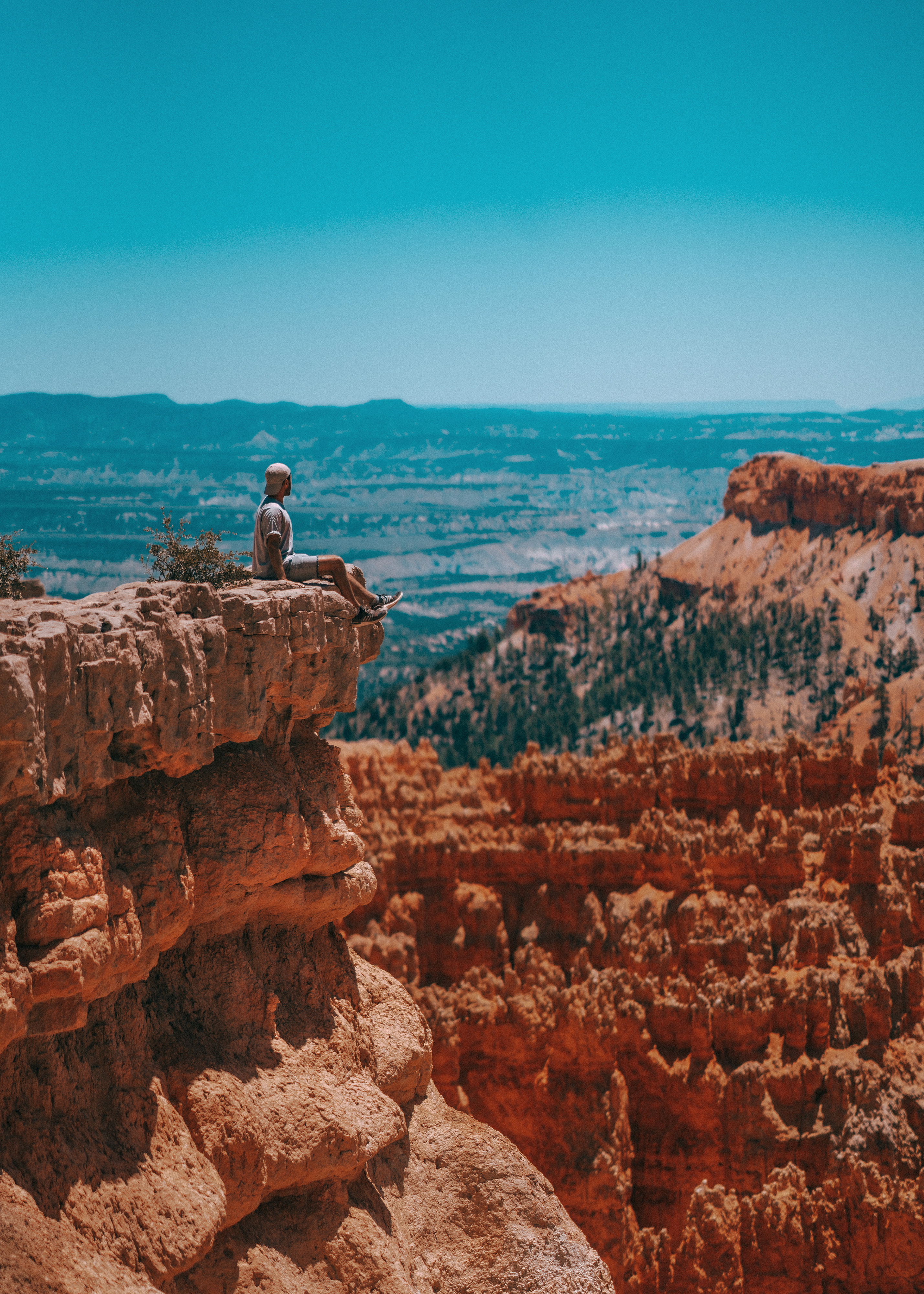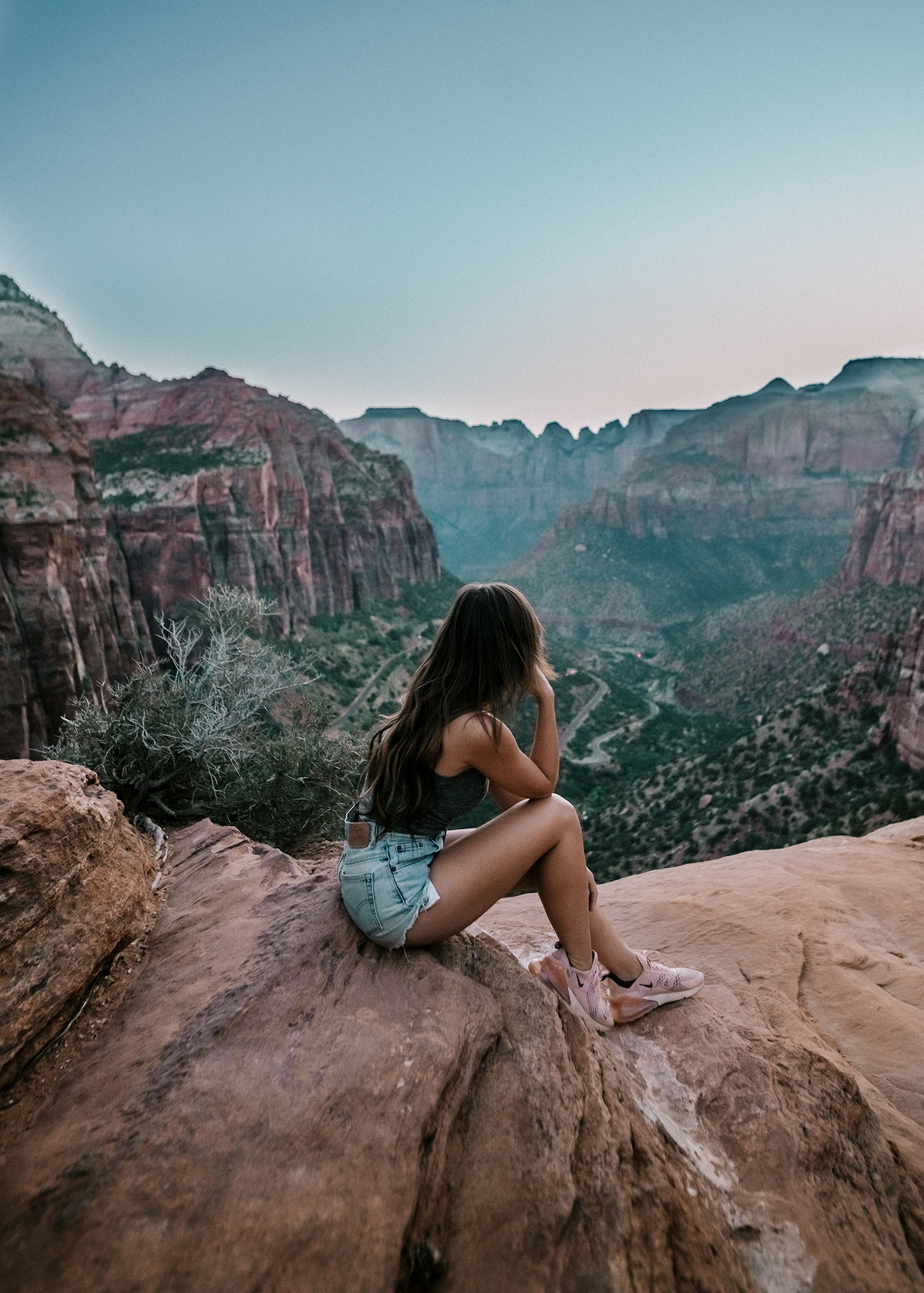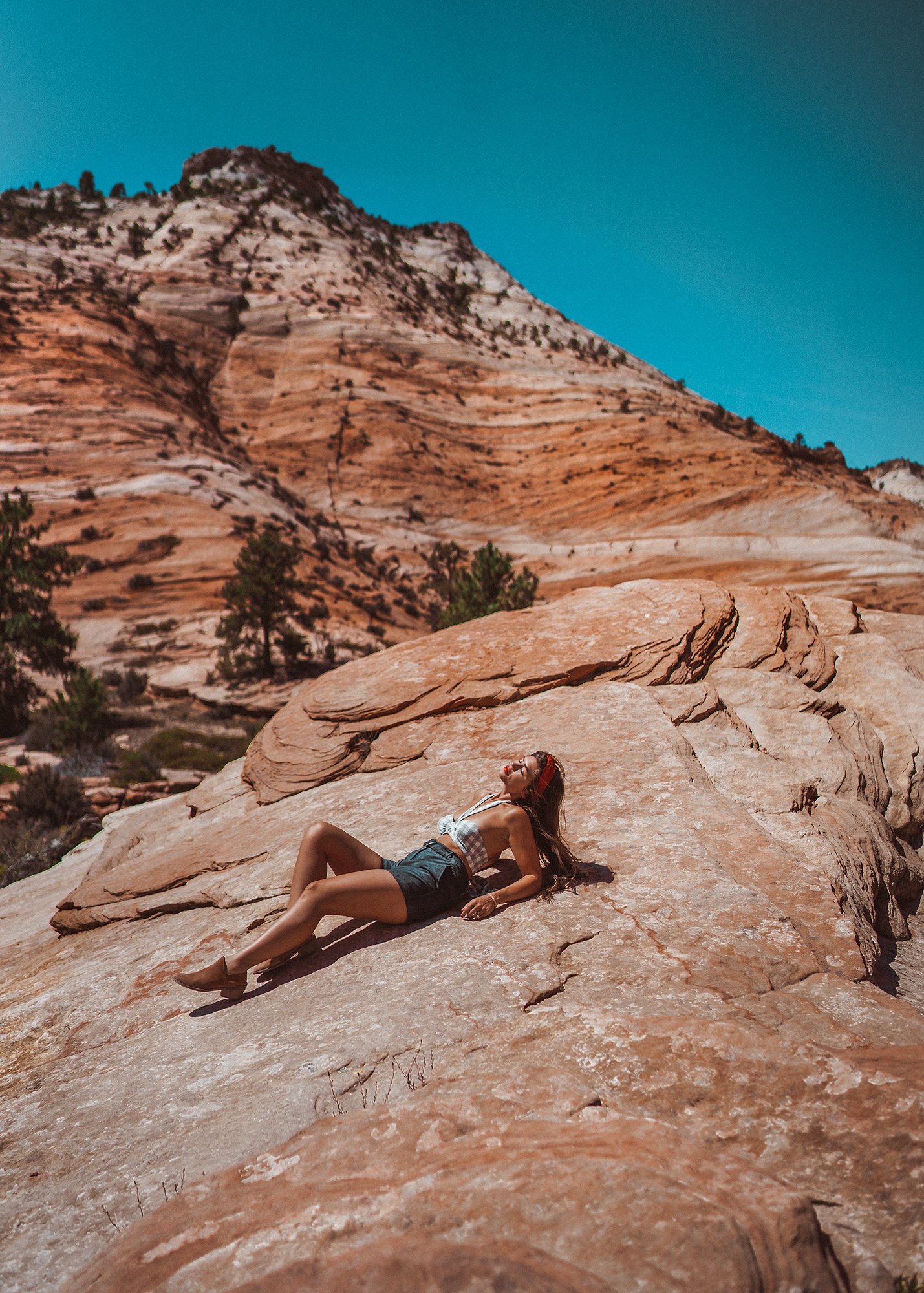 Driving Time: 2.5 Hour
What to Do:
Morning: Start your morning at the Peek-A-Boo trailhead to see a different side of Bryce Canyon. You can take a longer loop on the trail and make it a big morning hike, or turn back earlier to make this a quick stop.
Day: Driving into Zion from the East means that you drive 15 miles right through Zion National Park before entering the town of Springdale where all of the hotels, restaurants, and shops are. This drive is BEAUTIFUL. Pull over and park at any areas that interest you and get out of your car and explore. When you arrive in the adorable Springdale town just outside of Zion National Park, reserve an E-bike for tomorrow morning, to make sure you can get one.
Sunset: About an hour before sunset, head to the Canyon Overlook Trail along the main road of Zion. It's a fun, 1-mile hike up to an amazing viewpoint, and one of the best places in the park to watch the sun set. We stayed until dark and still made it down after dark easily - just use your phone flashlight.
Where to Stay:
Where to Eat:
Ruby's Inn Cowboy's Buffet and Steak Room - A fun, lodge-style dinner spot in Bryce Canyon with a big salad and soup bar.
Oscar's Cafe: Get lunch or dinner in Springdale at Oscars. A friend who used to live in the area recommended that we eat here, and it did not disappoint. The sandwiches are gigantic!
Cafe Soleil: A great little cafe for lunch, coffee, and smoothies.
Travel Tips:
One of my regrets on this trip was not getting up early to see Bryce Canyon at sunrise. The canyon is just so gorgeous in the soft light, I really wish we would have had one more chance.
The grocery store in Springdale is open late and surprisingly well-stoked with things I didn't see anywhere else after we left California - like many flavors of Kombucha. But they do not sell alcohol or wine (a Utah state law.)
Day 7 is a long one, but one of my favorites! Rent e-bikes in the morning to explore Zion's scenic route. Explore the park for a few hours, then on the route back to Los Angeles, stop in Valley of Fire for some even more amazing scenery. For a shorter drive, spend the night in Las Vegas. But if 7 days is all you have, continue straight through back to Los Angeles!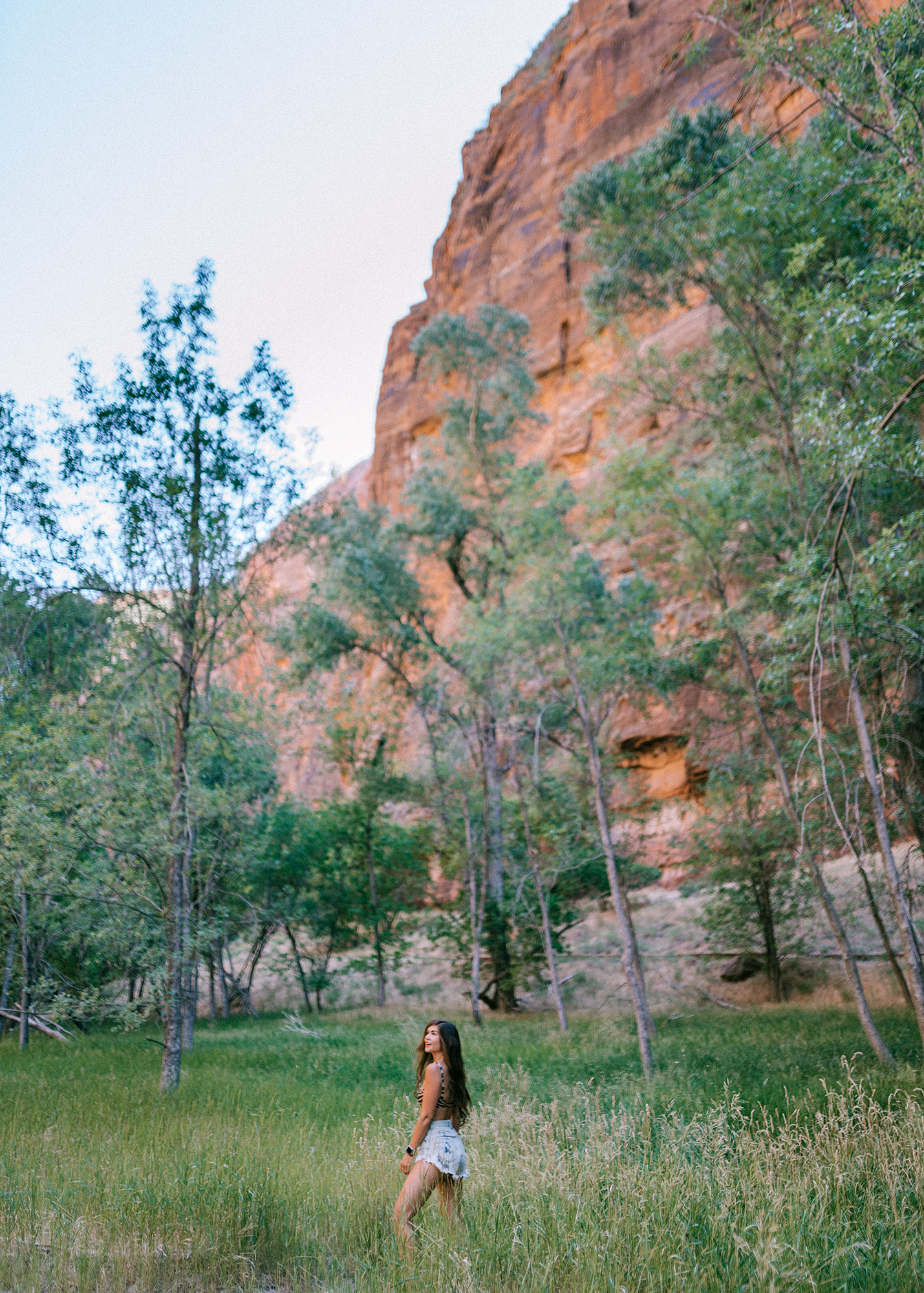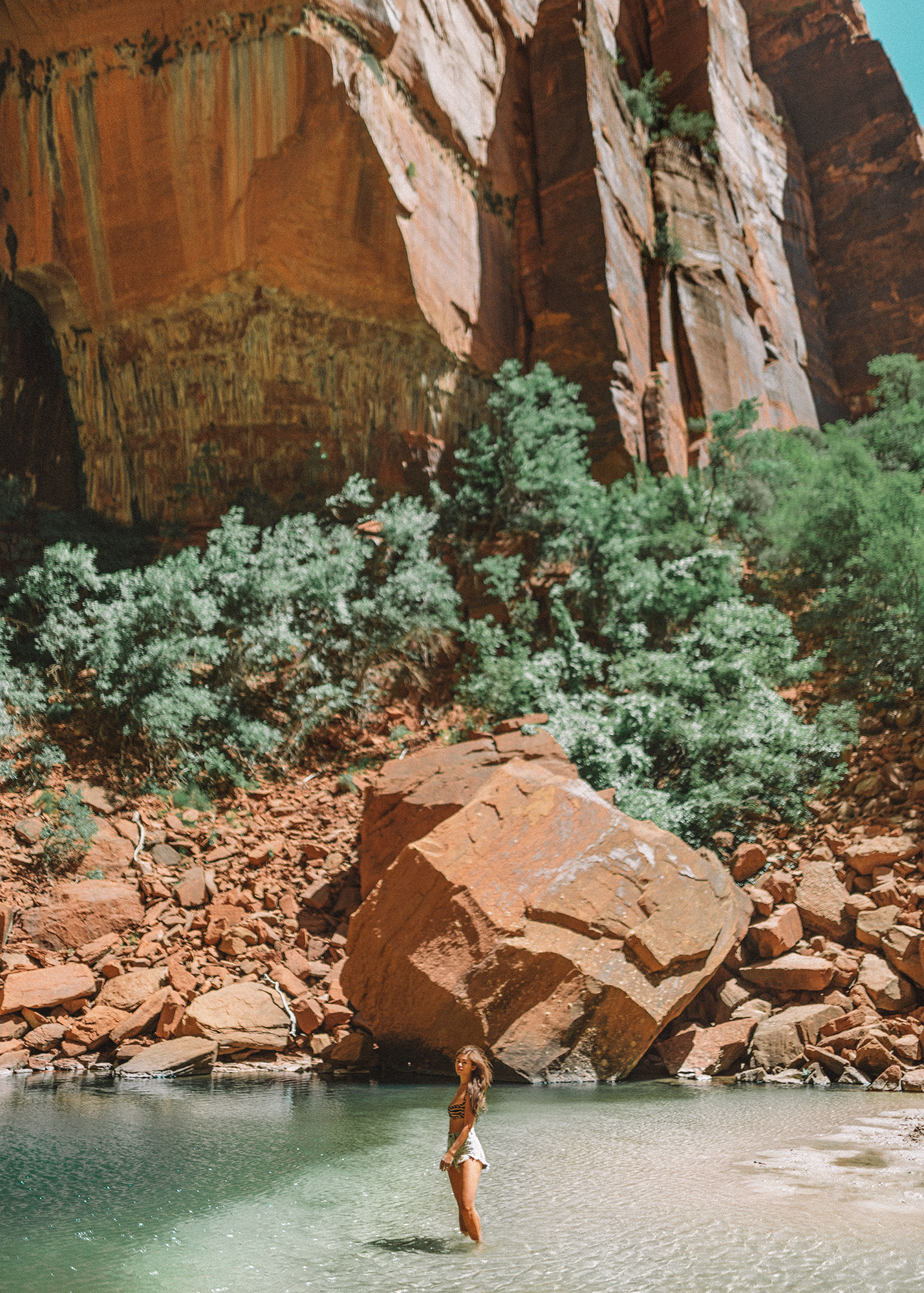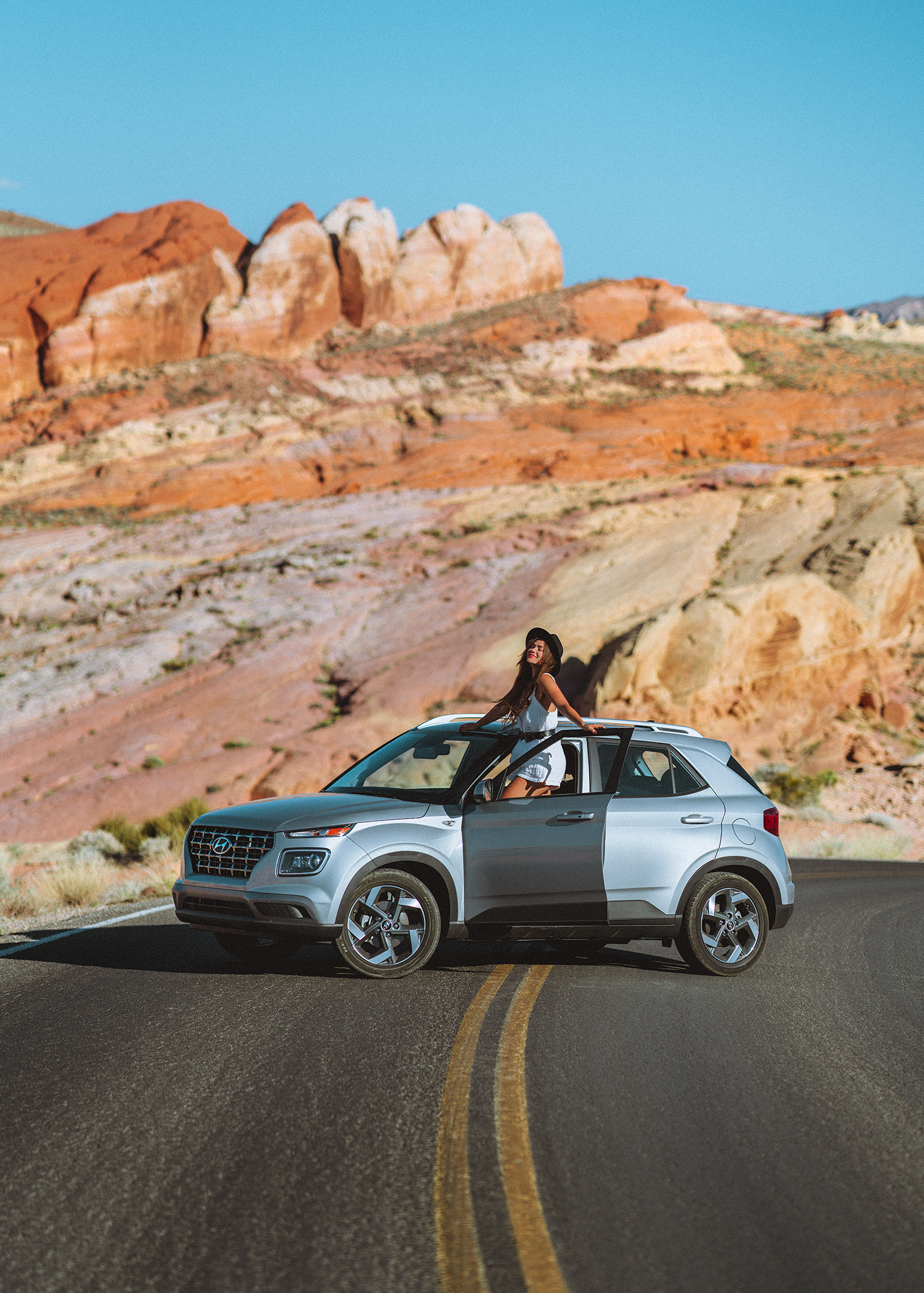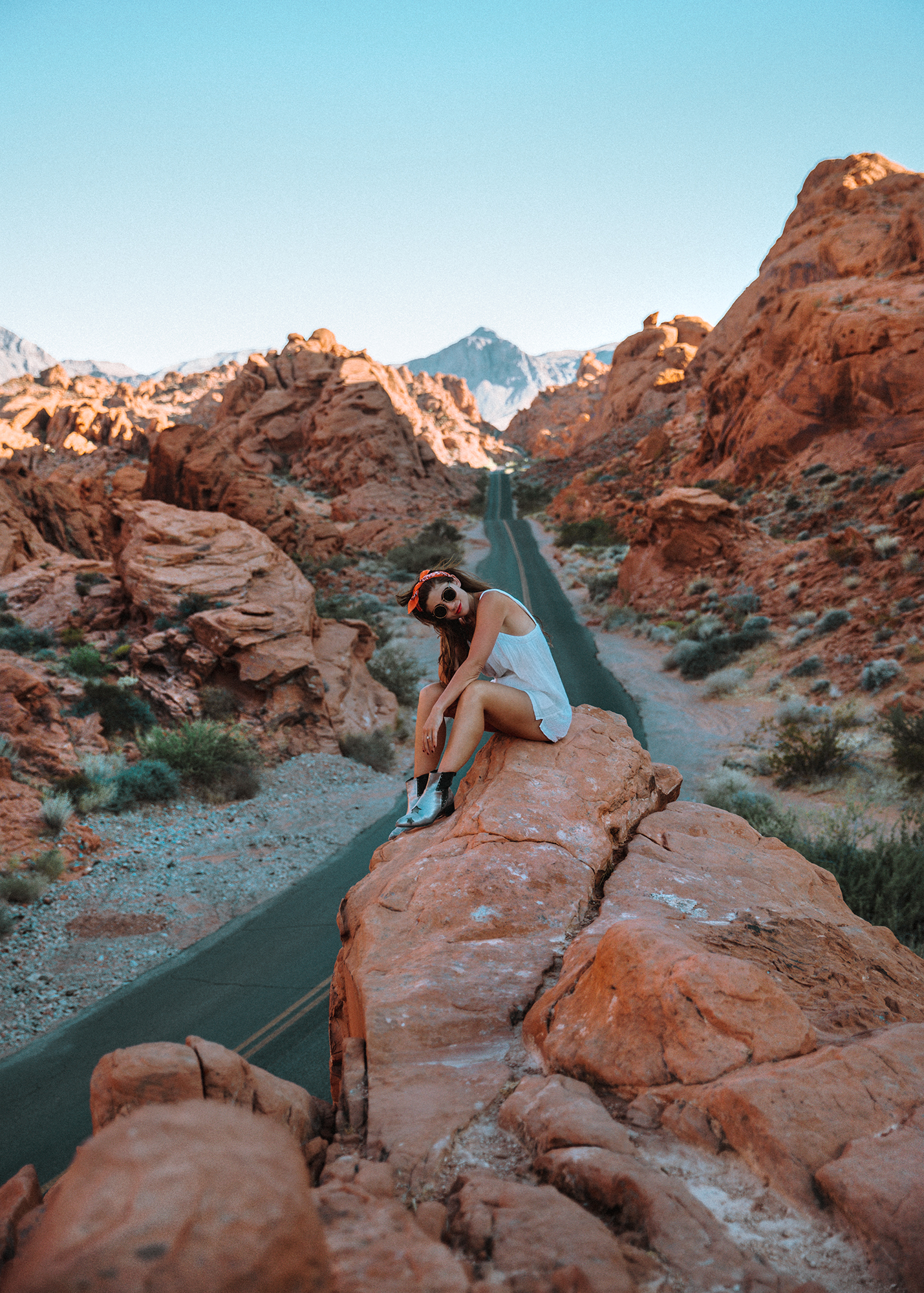 Driving Time: 3.5 hours to Las Vegas, 7.5 Hours to Los Angeles
What to Do:
Morning: Rent an electric bike! This is by far the best way to see the Scenic Drive inside Zion National Park in a fast, fun, and freeing way. A four-hour rental will give you enough time to ride the entire drive, leisurely explore a few areas, and take a hike to the Emerald Pools. We got ours from Zion Guru for around $150 for 2 bikes for a half day. Check out of your hotel, grab breakfast, and load your car before getting the bikes right when they open at 9AM. That way when you return around 1pm you can head straight out on the road!
Day: Drive 2 and a half hours, cross into Nevada, and go straight to Valley of Fire State Park. Valley of Fire is SO stunning, and was one of our highlights! There is the iconic Red Rock lined road, but beyond that there are incredible hiking trails, pastel colored painted hills, and so much more. Beware, it is HOT here - on a short, flat 2 mile hike I found myself with heat exhaustion, something that never happens to me. Bring lots of water and make sure your cooler is loaded with ice. Check out the Fire Wave hike for seriously gorgeous geology.
Sunset: This is where you have a choice: 1. stay in Valley of Fire and watch the sun set in the park. 2. Head an hour down the highway to Las Vegas and spend a night there. Or 3. start working your way back to Los Angeles. We needed to return back home and went with option 3, which makes for a day with a lot of driving, but coming back into Los Angeles at night means that you miss most of the traffic and can cruise through very quickly.
If you have time on your way back, on the other side of Las Vegas, stop by the art installation Seven Magic Mountains for a sunset shot.
Where to Eat:
Meme's Cafe: Stop here before your morning in Zion national Park for a great breakfast.
Deep Creek Coffee Co: Or if you need a fancier coffee spot, stop here for coffee and breakfast before you head out.
Valley of Fire is only about one hour outside of Las Vegas. After your time here, the highway will take you right through the center of the Vegas Strip. If you're up for a nice meal, Las Vegas has tons of amazing options! (Try Nobu Sushi or Giada if you're feeling fancy) If you would rather keep it low-key, out on the outskirts of the city are very easily accessible fast food stops and grocery stories. We were tired at the end of this day and just grabbed some Chioptle salads and coffee before our late night drive back to LA.
Travel Tips:
I cannot emphasize enough how hot it was in Valley of Fire. I'm pretty used to the heat and have never had heat exhaustion before, but walking 2 miles here really hit me hard. Make sure to eat well and drink lots of cold water!
We chose to make the drive all the way to LA since it's so much easier to do after 8PM and is usually a straight shot with no traffic, but it does make for a long drive.
If you haven't had enough of the Southwest parks and geology, Red Rock National Conservation Area is a great spot for more hiking and scenery just outside of Las Vegas. See photos from my trip here!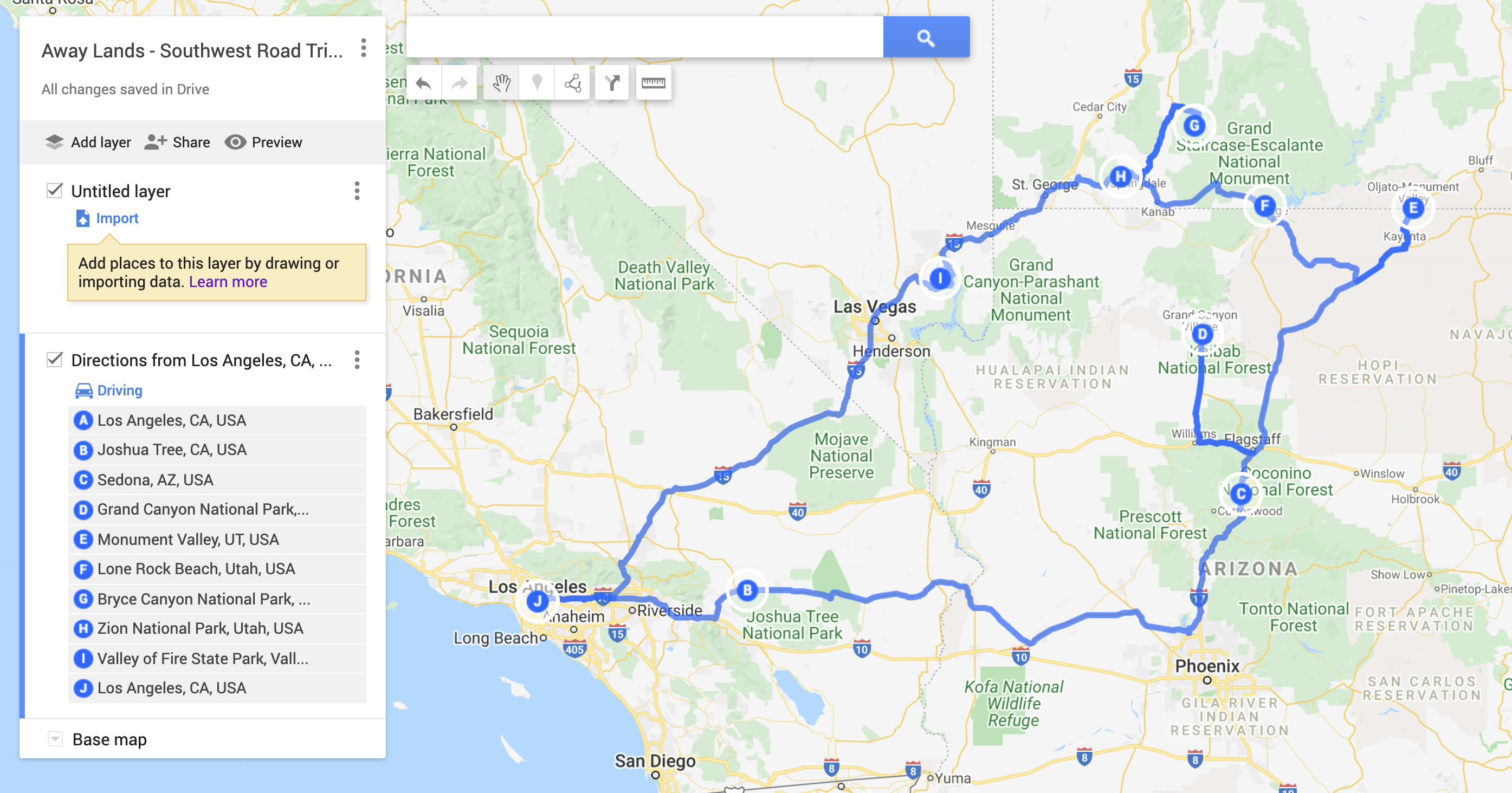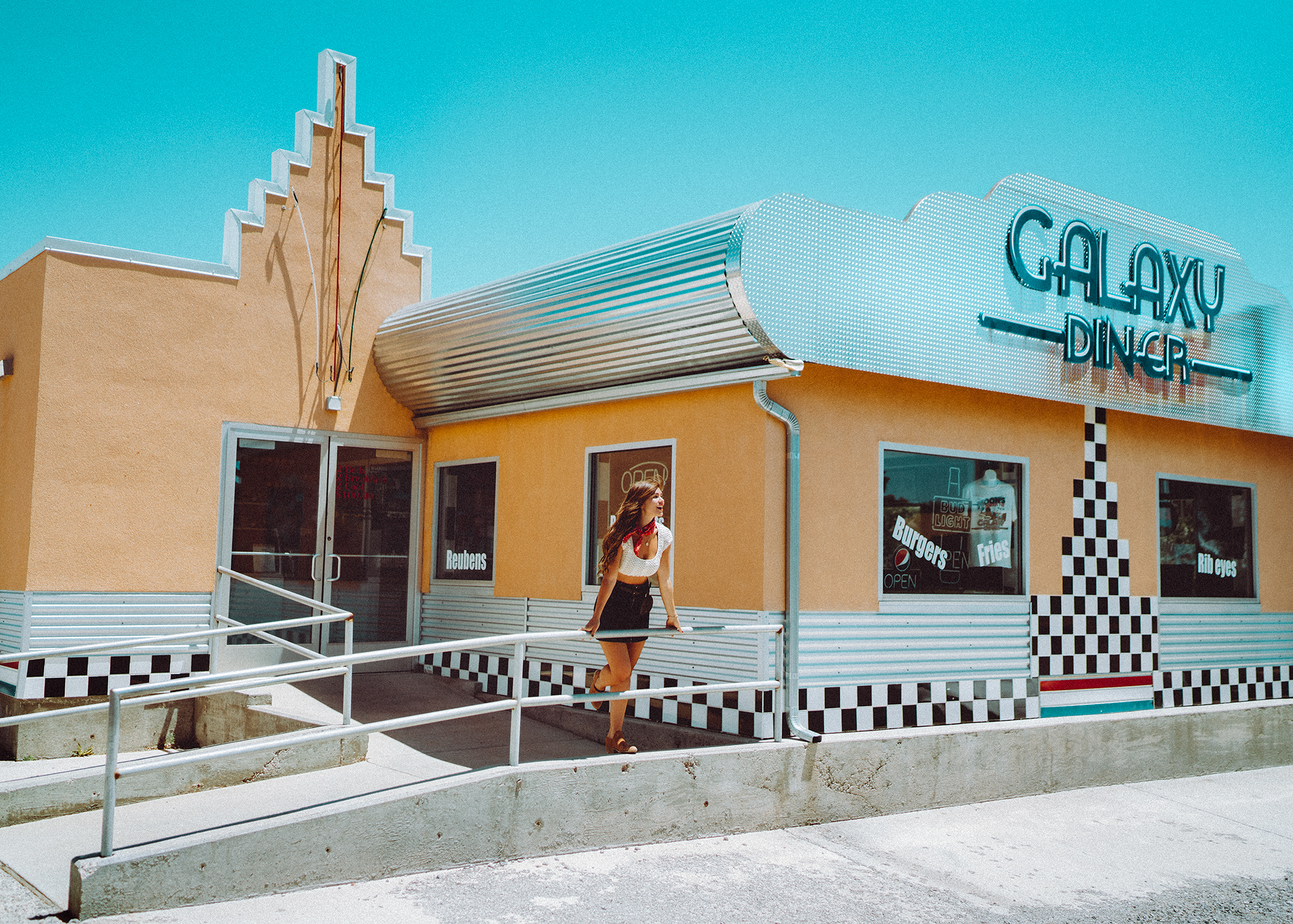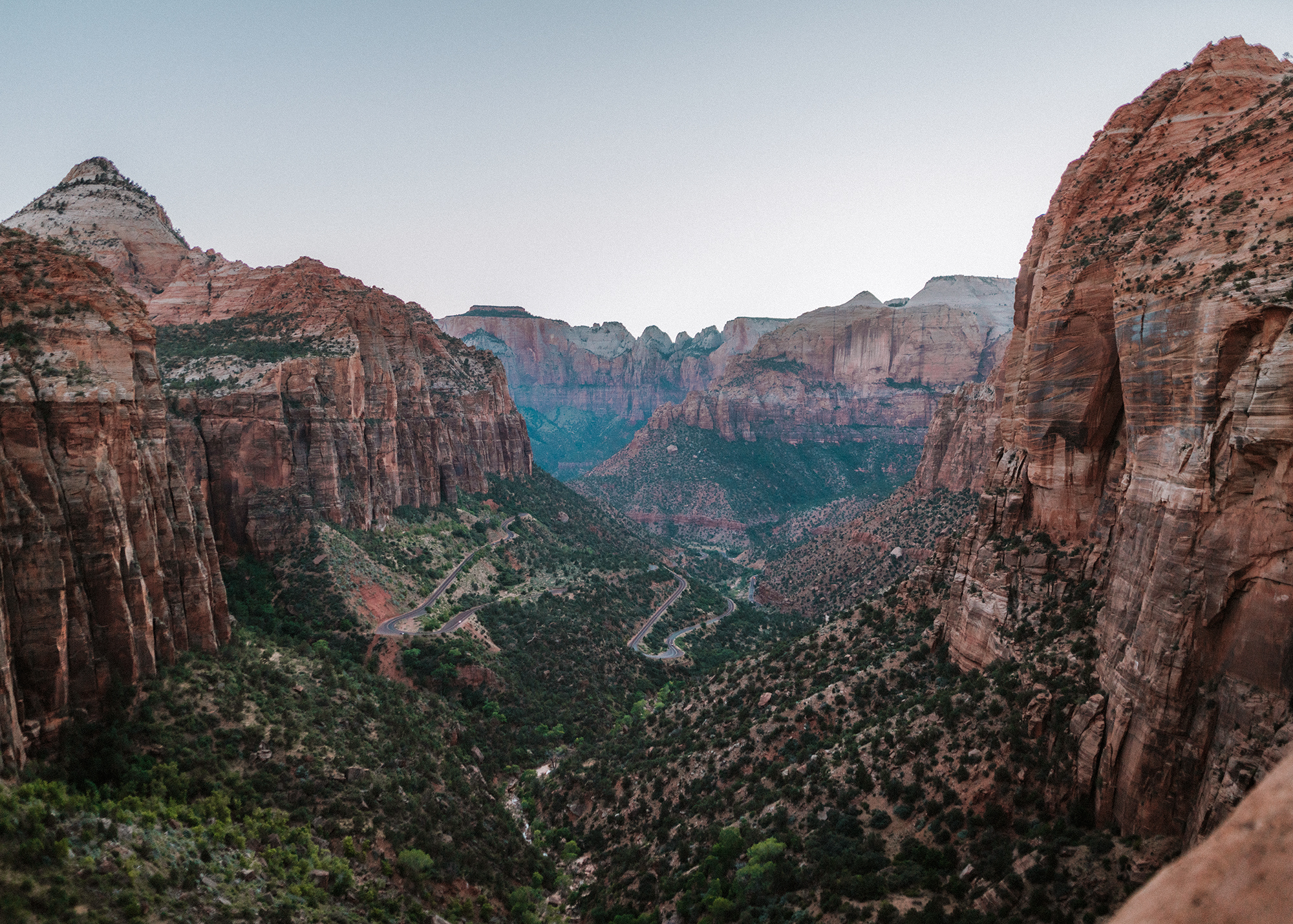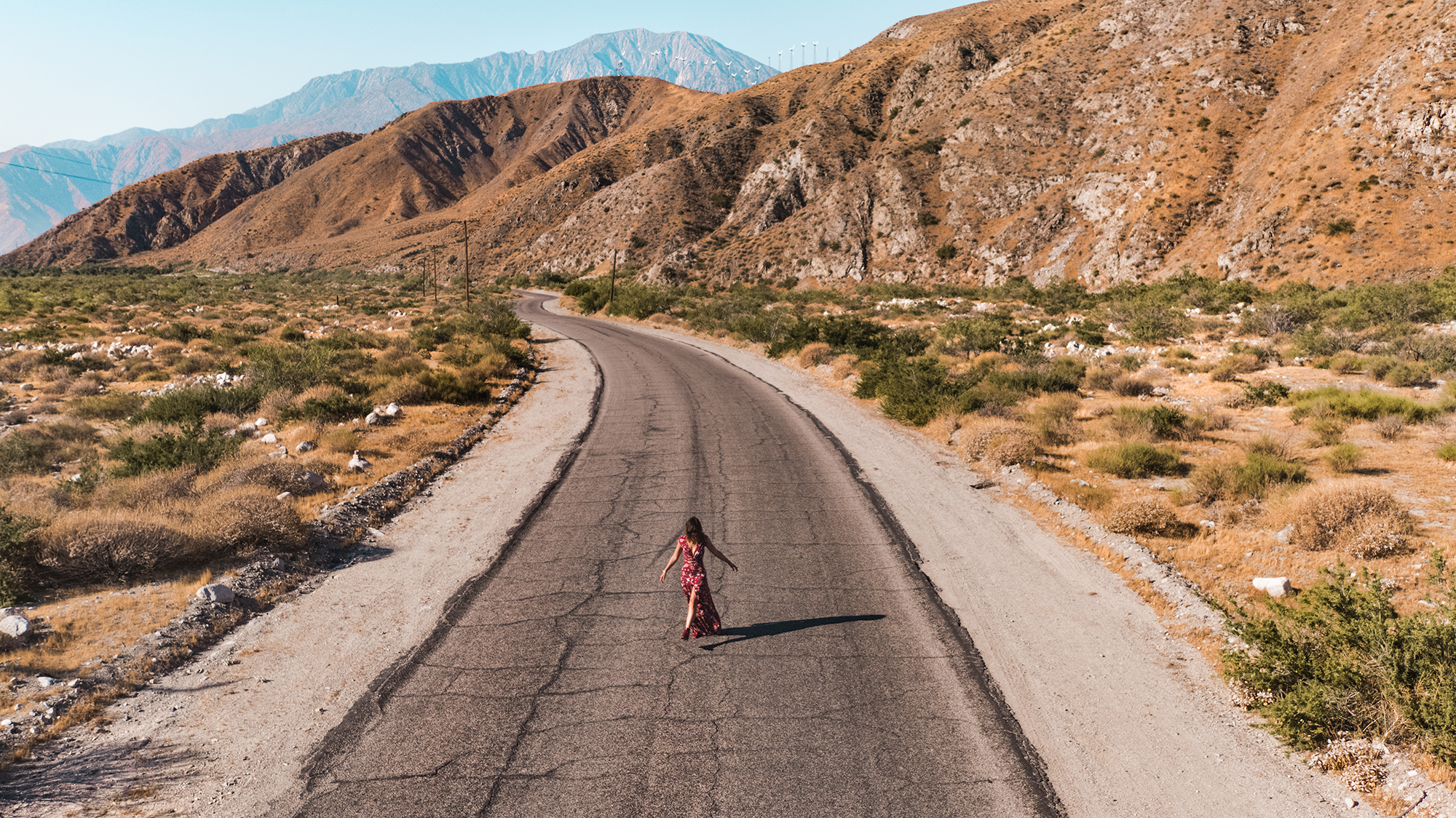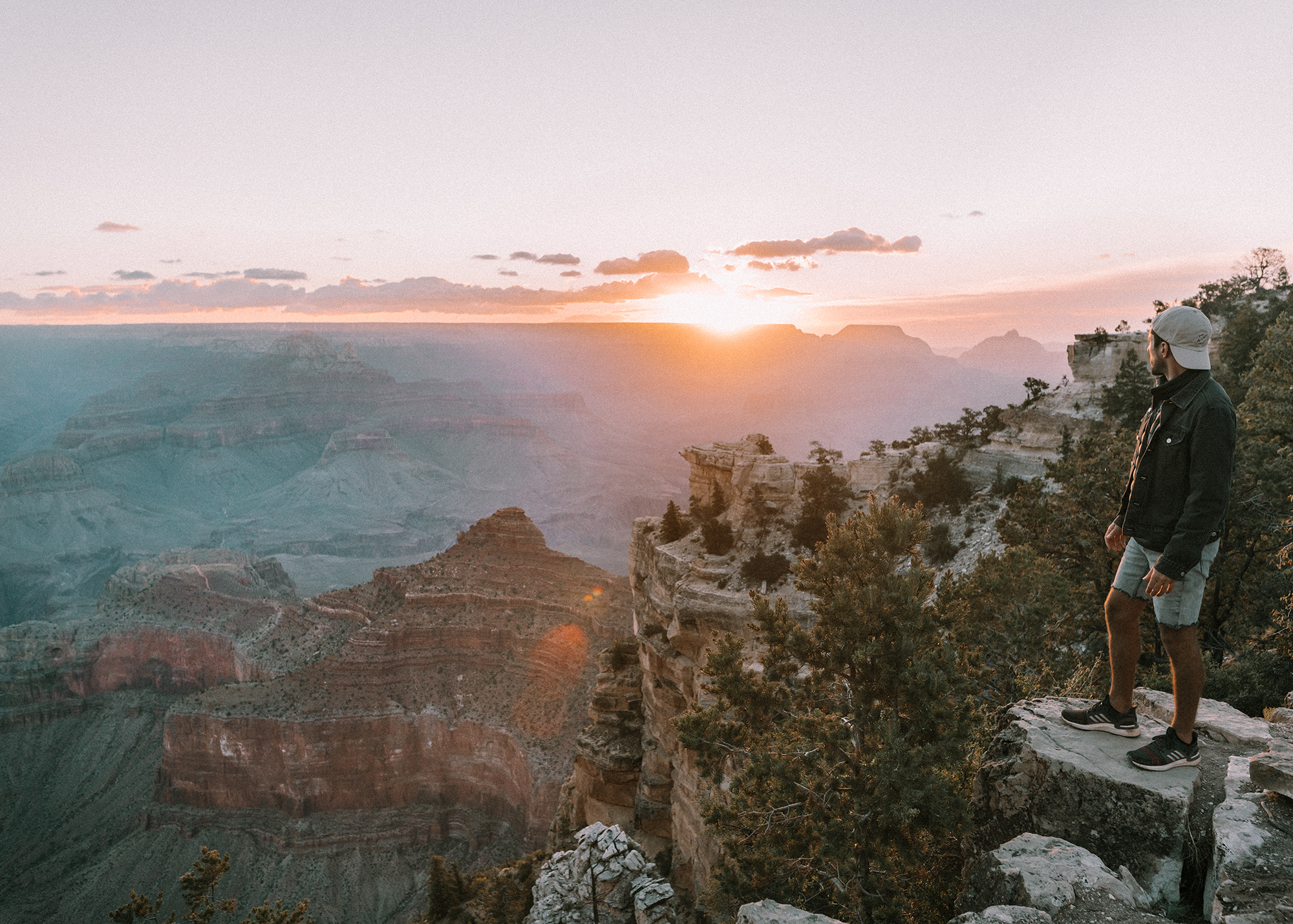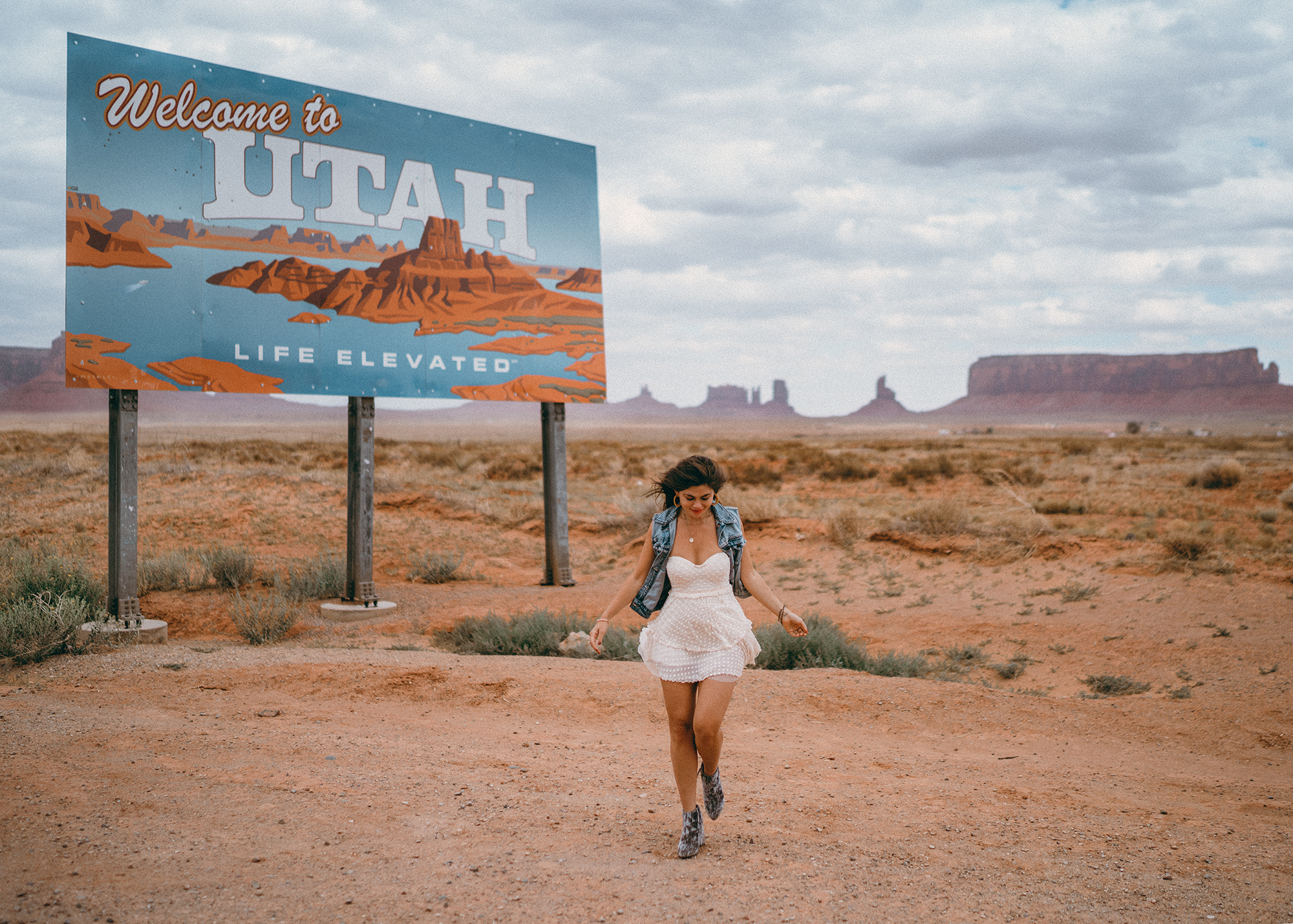 Like this post? Pin it for later and share it with others!