February 21, 2022 Travel Adventures
Xel-Ha and Xenotes: Adventuring in Quintana Roo, Mexico with Xcaret Expeditions
What to do in Cancun? While staying at Xcaret Arte Hotel, we adventured out into the nature of the area on two different full-day adventures with Xcaret Parks and Tours. First, for a sun-filled day in the tropical waters of Xel-Ha, and then ziplining, repelling, and kayaking through jungle cenotes on the Xenotes by Xcaret tour. Looking to get out of the resort and have some fun while on your Mexican vacation? Book your all-inclusive Xel-Ha day here and your Xenotes Tour here.
Xel-Ha Water Park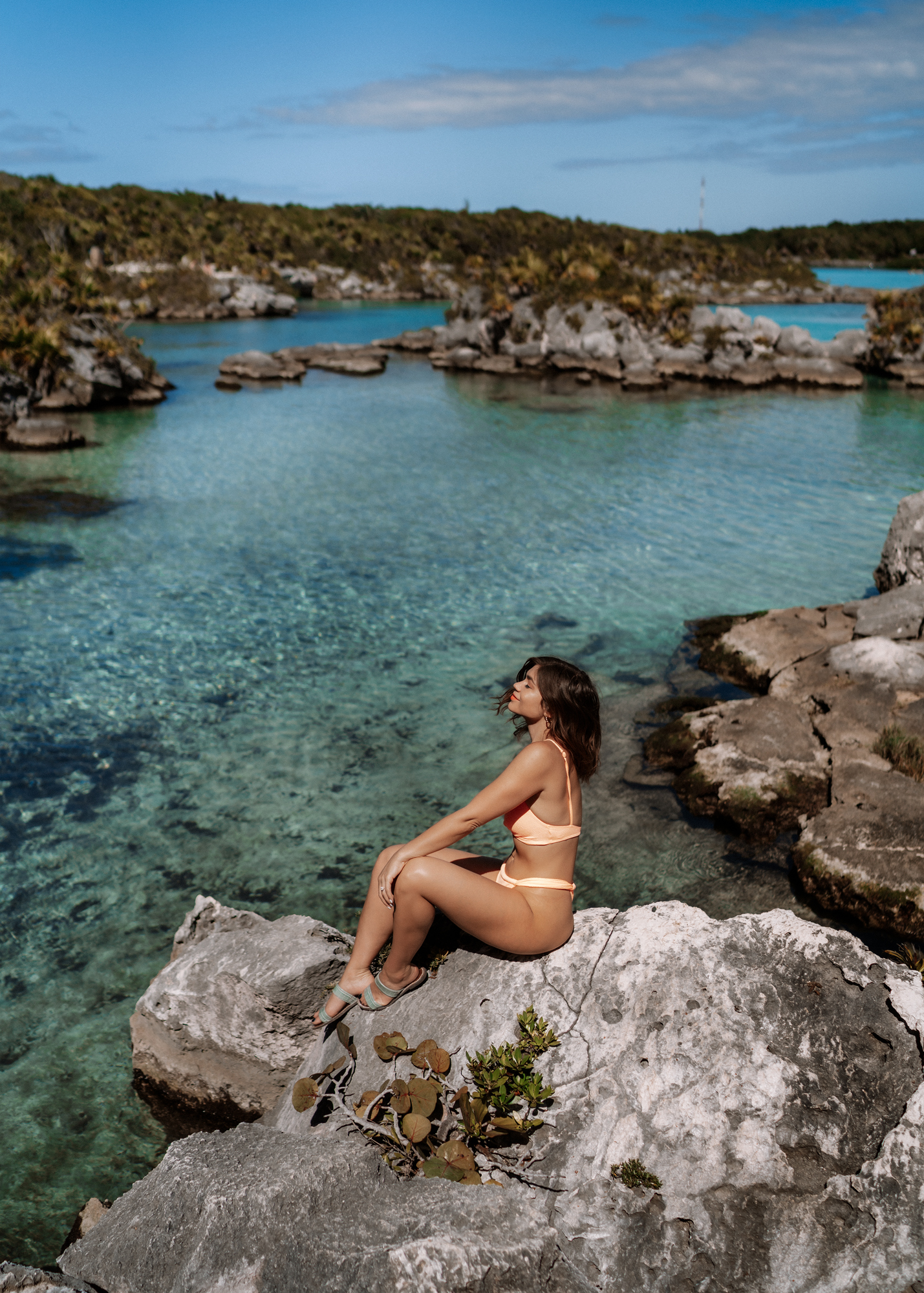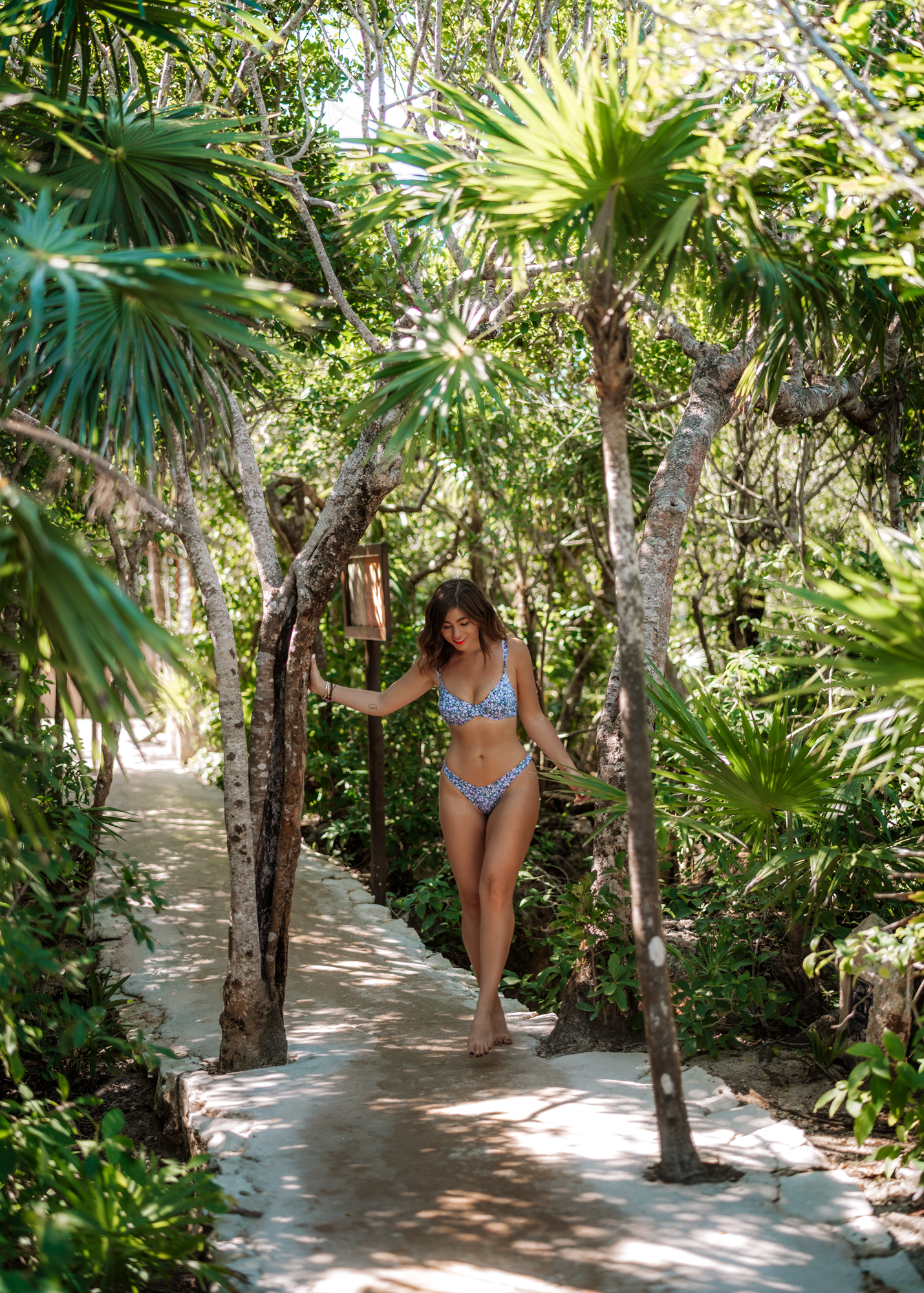 I'm not much for amusement park rides, but Brandon and I both LOVE a water park. I love waterslides, ziplines, lazy rivers, and any activity in warm, tropical water, so were really excited to spend a day out at Xel-Ha. This park is truly a playground, no matter what kind of trip you are on - there are tons of kids areas and child-friendly activities if you're with kids, and the all-inclusive entrance fee covers unlimited food and alcoholic drinks, if you're traveling adults-only. Sipping margaritas on a floatie in a lazy river? That's a yes for me.
There are bars and drink stands easily located all around the park, offering water, sodas, as well as cocktails and beer. We loved the grab-and-go bar aspect, and especially that they were all using thick reusable plastic cups and not disposable ones. The constant access to ice cold water was (literally) refreshing, and we visited one of the lunch buffets and were impressed with their selection and the quality of the food available. I kept it pretty simple with barbecue chicken, spicy potato wedges, guacamole, and soft serve ice cream and they were all great.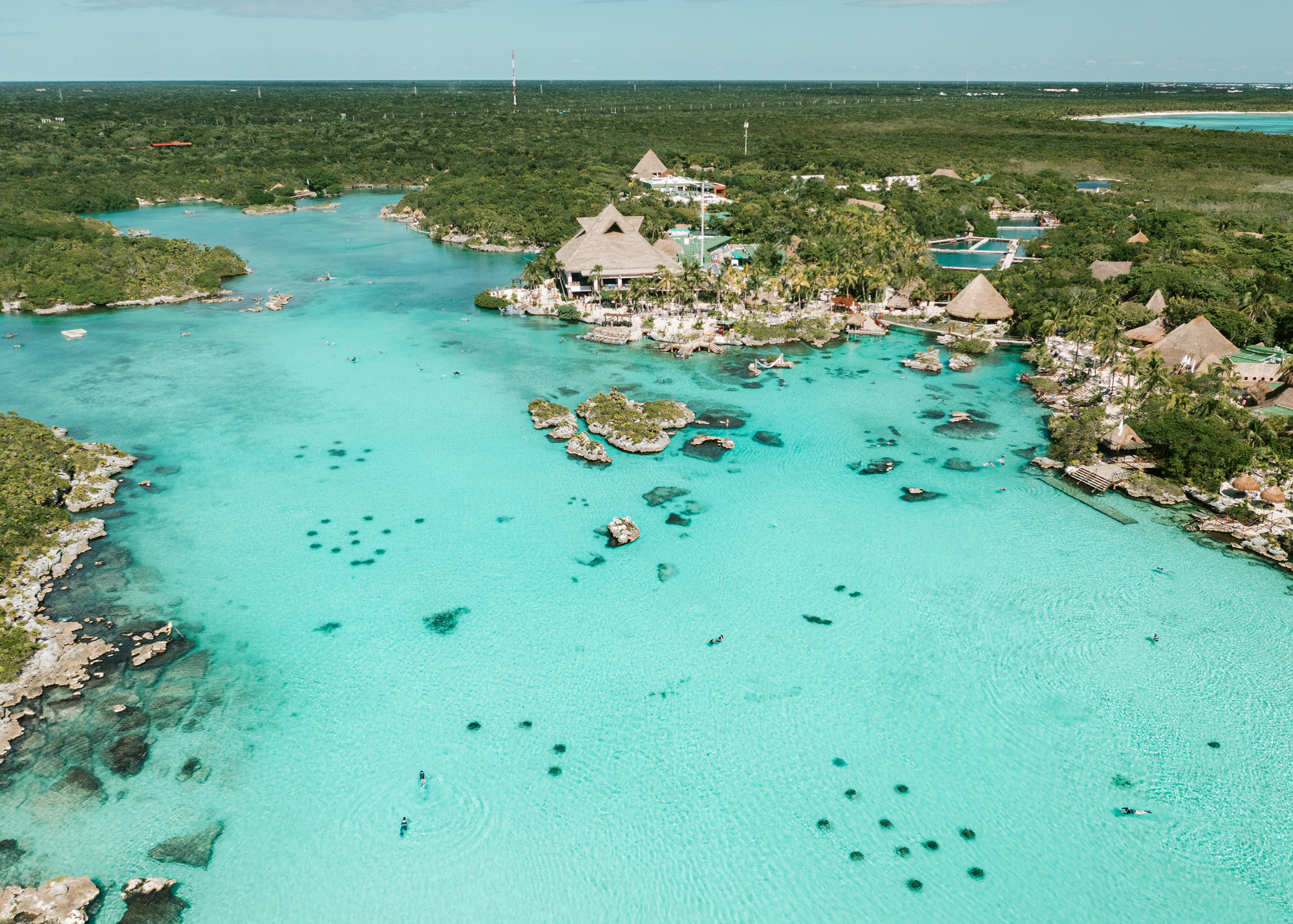 And the water here is just unreal! This photo is hardly edited at all - the entire day I could not stop commenting on how stunningly blue the water was - this is a natural lagoon and some of the nicest water I have seen in this part of Mexico.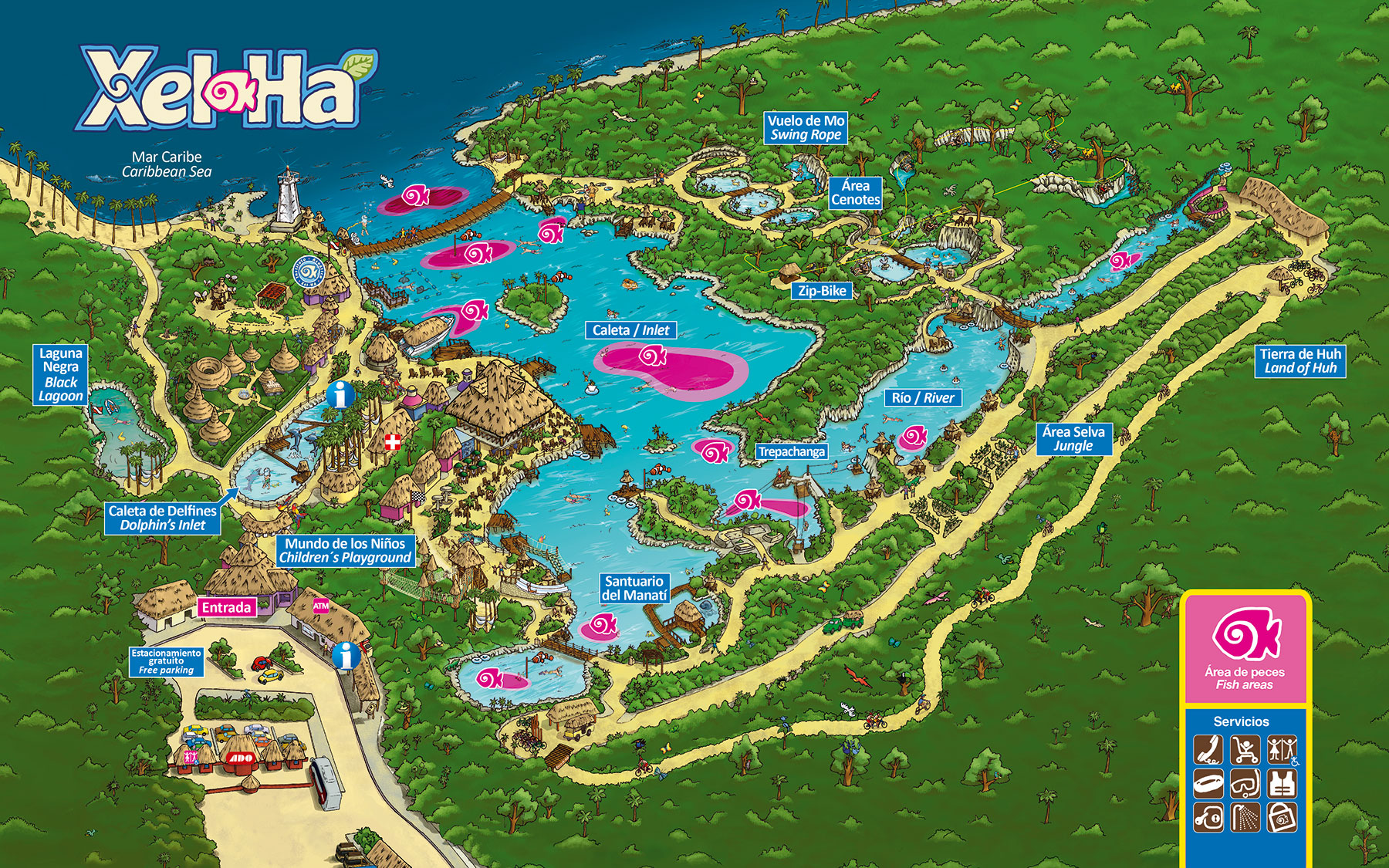 The Xel-ha park is huge! It is very easy to spend a full day here without getting bored - whether you want to take a bike down the jungle bike path, go for a long walk, relax in the hammocks and lazy river, or get adventurous with cliff jumping, ziplines, and climbing to the top of the tower to take the waterslides all the way down. Check out the full list of attractions and add-ons here!
My best tip is if you want to do any of the bonus activities, schedule them when you arrive early in the day (the one we wanted to do and ran out of time for was the treetop Zip-Bike, so you can get the best available time slots!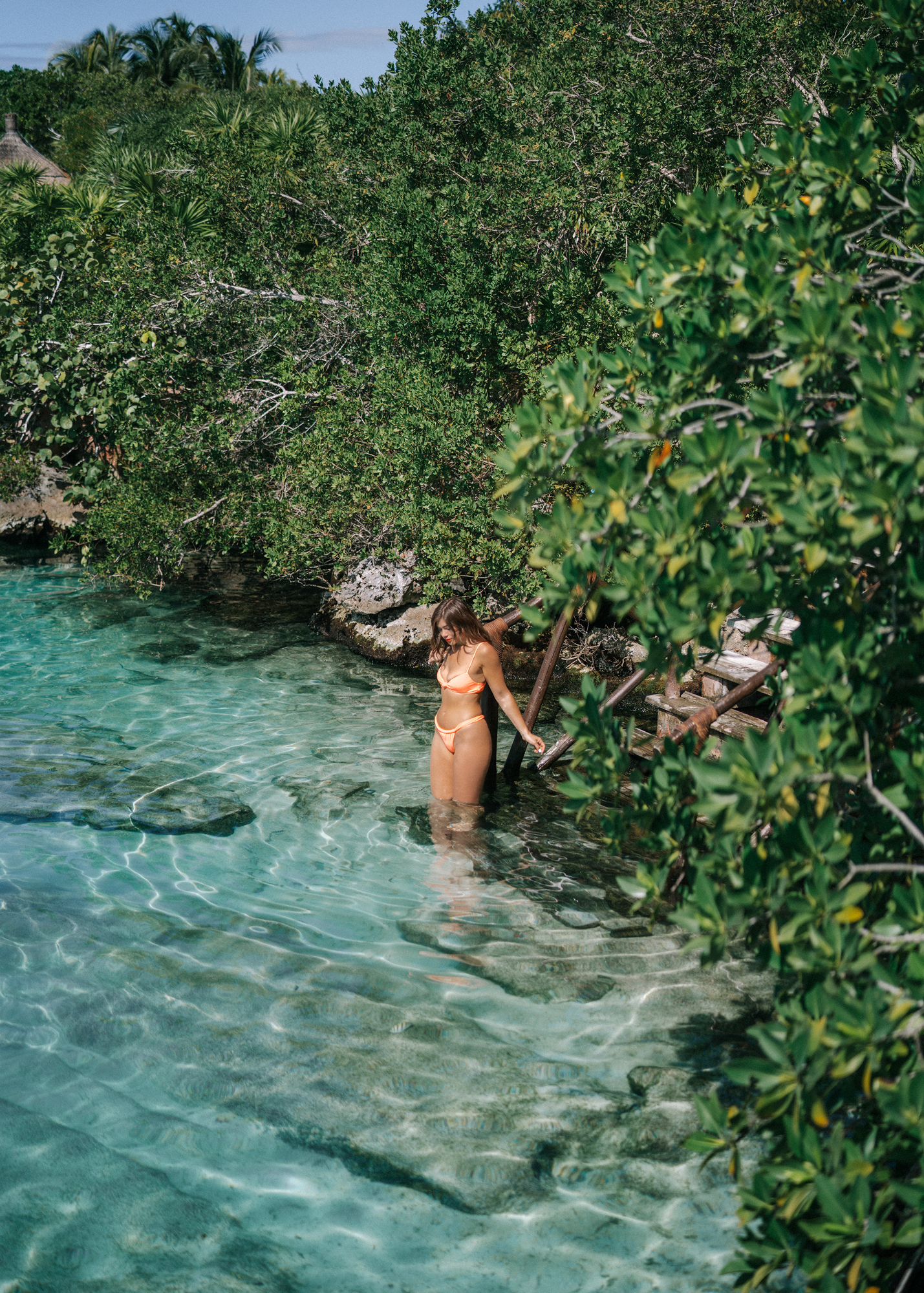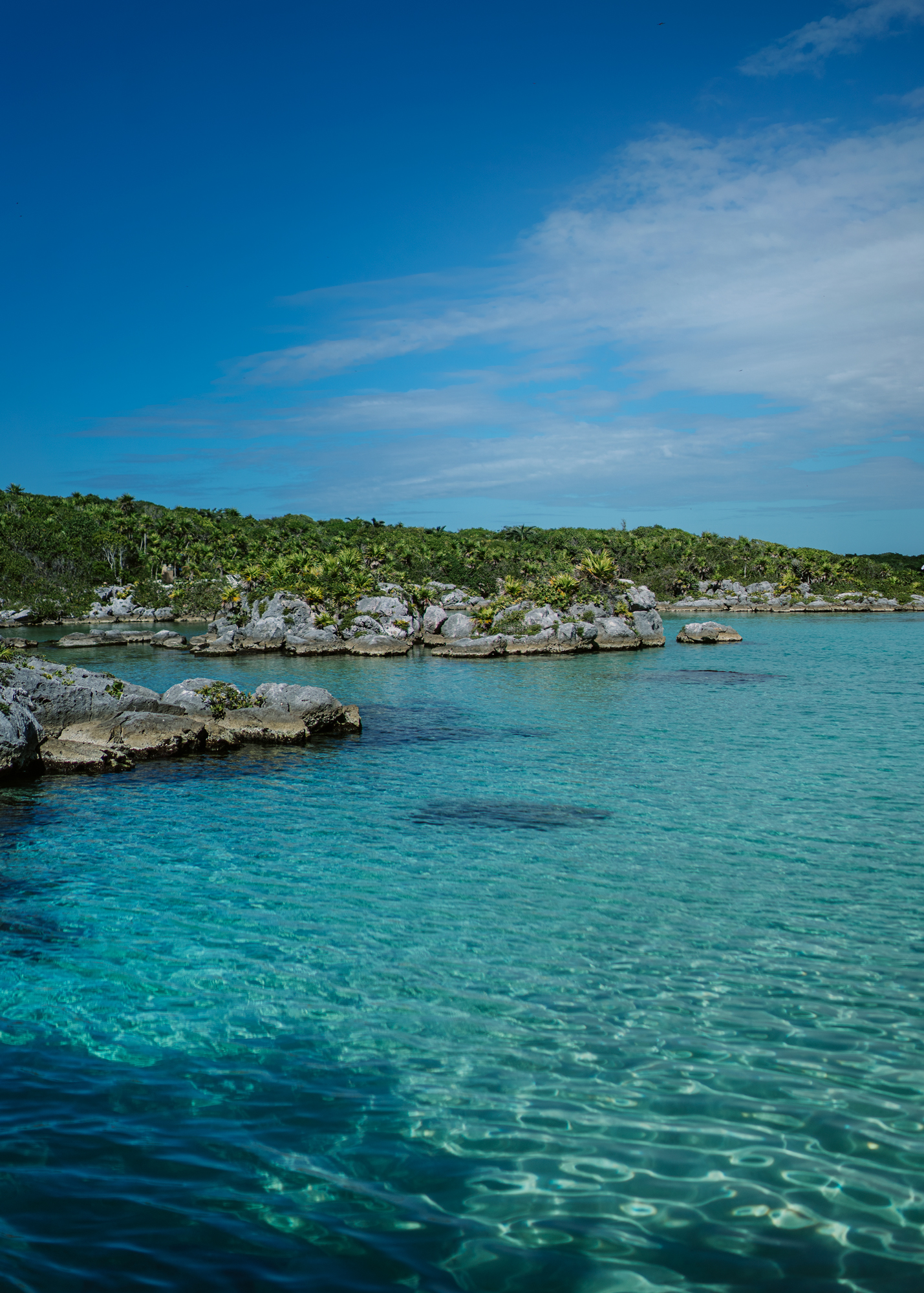 The many shades of aqua blue, crystal-clear water.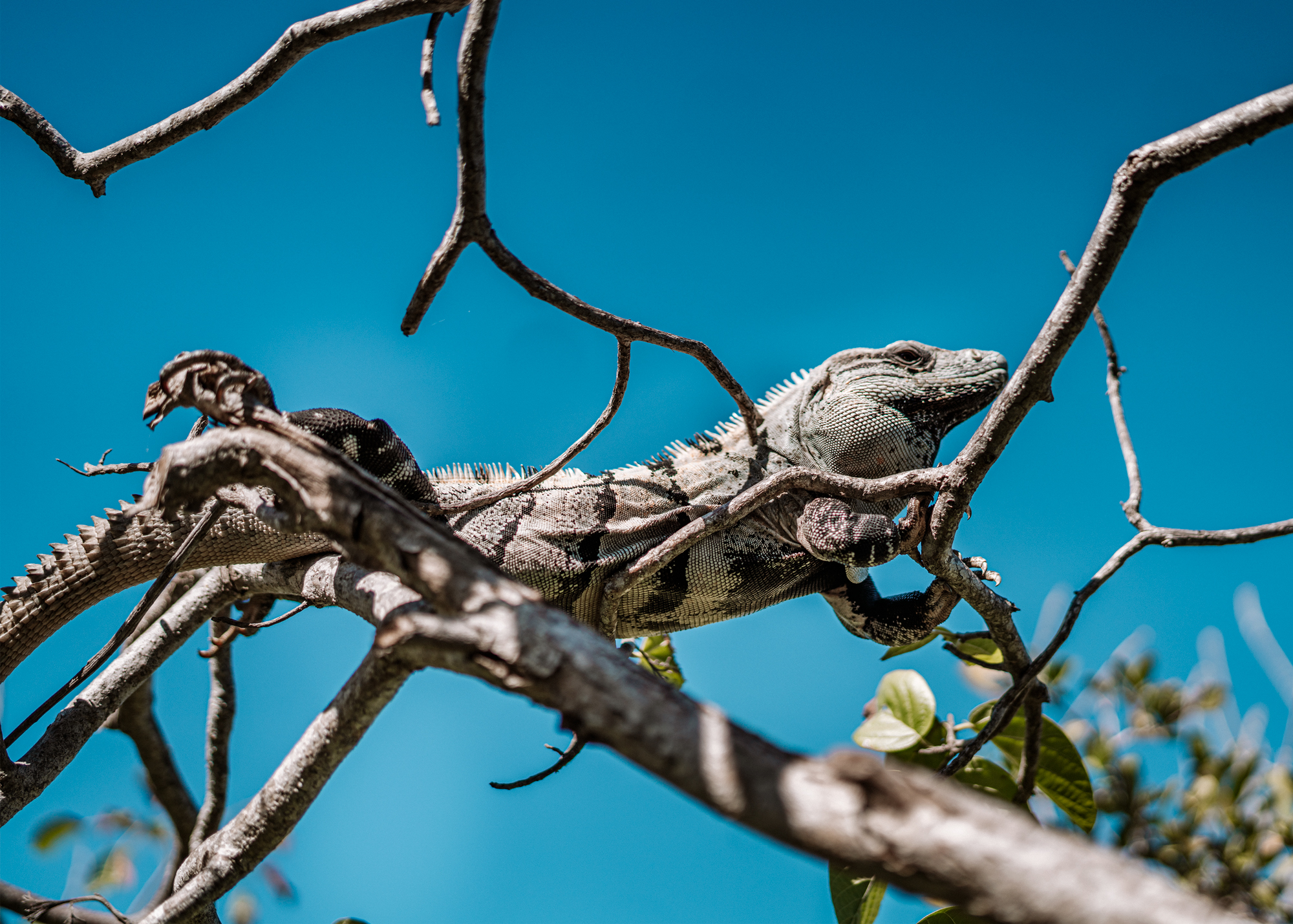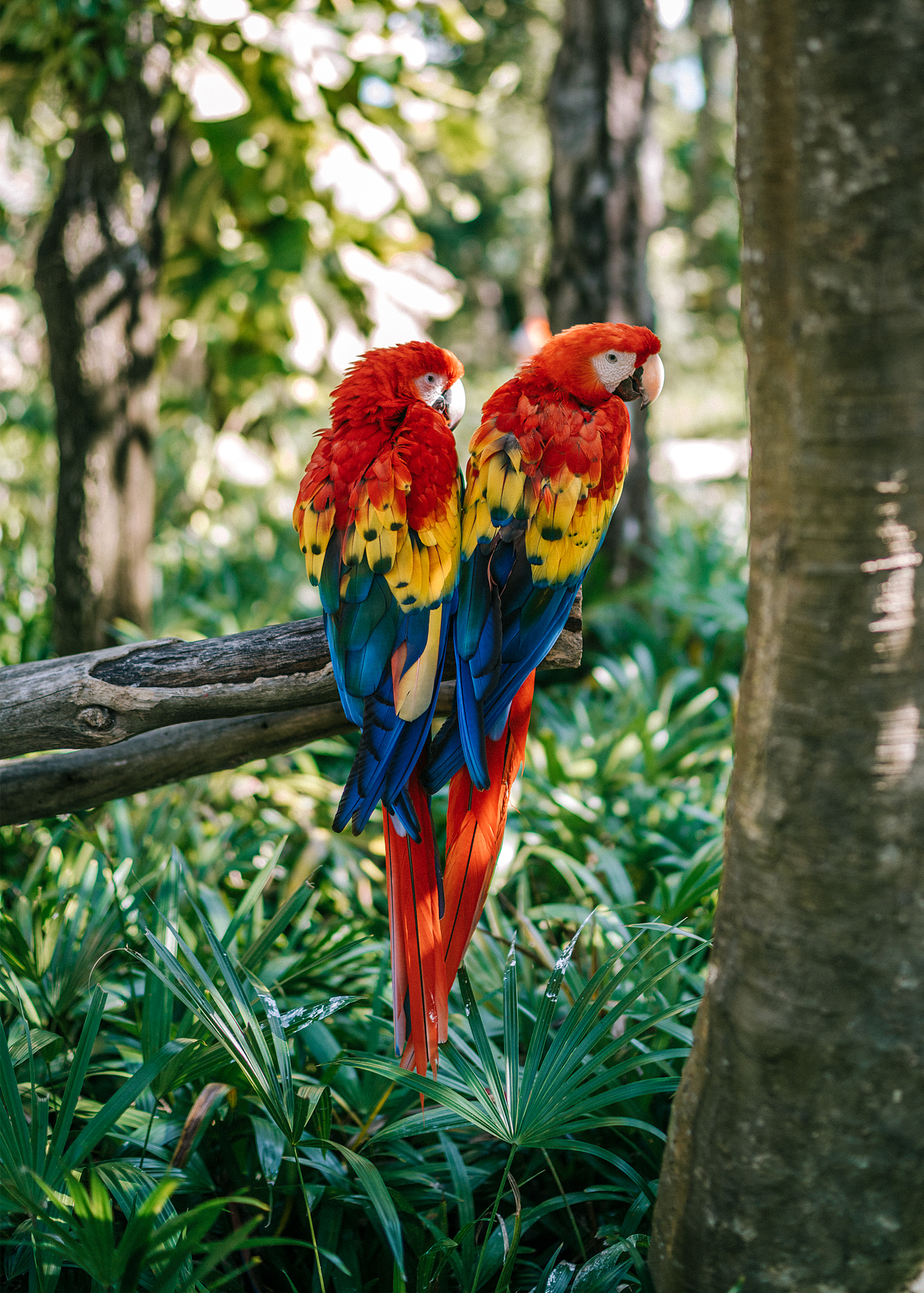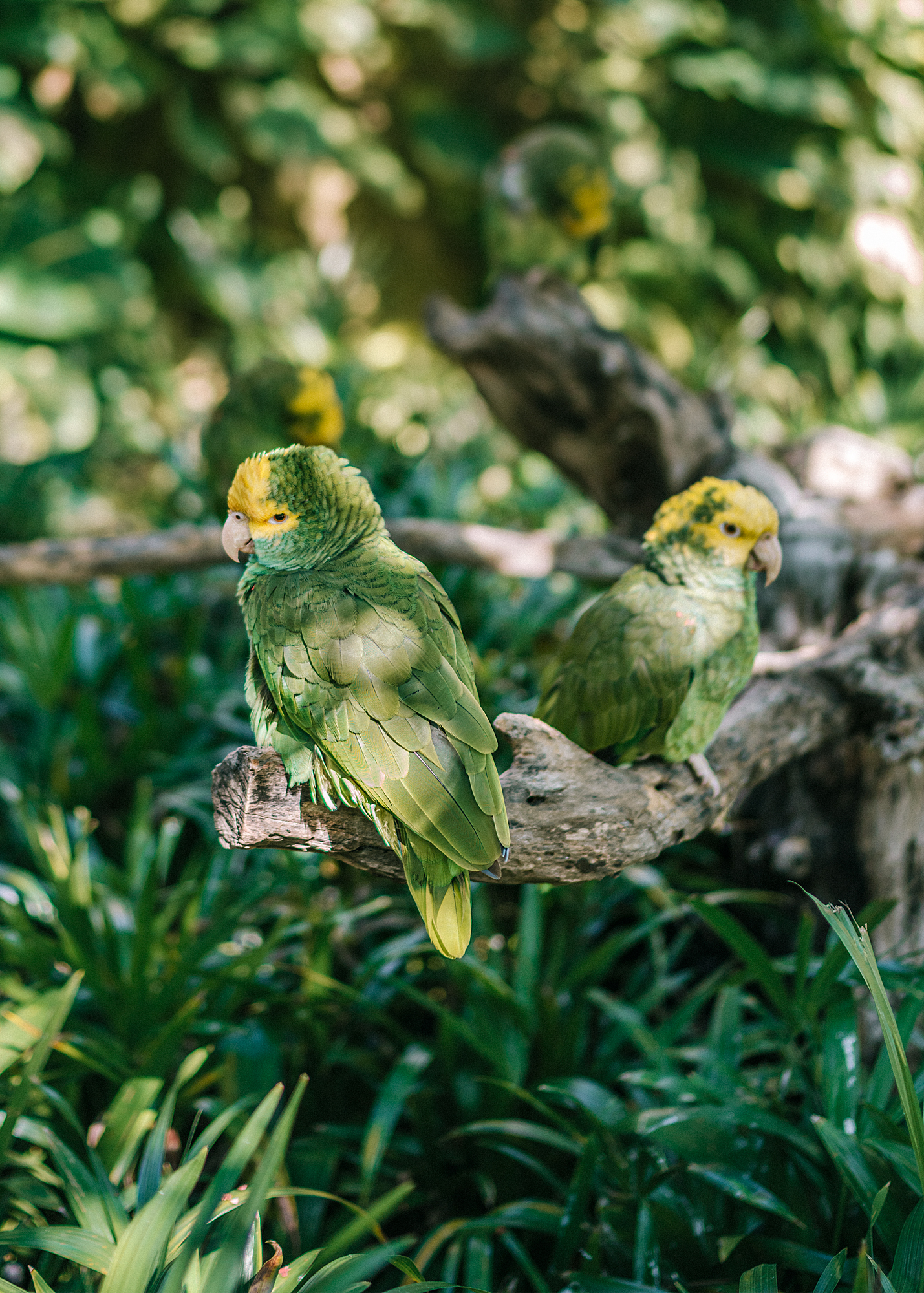 We also really enjoyed finding and stalking the wildlife around the park.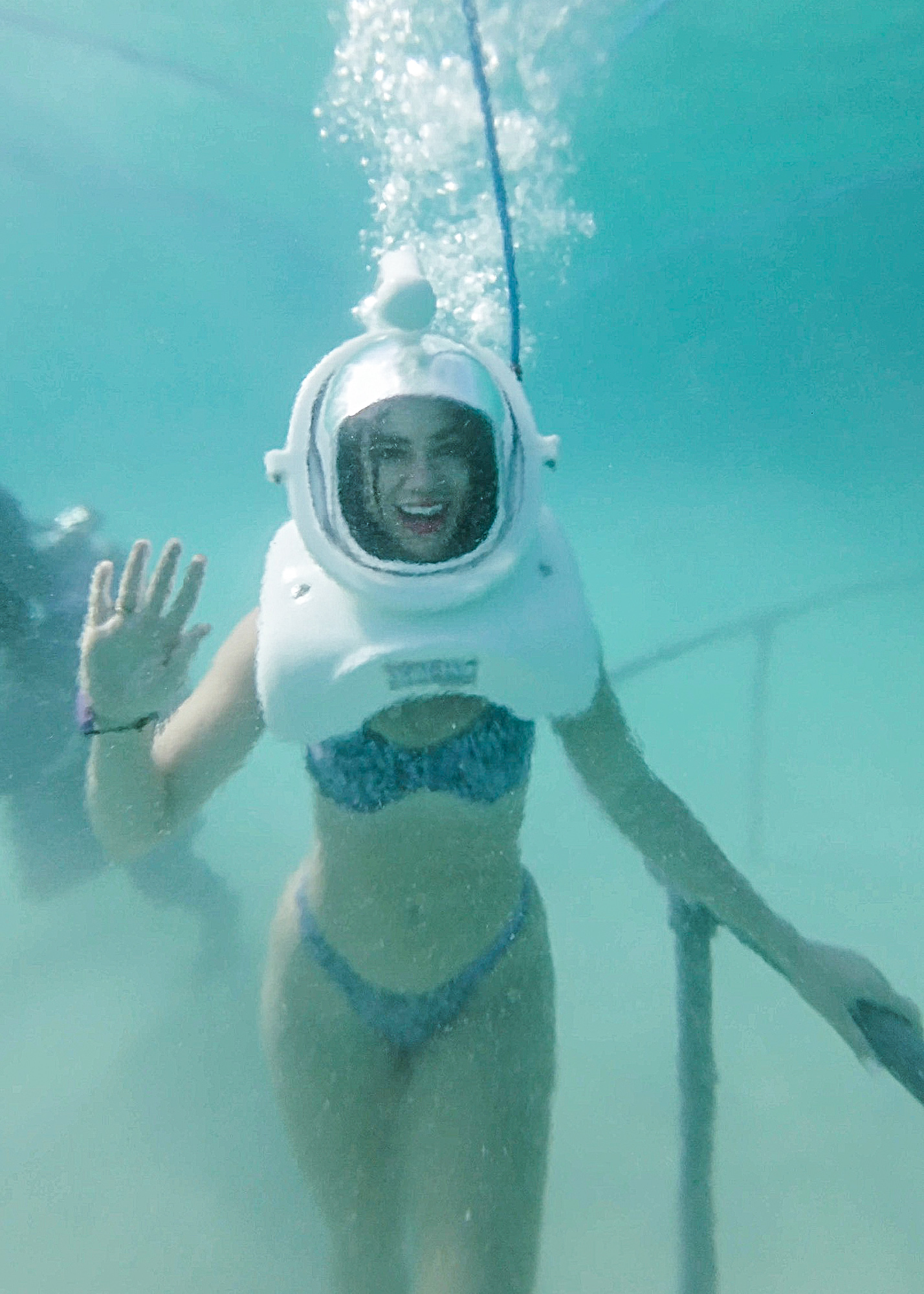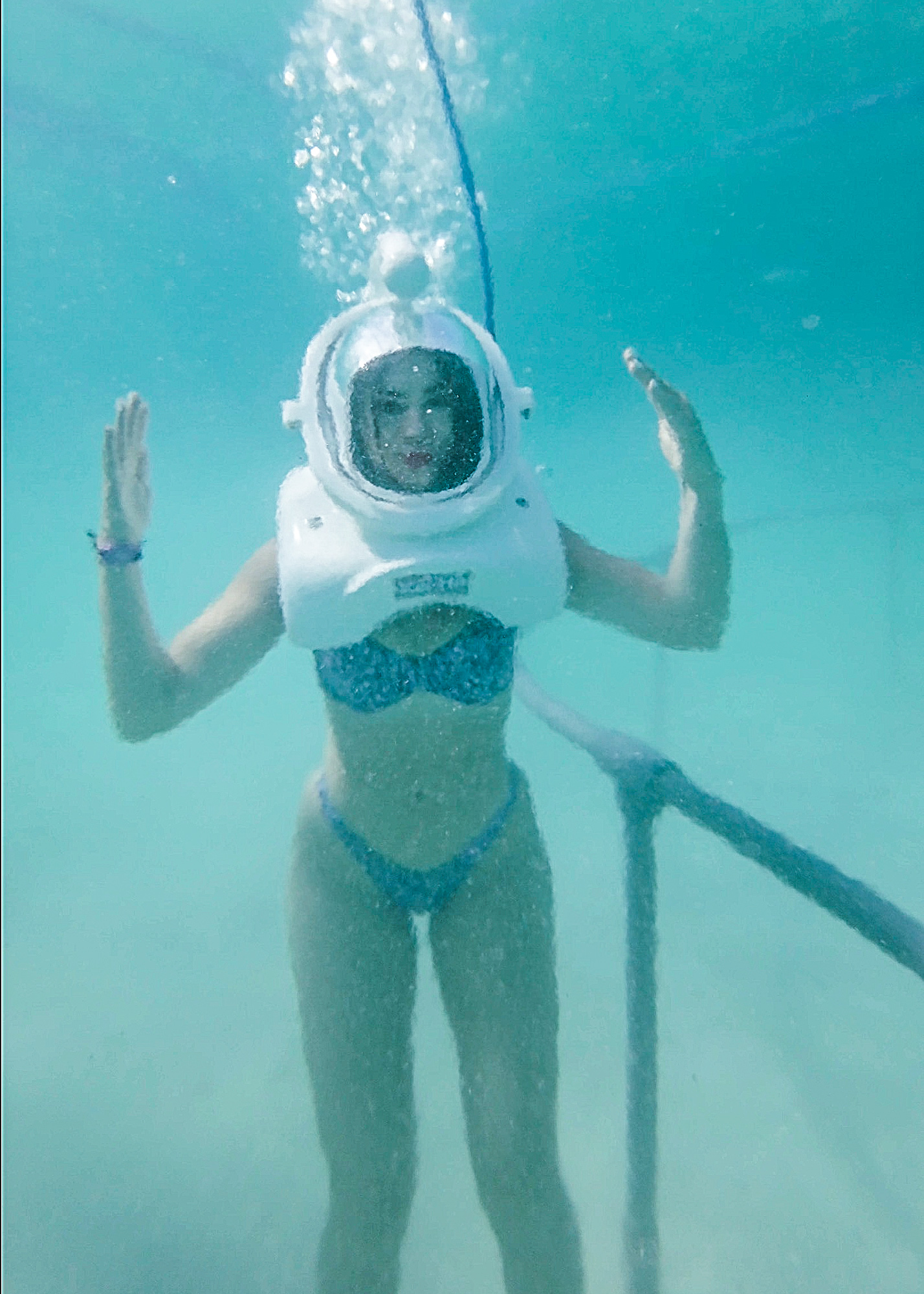 While we were at Xel-Ha, we decided to try out the underwater Sea Trek - where you can walk on the ocean floor using a helmet delivering oxygen. The helmet creates an air bubble around your head and neck, leaving your face dry and your breathing normal. As certified SCUBA divers, we didn't enjoy this as much as diving, but it was a fun and interesting 30 minute excursion - and a way for non-divers to be able to experience being under the water without going through the SCUBA process.
You can pre-book a Sea Trek experience at a discount here!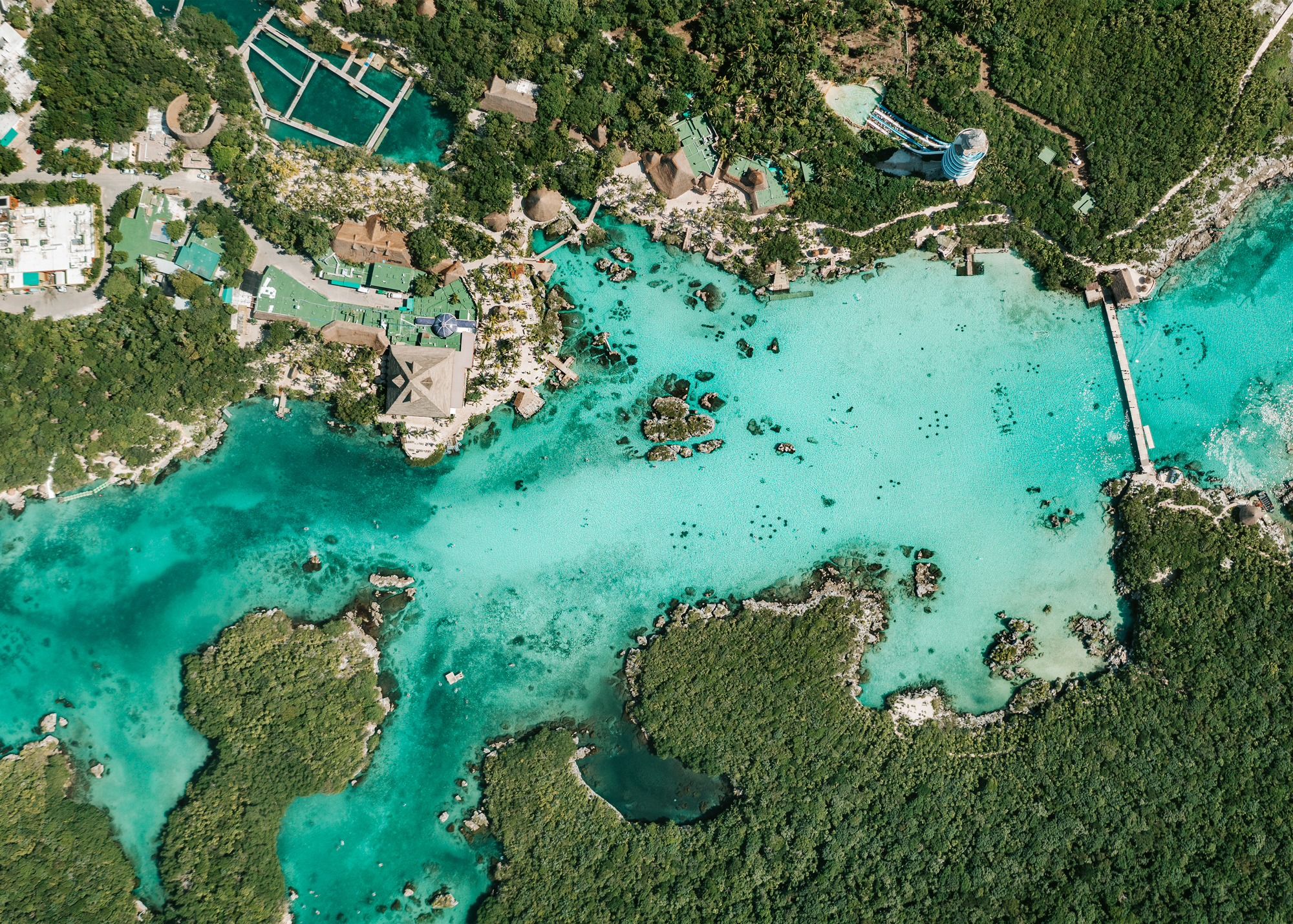 So much room for activities!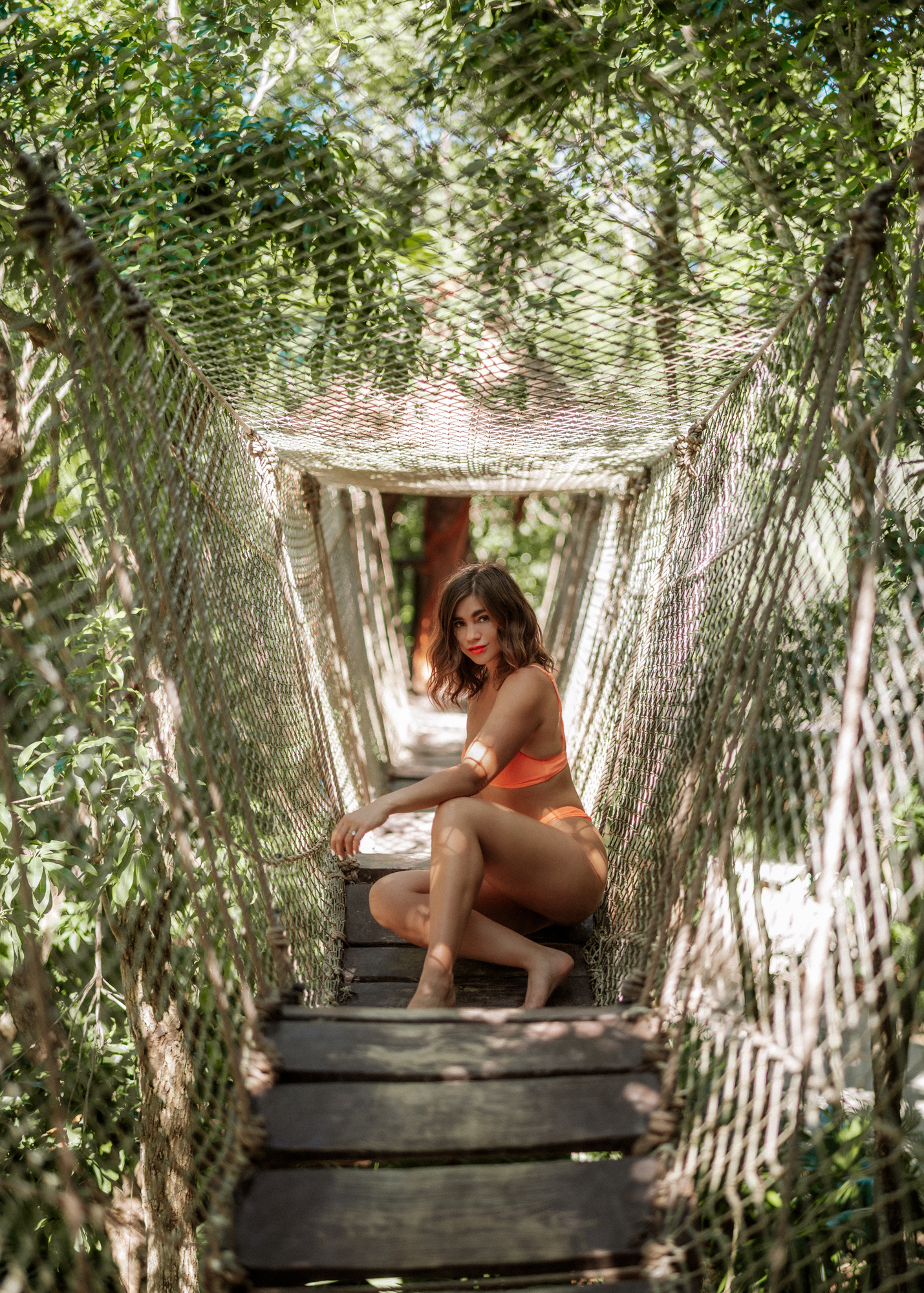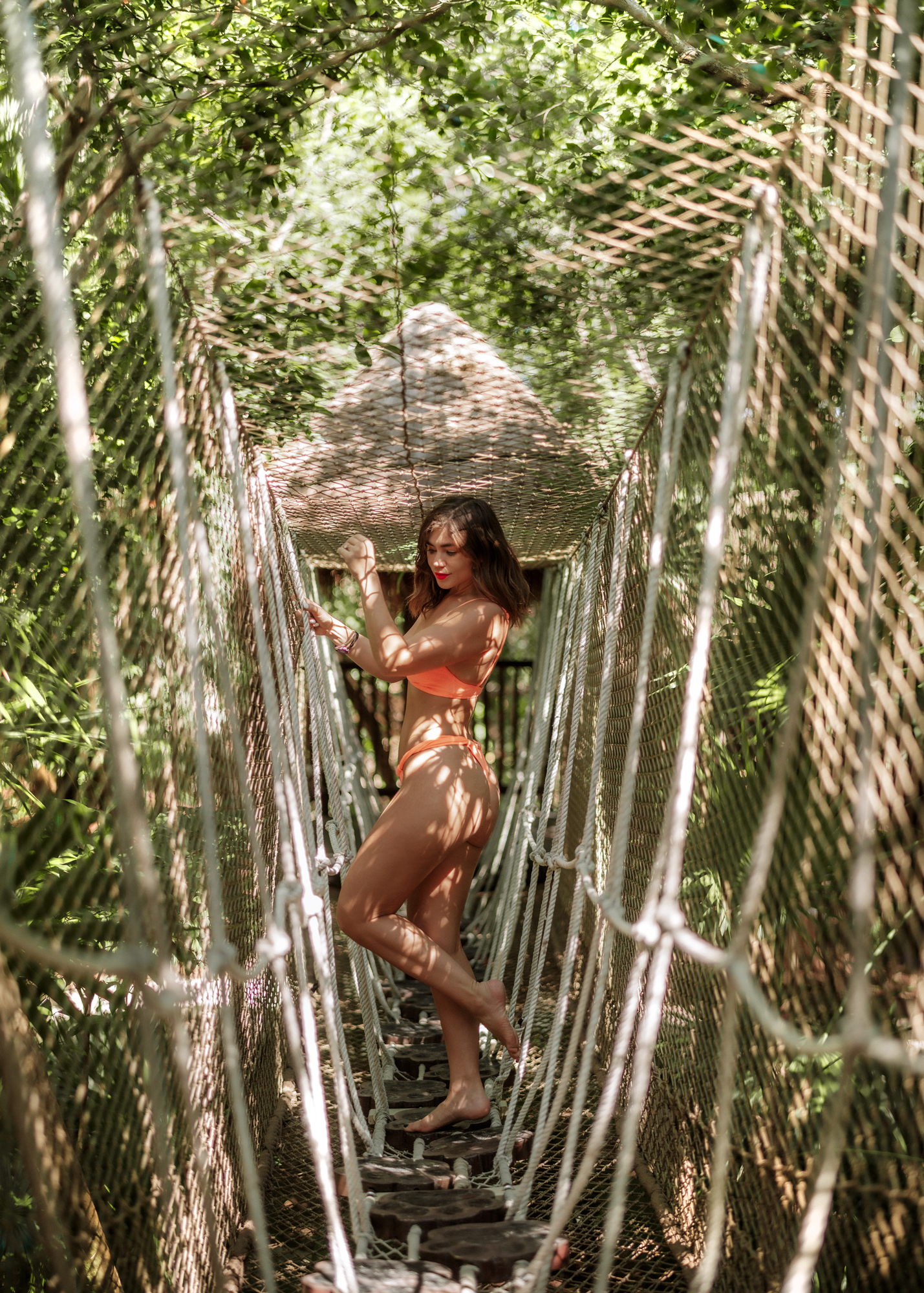 This area is actually the playground, but the light here was too gorgeous to not take photos.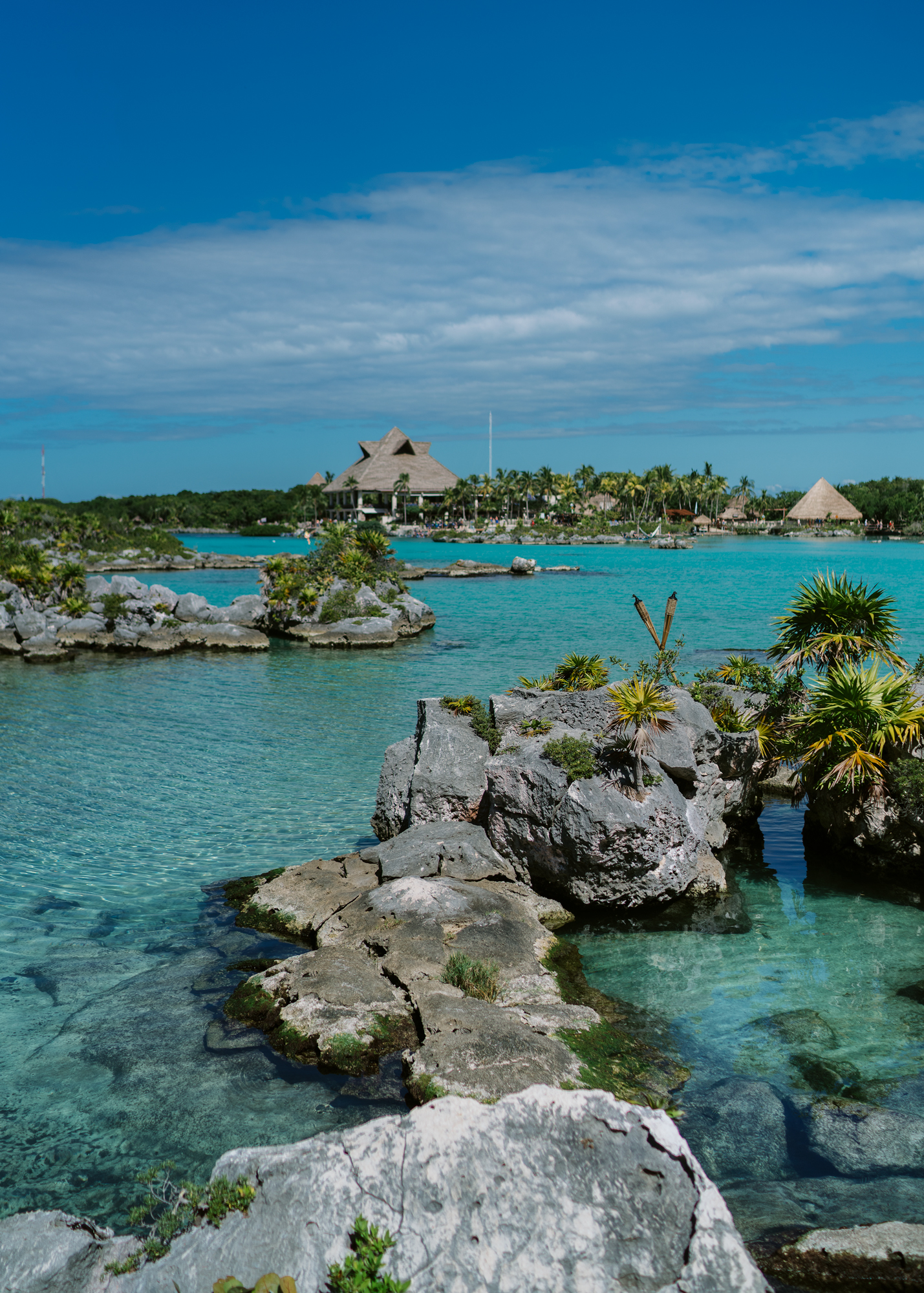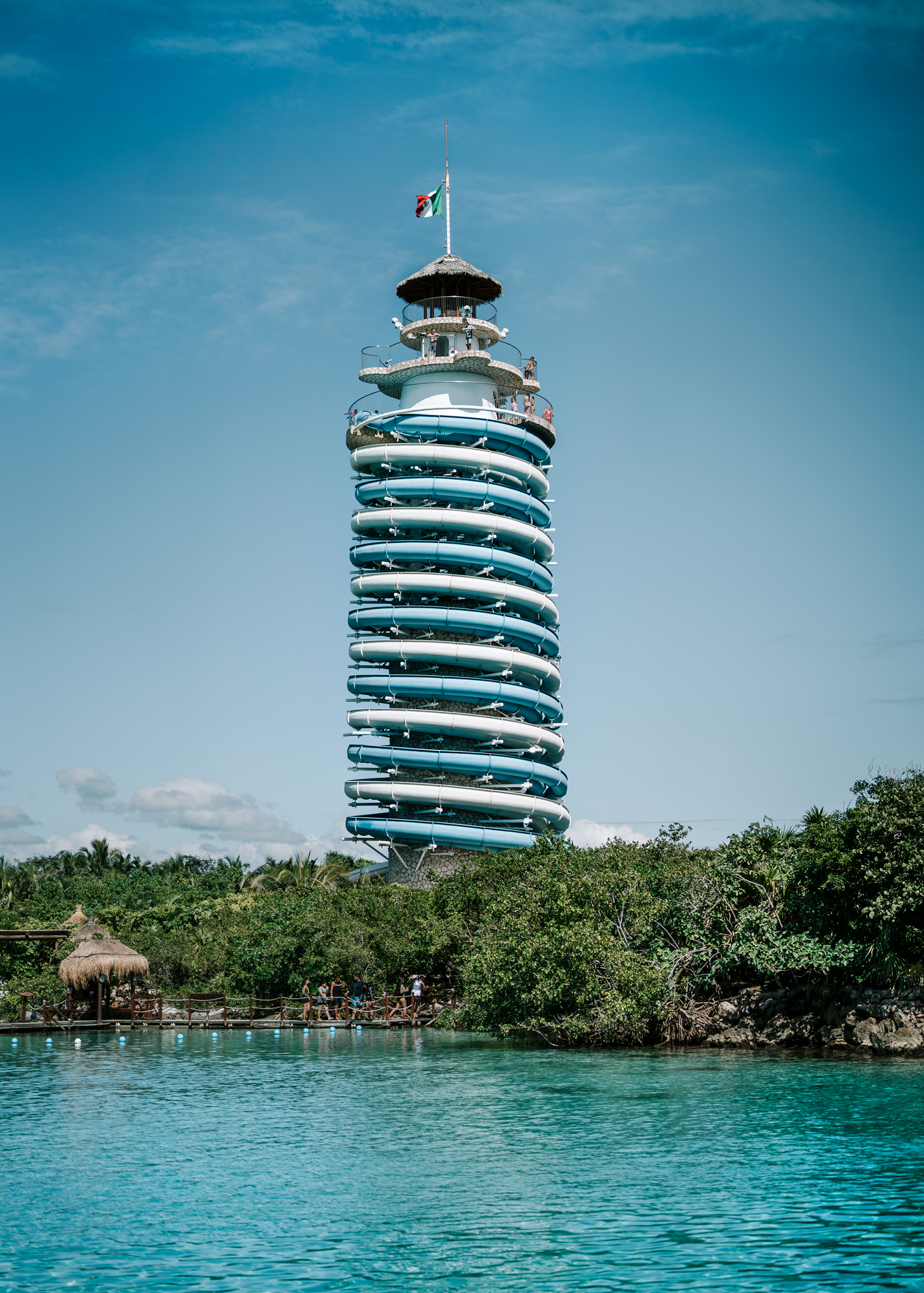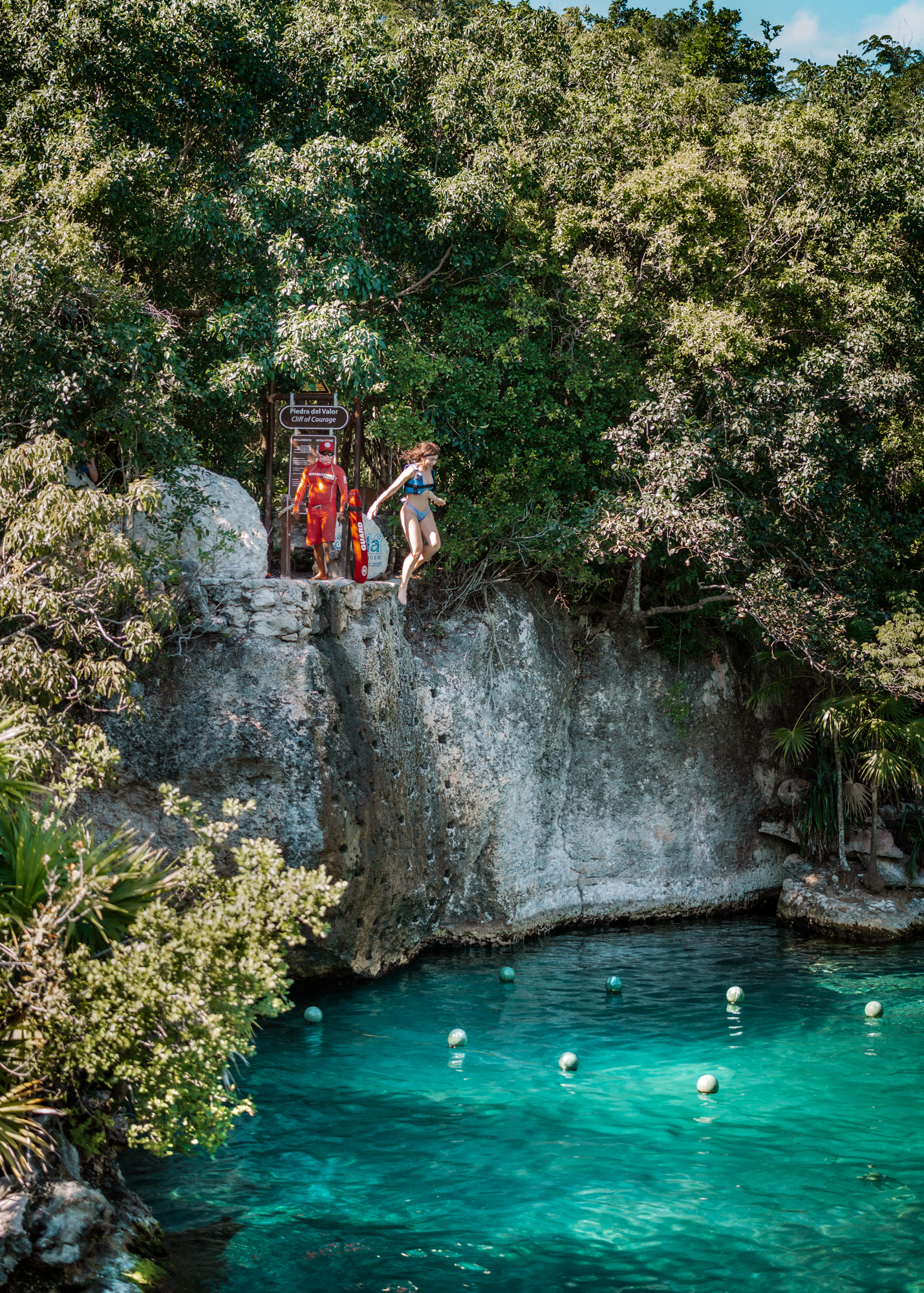 Jumping off the "cliff of courage"! This cliff is 5 meters high, but definitely feels a little higher when you're looking down from the top.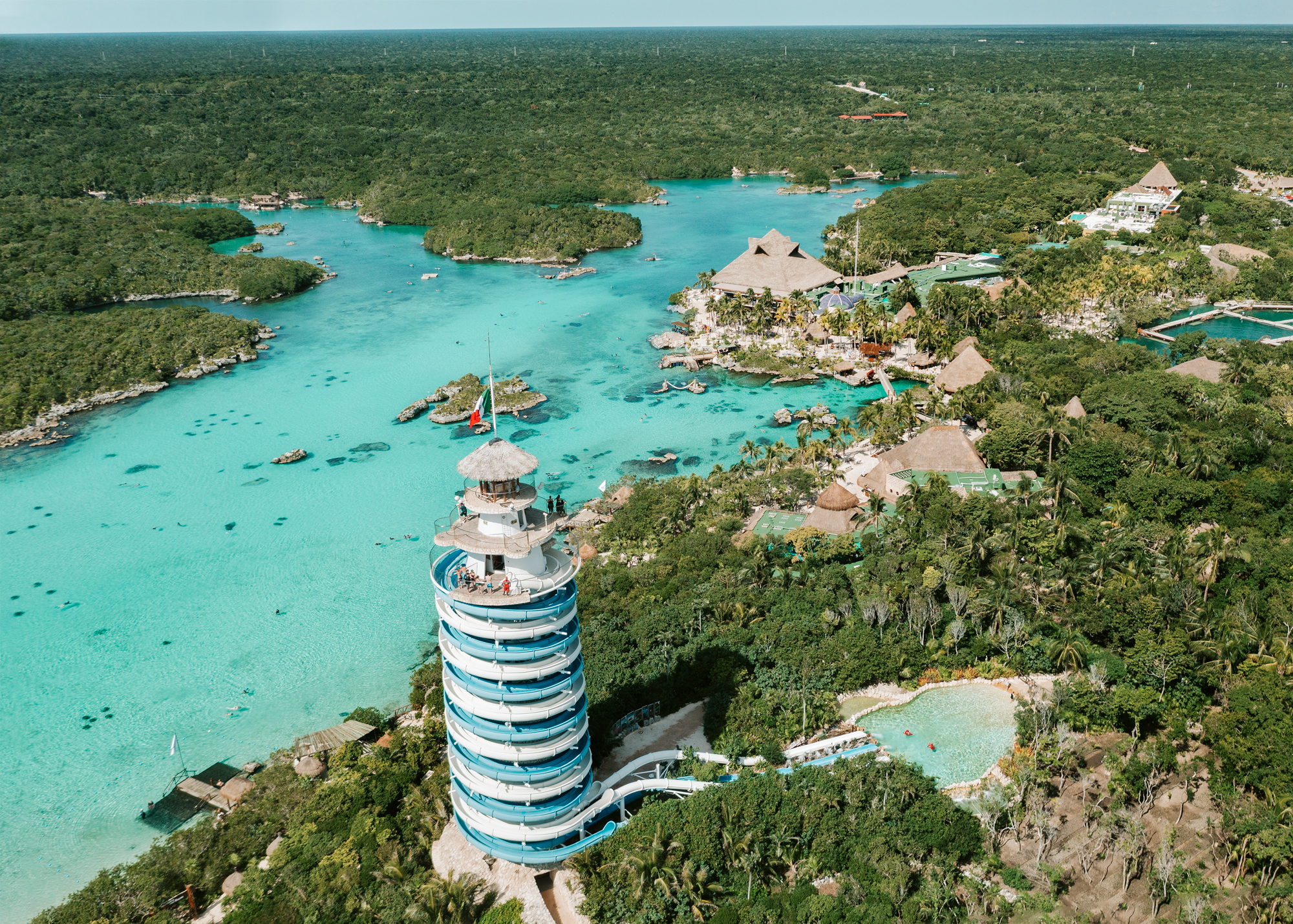 Check out how cool the tower waterslides are!
We ended up staying at Xel-Ha from around 10am to 3:30pm, and never ran out of things to do. I would have stayed longer!
What to Bring With You: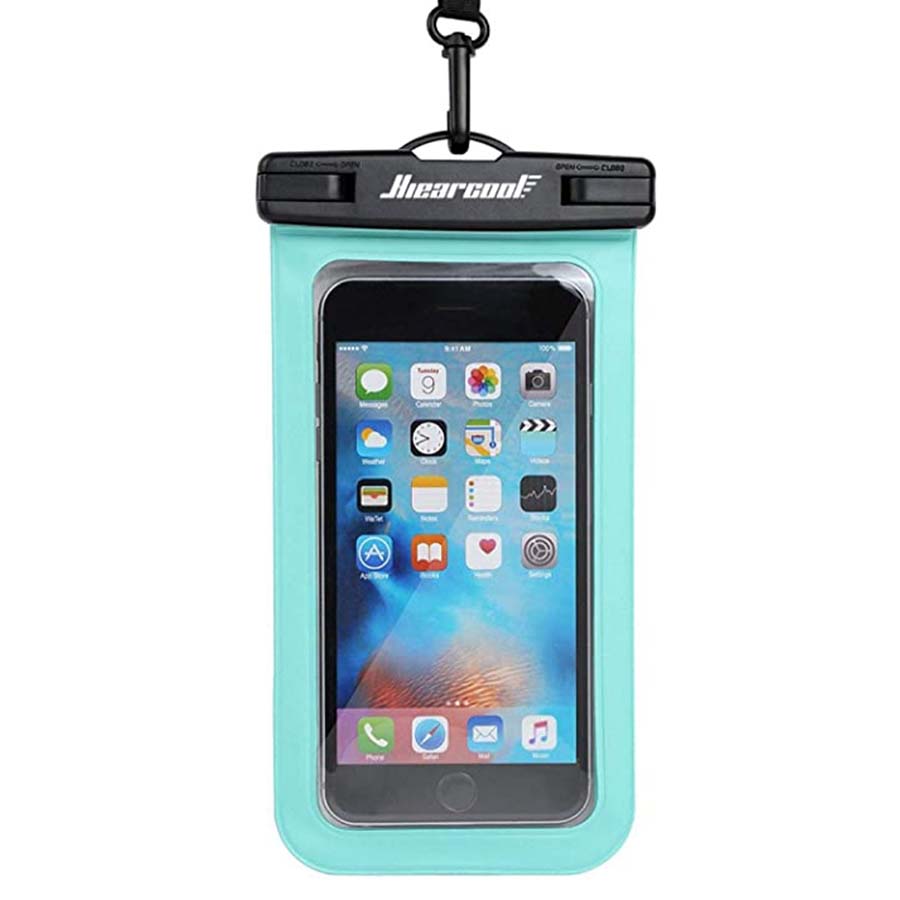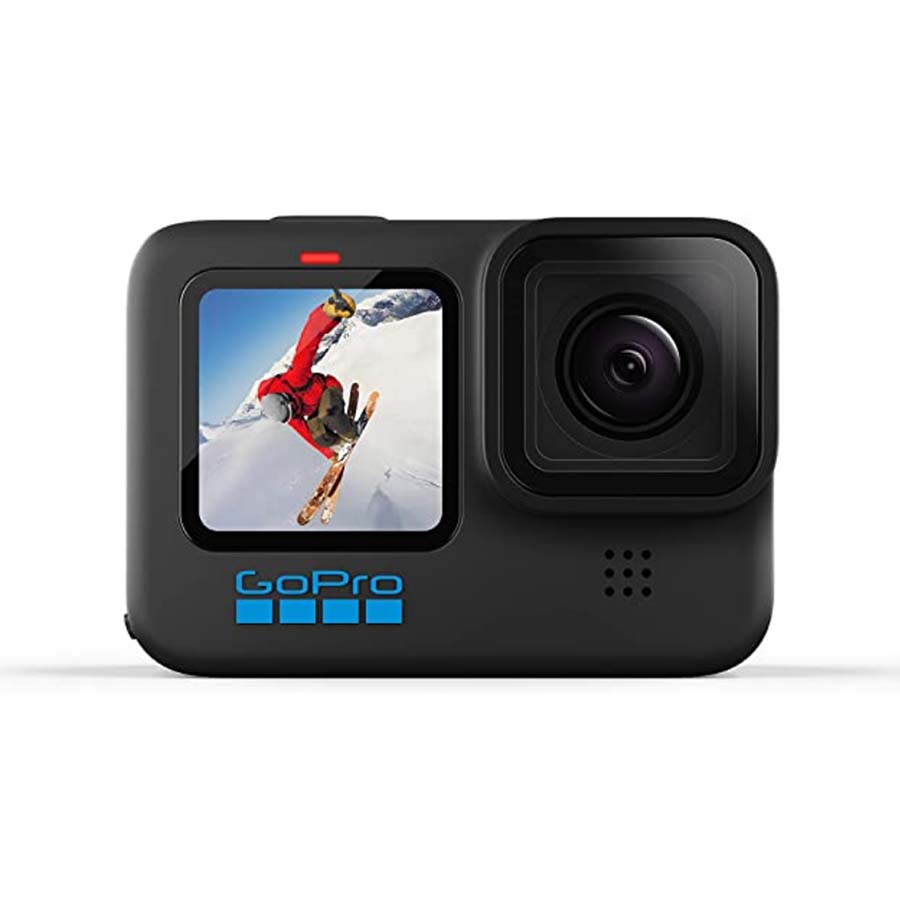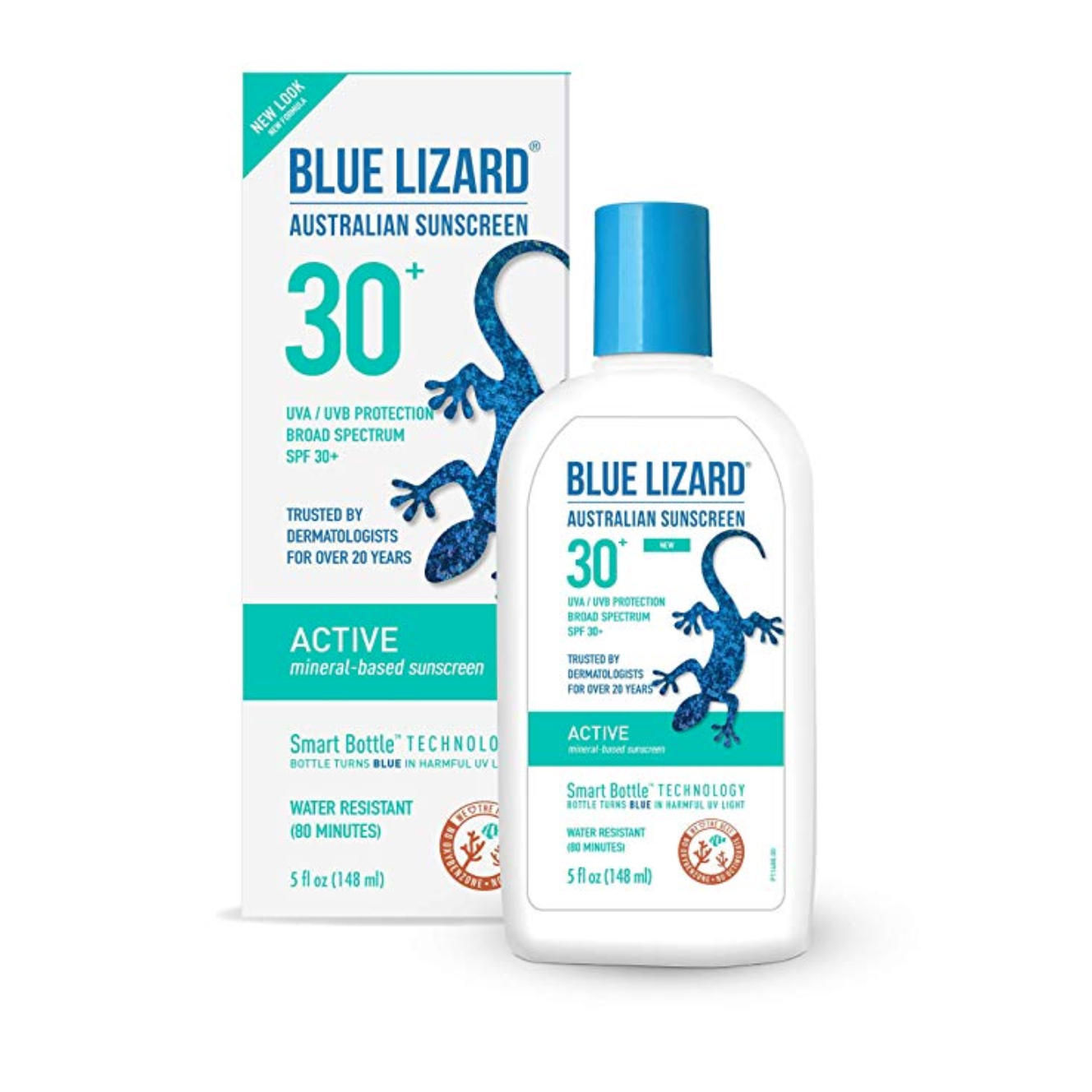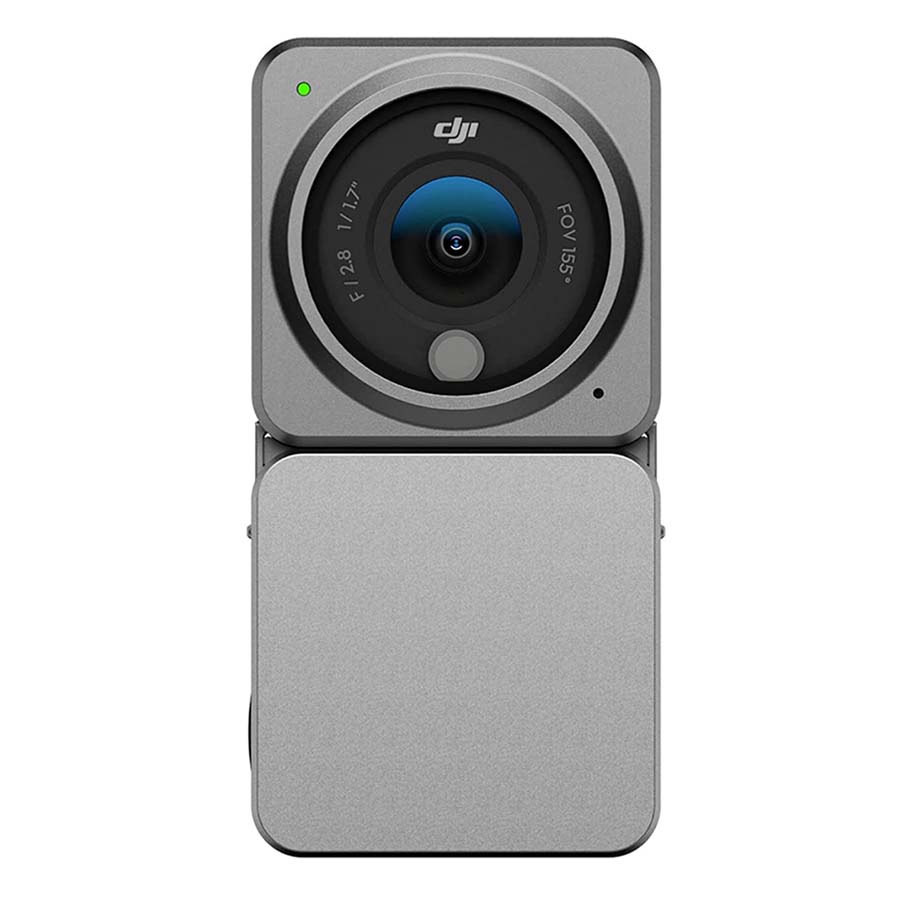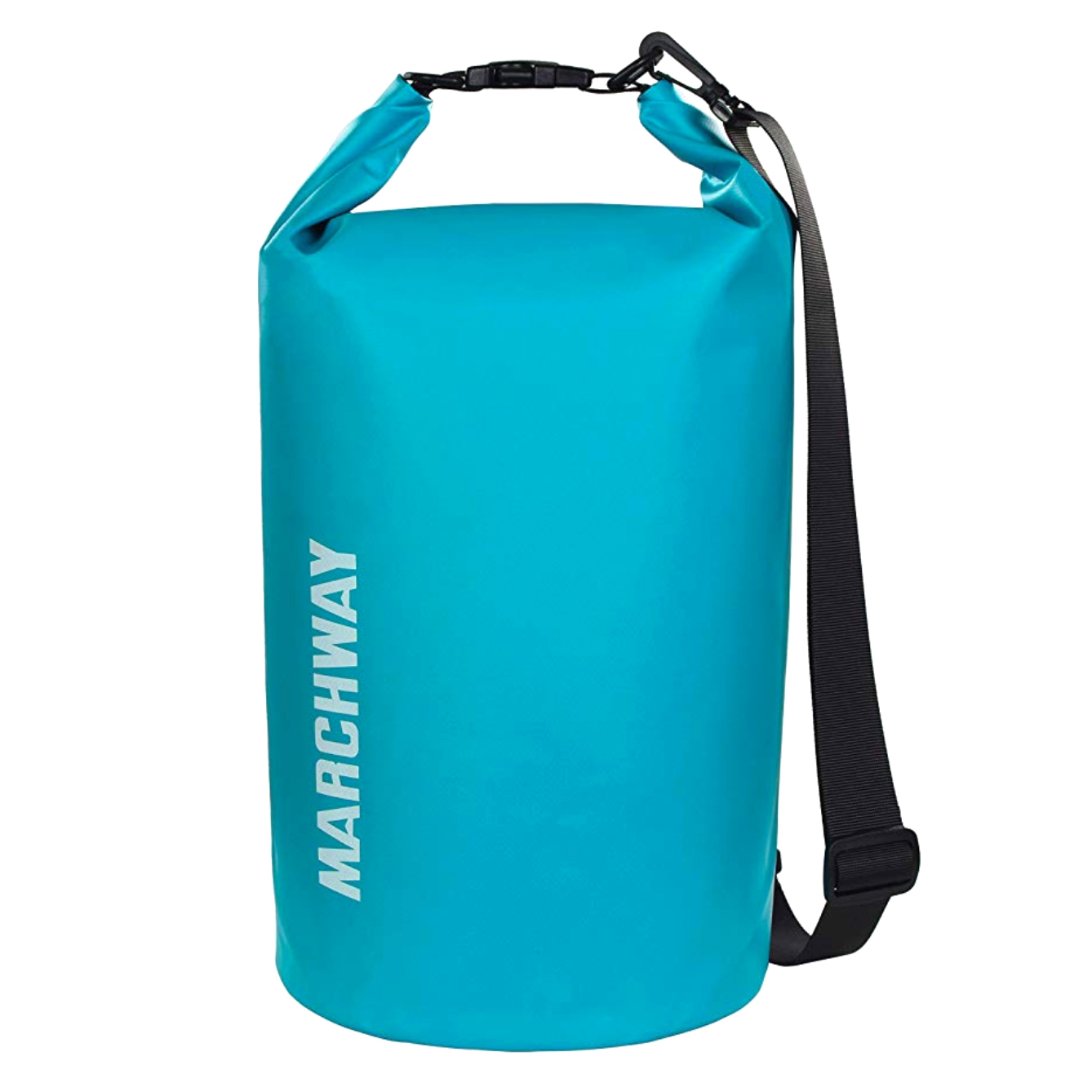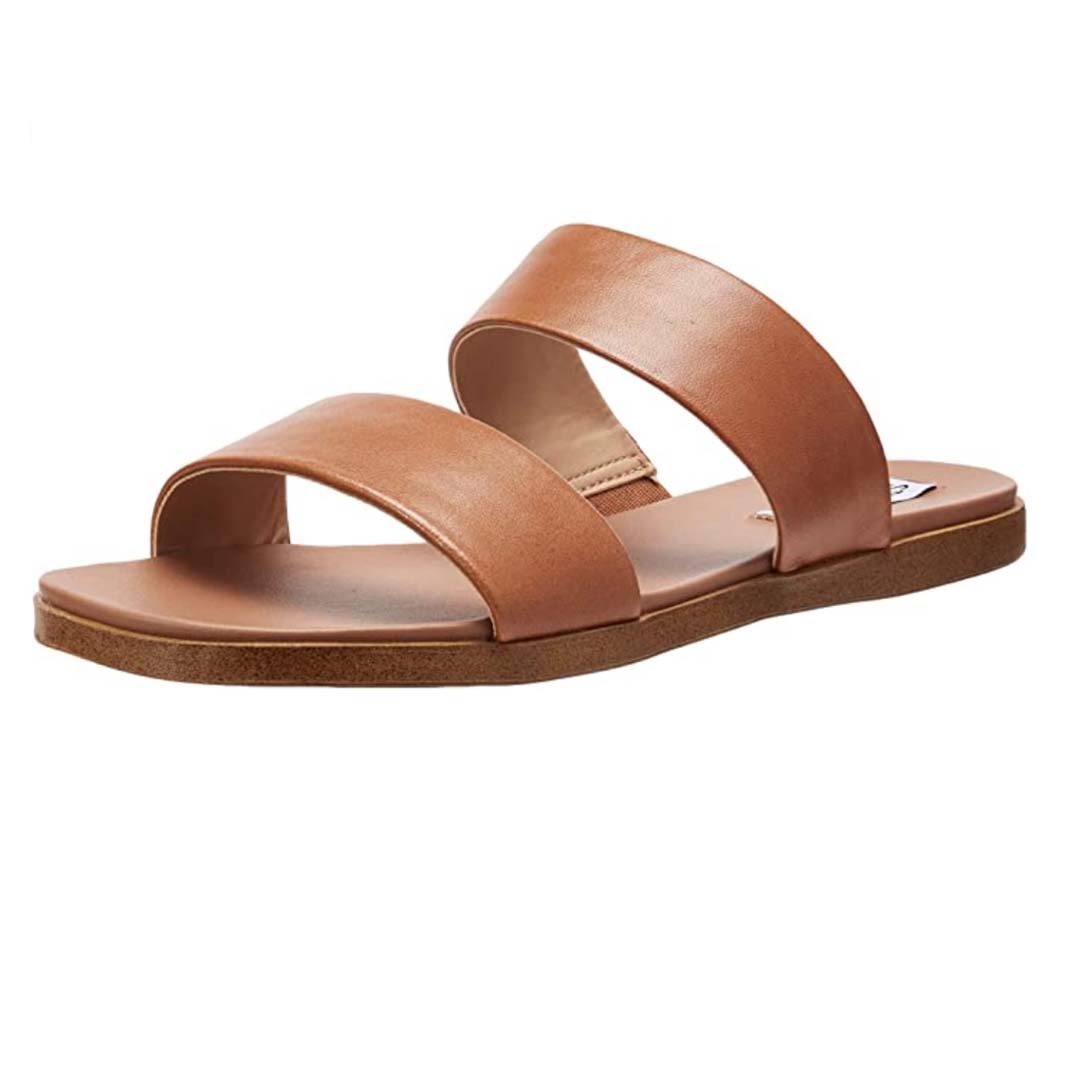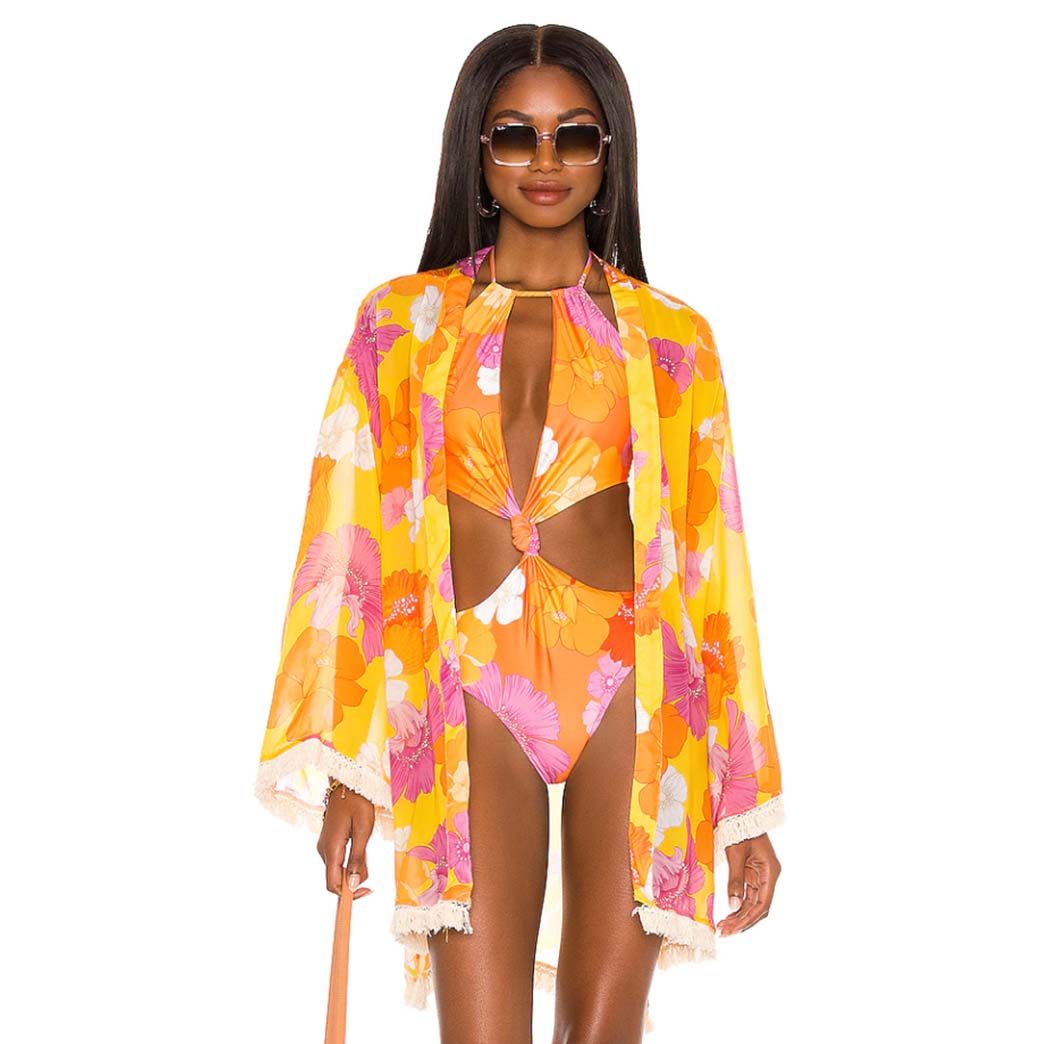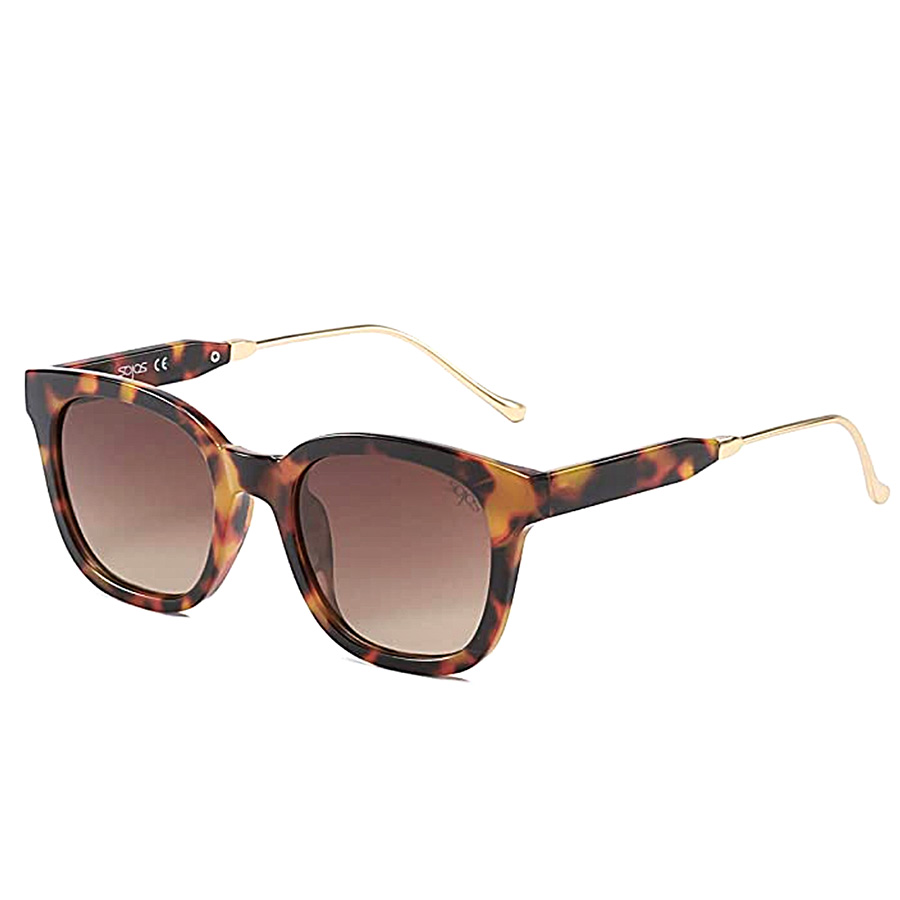 Xenotes Tour
This tour is a full day in the natural beauty of the Mexican Caribbean as you explore four different areas of private cenotes - these places are privately owned and can only be visited with Xenotes. The order in which the cenotes are visited changes daily, to alternate between different tour groups so you can experience the spots with as little crowding as possible. The tour also includes all transportation, lunch, and drinks. There are snack and drink stations at almost every place we stopped, so there are all of opportunities you might need for coffee, food, water, and beer.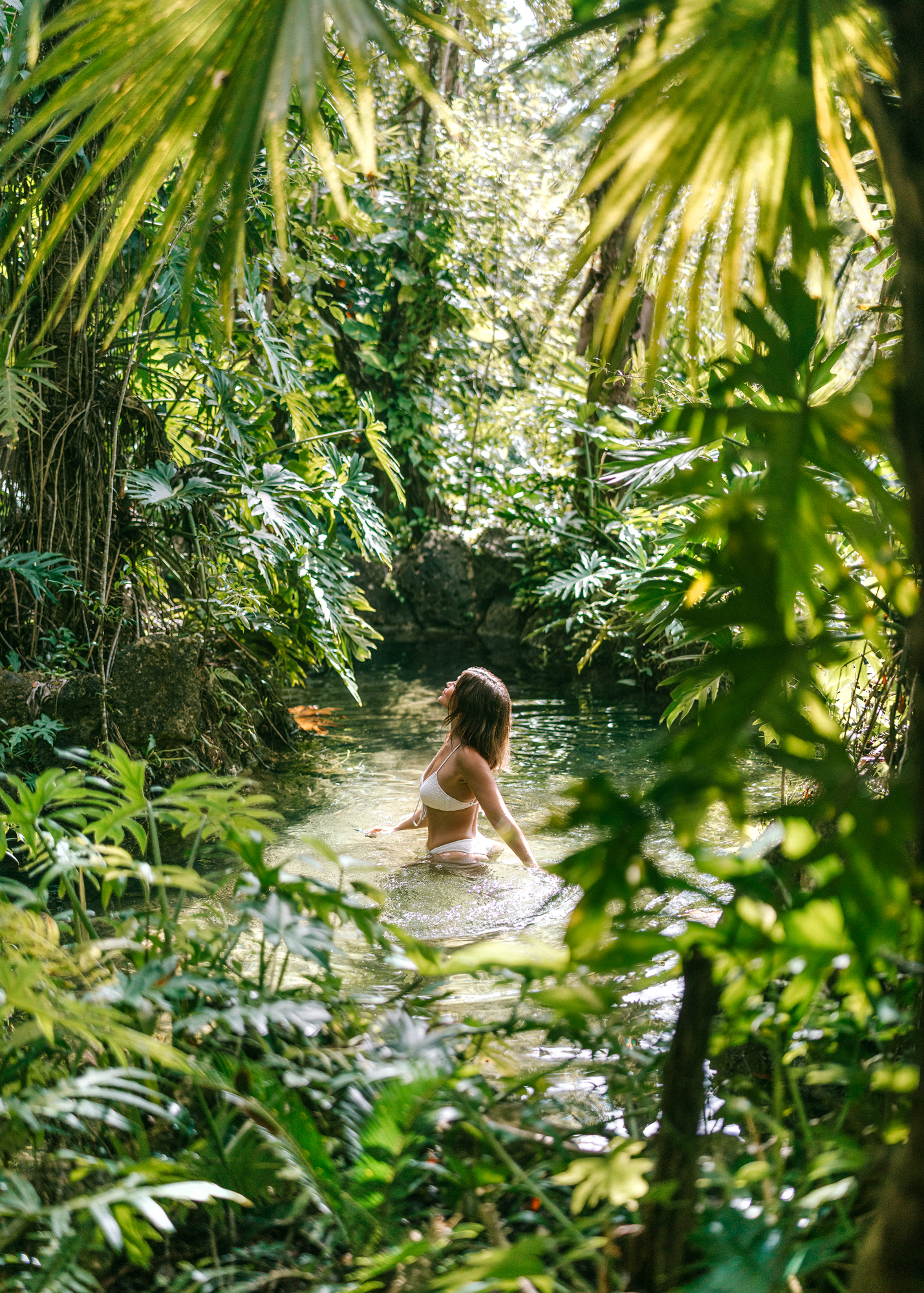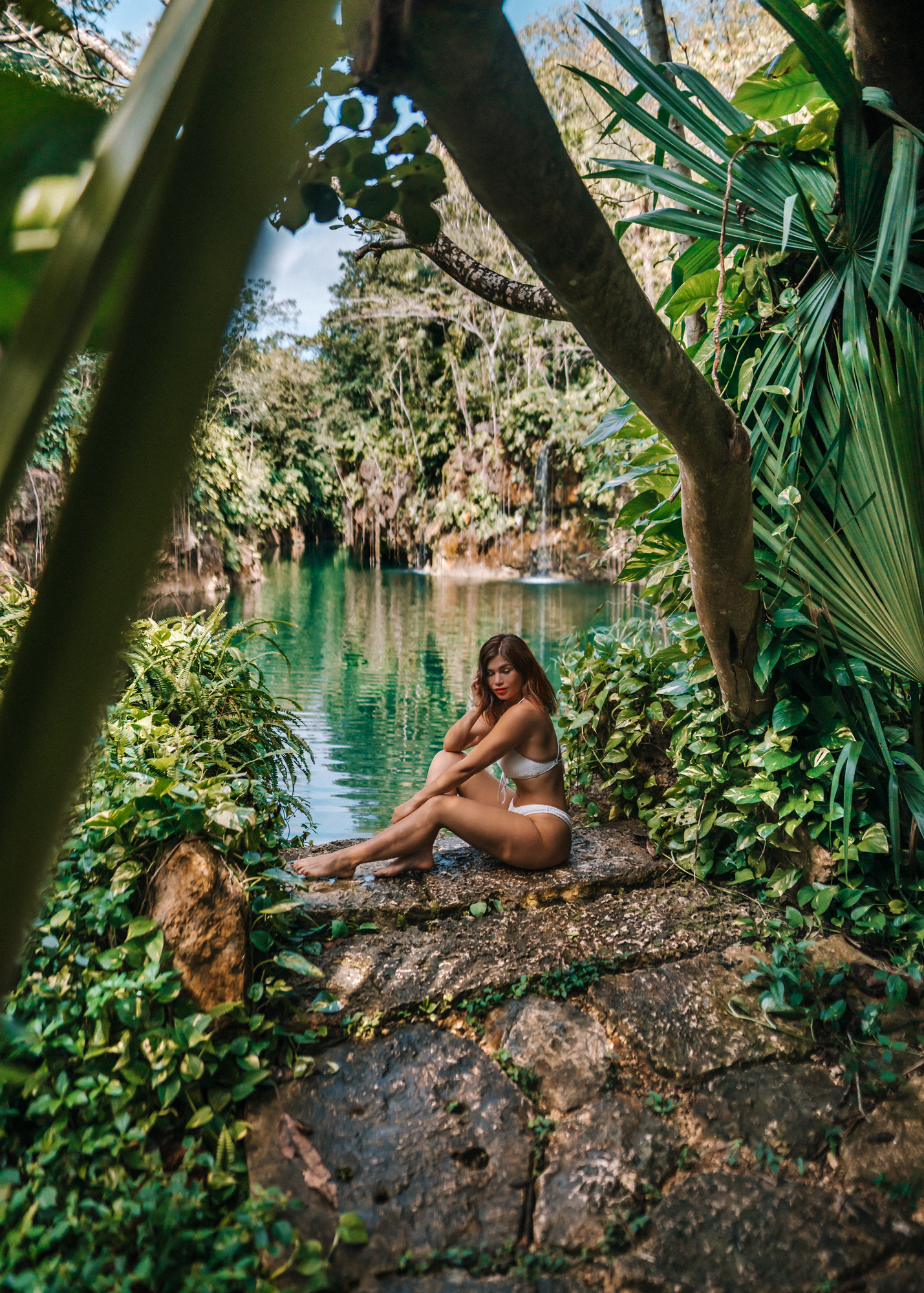 How gorgeous is this place?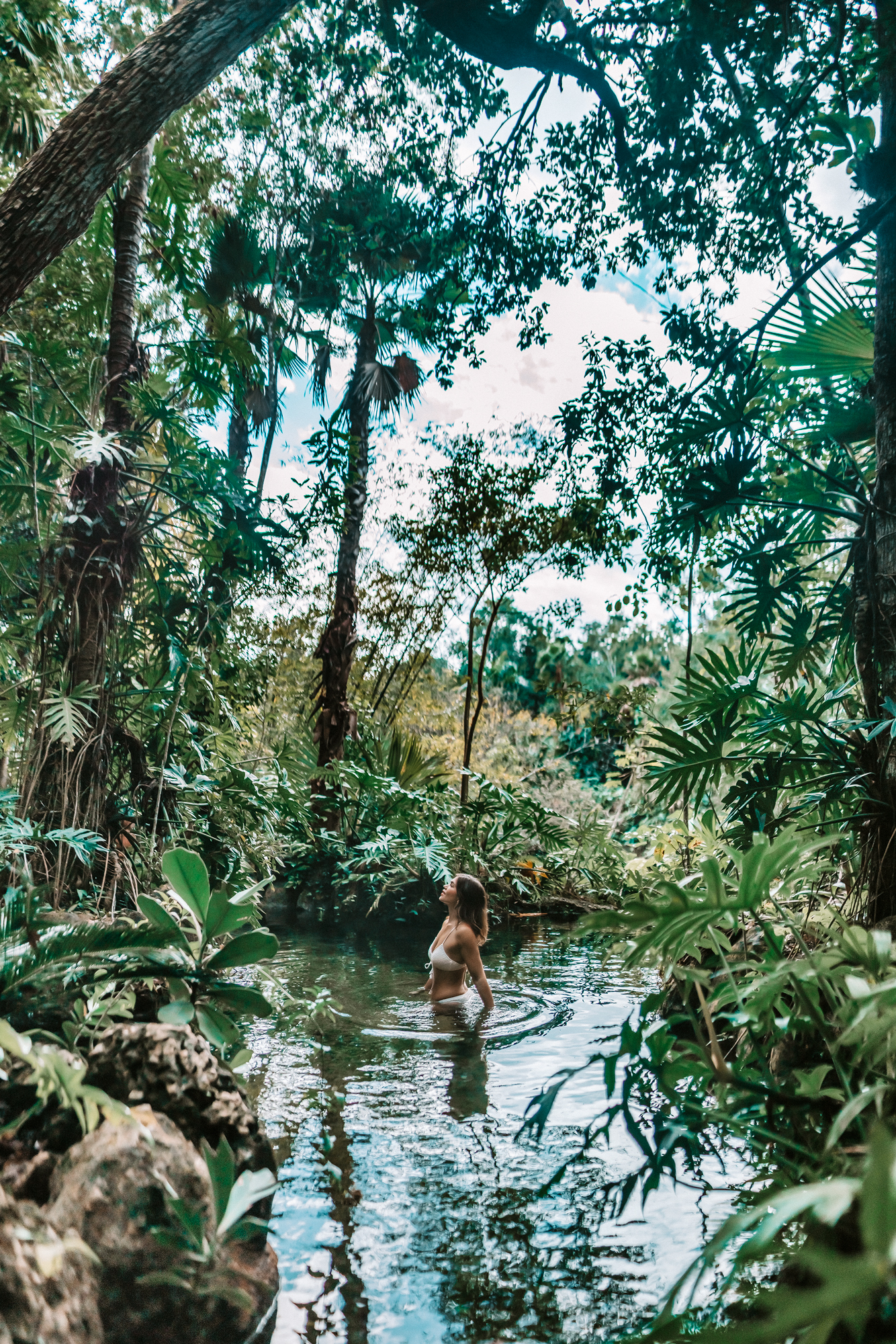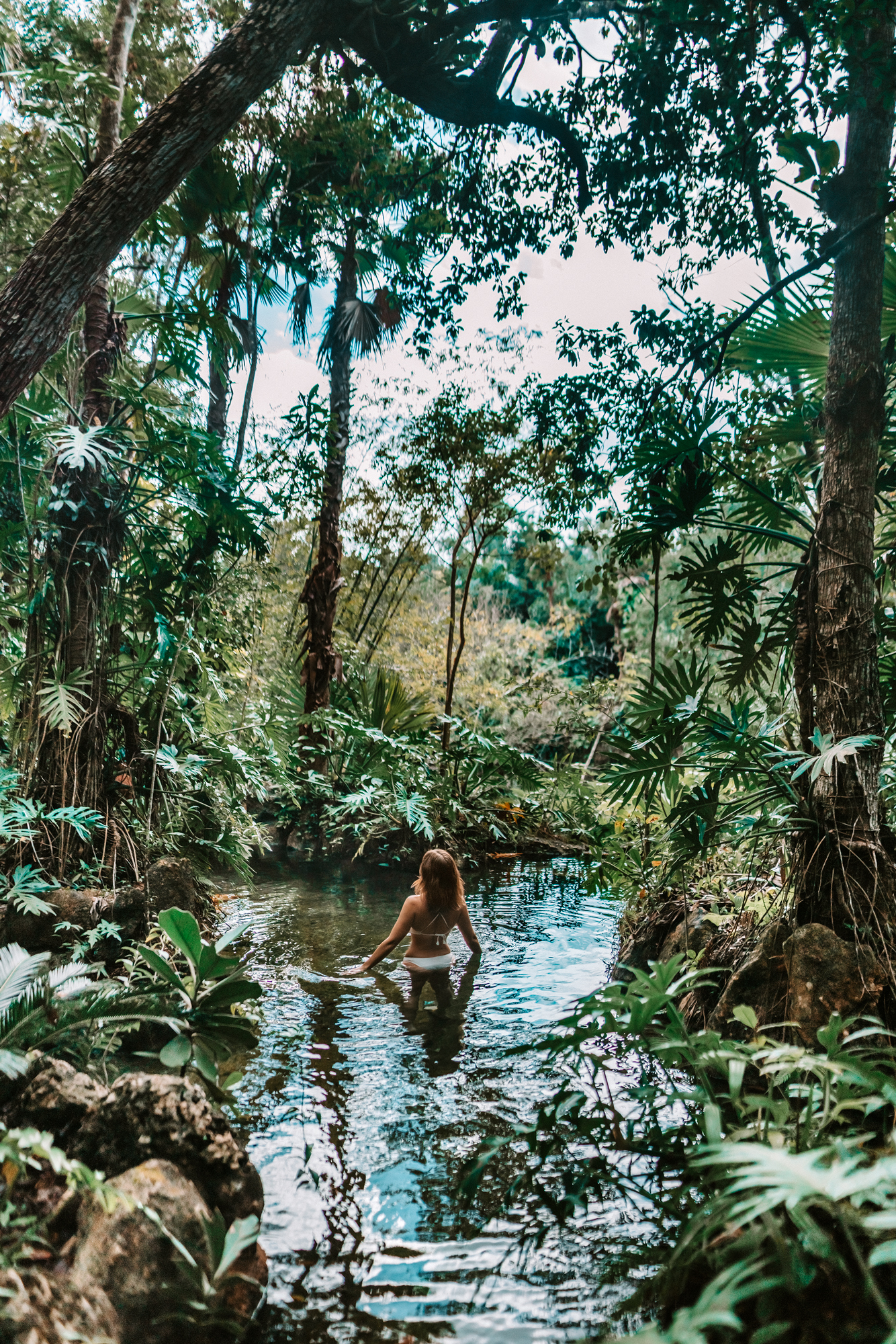 The natural pools at our first stop of the day, Cenote Ka'ak. This one was my favorite spot of the day - this entire area was a gorgeous, lush jungle, and we loved wandering the small pools. We had so much fun walking through the jungle and shooting, that we missed out on ziplining into the main cenote here! Luckily, there were plenty of more opportunities...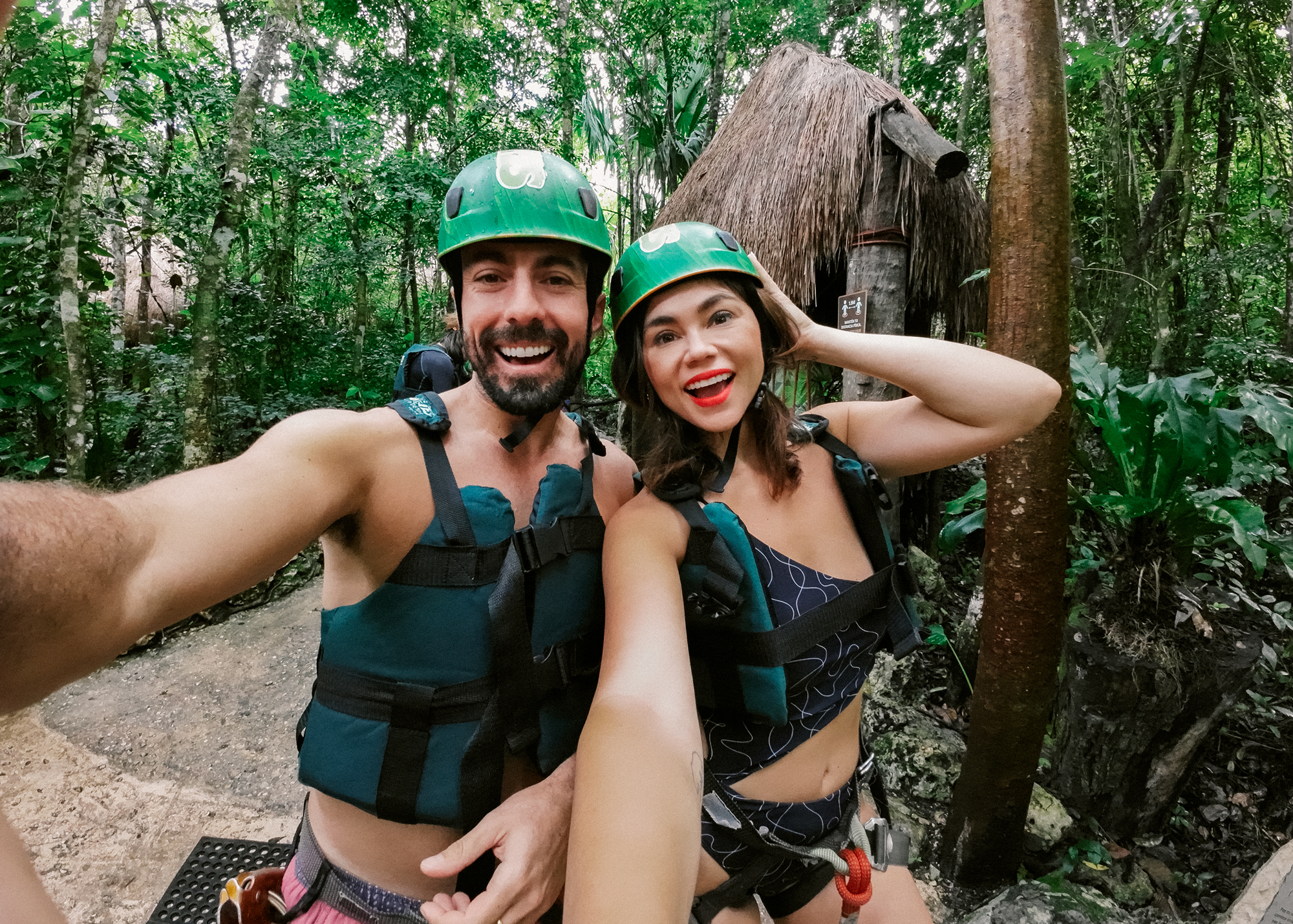 All geared up for our next stop - repelling down through a hole in the ground into a cenote - such a fun way to explore and jump into the water.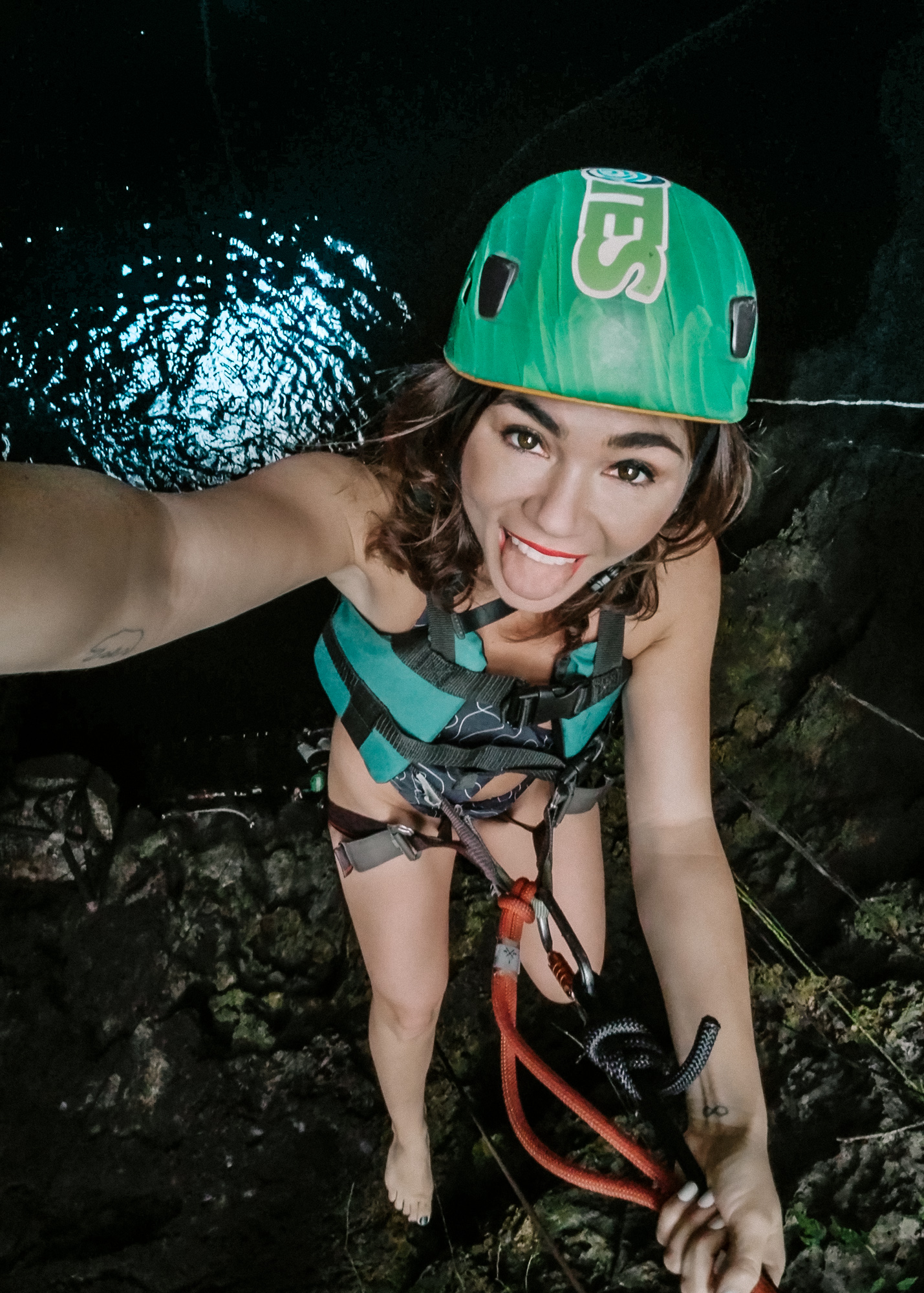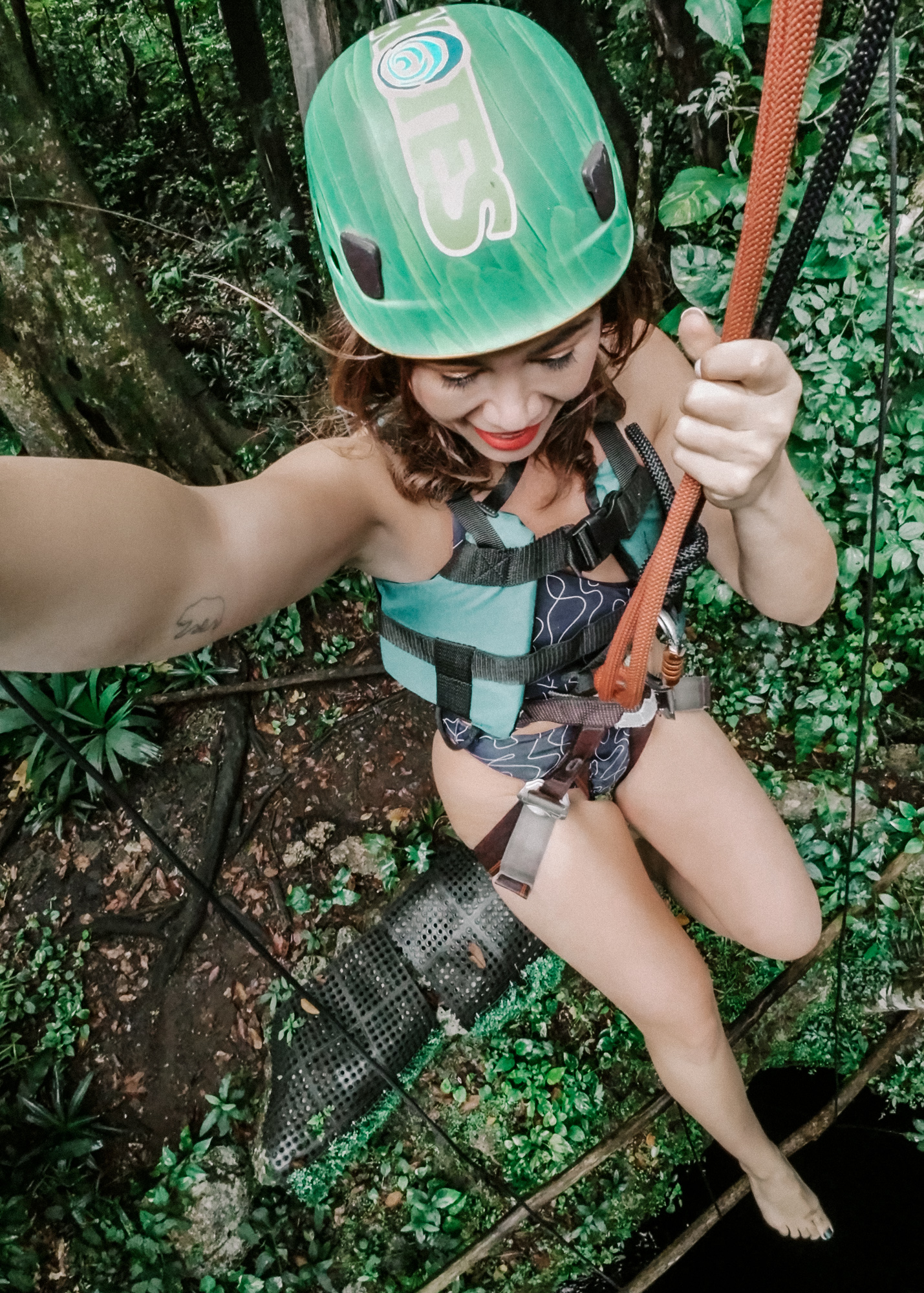 Weeeeee!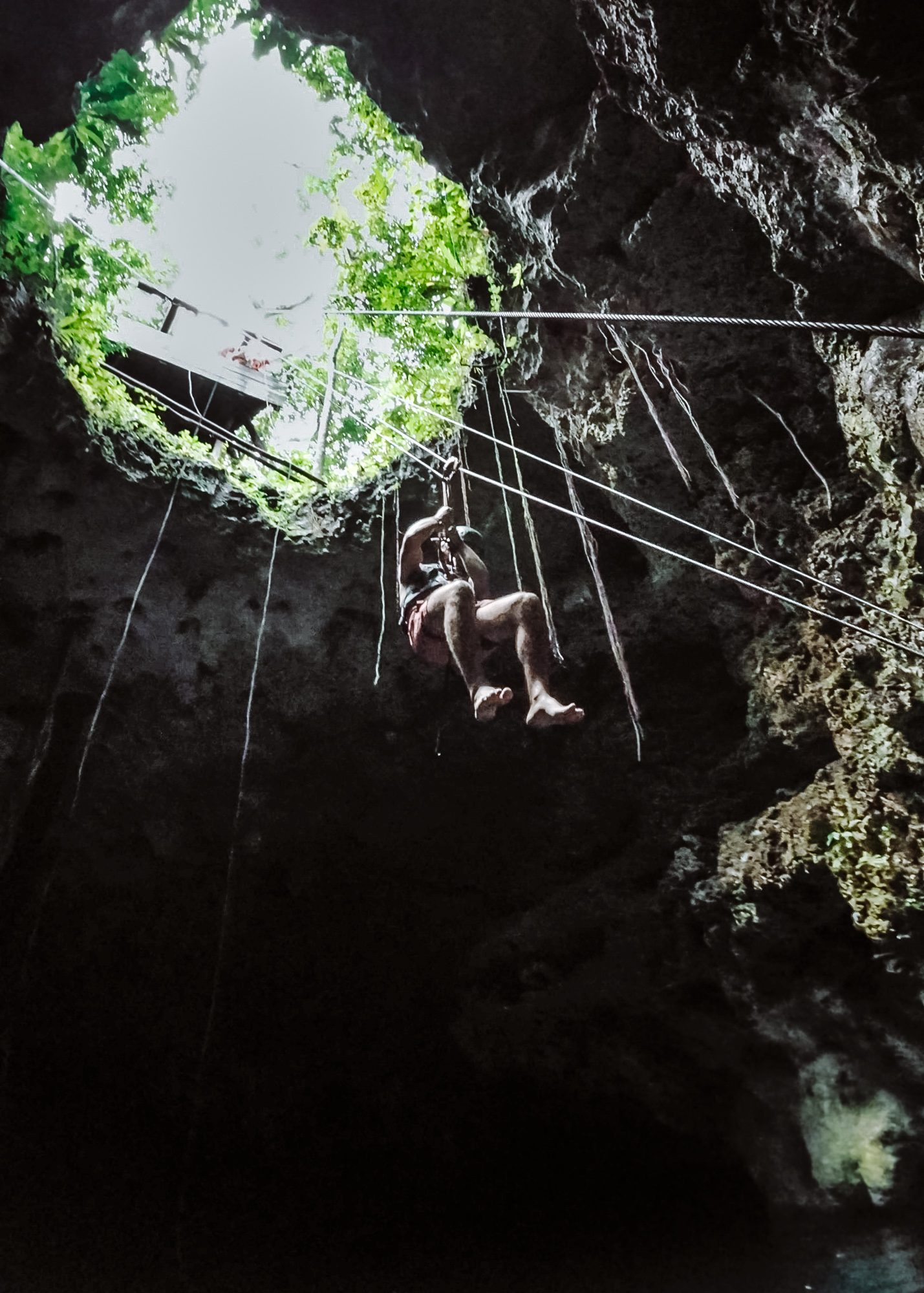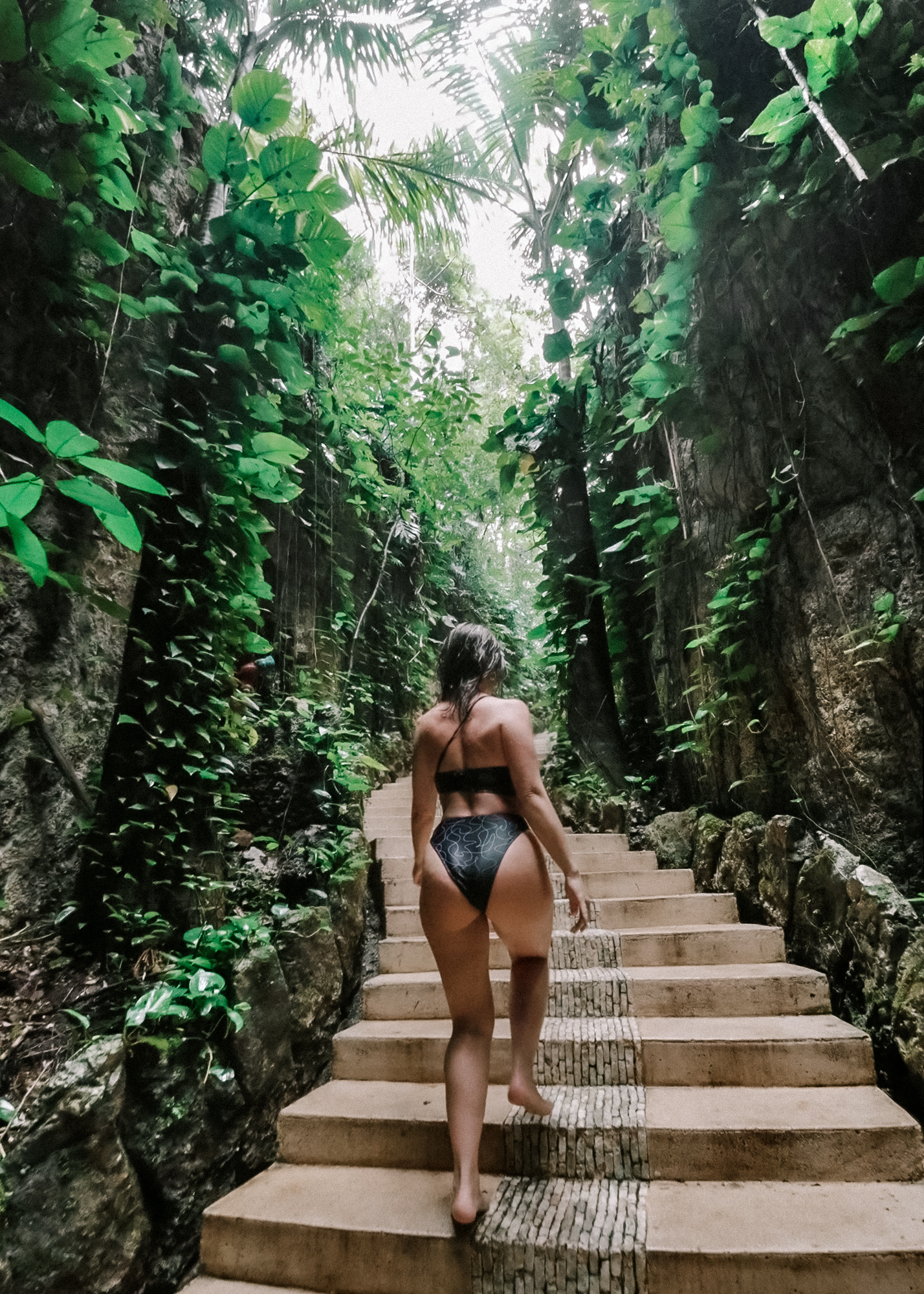 Anddd it turns out there are stairs that you can just walk down - but repelling was way more fun. How beautiful is the greenery of this place though?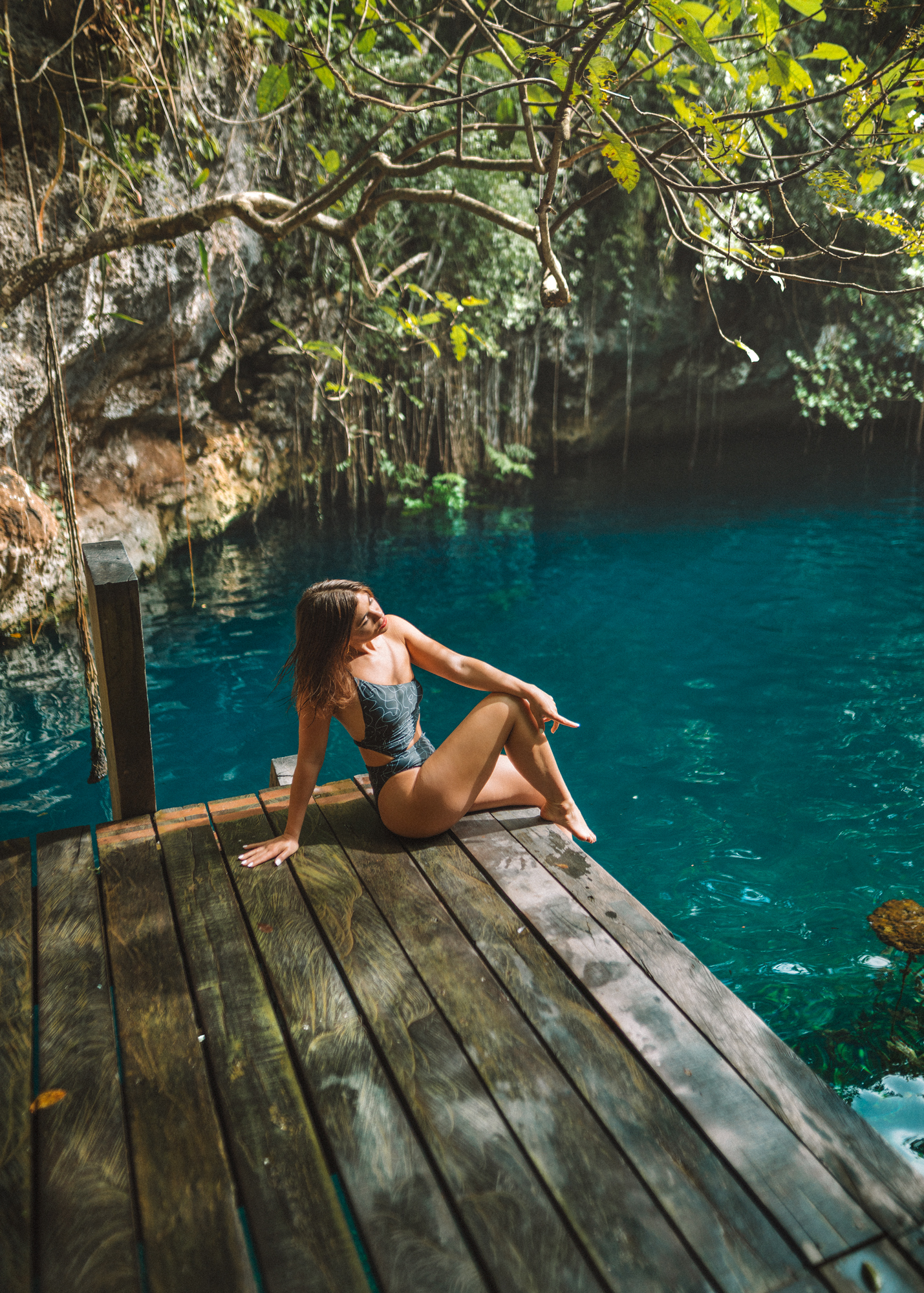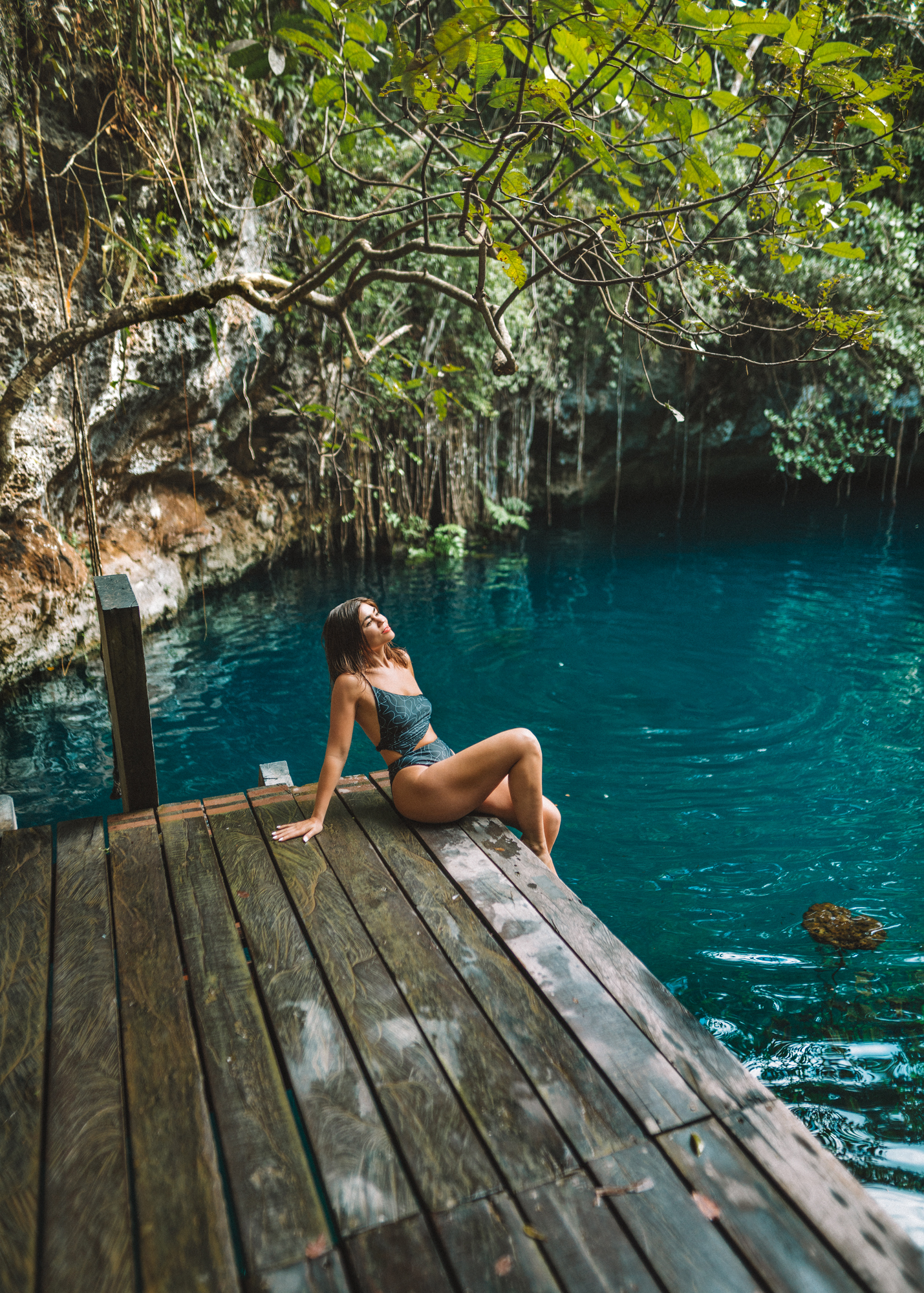 That beautiful deep cenote blue.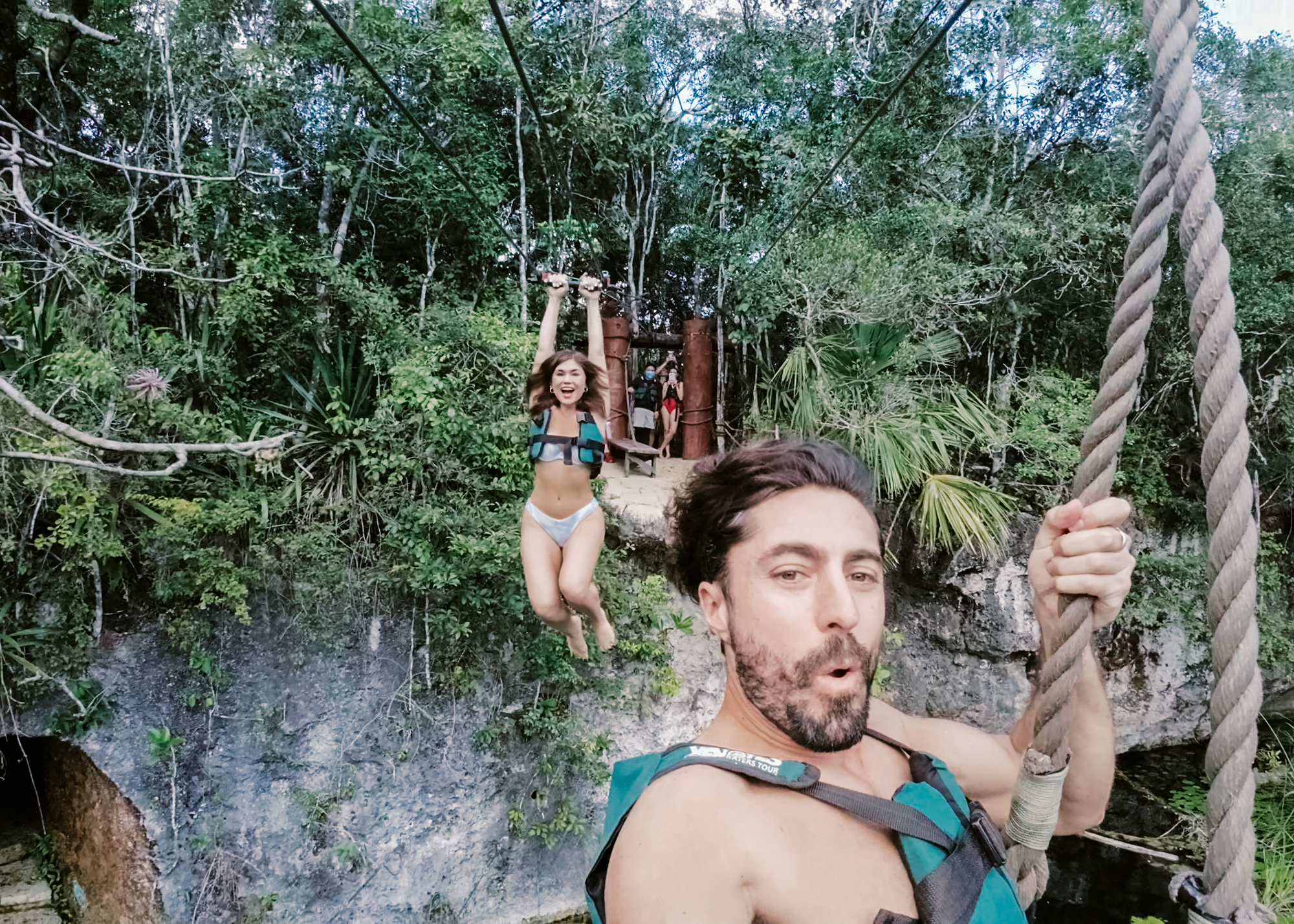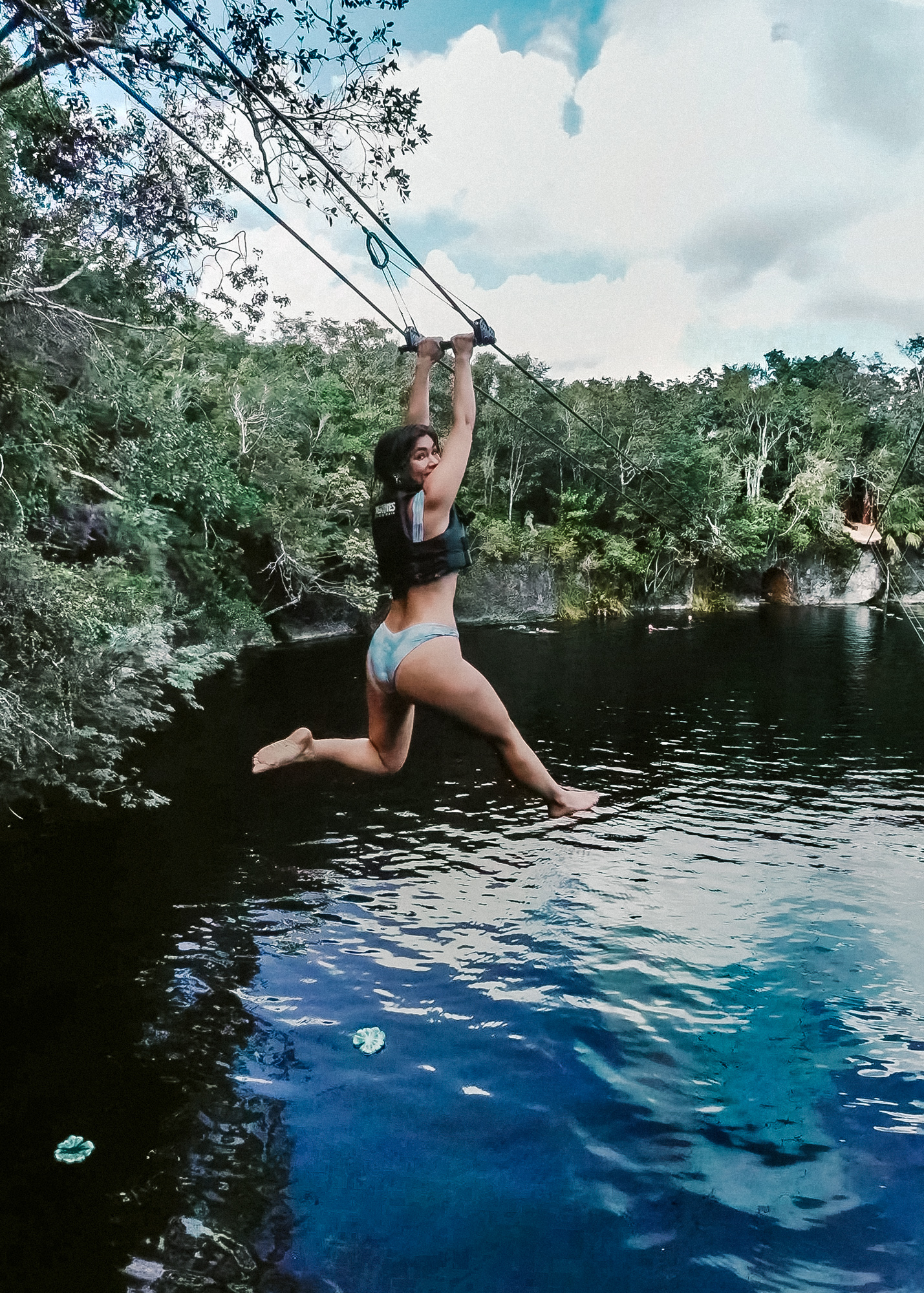 This stop was the most fun of the day - free ziplining off the cliff into the water. Most of the people we were with were going with the "spiderman" pose, where you hang from only your feet, but I didn't go for that one. I could have stayed here and done this one over and over again for hours!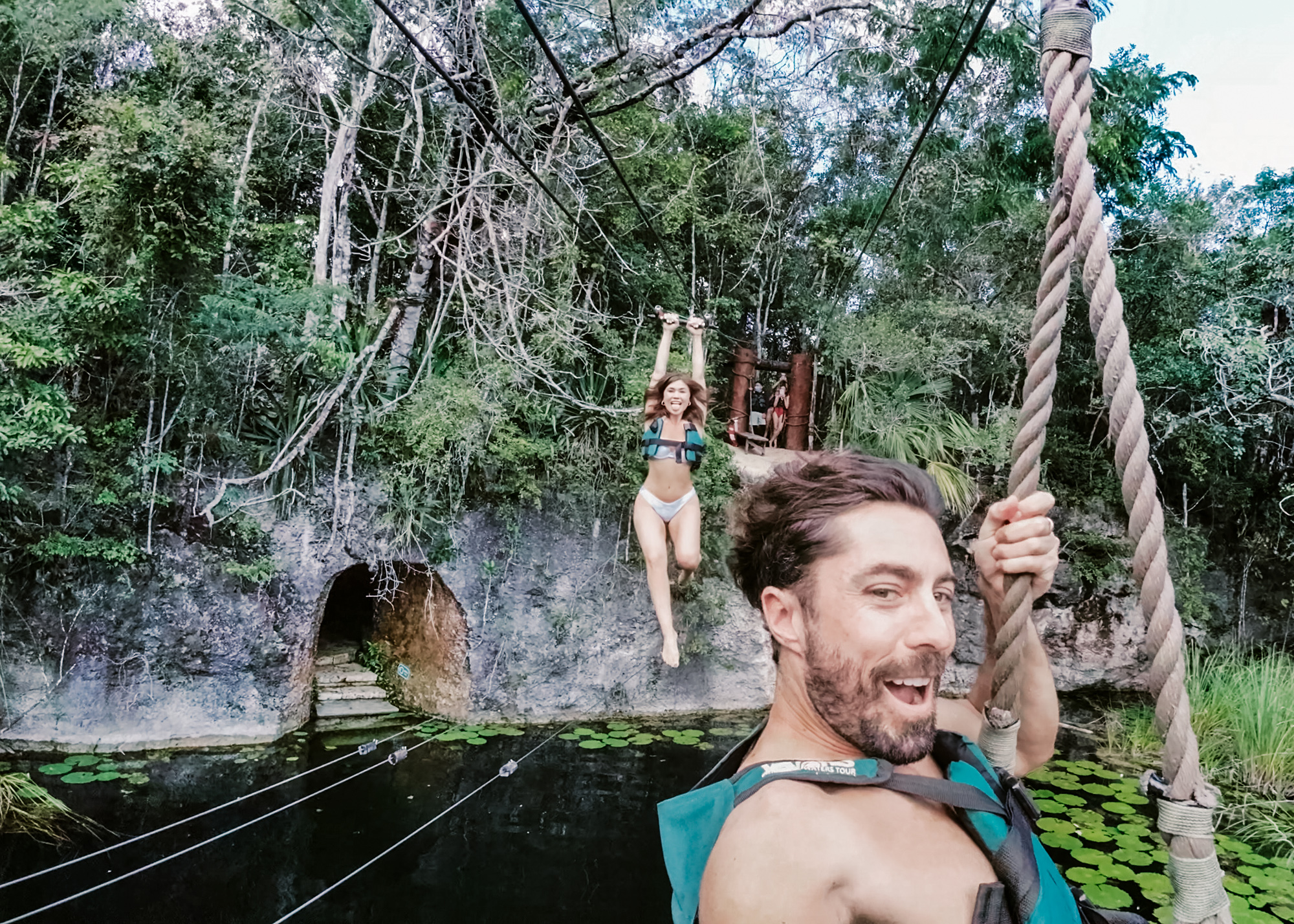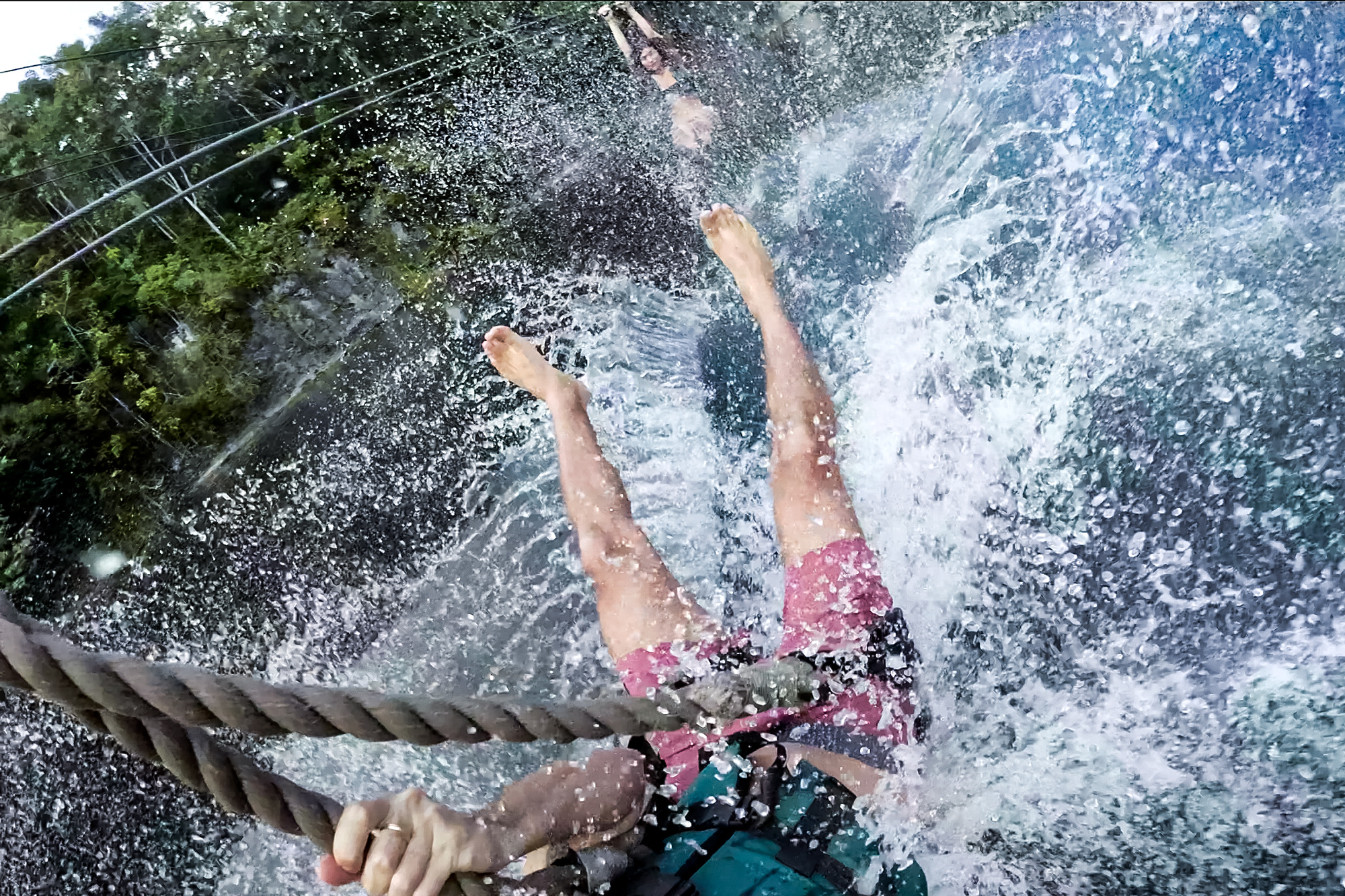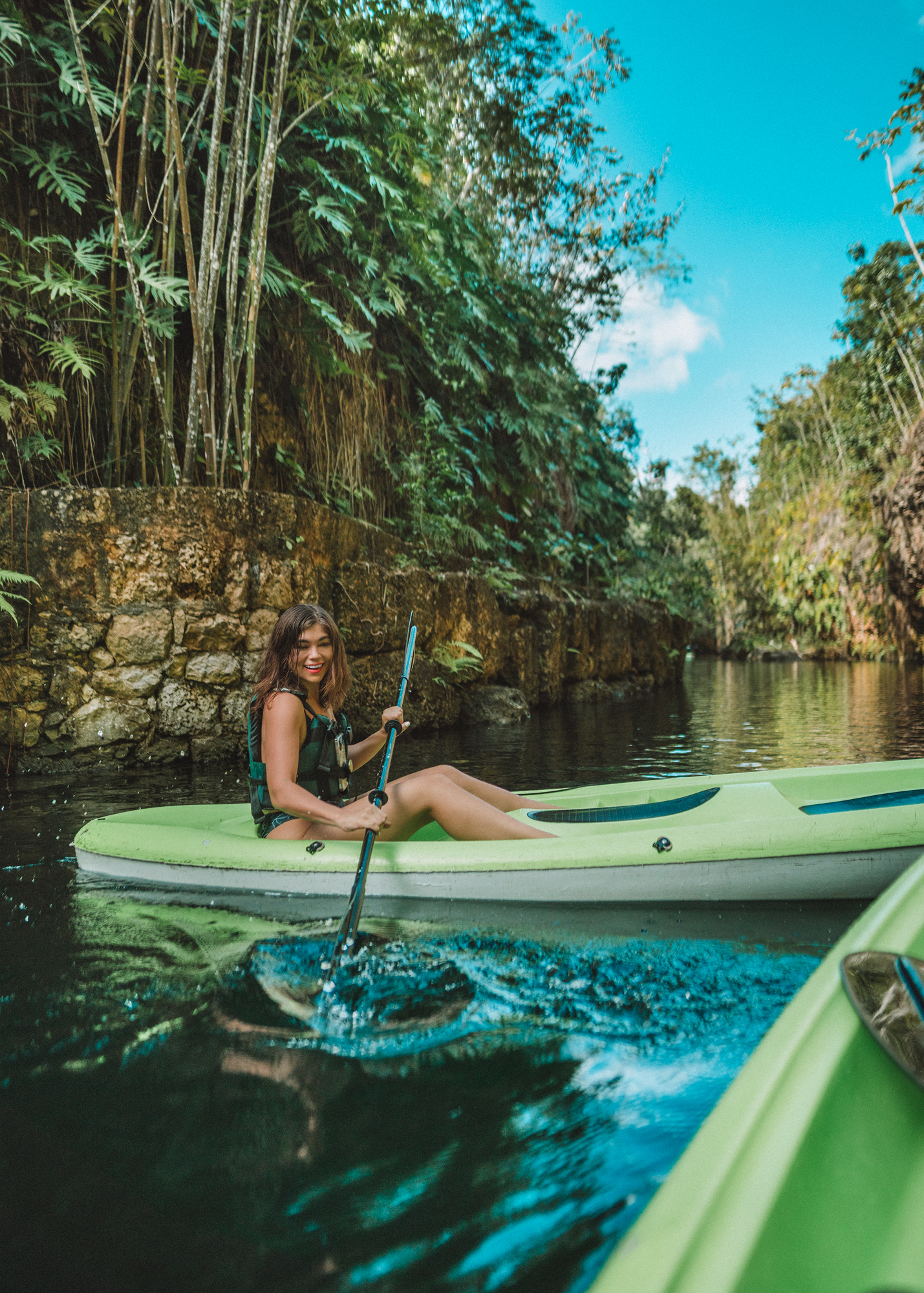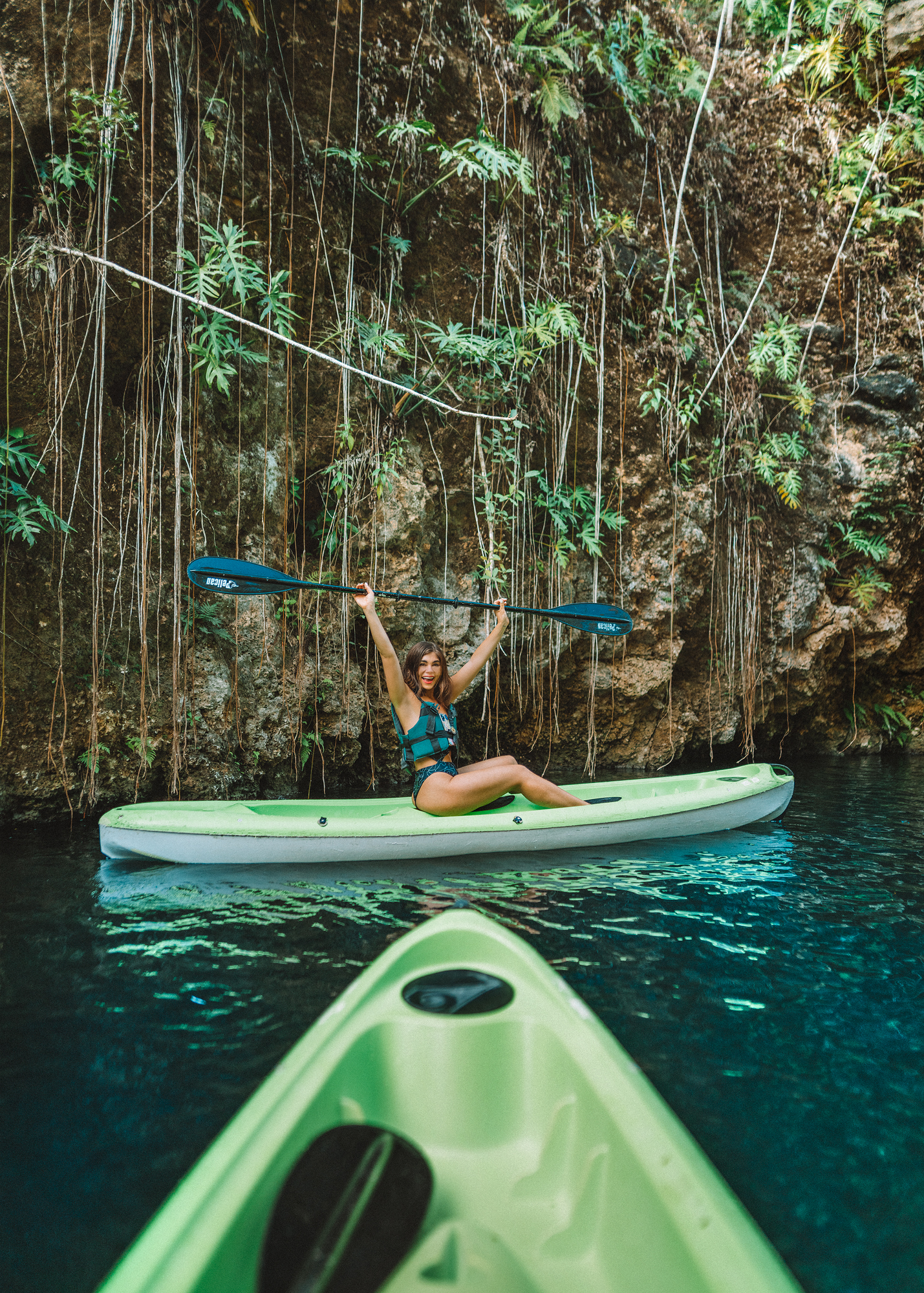 Our last stop of the day was kayaking through this beautiful river cenote.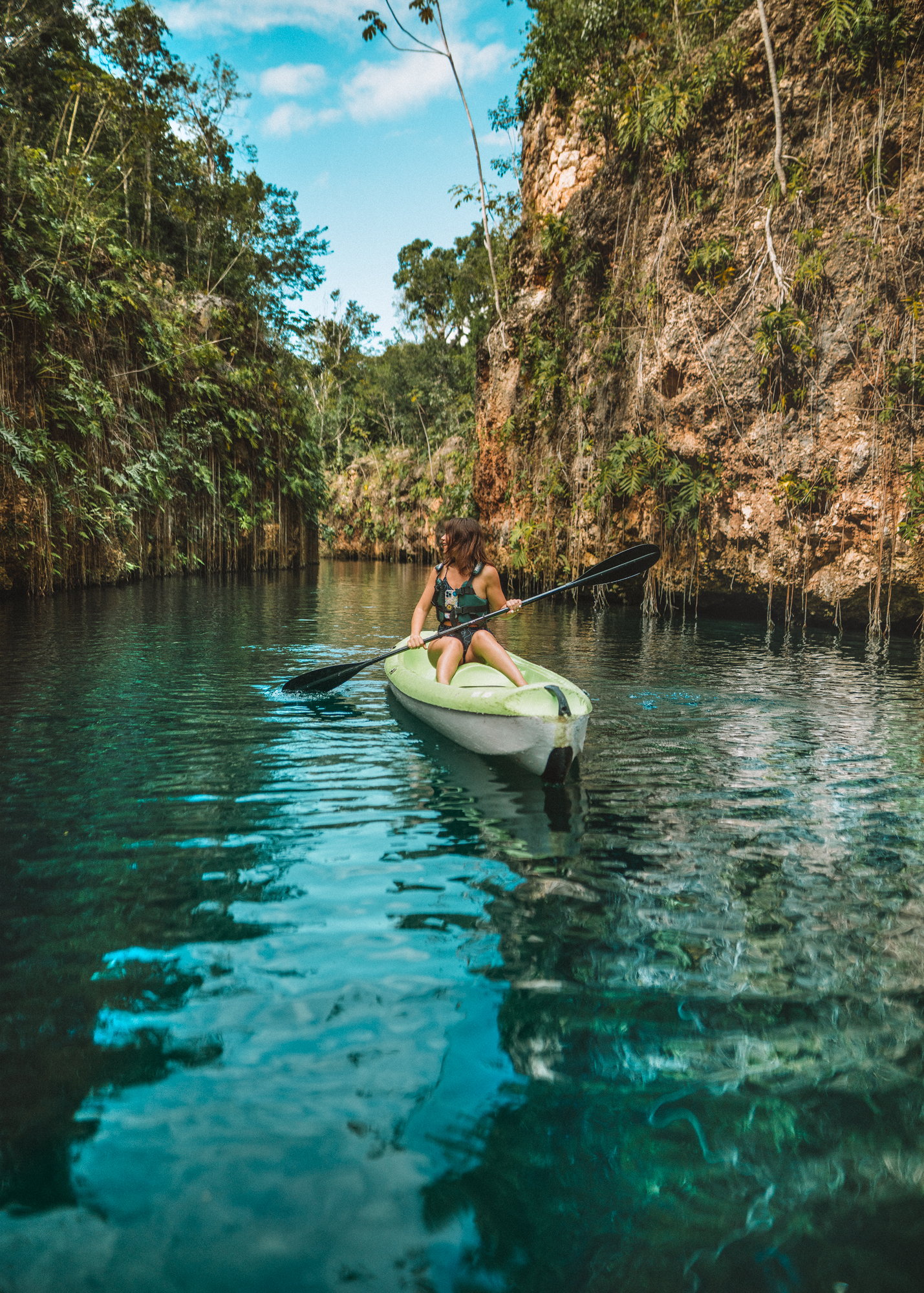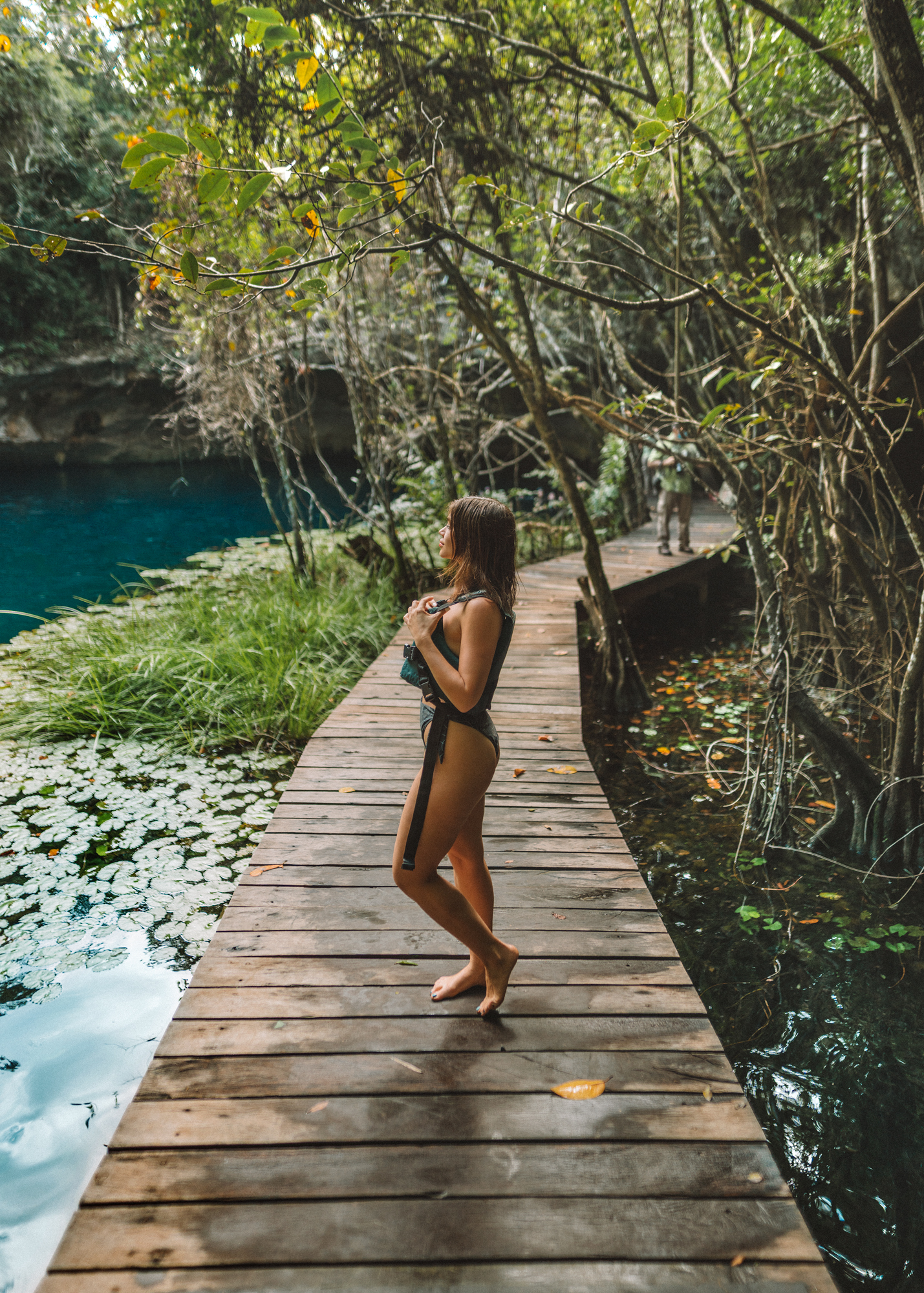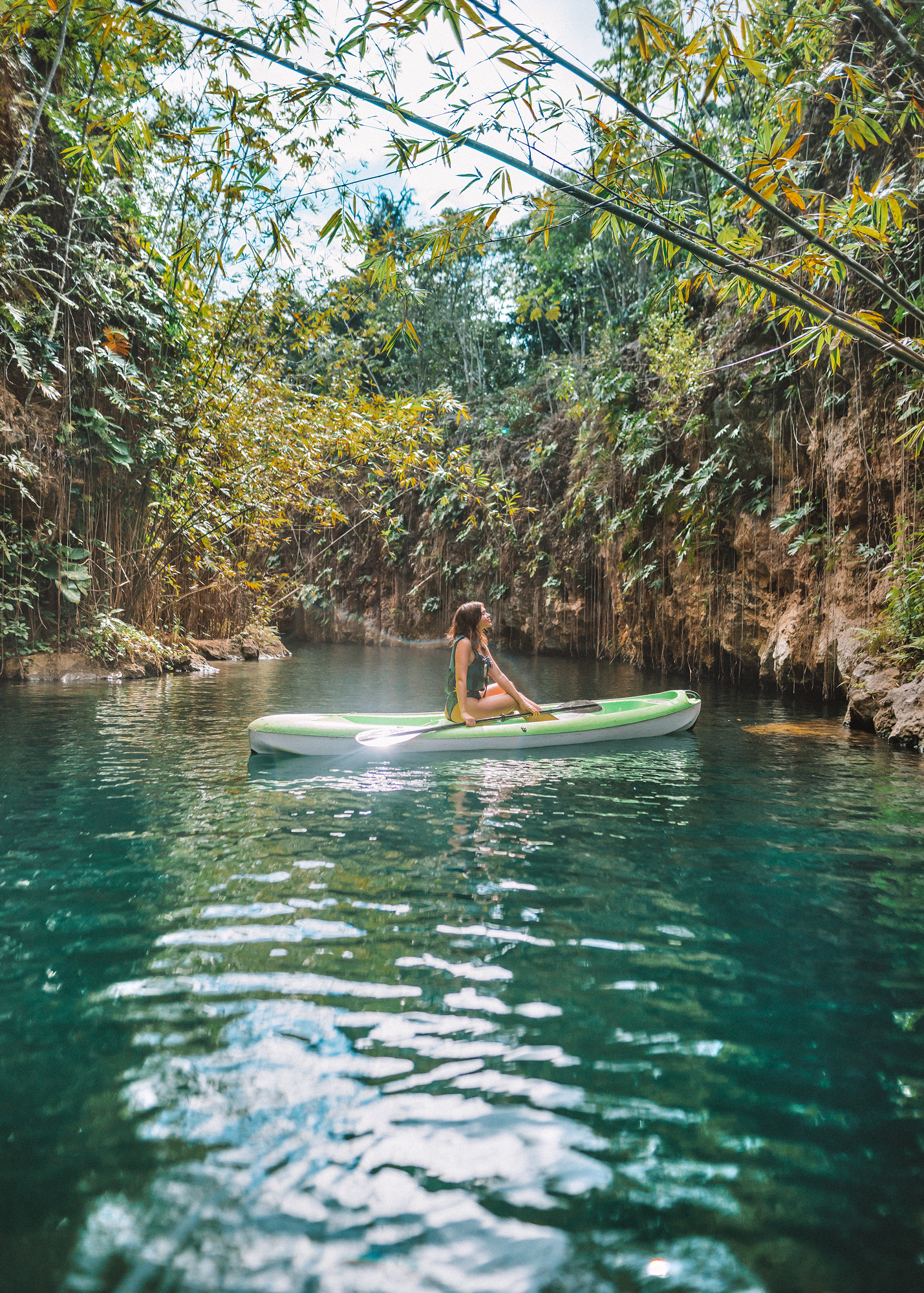 This was such a fun, easy way to spend a day adventuring and see so much of the area in a single excursion.
What to Bring With You:
In addition to the waterproof iphone case, underwater camera, and sunscreen listed above, a couple of things to pack to make your day seamless are....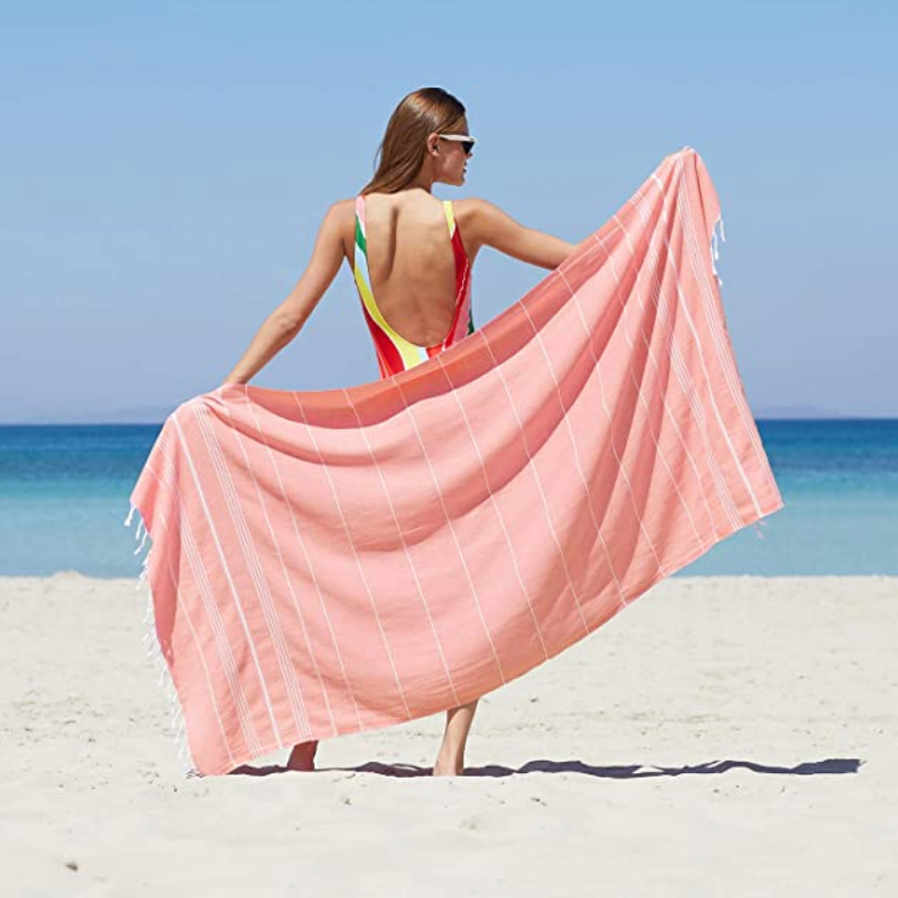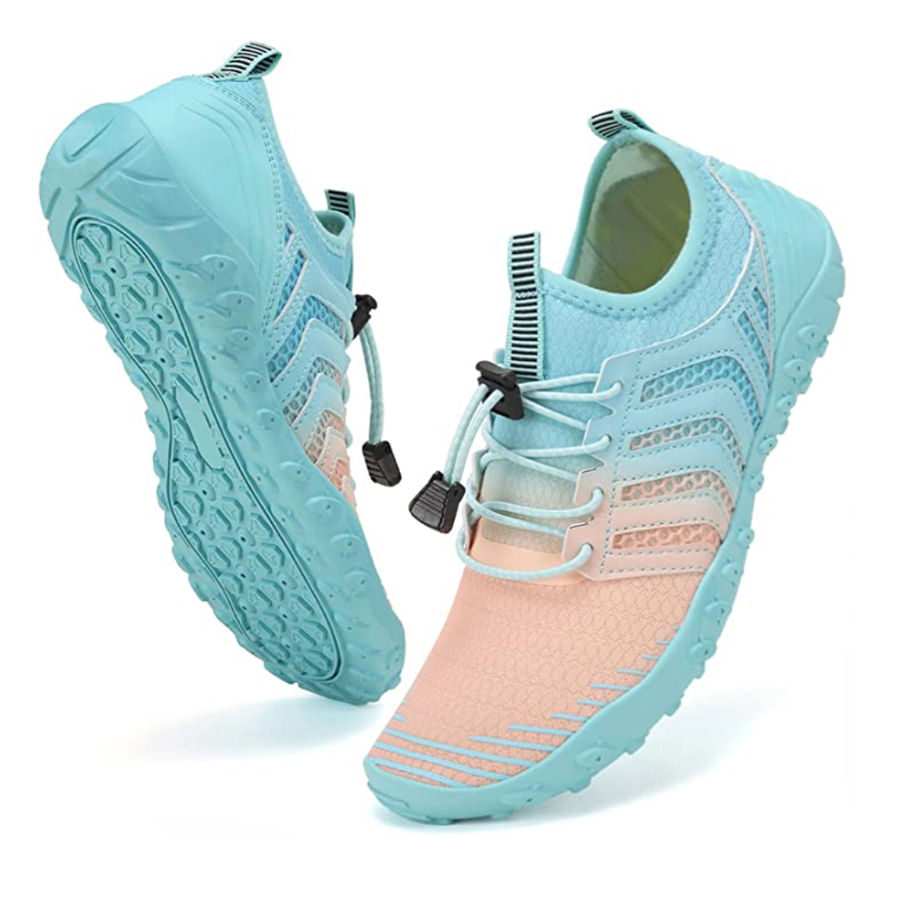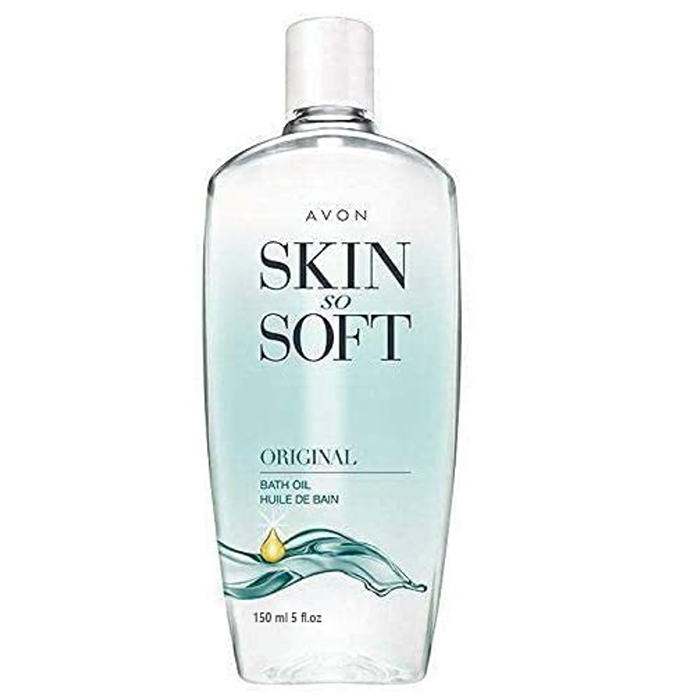 Where to stay in Cancun: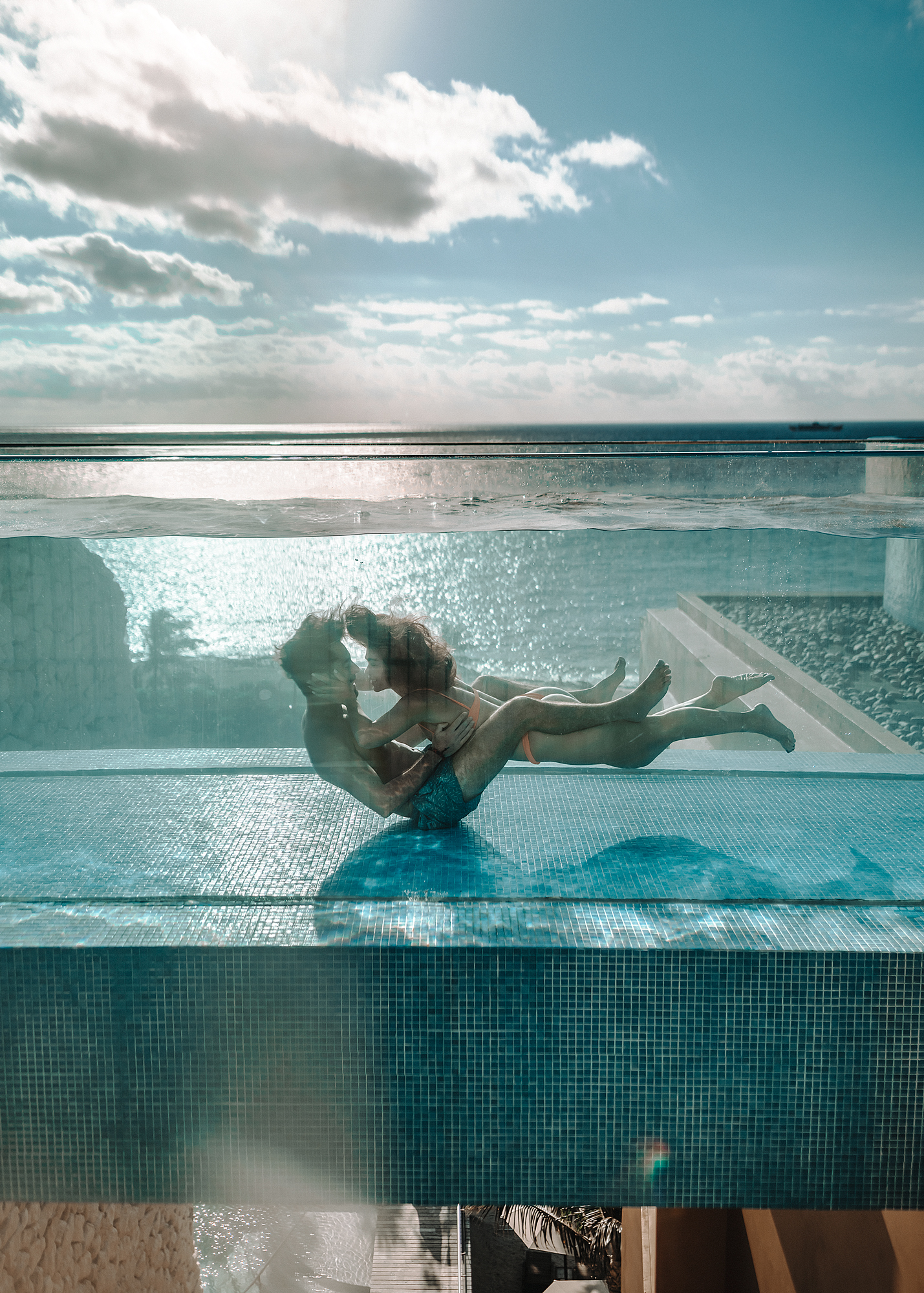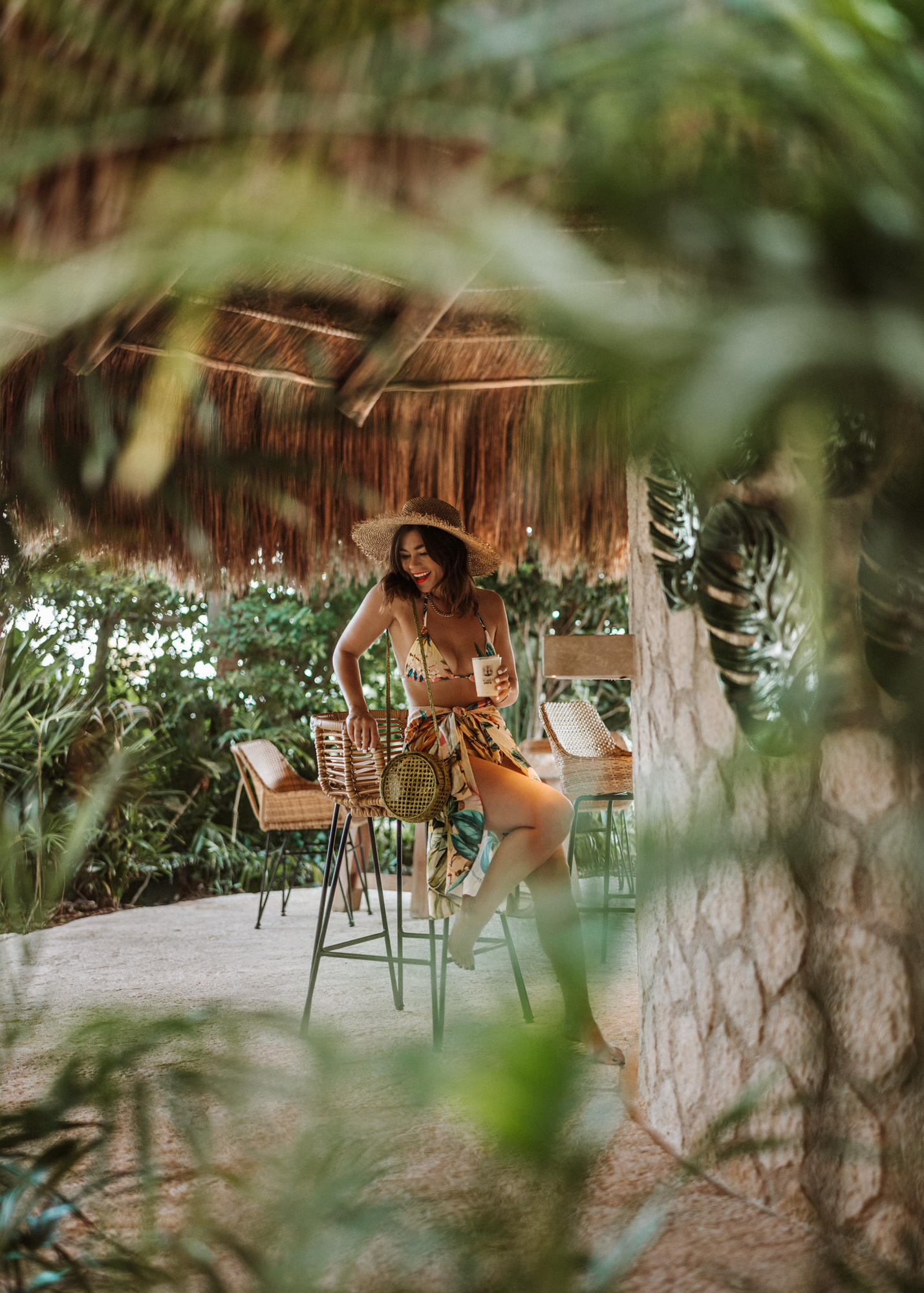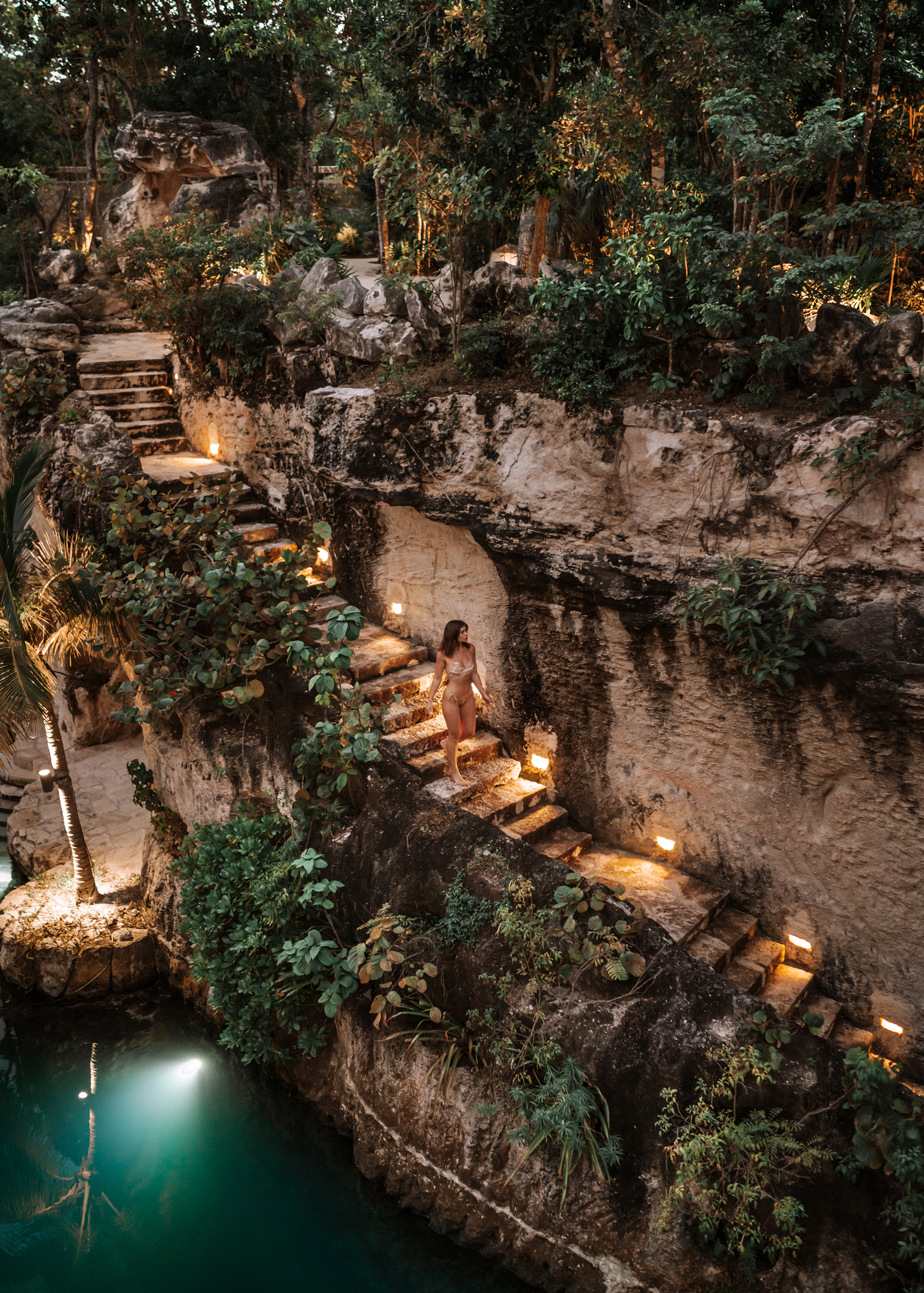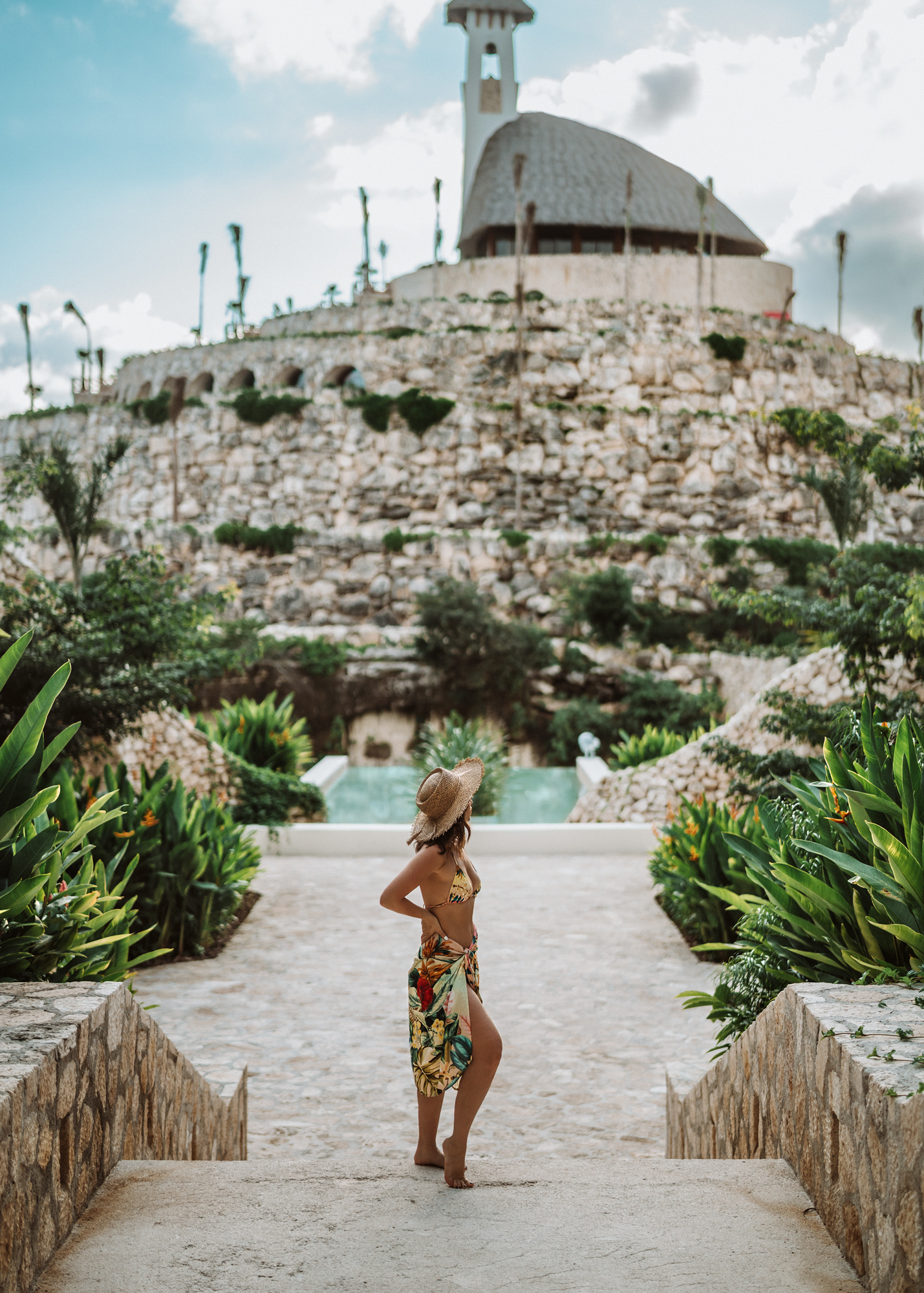 We stayed at the stunning and incredibly impressive Xcaret Arte Hotel! This is the best all-inclusive hotel in the Cancun area, and booking their "all parks all fun included" package means that fees for these excursions and their dozens of other parks and experiences are all included in your room cost! We loved this hotel, its design, and the food here so much, I would highly recommend it! Read my full blog on Xcaret Arte Hotel here.
LIKE THIS POST? PIN IT FOR LATER AND SHARE IT WITH OTHERS!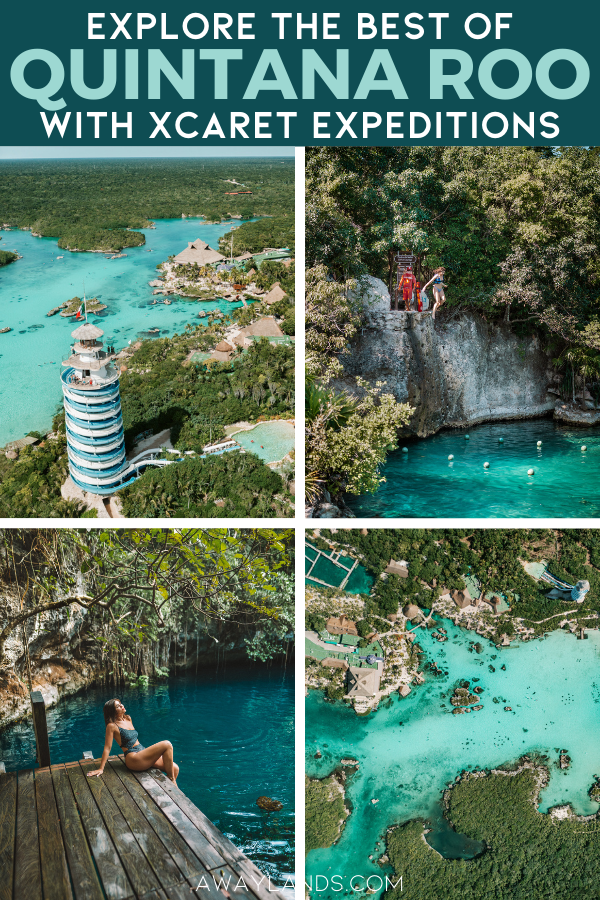 XX