February 18, 2020 Hotels And Resorts Travel Adventures
Four Seasons Bora Bora Resort: A Honeymoon Dream
Bora Bora is synonymous with Tropical Paradise. White sand beaches, overwater bungalows, a vibrant blue lagoon, flower crowns and the Tahiti sun - and the Four Seasons Bora Bora Resort is an icon of a property. The hotel is consistently at the top of Best Hotels In The World lists, and had been a place that Brandon and I had DREAMED of traveling to for years and years. For so long the whole of French Polynesia was such a mysterious paradise to me, and I thought that, maybe, just maybe, we might be able to find a way to travel here for our honeymoon, one day.
Even after all of our amazing adventures, and incredible hotel stays that we have been so lucky to experience over our past few years on the road, I still get so giddy and excited when we are on to somewhere new - and the wonder of being able to see the places of my dreams is still not lost on me. I hope it never is! Thanks to Four Seasons, we went on a bit of a South Pacific tour this year - visiting Maui and Hawaii's Big Island, and then in partnership with Tahiti Tourisme North America, making our final stop at the Four Seasons Bora Bora. Can I take a moment? Because sometimes I am still so overwhelmed with the places our work has taken us.
We flew into Papeete, Tahiti on a surprisingly short flight from LA (Only 7-8 hours!) and landed just before dawn. From there, our flight to Bora Bora left at 7am - we arrived with a full day ahead of us!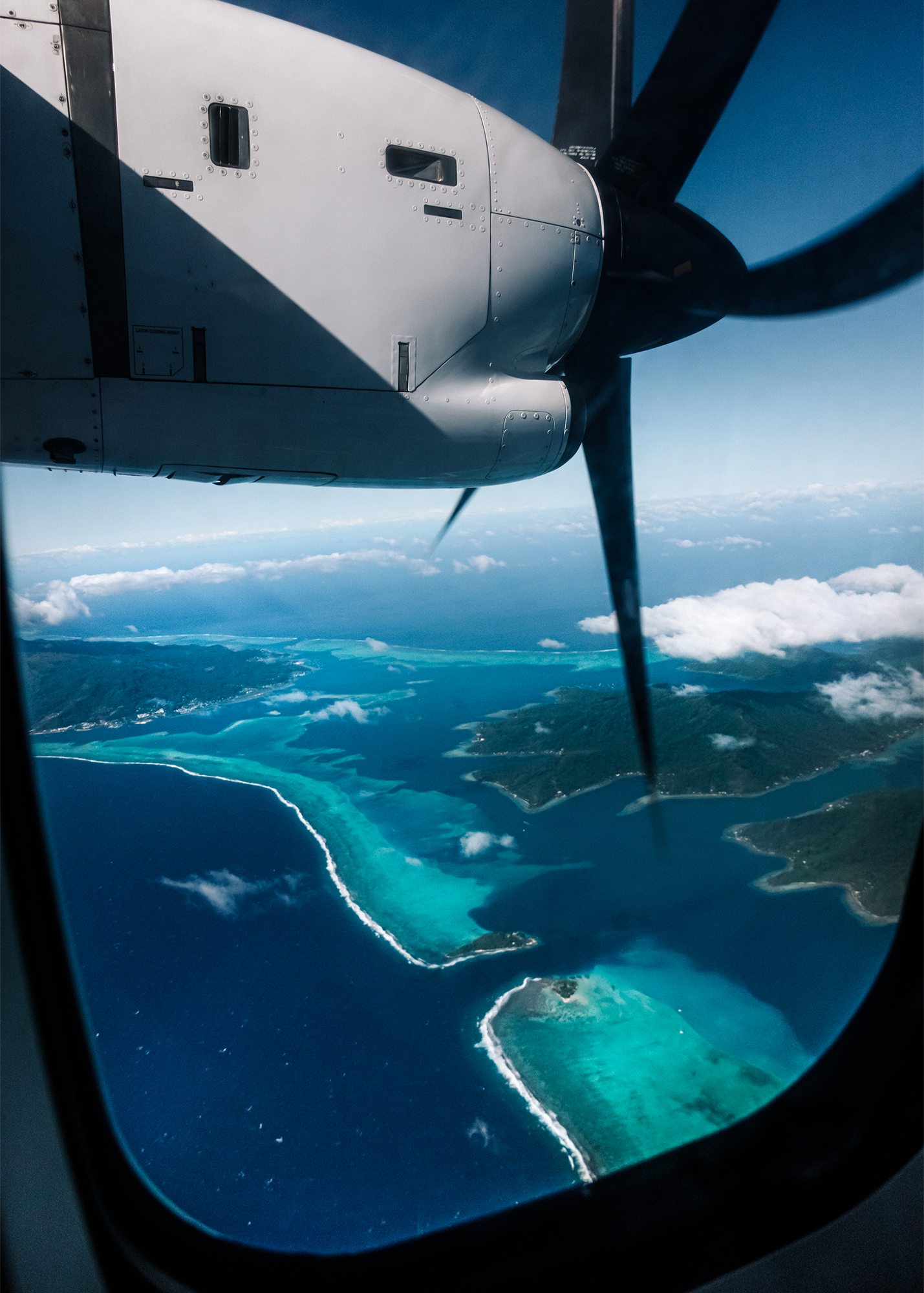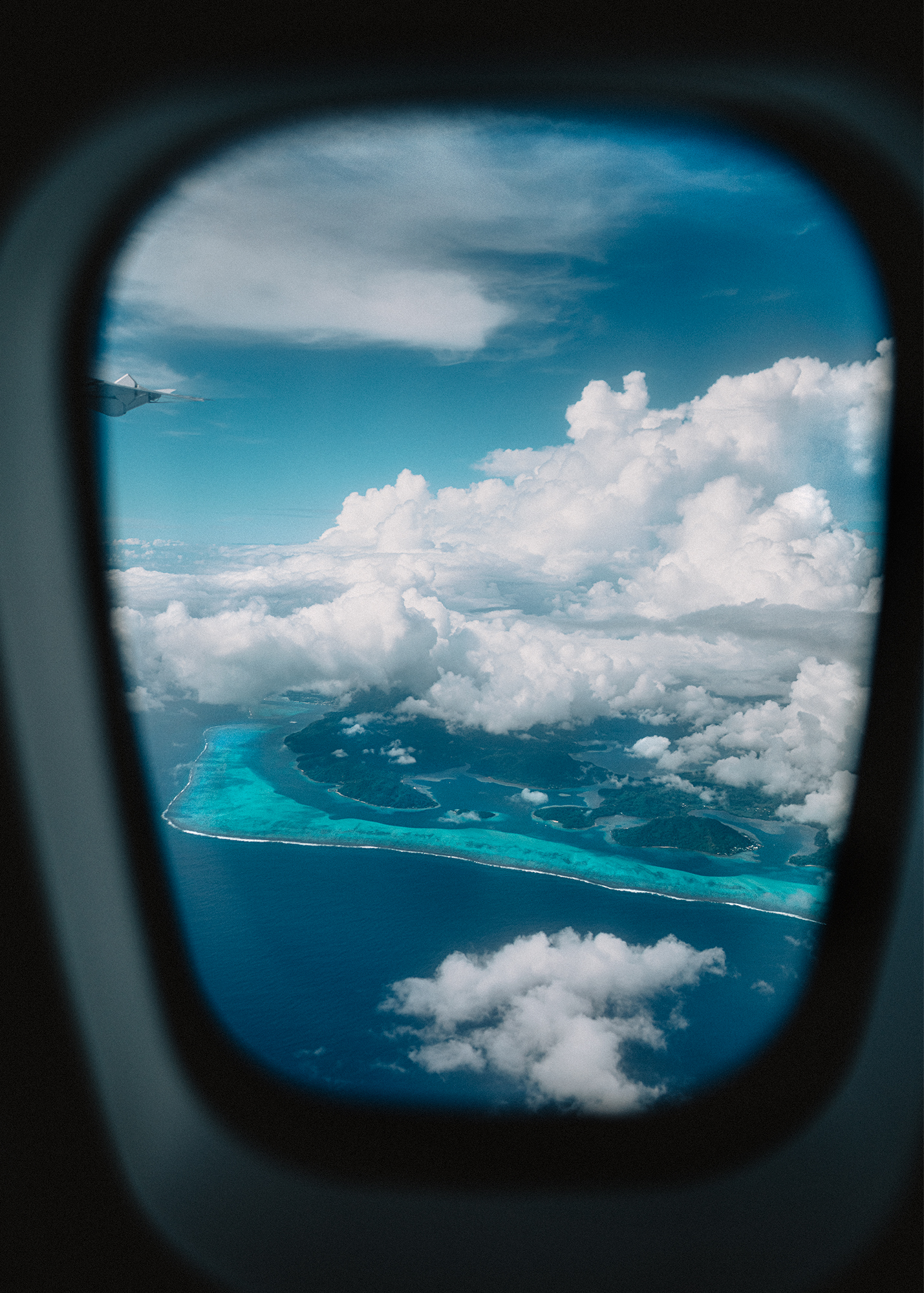 Our first view of the island and atoll of Bora Bora! The flight from Tahiti only takes around 45 minutes, and is a much larger and smoother plane ride than we were expecting. You want to make sure to grab a seat on the left hand side to see the island views on your way in.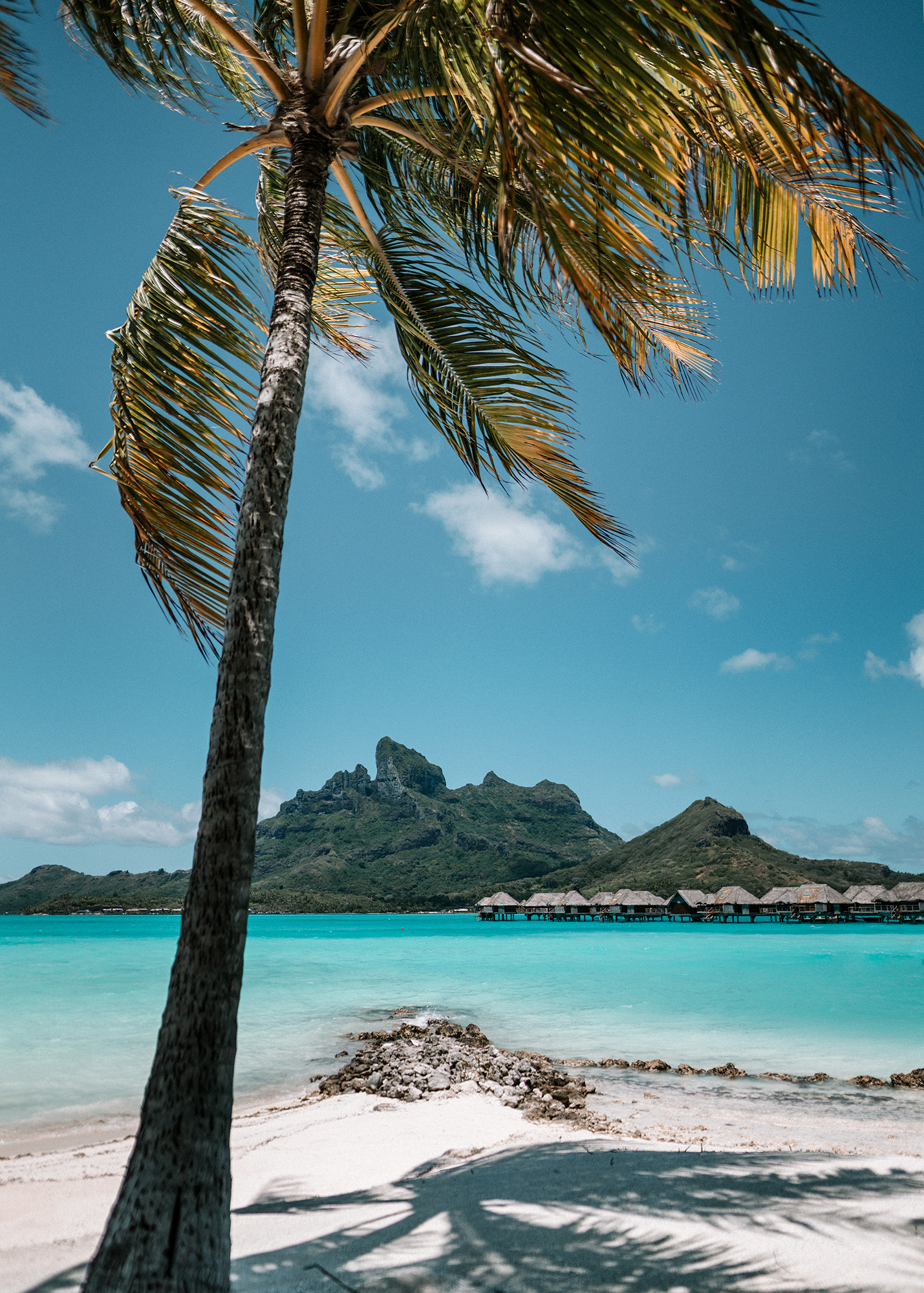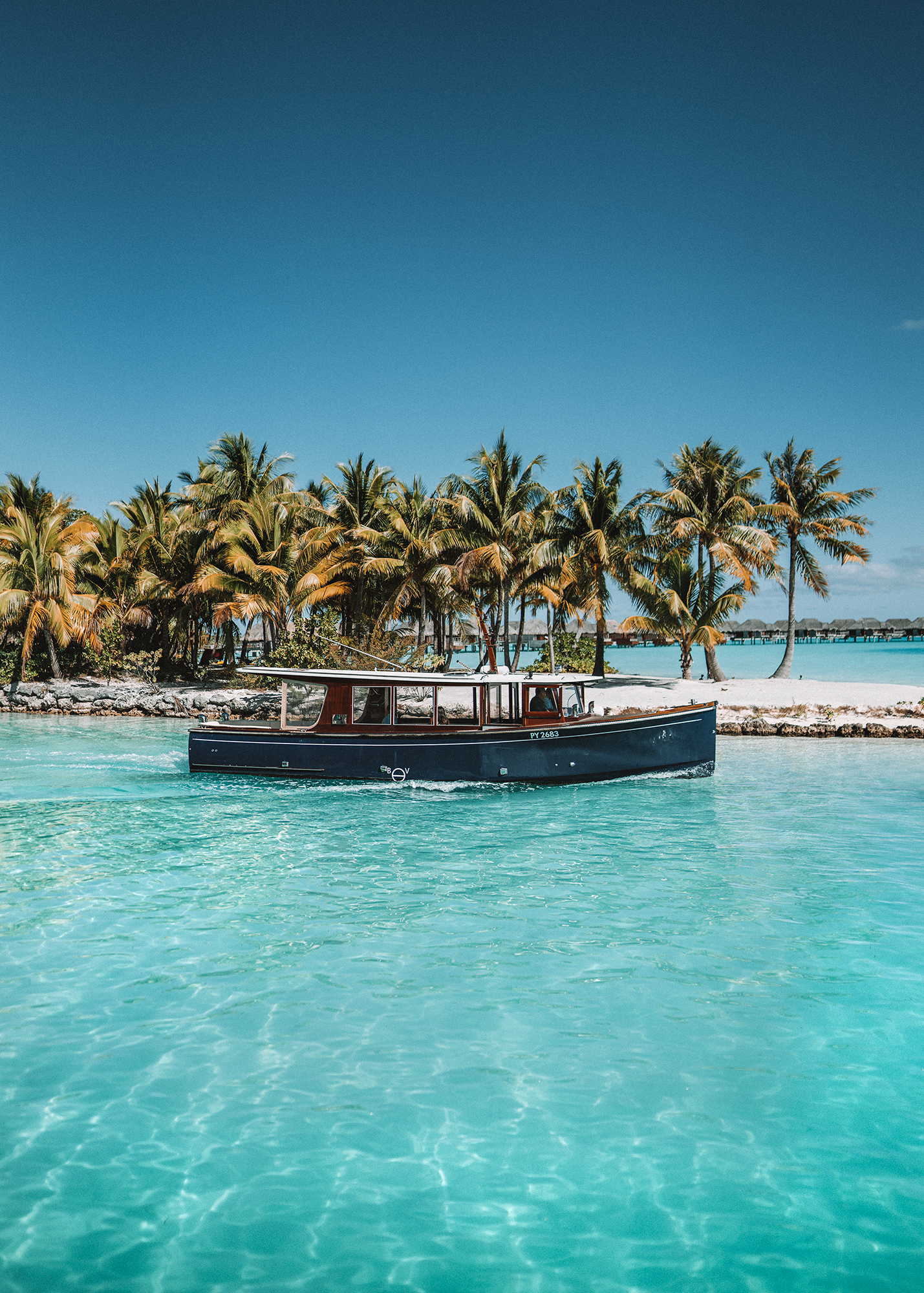 From the Bora Bora Airport, it's just a quick 10 minute boat ride across the Lagoon to get to the hotel.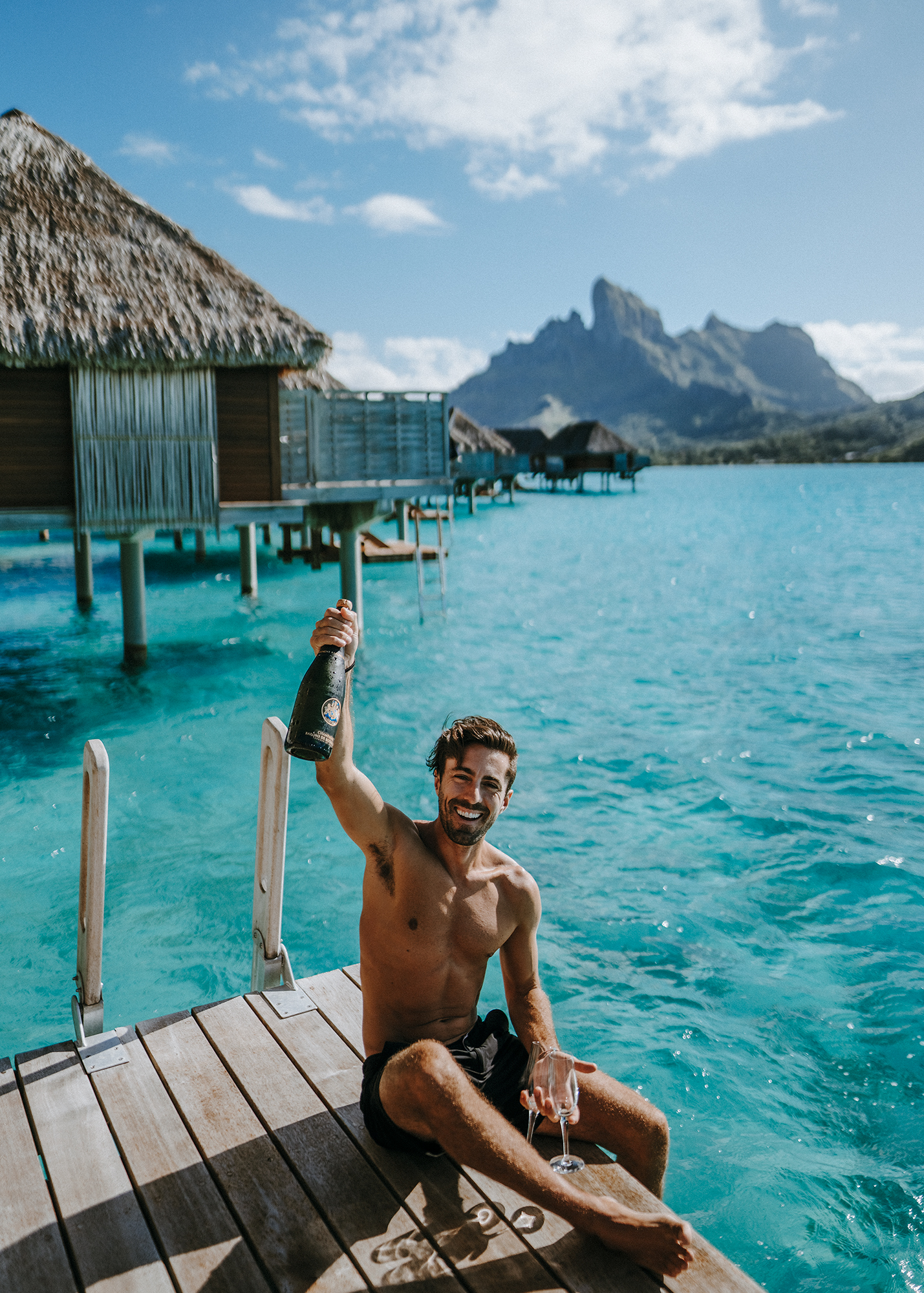 Current feeling: WE'RE ACTUALLY HERE, time to celebrate!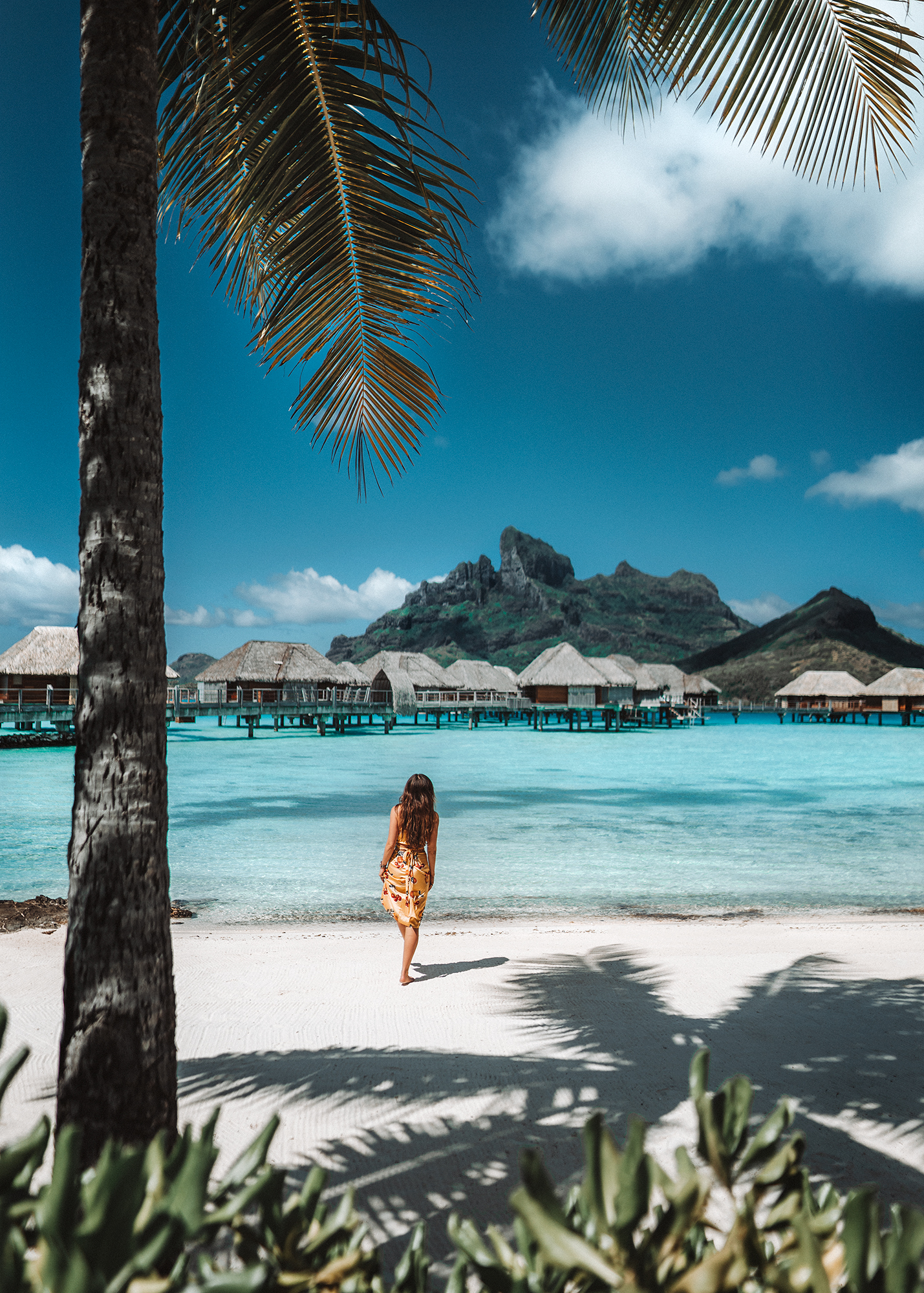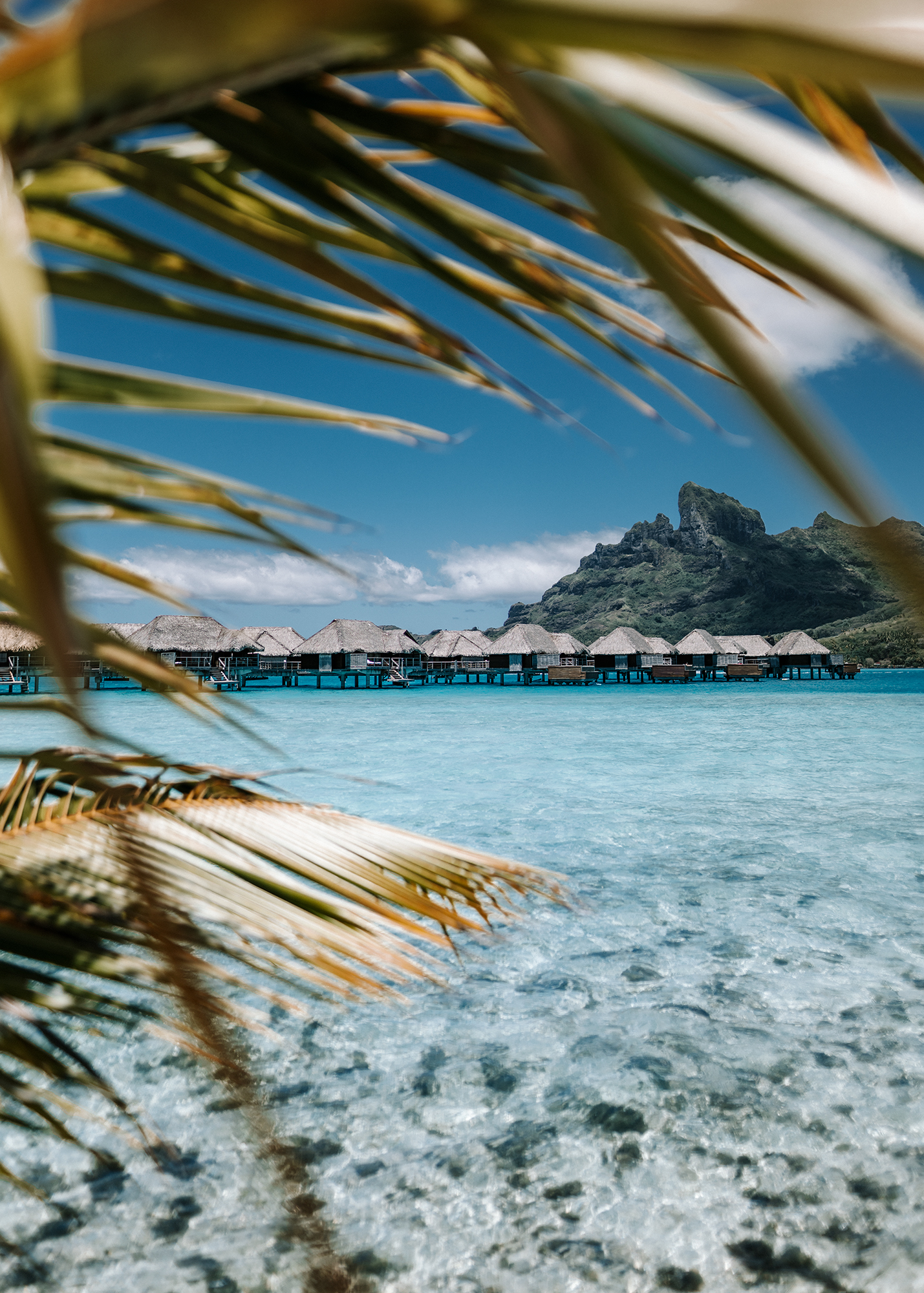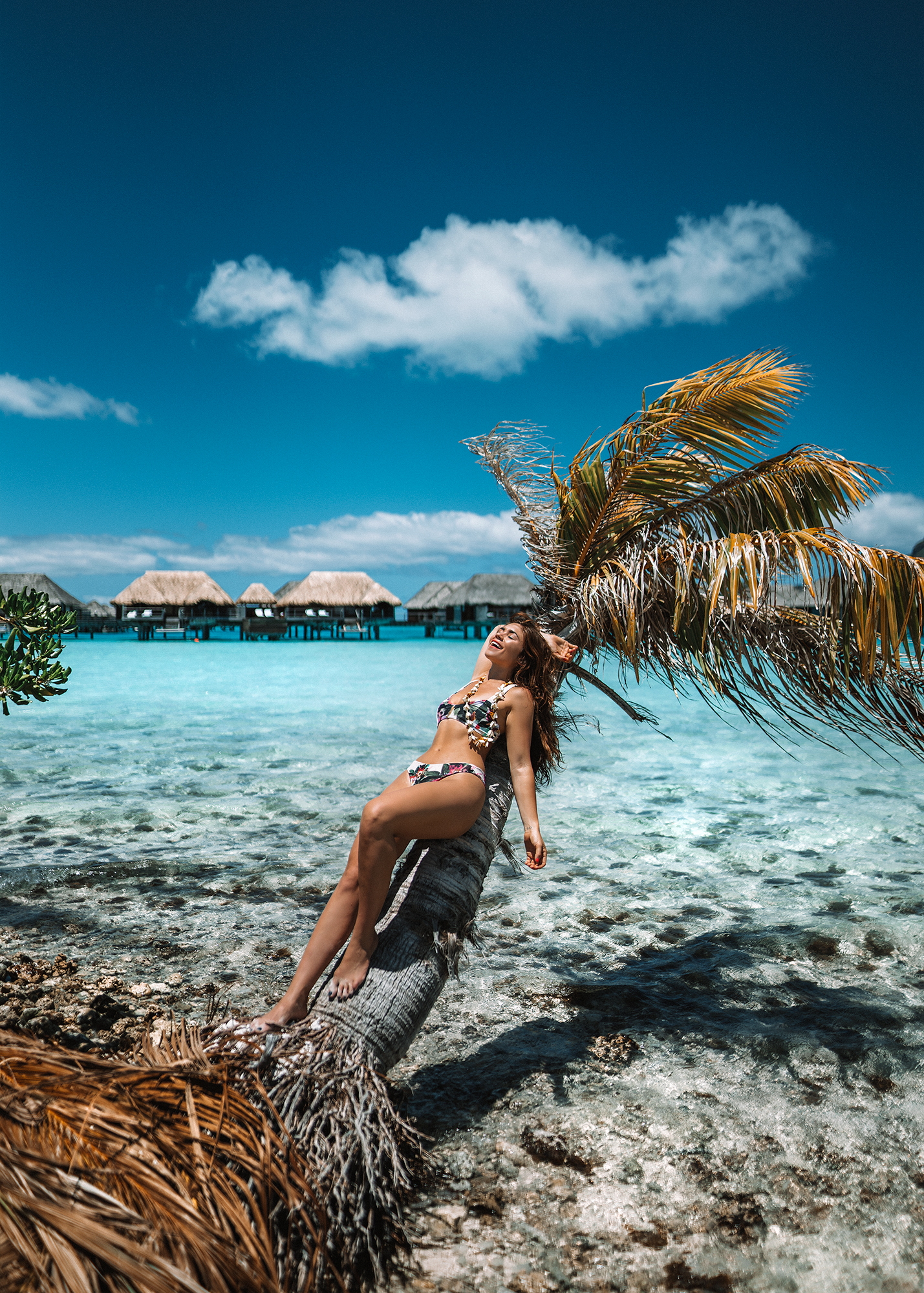 Before we even made it to our room or changed, we started taking as many photos as we could.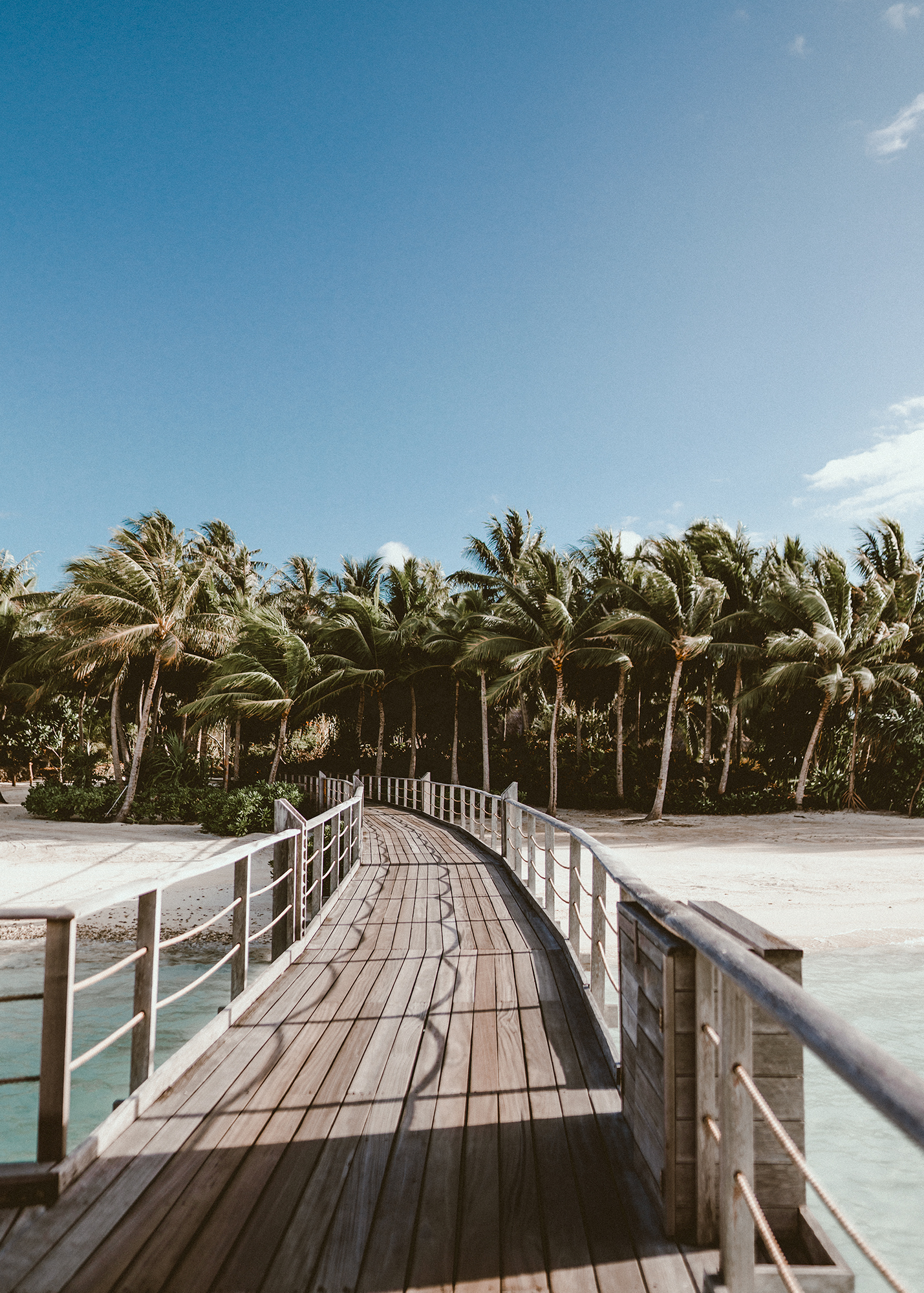 The bridge to paradise. We were so lucky with perfect, sunny weather for our entire time here!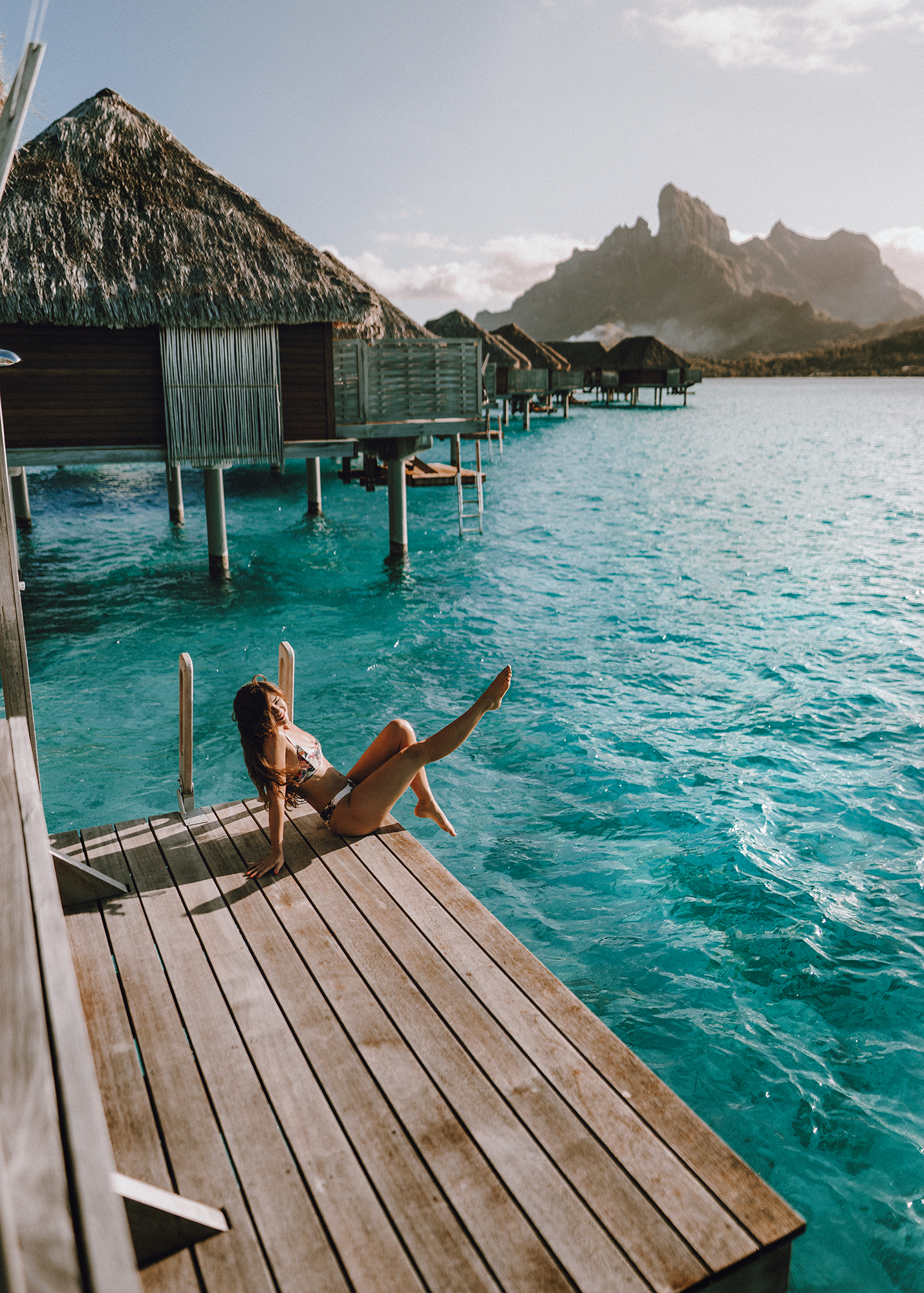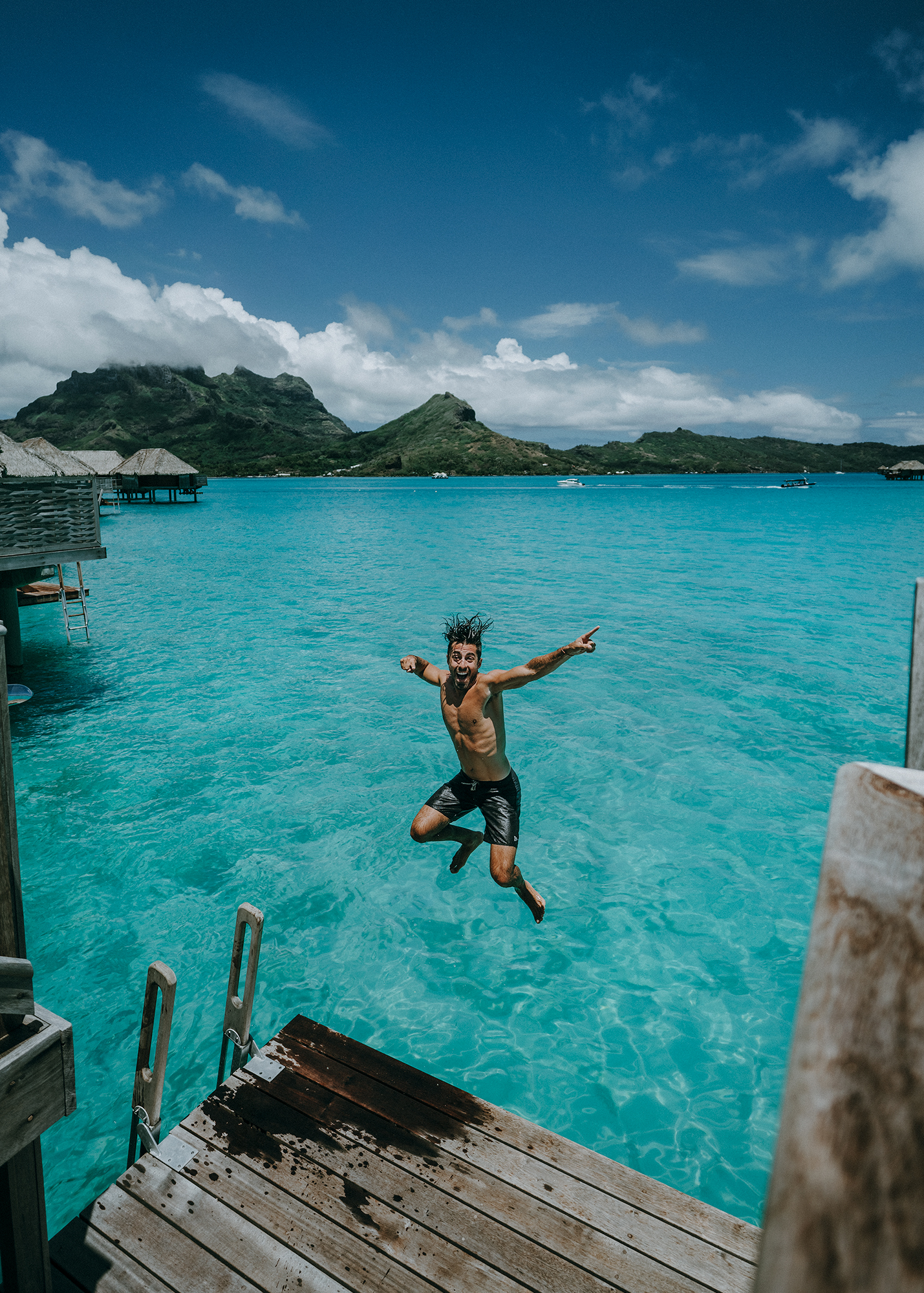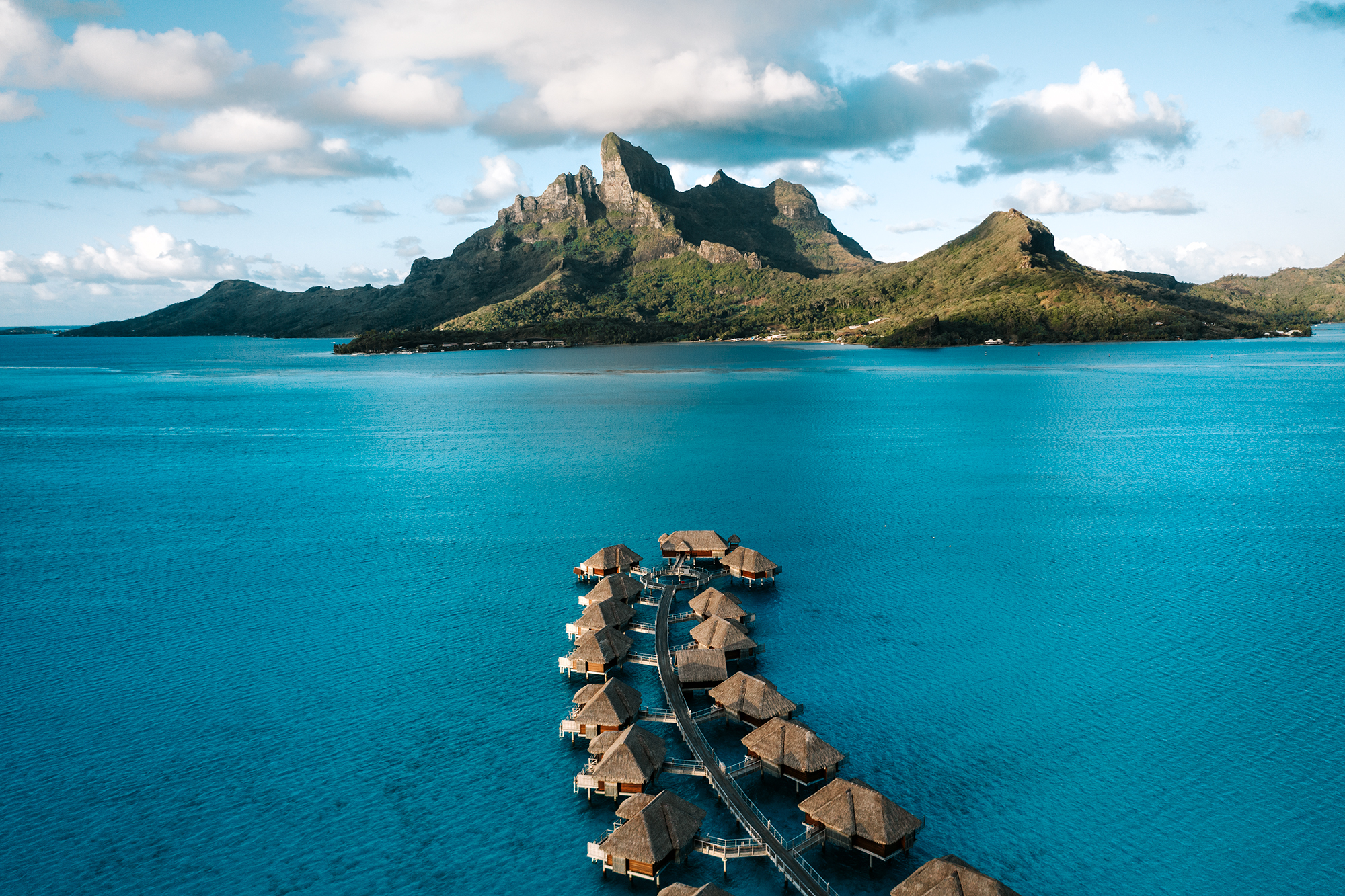 Making ourselves at home for a few days in paradise!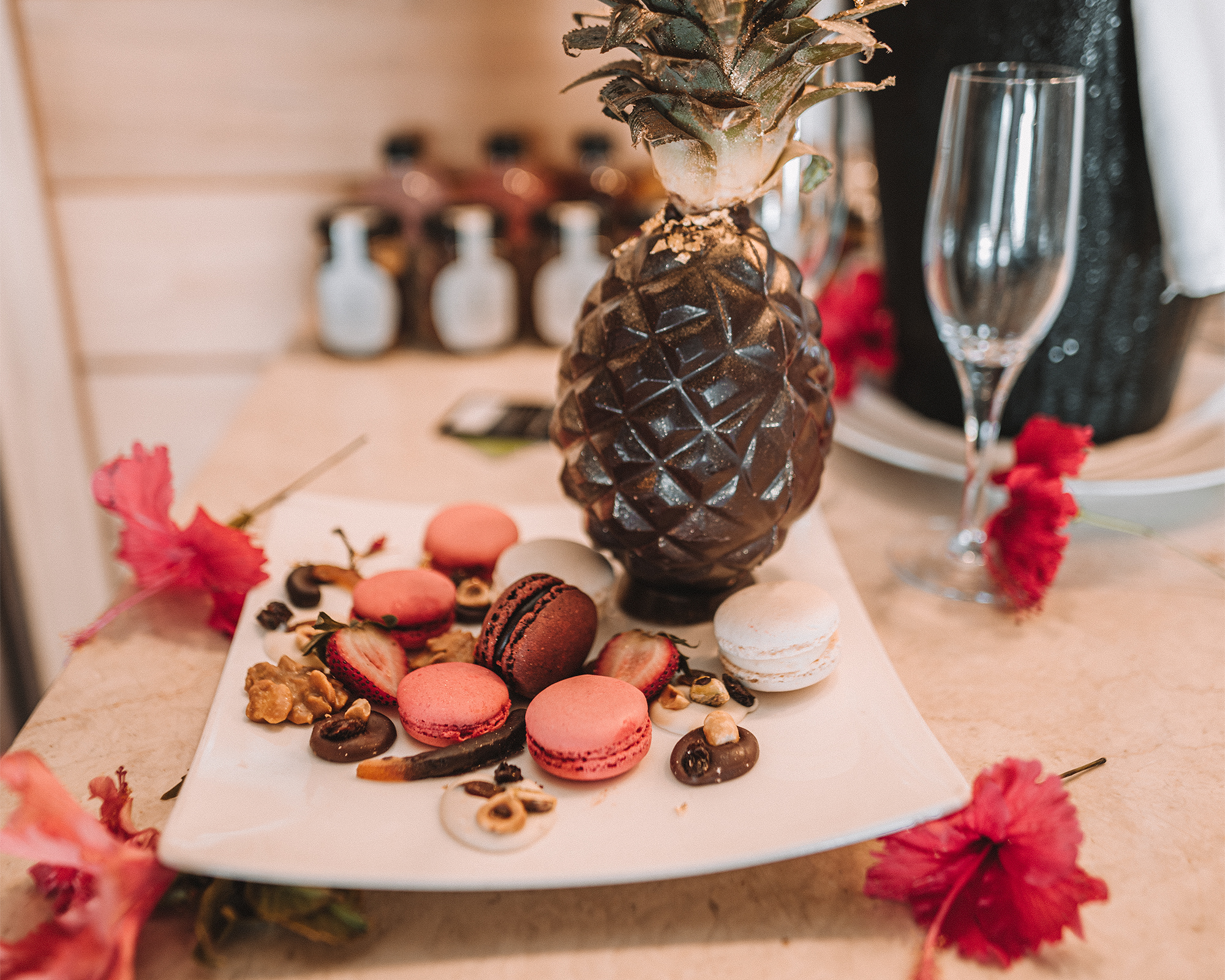 A beautiful little surprise when we checked in! My absolutely favorite dessert is Macarons, and one surprising thing for me about French Polynesia was just how French it was. While we knew that the islanders spoke French, of course, being halfway across the world from France, I didn't realize that the vast majority of the guests would be French as well. And the bread and the cheese and the pastries were all just as to-die-for as they are in Paris.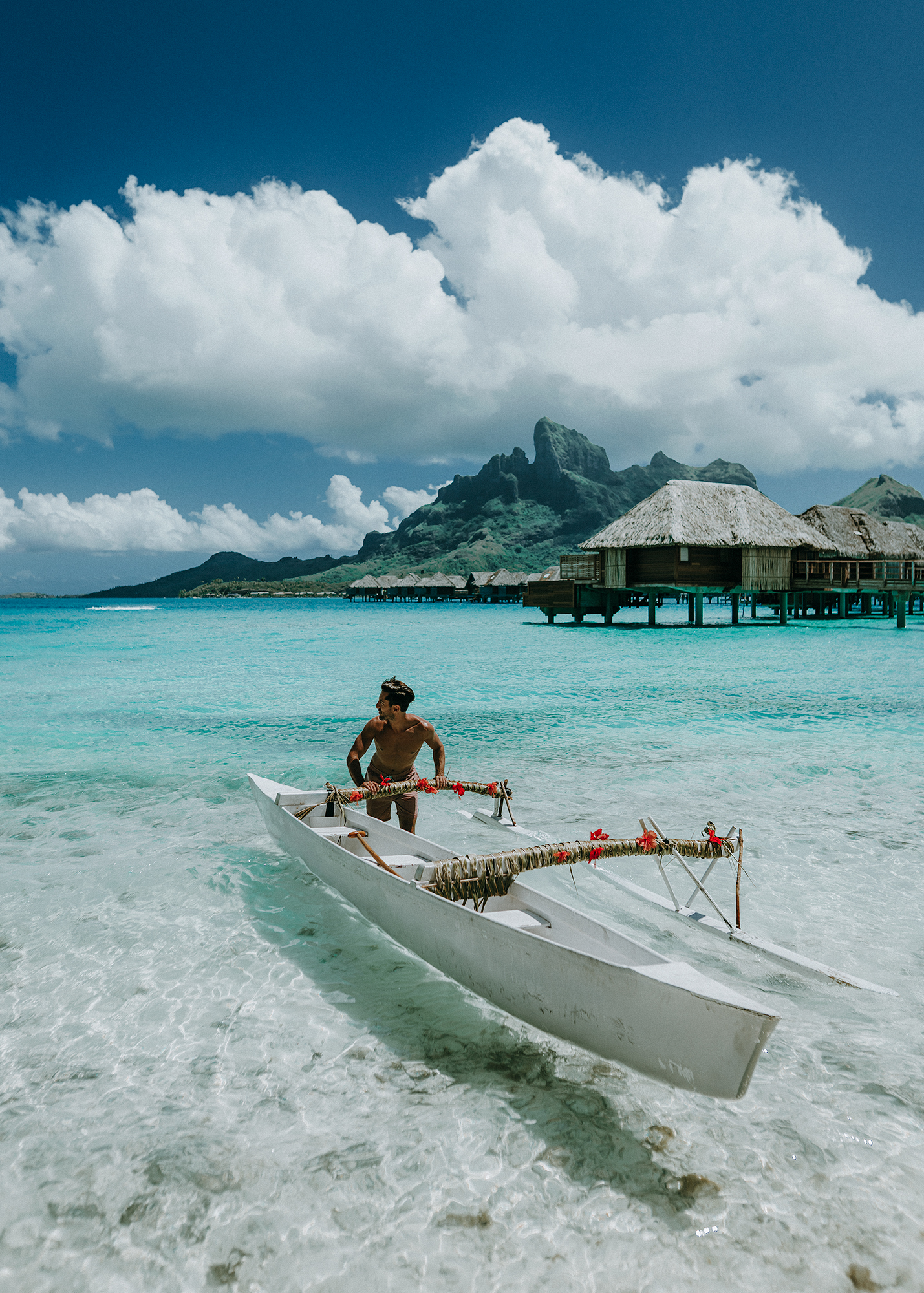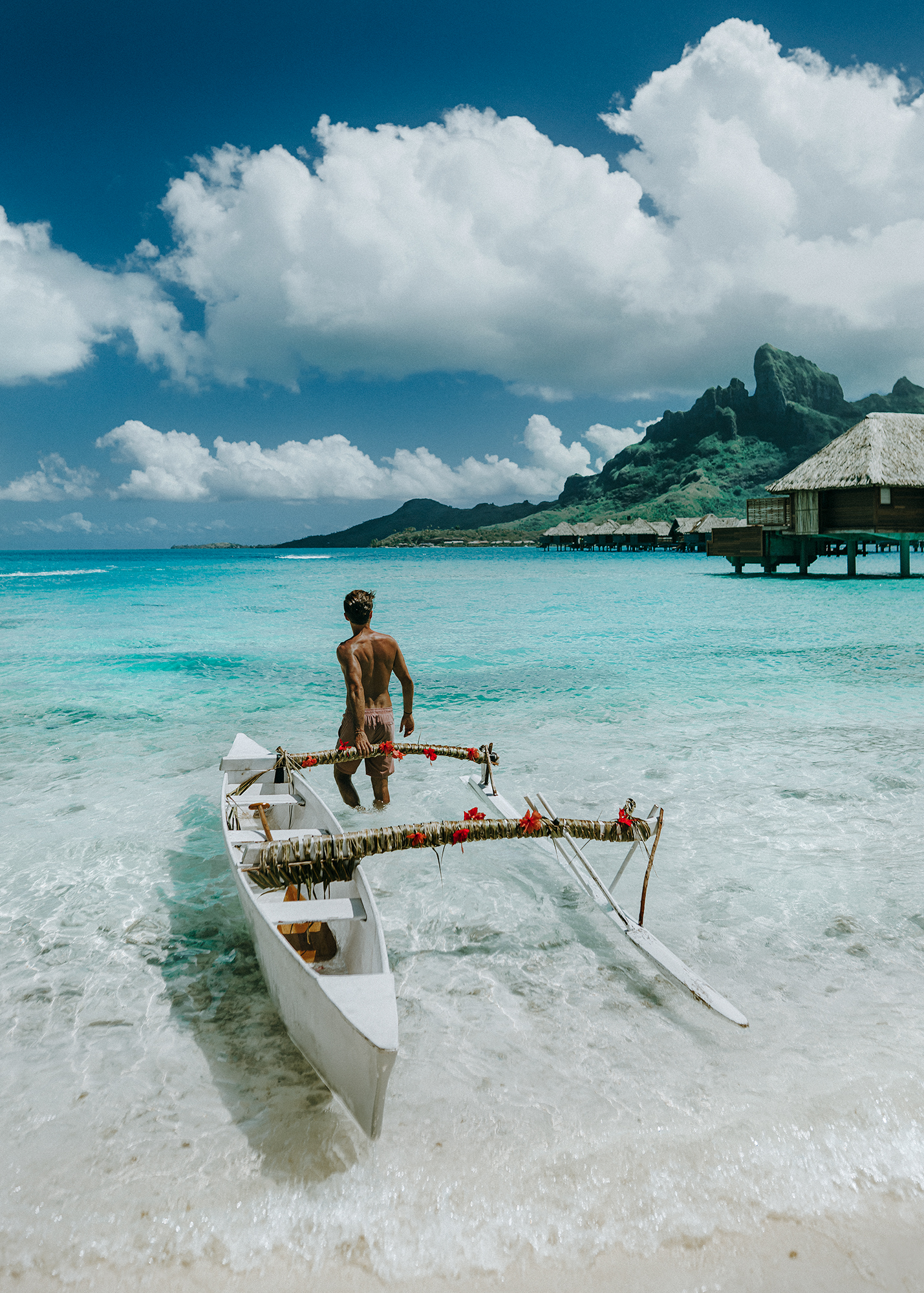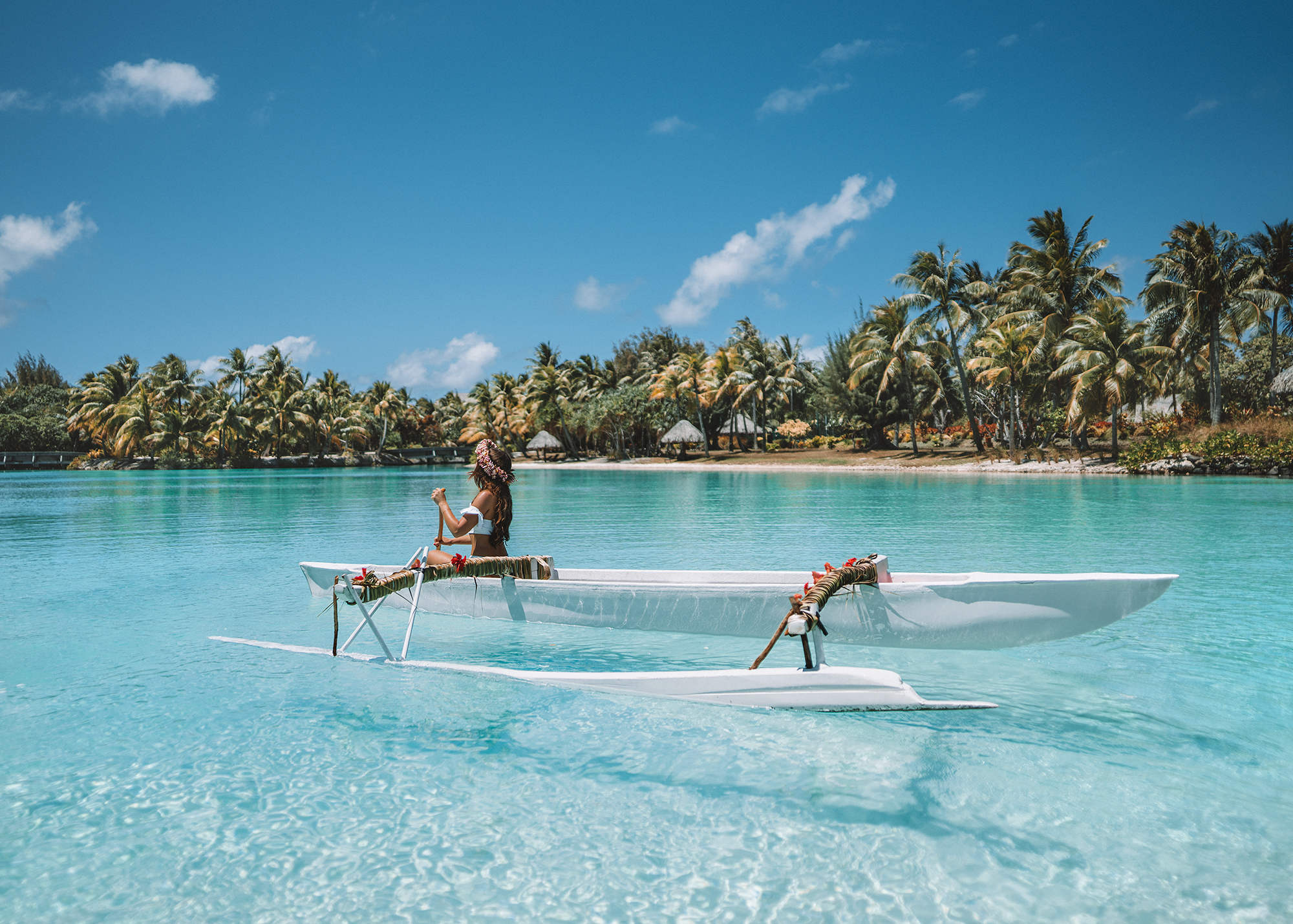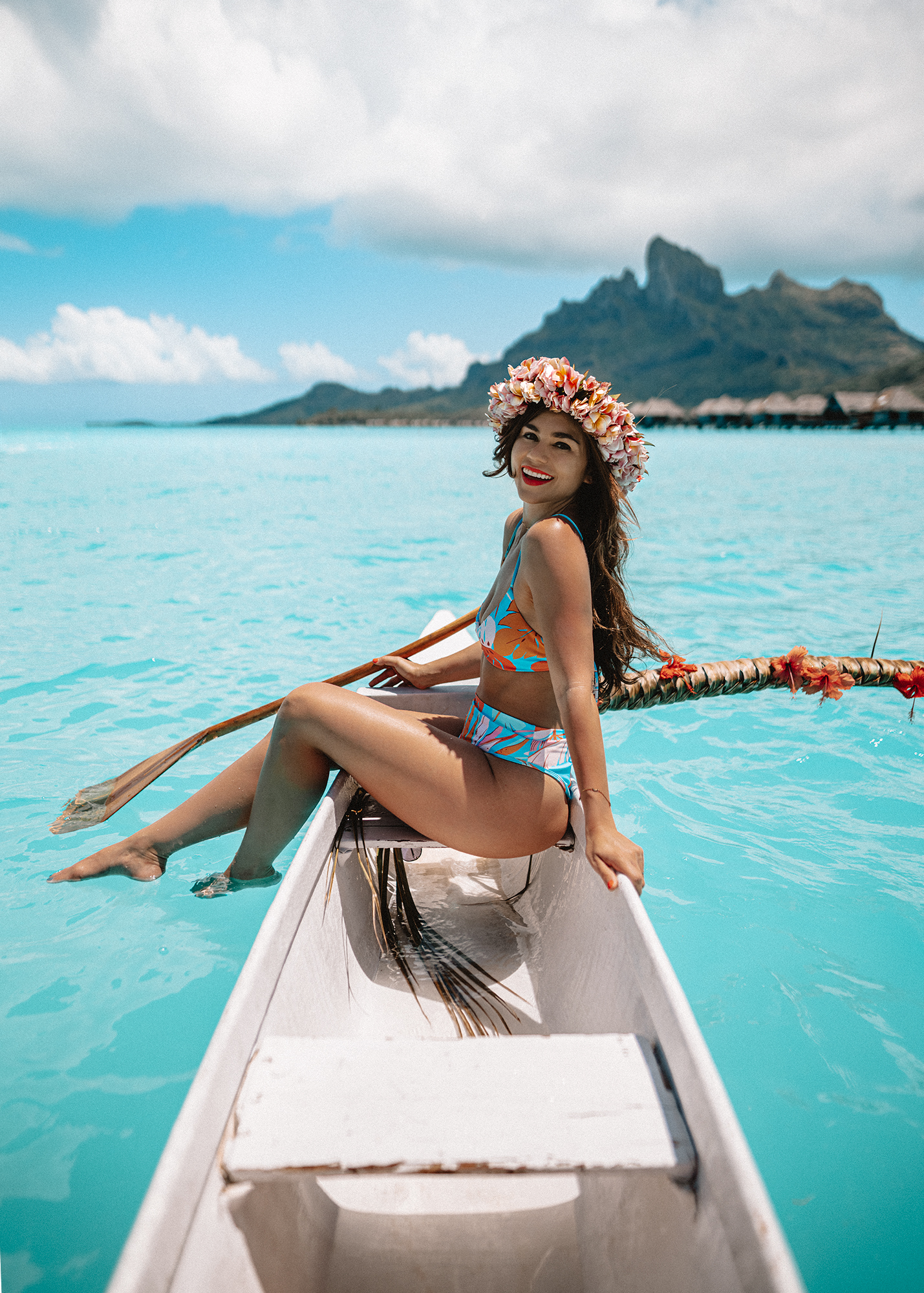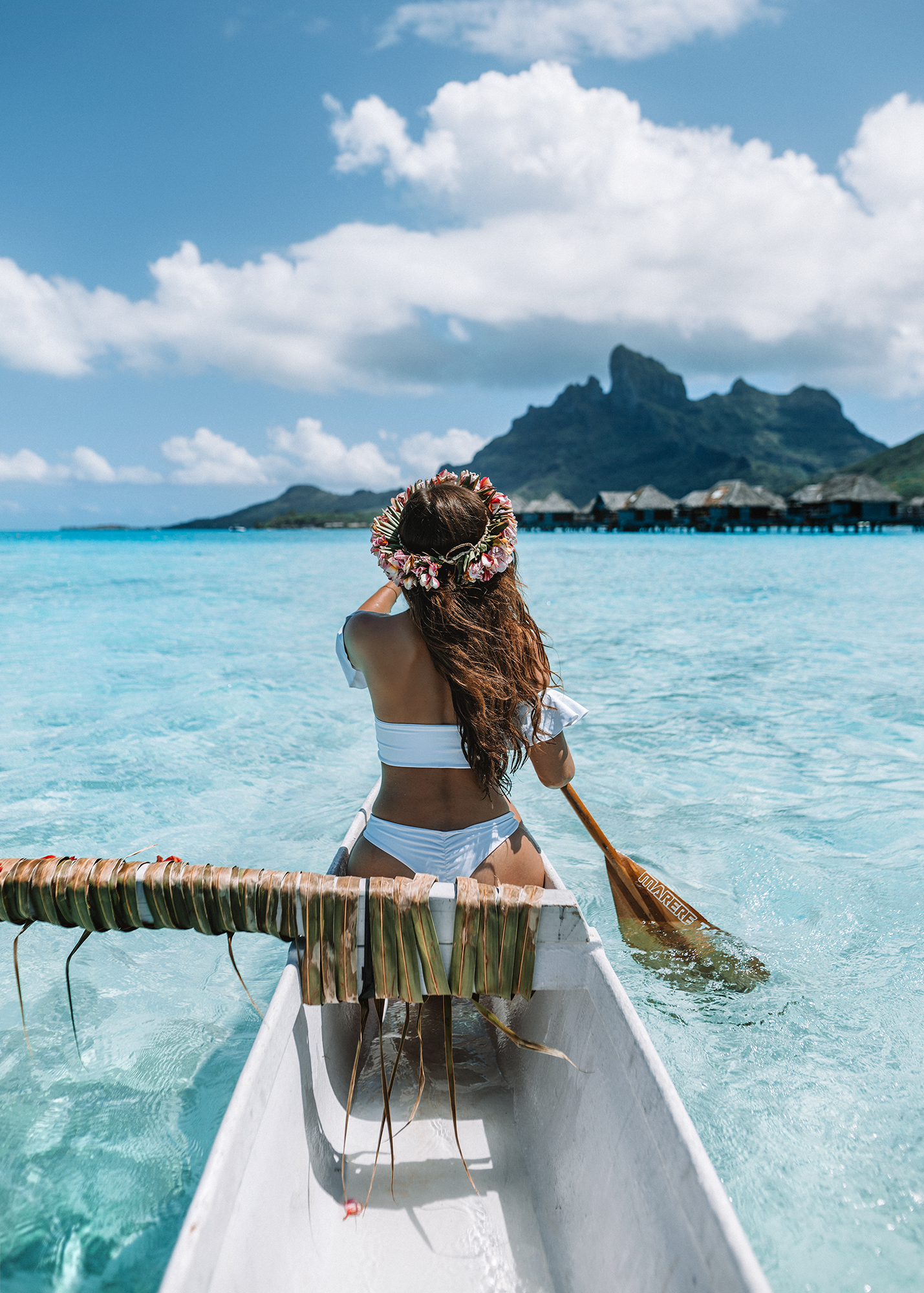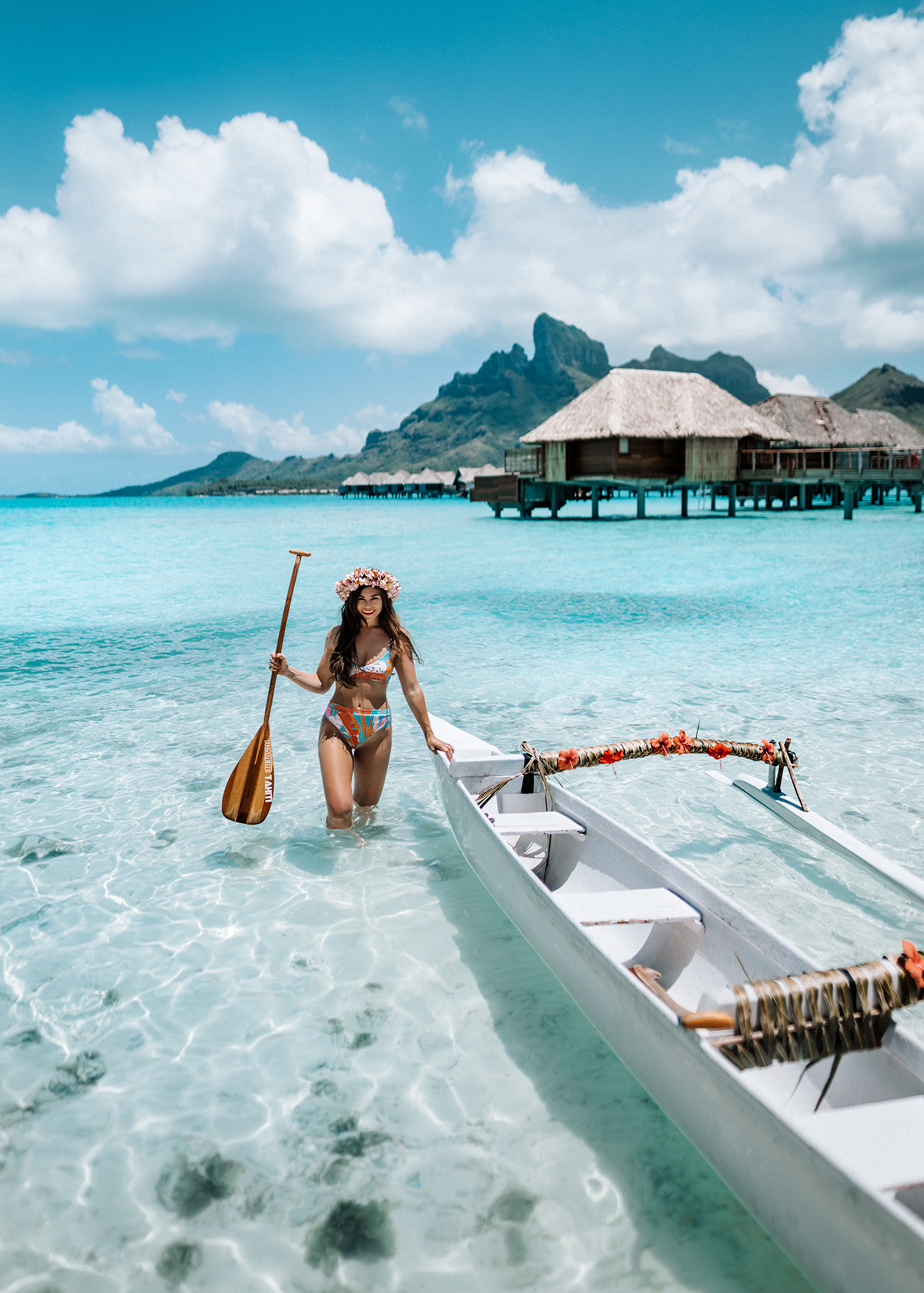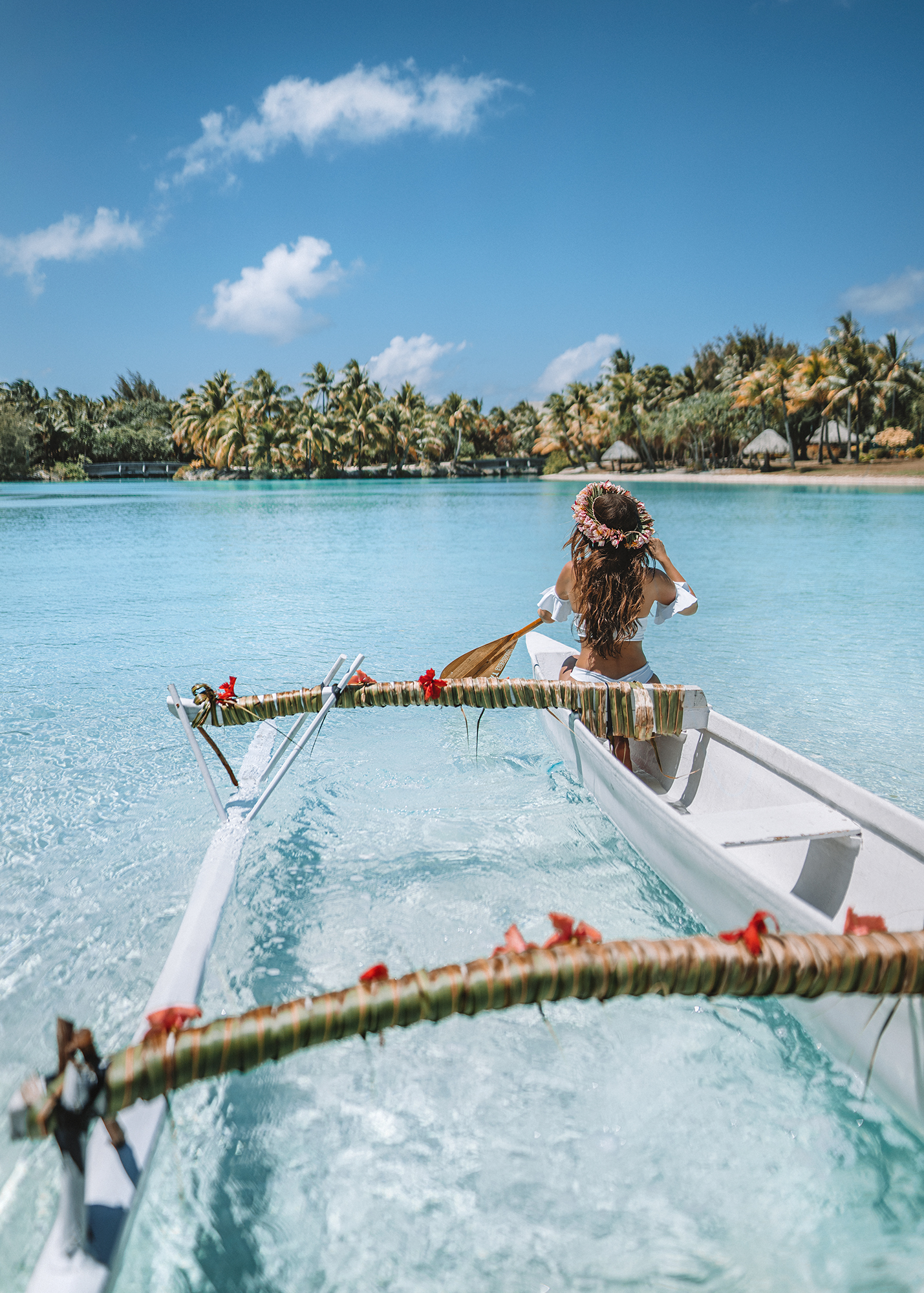 Instead of visiting the island gym, we took this boat out every morning to cruise around the lagoon and get our work out on without having to be inside. This little canoe is just as fun and pretty in person as it is Instagram famous. There are certain activities we've done or places we've been that I feel like are infused with the essence of a thousand bloggers (like the rope swing in Sri Lanka), and this is definitely one of them. AND it's still fun.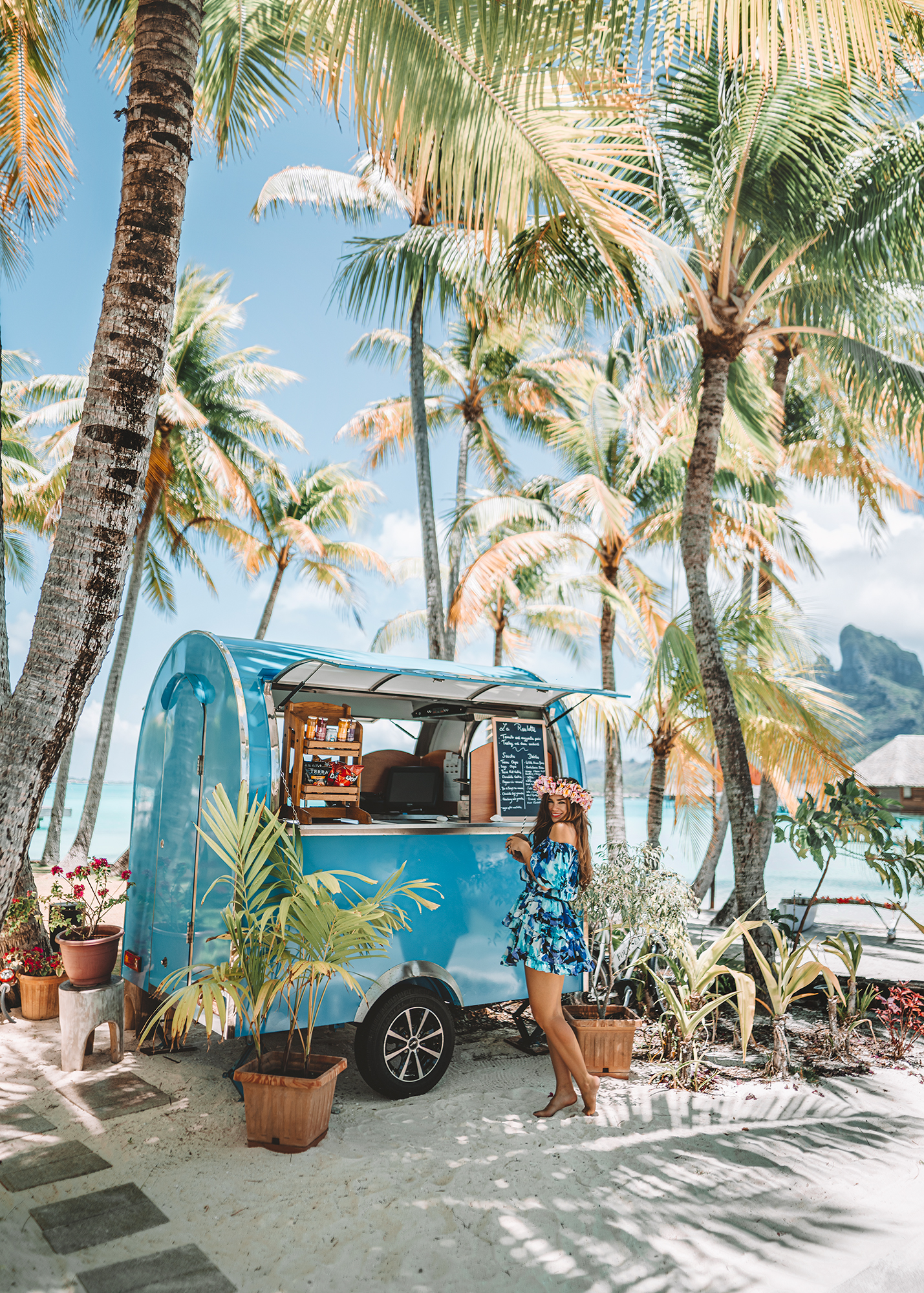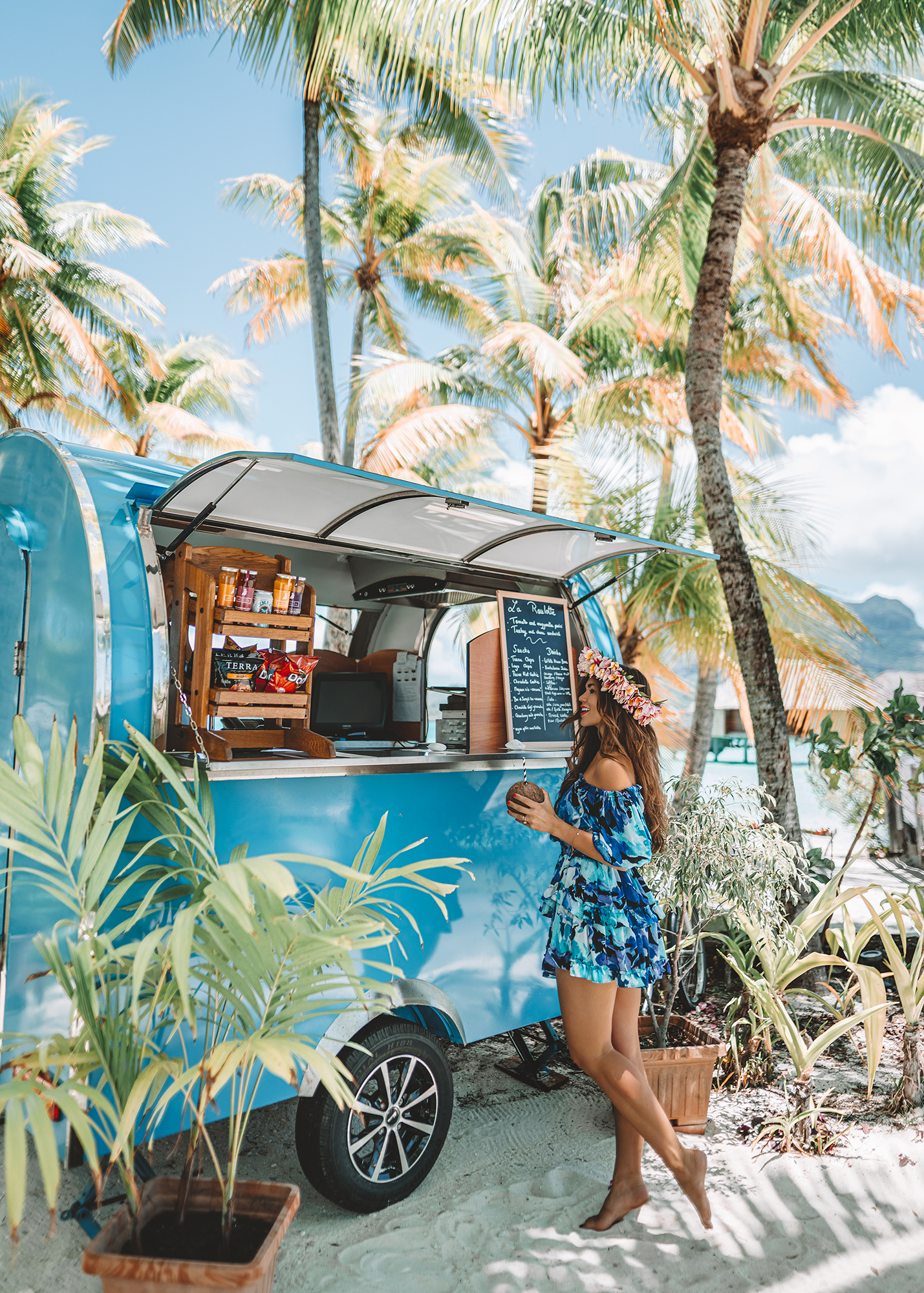 Afternoon stops at the cutest little island snack shack.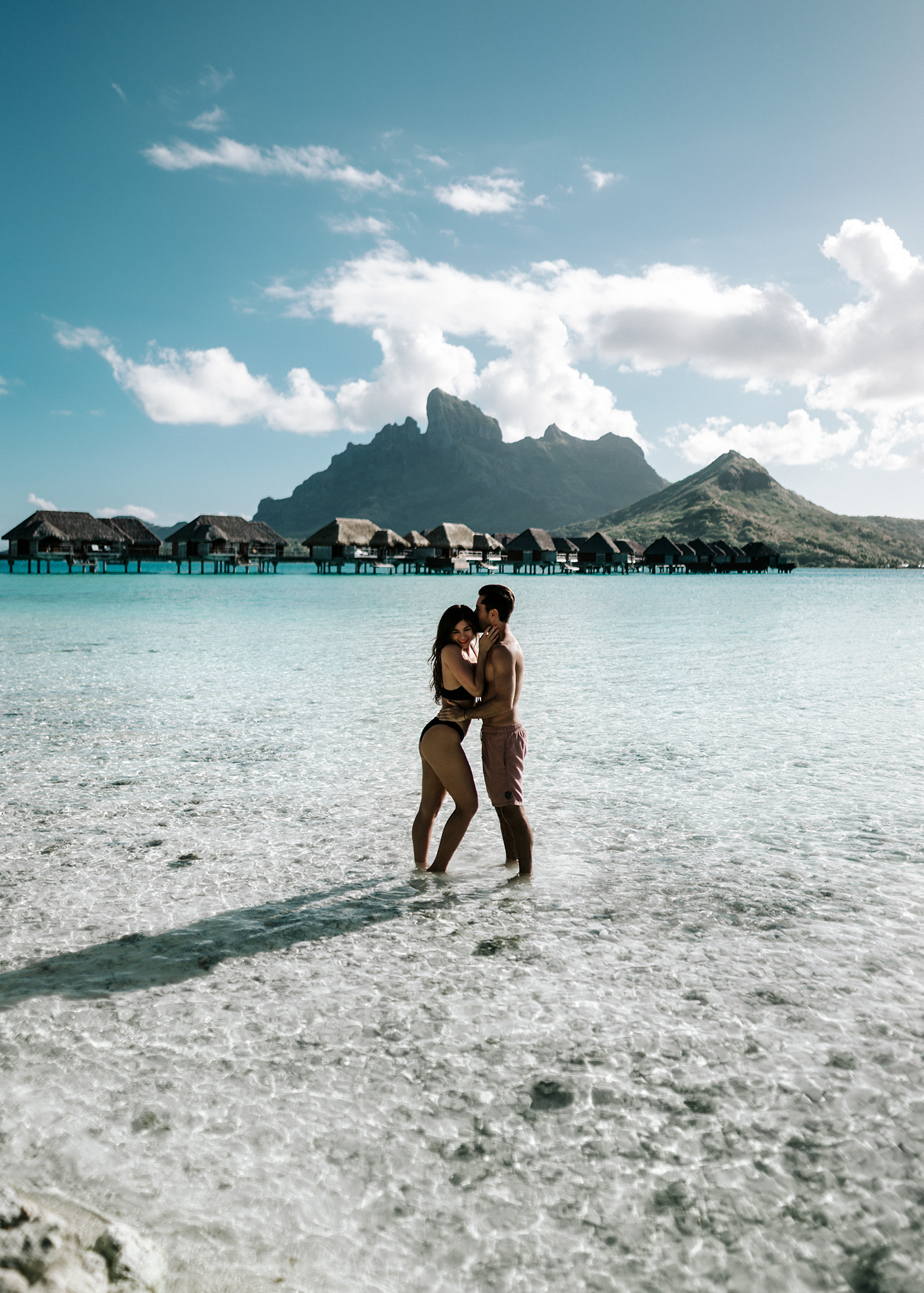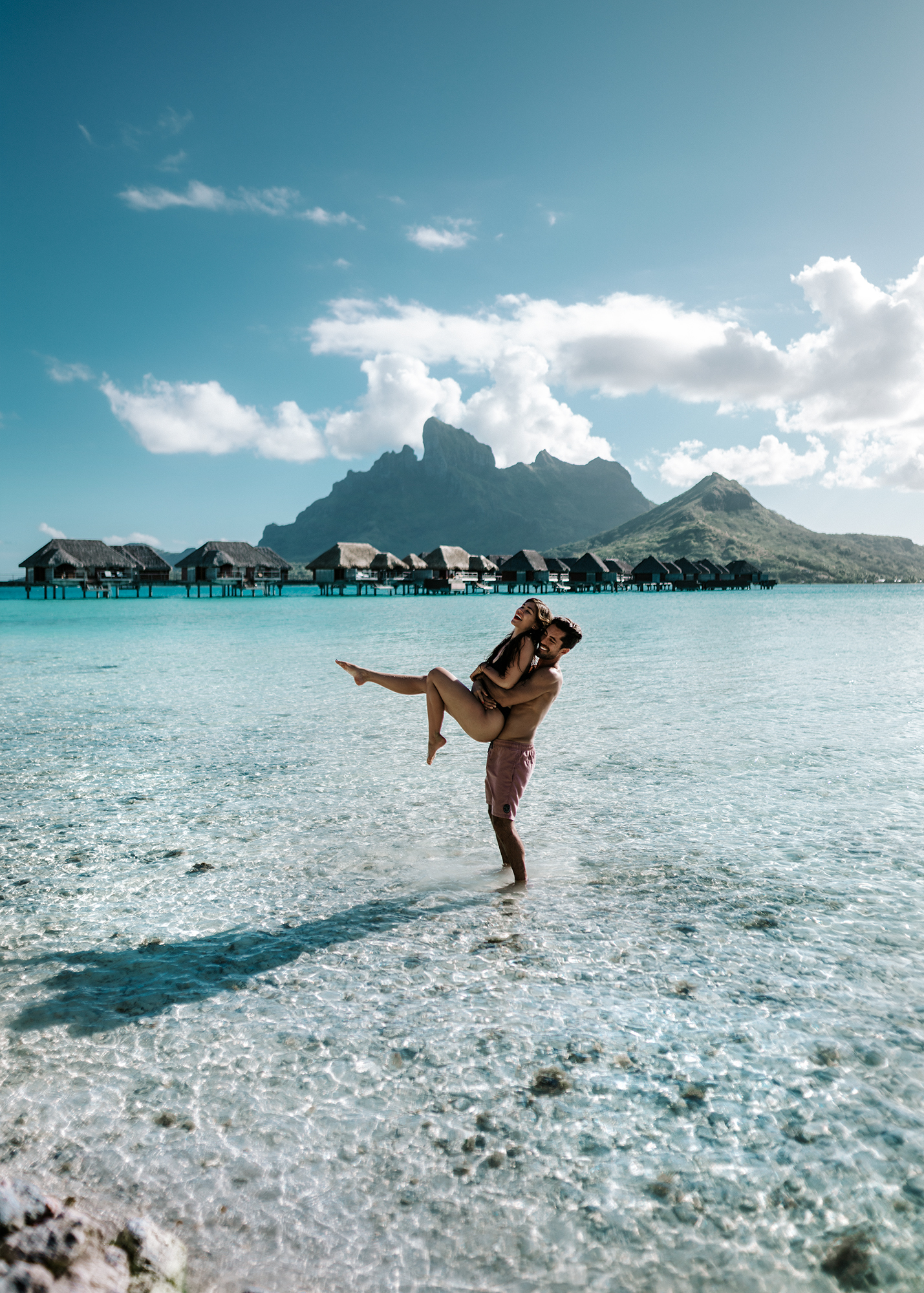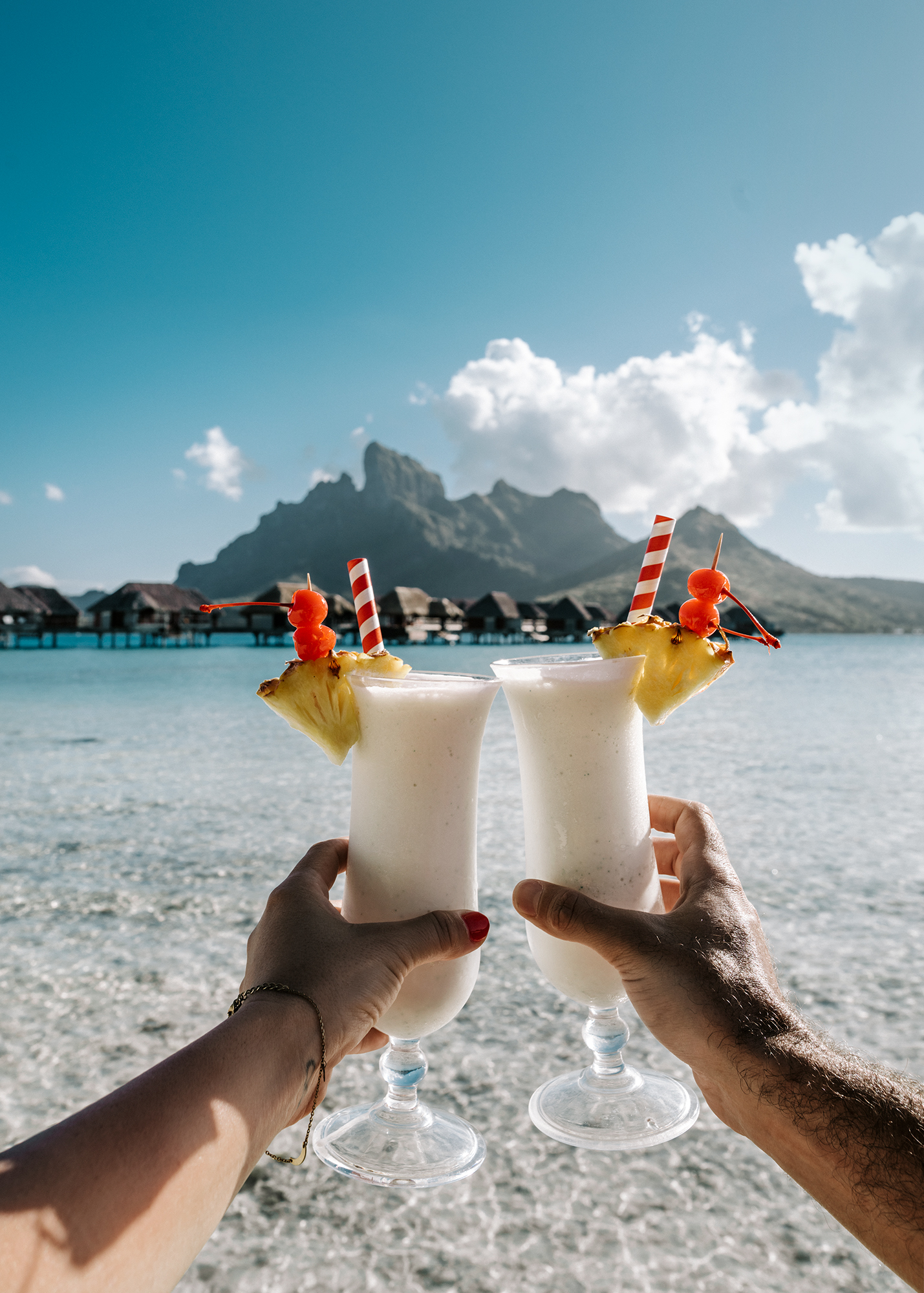 Every late afternoon, before the sun starts to set, the beach and pool bar has two-for-one Happy Hour cocktails, so there was no way to say no! We laid on the beach with a couple rounds of Piña Coladas and just... enjoyed. Relaxing is something that is so simple, but has always been very difficult for me. Especially in a place as amazing as this, I feel the need to work and shoot every second of the day - from dawn until dusk and beyond. To shoot as much as possible, to get as much as possible and to use every last second. I will admit that I constantly have a small, nagging fear that all of this could go away any day, and I need to squeeze as many experiences and travels and as much as I possibly can out of this life, to make sure to get it all while I can. But laying on the beach here, in perfect late afternoon sun, in this dream paradise, with a bit of a rum buzz settling in, I found myself at complete and total peace. ....After just a few photos, of course.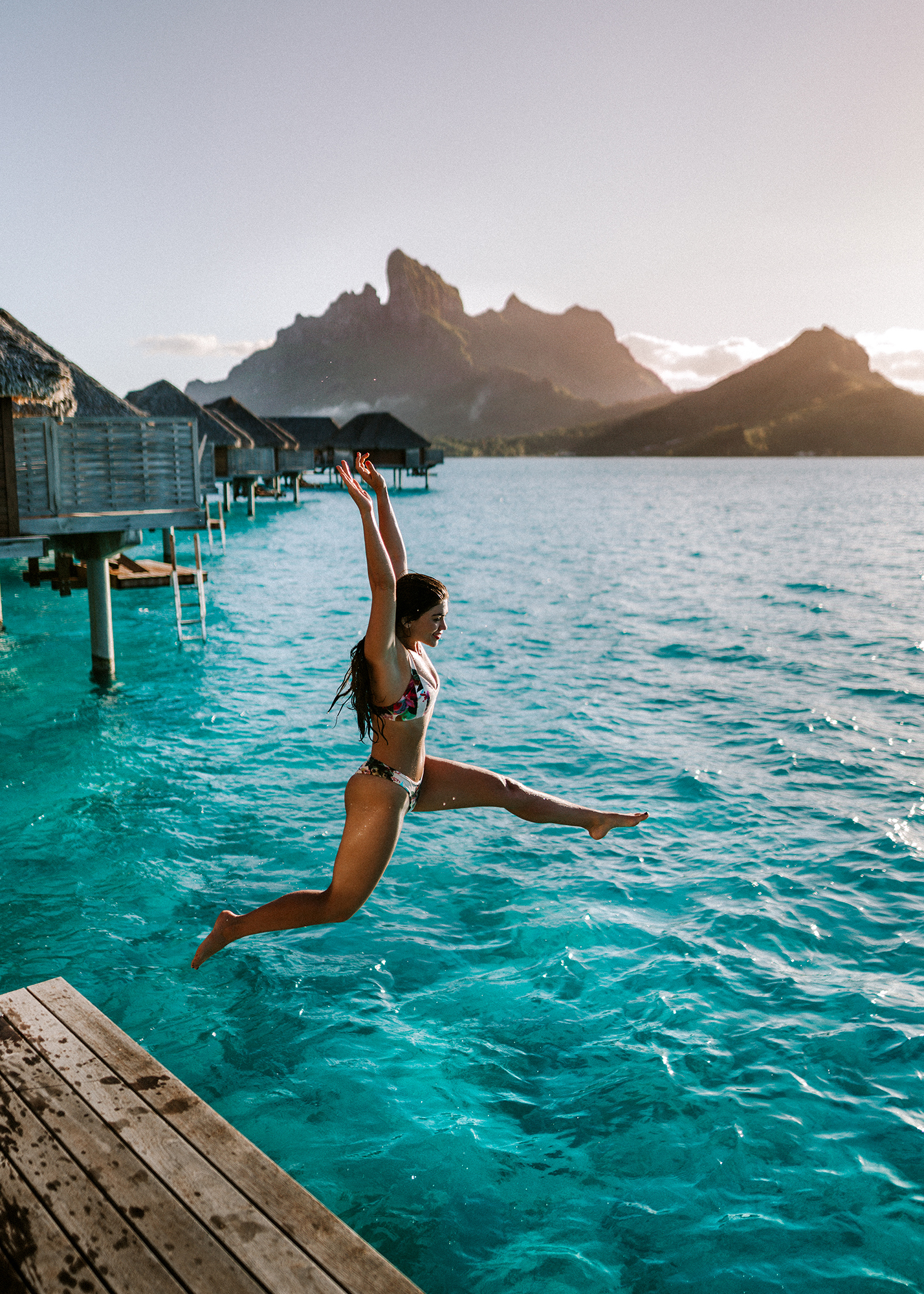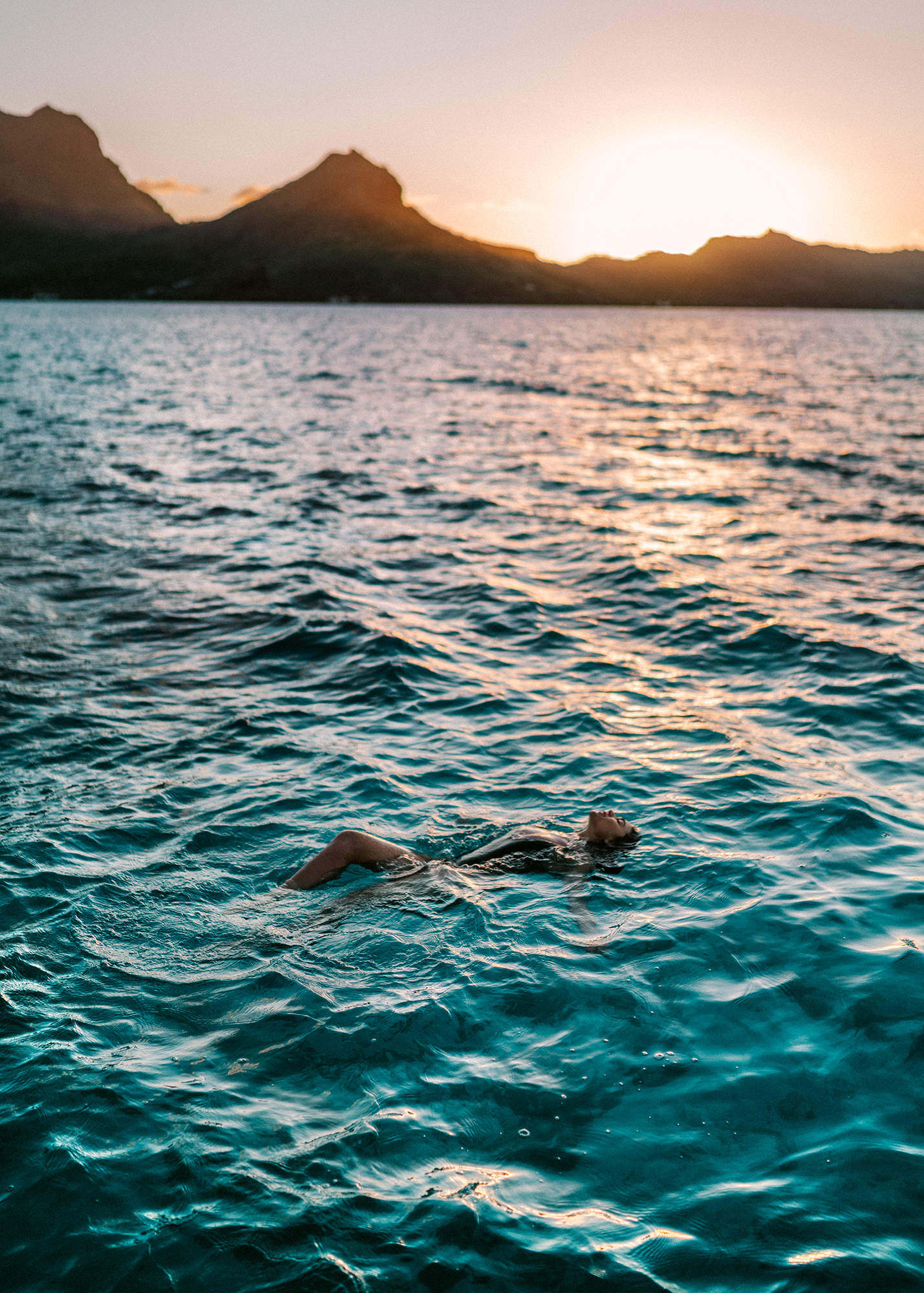 Ending every day with beautiful sunset swims.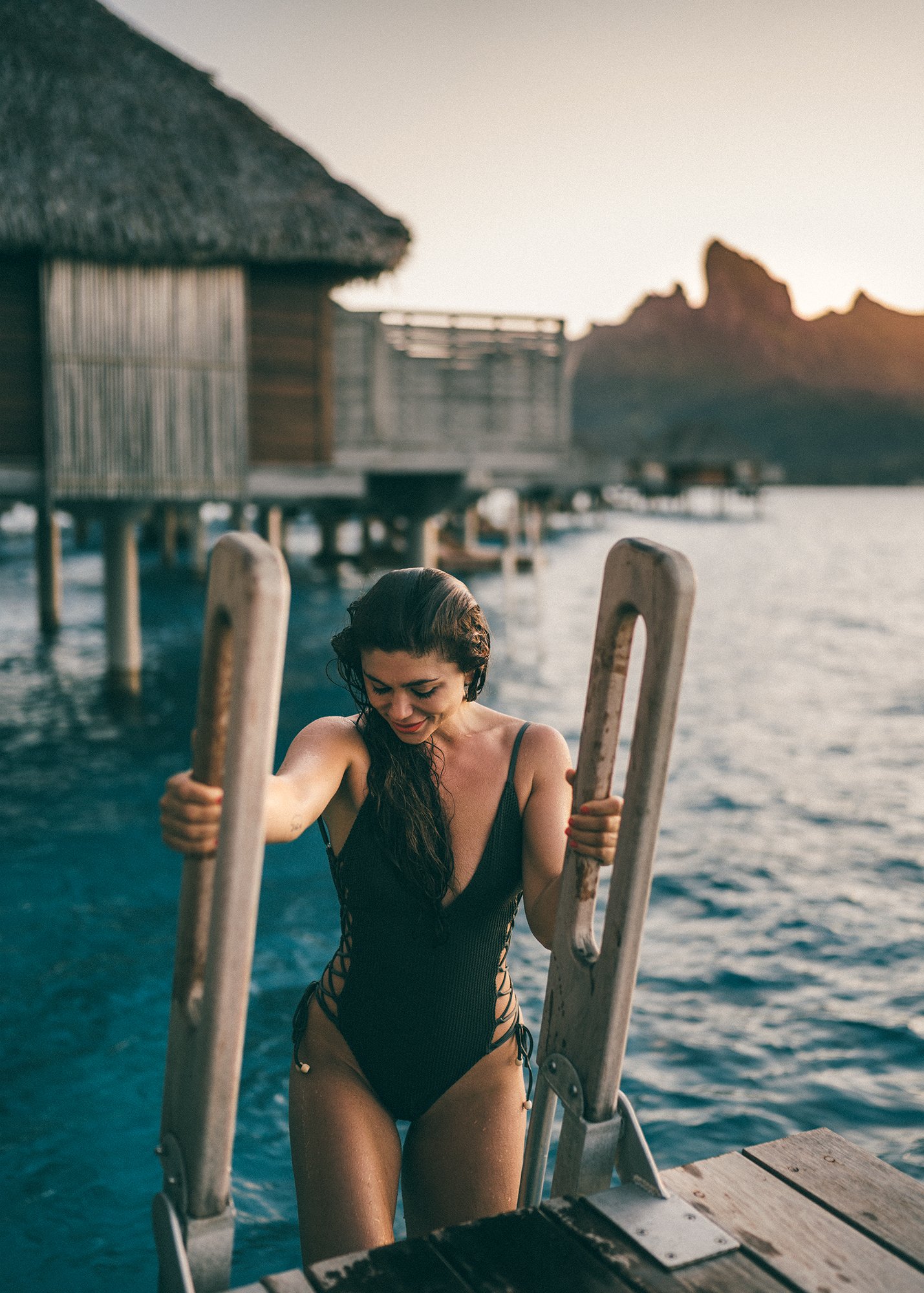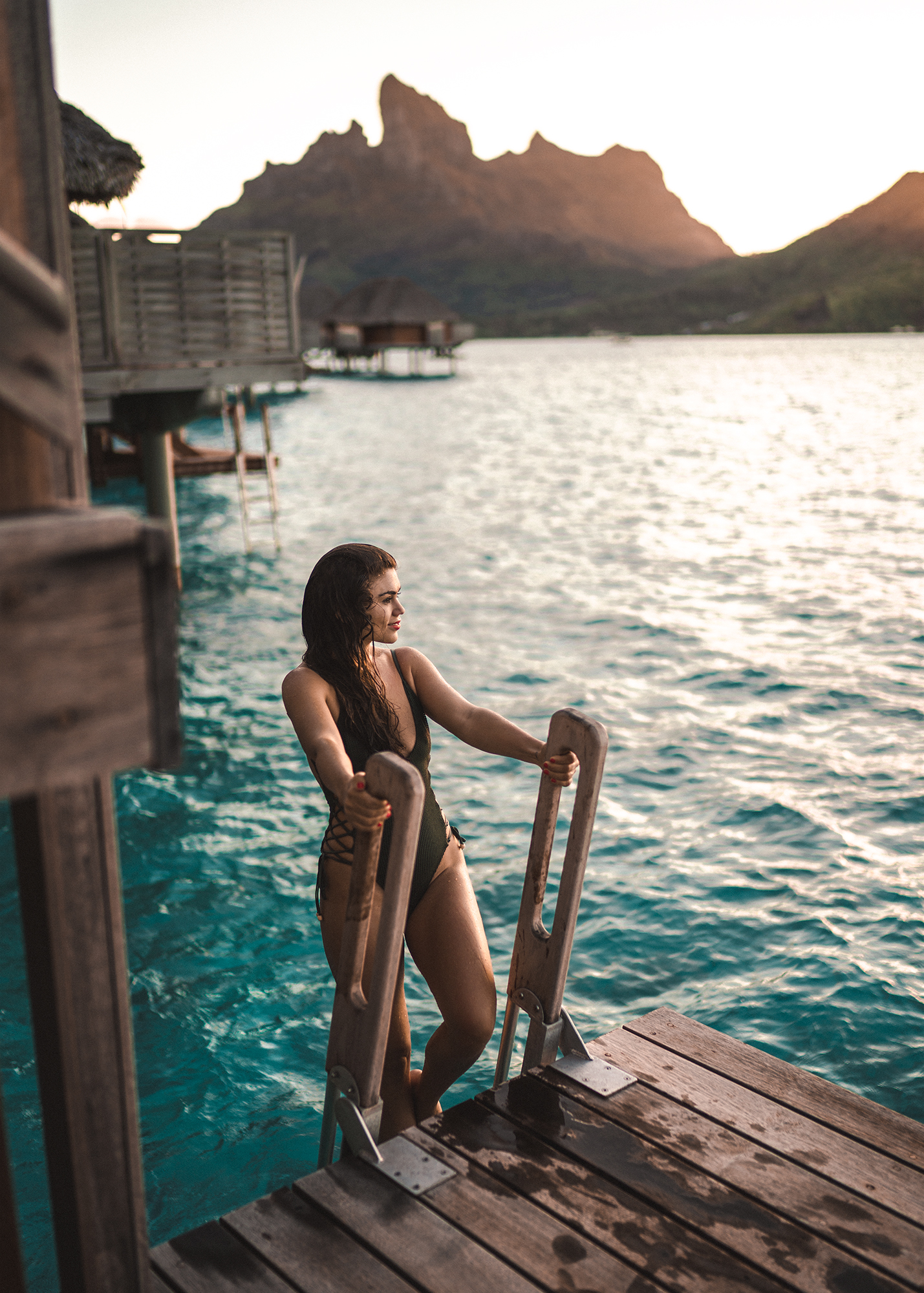 I couldn't get enough!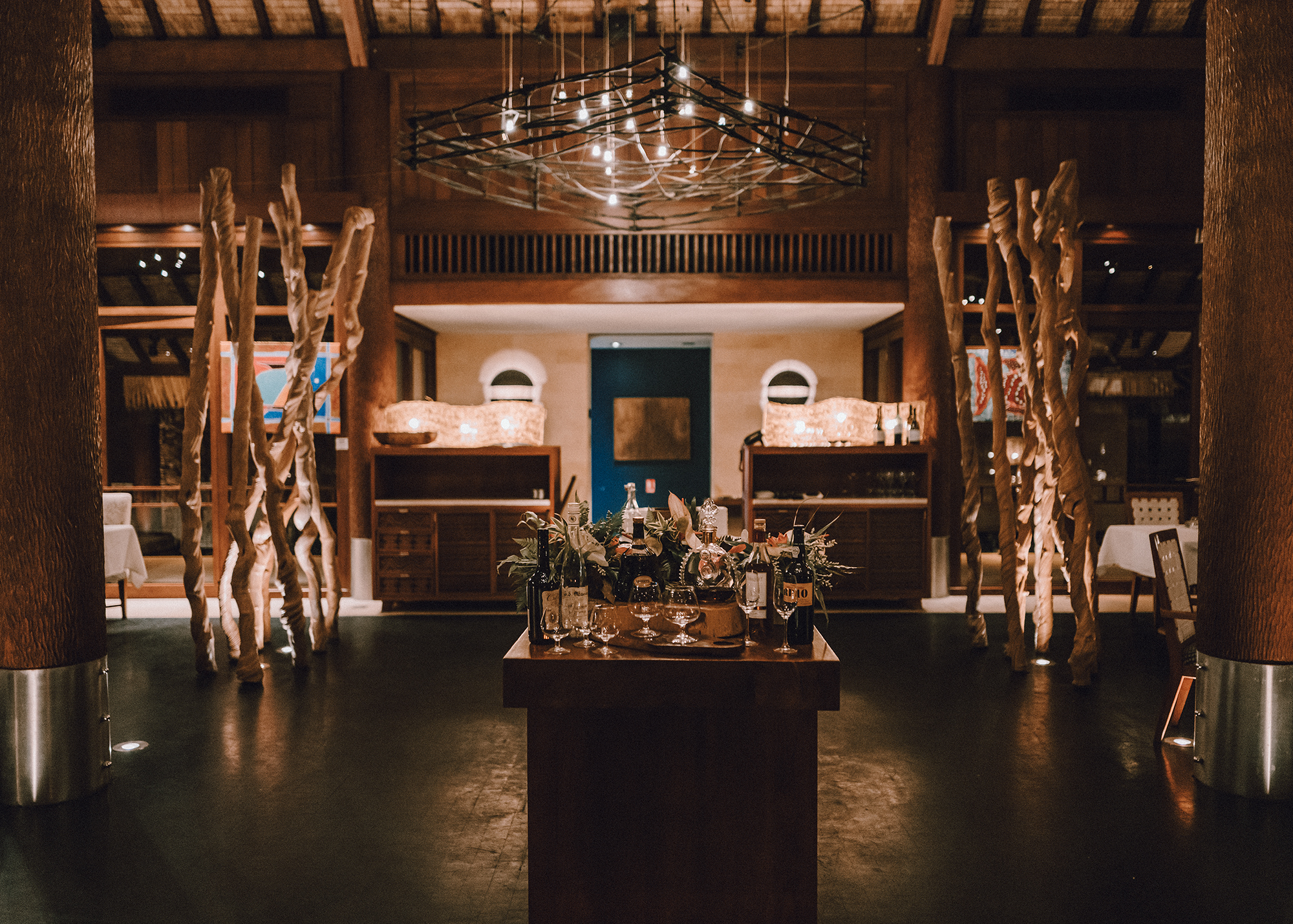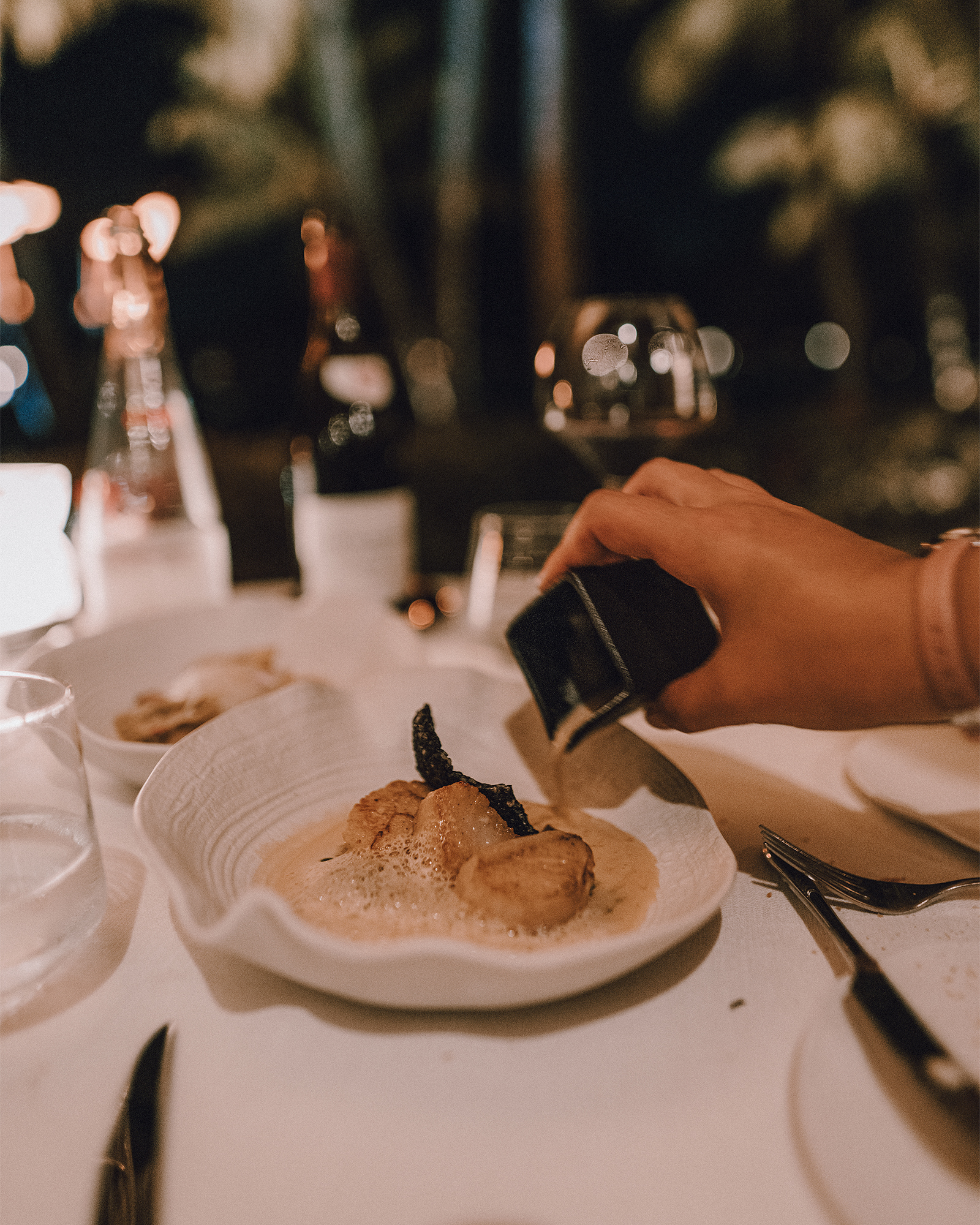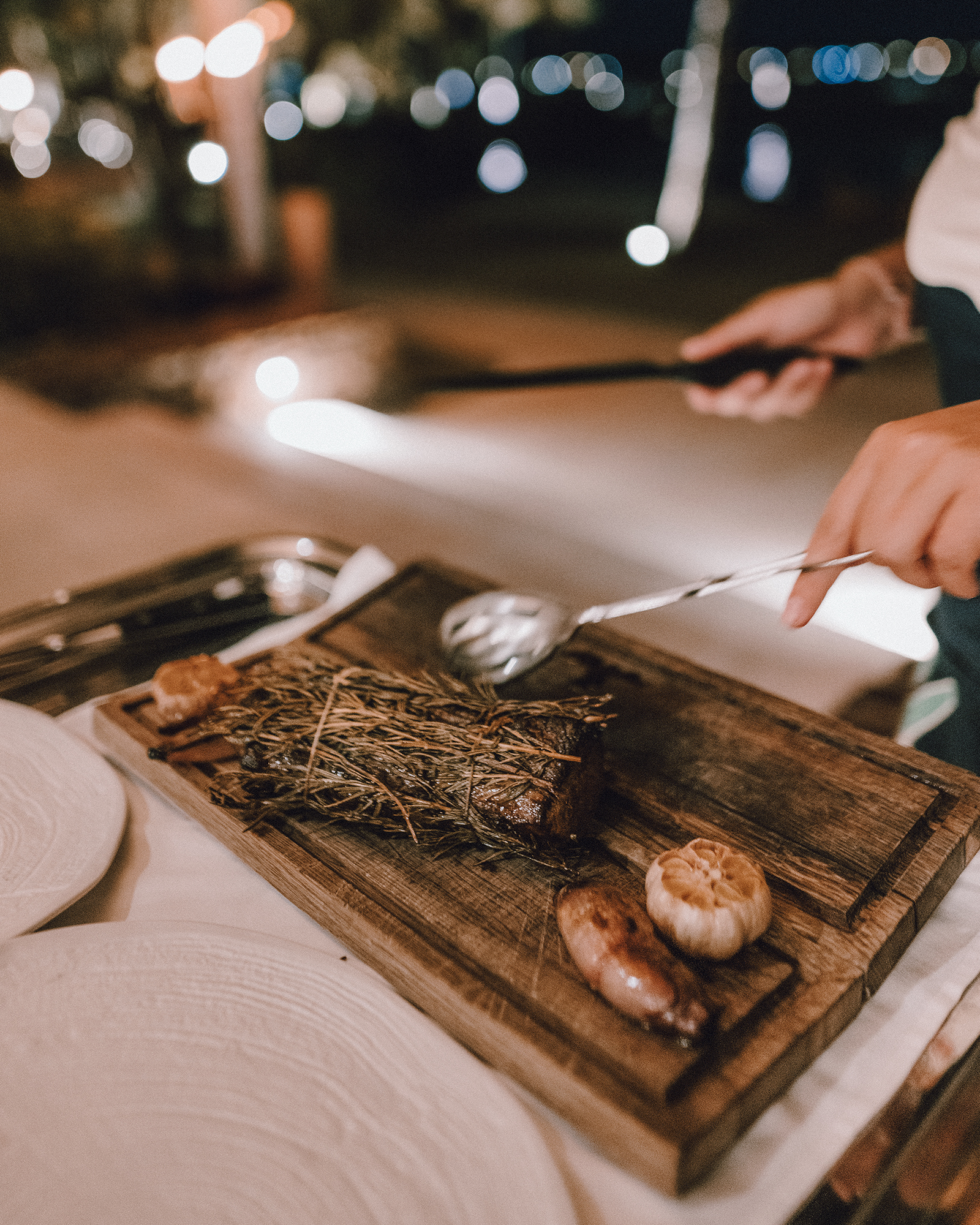 It wouldn't be France (or a French Territory) without at least one incredible, fine dining dinner. After sunset we came to the resort's premiere Arii Moana restaurant for a full island French dinner of steak and scallops (and of course: Red Wine, bread, butter, and a decadent dessert, after all this is France!) (Ish)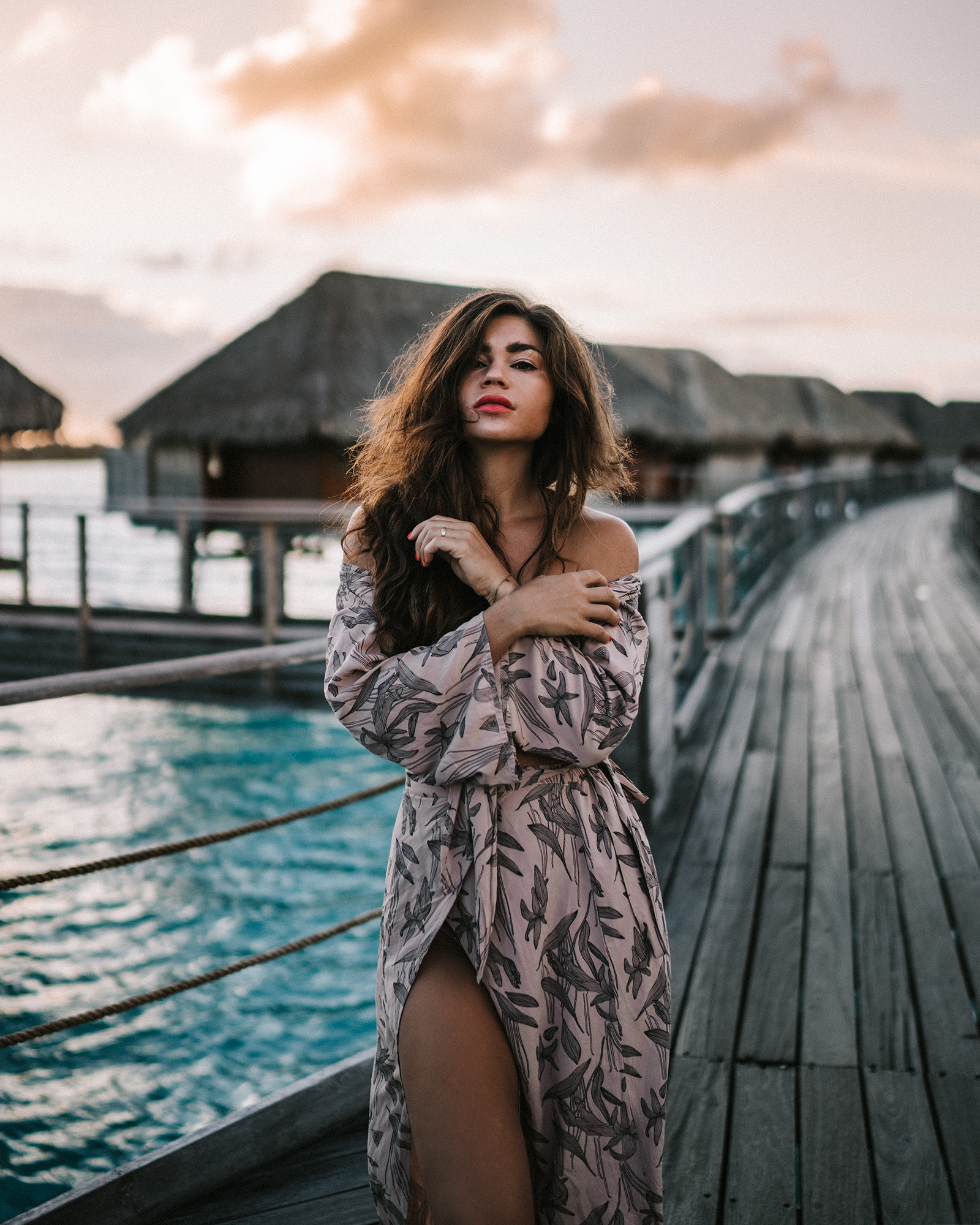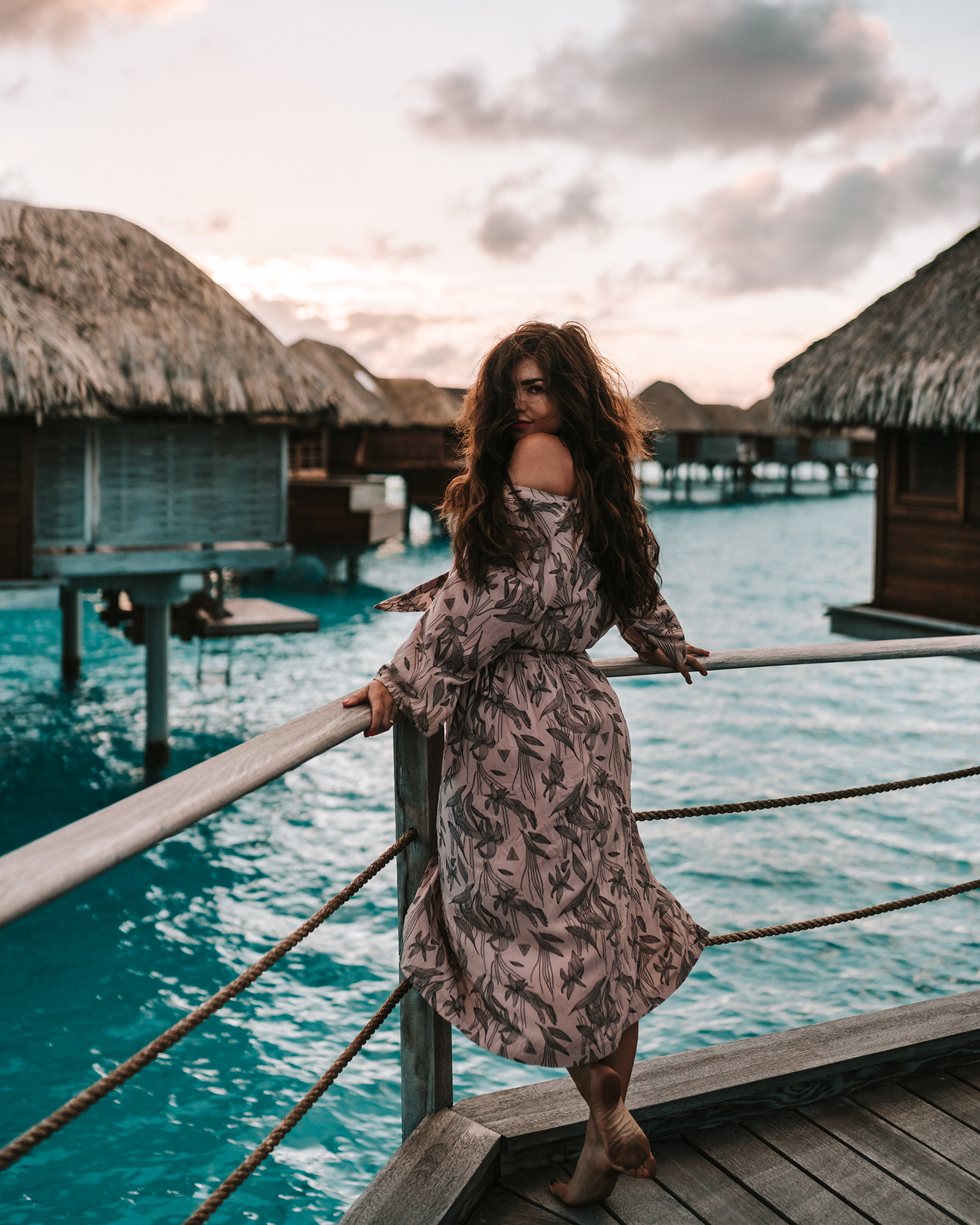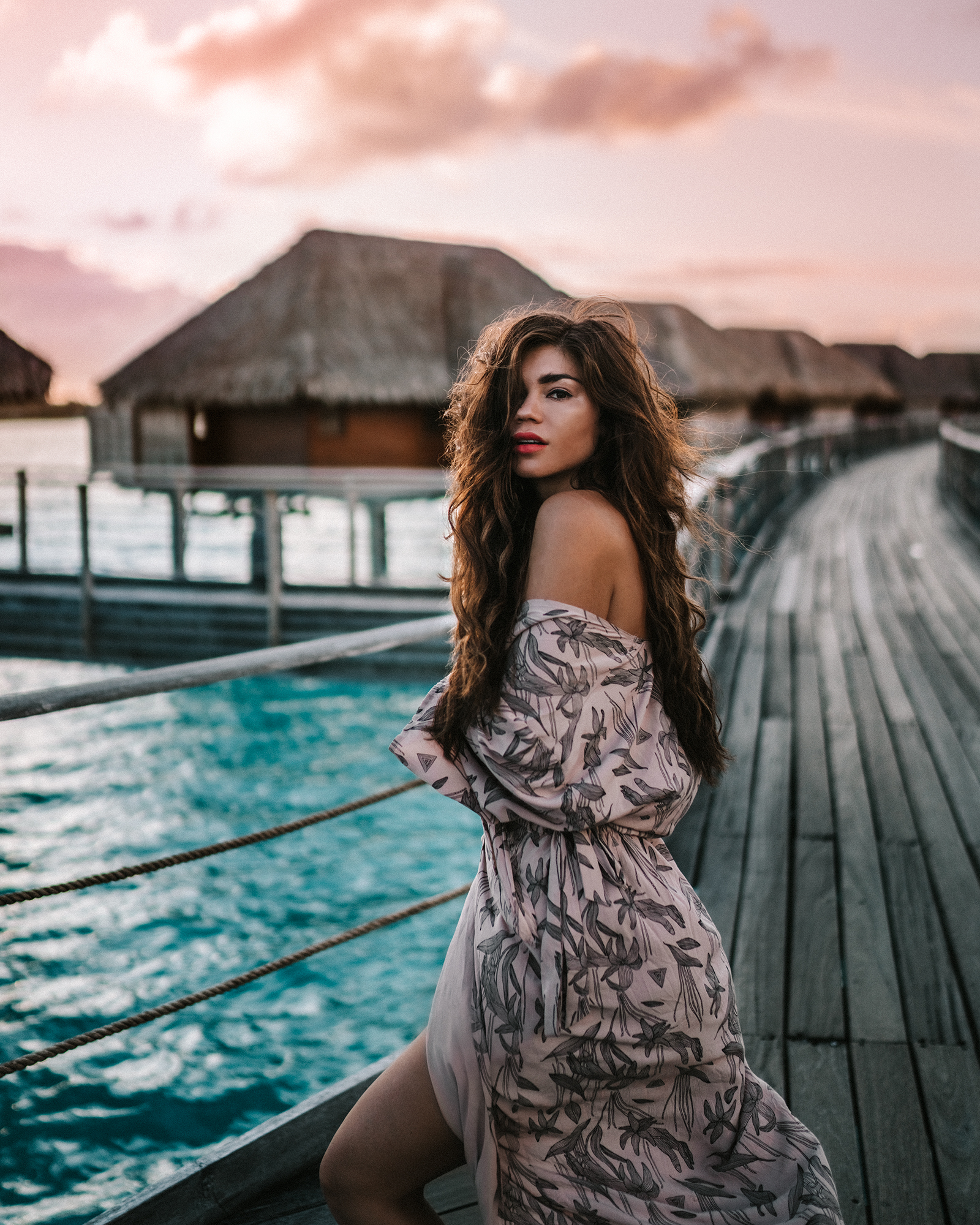 The most gorgeous sunrise from the strings of overwater bungalows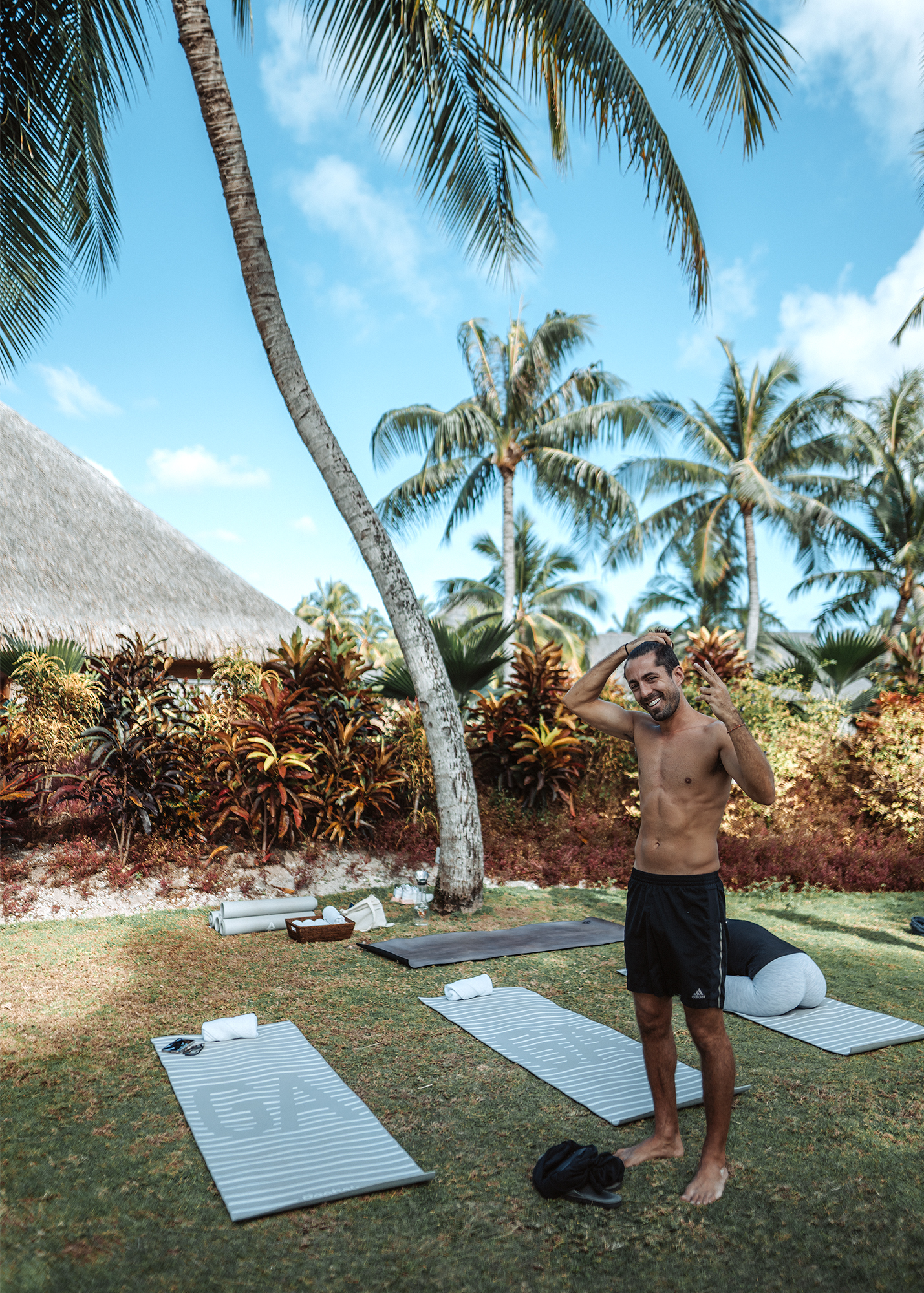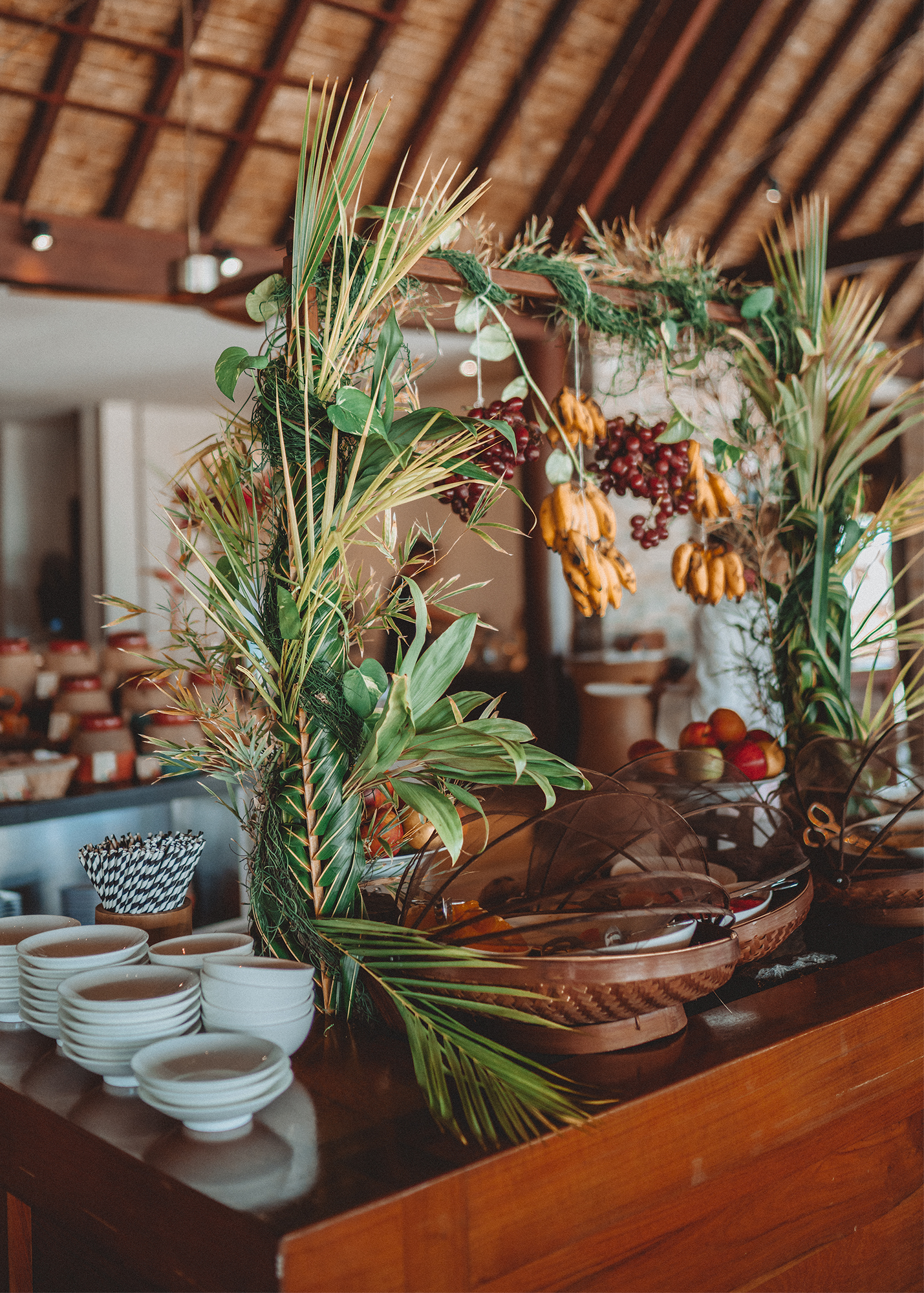 We started off our mornings with the hotel's early morning yoga class, and a visit to the cutest island breakfast buffet. My favorite unique picks from the buffet here were the poisson cru (raw fish in coconut milk) and the fresh drinking coconuts!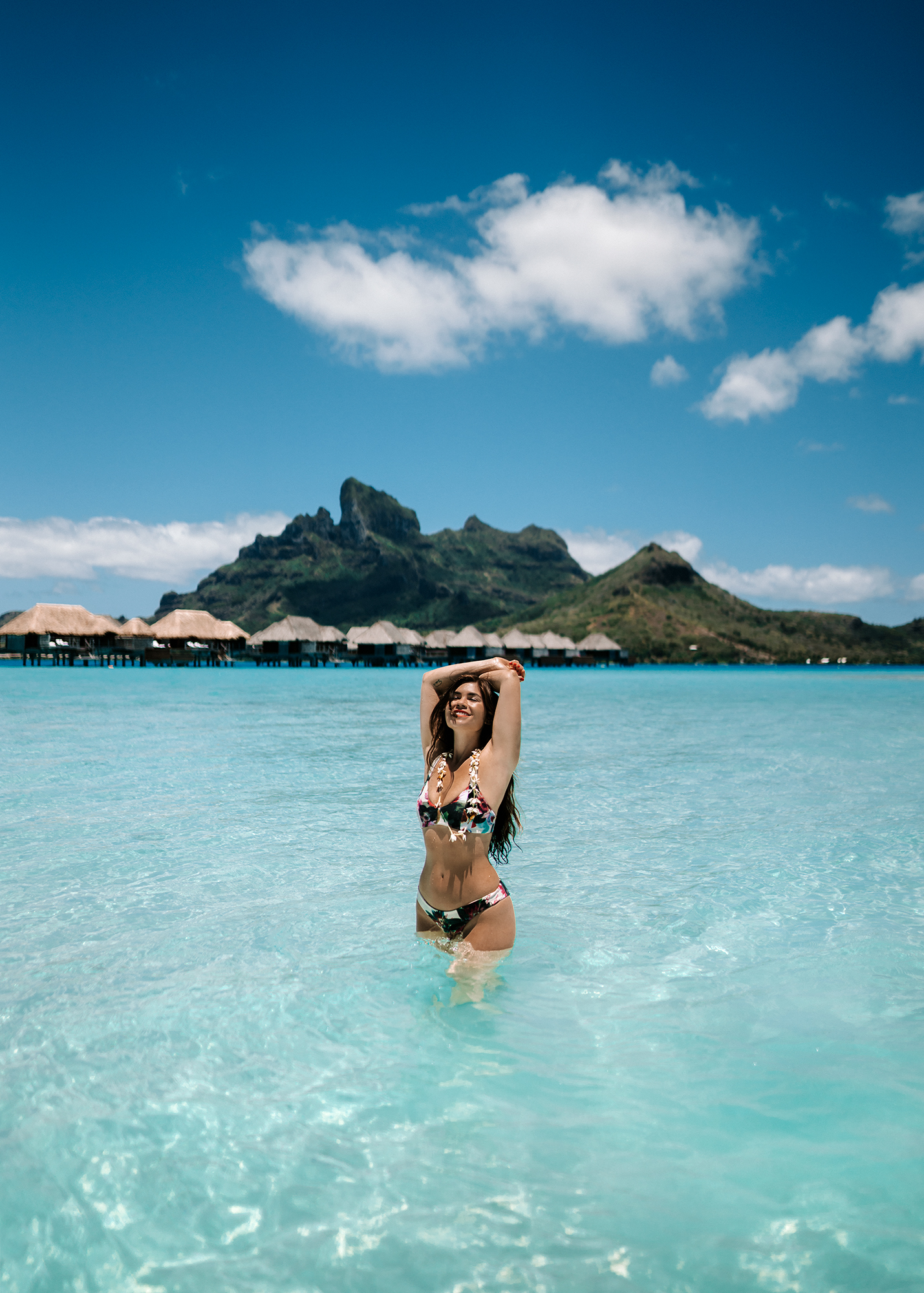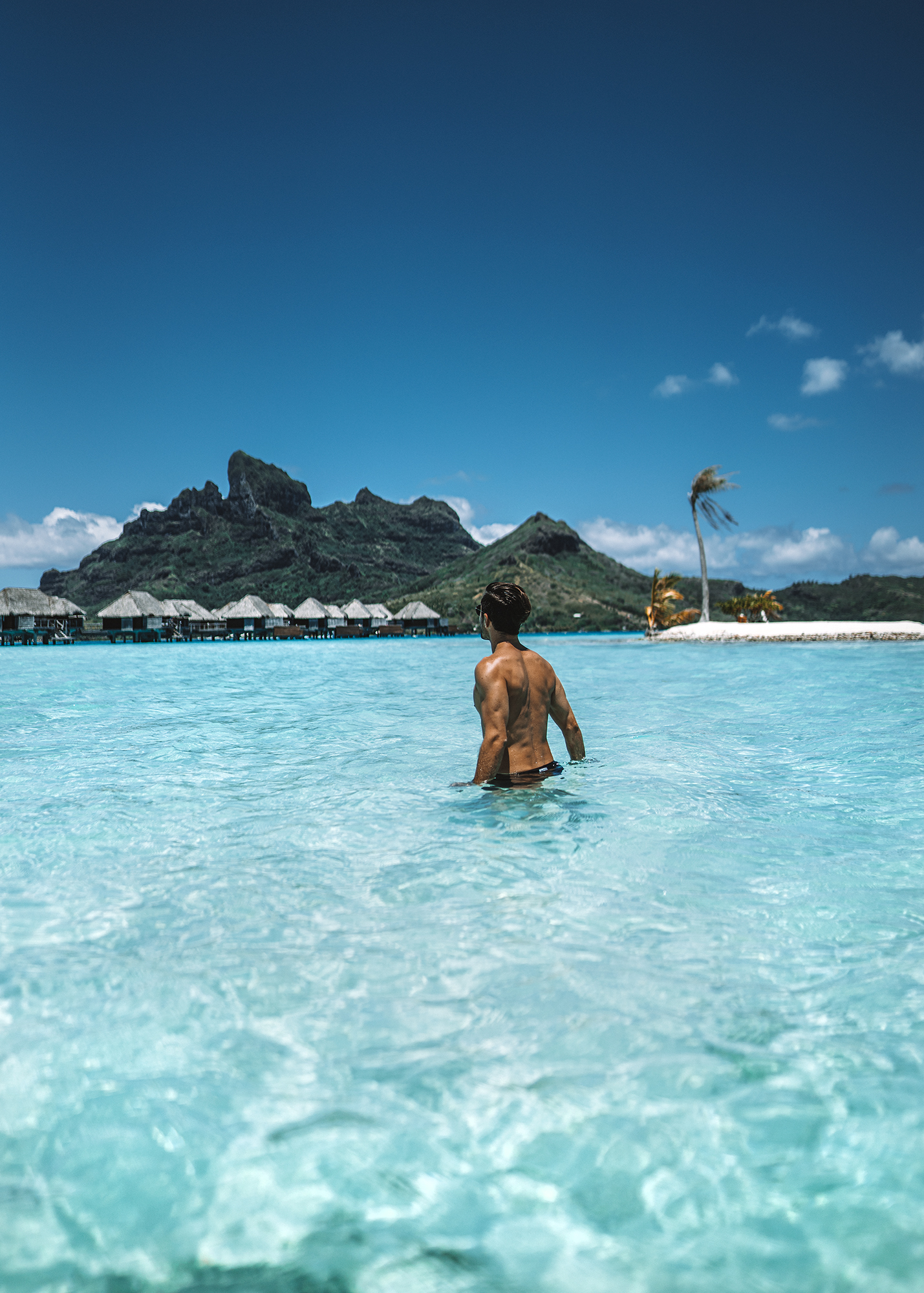 Followed by lagoon swims.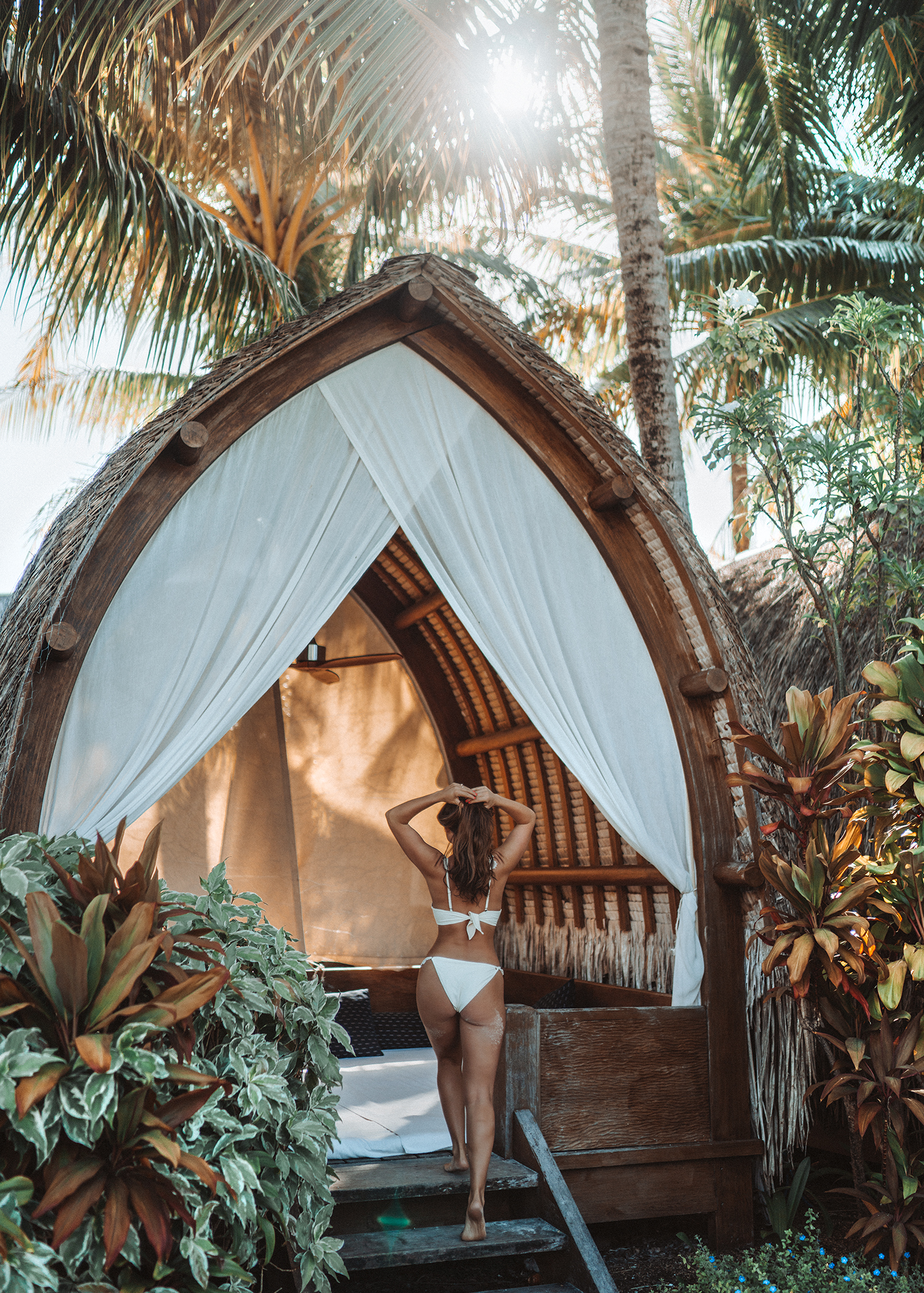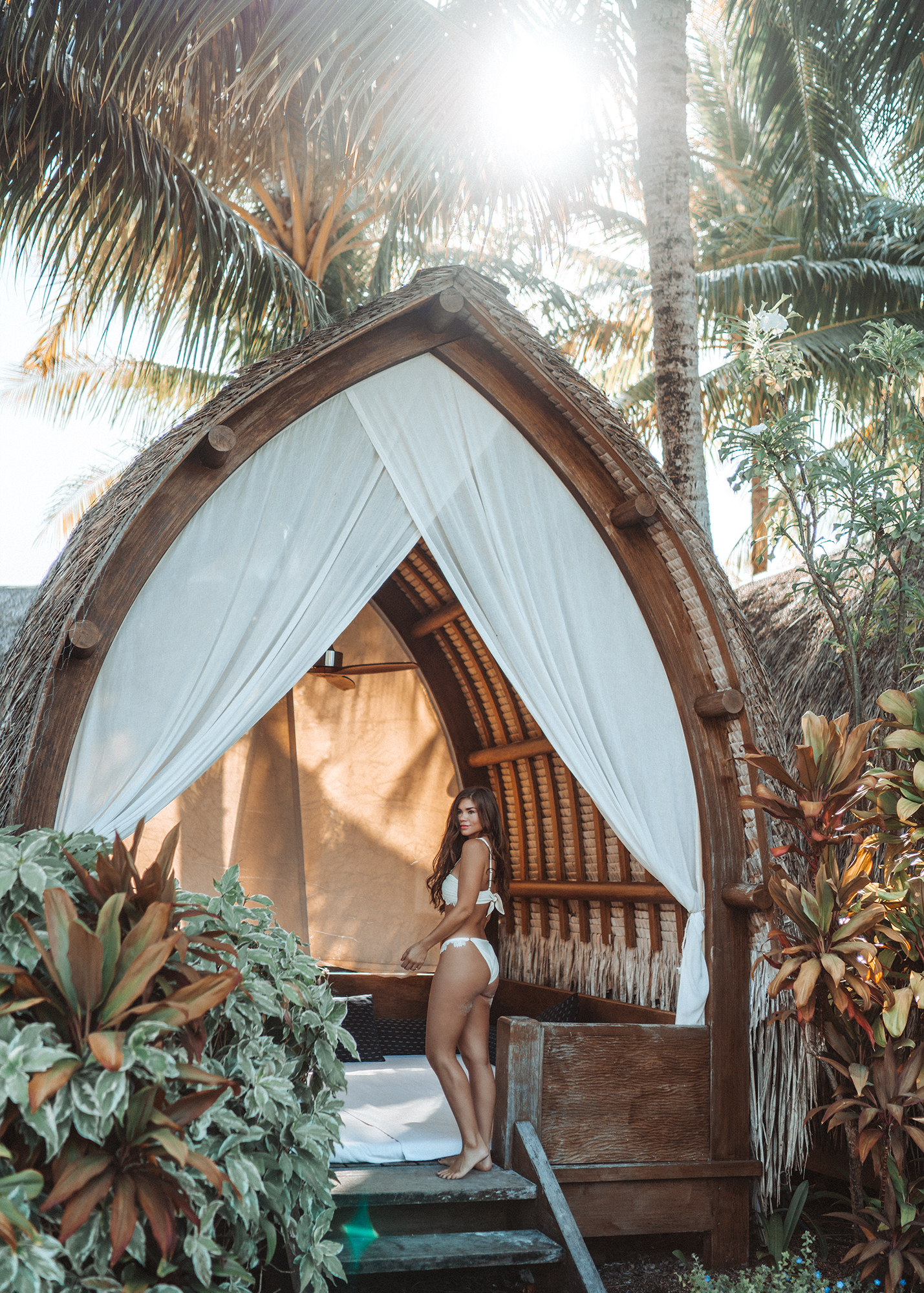 One thing I found surprising about the Four Seasons Bora Bora was that despite how many photos of the property I have seen over the past few years, there was so much more to discover and so many different elements of the property that I had never seen. Like these gorgeous poolside cabanas and most of the entire pool area. At any other hotel, these would be some of the most popular and Instagrammable spots, but in this place, I didn't even know they were here until we started wandering around.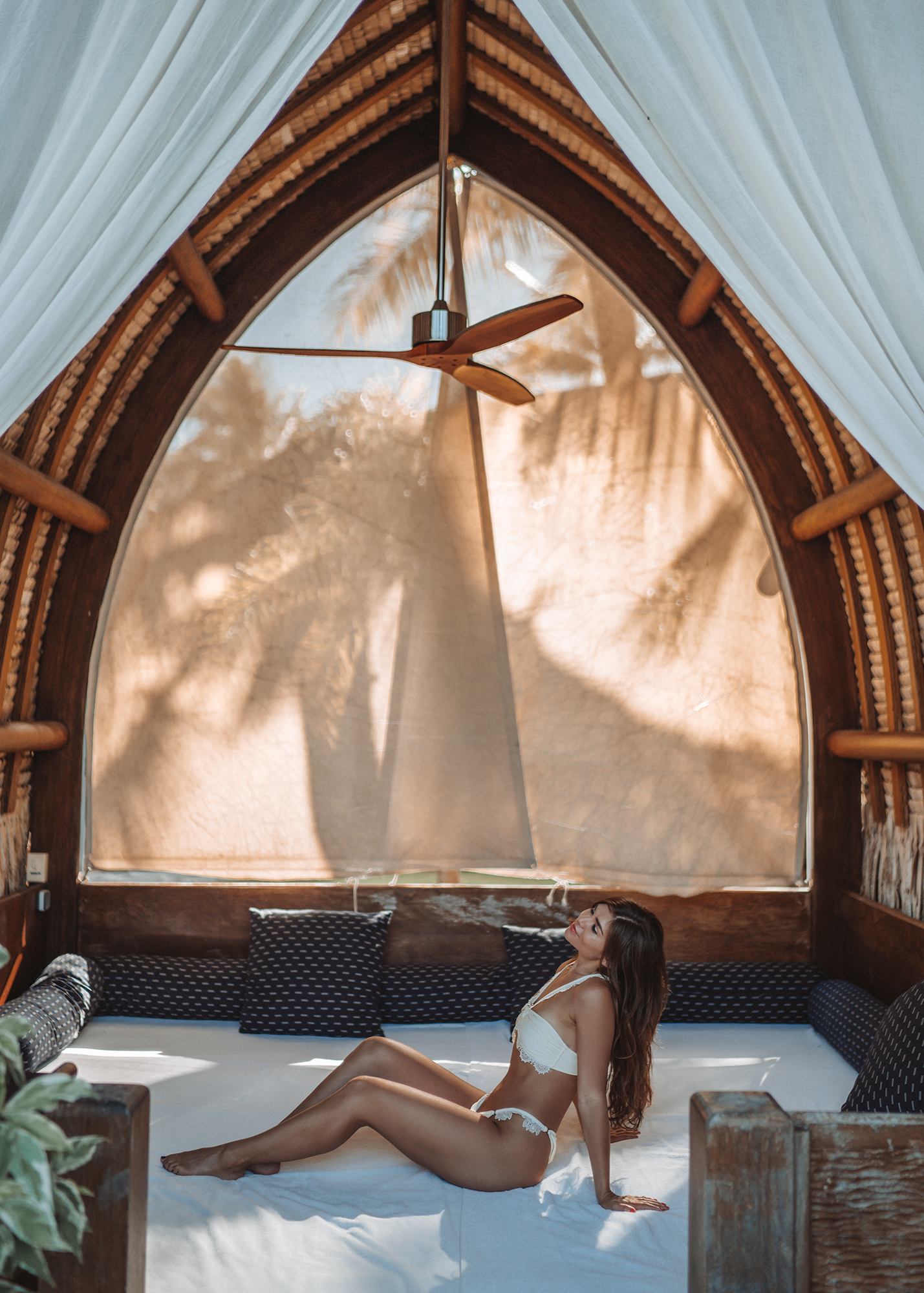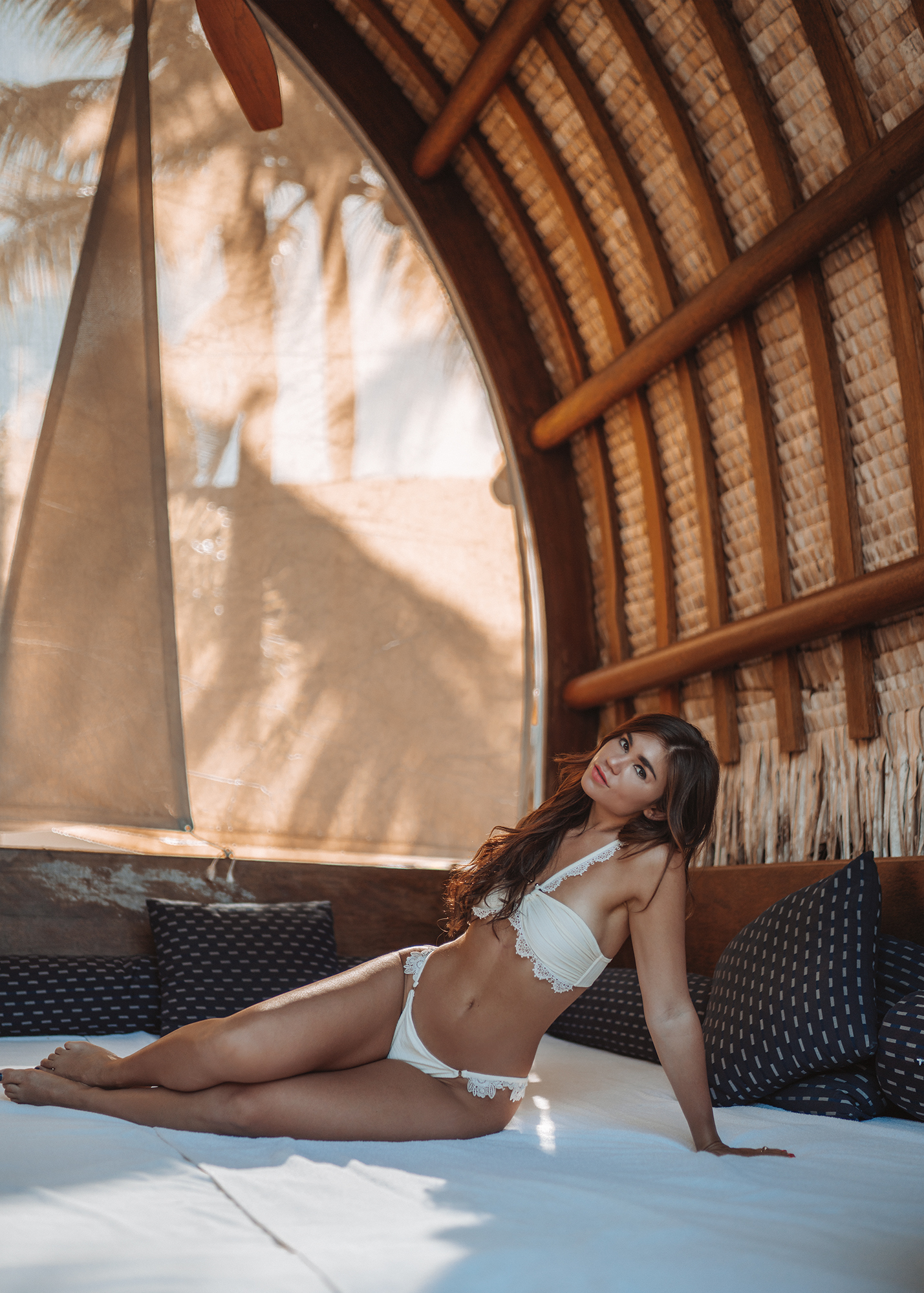 I found this For Love and Lemons bikini shortly before Brandon proposed, when I knew that it was going to be coming before long. It was so beautifully delicate and Bridal, I knew I had to have it for our engagement and wedding travels. Luckily we're in the middle of a two year engagement, and planning a VERY extra honeymoon, so I've been having the chance to get the most of out of all of my bridal purchases - and to constantly, jokingly yell at Brandon any time he asks me to do something "but I'm the bride!!" I mean.... you have to milk it right?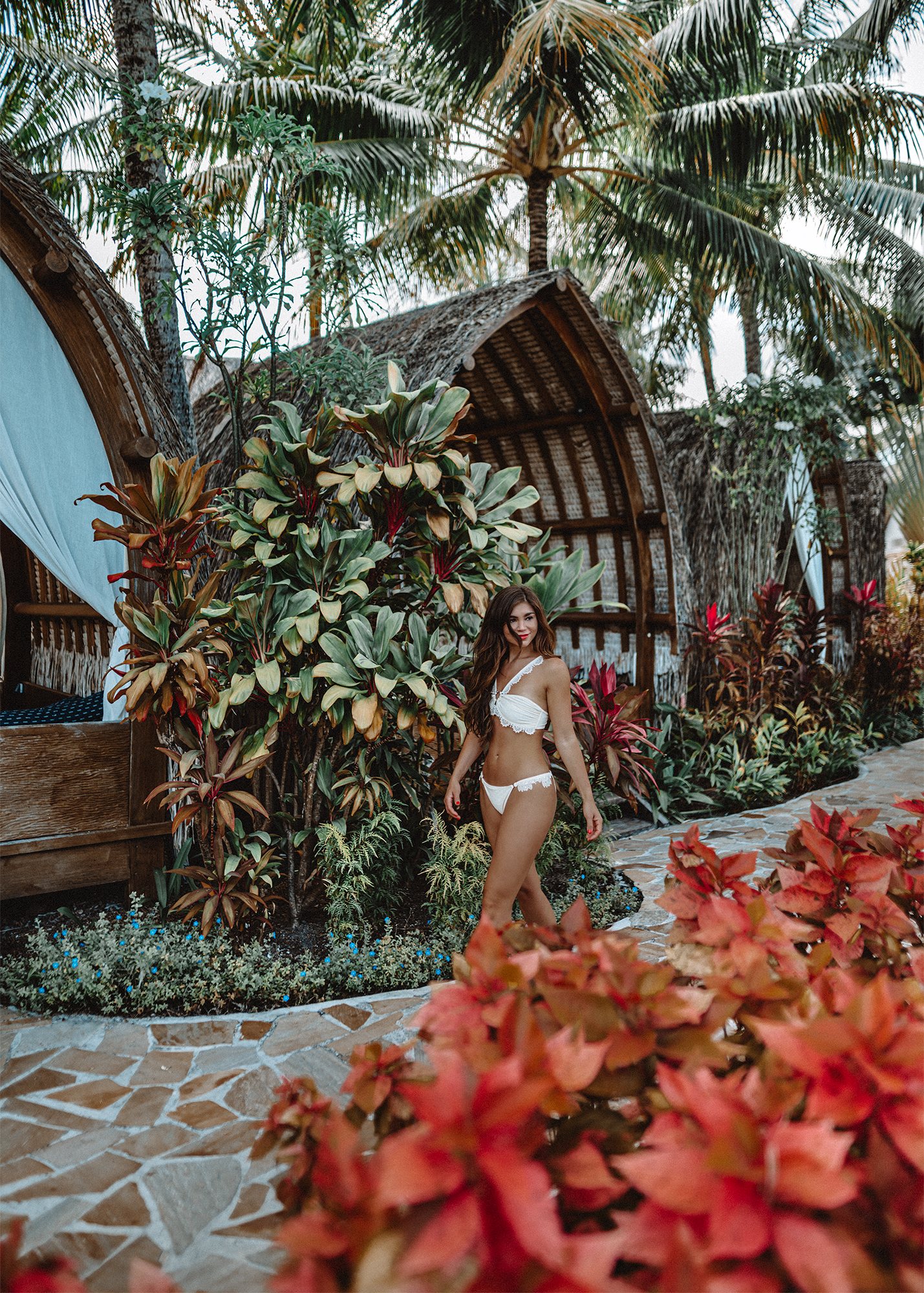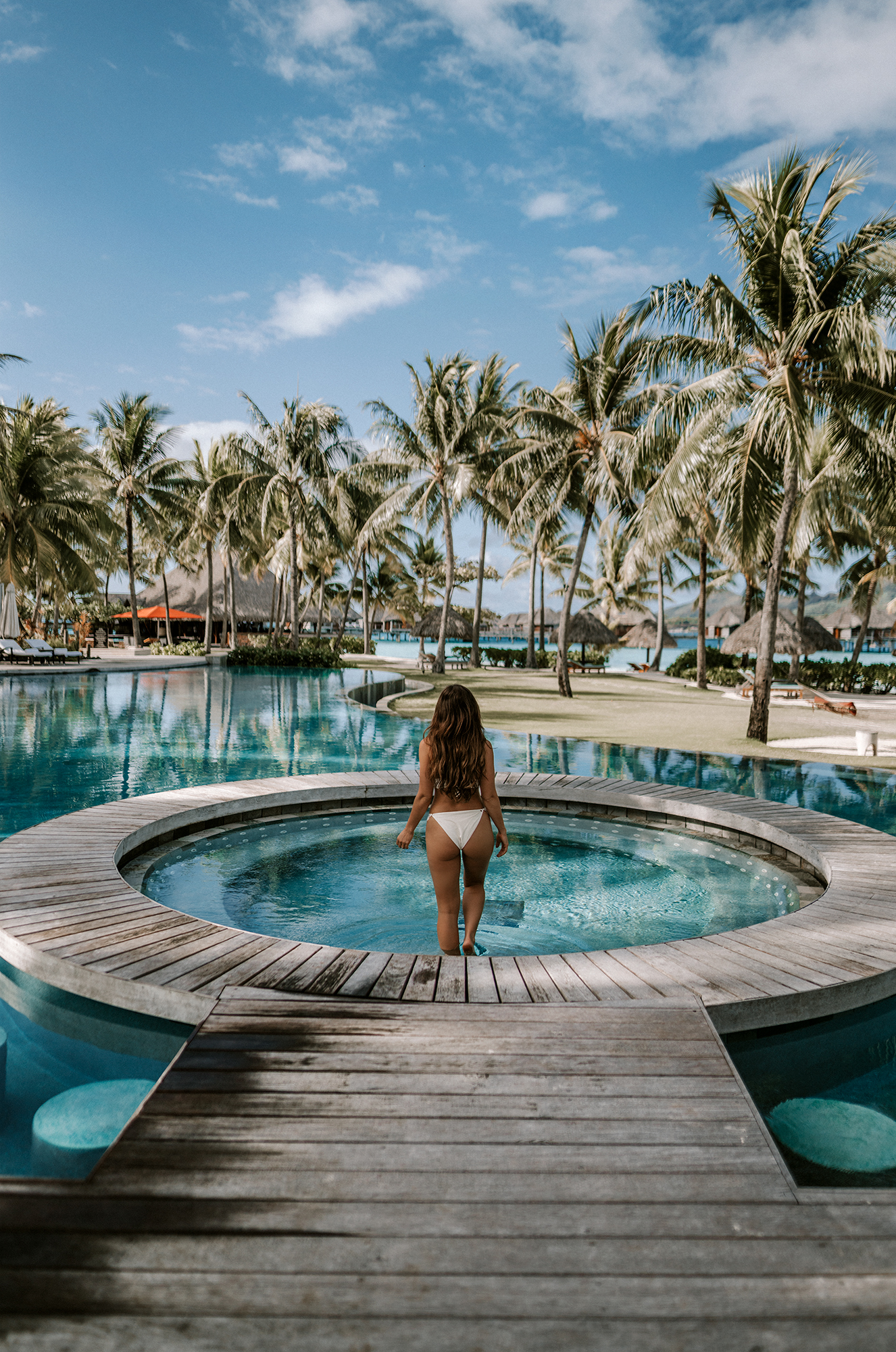 This poolside was truly stunning.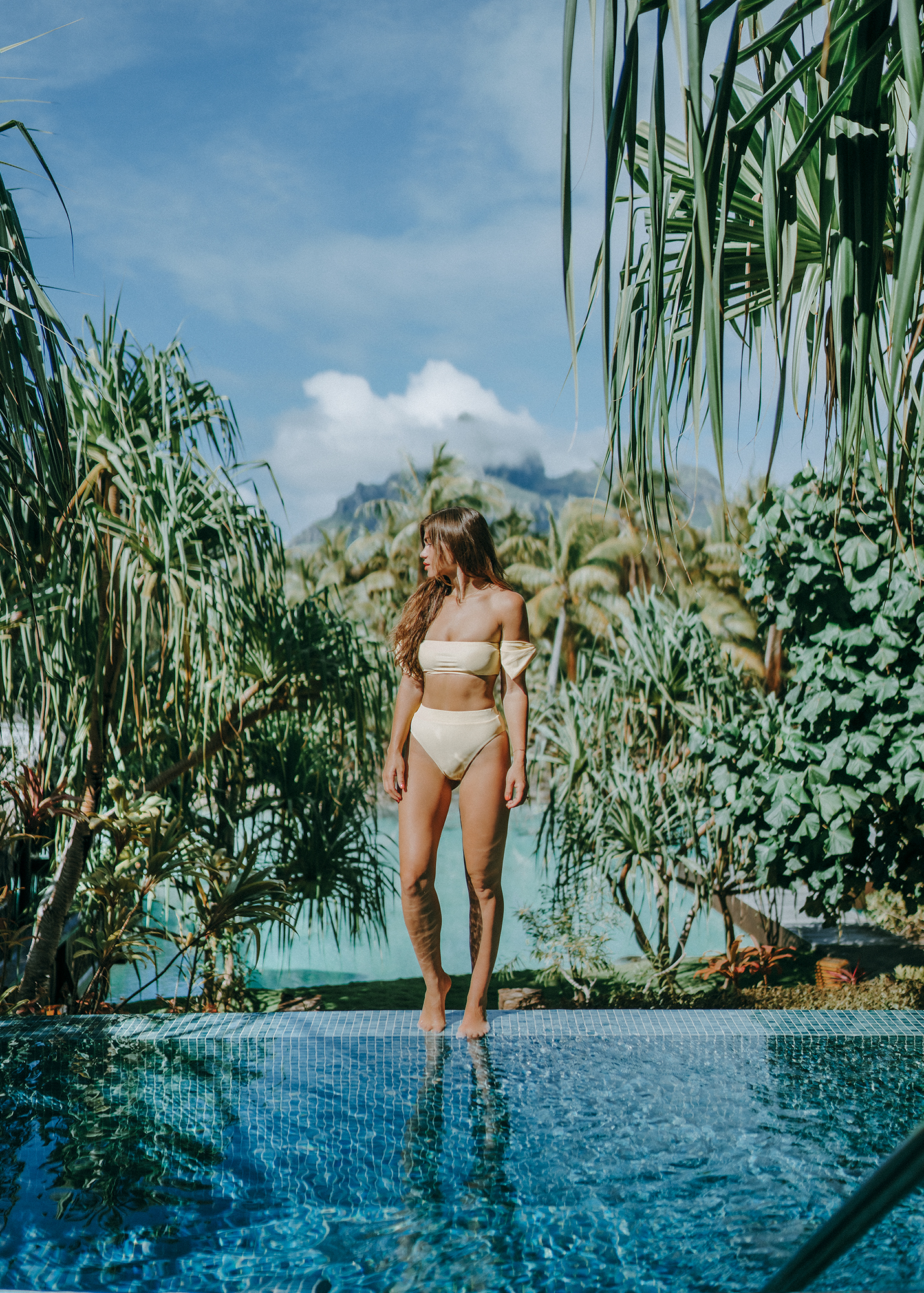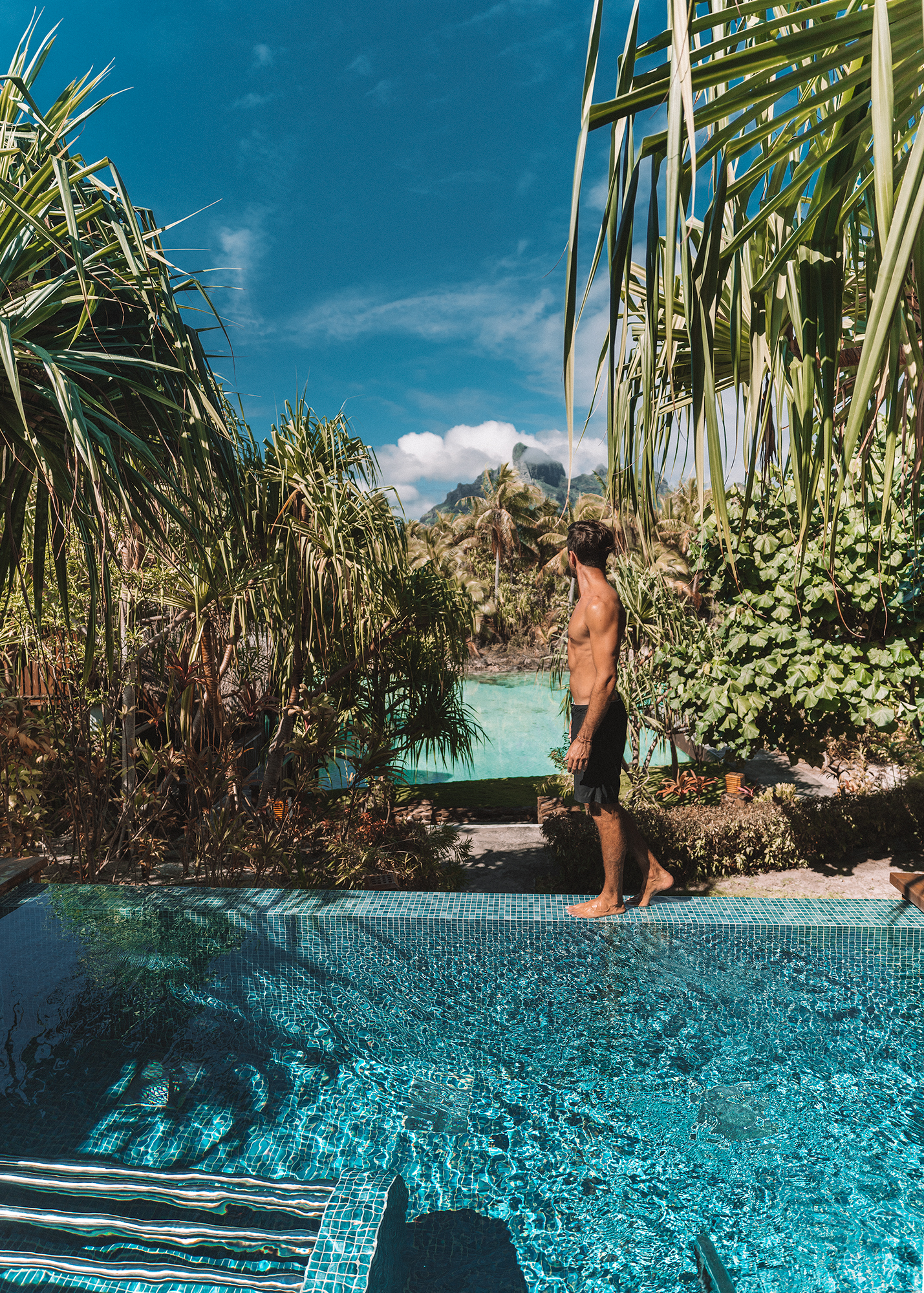 The more we wandered the island, the more hidden gems we found - this pool was tucked behind the spa.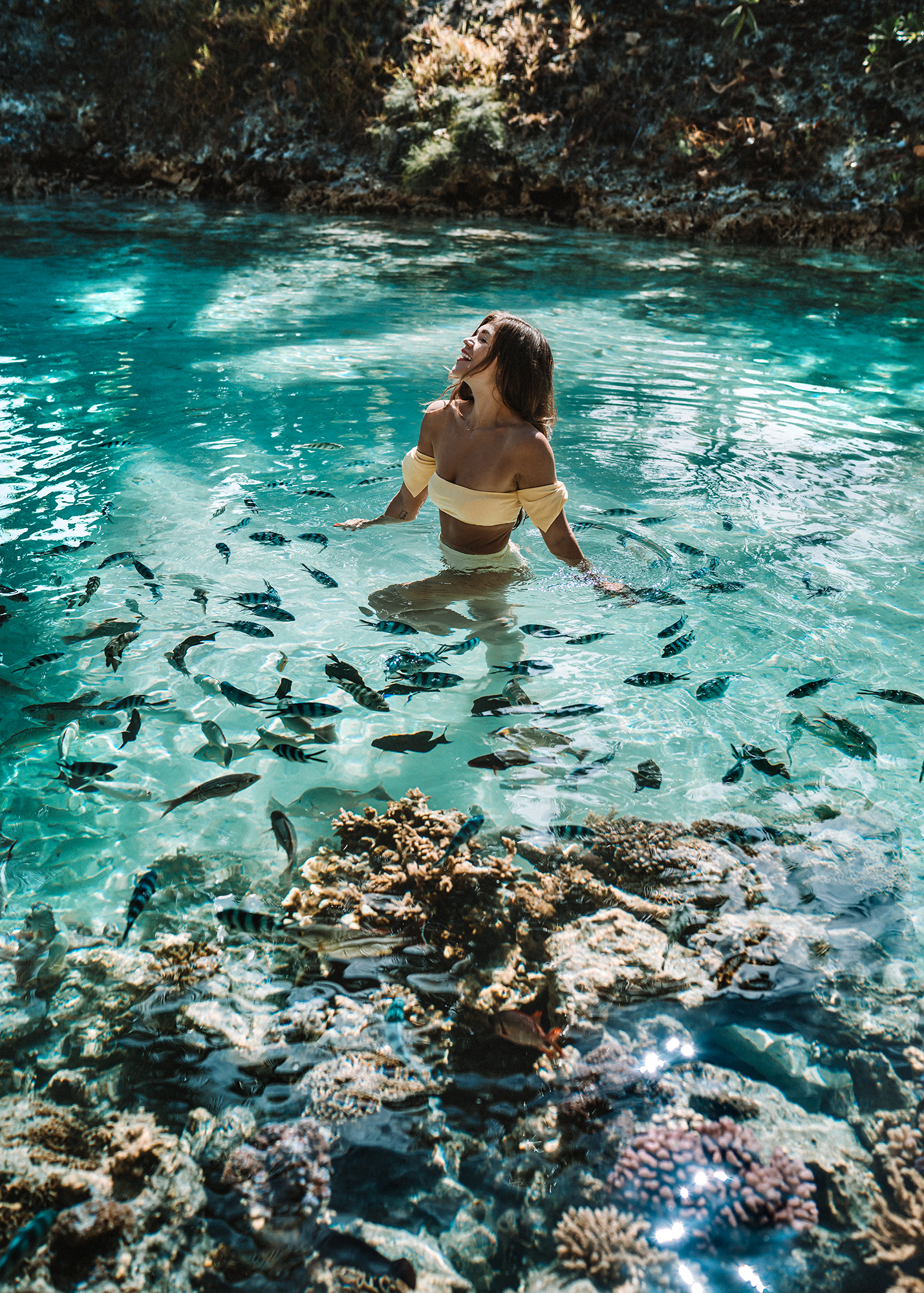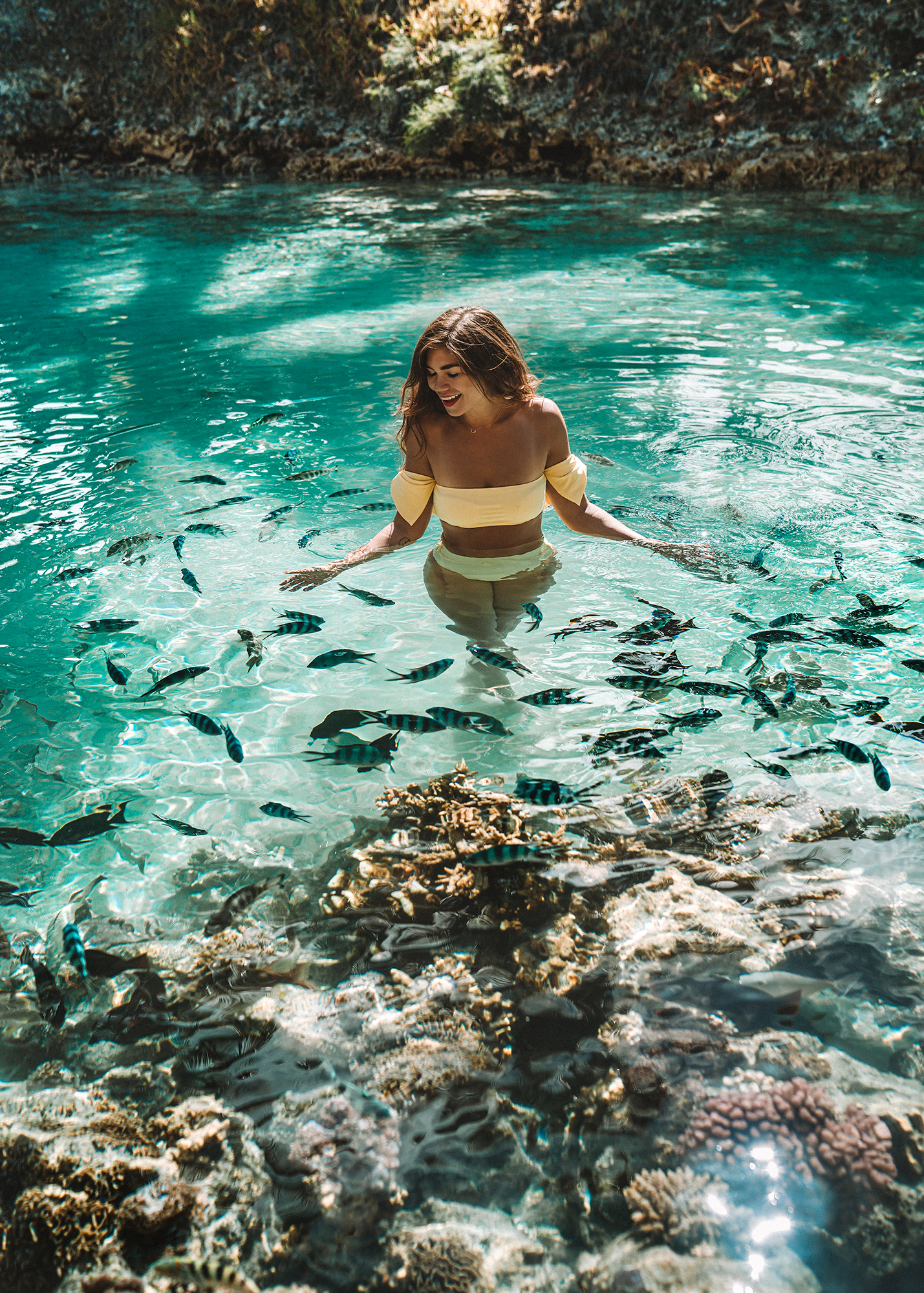 The friendliest fish I have ever seen! The resort has a protected, natural saltwater lagoon with a flourish coral system that brings in a wide variety of fish. You can snorkel and experience all of the sealife up close, without having to leave the hotel - and the fishies here are so happy that when you step into the water, they come right up to you! I have never seen that happen anywhere, and it was making me so ridiculously happy and giddy. I felt like a little child playing with the fish here.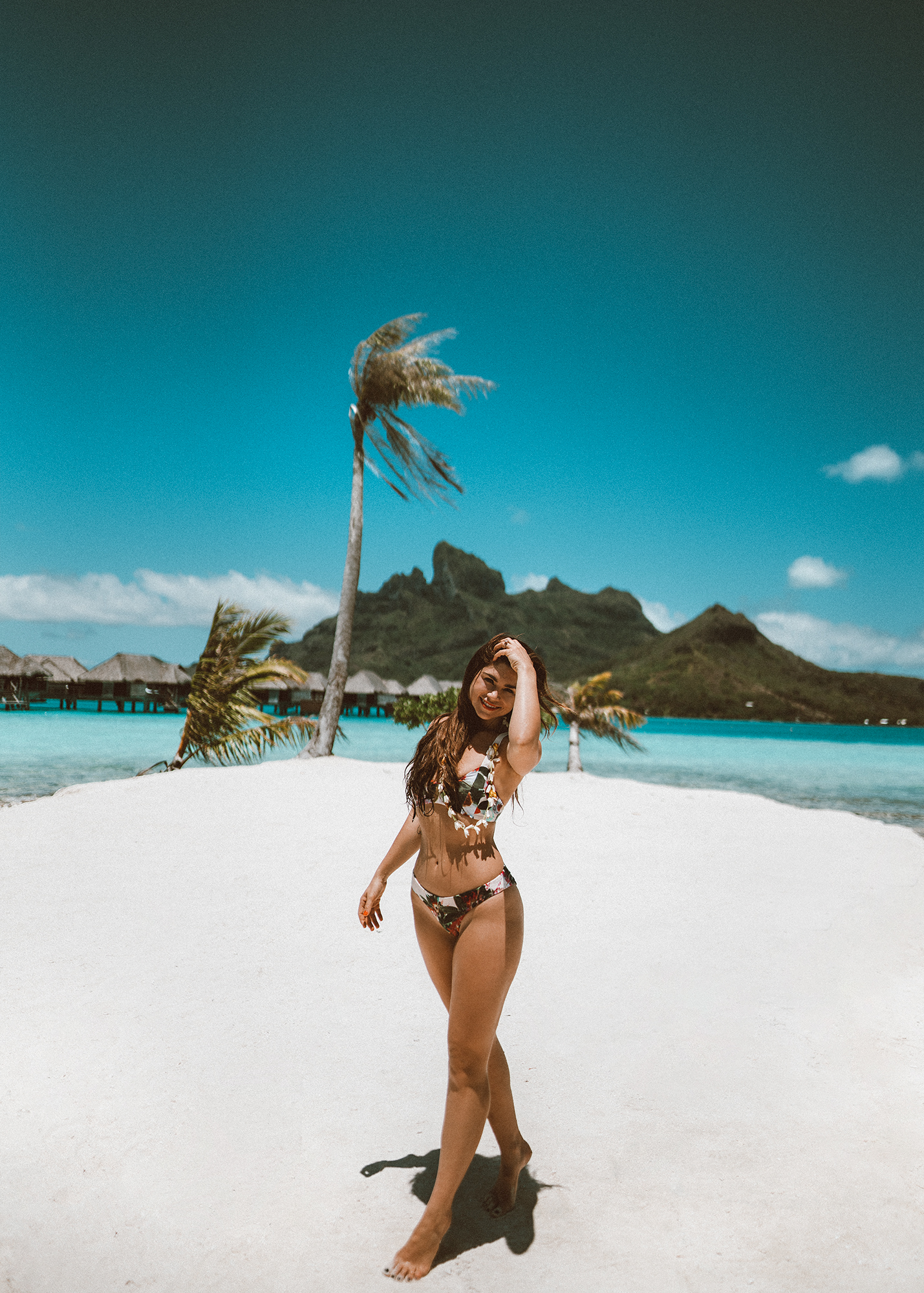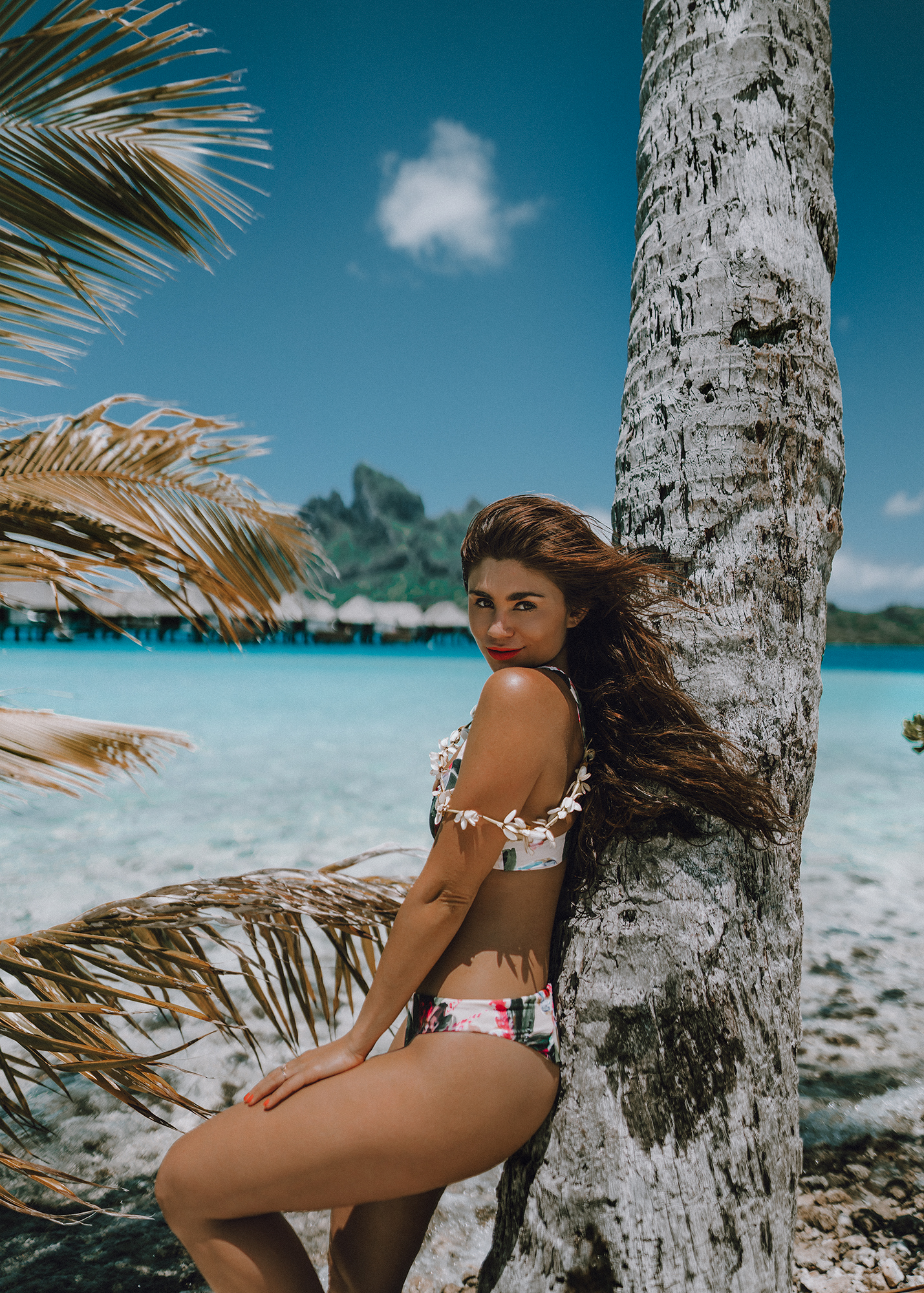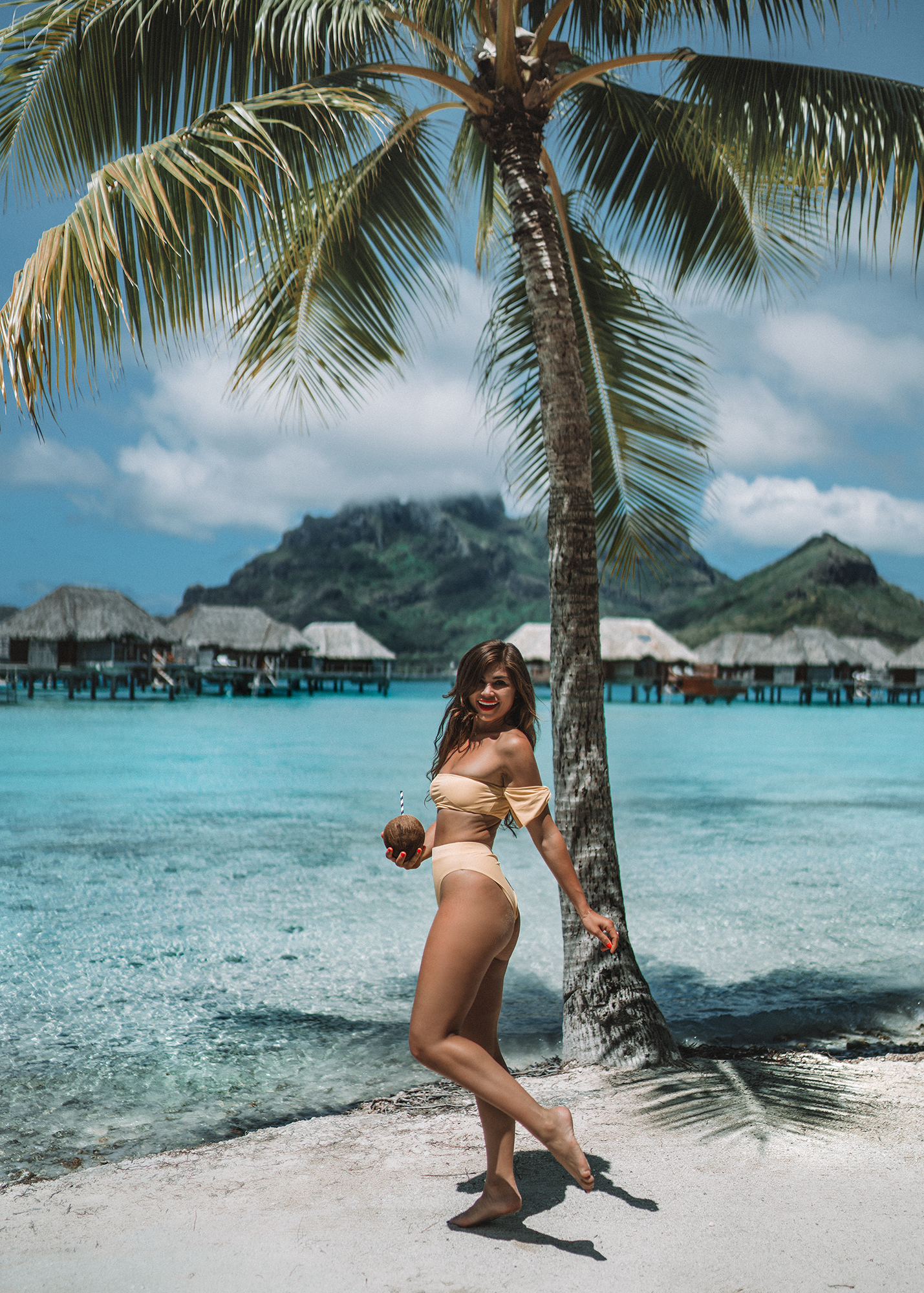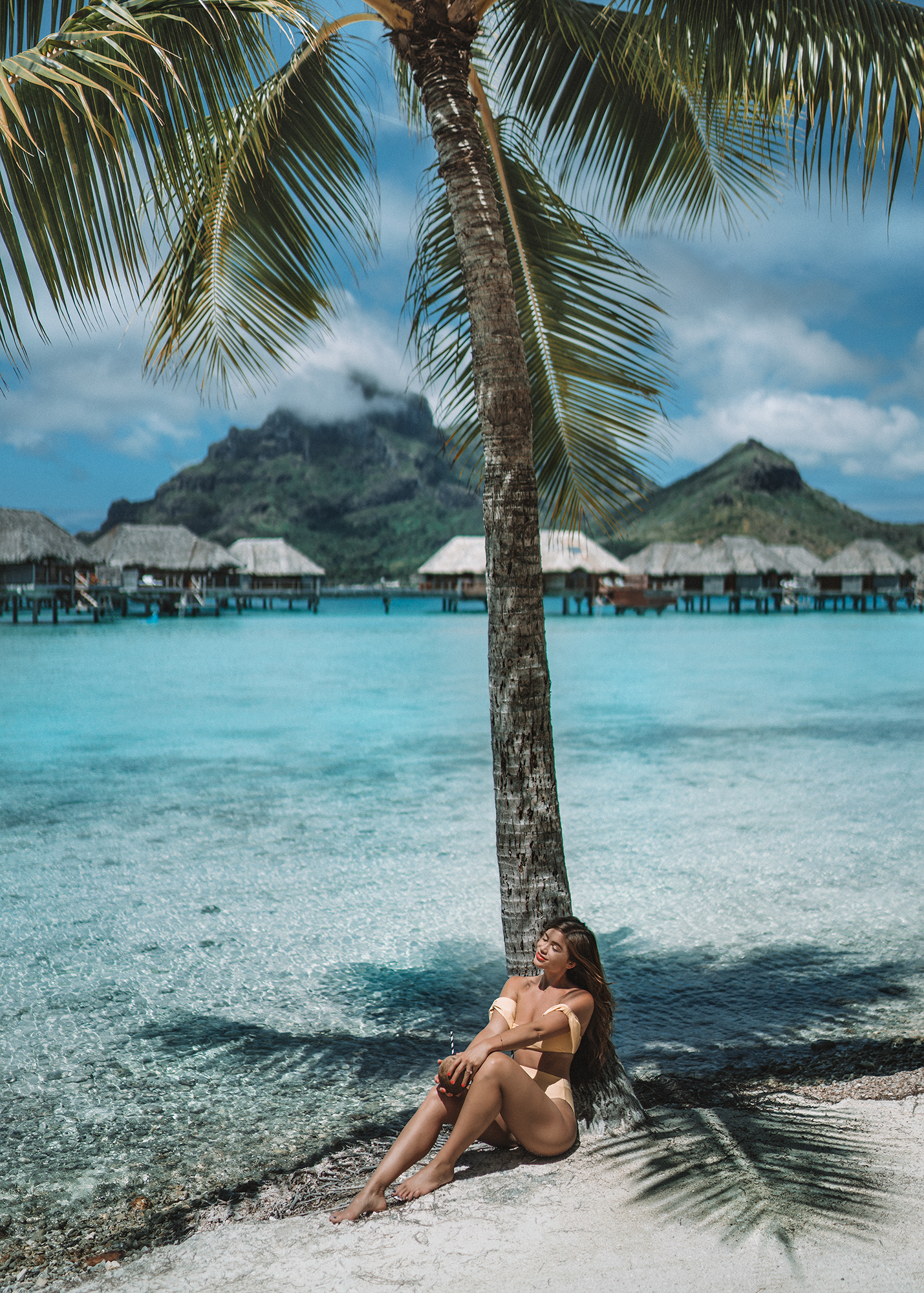 If there's crystal blue water, white sand, and a palm shadow, you better bet I am taking a photo there. Thanks for putting up with me through this one, Brandon!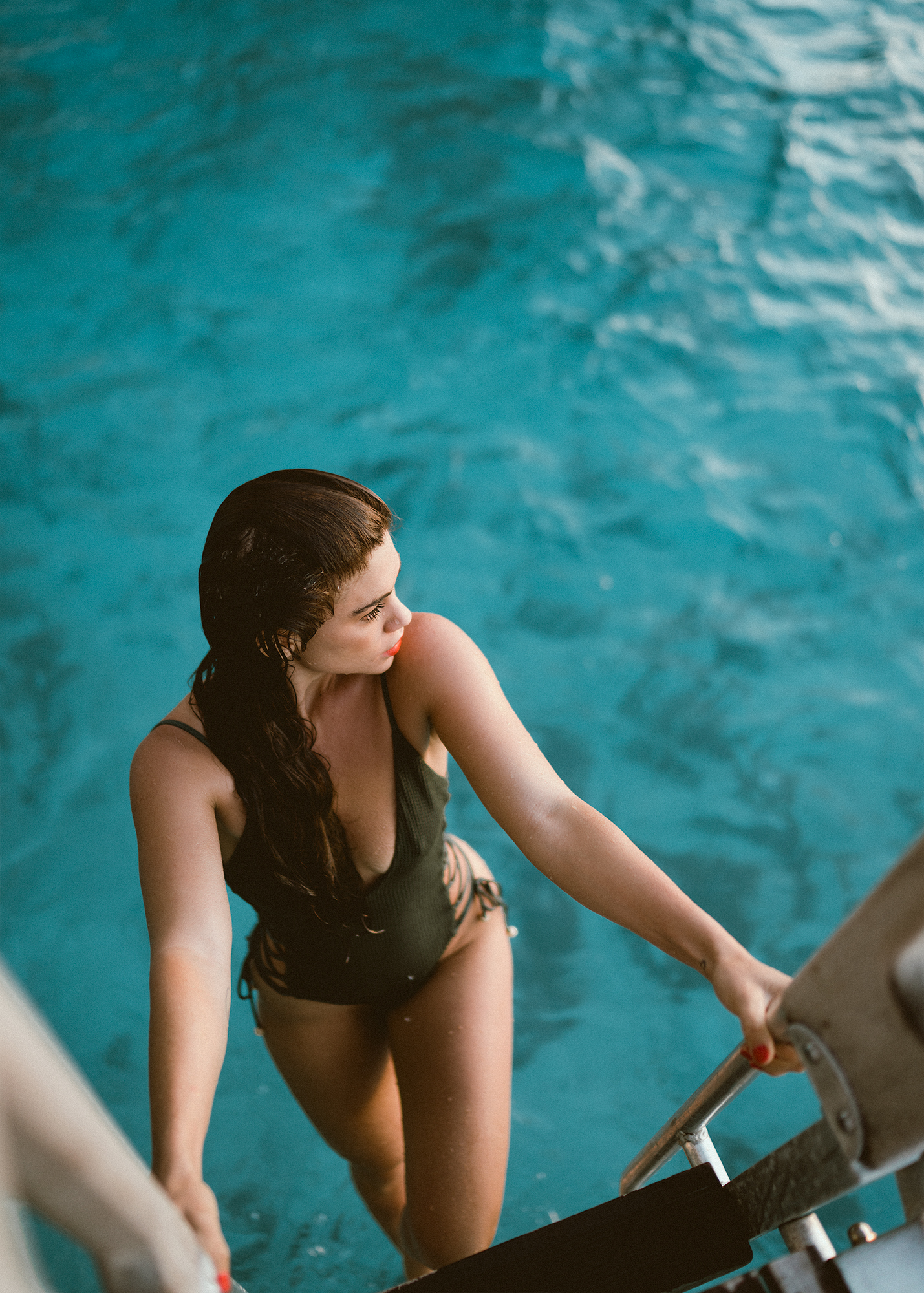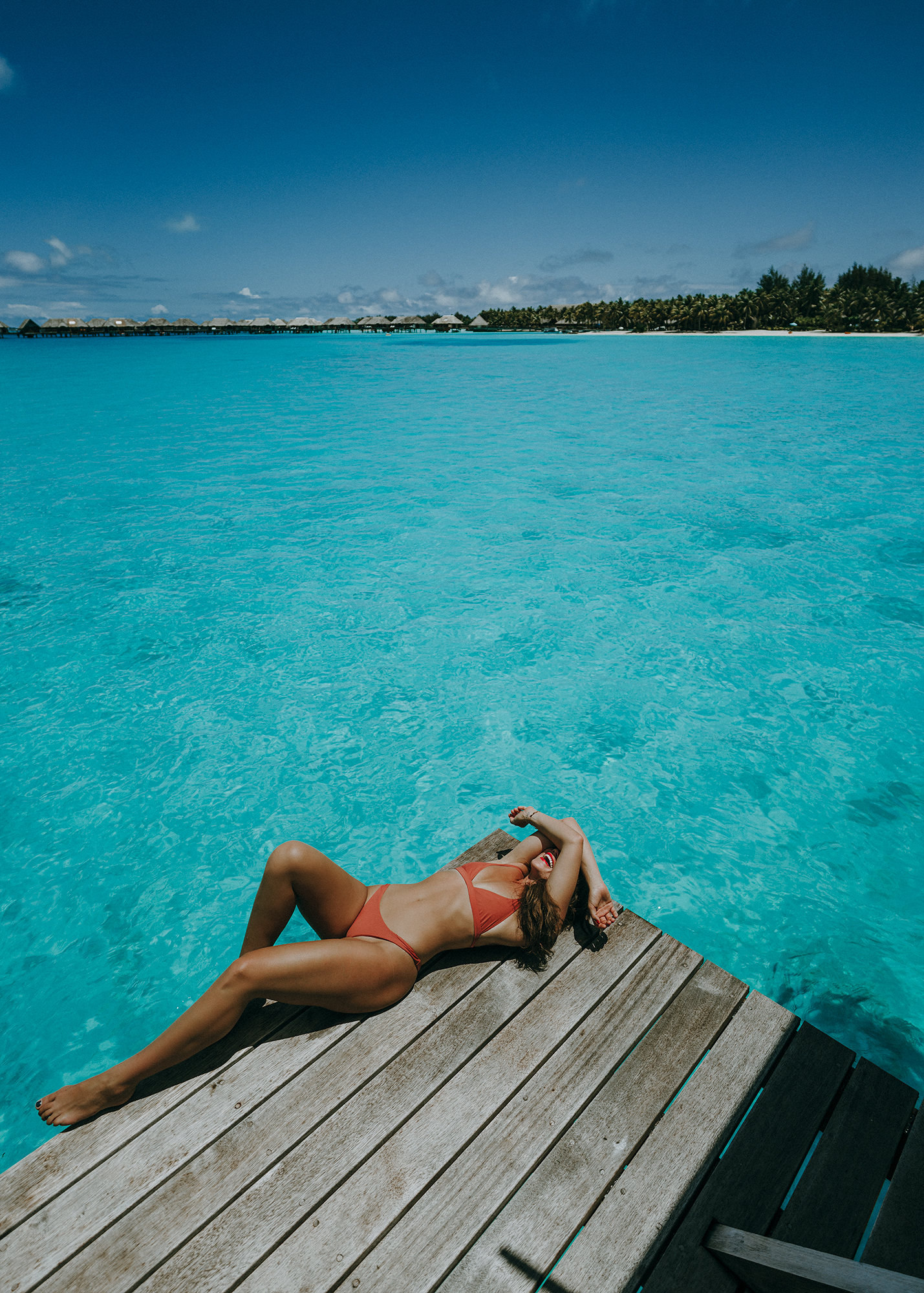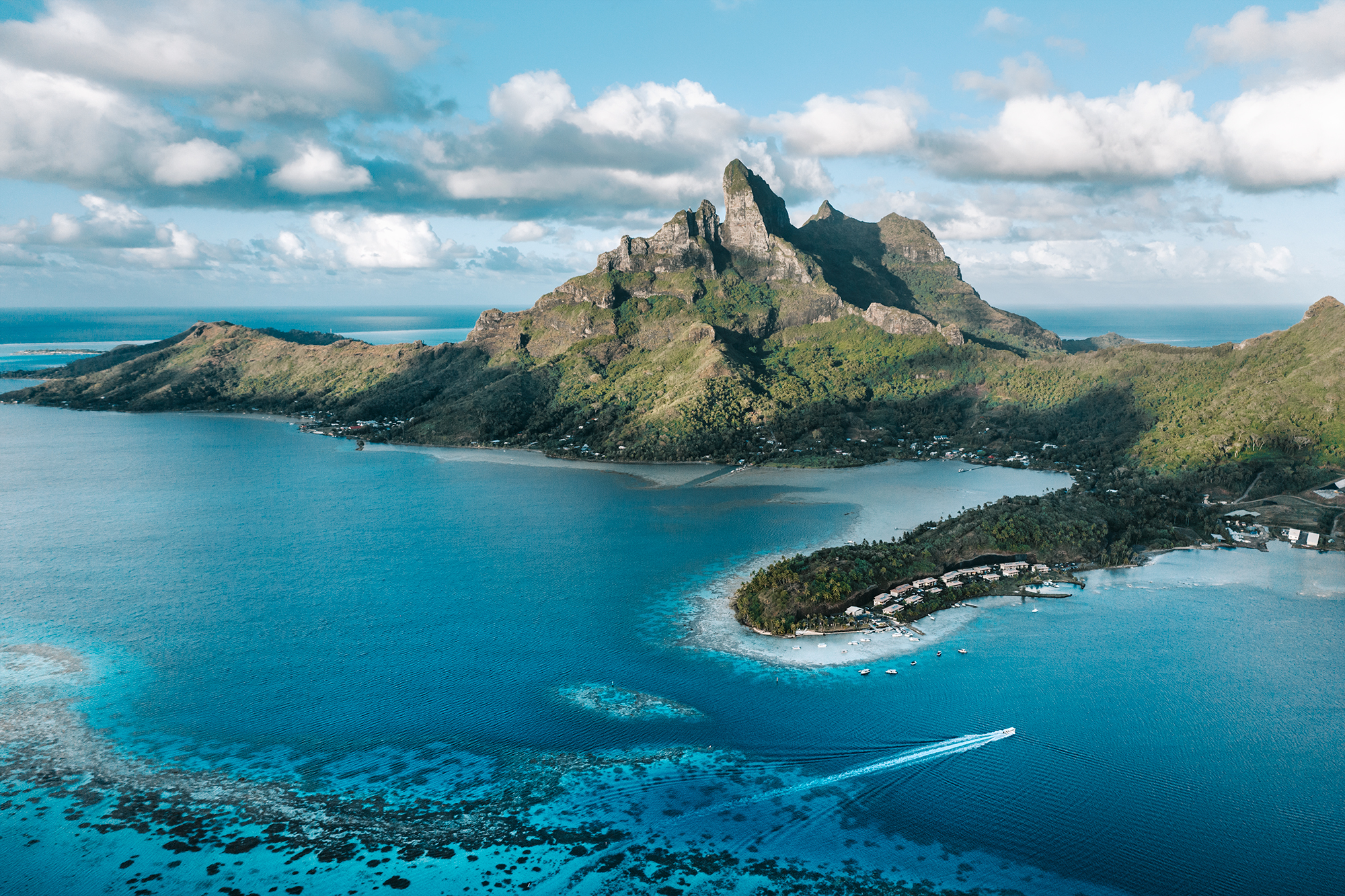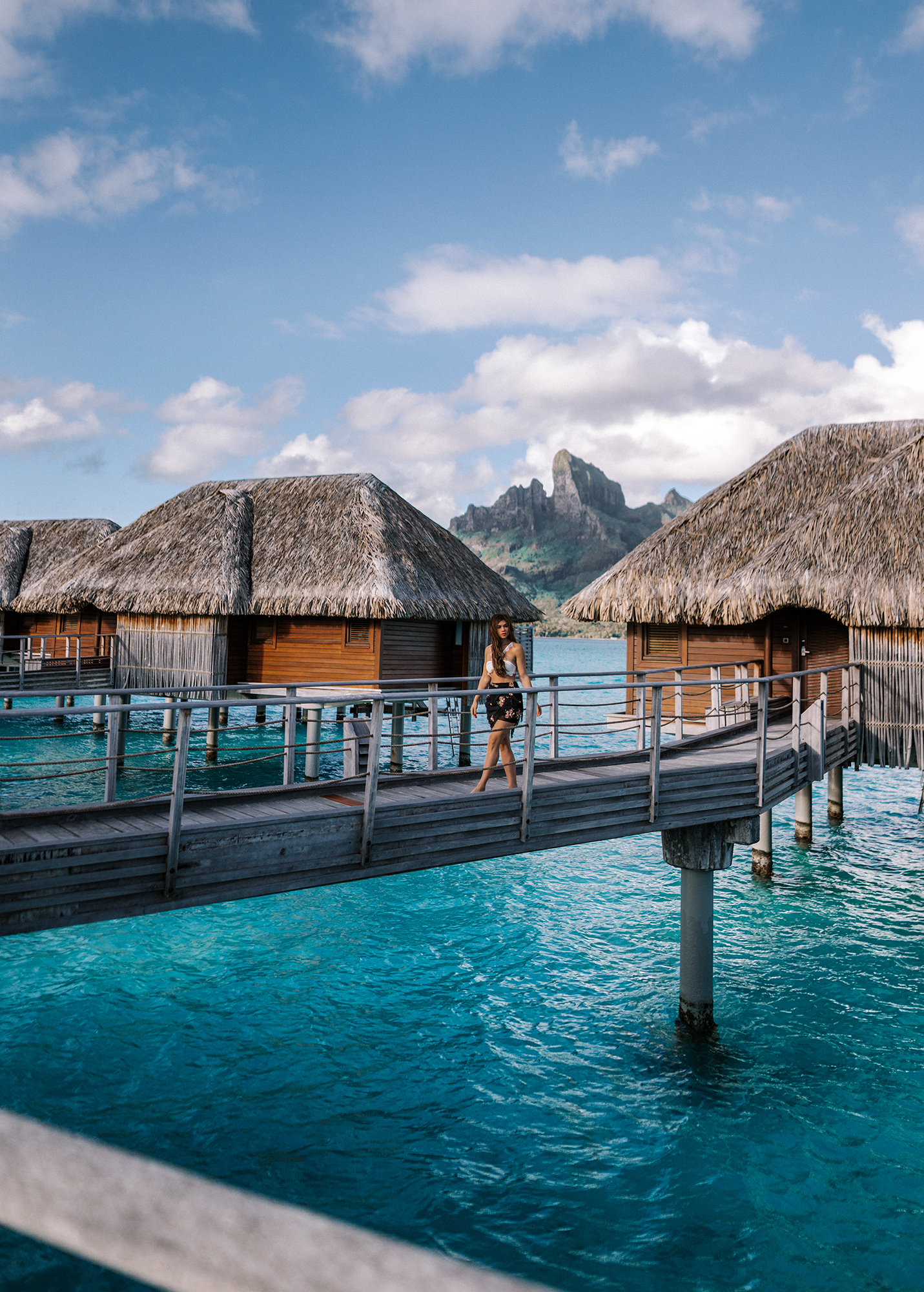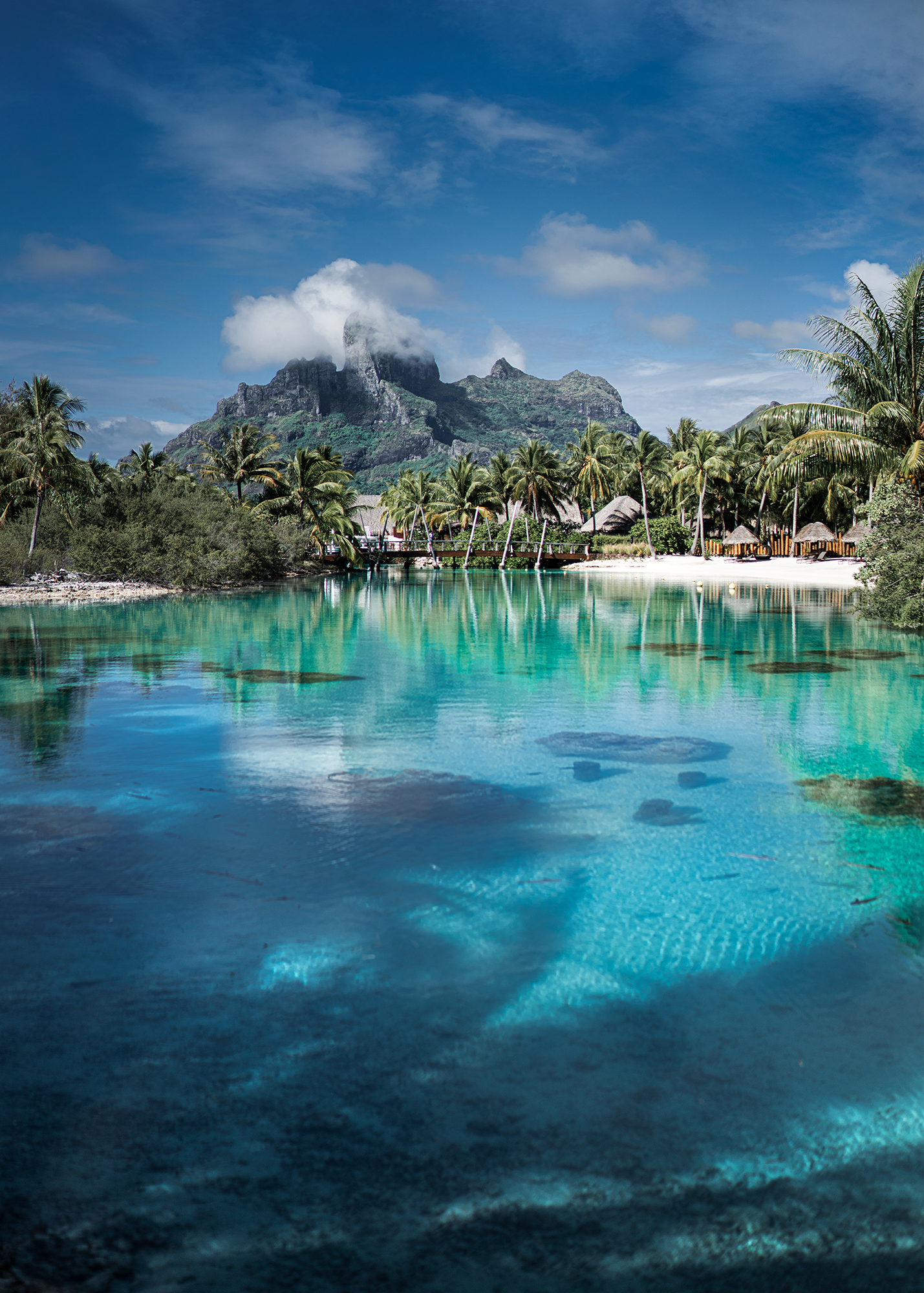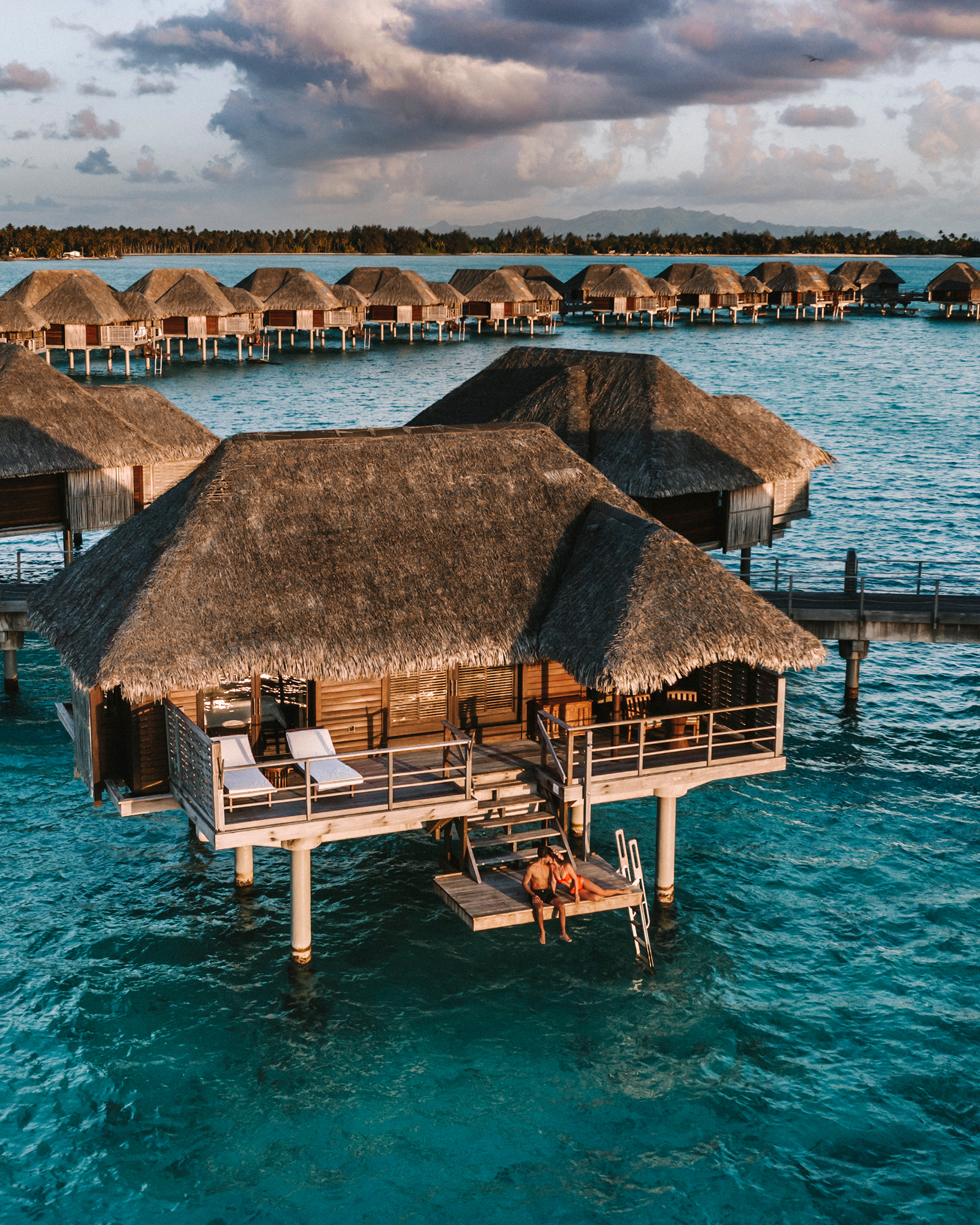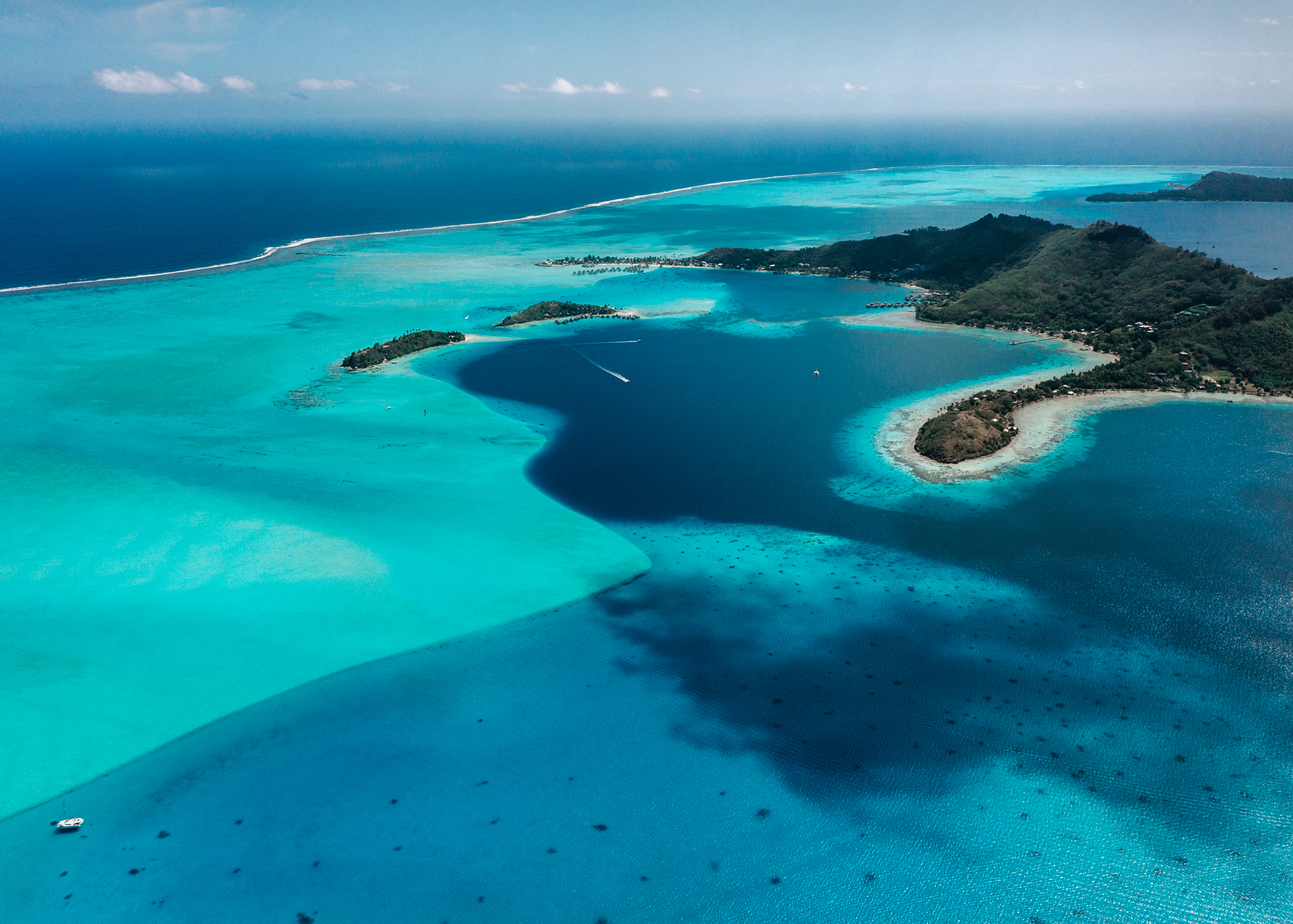 Endless views and every shade of blue.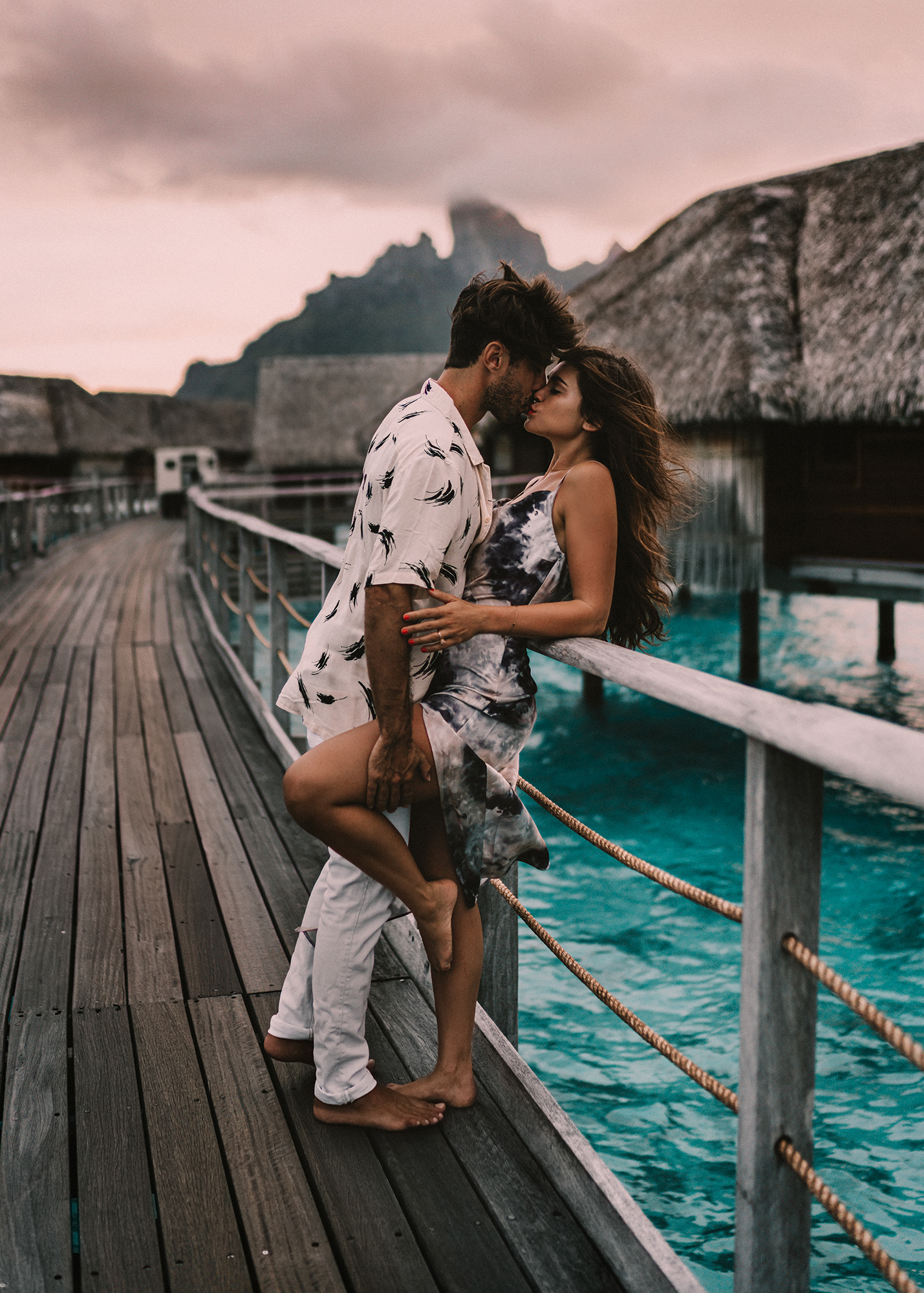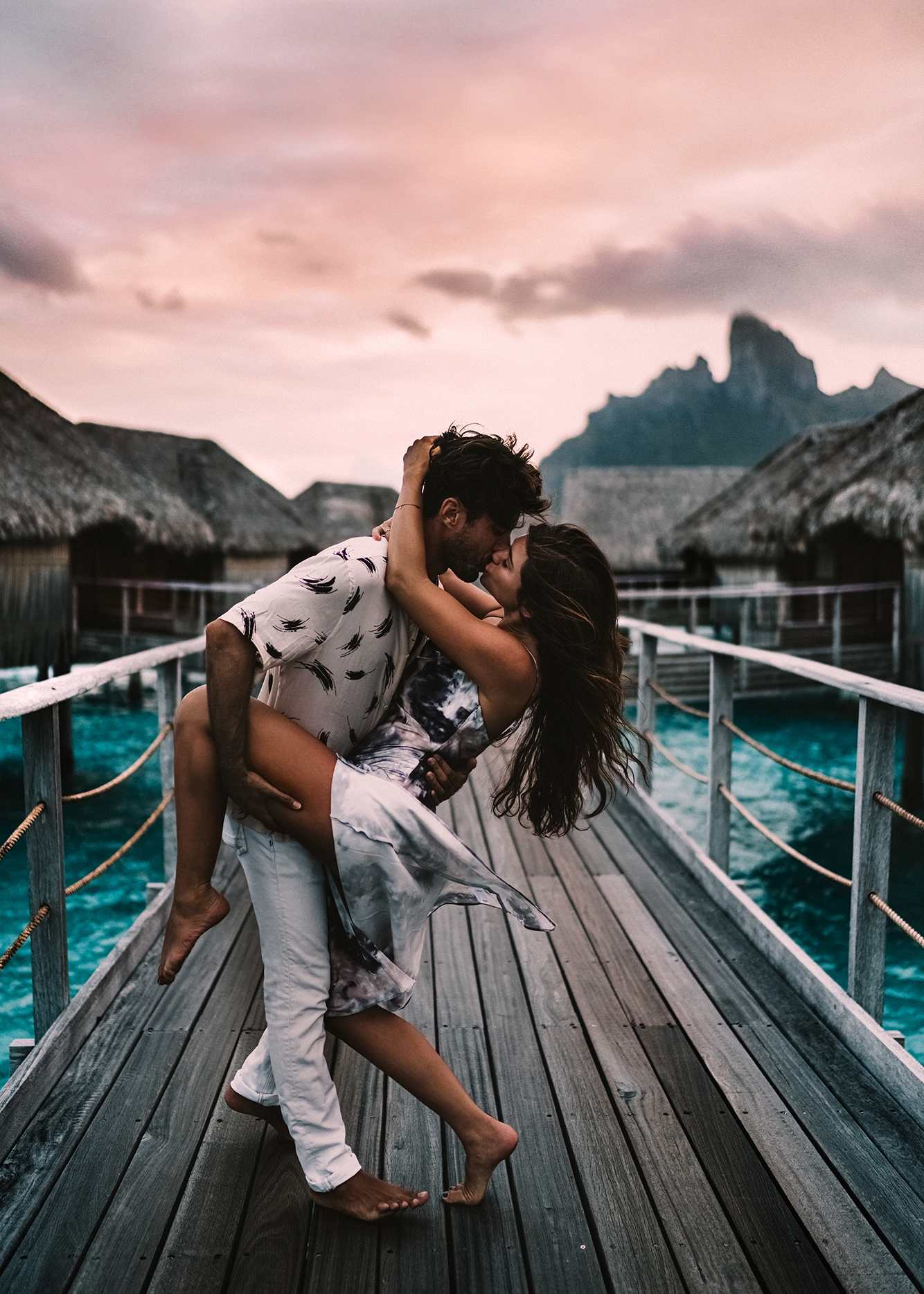 I have to say, I have had so many photos from this exact spot saved in my Pinterest and Instagram inspiration boards for so, so many years. To finally see myself in photos here, is still a little overwhelming and unreal. (Cut to: bursting out into song singing Miracles Happen)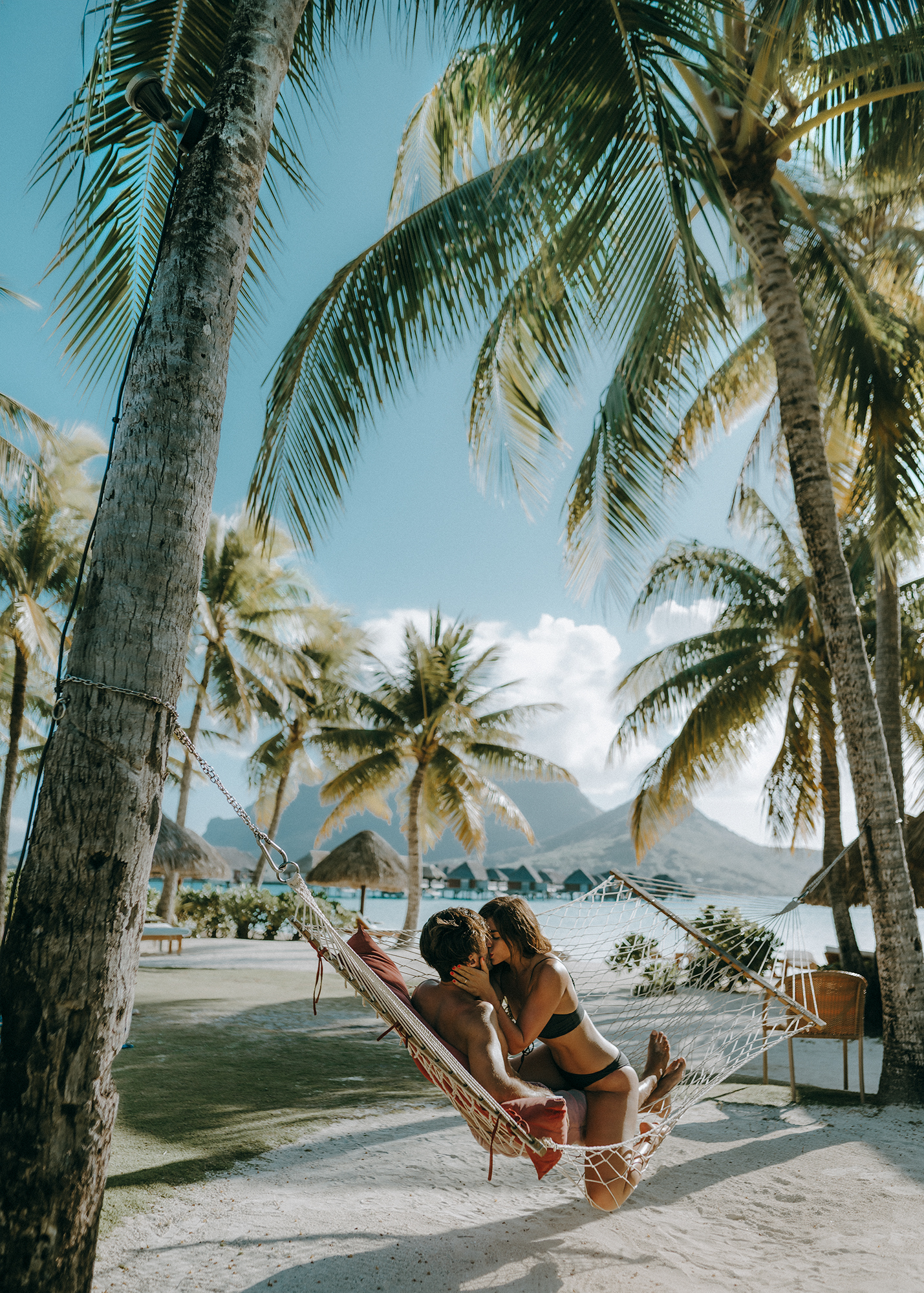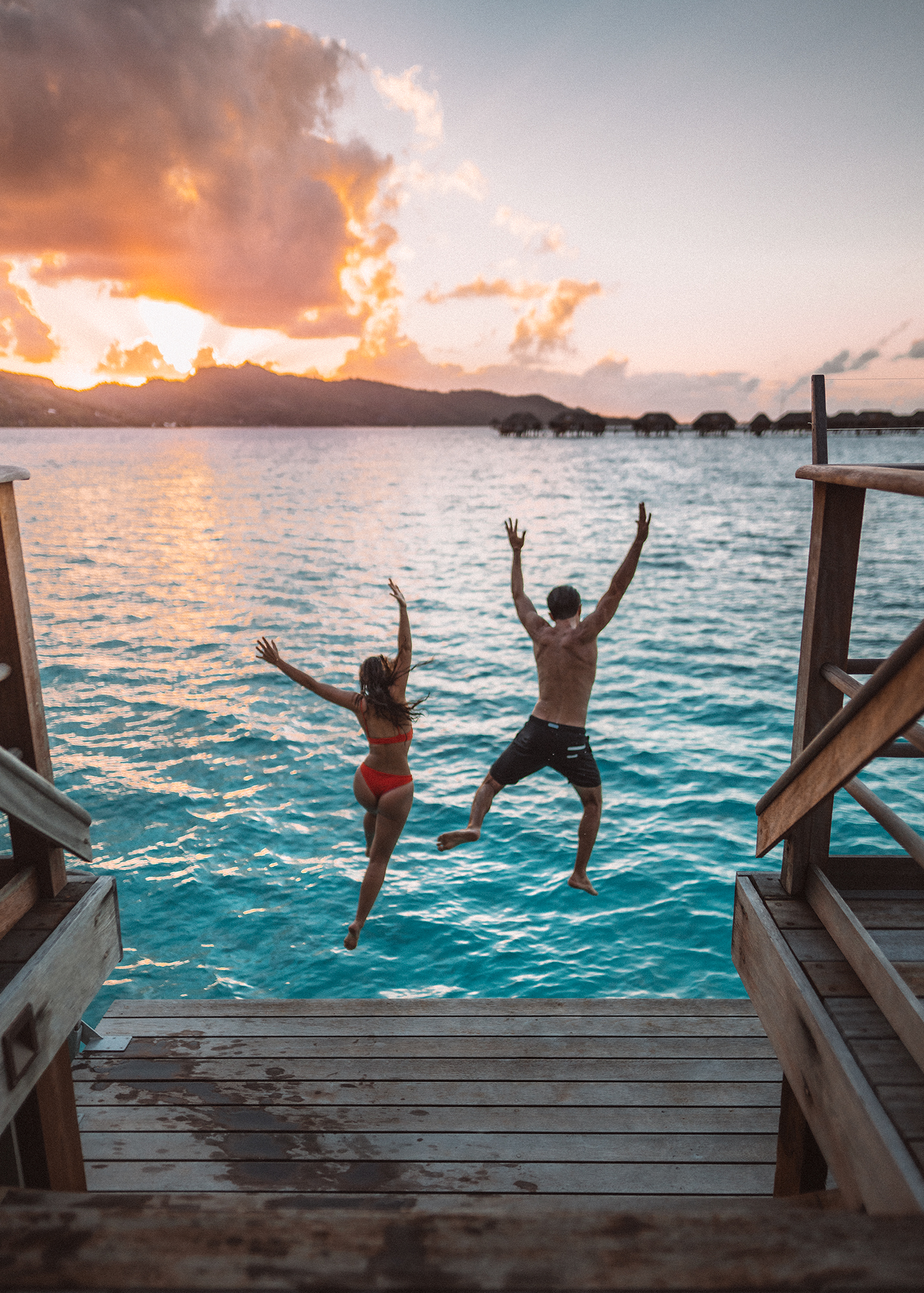 Thanks for the dream not-actually-ours-but-acting-like-it-is Honeymoon, Four Seasons Bora Bora! This is one adventure that will be hard to beat.
Pin It For Later: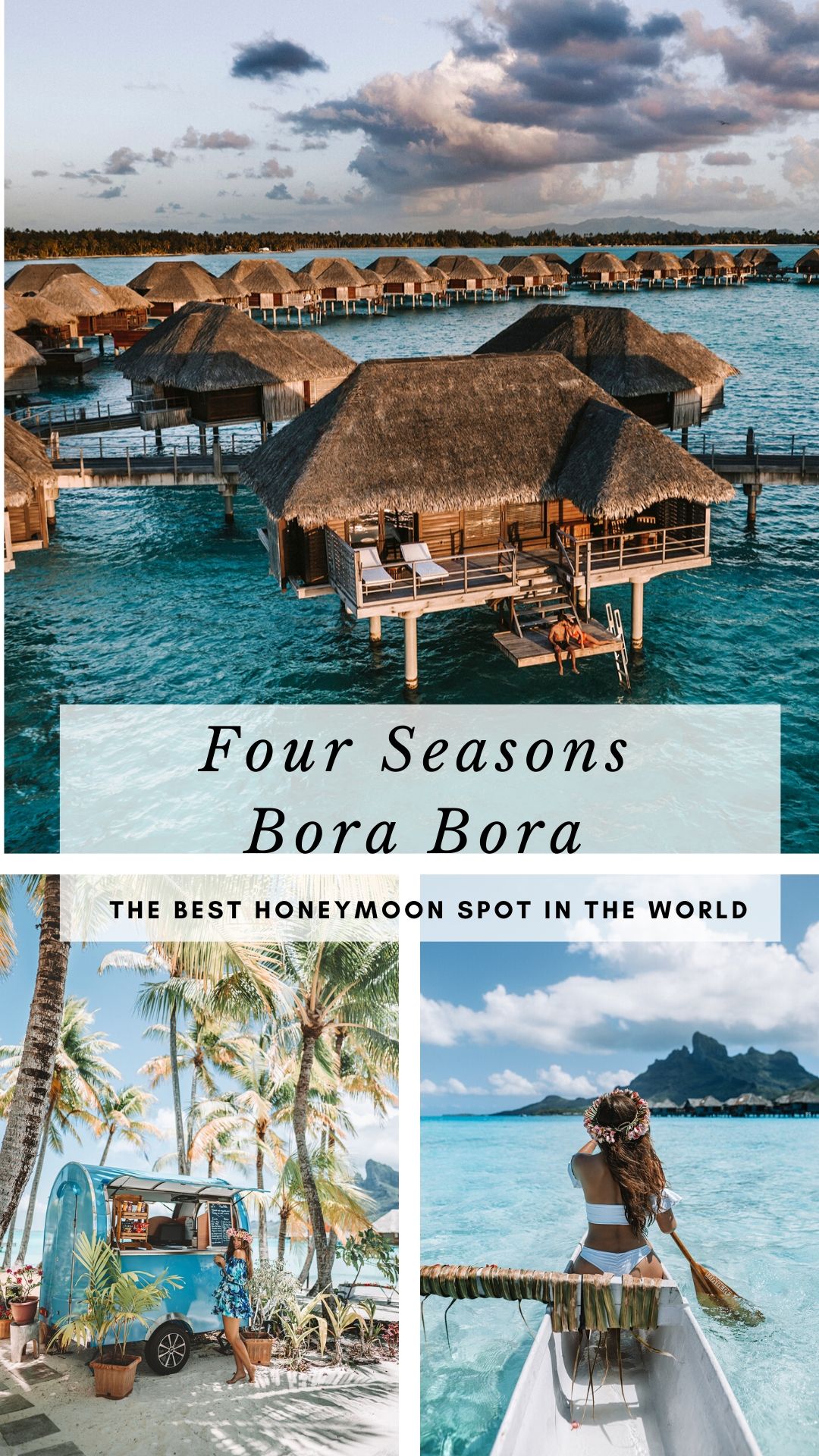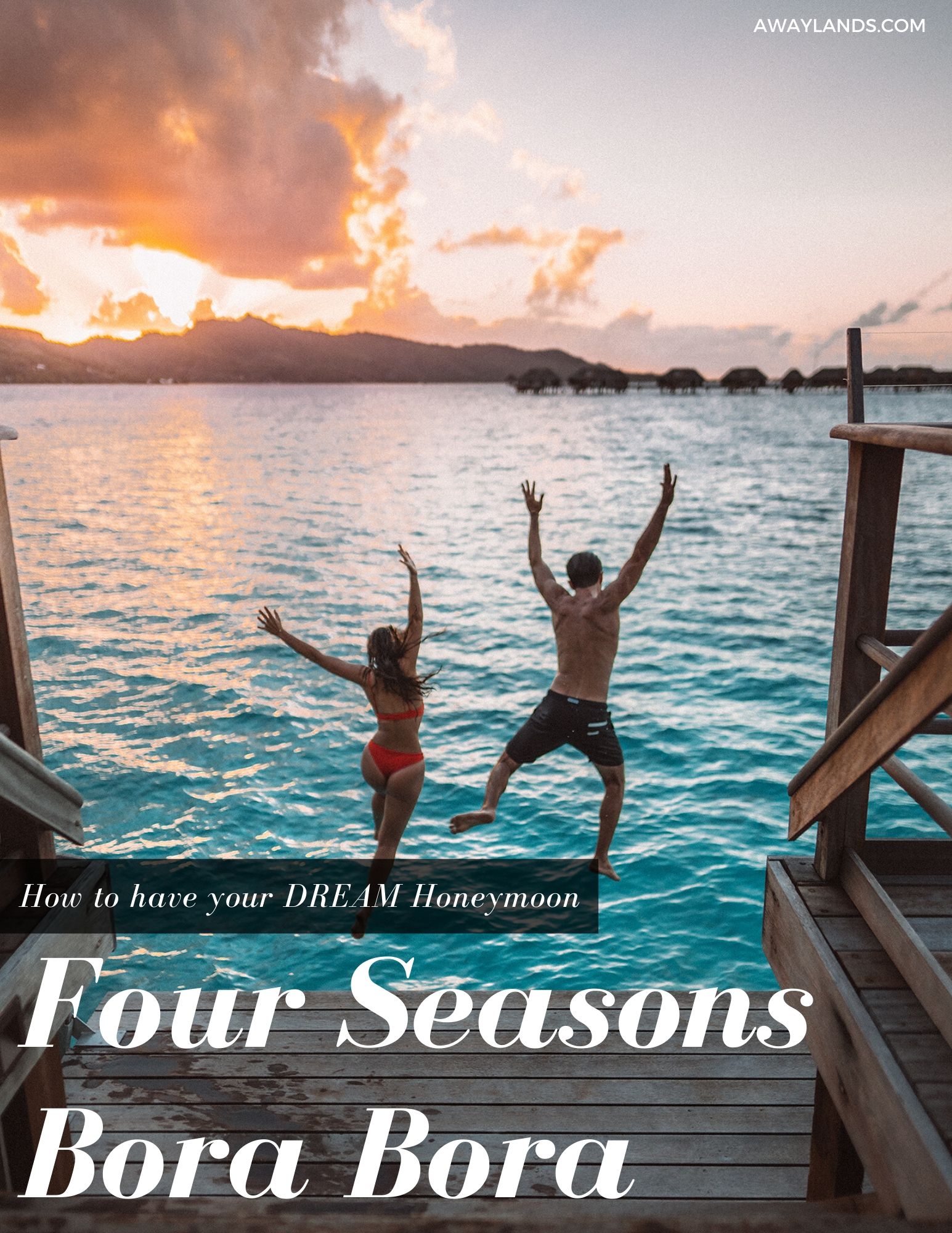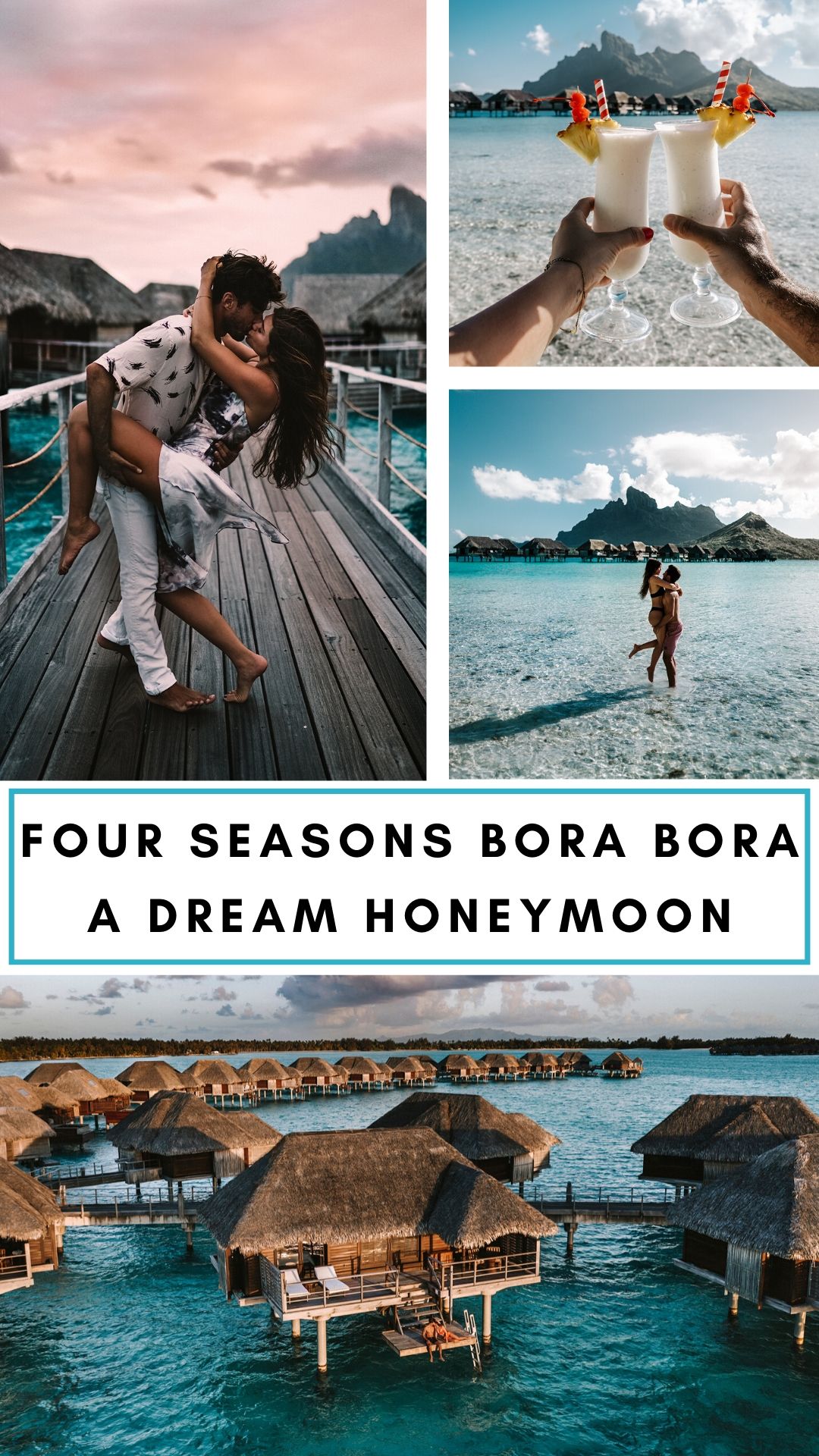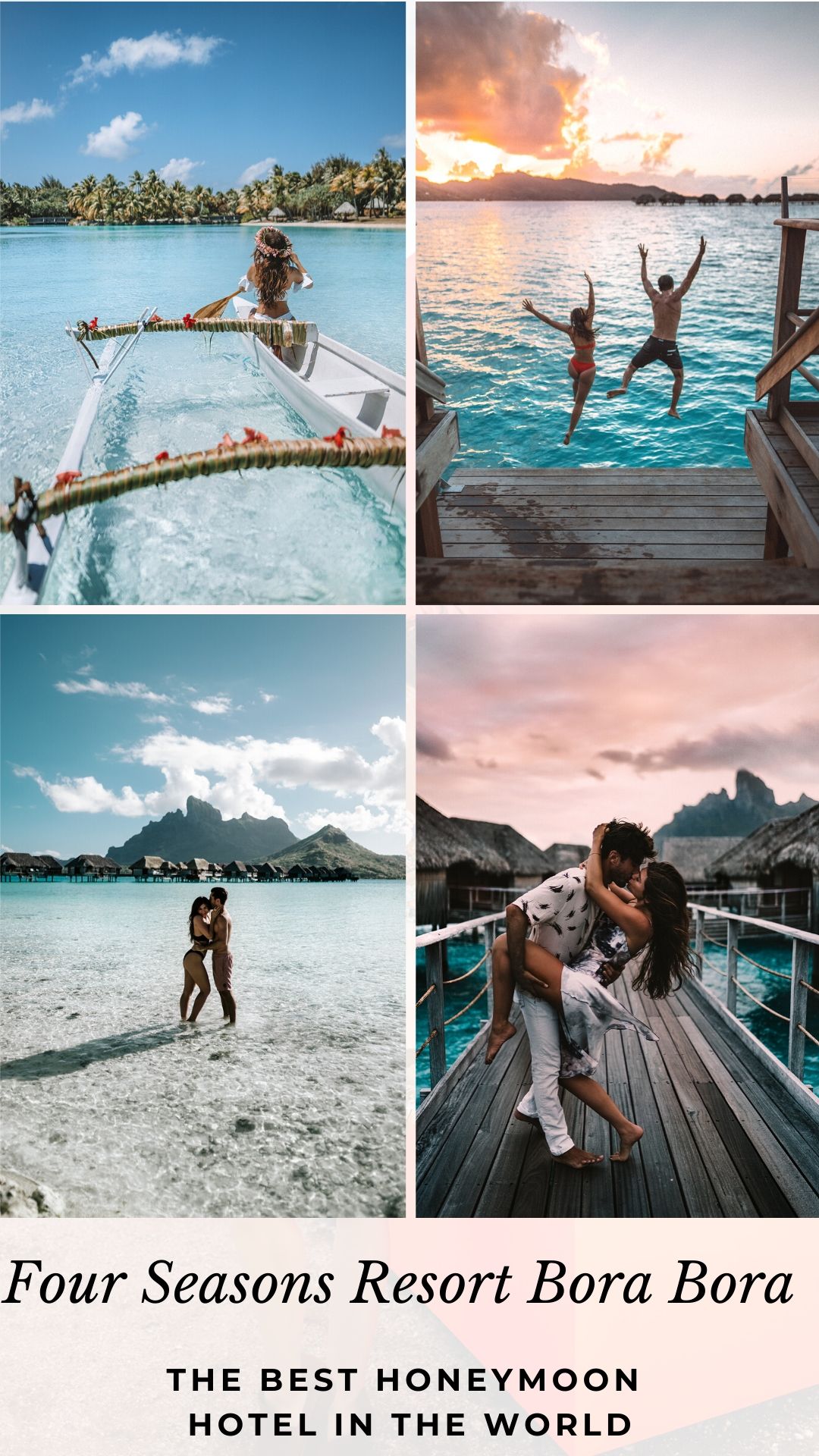 Shop my Bora Bora Packing List: