March 13, 2020 Hotels And Resorts
Le Taha'a Island Resort - Overwater Bungalow Bliss in Tahiti
Island hopping in French Polynesia had been one of my all time biggest dreams - and I think my face here says everything there is to say: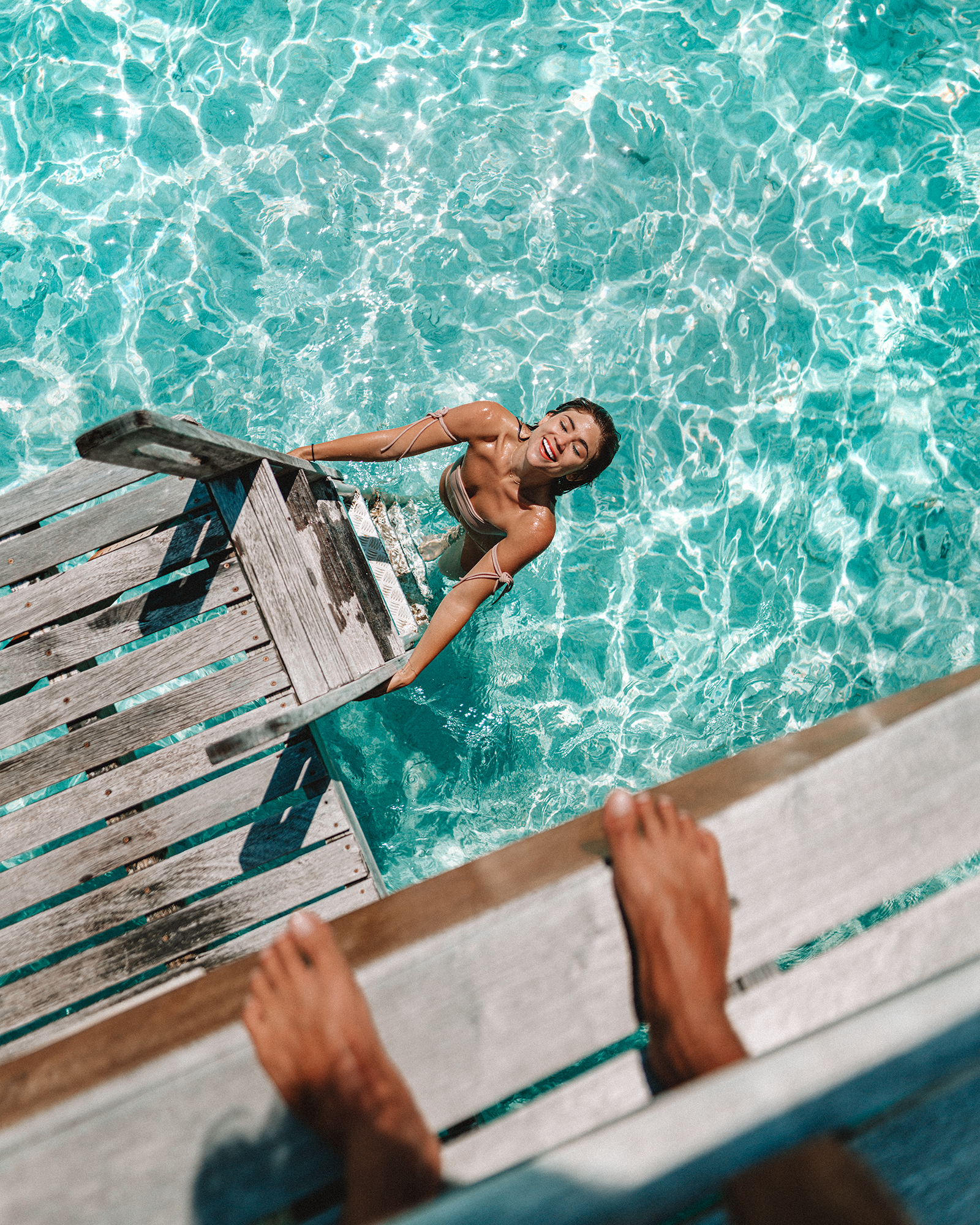 Our two weeks in Tahiti took us on a total of 4 island hopper flights Air Tahiti. From our flight into the main airport in Papette we flew out to Bora Bora, back to Moorea, and then back out to Raiatea airport to transfer to Tahaa, known as the vanilla island, to ultimately land on the Private Island Resort of Le Taha'a.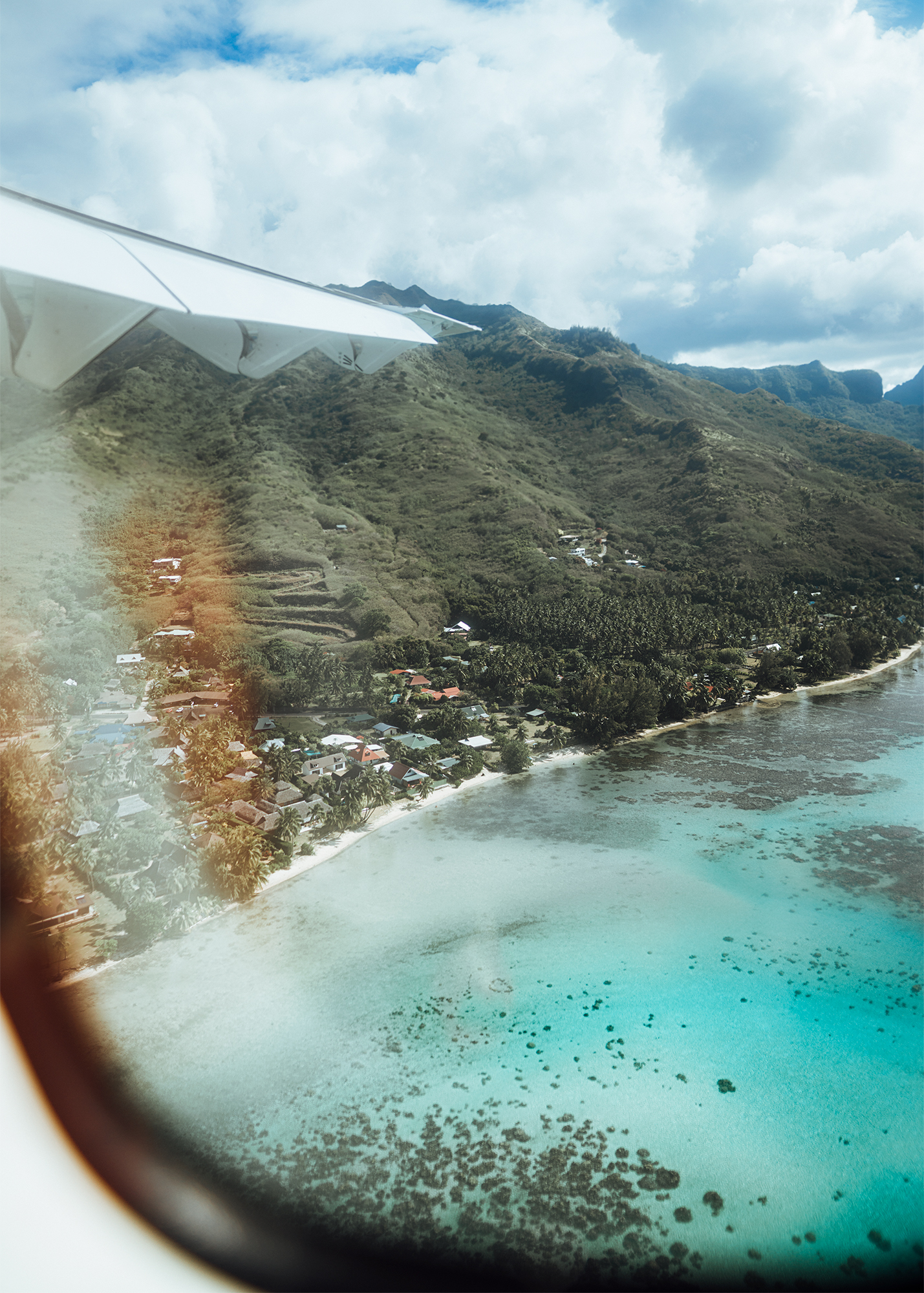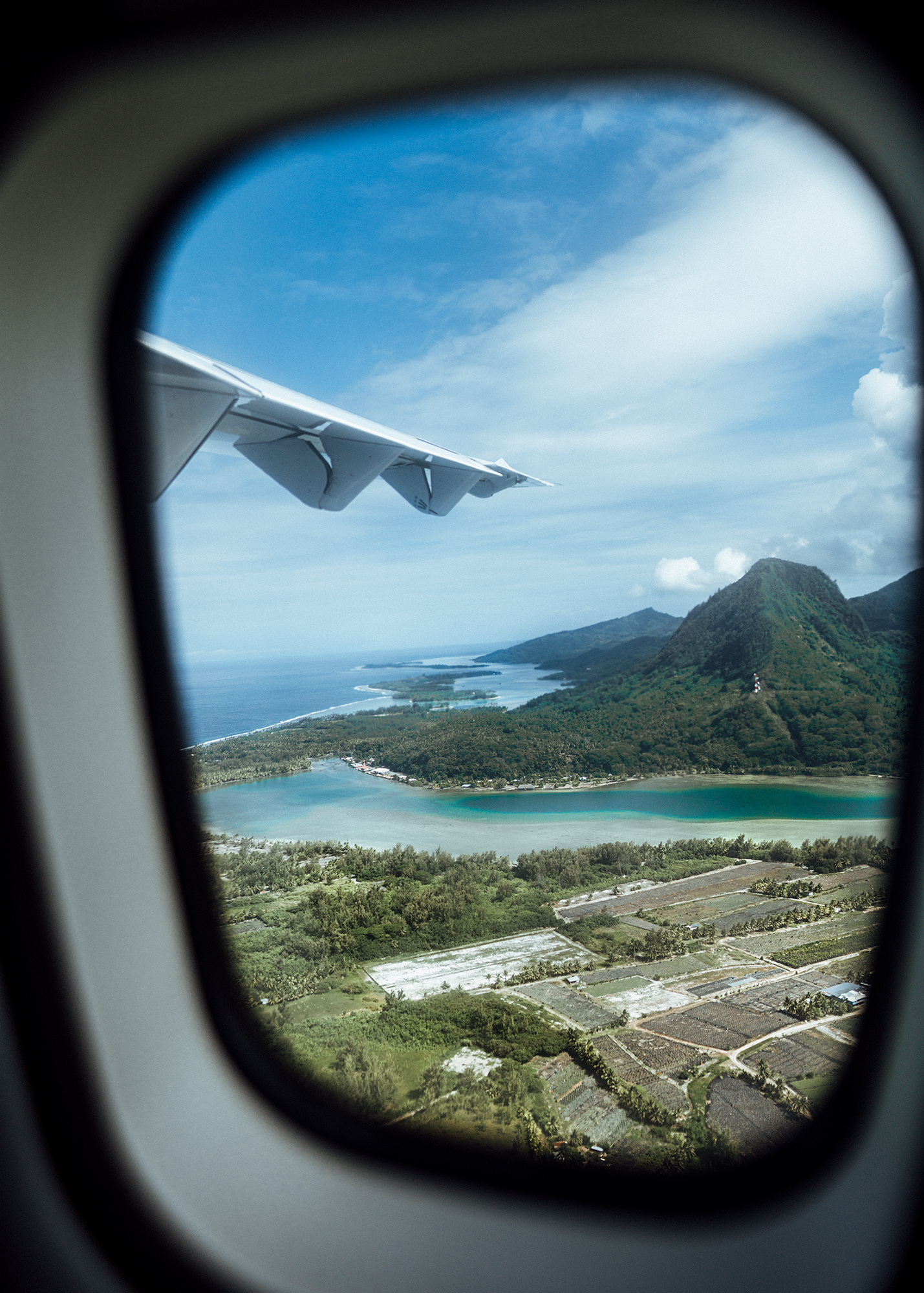 Landing into Raiatea Airport - from there the boat to Tahaa takes around 30-40 smooth and scenic minutes.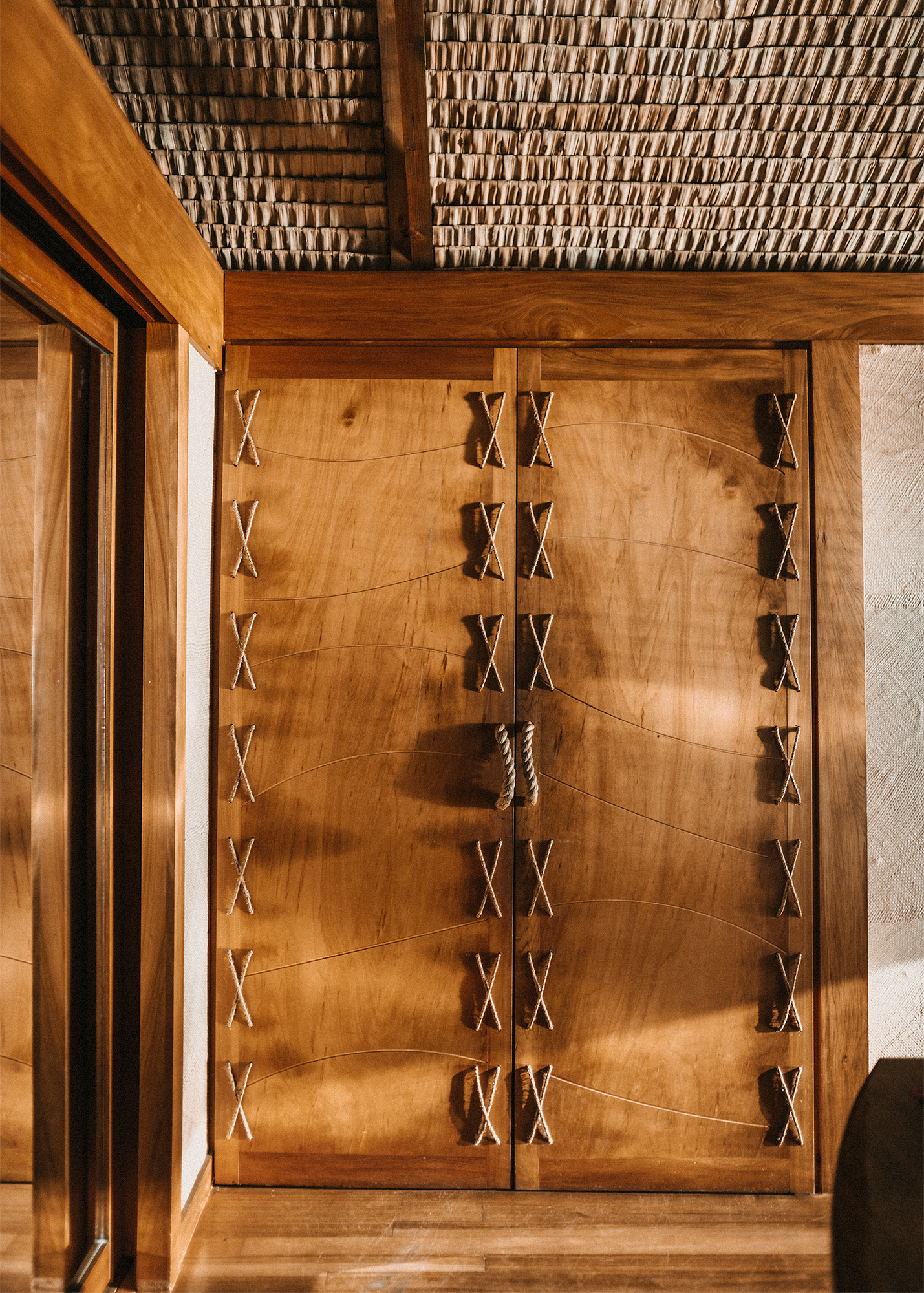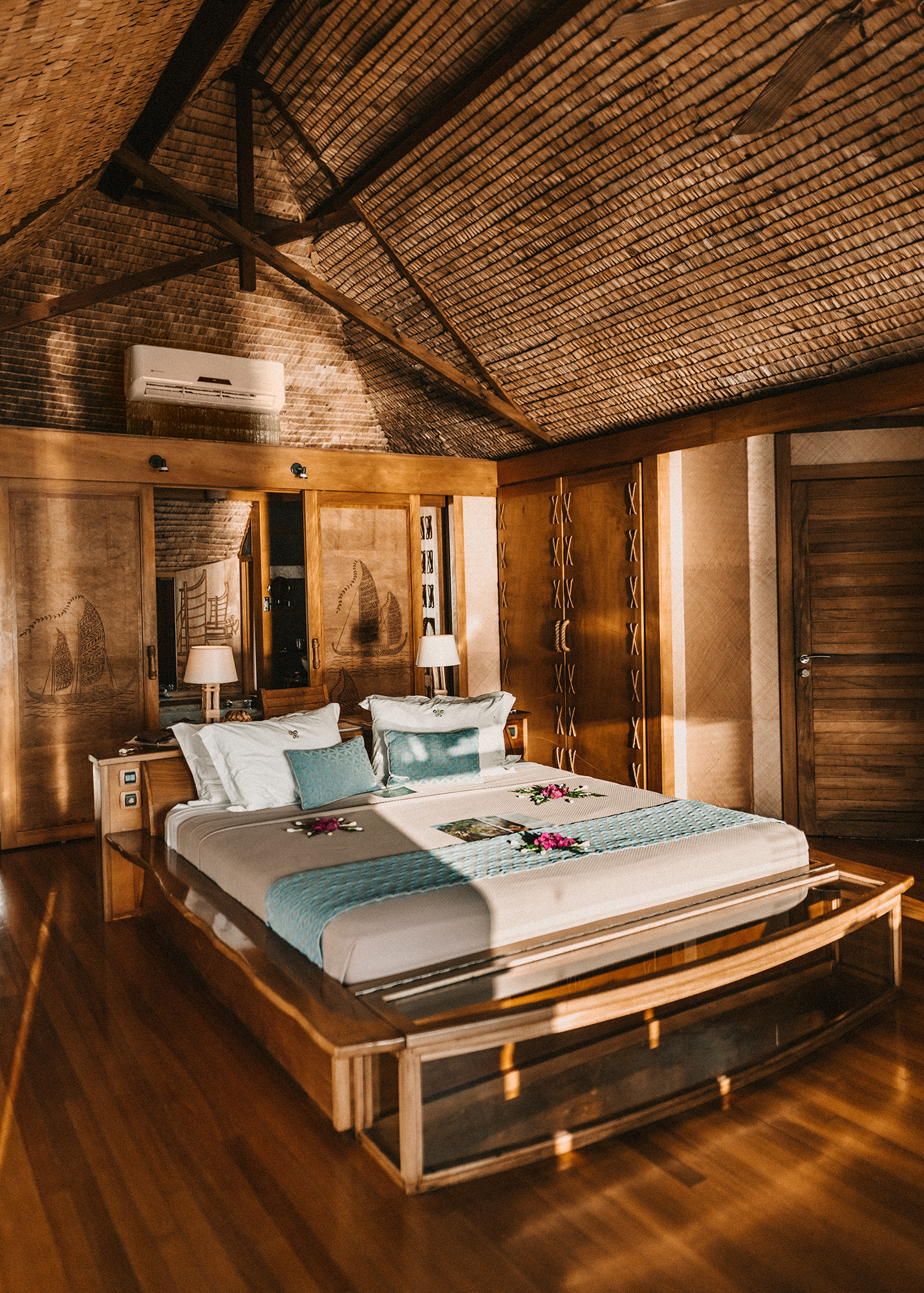 Checking in to our room, just as the afternoon light was filtering in. Whenever I see light like this, I am always pushing Brandon that we need to stop and shoot right this instant! But usually I need to stop and feed him first. I've been working on relaxing a bit, because we do shoot a LOT... I just always want to make sure to grab everything we possibly can, while we can.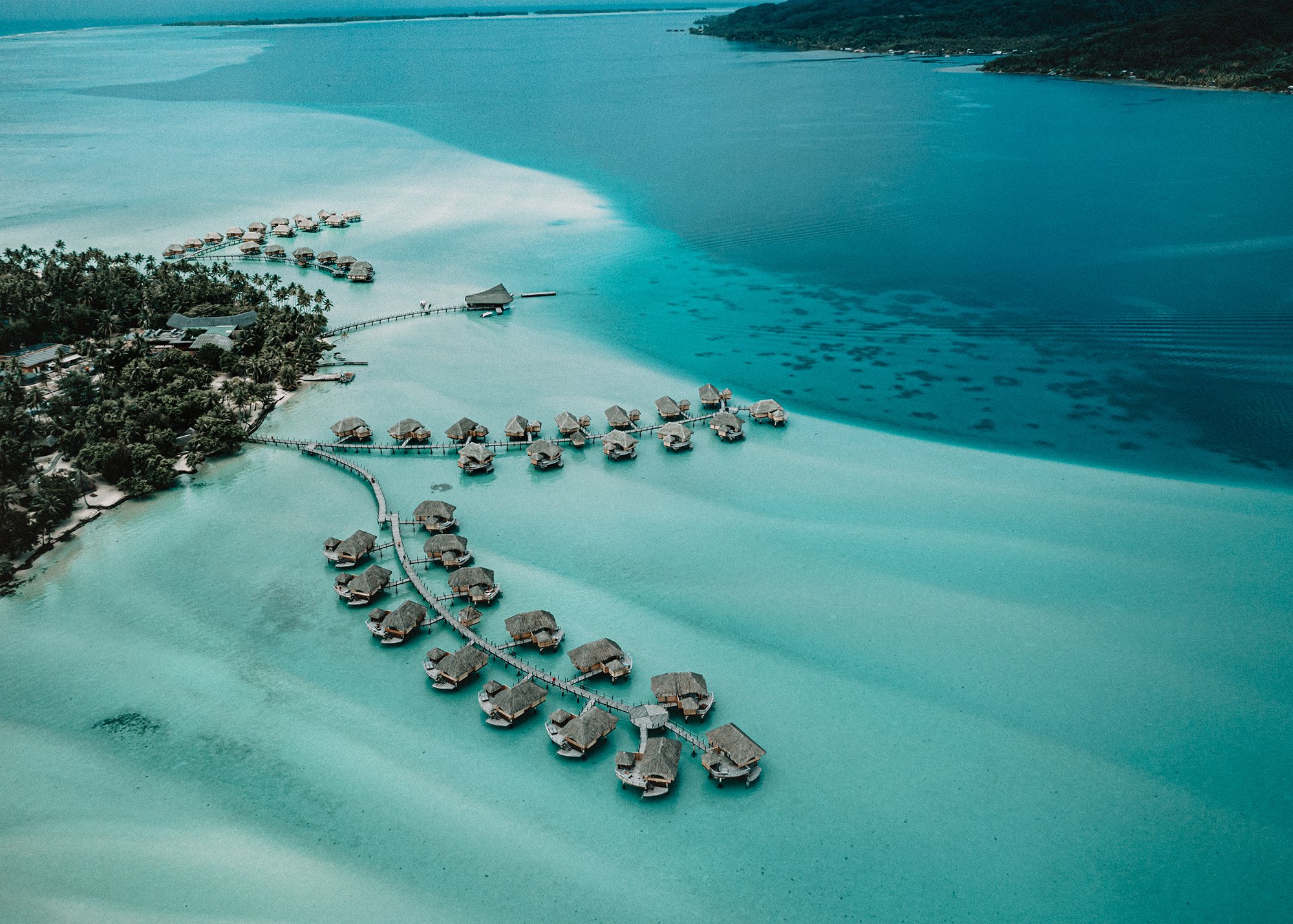 At Le Taha'a, we stayed in one of these overwater bungalows. We have been lucky enough to stay overwater a couple of times - in the Maldives, Belize, and Bora Bora, and the novelty and beauty still never wears off on me. I LOVE being able to jump right in the water, and lay out in the sun completely on our own, and Le Taha'a did not disappoint. Every day the mini fridge in our room was restocked with complementary sodas, beers, and a few snacks, which is a small thing, but a classy touch that I really loved stayed here.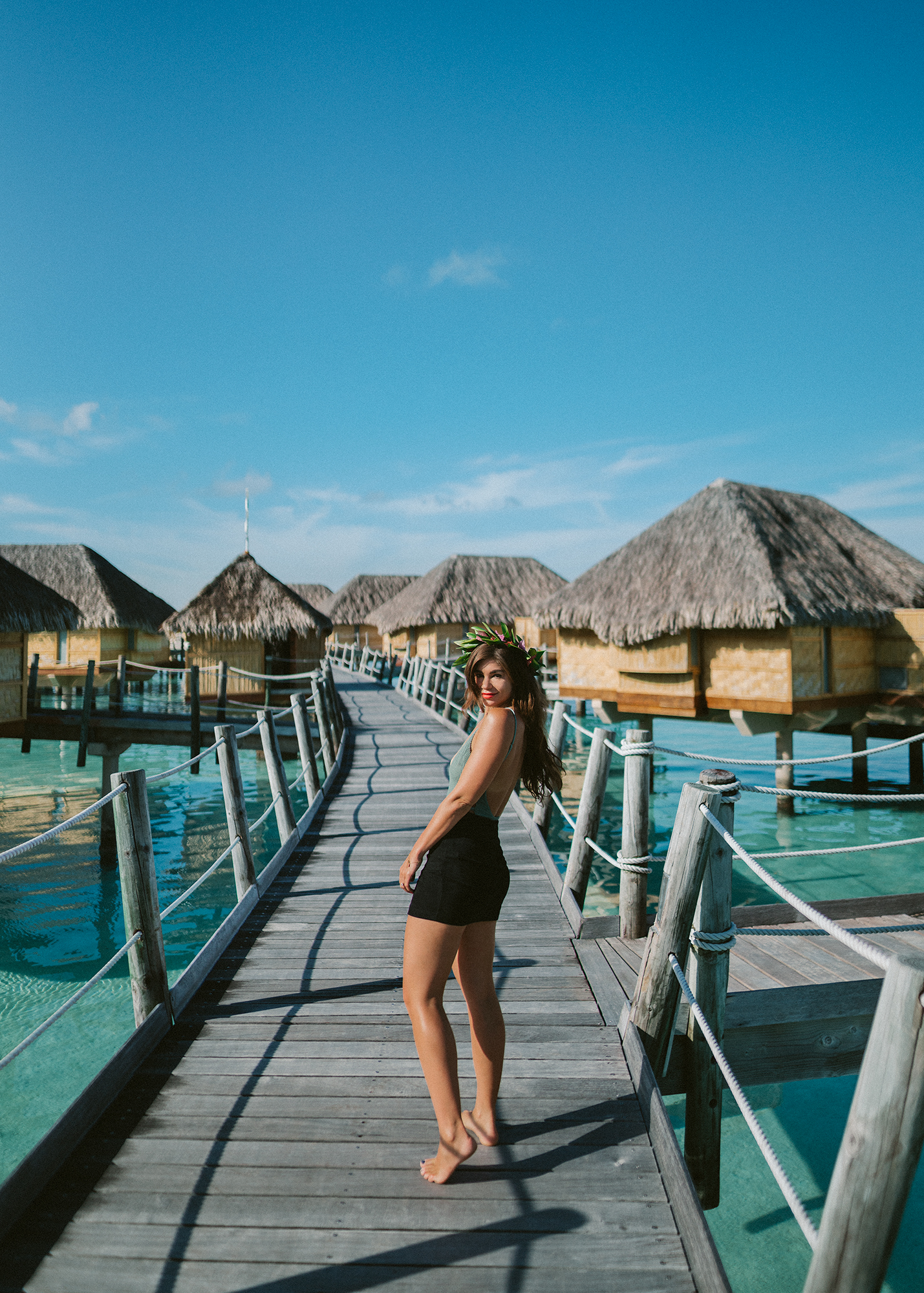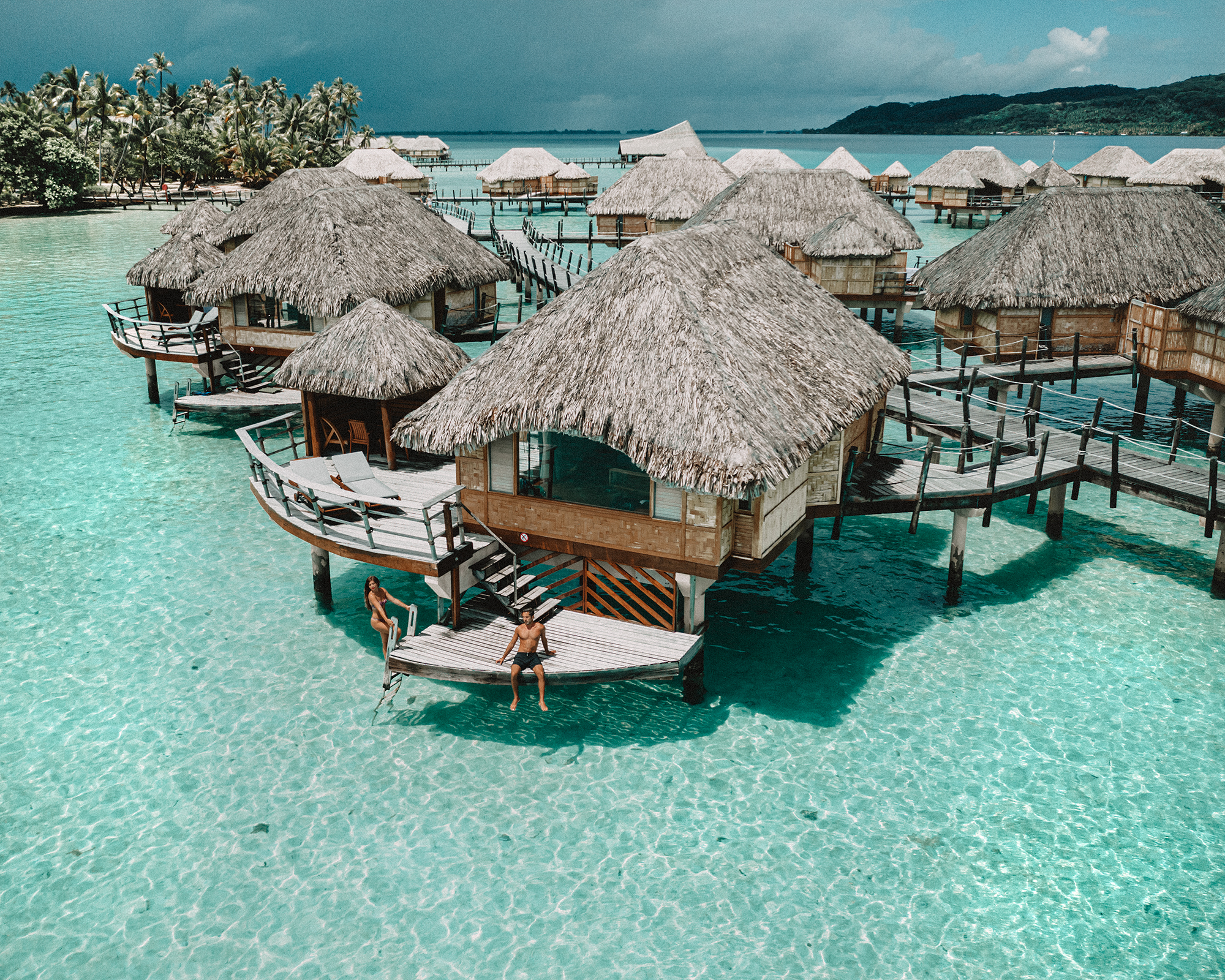 Hello hotel room paradise.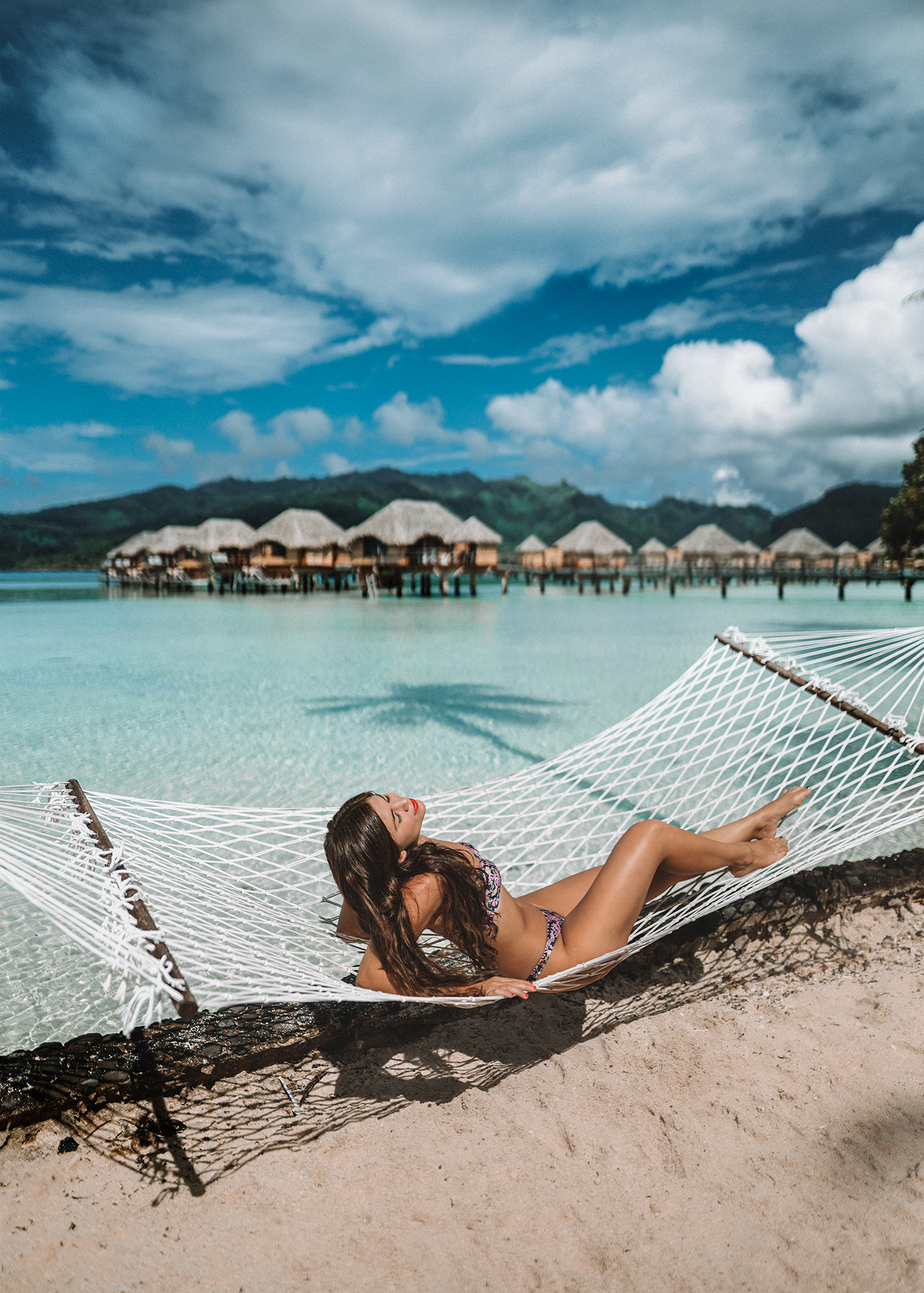 And a beach paradise! Le Taha'a is on it's own private island just a few minute boat ride from the main island of Tahaa. We spent our three days here riding paddle boards through the lagoon, snorkeling, enjoying the sun on both our room and the beach and pool areas, taking long walks around the island, and enjoying the 2 for 1 cocktails before sunset every night at the pool bar's Happy Hour.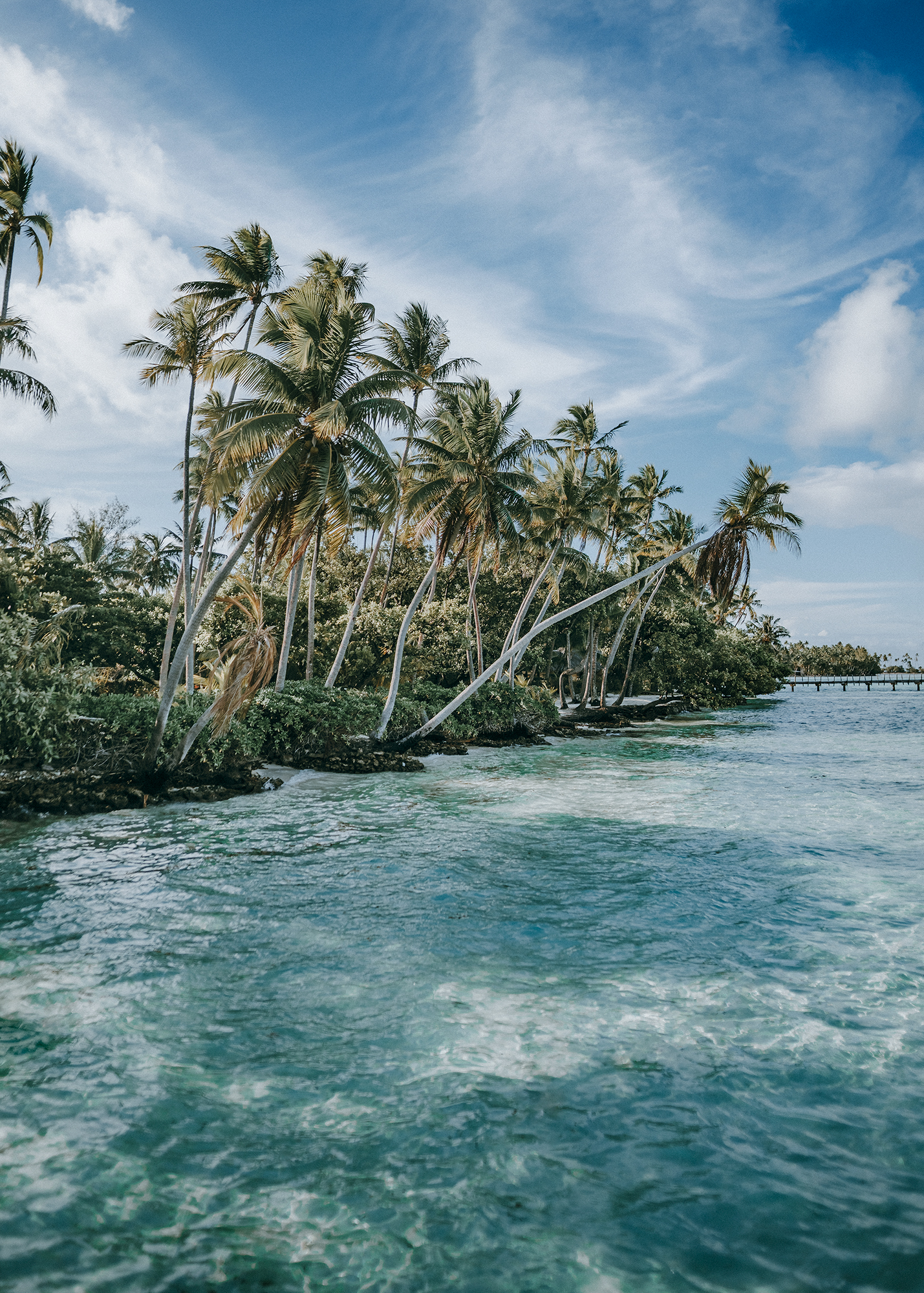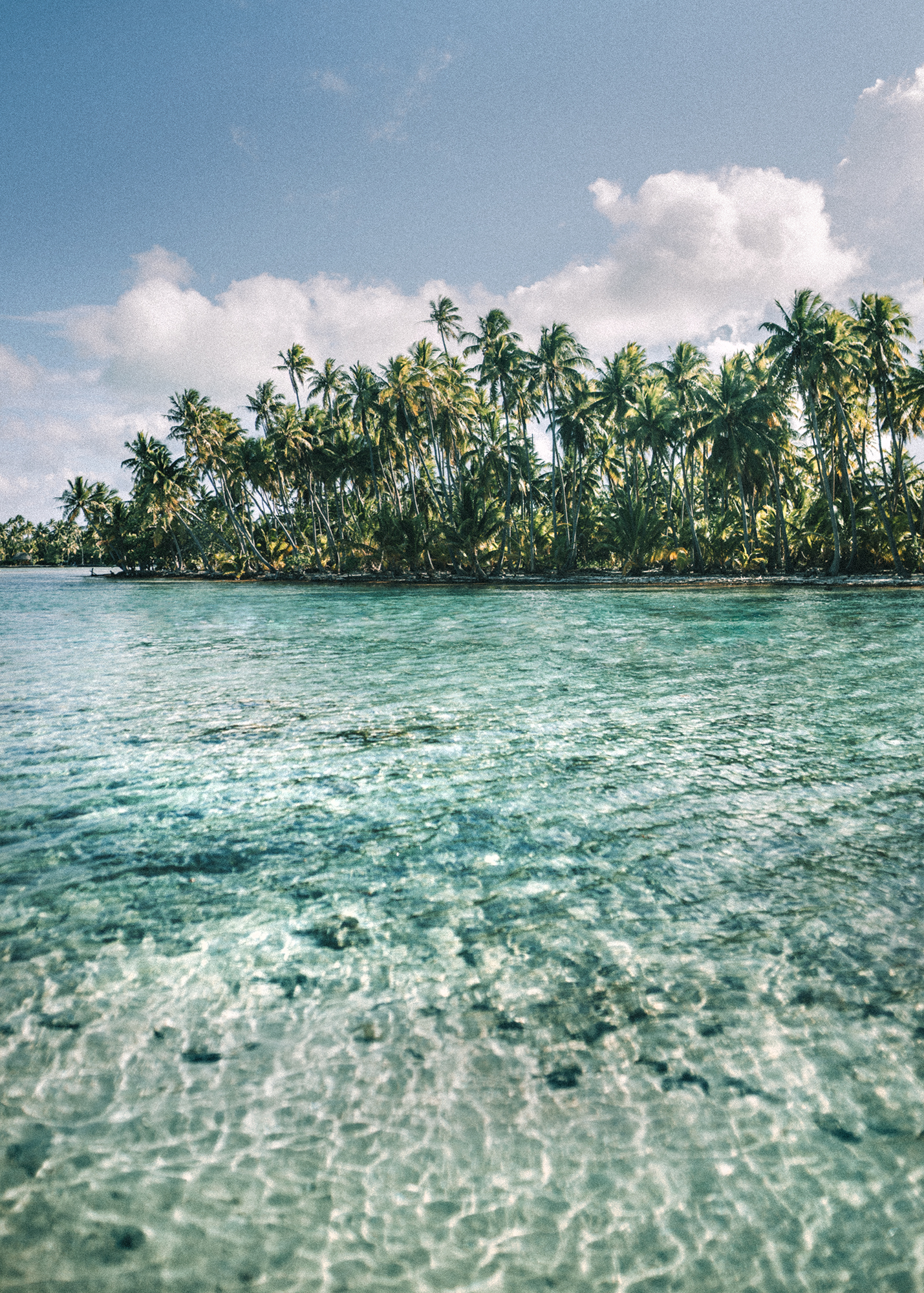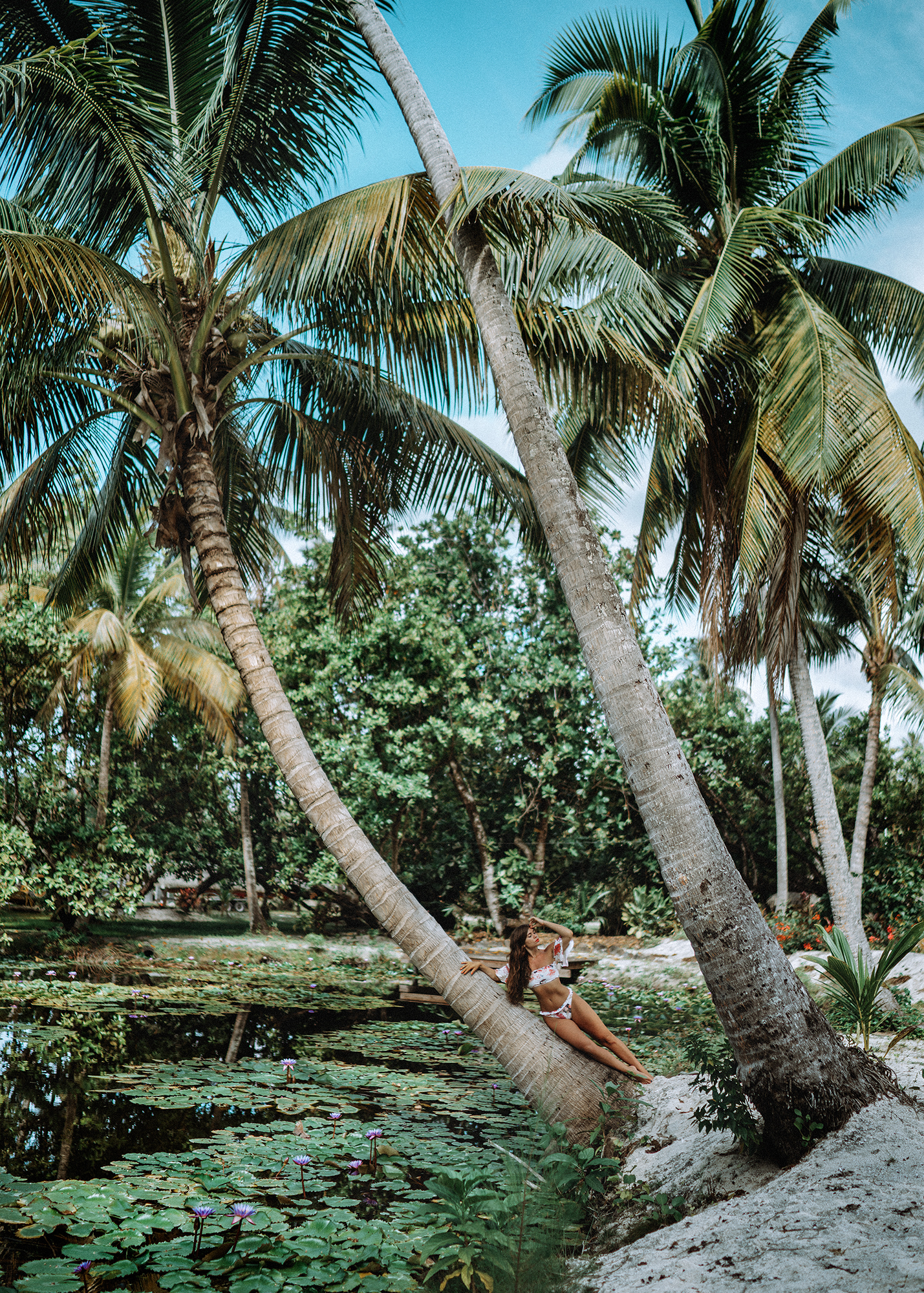 On the back side of the idea we stumbled on to this beautiful pond full of lily pads and bright purple flowers. Balancing for a photo on this palm tree was a lot harder than it looks! I may or may not have almost fallen in a few times.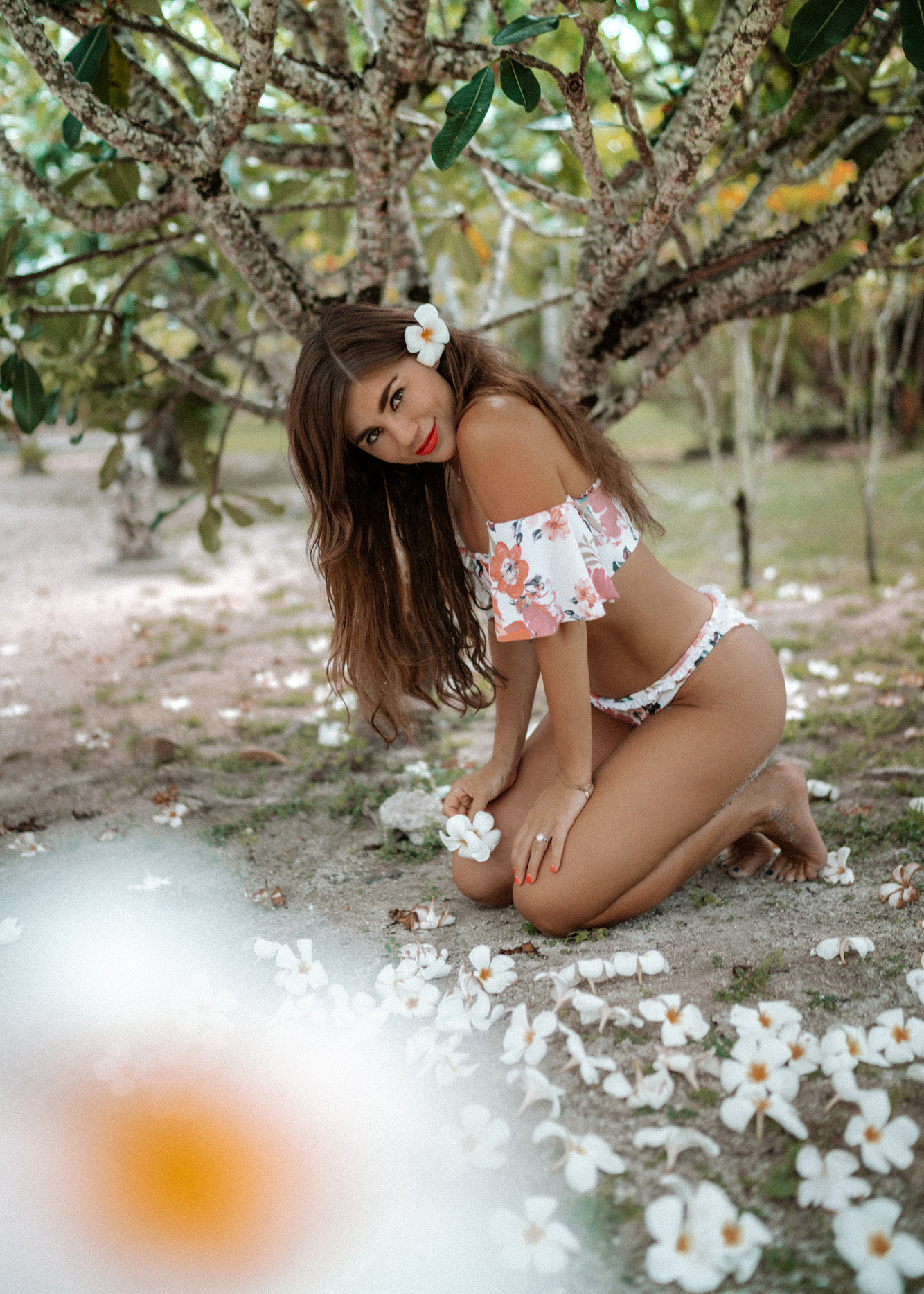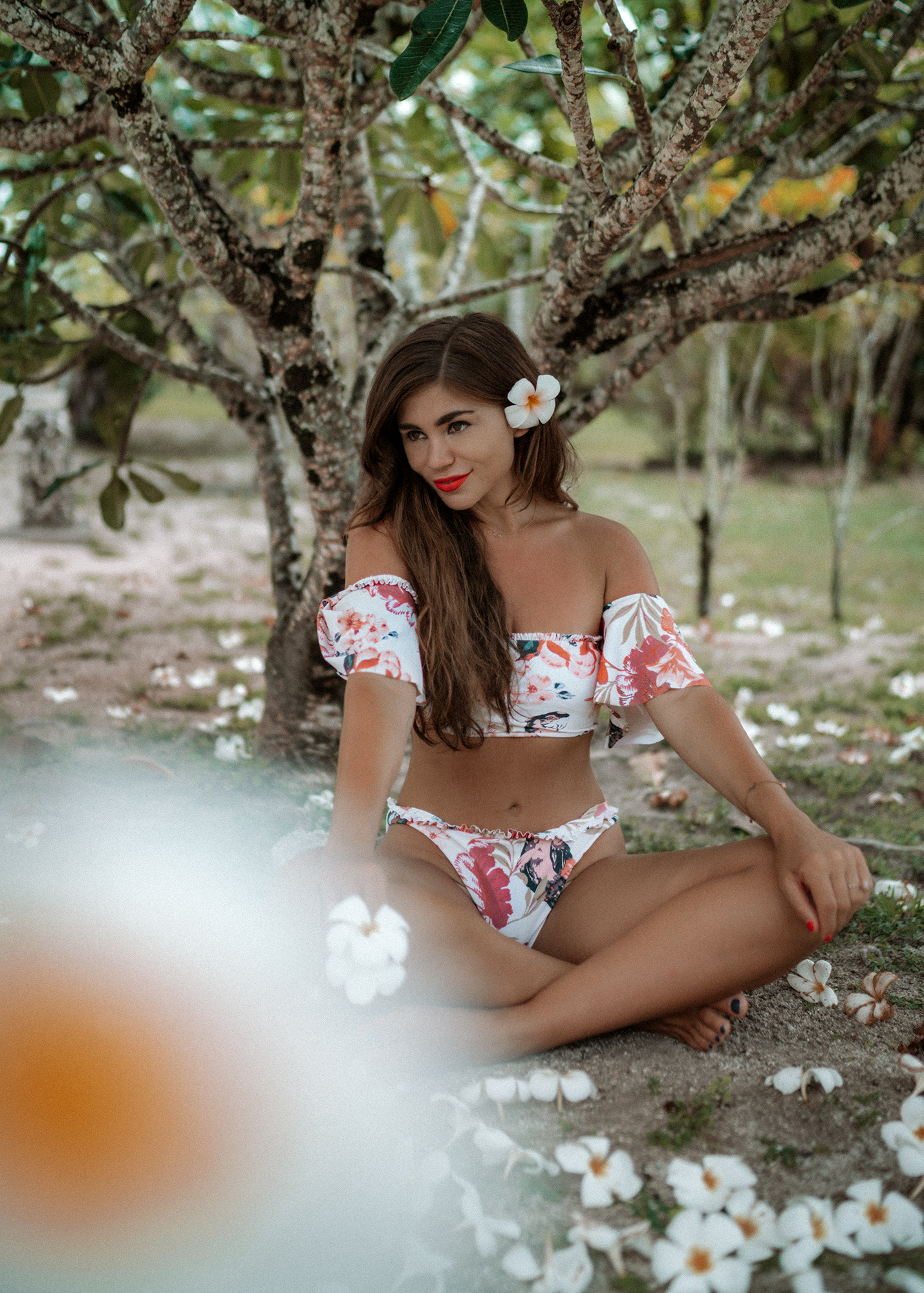 Working on my best Moana.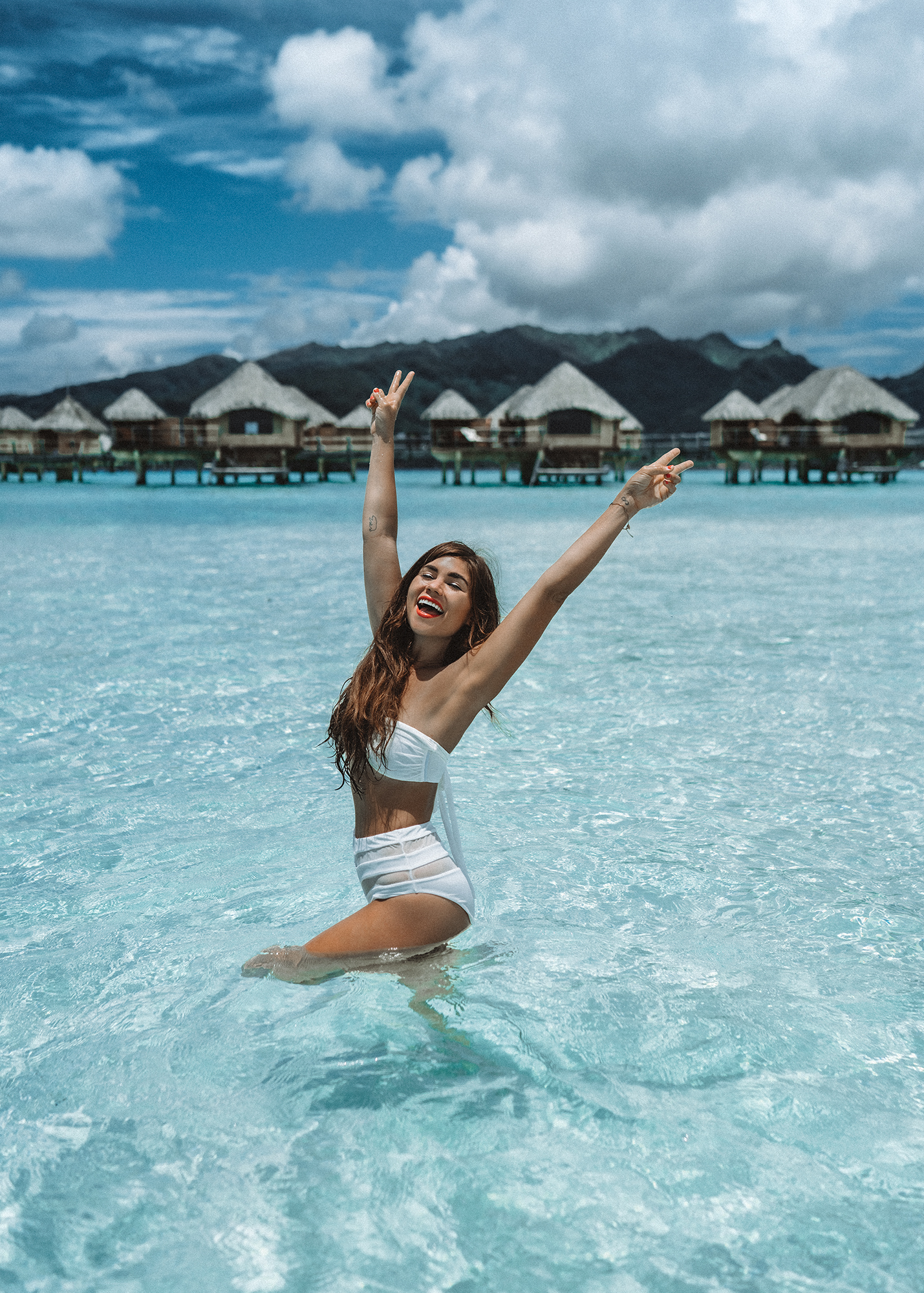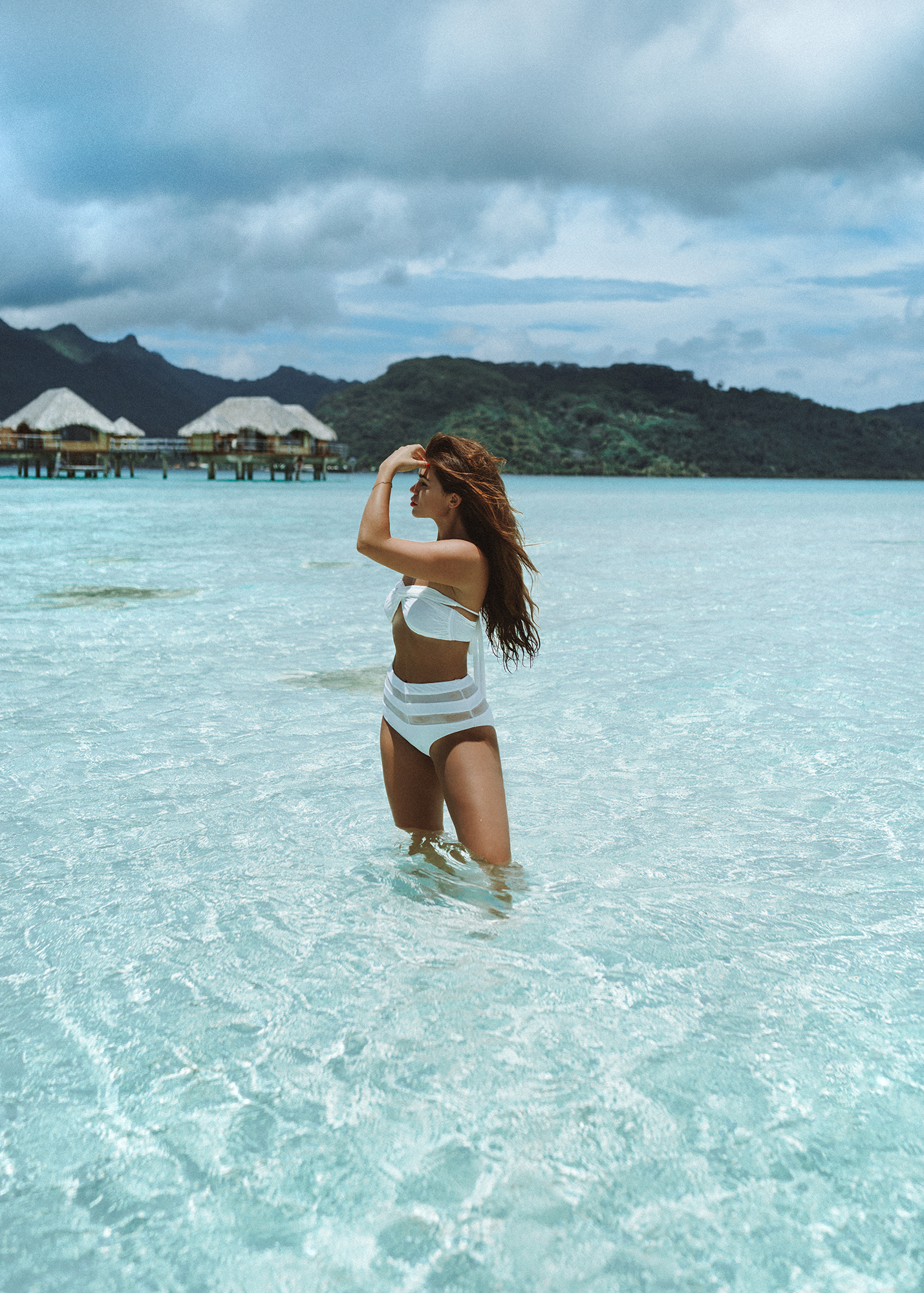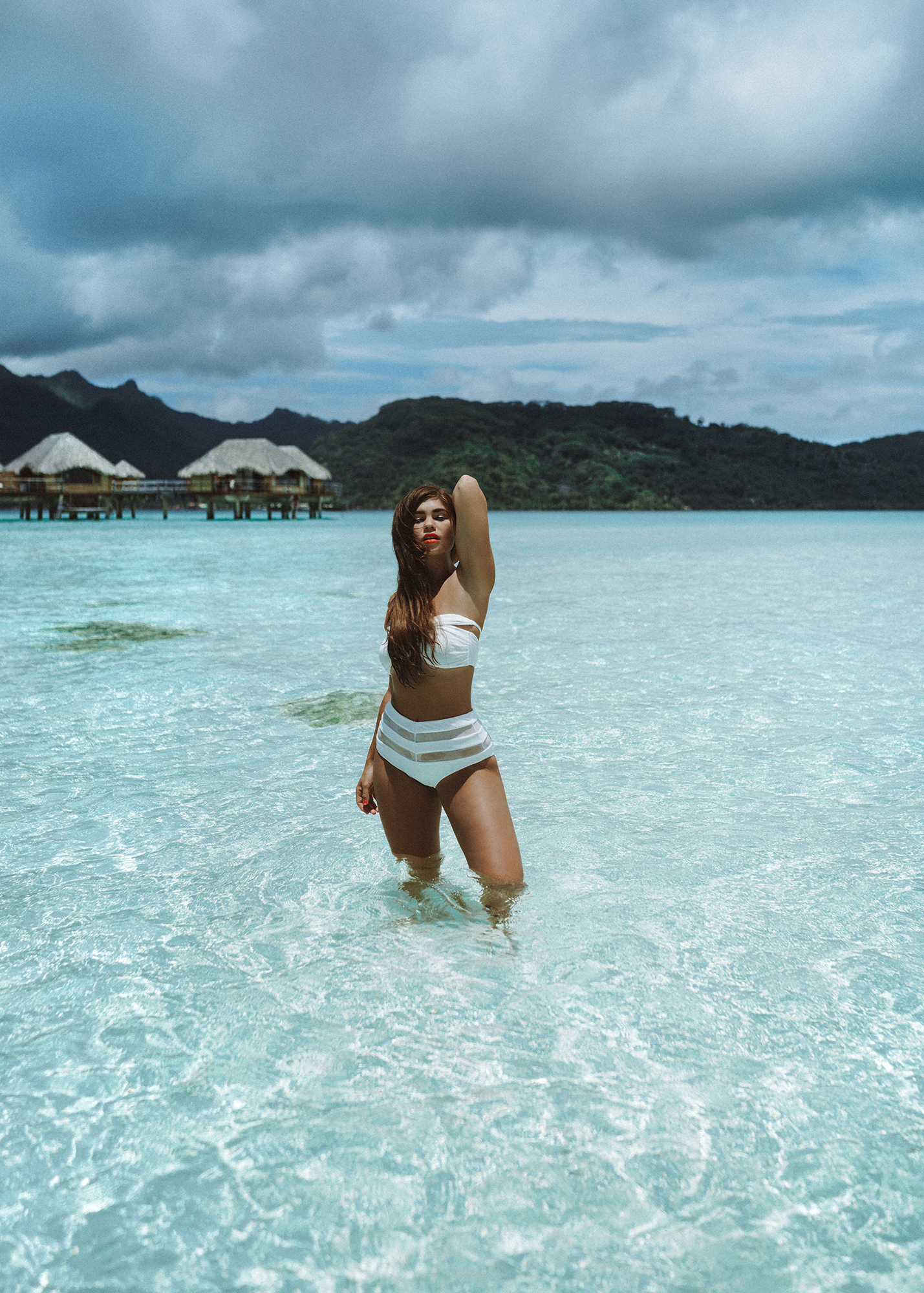 The shallow and crystal clear lagoon just off of our room! This is truly the Tahitian paradise I had always dreamed of. I love so many corners of the world - ancient Middle Eastern ruins, climbing mountain peaks, fairytale European villages - but nothing quite as much as aqua blue waters and white sandy beaches.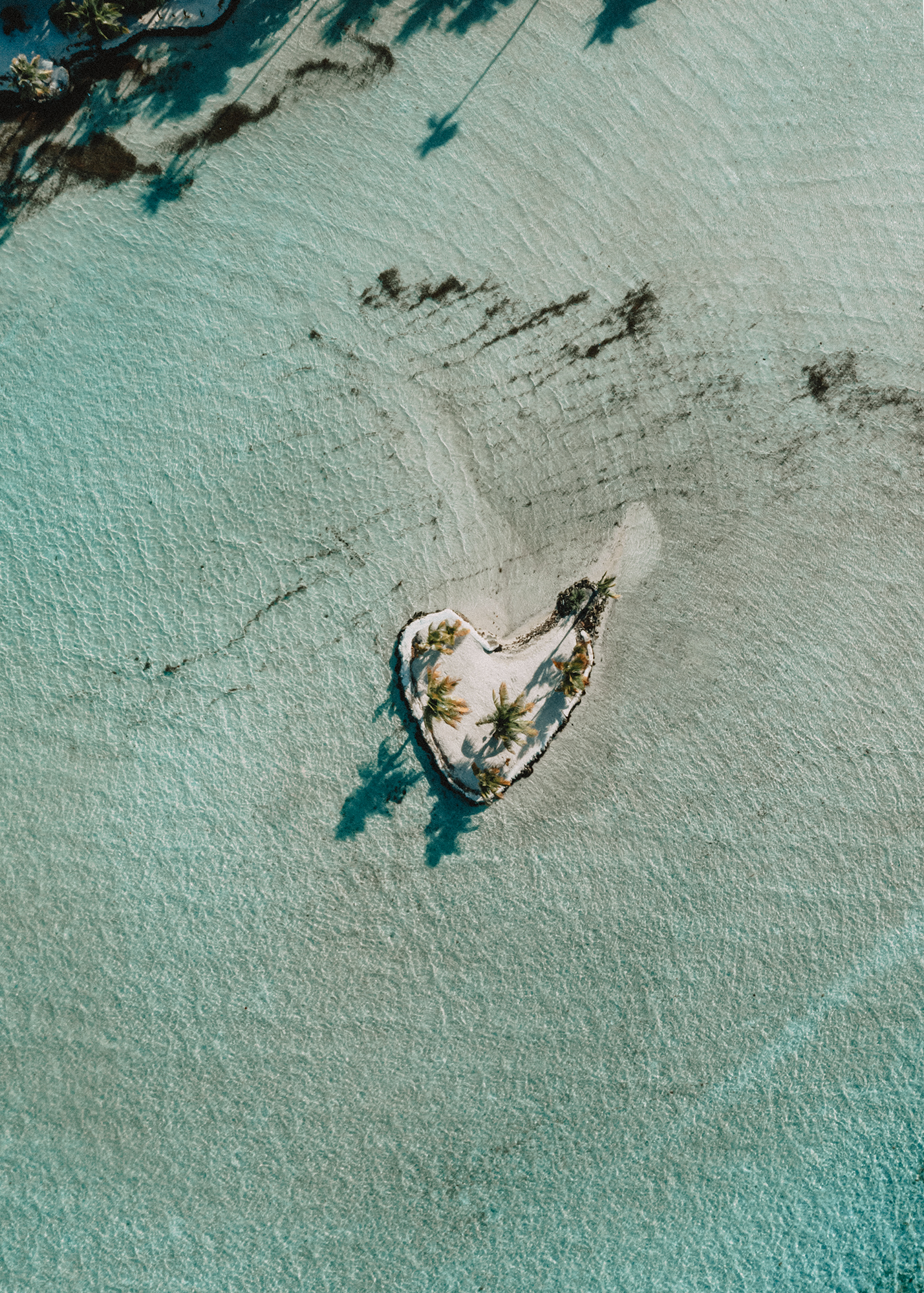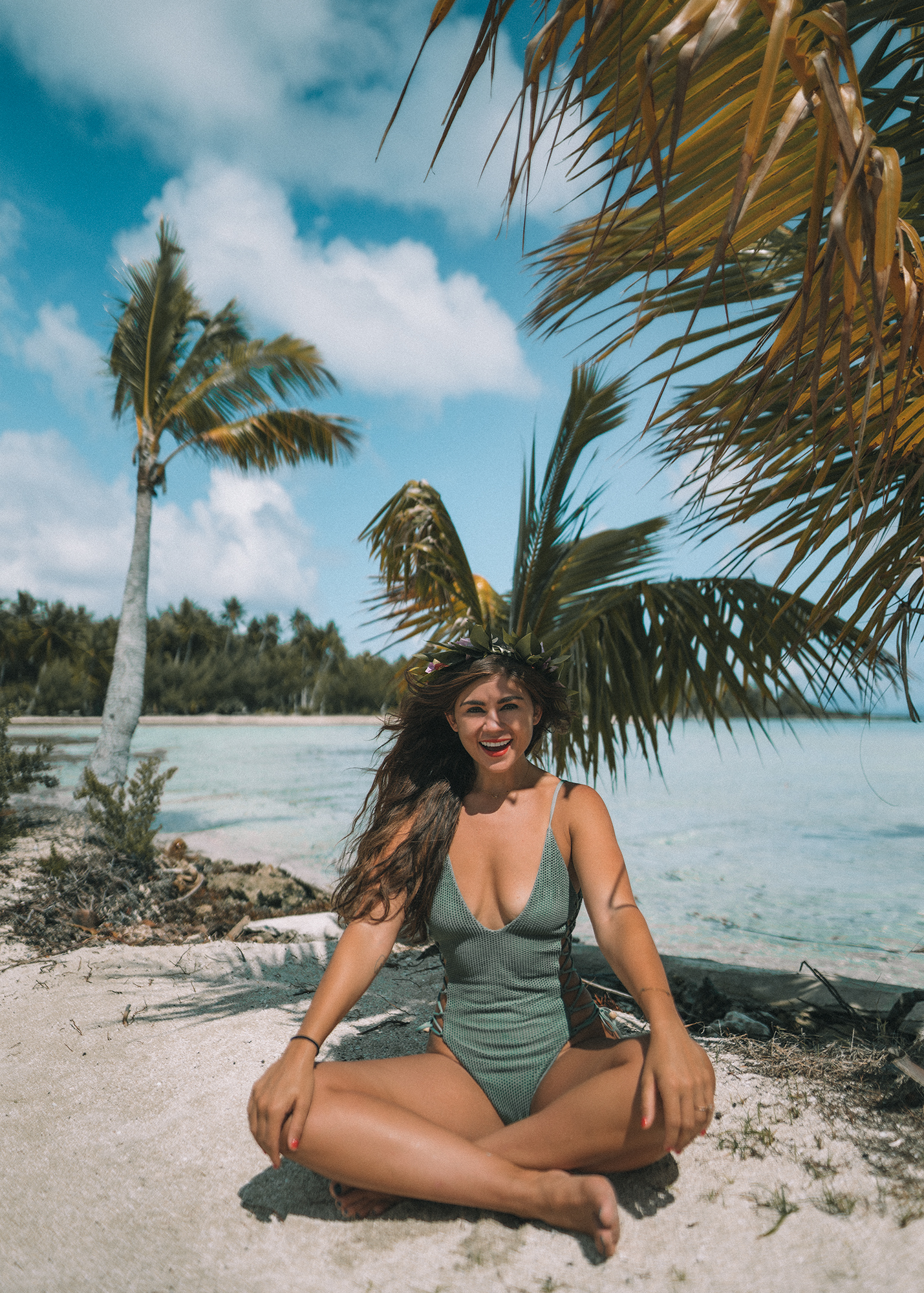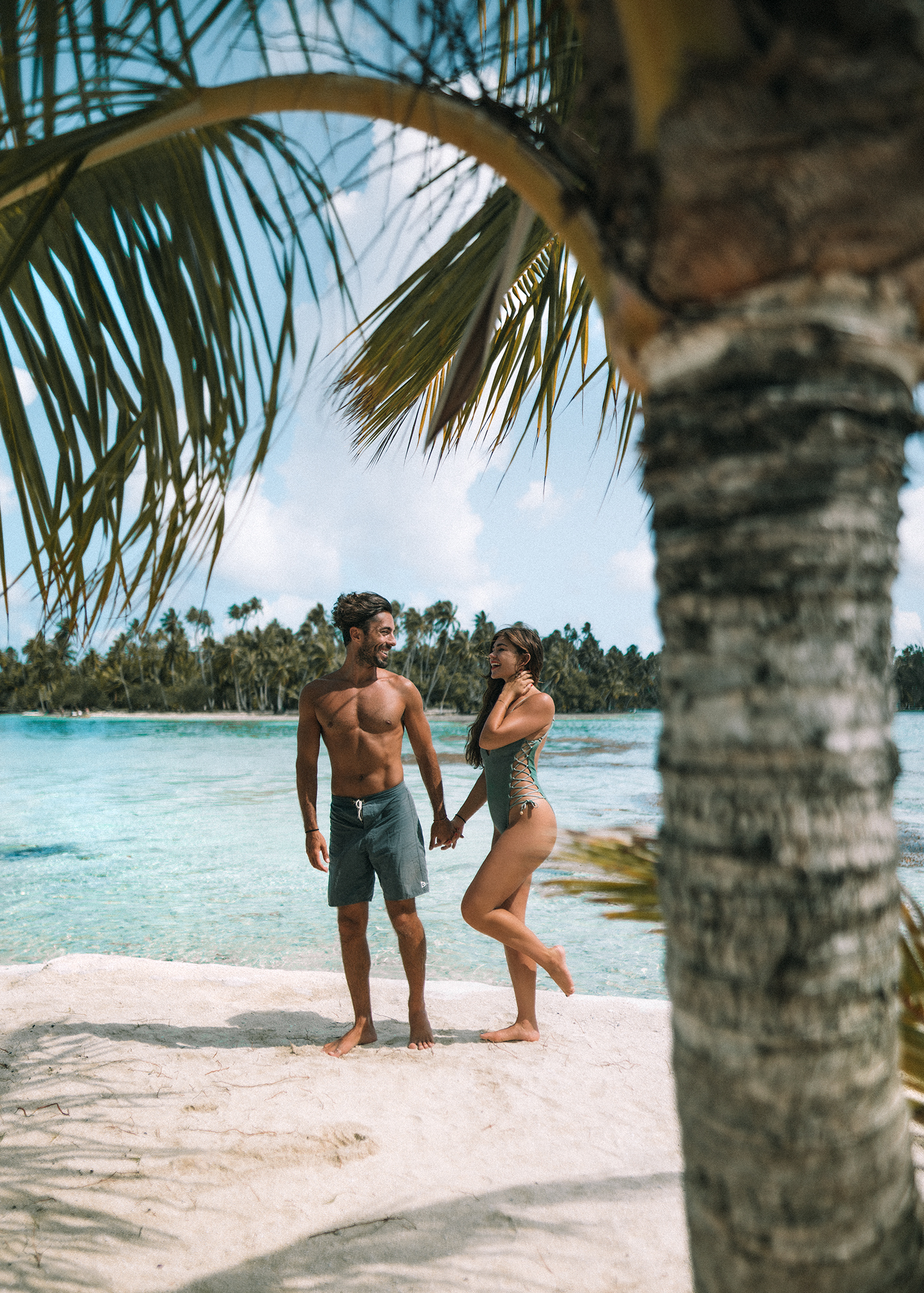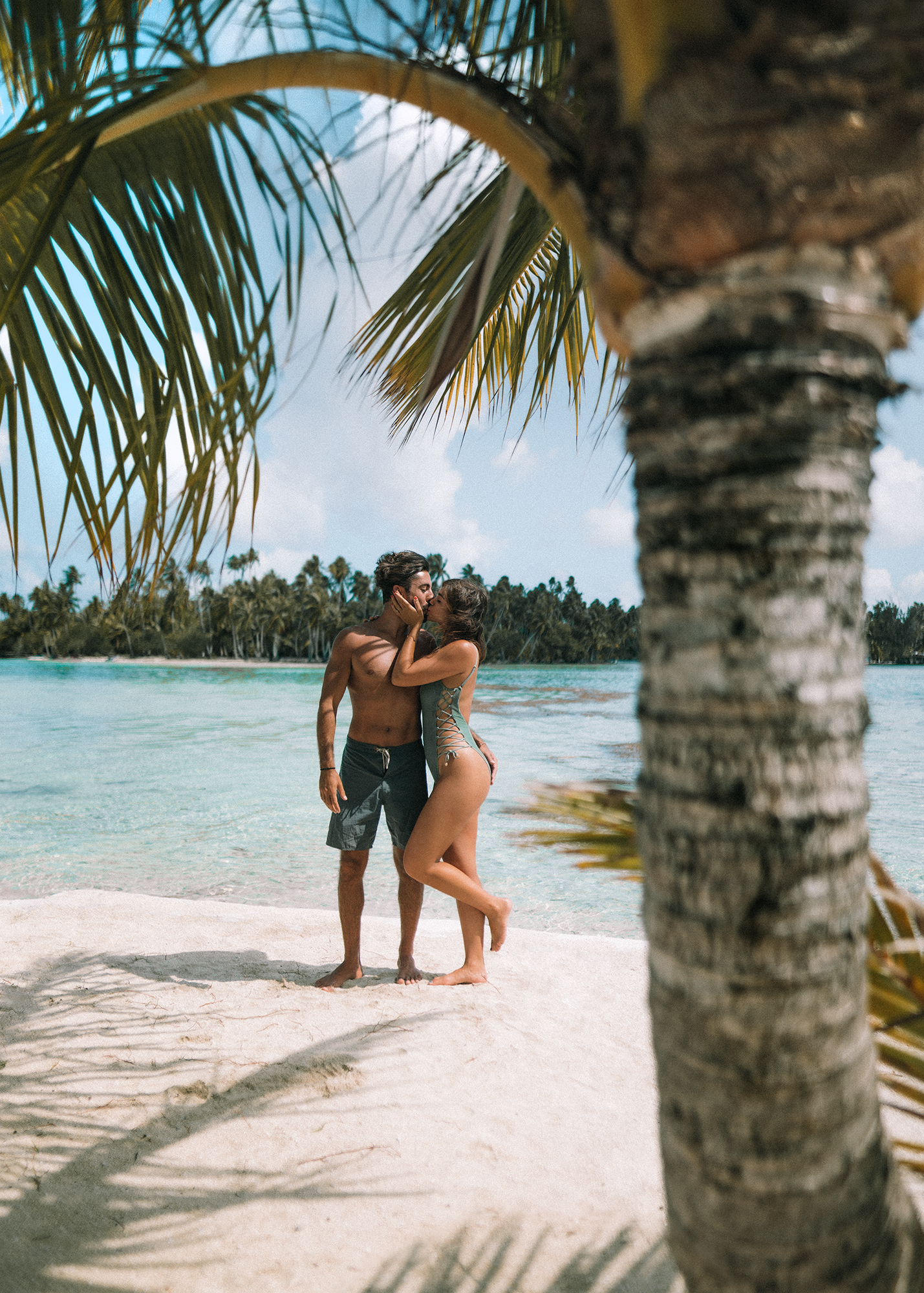 Just a few steps off the beach is this little heart-shaped island, how cute is this? I've heard that the hotel does small wedding/elopement ceremonies out here!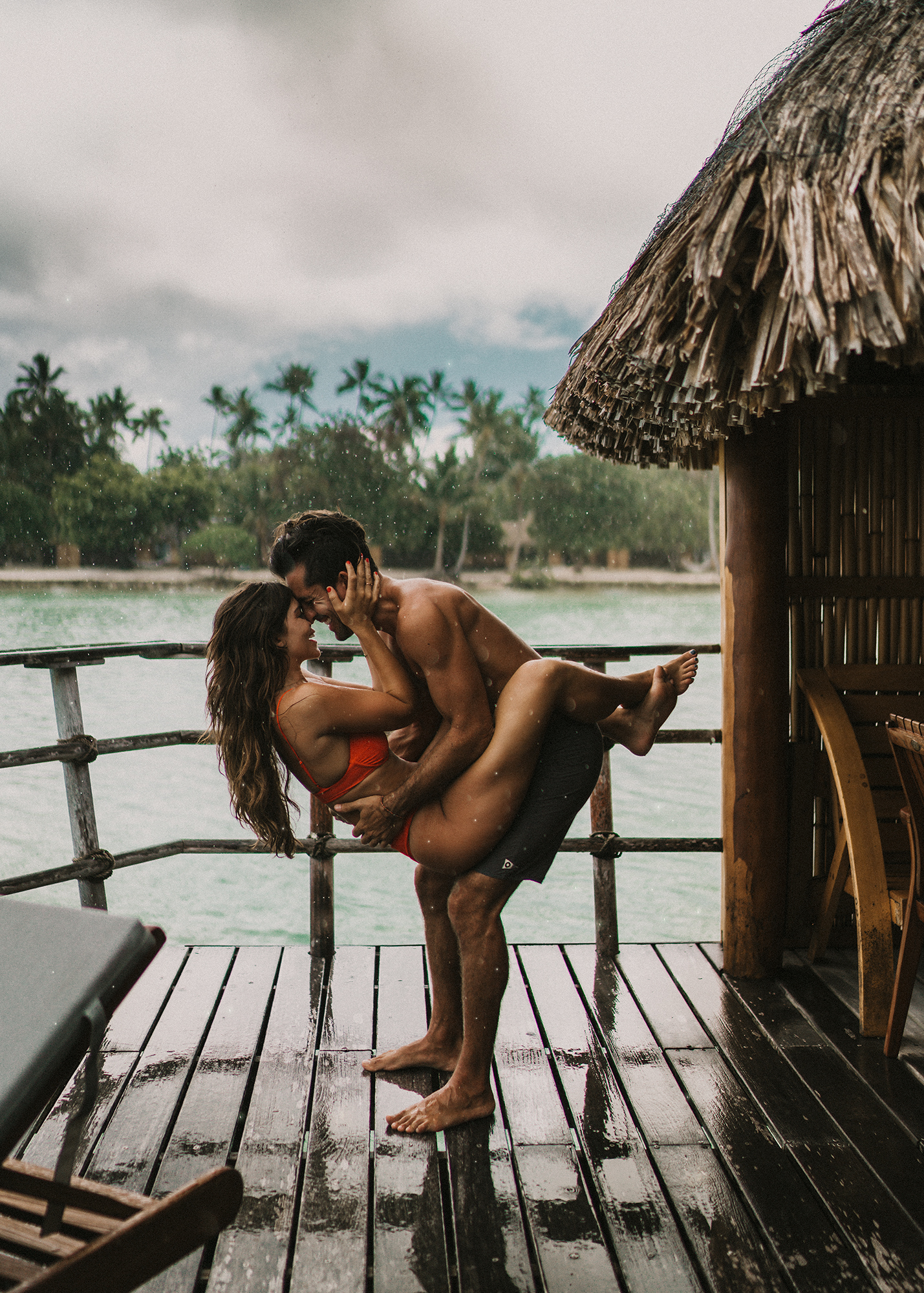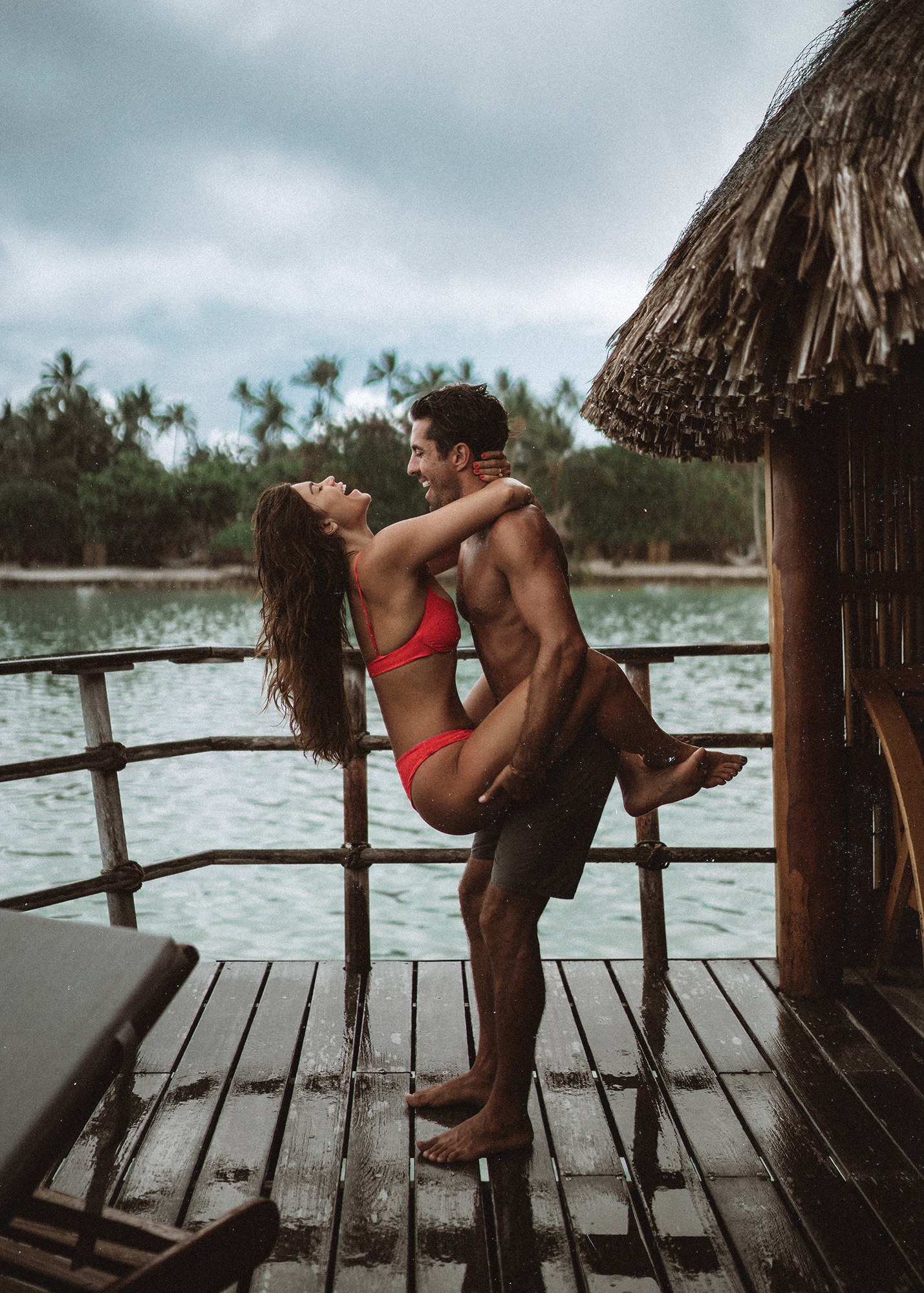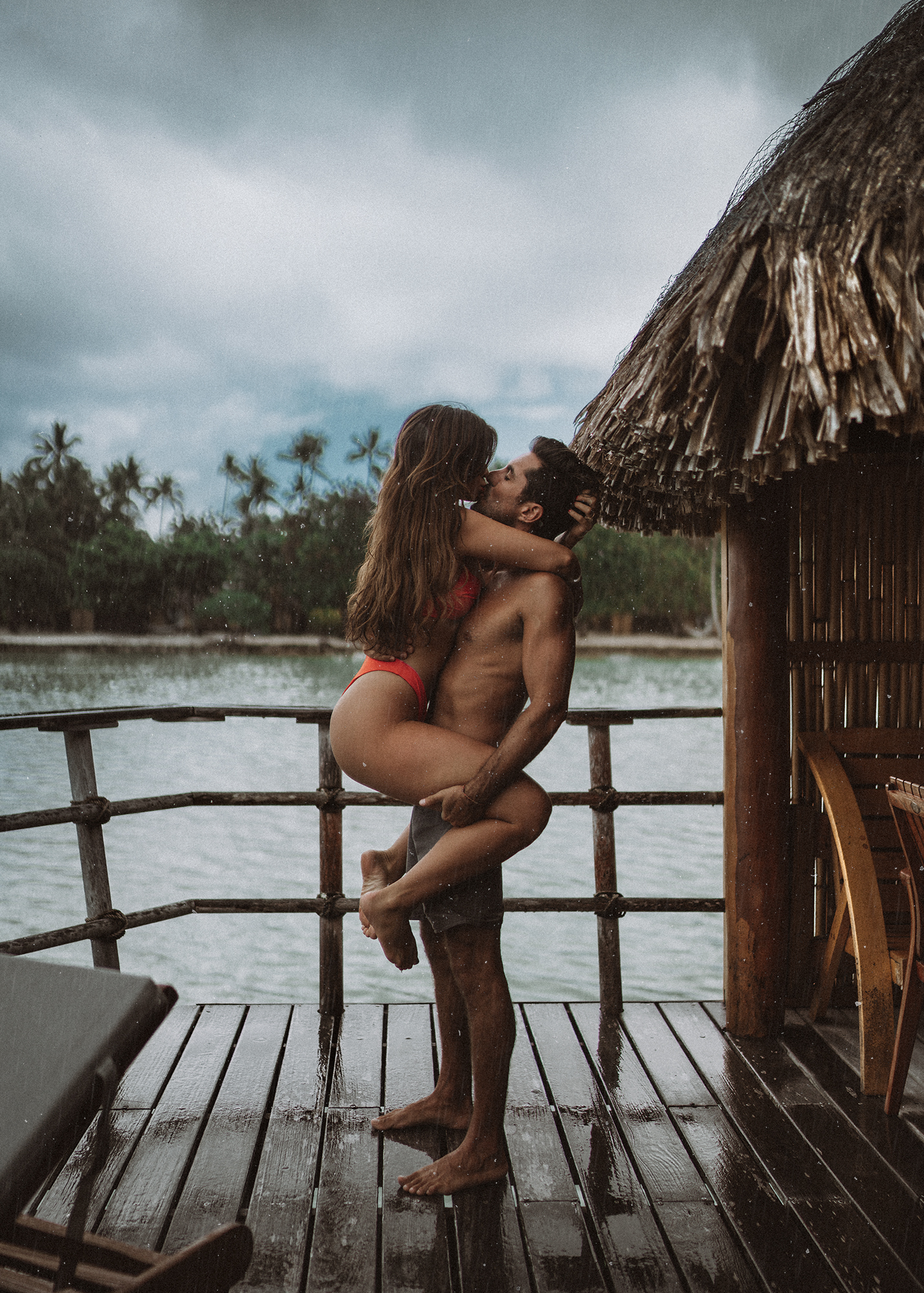 After a day or two of sun, we got caught in a wild, tropical, soaking rain storm, but with the water and the air still being so warm, we didn't let that stop us from enjoying!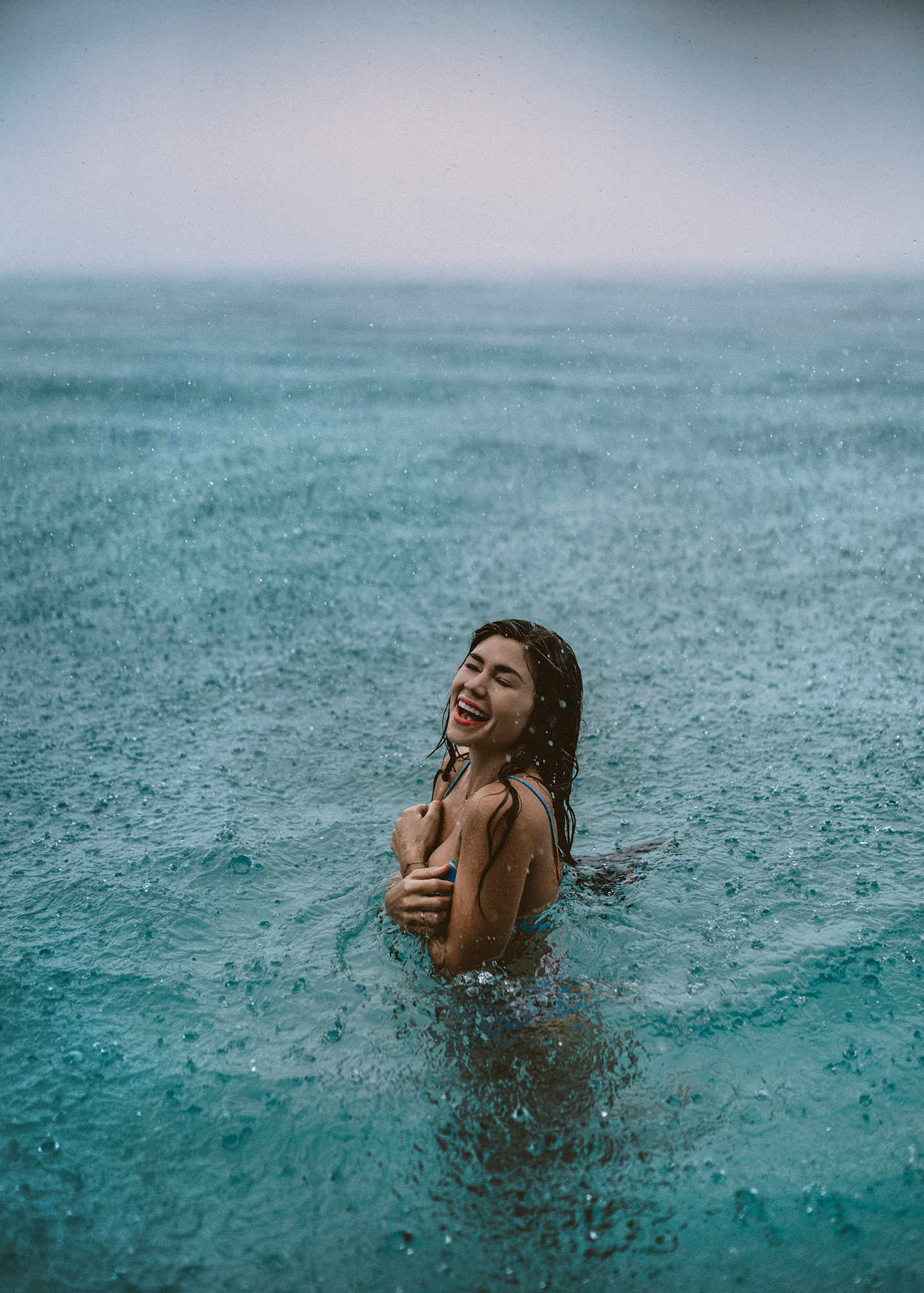 Still my kind of happy place.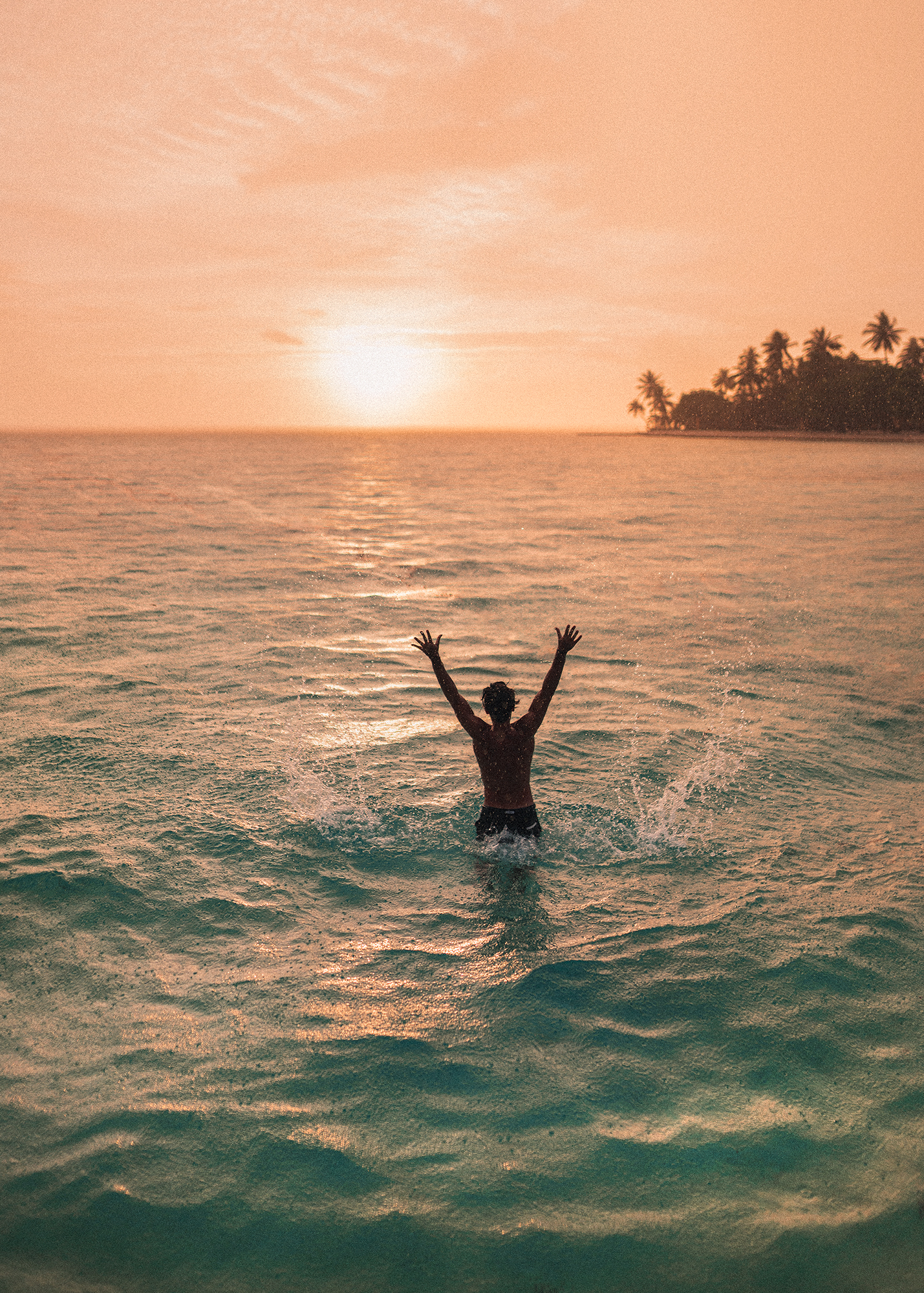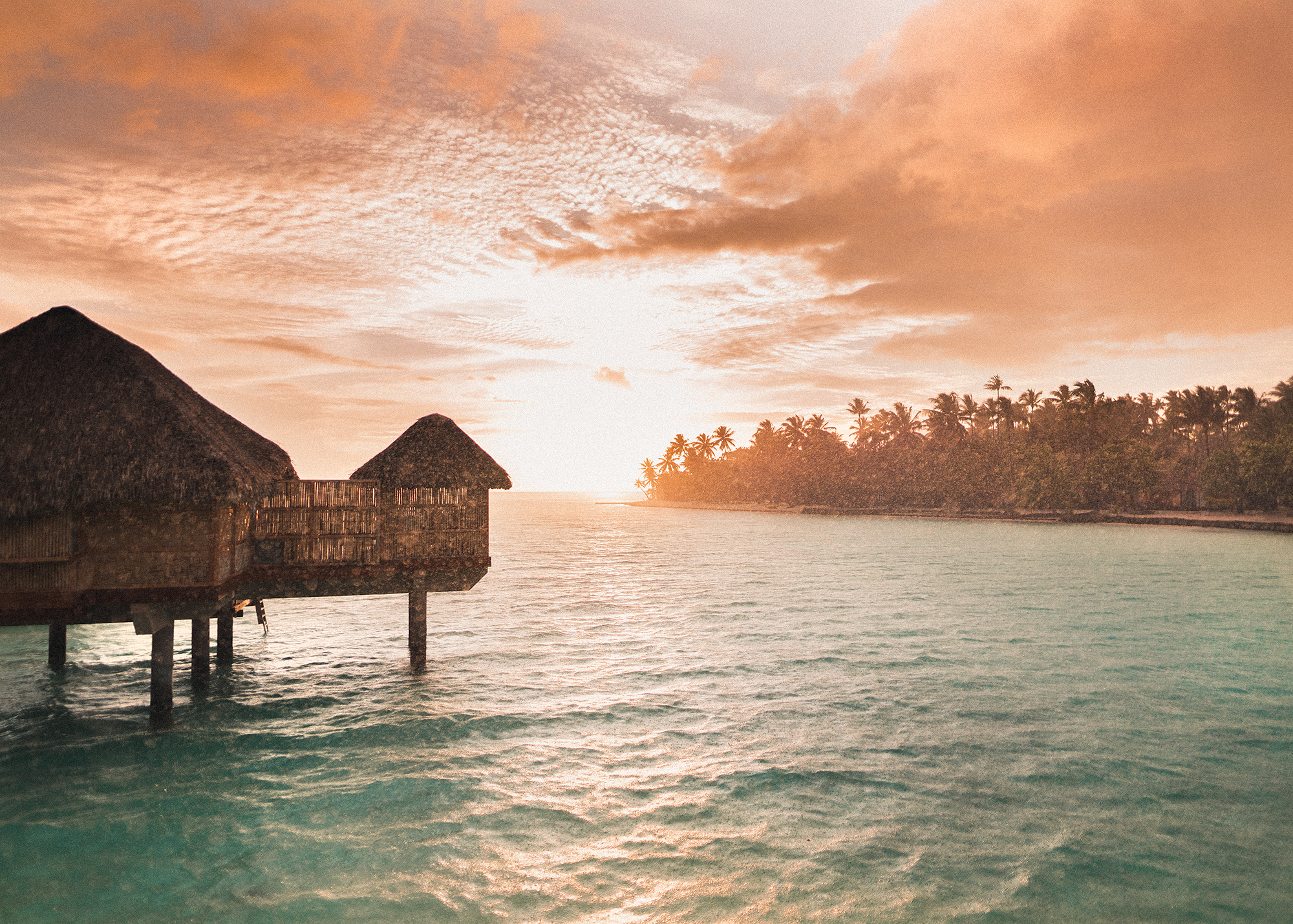 As the sun started setting, it dipped below the storm clouds, creating this glowing, gorgeous, sunset the made all of the rain drops sparkle.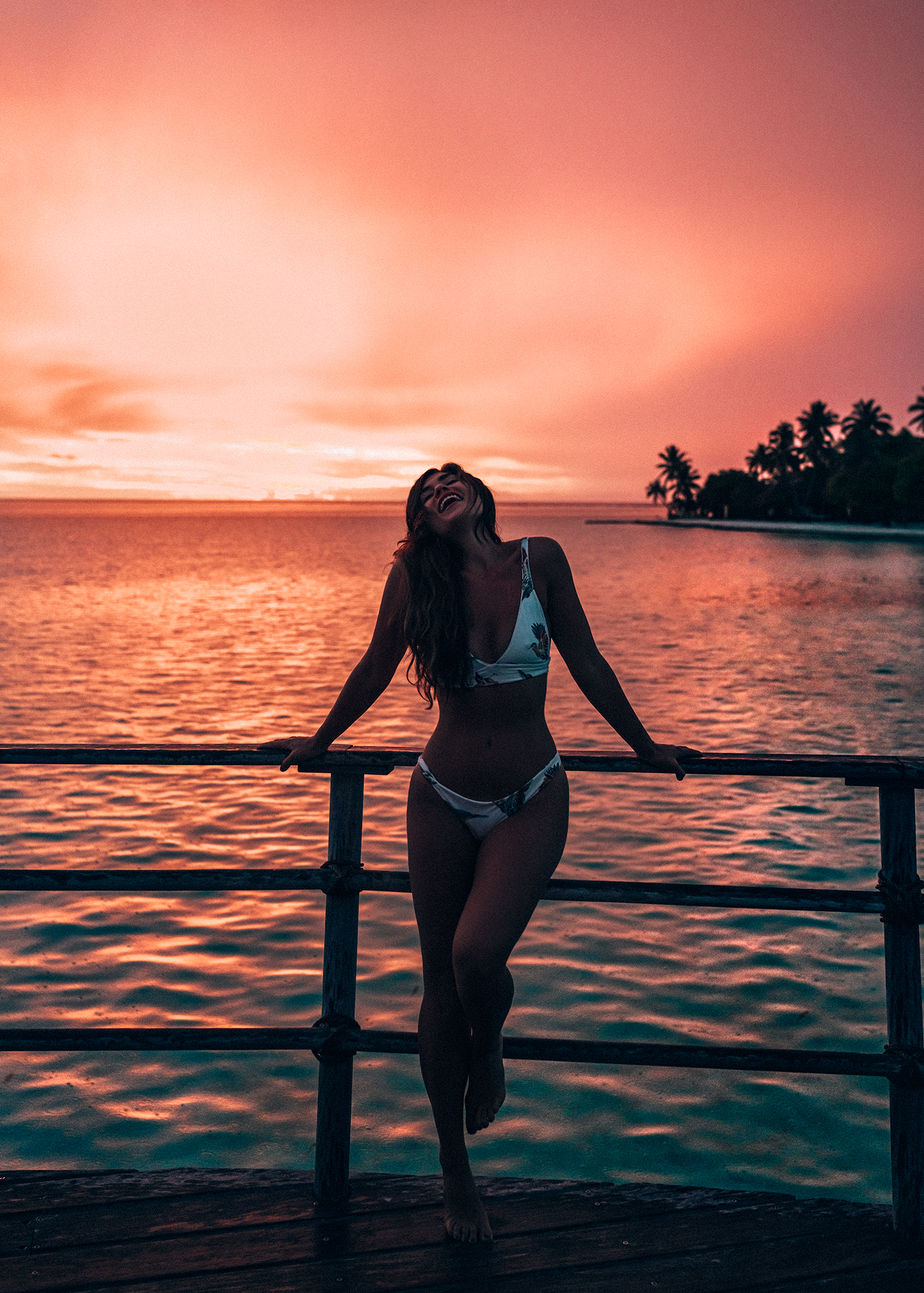 One of the most stunning sunsets I've seen!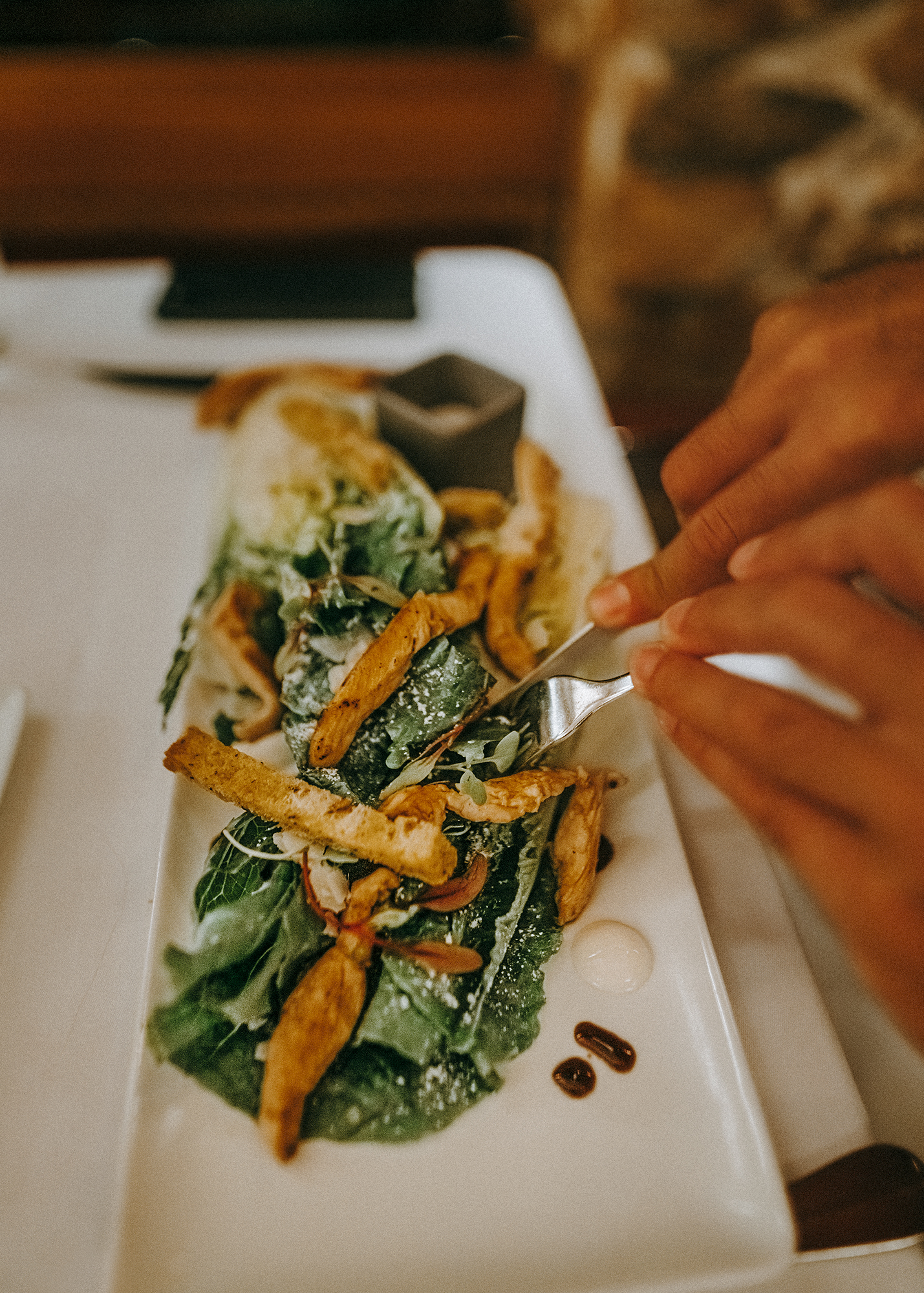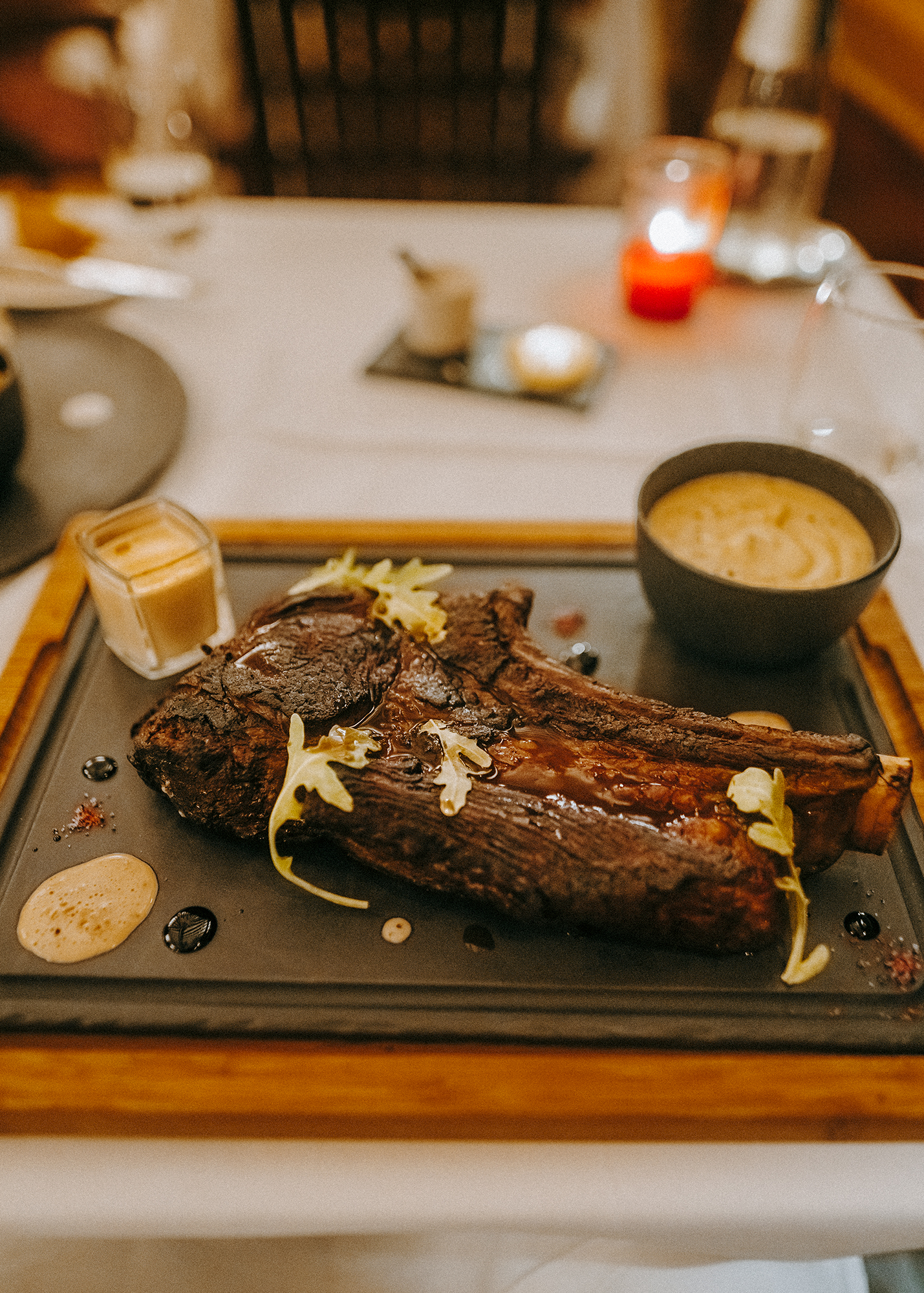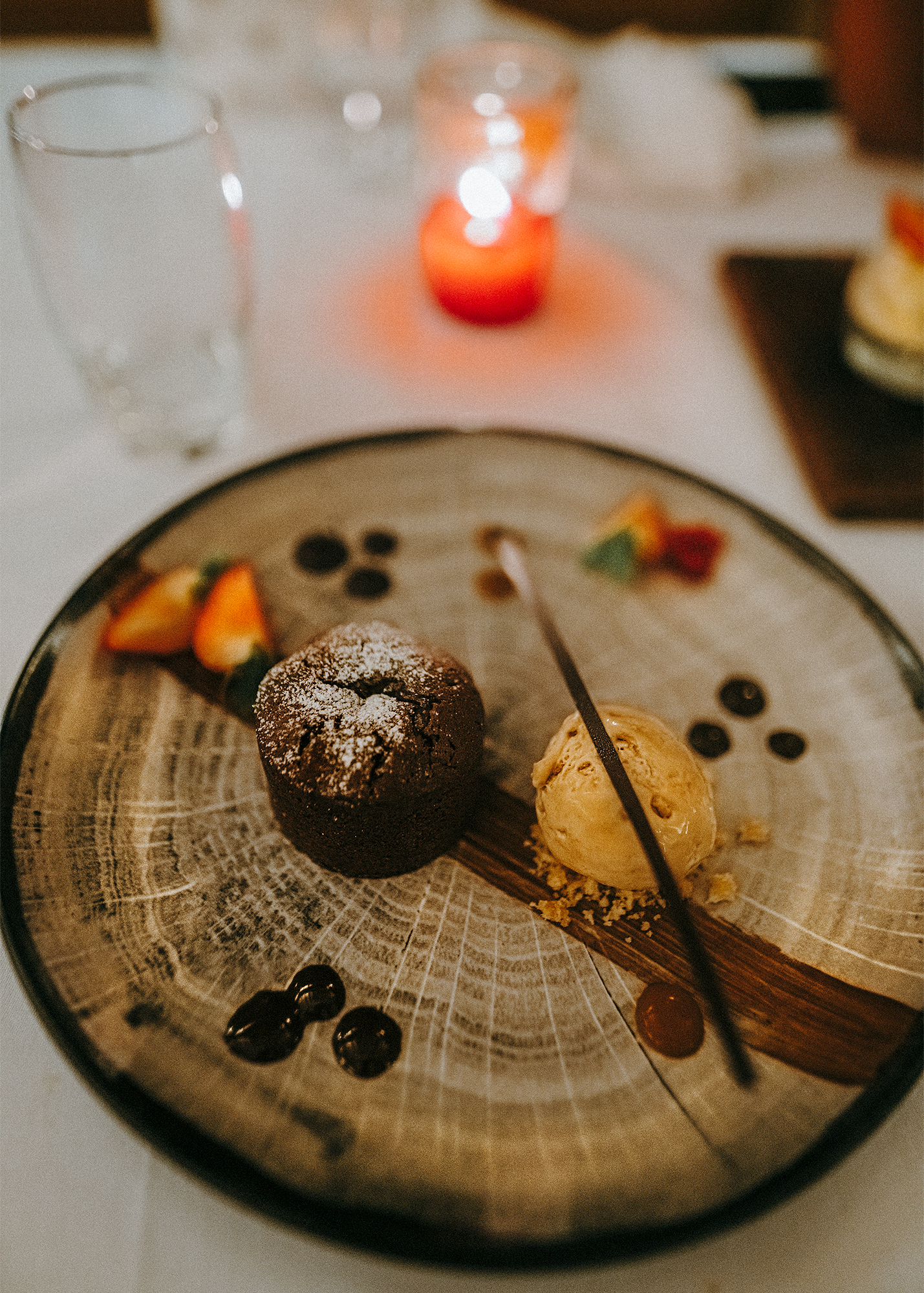 Dinnertime at Le Tahaa's Le Vanille fine dining restaurant! Here we have a raw fish starter, Caesar salad, rib eye steak (Brandon's favorite choice, always) and a chocolate soufflé dessert.
The stars out on these islands were amazing - there's hardly a more remote place in the world. We shot this off our room's deck with a tripod and a long exposure. Read more about our photography gear here!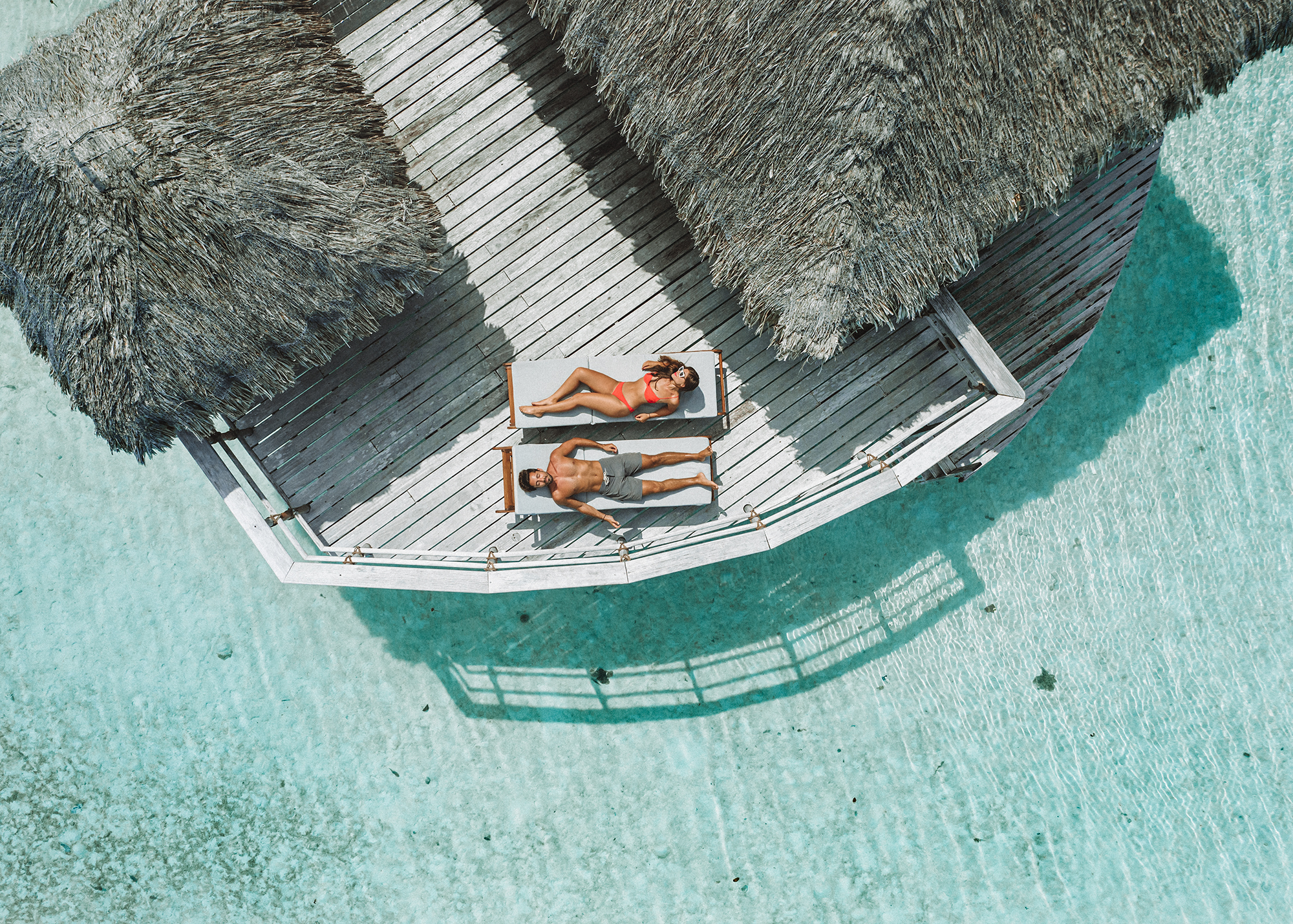 And good morning!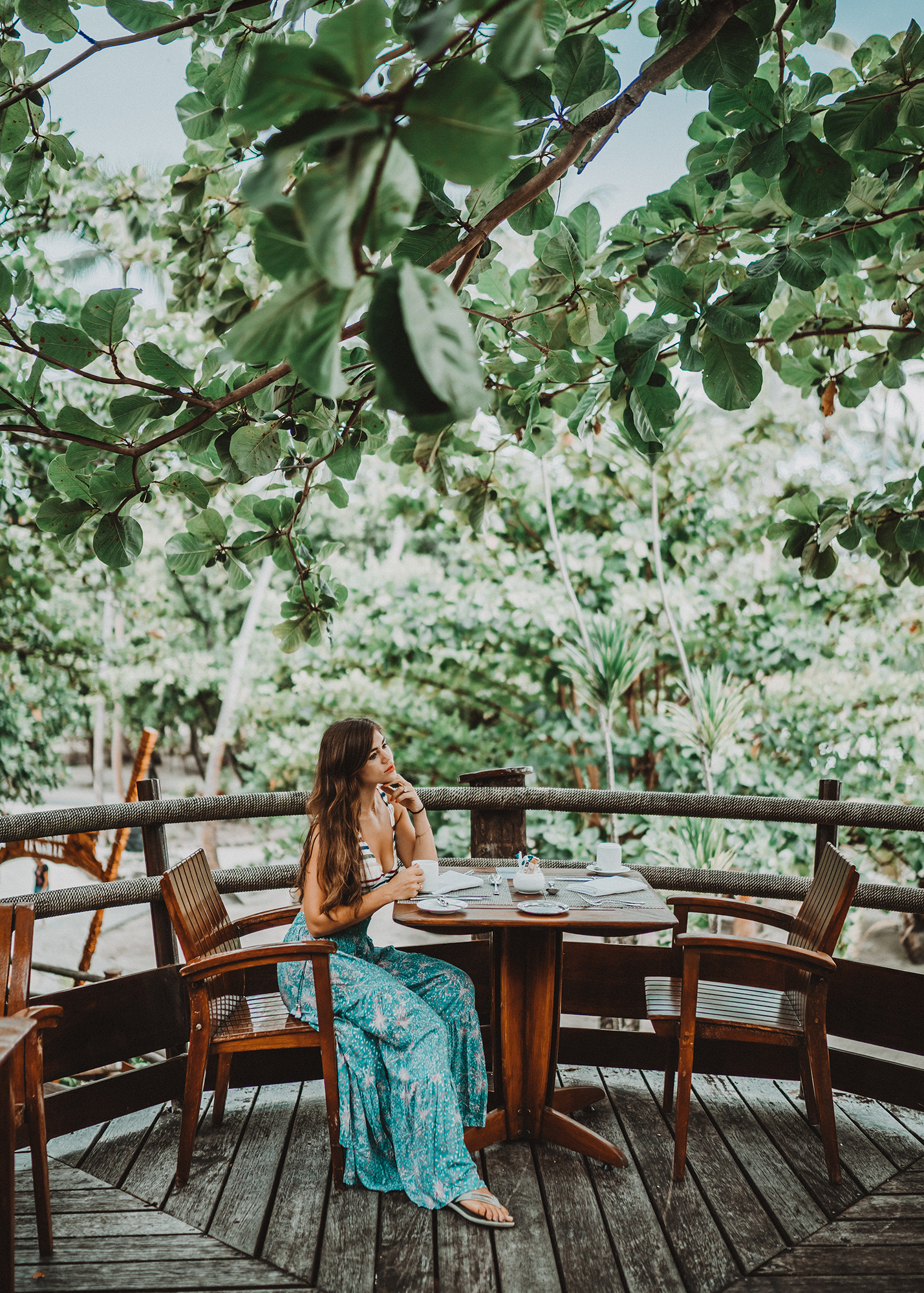 Outdoor breakfast at the main restaurant's treehouse-feeling deck.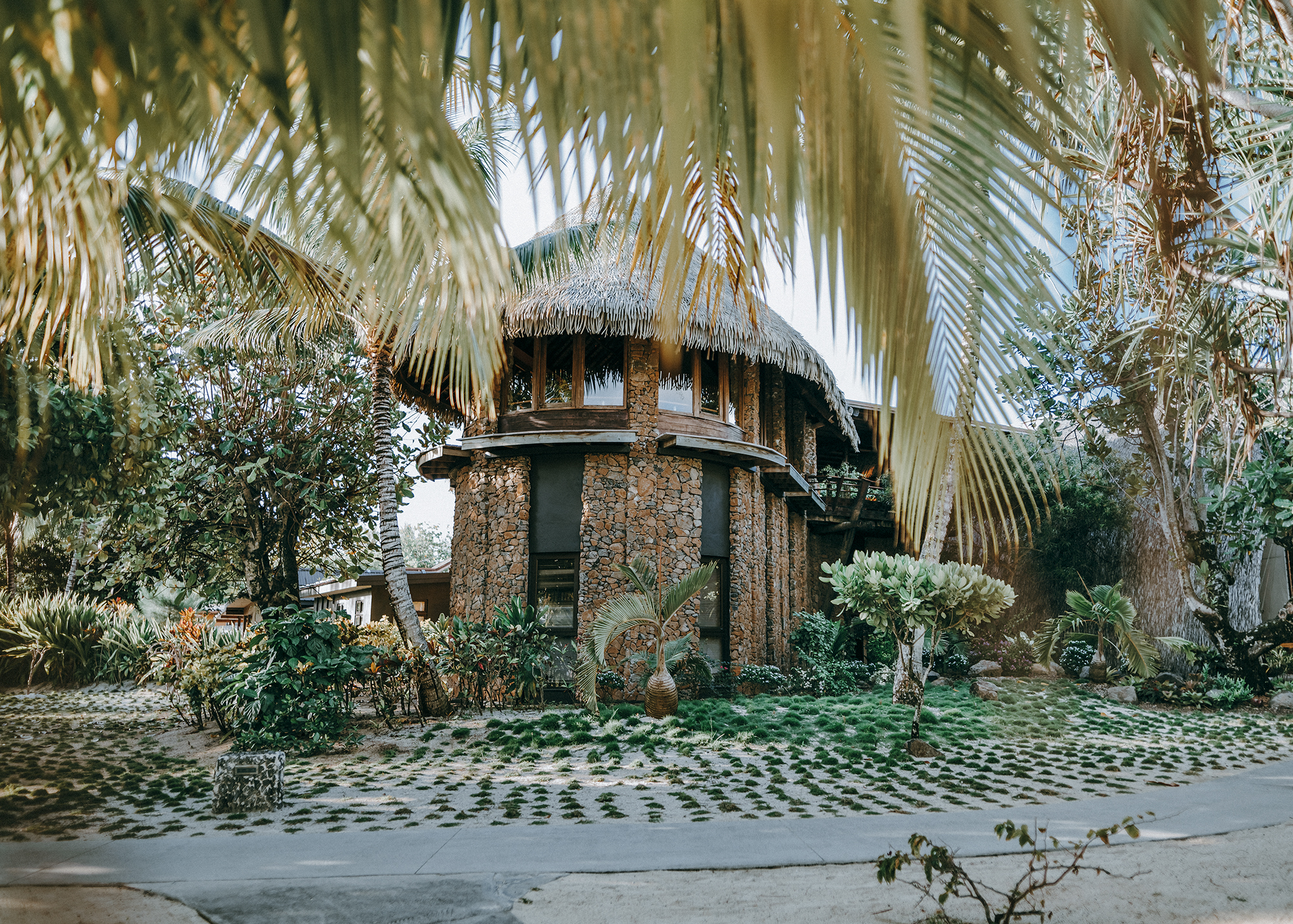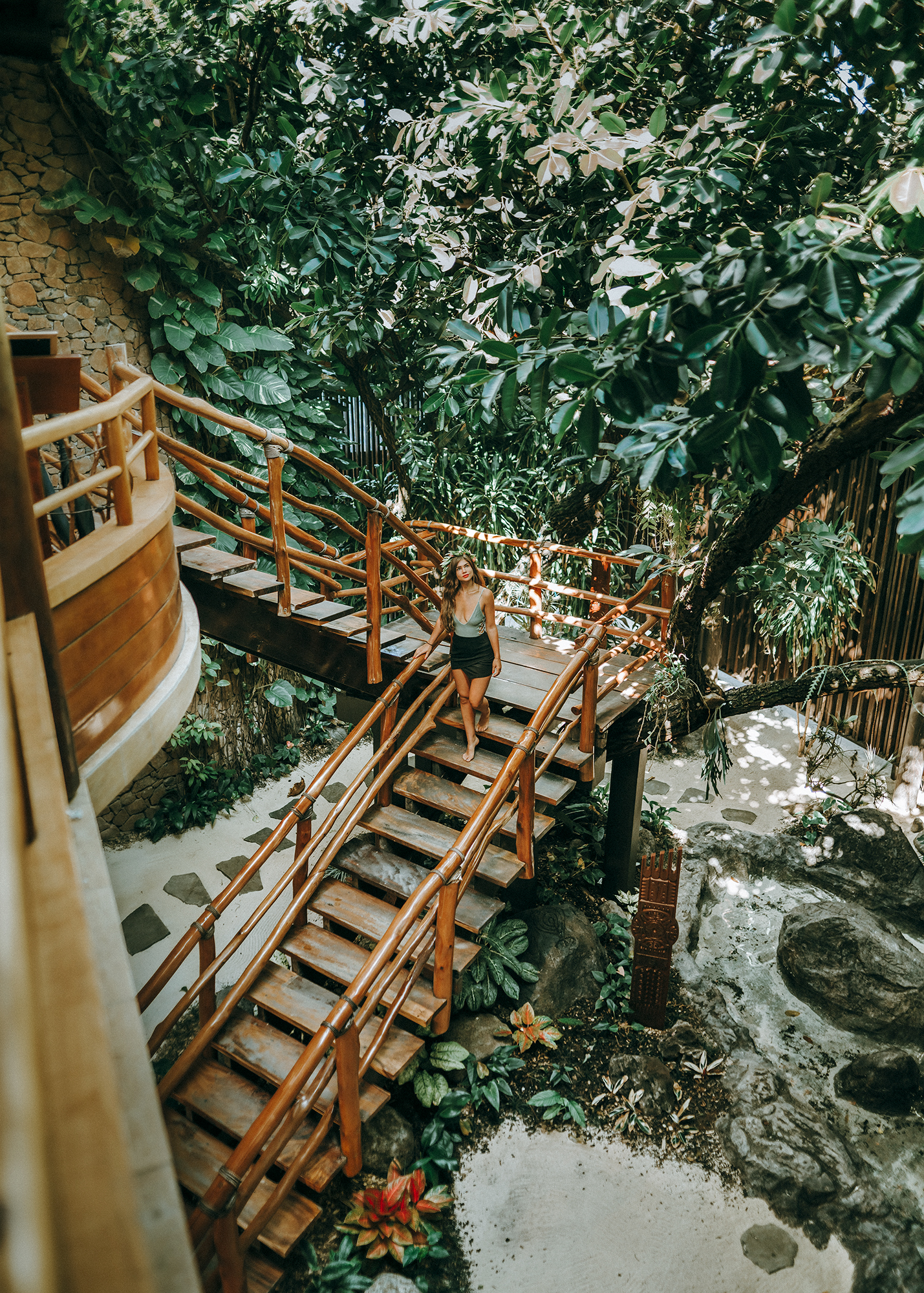 I loved the treetop feelings and Robinson Crusoe vibes in the architecture around the restaurant and lobby areas.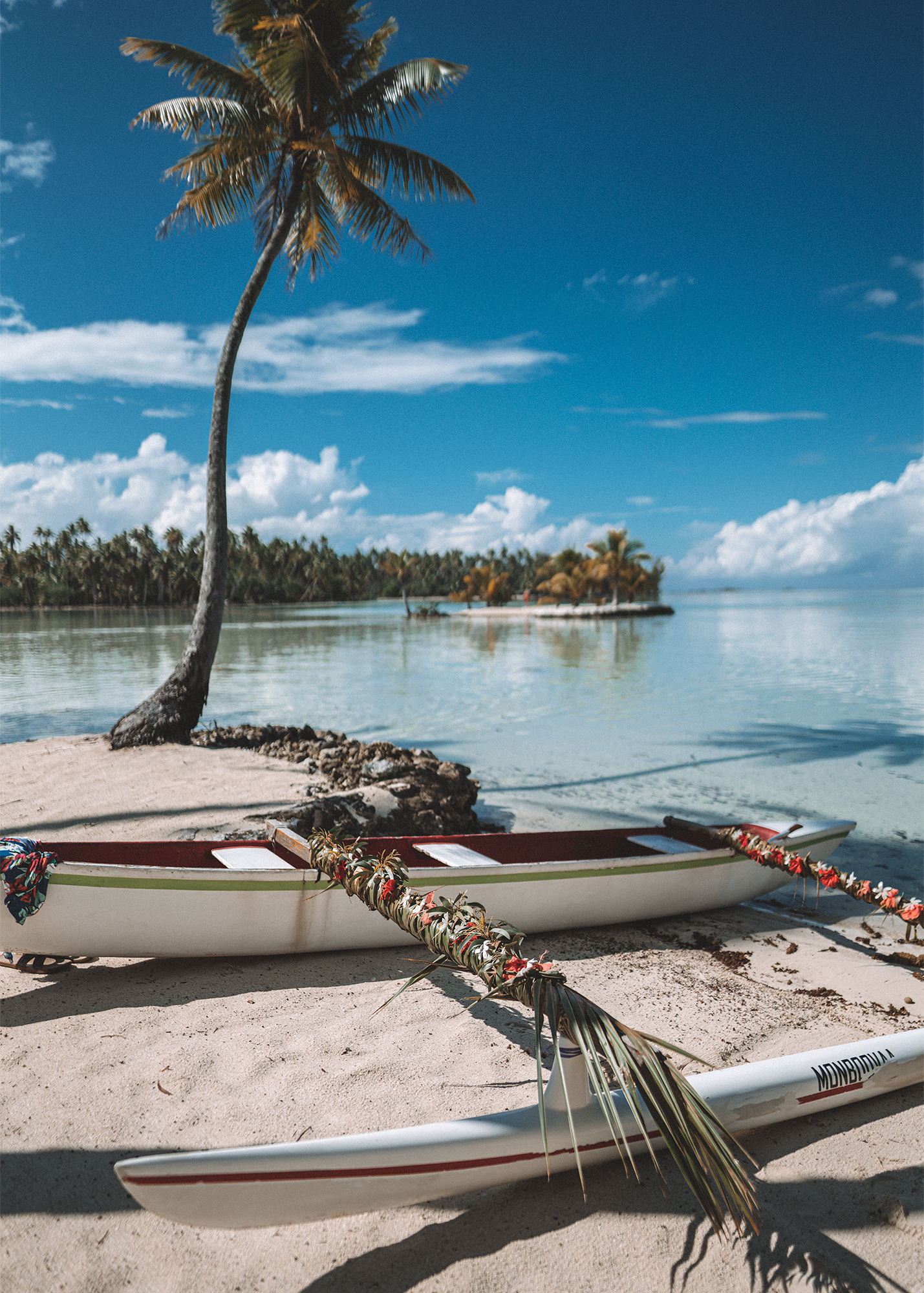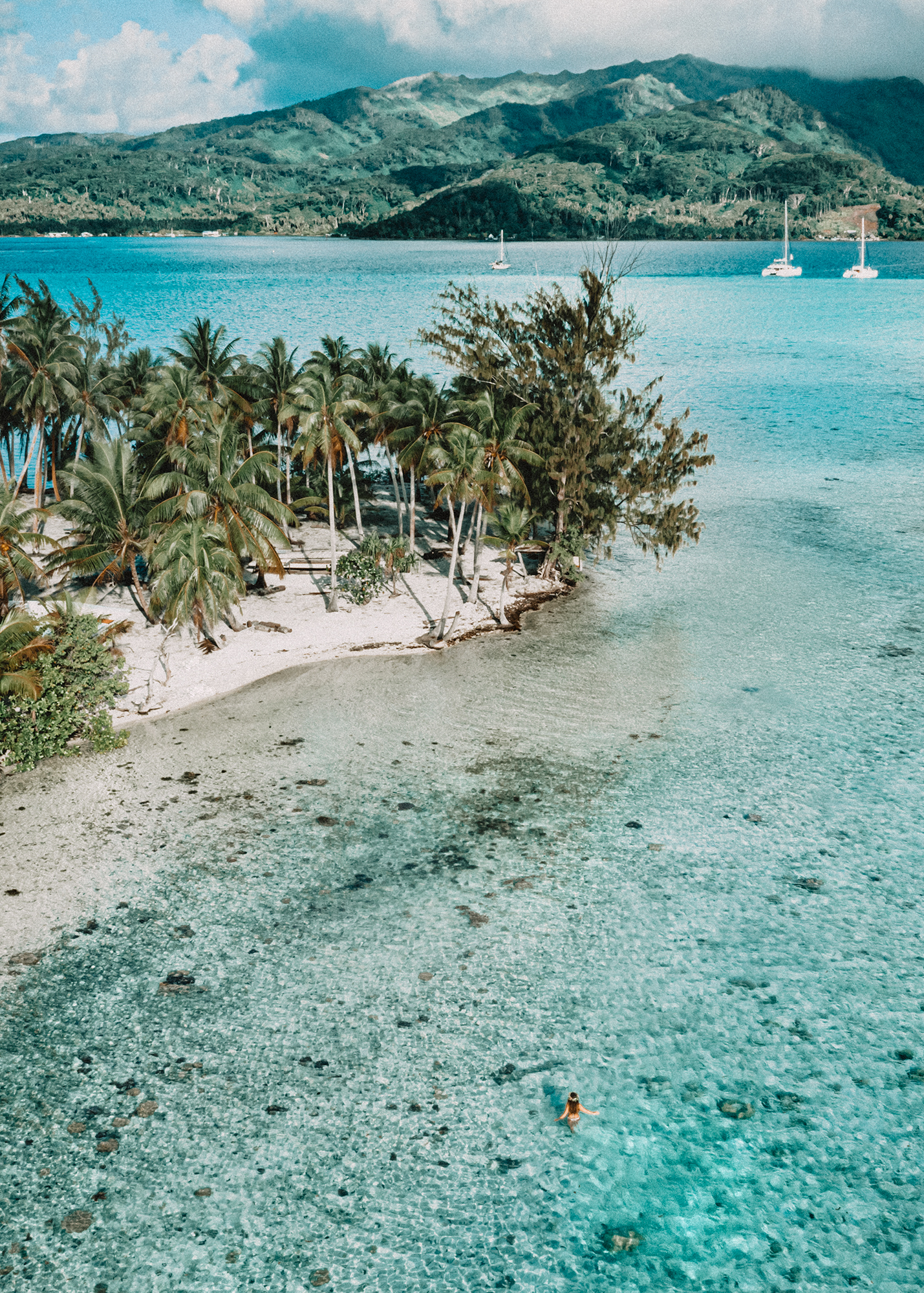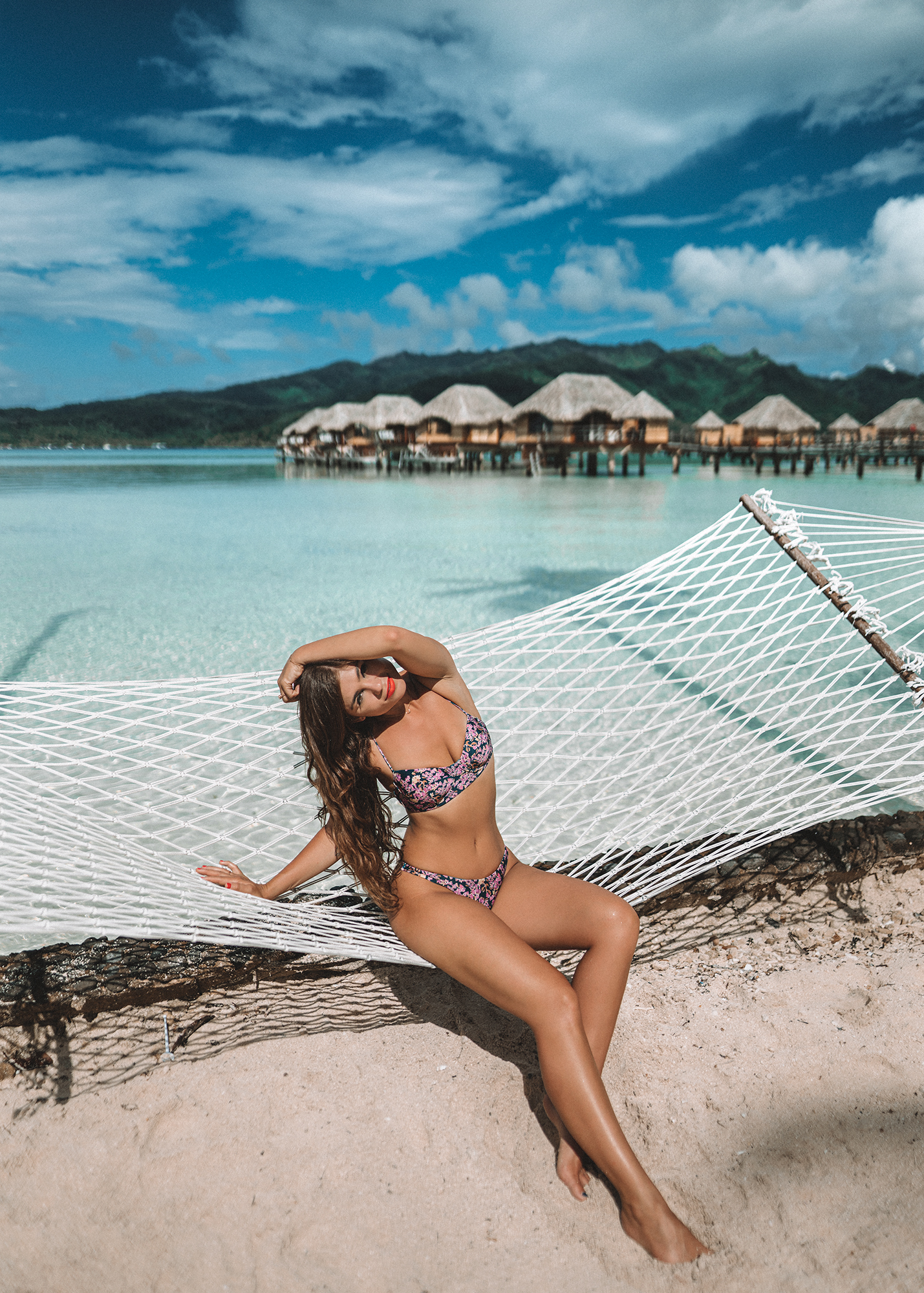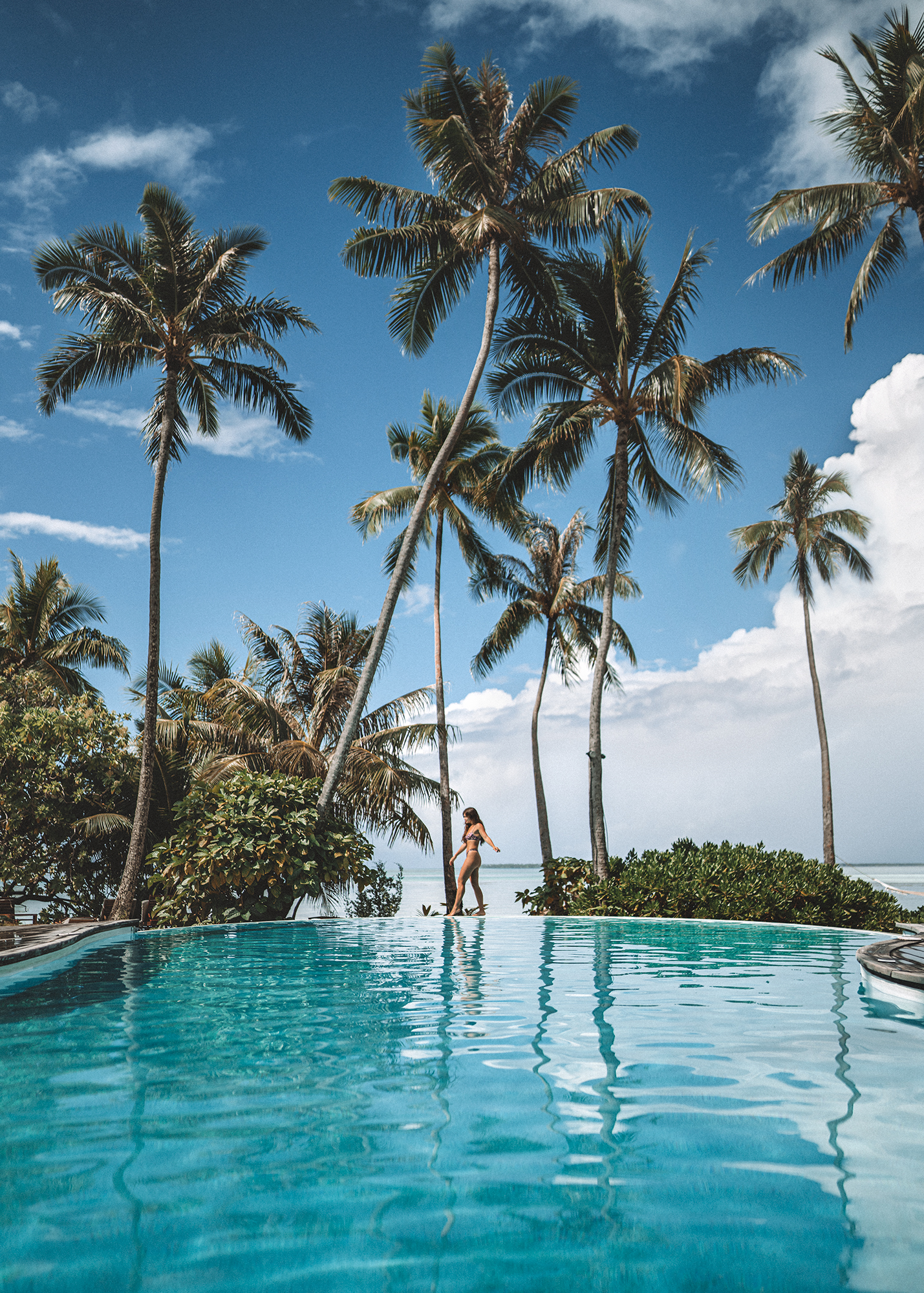 There is really nothing better than sunny island days.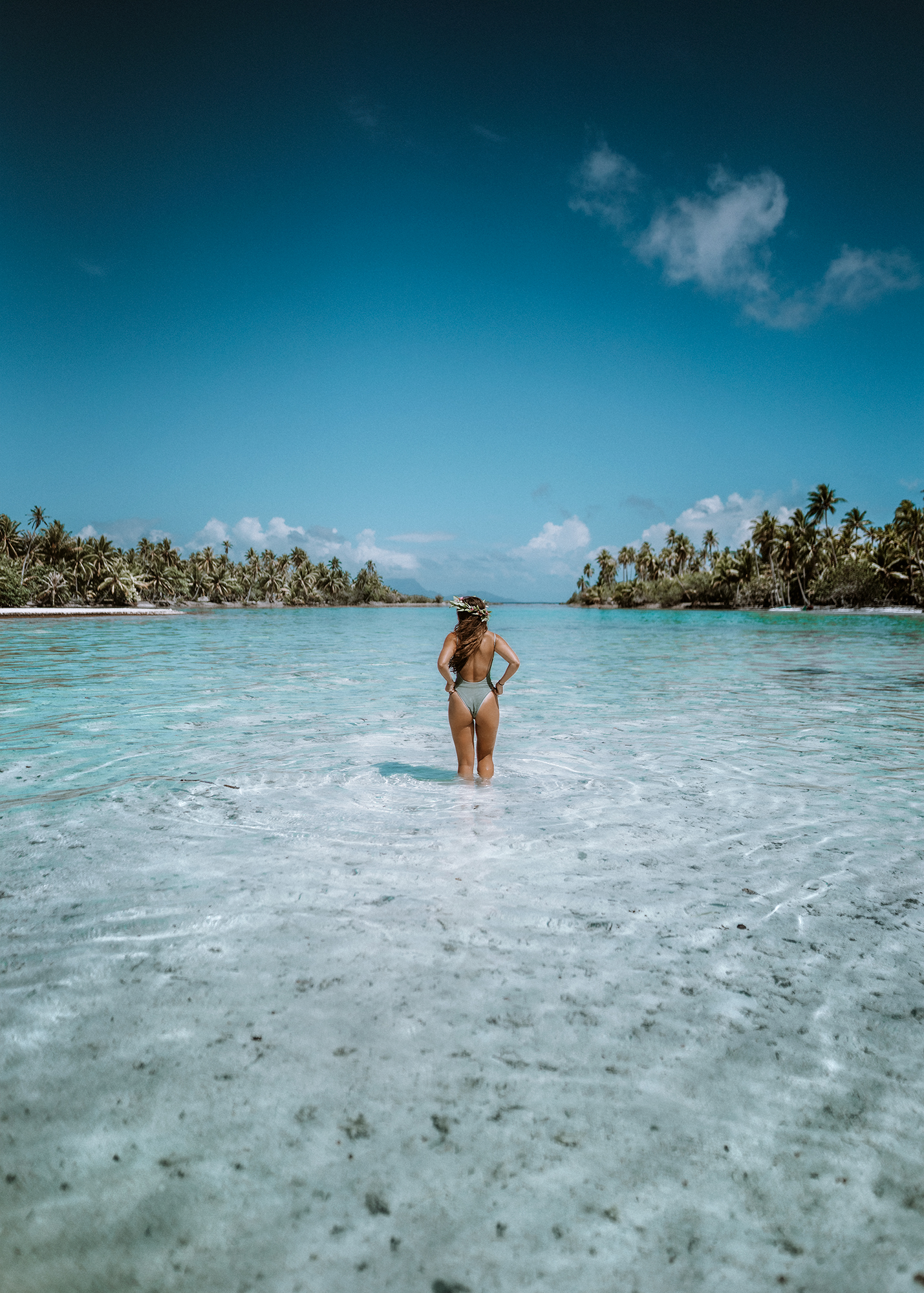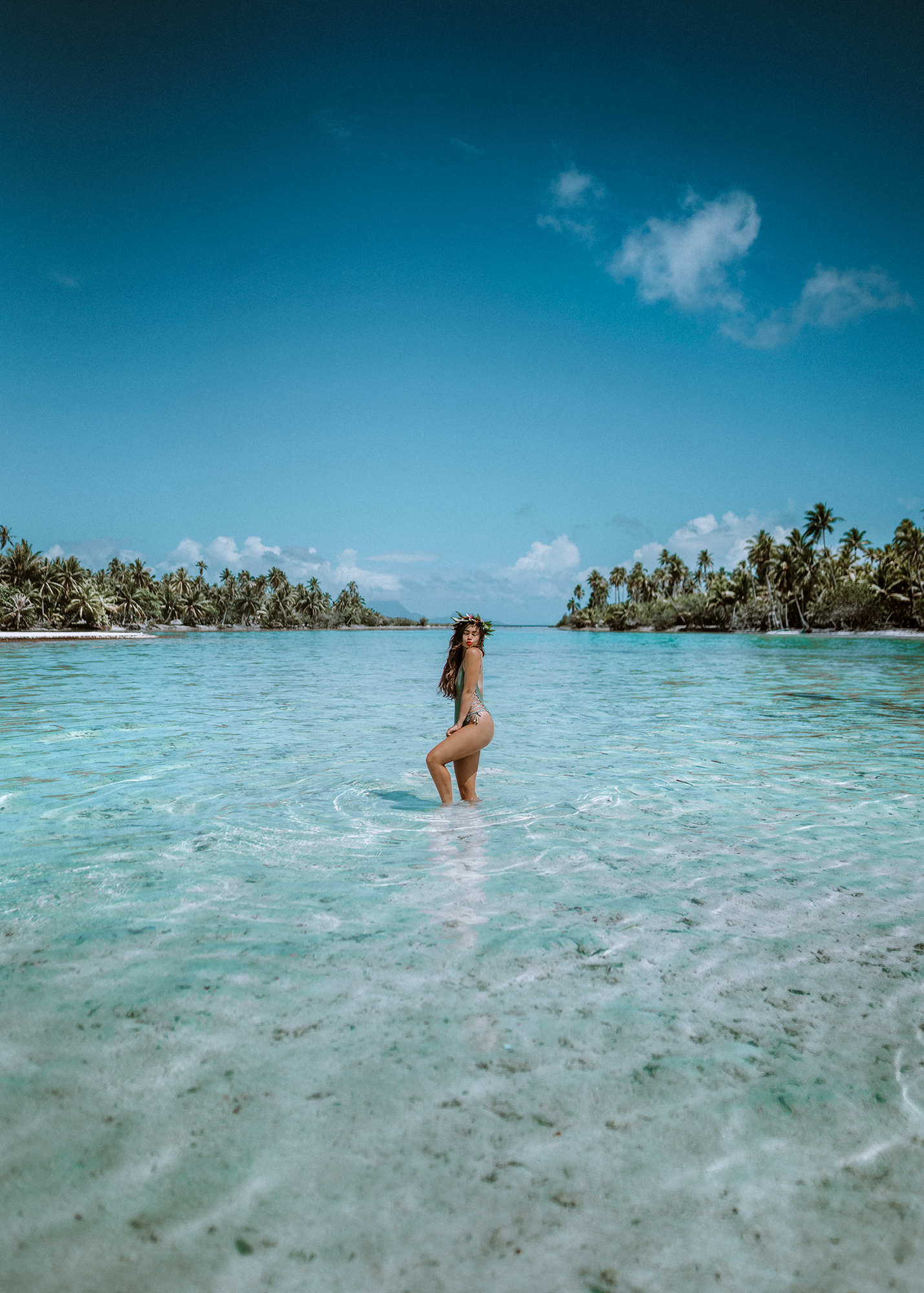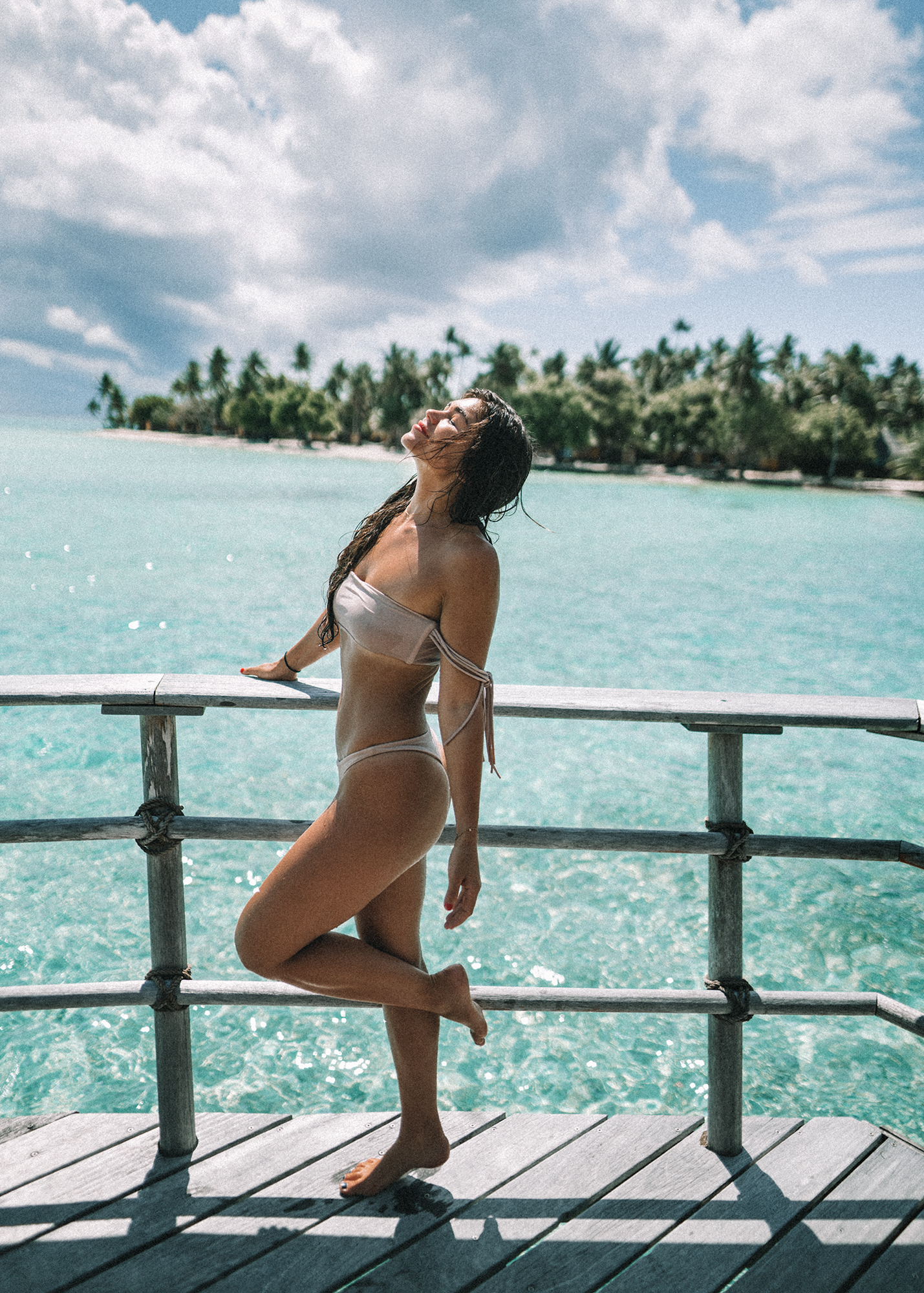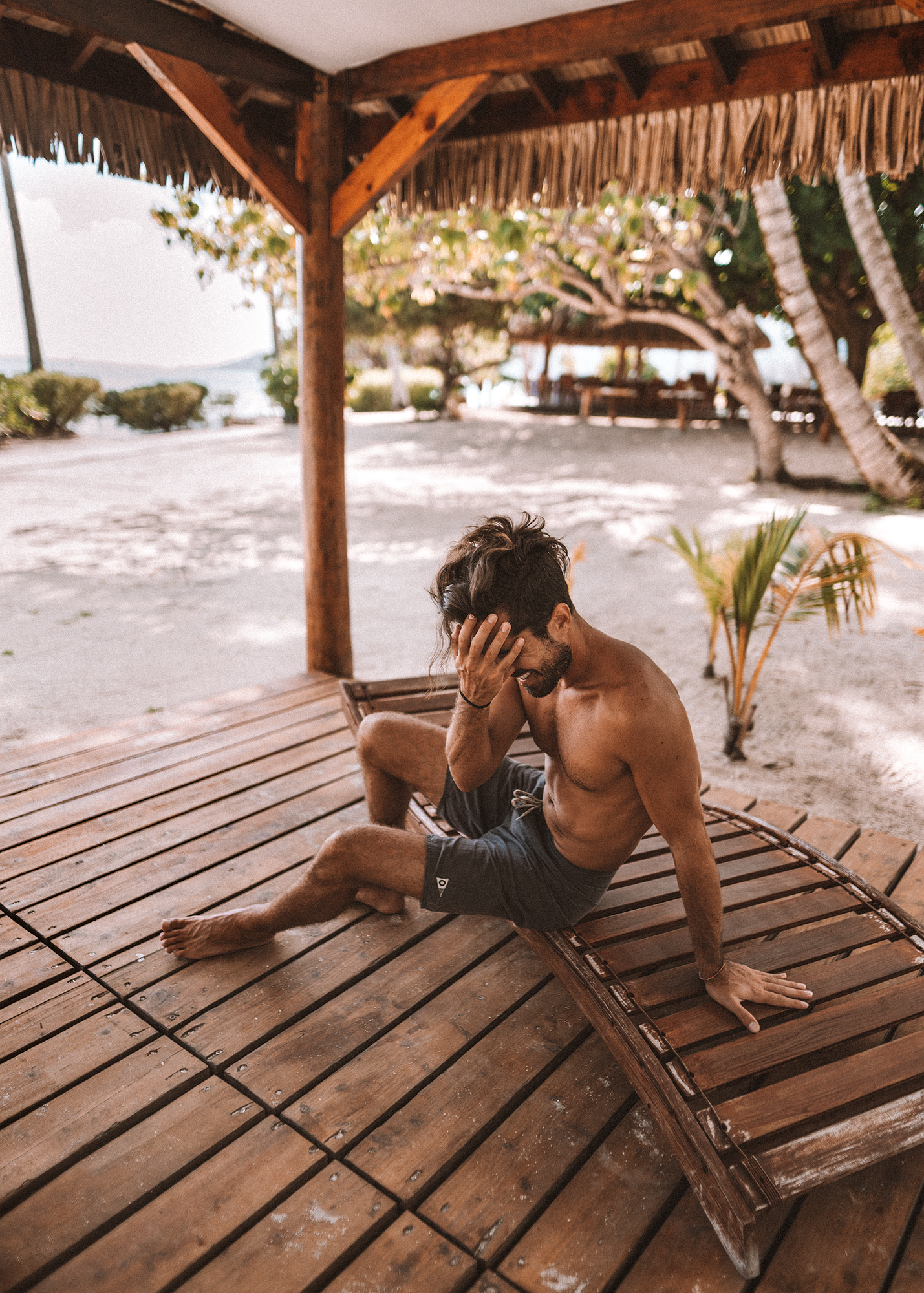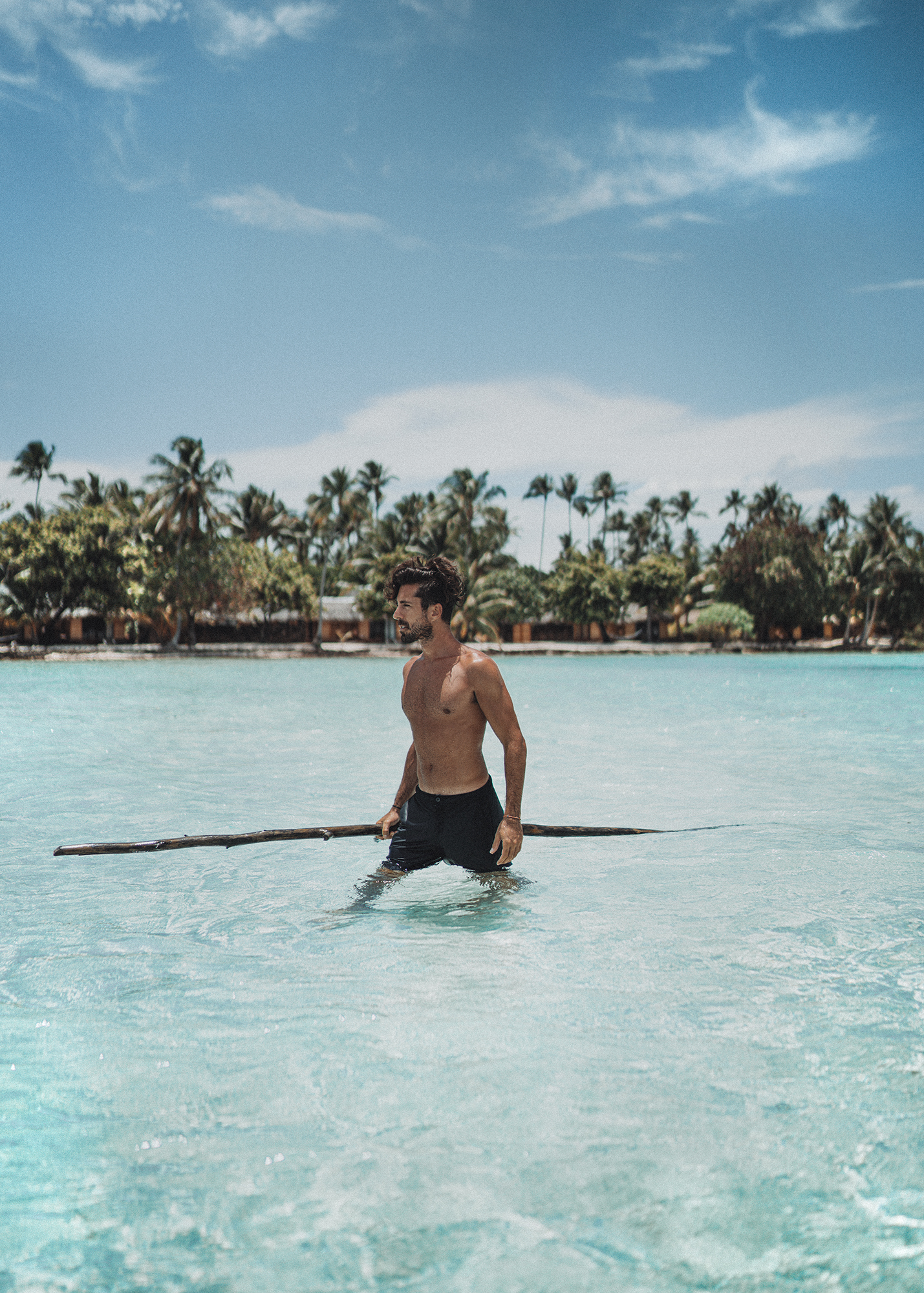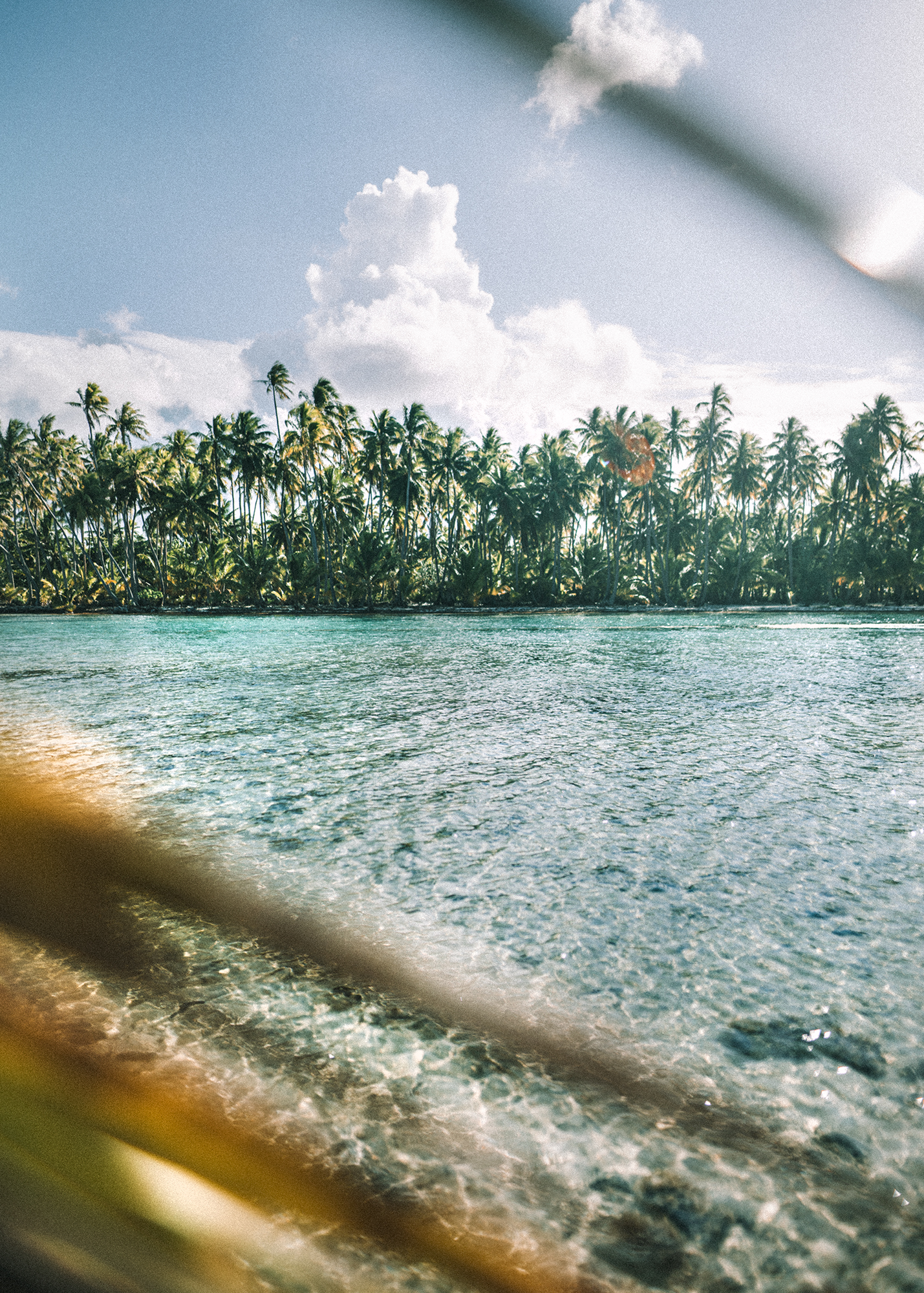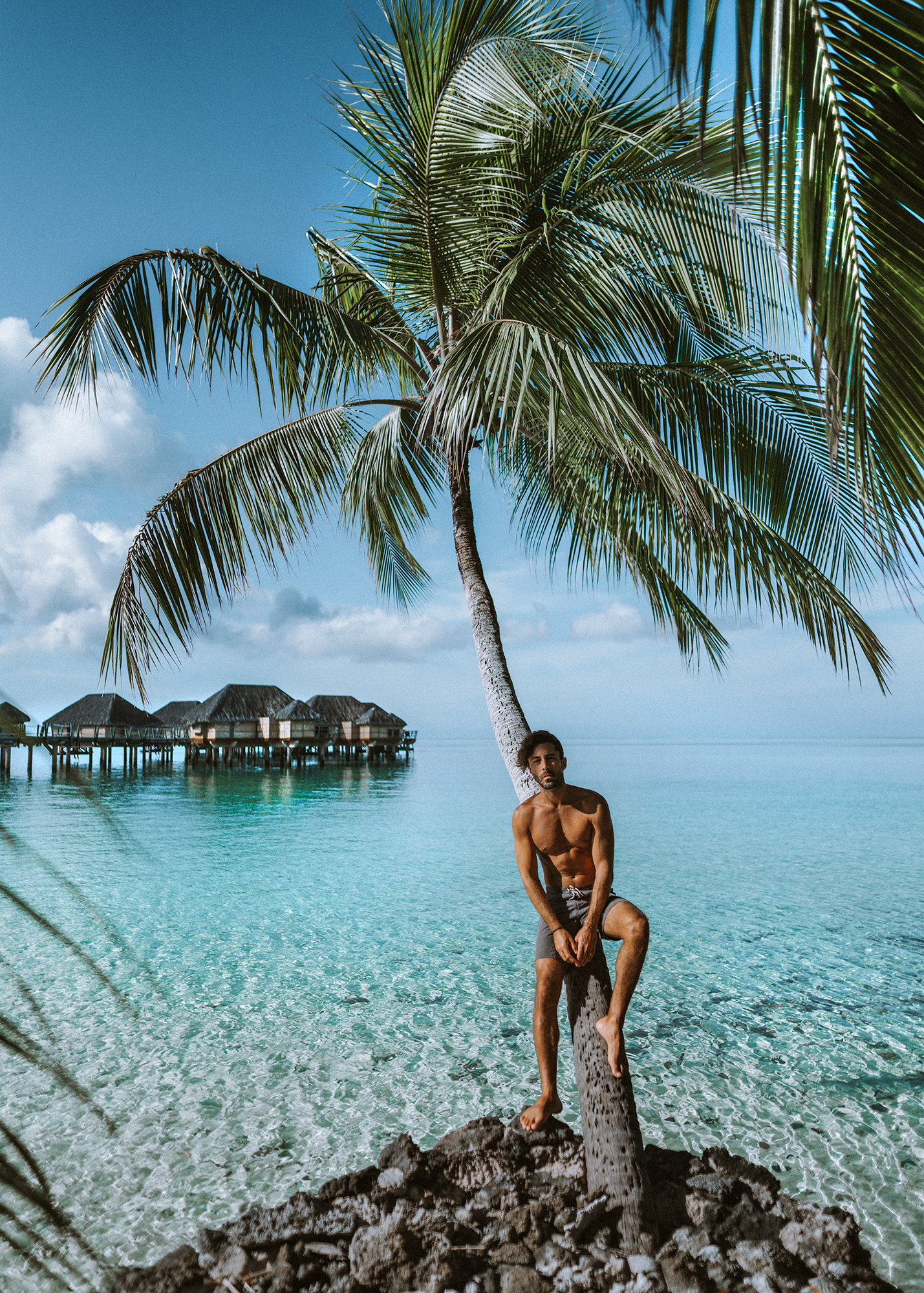 And I'll leave you with a few aerial views: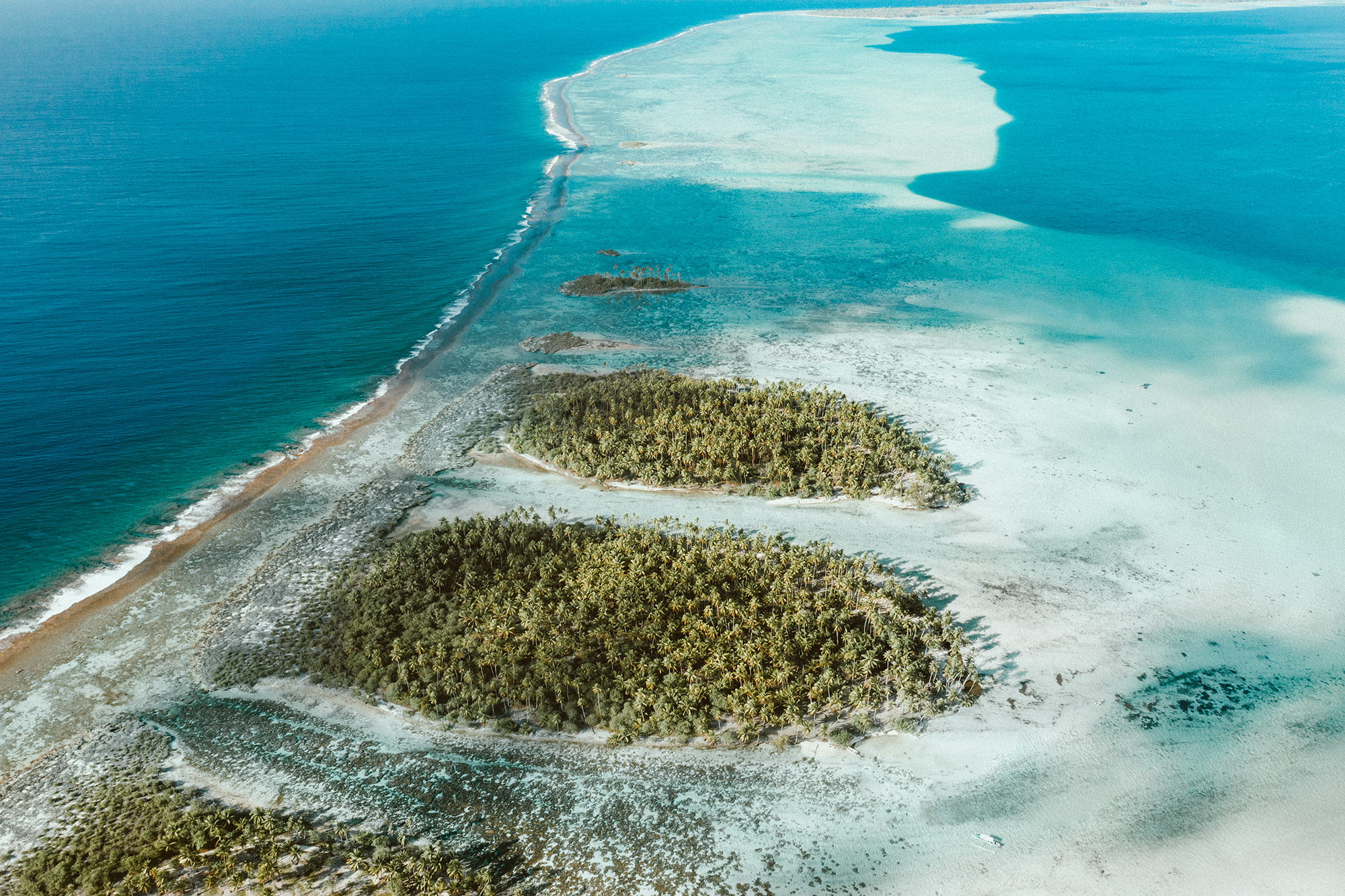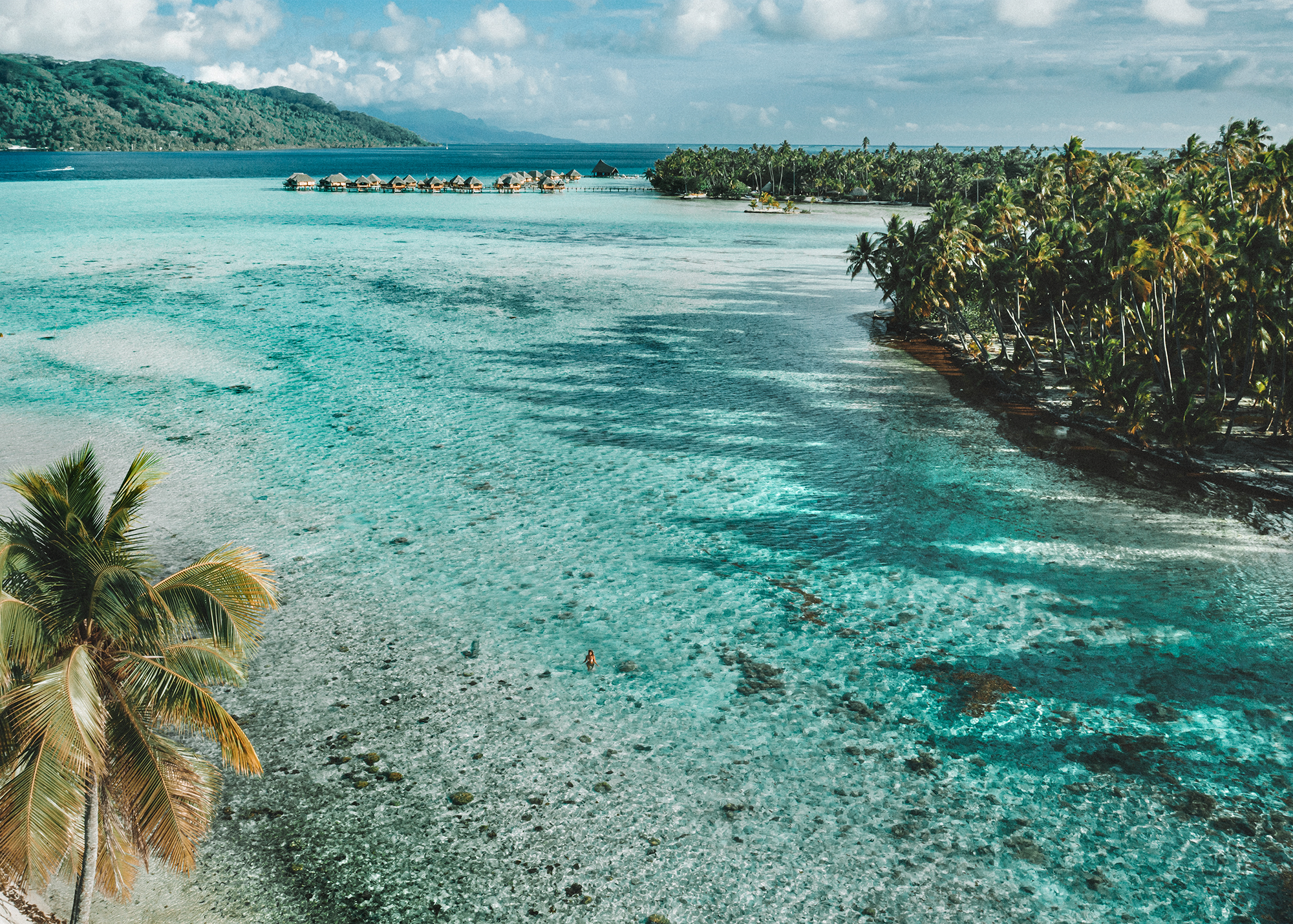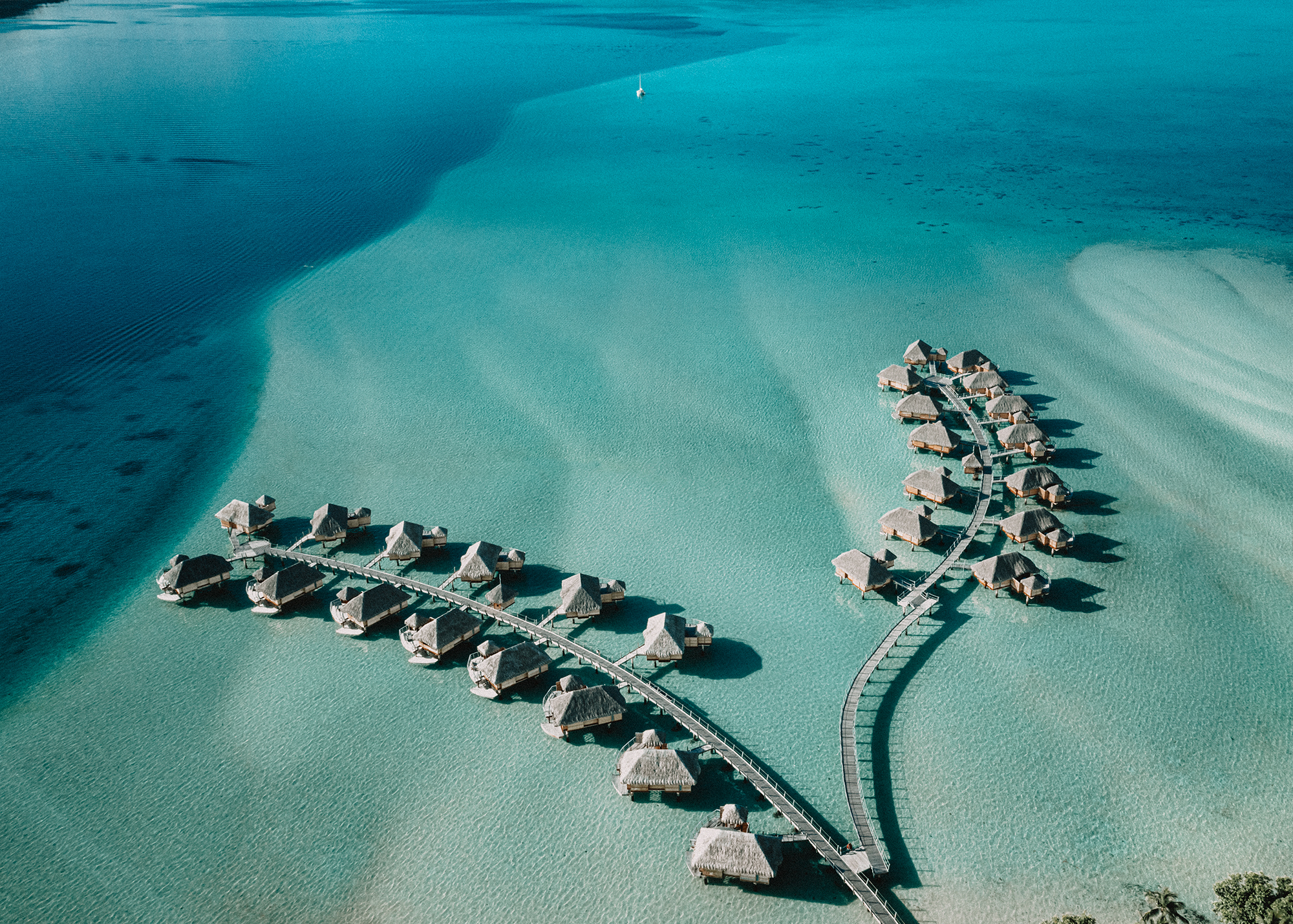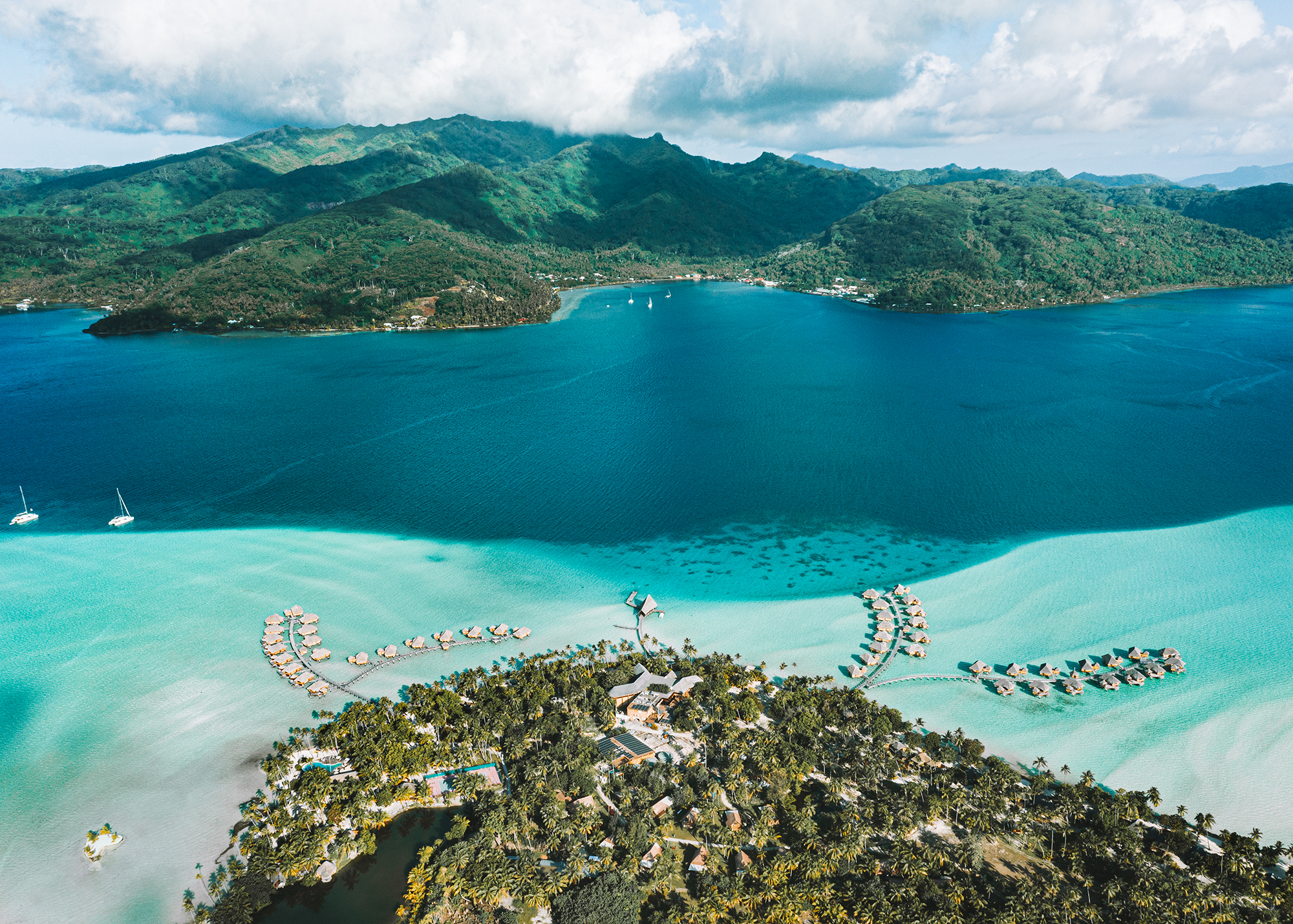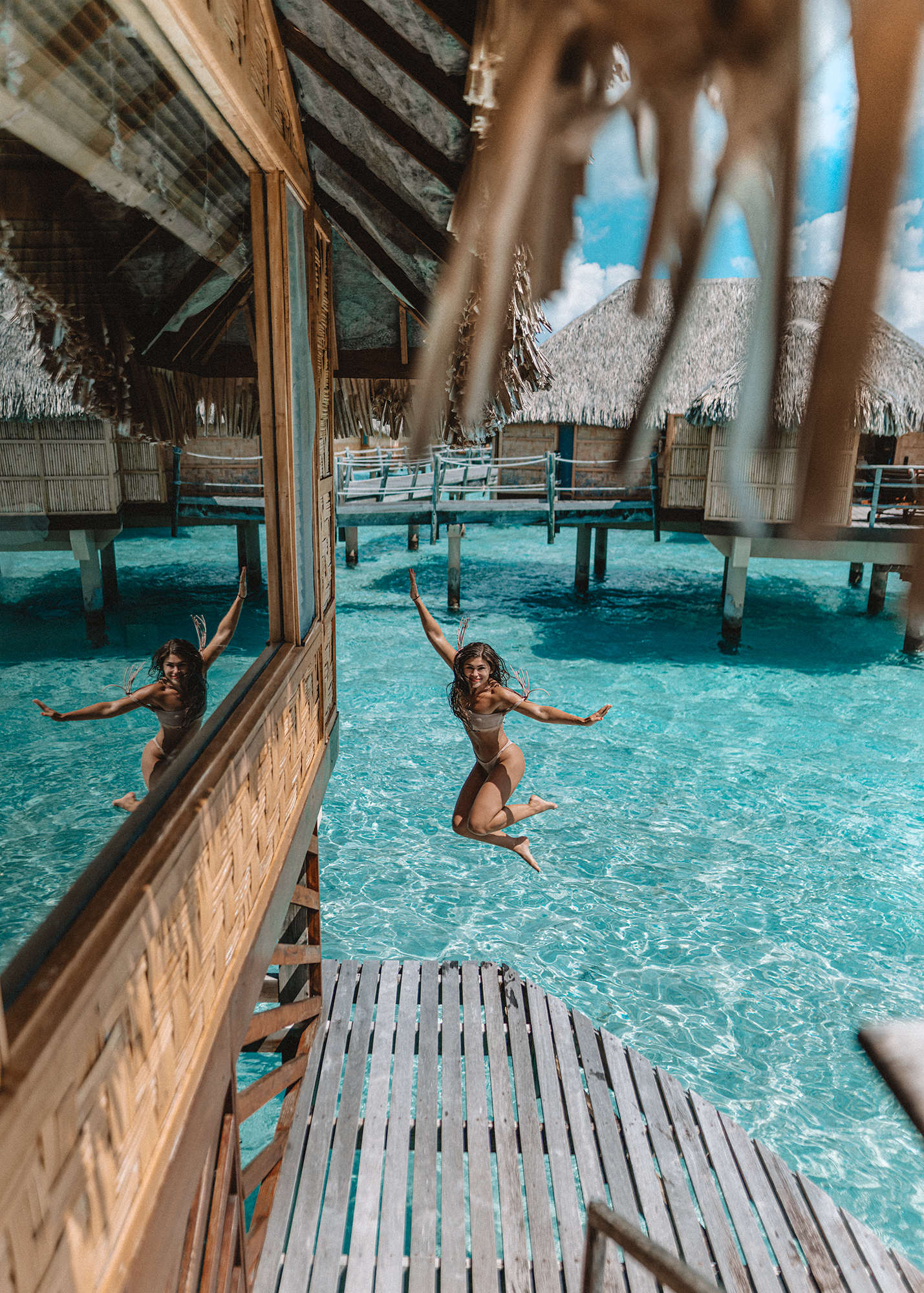 Until next time!
Like this post? Pin it for later and share it with others!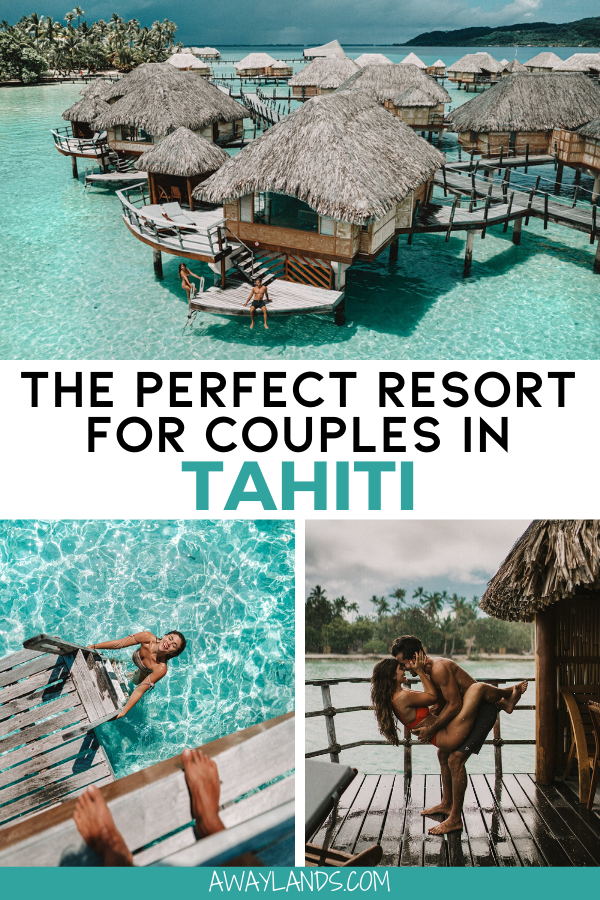 Plan your Island Wardrobe: