January 21, 2020 Travel Guides
The Moorea Budget Travel Guide: How to Travel Tahiti for Cheap
Tahiti Travel Tips coming - Who hasn't dreamt of visiting the legendary South Pacific islands of French Polynesia? The name Tahiti is synonymous with honeymoons, tropical paradise - and high prices. The Tahitian islands had been at the top of our wanderlist for years, and the one thing that kept us away until this fall was the high prices. In 2018 we were looking to plan our first South Pacific journey, and ended up choosing Fiji instead, as the flight costs were half the price.
But! We've discovered that this doesn't have to be true. With new airlines opening up insanely discounted flight prices, surprisingly reasonable hotel rates, and tons of free activities, we found out that traveling in Tahiti, and particularly Moorea is completely attainable for budget travelers.
Traveling to French Polynesia was a total dream come true for us, with some help from Tahiti Tourisme. We really wanted a wide and varied experience - from the ultralux overwater villas in Bora Bora, to the local island life on Tahiti and Moorea. I've laid out our exact costs and travel tips below to make your dreams come true as well!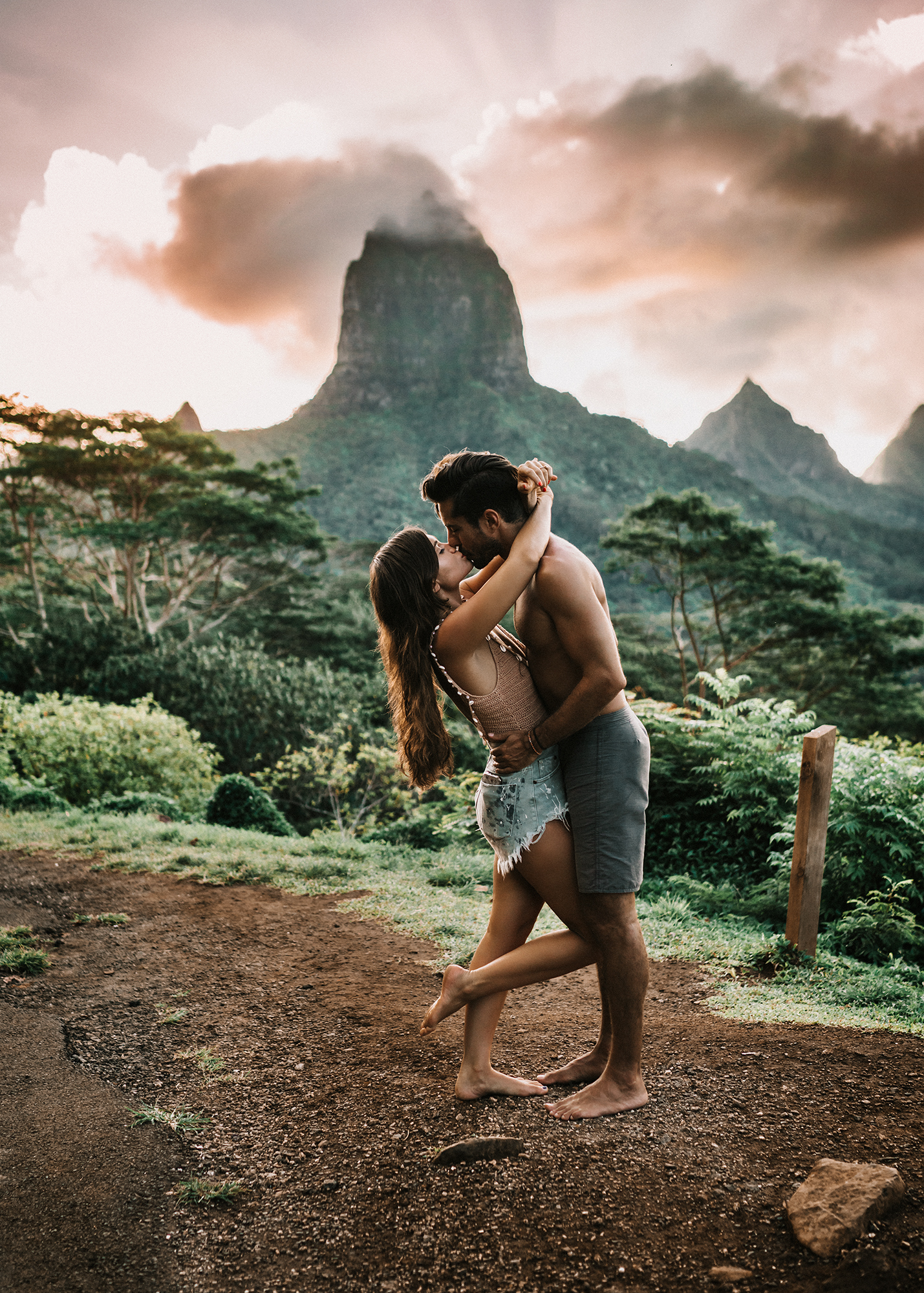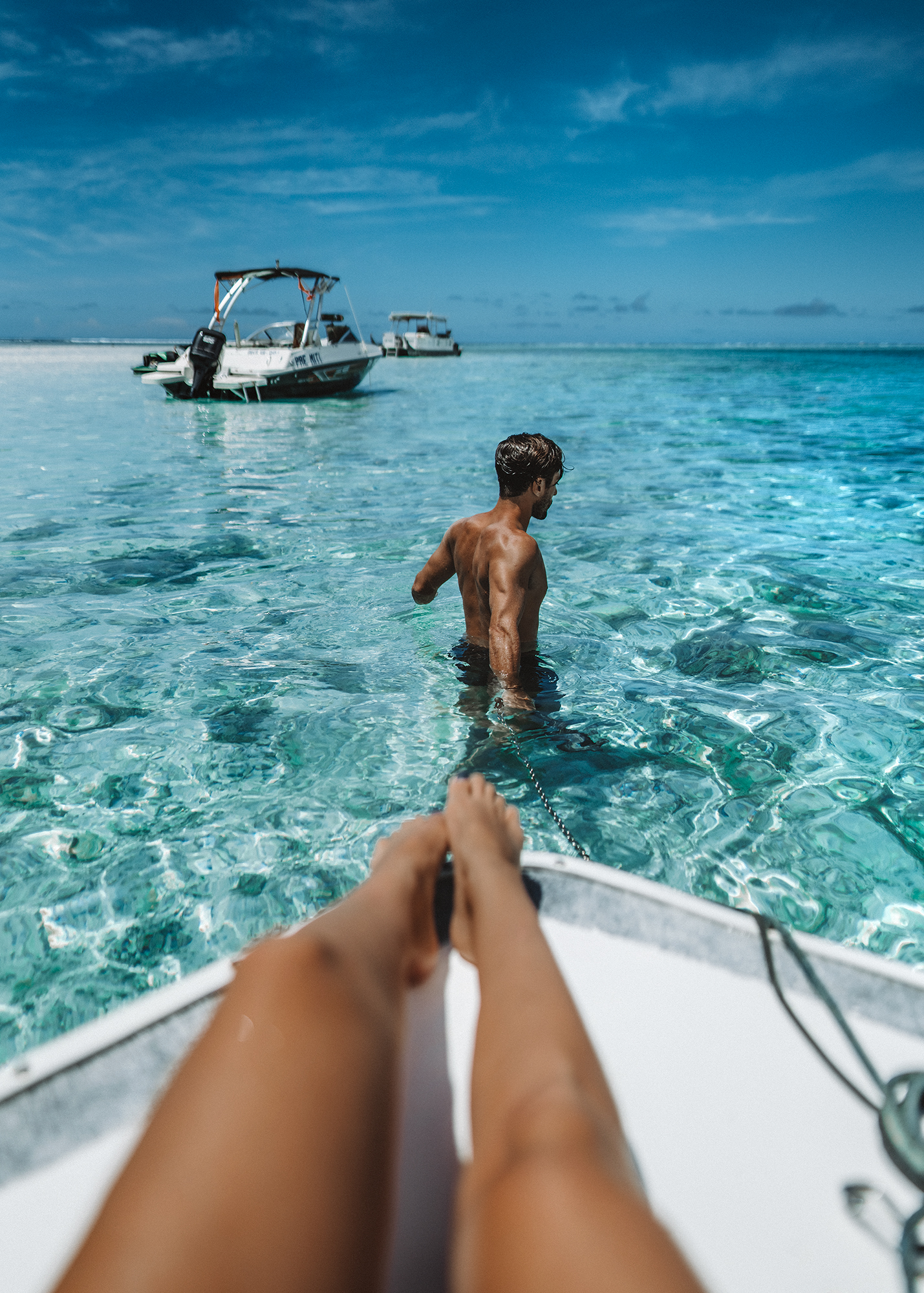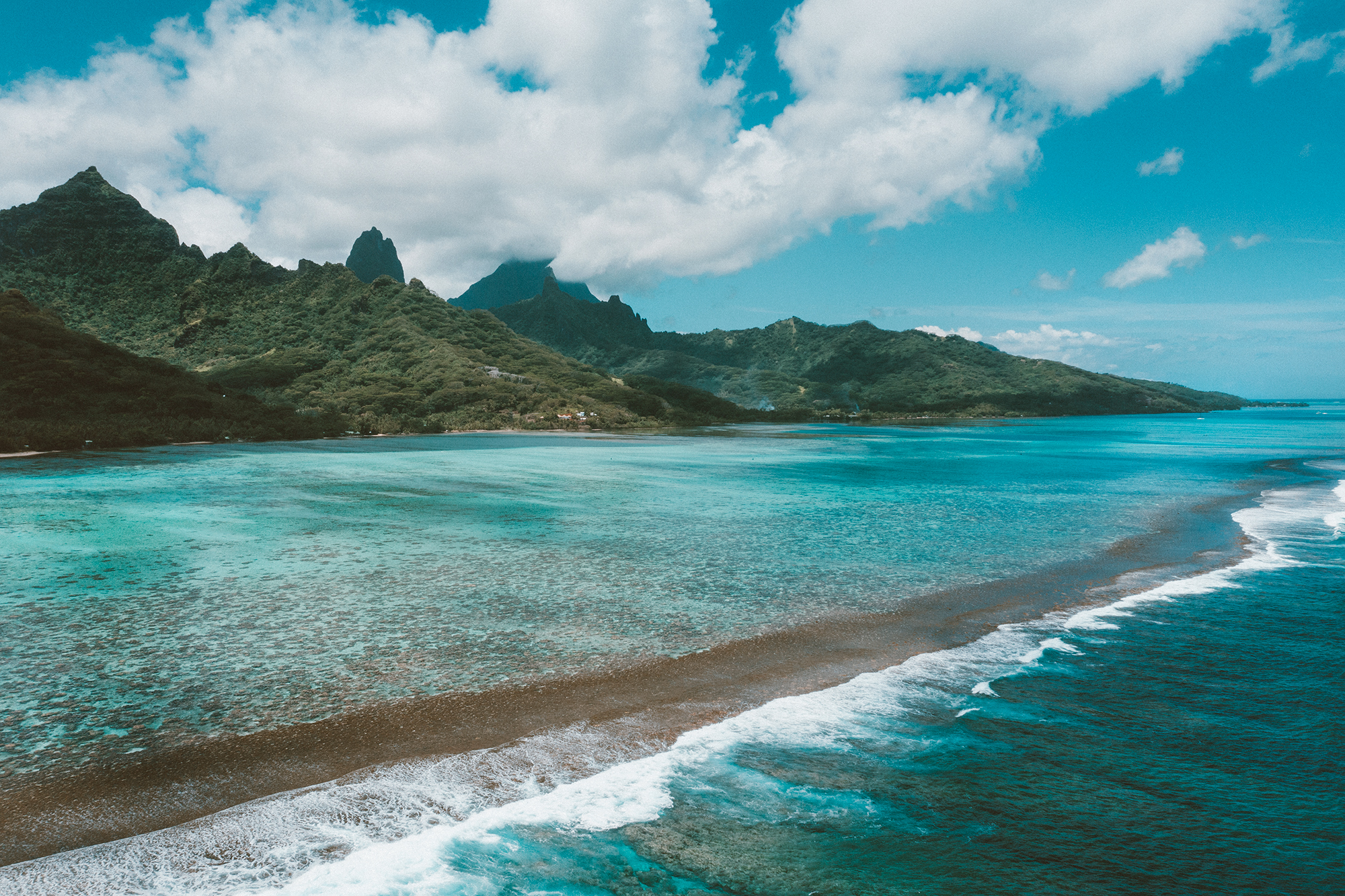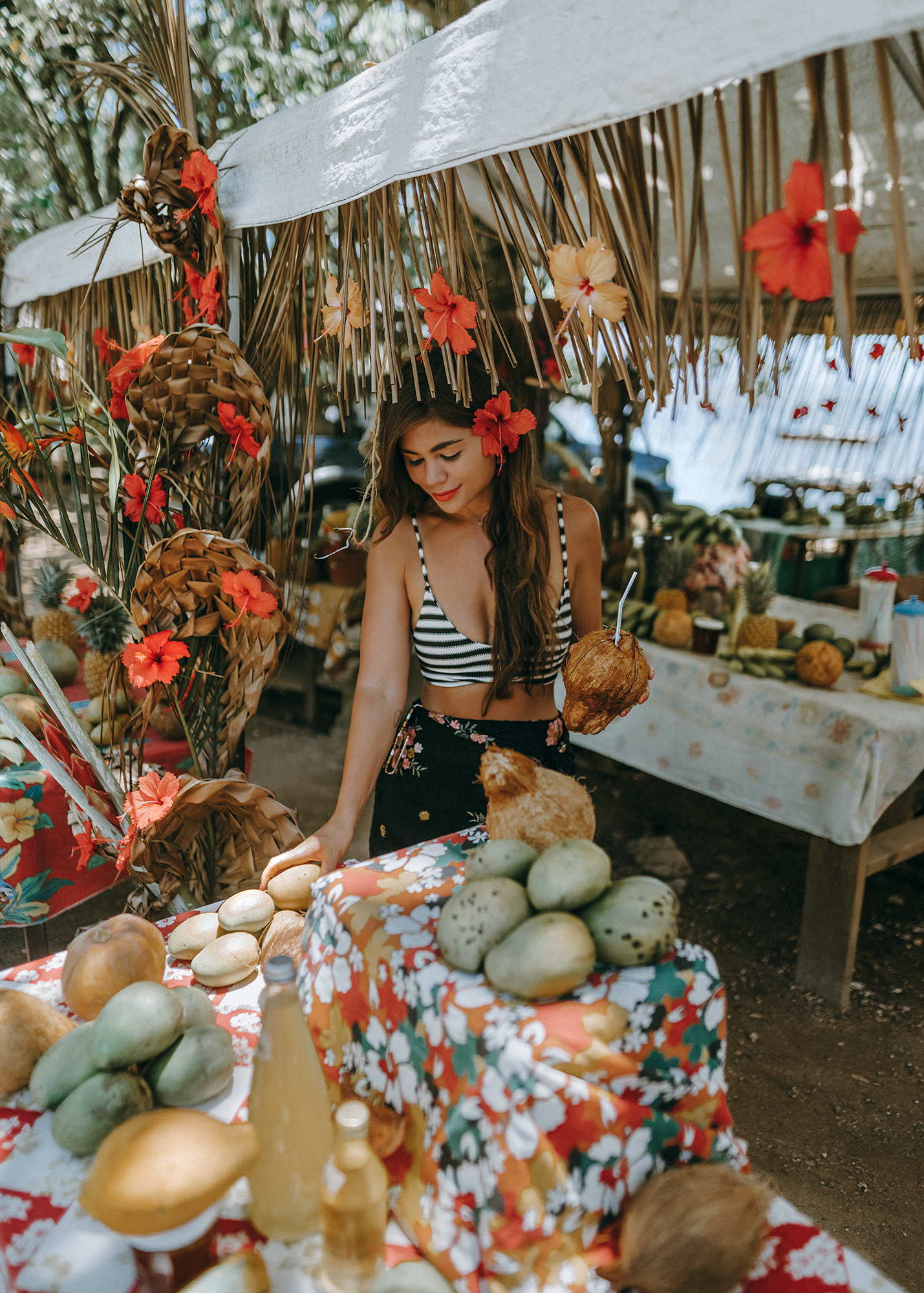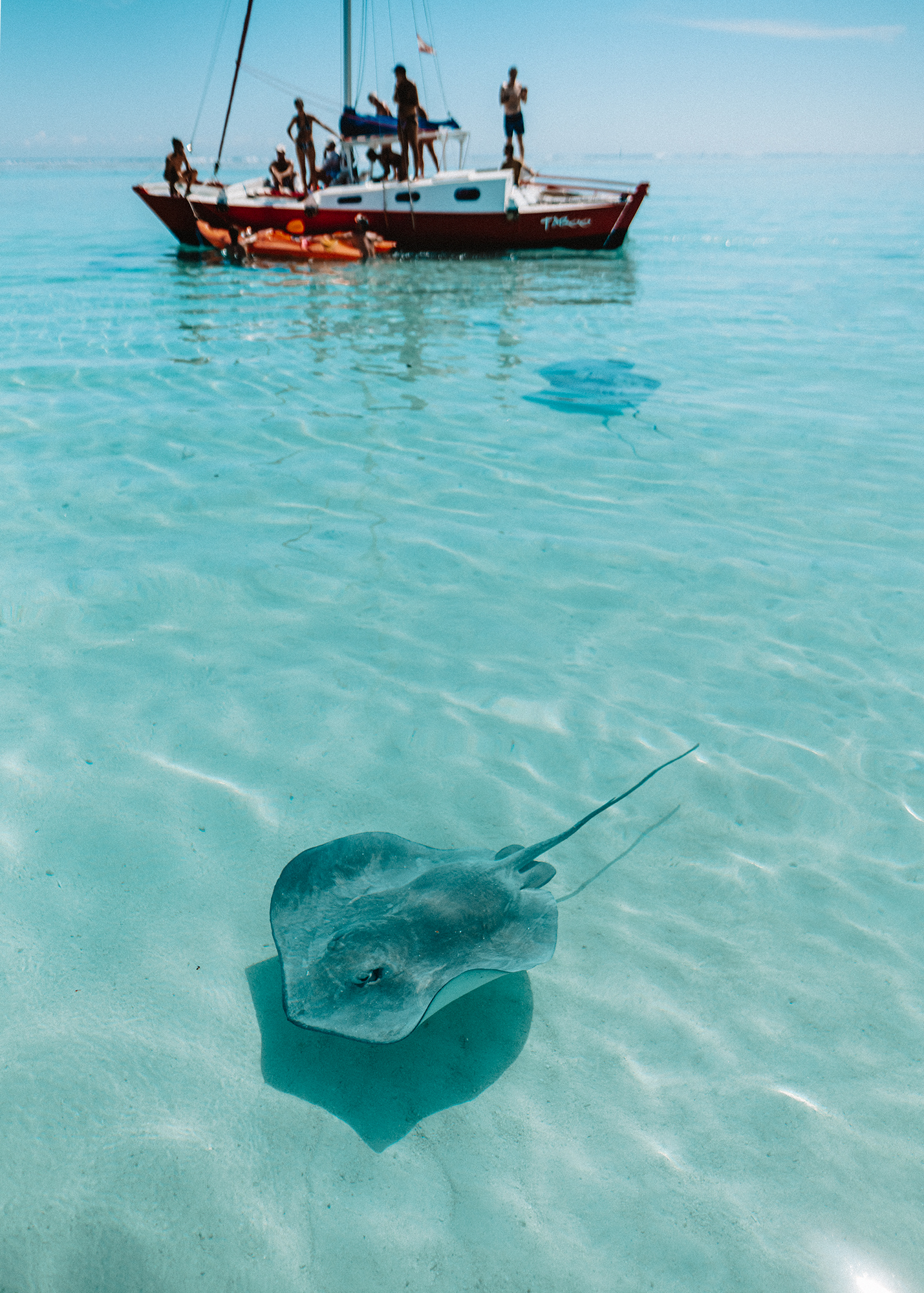 Getting There:
To get to French Polynesia, you can fly into Papeete (PPT airport) from LA, San Francisco, Hawaii, Cook Islands, or New Zealand. Flights from Europe or the rest of the US will connect in either LA or SF.
While Air Tahiti Nui flights have traditionally been quite expensive ($1500 round trip from LAX was standard), new options have opened up from San Francisco driving the prices down significantly. I have seen many round trip options from San Francisco for $475-600 recently, which is a major game changer to one of the hurdles of getting to French Polynesia.
Once you arrive on the island of Tahiti, you can take the ferry to Moorea from Papeete town (the ferry port is very close to the airport.) There are 5-6 ferry crossings per day, so it's fairly easy to line one up with your flight itinerary.
The ferry is run by Aremiti, costs approximately $11 per person for a one-way (there is no discount for purchasing round trip tickets), and takes around 30 minutes. The ferry is large and the ride is known to be very smooth. I was shocked at how low this price was!
If you are island hopping from other islands, Air Tahiti has flights to Moorea from Bora Bora, Raiatea, and more.If you're planning multiple islands, check out Air Tahiti's Island Hopping Pass, which is greatly discounted from regular flight prices! We had four inter-island flights, as we went to four different islands, and our total flight pass came to around $550 per person, which wasn't much more than just the flight to Bora Bora alone.If you pack heavy, you can also pre-pay for extra luggage weight for all of your flights at a very reasonable rate - with all of our extensive camera gear AND all of my clothes, our total came to around $100 in baggage for all four legs.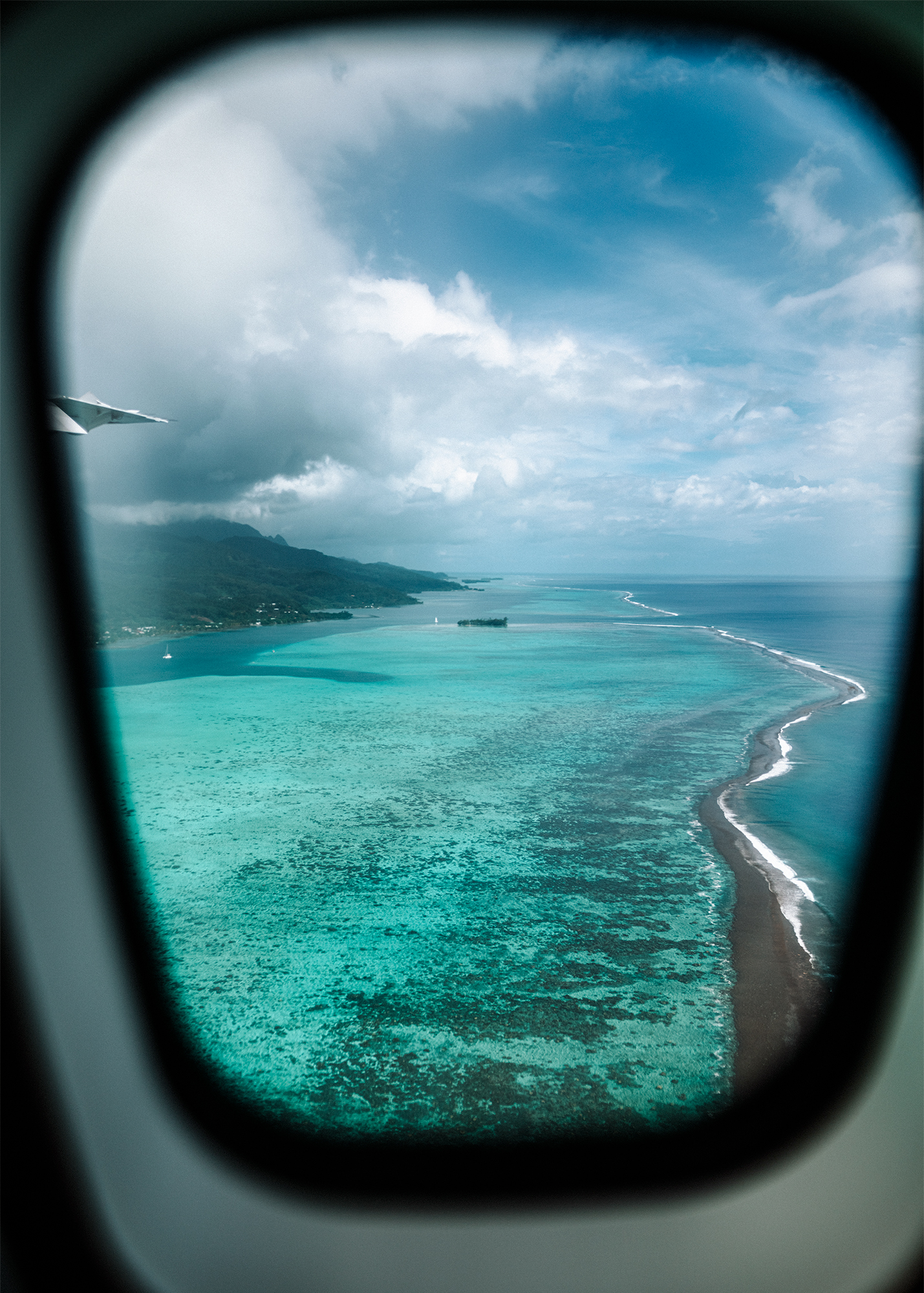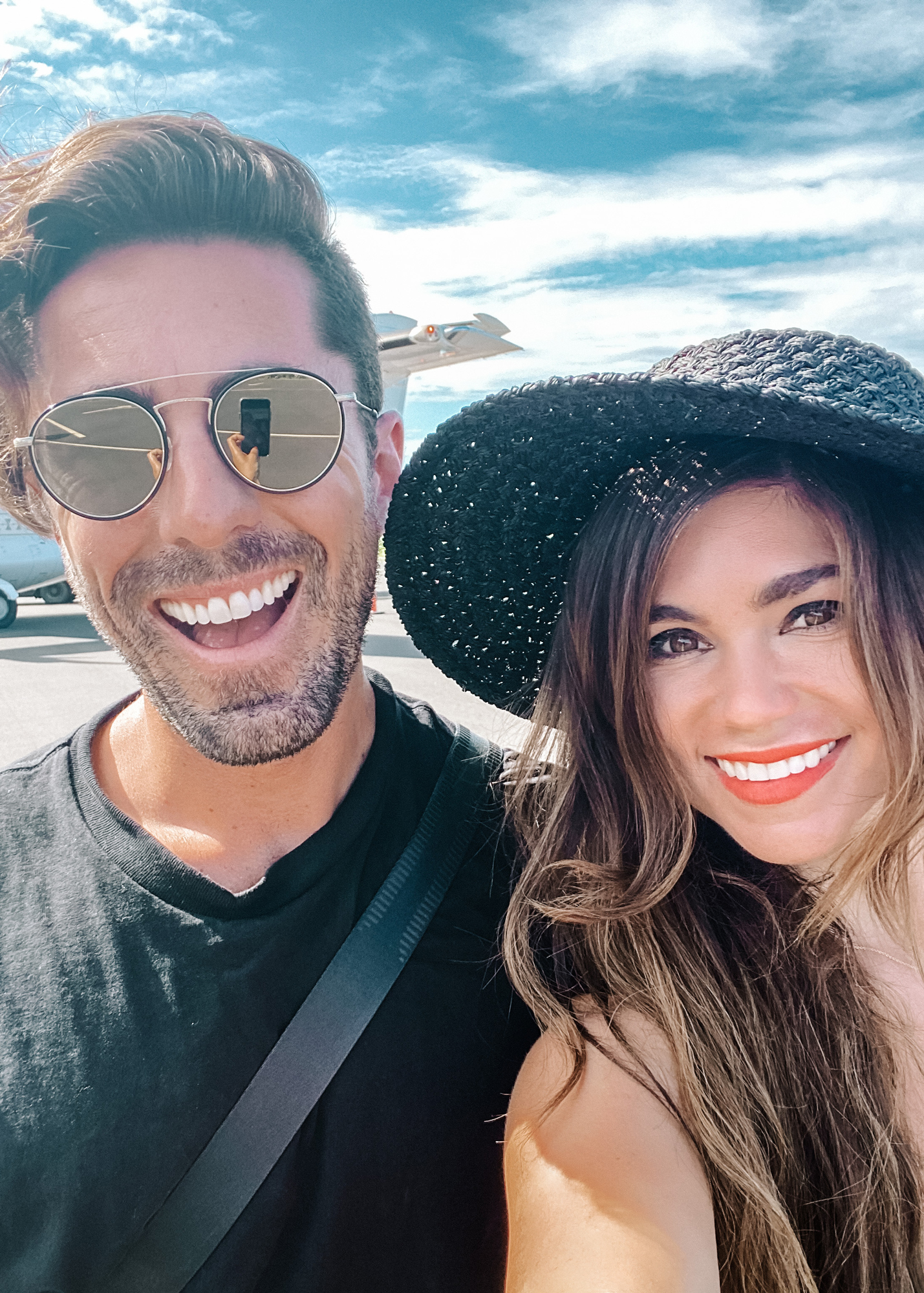 Getting Around:
These is one main road that circles the entire island like a ring, with a few small villages with roads that splinter off. It takes just around an hour to an hour and 15 minutes to circumnavigate the entire island.
Rent a Car - By far the best way to get around the island is to rent a car and drive yourself. Rental cars on Moorea are not cheap, but the benefits far outweighed the cost for us. Car rentals run around $75-100 per day, and are available from either Avis or Europcar. Search the best prices on Orbitz here or try your luck at Expedia.com here. Parking all around the island is free and easy.
Make sure to reserve your car in advance if you want an automatic transmission rental, as they can tend to run out of automatics.
I would highly recommend to splurge on a rental car here, as it makes your time much more enjoyable and is by far the smoothest and fastest way to get around the island. Unless you're feeling adventurous and not carrying too much, then you might want to...
Rent a Scooter - If you're looking for a more adventurous vehicle, you can rent a 50CC motor scooter as your mode of transport for around $45-50 for a 24 hour rental through Moorea Fun Bike. We did not opt for this option as we were filming and carrying multiple cameras with us, but it definitely looked like fun, and is something we love to do on islands
If these options are out of your price range, there is a public bus that runs around the island for $3.00 a ride. As there is one main road that either goes in one way or the other, this is a relatively easy option. Hitchhiking also looked to be very popular here, but can't speak for how that will go for you!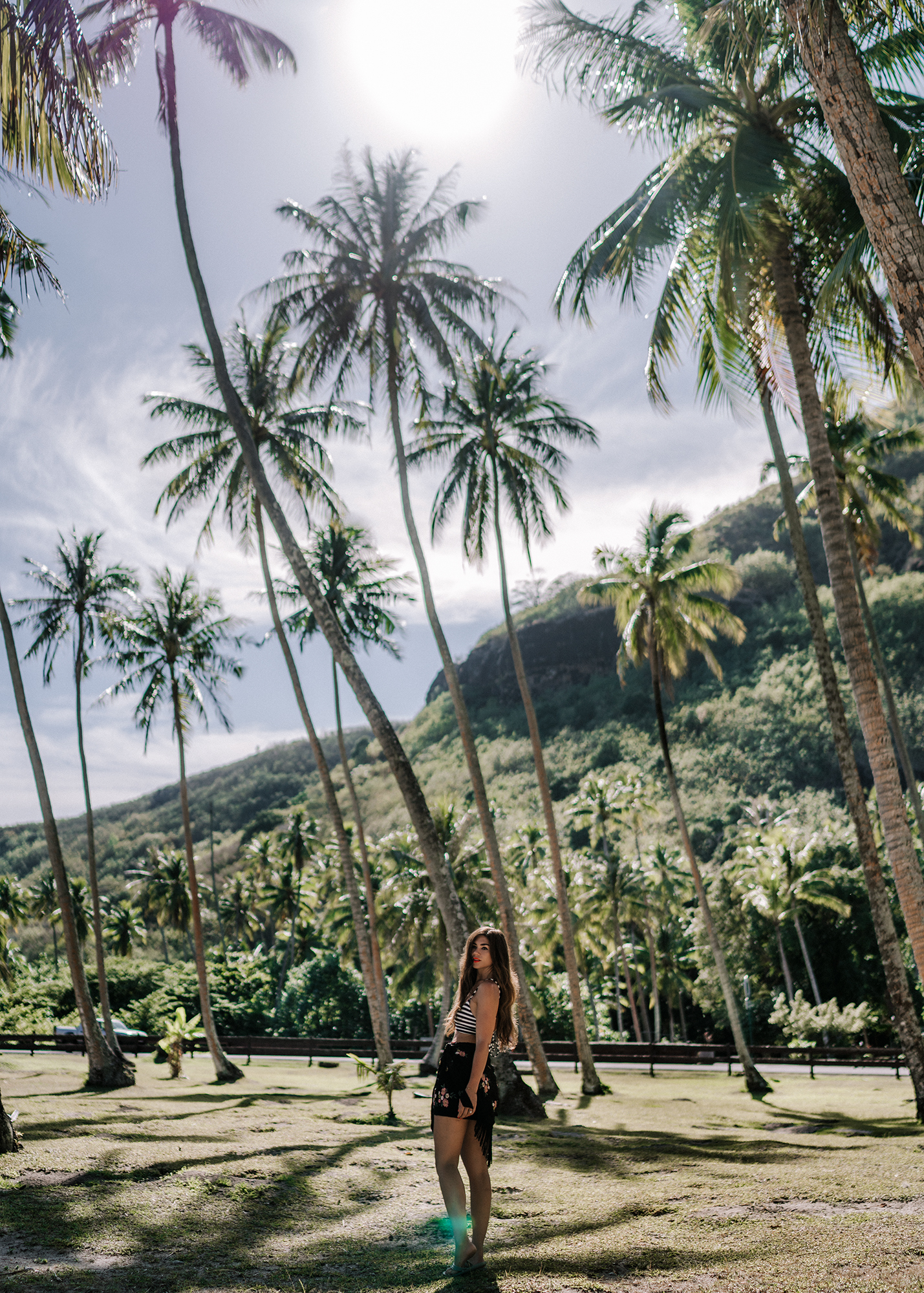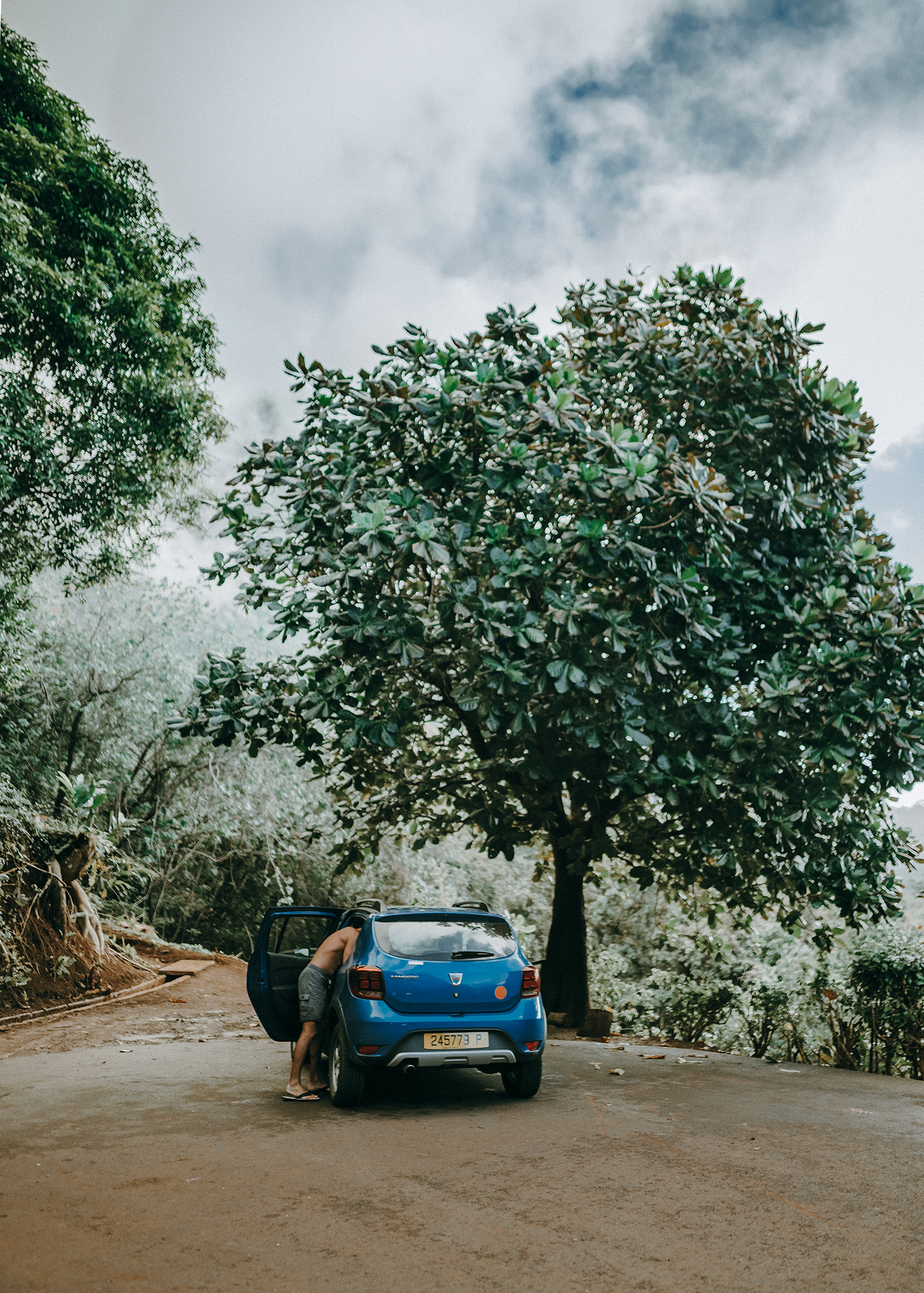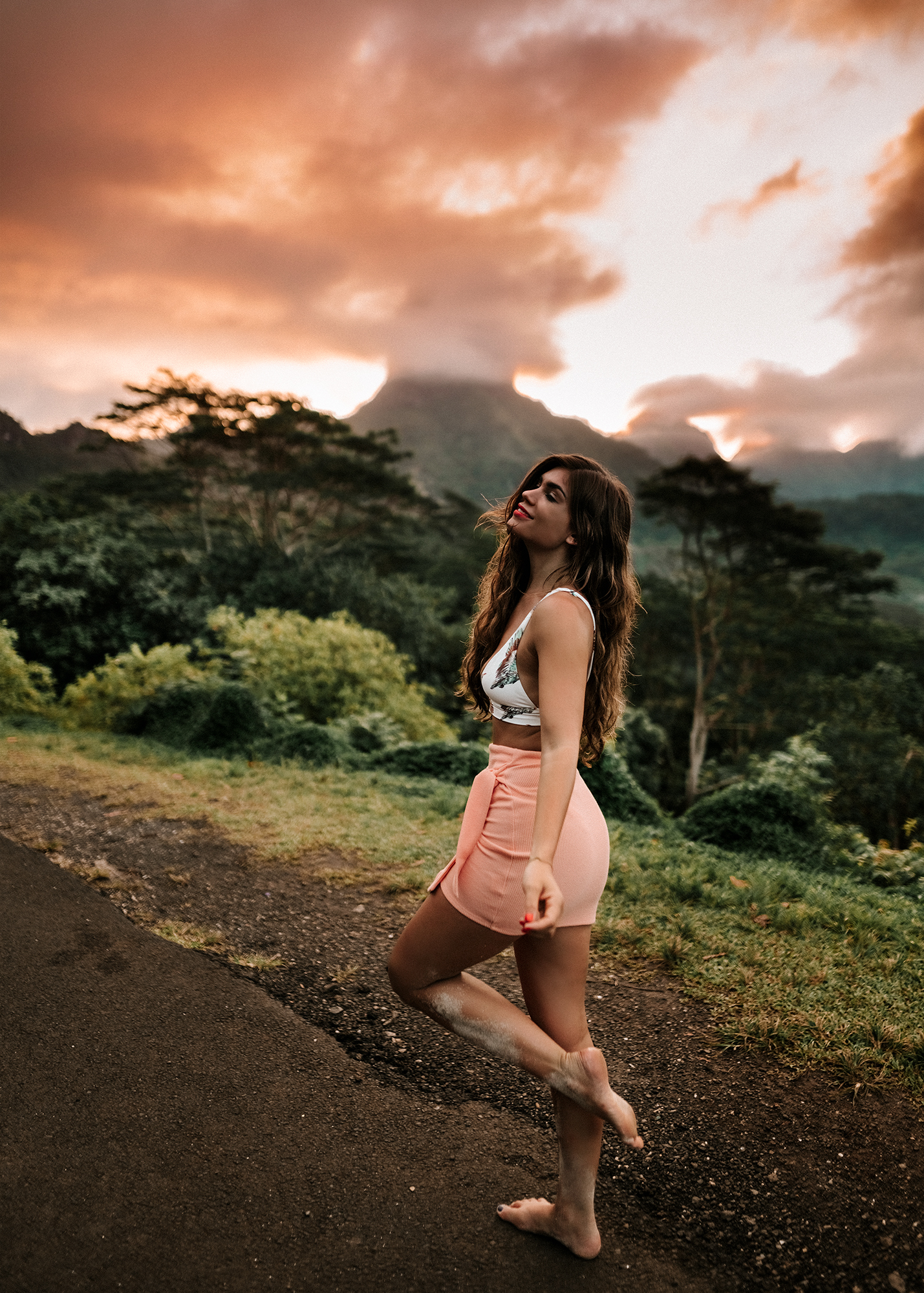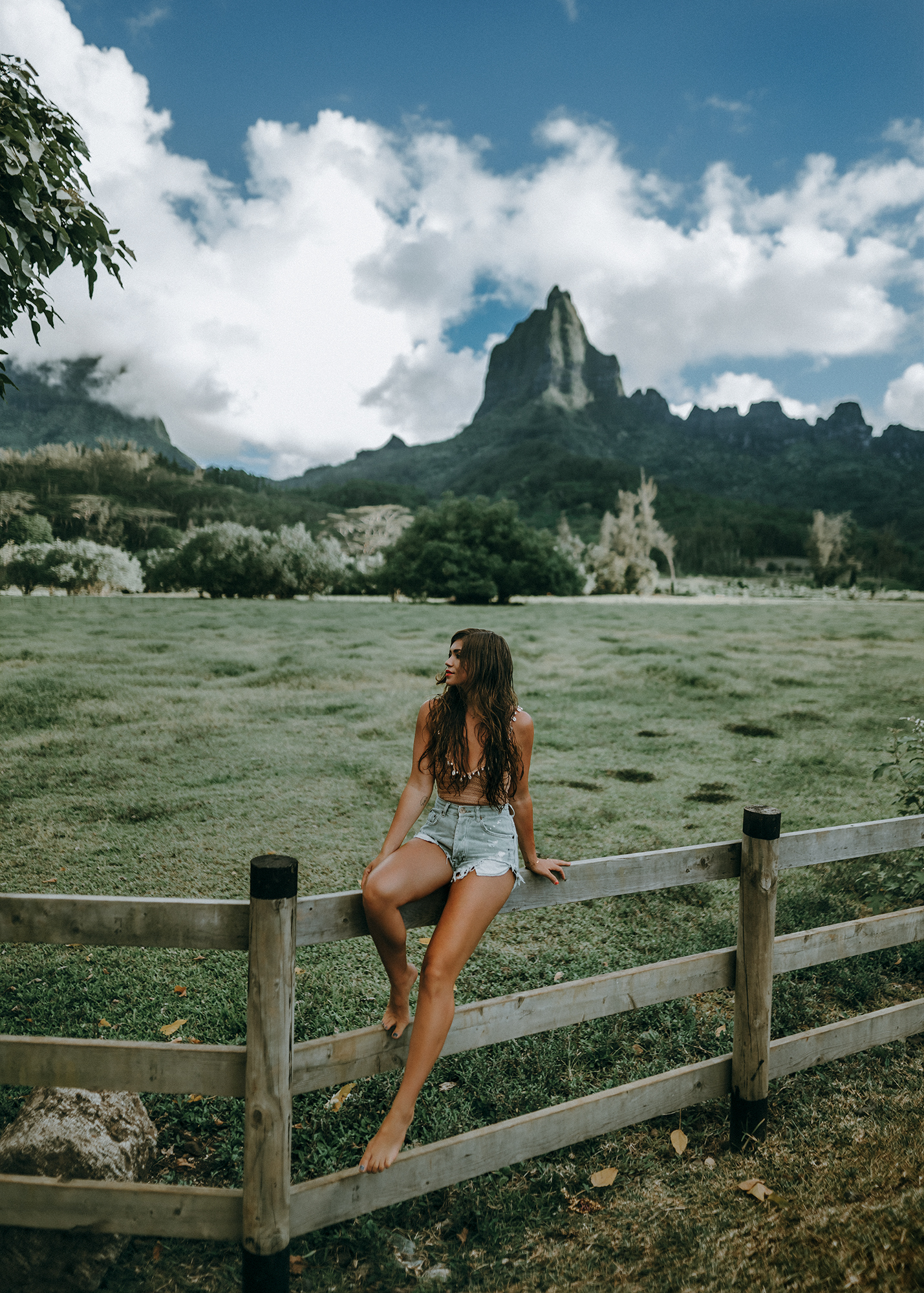 Where to Stay:
There are budget accommodations a plenty on Moorea! Most are just steps from gorgeous beaches for well under $100 a night! My only note here is that many do not include Air Conditioning. I felt like the temperatures here were completely fine and did not have a problem with that, however that is always Brandon's deal-breaker. We opted for a great Airbnb for $100/night with AC included, but stopped in a few of these properties and were very blown away with how lovely they are!
Marks Place: This is the perfect home away from home if you're looking for a casual place that makes you feel like you're in Moorea without breaking a budget. The property is made up of seven individual private bungalows scattered throughout and each bungalow comes fully equipped with a kitchen, bathroom with hot showers, wifi and all the other essentials. They are located in a great spot, just a 15 minute bike ride away from Pineapple Beach. One of the best perks of staying at Marks Place is the free delivery service they offer with nearby restaurants. From $80/night
Pension Motu Iti: A cute beach-front property with a friendly vibe, a lush garden, and an on-site restaurant. Get Private beach-front villas for $100/night or a bed in a shared room dorm for an insane $25/night!
Painapaopao Backpacker: If you're looking to meet other travelers, this is one of the best places to do so! Get your own room with private bathroom from $80/night or a bed in a 6-person shared dorm for $33/night
Village Temanoha: The perfect option for a family traveling on a budget, this property in the PaoPao Village has a stunning mountain background, swimming pool, is just a 10 minute drive from the beach, and a private family bungalow that sleeps 4 and comes with a full kitchen to make your own meals runs only $115/night - or $139/night includes breakfast for 4 people.
Fare Om: A well-reviewed beachfront property with the cheapest private rooms with privates bathrooms I've seen on the island - from $58/night
If you would rather stay with a more luxury option, or mix and match a guesthouse with a couple of nights in an over-water villa, we've got you covered there too!
Sofitel Moorea Ia Ora Beach Resort: Perhaps the most premier property on Moorea, the Sofitel is located on a crystal-clear bay with an iconic string of overwater villas. If the ocean isn't enough, the property also has infinity pools, and four on-site restaurants. From $280/night with Overwater Villas from $520/night
Hilton Moorea Lagoon Resort: An iconic Tahitian experience. Maybe you have some Hilton Honors points to use up? This resort is a great place to spend them! From $380/night with Overwater Bungalows from $670/night
InterContinental Moorea Resort: A beautiful, classic 5-star resort with direct lagoon beach access, all of the high-end amenities expected of a 5-star hotel, a very instagrammable infinity pool with swim-up bar, and an on-sight Dolphin Center. From $260/night with private pool villas starting at $500/night
Manava Beach Resort and Spa Moorea: A great spot for small groups and families, Manava has family duplexes, bungalows, and private pool villas that all sleep 4. From $360/night with private pool villas from $500/night
Moorea Beach Lodge: A quieter, stunning property with a much more local feel (and a luxury option without a chain affiliation!) Nestled into the mountains and opening to a sunset-facing beach, this hotel is very popular with honeymooners and families. From $235/night with family bungalows for four from $450/night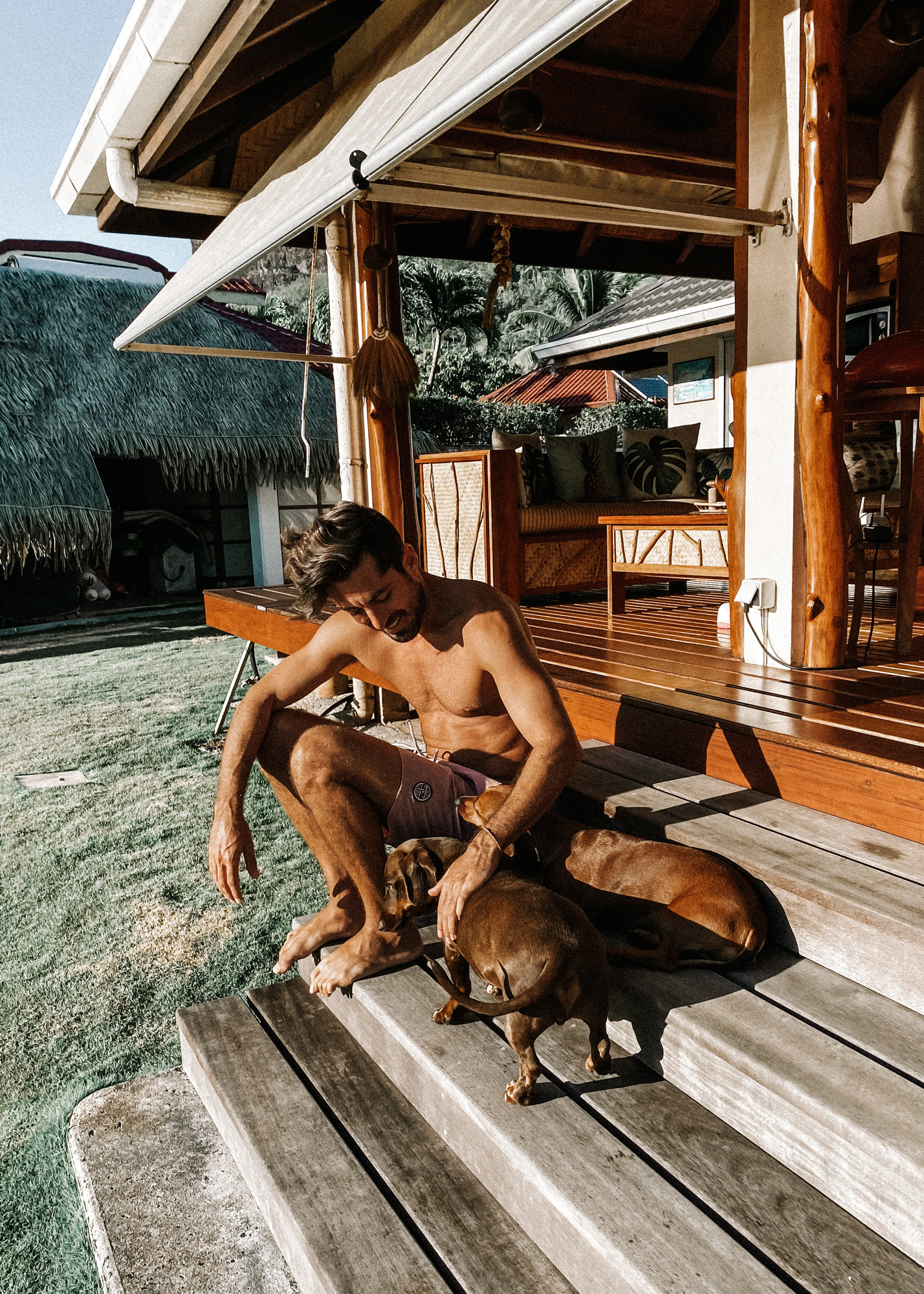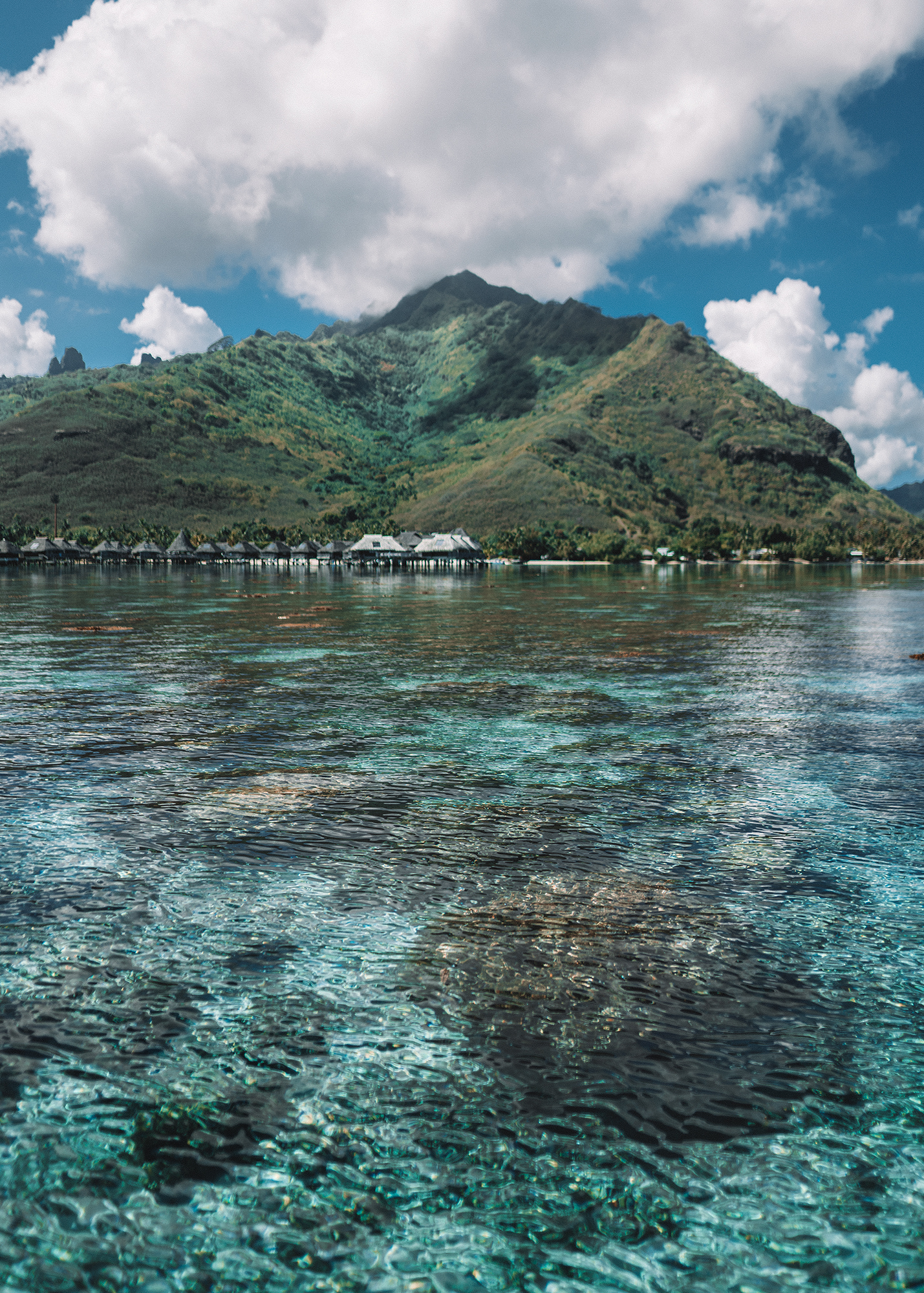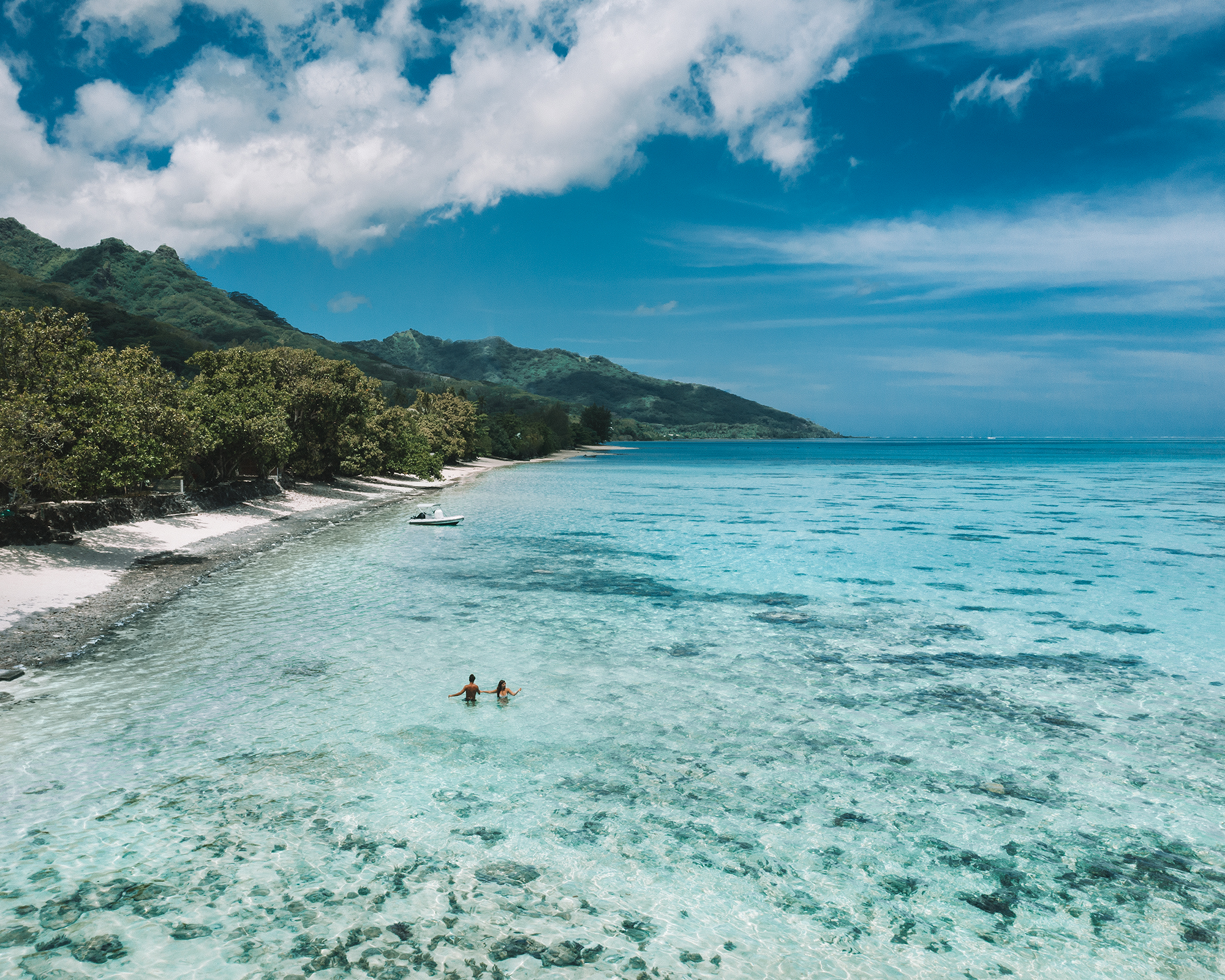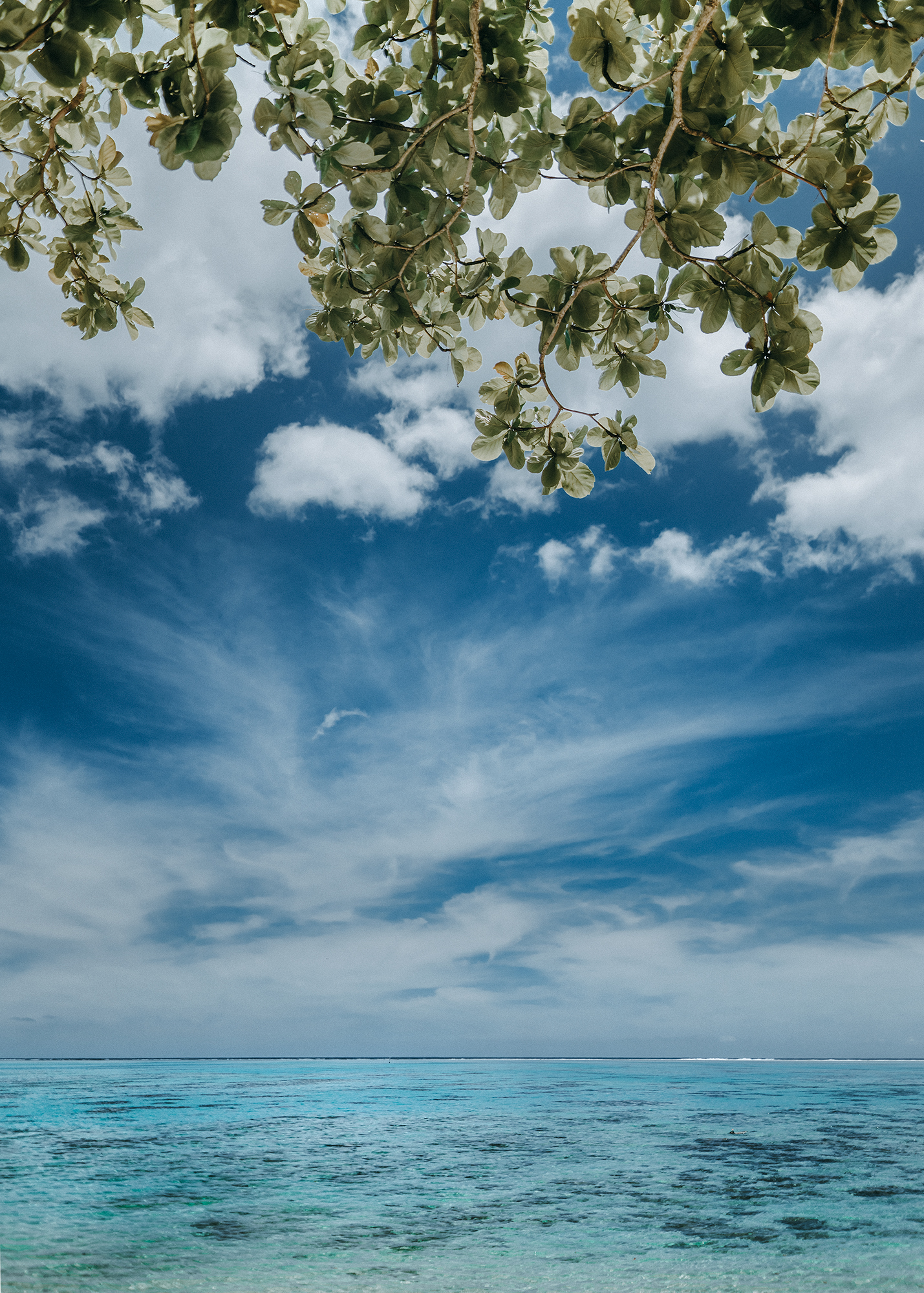 Where to Eat:
Meal prices at local restaurants came to around on average around $10-20 per person, with the hotel restaurants being typically much pricier. Here are some of our favorite, affordable restaurants in town.
The one food you must try is Poisson Cru, a raw fish dish similar to a ceviche or poké, but in coconut milk. We've had similar styles in Fiji and in Cook Islands, and it's one of my favorite foods of all time.
Moz Cafe: This cafe is a favorite among locals, which is a good sign it's delicious. This a great quick breakfast spot for some eggs or a sandwich before adventuring, and they also serve a great brunch as well as some of the freshest seafood! The food is fresh and affordable but they don't accept credit cards and only take local currency so come prepared.
Manuia Grill: The BBQ here is GOOD! This restaurant serves all sorts of pork ribs, steak, fish, and kebabs, all of which is delicious, homemade and with a great BBQ sauce Stop by if you're looking for generous portions! And don't miss the Poisson Cru here, it was the largest bowl of it I have ever seen for around $15 - you can't get that much high-quality fish for that price pretty much anywhere.
Allo Pizza: There's nothing like a good wood-fired pizza fresh out of the oven! Sometimes when you're on the road for a while, you get a craving for a good old fashioned pizza and beer. Opt for the fresh tomatoes and pineapple - the delicious fresh fruit in Moorea will add just the right touch. A full size pizza to split comes to around $18, and after days of adventuring, we came back and got pizza from here more than once!
Carmeline Cafe: Stop by this charming cafe to pick up your morning cappuccino and delicious pastries. It's also a great spot to stop by for a quick lunch if you're looking for an affordable bite.
Roadside Fruit Stands: Stop by and treat yourself to fresh fruit from any of the roadside stands. The prettiest one (photo above) is just north of Pineapple Beach. Fresh coconuts cost around $3 and you can get local fruit for cheap to snack on.
Le Lezard Jaune Cafe: our Airbnb host (a local French Moorean) highly recommended this cafe as one of his favorite restaurants on the island!
A L'Heure du Sud: A cute lunch spot right next to one of Moorea's most popular beaches, where you can eat at picnic tables with your feet in the sand. Meals here range from $7-25.
Champion Grocery Stores: This popular grocery store to pick up all your essentials and snacks. As the largest grocery store on Moorea, they have the largest variety. This grocery store really looks more like a Costco than a snack shop and has everything from sandwiches, to very fresh sushi and Poisson Cru, to bottles of wine for under $15. We didn't discover this stop until our last day here, or we would have been eating way more meals here!
On a seriously tight budget? Stop by Champion Grocery for a full array of grocery options and pick up staples to make for yourself to skip most restaurant meals - but definitely try at least a couple!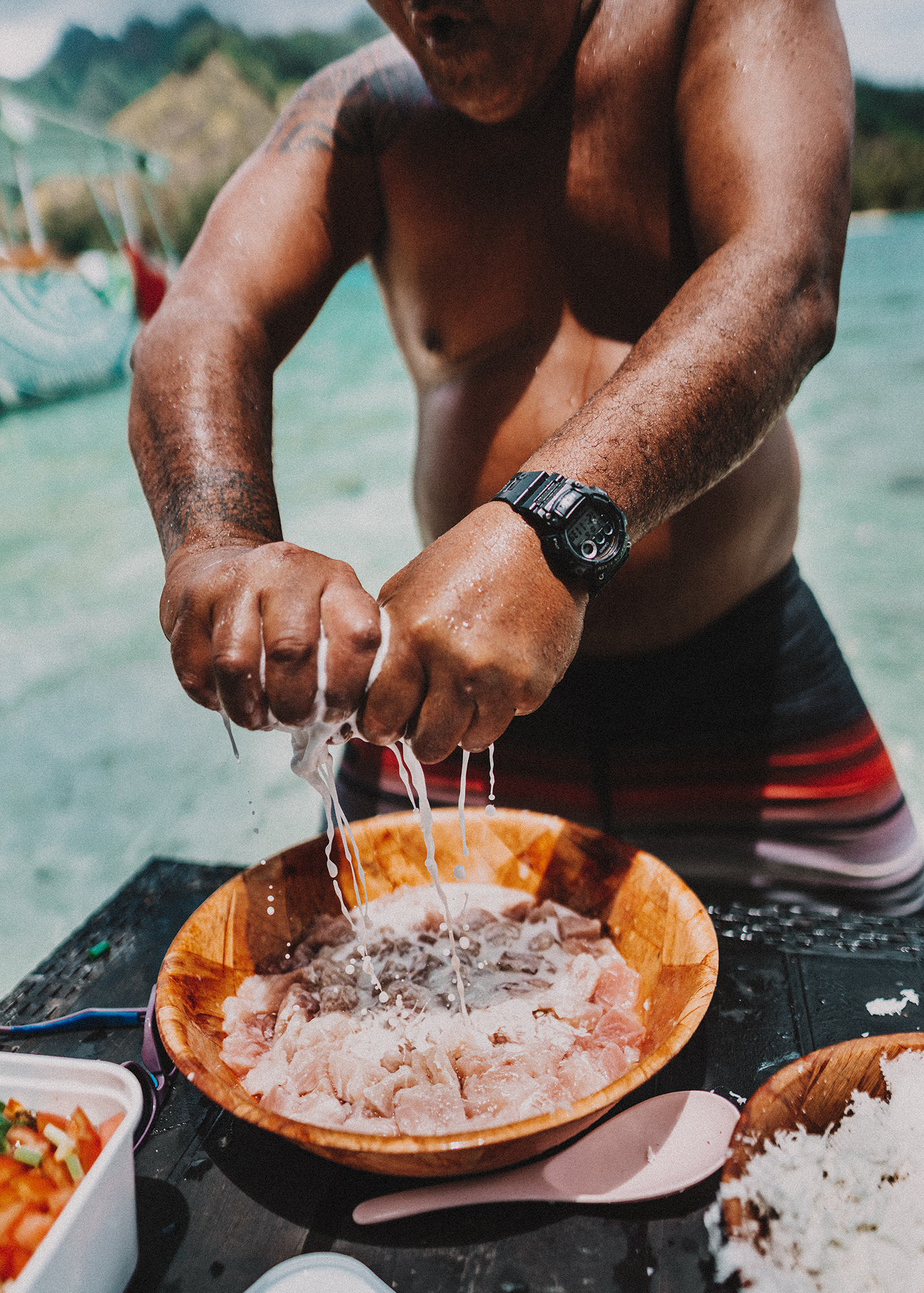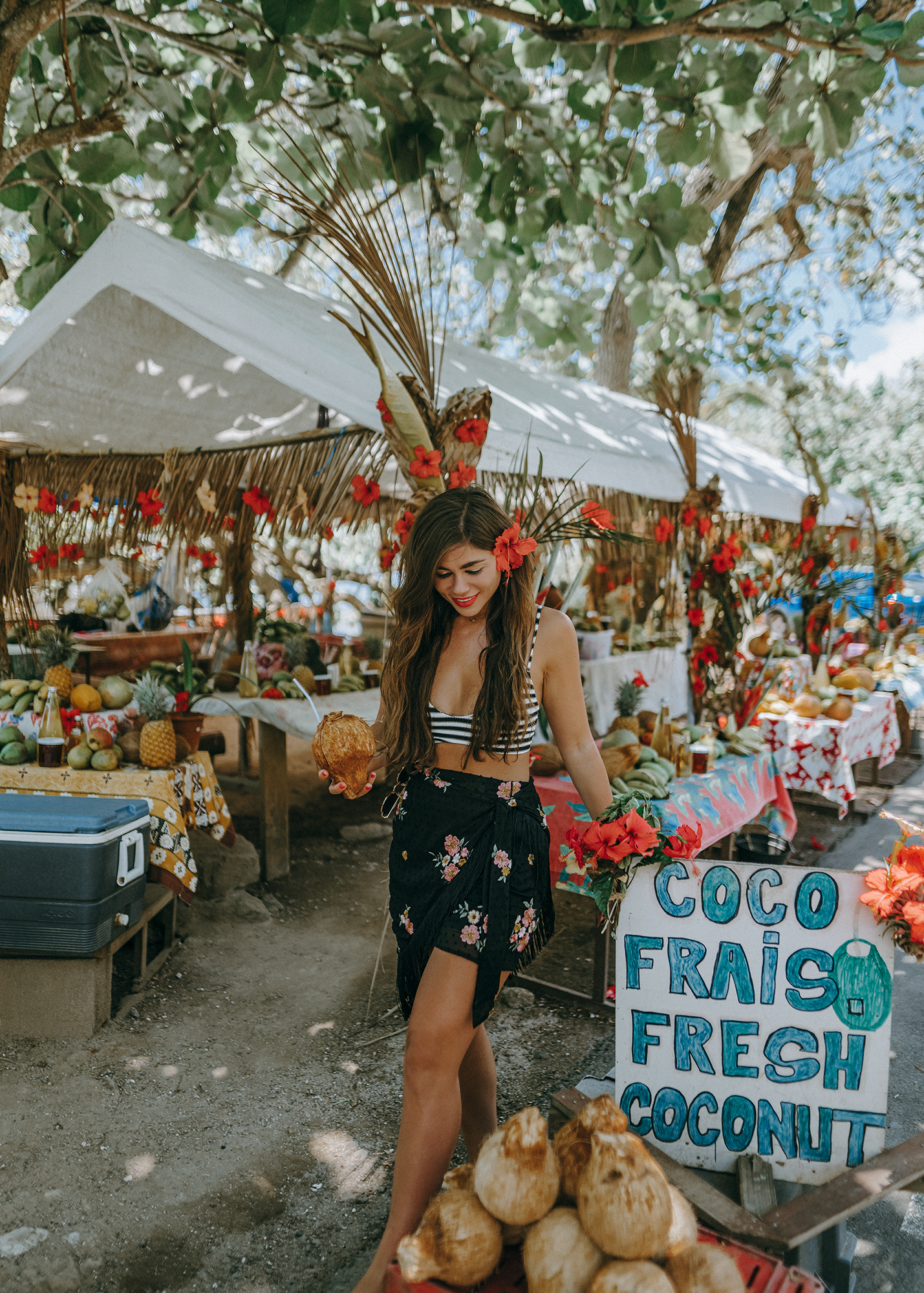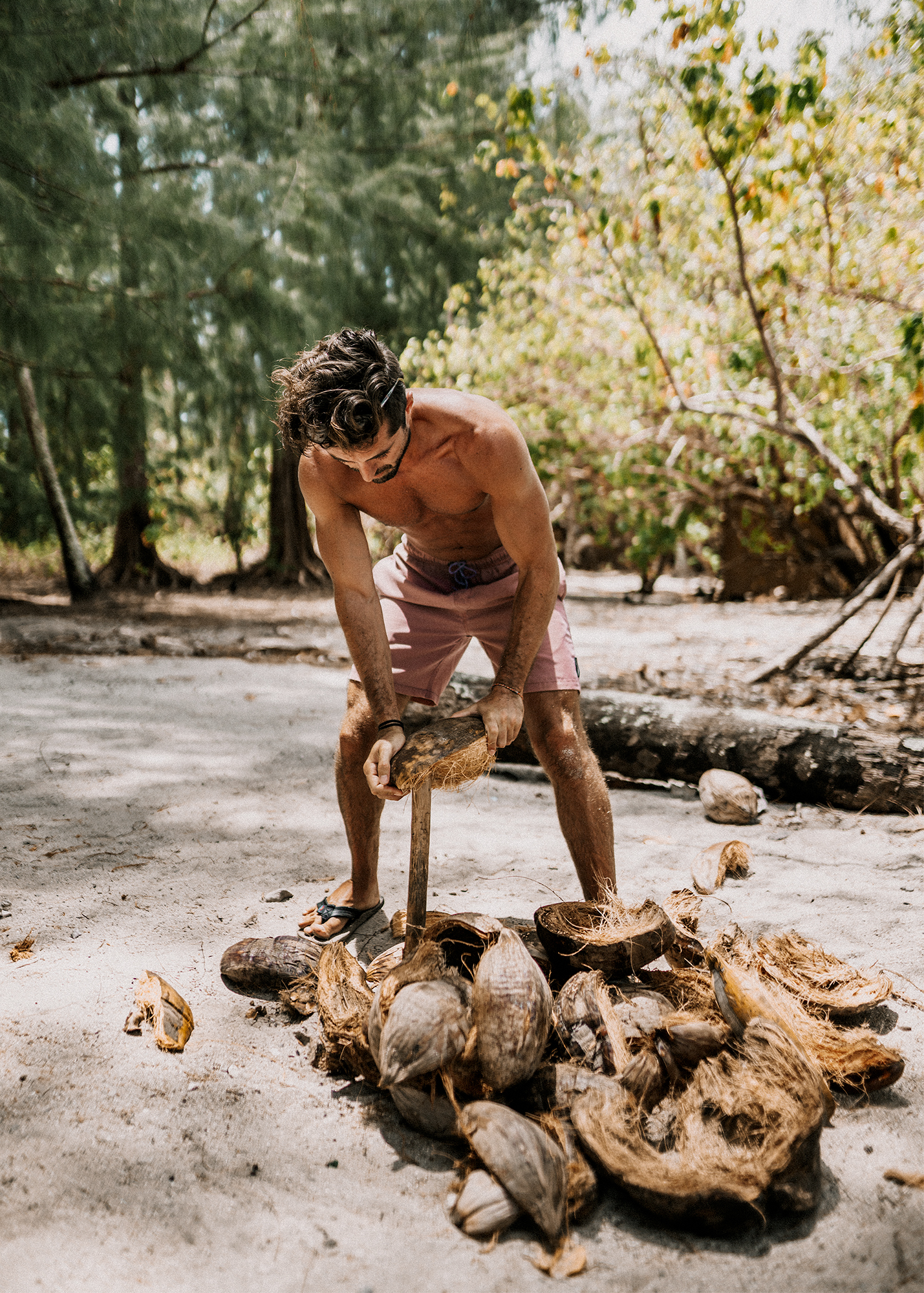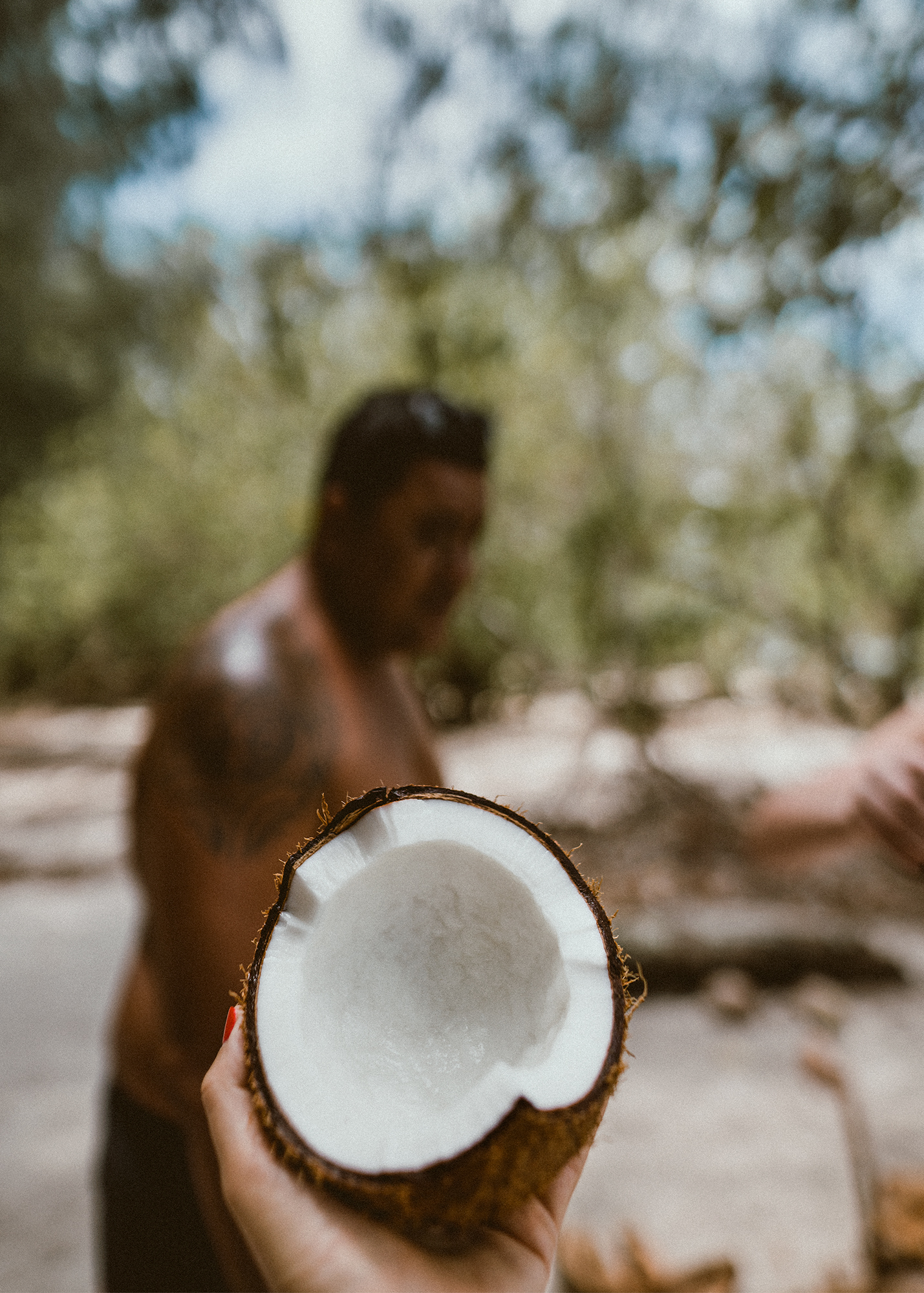 Free Things To Do:
Belvedere Lookout: The view from the top of this lookout on a clear day looks like something straight out of a postcard. With panoramic views overlooking the Opunohu Valley and Cook and Opunohu Bays, the drive up to the top should be one of your first stops on your itinerary. There are two main ways up to the top: the shorter road up from Cook's bay is unpaved but the main road from the other bay is paved. There is also a short hike from the parking lot to the top that is worth doing if you have the time. Facing away from the lookout, the path to the left will take you to Three Firs Pass, and the path to the right will take you to Three Coconut Trees Pass. If you're feeling adventurous sign up for an ATV or bicycle tour up the mountain.
: With some real mountains, Moorea is one of the best islands in French Polynesia for hiking! There are tons of beautiful hikes all around the island such as The Pass of the Three Coconuts, one of Moorea's most popular hikes. The hike runs along part of the volcanic crater and takes you up 850 feet to breathtaking panoramic views of the volcano. We like to use this site for user-friendly insights on the best hikes to hit up.
Afareaitu Waterfall Hike: While these aren't the highest waterfalls on the island, this waterfall is not to be missed. Travel to the southeast side to Afareaitu Village. The water drops down the side of a cliff into a pool that is perfect for wading in after your short hike.
Hop The Beaches: There is no shortage of beautiful beaches of this island! Wherever you see a beach, pull over and get out. You won't regret it! We stopped at pretty much every single beach on the island, scroll down to skip to which ones are our favorites!
Get Up Close with Sting Rays: While the local Sting Rays congregate at Sting Ray Alley, you can see them on pretty much every beach all around the island. We had so much fun trying to spot the rays and getting really excited whenever they swam by. We just love them!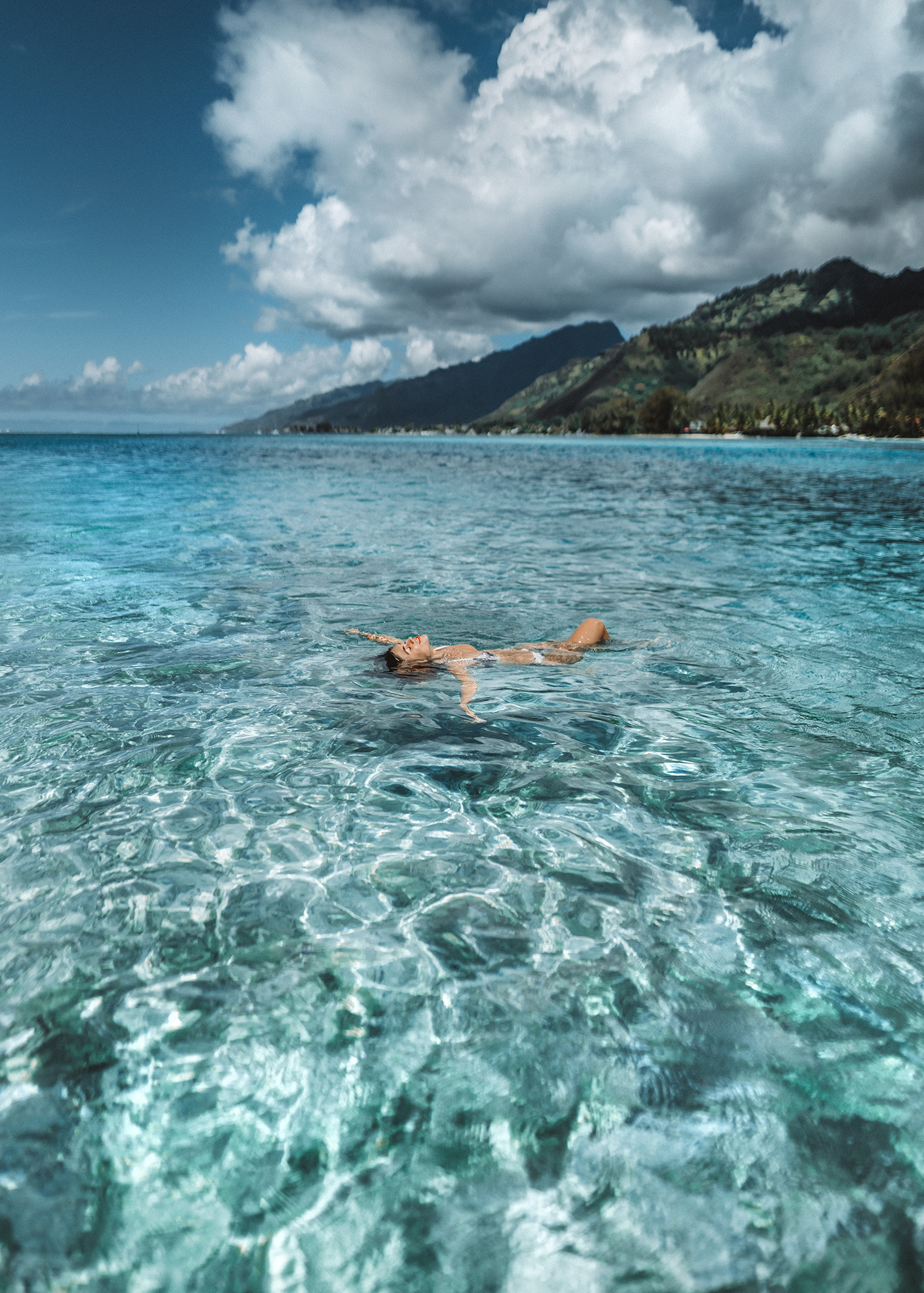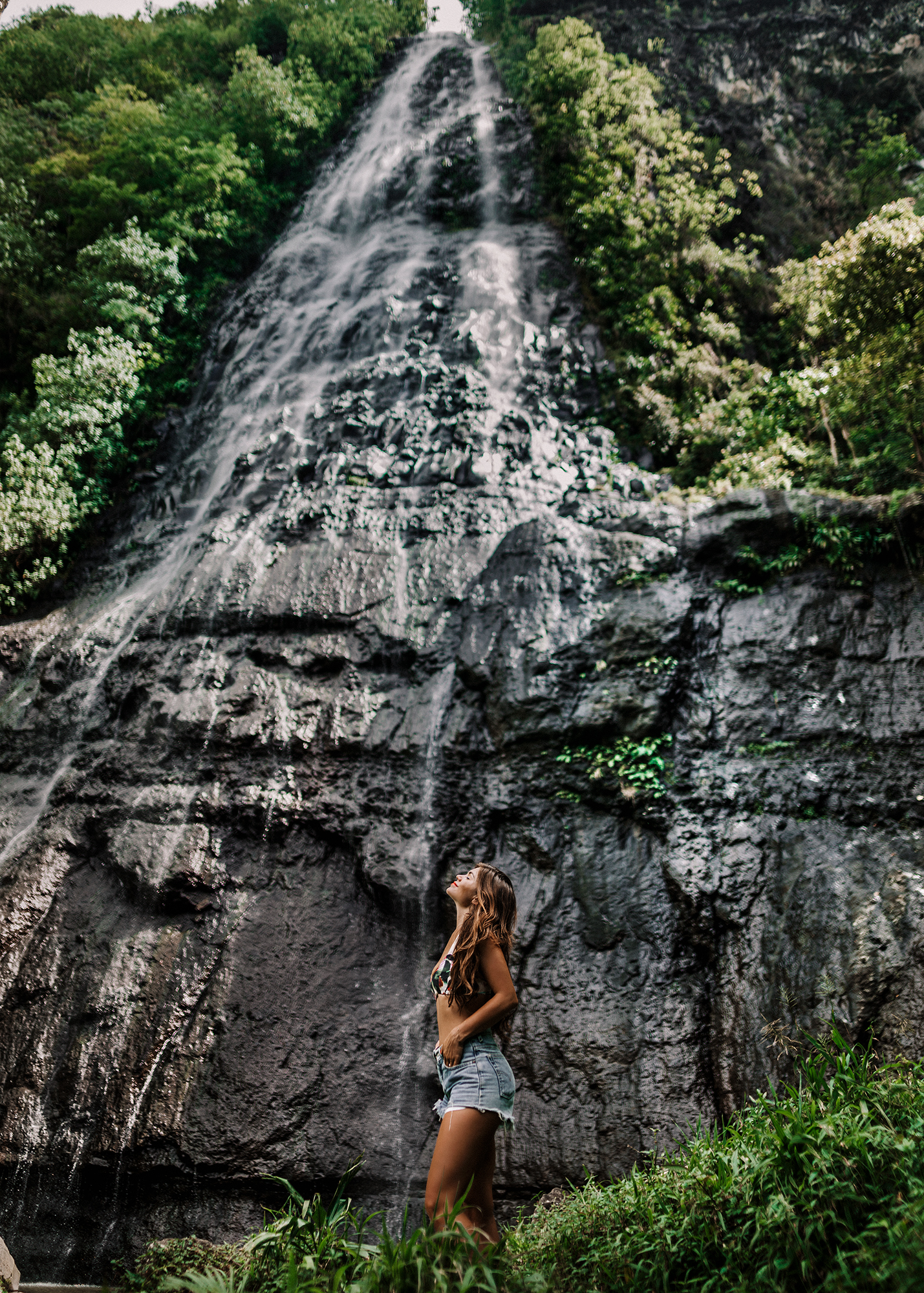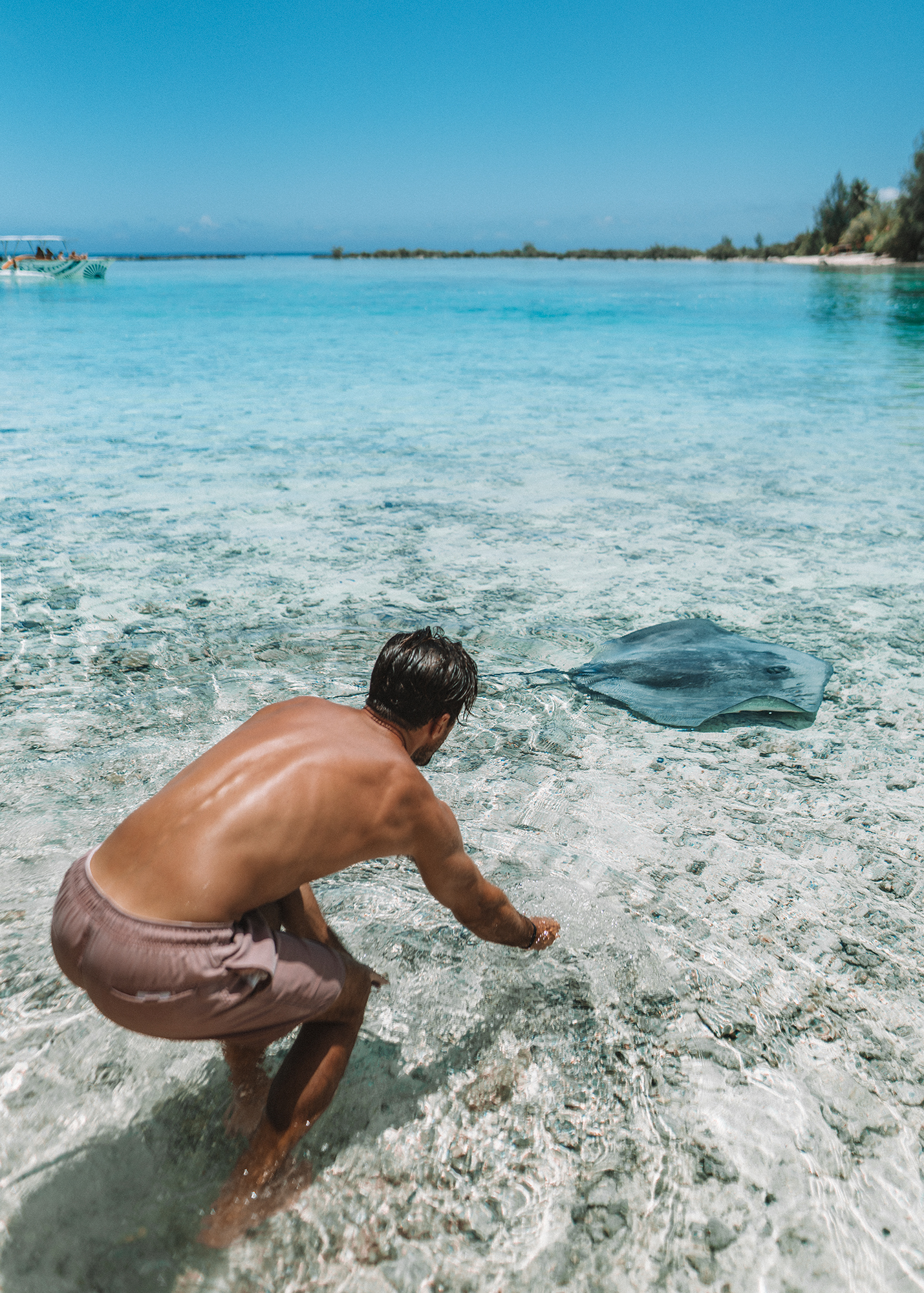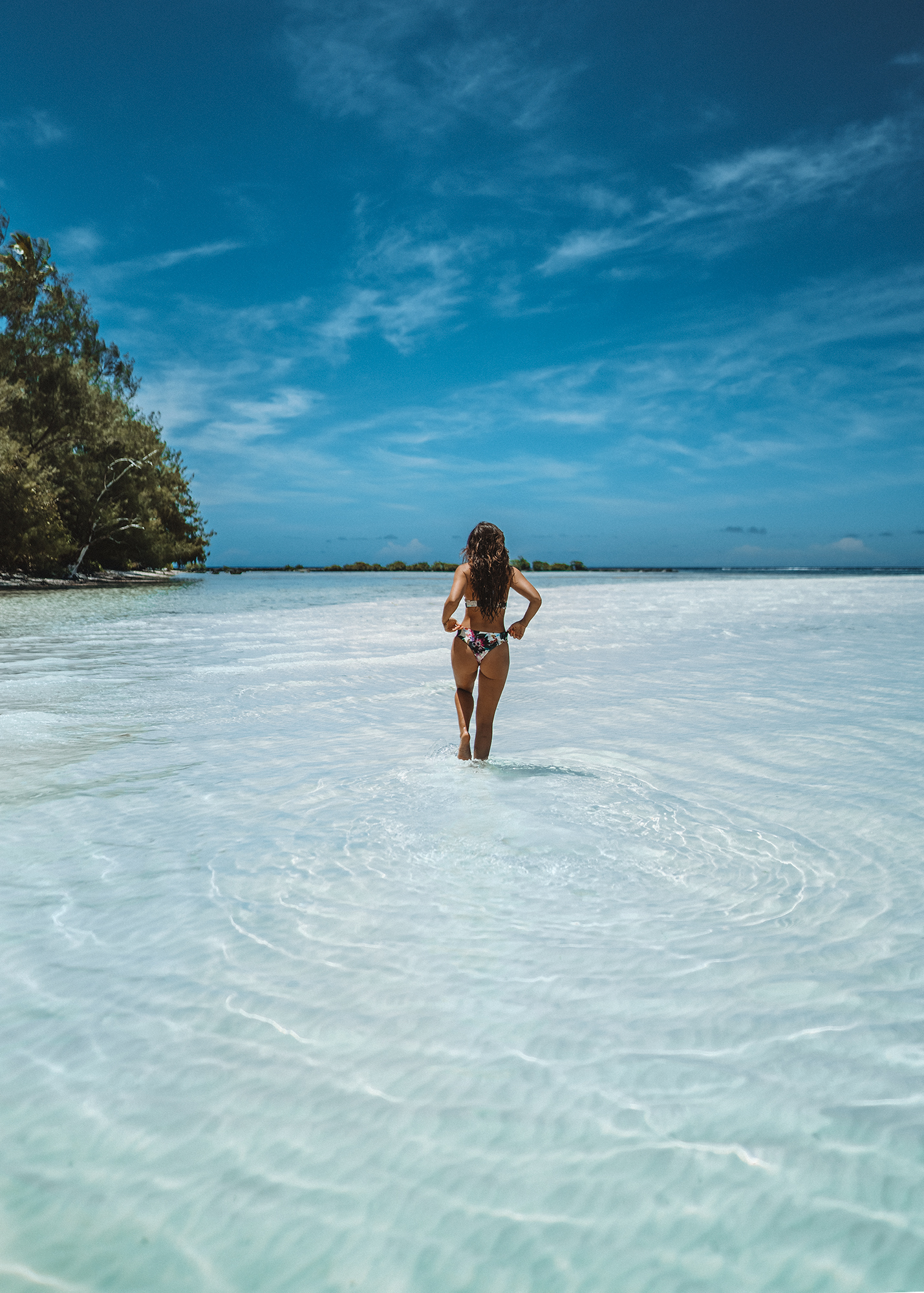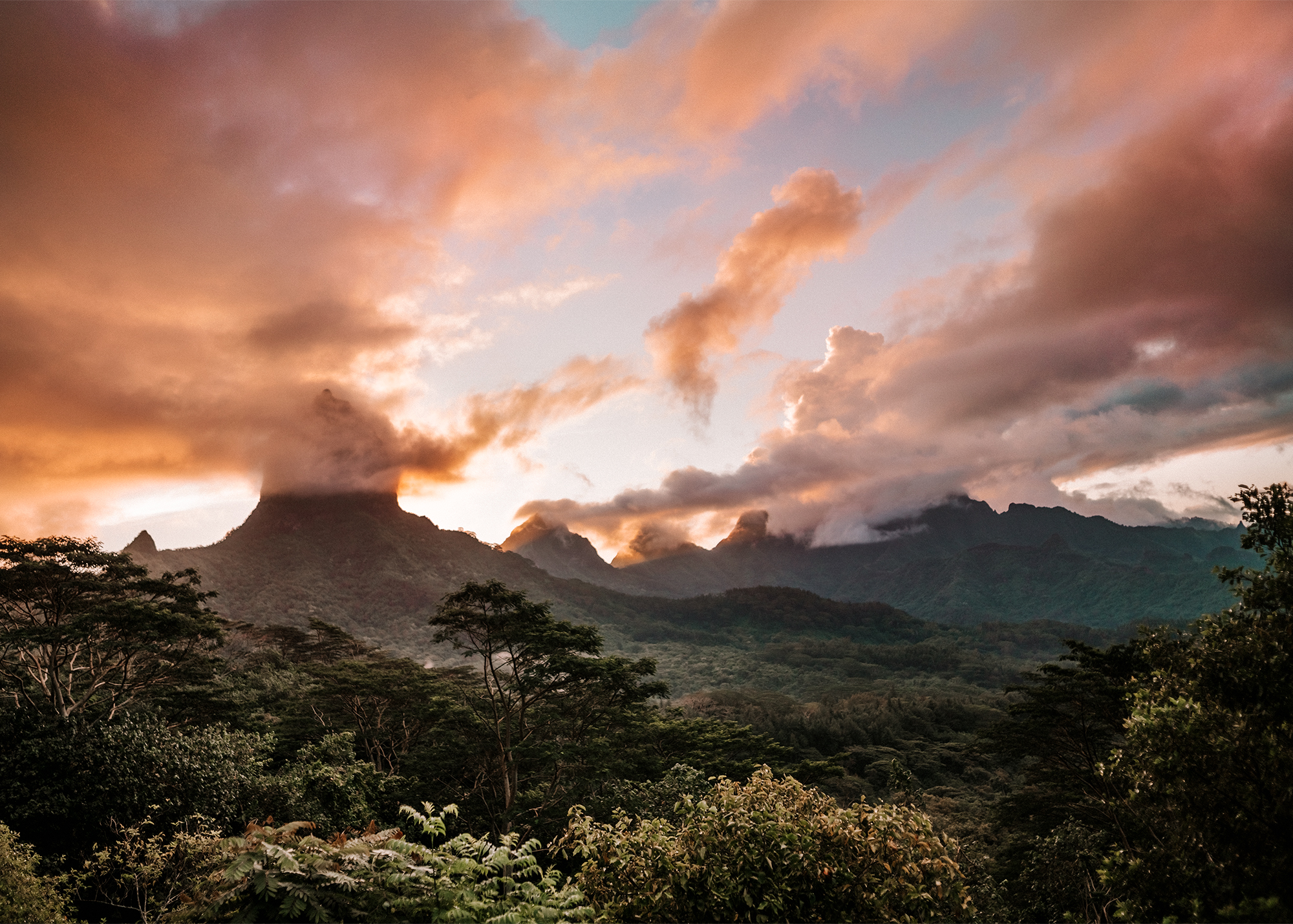 Activities Worth the Money:
Moorea Miti Tours: One of the best ways to see Moorea is on a traditional outrigger canoe. When the waters are calm, a tour guide will take you out to some of the best swim and snorkel spots in the lagoon where you can swim with sea turtles and stingrays. You'll also get to learn about the culture and history of the beautiful island while you learn to cook some delicious traditional Tahitian food as part of a small group. The 6-hour tour includes beer and rum punch, lunch, snorkeling EQ, towels, and some fun entertainment from your captain. We took this tour and would definitely take it again! Boat day is always the best day. Cost: $90/person
Rent your own motorboat - The public beach located at Les Tipaniers is one of the most beautiful in Moorea, and has a small boat and dive shop where you can schedule tours, or rent your own little motorboat (no license or experience required.) We took one out one afternoon and had so much fun cruising to the Motus (small islands within the lagoon), getting up close to the Sting Rays, and being out in the sun and water all on our own. The boats can fit 4 people, making it a great and even more affordable group activity. Cost: $70 for 2 hours or $100 for 4 hours.
Rent a Kayak - On the same Les Tipaniers beach, there are a couple of different companies where you can rent a kayak as well as some snorkel gear. Tip Nautic rents kayaks for two for around $9 an hour, or 4 hours for $28. You can see all of the same beaches, islands, and sealife as the motorboat for a much lower price - plus get a work out in.
Adventure Tours - There are tons of different private tour groups that will take you on amazing water adventures that are worth it! Check out Moorea Water Games will take you to Moorea's best snorkeling spot where you can swim with sting rays or book a private boat tour to go whale watching. The Moorea Adventures Center is also a great place to sign up for an ATV or jet ski tour.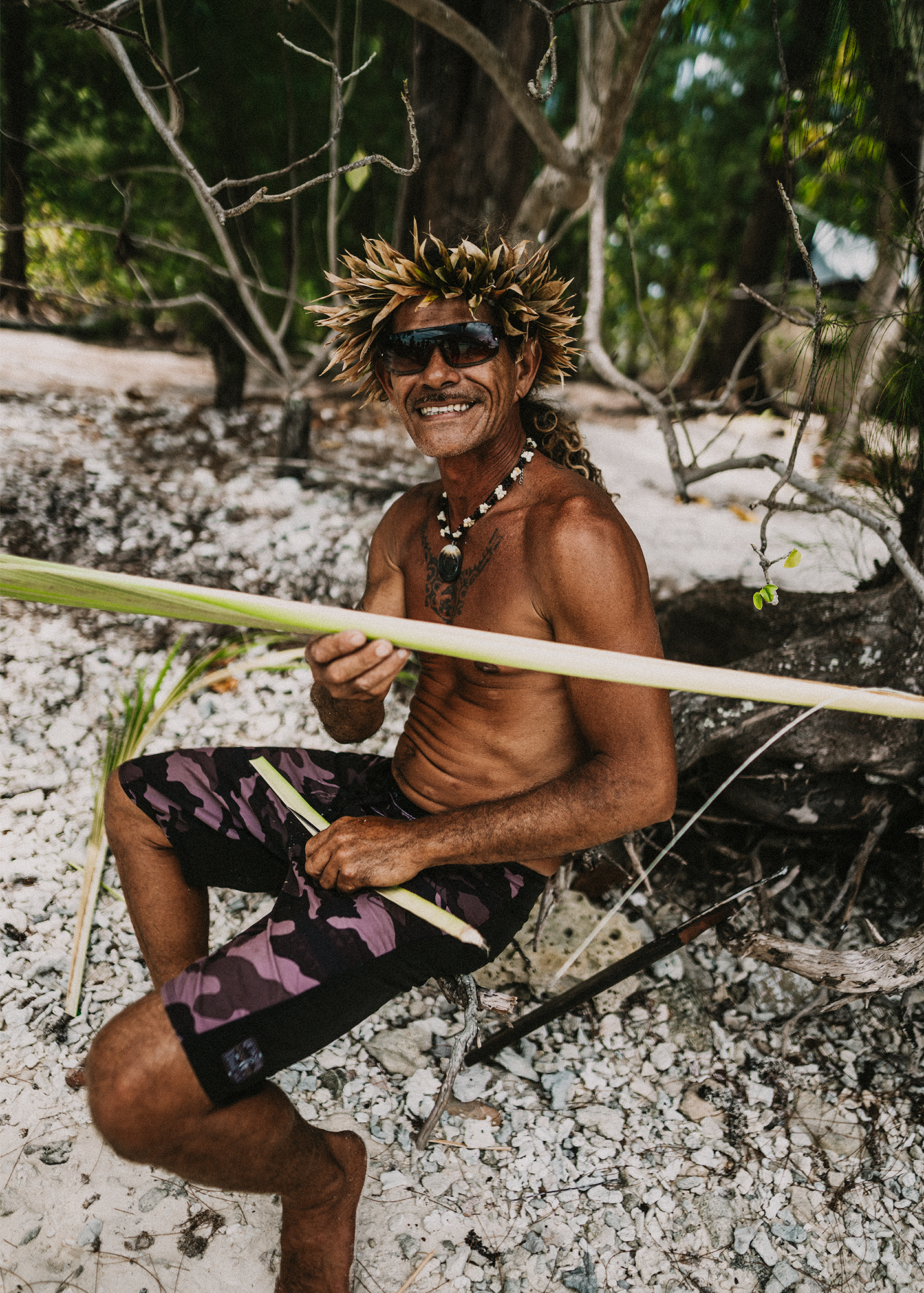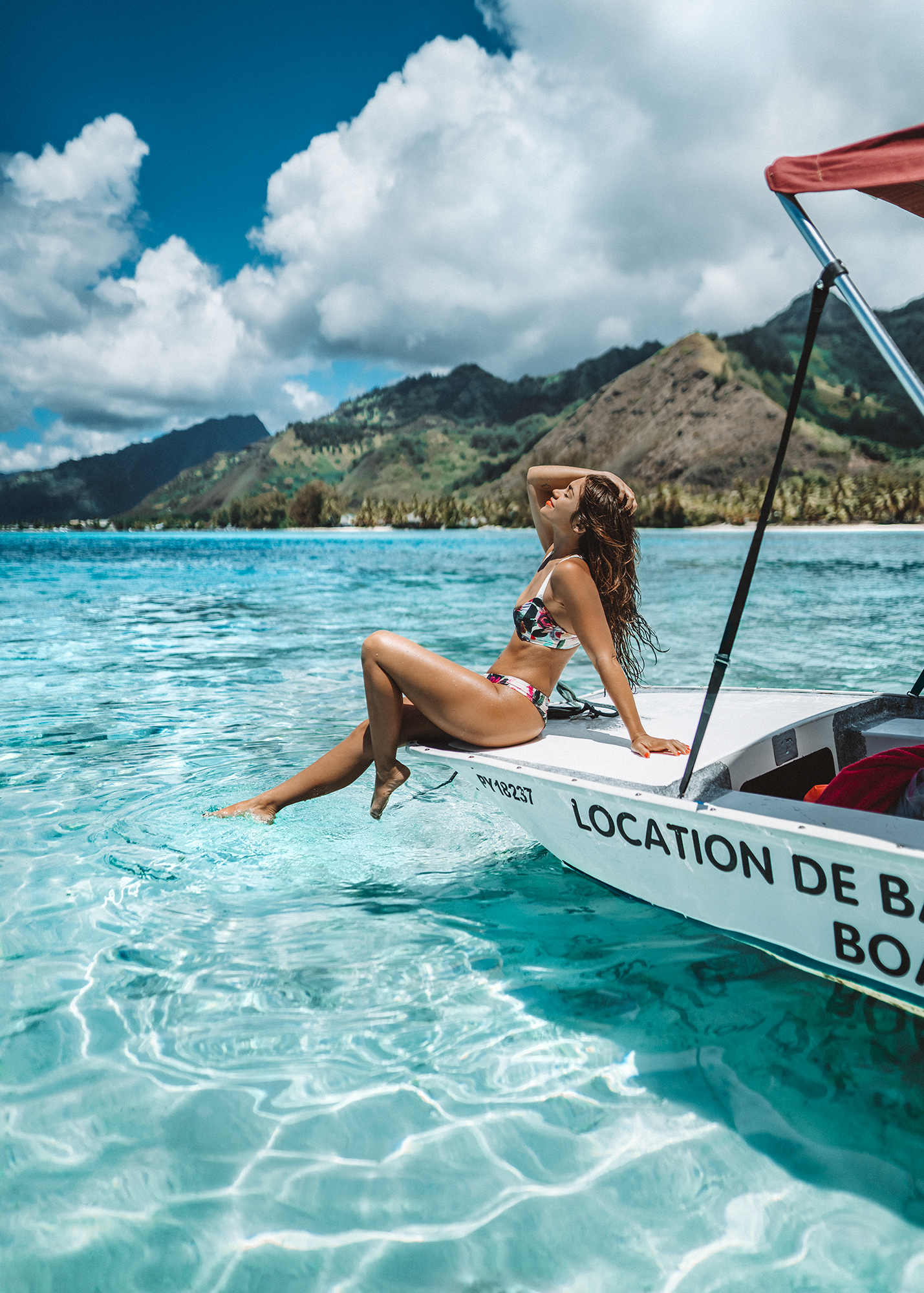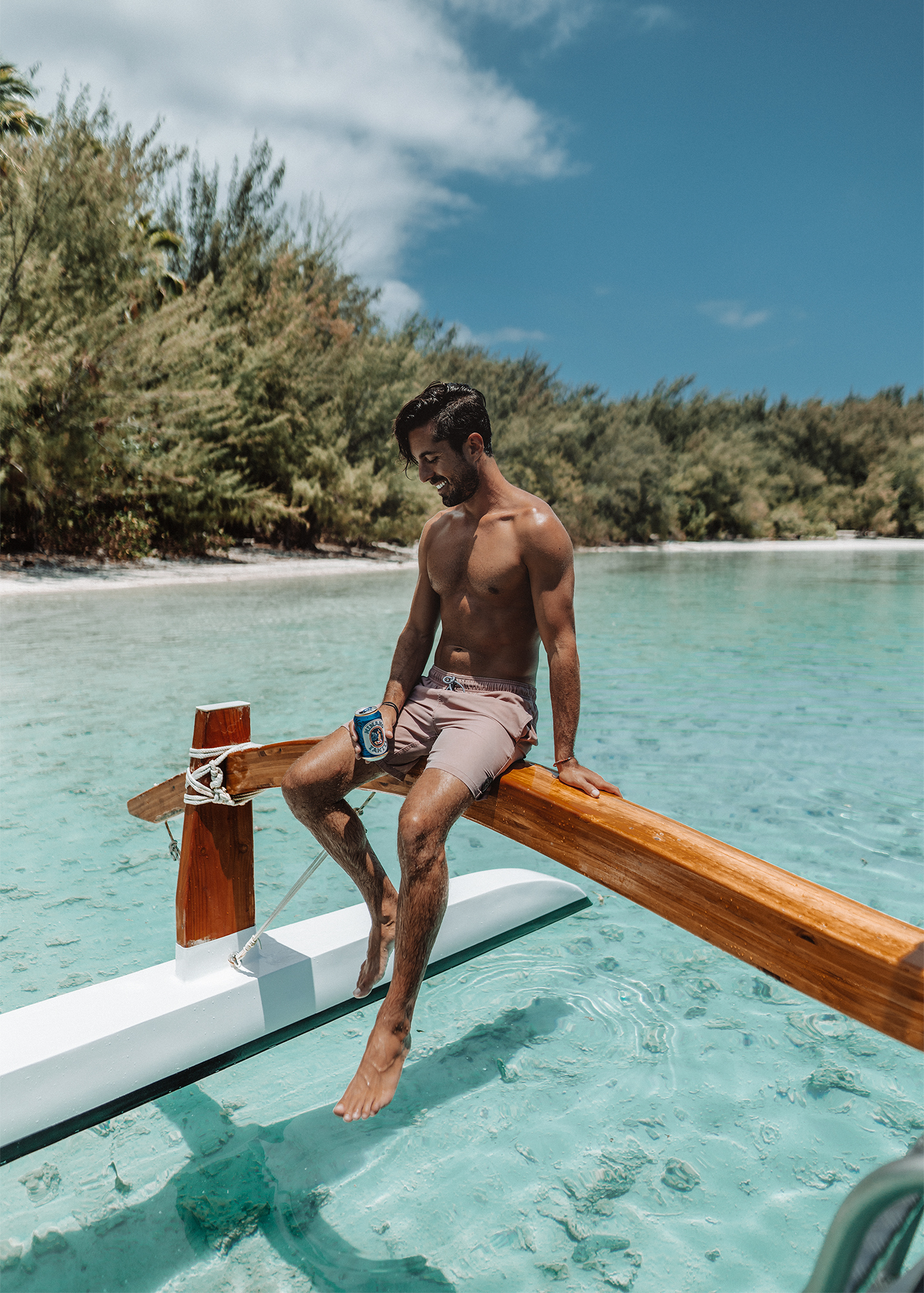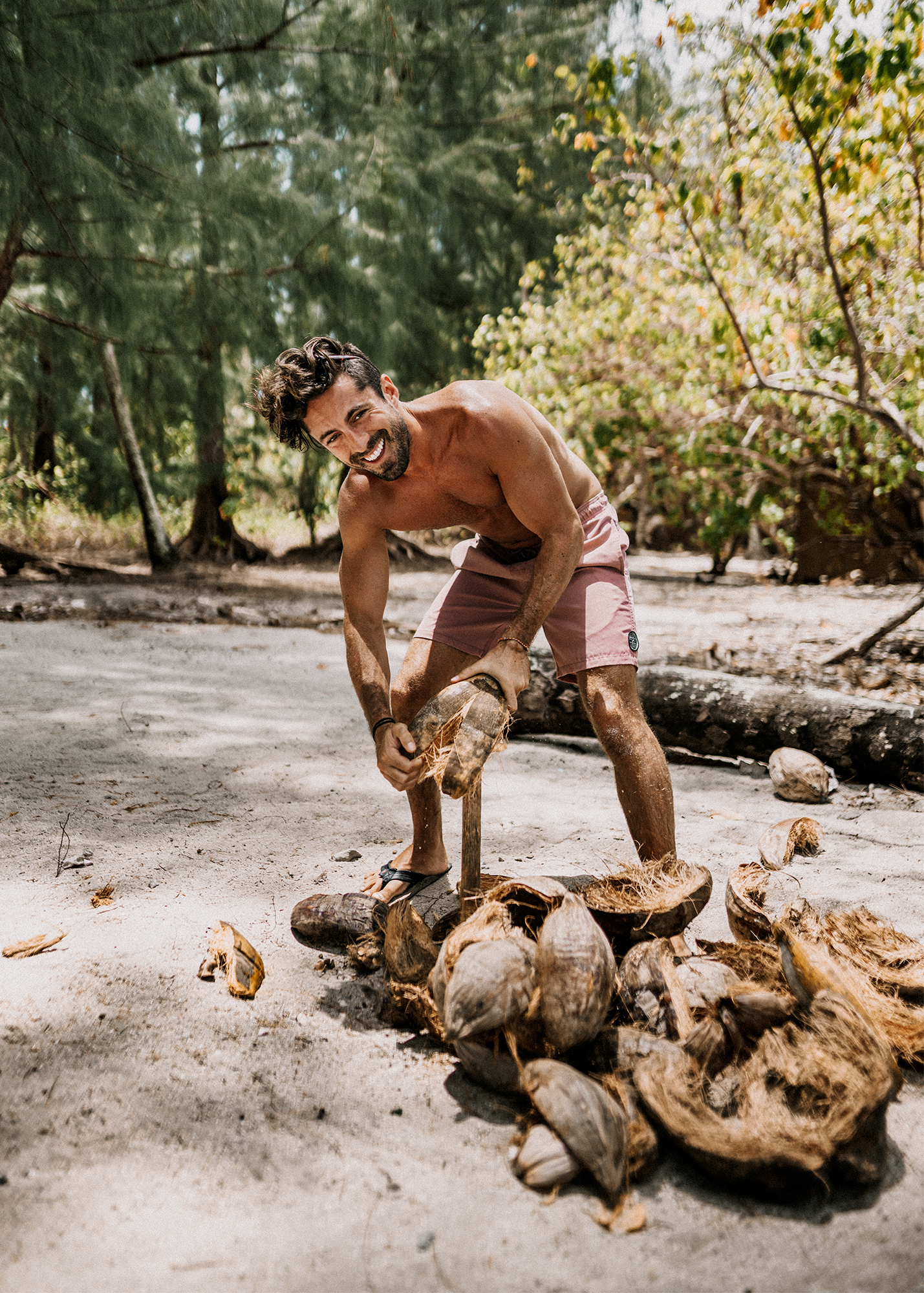 The Best Beaches:
Hotel les Tipaniers Beach: Located right next to Hotel Les Tipaniers is this popular beach. Different groups provide options for water sport activities including a self guided tour to where you can swim with the sharks and sting rays. There's also a beachside restaurant overlooking the water to grab some burgers or fish for when you're hungry.
.
Temae Beach: Close to the the Sofitel's swanky, private beach, this public beach is free to the public. Swim out 100 yards in the crystal clear water and you'll be able to float over the stunning coral reef.
Sting Ray Alley: Located exactly here, this waist-high sandbar is where the black tip sharks and sting rays congregate. As the tours often come and feed them multiple times a day, the rays are very friendly and will often swim right up to you. You can reach this site by group tour, private motorboat, or just your own kayak, and there are small floating bouys to tie your boat to. We came back here over and over because we love rays and it was one of the most fun places to see them.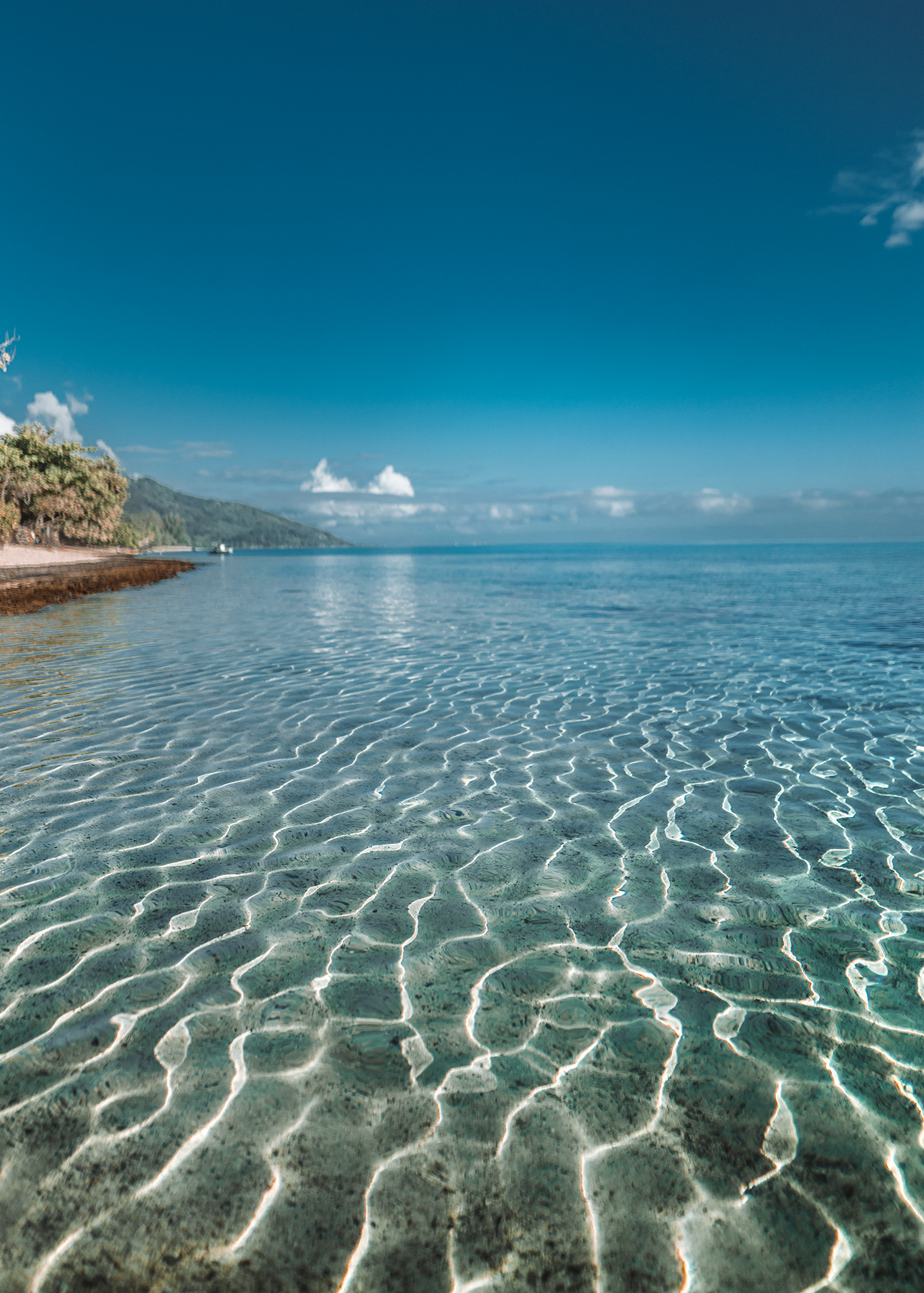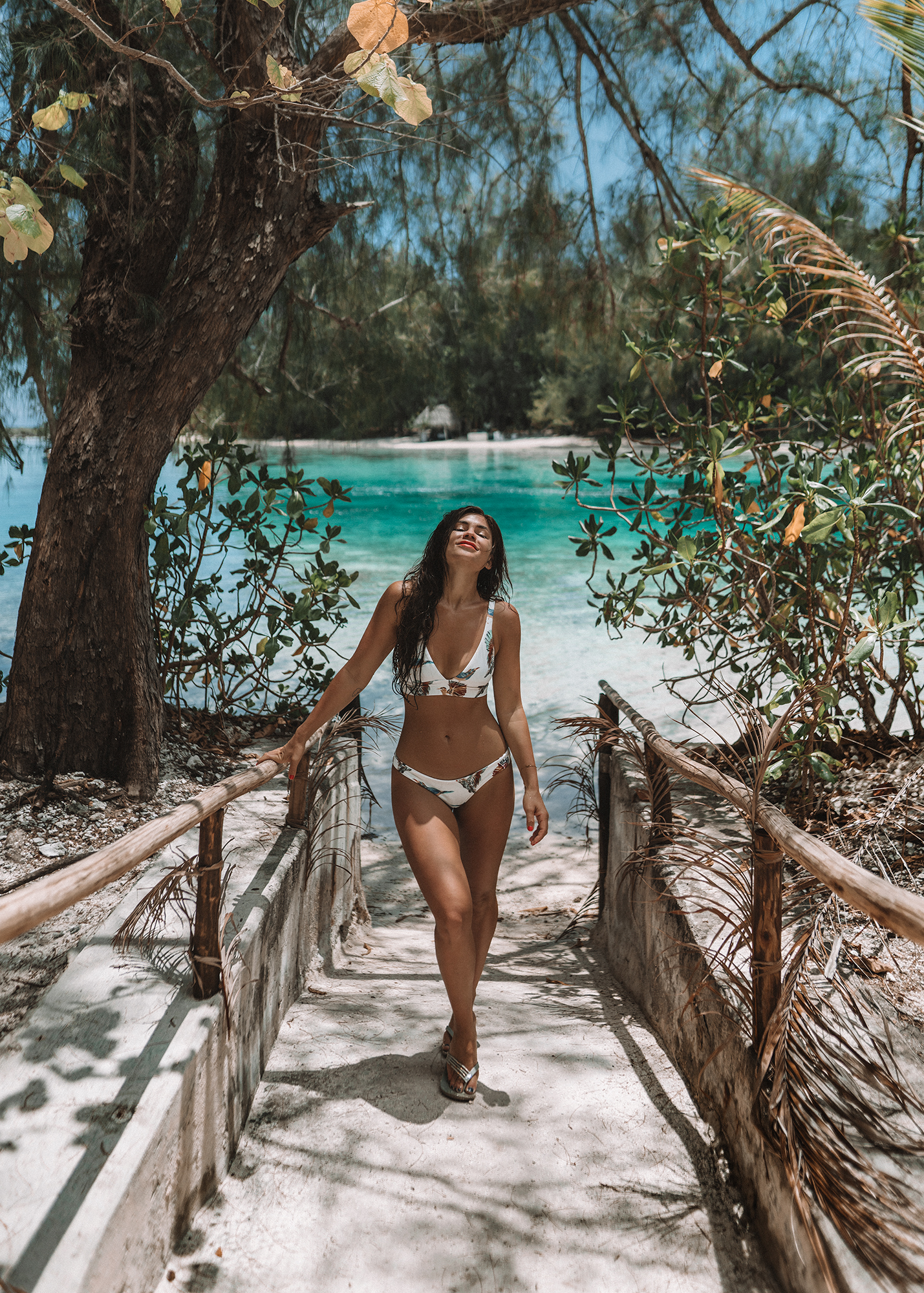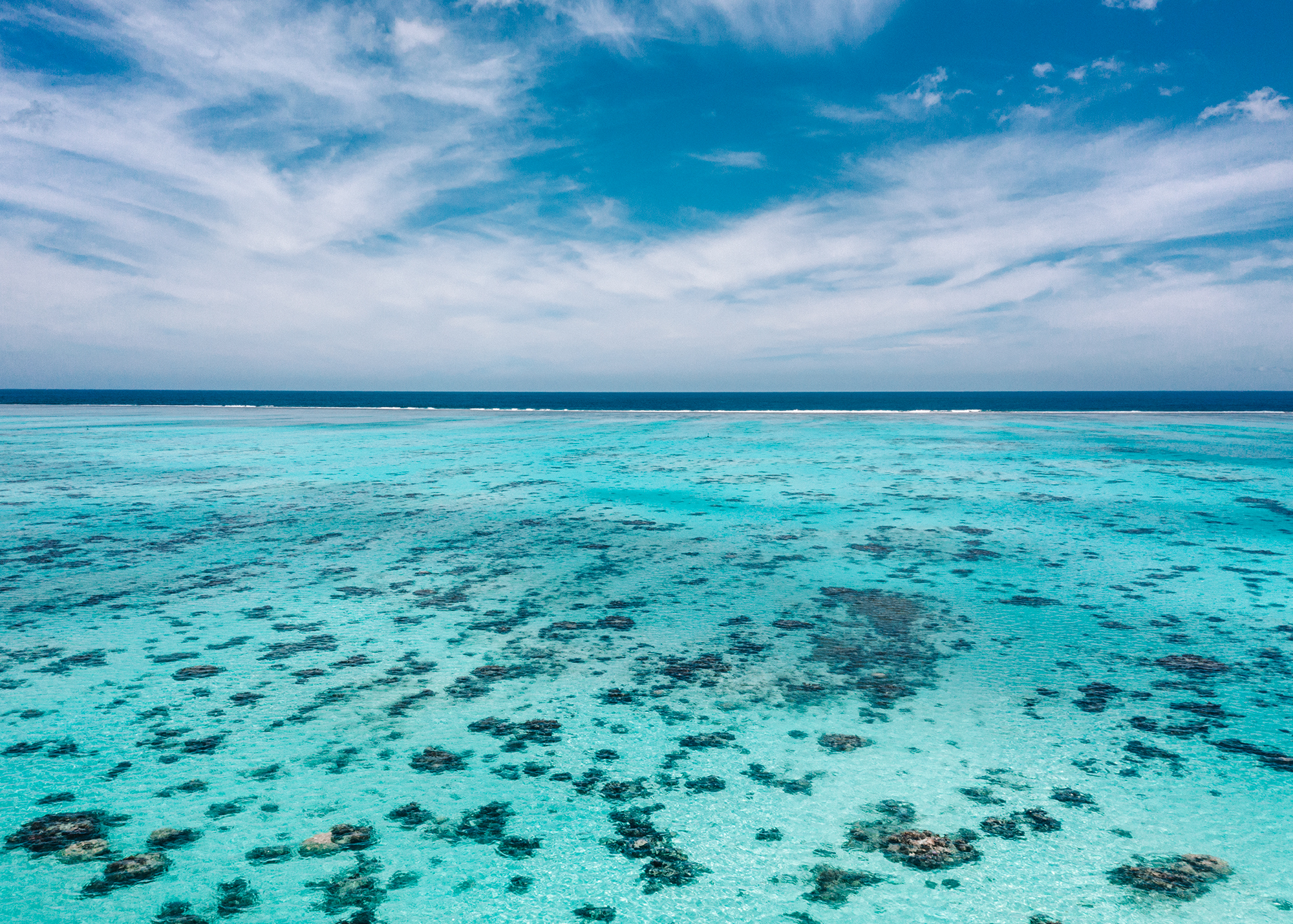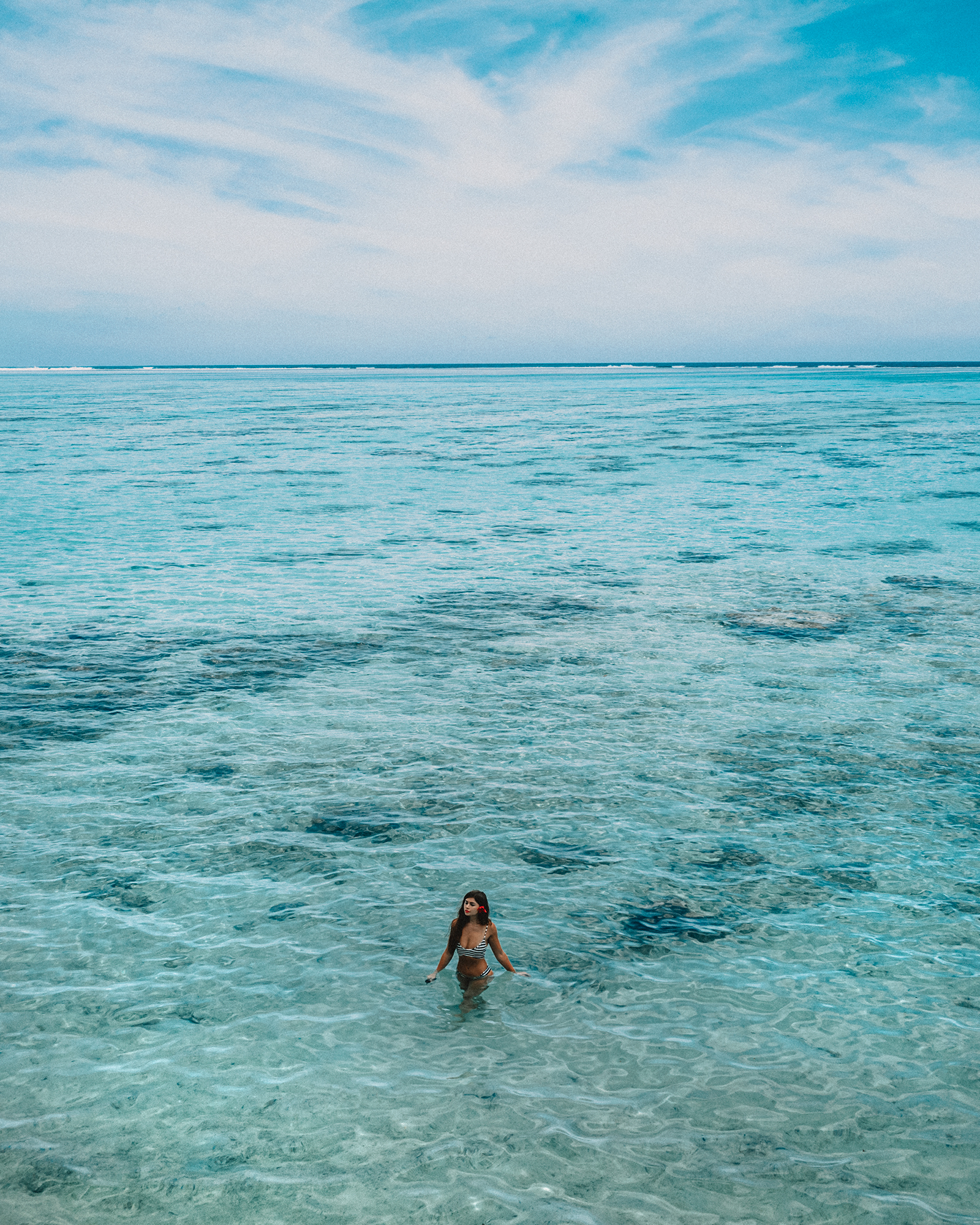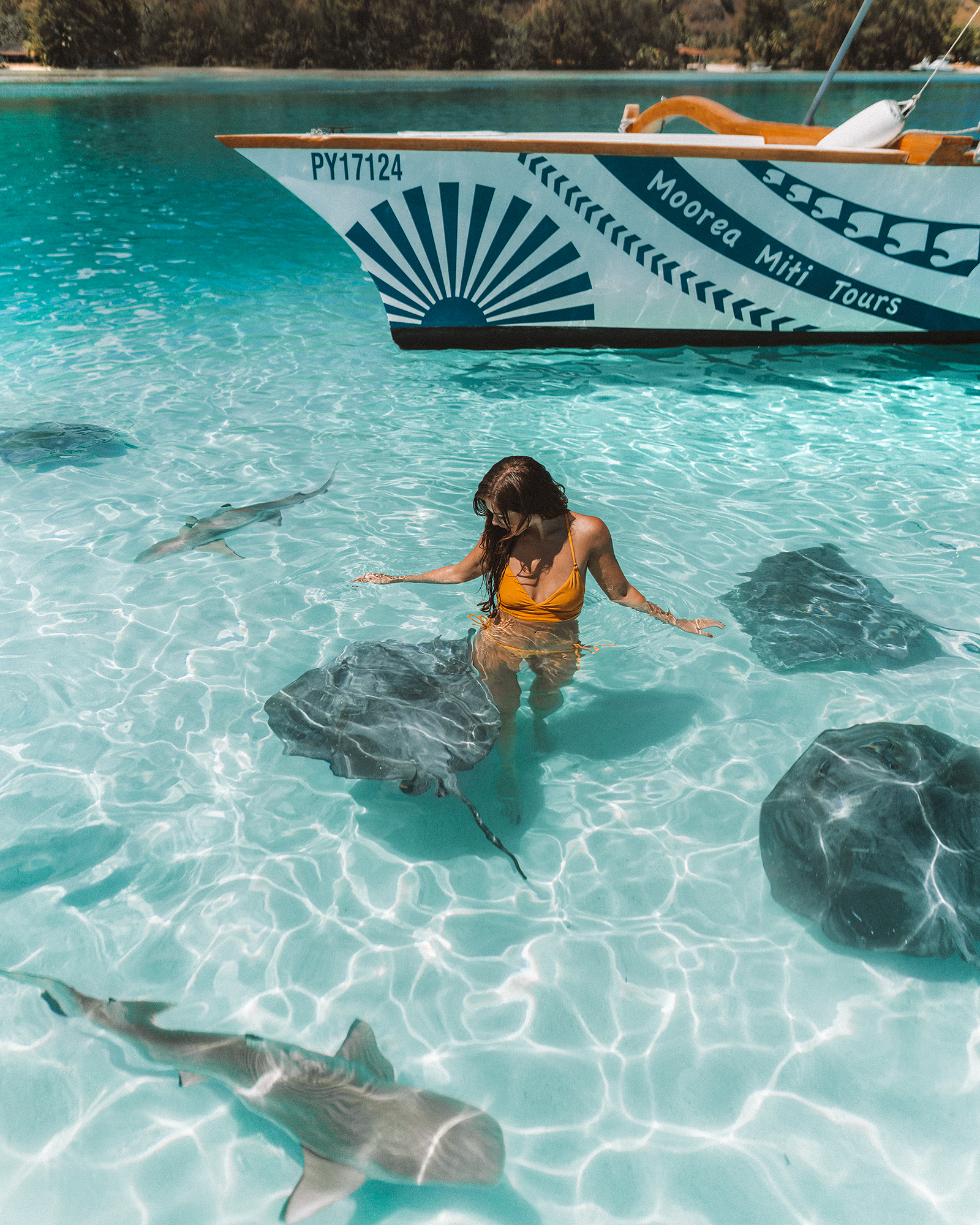 What To Pack: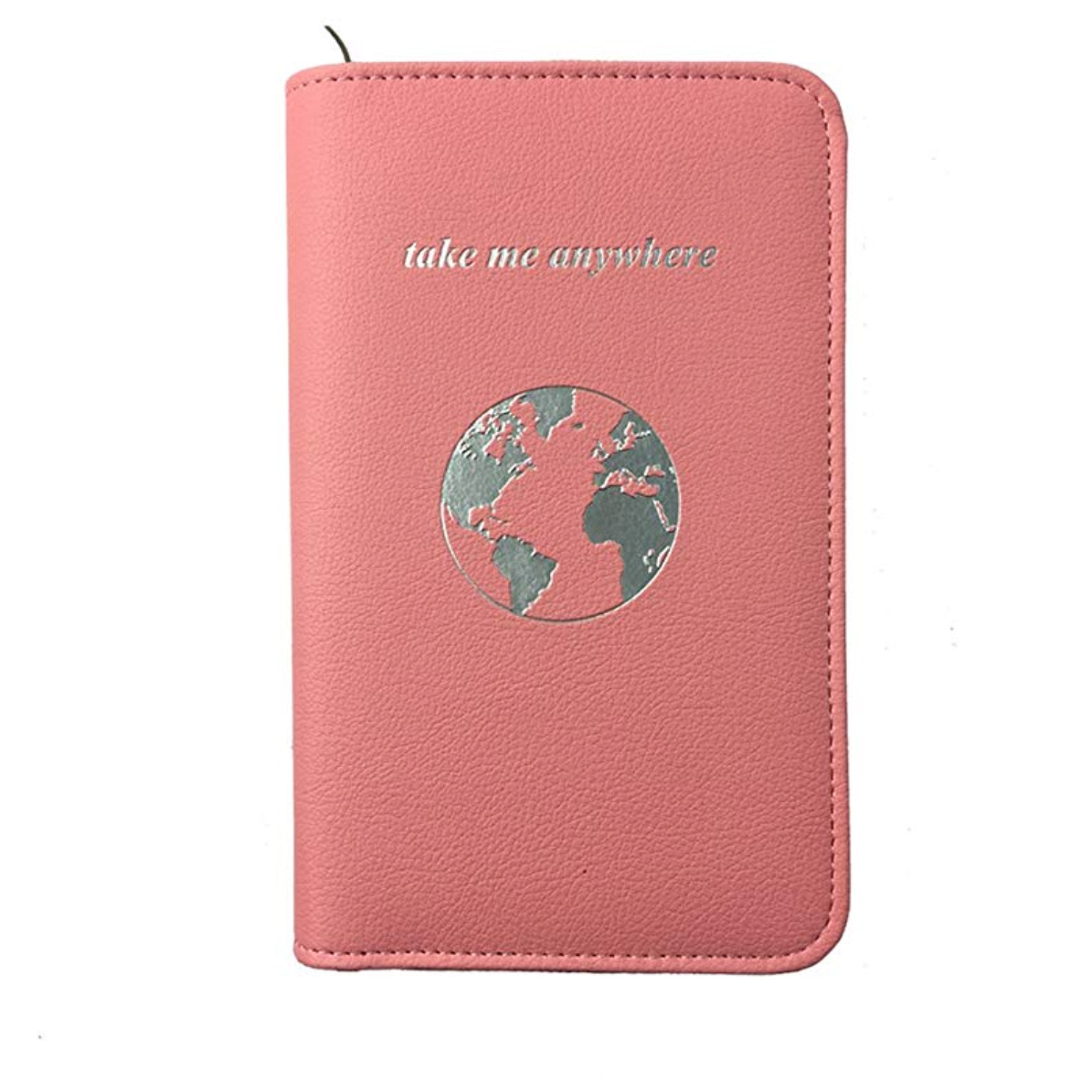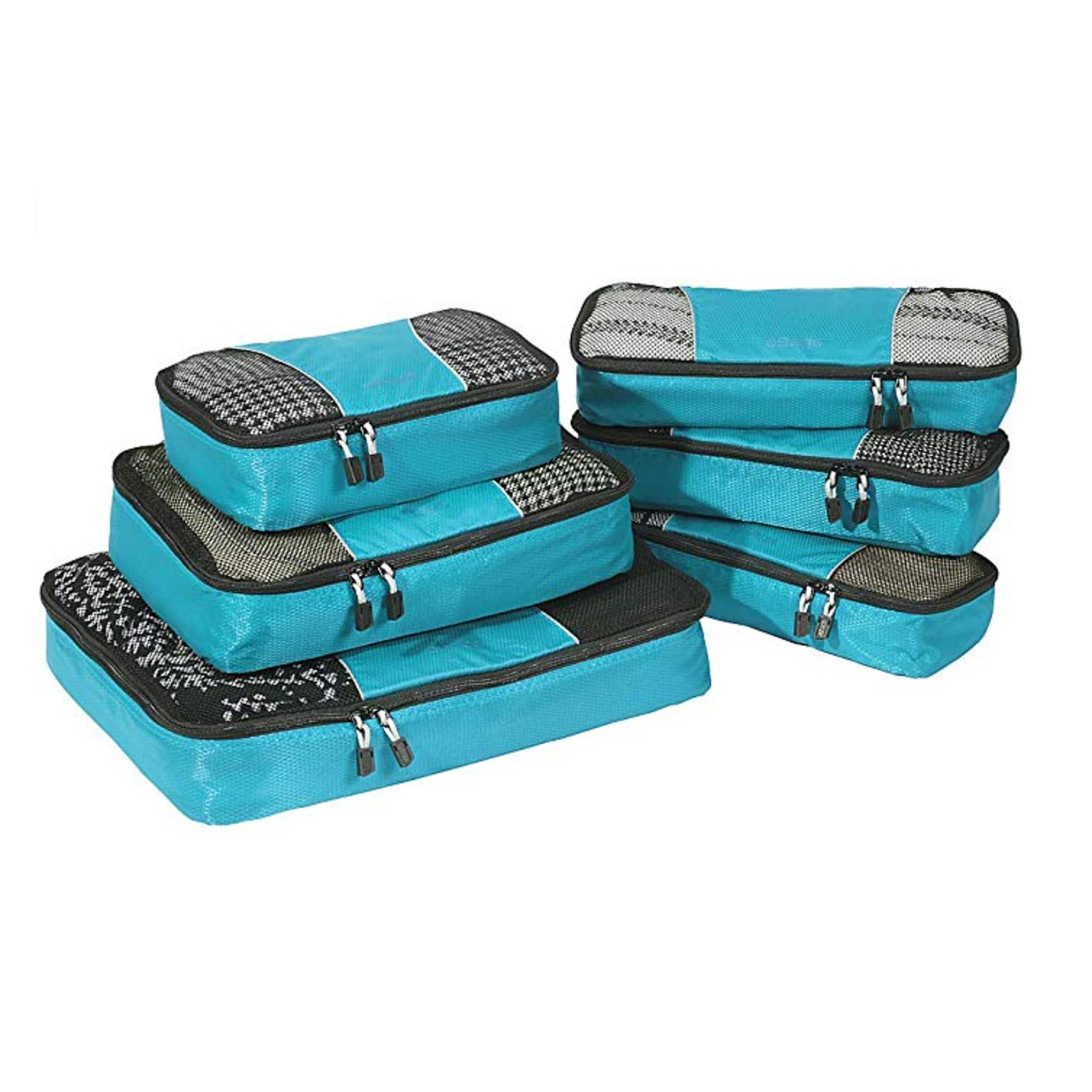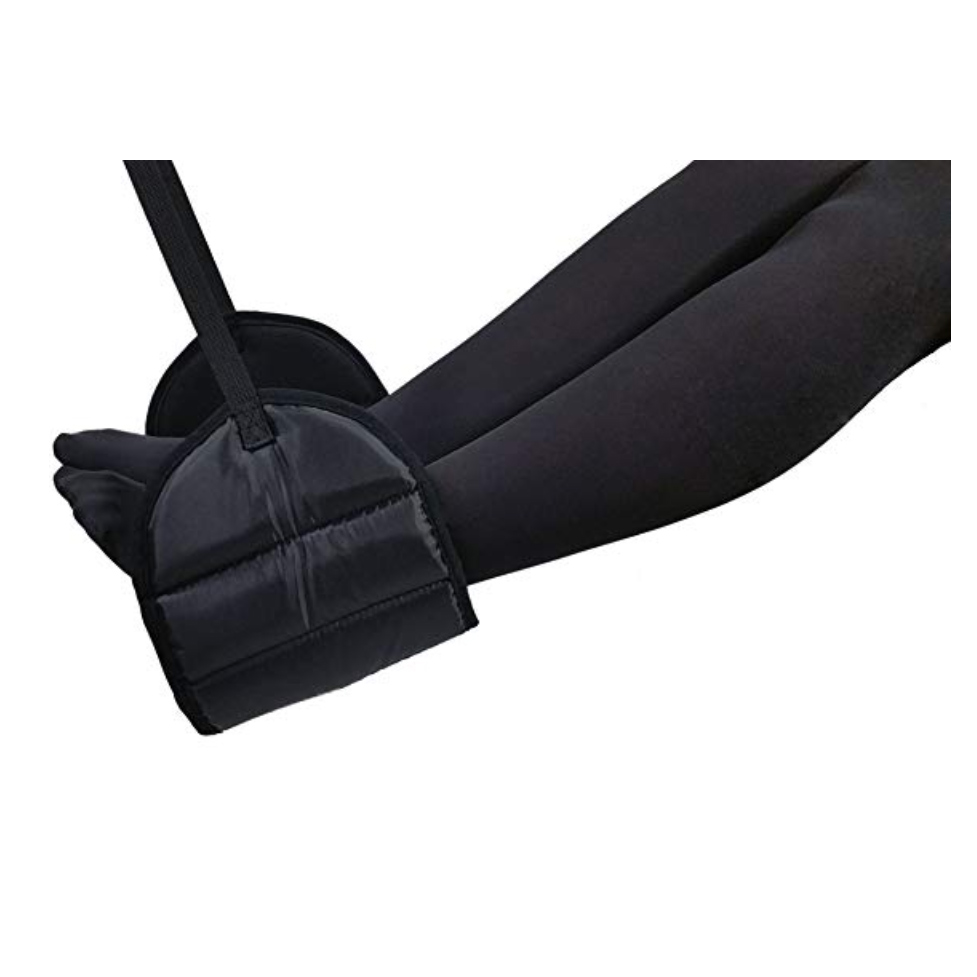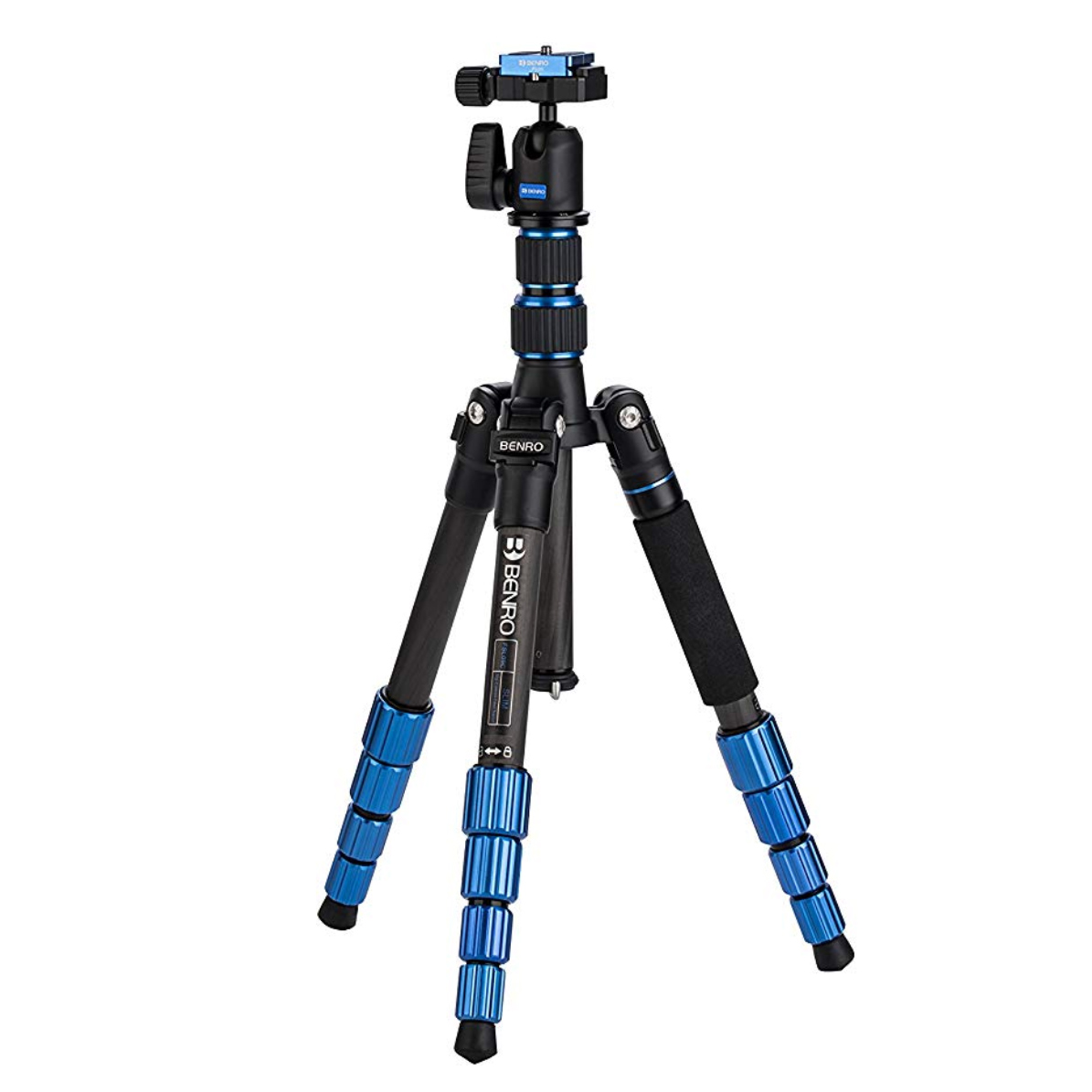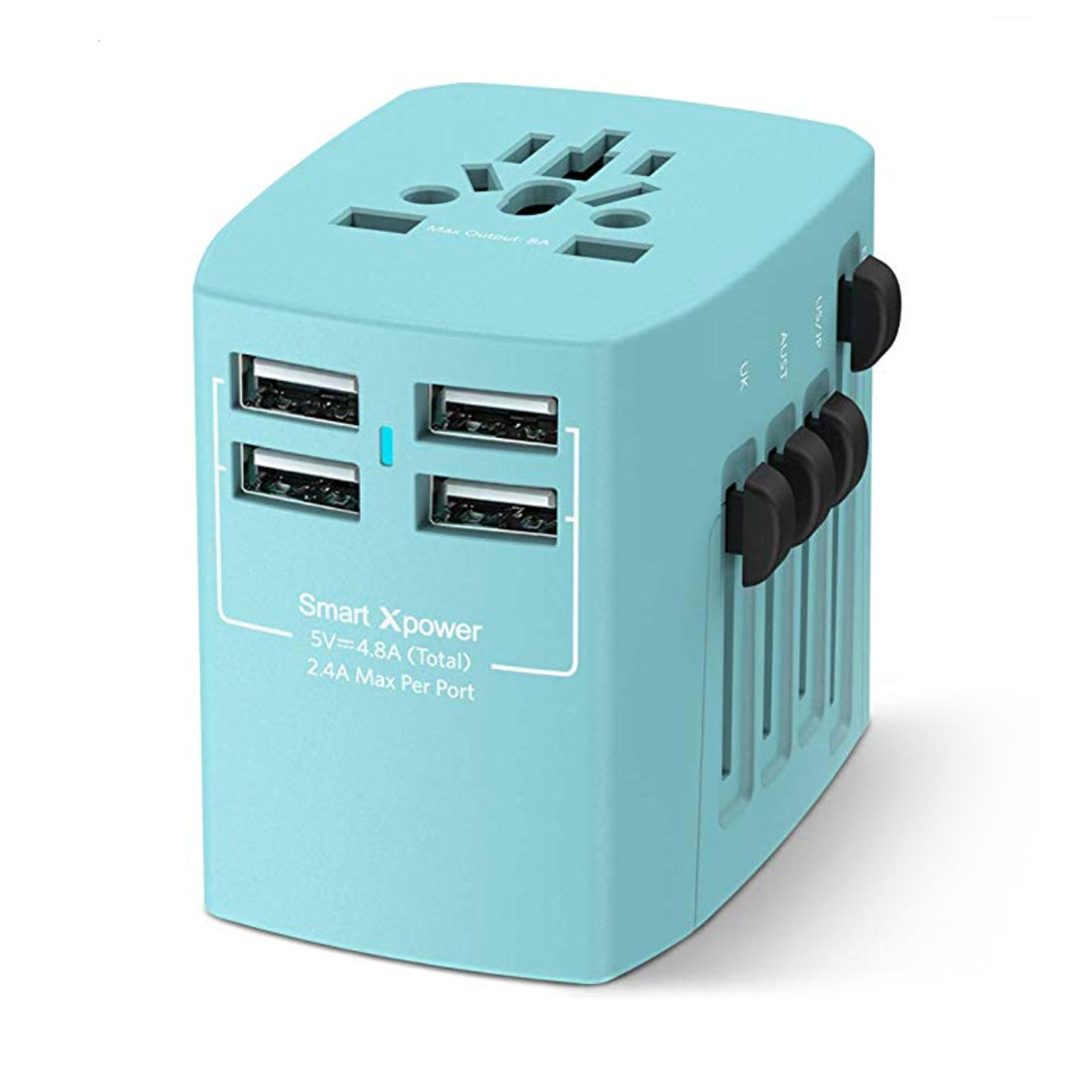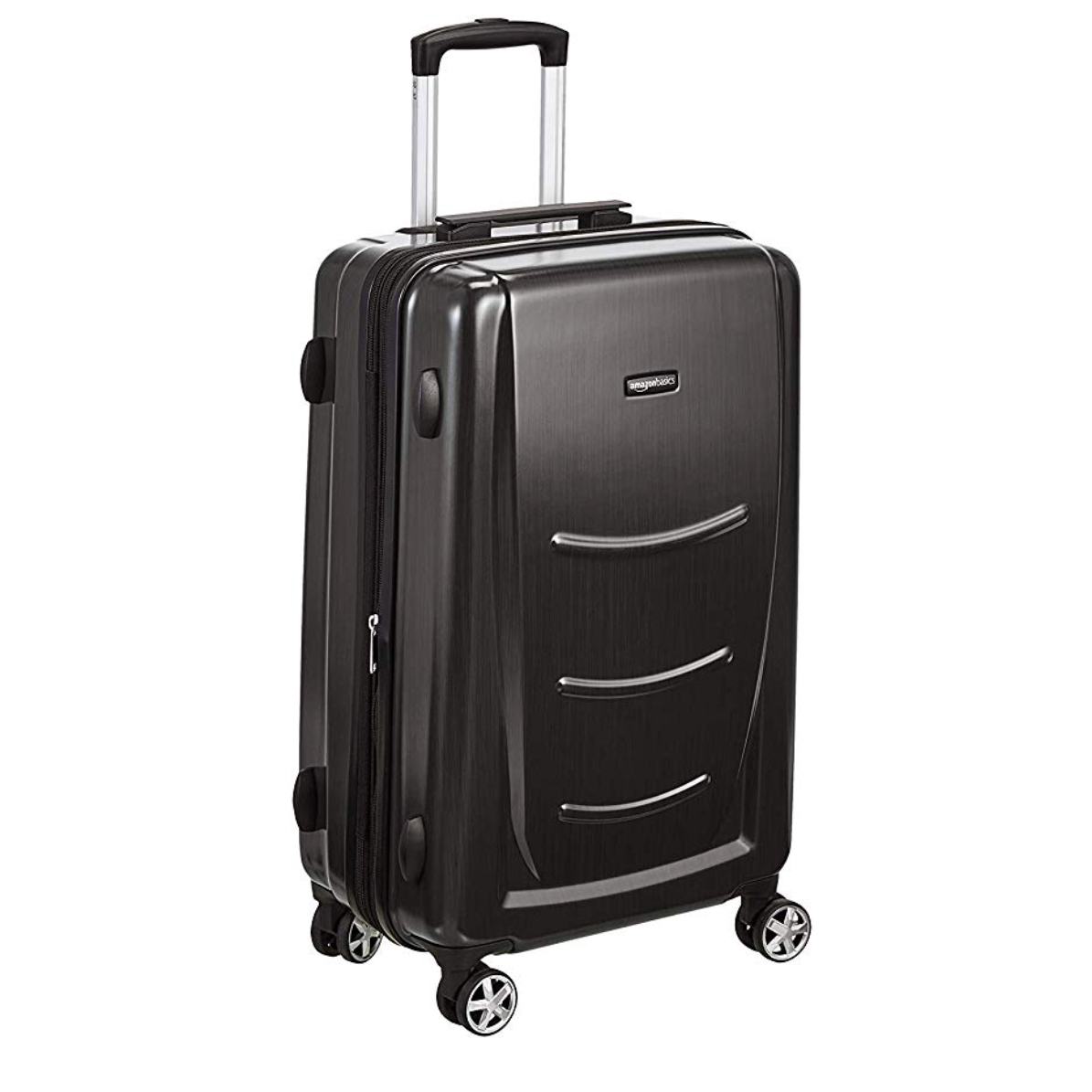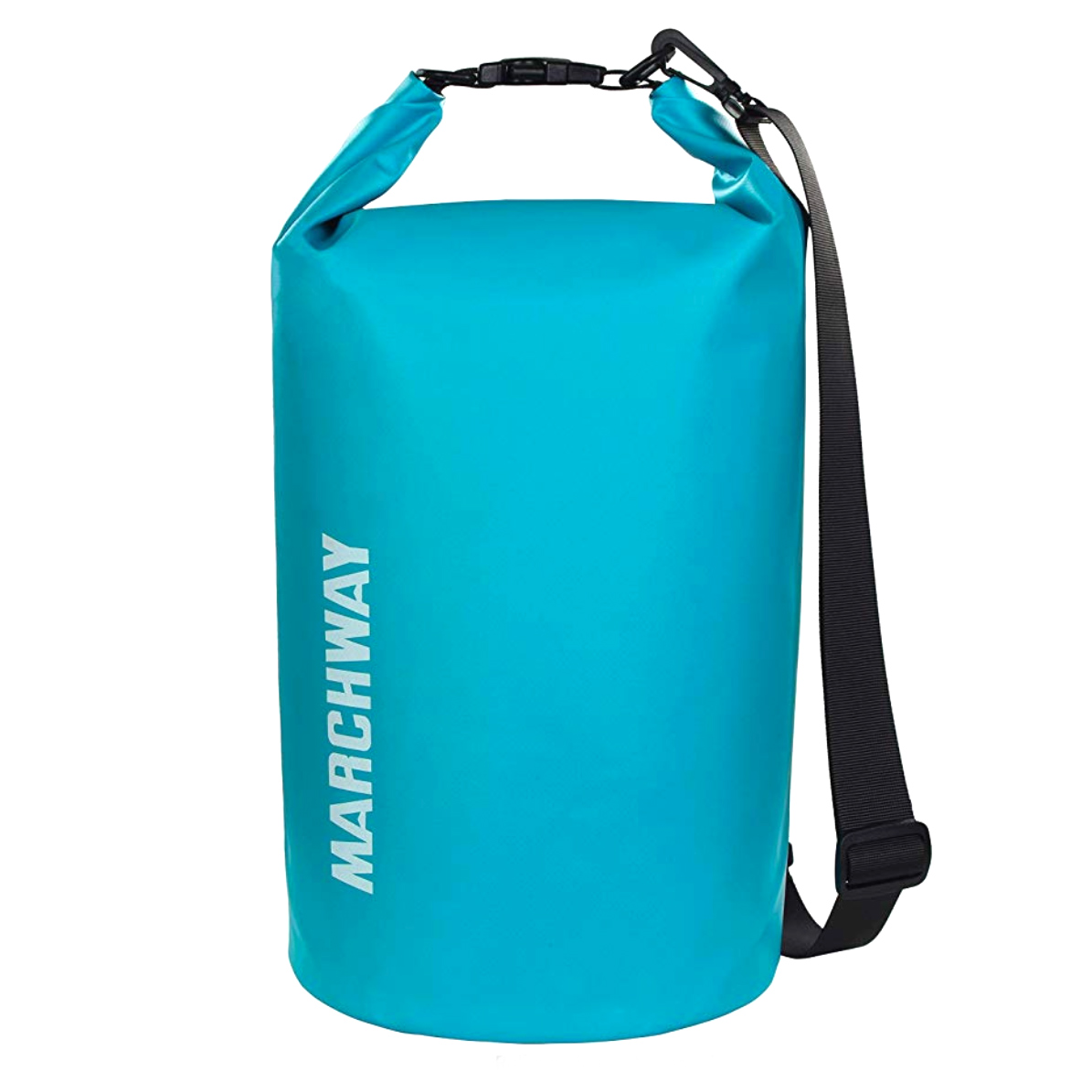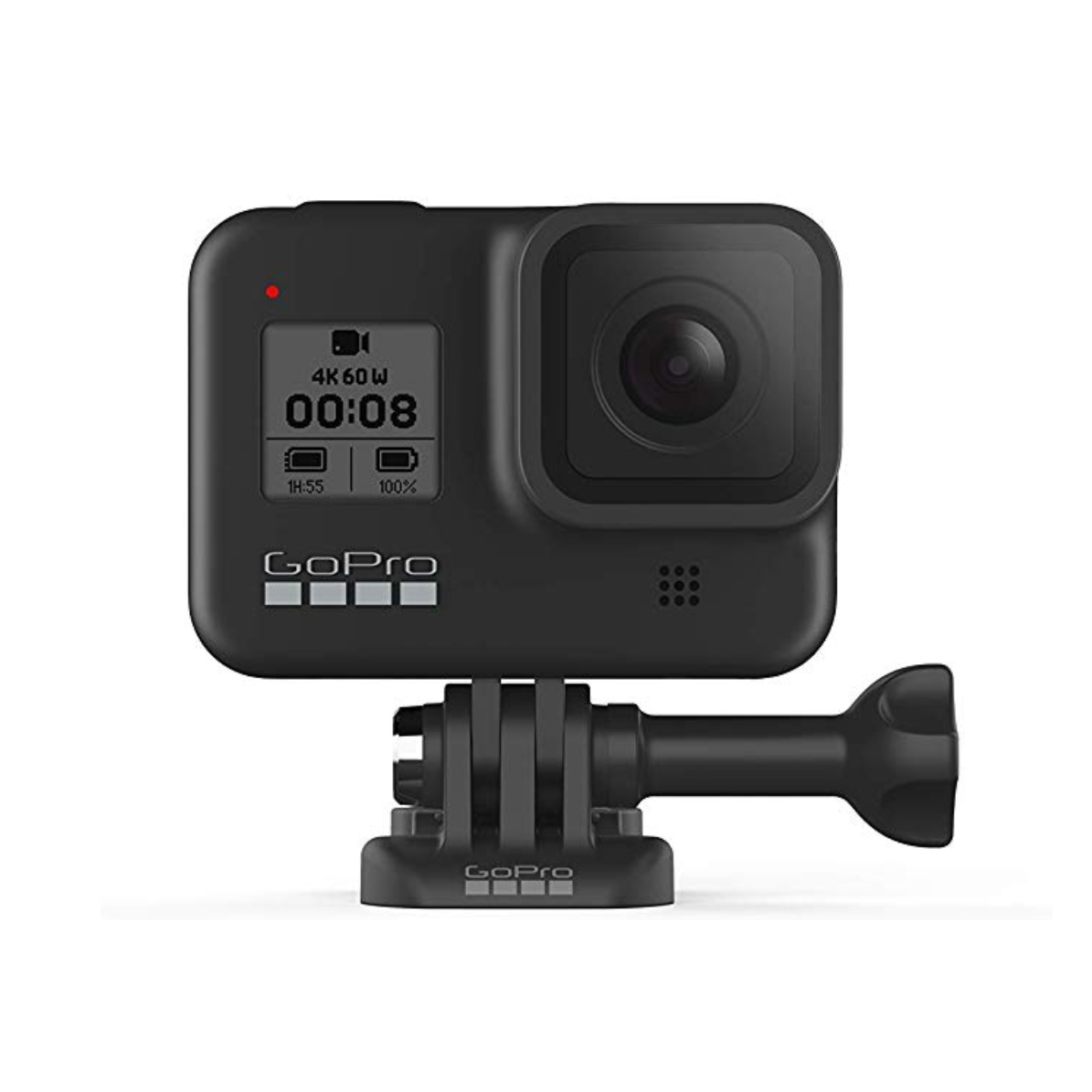 Pin It For Later: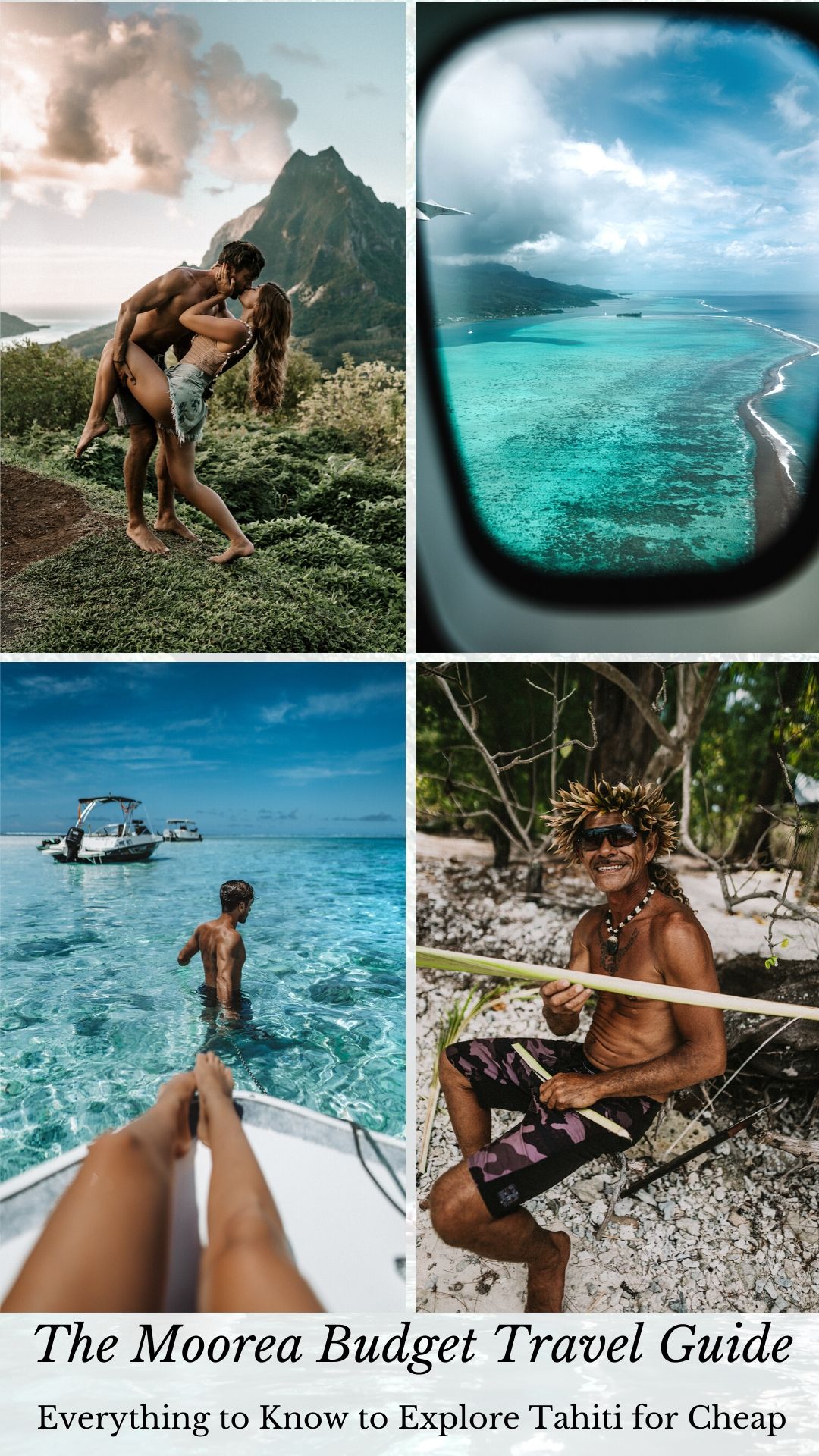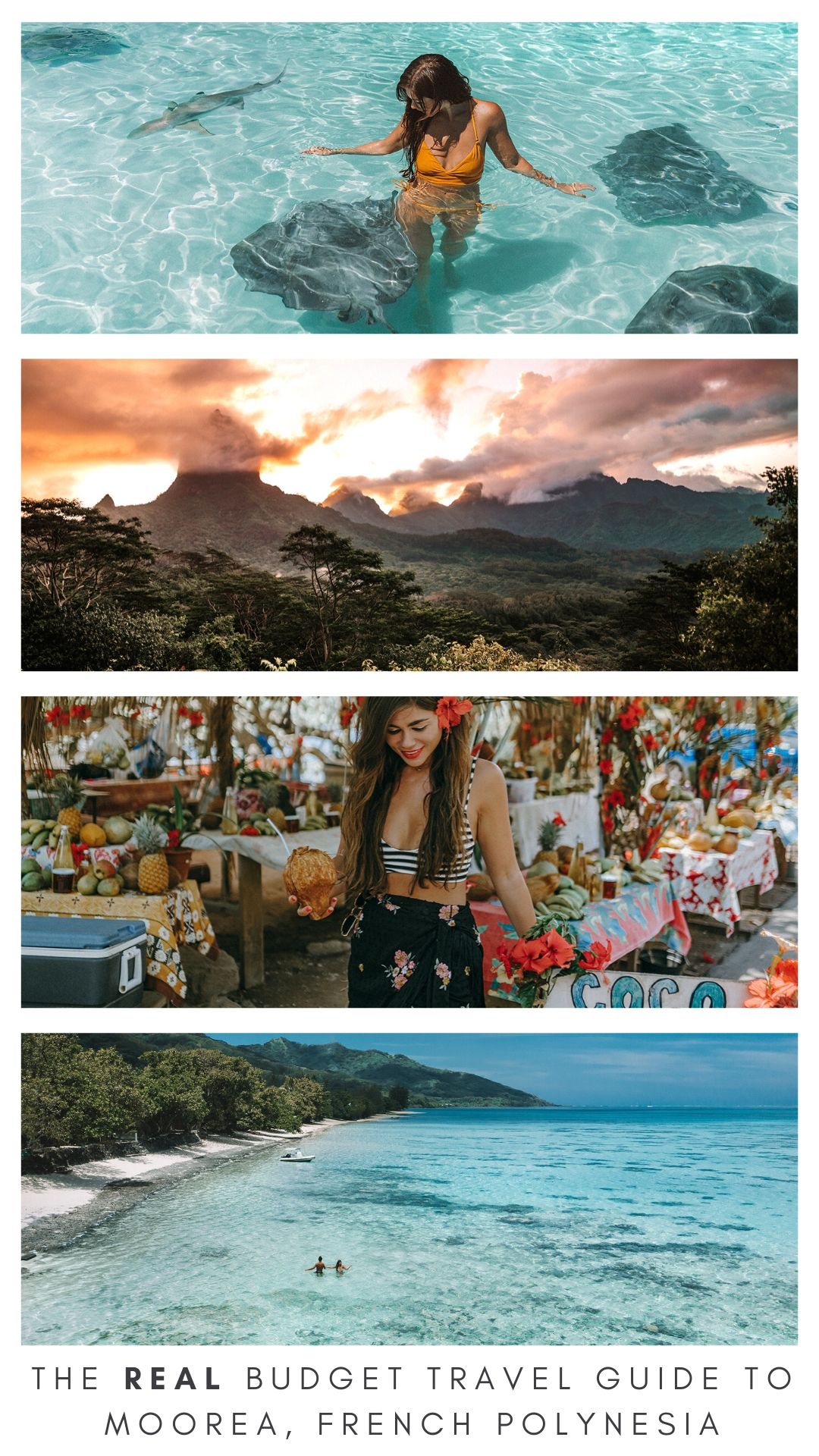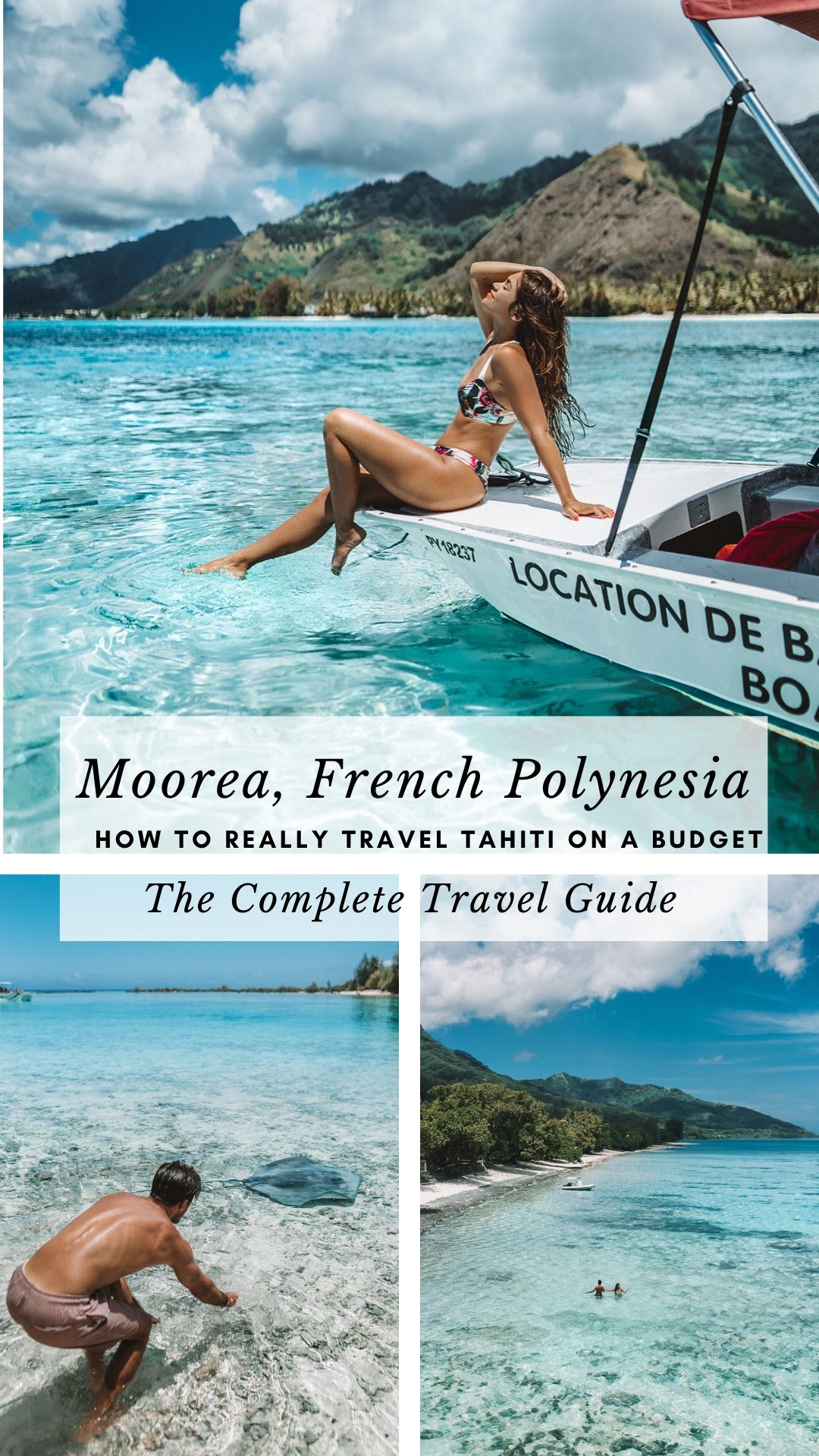 Shop Island Style: