November 13, 2023 Wedding & Marriage
Our Lush, Tropical Wedding At Acre Baja in Cabo, Mexico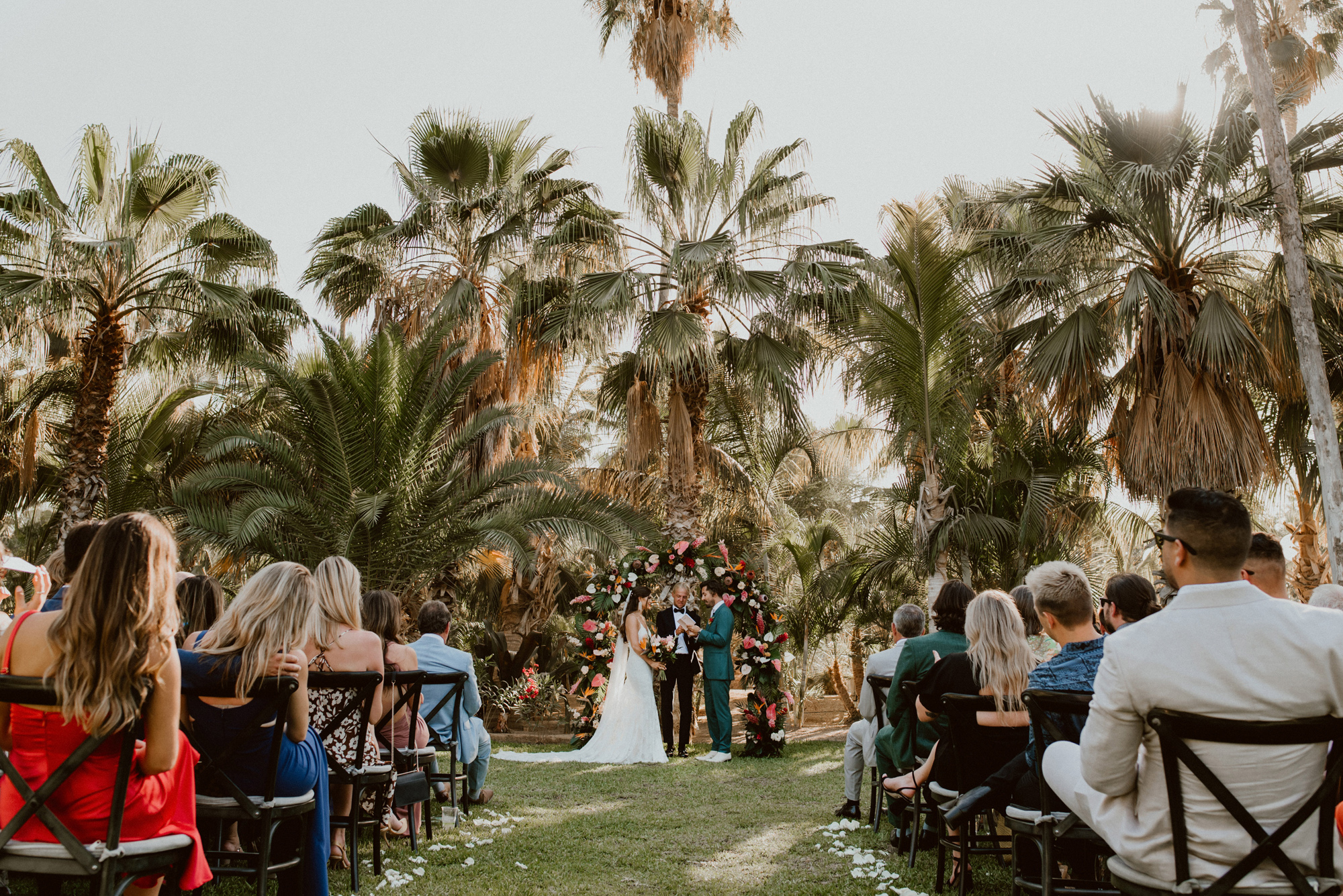 A dream destination wedding come to life.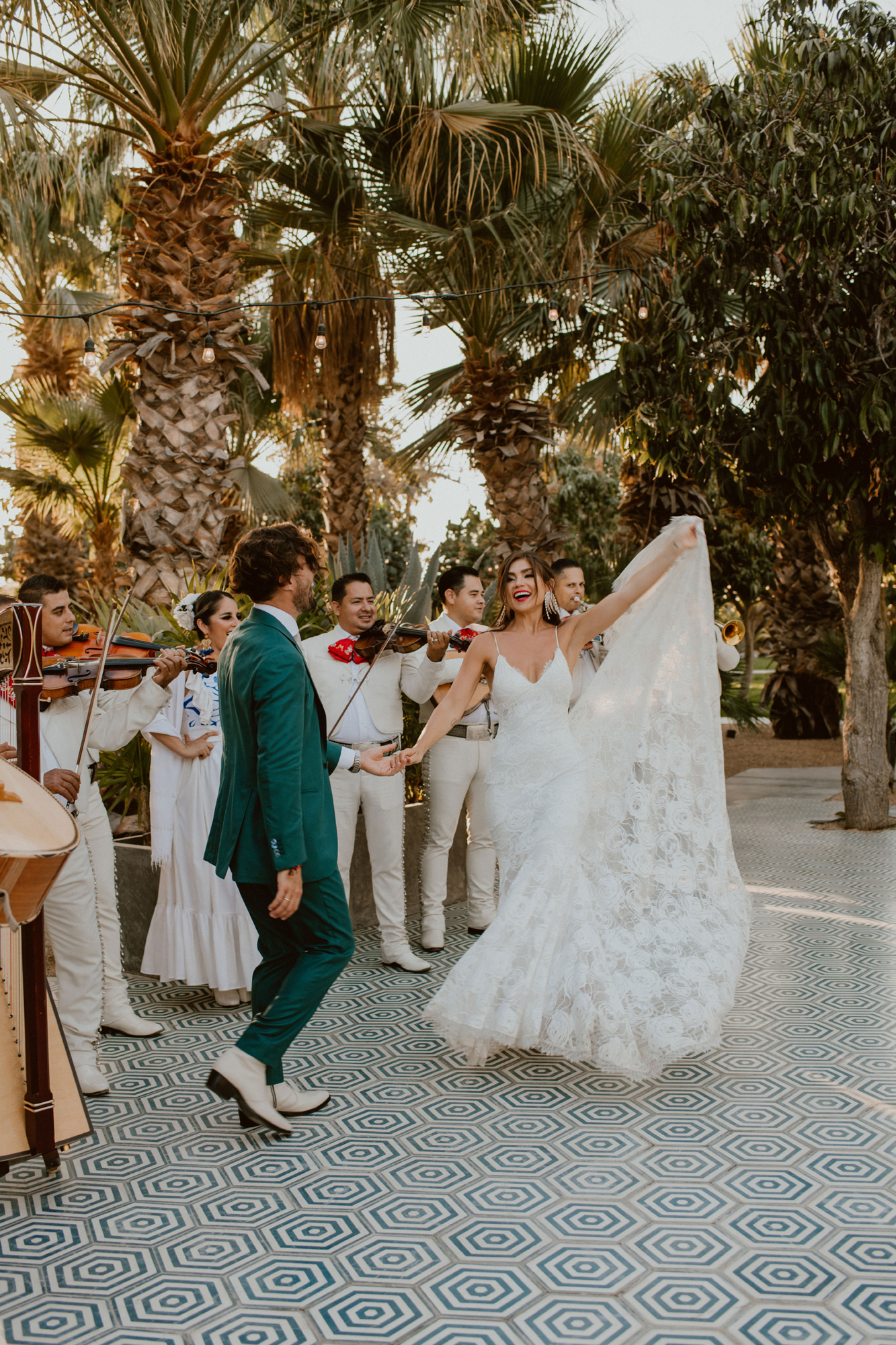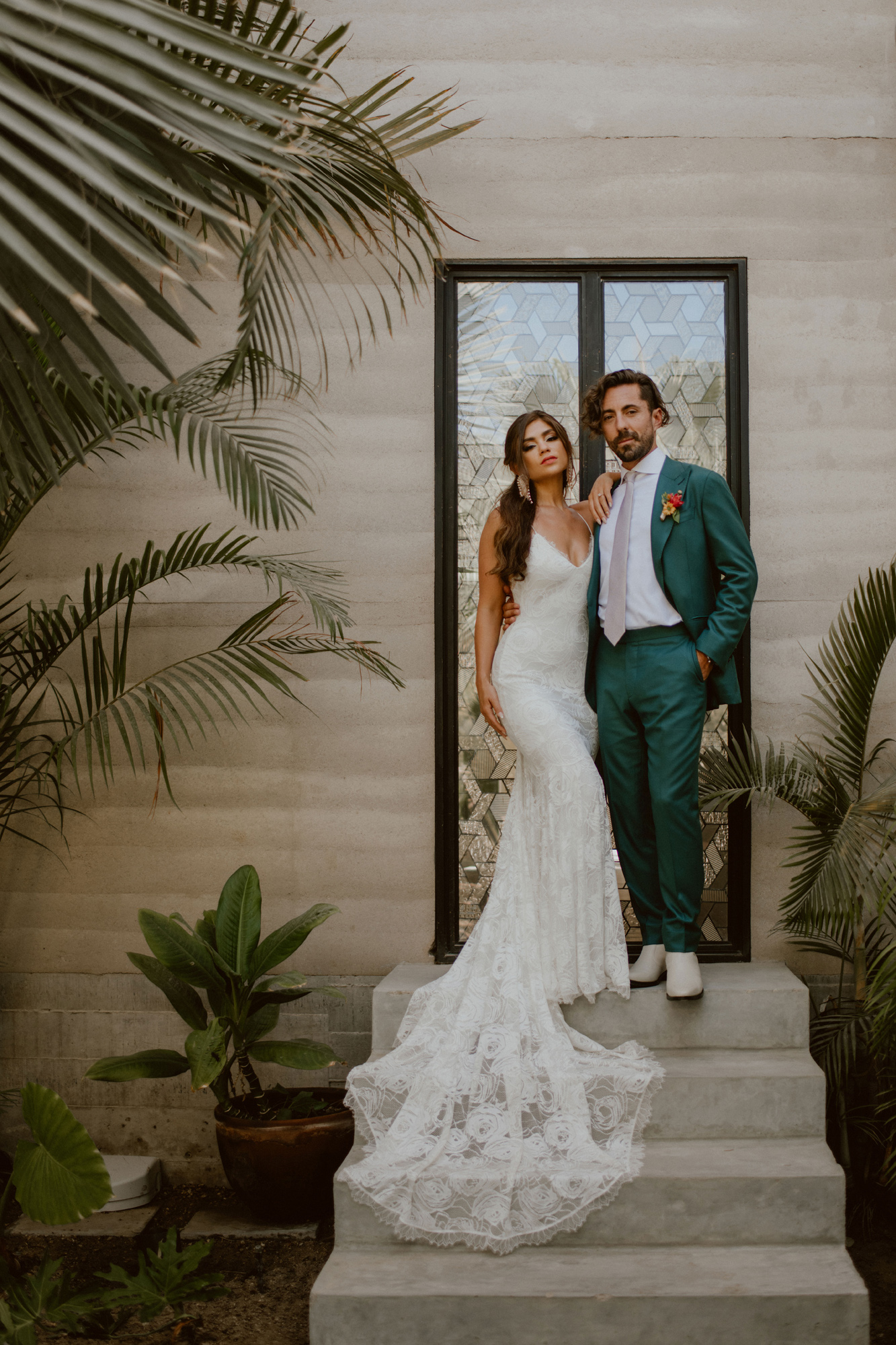 Finally! After our engagement in Big Sur all the way back in 2018, a cancelled wedding in 2020, and a civil service elopement in Las Vegas, we finally made it to our wedding - 8 and a half years to the day after our first night together.
After deciding not to reschedule our Big Sur wedding, we knew we wanted to have it in Mexico, it is the single country we have been to most together, and with us both growing up in Southern California, Baja especially has always felt like a second home to us both. We weren't sure where exactly, and our first vision was to find a small hotel where we could rent the entire place to have everyone stay all together, but when an old friend sent us a couple of photos of Acre Baja, we knew there was no other place - this was the one.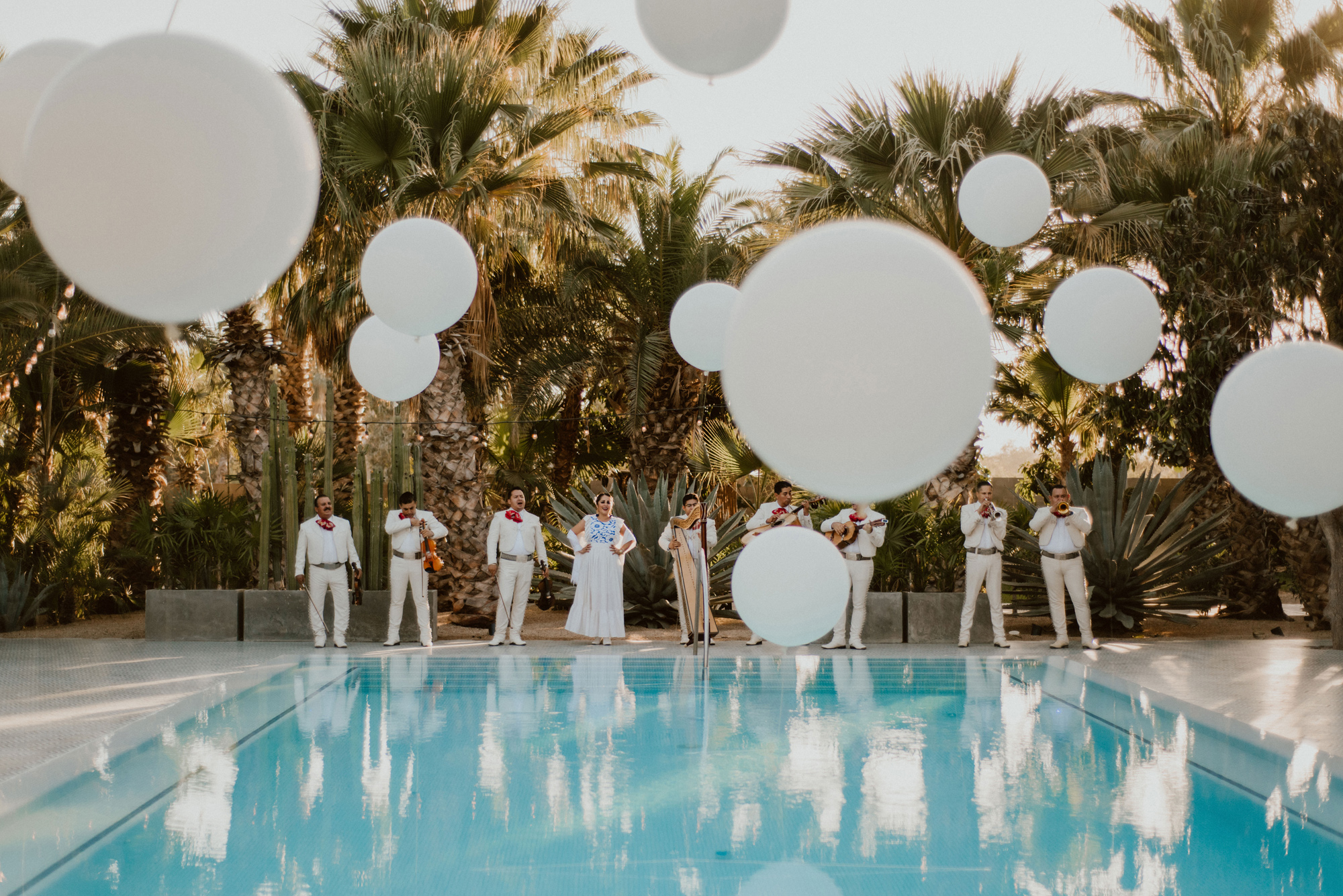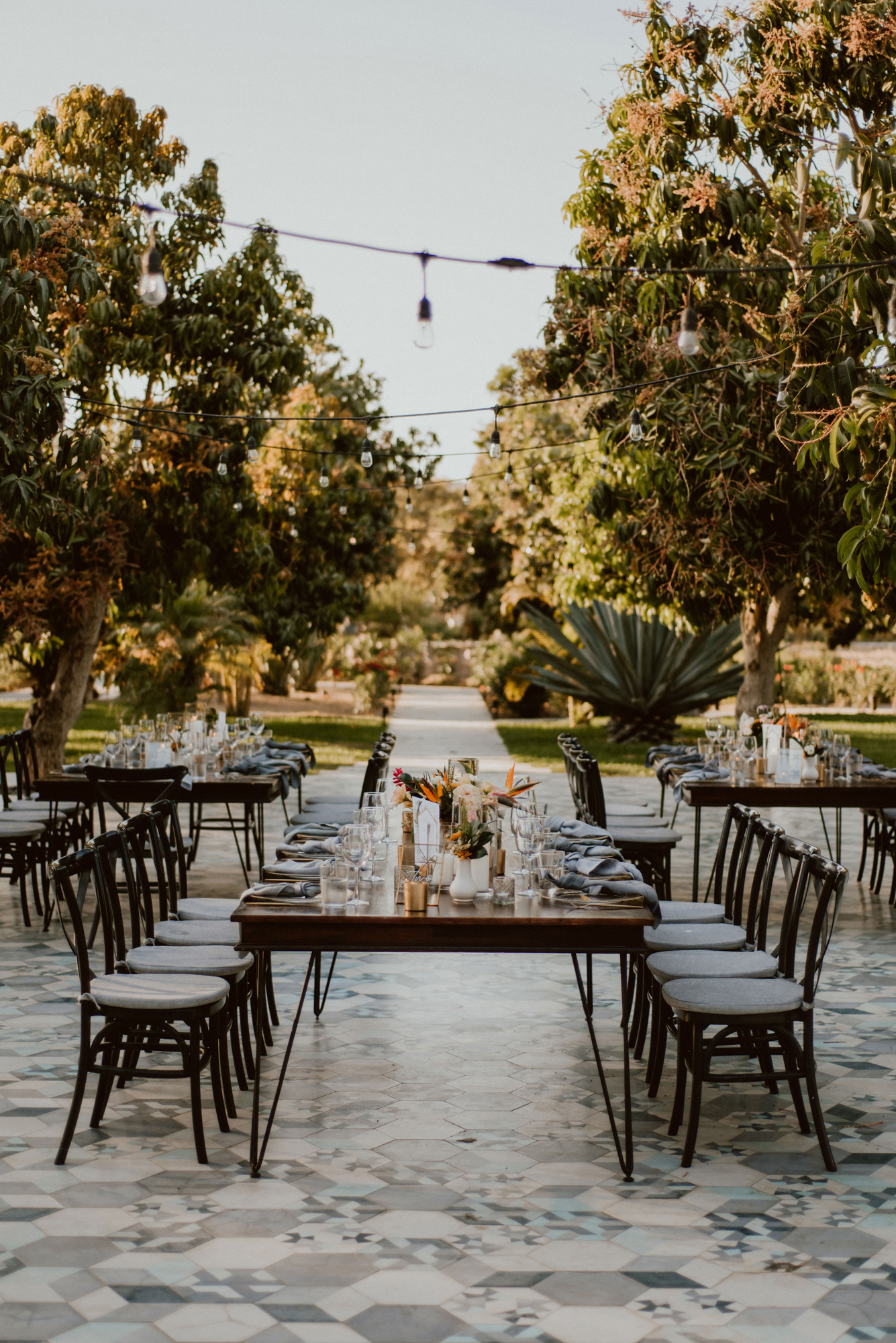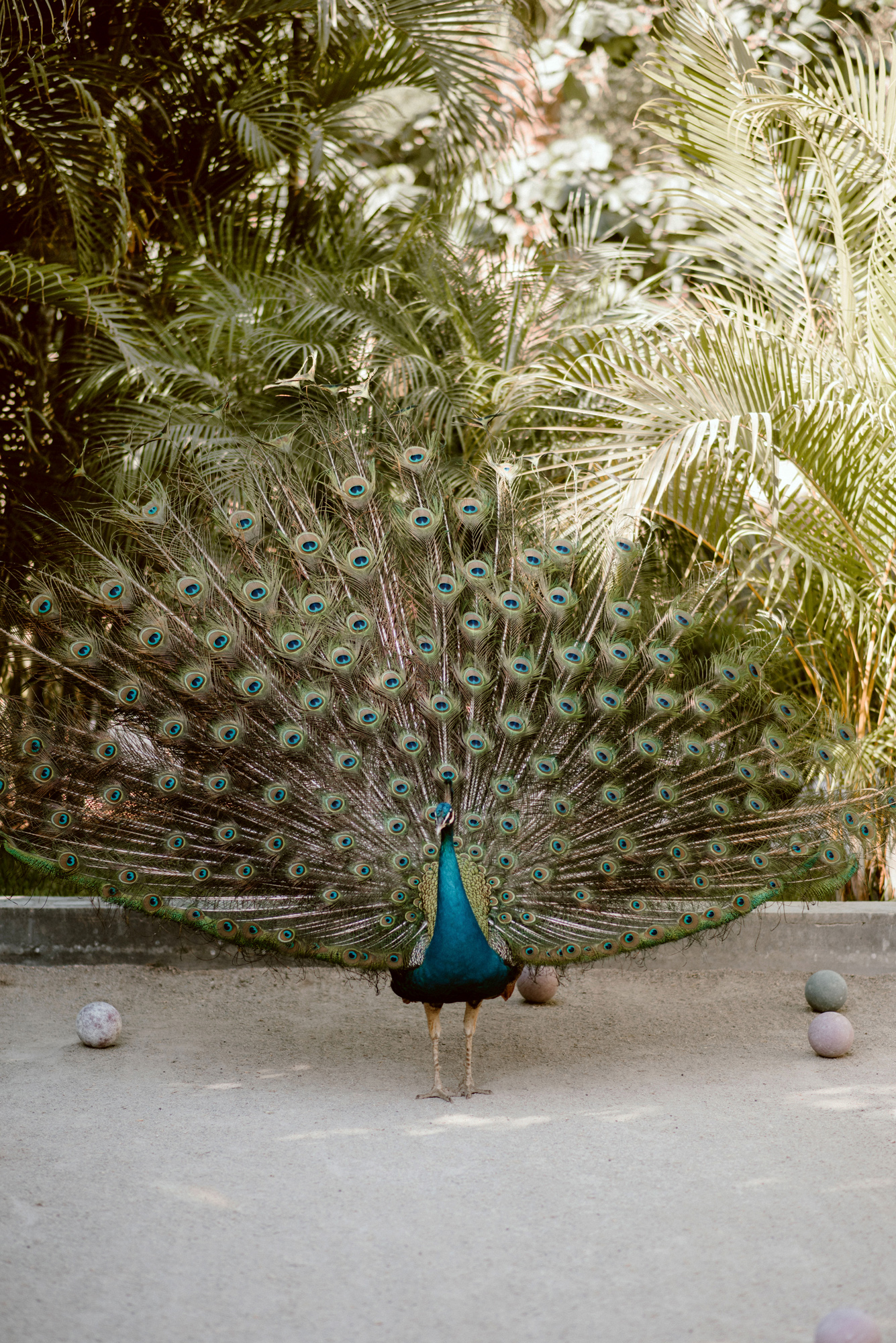 We wanted a location that was naturally beautiful, lush, tropical and beachy, without being on the beach. We loved Acre because there are three unique spaces for the wedding events - a palm tree backdropped lawn for the ceremony, a beautifully adorned pool deck for the cocktail space, and a tiled mango grove for the reception, and because the food here is absolutely incredible. Cabo was the first international trip we had ever taken together back in 2014, and as a bonus, is a place where you almost never need to plan for rain or anything but perfect weather.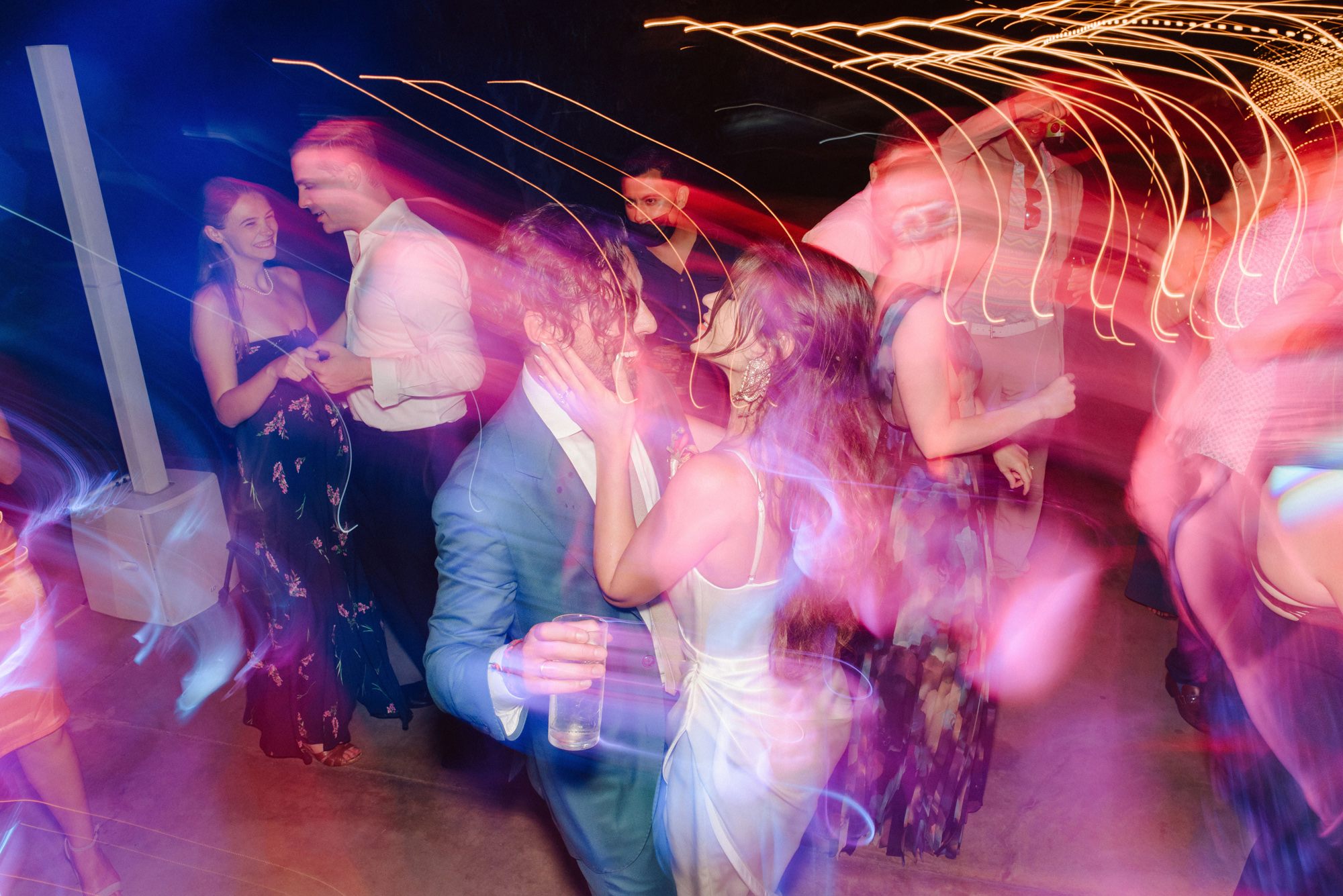 And it was all just perfect!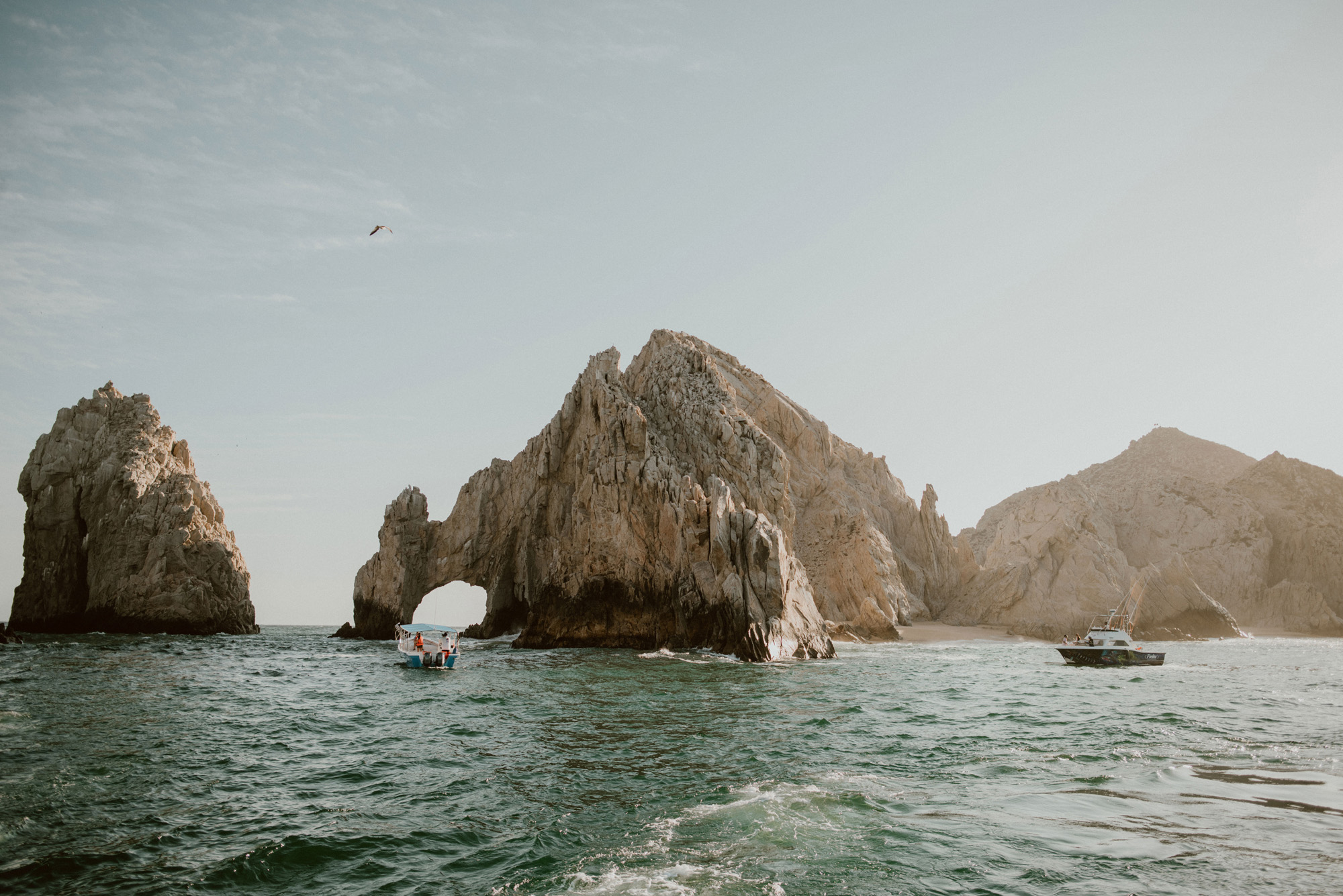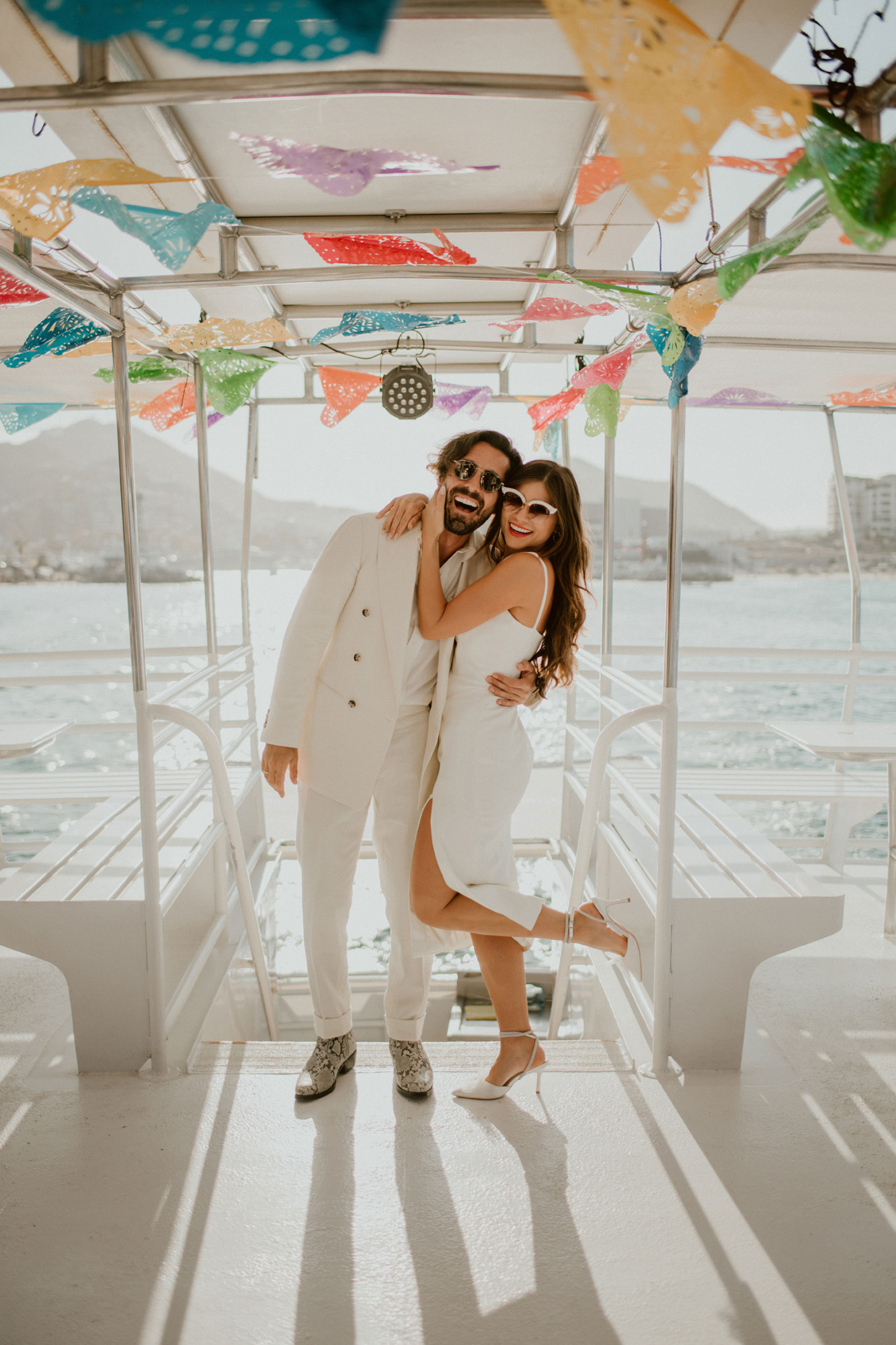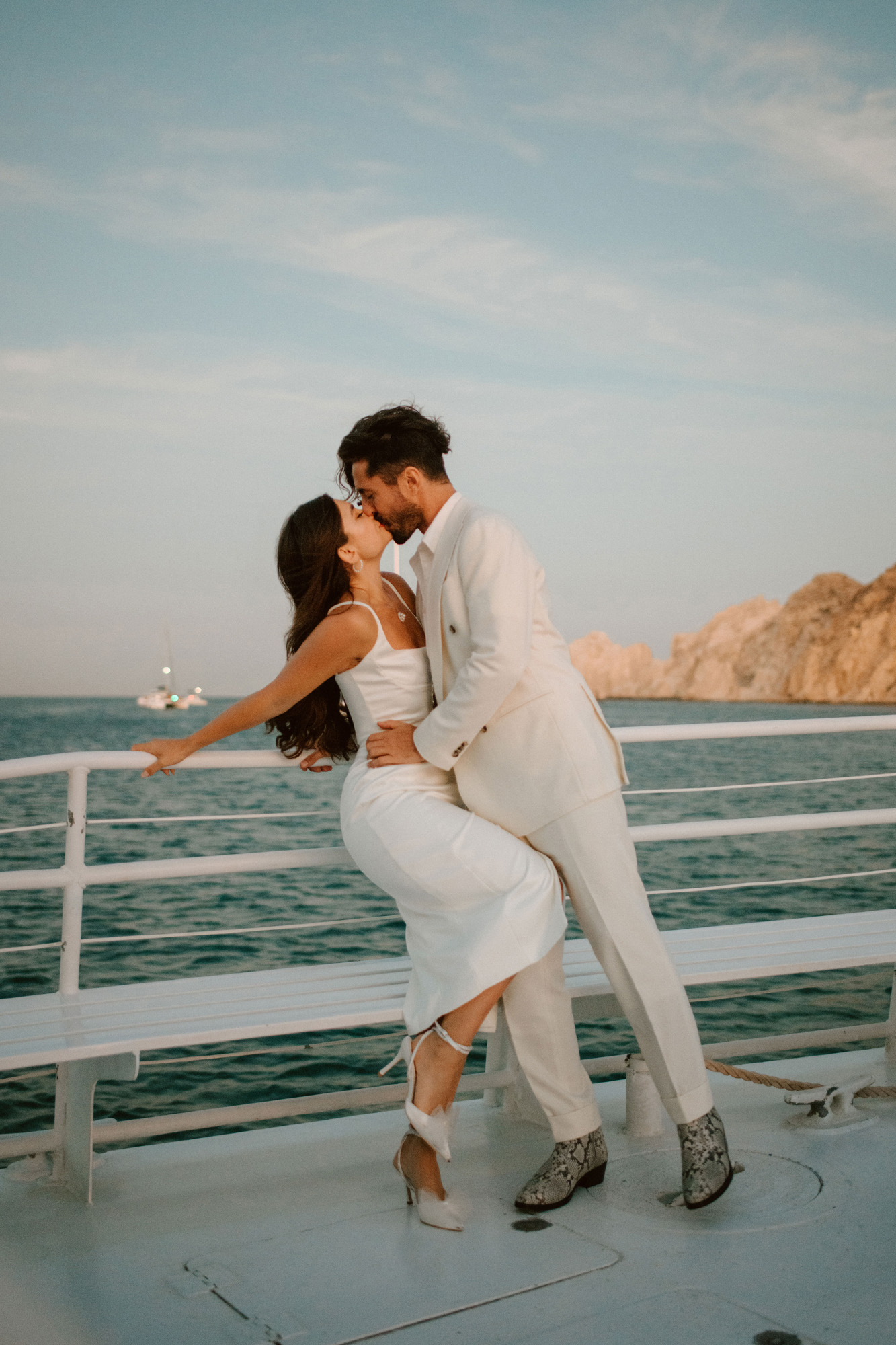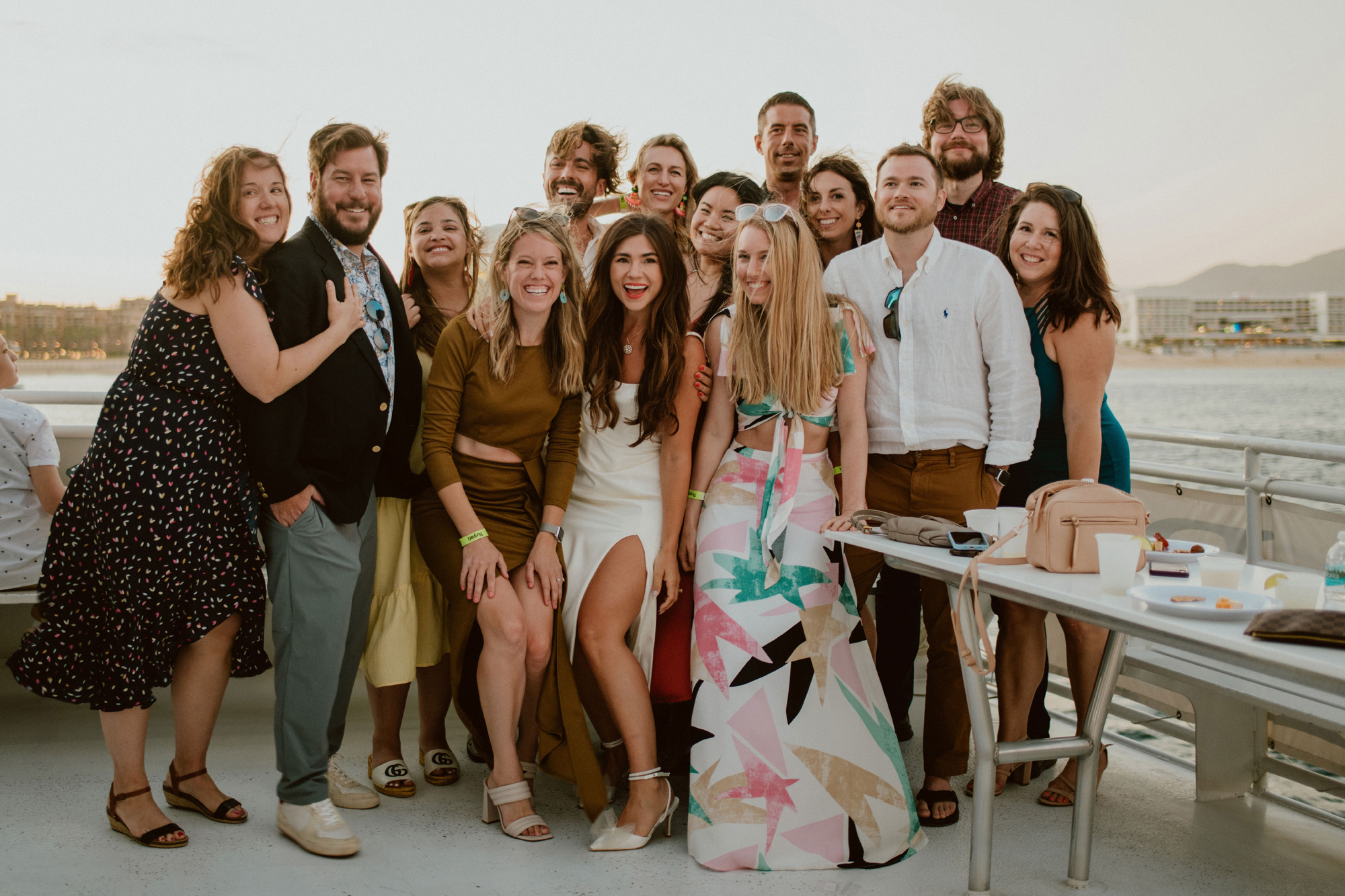 For our rehearsal dinner, instead of renting a restaurant, we chartered a huge Catamaran for a sunset cruise from Cabo Mar. We had party buses to take everyone down to the harbor, and cruised around the arch and along the coastline until dark, with an open bar and dinner. Most of our guests had never been to Cabo before, and it was such a fun way to celebrate and give everyone a really memorable experience. If you're planning a wedding in Cabo, or anywhere that is adjacent, I cannot recommend going this route enough!
Like every other element of our wedding, I hand curated a playlist for the cruise - you can save it here.
My Rehearsal Dinner Look:
On our wedding day I really surprised with how nervous I was - we had already been together for so long, and we were already technically married; but there is just so much lead up, planning, and emotion that I don't know if there is a way around it. You just feel all of the things all at once, and it does kind of feel like an our of body experience - you have been planning every detail, and it all finally just happens.
This is actually my biggest reason for always recommending destination weddings if people ask - your wedding day goes by so fast, but having a full wedding long weekend (most of our friends and family stayed for 4 or 5 nights total, and we had multiple days to just spend time together) gives you time to savor and soak in the experience. If you're debating if you should do a destination wedding or not, this is your sign that YES you absolutely should.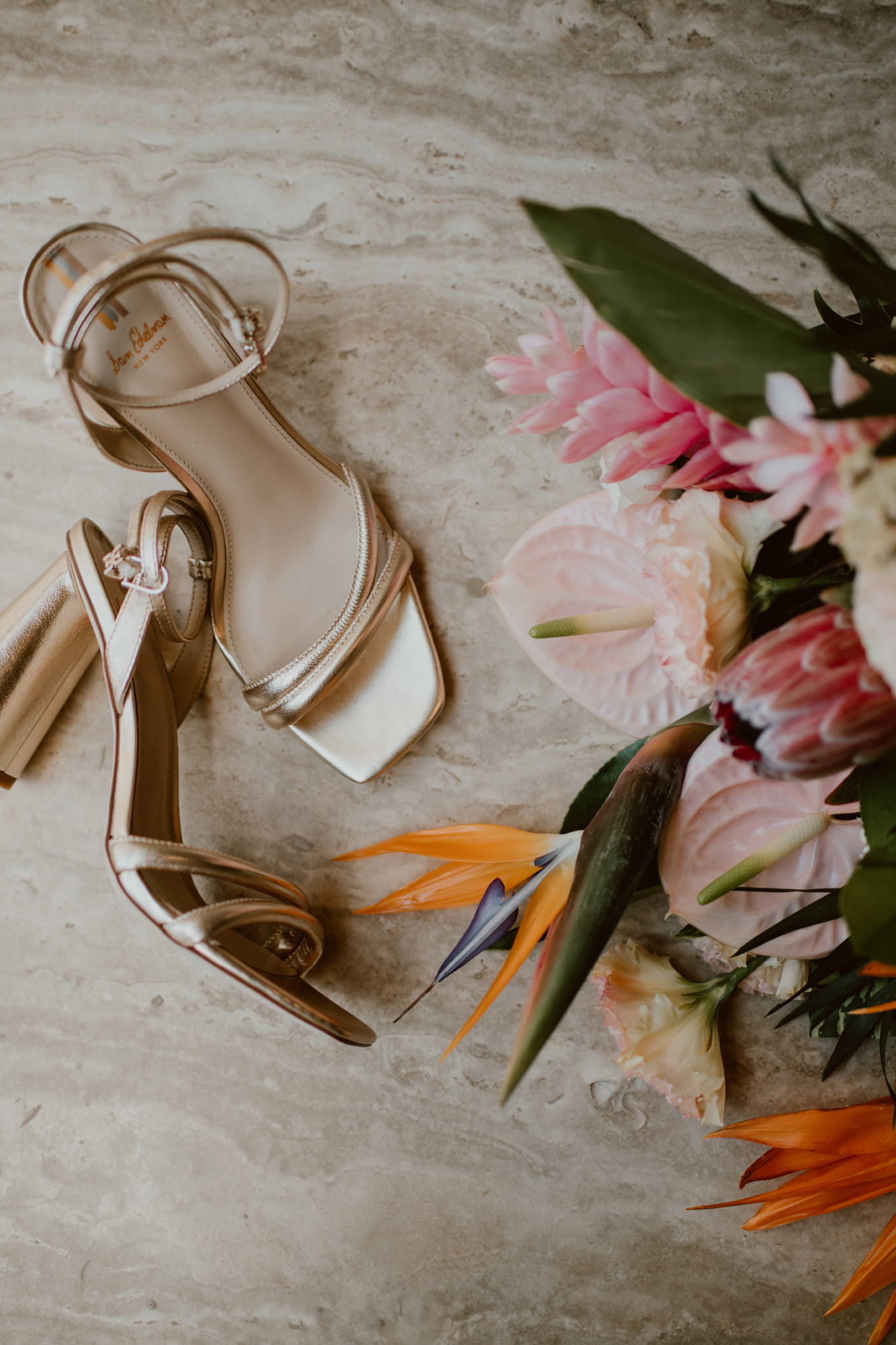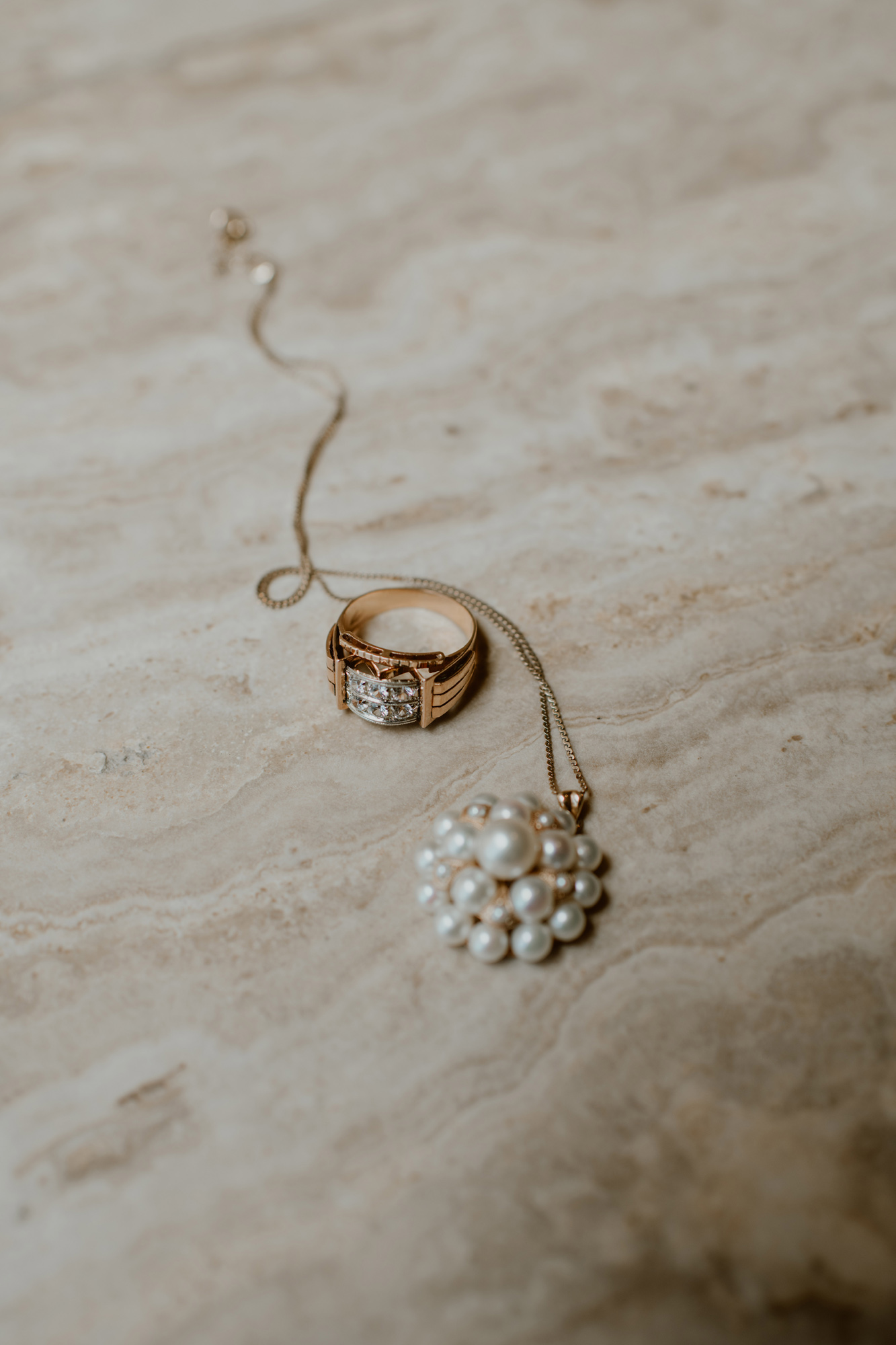 These were two of my favorite little details from our wedding: my pearl pendant necklace belonged to my great-grandmother and is from the 1940's, and this diamond ring was Brandon's grandfather's from Italy. Brandon wore his grandfather's actual wedding ring on his right hand - and has since our wedding as a symbol of the old and the new. I wore this spectacular one just for our wedding day, but I would love to one day wear it as a daily right hand ring. These were my something old and something borrowed.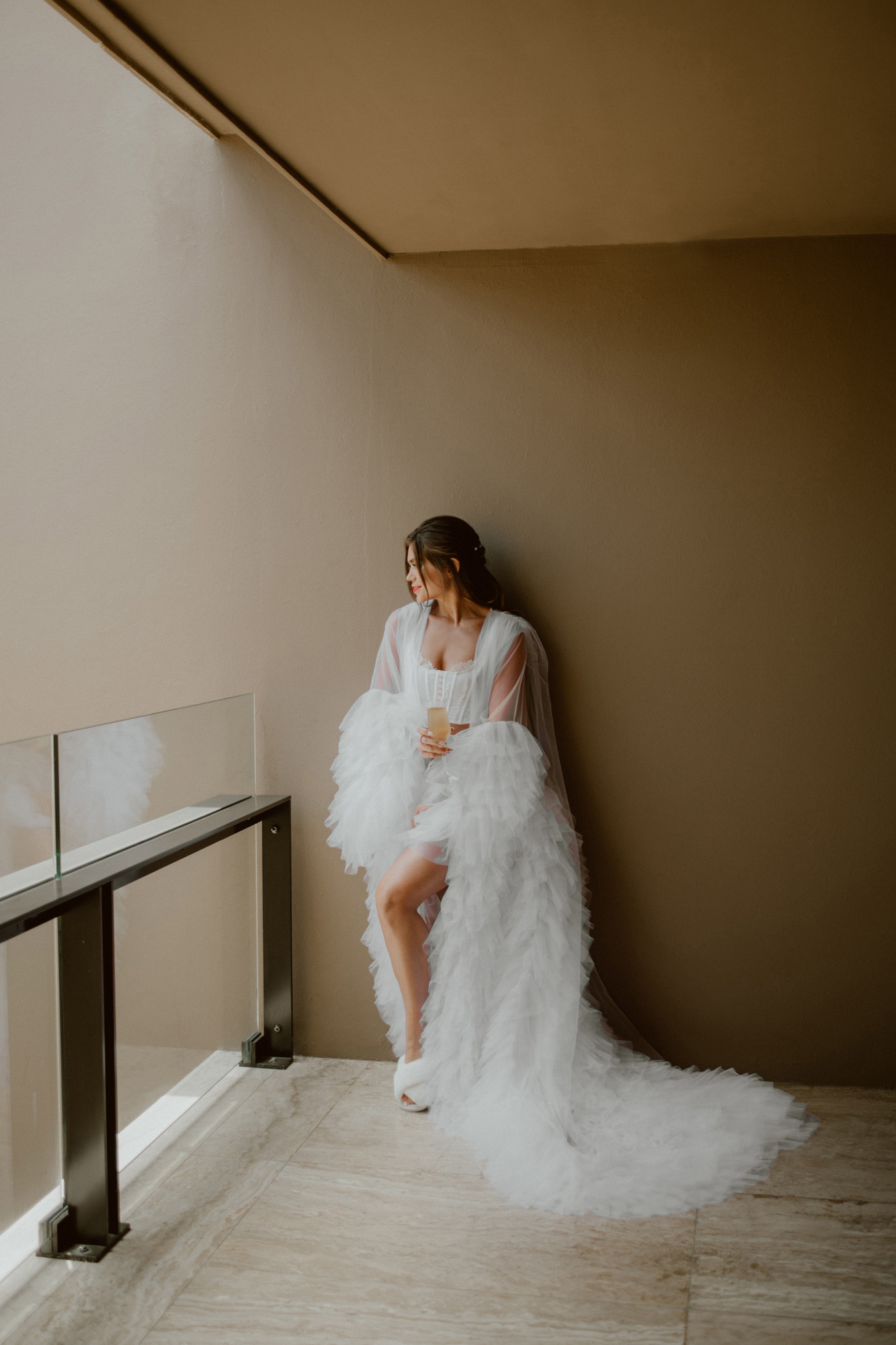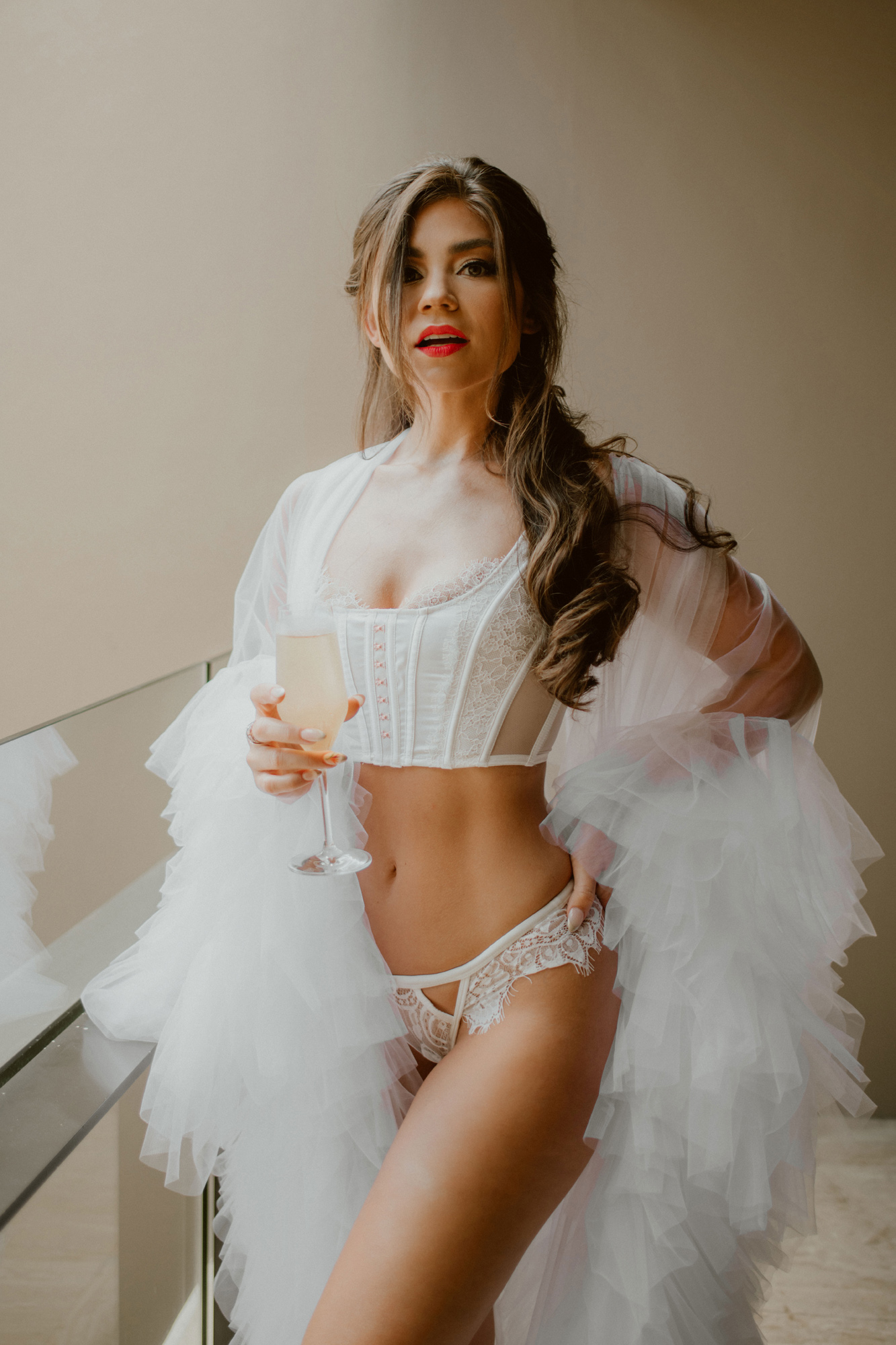 We had so much fun with my getting ready bridal portraits. I initially bought this amazing boudoir robe with our Las Vegas wedding in mind, but we never ended up having time to get photos with it, so I brought it with me to Mexico. It was hanging up so you saw it right when you walked into our room, and when our photographers came in, they were so excited to shoot it. I wore this corset top under these cute light pik silk pajamas for most of the getting ready process, but ultimately we decided that the shorts didn't go with the look, so I decided to get a little more risqué with it and ended up with this all white look. If you're not going to have fun and let yourself be a little sexy on your wedding day, when can you? Our photographers must have really loved this look, because I got back so many photos from this little shoot.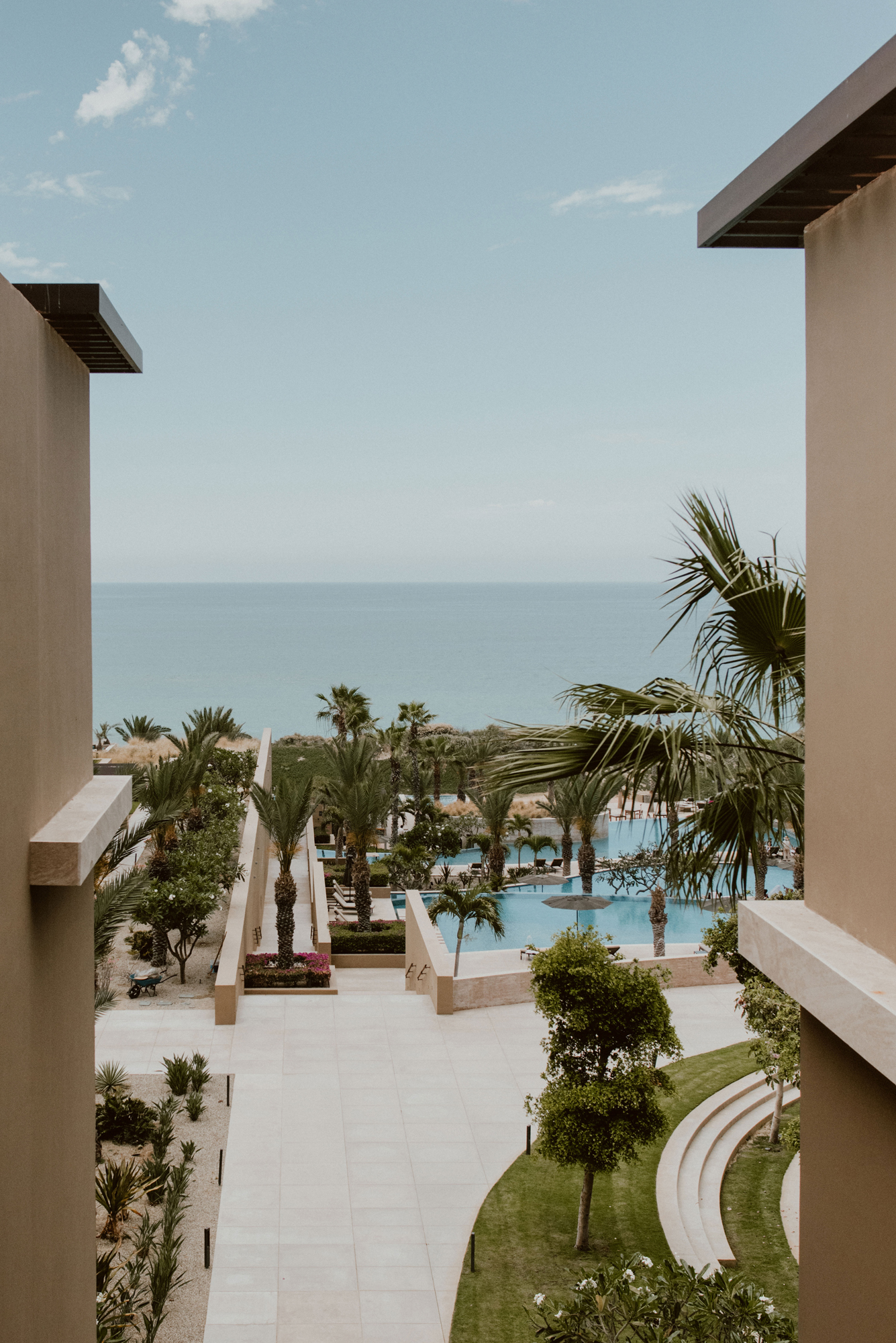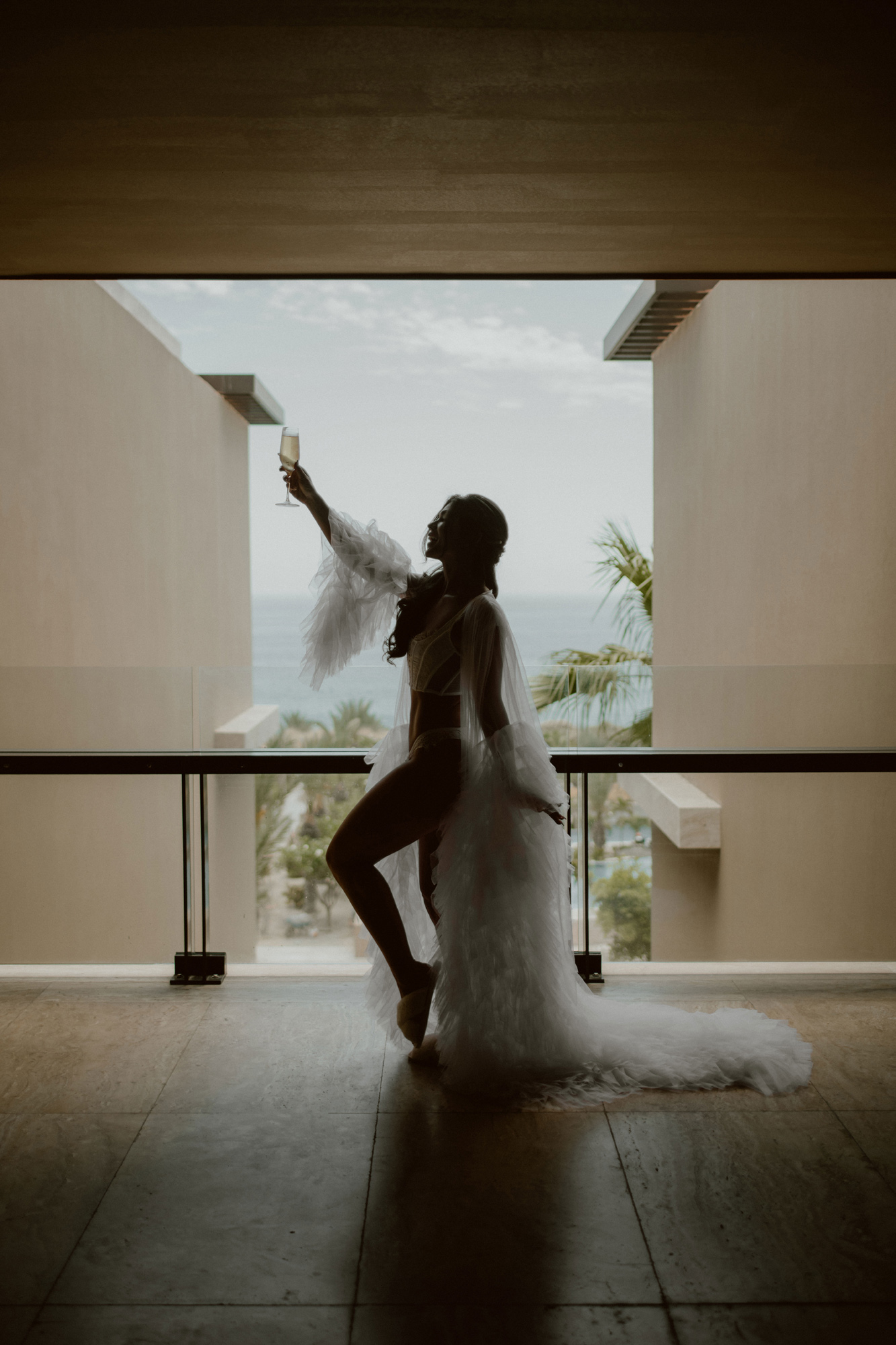 Our wedding hotel was the gorgeous JW Marriott Los Cabos. We went with the JW mostly because it was the one of the largest hotels in San Jose Del Cabo, and less than a 15 minute drive from Acre Baja - and were overjoyed with how well it all worked out. The property is beautiful, expansive, and with more pools than we even had time to enjoy. Brandon's family and many of our friends had never really spent much time in nicer resorts previously, and loved this hotel! One of my favorite parts of our wedding weekend was that everyone came a couple of days early and we were able to spend so much time relaxing at the hotel and ordering margaritas at the swim up bar.
Getting Ready Look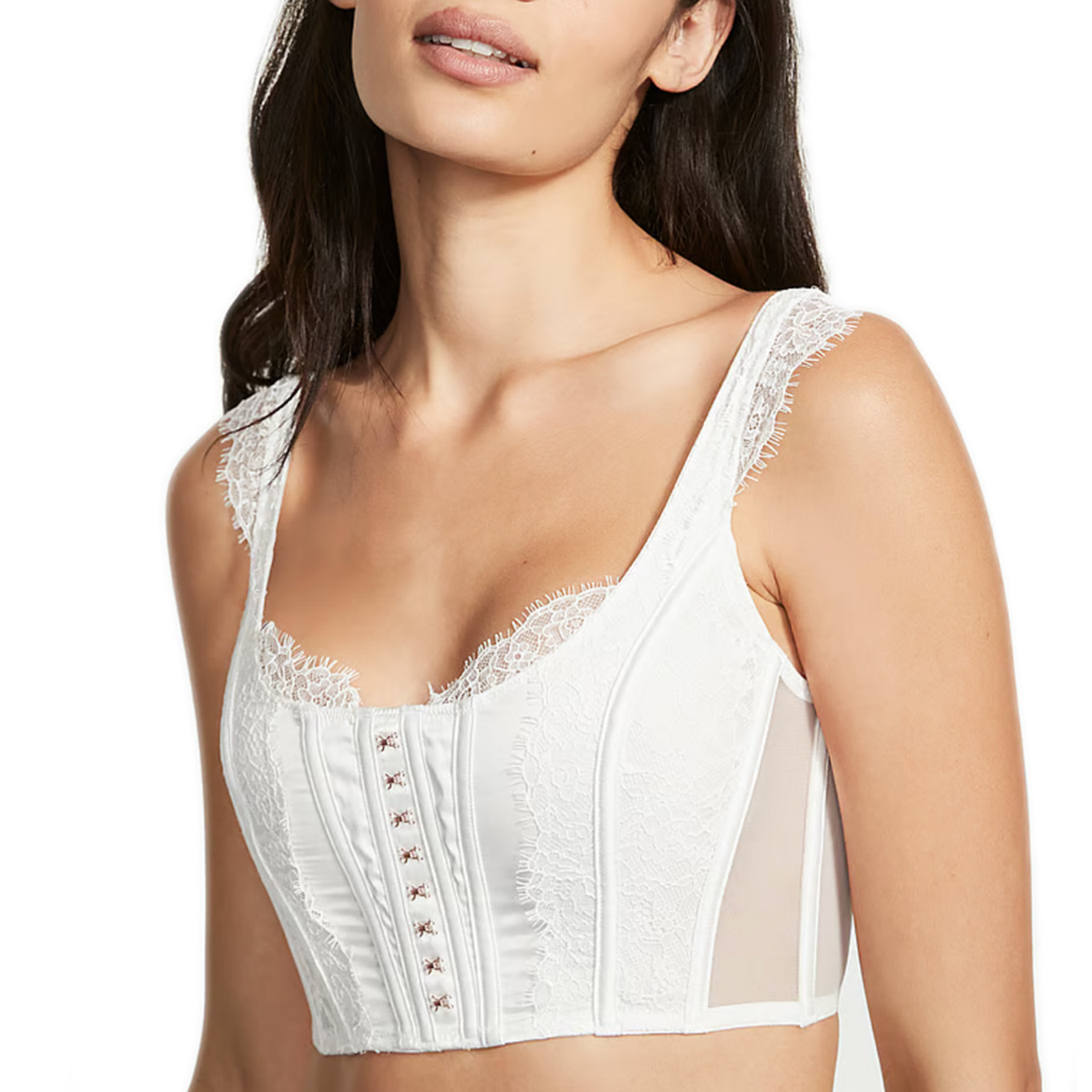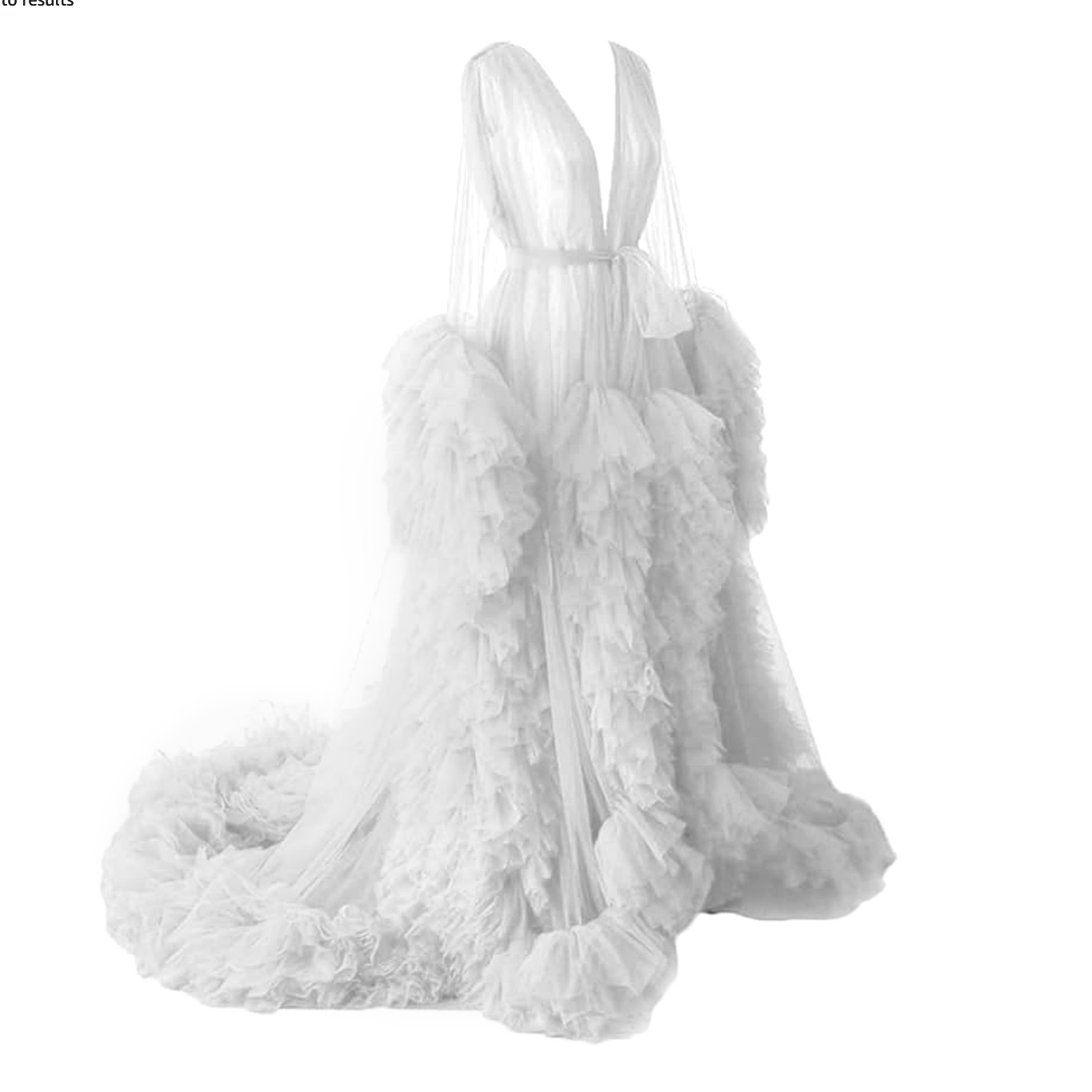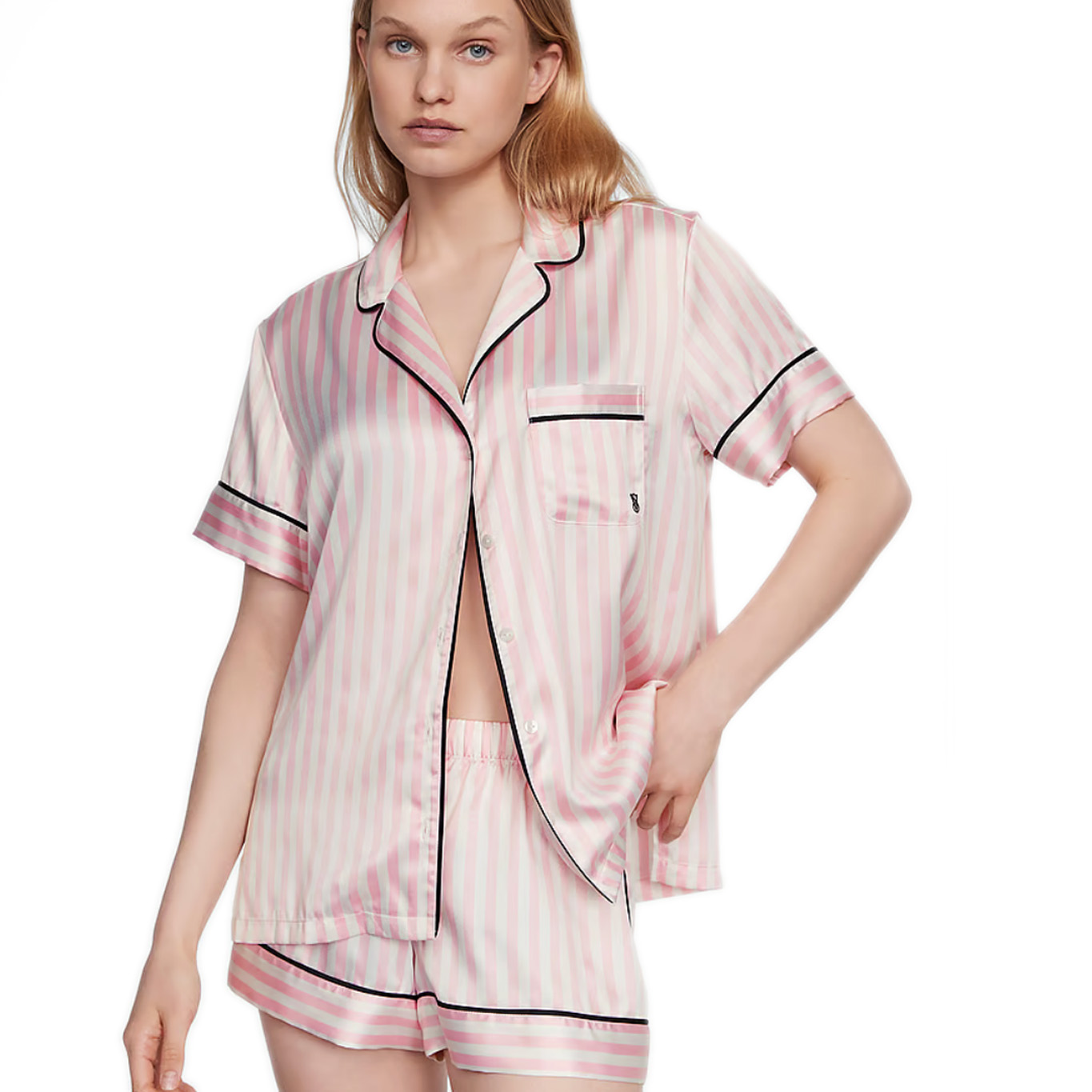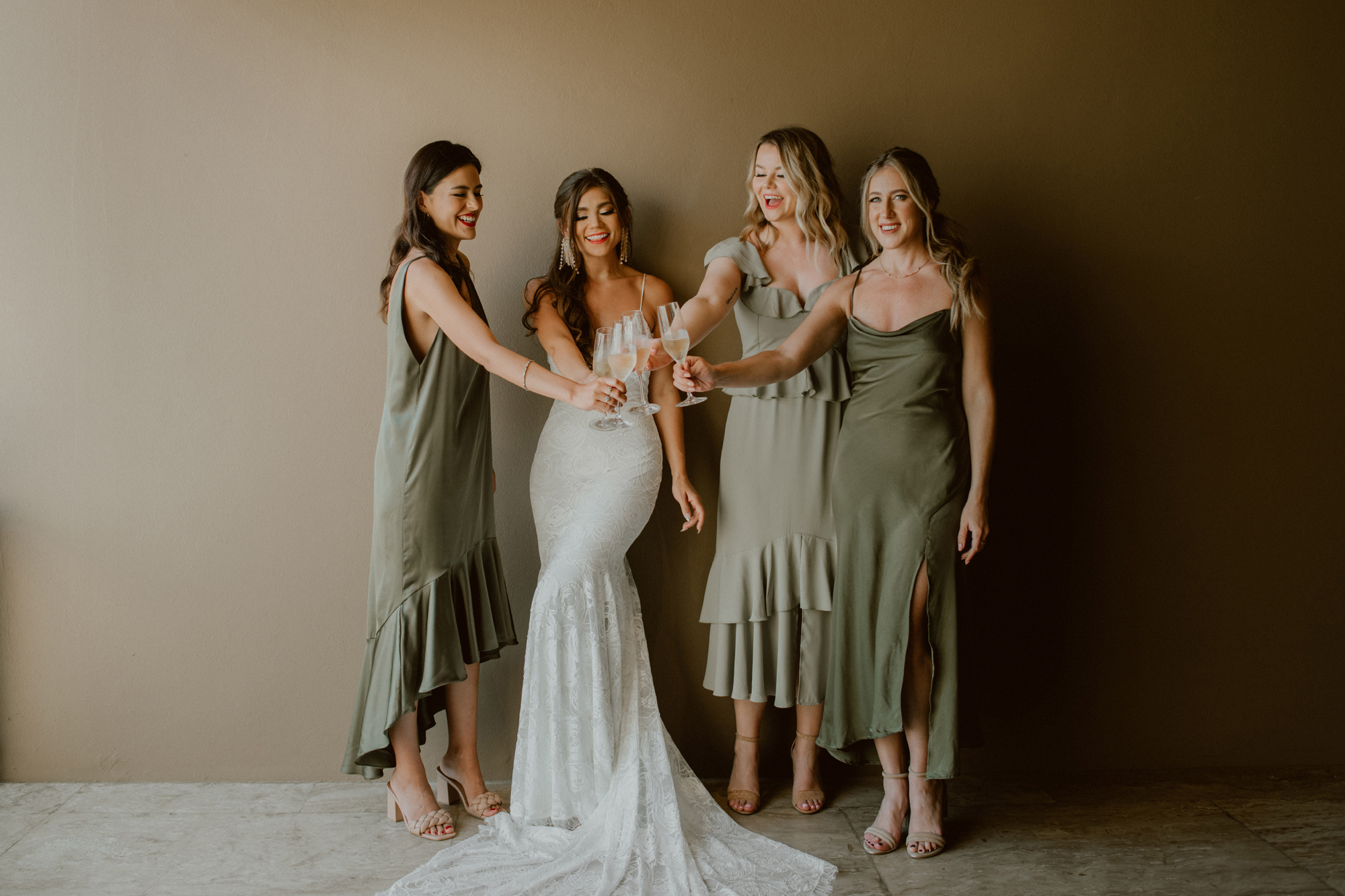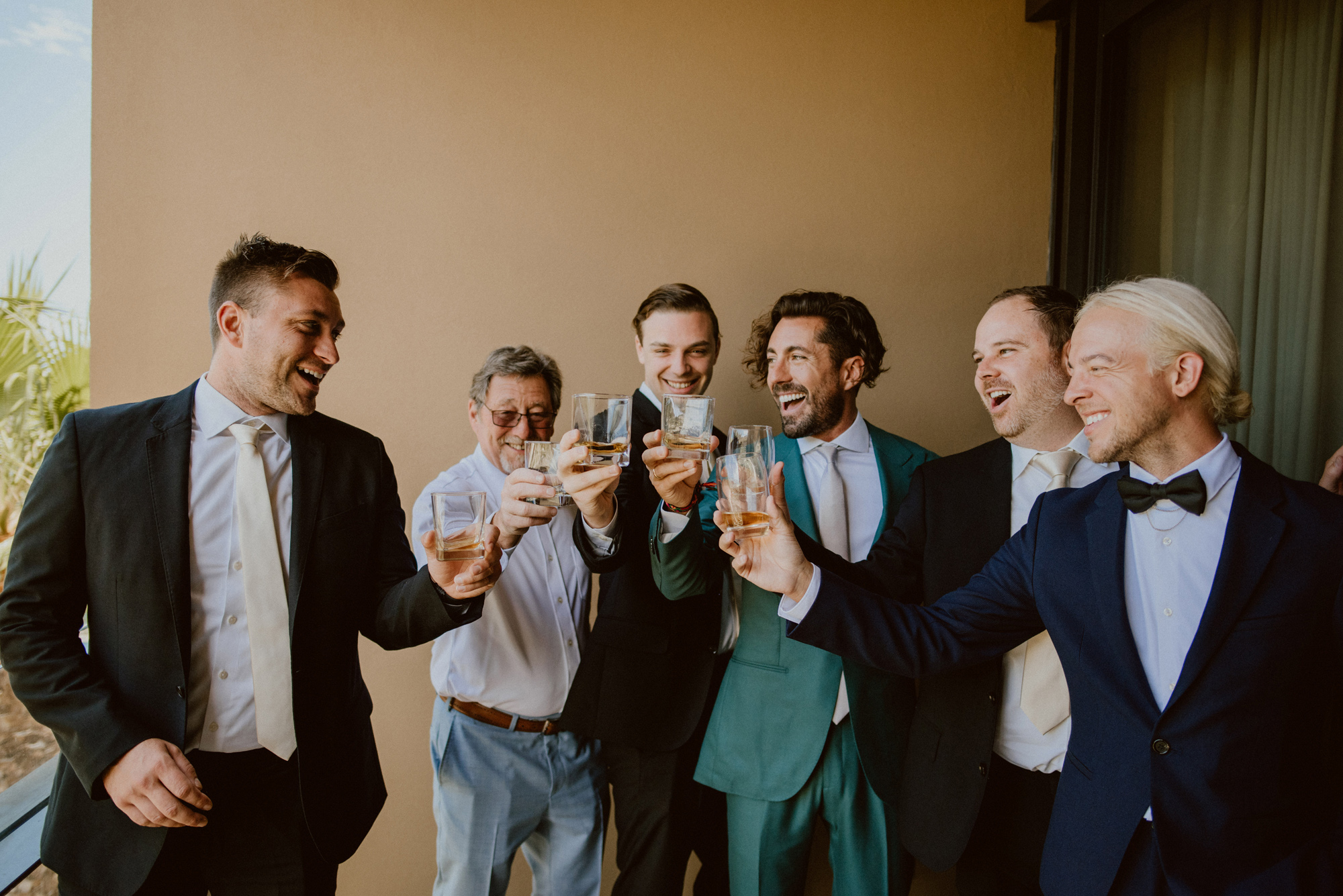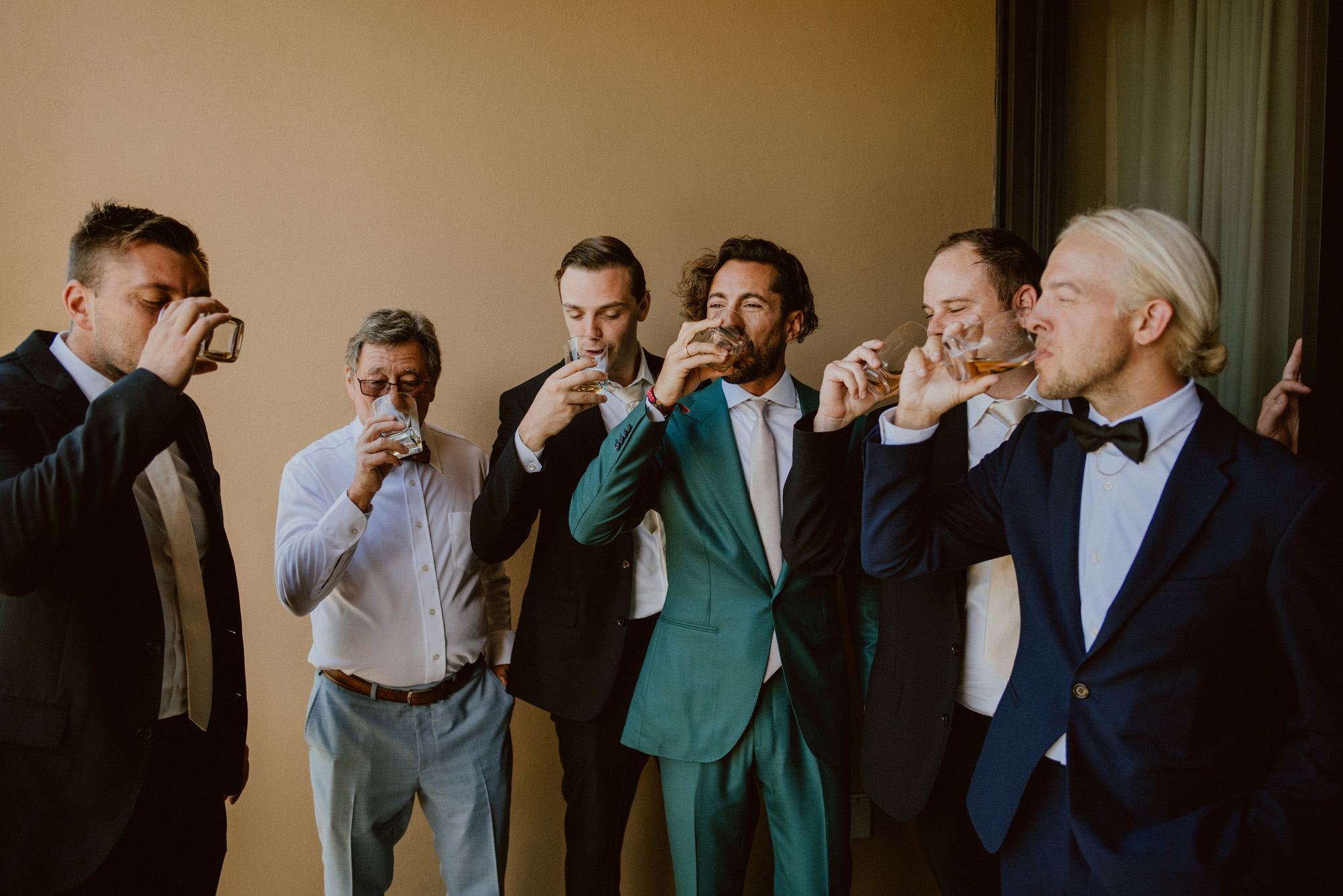 Meanwhile....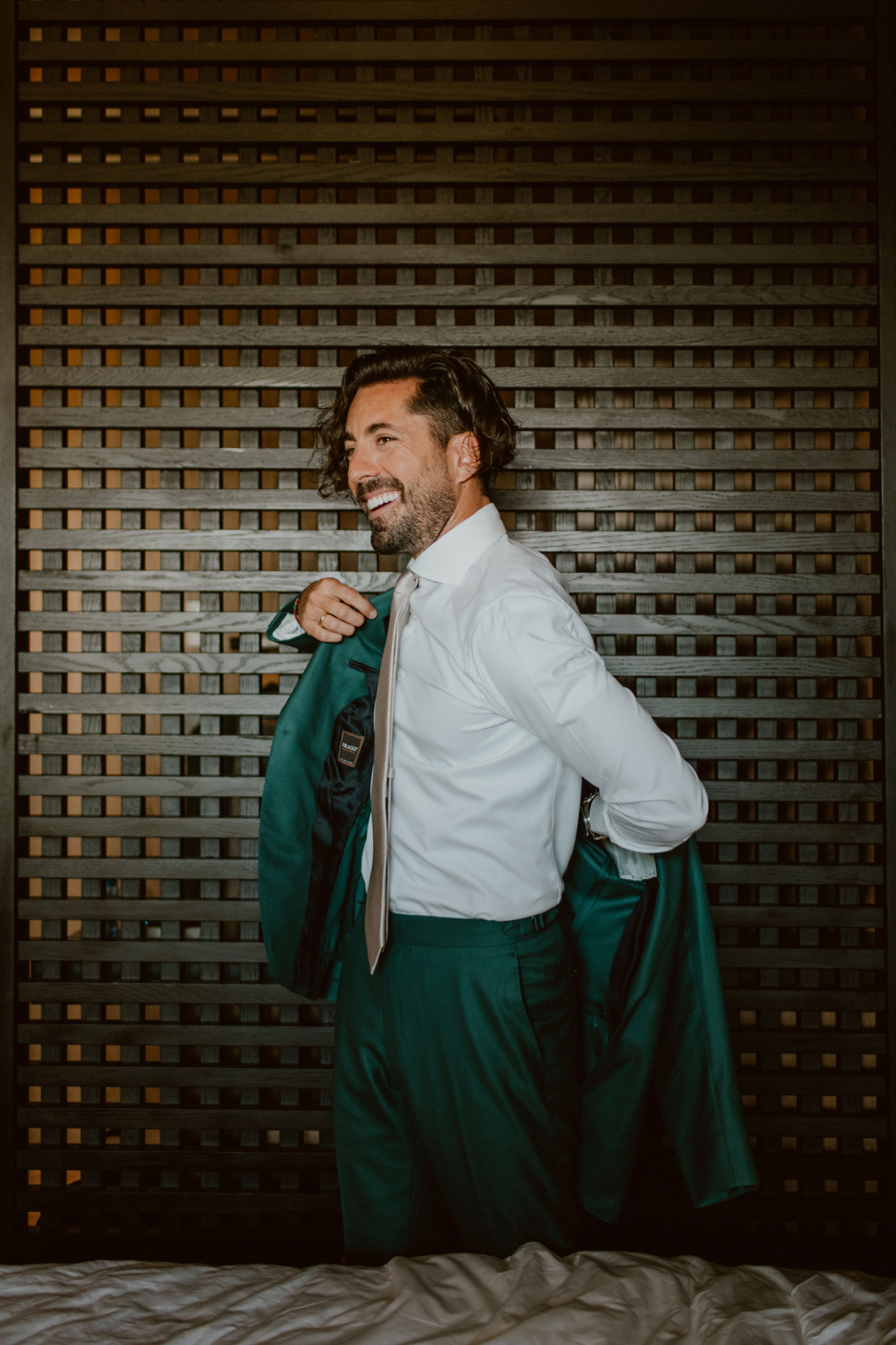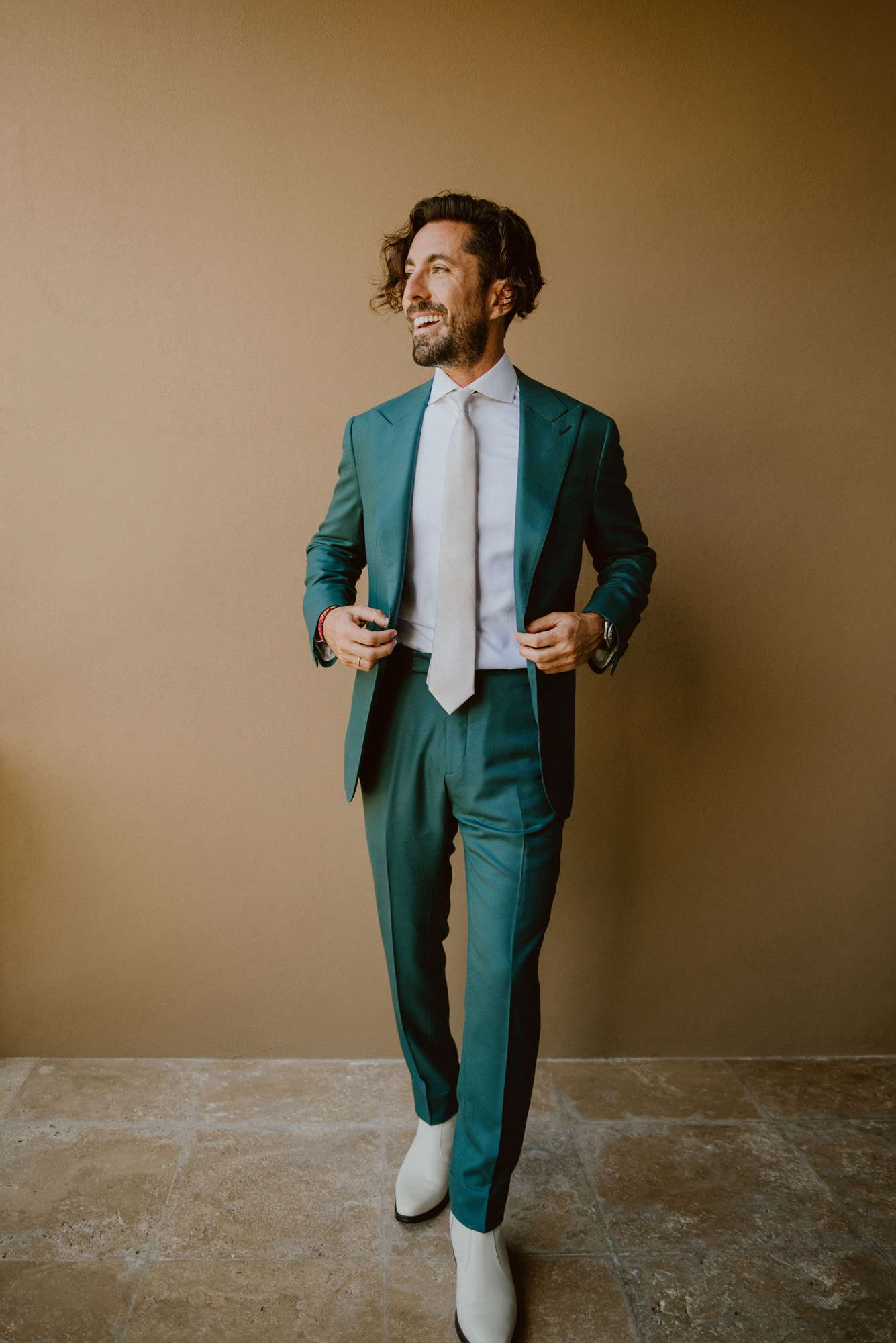 For Brandon's look, he wore a custom SuitSupply suit and boots from Straight To Hell - he wore the same pair in snakeskin with his cream suit for our cruise the night before. We picked out his suit color from a one inch swatch of fabric and in the 8 weeks it took to get made he was so nervous about it being the right color and shade of green - but we were both so happy with how it turned out and the uniqueness of the color.
The boots were a serious debate - he tried on dozens of pairs of shoes in every color from tan to chestnut to black and in every dress shoe style, but ultimately none of them just felt right so we decided to get a bit unique with it with these boots, as a slight nod to a mariachi style. I loved how unique his whole look came out to be!
His groomsmen and groomswoman all wore black suits with matching cream ties (we were initially going to go with tan, but the color ended up not being available, and we were so happy with the switch to black for ease and consistency.)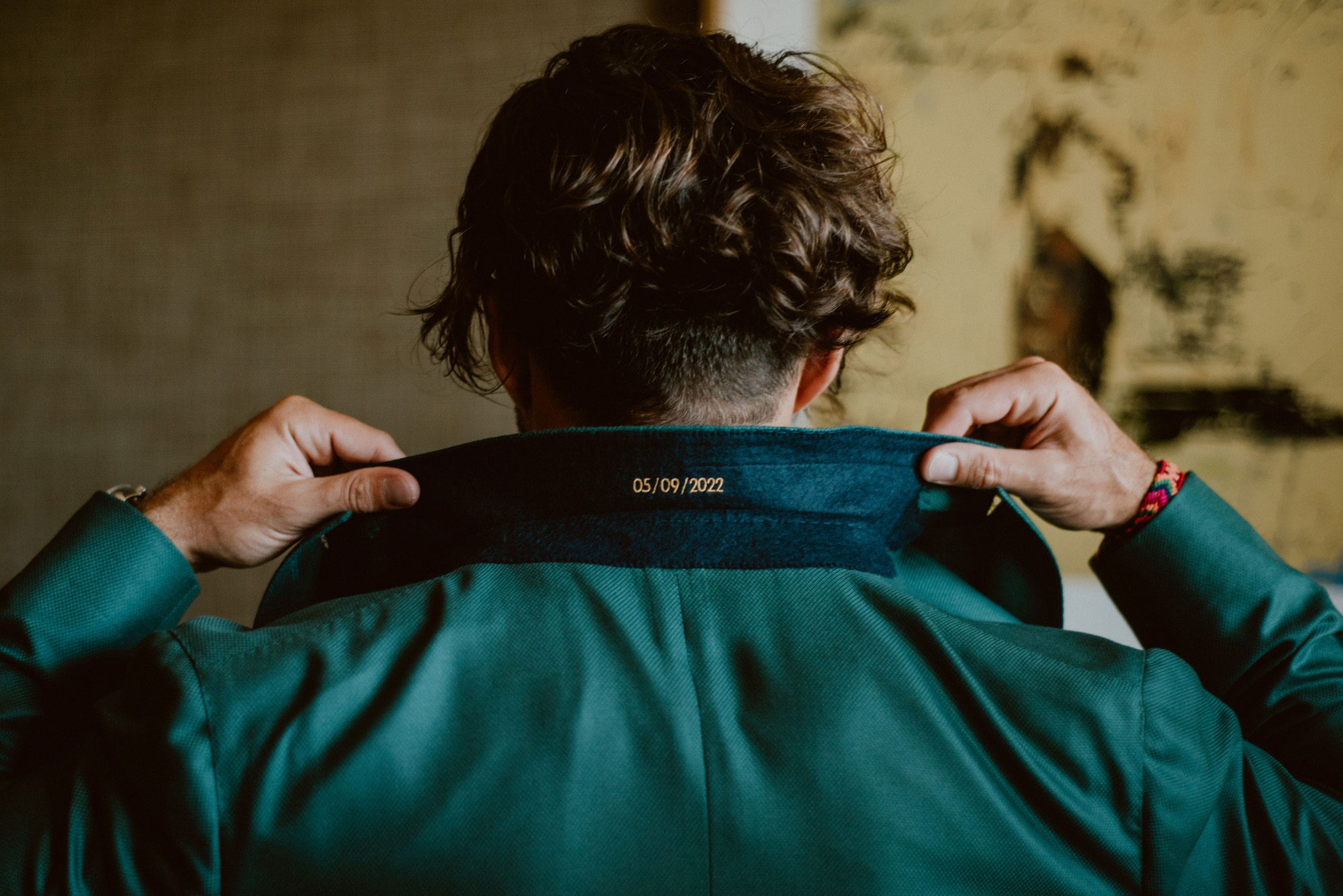 His suit jacket also had a few special details embroidered inside it. On the breast pocket we also had "A + B" added.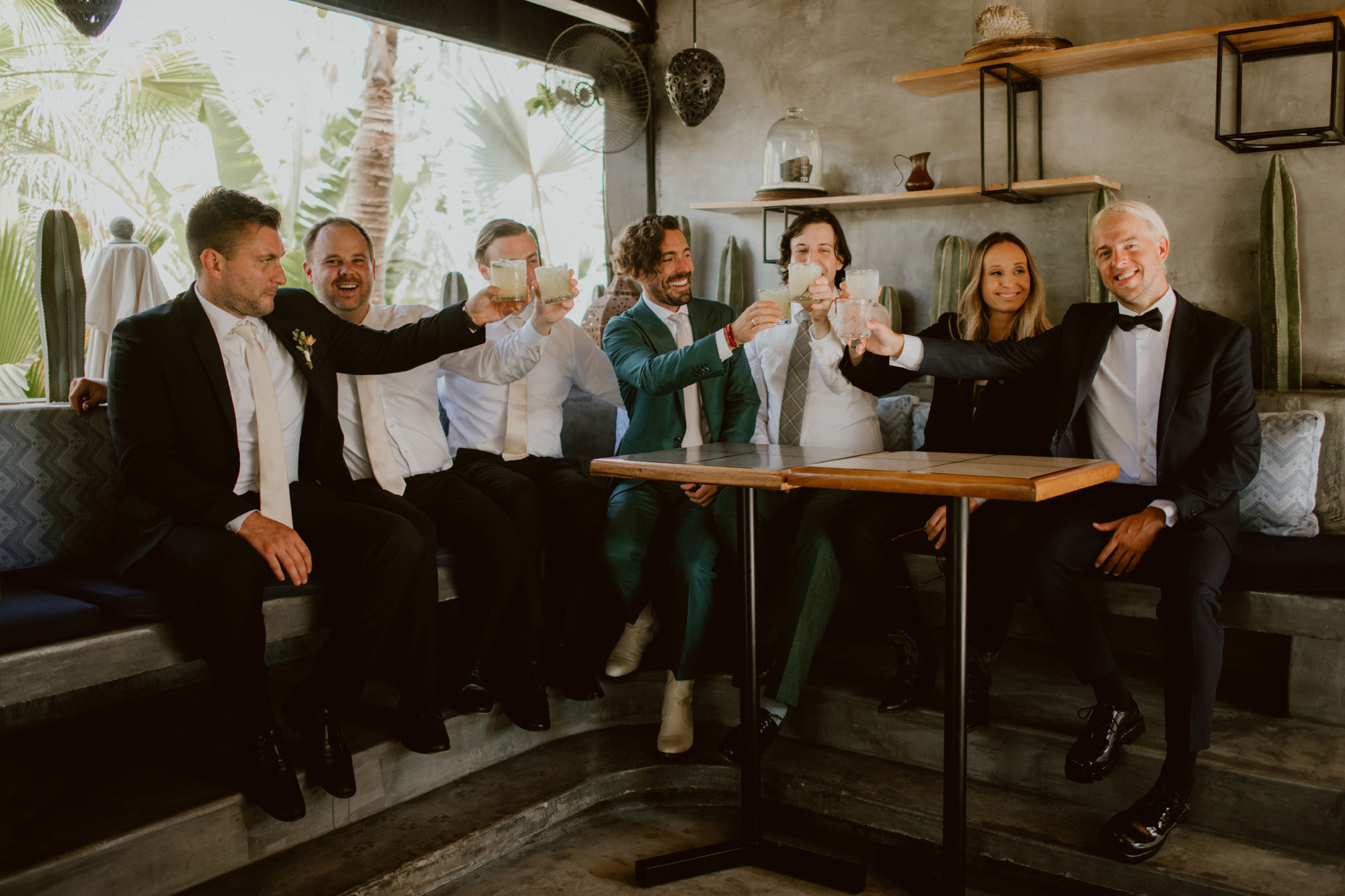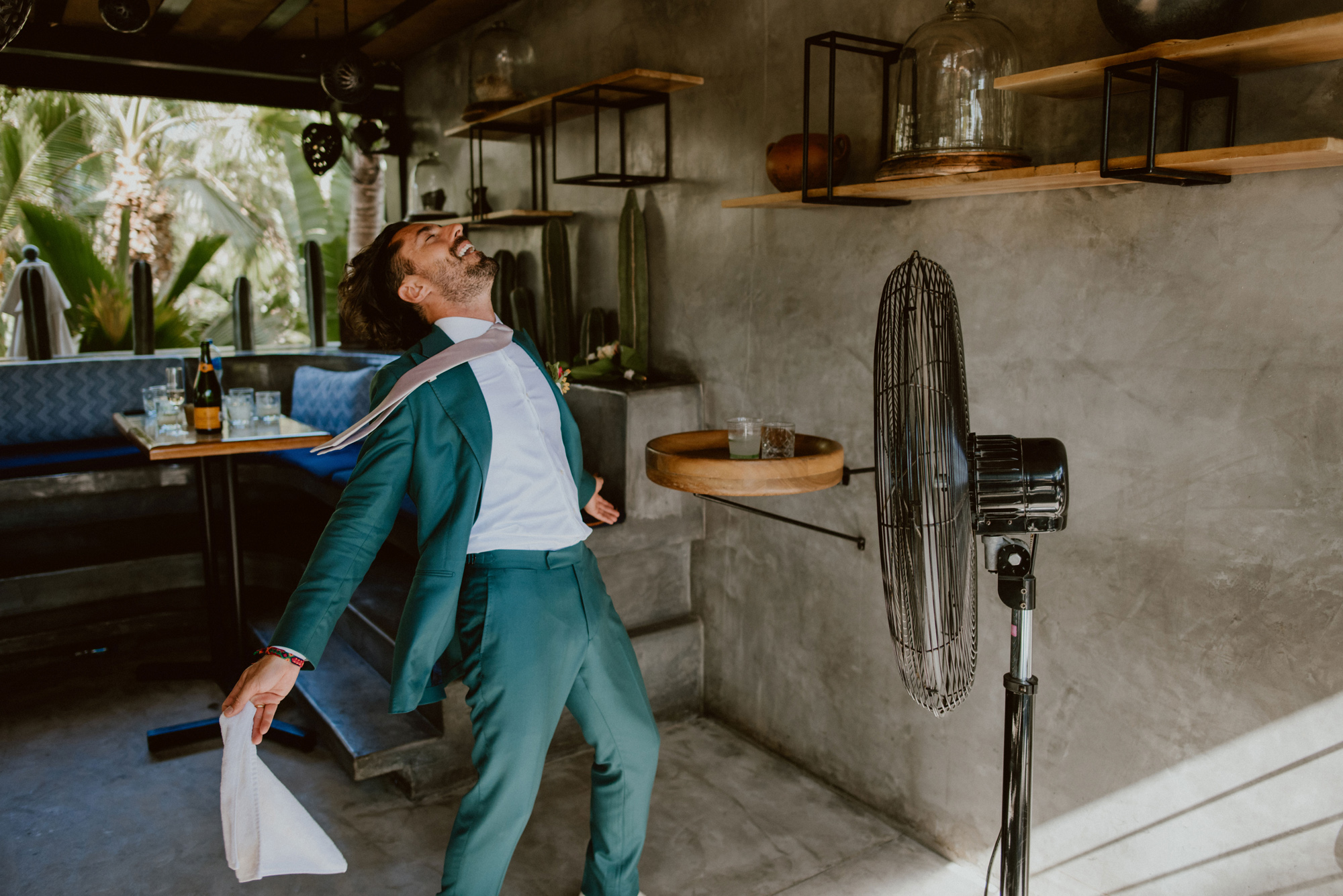 A moment for this moment.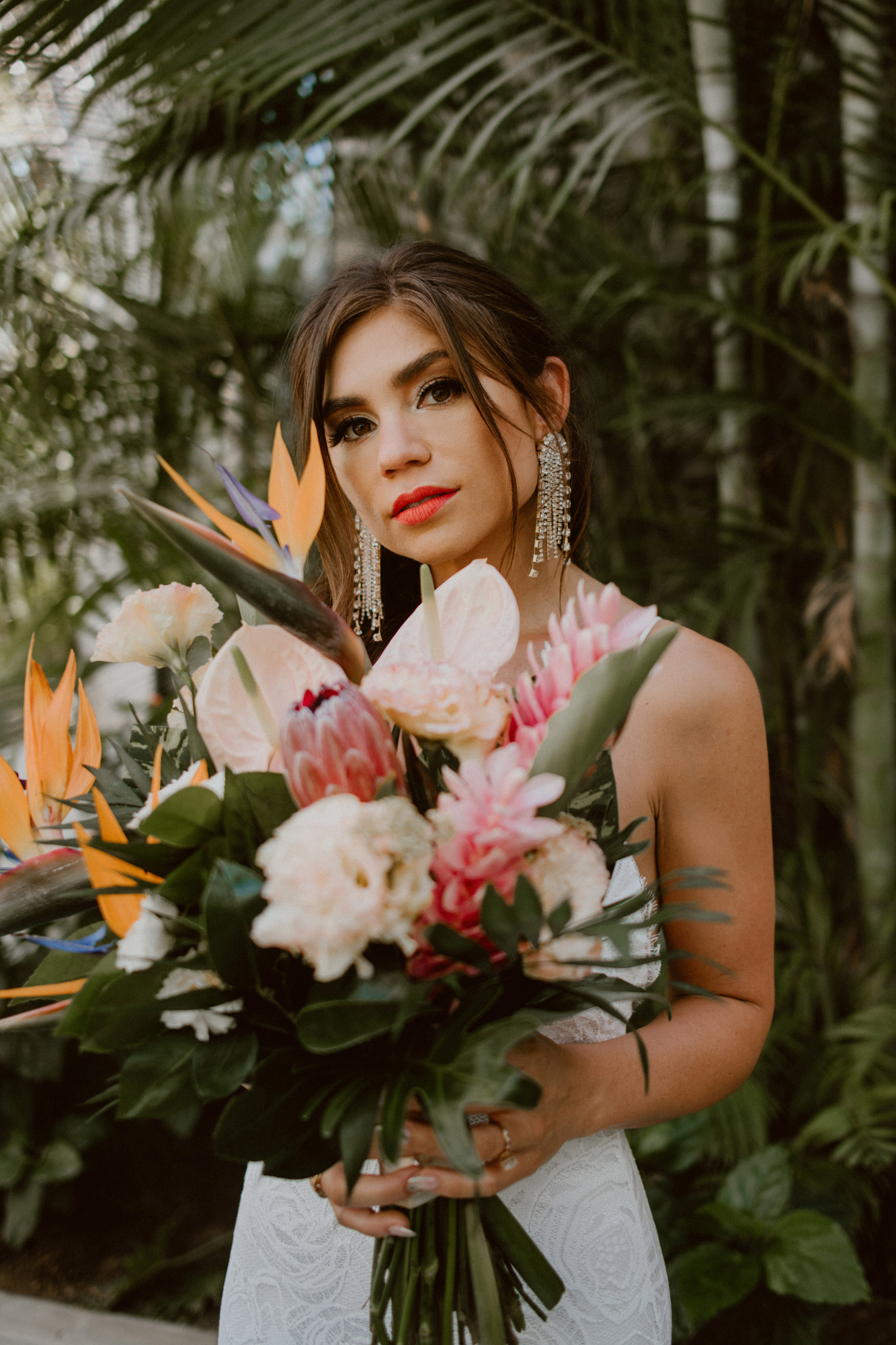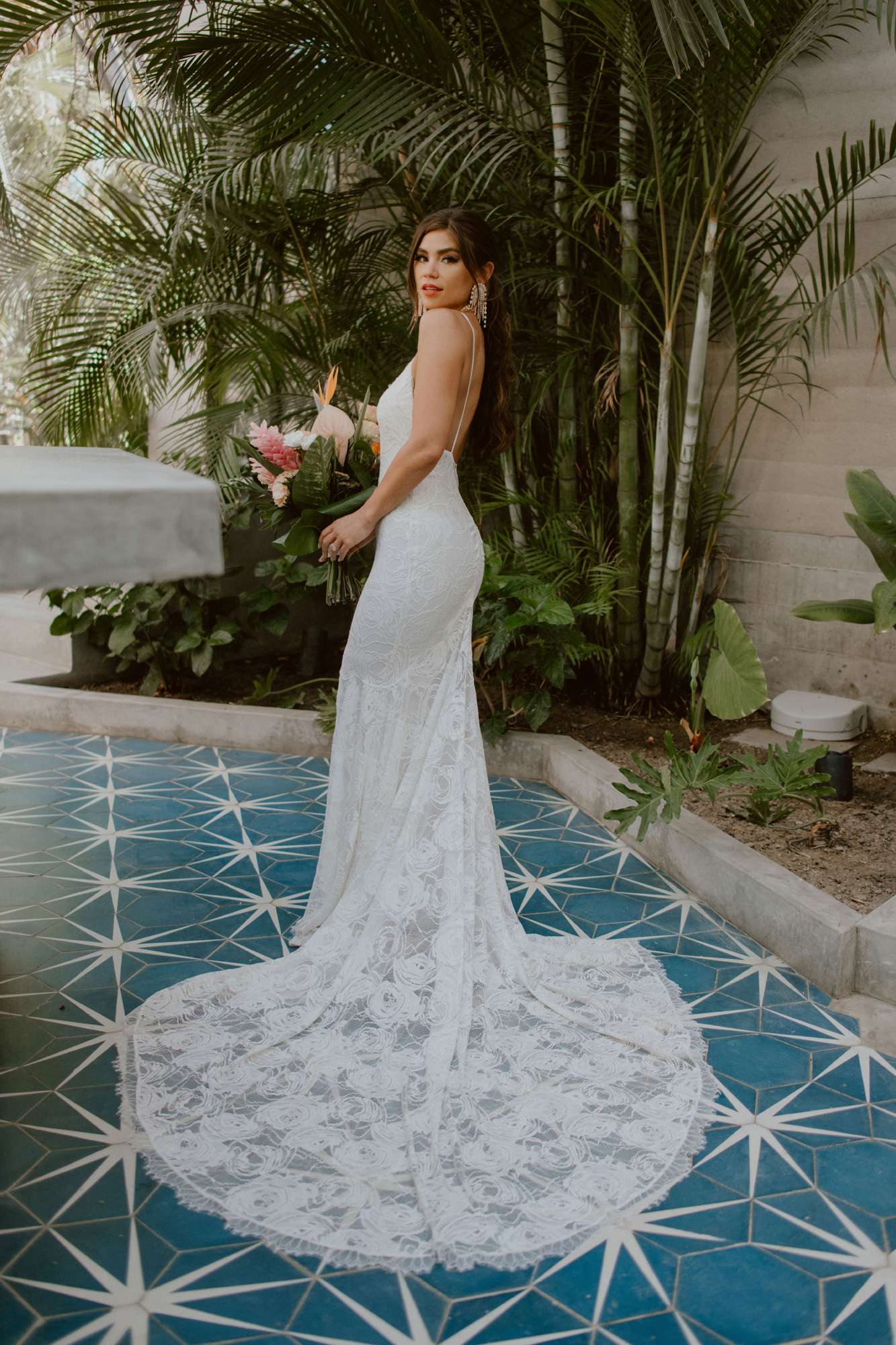 My final look! I went with a Grace loves Lace iconic gown - The Clo which was quite a bit different from what I thought I would like, and very different from the glittery, bedazzled ballgown I had chosen for what would have been our Big Sur wedding, but I love how it turned out!
This dress ended up being the most amazing choice for a destination wedding, because the stretch material and lace overlay doesn't wrinkle. I was able to slip it on in about 5 seconds (one of my bridesmaids said to me "that was the easiest I have ever seen a wedding dress go on in my life"), as there were no buttons, or endless hook and eyes to do up. While this dress was custom cut to my measurements, due to the stretchy material, it didn't need to be impeccably tailored and altered - when I lost a few pounds before our wedding, I didn't need to have the dress taken in since the material had give. Because there was no boning, it was also incredibly comfortable - I could have slept in this dress. Having a dress that was just easy and something I didn't need worry just made the entire wedding day experience just that much better.
I kept the rest of my look fairly simple, I added a dramatic pair of chandelier earrings, gold heels, Brandon's grandfather's ring and that was it!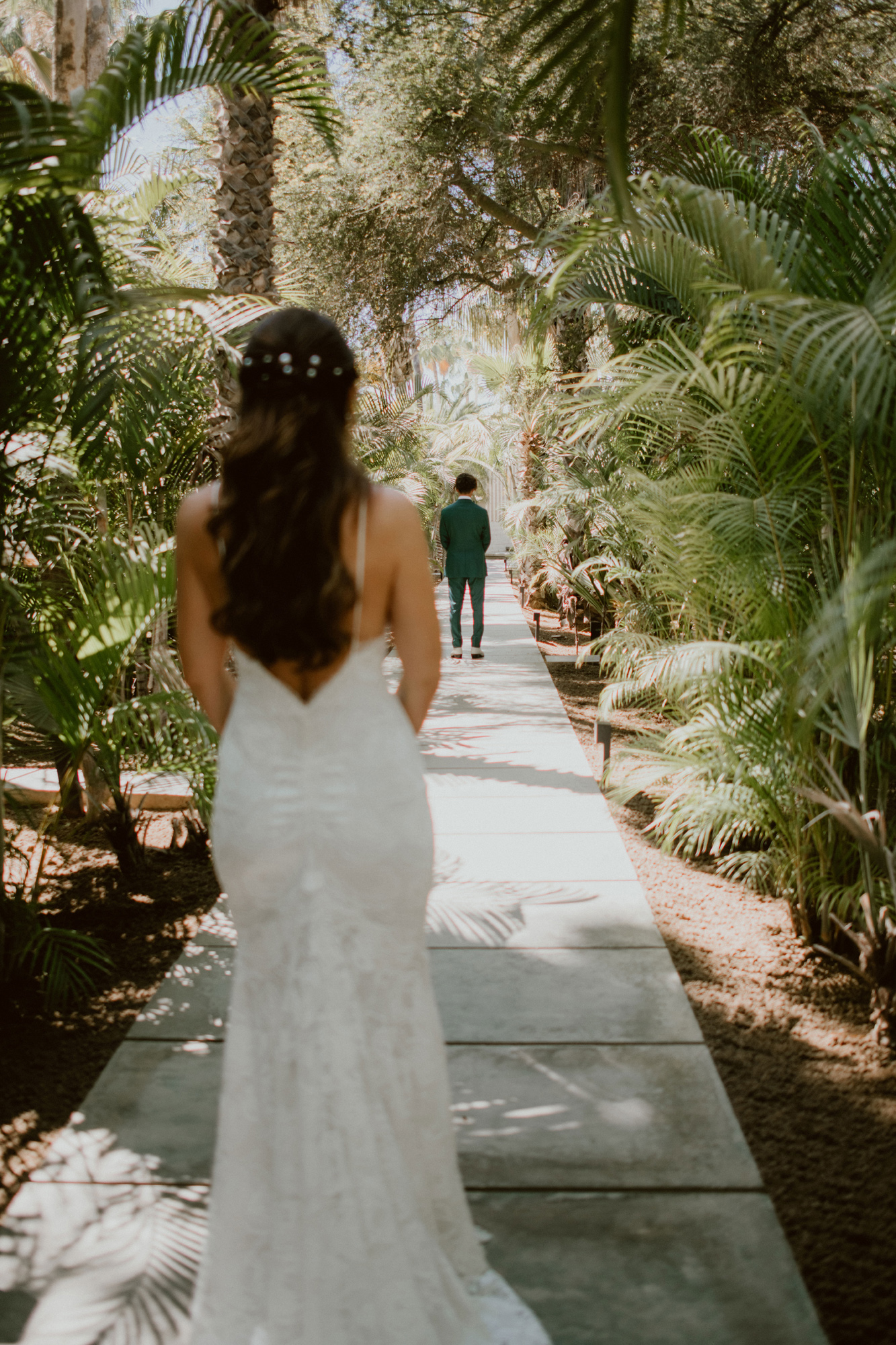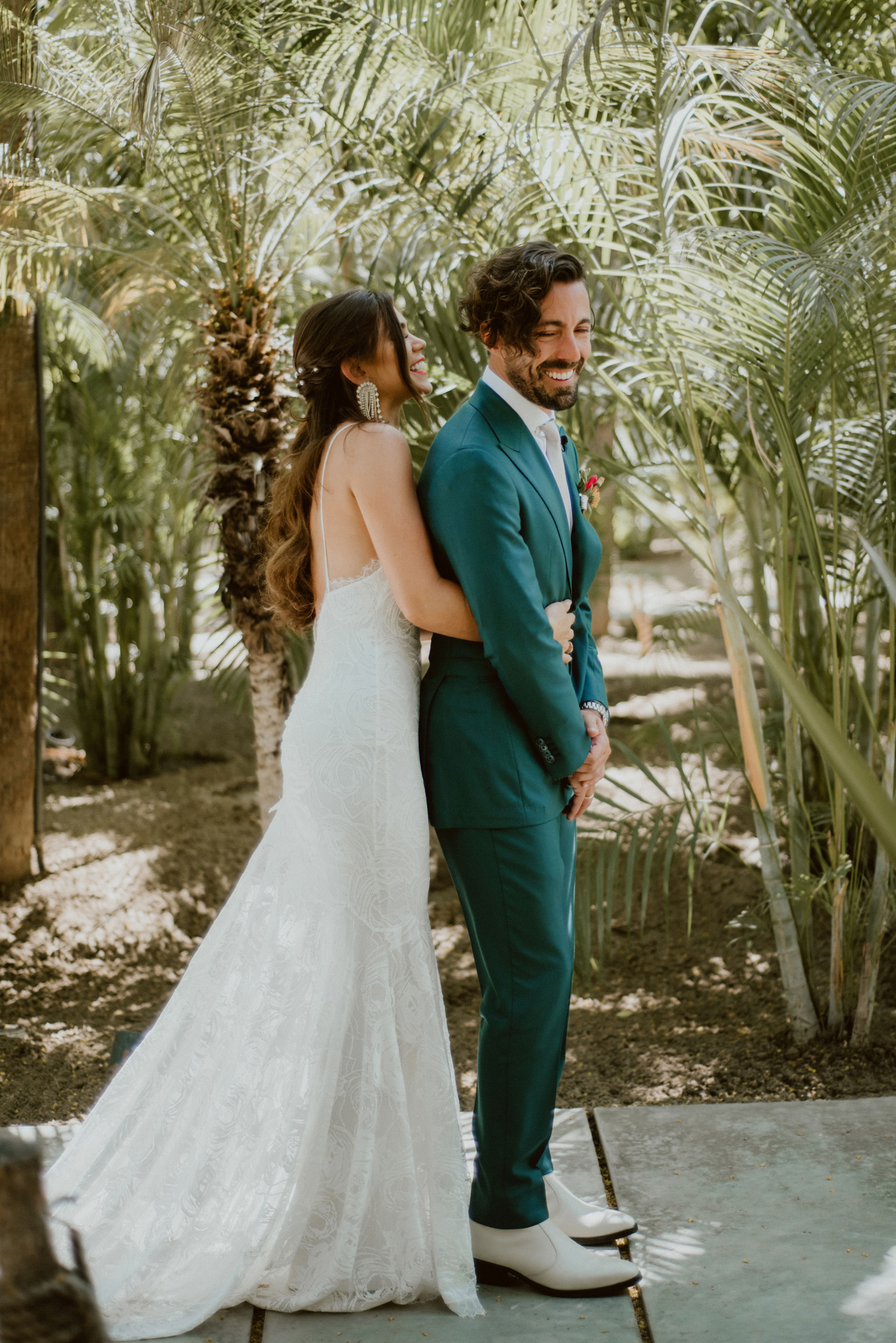 Finally after being apart for most of the day, we made it to our first look! We really wanted to be able to enjoy our wedding as much as possible, so we chose to do our first look and take most of our photos before the wedding started to get it all out of the way and be as present as we could for the rest of the party.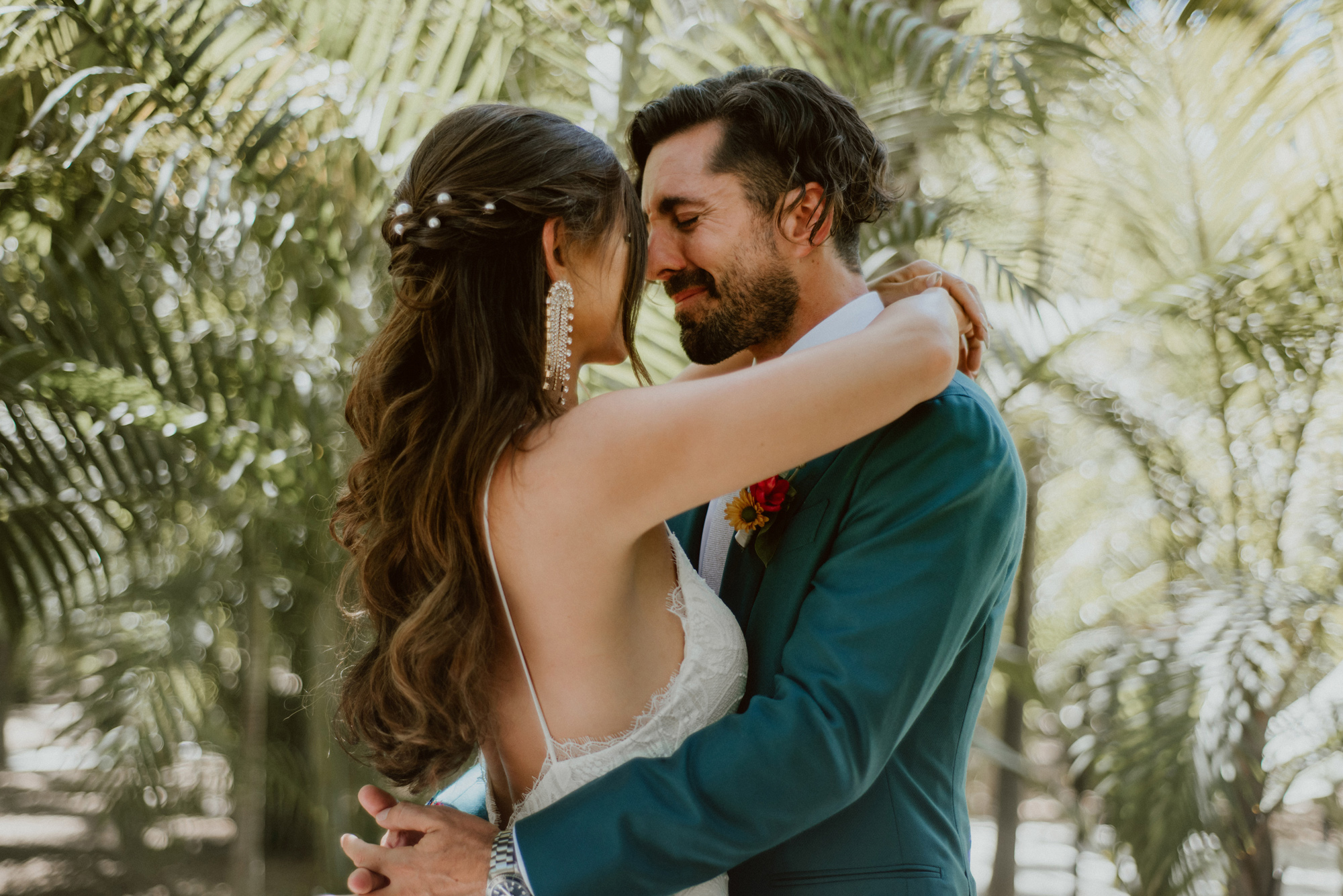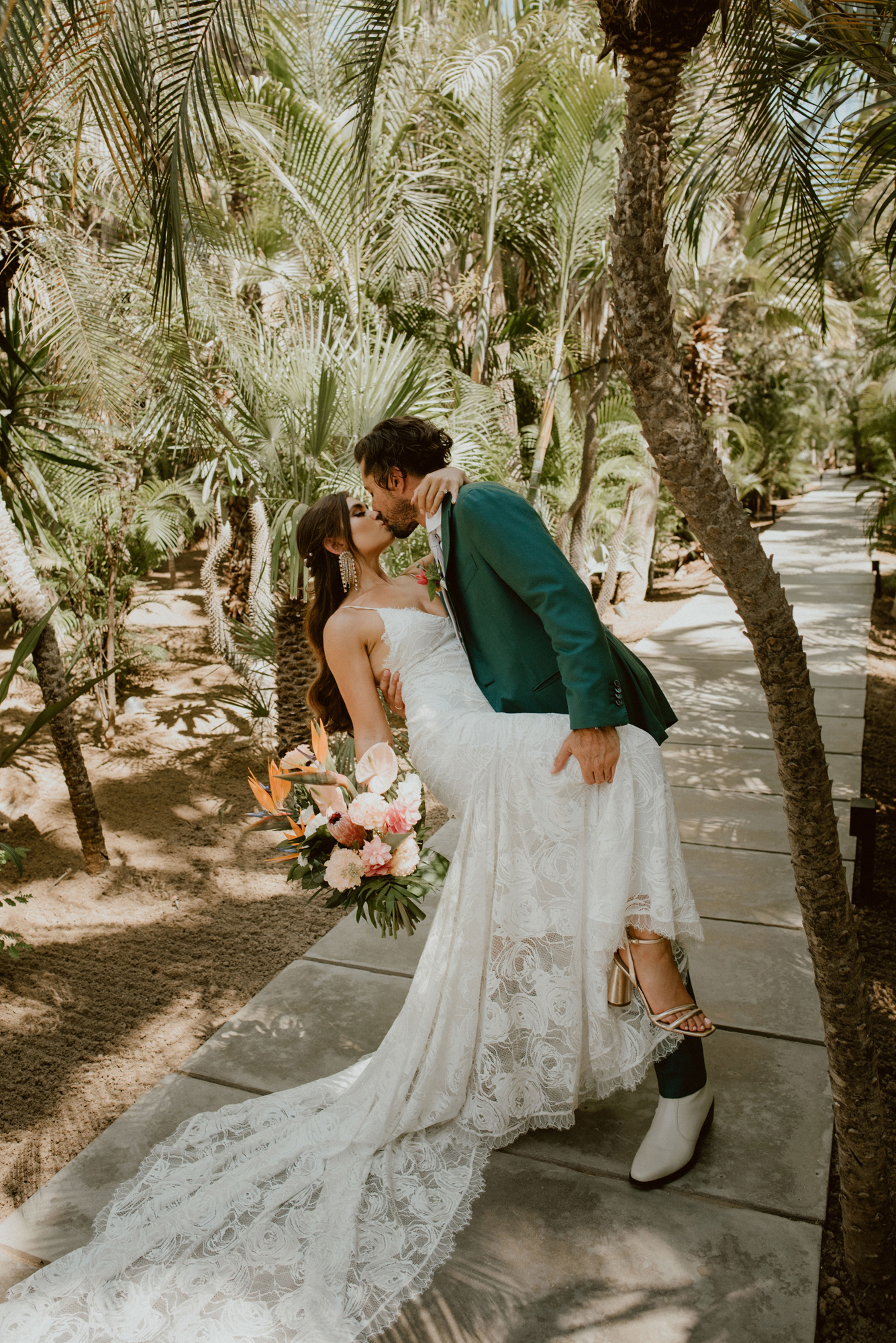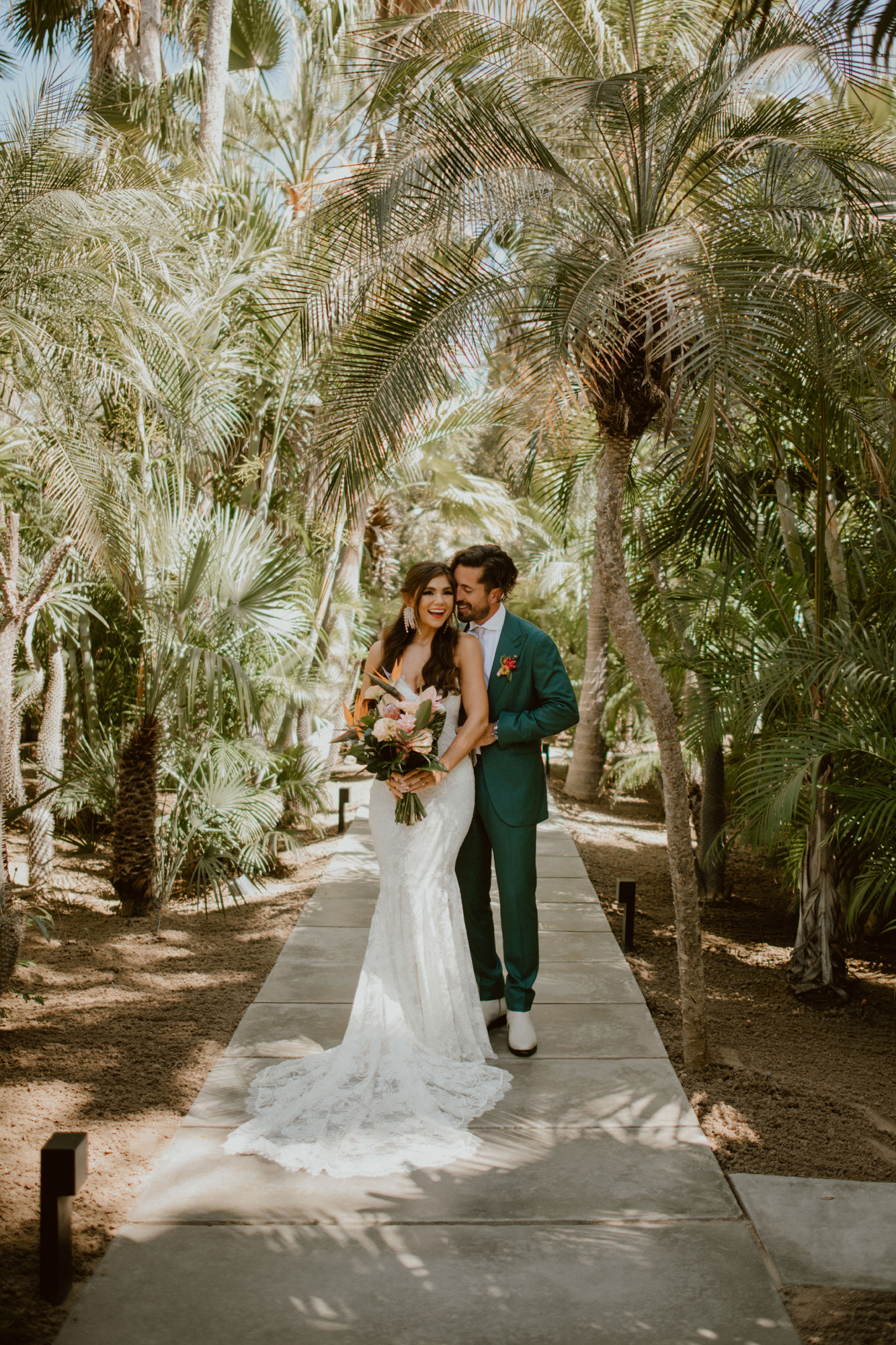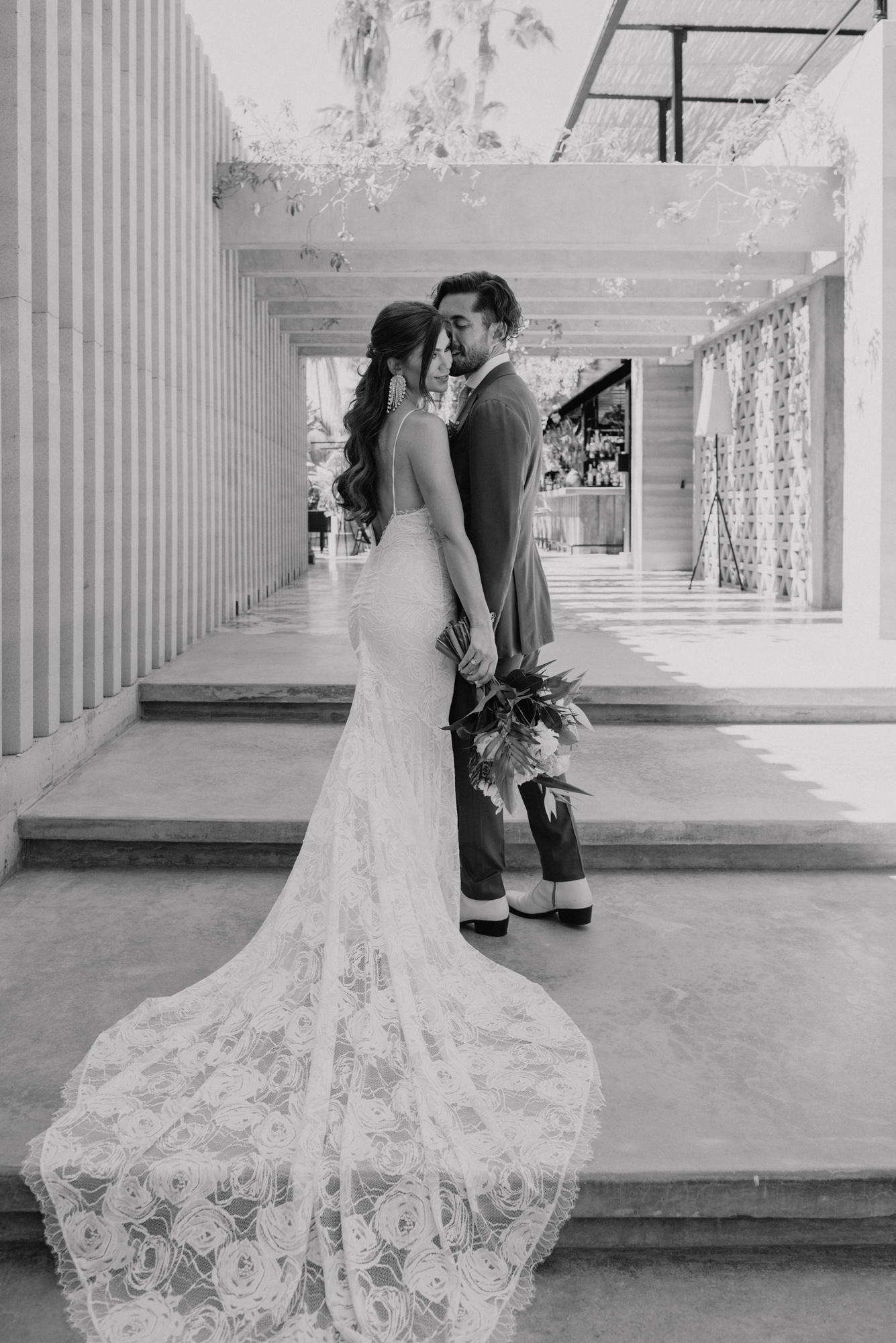 A little commotion for the dress!
Shop my wedding look: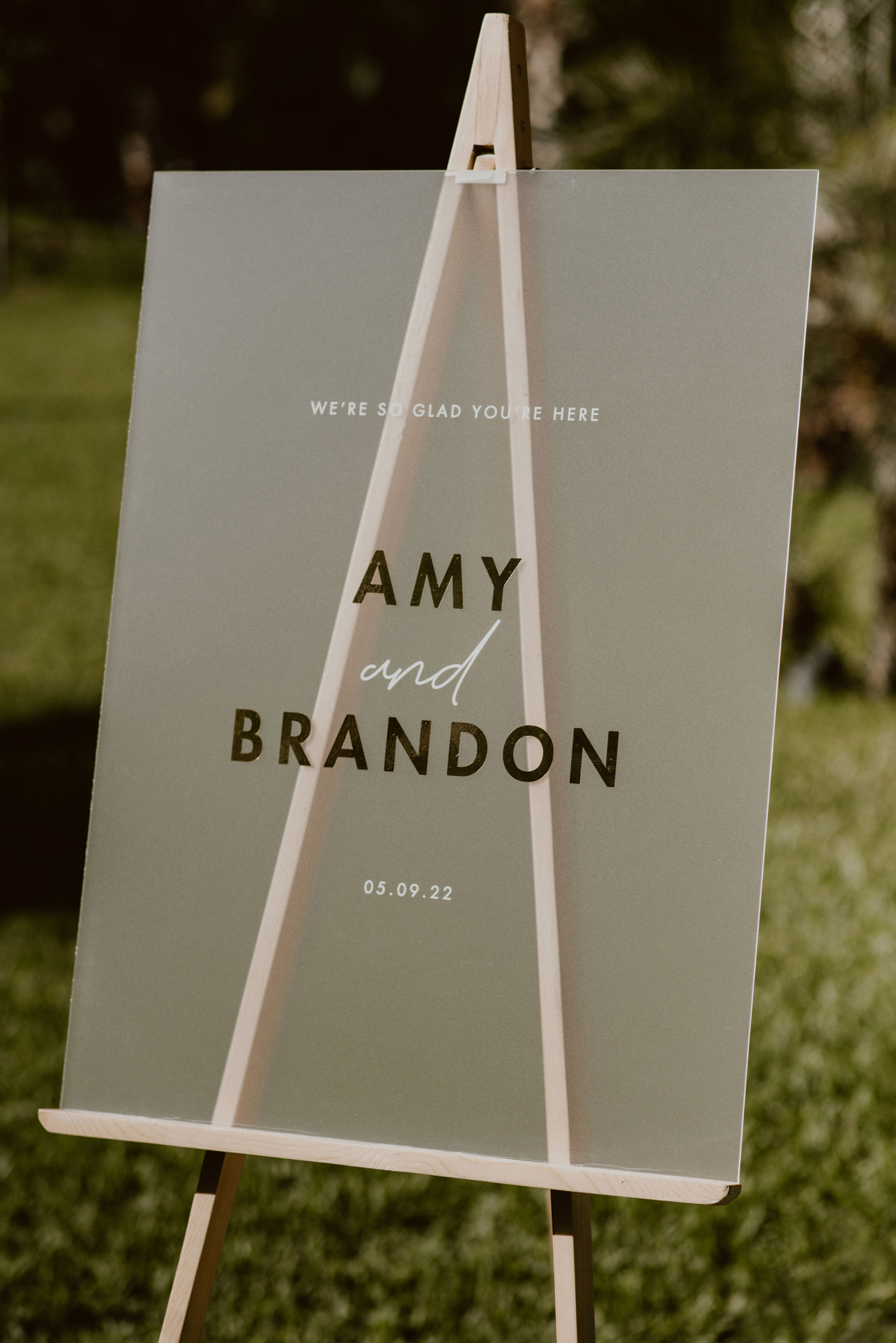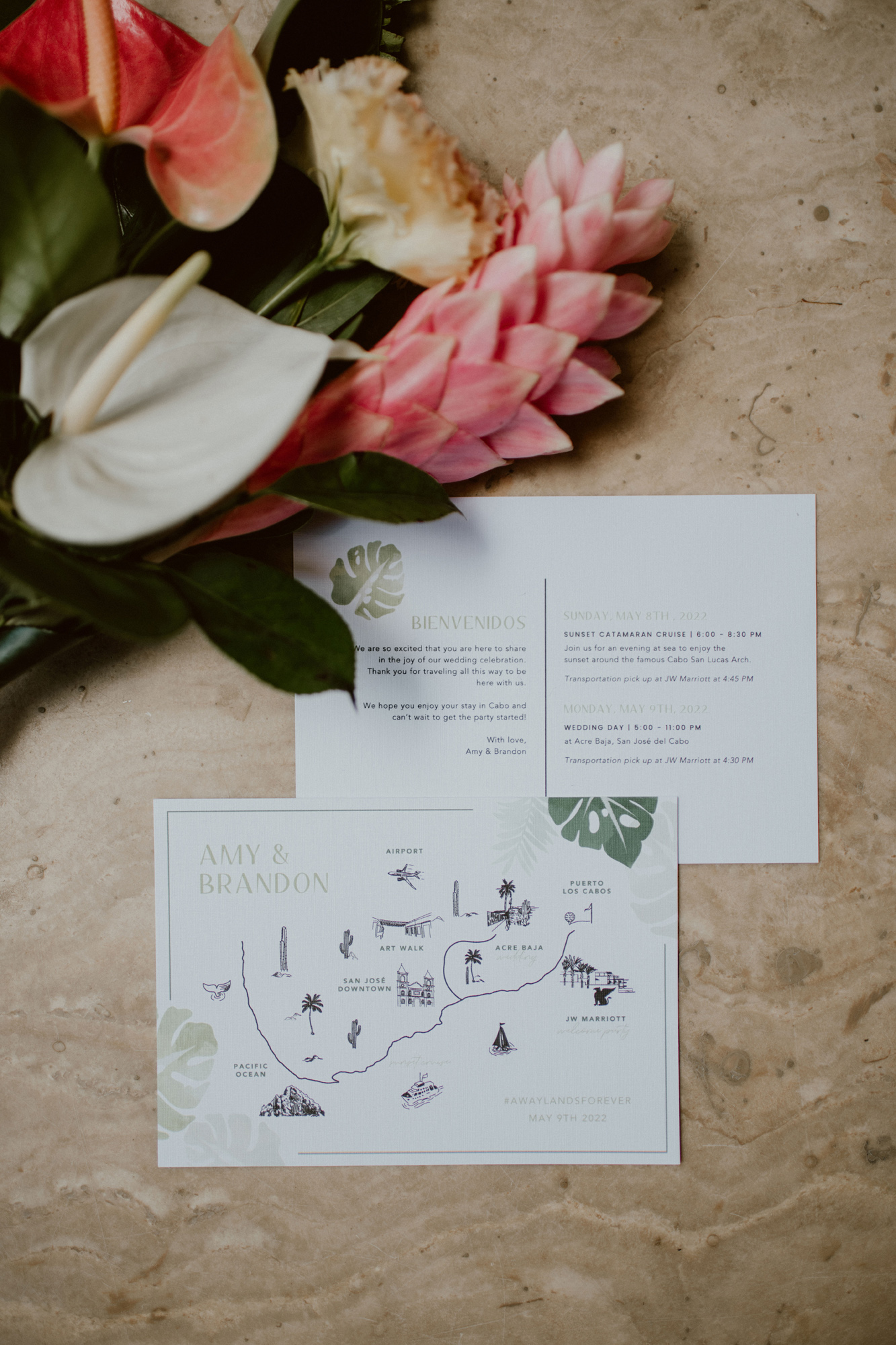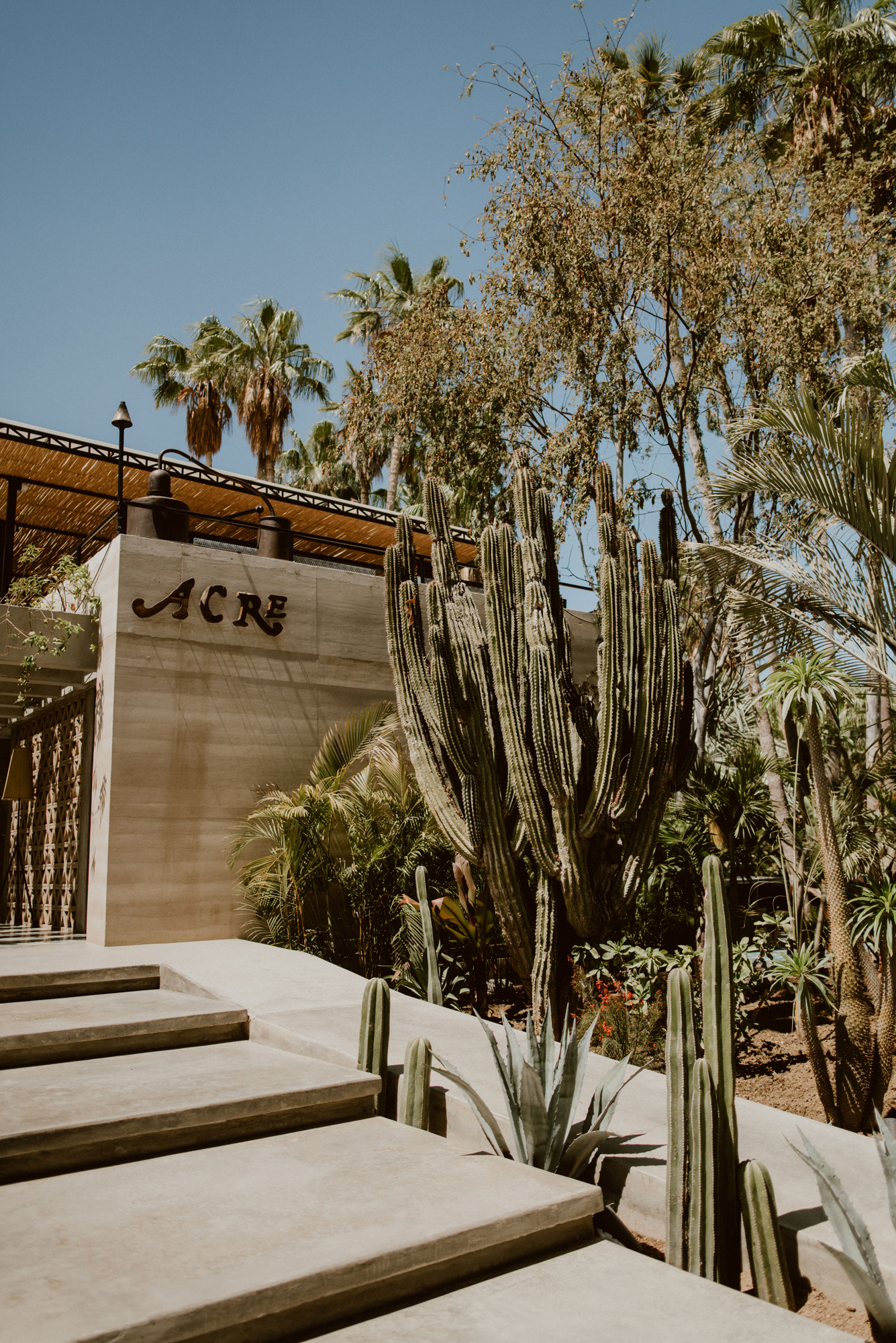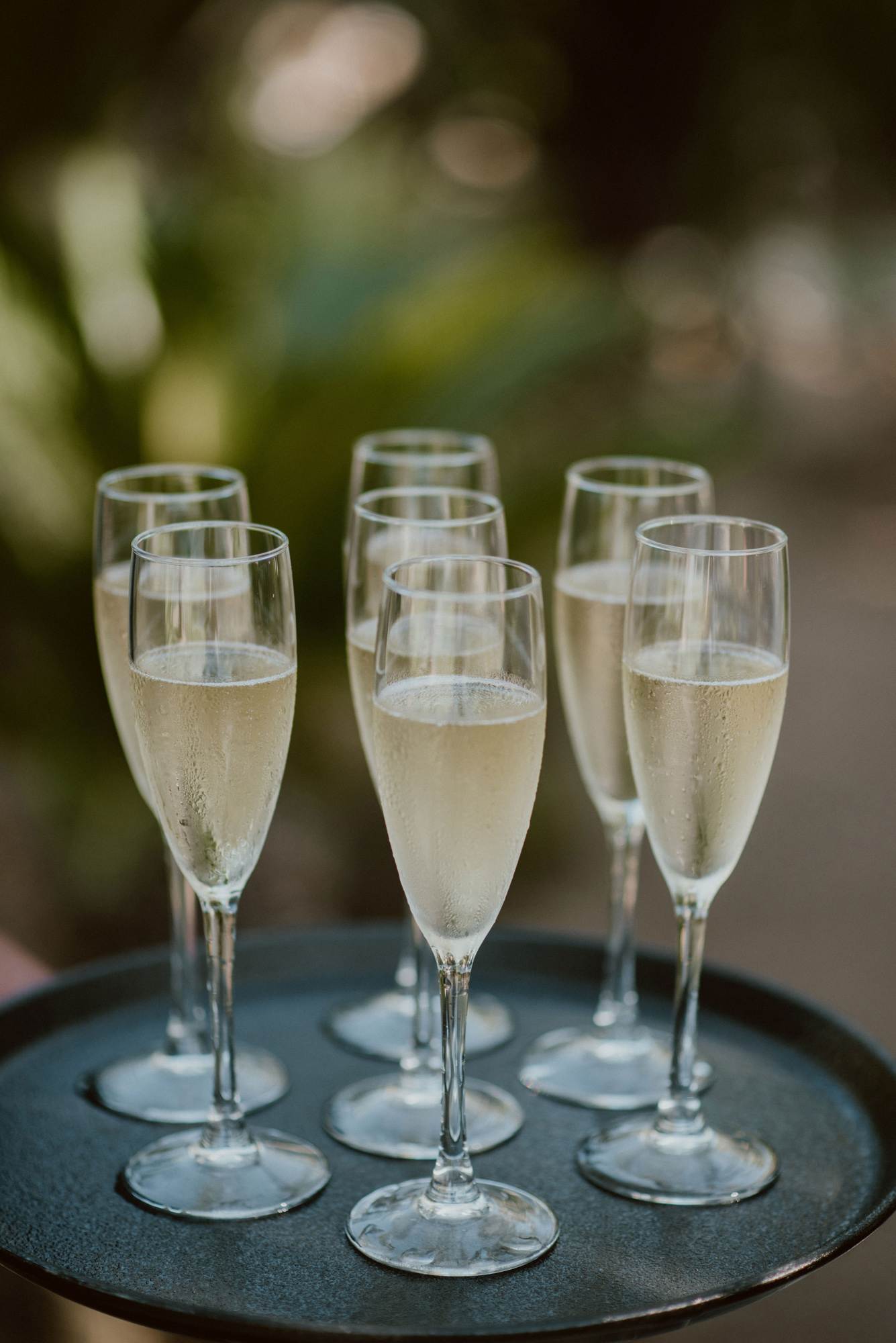 One wedding detail we knew we needed to include was champagne as our guests entered and sat down before the ceremony. All of our favorite weddings start with pre-ceremony drinks, and we wanted to make sure to start the vibes right.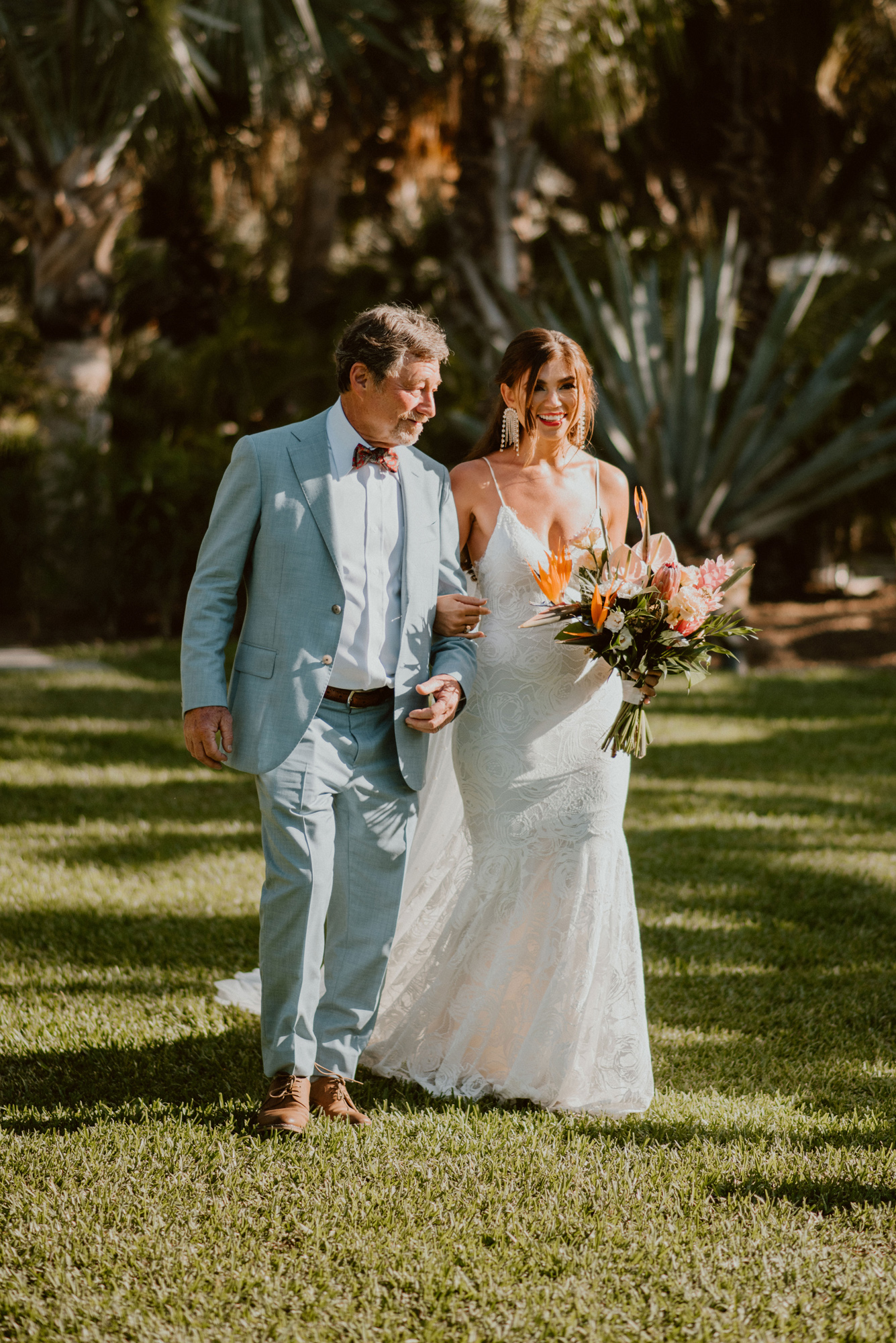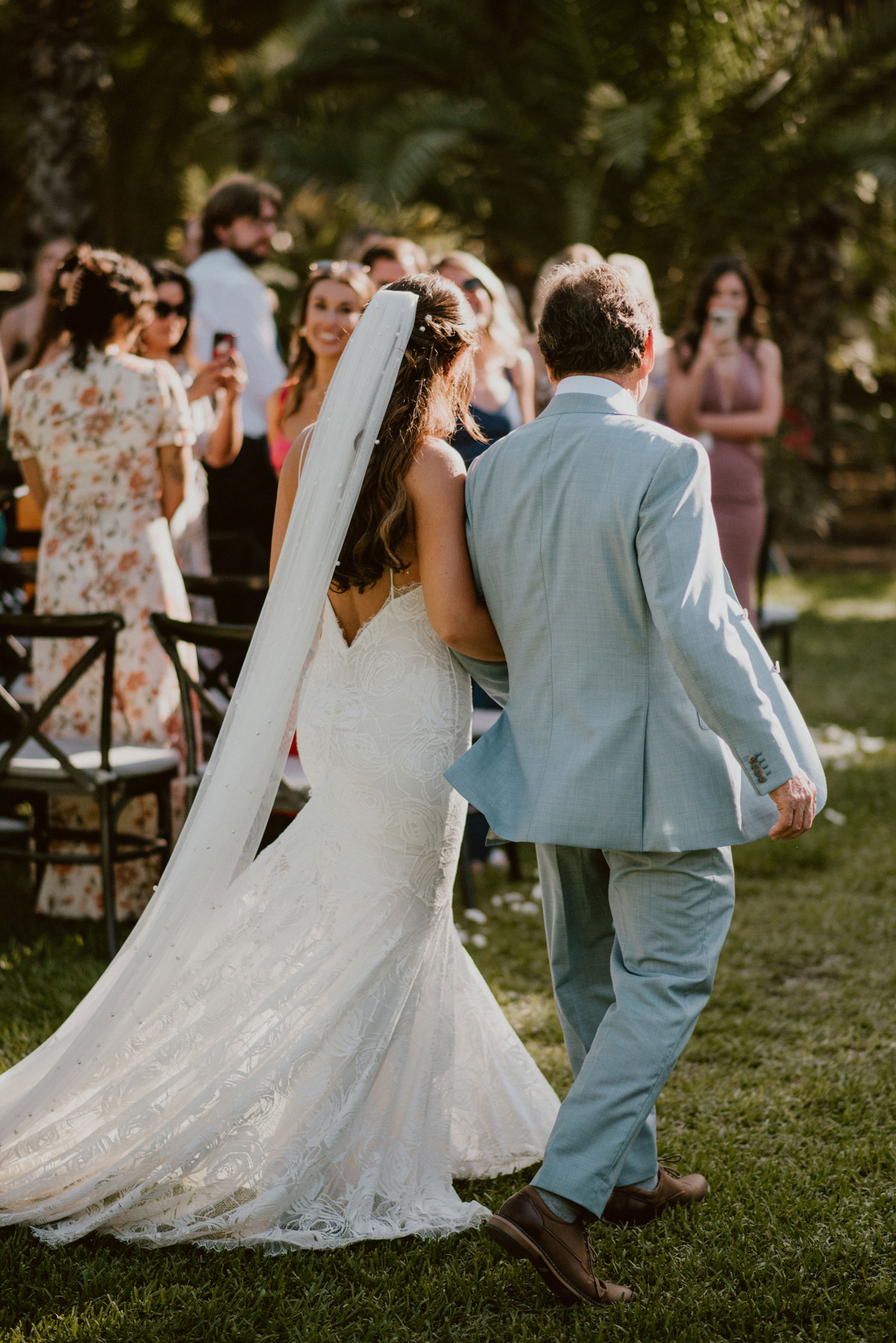 I wasn't planning on wearing a veil, but at the very last minute I decided that I wanted to add a floor-length back veil for the ceremony to add more drama to my wedding look, as I went with a simpler wedding dress. I found this pearl-lined veil and ordered it less than 2 weeks before the wedding - and when it came I was so happy that I decided on the addition. Since we did a first look, I did love that it added one more little element as a surprise when I knew that I was only going to wear this for Also - unlike the bridal shop veils, you won't believe how inexpensive this one was (this cost less than $20)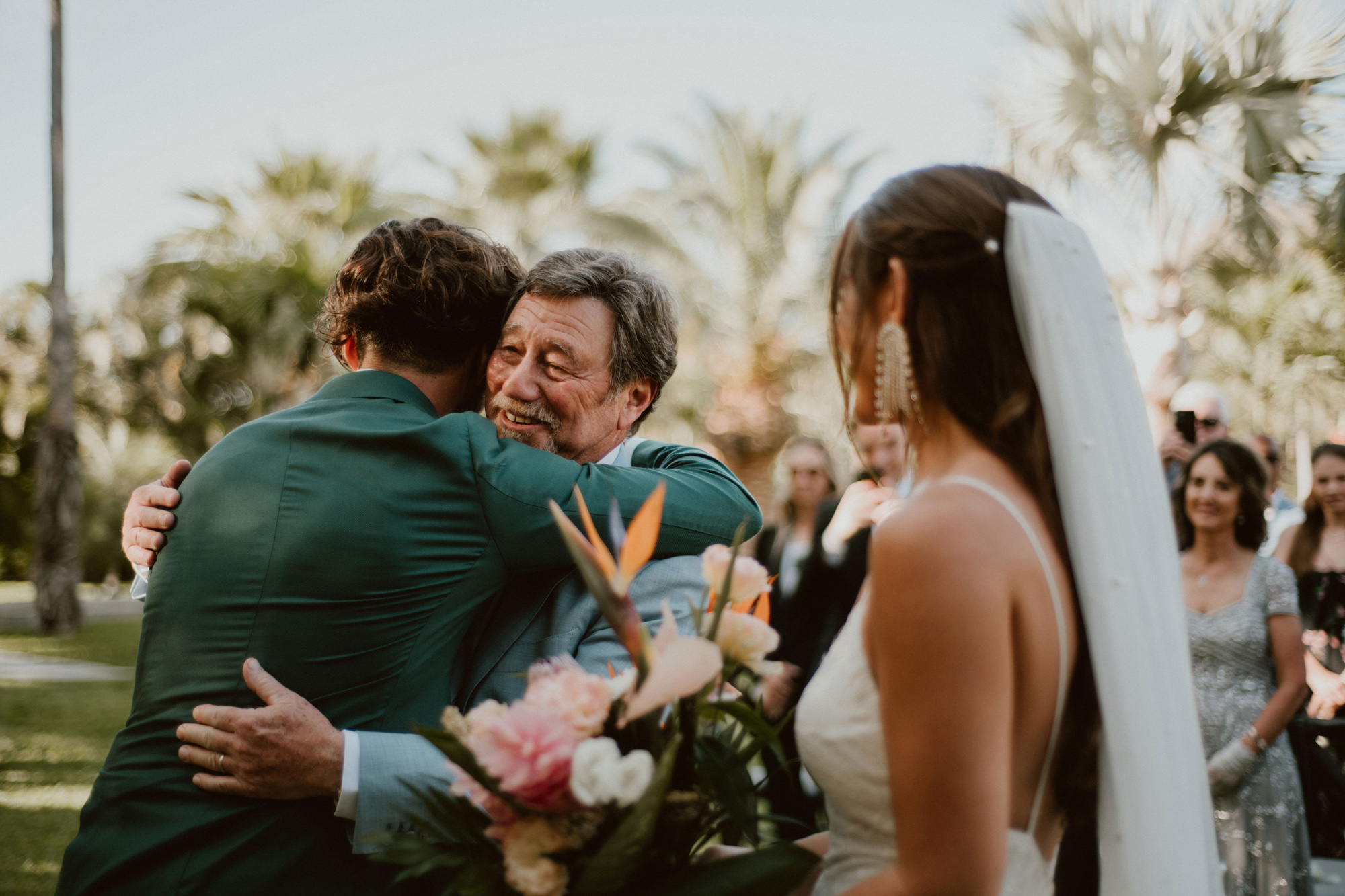 I just love this moment.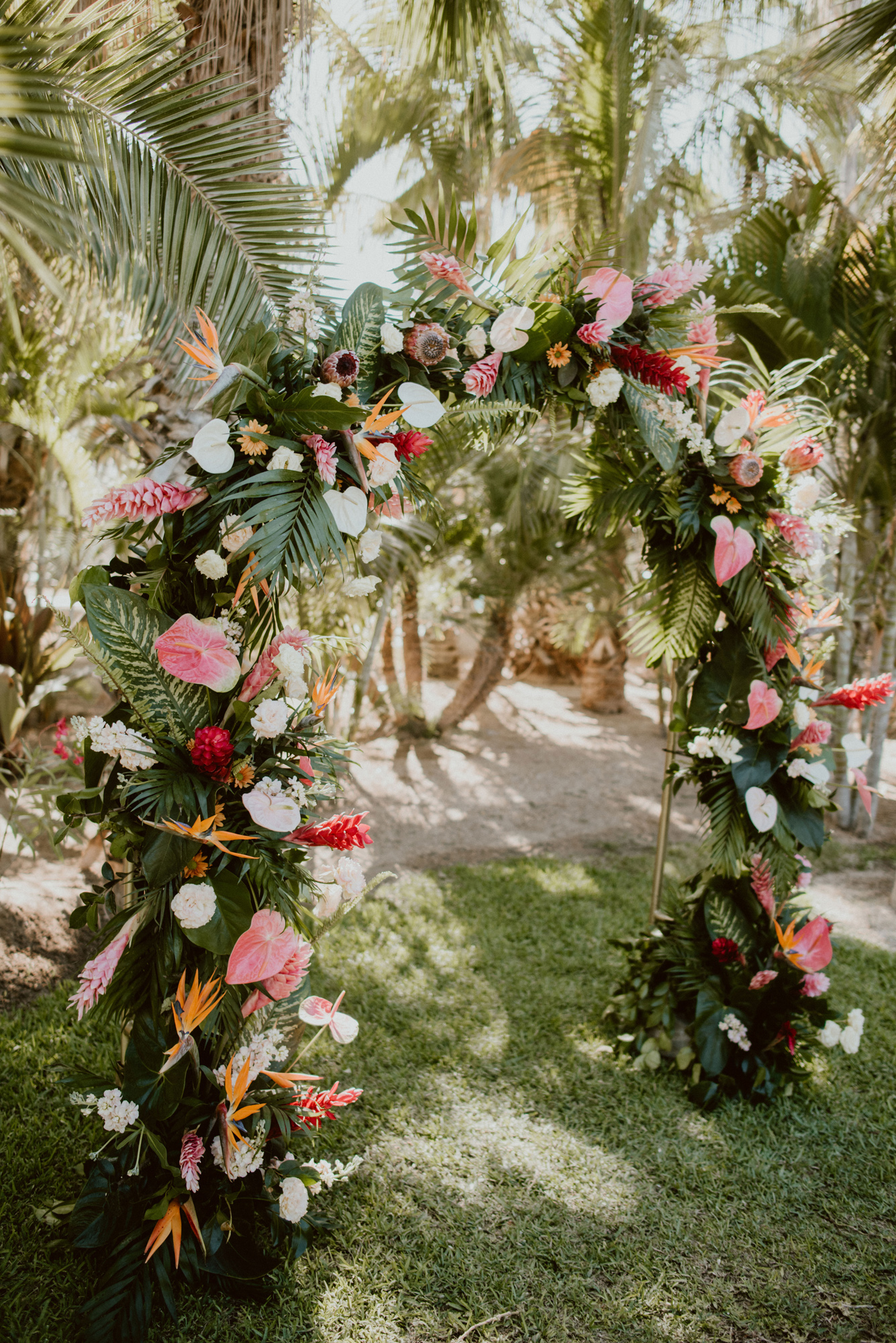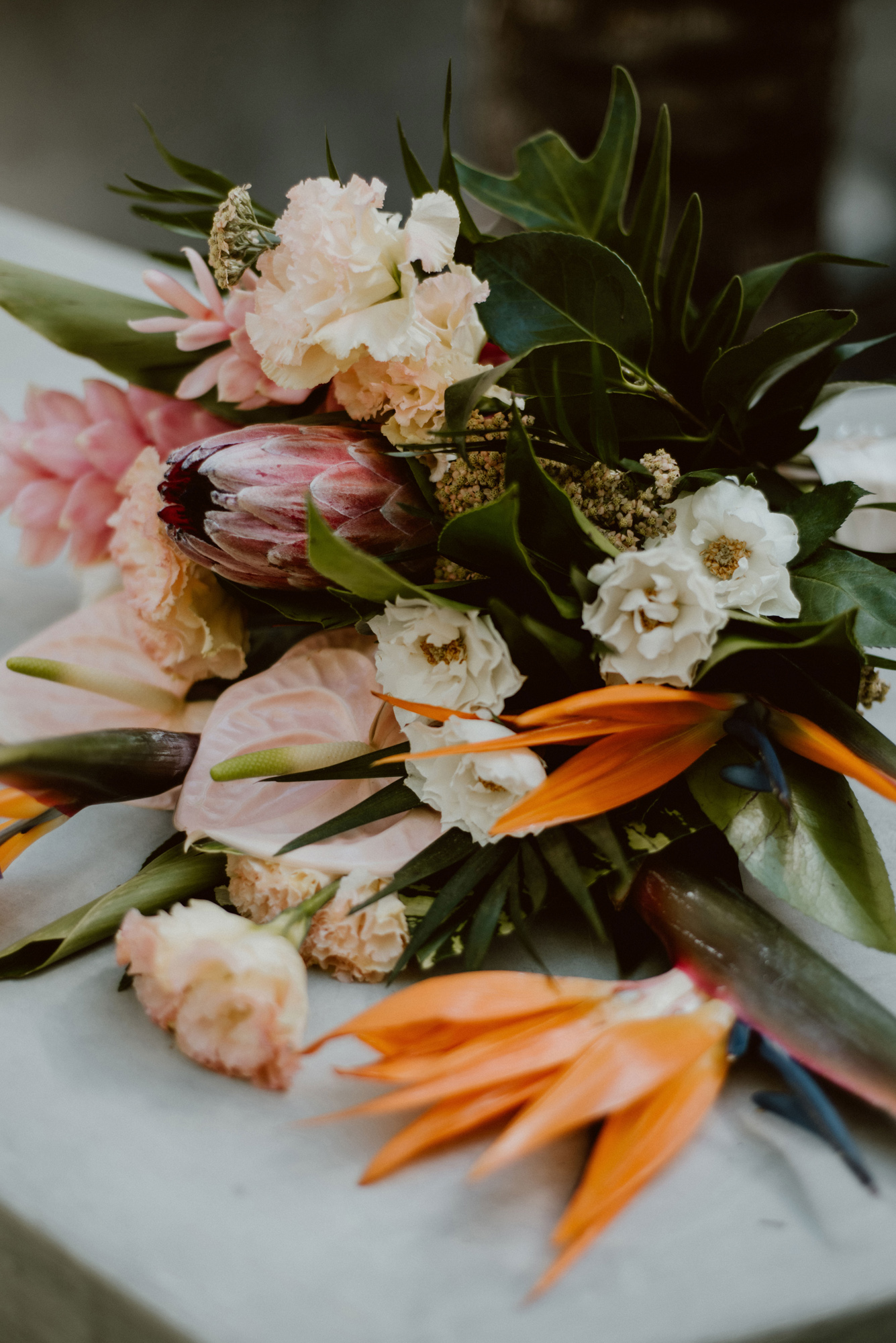 For our flowers, I wanted to add a bit of bright color and nod to our love of tropical places, while still matching the natural surroundings of Acre. I loved the way they turned out. Birds of paradise and light pink anthuriums are some of my favorite flowers, and the way they were incorporated into the arch and the bouquets was executed so beautifully.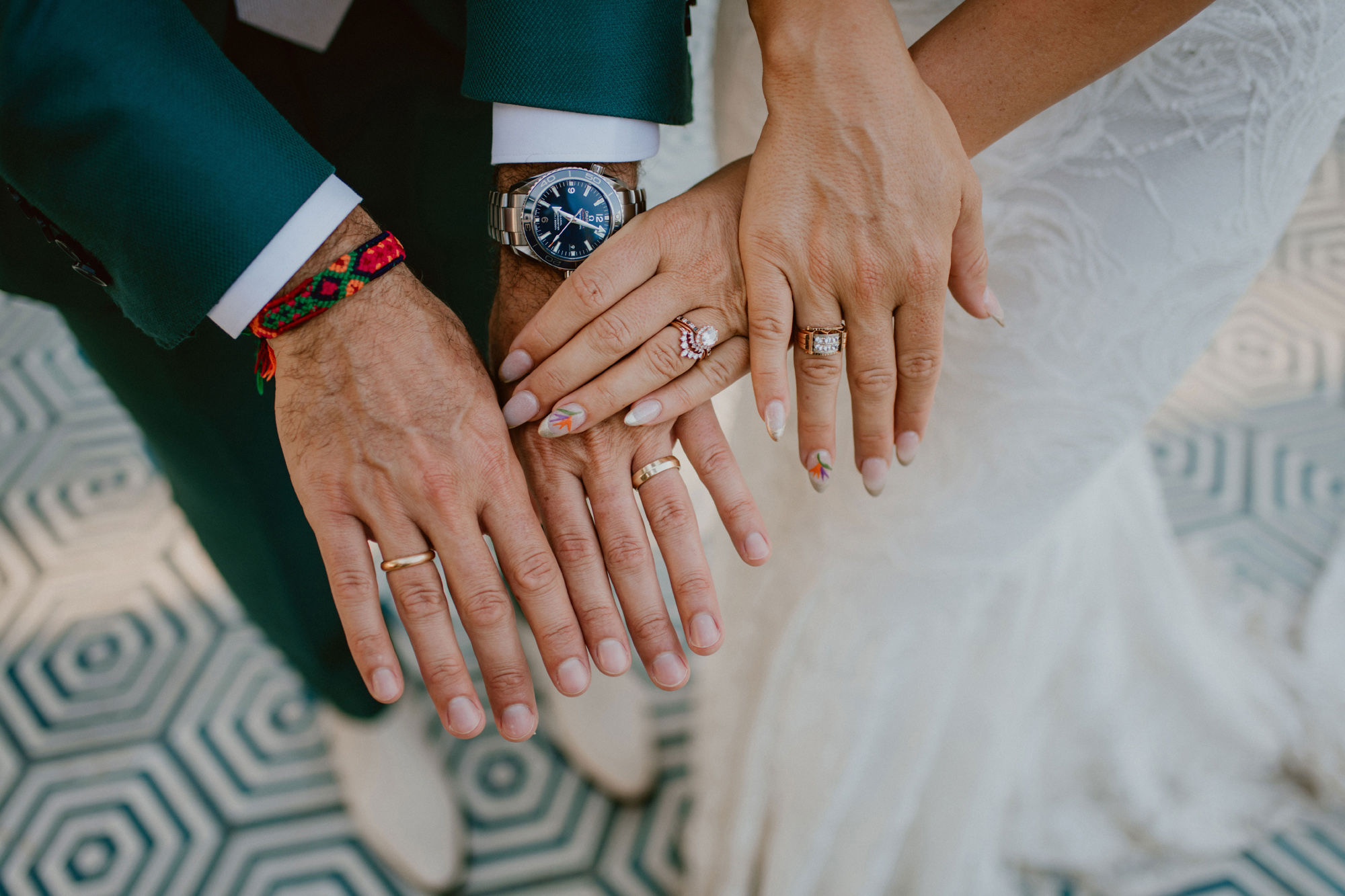 As a little compliment to our flowers, I had a bird of paradise detail added to my manicure.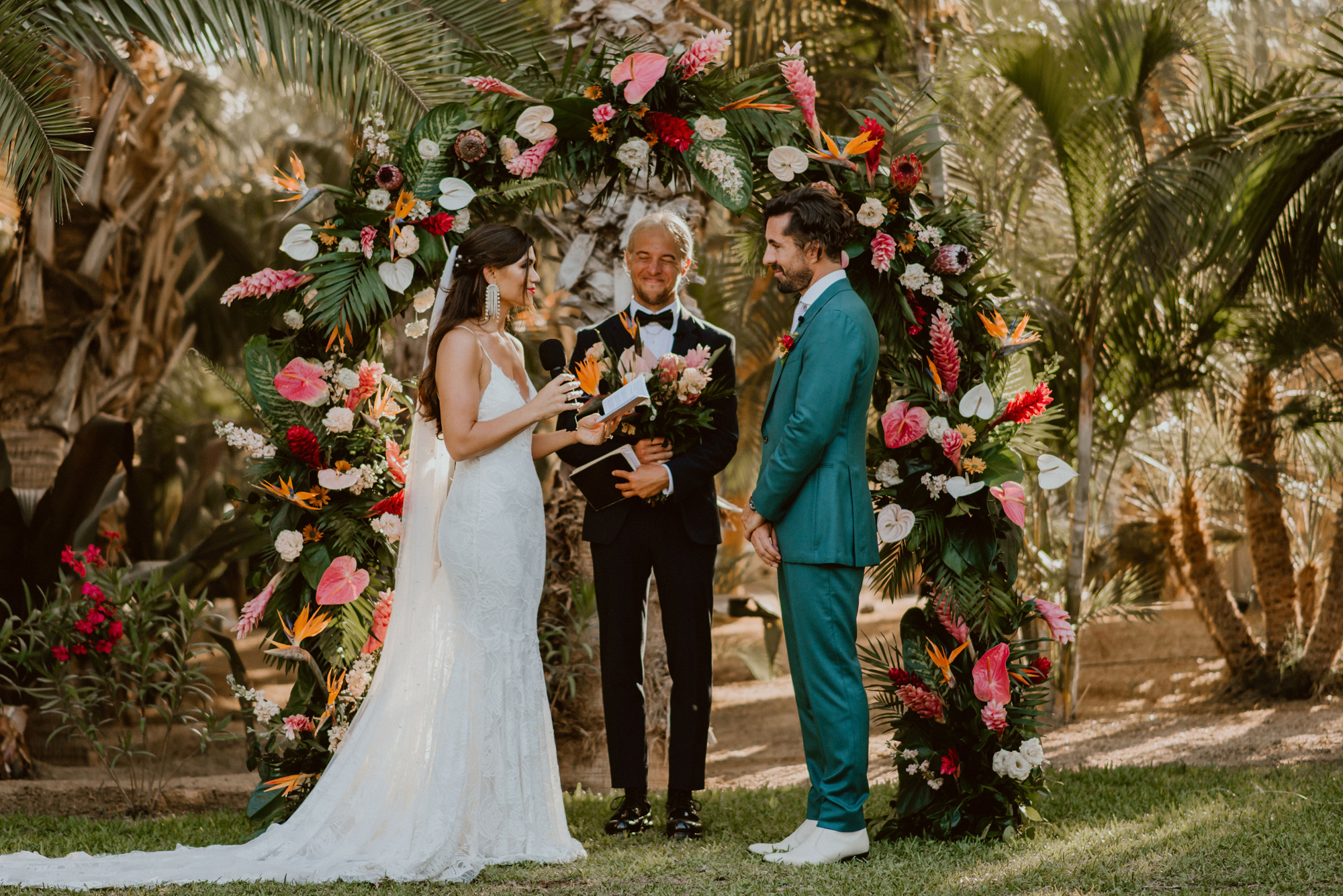 As we are very nonreligious, we asked a close friend to officiate our wedding and were so happy with how personal and touching our whole ceremony was. It was about us, the adventure of a life we have lived together, and committing to what is to come. We didn't have any readings, so we kept it short and to the point, with just the good parts.
The one element of our ceremony that we always thought was the most important was writing our own vows - since we ended up being engaged for so long, I thought about what I would put into mine for years. While it feel like a lot of importance and pressure, we tried as hard as we could to make each other laugh too. Clearly Brandon succeeded.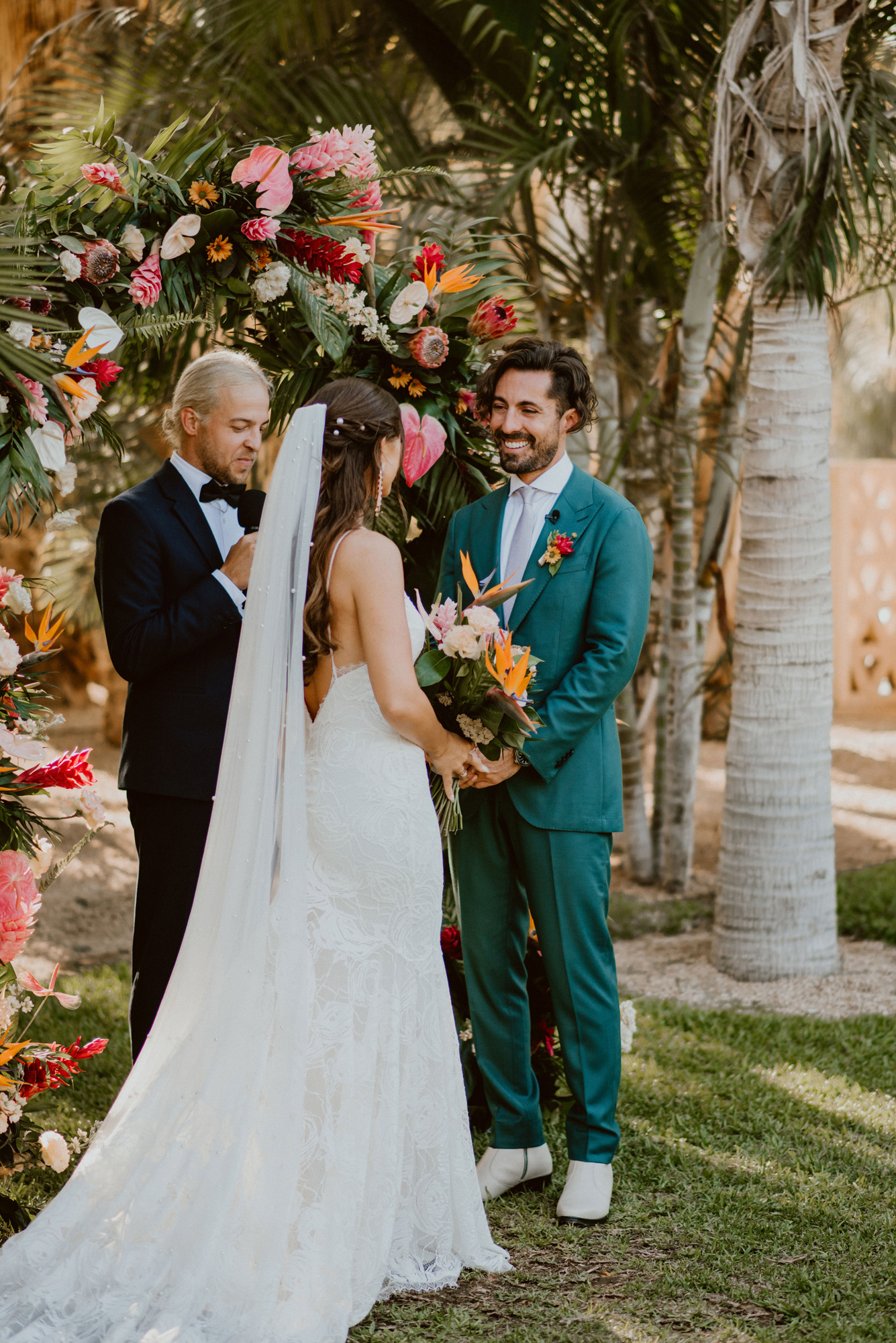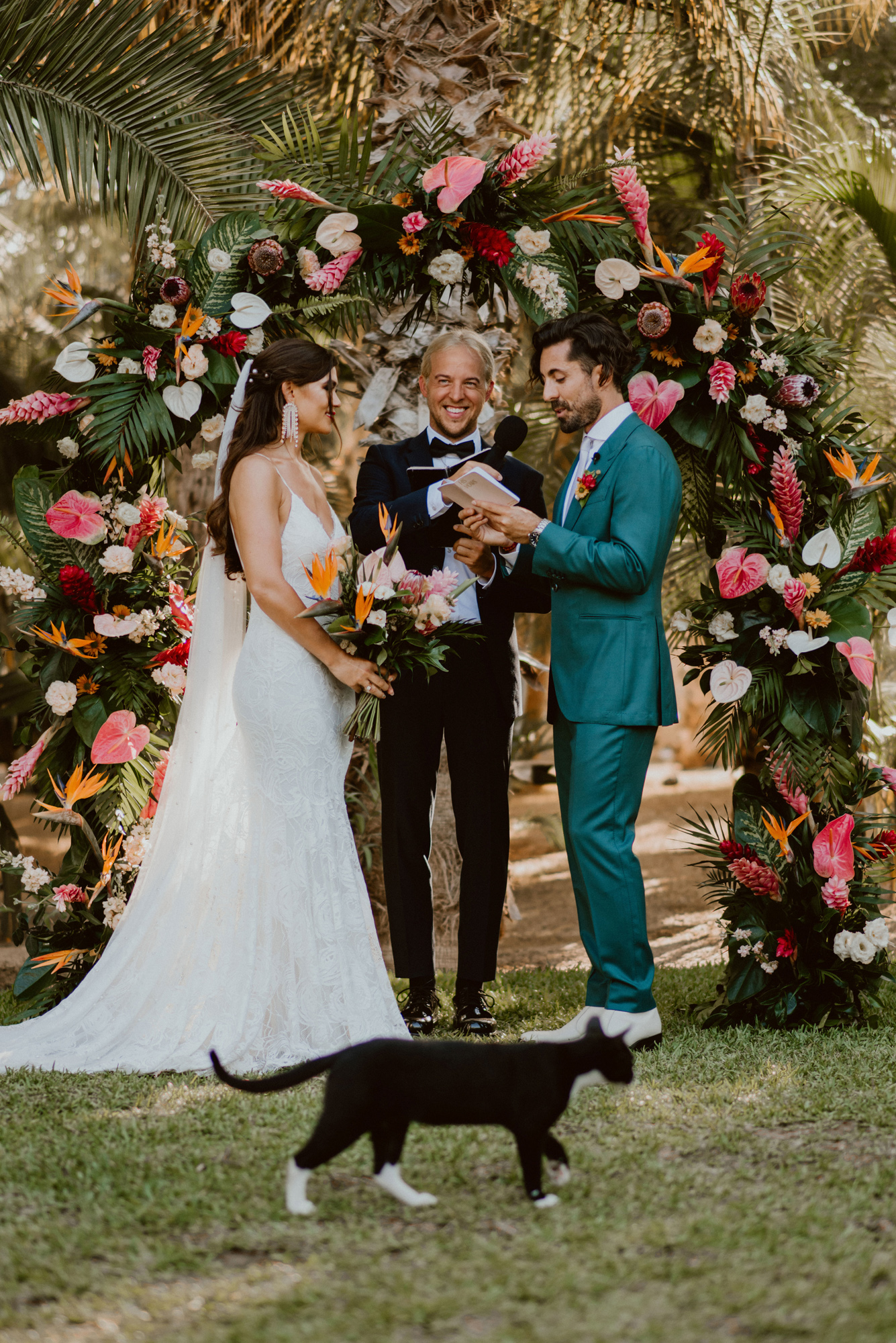 Surprise kitty! This cat walked right through our ceremony and then proceeded to sit down and curl up in the front row. Our friends commented that he was wearing a tuxedo for the occasion.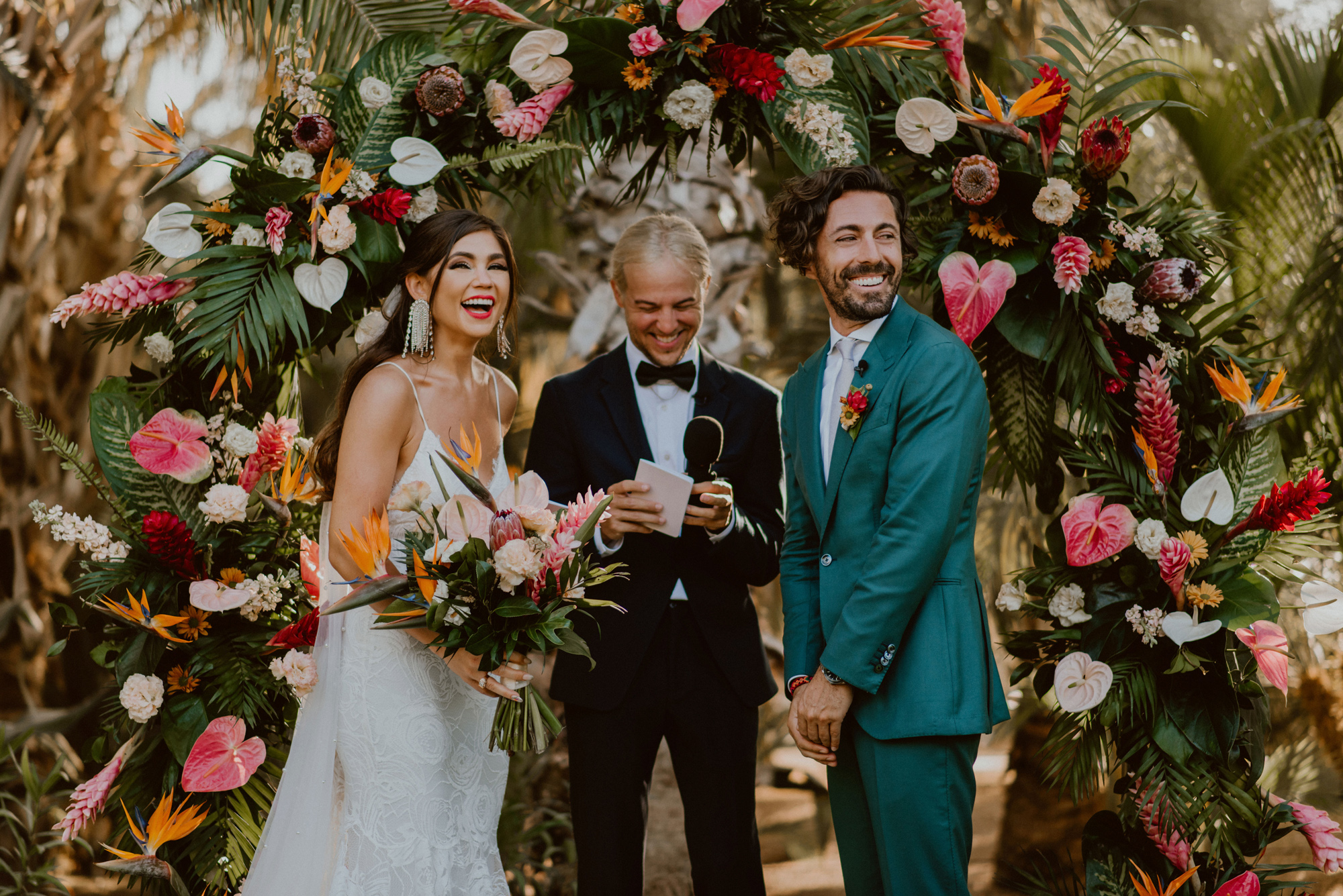 I just love how colorful our arch is! We wanted to add colors only with flowers and keep everything else natural tones surrounded by greenery, but the topical touch makes me so, so happy.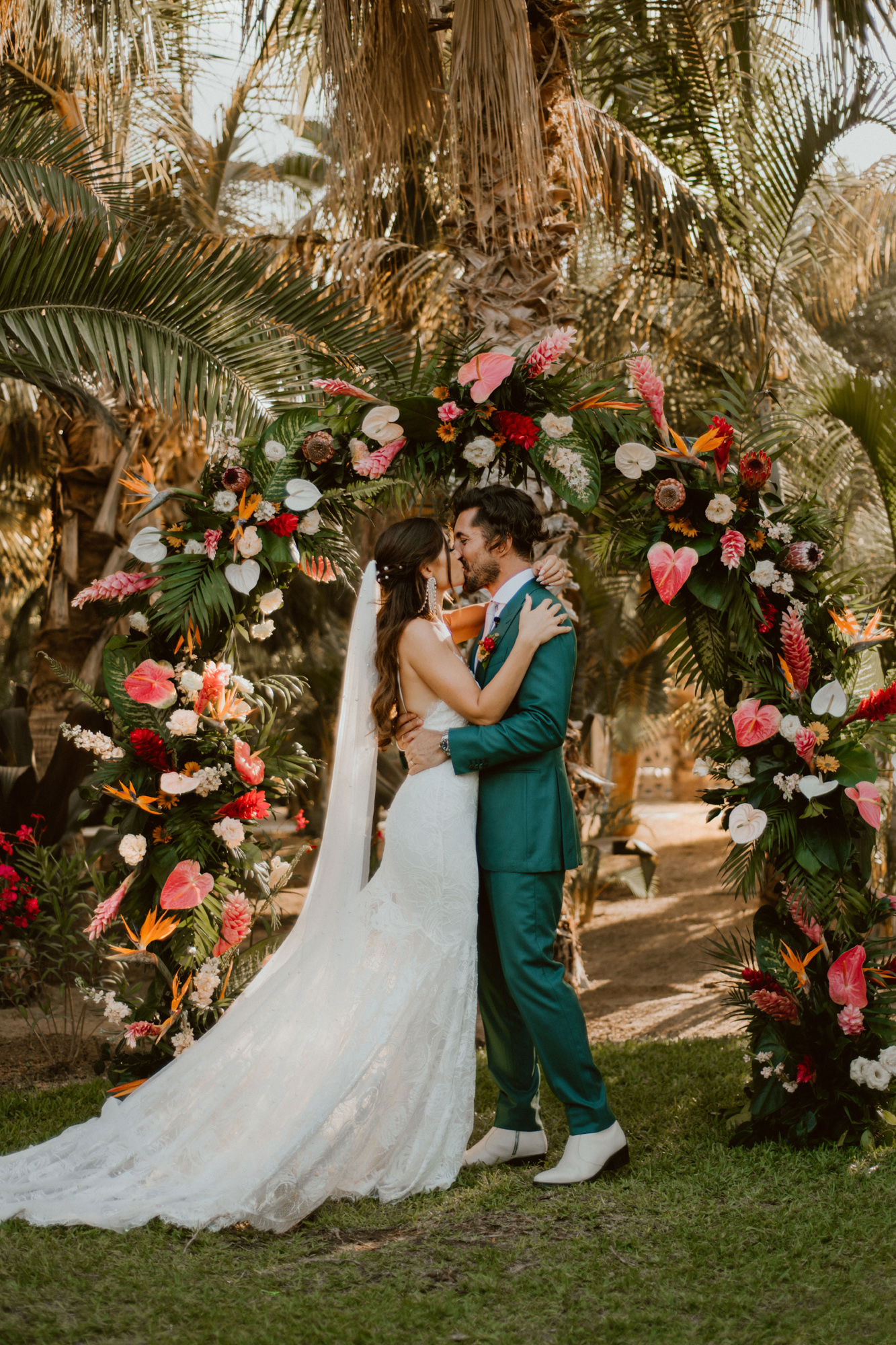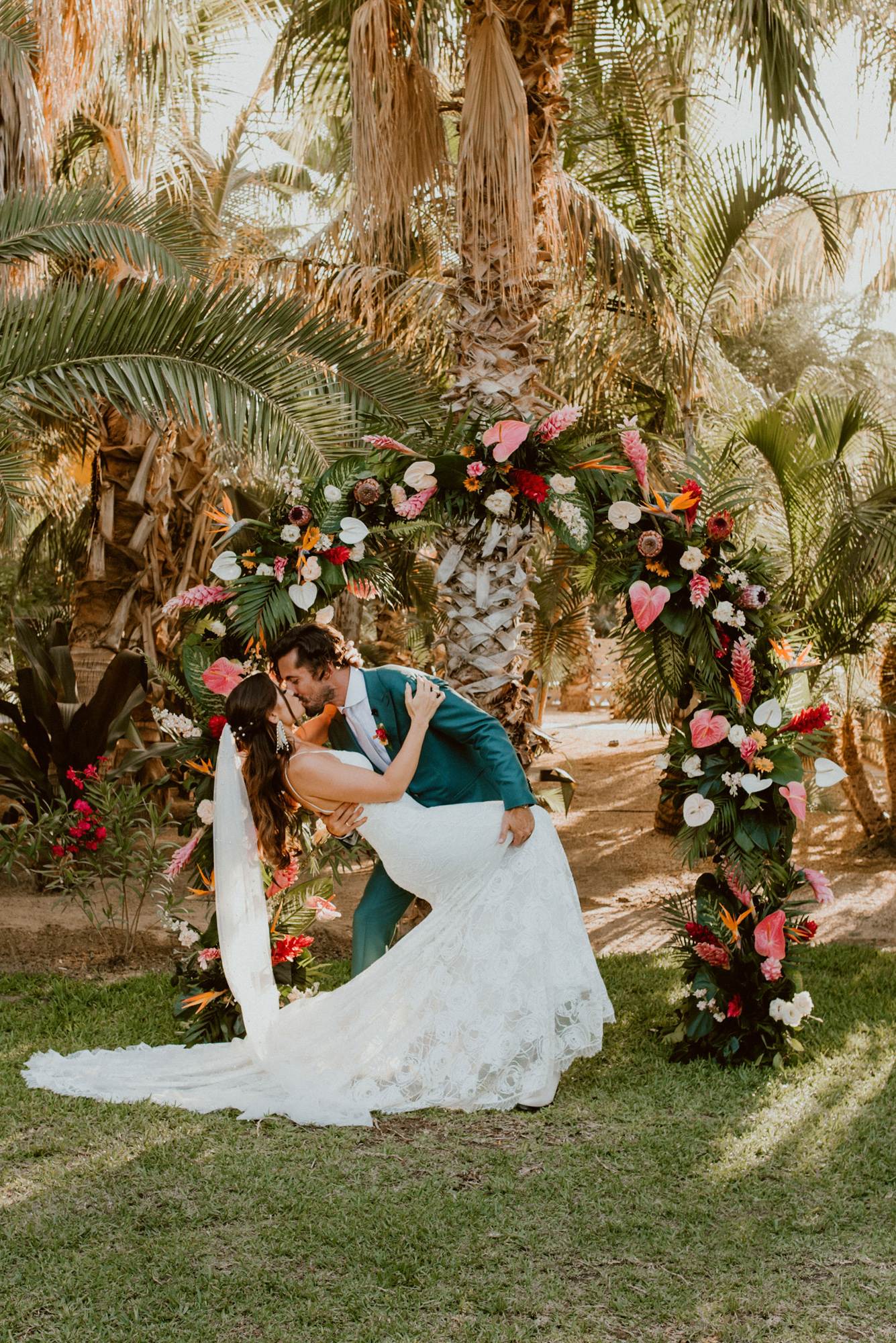 Forever ever.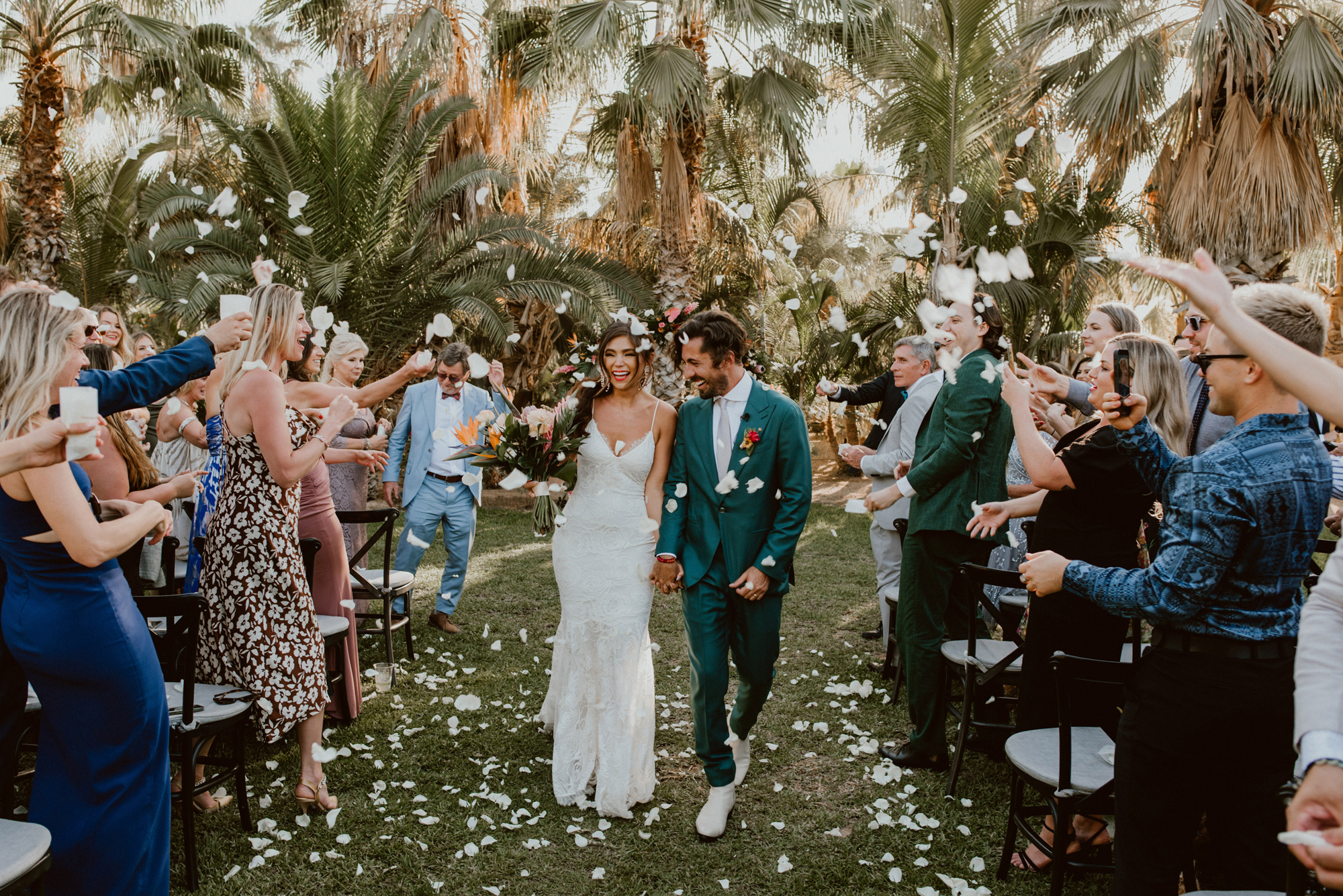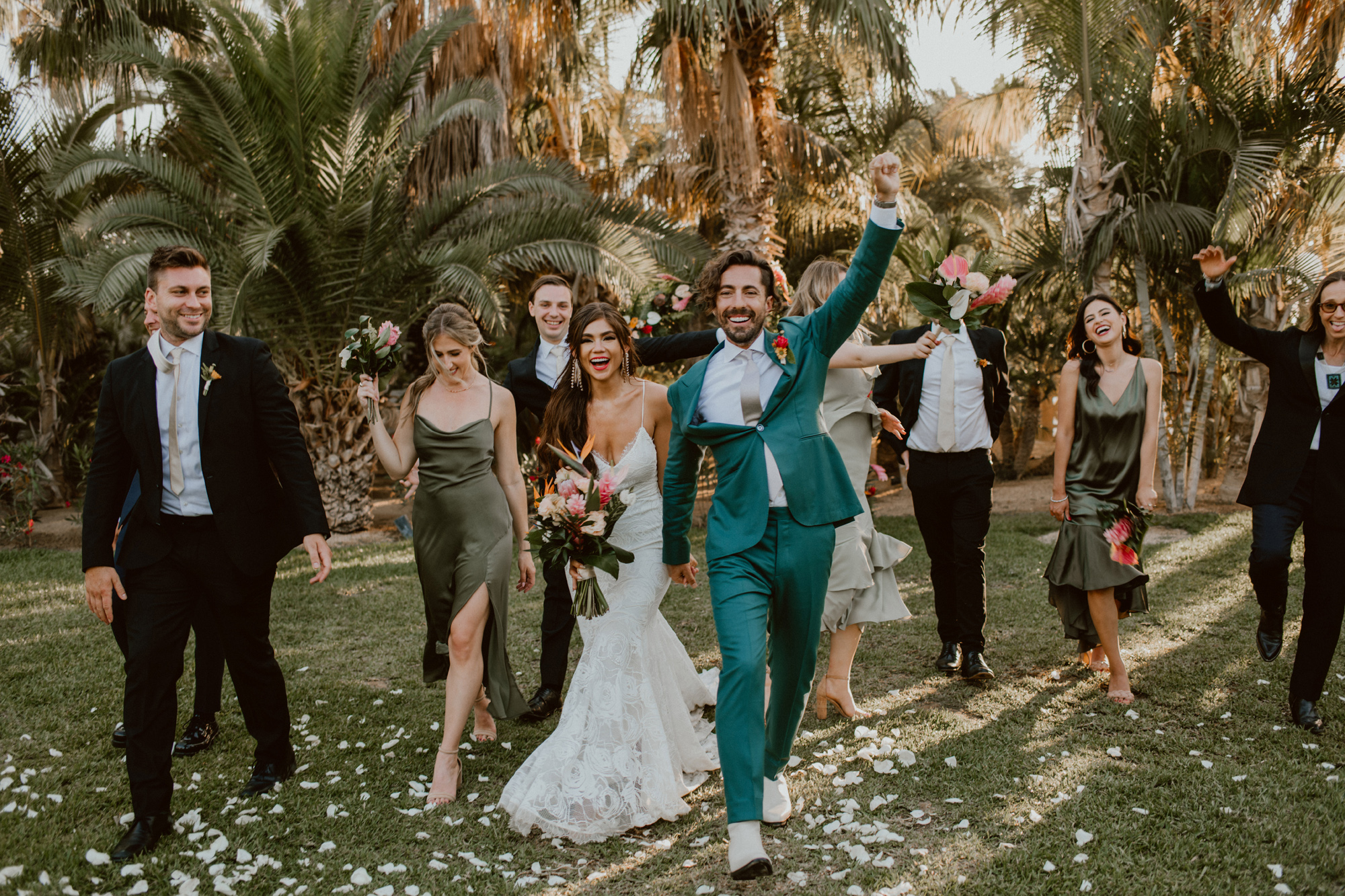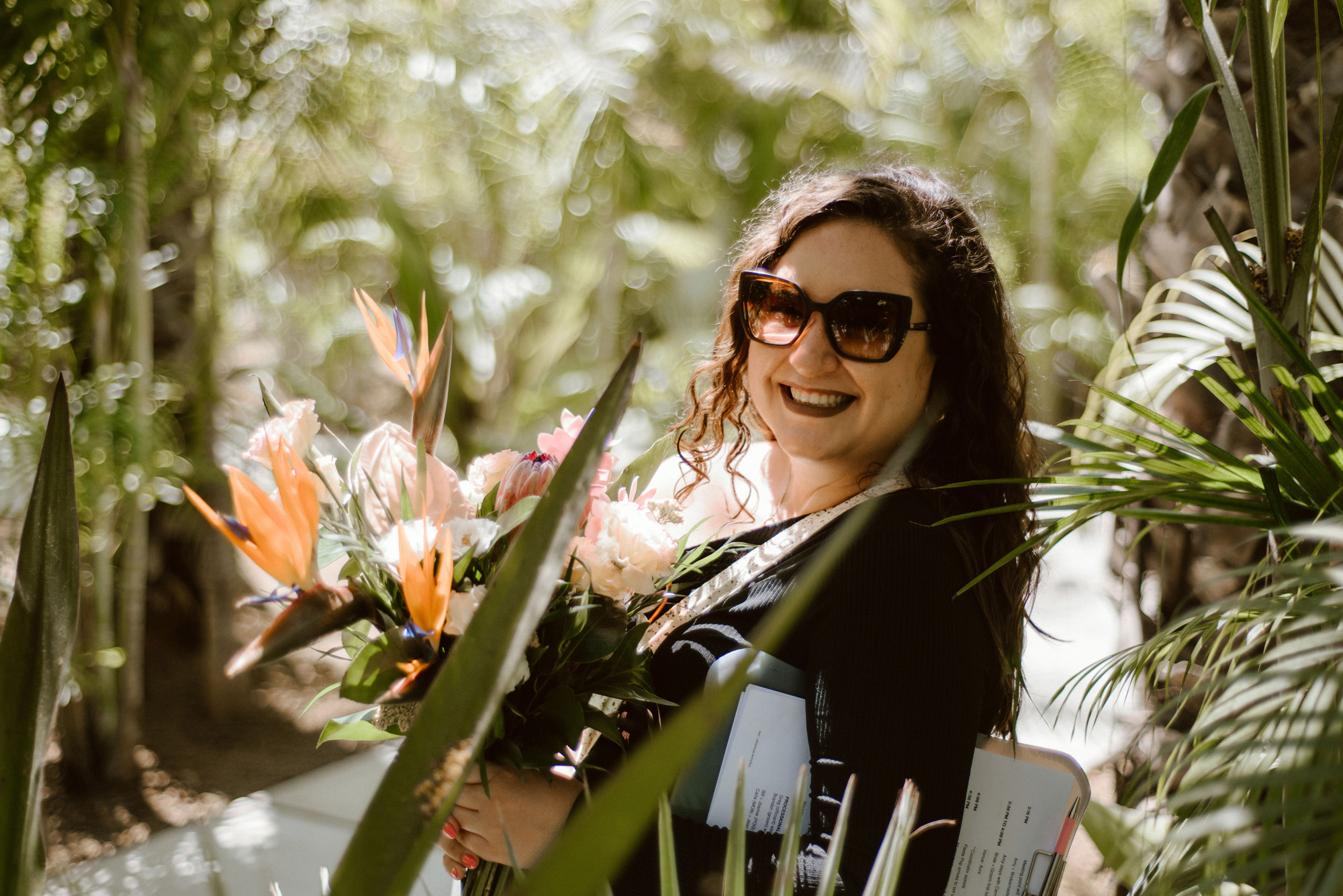 The best part of planning a destination wedding was having full-service wedding planners - our planners did everything from the floral and table design, to recommending almost all of our vendors, to making all of the arrangements and making sure everything and everyone was where they were supposed to be at the right times. I'm so grateful that everyone in our family and bridal parties didn't have to do a thing but show up and have fun - no one was making favors or putting together florals or in charge of bringing anything, up until the wedding day, everyone just got to enjoy the vacation, relax, and have fun. It also took almost all of the stress off of me - which was just amazing! I can't recommend going this route enough.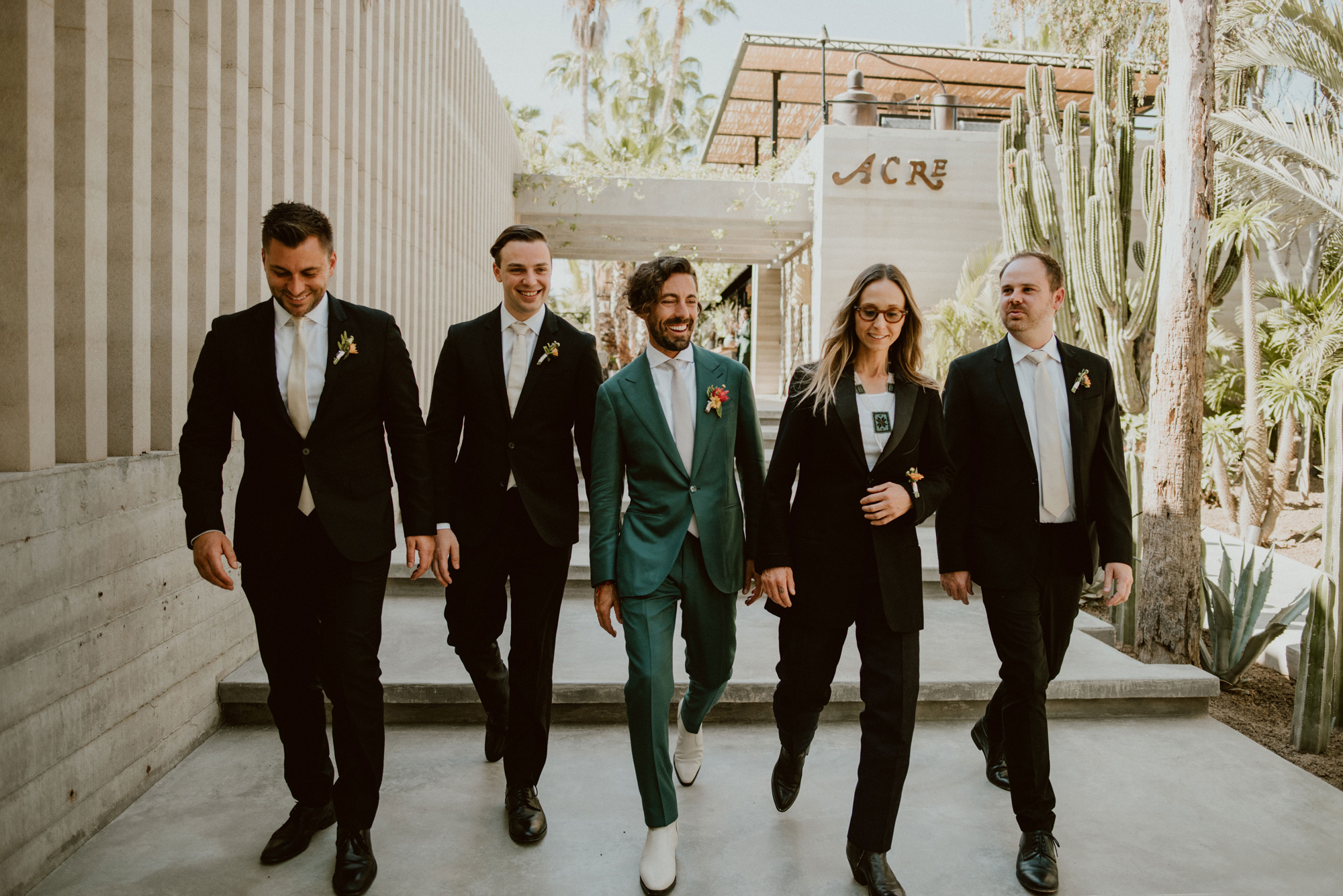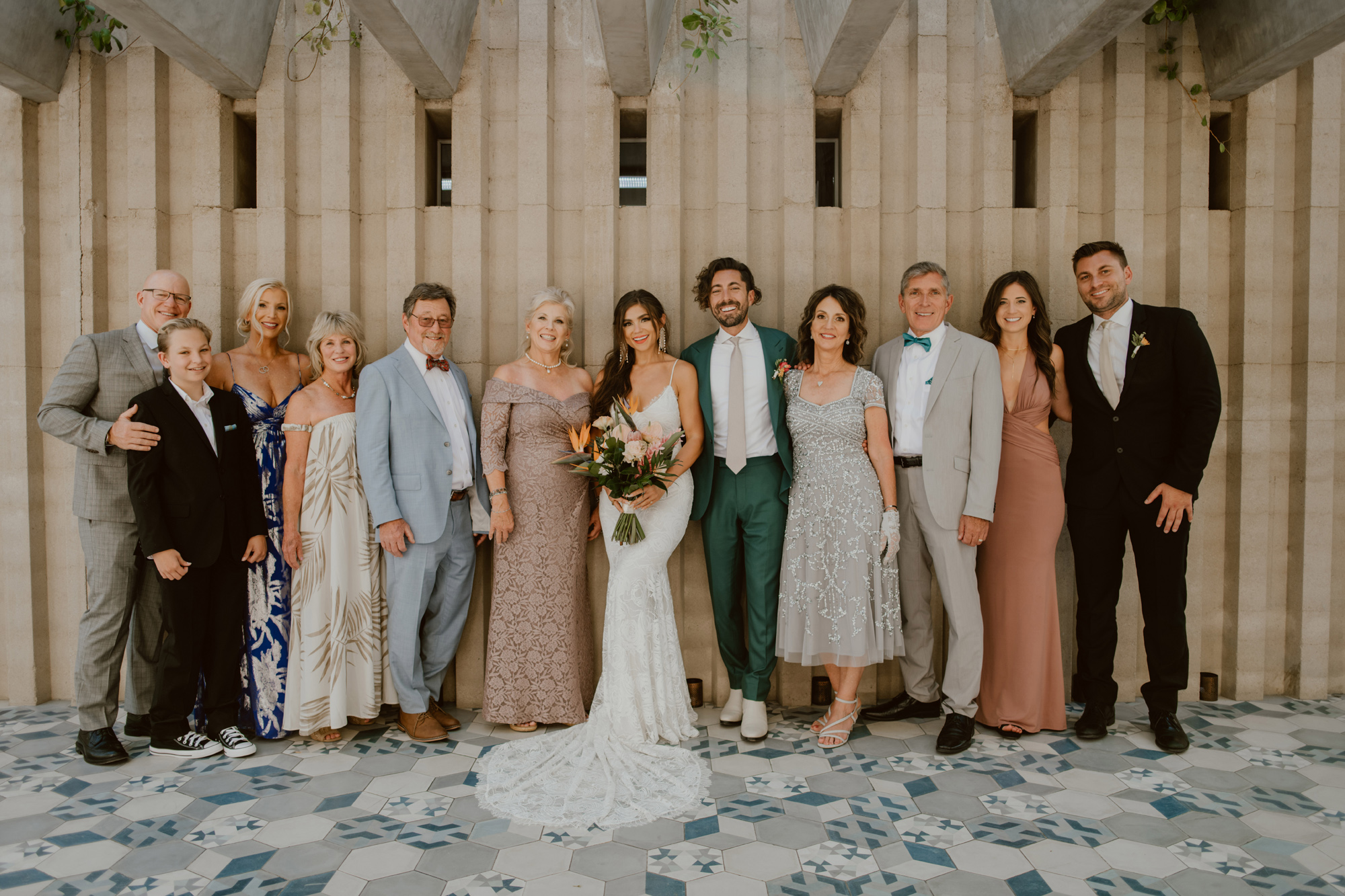 Our families combined.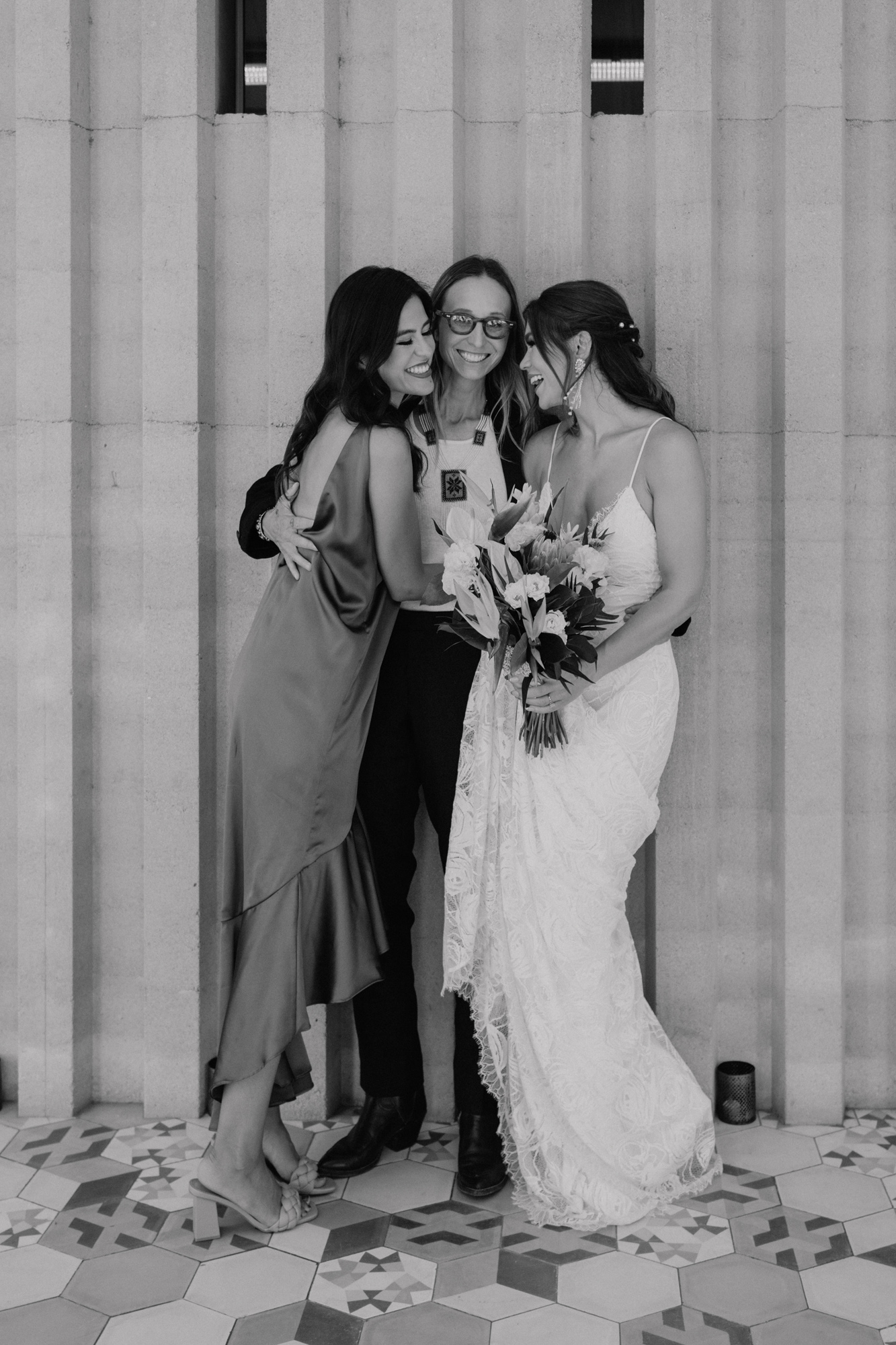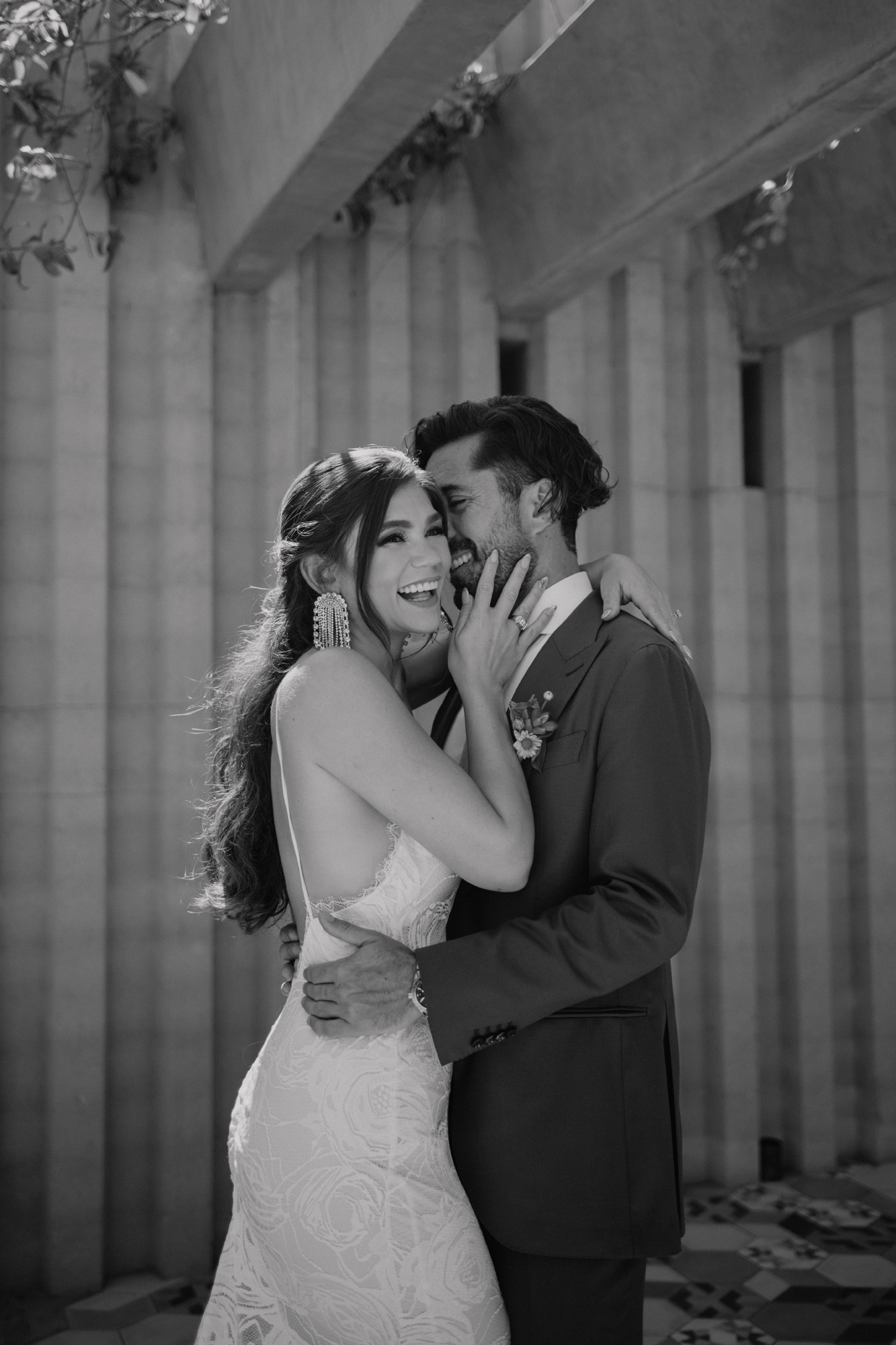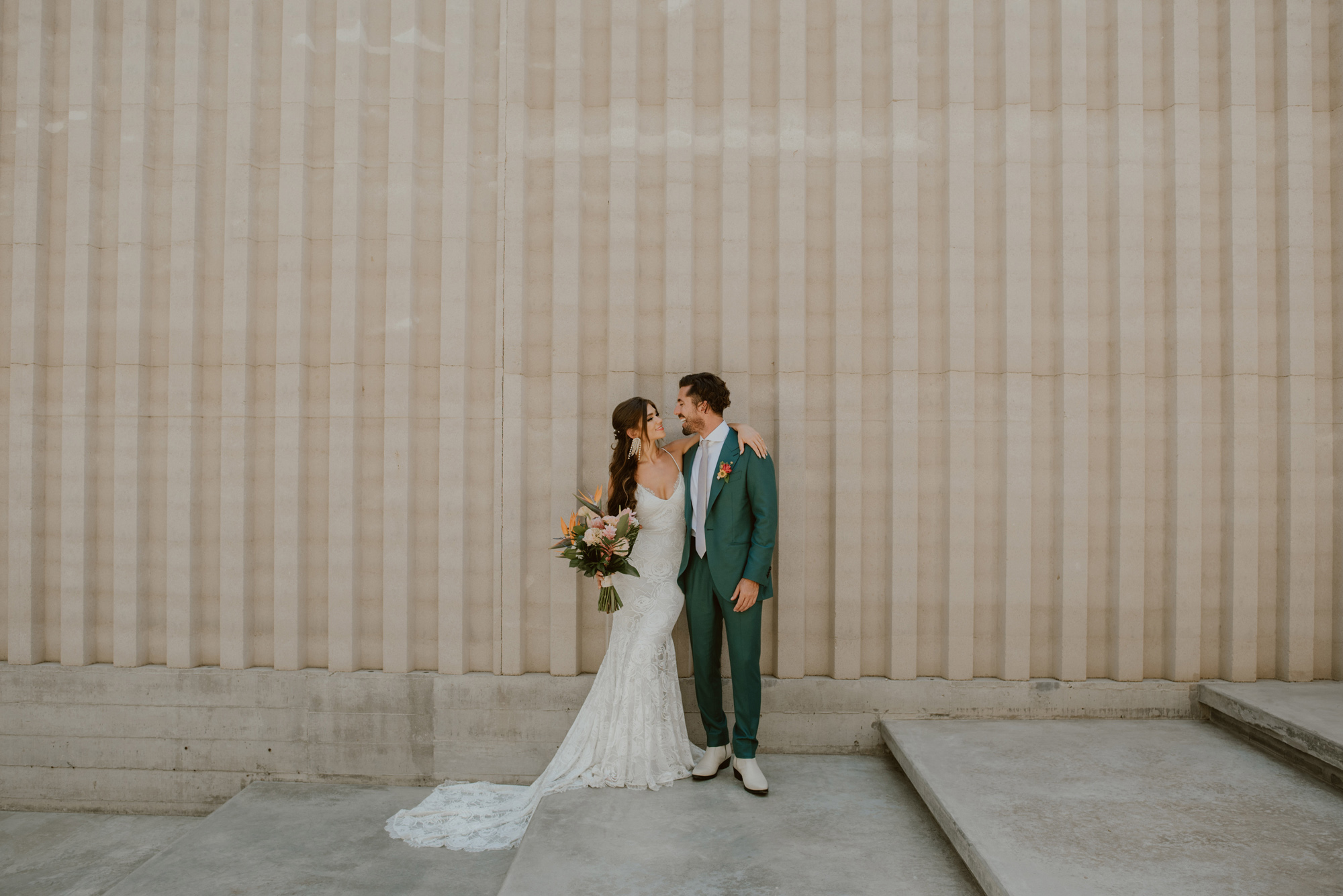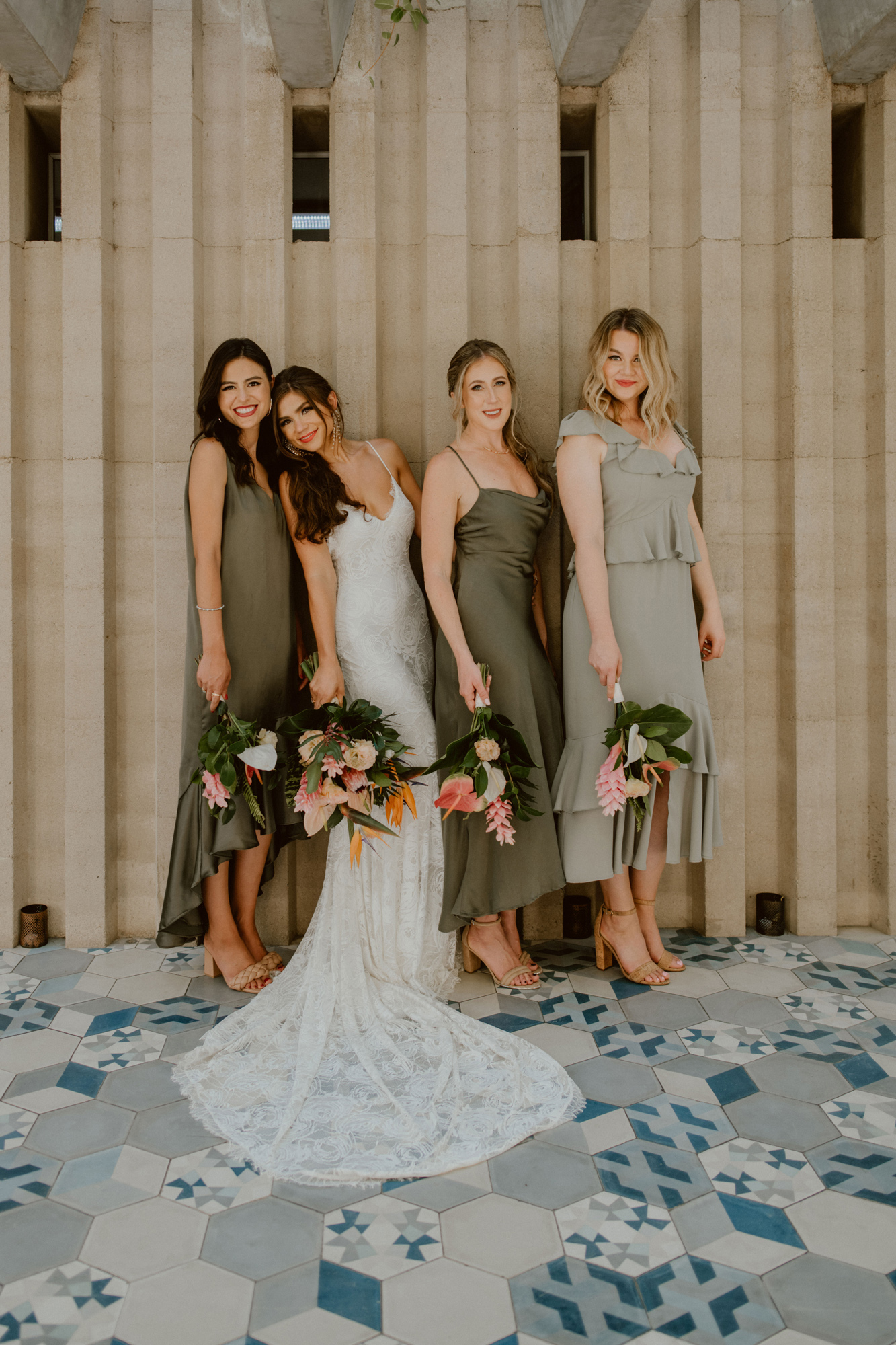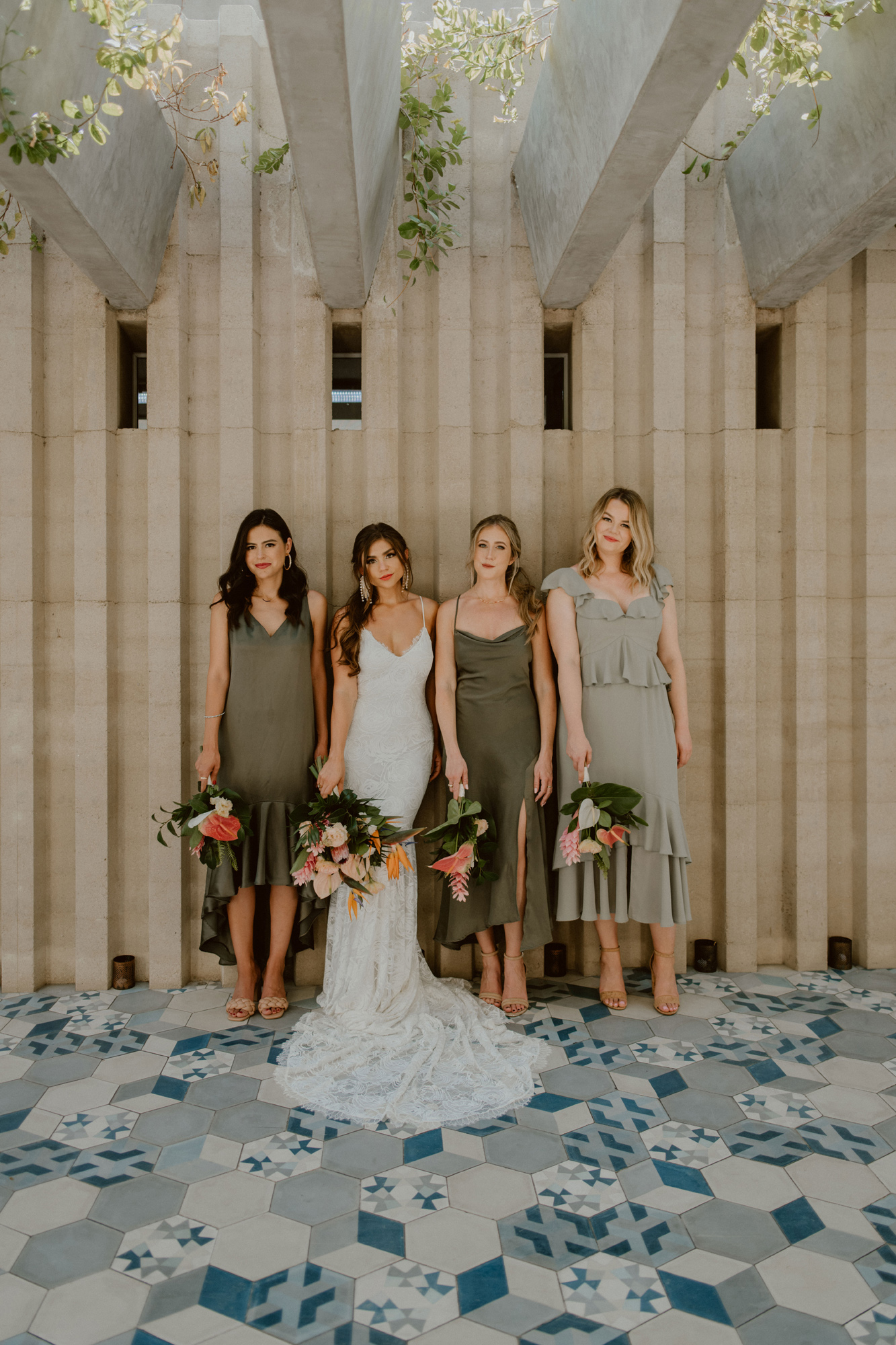 My best girls. I had everyone pick their own dresses and I they flowed together so well! The different sage tones, ruffles and textures all worked together perfectly.
Bridesmaids Looks: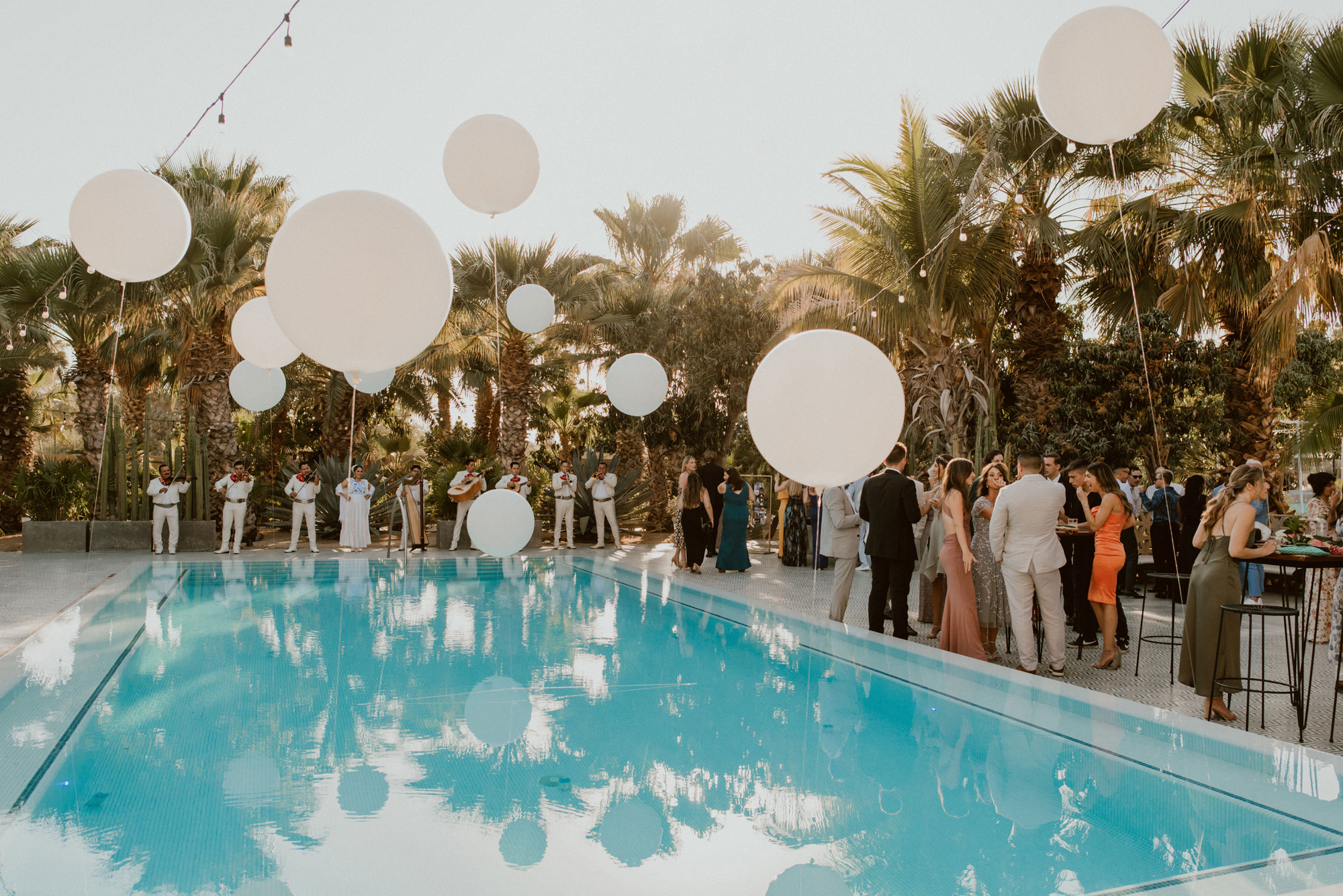 After the ceremony, our guests headed to cocktail hour at the bar and patio around the hotel's pool. As soon as our recessional song faded out, we had a full mariachi band begin, which was a huge hit!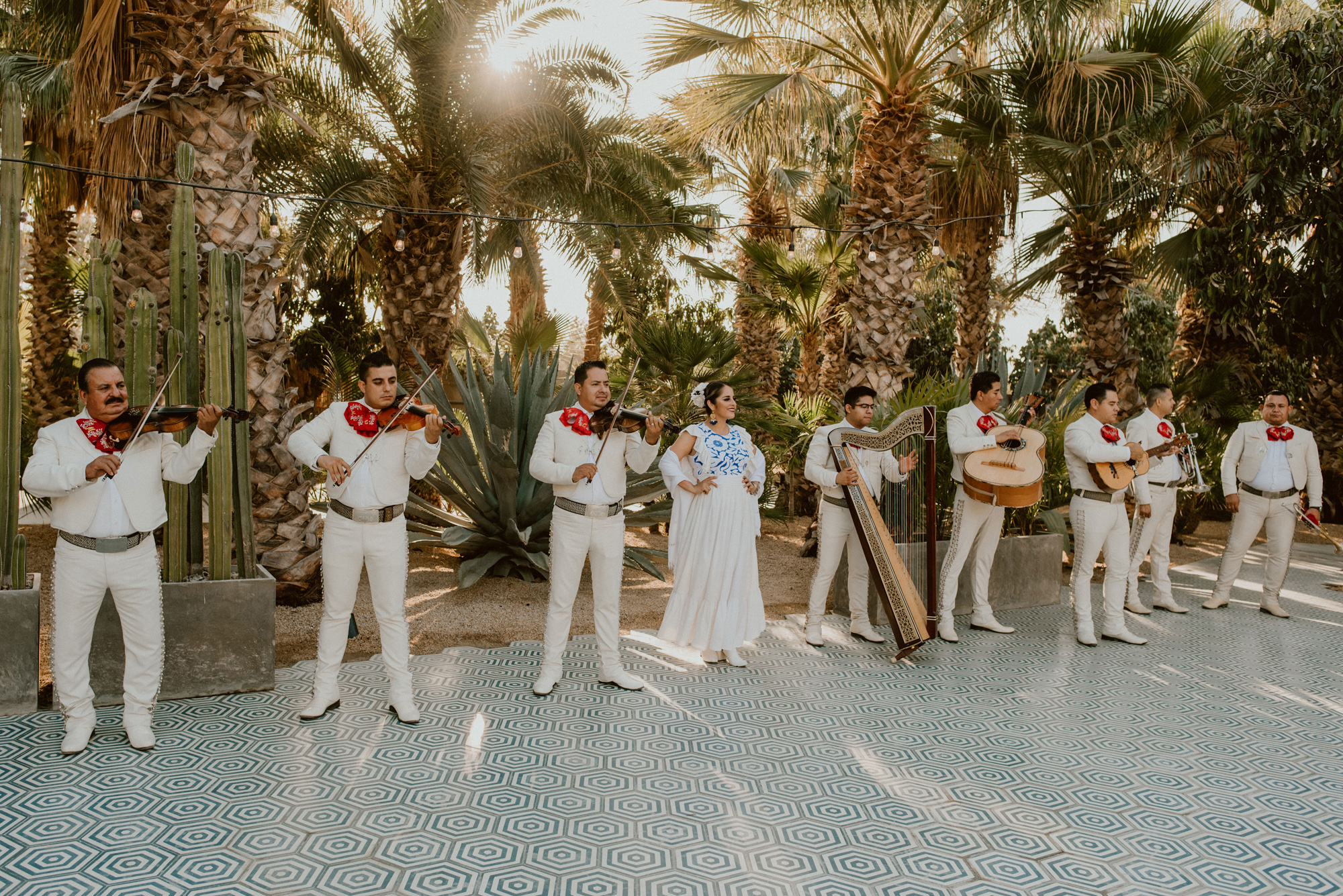 And they looked amazing! Now Brandon's boots make a little more sense, right?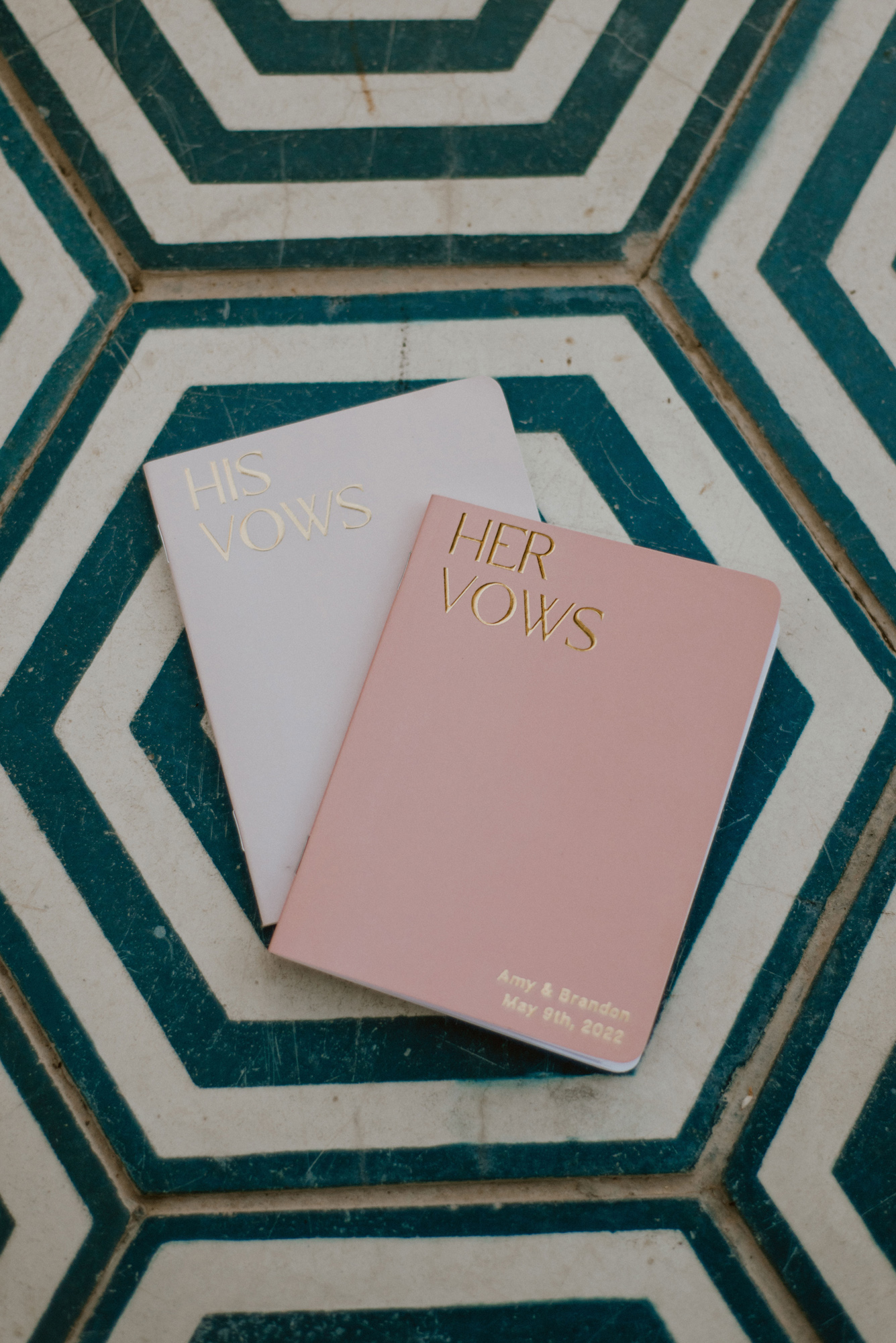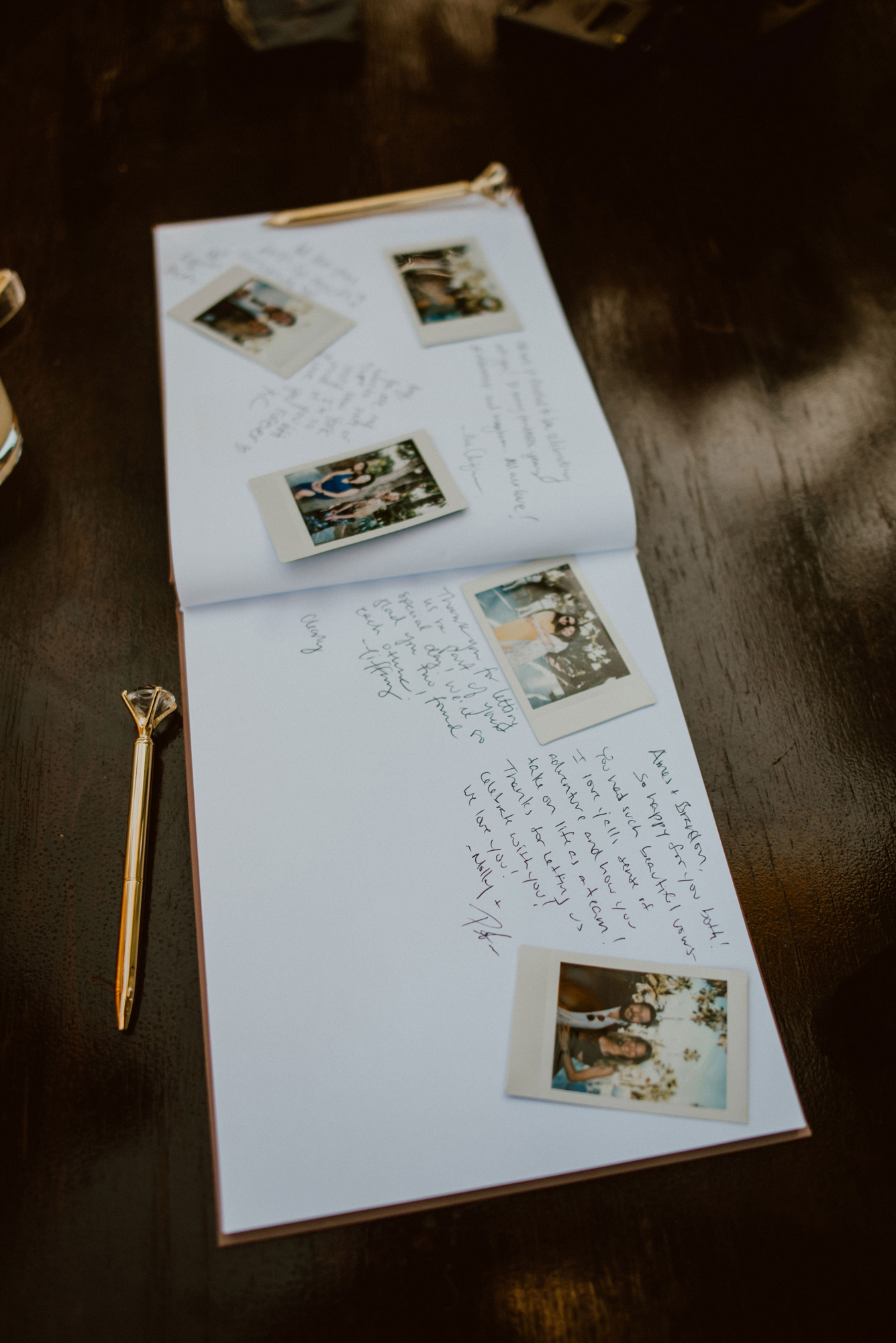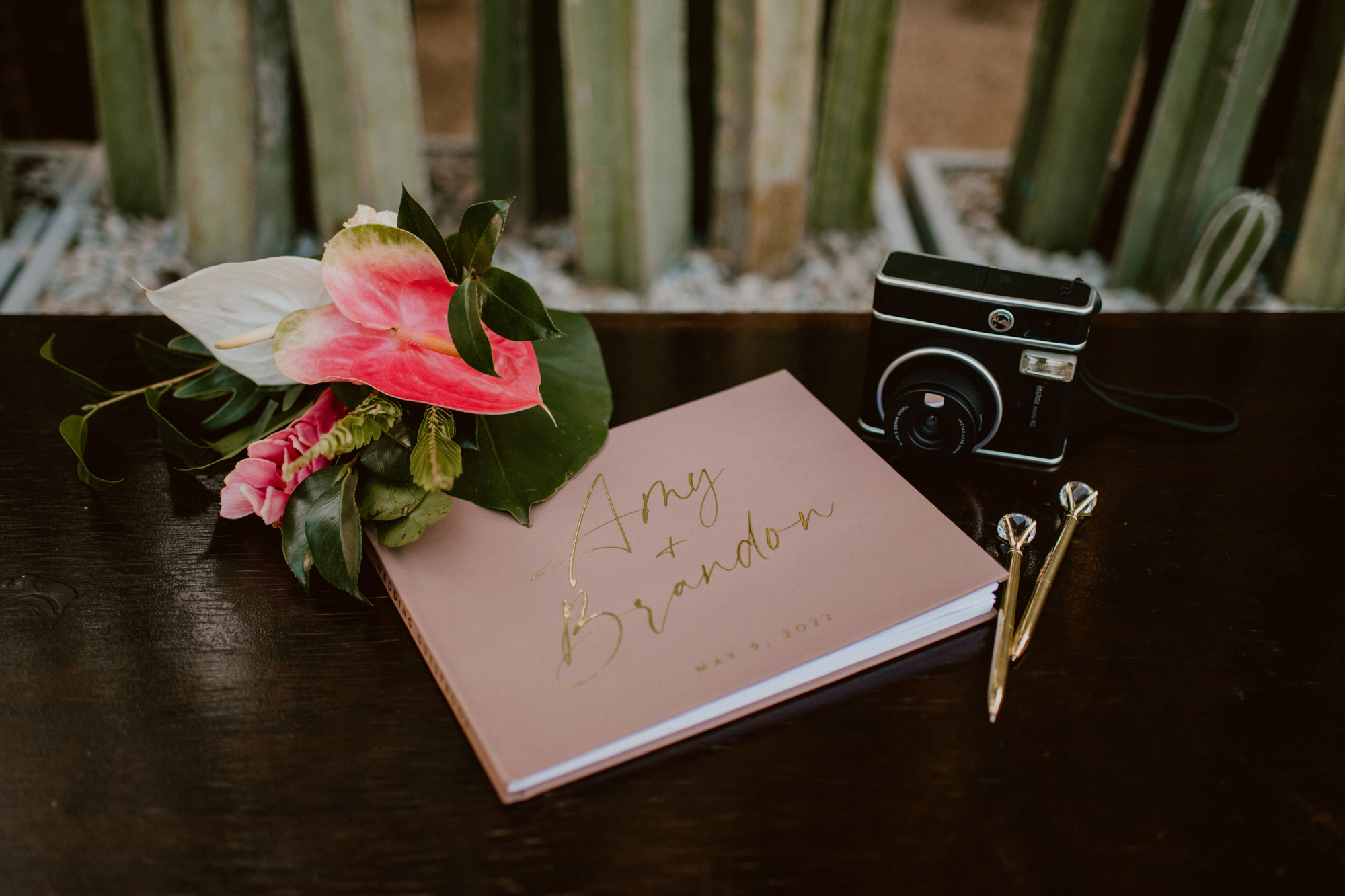 Our polaroid guestbook was a highlight of cocktail hour and almost everyone participated - we kept the book as a coffee table book in our house, so we remember it daily.
Shop Polaroid Guestbook: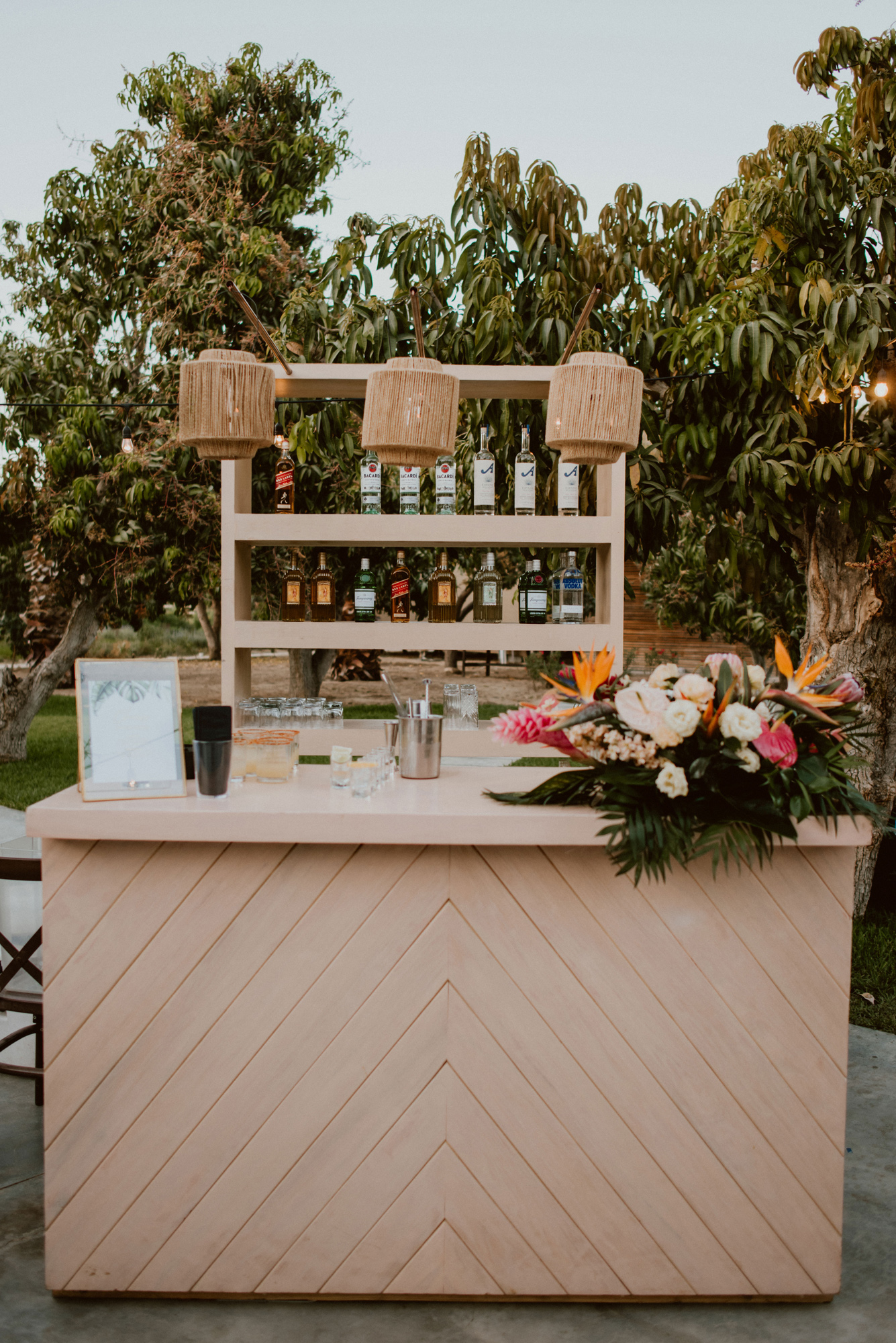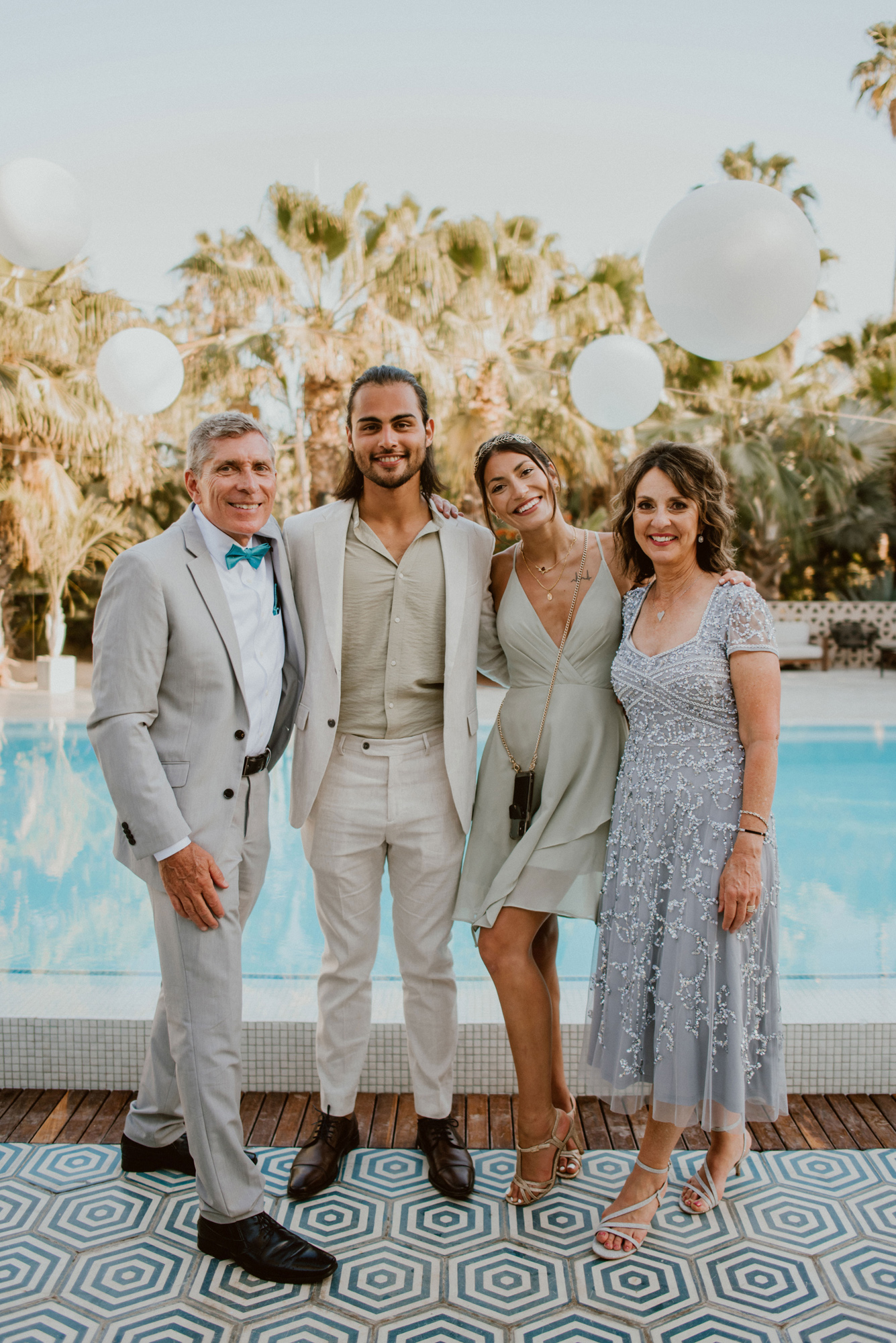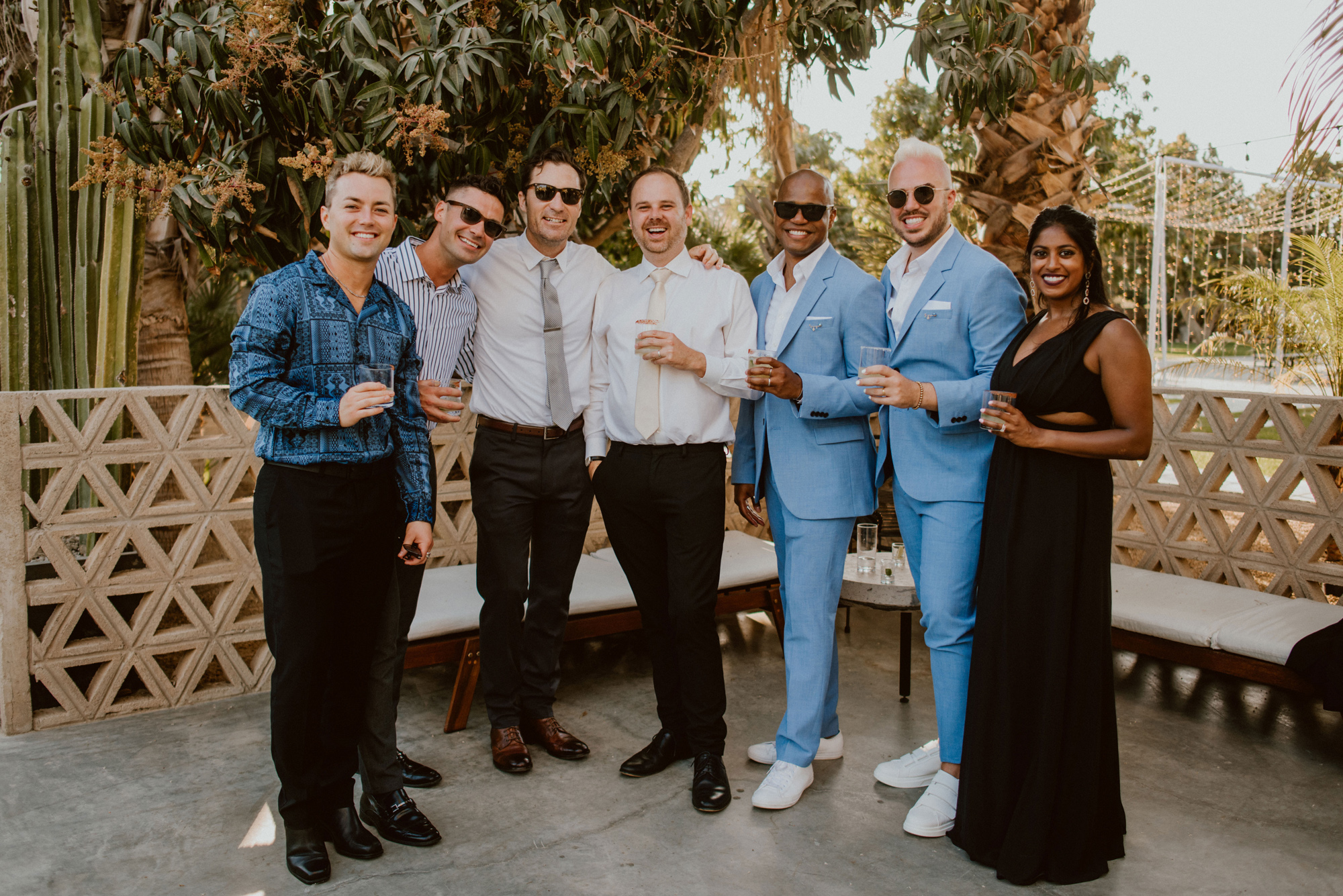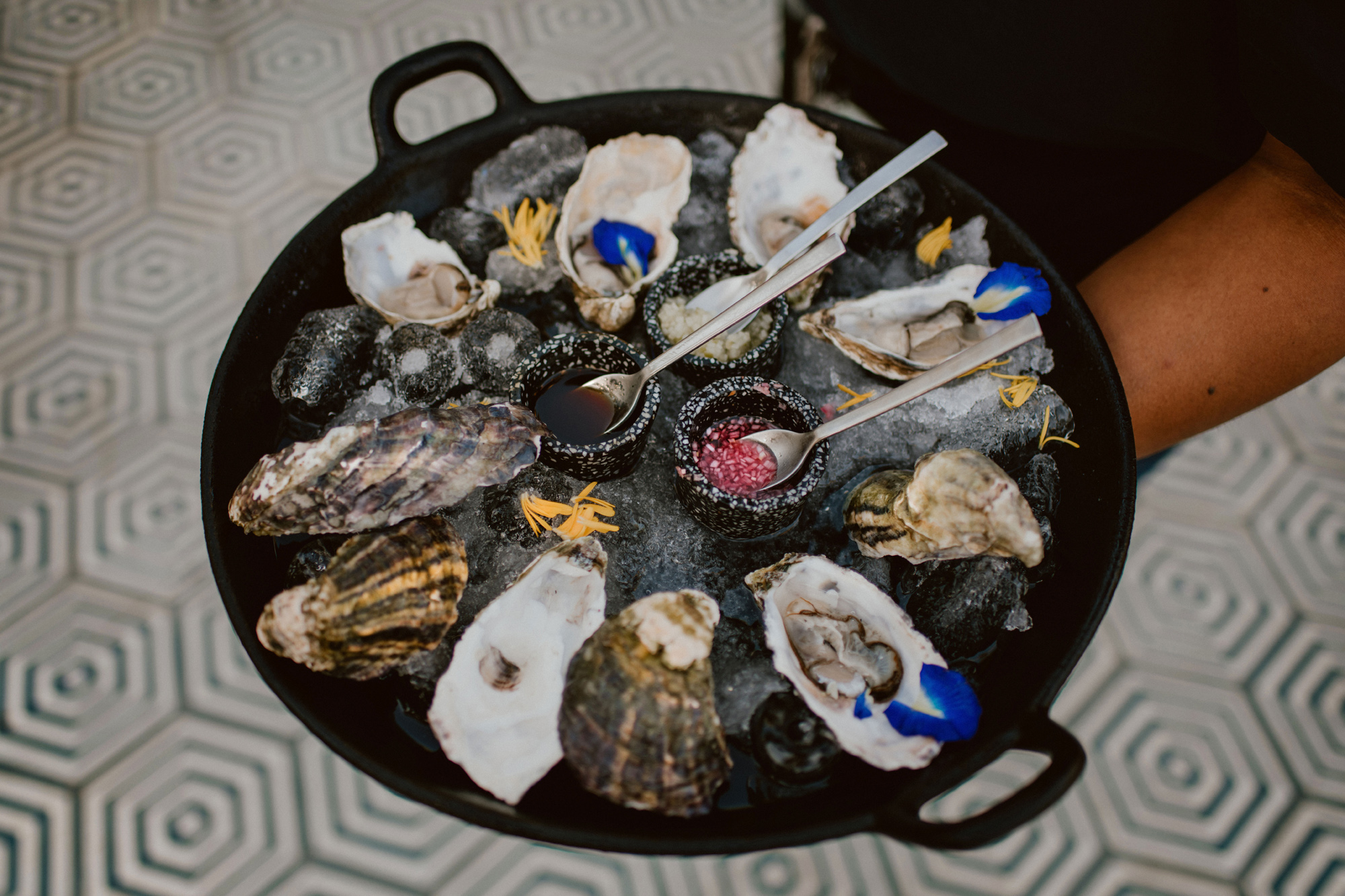 I ended up with not too many photos of the foot at Acre, but every part of our menu was AMAZING, and a huge part of why we chose it as our venue. At cocktail hour we had these fresh shucked oysters, which felt like such a luxurious touch, in addition to squash blossom quesadillas, tuna tostaditas, and fried chicken buns. Later on for dinner, we had family-style fresh salads, some of the most amazing ceviche we've ever had, endless amounts of guacamole, and a full taco bar.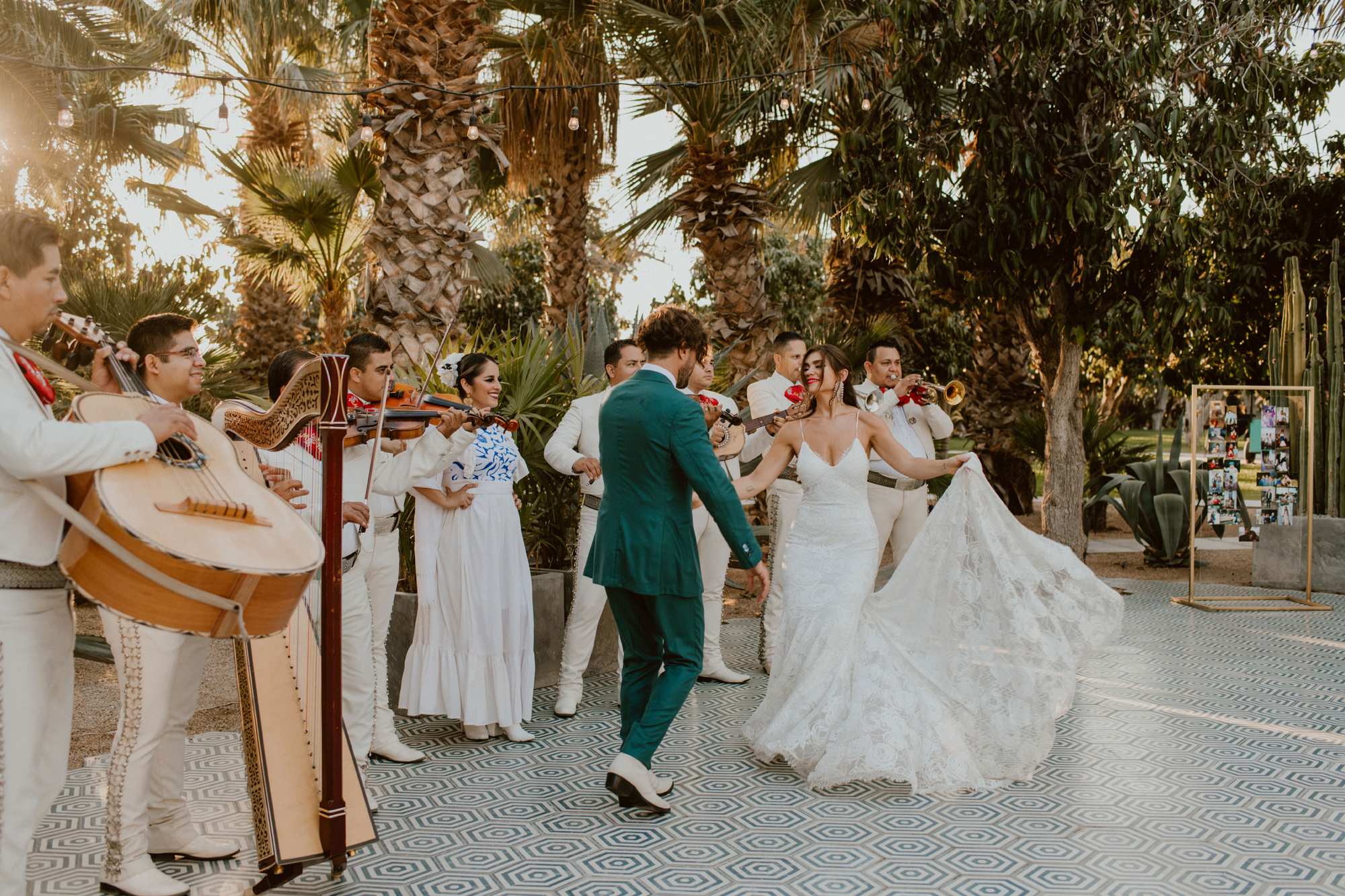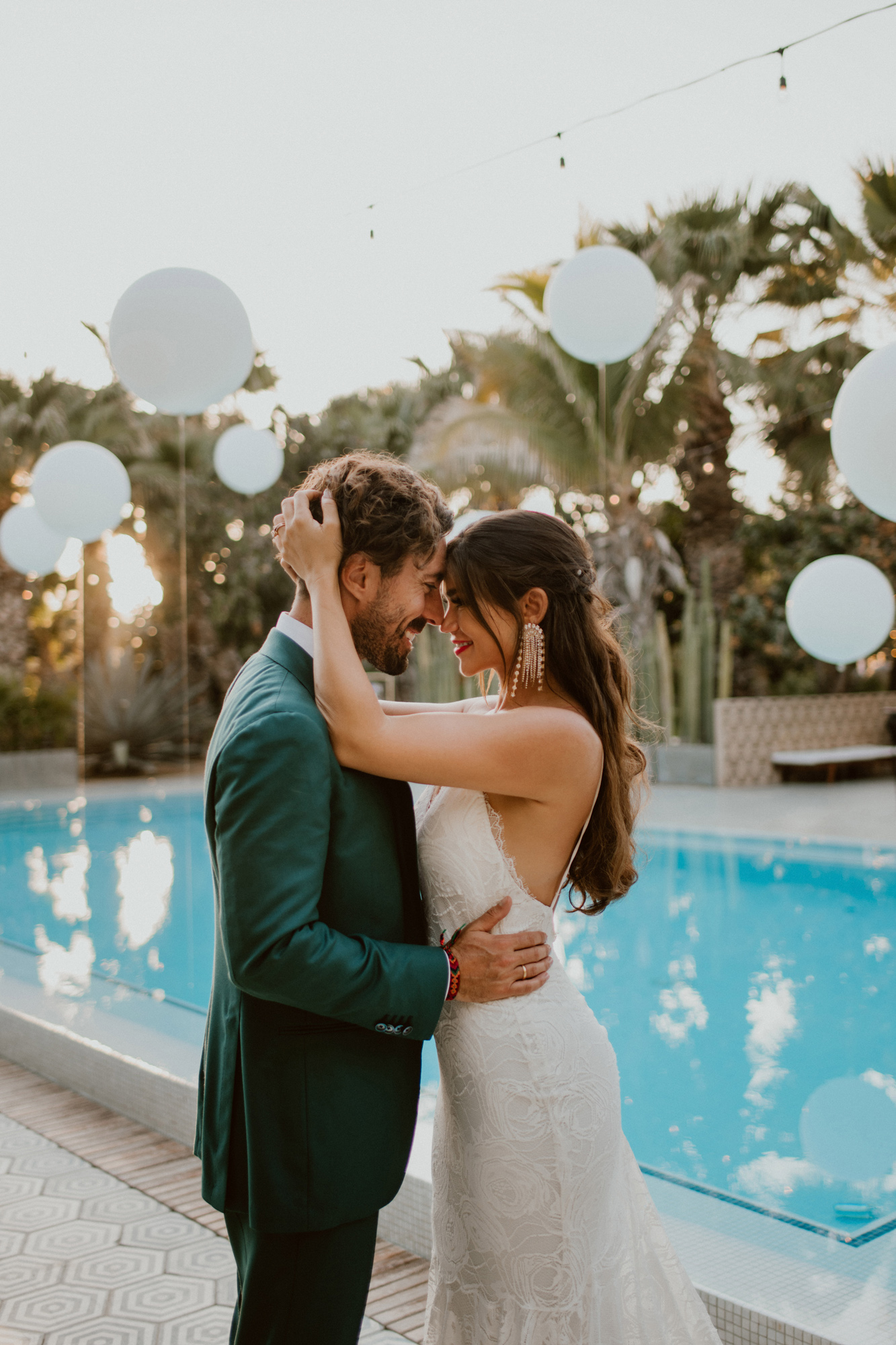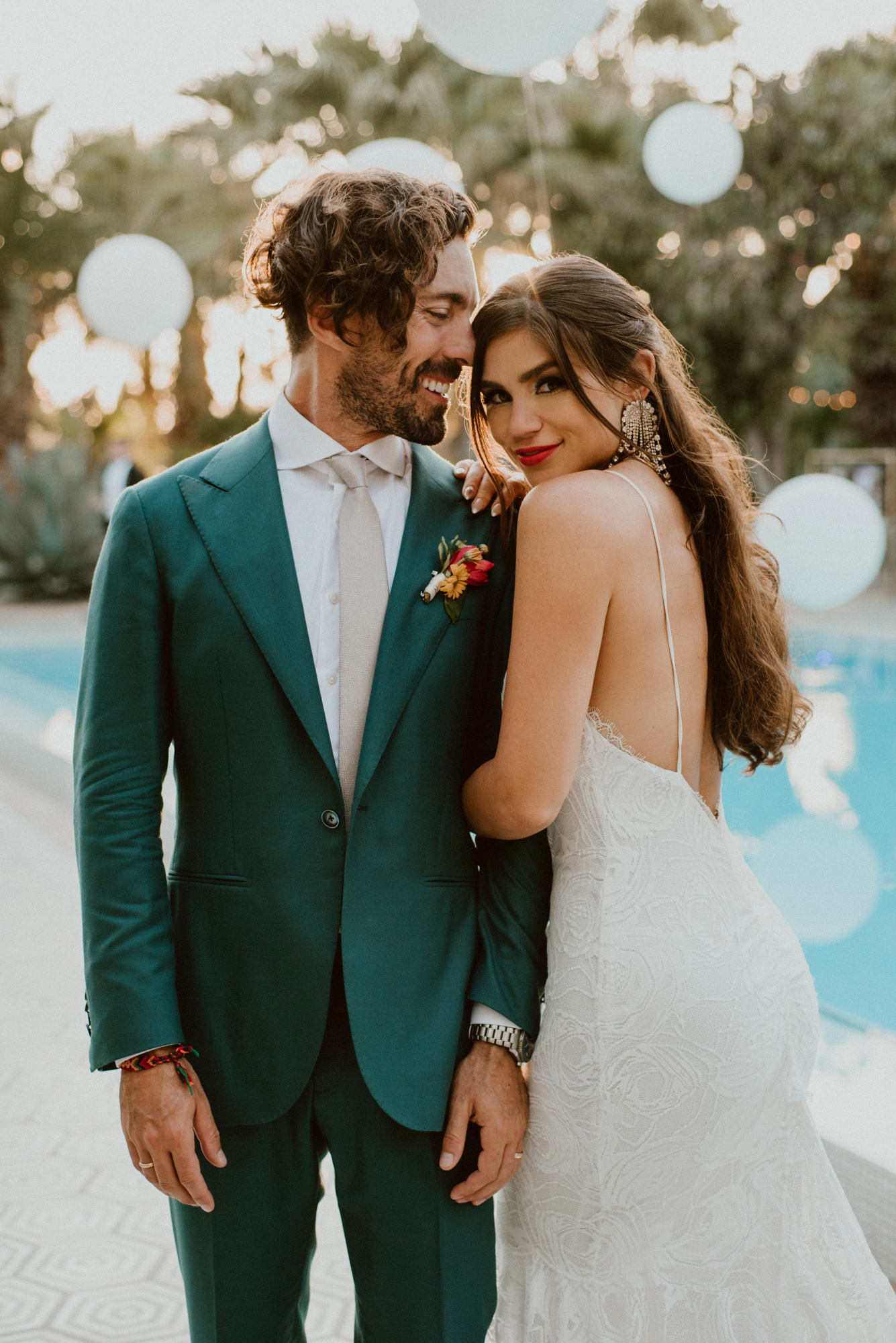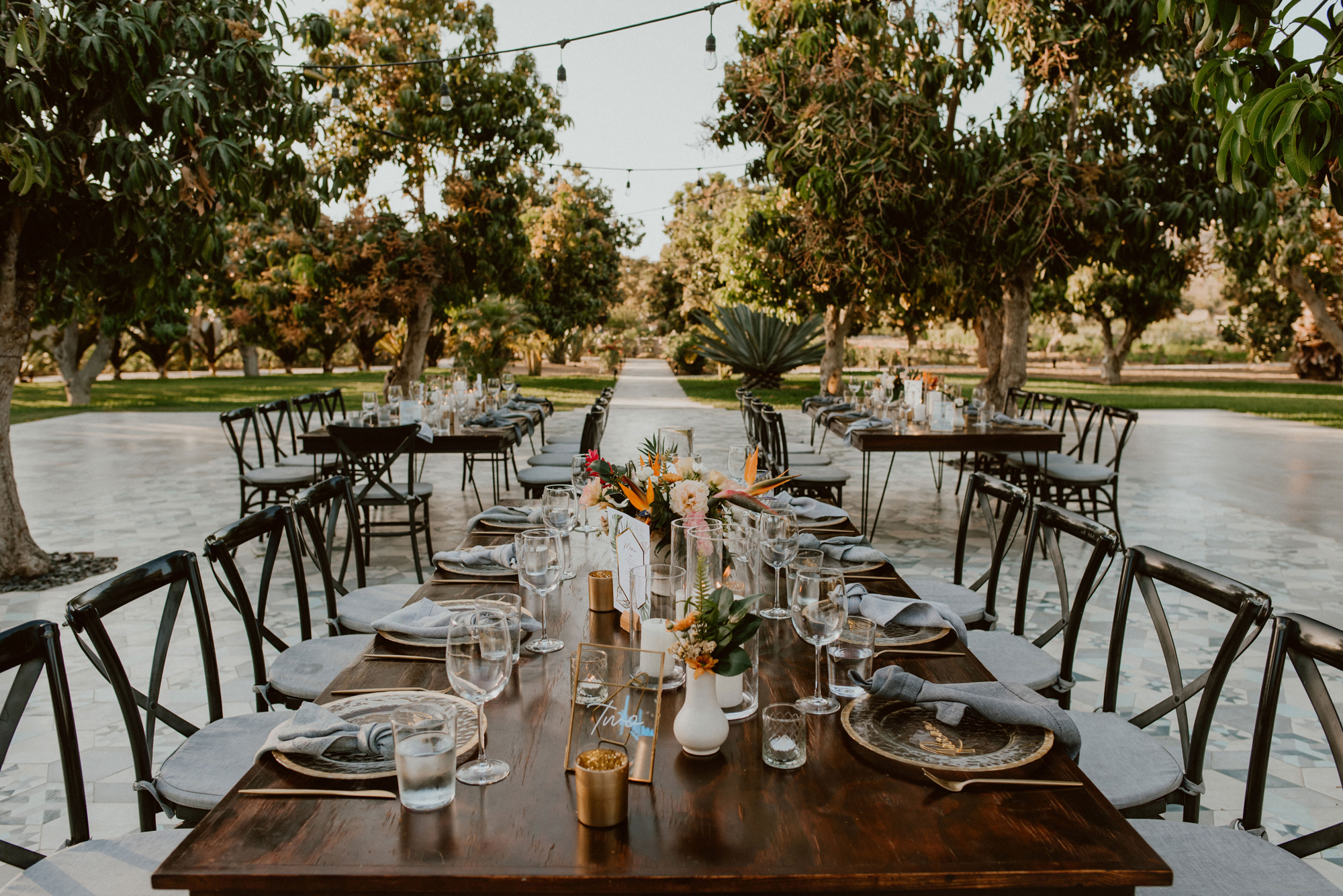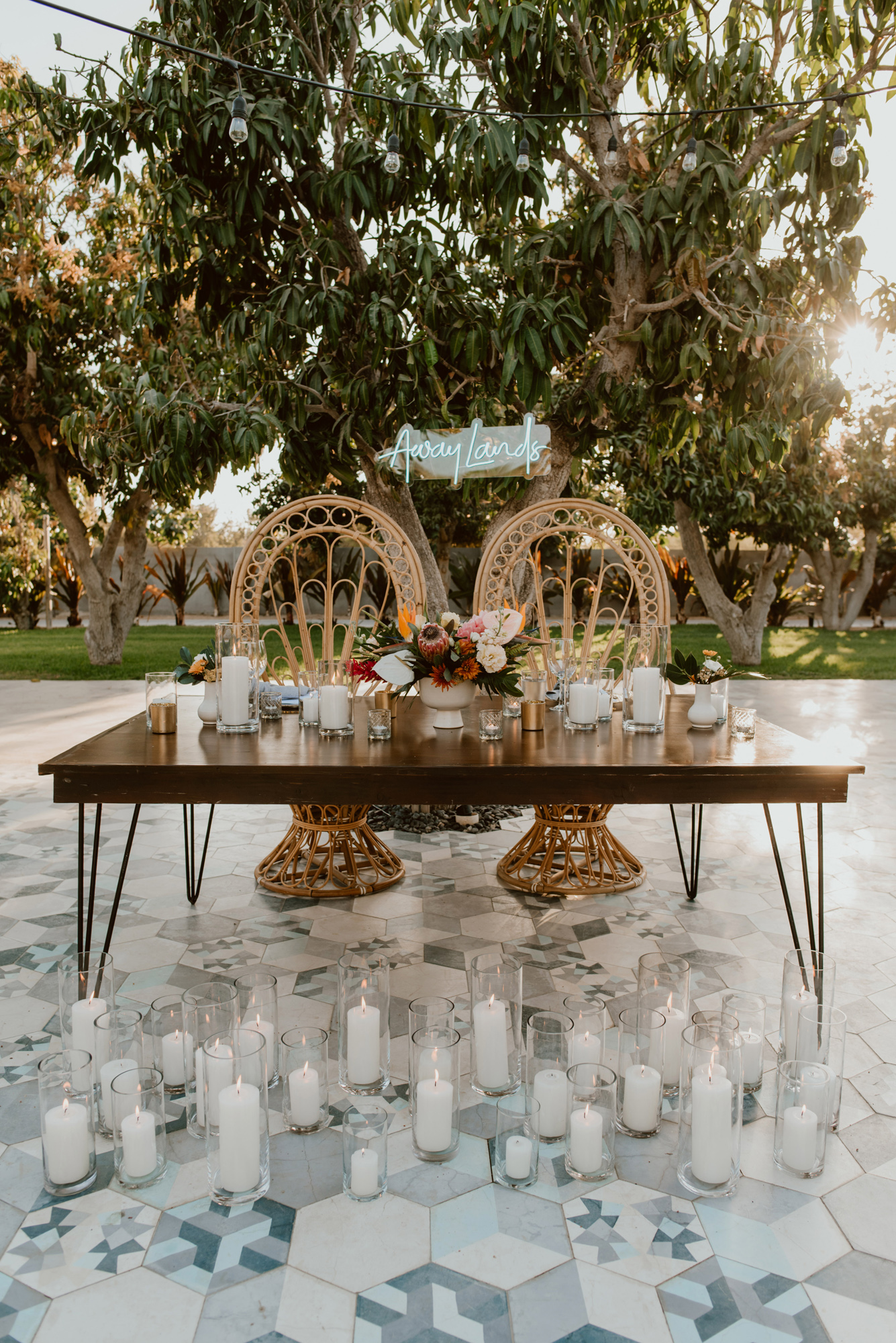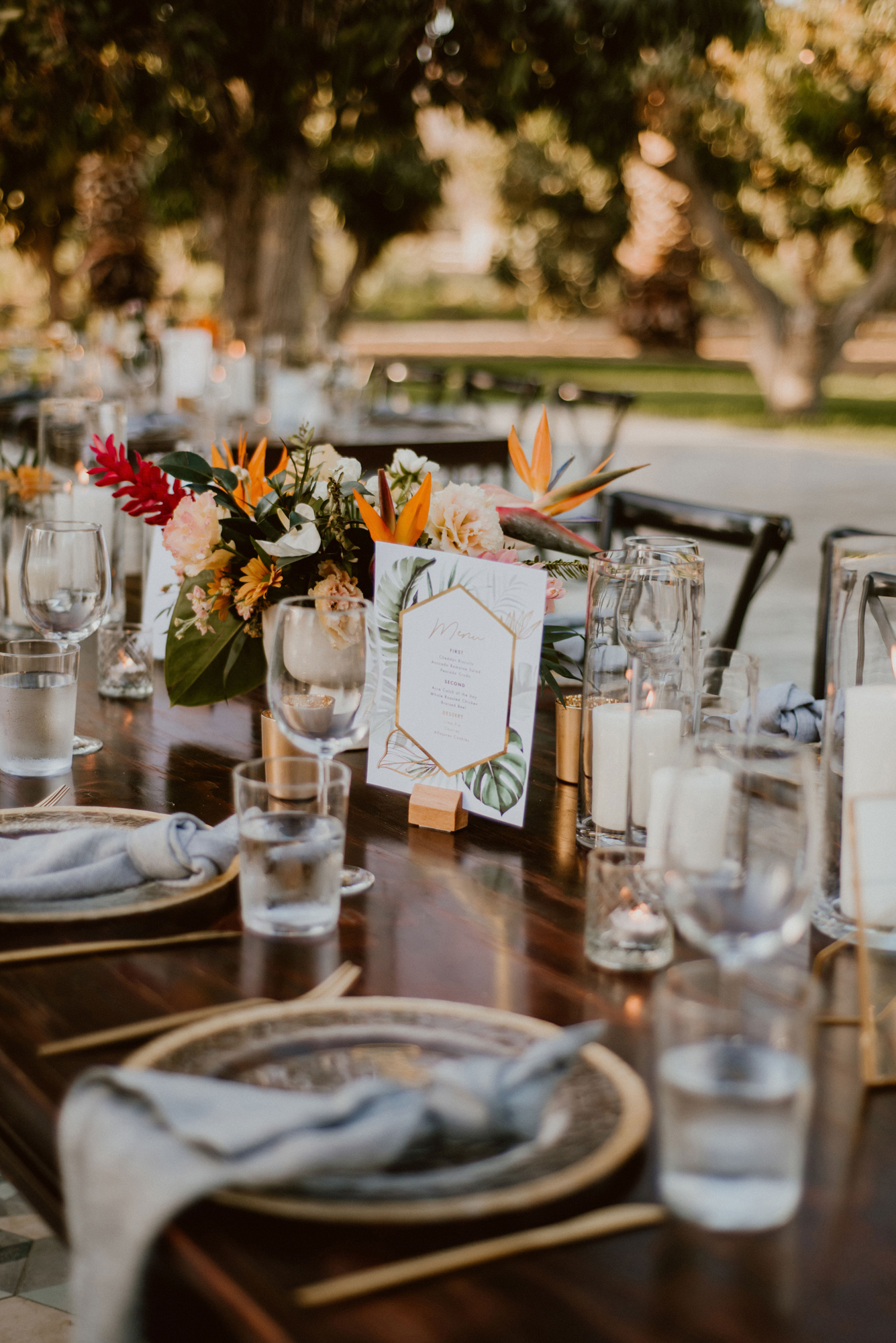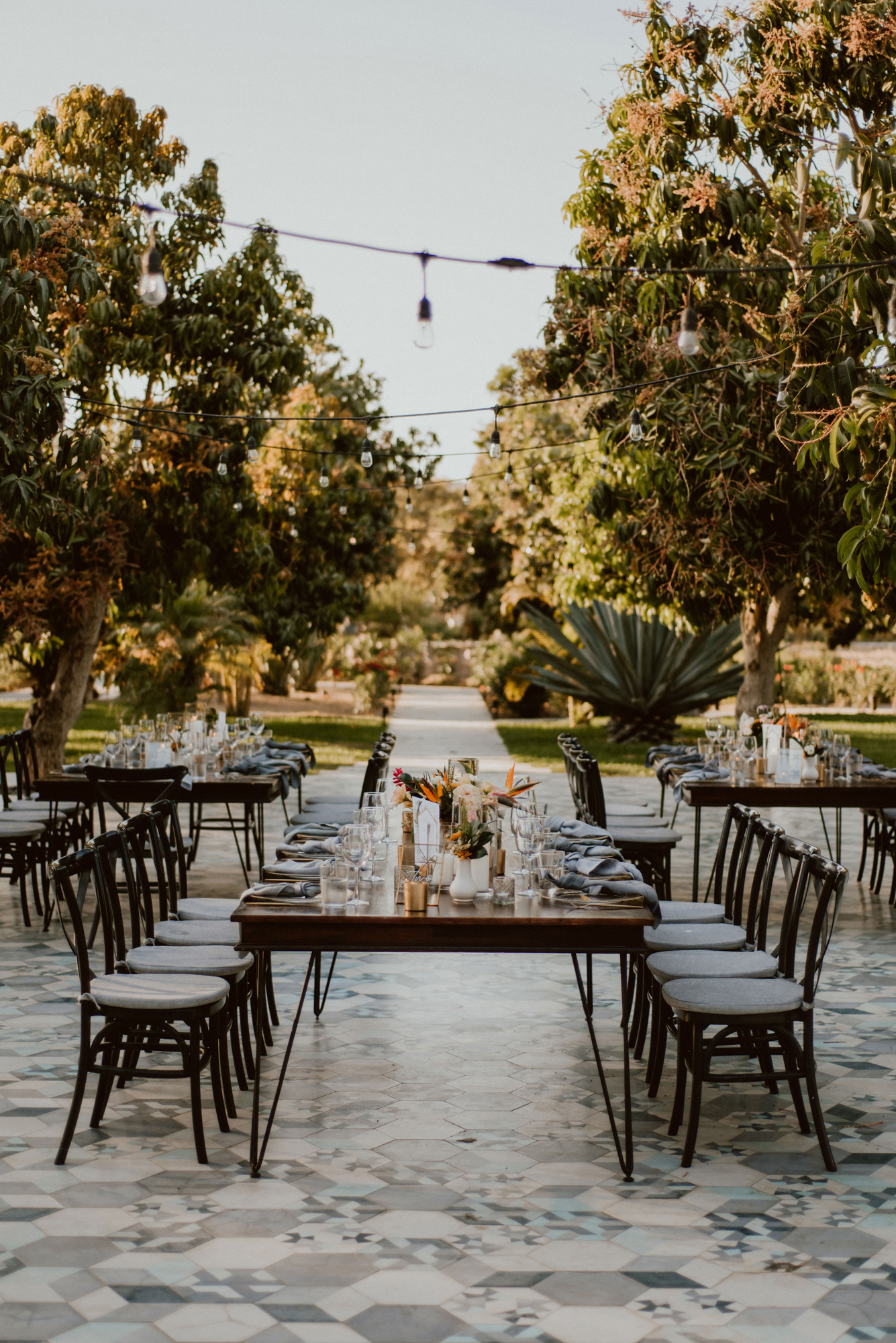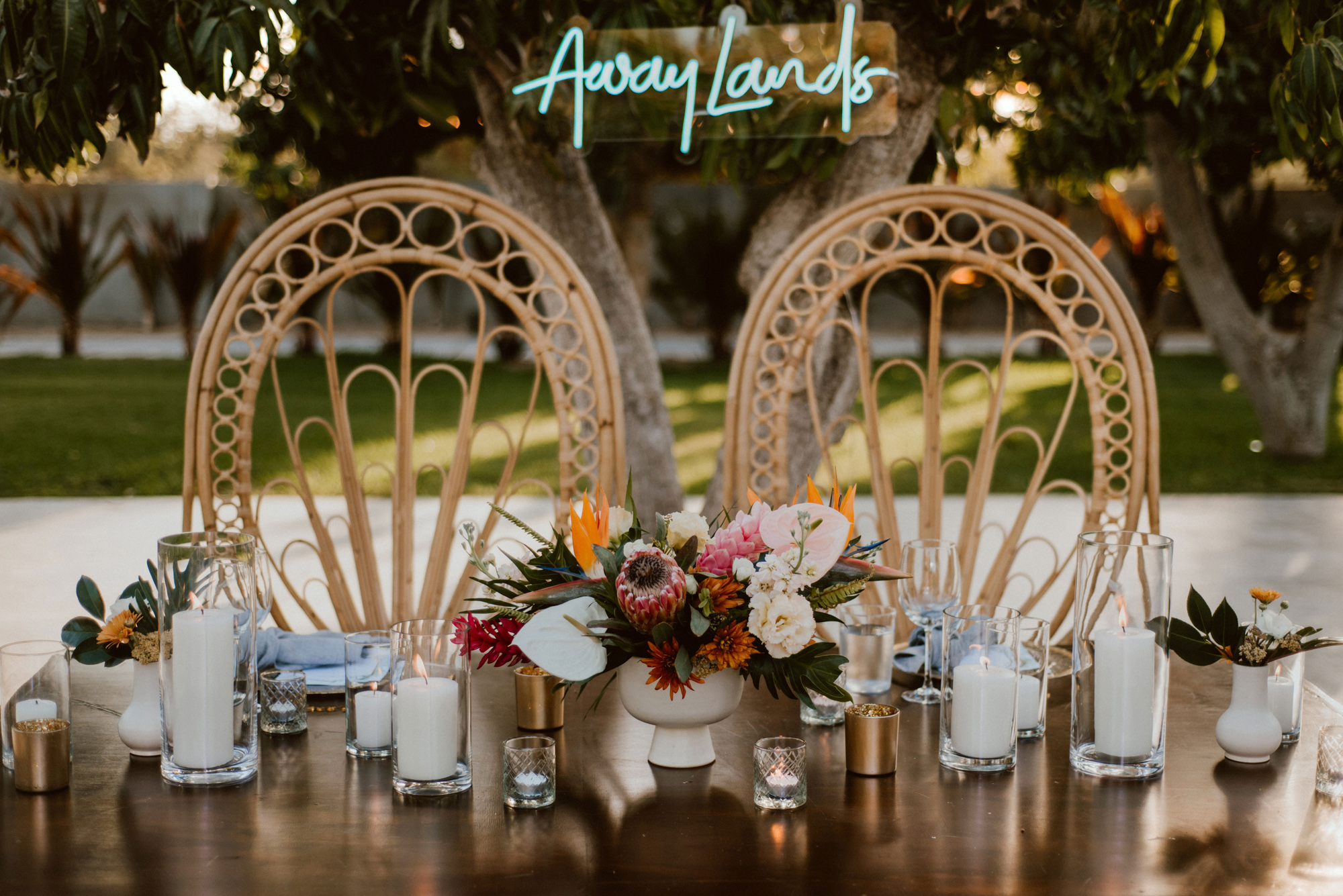 A few reception details before starting our reception out in the mango grove. The tables, chairs, napkins, and glassware all came from Acre and were included in with the venue, and we rented the gold flatware, candles and holders, and gold-rimmed chargers, as well as the peacock chairs at our sweetheart table to fill out the vision. I loved the cluster of candles at the base of our table - but when the dancing started they all had to be removed when Brandon and his best friend threw a chair into them.
The one detail that everyone was obsessed with were the custom gold name plates. Everyone took photos of theirs and almost everyone took them home! We have ours on shelves in our home.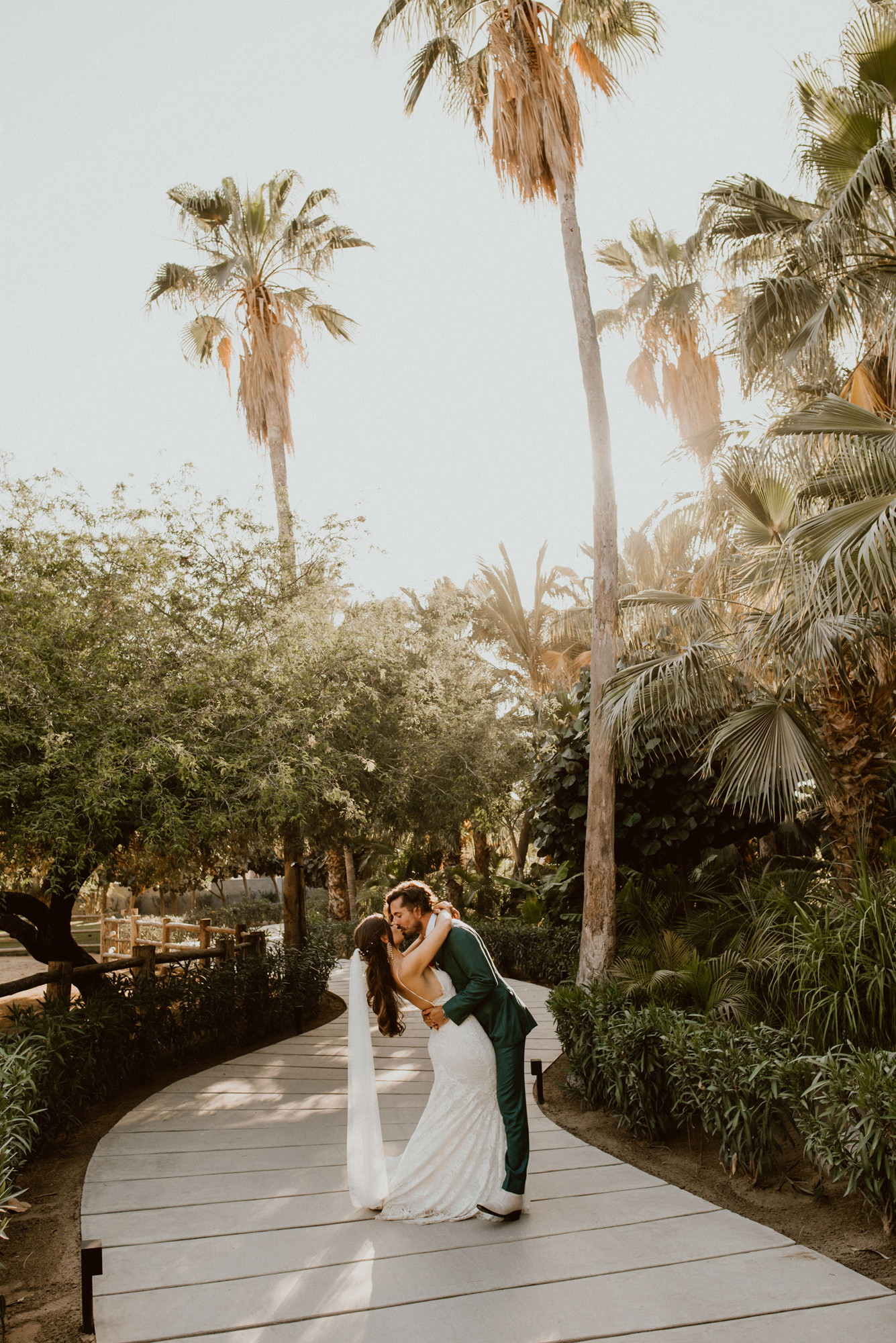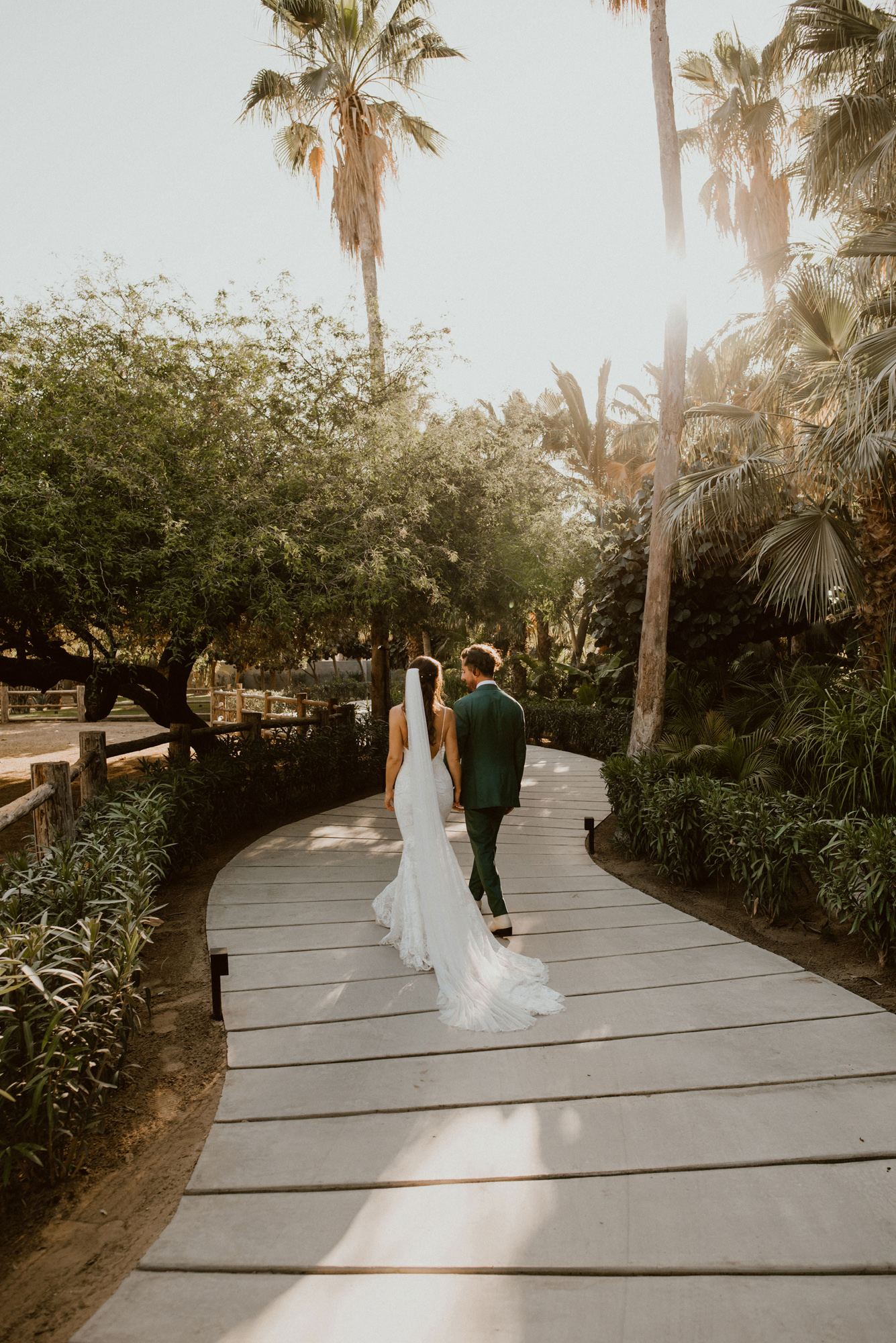 Soaking in the last of the golden hour rays for a few more portraits before joining the party.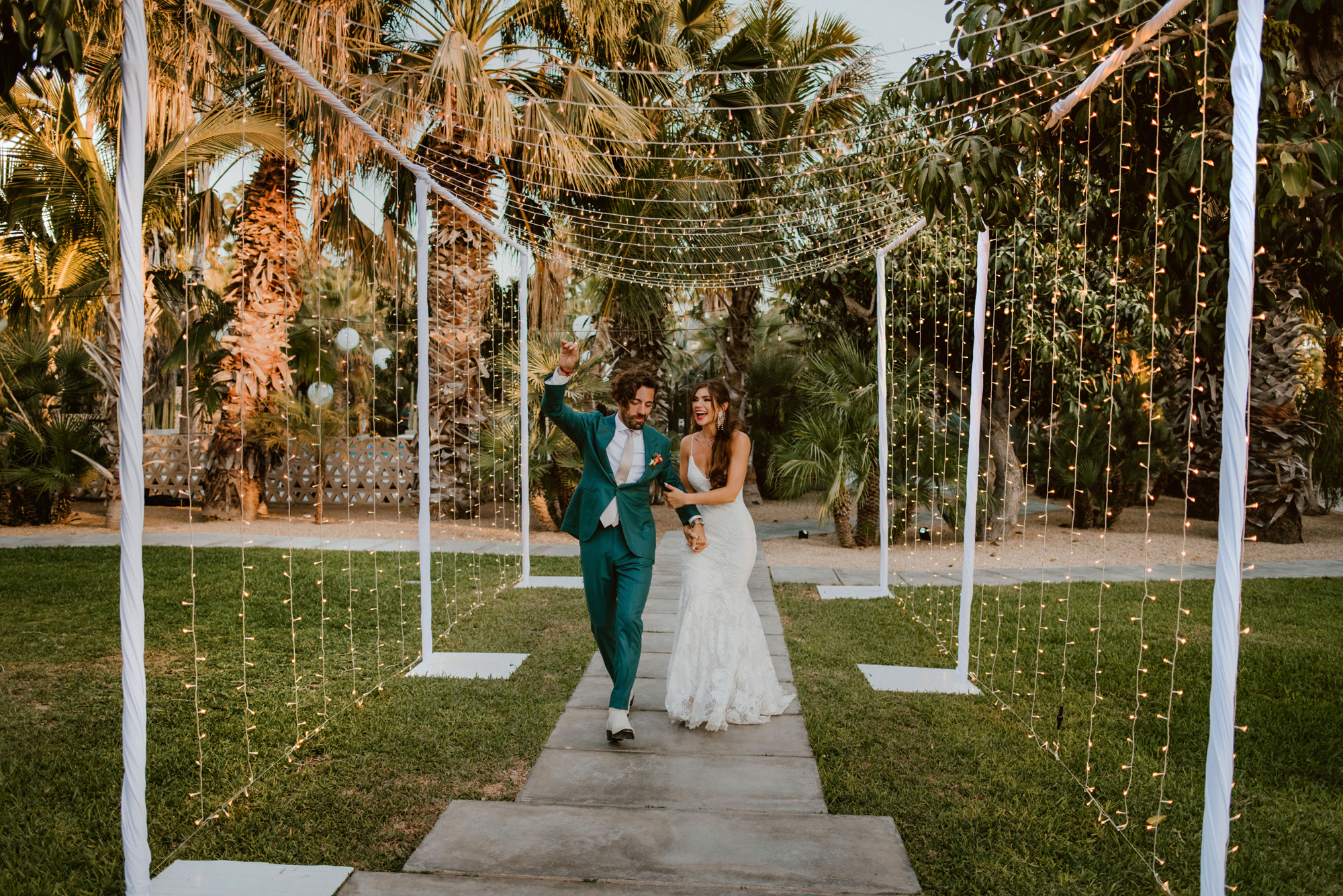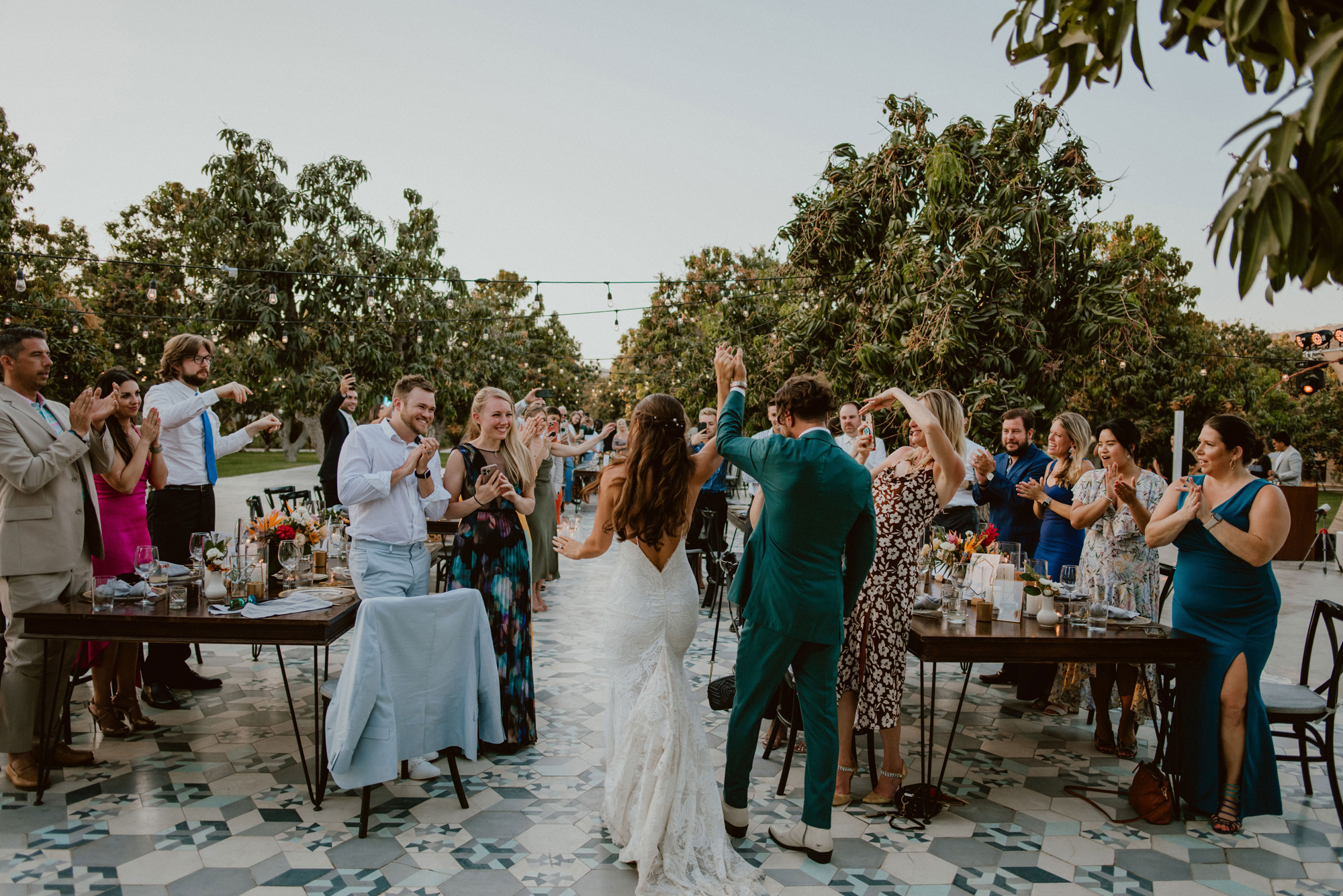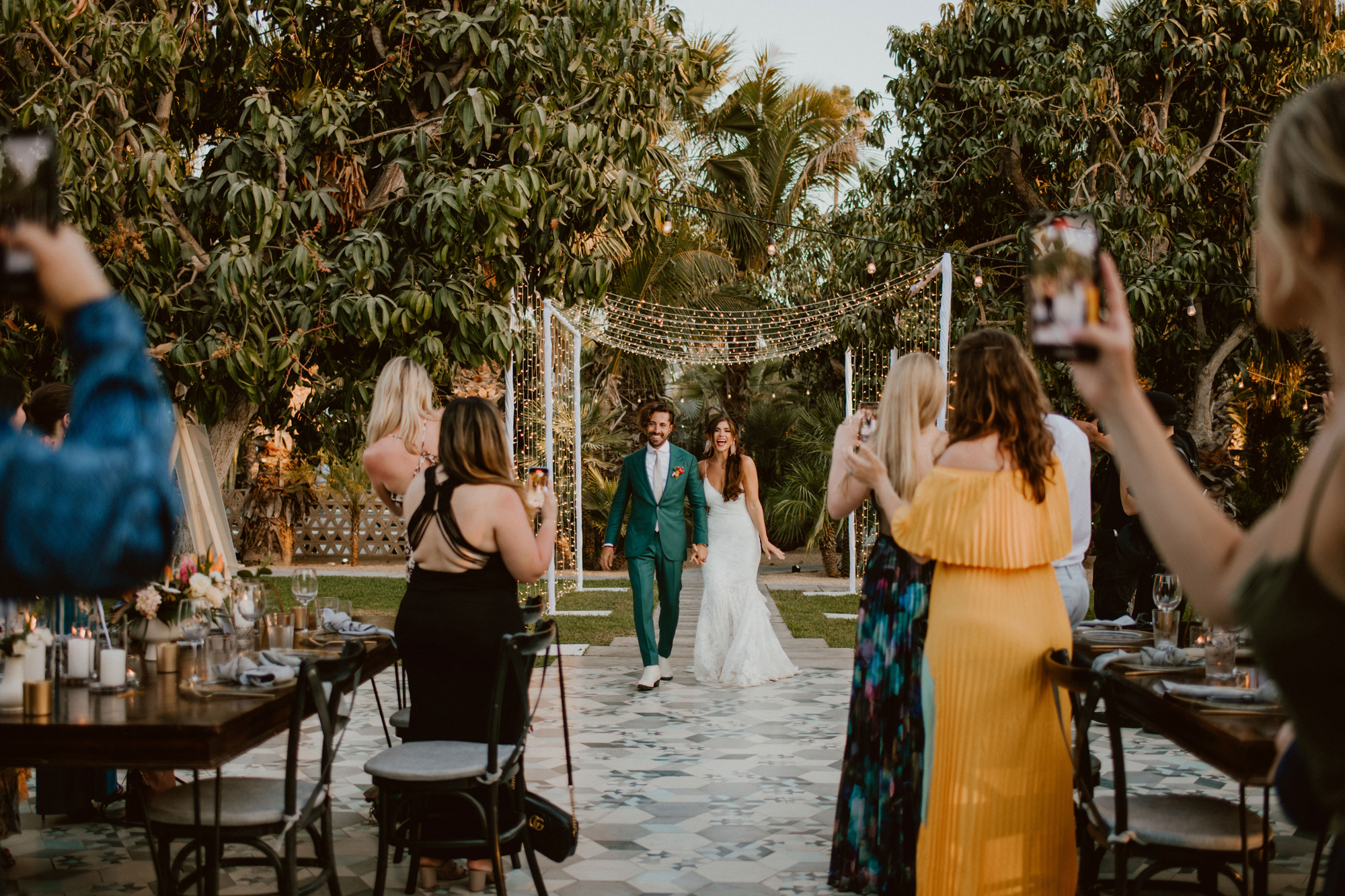 We entered the reception to Natalie Cole's 'Everlasting Love' and then immediately went in to our first dance - which was one part of our wedding I had been looking forward to for so long. We picked out the song we would dance to (ODESZA - Across The Room feat. Leon Bridges) so many years back before we were even engaged. We danced to that song so many times over the years, wondering if our wedding would ever actually come, and it was hard to believe we were actually, finally, there in that moment.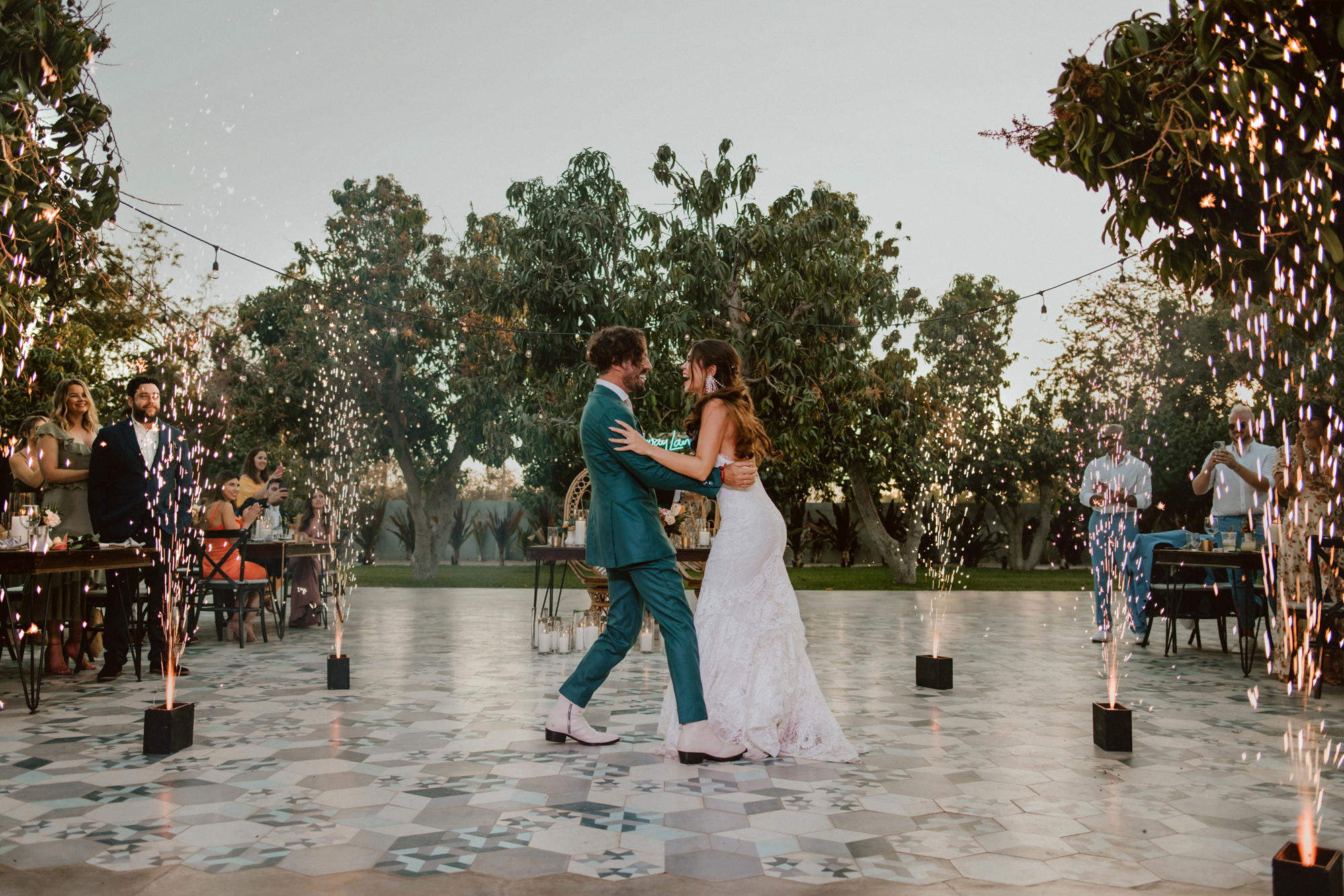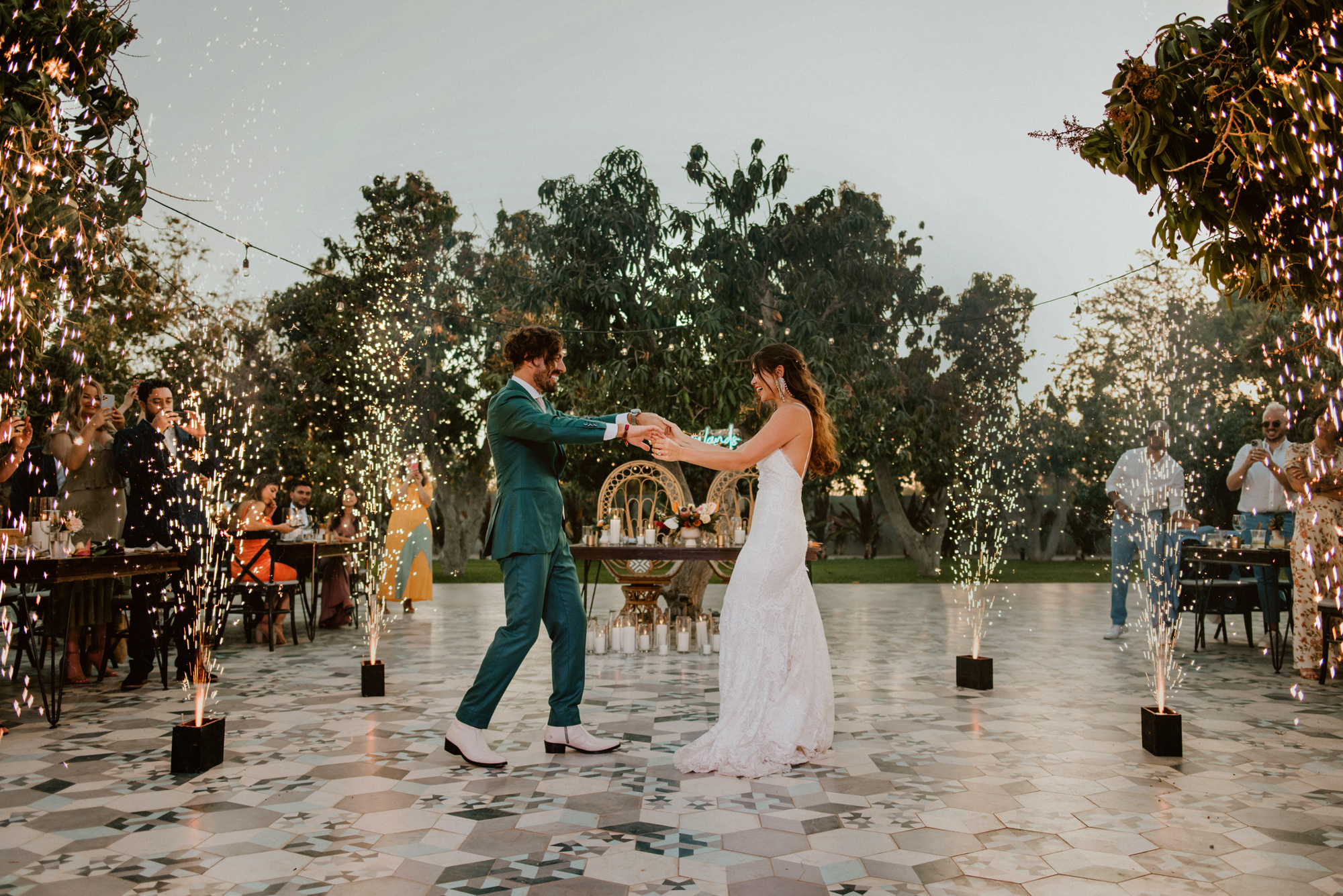 And the moment did not disappoint. Right at the beat drop, we had this sparklers go off, and it was everything I dreamed.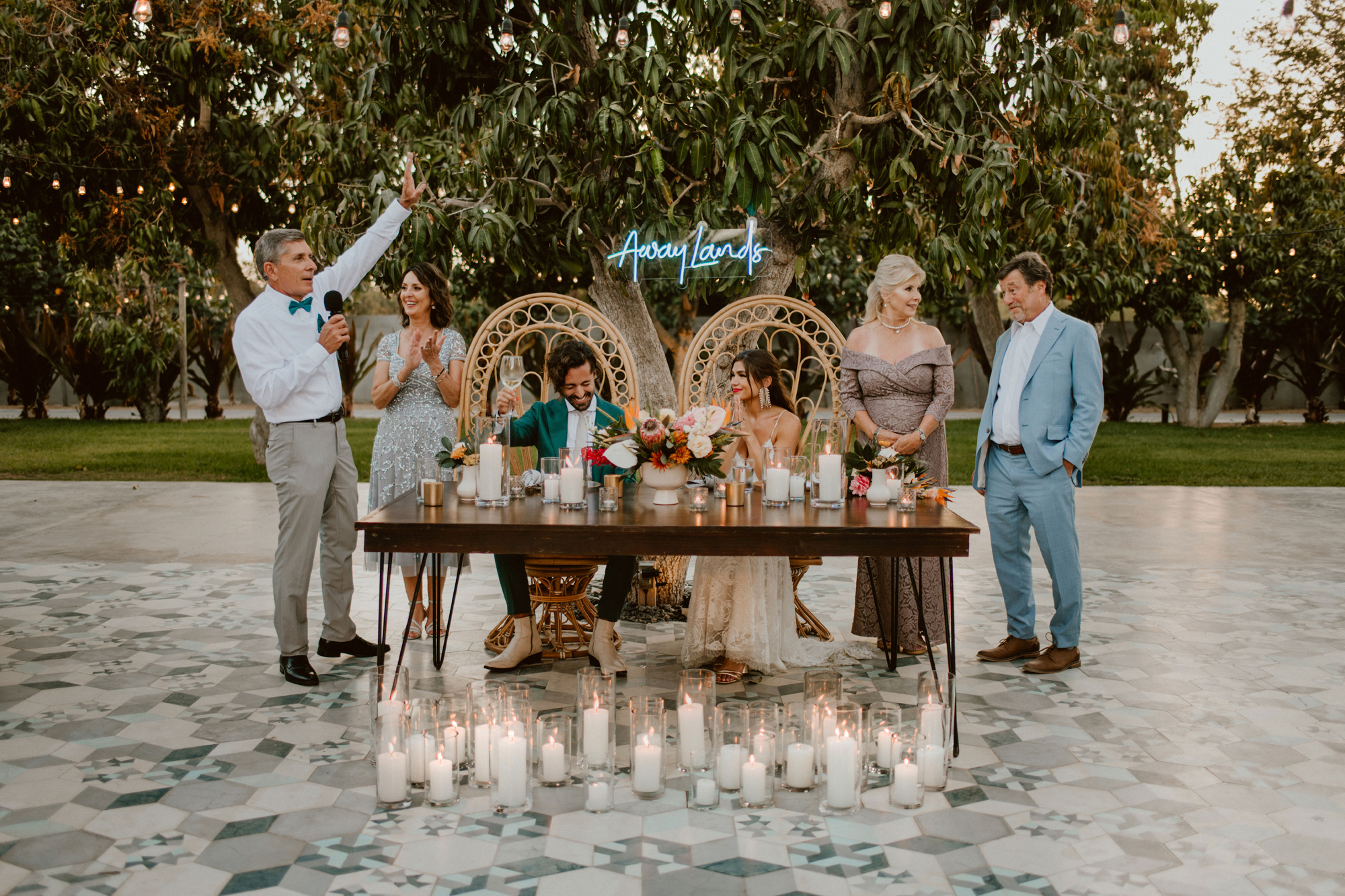 All four of our parents together welcoming everyone to our wedding was a special moment for us, especially for me as my parents have been split since I was very little.
As the sun went down and the light started to fade to dusk, all of the lights started t twinkle and the space looked more and more magical.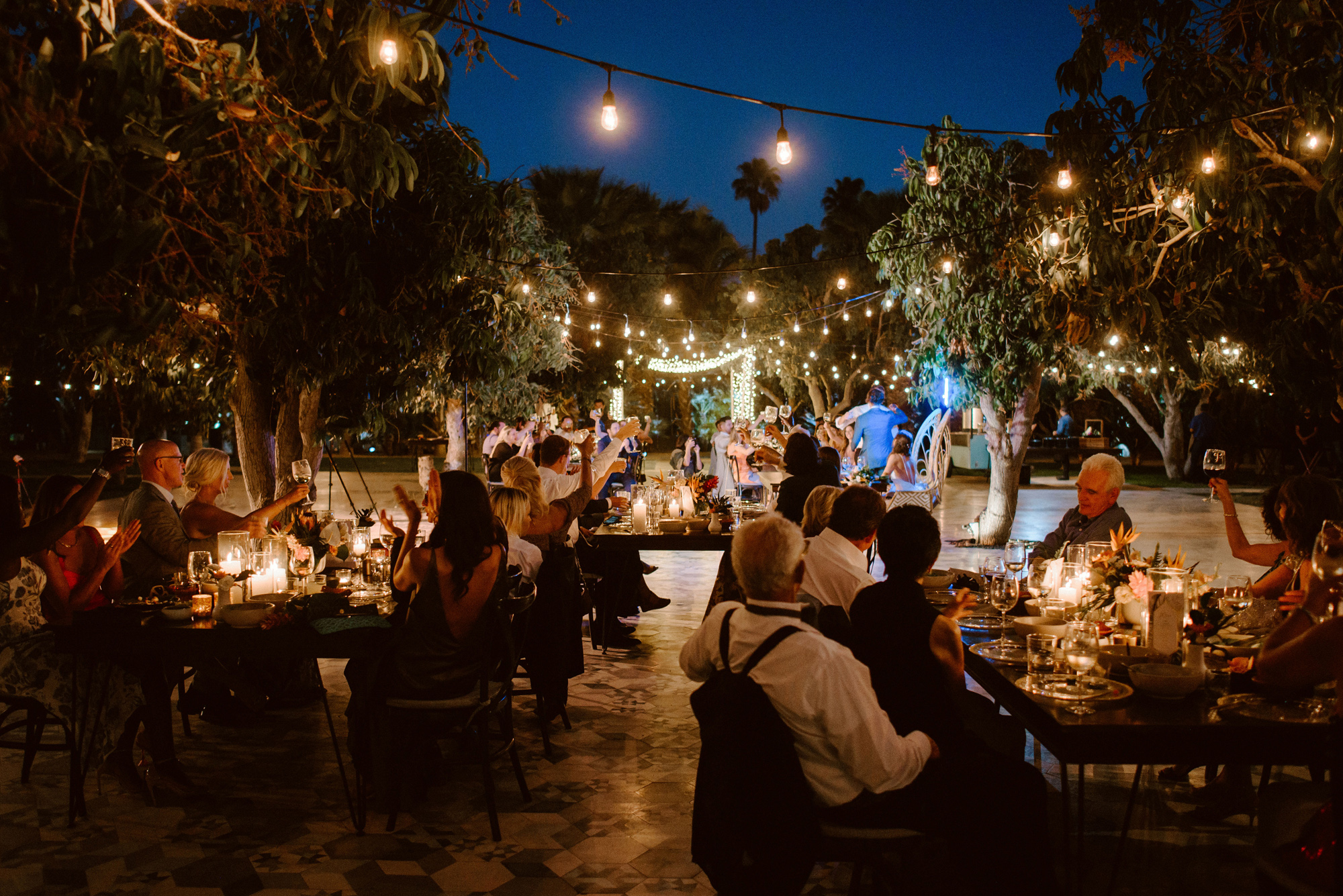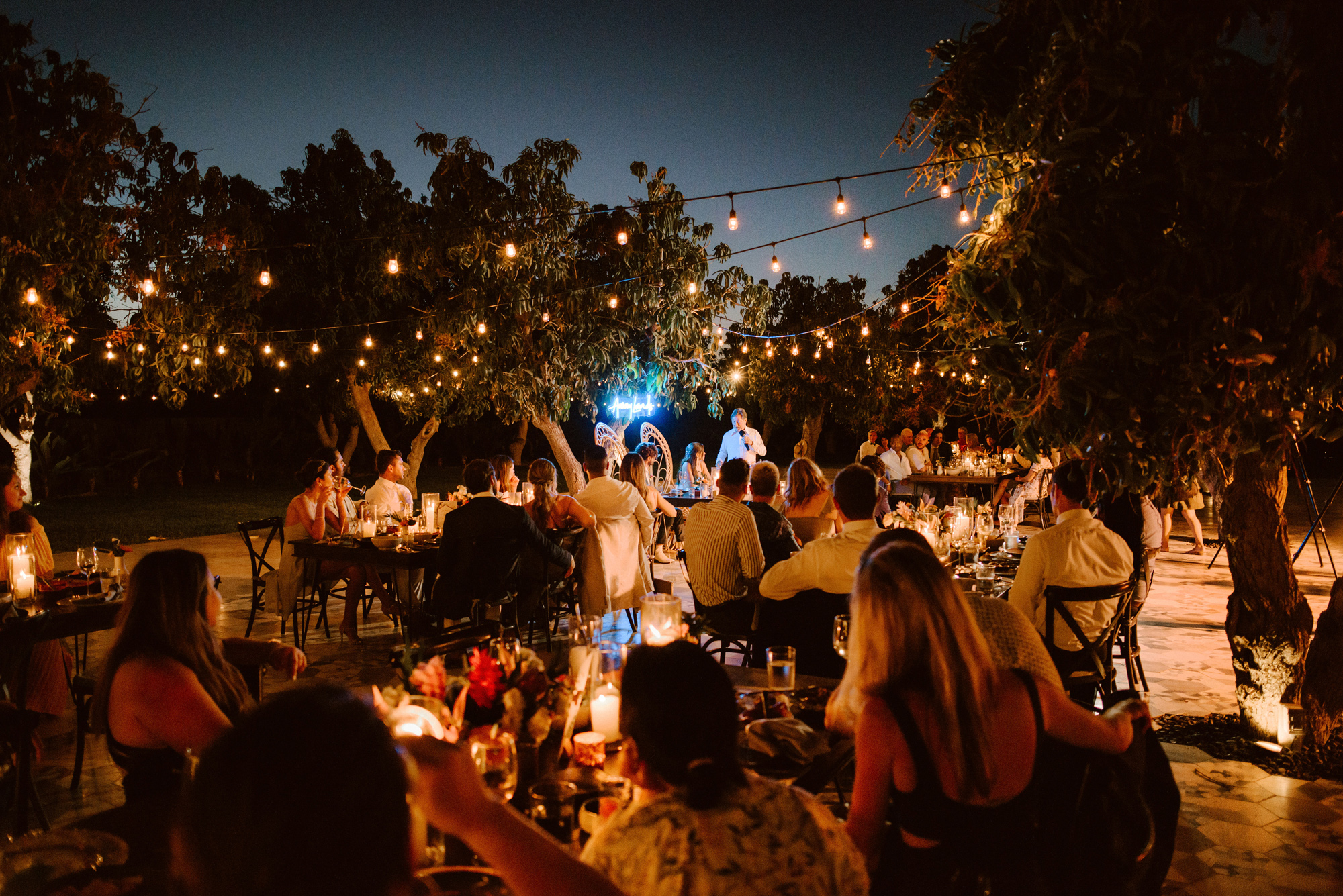 I was just so happy with how all of these visuals turned out. As a photographer, it is so hard to entrust such a monumental occasion to someone else (I ended up shooting our own elopement), but everything just came together beautifully.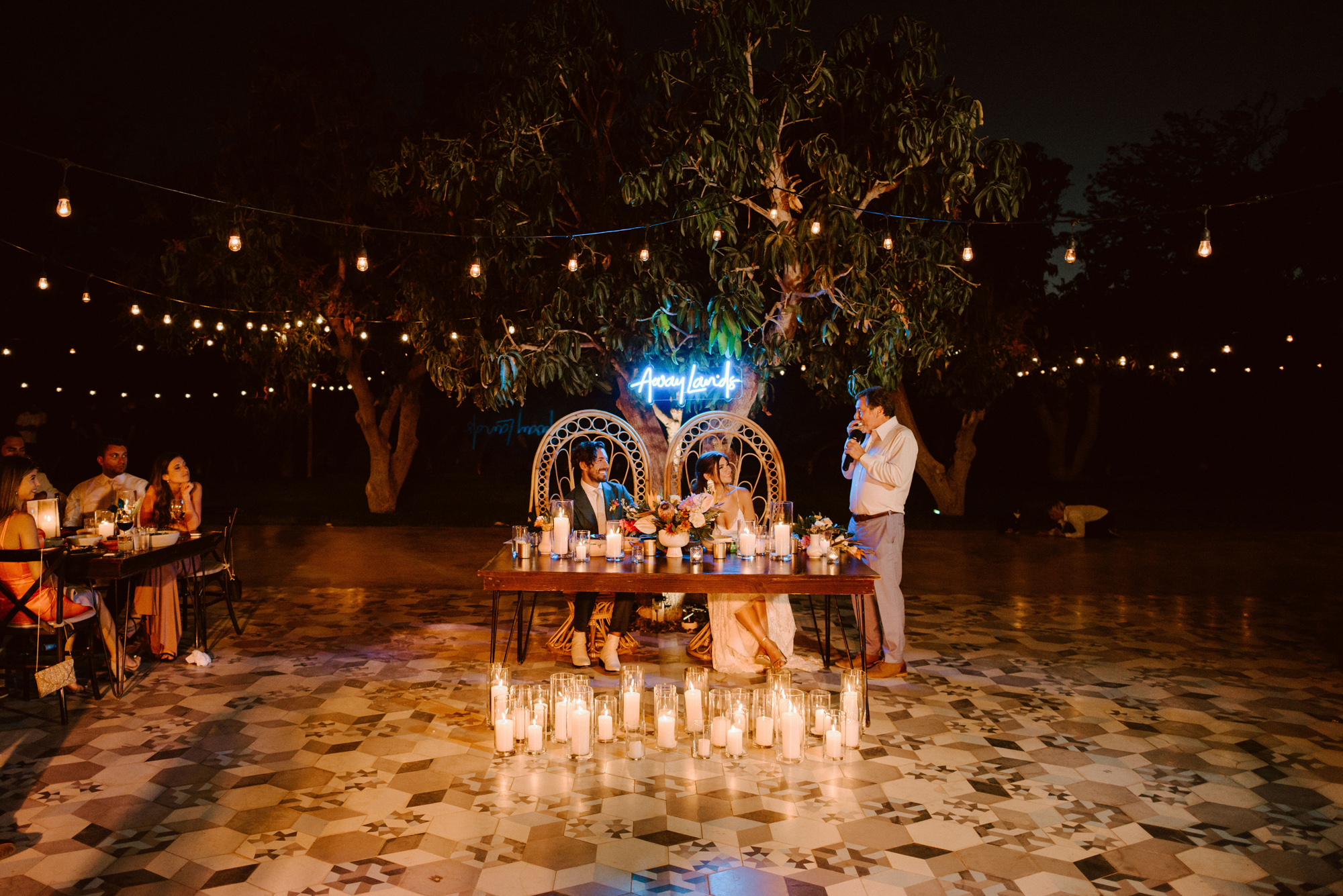 My dad has played harmonica my entire life, and there is never a moment where we doesn't have one in his pocket. When I was little, he would wake me up for school by coming into my room playing. It drove my crazy as a teen, but now every time I hear a harmonica in a song, I think of him. For his speech, he preformed a musical monologue with harmonica interludes.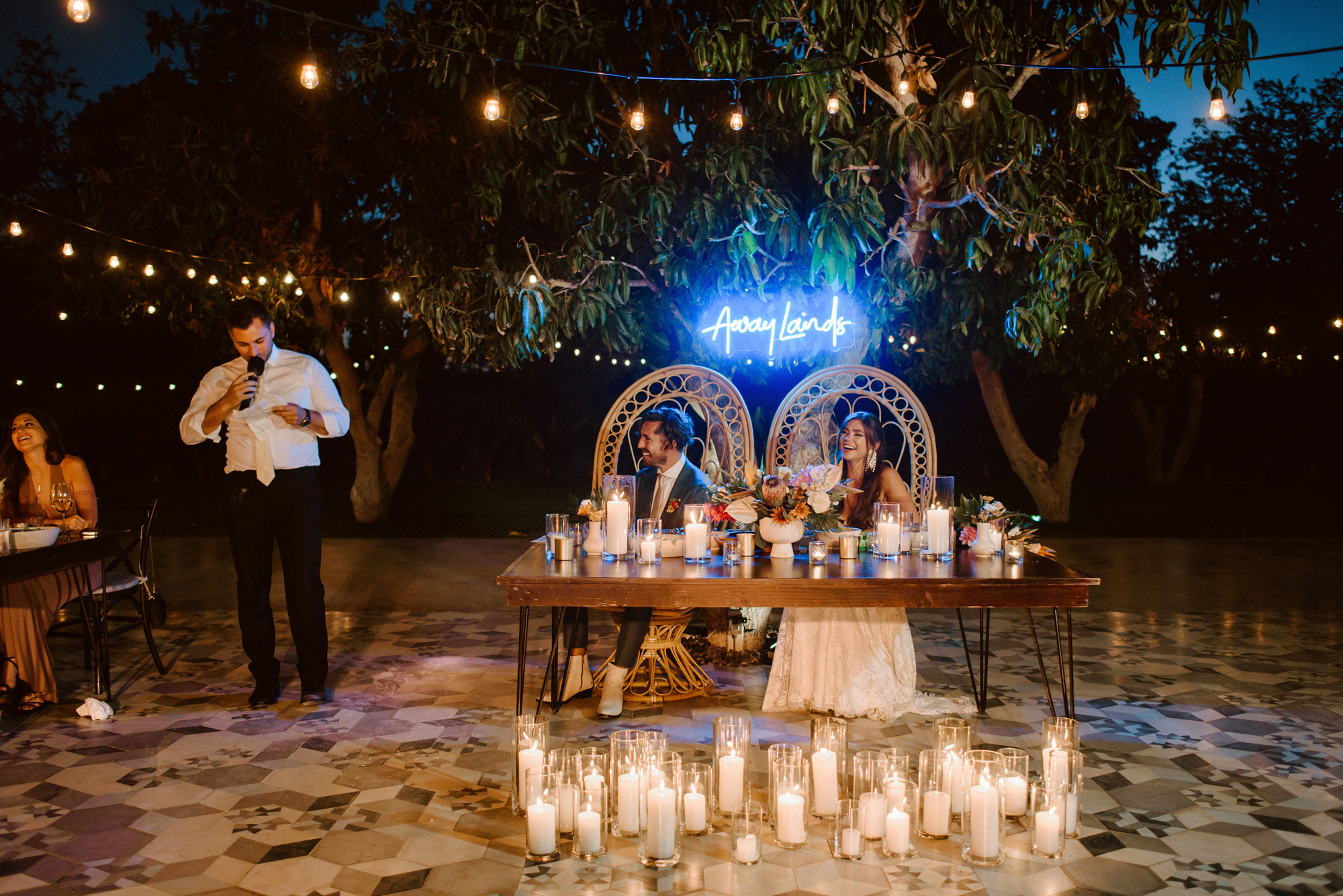 We started the dancing hour with another round of cold pyrnotechnics fireworks. I can't recommend adding them enough, it's so much fun and everyone loves it!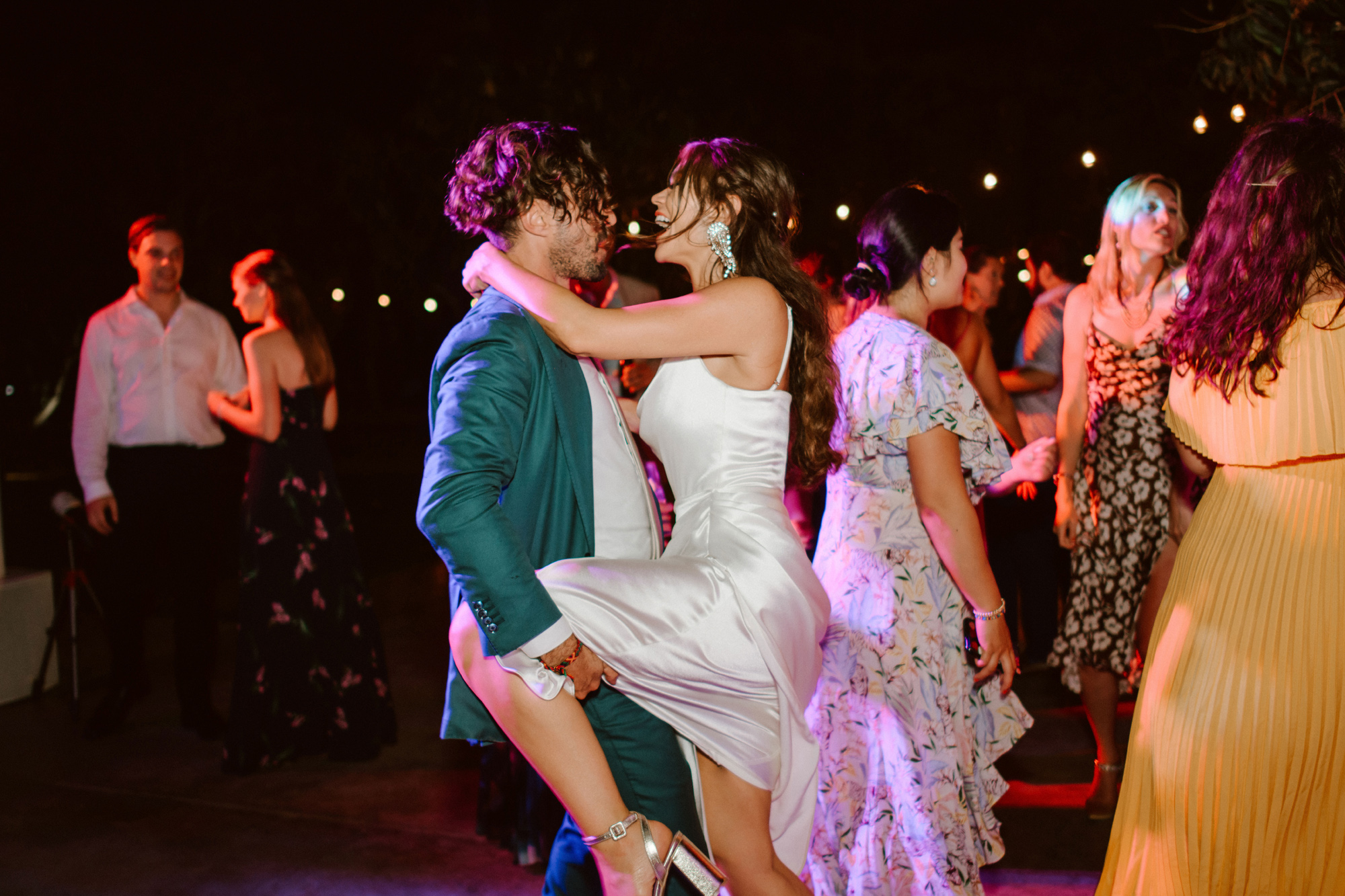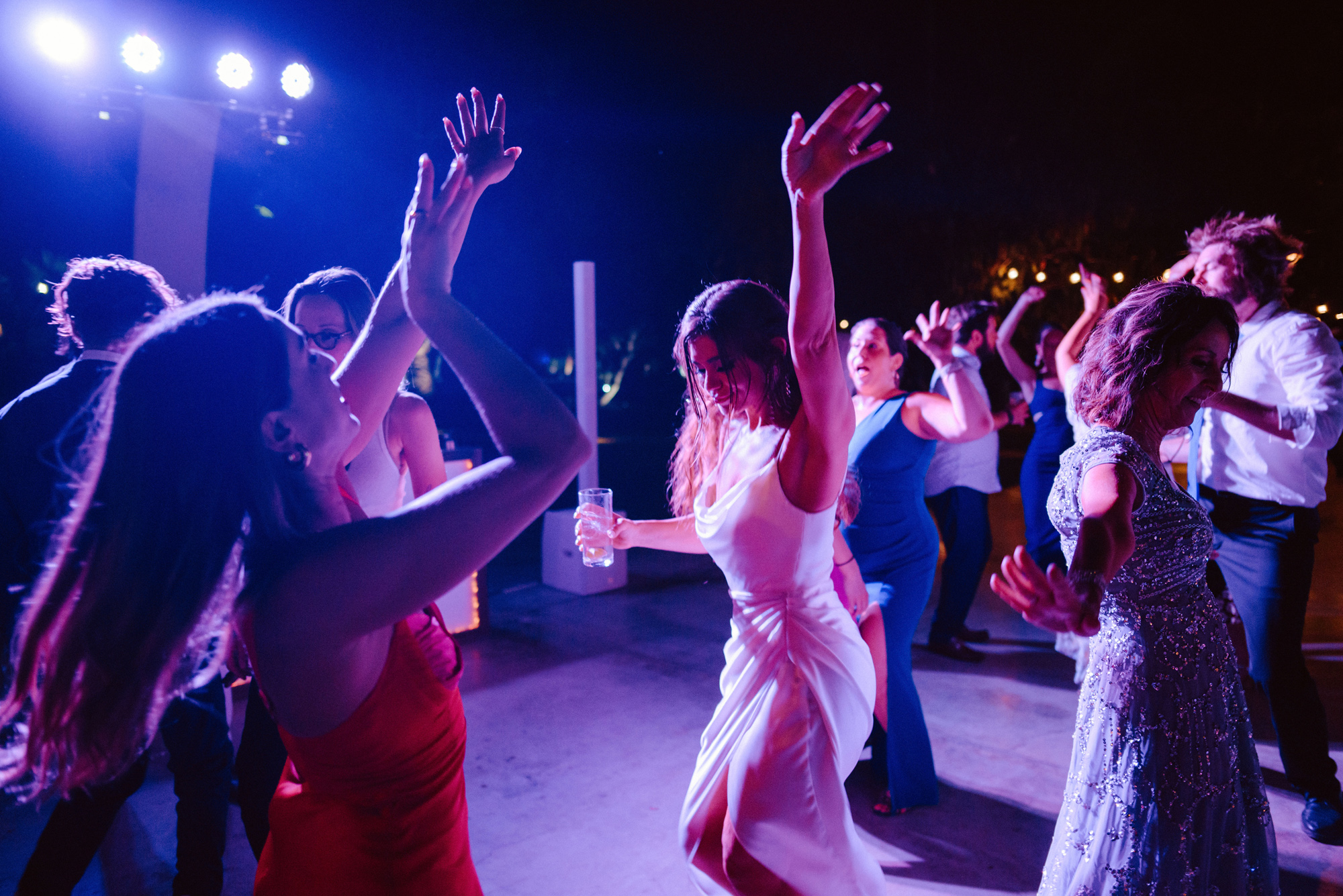 I was so, so happy with my reception dress! I wanted something easy to dance and move in, and went with one of my favorite designers, House of CB. As a girl with a small waist and larger hips, House of CB is always one of my go-tos and they are one of the few brands that consistently fits me!
Reception Dress Look: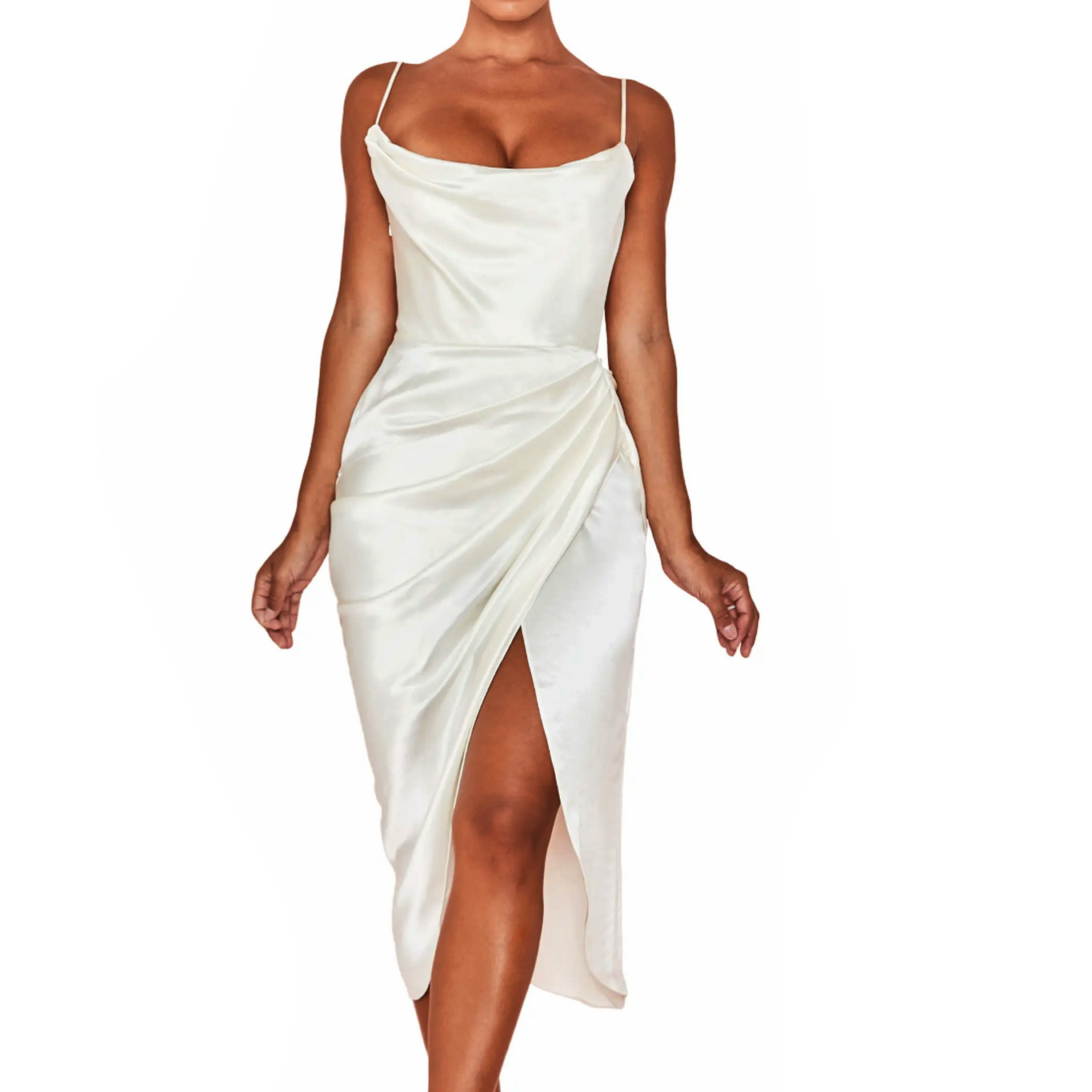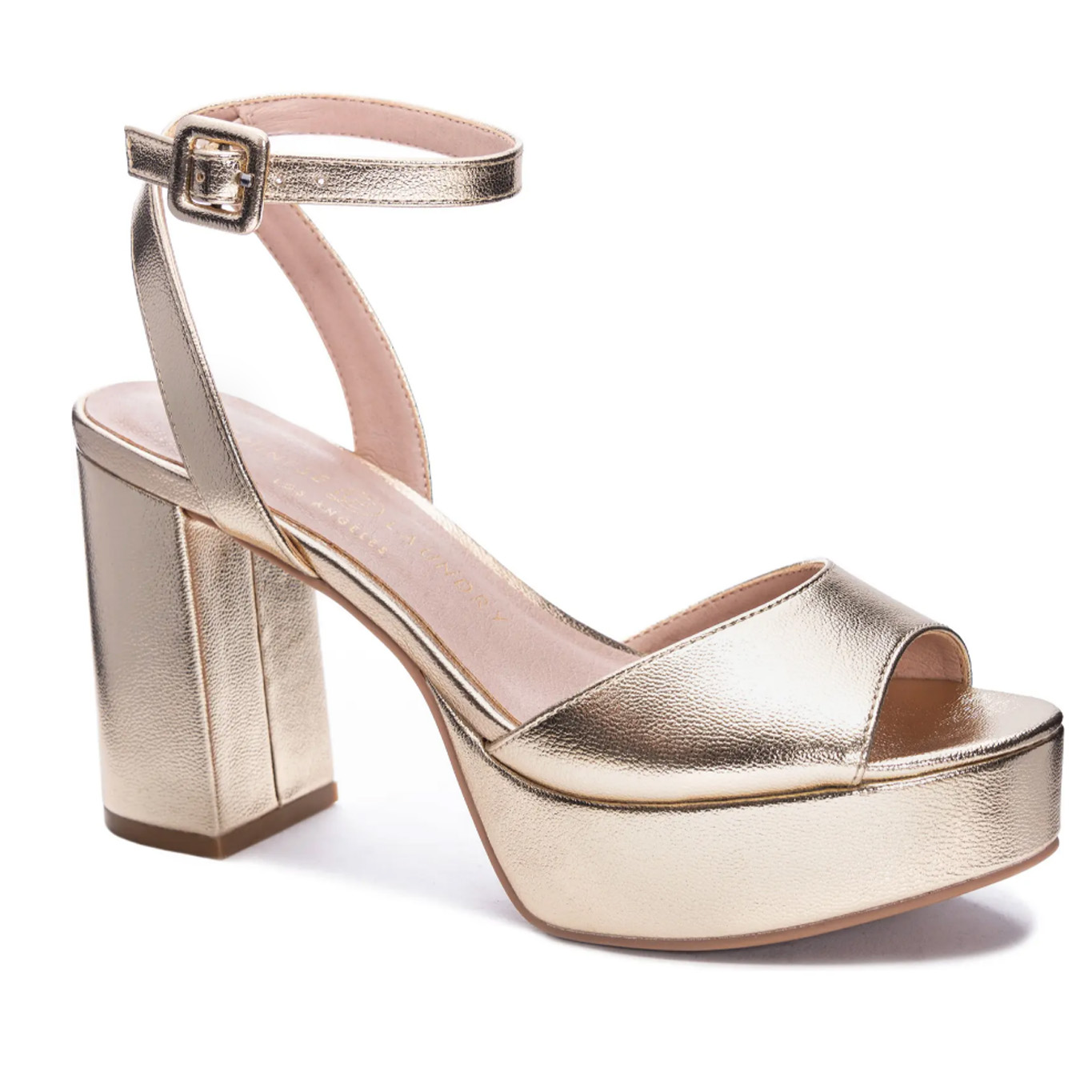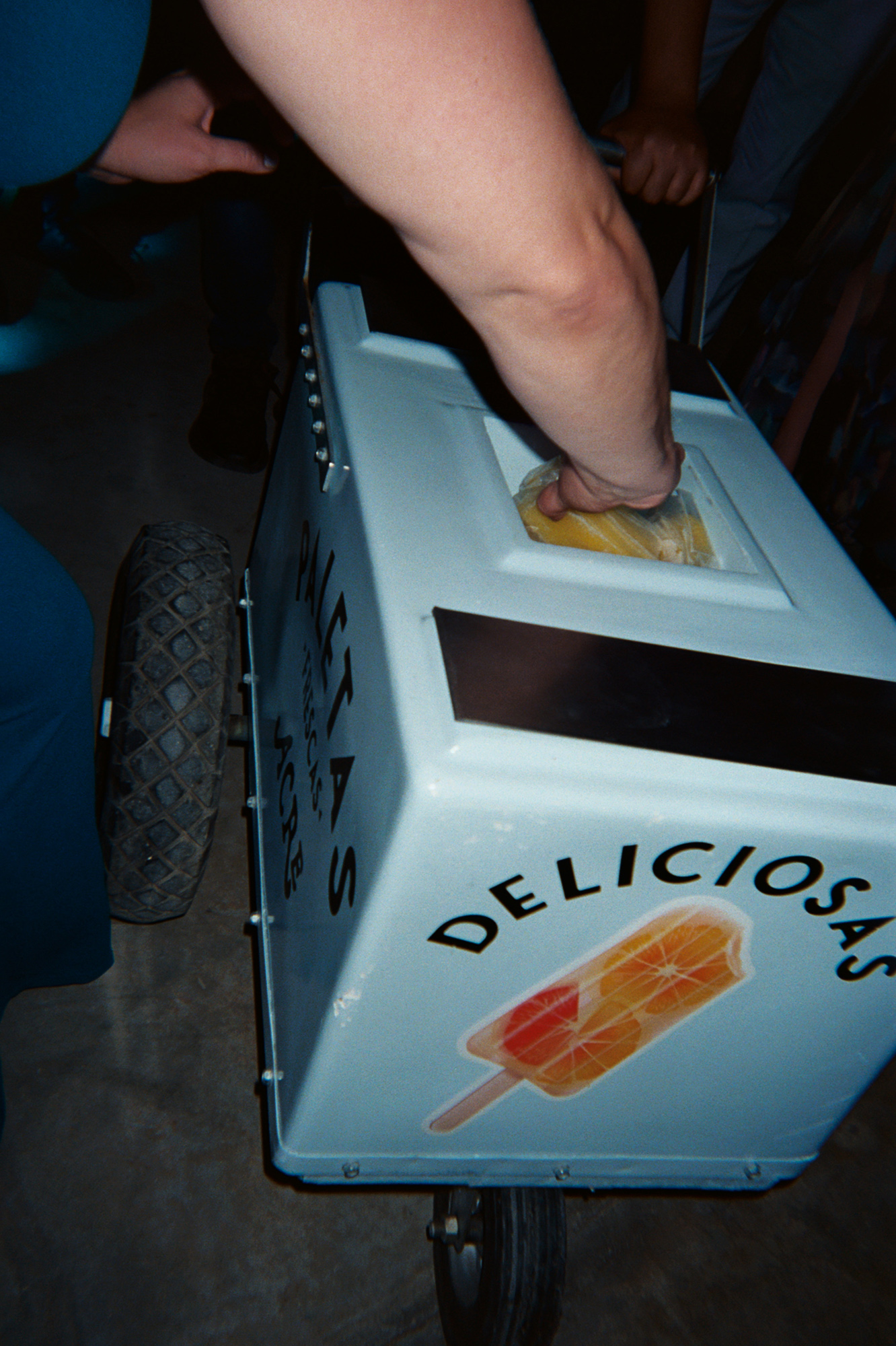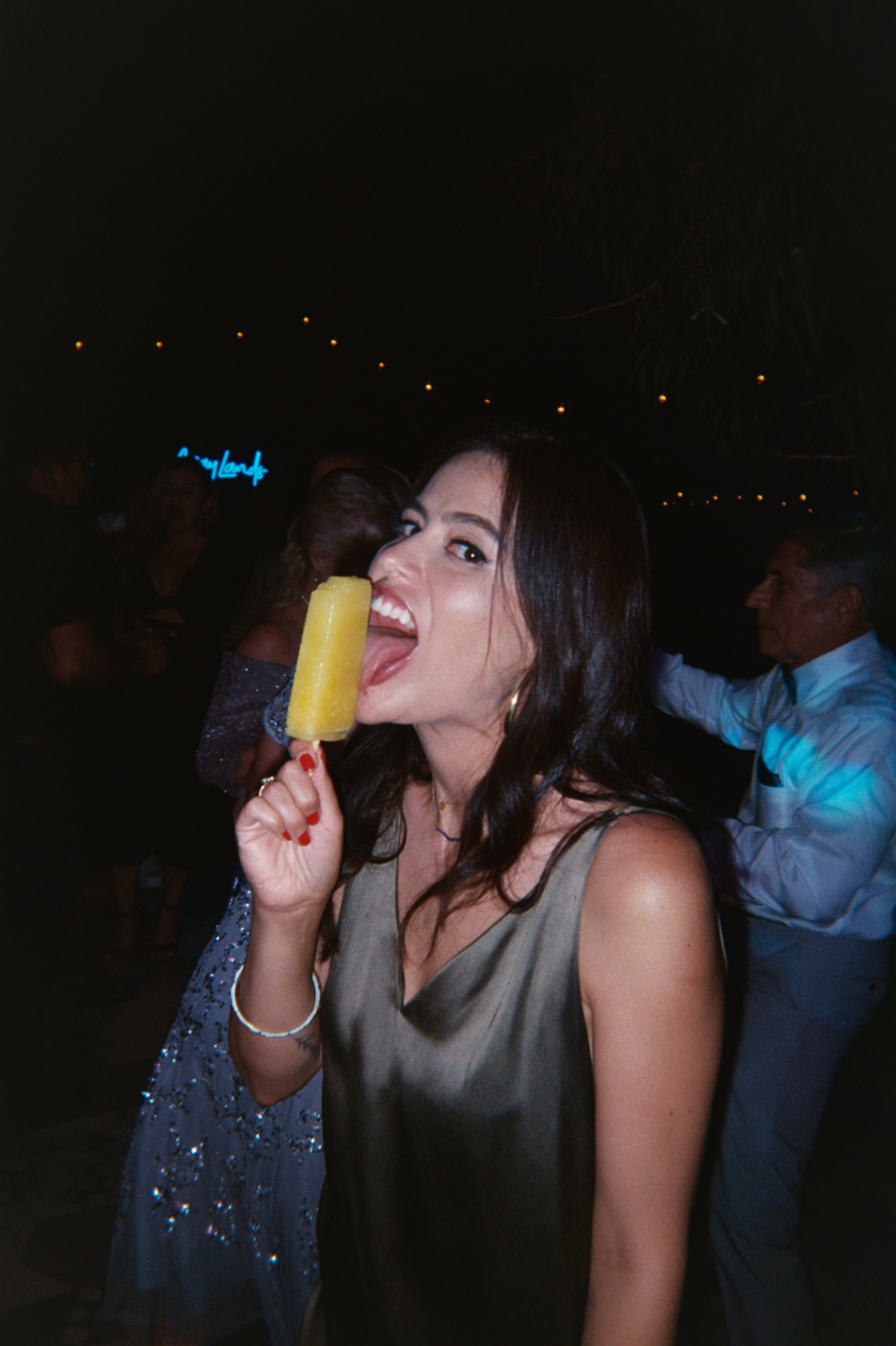 During our dancing, the staff at Acre rolled out the cutest popsicle cart and huge platters of churros for everyone to enjoy. It was a steamy night and everyone loved it!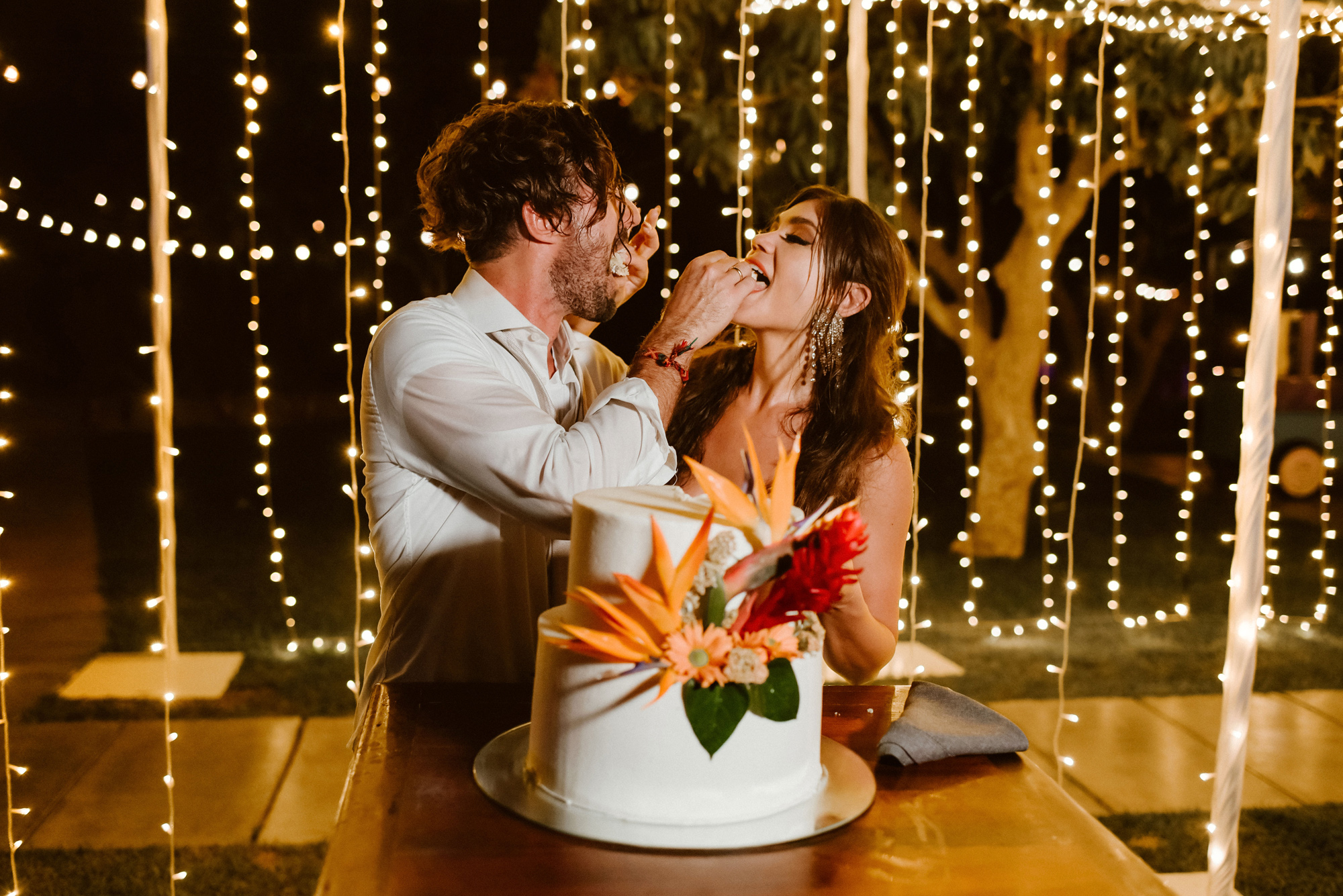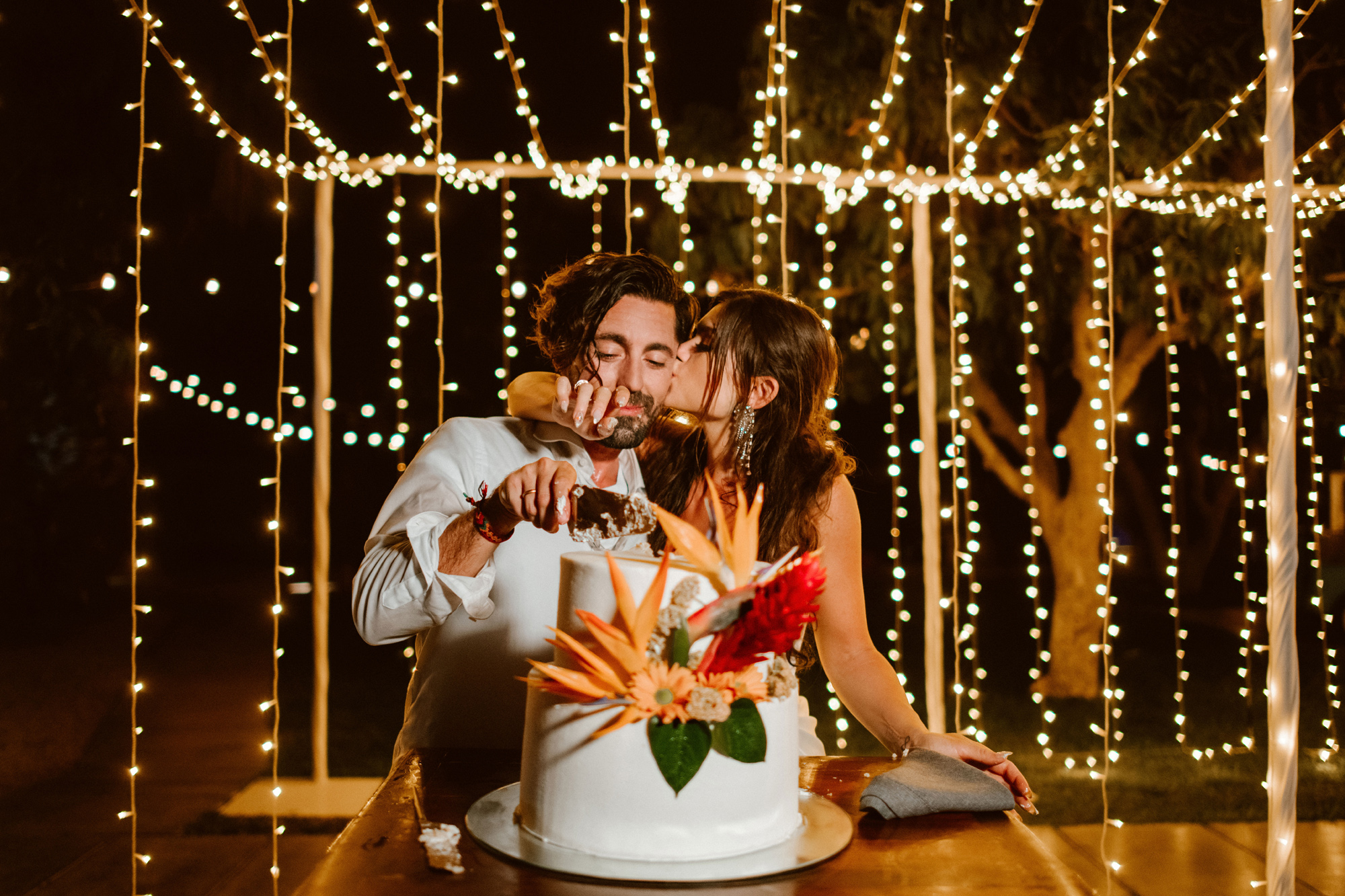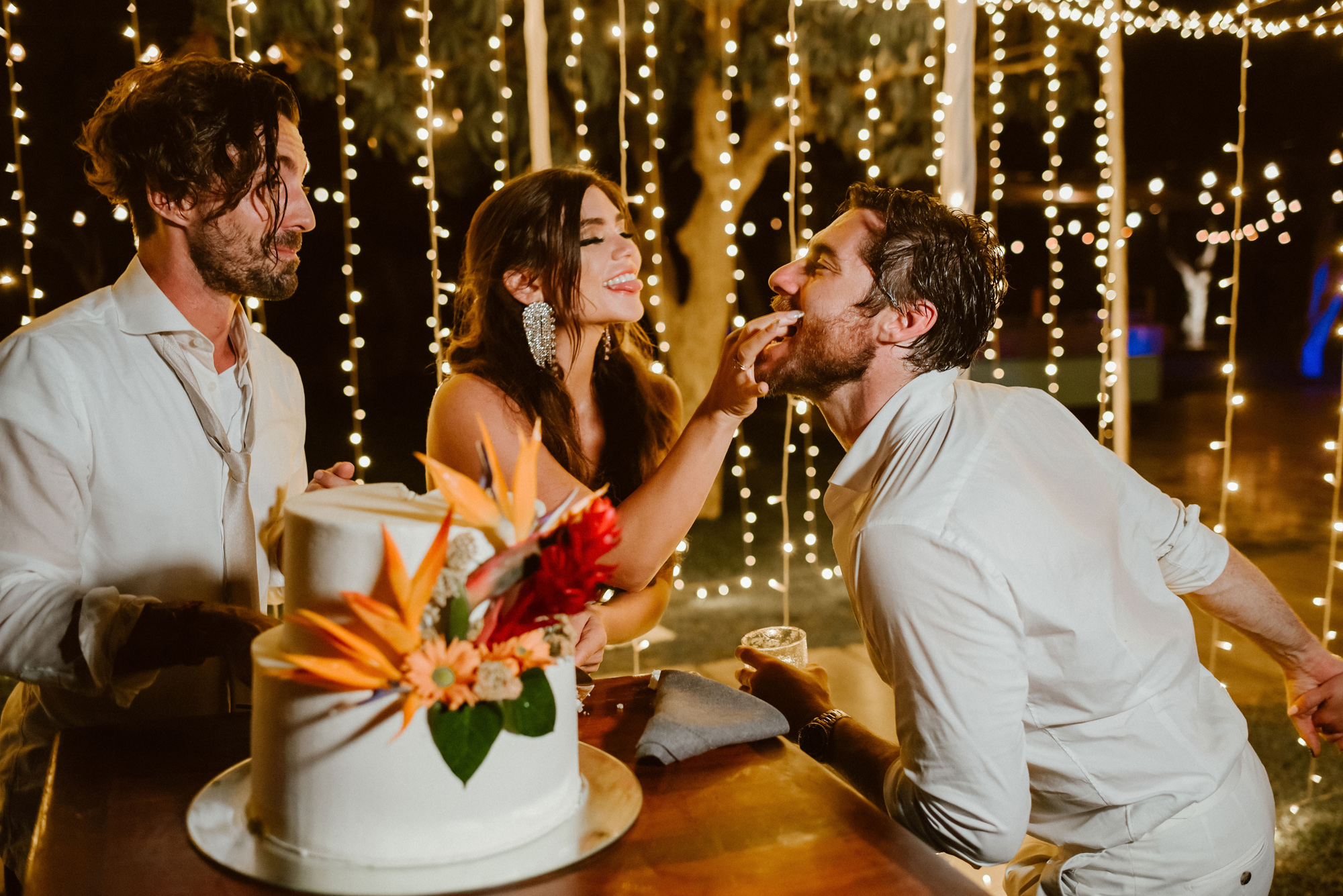 Towards the end of the night, we almost forgot the cake! After dancing and a few tequila shots, we got pulled over a quick cake cutting. We were sweaty and silly and feeding cake to a few of our friends by hand, and we just could not have been having more fun if we tried.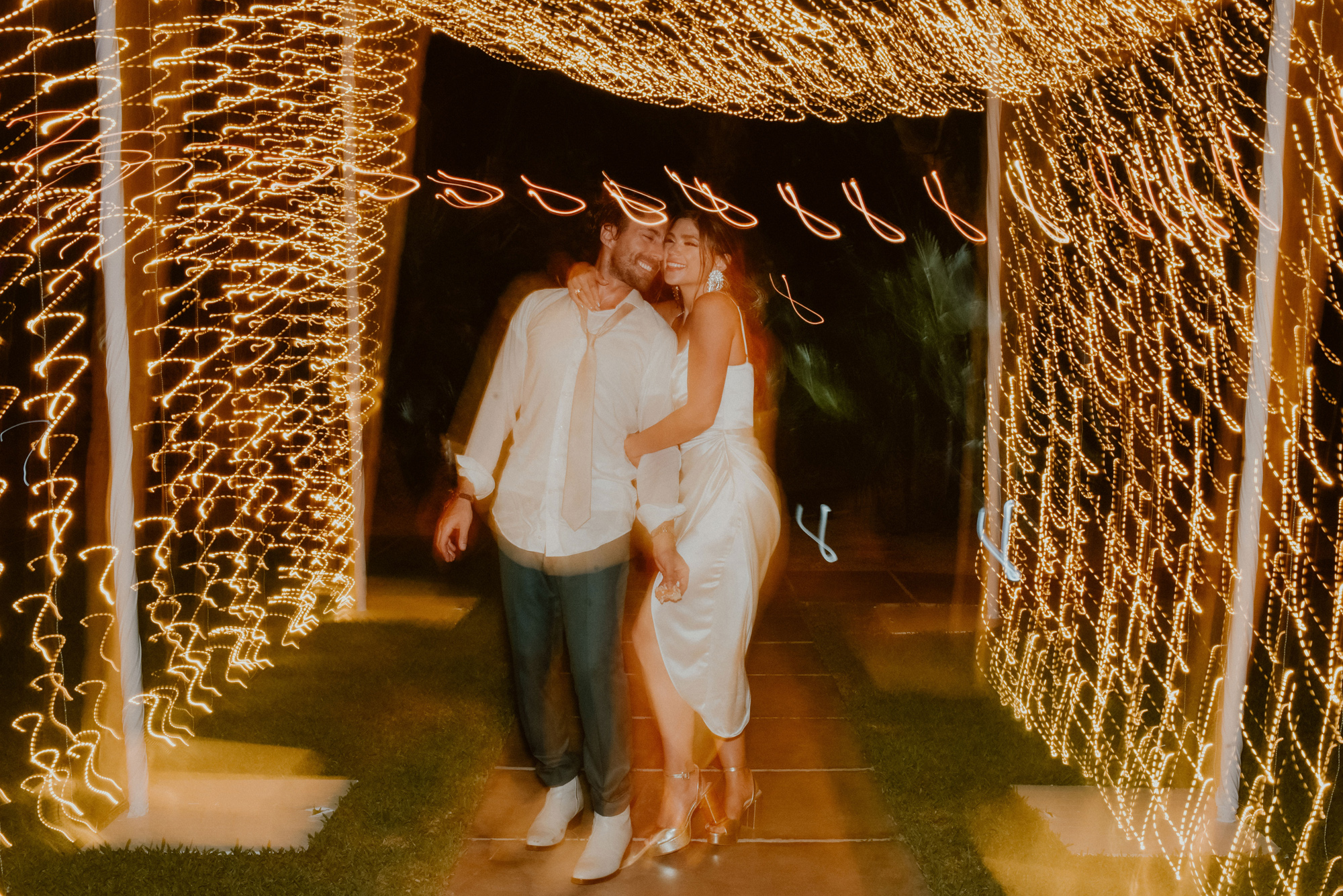 The final photo our photographers got of the night looks just how we felt - happy, blurry, overwhelmed,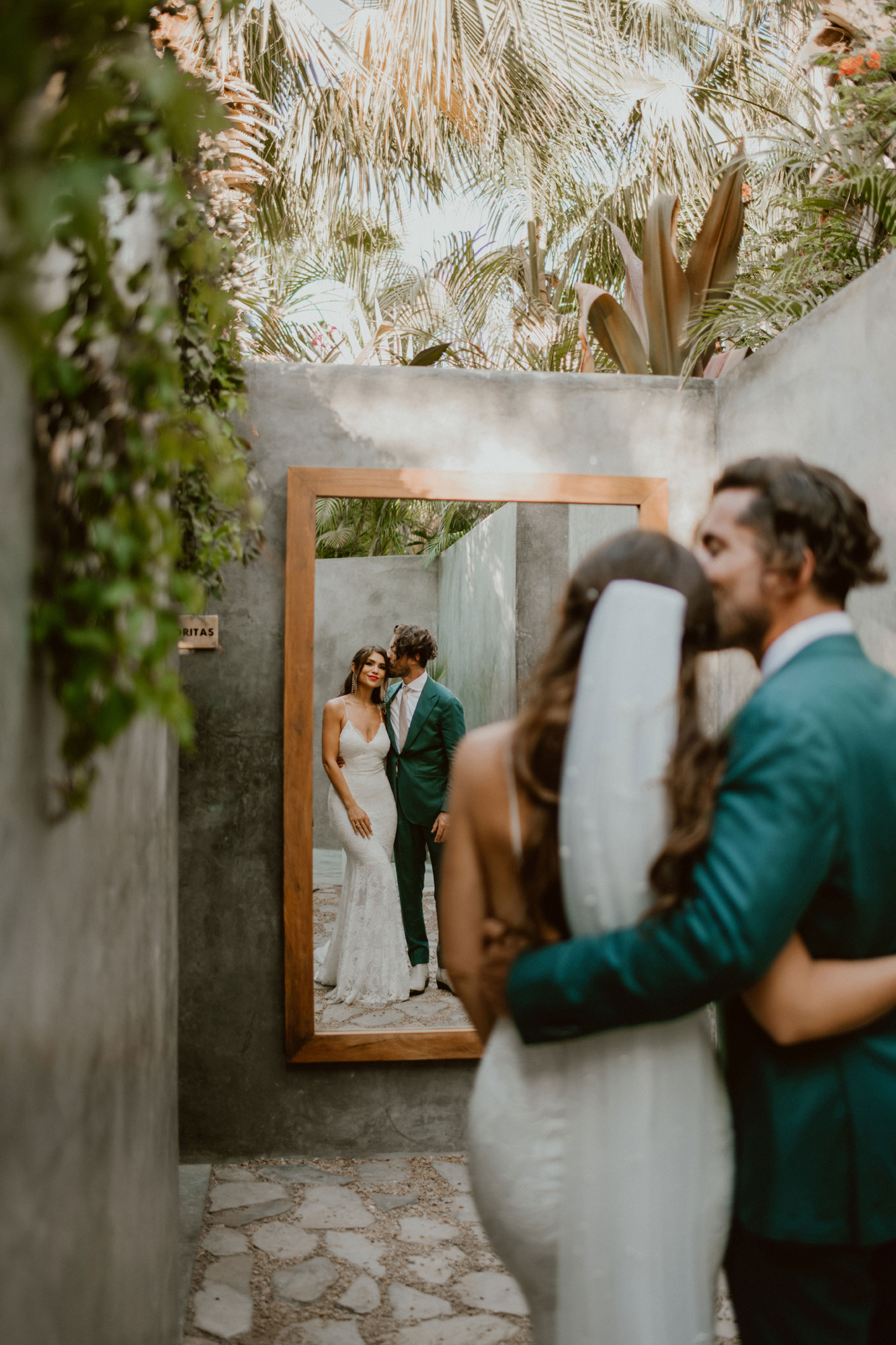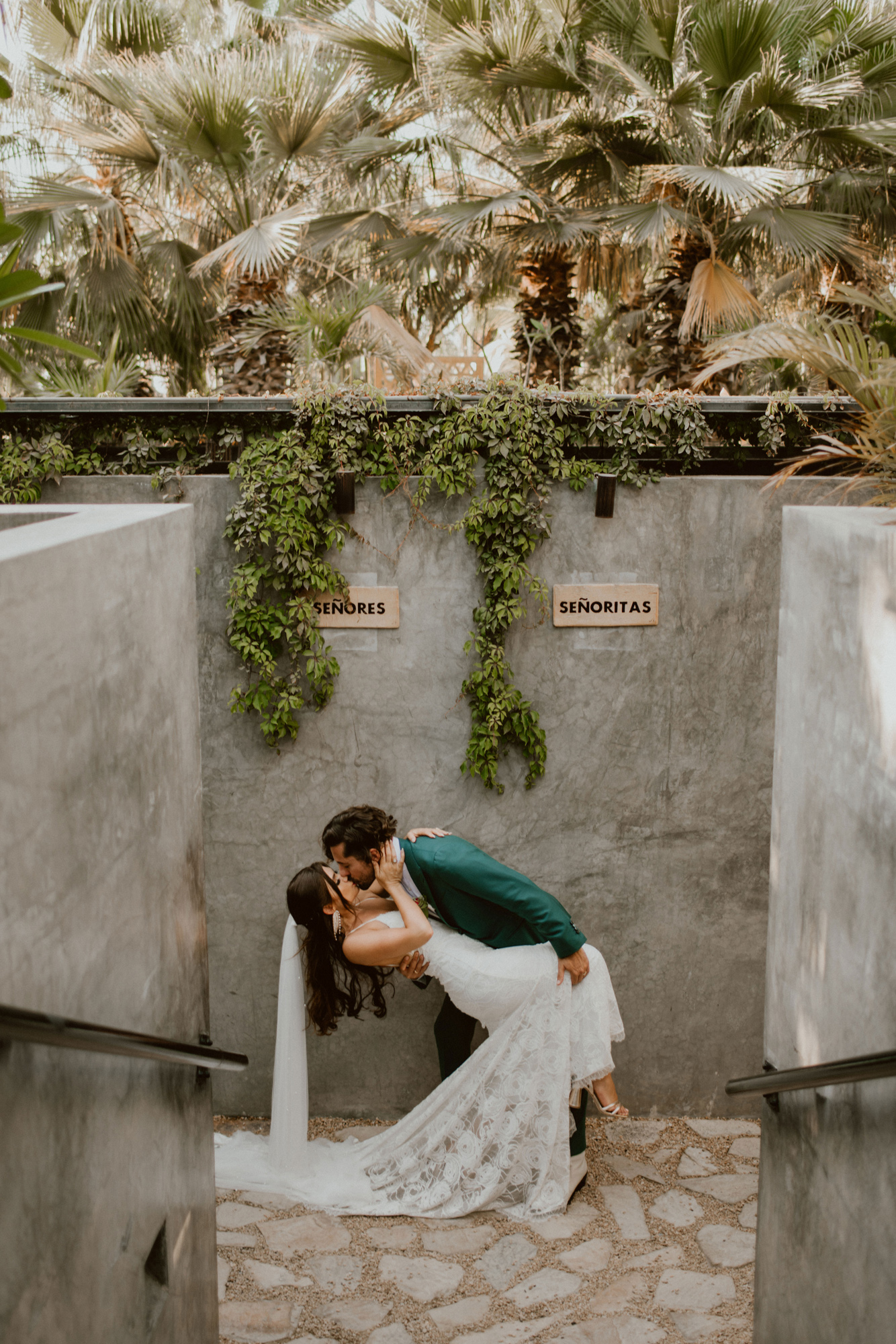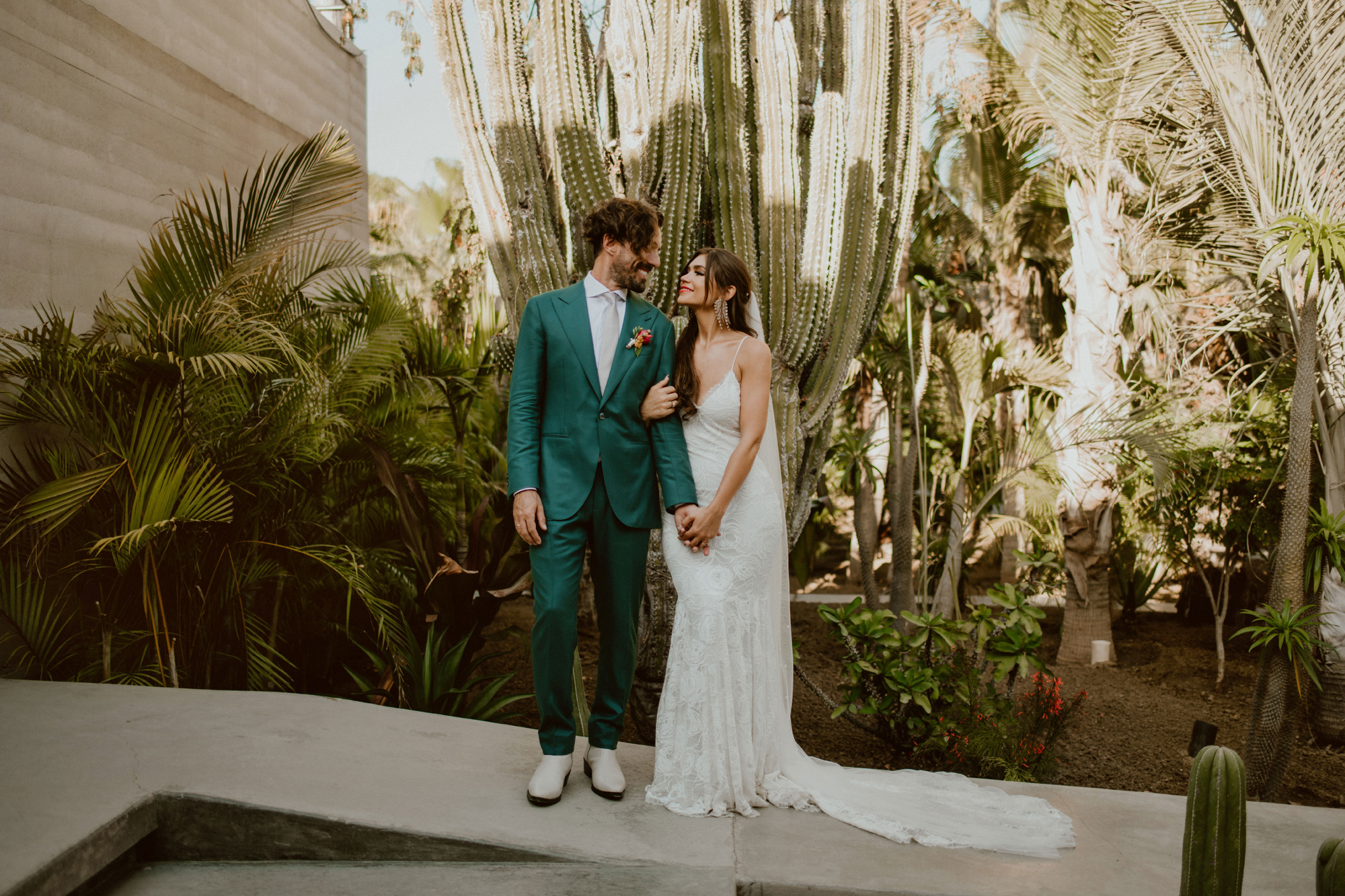 xx
Our wedding vendors:
• Wedding Planning: About Love Events
• Hair and Makeup: Piel Canela Make Up Studio
• Photography: Los Ebanos
• Videographer: Victor Green Films
• Florist: Del Mar Floristeria
• Rentals: Del Cabo Weddings
• Mariachi Band: Mariachi Cabo
• DJ: DJ Jay
• Venue: Acre Baja
• Transportation: Vivo Luxury Services
• Host Hotel: JW Marriott Los Cabos