November 9, 2023 Beauty Shopping
The Best SPF Face Sunscreens to Wear Under Make Up
Isn't makeup with SPF enough?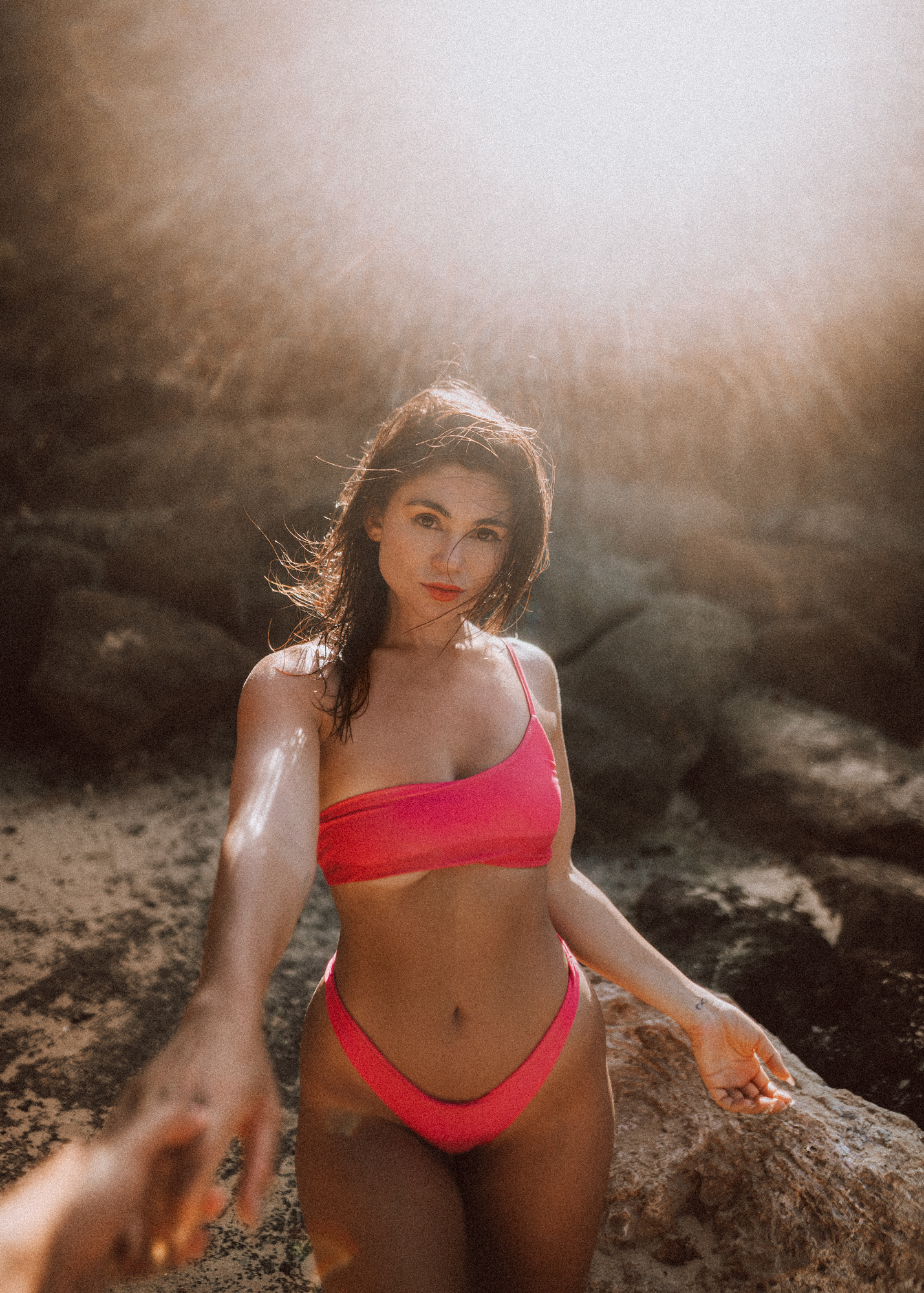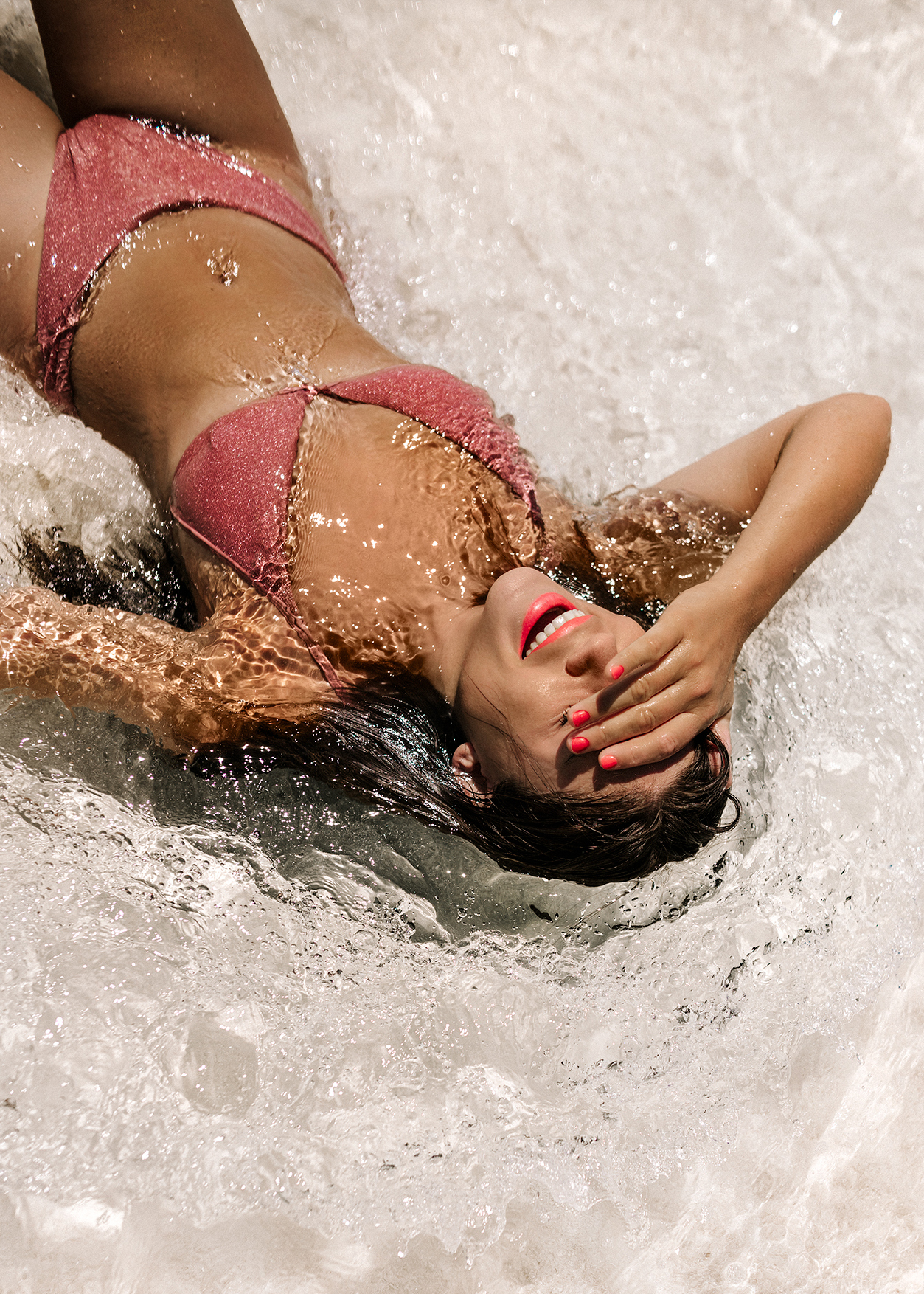 For so long I avoided wearing sunscreen by saying "there's SPF in my foundation, that's plenty", but it has been proven over and over and over again how important sunscreen is in an anti-aging routine - every study has continually confirmed that SPF is the single most important skincare ingredient. And while I love my serums, my botox, and my anti-aging devices , it is all a waste of money and time if you're not protecting your skin in the first place.
Up to SPF 50, these are the best SPF moisturizers, lip balms, powders and sprays for every kind of skin concern and budget.
1. Best Make-Up Primer SPF: Supergoop Unseen Sunscreen SPF 40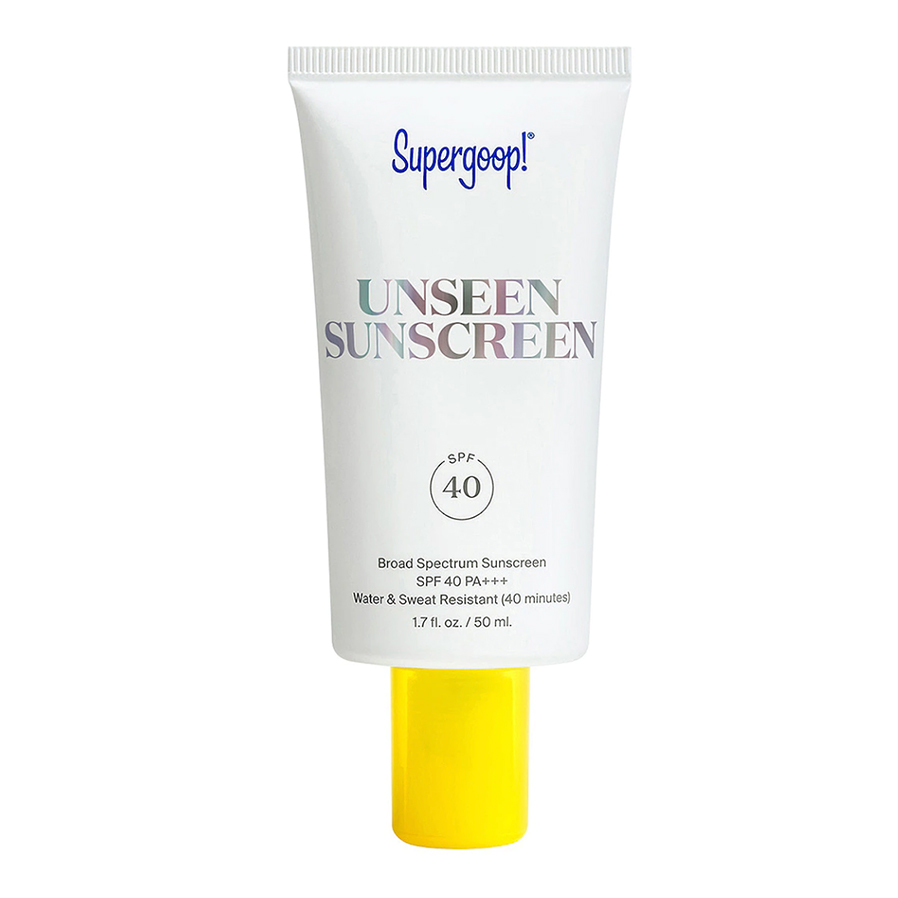 This clear sunscreen has been one of my go-tos for years because of how light and smooth it applies, I have always said that Unseen Sunscreen feels exactly like some of my favorite make-up primers, making it the perfect first step before applying a full face. This sunscreen dominates - this product has an insane 4.9 stars on Amazon, and is on the top of every best-of list. This one is my personal favorite because it is so light and smooth, and glides across your skin like a make-up primer. I typically don't even wear a primer anymore, I just put this on over my moisturizer and apply my foundation directly. I even got Brandon hooked on Unseen and now we both keep this in our travel bags at all times.
I have also heard from friends that this is one of the best sunscreens for darker skin tones (I can't personally attest to this one) because it is clear, it doesn't leave a white cast even on very dark skin!
Shop on Sephora here / Shop on Ulta here / Shop On Amazon Here
2. Best SPF For Reapplying: Kate Sommerville UncompliKated SPF 50 Setting Spray
The first time I saw Kate Somerville UncompliKated SPF 50 Face Sunscreen and Soft Focus Makeup Setting Spray (Quite a full name!) I thought it was such a cool product! One place I have struggled is in my SPF reapplication throughout a long day - once your makeup is perfectly applied, how do you reapply your sunscreen? I love how EASY this spray is, and the double-duty of being both a setting spray and an additional layer of SPF.
I will take this spray with me on sunny trips and reapply a couple of times in the day to keep my make-up fresh and my skin protected. This sptray also have hyaluronic acid, and the "Light Diffusing Silicone Powder" softens the appearance of lines and wrinkles, reduces shine and provides a matte finish.
Shop on Ulta Here / Shop on Amazon Here / Shop on Nordstrom Here
3. Best Full Coverage Tinted Mineral: Avene Haute Protection Tinted Compact SPF 50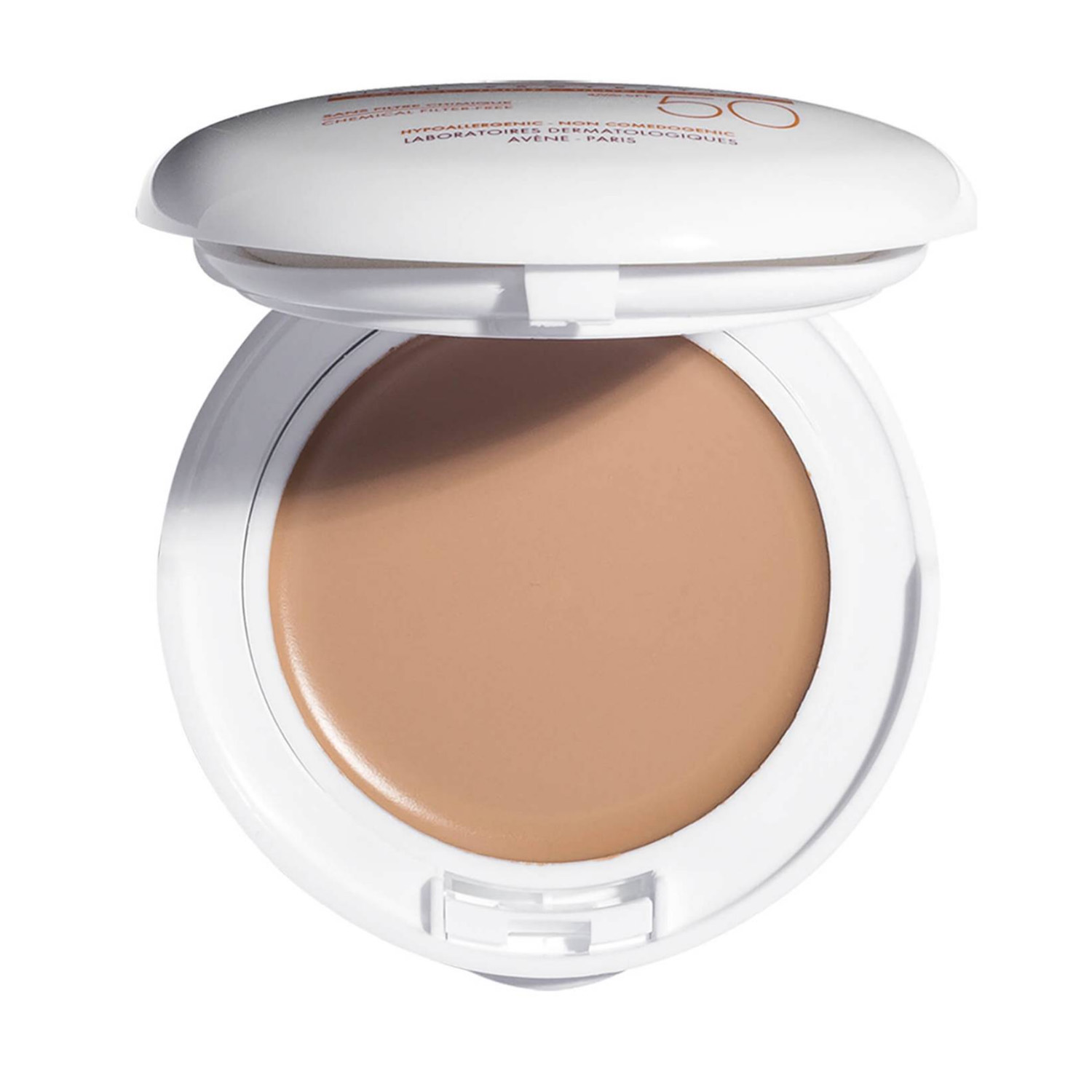 Avéne is a brand from a village in France, where a natural thermal spring has been known for hundreds of years to have healing properties, and is the base of their skincare. This SPF 50 Compact applies like a foundation, and I have found it does an excellent job both evening my skintone and fully covering blemishes.
Haute Protection comes in two shades - I found the Beige shade to be a great match for my light to medium skin, with the Honey color made for medium to darker skin tones. I would, however, avoid this one if you are very fair - the color will likely be a bit too dark for you.
Shop on Dermstore Here / Shop on Amazon Here / Shop on Walmart Here
4. Best Light Coverage Tinted Mineral Sunscreen: CeraVe Tinted Sunscreen SPF 30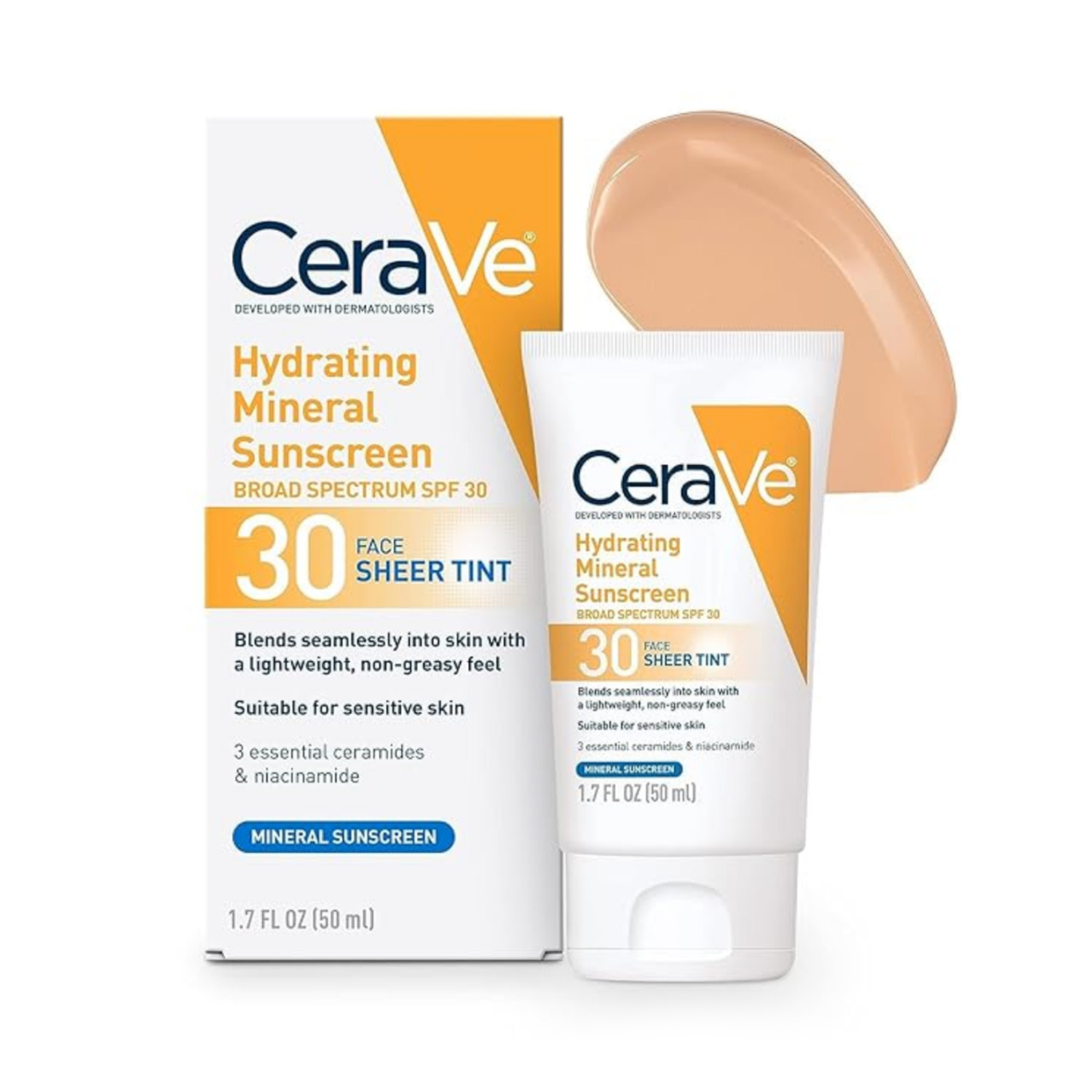 Cerave is one of my favorite value skincare brands - they consistently have great products for great prices - I use their facial cleansers daily. I tried this sunscreen for the first time on my honeymoon in Greece last year and loved the light tint that evened my skin tone without needing a foundation. According to Cerave, the tint is a universal color and blends into all skin tones - the brand says this sunscreen is much better on darker skin tones than a white sunscreen, as it avoids the dreaded white cast (I can only speak for my own skin, into which this blended *flawlessly*)
The hydrating part of this mineral sunscreen comes from Hyaluronic Acid and 3 Caramides, as well as Niacinamide to help calm skin. We love a multitasker!
If you are planning a trip to Hawaii or another tropical destination, This mineral sunscreen is reef-safe and Hawaii and Key West compliant!
Shop on Walmart Here / Shop on Amazon Here / Shop on Ulta Here
5. Best Budget SPF Under $15: Neutrogena Clear Face Liquid Sunscreen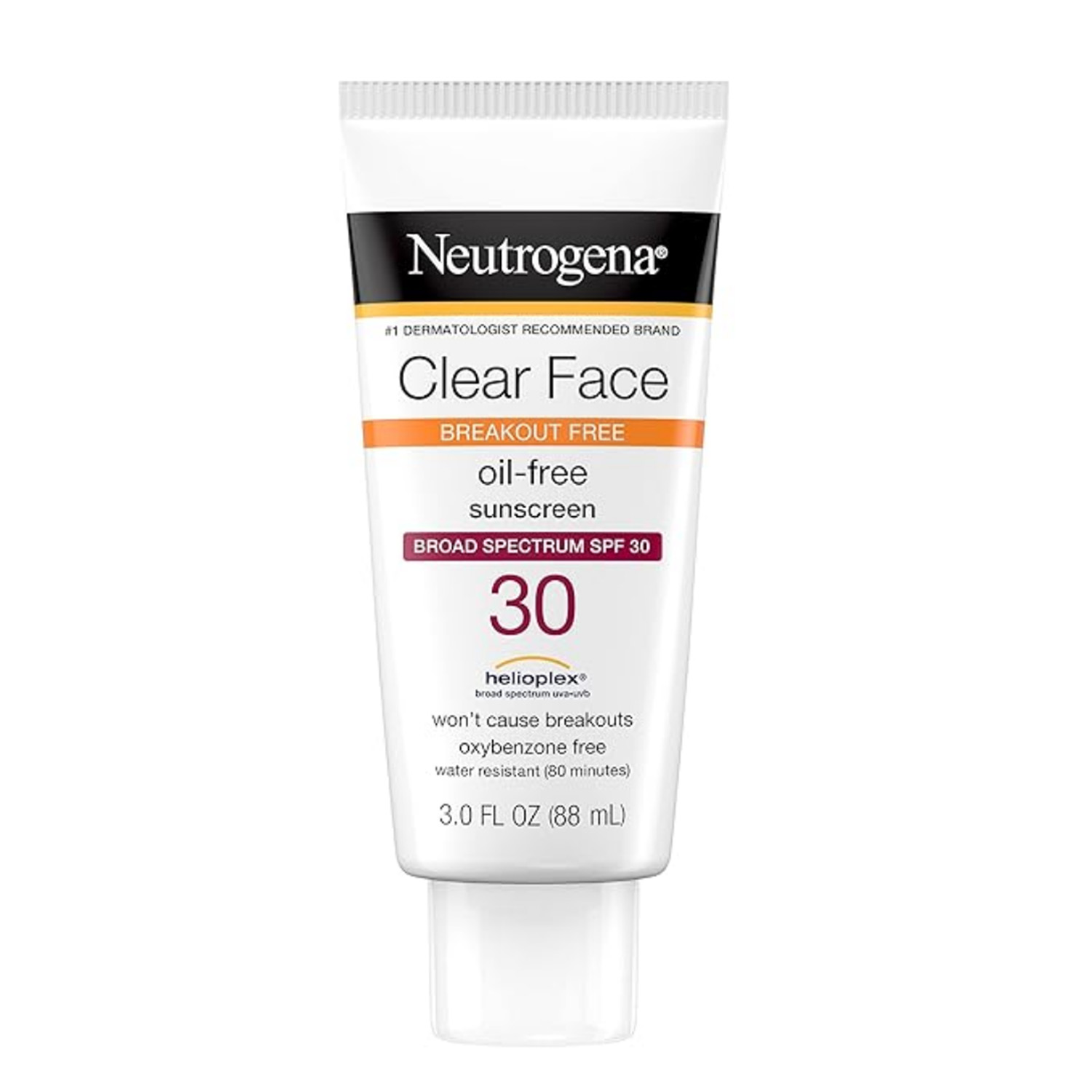 Neutrogena is a classic! A legacy brand that has always been known for providing a quality product. Although Cerave gives them a great competition in the lower-priced skincare category.
As the name says, this is a great sunscreen for those with acne-prone skin that are concerned about products causing breakouts, and is one of the best-selling sunscreens in the US. The formula is Non-comedogenic (won't clog pores), breathable, and an all time classic!
Shop on Target Here / Shop on CVS Here / Shop on Neutrogena Here
6. Best Hydrating: Peter Thomas Roth Water Drench Hyaluronic Hydrating Moisturizer SPF 45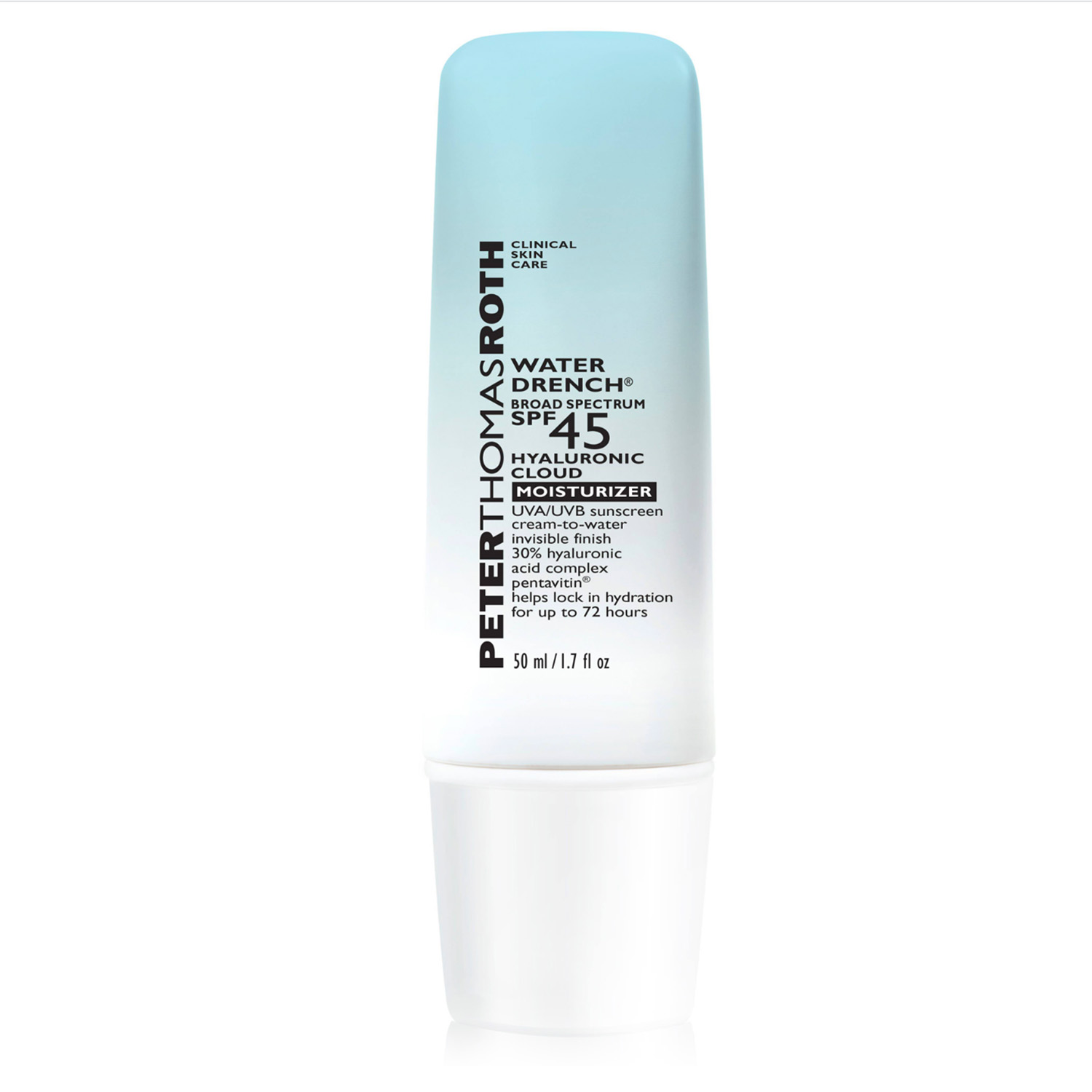 I had never heard of the Peter Thomas Roth brand previously, but I received this sunscreen and it quickly became a new favorite of mine! The texture of the product is very light, like a water gel, and feels calming and hydrating on my skin - the brand says that it is made with "30 percent hyaluronic acid complex", which you can really tell by how it applies.
I always use water drench as a moisturizer/sunscreen combo when my skin is feeling particularly dry or irritated and I find it to be an incredibly calming product. If your skin is dry or gets irritated easily, give this one a try! It's particularly perfect for winter ski trips that chap your skin.
Shop on Sephora Here / Shop on Amazon Here / Shop on Revolve Here
7. Best Lip Balm With SPF: Jack Black Intense Therapy Lip Balm SPF 25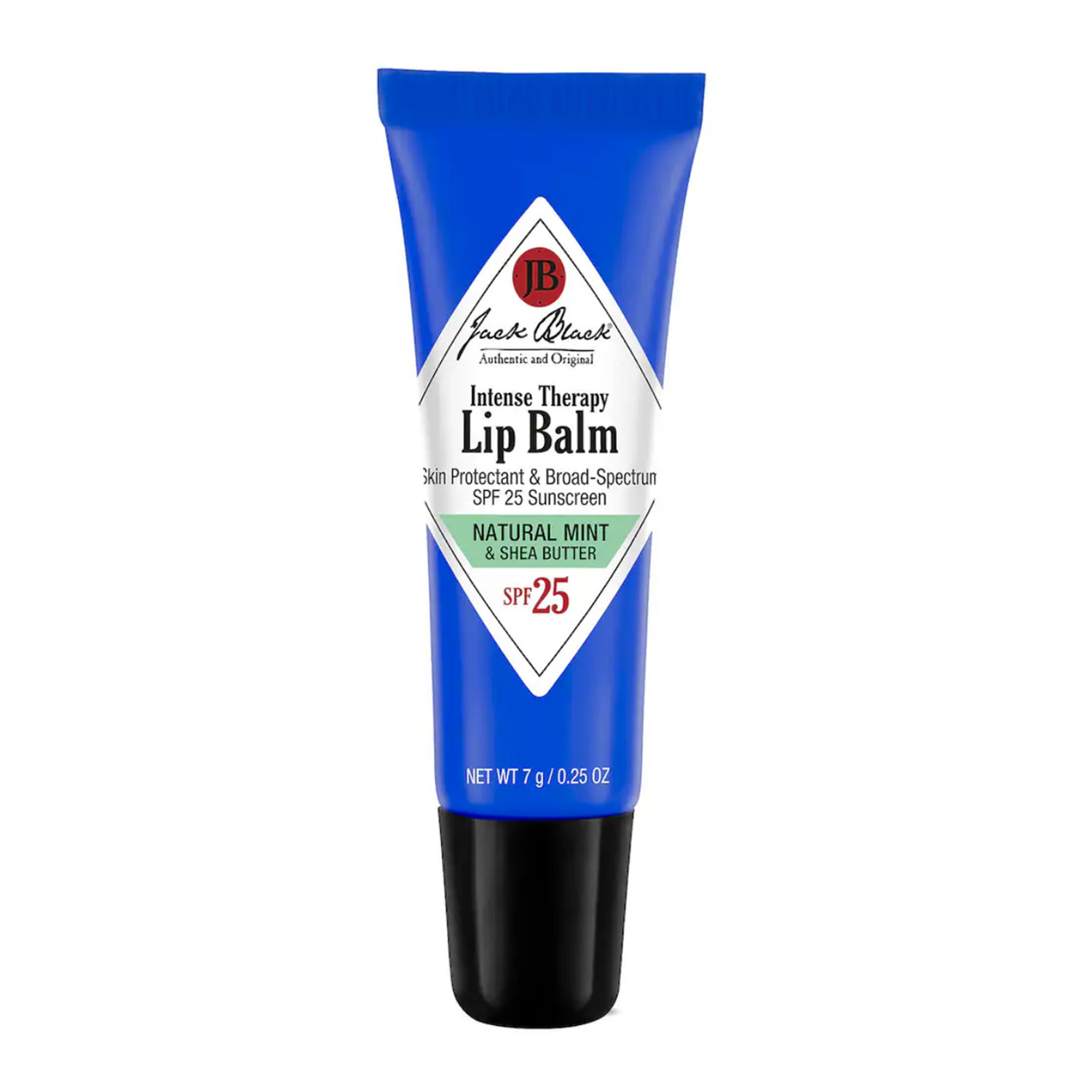 I need to admit, it wasn't until very, very recently that I realized I was leaving my lips unprotected, I am always wearing a lipbalm when I'm not wearing make-up, and lipstick or a plumping lip gloss when I am - but in looking through my products, none of them have SPF. After a quick search, I immediately added Jack Black Lip Balm to my cart - it is the top rated SPF lip product on Sephora, comes in a ton of fun flavors and only $10 a tube (There is a 3 for $22 special on Amazon here!)
If you would prefer more a gloss, I have my eye on this insanely highly rated Dr. Lara Devgan Scientific Beauty Platinum Lip Plump SPF 30, which seems to have an incredibly plumping effect as well as an SPF. This one is a bit pricy for a lipgloss, but I'm looking at her for my next splurge.
Shop on Sephora Here / Shop on Amazon Here / Shop on Target Here
8. Best Powder: bareMinerals Veil Setting Powder SPF 25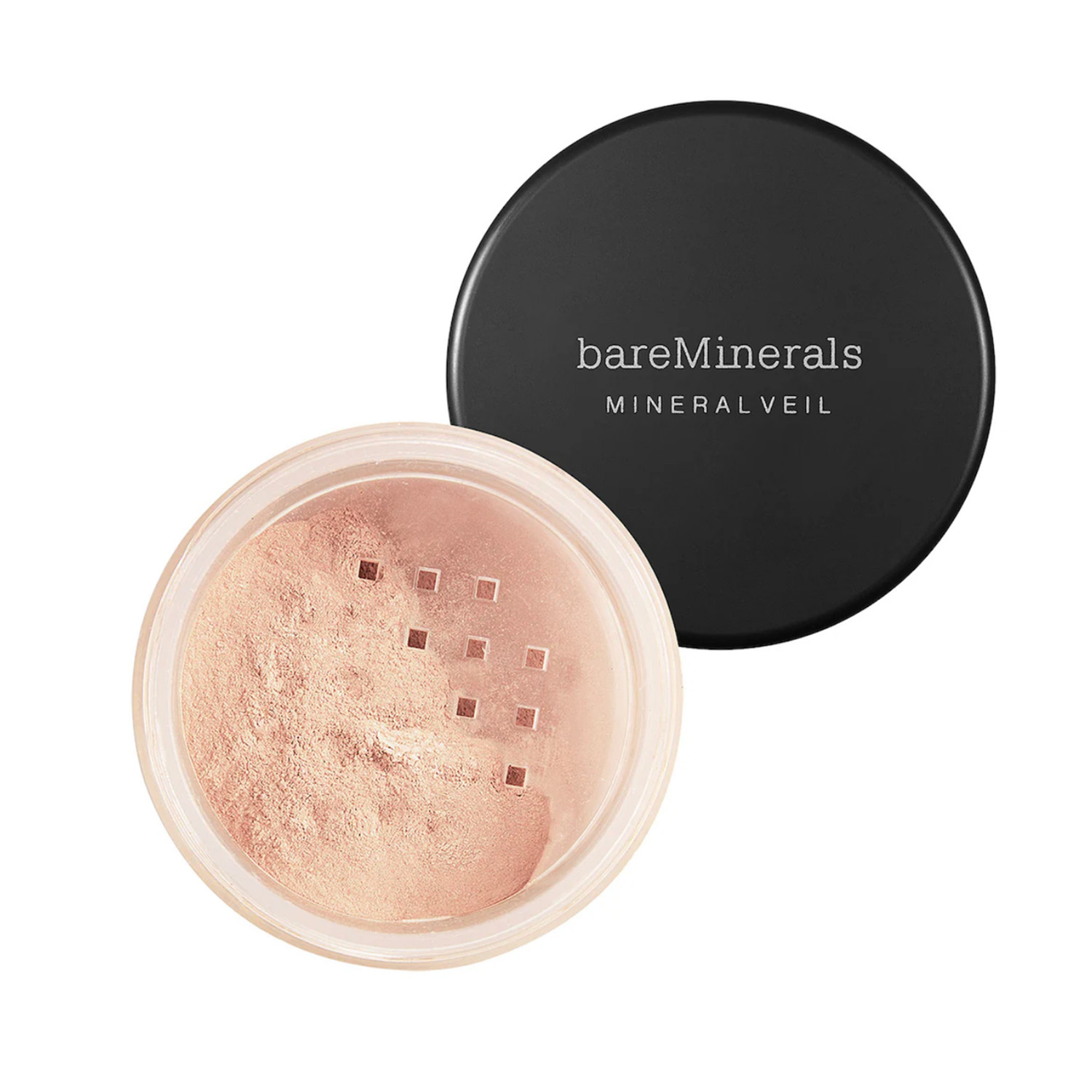 I first tried SPF Setting Powder with Supergoop 100% Mineral (Re)setting Powder, but ultimately I didn't find the applicator to be great good enough for the product to be truly functional. I love the idea of a setting powder with additional SPF though, especially as a product that could be reapplied on a long day easily without messing up make up, so I looked for a better option and found bareMinerals.
The brand has been around forever, and has always done what is does well - particularly in powders. This is a perfect product for humid summer days or tropical travels, and to refresh your make up and protection to keep looking fresh.
Shop on Sephora Here / Shop on Amazon Here / Shop on Ulta Here
9. Best BB Cream: IT Cosmetics CC+ Cream Color Correcting Foundation with SPF 50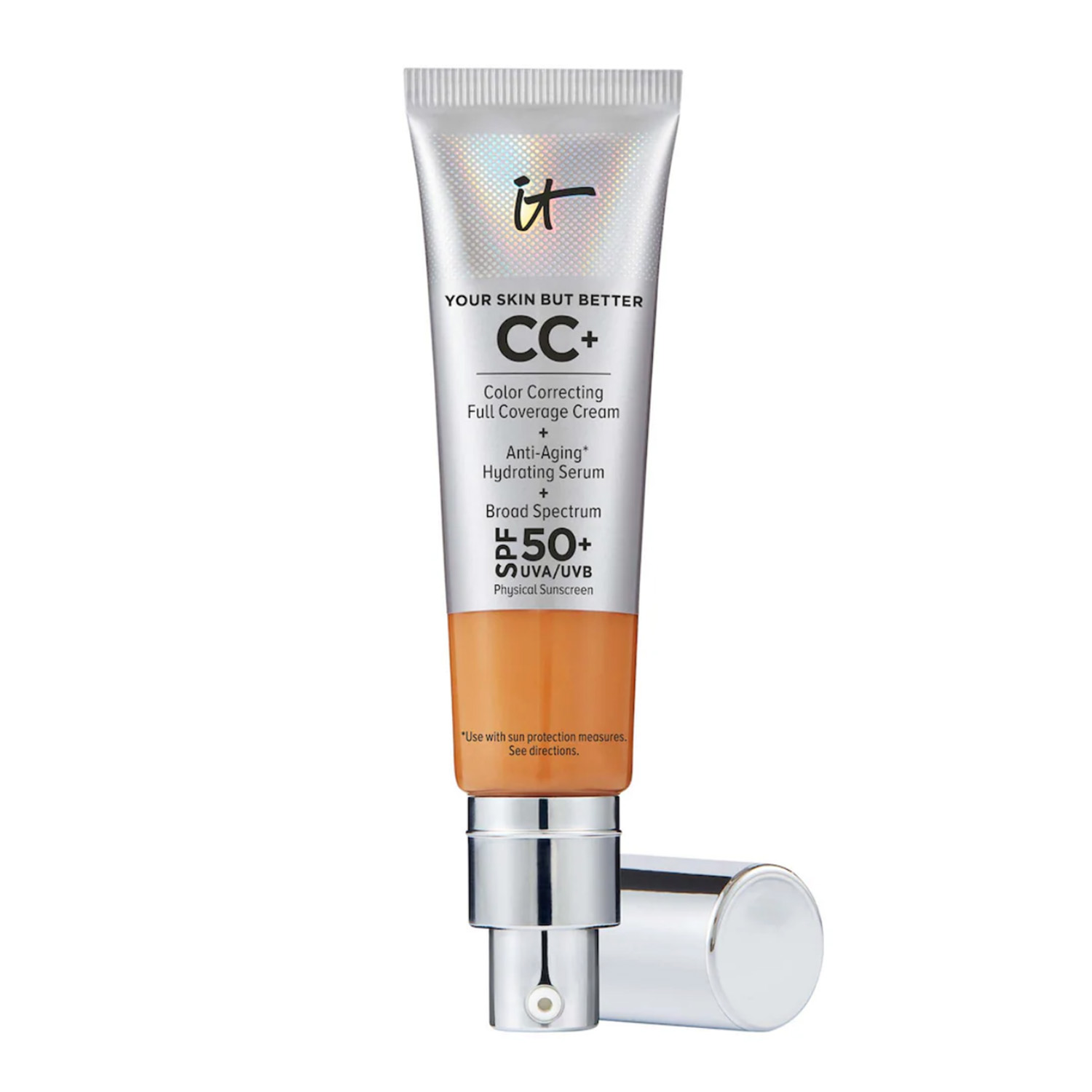 It Cosmetics CC+ Cream is the #1 SPF foundation in America is a full-coverage foundation, and unlike some other products, comes in a wide spectrum of colors for everything from very light to very dark skin tones. I love a BB / CC Cream over a traditional foundation for lighter days where I don't feel like I want to wear as much make-up
This is a great all-in-one product that provides full coverage and full protection. The foundation can be a bit thick if applied with a heavy hand, so make sure to start light and build with this one!
Shop on Sephora Here / Shop on Amazon Here / Shop on Ulta Here
10. Best For Sensitive Skin: EltaMD UV Face Sunscreen SPF 46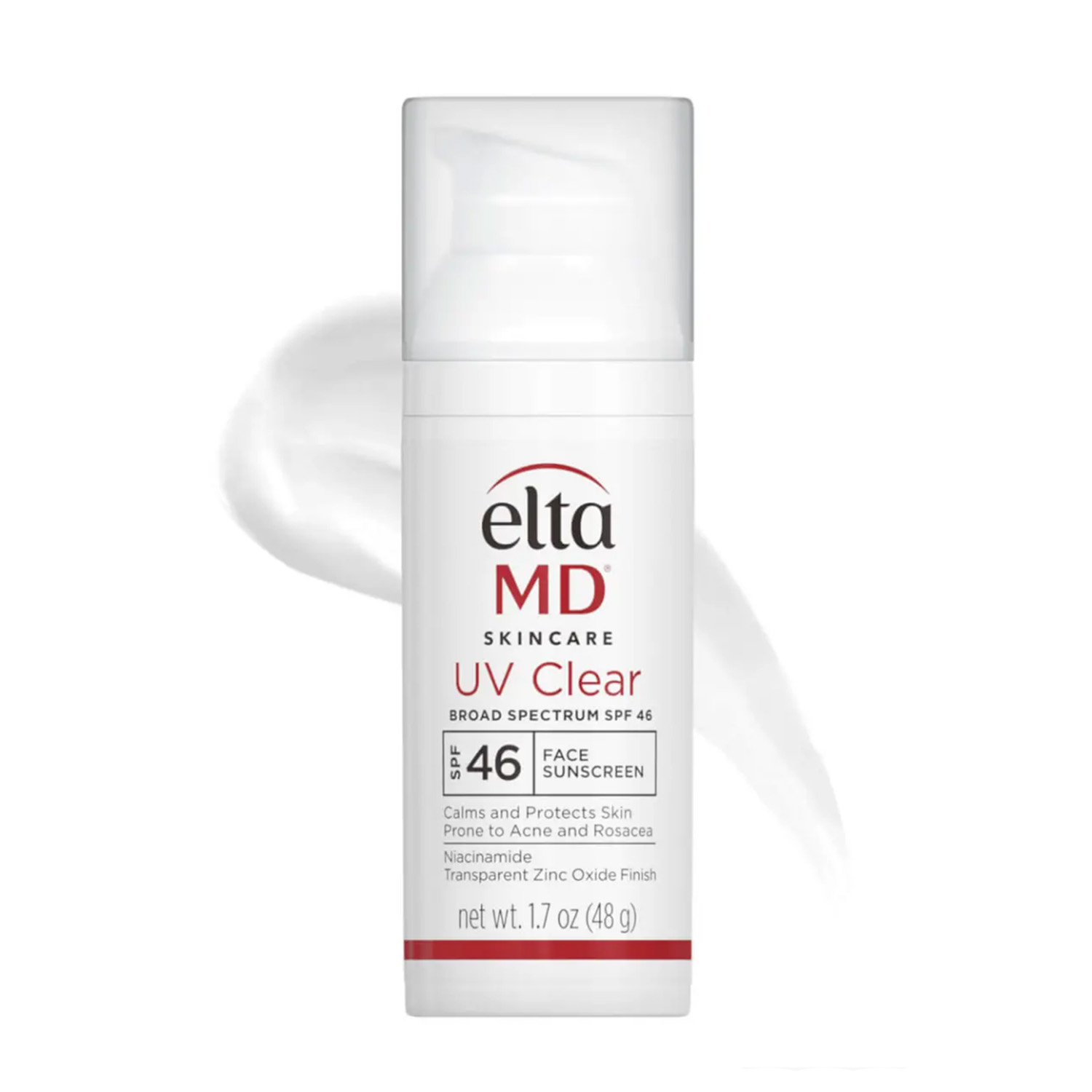 EltaMD is consistently one of the most recommended brands for sunscreen. While this doesn't have the mineral tint or makeup primer feel of some of my earlier picks, If your skin is sensitive and prone to product reactions, this would be my first choice - everyone loves this sunscreen! The brand specifically calls out this sunscreen for oily and acne-prone skin.
To prevent irritants, EltaMD Sunscreen is Fragrance-free, and includes sodium hyaluronate to moisturize and lactic acid to clear pores and reduce shine.
Shop on Dermstore Here / Shop on Amazon Here / Shop on Walmart Here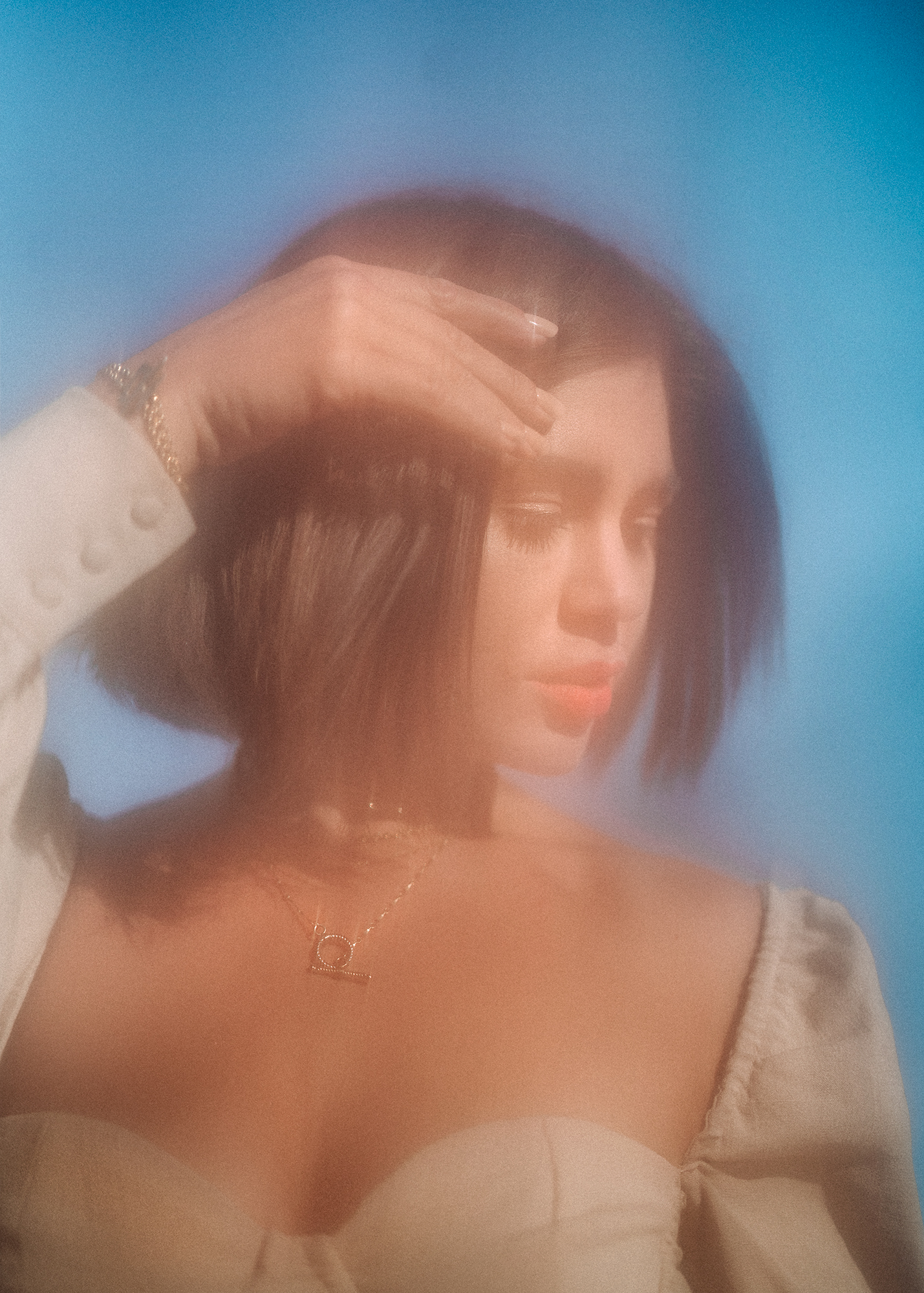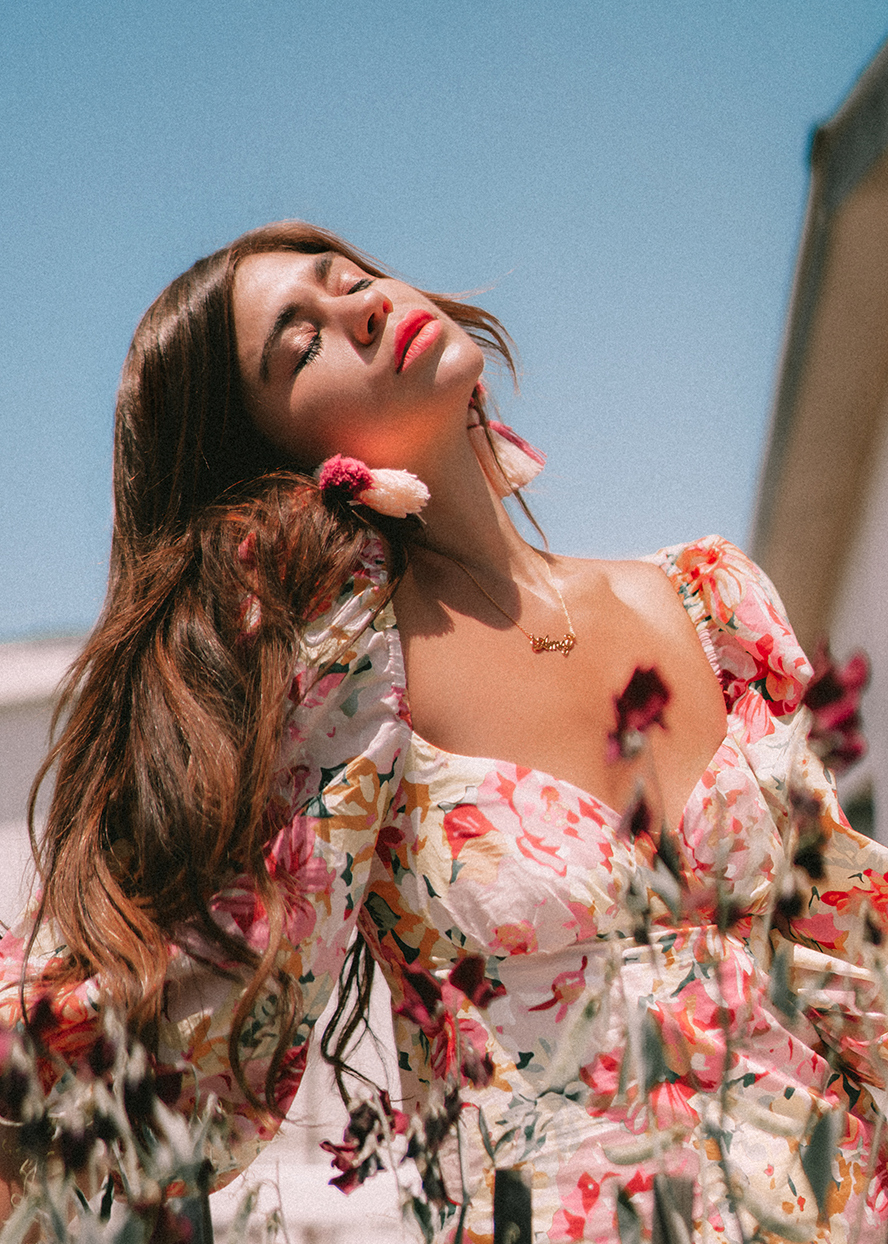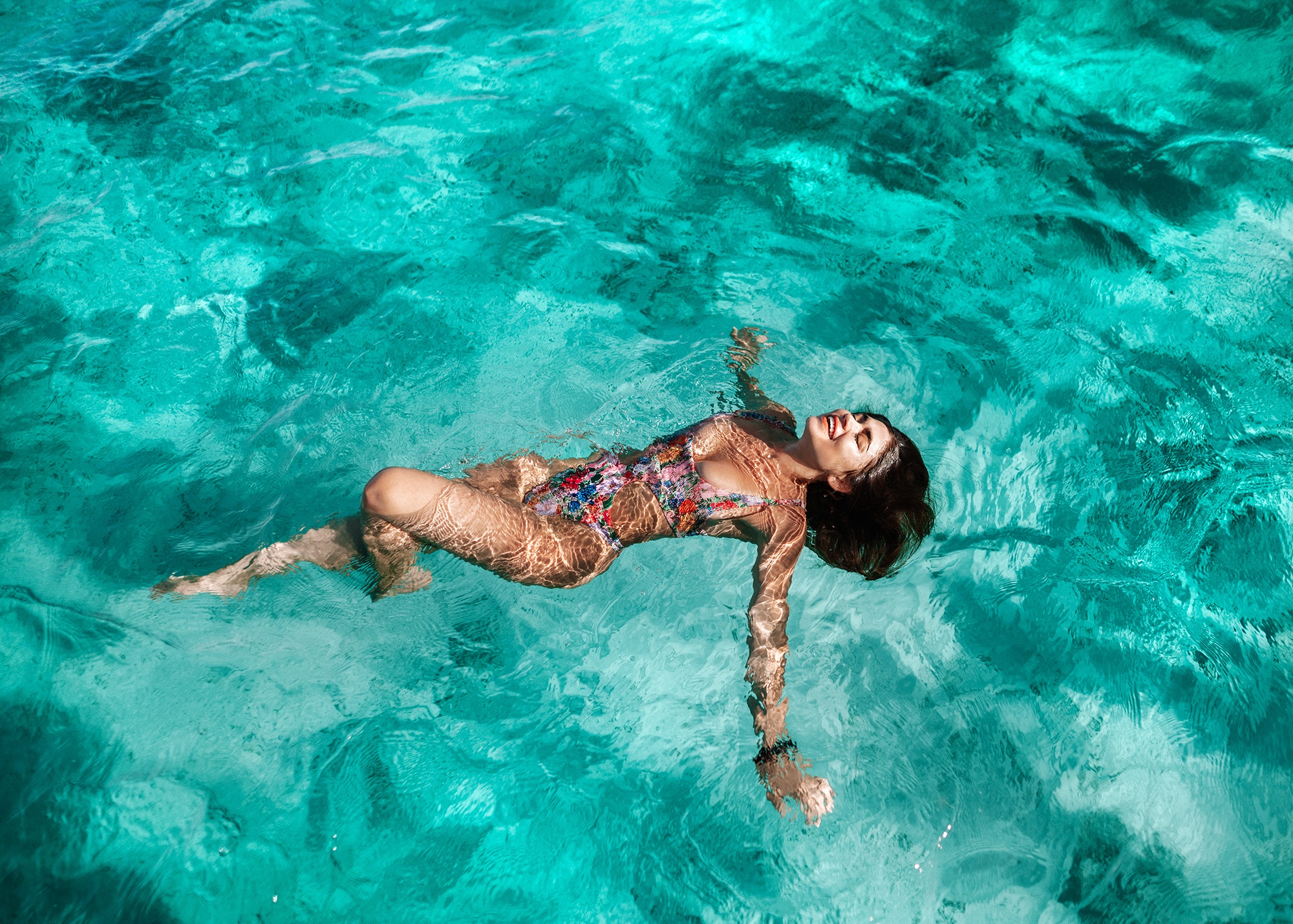 Love the sun, but bask responsibly! xx