November 29, 2021 Hotels And Resorts
Four Seasons Hualalai Resort: The Ultimate Luxury Hotel on Hawaii's Big Island
Hello, Island of Hawaii!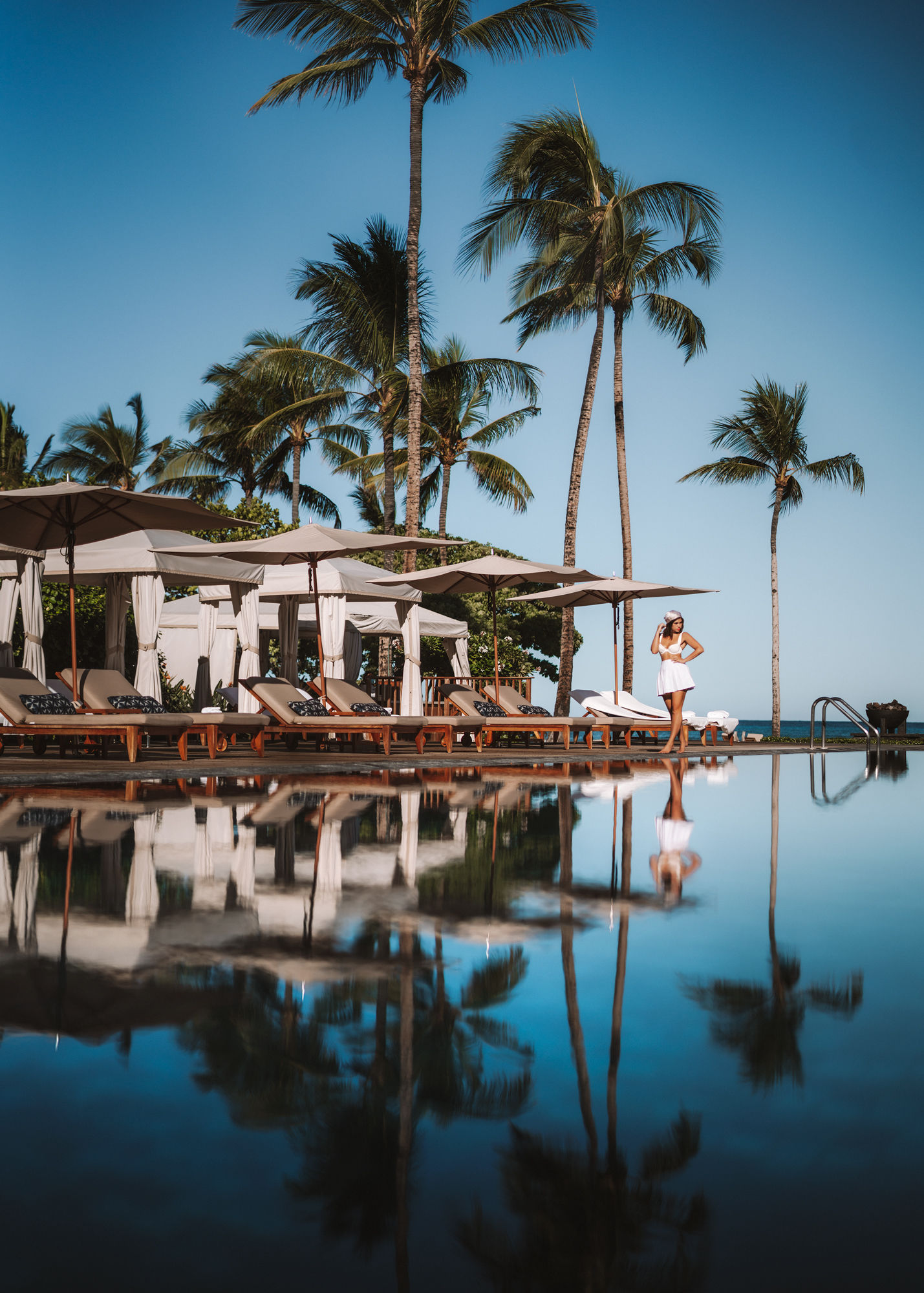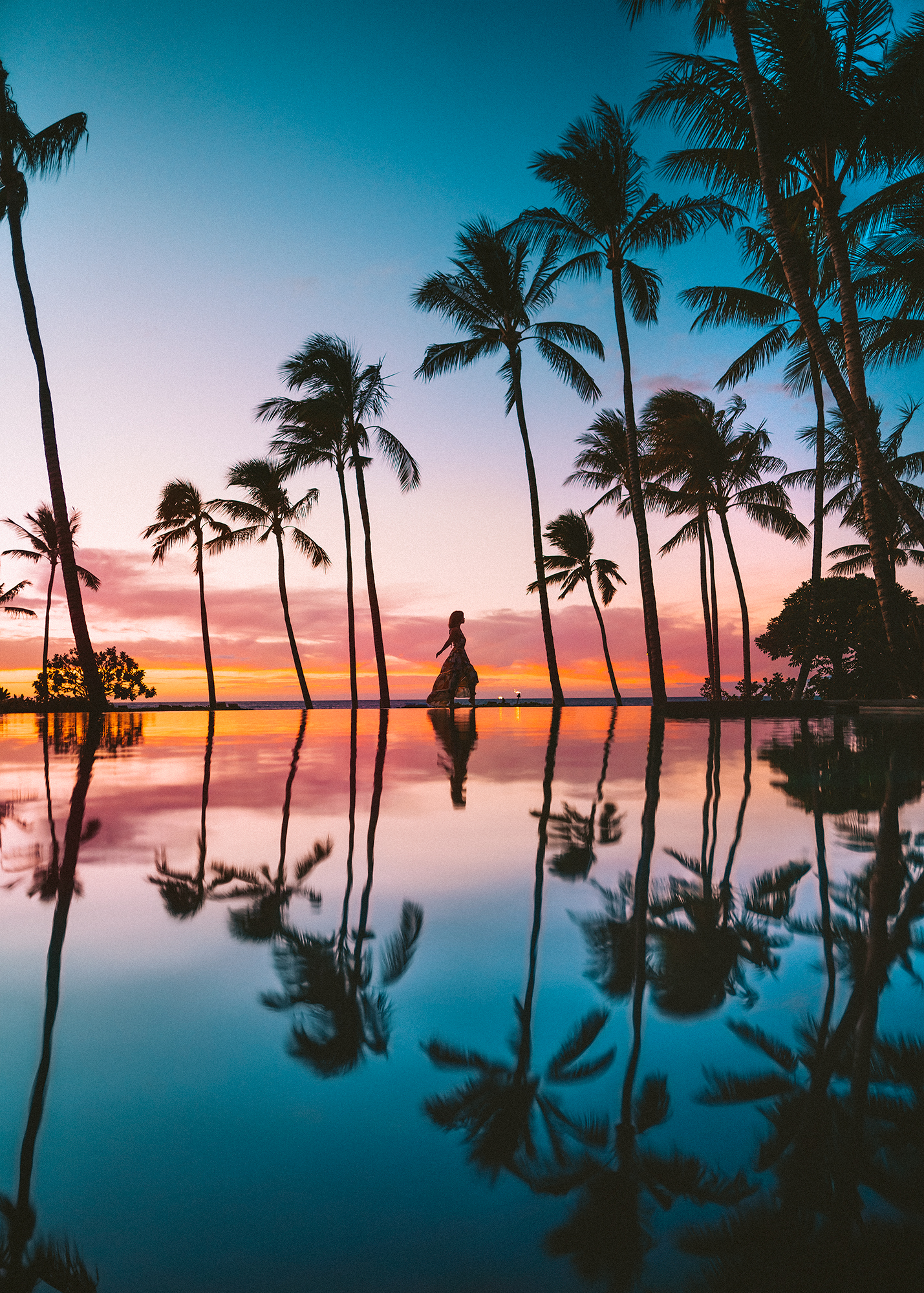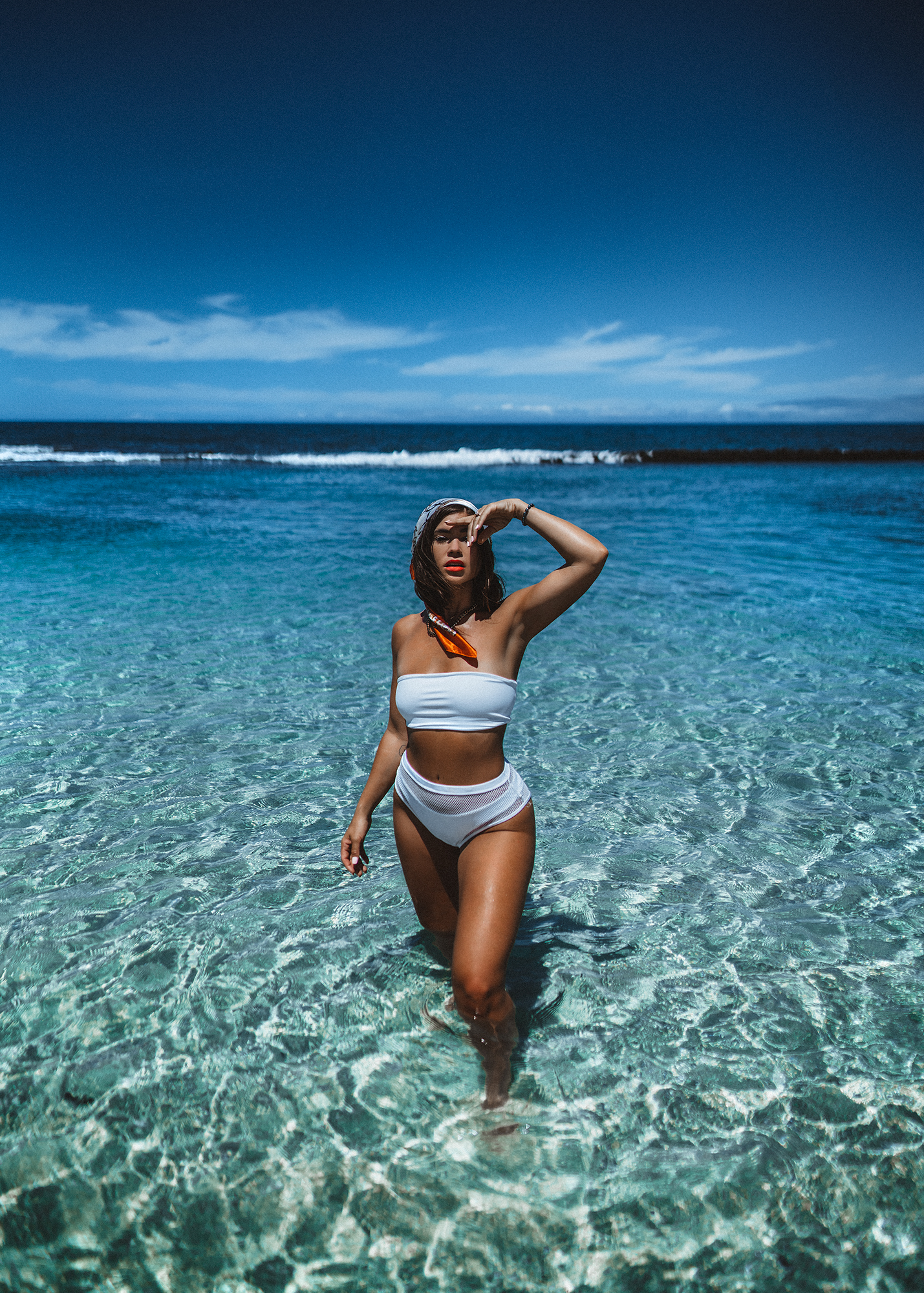 We first visited The Four Seasons Resort Hualalai a couple of years back, and the hotel made such a huge impression on us that we consistently mention it when asked what our favorite hotels are. We have been lucky to stay in some amazing hotels around the world - from the Four Seasons Bora Bora to the St Regis Maldives to the Shangri-La Paris - and after all of these experiences and 5 years of full-time travel, what makes a hotel stand out this much?
Almost all island resorts are beautiful - but what makes Hualalai stand out so much is that it is genuine.
So many high-end hotels and resorts have an artificiality to their service that, while is luxurious, doesn't always feel the most authentic. And while we are not your average guest at a luxury property - we are used to doing most things ourselves, and not living a travel life of only luxury. But when it comes to service, there is nothing I appreciate more than someone just being real, and friendly in an authentic way. From our first trip here, that was one of the first things we noticed. From the bellmen to the restaurant servers, the entire staff genuinely seems to be happy to be here - and that makes a world of difference.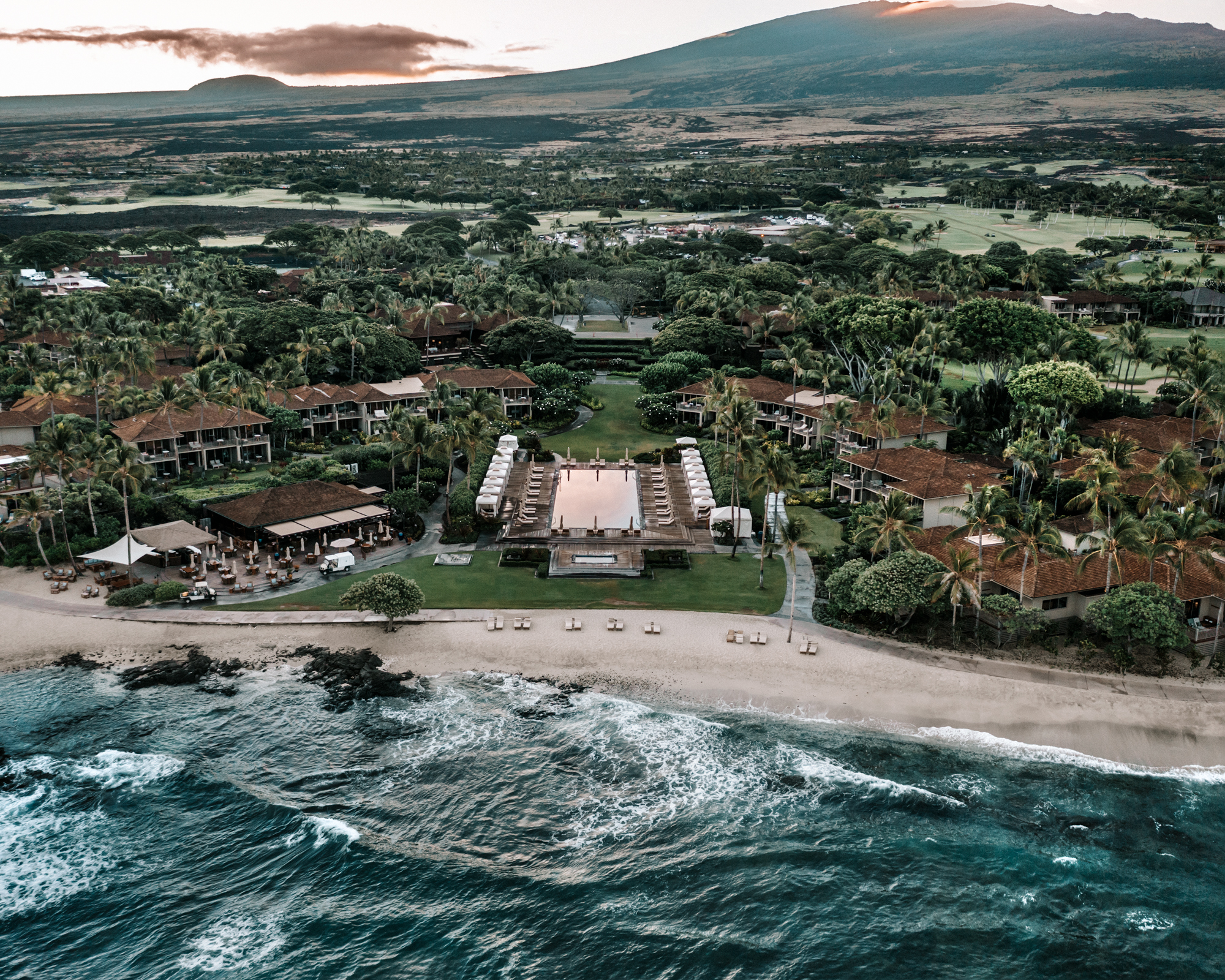 When Hawaii closed its borders in 2020, Hualalai took the downtime to complete a massive renovation - including remodeling all of the guest rooms and adding an entirely new infinity pool overlooking the King's Pond. When your favorite hotel gets this much work done - you know you need to make a trip back!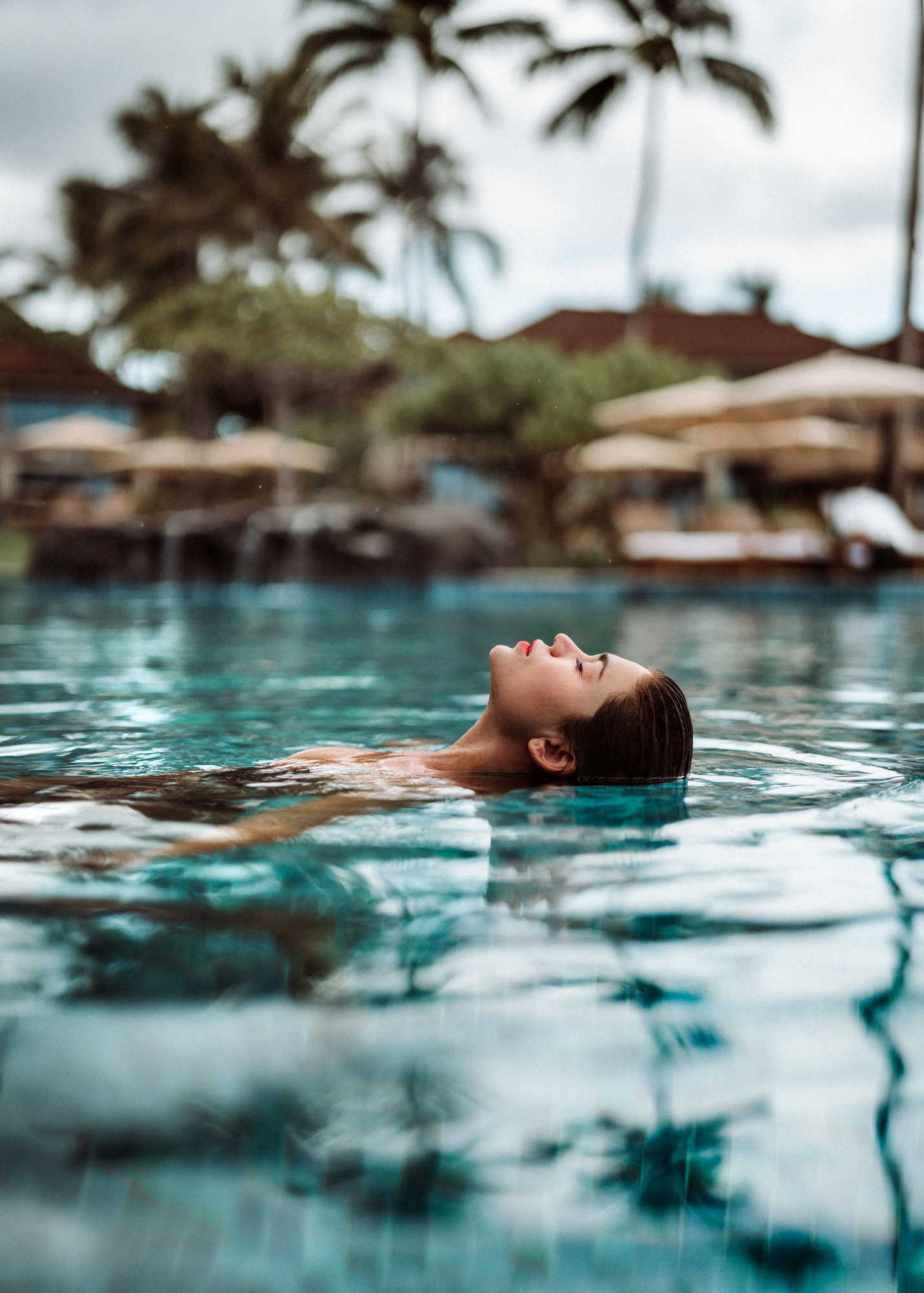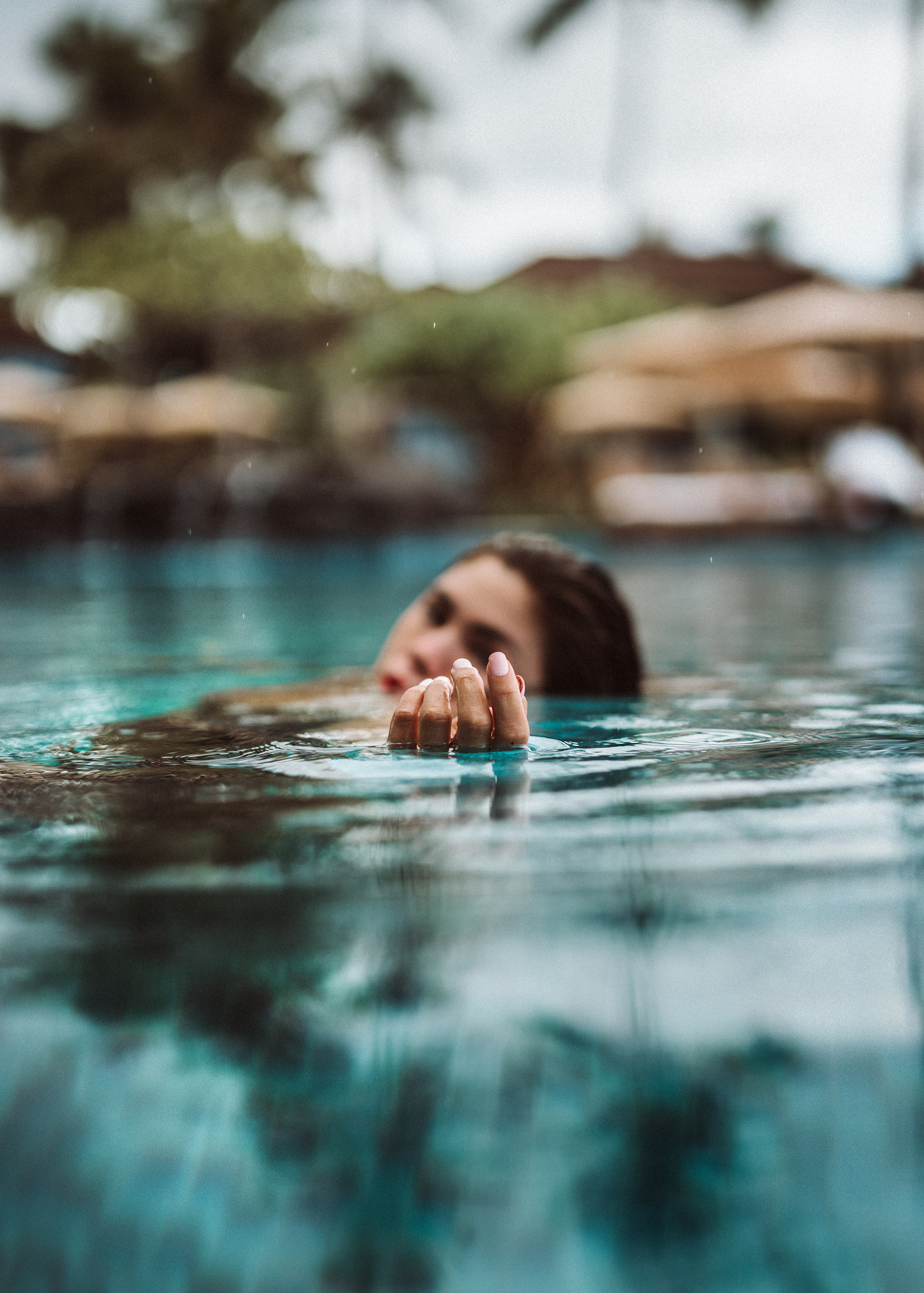 Welcome to my happy place.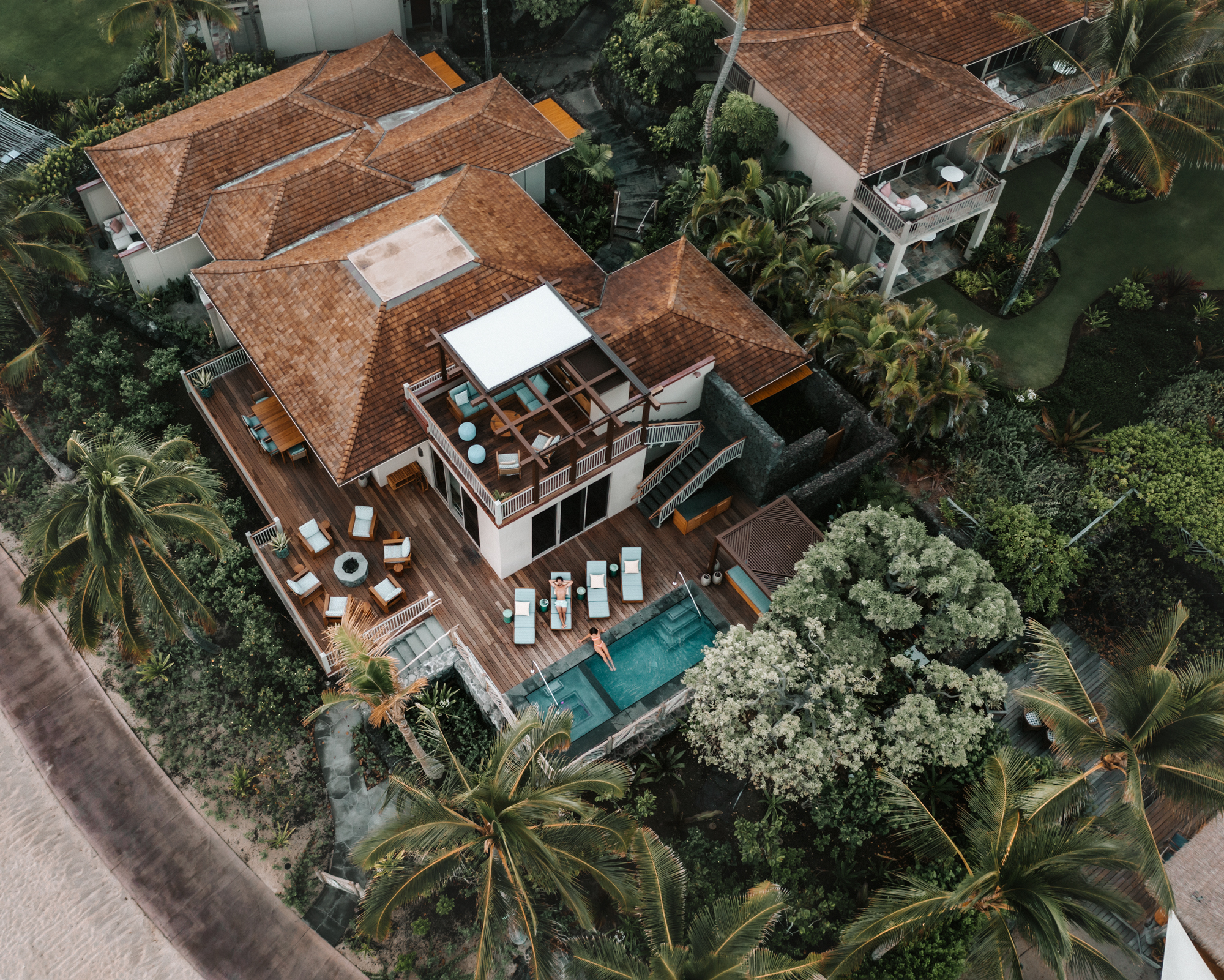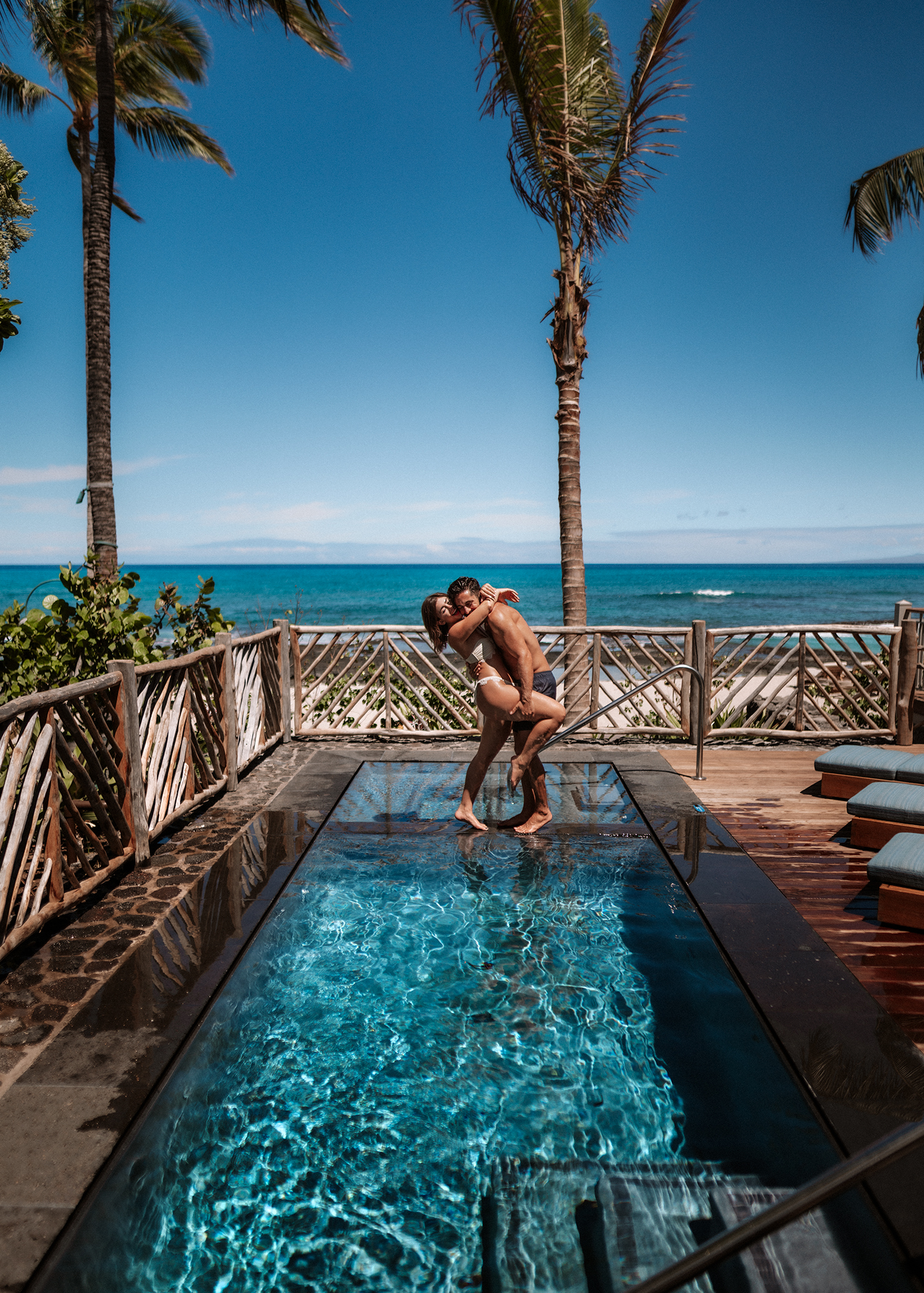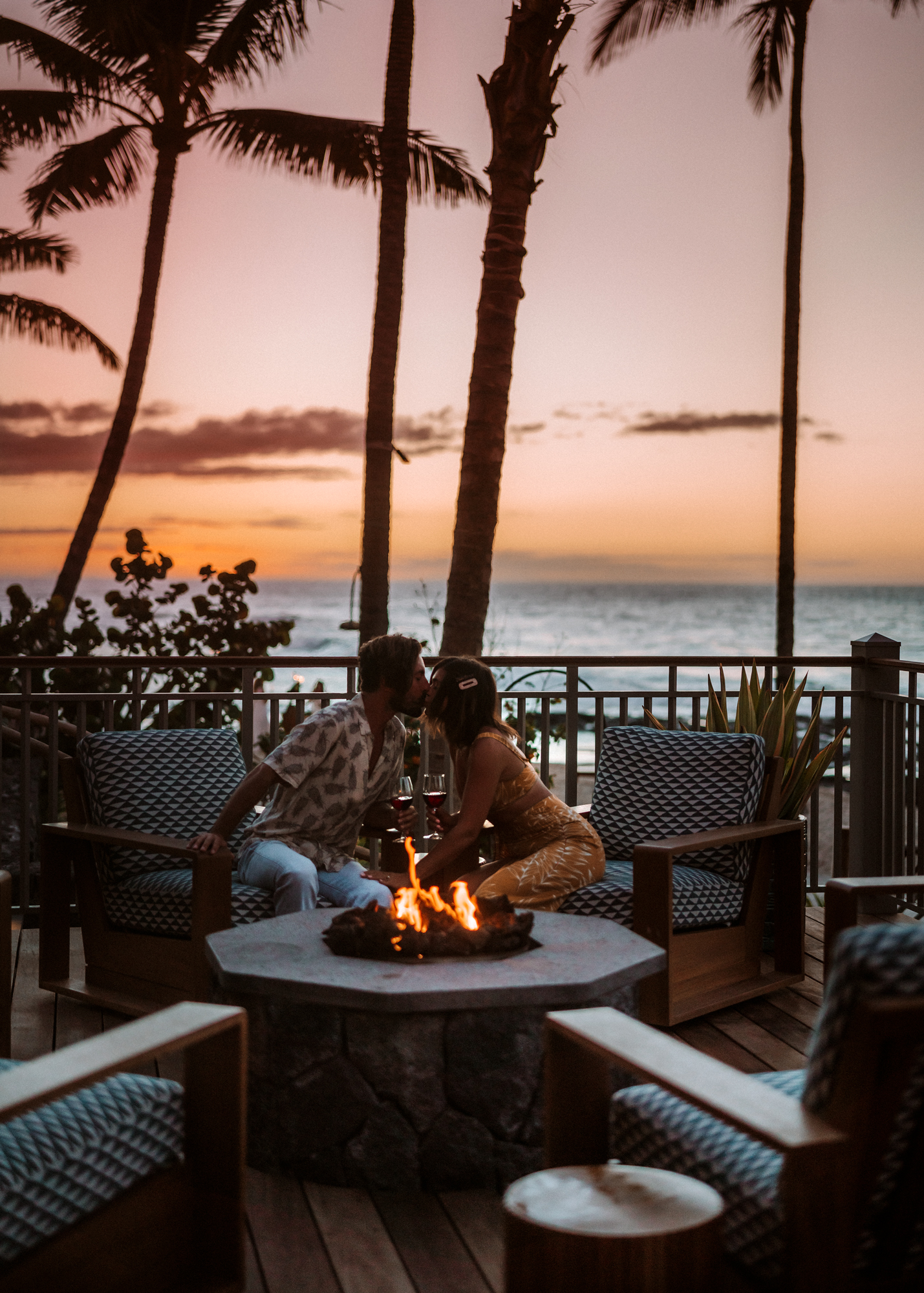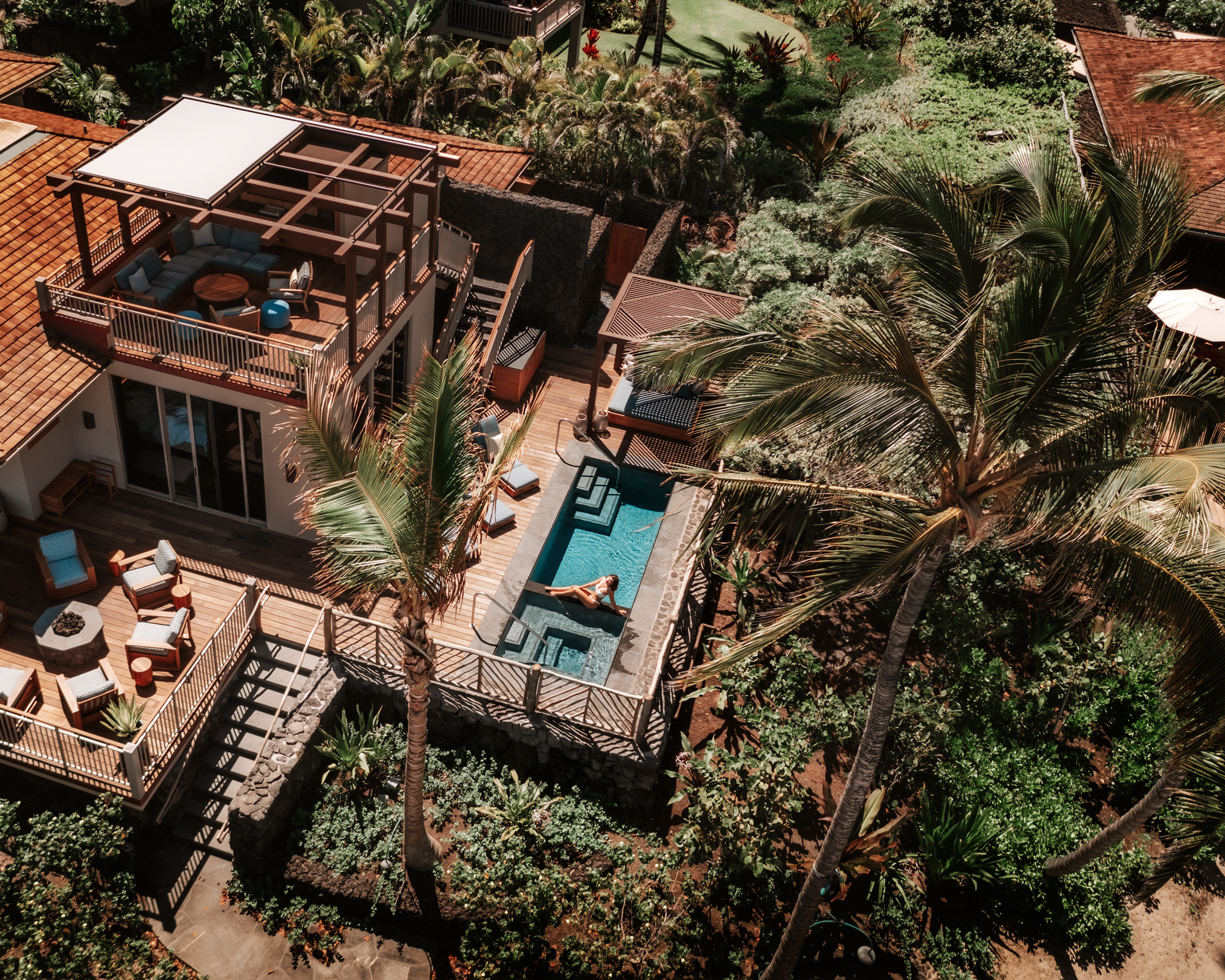 This time, instead of a hotel room, we had an entire hotel HOUSE - in The Ho'Onanea Villa. Our villa was about 5 times the size of our apartment in LA and has it's own private pool, hot tub, fire pit, sun deck, outdoor dining area, full kitchen and living room, indoor and outdoor showers - all incredibly private but right overlooking the incredible beach - and perfect for watching sunsets.
Click on the video below for a full tour: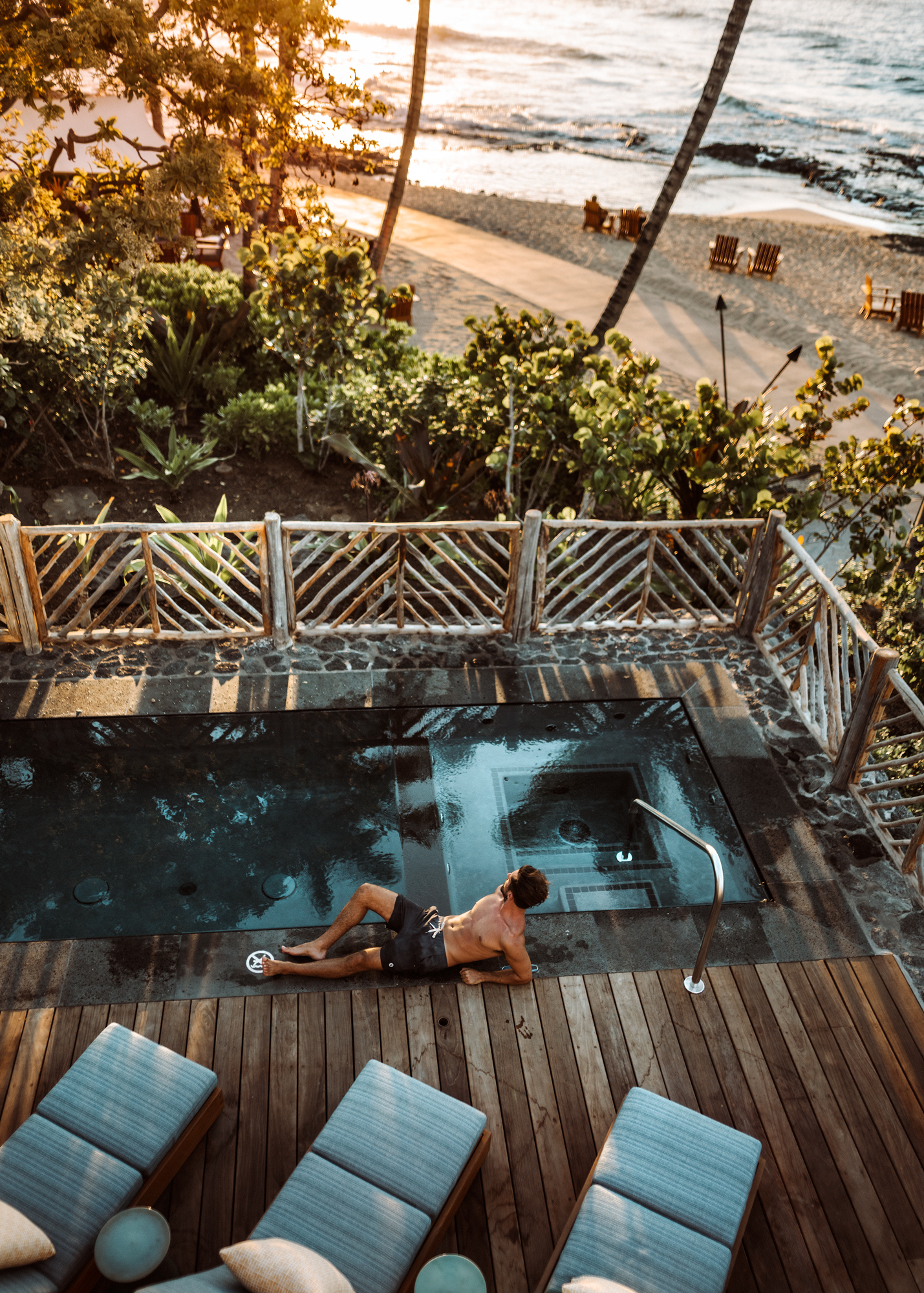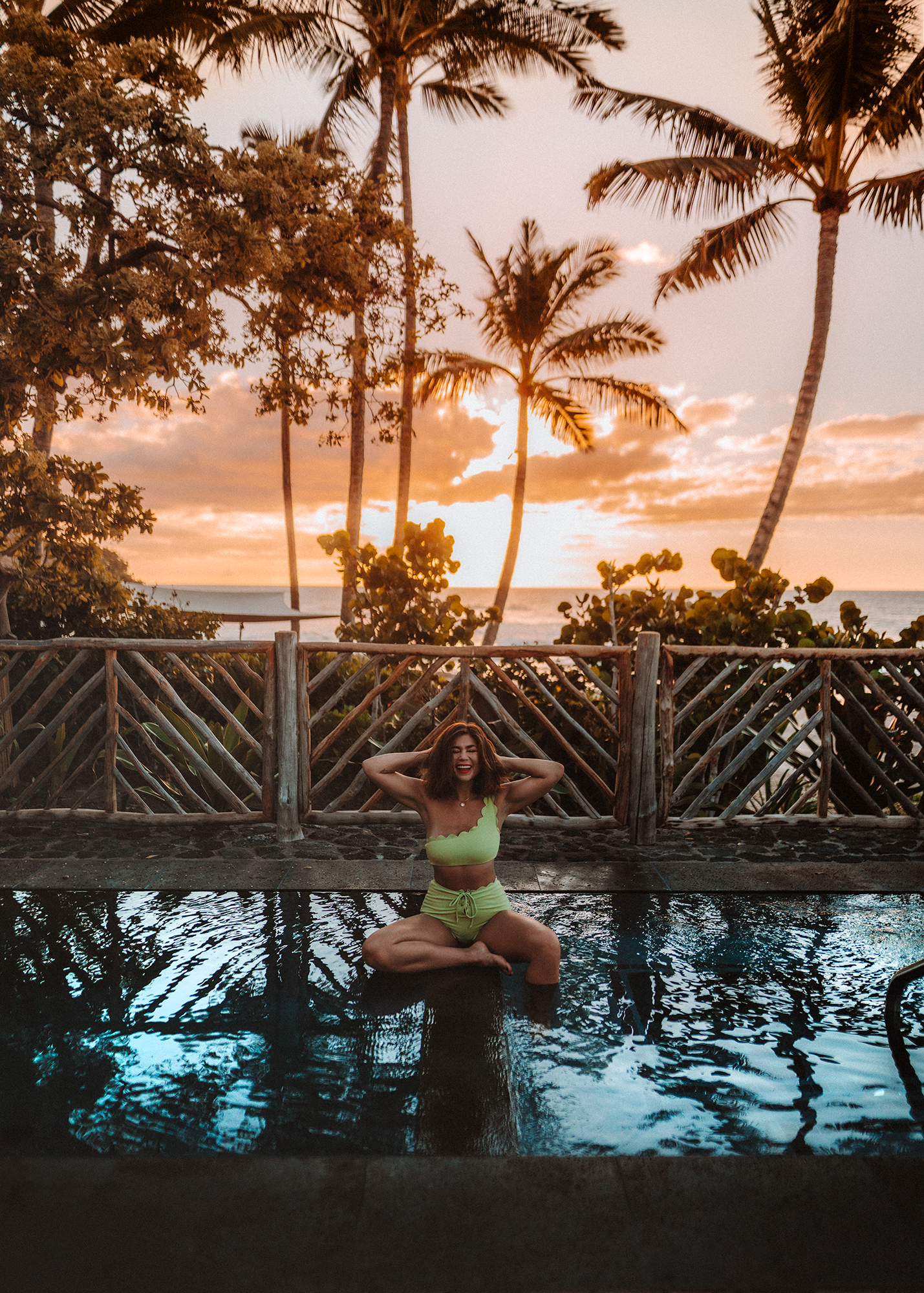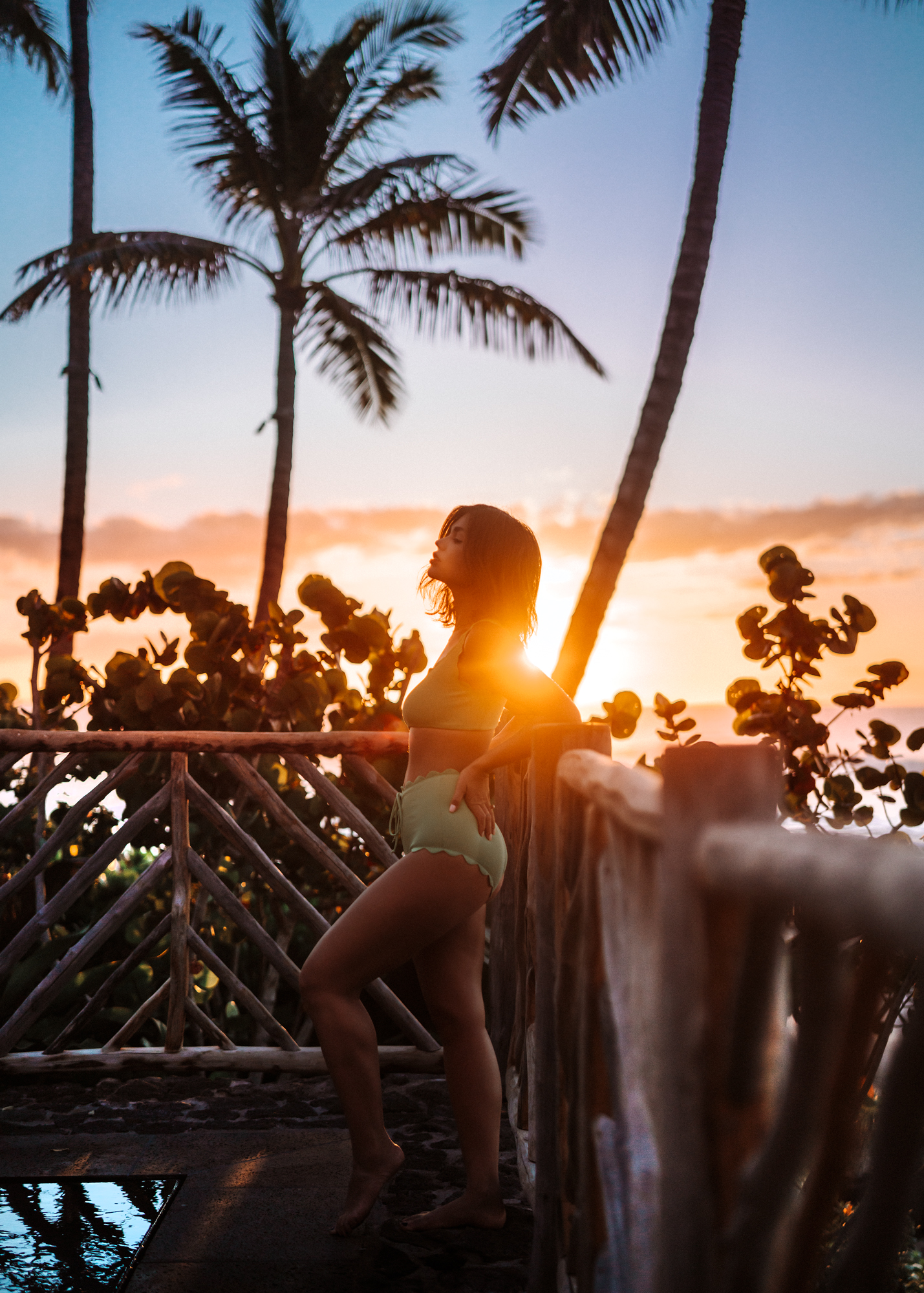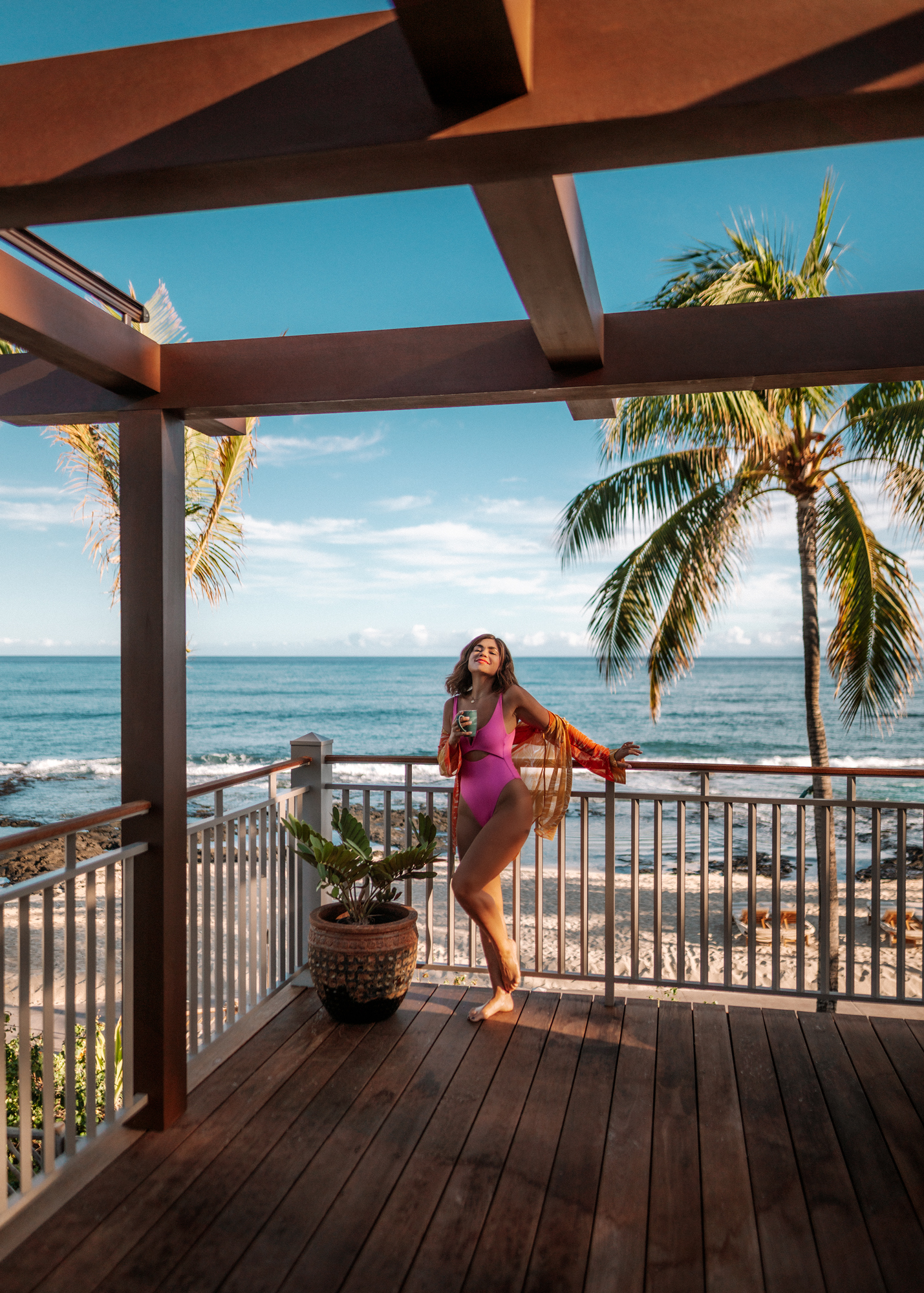 This villa is situated to be both the perfect spot for both sunsets and sunrises.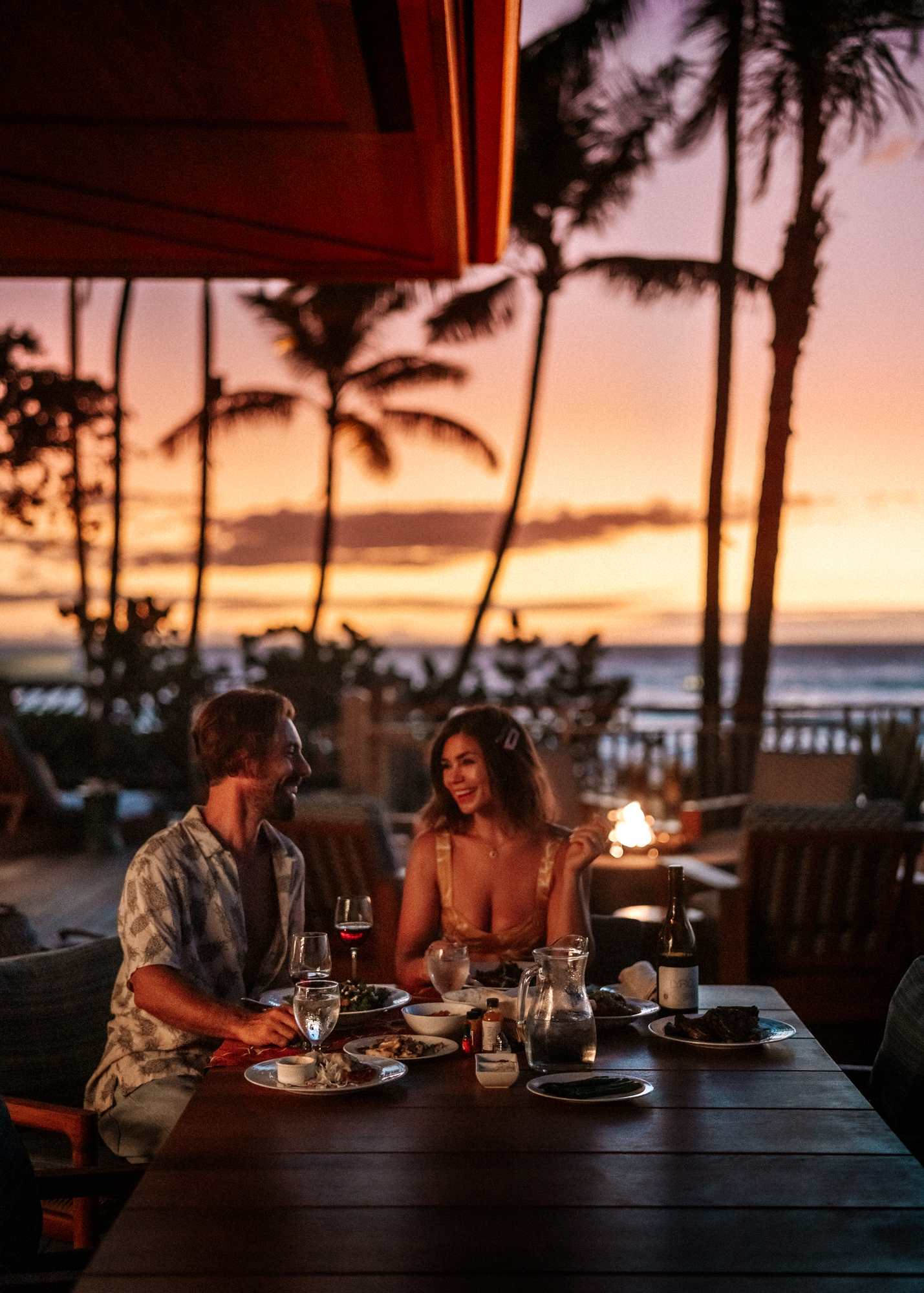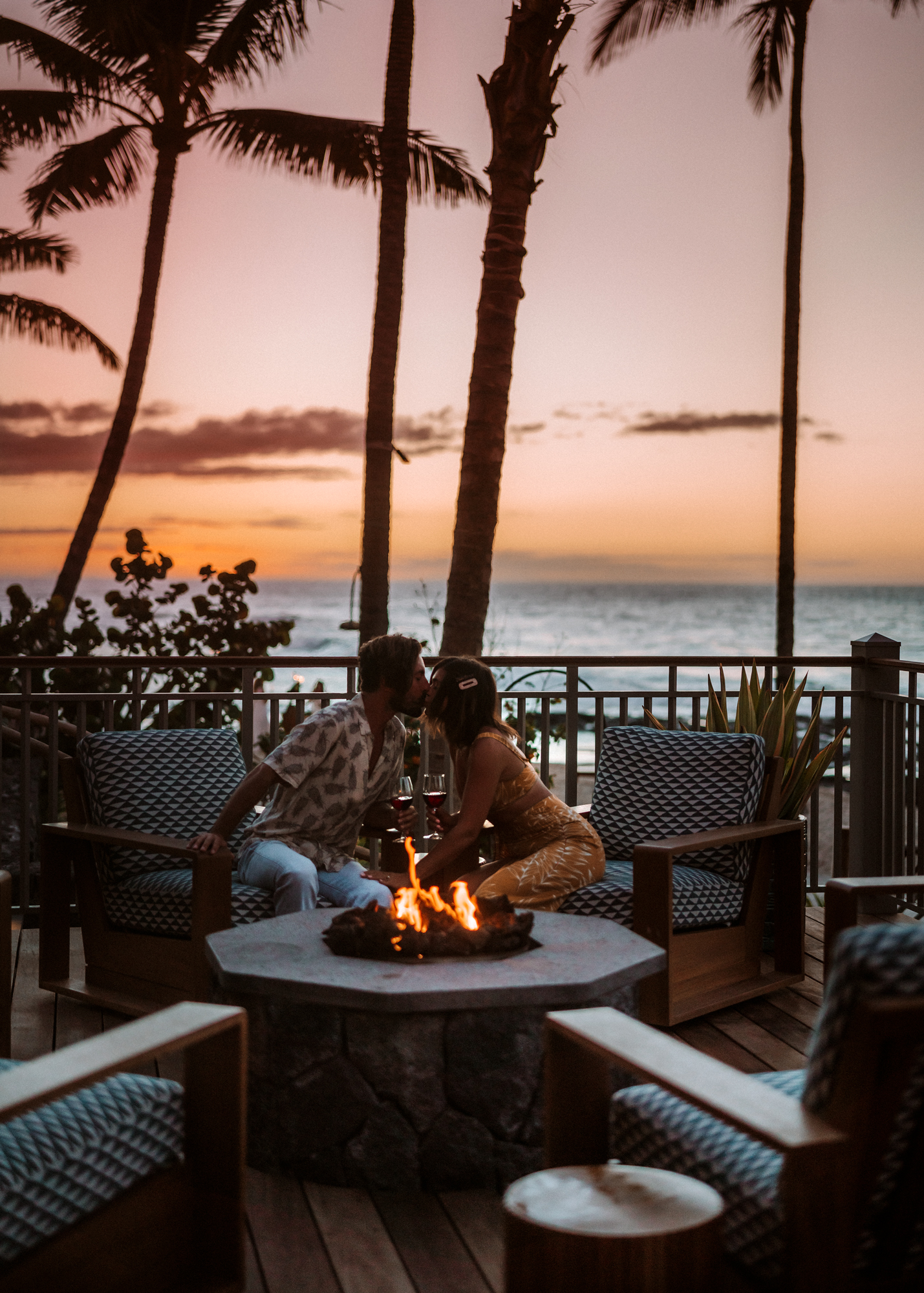 You really don't even need to leave the villa the entire time you're here - it has e v e r y t h i n g.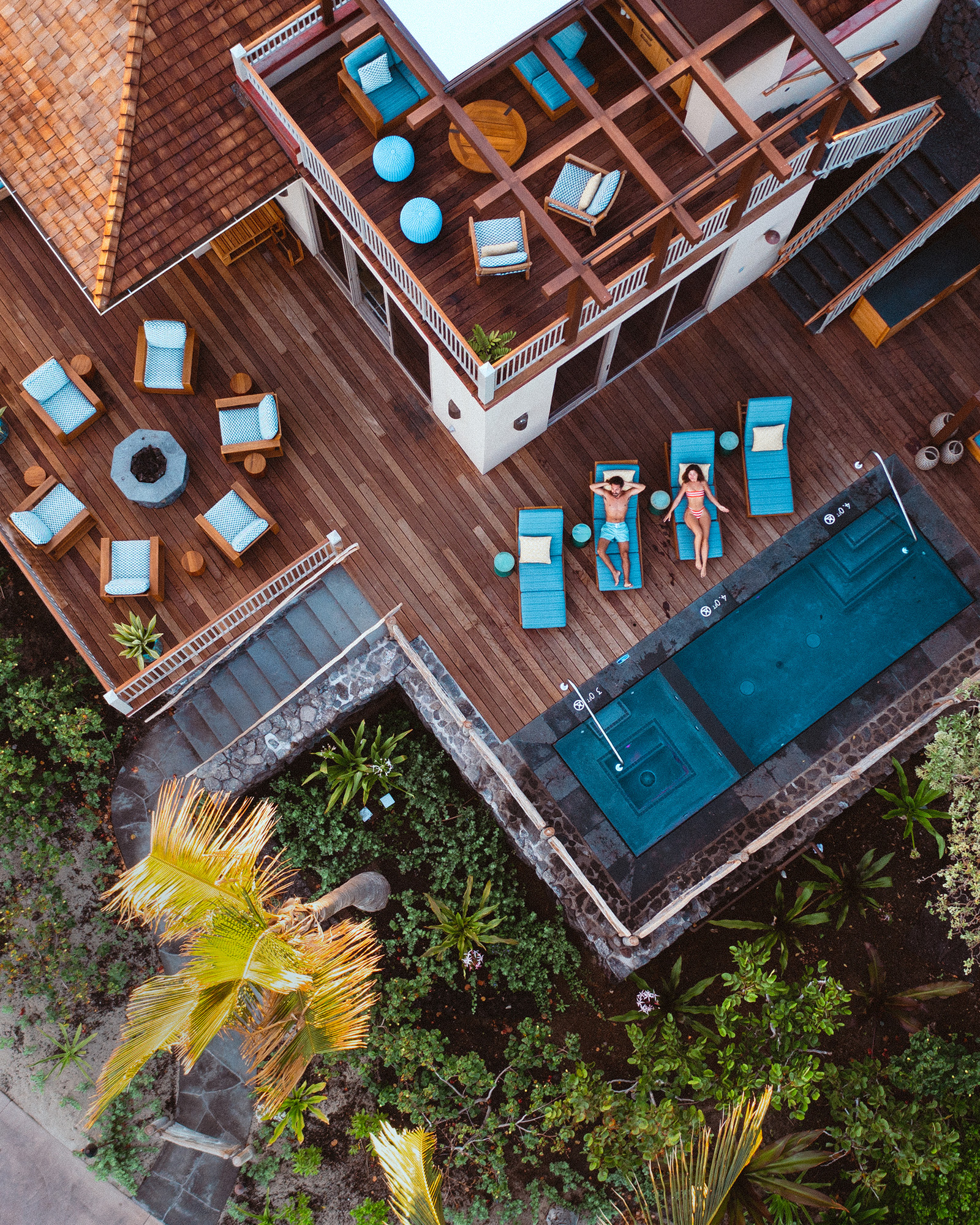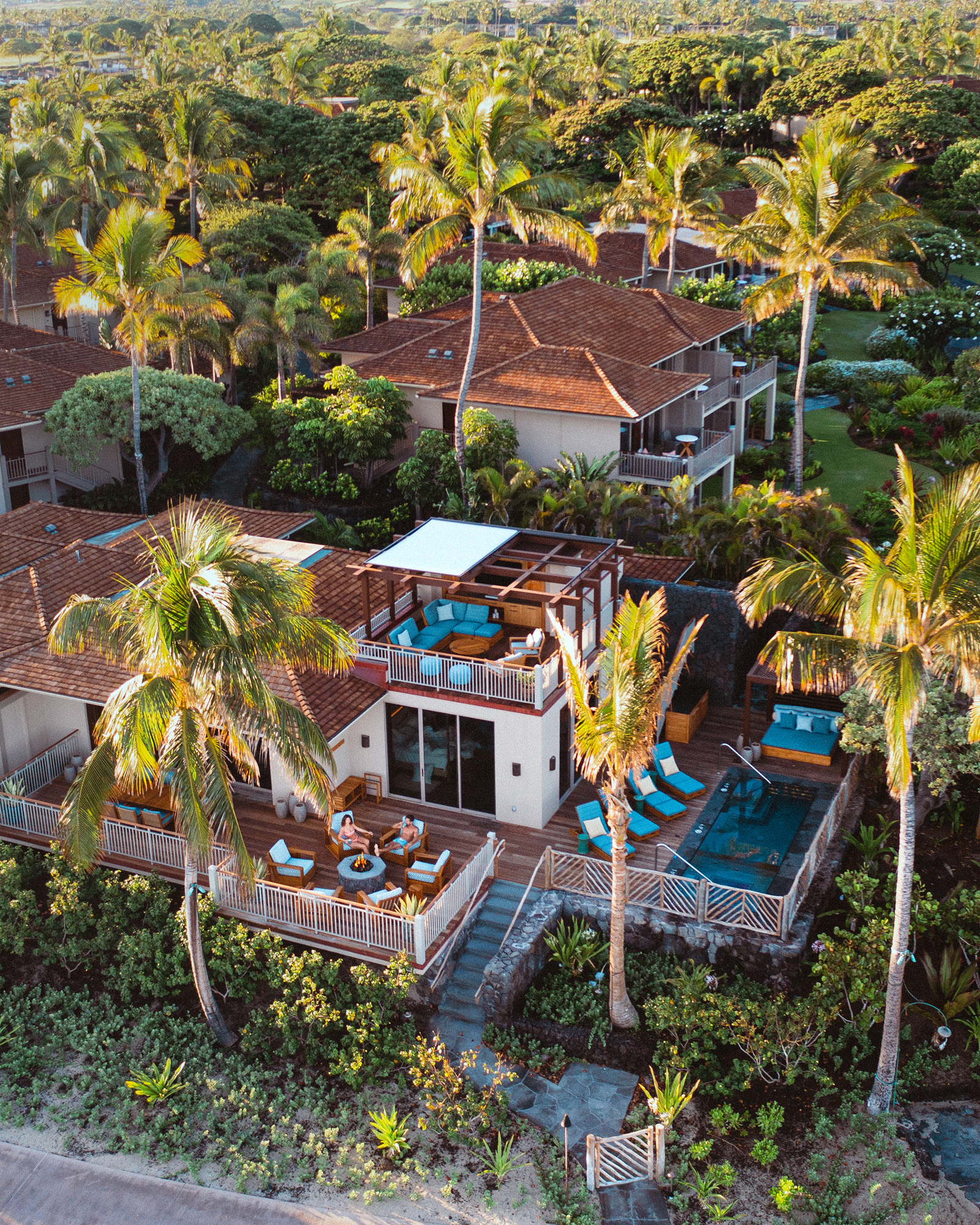 We really could not get over how expansive and luxurious this room was. How can we go back to regular hotel rooms after this?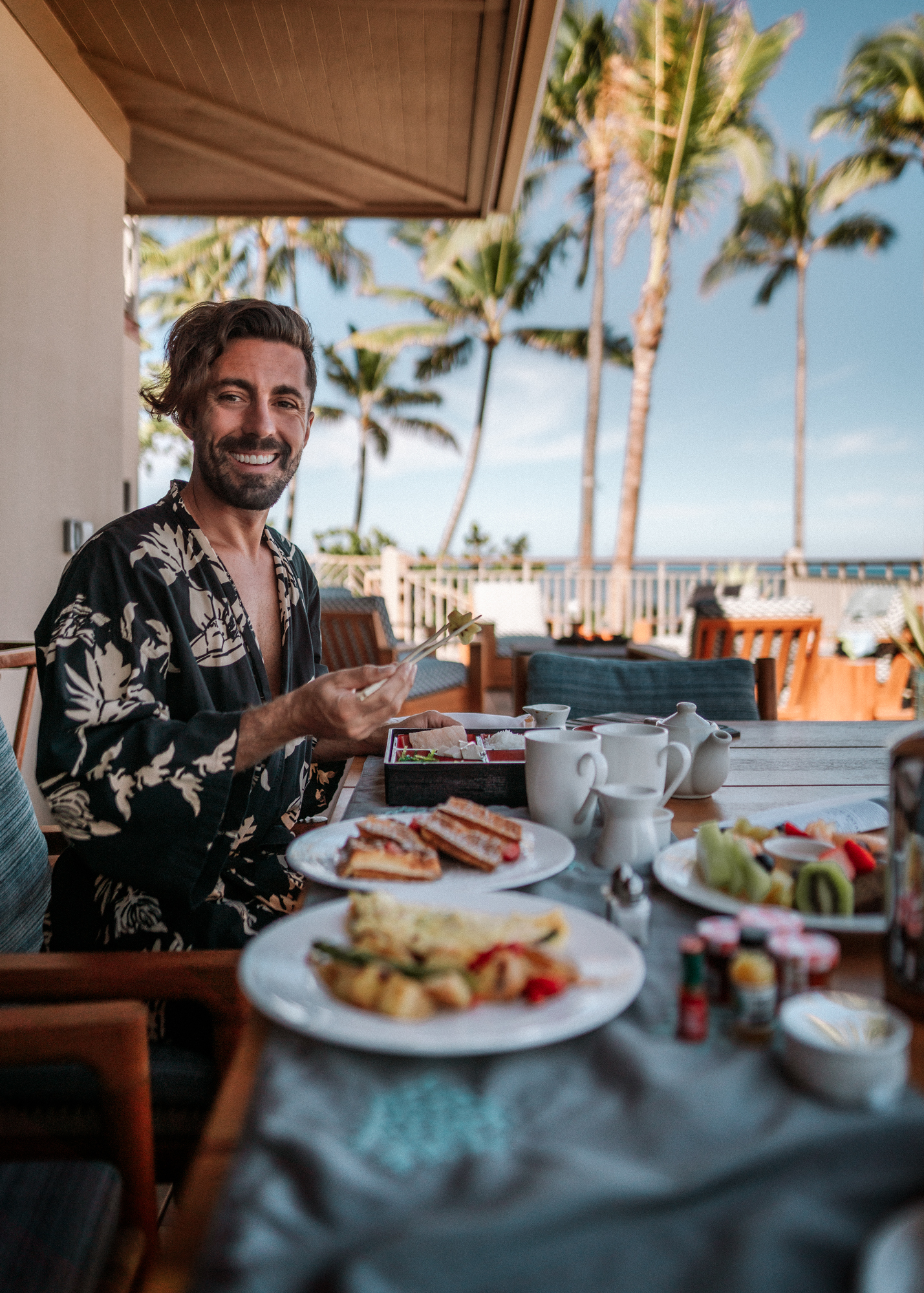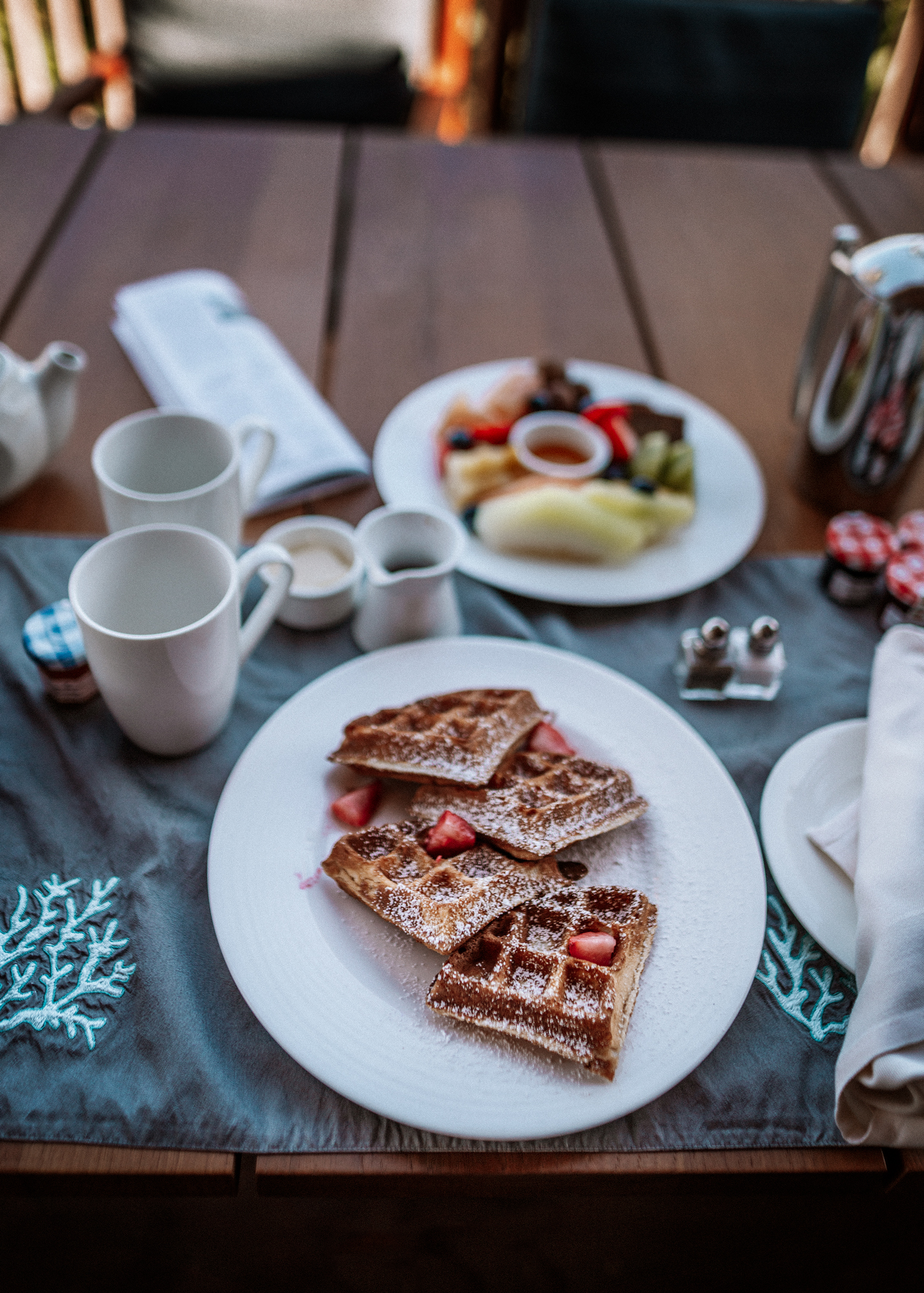 Breakfast on our villa deck on our last morning in paradise.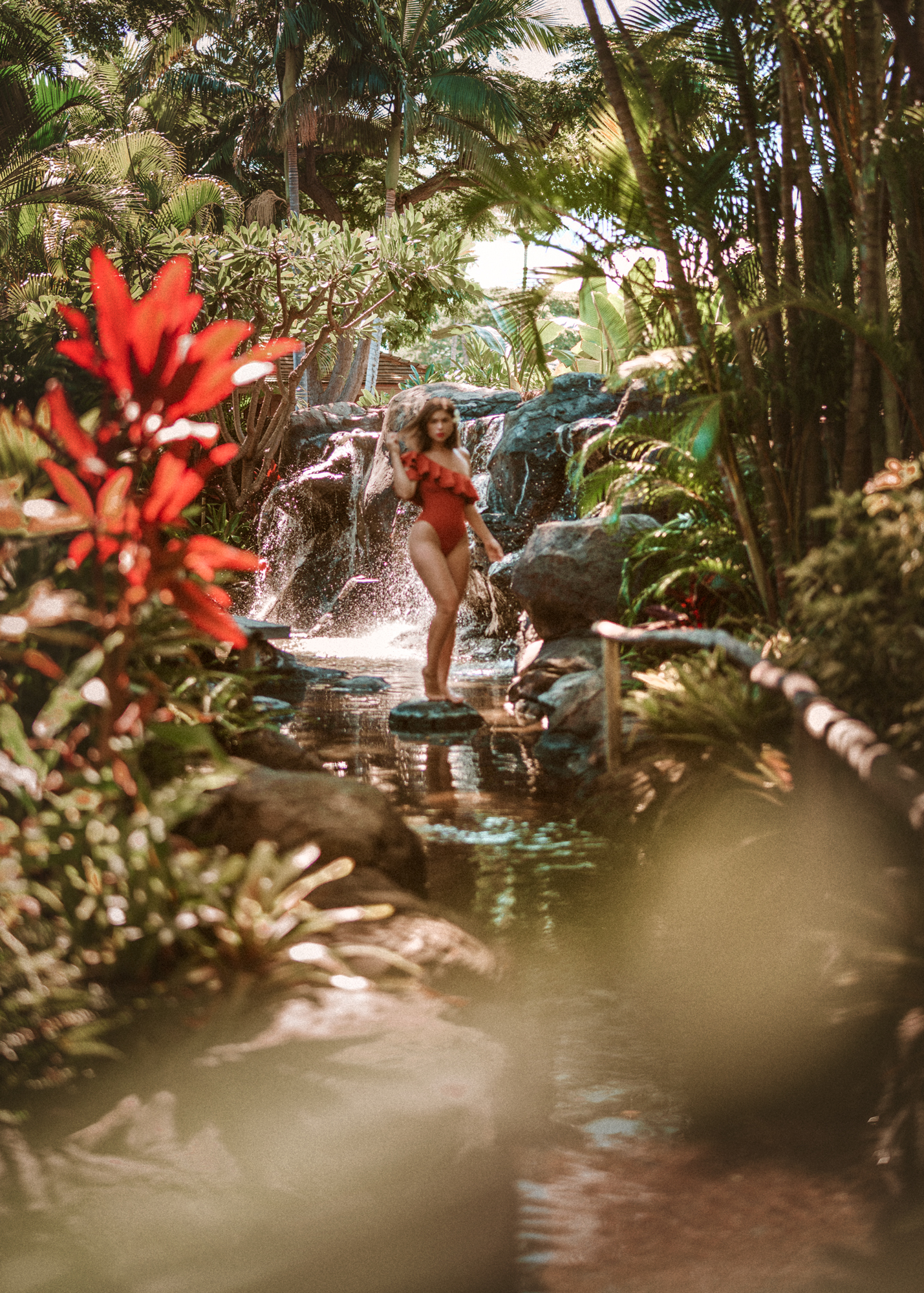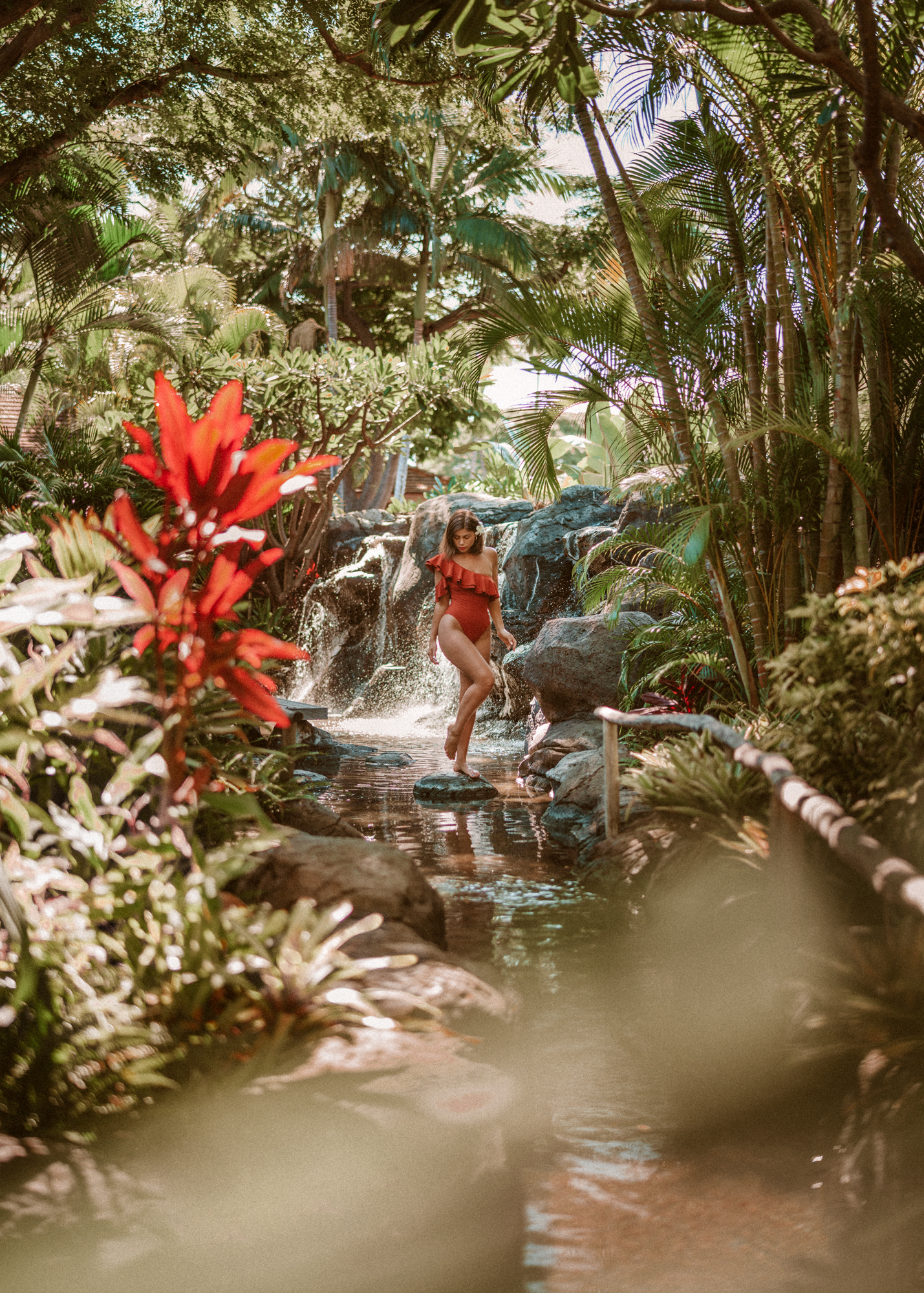 Our trip wouldn't be complete without a trip to the lush jungle that is the hotel's Kona Spa.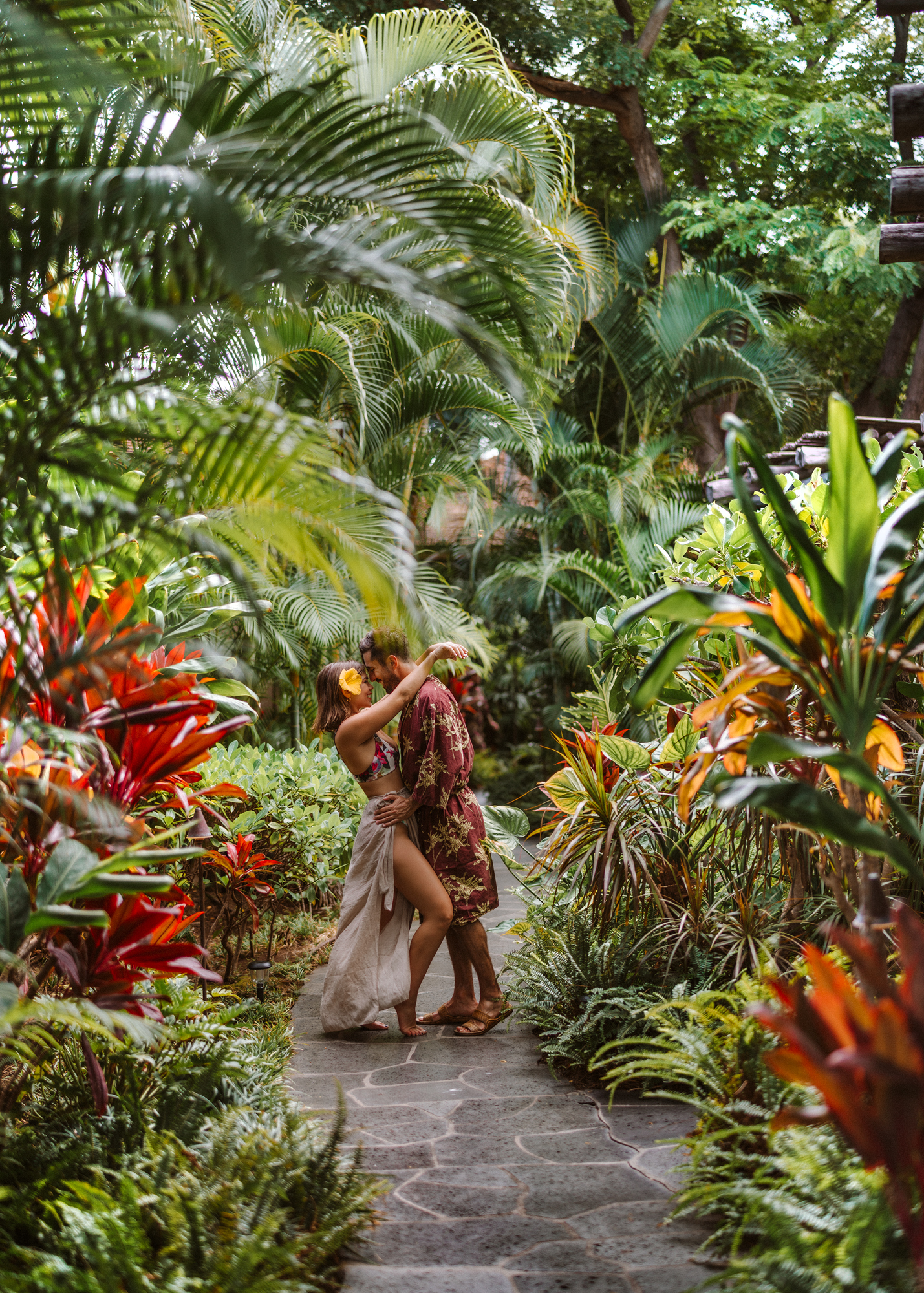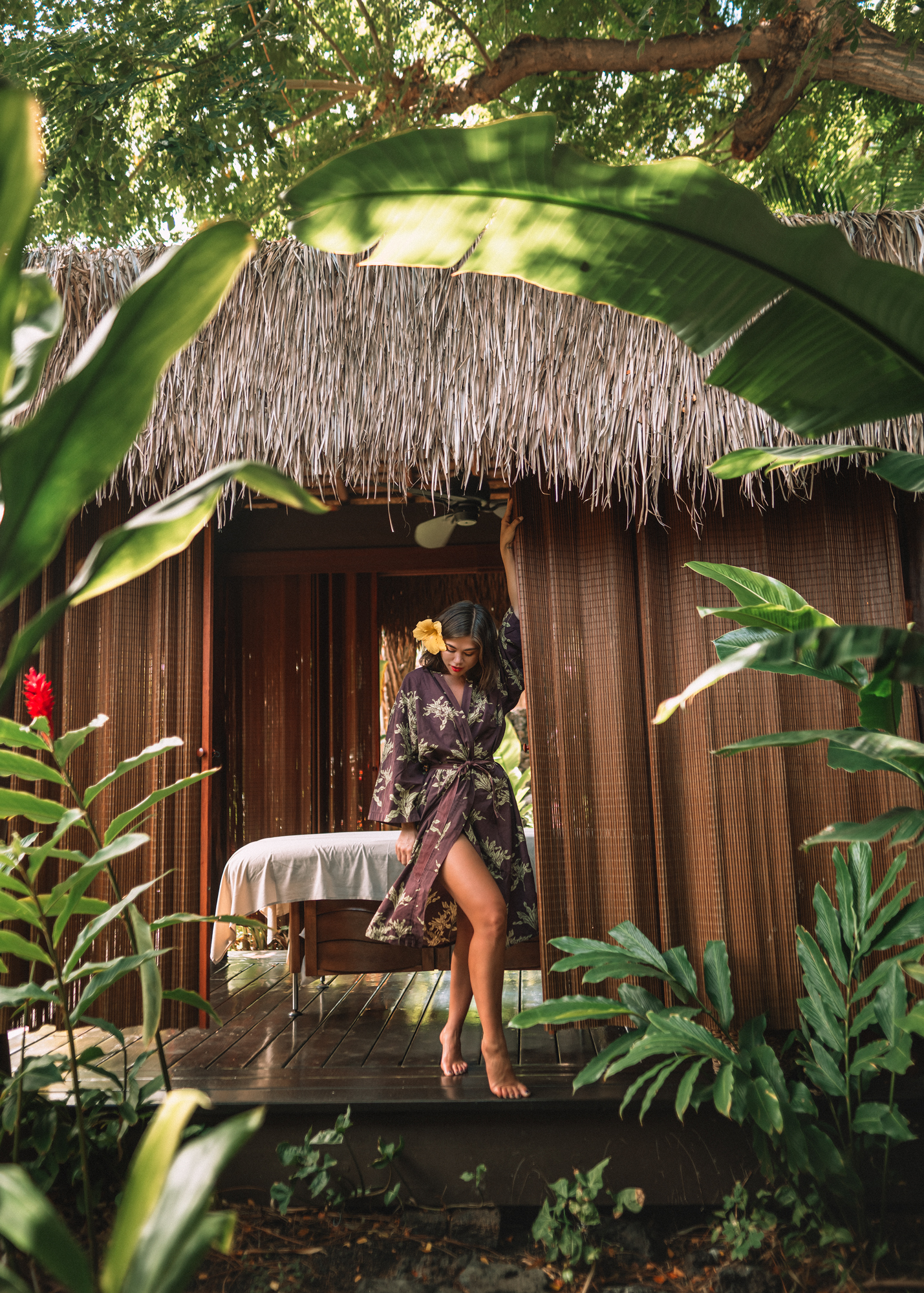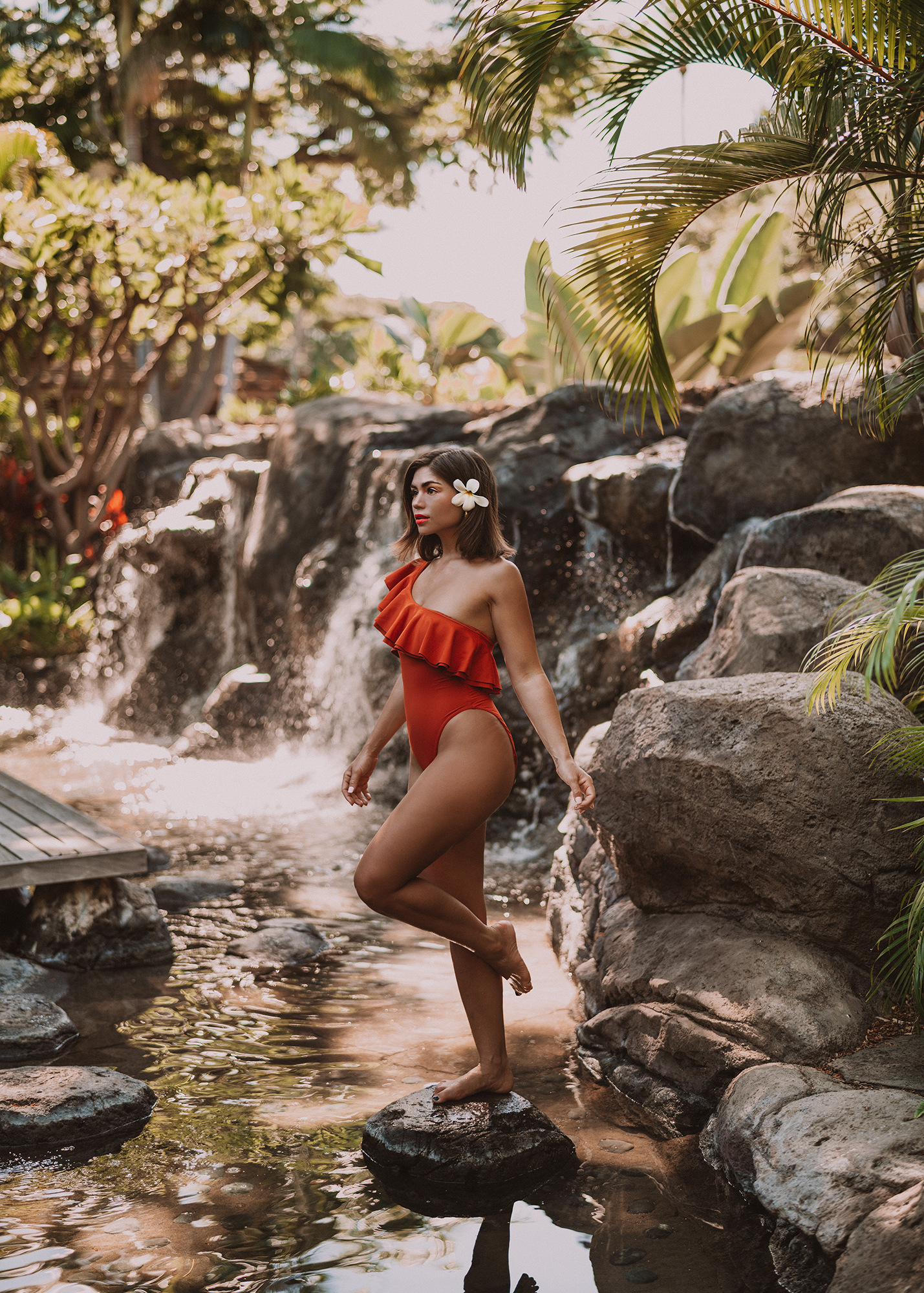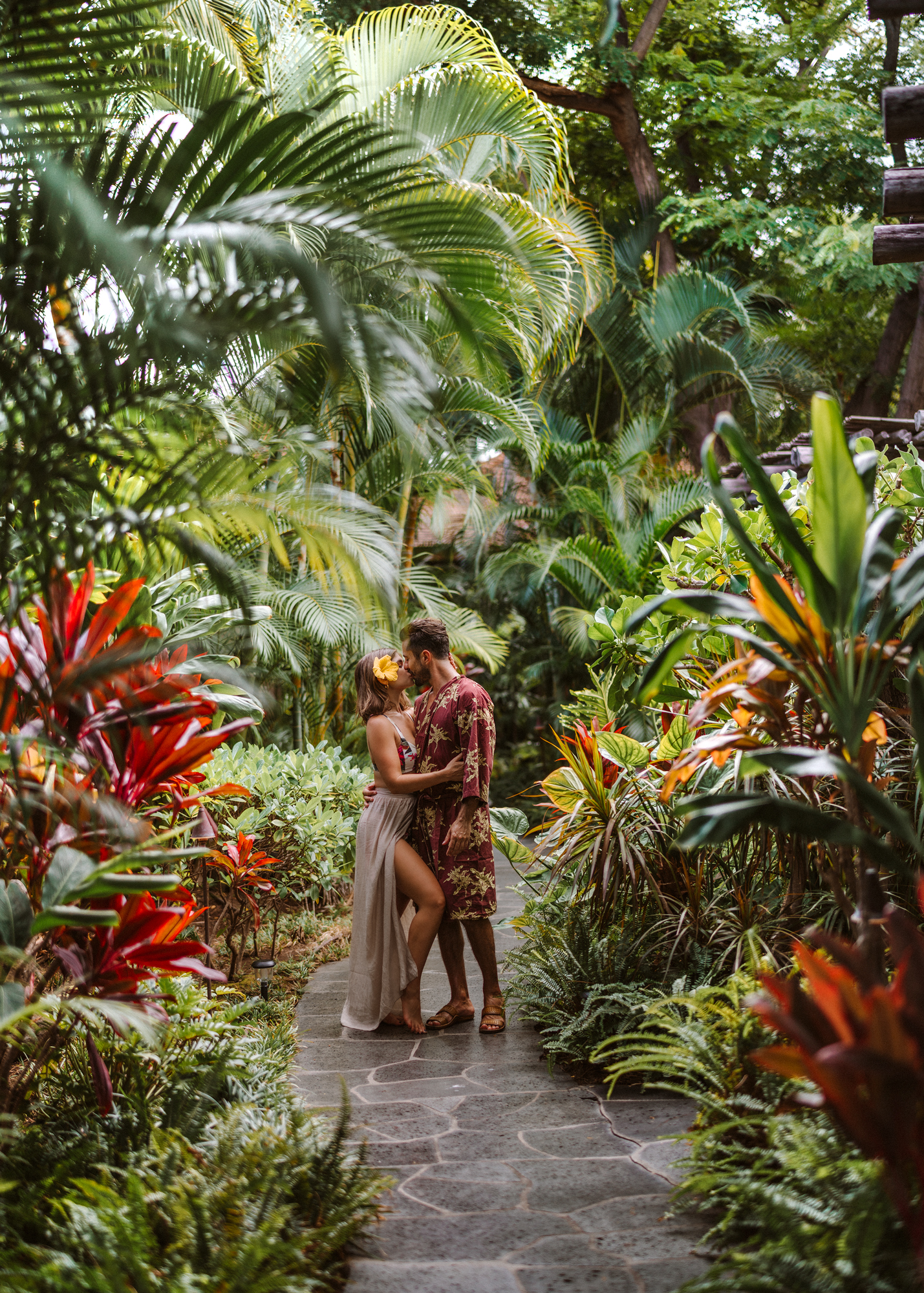 Have you ever seen a hotel spa more gorgeous? The lava rock paths of the spa winds through the garden dotted with open-air treatment rooms, a full rainforest jungle, and a wading river with waterfall.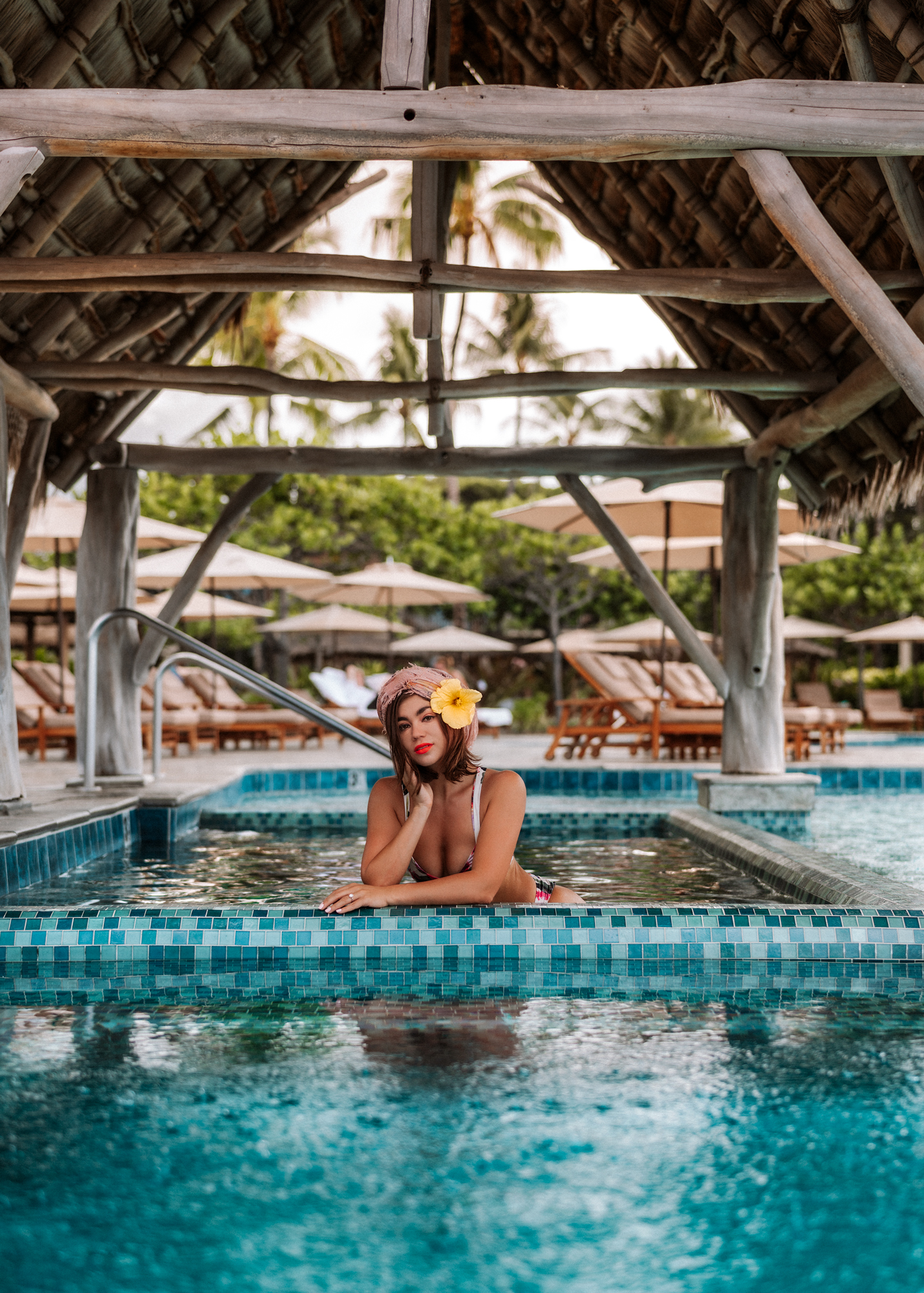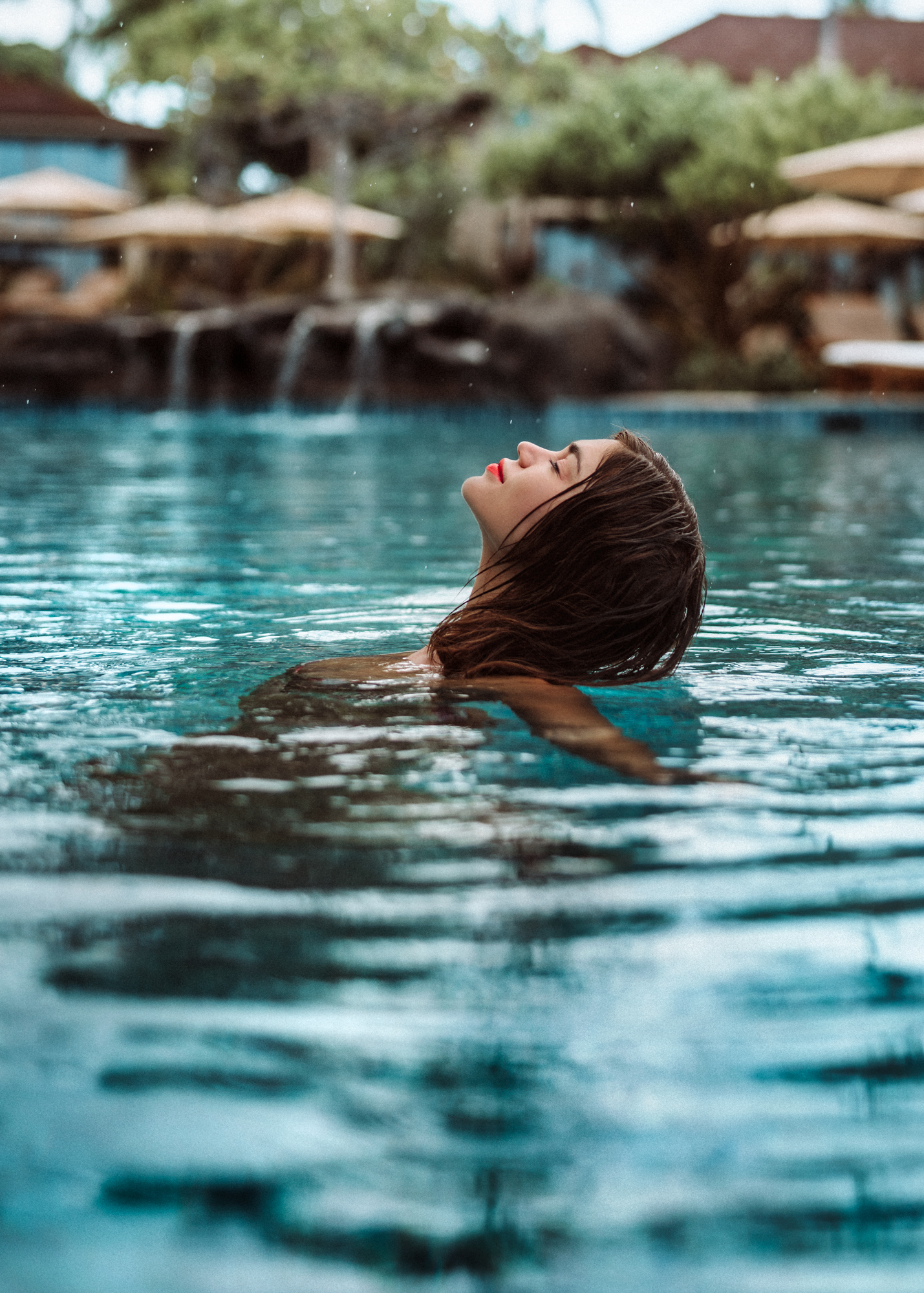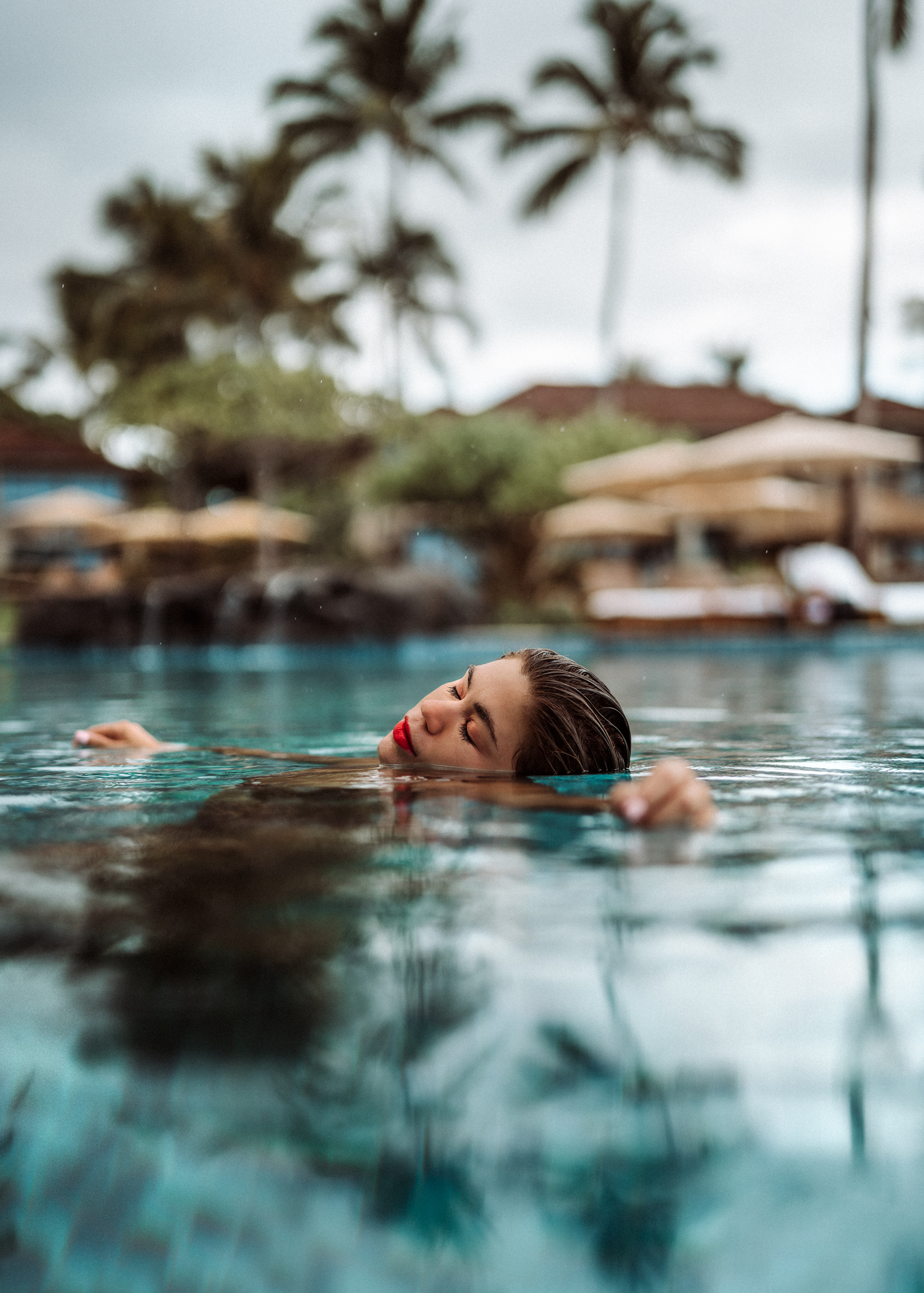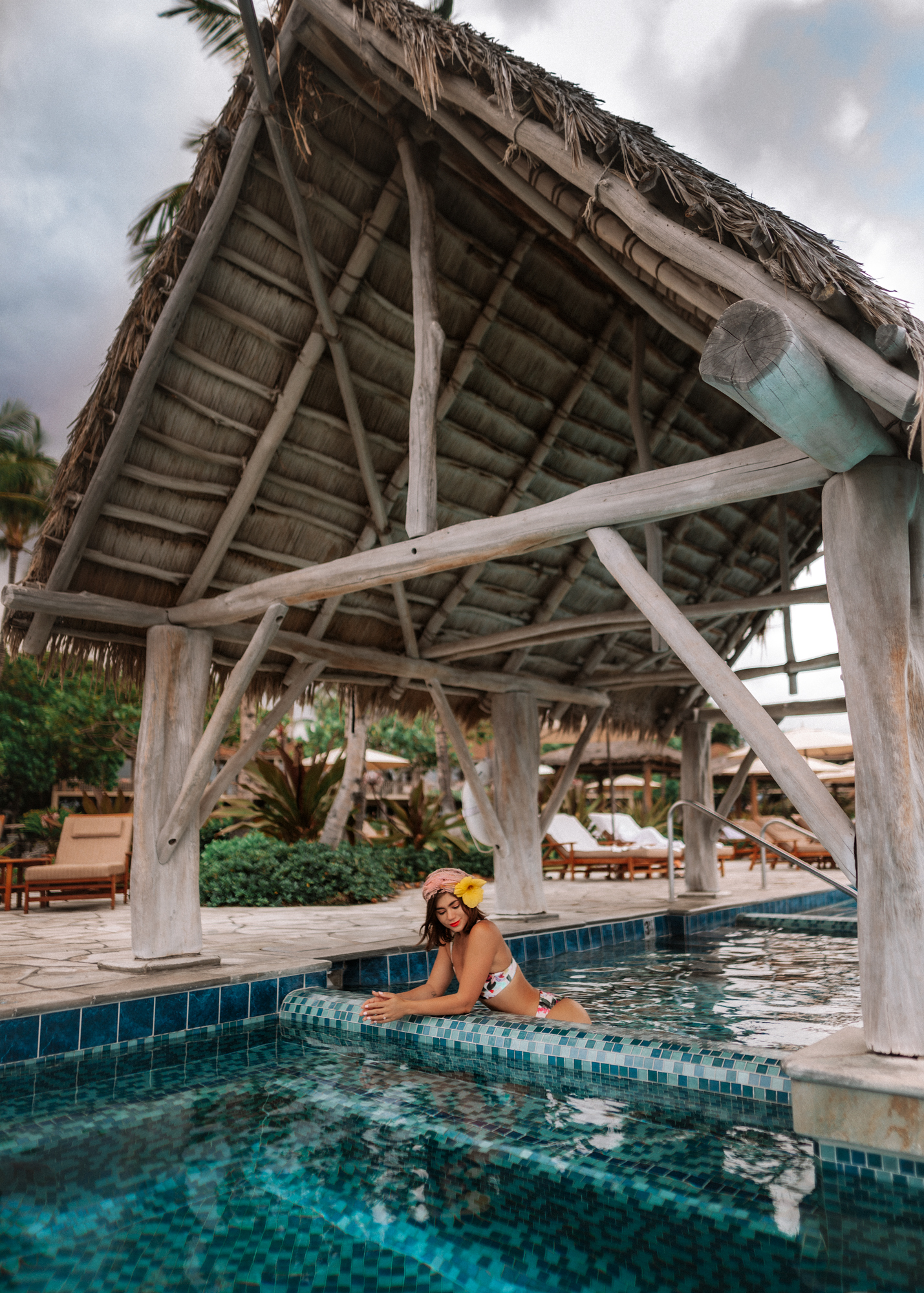 The rain came in one of the days we were here, so we soaked away the stormy afternoon in the hot tub at one of the hotel's many, many pools - this one is the Seashell pool.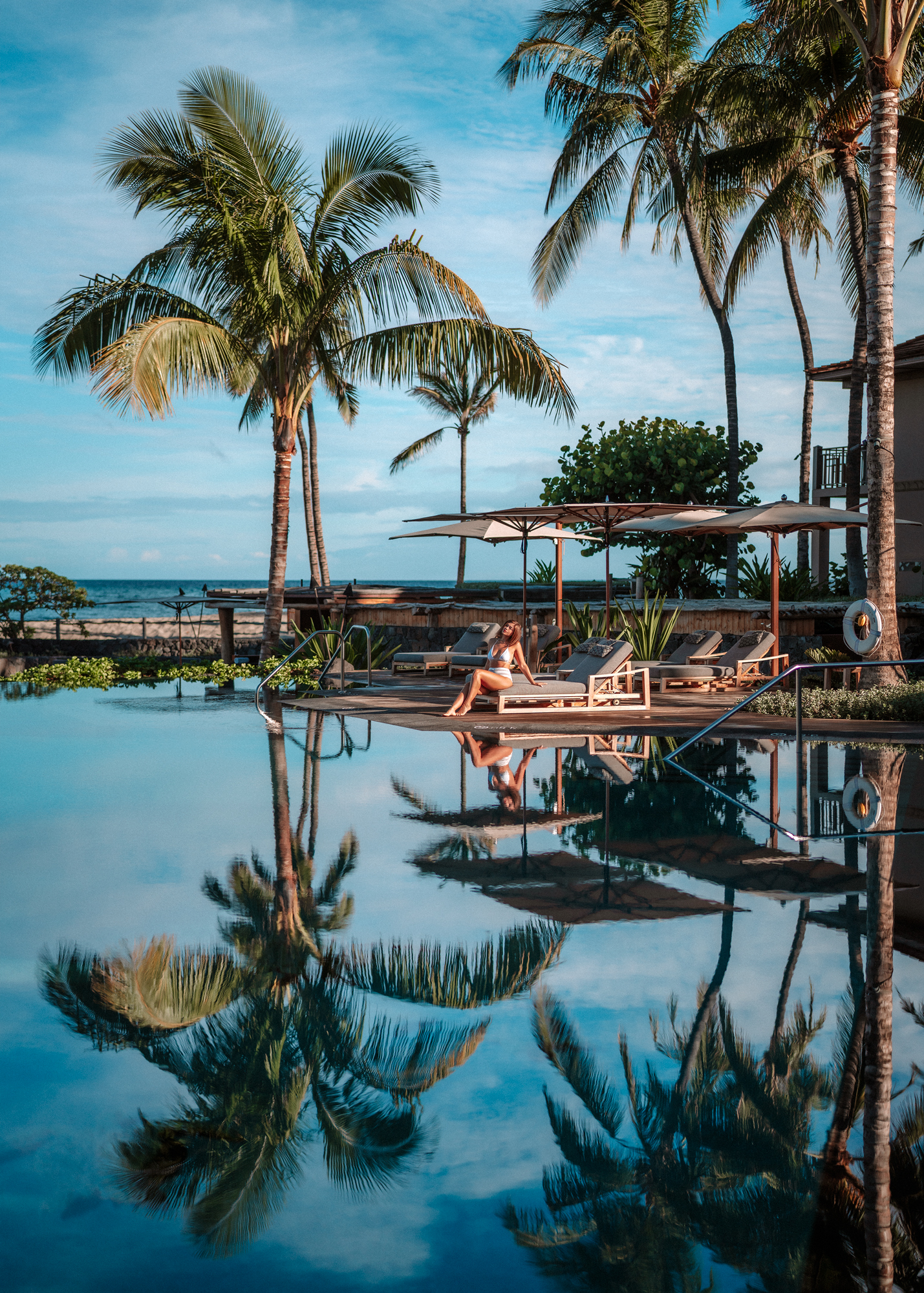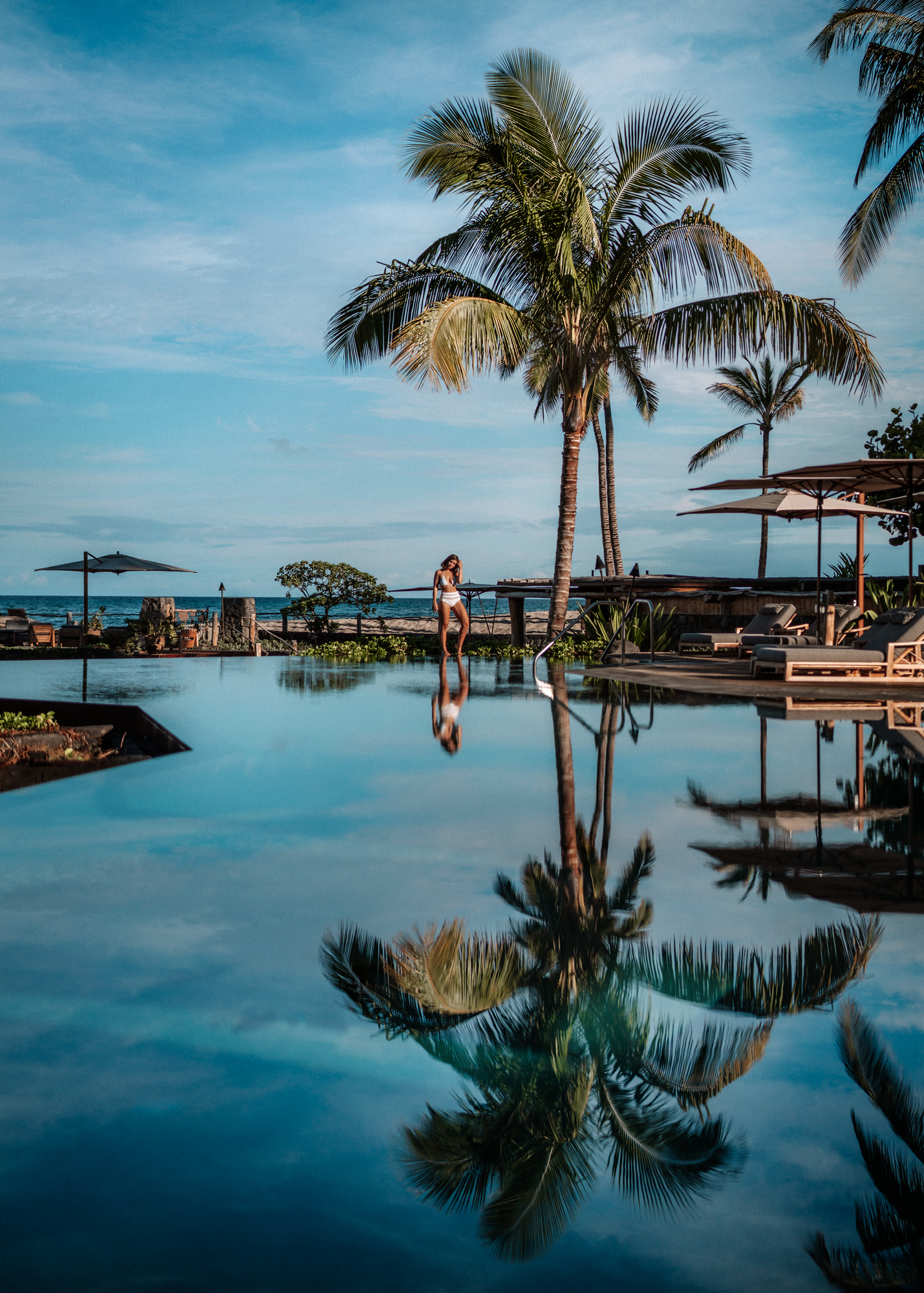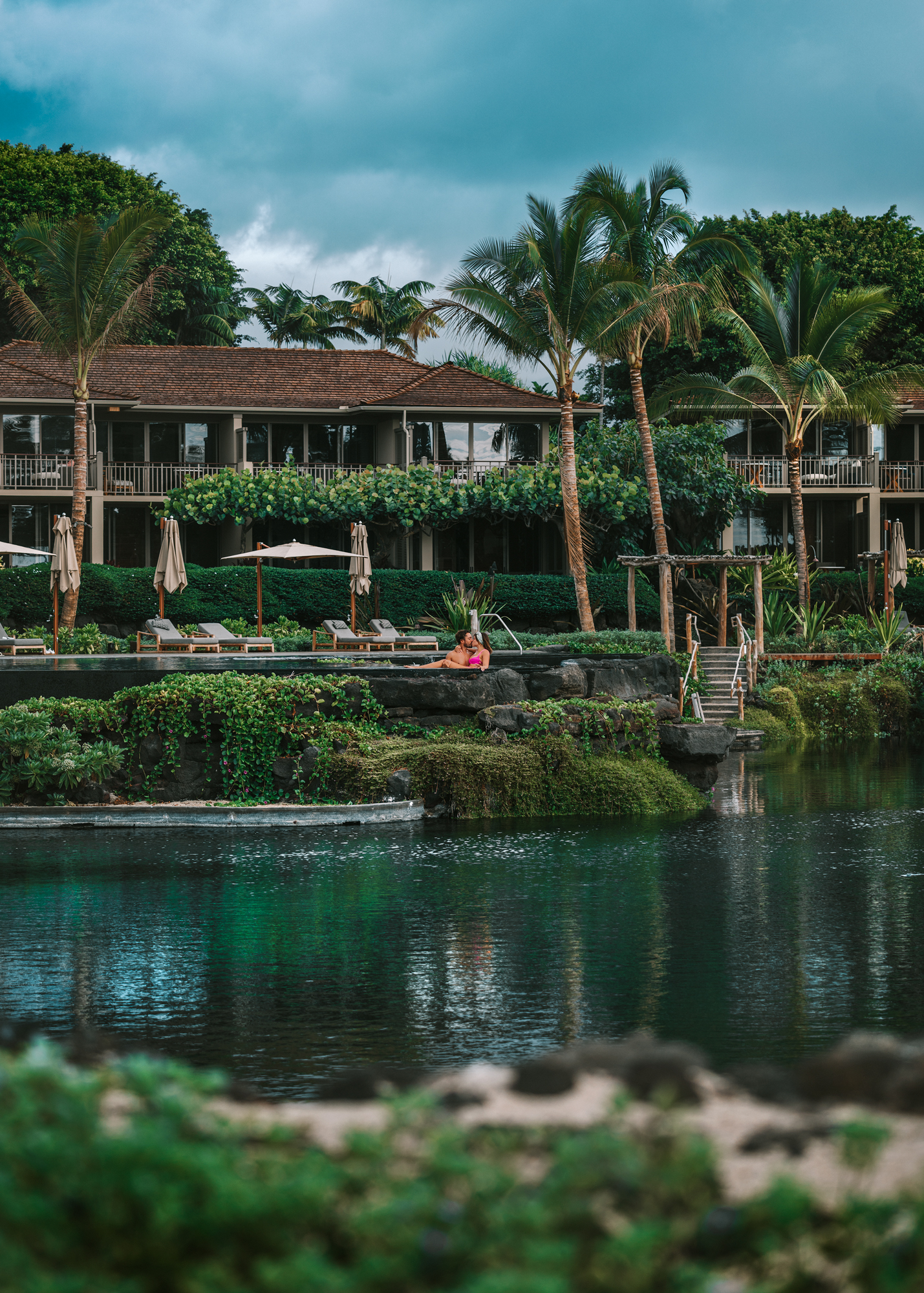 Hualalai's brand new infinity pool overlooking the King's Pond - the pond below is natural saltwater and full of fish and their resident eagle ray, and is an amazing and enclosed place to snorkel.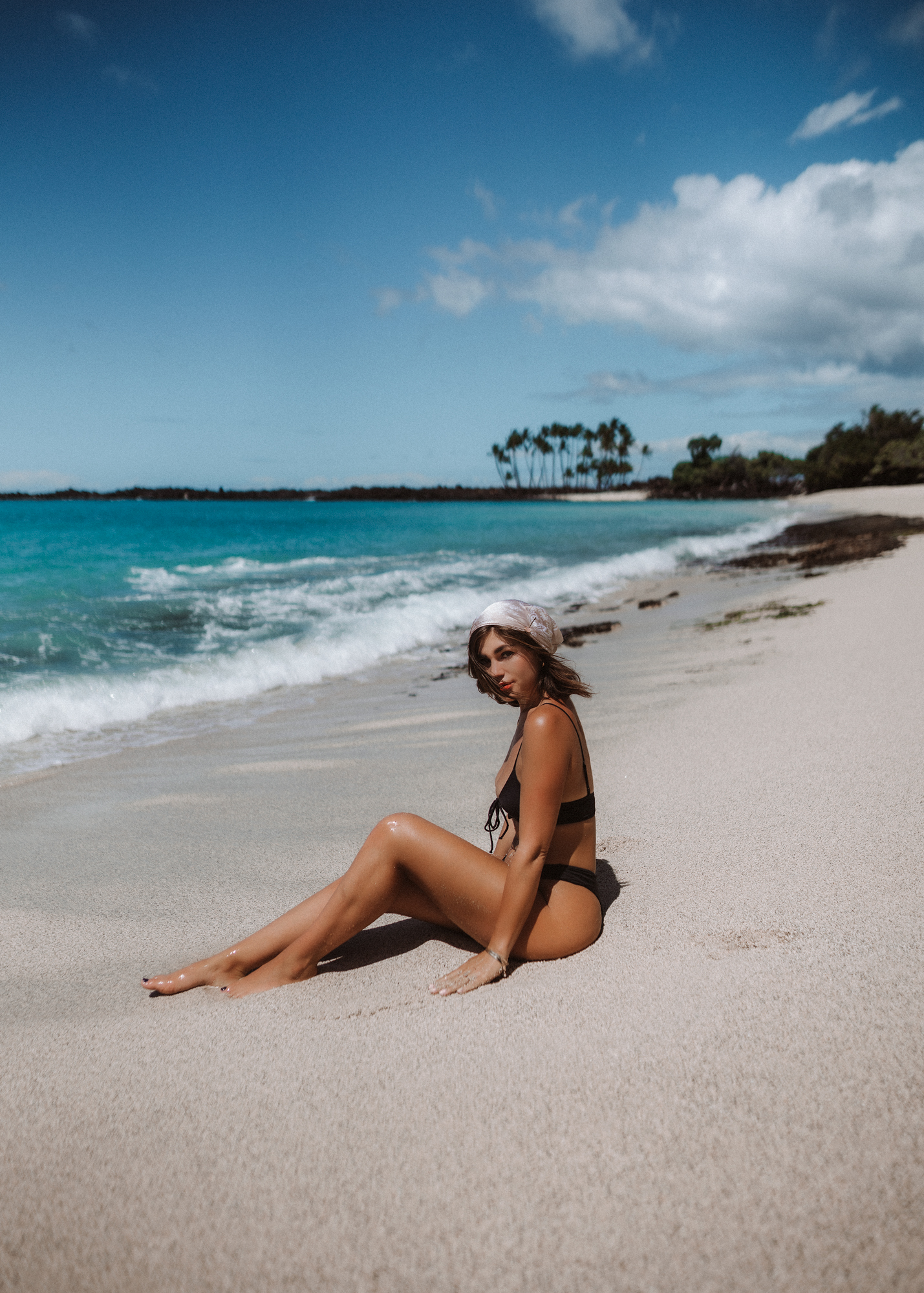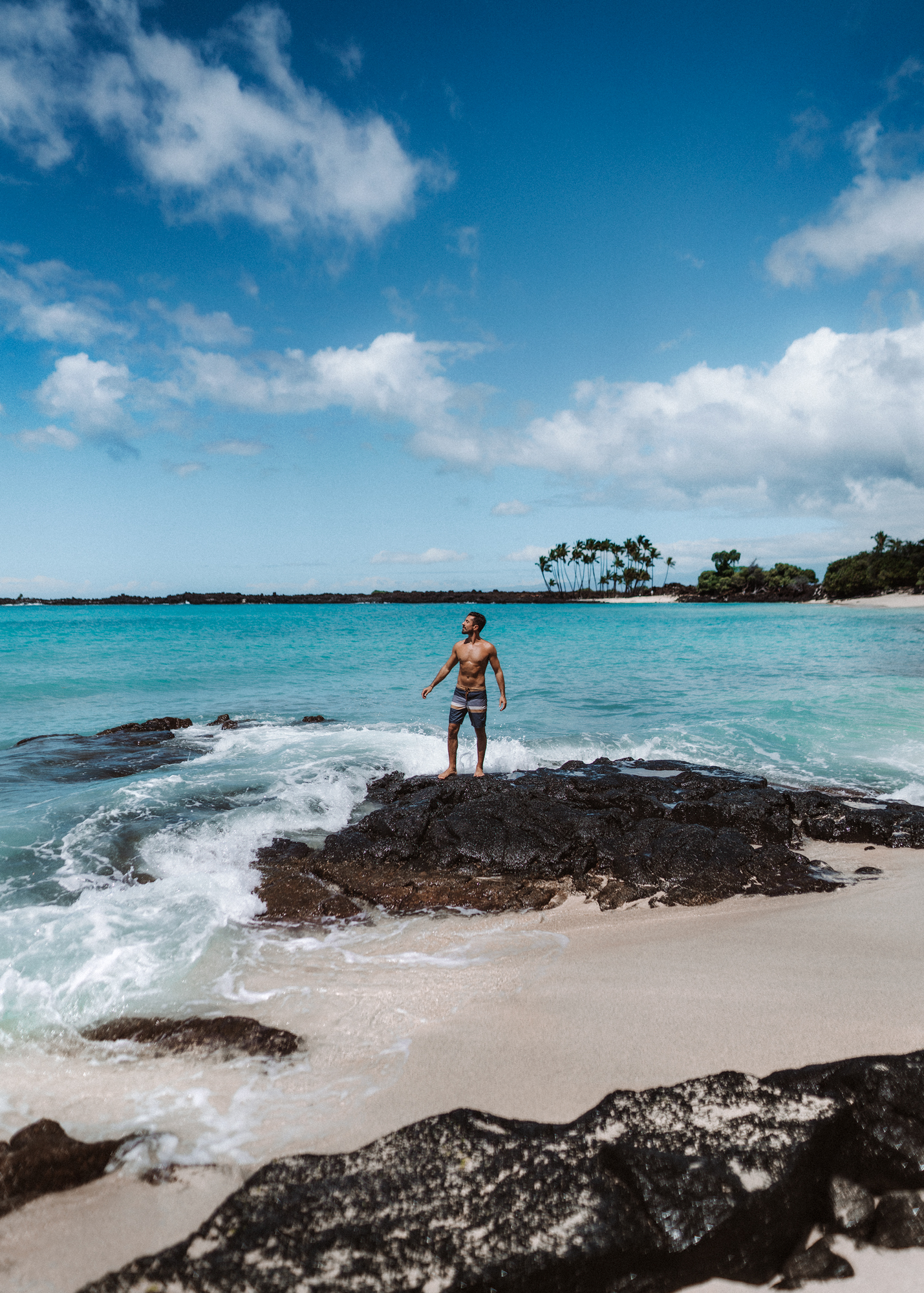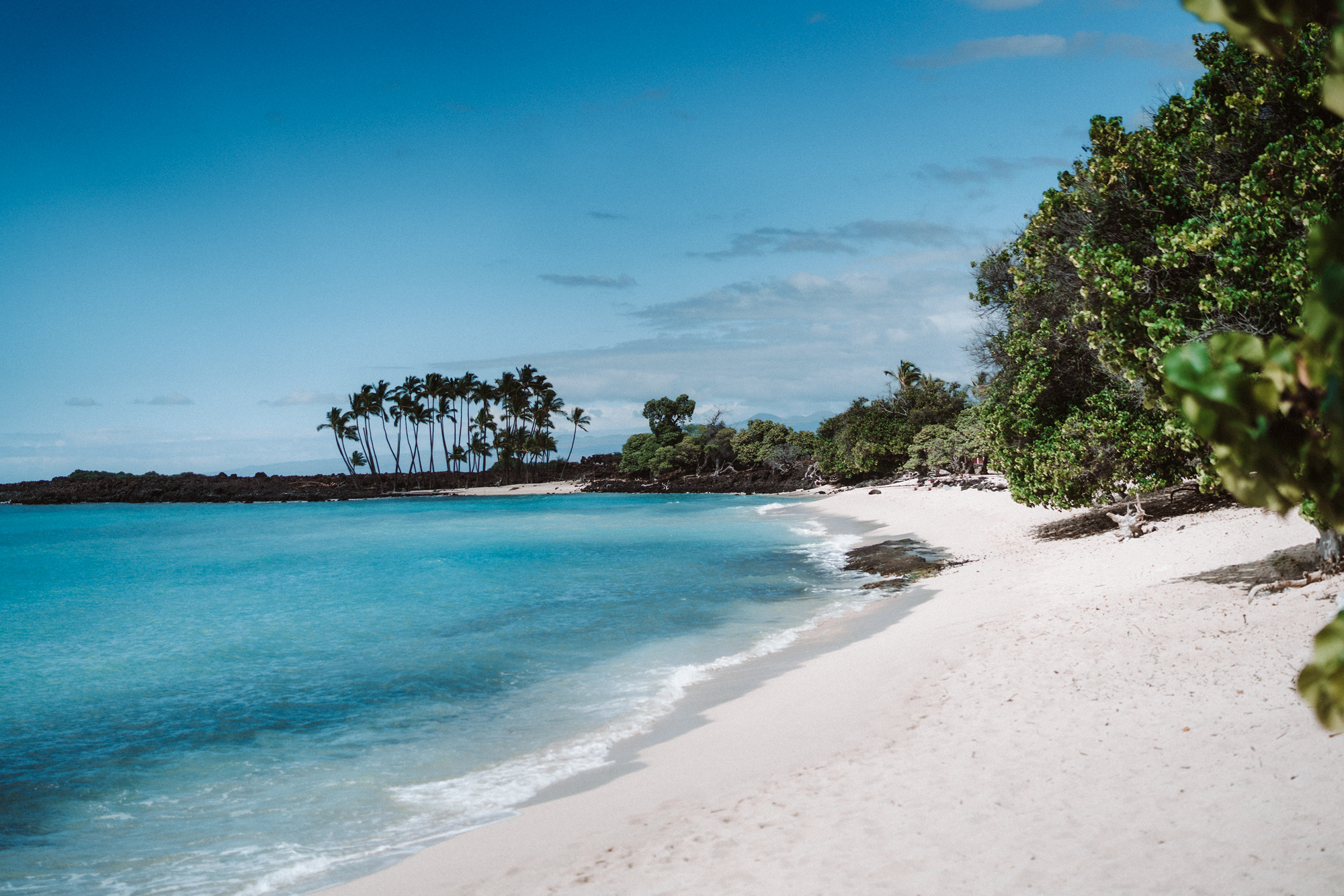 But no matter how much we love a resort, we can't just stay still and not explore more of the island! One of our favorite beaches in all of Hawaii, Mahai'ula Beach is just a few minutes down the road from the property. The road to get here is a bit rough and bumpy, but is still doable in a standard compact car (although everything is Hawaii is better with a Jeep!), and is so worth a visit. If you have a little more time, take the 15 minute walk down the path to the even more serene and secluded Makalawena Beach - just don't stay for sunset. We were down on this beach for sunset on our first trip to the island and ended up having our car locked inside the parking lot - they take the closing times seriously out here.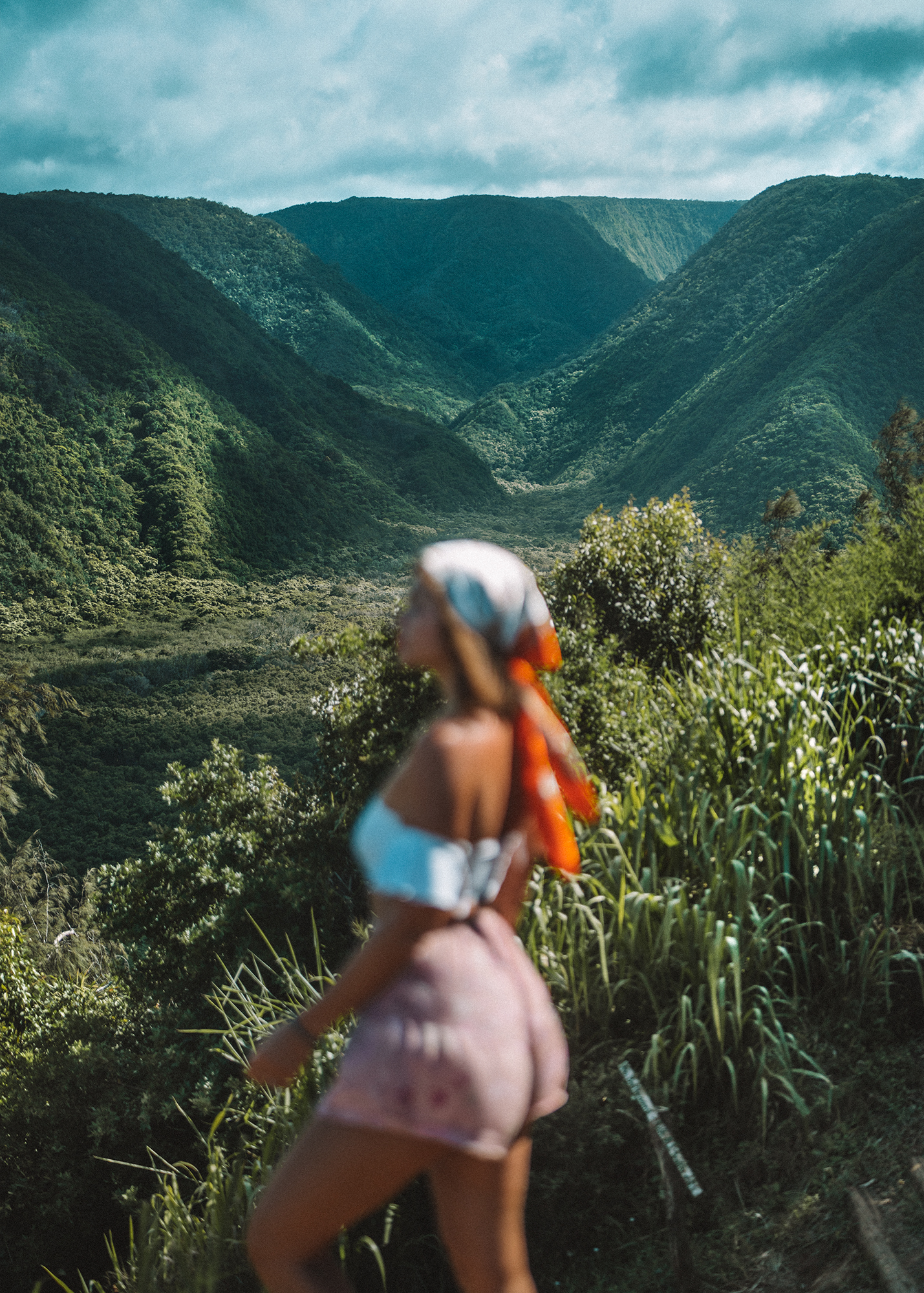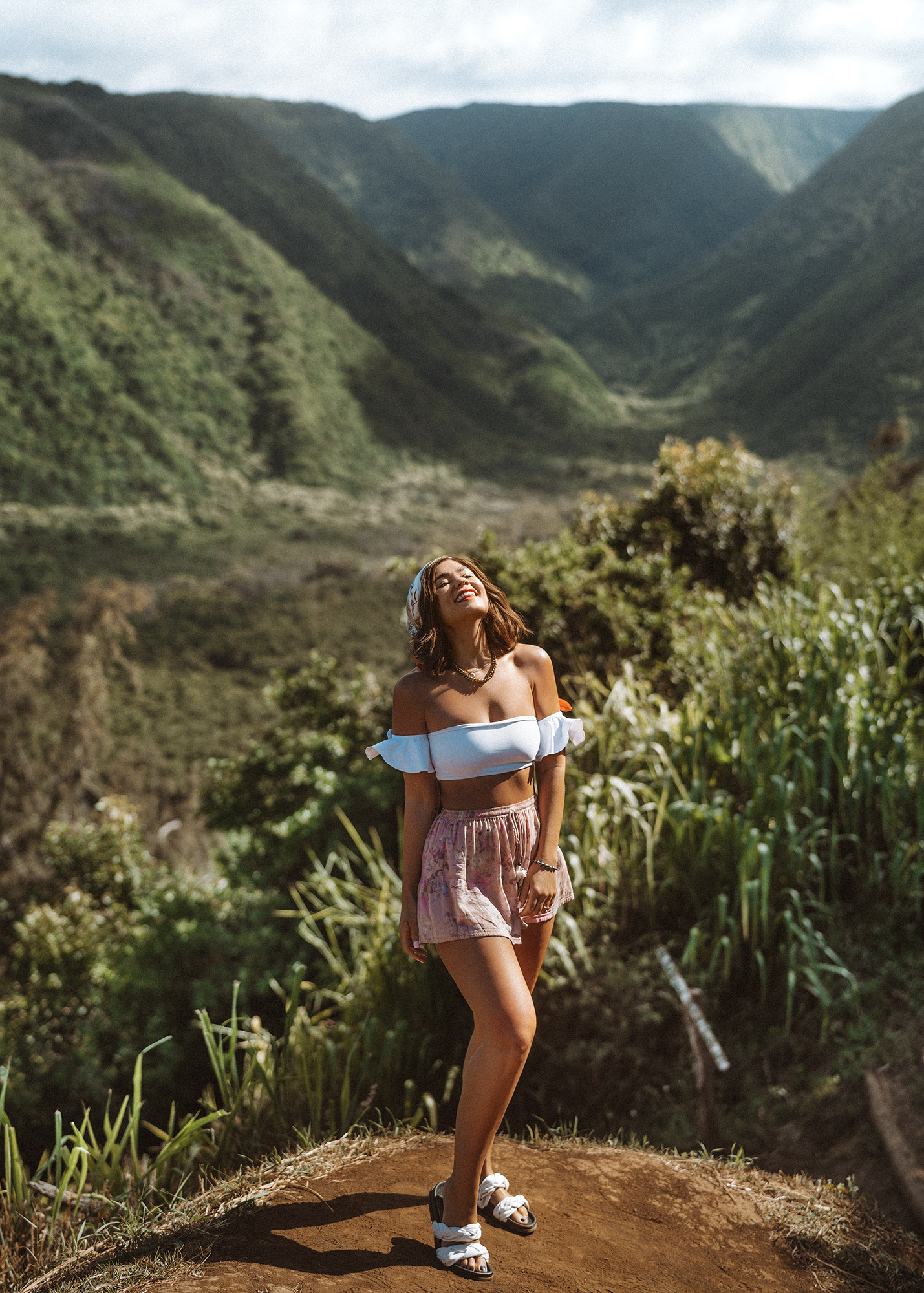 About an hour's drive away is Pololu Valley Lookout - where there's a small parking lot and view into the valley and black sand beach below. This entire area smells like guava in the summertime, and if you know what to look for, you can pick press guavas off the wild growing trees!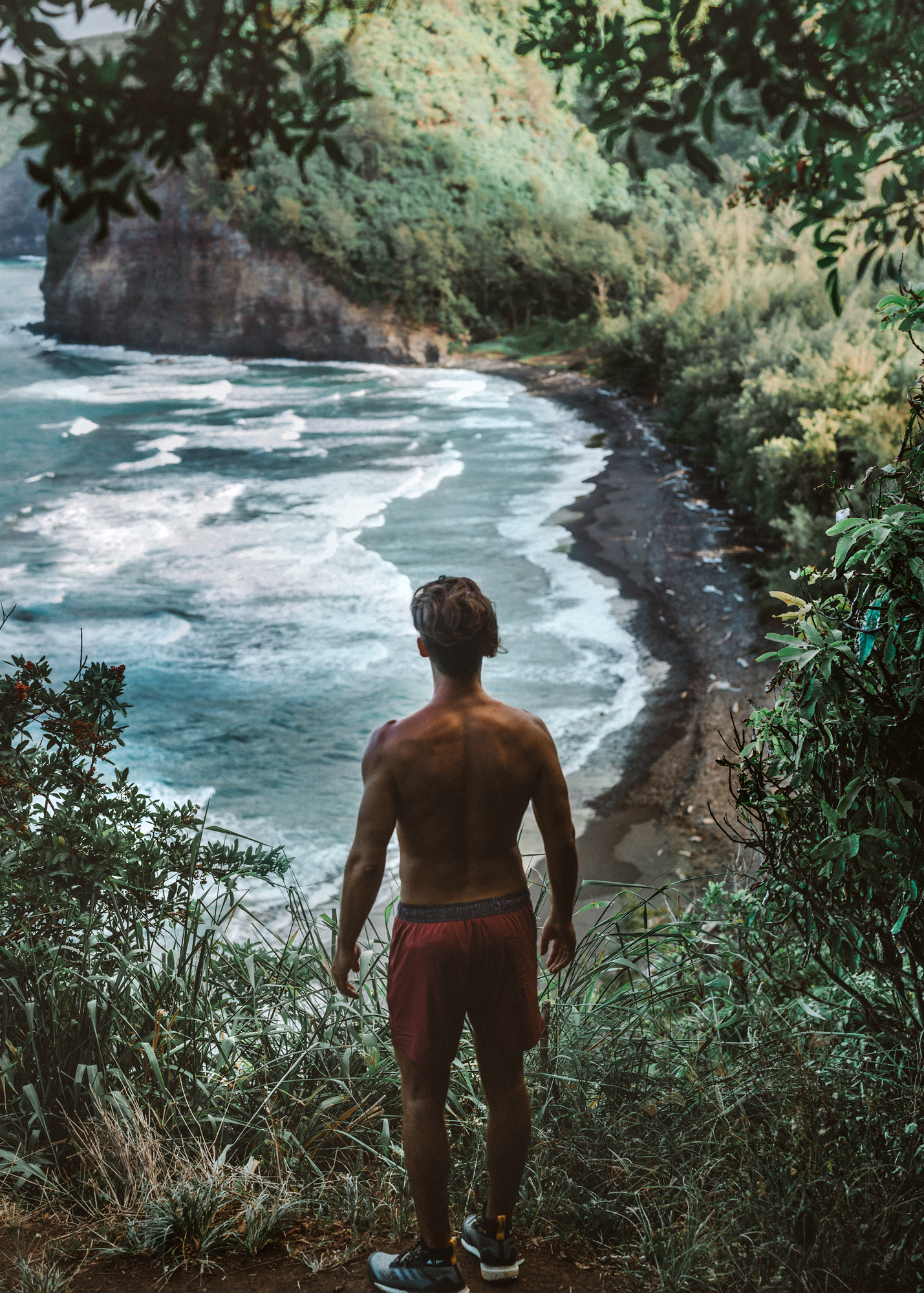 The hike down into the valley and onto the beach is a pretty easy 1 mile journey - and is well worth the trip.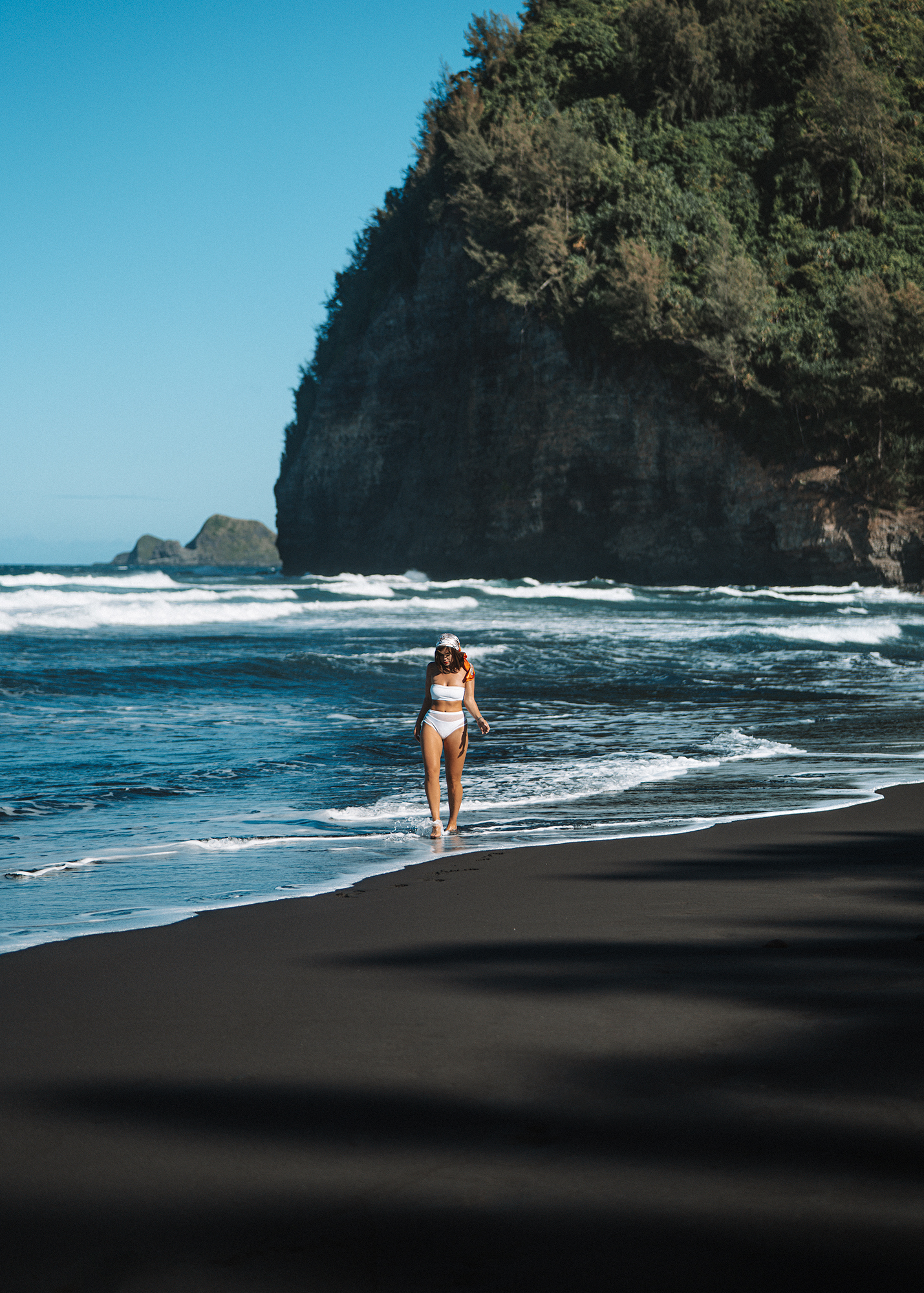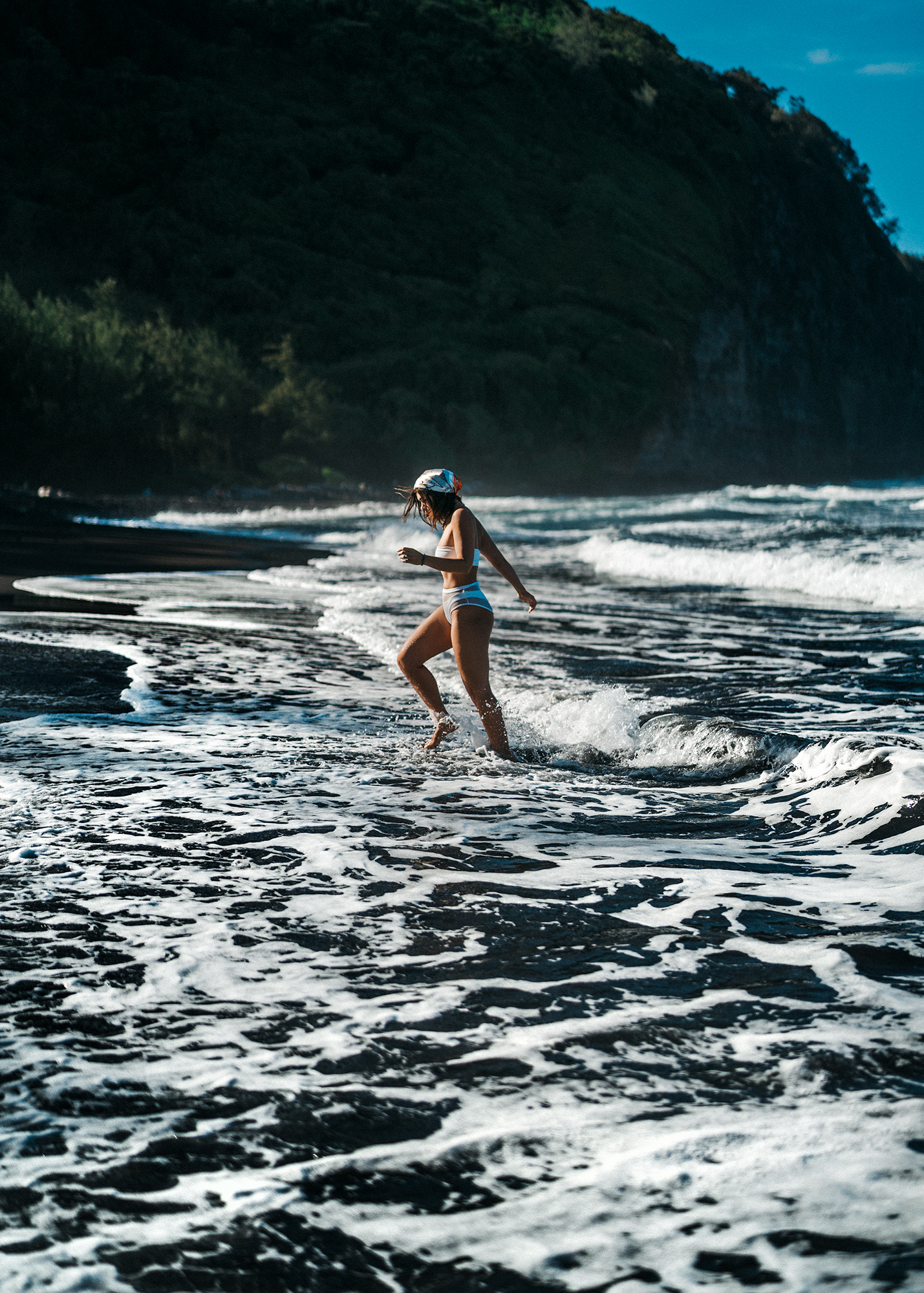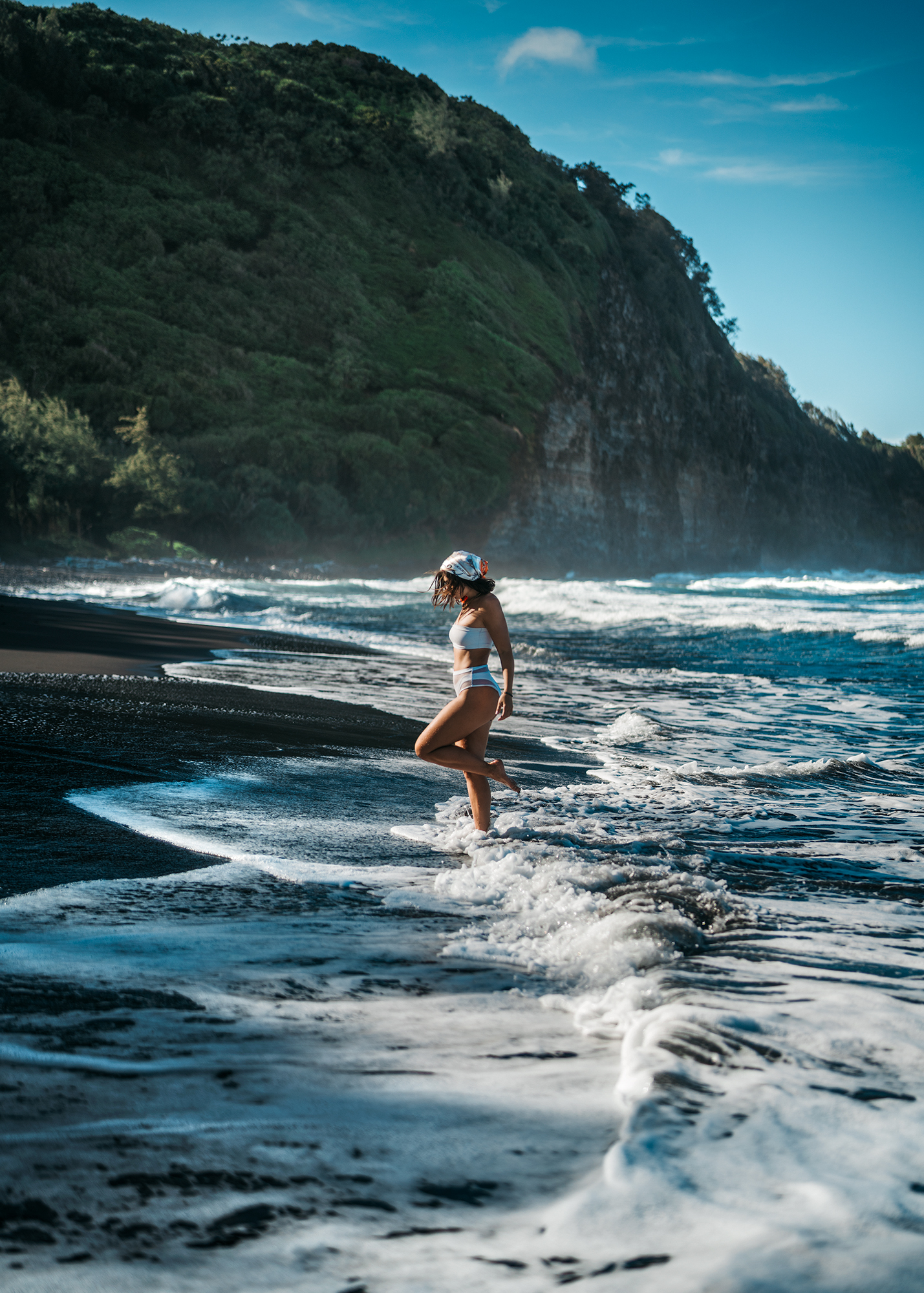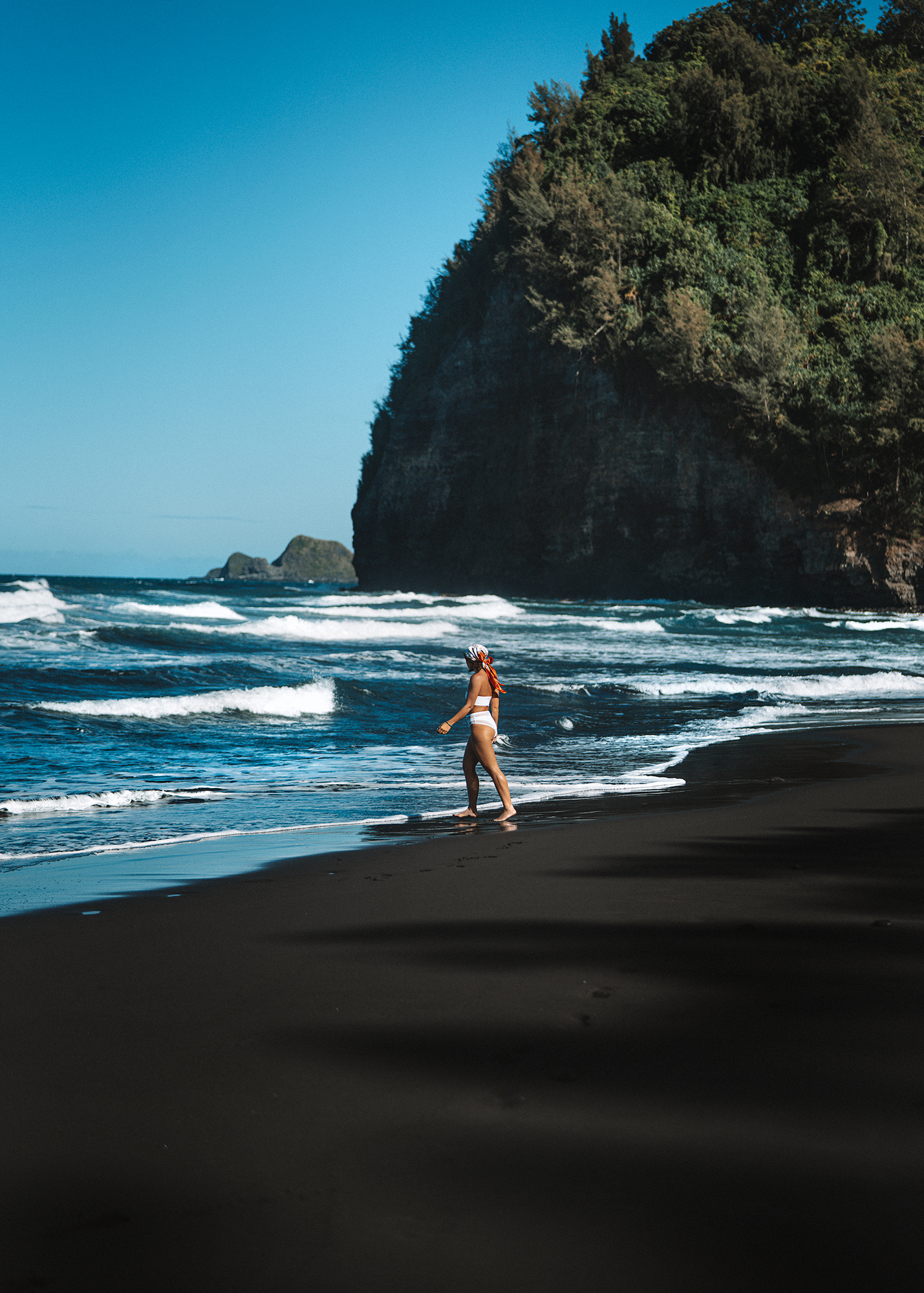 To end on one of the most beautiful black sand beaches on the island! The sand here is unobstructed and shines like stars - I would highly recommend this beach over some of the more popular black sand beaches on the Big Island.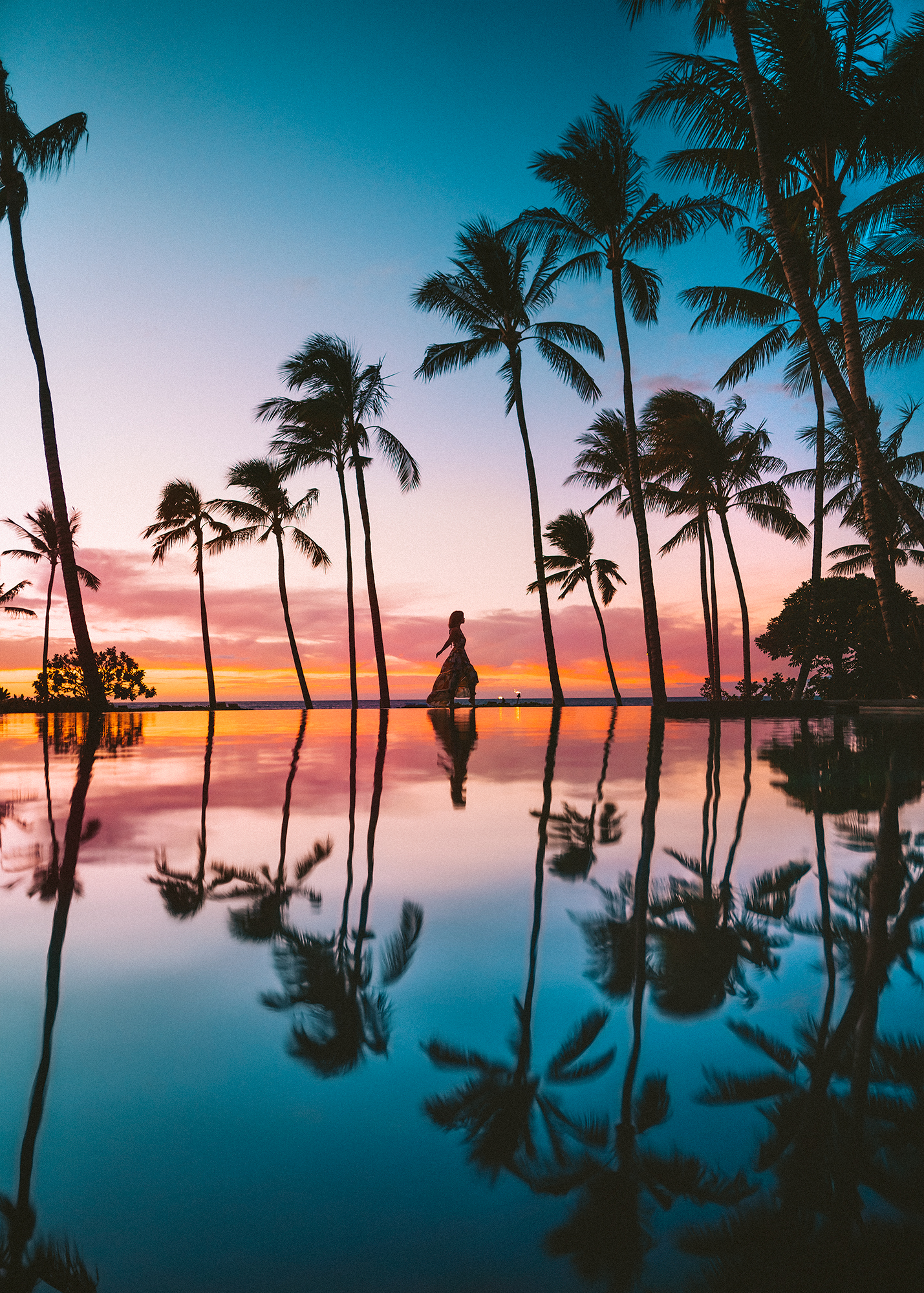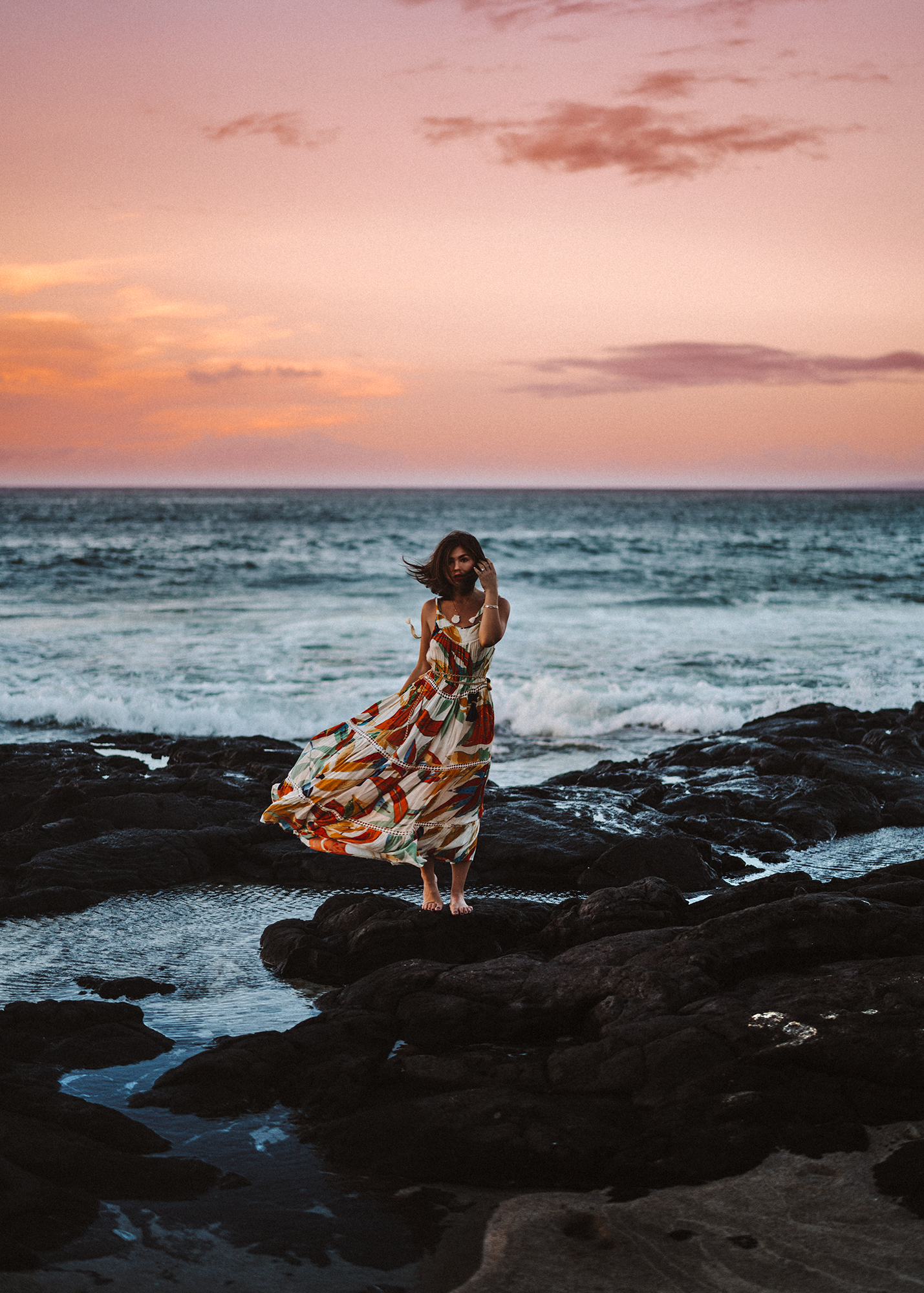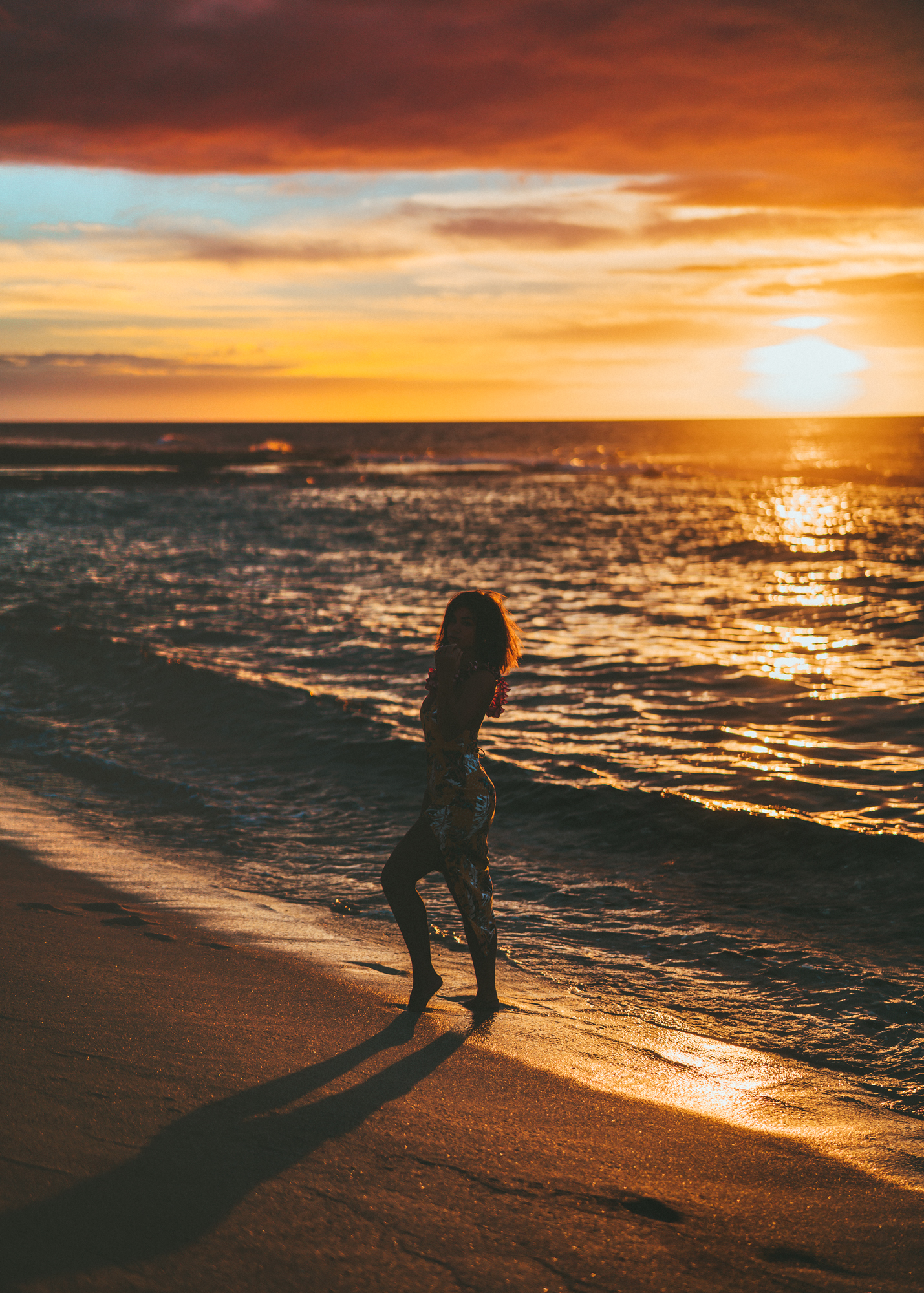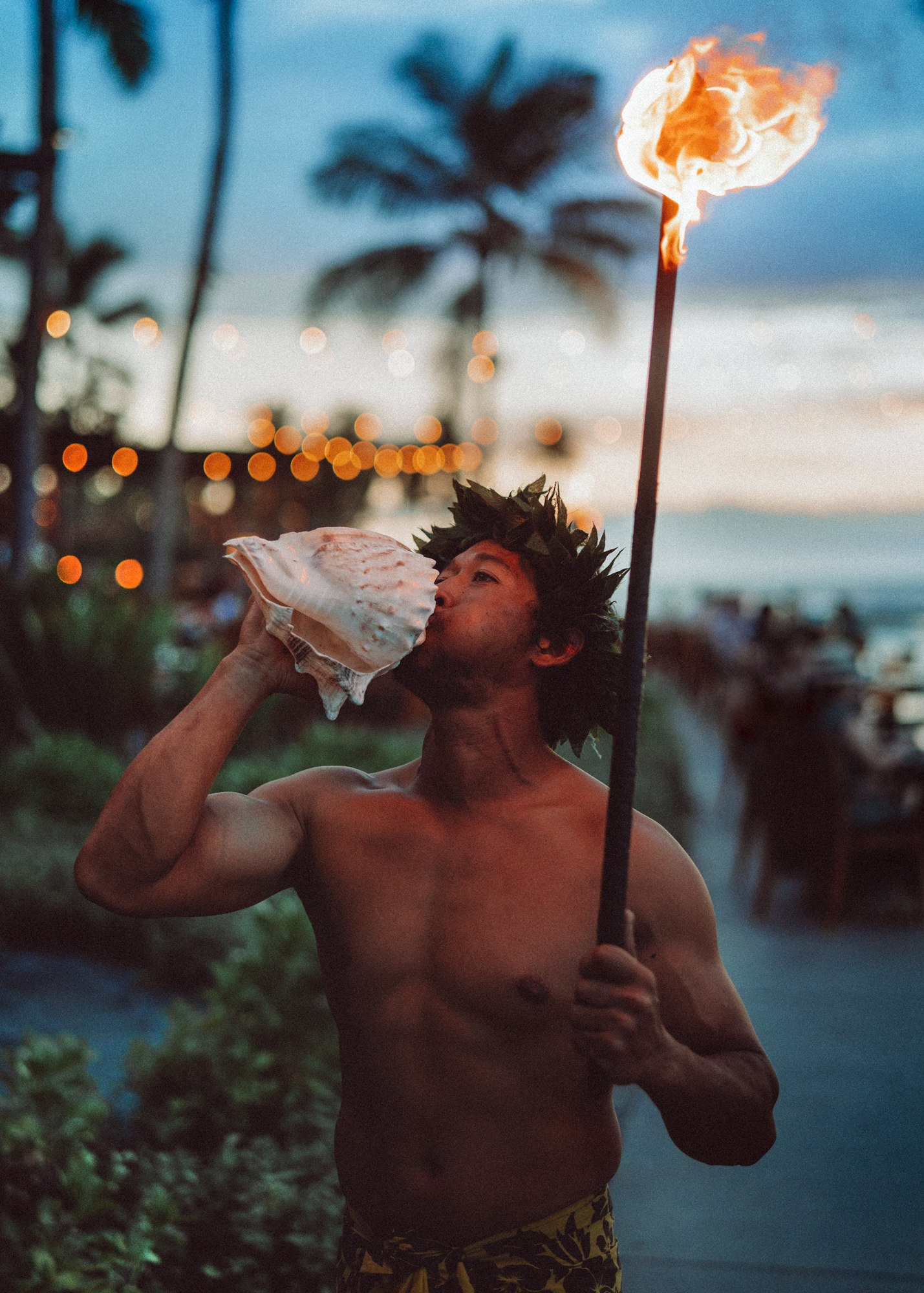 Sunsets in paradise. Honestly, it doesn't matter how many tropical sunsets I have seen on how many islands, I still always love and watch them with such wonder, as if I've never seen it before.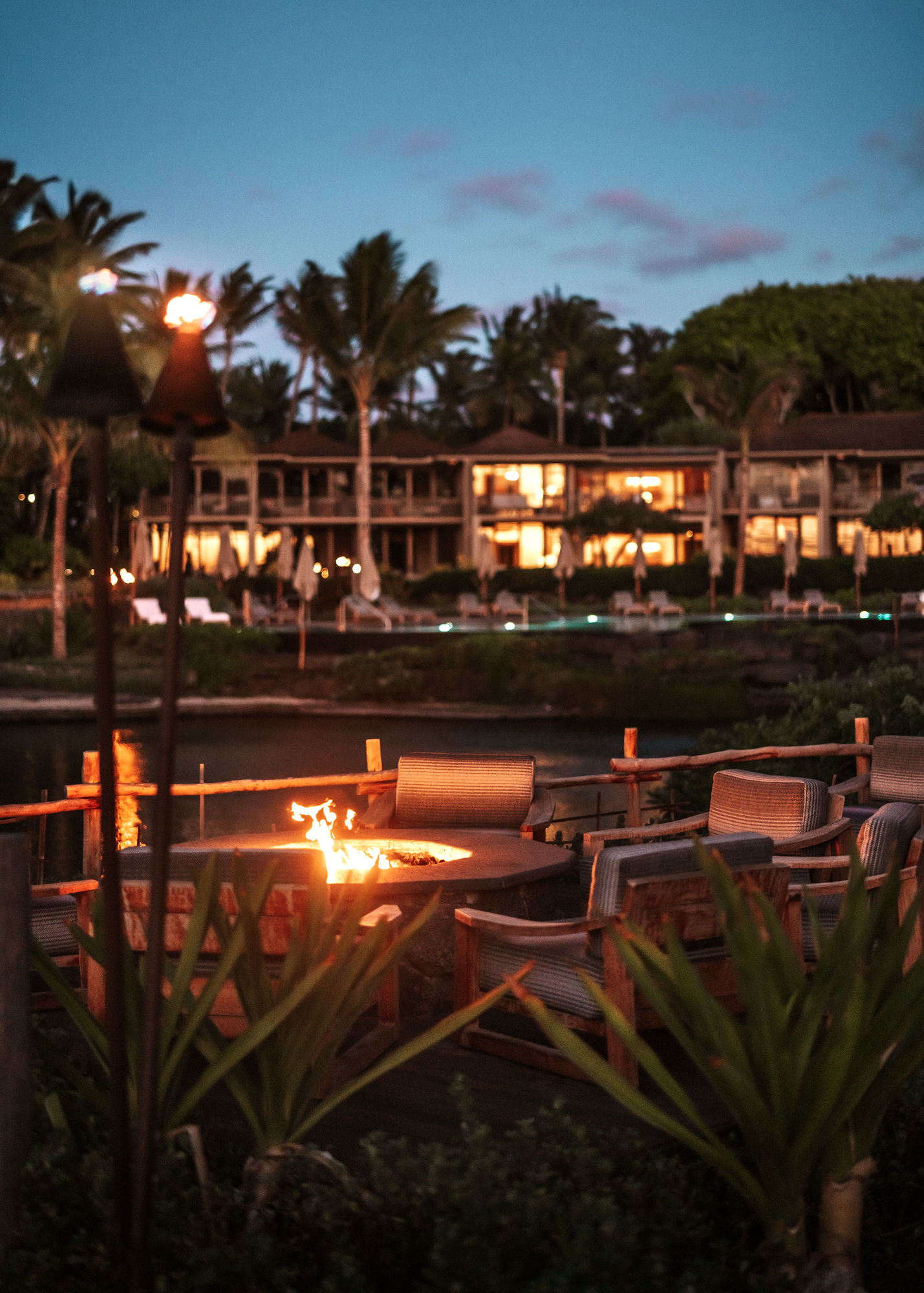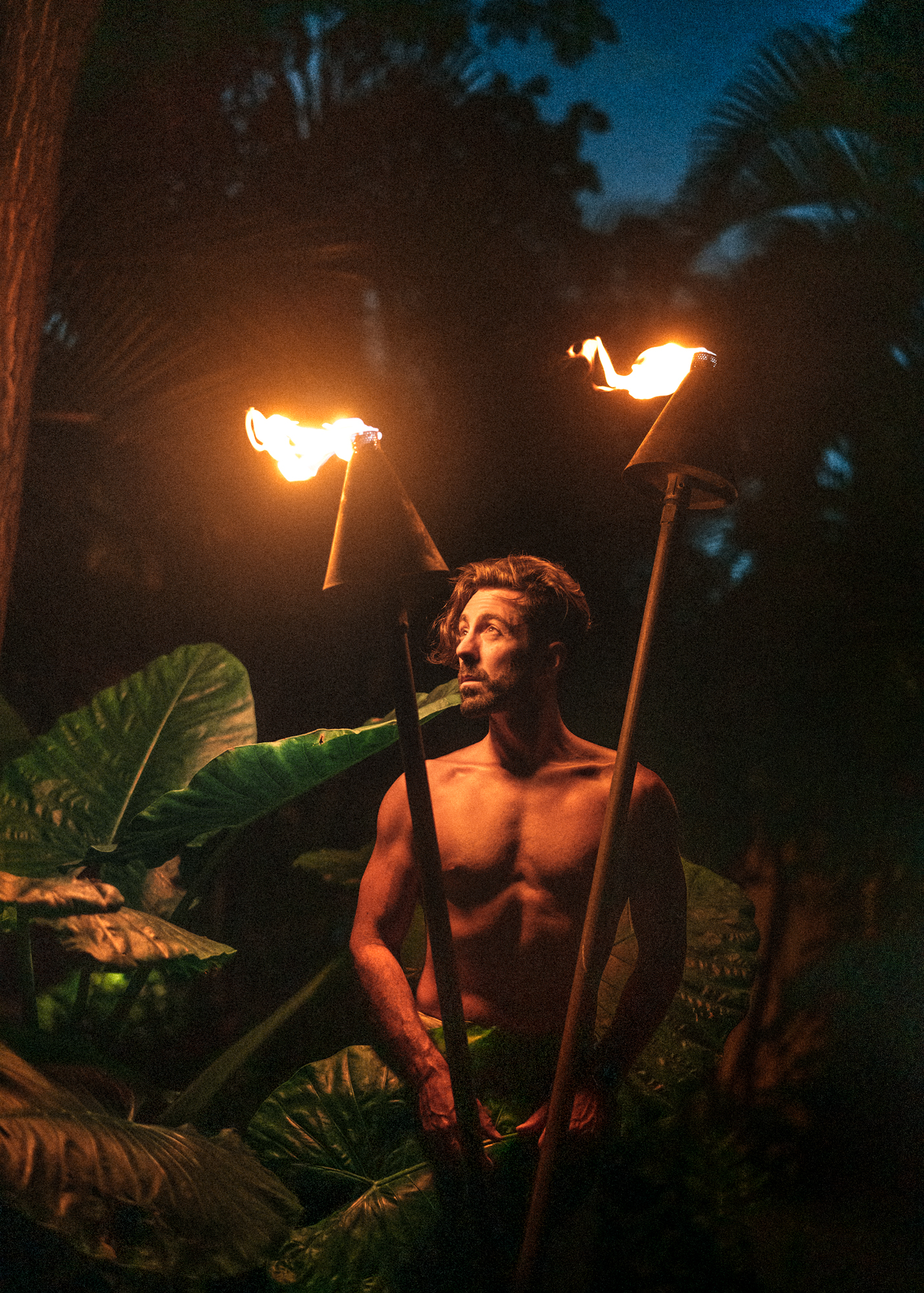 We've never met a fire pit or a tiki torch that I didn't like.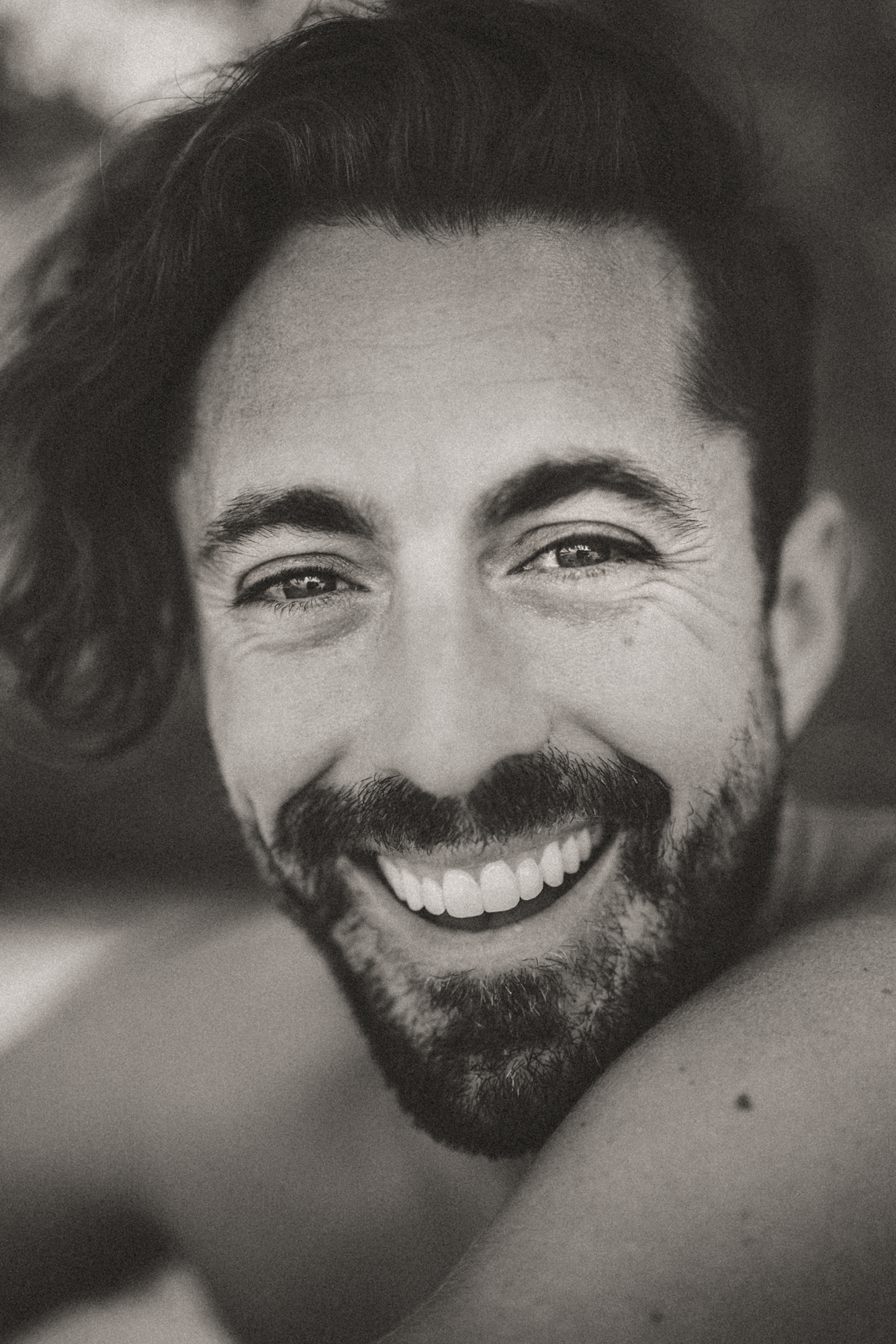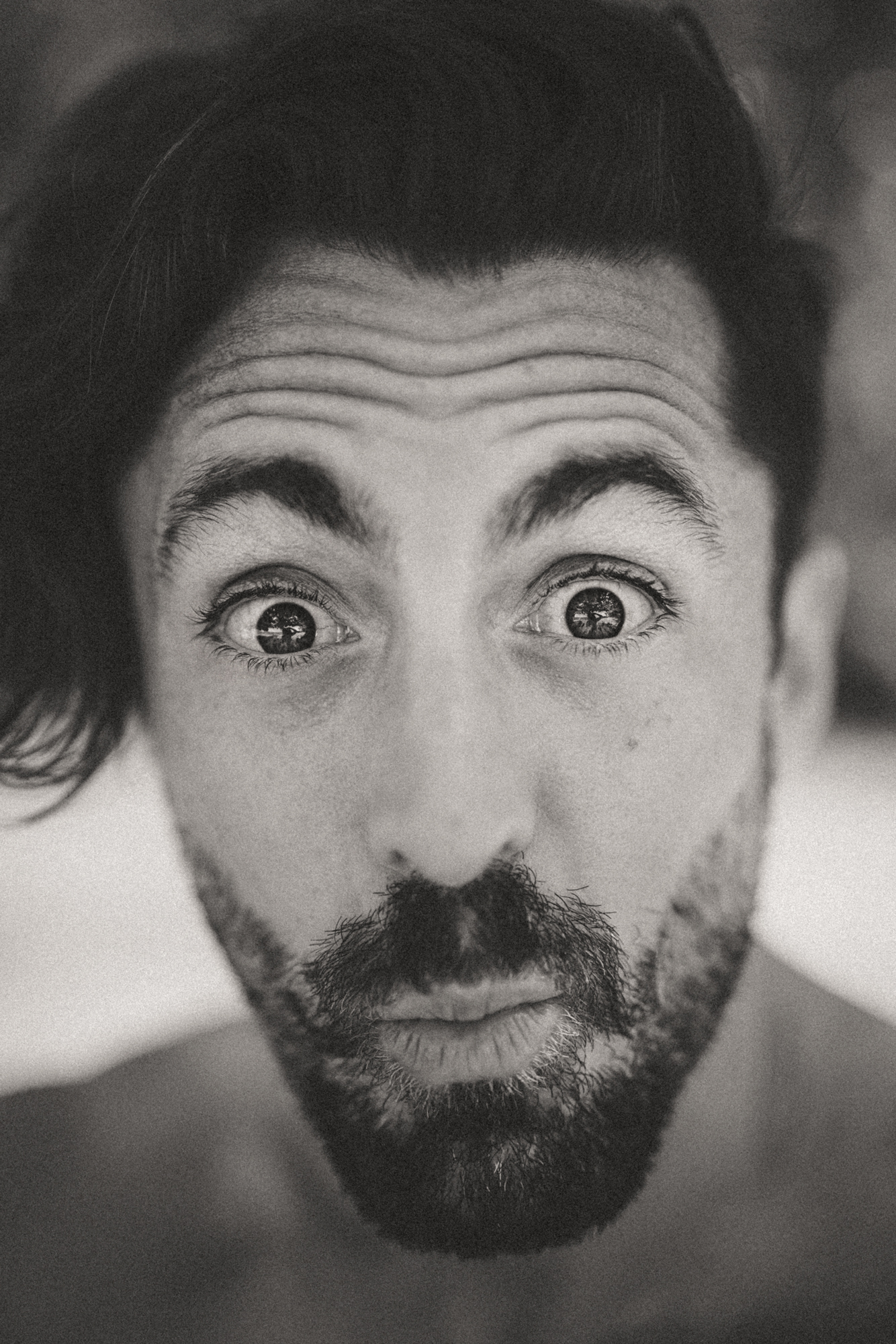 Just a little beach Brandon spam :-X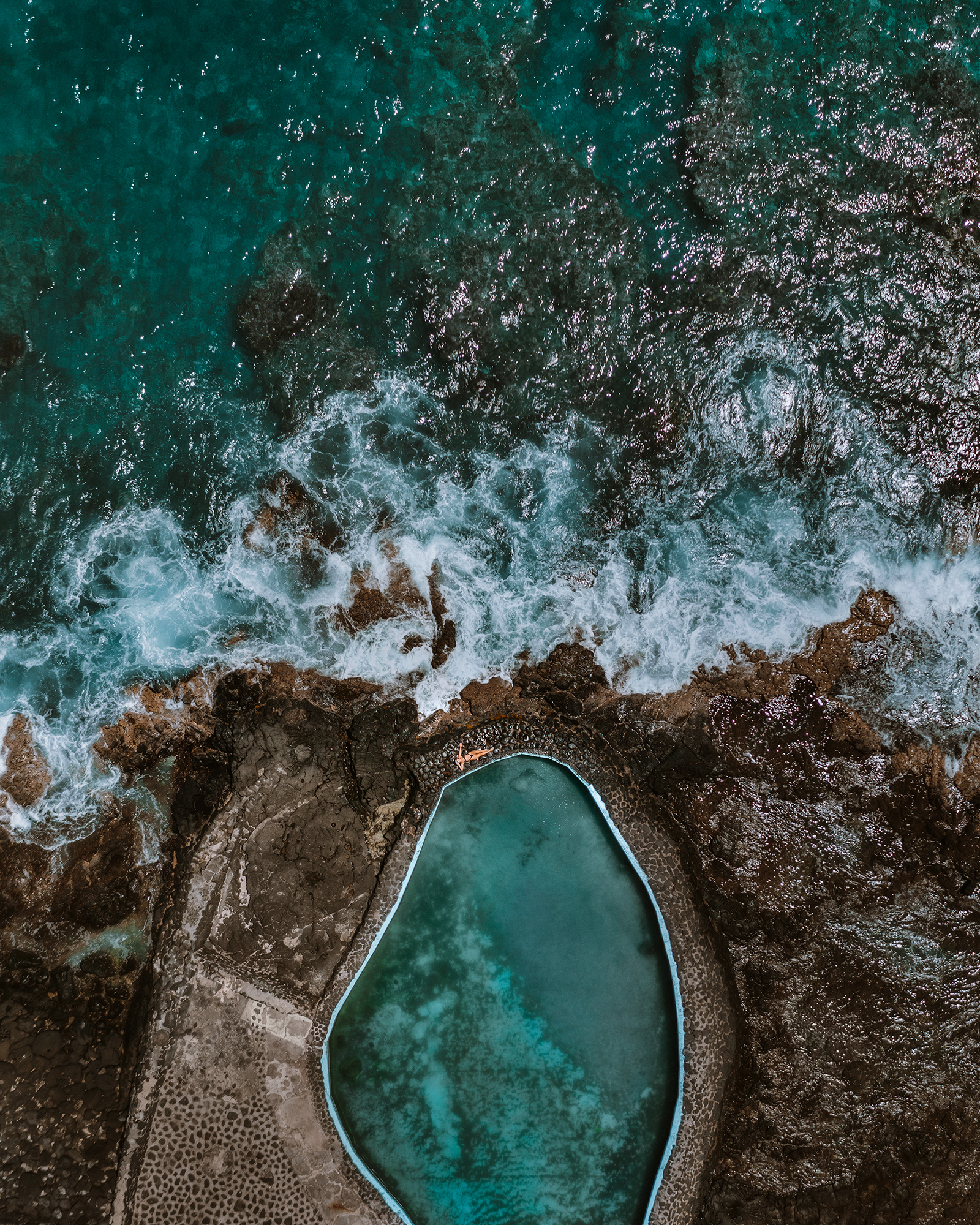 We also checked out the nearby Ali'i Saltwater Swimming Pool - unfortunately the rains and tides had been low, so it wasn't the most appealing for swimming, but is beautiful from above!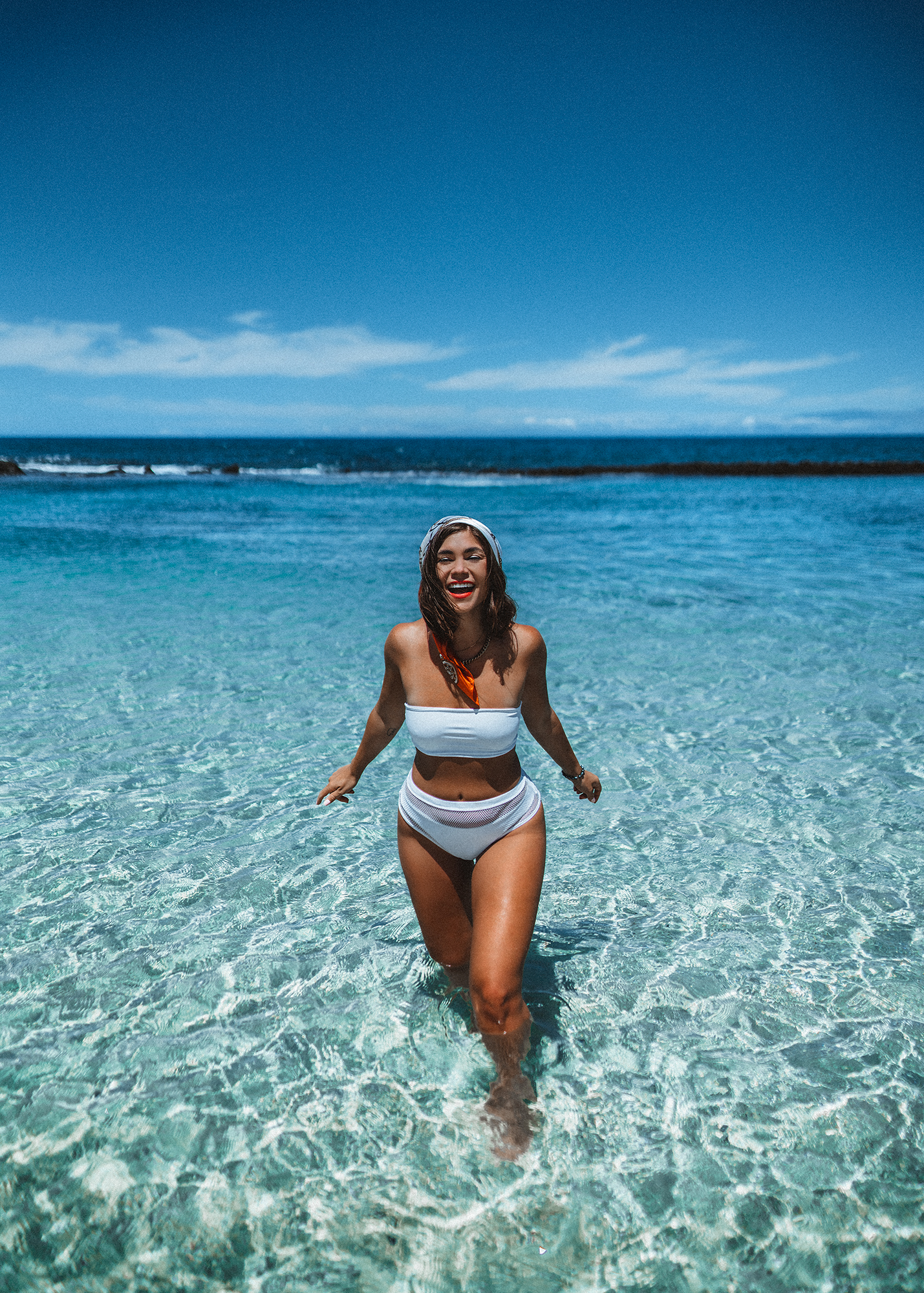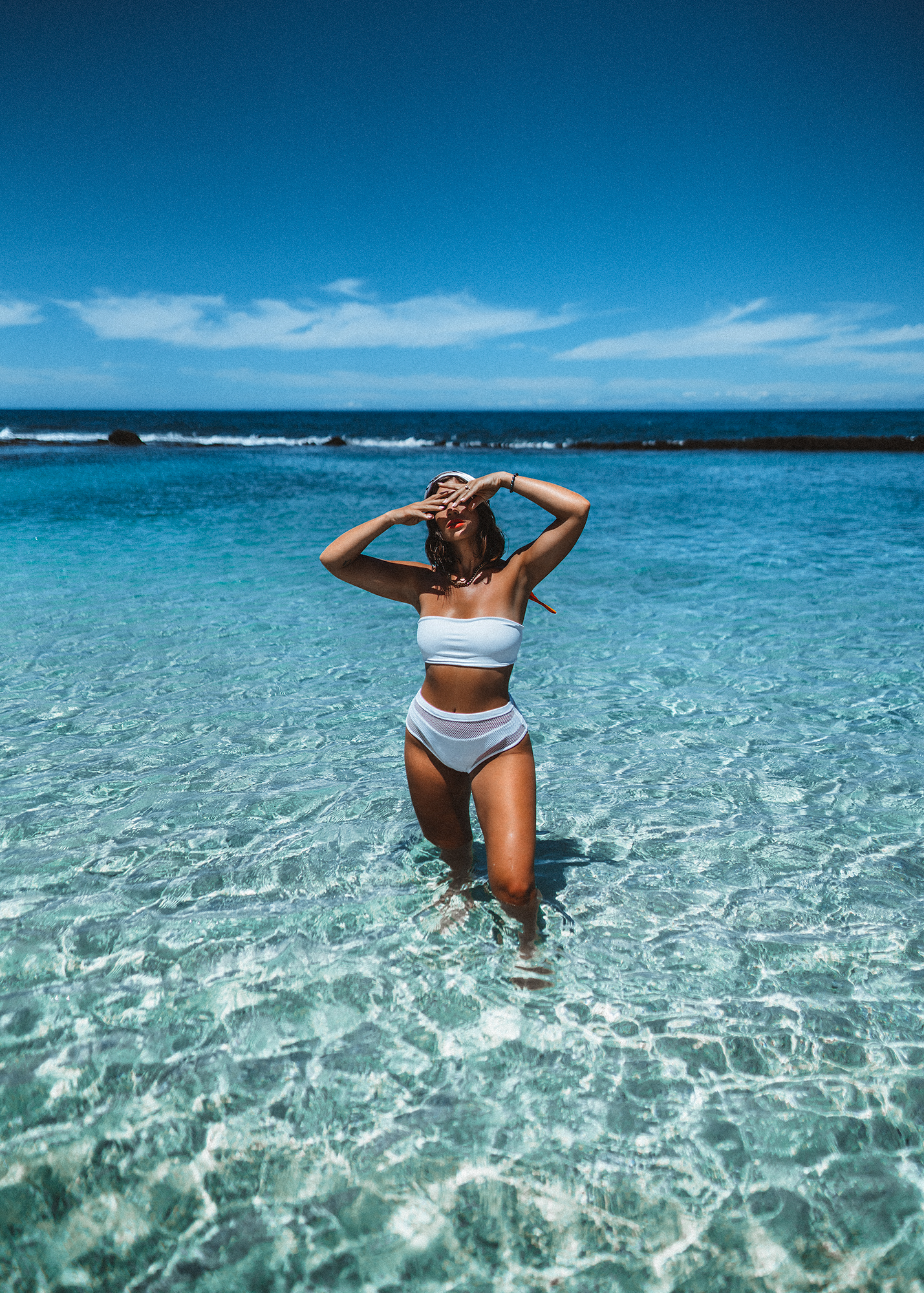 Now for swimming, there is no place better than the Four Season's house beach - this is some of the clearest, bluest water I have seen anywhere on all of the islands of Hawaii - and having it just steps from your room is a DREAM.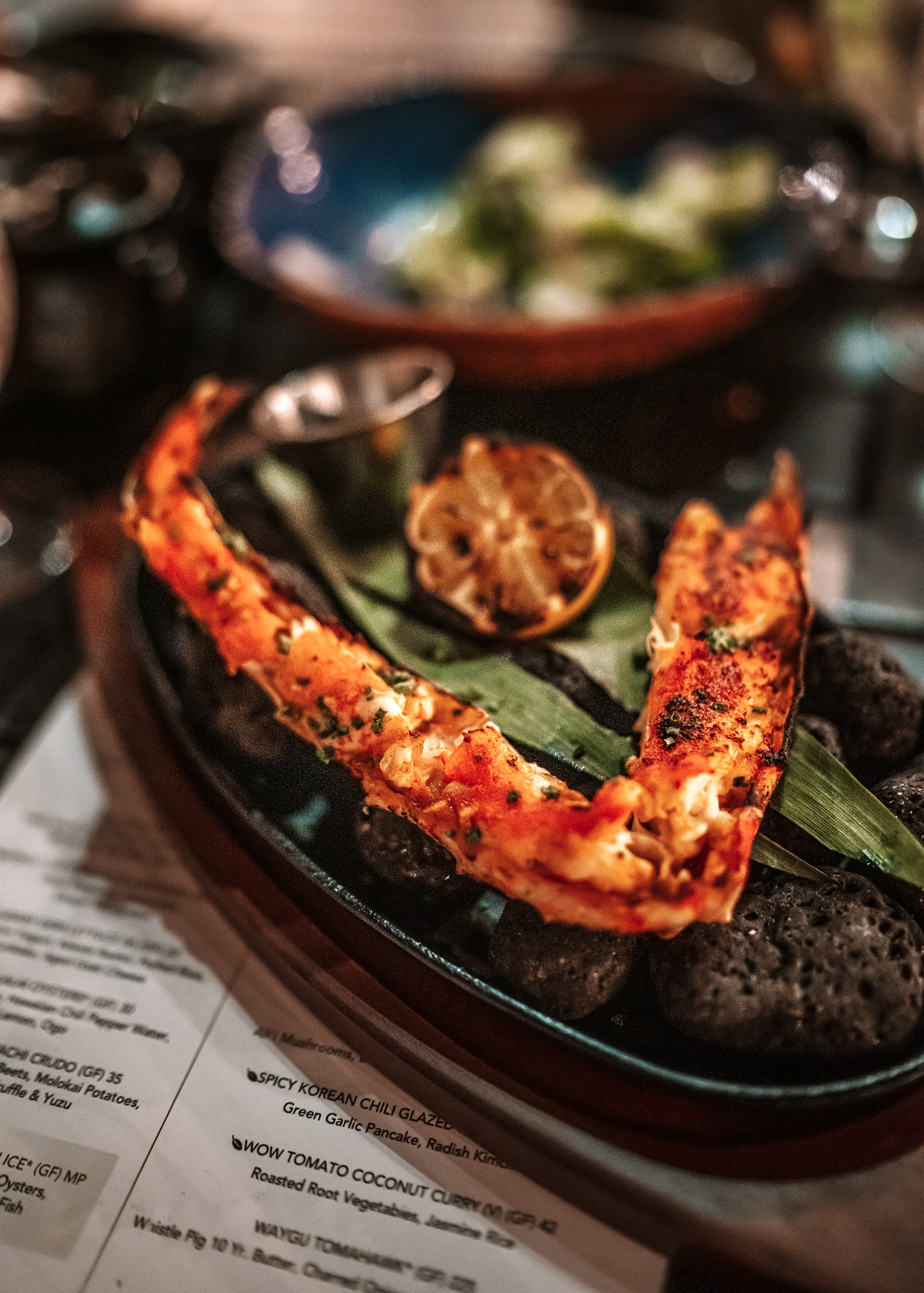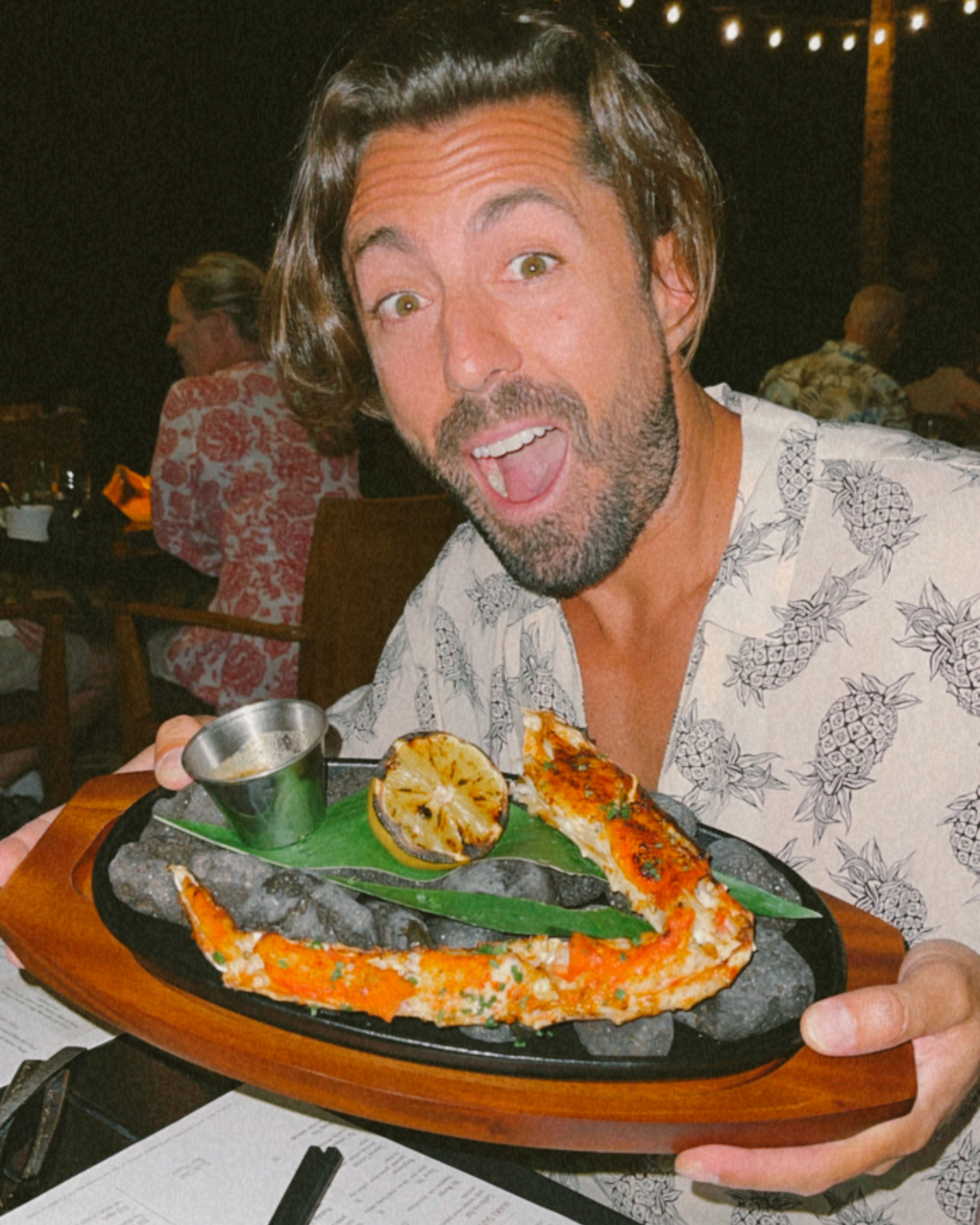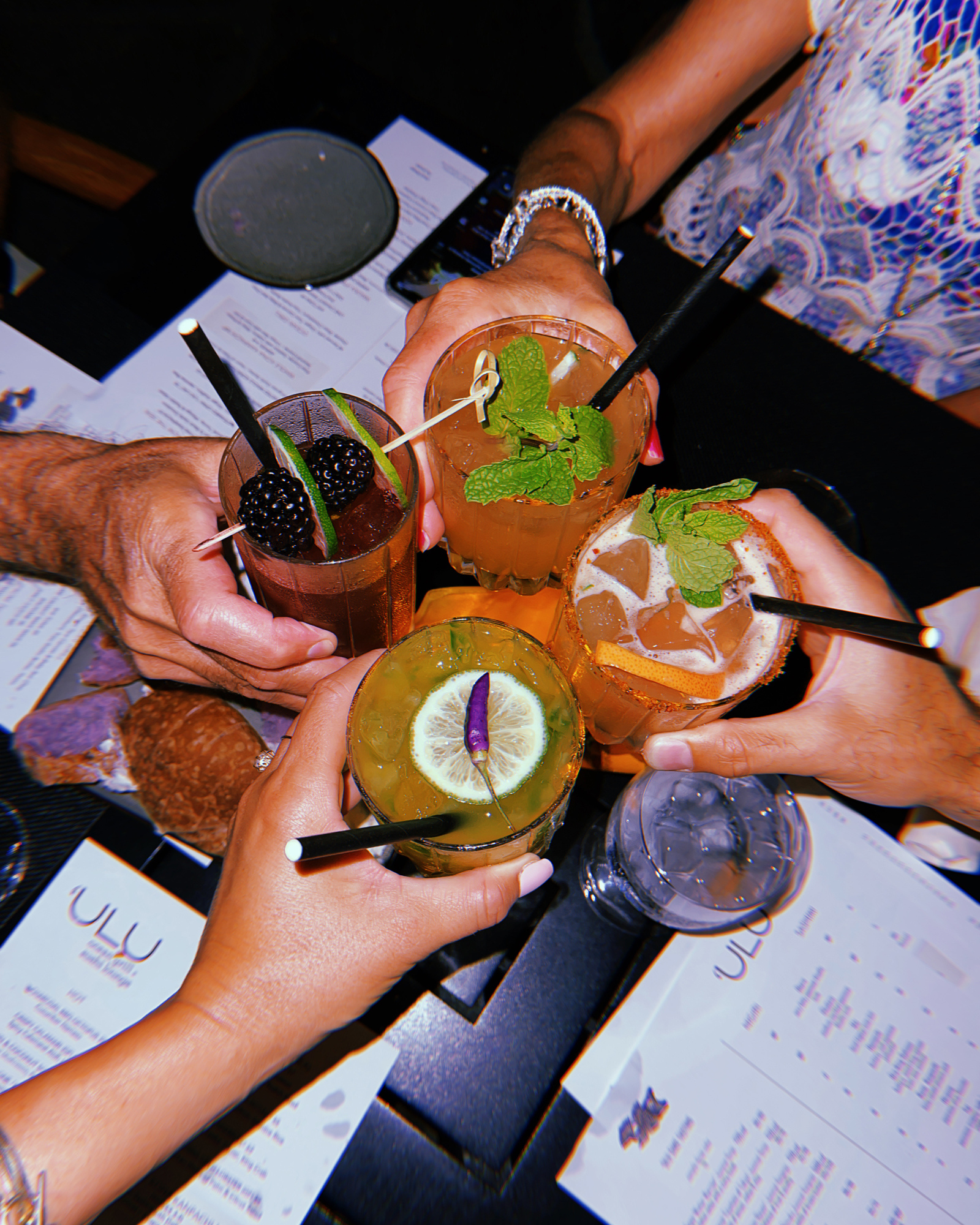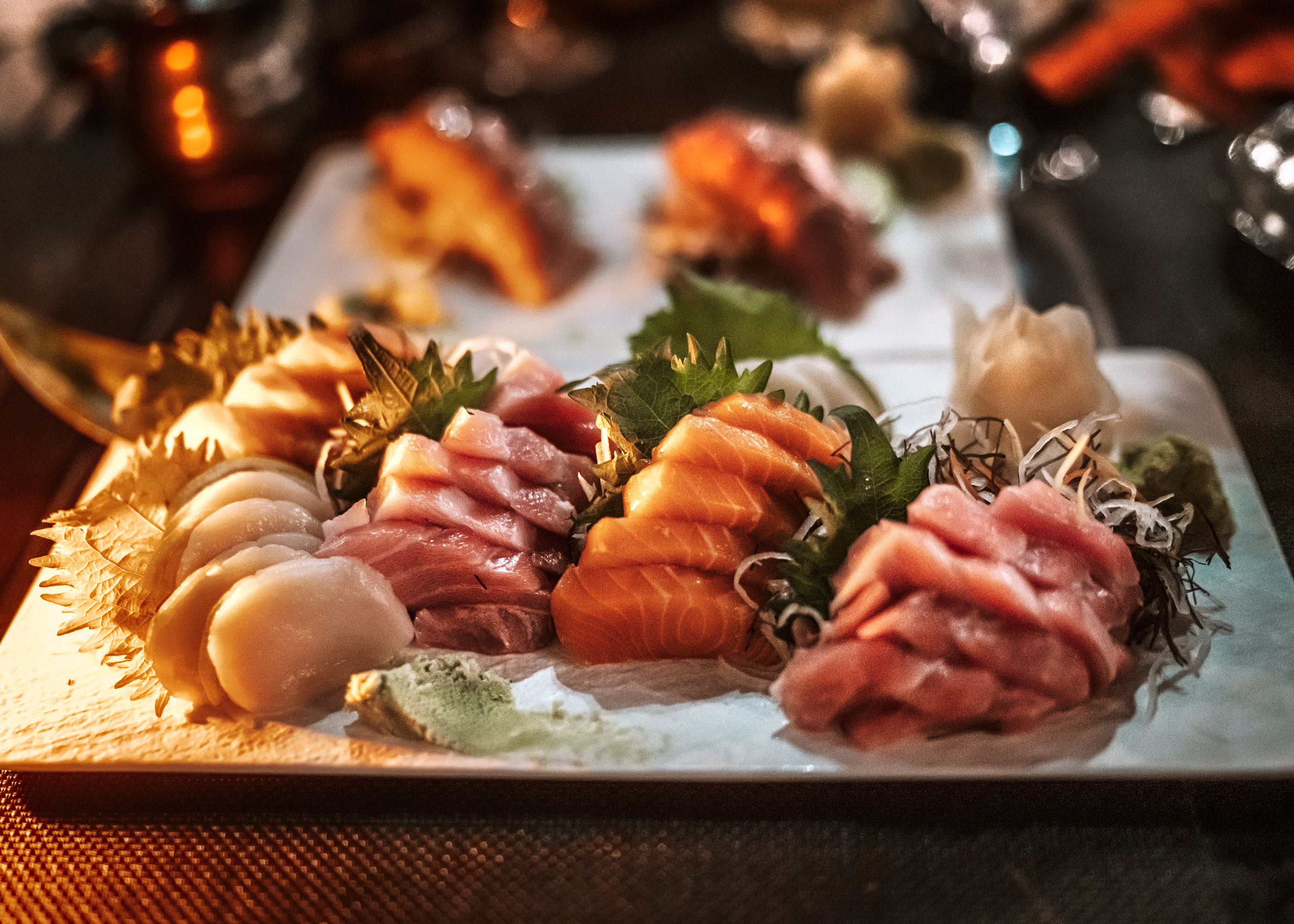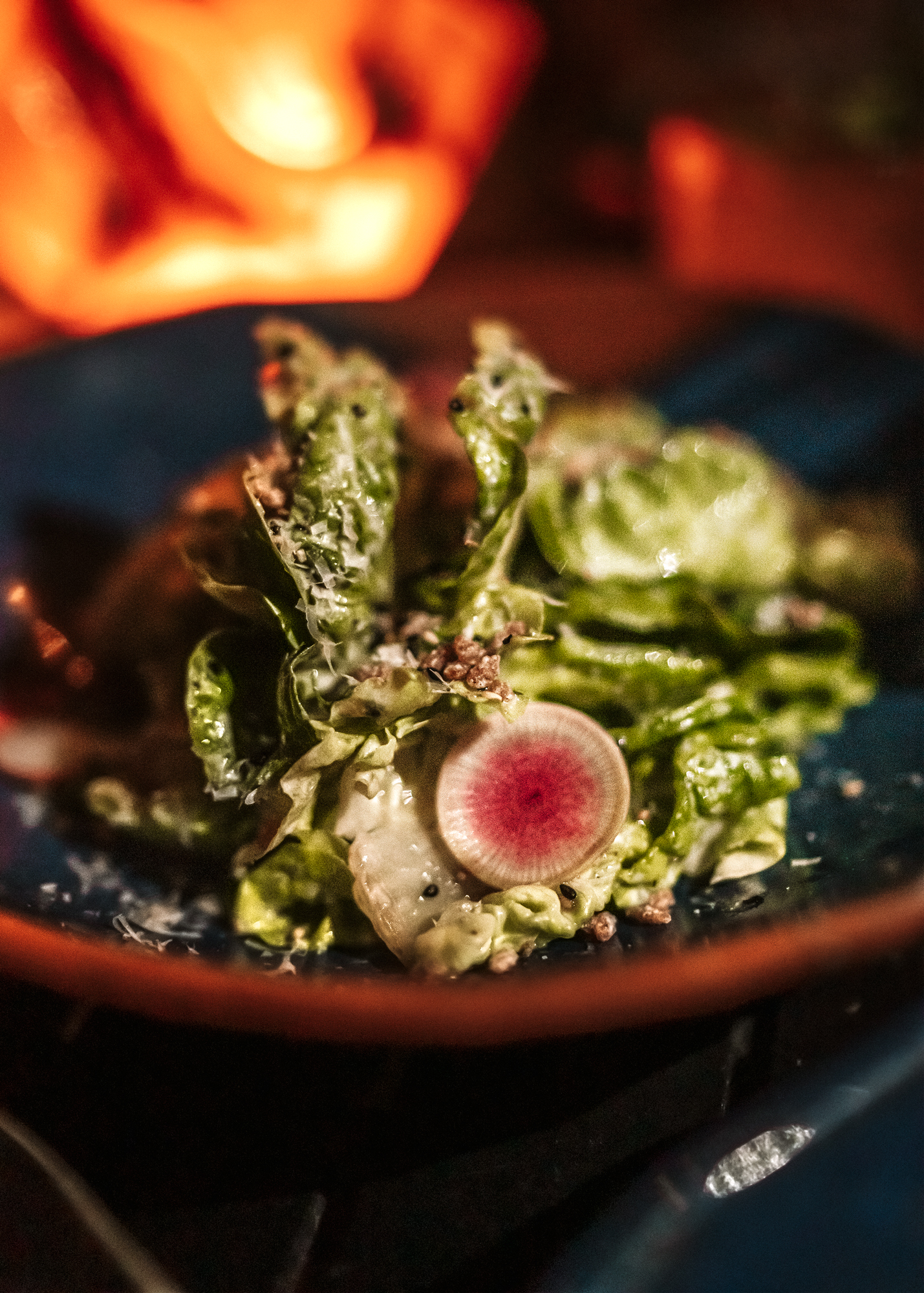 We HAVE to talk about the food here. The Four Season's Ulu Ocean Grill restaurant has an unassuming name but is one restaurant we had been dreaming about since our stay here a couple of years back. The freshest sushi, king crab legs, fresh craft cocktails, local ingredients... and a tomahawk steak! This entire trip actually came together because Brandon's parents had booked a trip to the island and invited us to come along. We surprised them with a dinner here at Ulu and they were absolutely blown away by the food and drinks here. It always feels so amazing when we're able to share a little with family and see the travel experiences that we are so used to through the eyes of people that don't travel as often or in the same ways that we do. This dinner was SUCH a highlight of our Hawaii trip.
Even if you don't stay at this hotel, a dinner at Ulu is a must on the big island!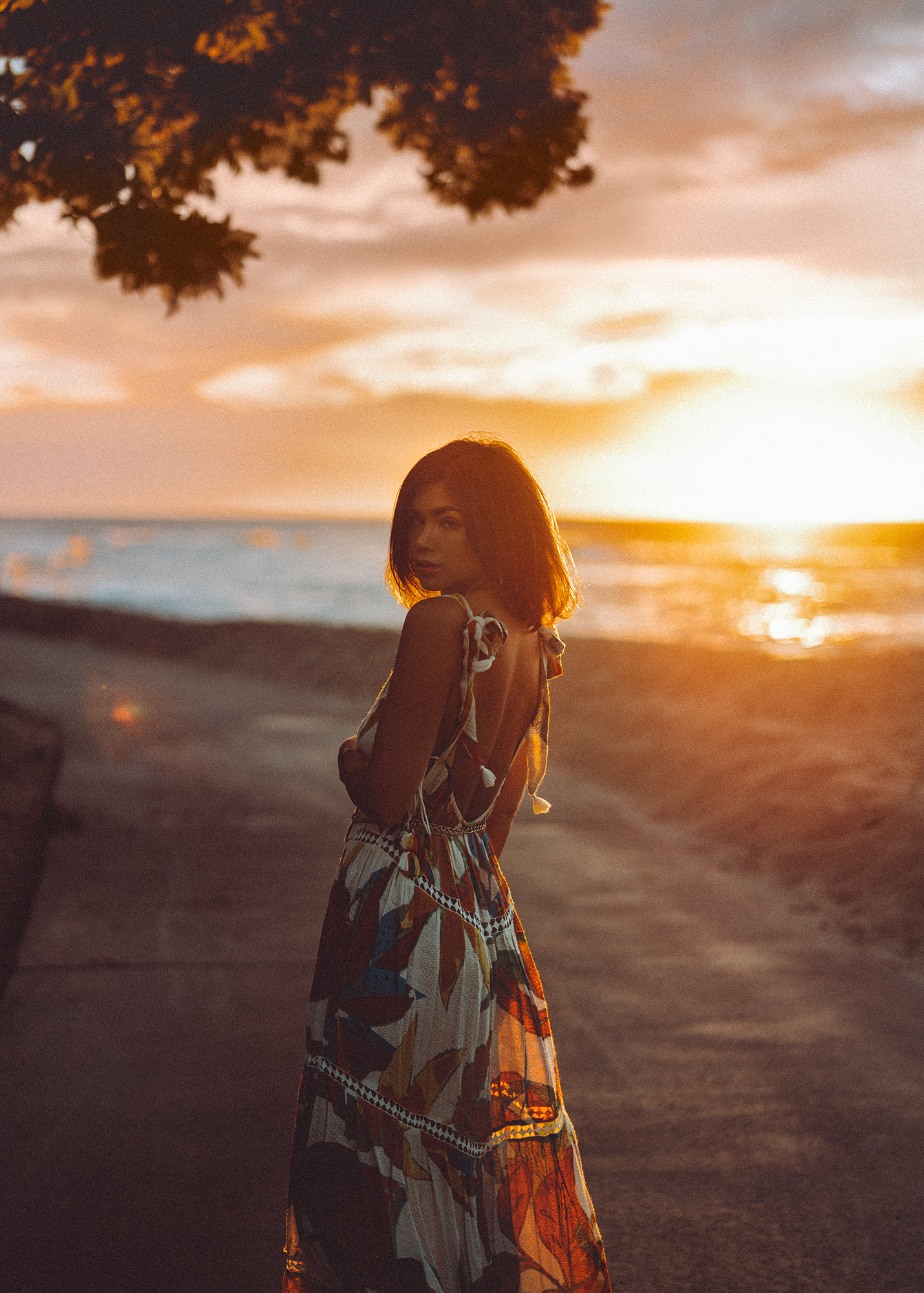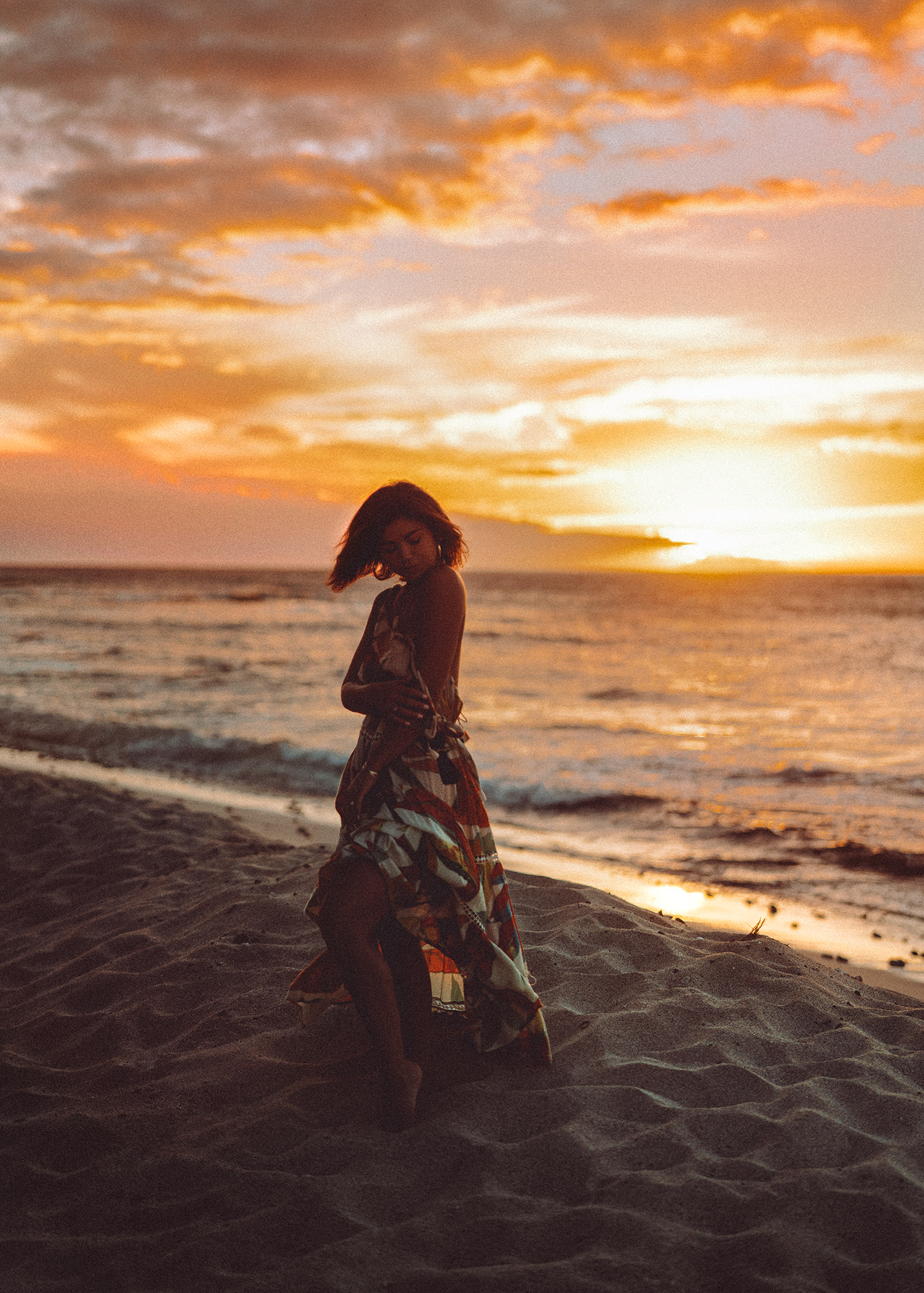 Never. Enough. Sunset. Shots.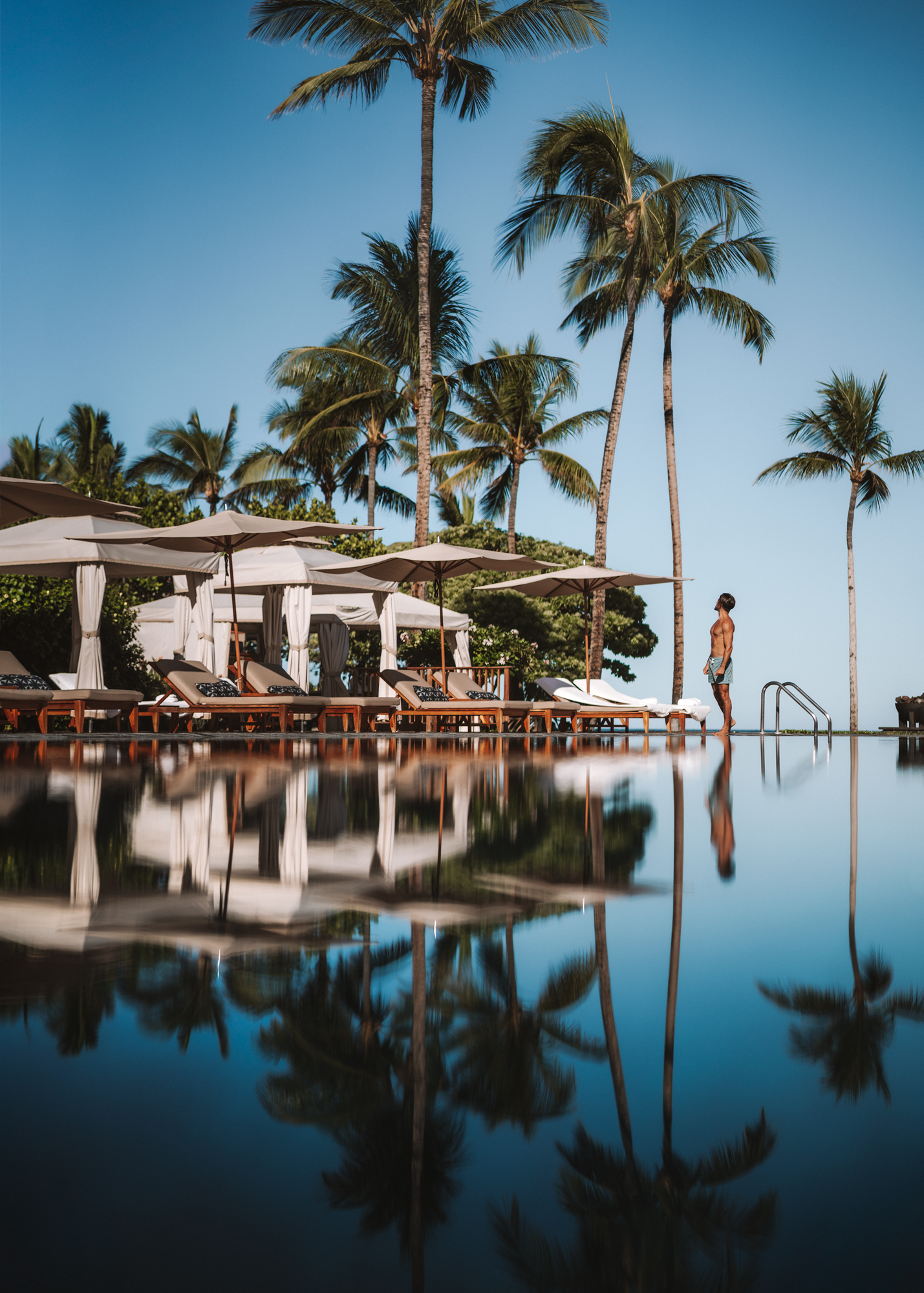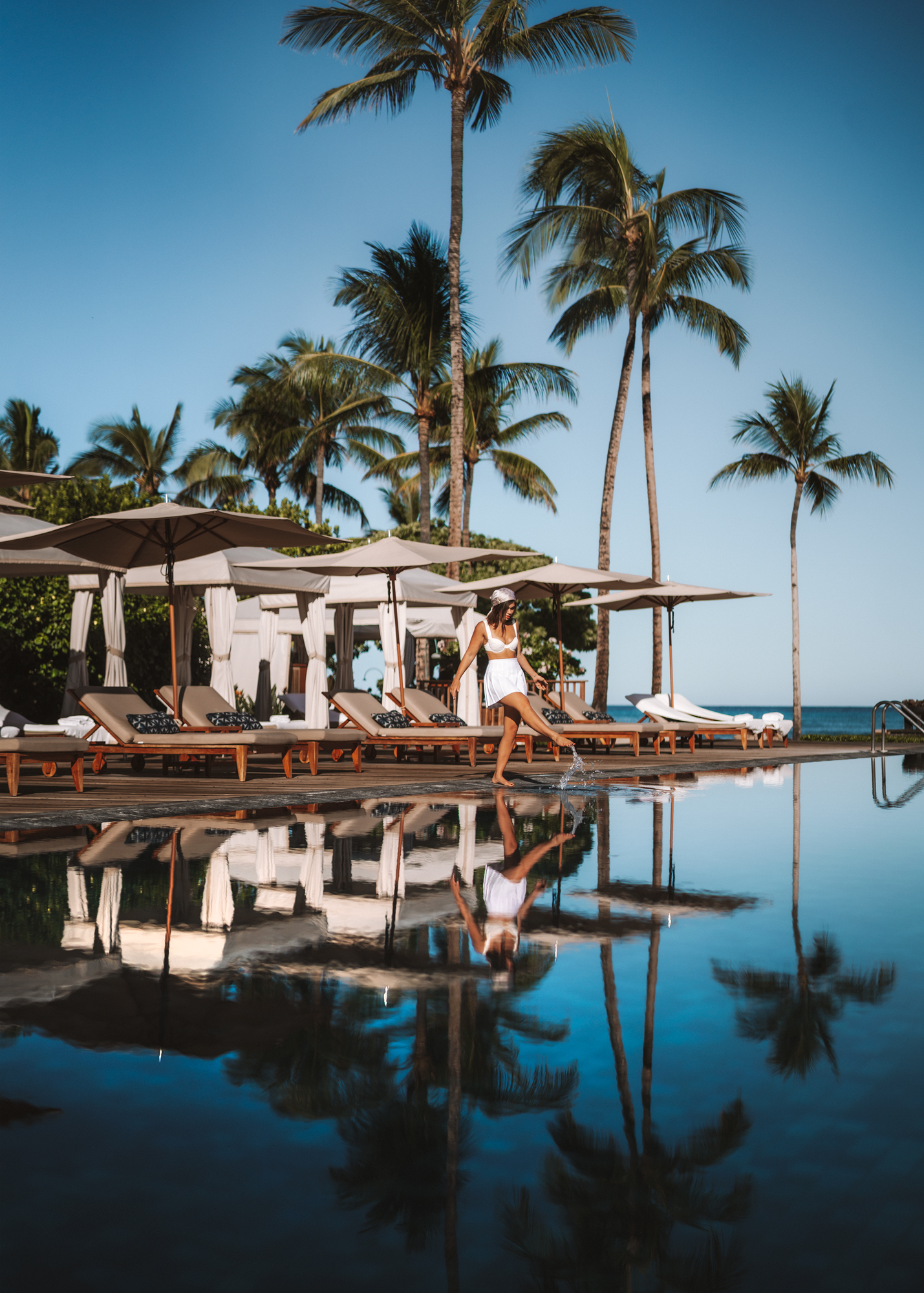 One small thing that I really love about the use of the local lava stones all around the property - most of the pools are infinity-style with this really subtle lava rock edge that makes for perfect reflective edges, like these shots here. lThe one of Brandon is one of my favorites from this entire trip!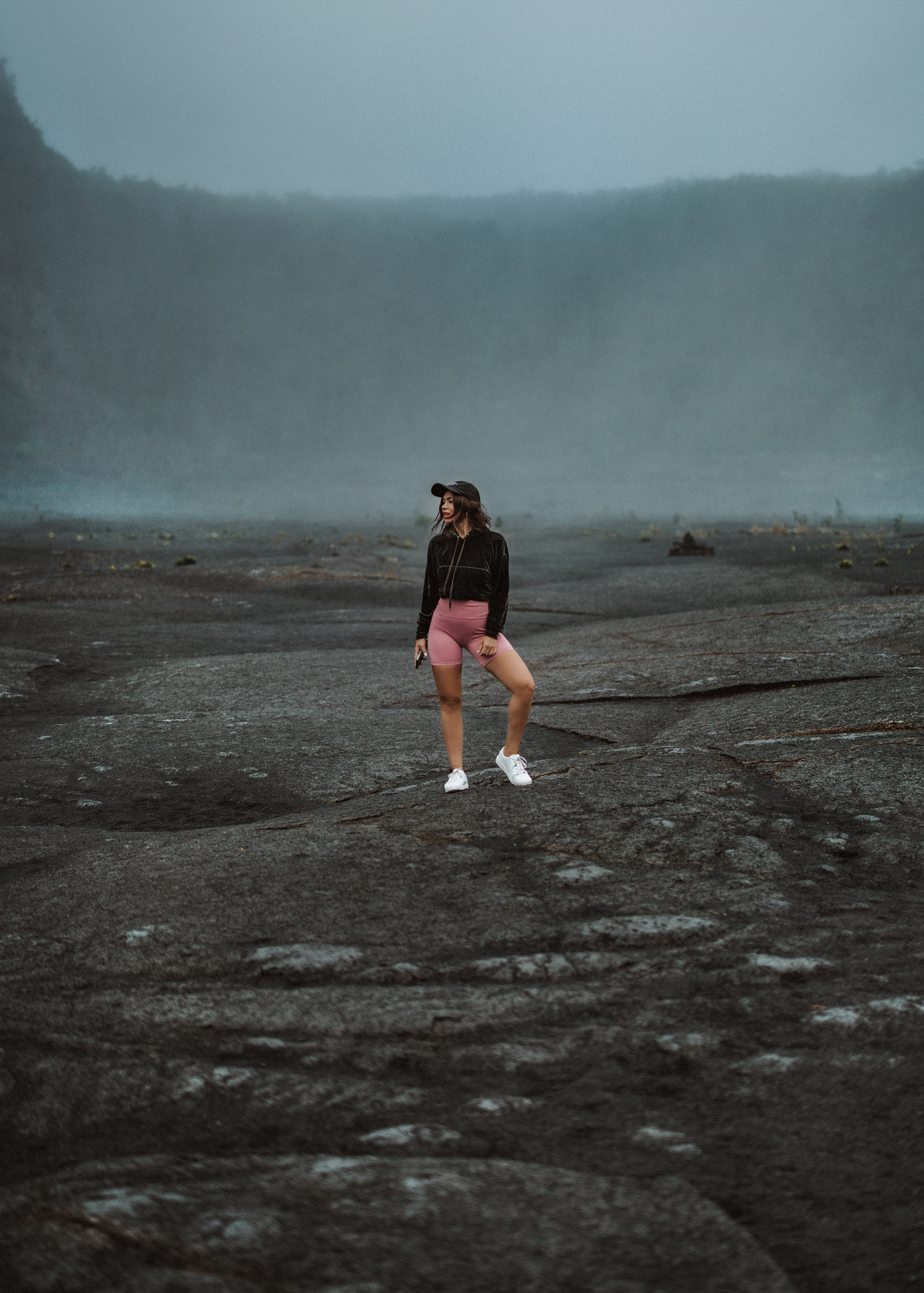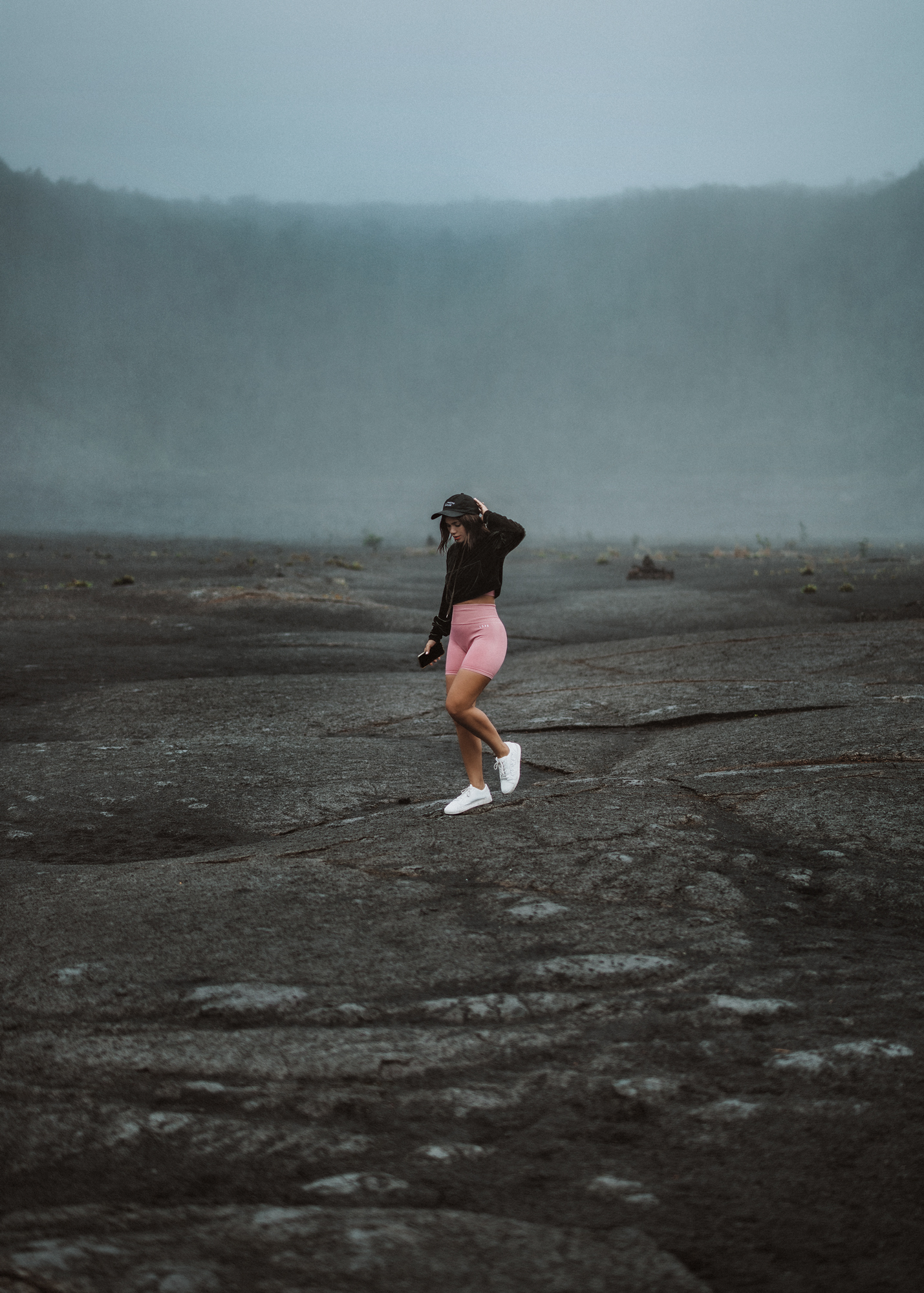 Our one other big adventure during our few days on The Big Island was finally visiting Hawaii Volcanoes National Park! Our first trip to the Island of Hawaii was in 2018 during the lava eruption, and the entire park was closed, on our second trip, we were here for such a short few days that we didn't have time to make the trip. We were so excited to FINALLY be able to see this place in person.We took the 3 mile Kilauea Iki Trail, down into and across the lava field.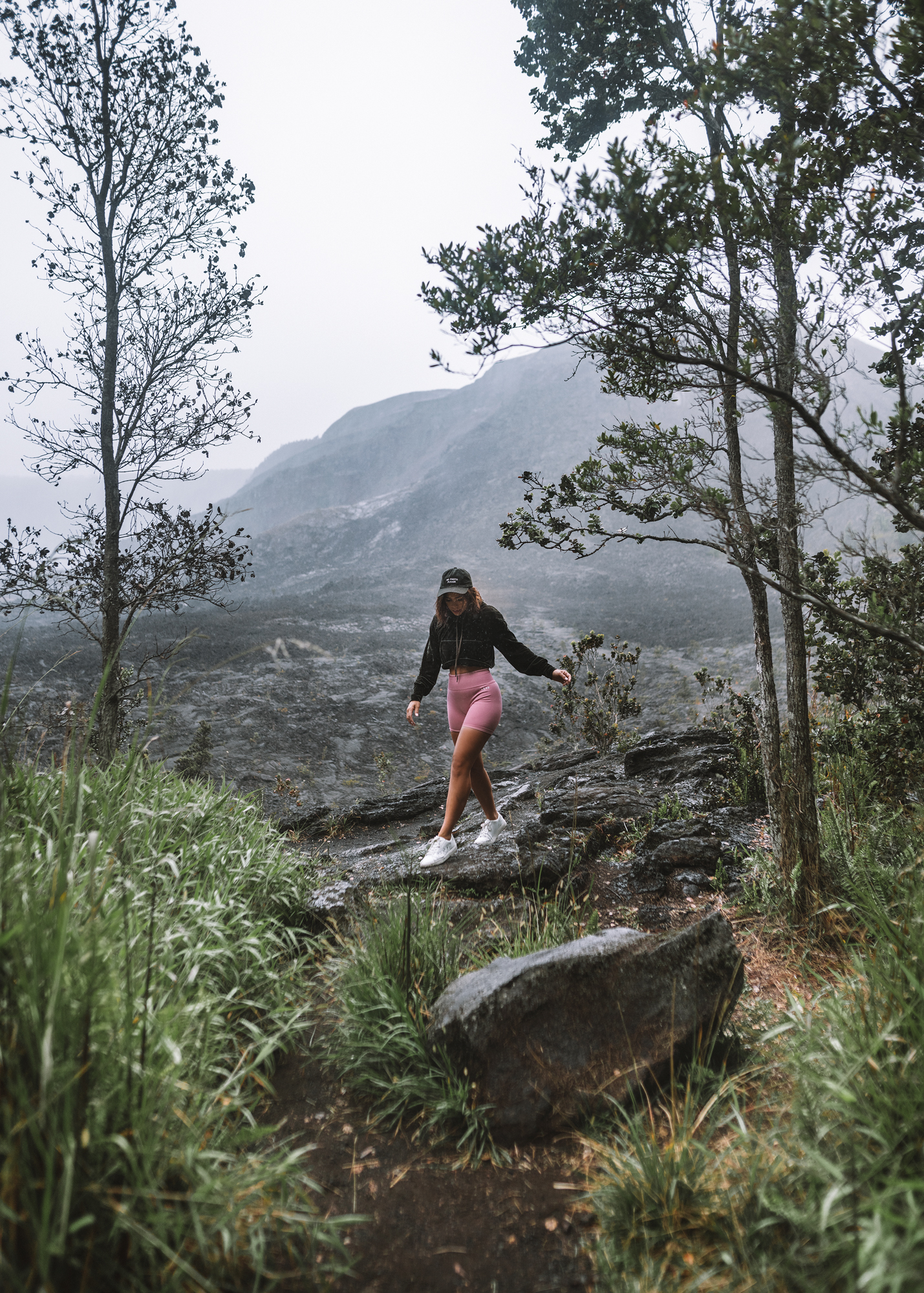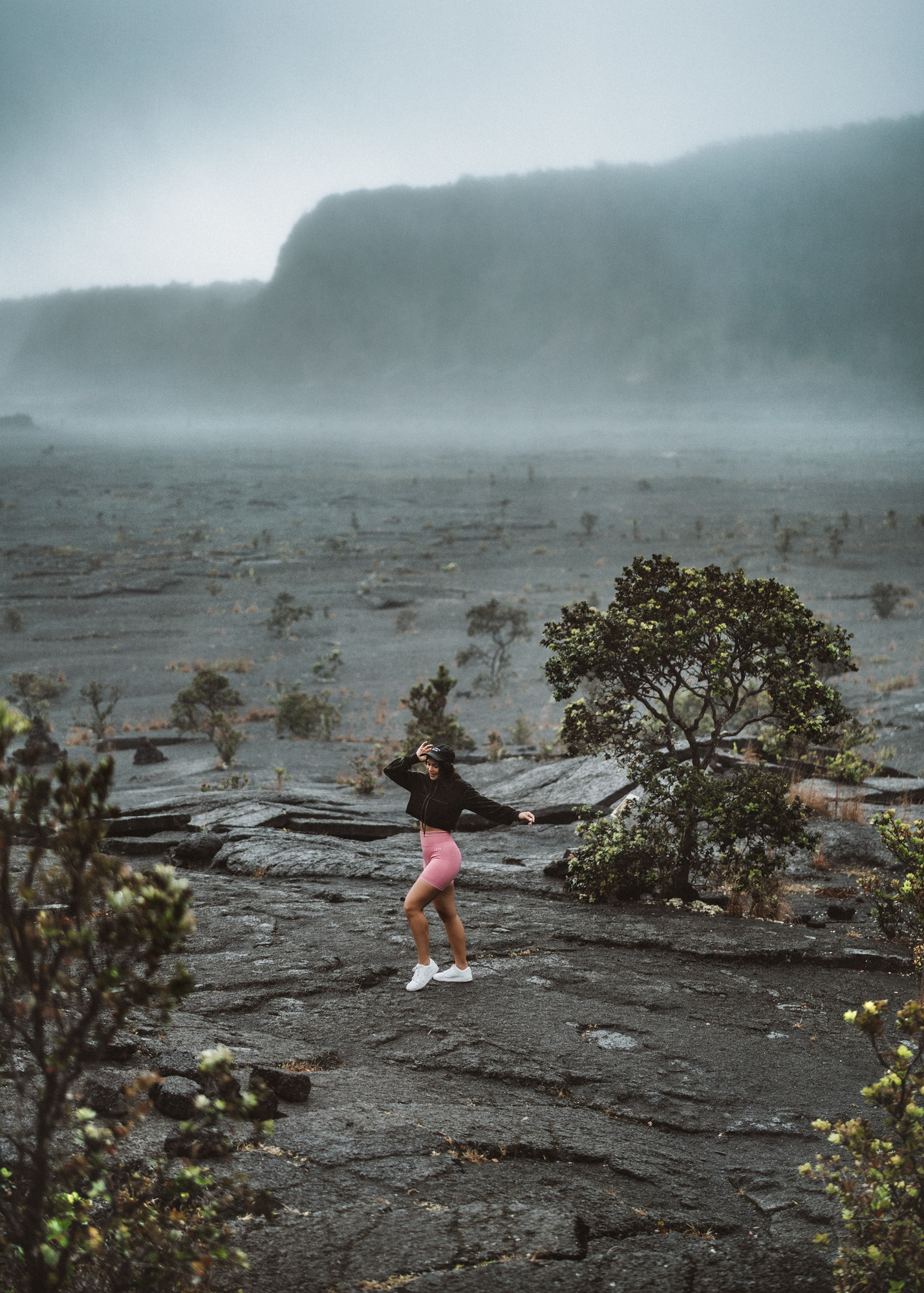 Anddddd it was pouring rain and absolutely freezing for Hawaii - but still such a cool place to see and explore! Across the lava field are geothermal vents that shoot out hot, steamy air, and everytime we found one we huddled around it to warm up. I'm used to getting wet while hiking through Hawaii, but we have never been this cold while on the islands! If you're heading to Volcanoes, definitely bring a jacket - my sweatshirt was small but I would not have been a happy camper without it.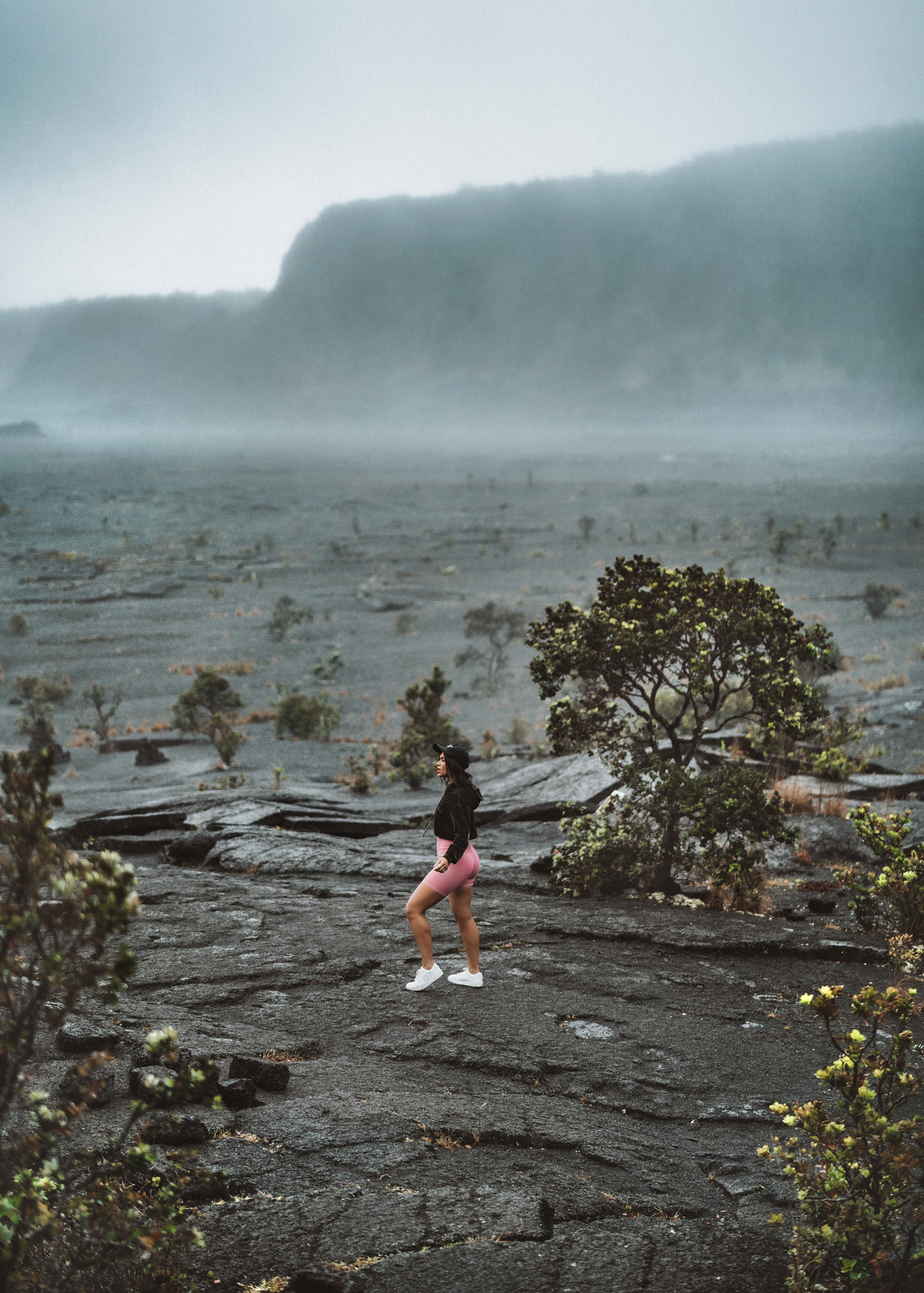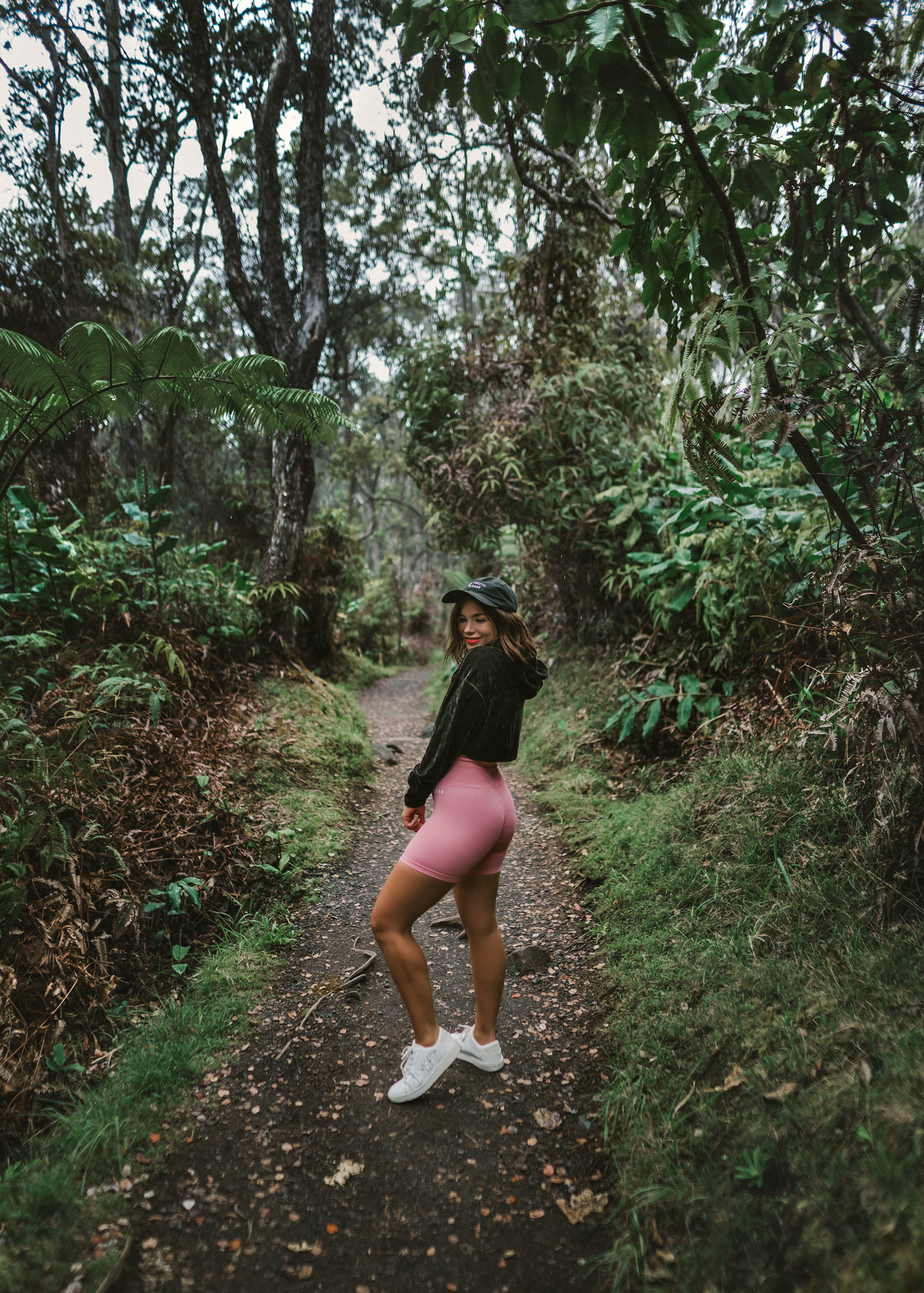 I'm trying really hard to look cute here but I'm actually dripping wet and freezing. It's all a part of the adventure!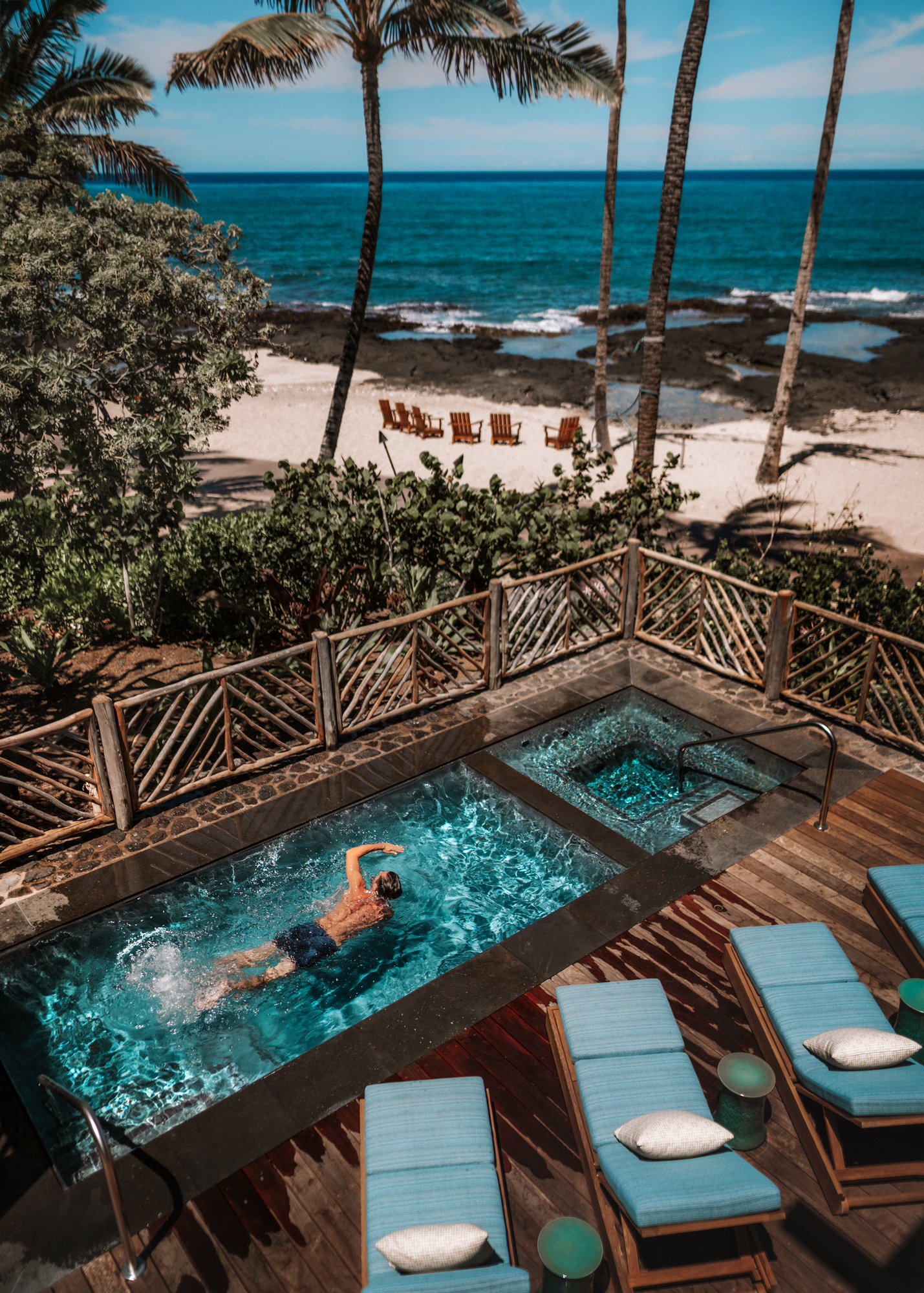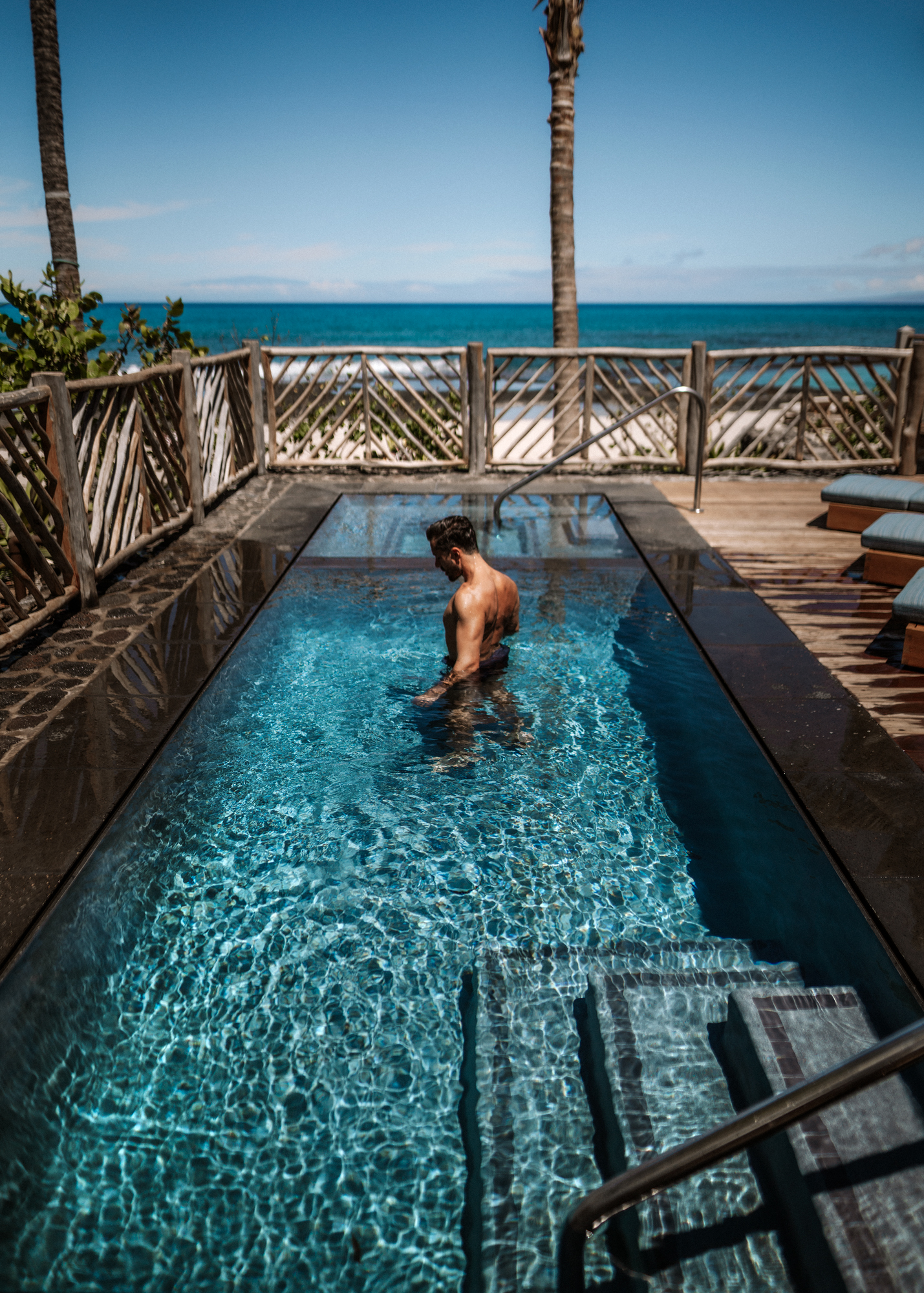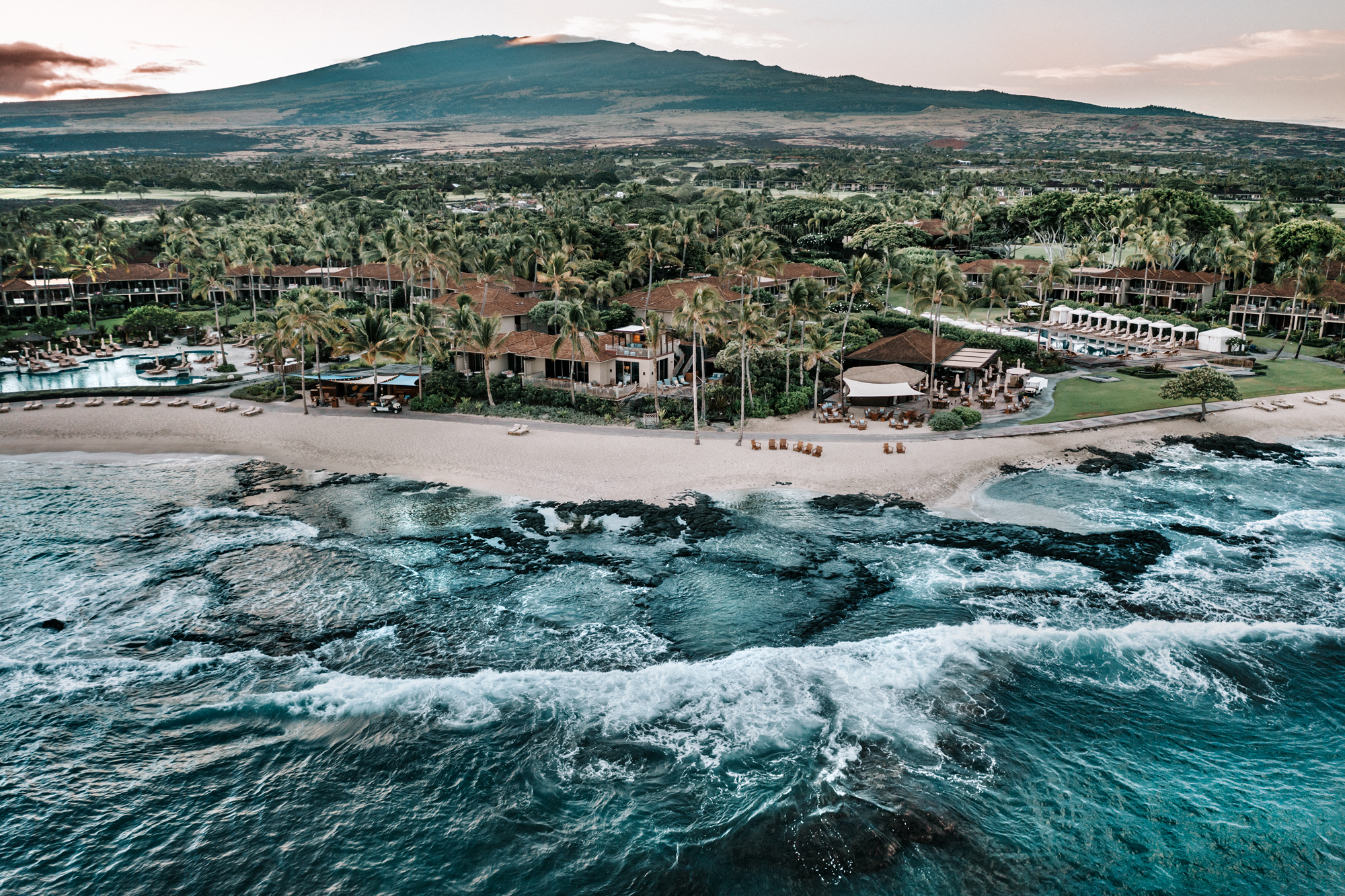 Until we meet again, Hualalai!
LIKE THIS POST? PIN IT FOR LATER AND SHARE IT WITH OTHERS!