July 9, 2020 Travel Guides
Which Island in Hawaii Should I Visit? A Trip-Planning Travel Guide
Planning your first trip to Hawaii can be overwhelming. You already know that each island is unique, beautiful, and offers its own version of a tropical paradise - but which one/s do you choose? While there is no wrong answer - each island has a vibe, and experience, and a life all of its own. And when you go to paradise, you want to make sure you get it right.
First think about what you are looking for in your trip - do you want a romantic, luxurious getaway? Thrill-seeking adventures? Waterfalls and jungle hikes - or beaches and resorts? Then read on to determine which island or islands fit your dream vacation the best. See you on Island Time!
The Best Hawaiian Island for... Unique Beaches: The Big Island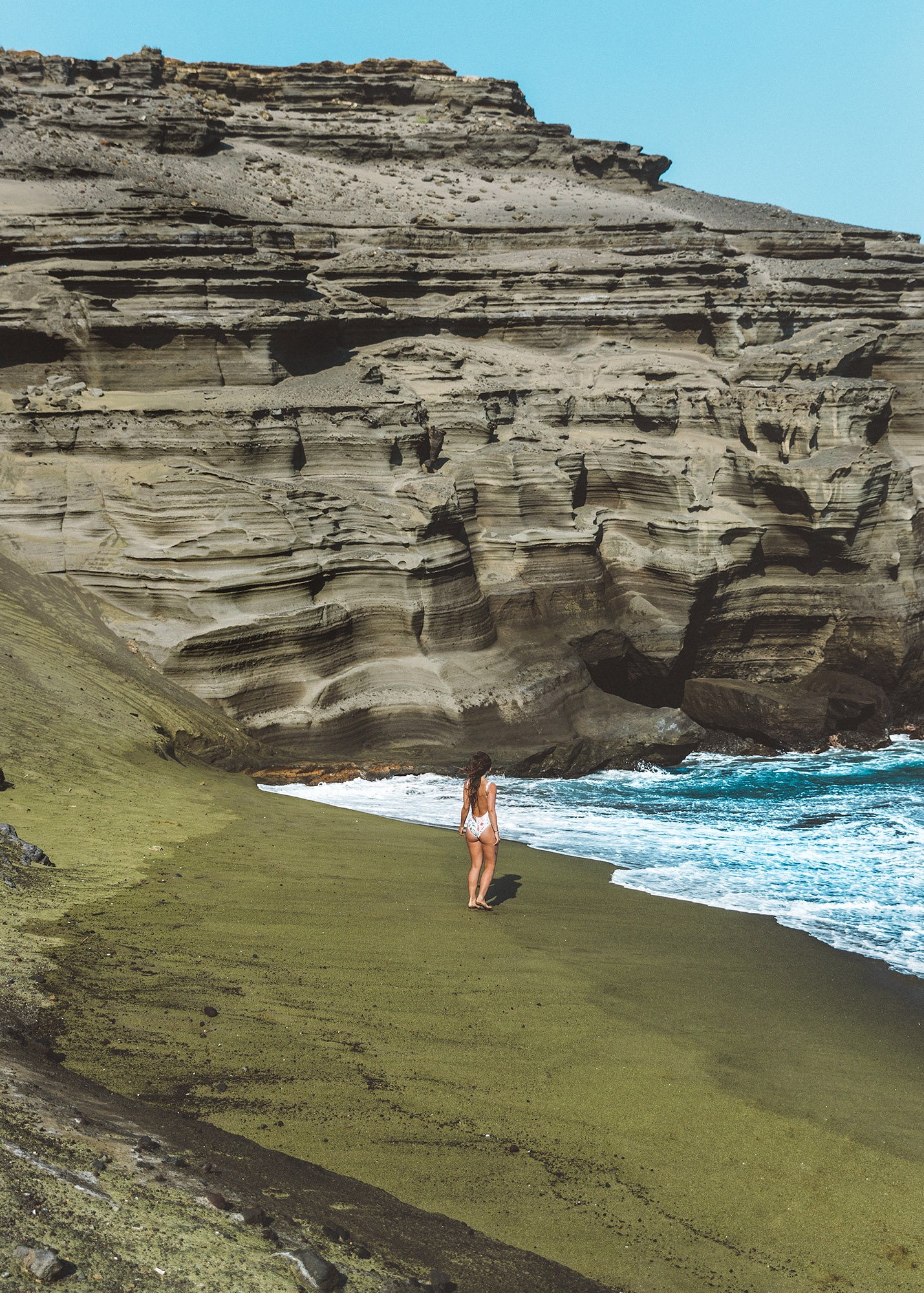 One of the surprising things about Hawaii is that there aren't many beaches with pure white sand and shallow enough water to create that famous, aqua-hued crystal bays that define a tropical paradise. One of the most beautiful white sand beaches I have ever seen across the islands is just a few minutes from the Kona airport on the Big Island - known as Makalawena Beach. Beyond the classic beach, The Big Island has a number of black sand beaches - including amazing lesser known ones (check out the beach at Kiholo Bay here) where you can walk on the glittery black sand with virtually no one else around, as well as one of the world's only Green Sand beaches. Papakolea, the Island's famous Green Sand beach is a sight not to miss! Read my guide on getting to the beach here.
The Best Hawaiian Island for... Epic Hiking: Oahu and Kauai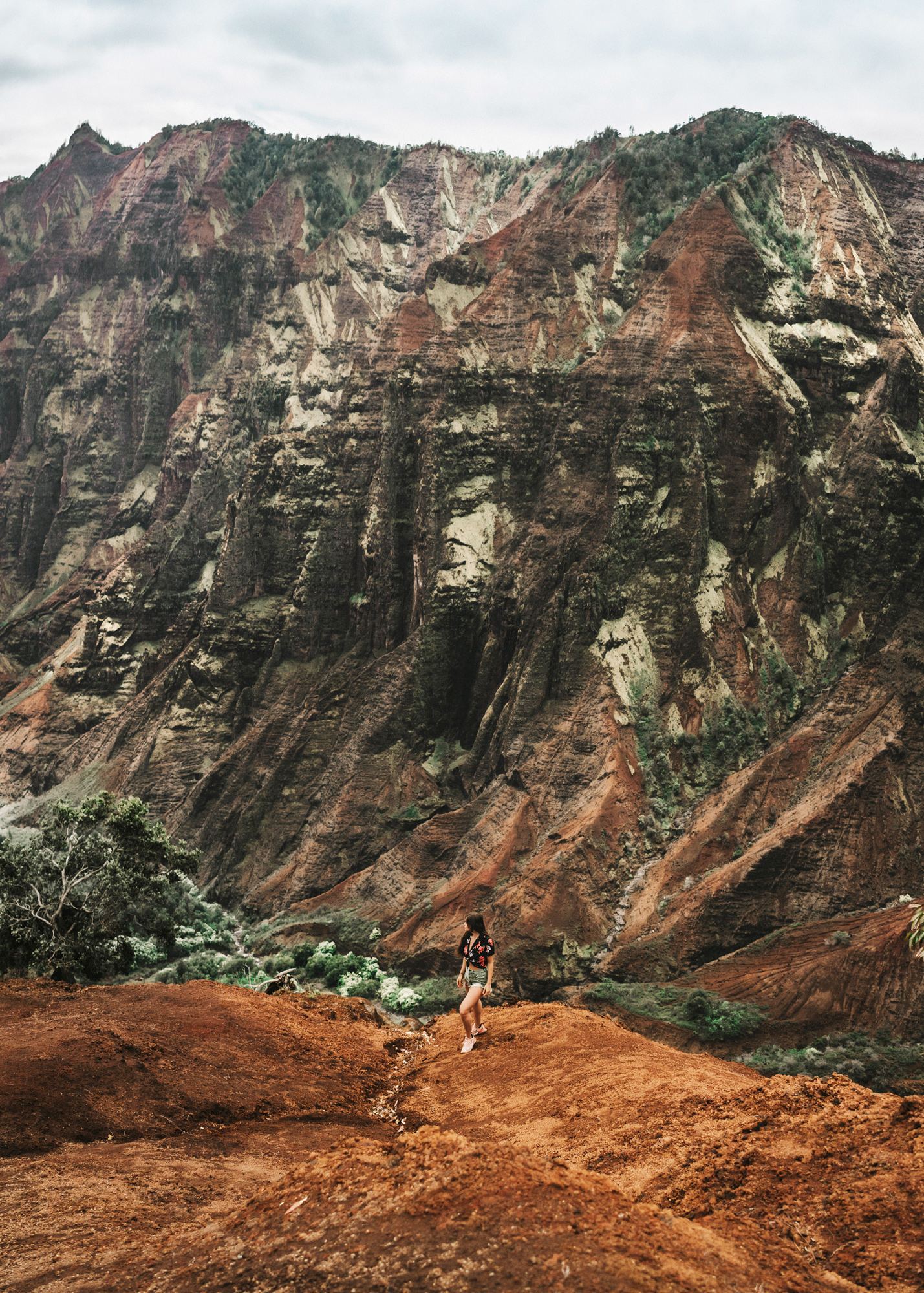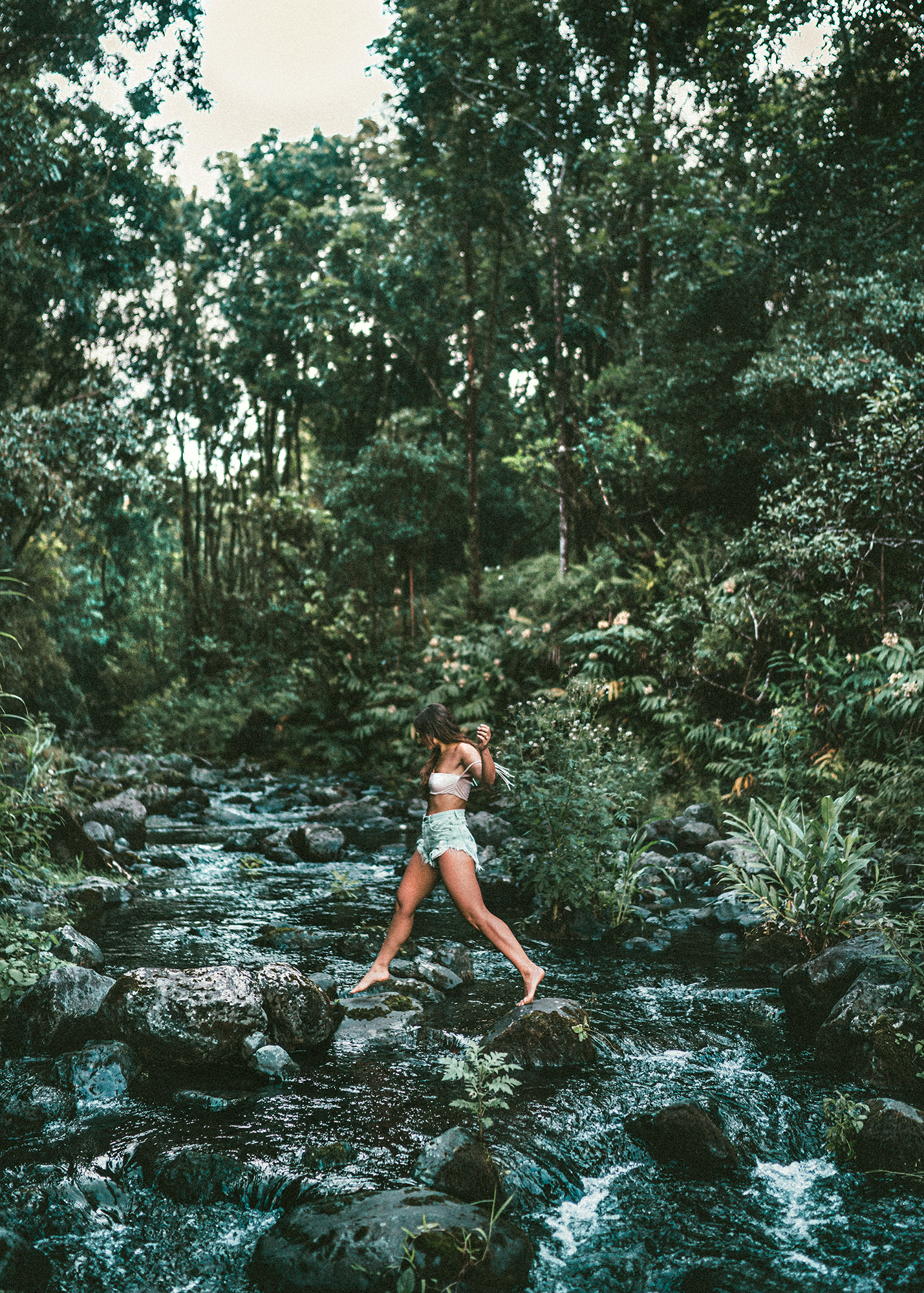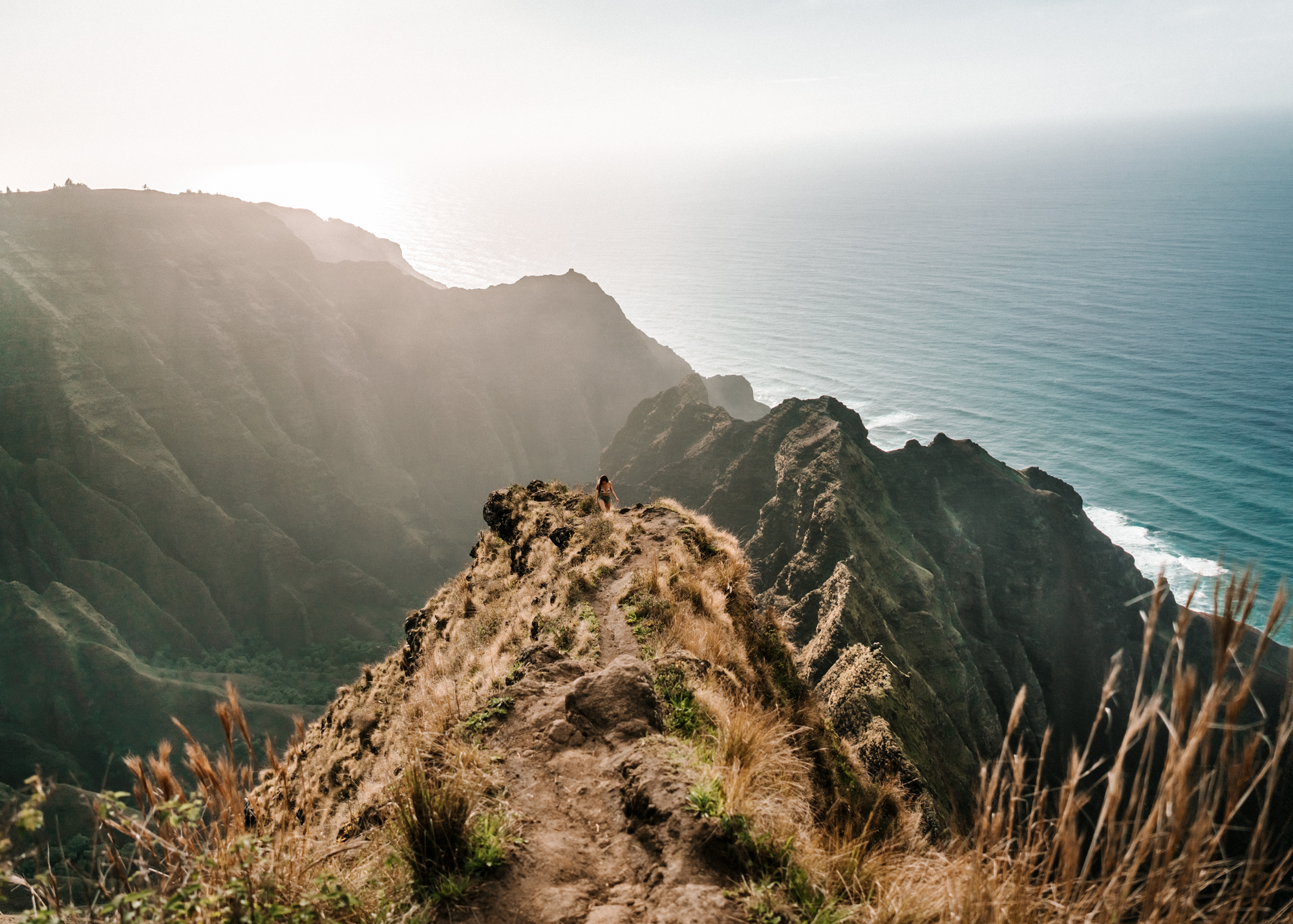 One of my favorite things to do in Hawaii and plan our trips around are the amazing hikes - and Oahu and Kauai are by far the best islands for hiking. Both have an extensive network of trails ranging from short nature walks to all day excursions up and over mountains. From the famous Pillboxes, Koko Head Stairs, and Diamond Head in Oahu, to insane views on Waimea Canyon ridgeline trails in Kauai, there is so much to climb and see here. A number of the most famous hikes on these islands (Deadman's Trail, Kailua Falls, Stairway to Heaven) are all technically illegal due to being on private property, but people still take the trails every day. Just be aware that doing so is at your own risk.
Oahu is not to be underrated - it has some amazing places to explore. But Kauai is by far my favorite island to hike - from Waimea Canyon to the Napali Coast, the options are endless and STUNNING. Check my full Kauai Adventure Guide for details on my favorite hikes on the island.
The Best Hawaiian Island for... Lava and Volcanos: Big Island
One of the only places in the world where you can see Lava falling into the ocean - and literally creating new earth - is Volcanos National Park on the Big Island. From your airplane views as you're landing into Kona, you can tell that the Big Island is somewhere truly different from the rest - the airport is carved out of miles and miles of untouched lava fields, and you see miles of them as you drive around the island. If you want to experience an active volcano up close, The Big Island is the right choice. Unfortunately, we have not yet been to Volcanos - on our first trip to the Big Island in 2018, we were there while the volcano was erupting. This is still on my dream to-do list!
The Best Hawaiian Island for... Fine Dining: Oahu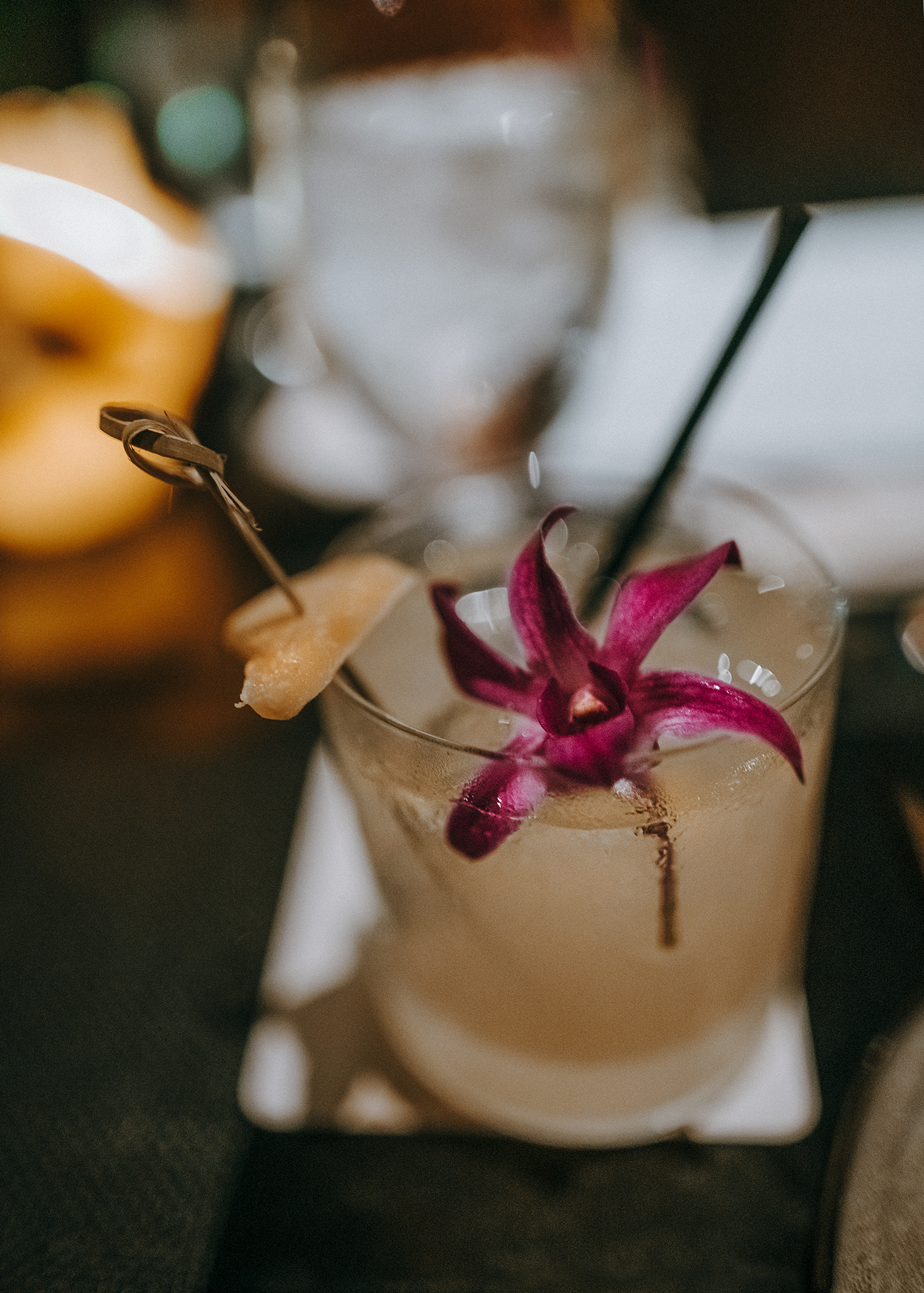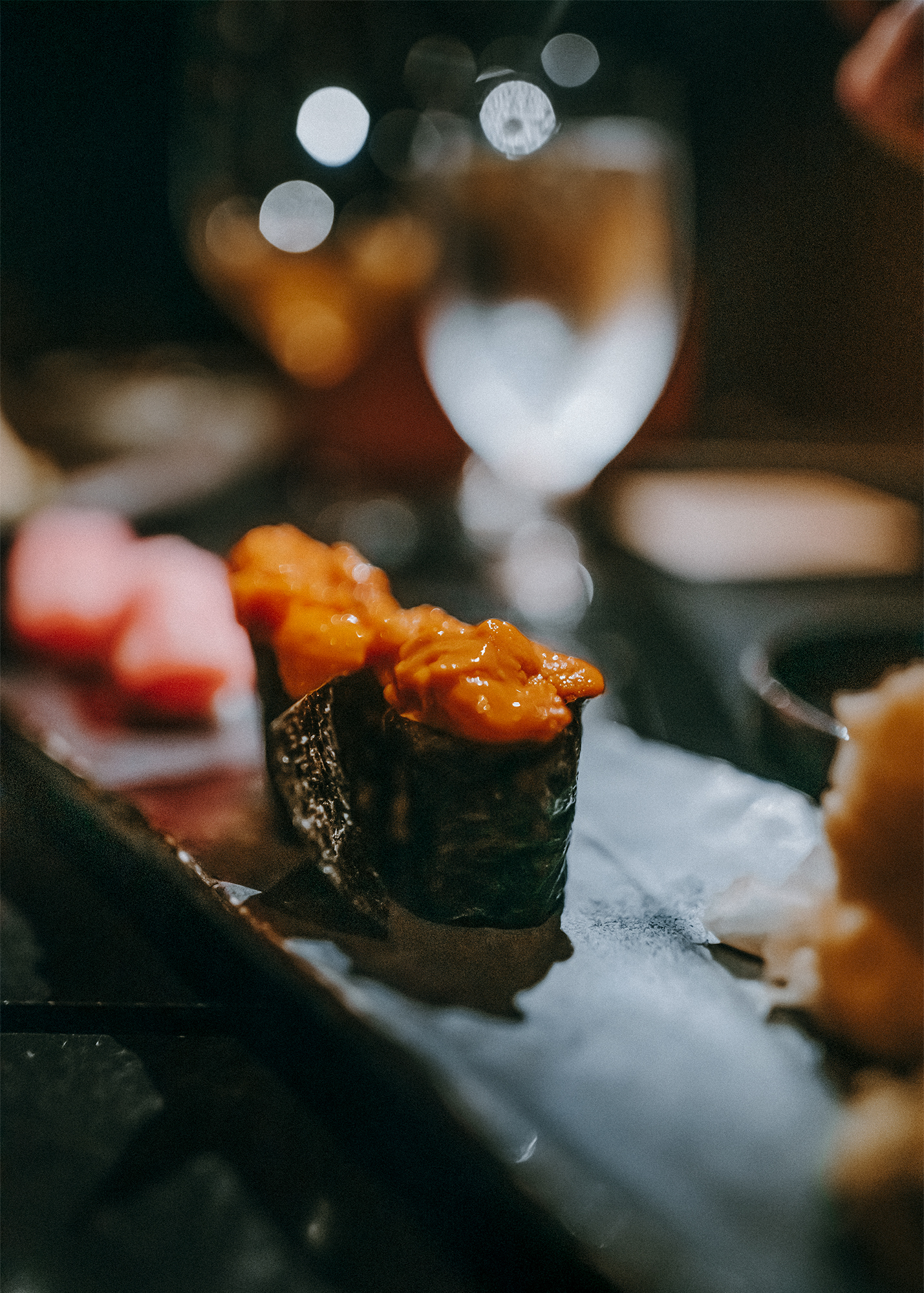 While the high-end resorts on all of the islands feature some amazing restaurants (try the Morimoto at Andaz Maui or the ULU Ocean Grill at Four Seasons Hualalai for some truly incredible meals), Oahu is the only island with a real independent food scene, mostly concentrated in Honolulu. A few highlights to check out:
The Best Hawaiian Island for... a Local Vibe: Kauai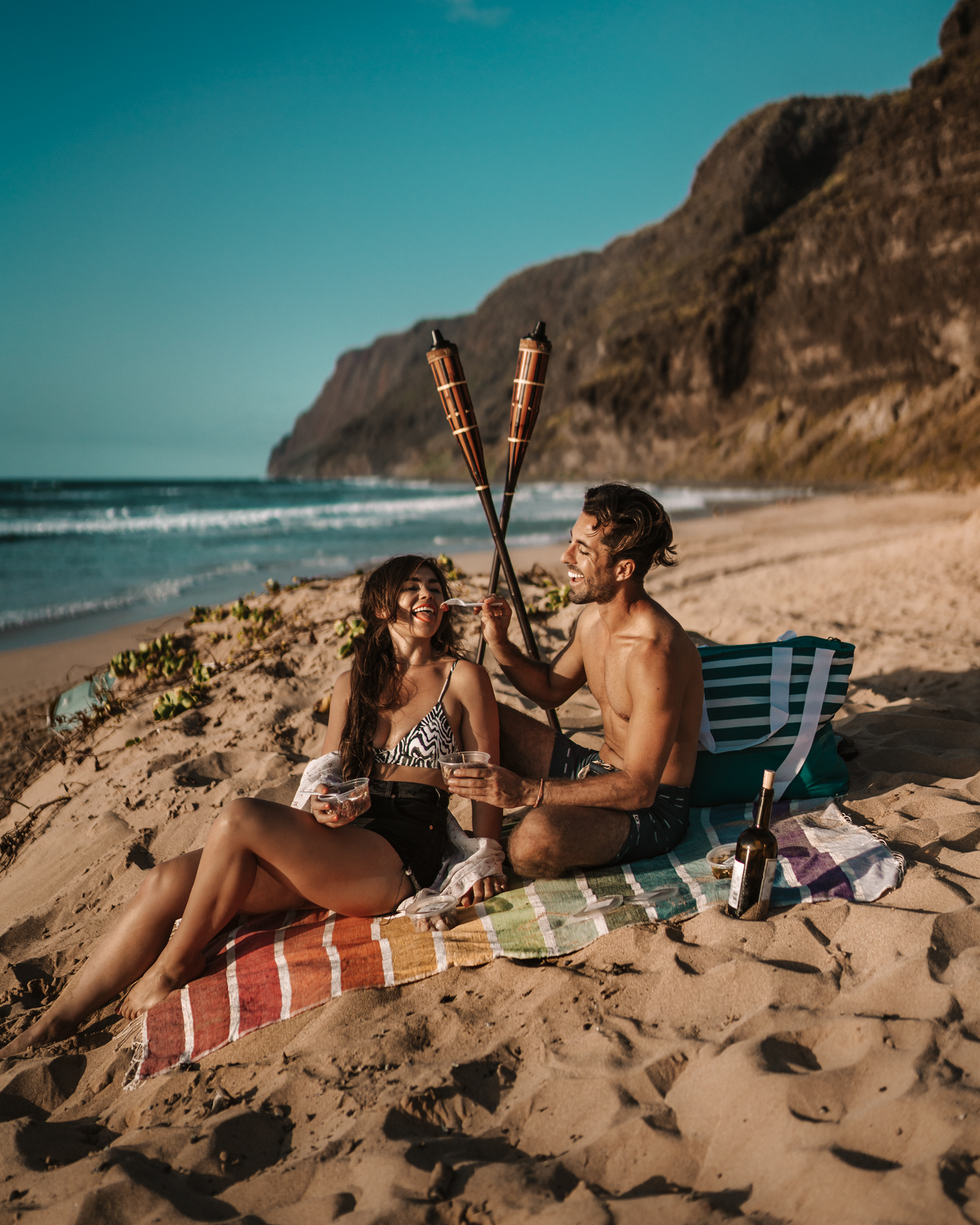 Kauai is the true Hawaiian's island. While there are a few luxury condos, resorts, and big names on the island (and the every-present Costco next to the airport!), it still has such a local, lesser developed feel. Especially in the smaller towns around the island, you get a true sense of being a part of somewhere more authentic than the rest of Hawaii. Spend a couple days exploring Hanalei, Waimea, and Kapaa and stopping into the local shops and restaurants in between enjoying the beaches and hiking the island has to offer. Kauai is probably my favorite of all the islands and is really something special.My entire Kauai Travel Guide is here!
The Best Hawaiian Island for... a Romantic Honeymoon: Maui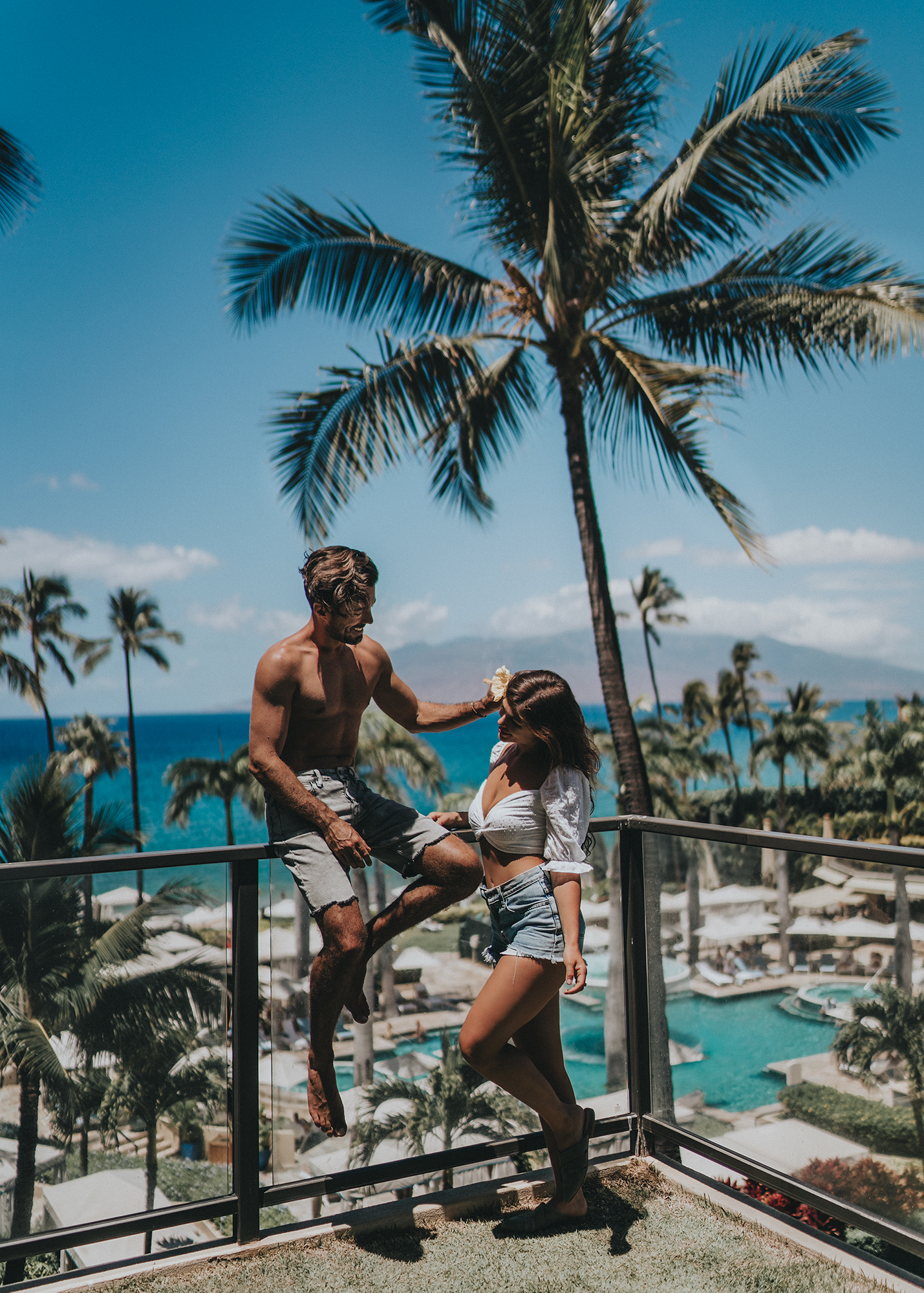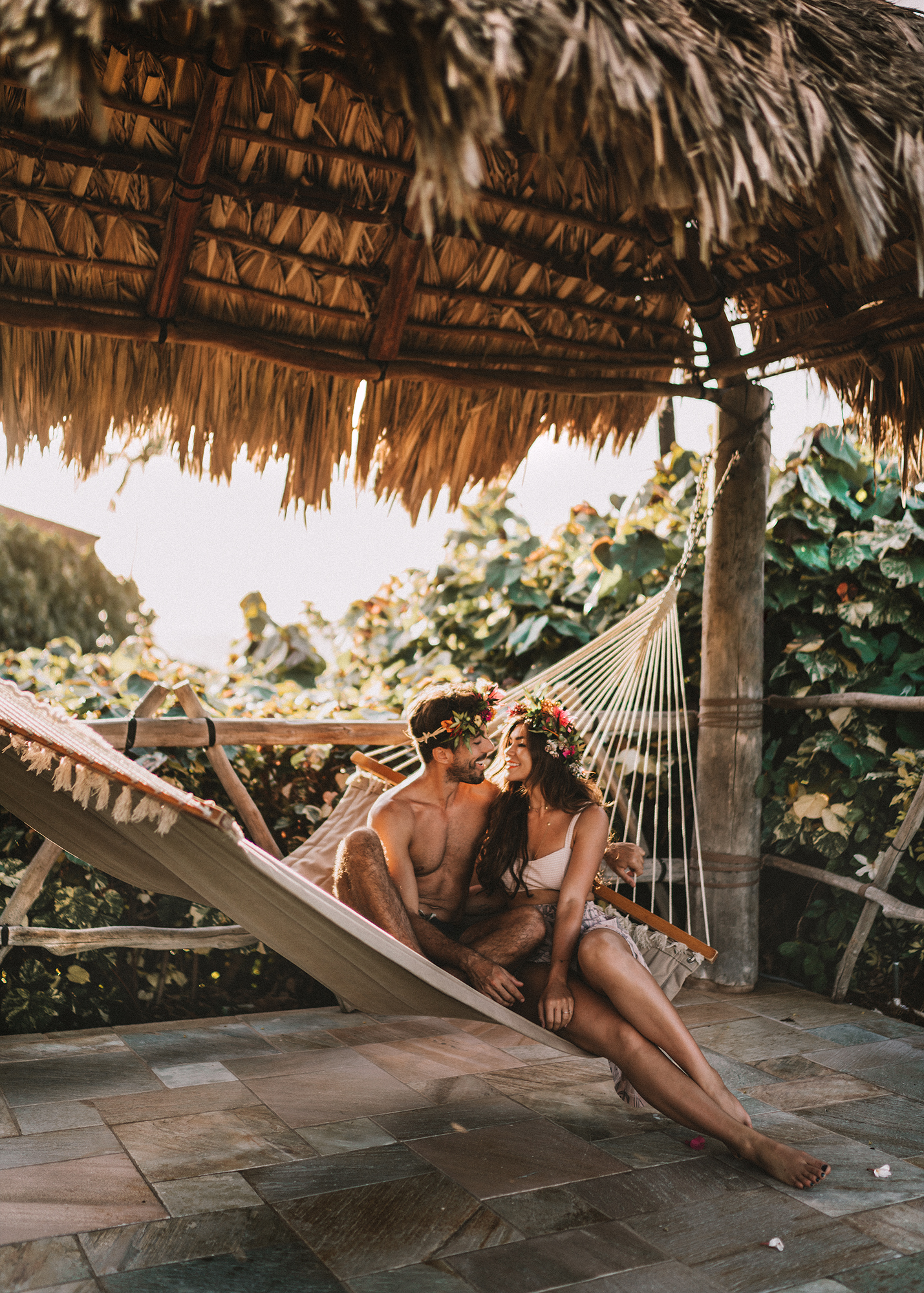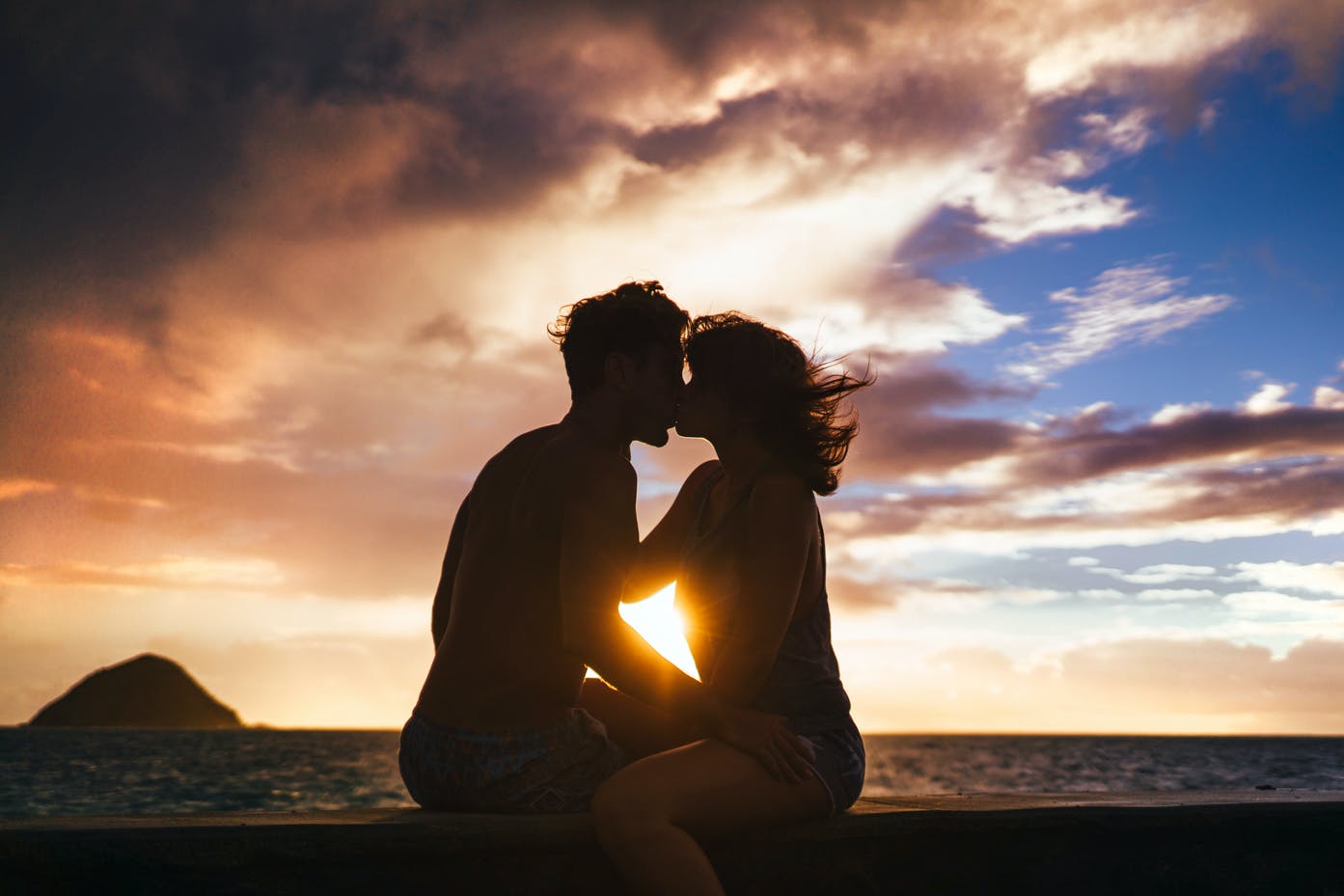 Maui is known in Hawaii as Honeymoon Island - from the luxury resorts to the pristine beaches, Maui is the where you can stay in a honeymoon suite, and drink champagne by the pool, and also hike, adventure, and take a journey through the Road to Hana. It has the best of everything in Hawaii - with the added luxury fit for a once in a lifetime romance.
The Best Hawaiian Island for... Iconic Sights: Oahu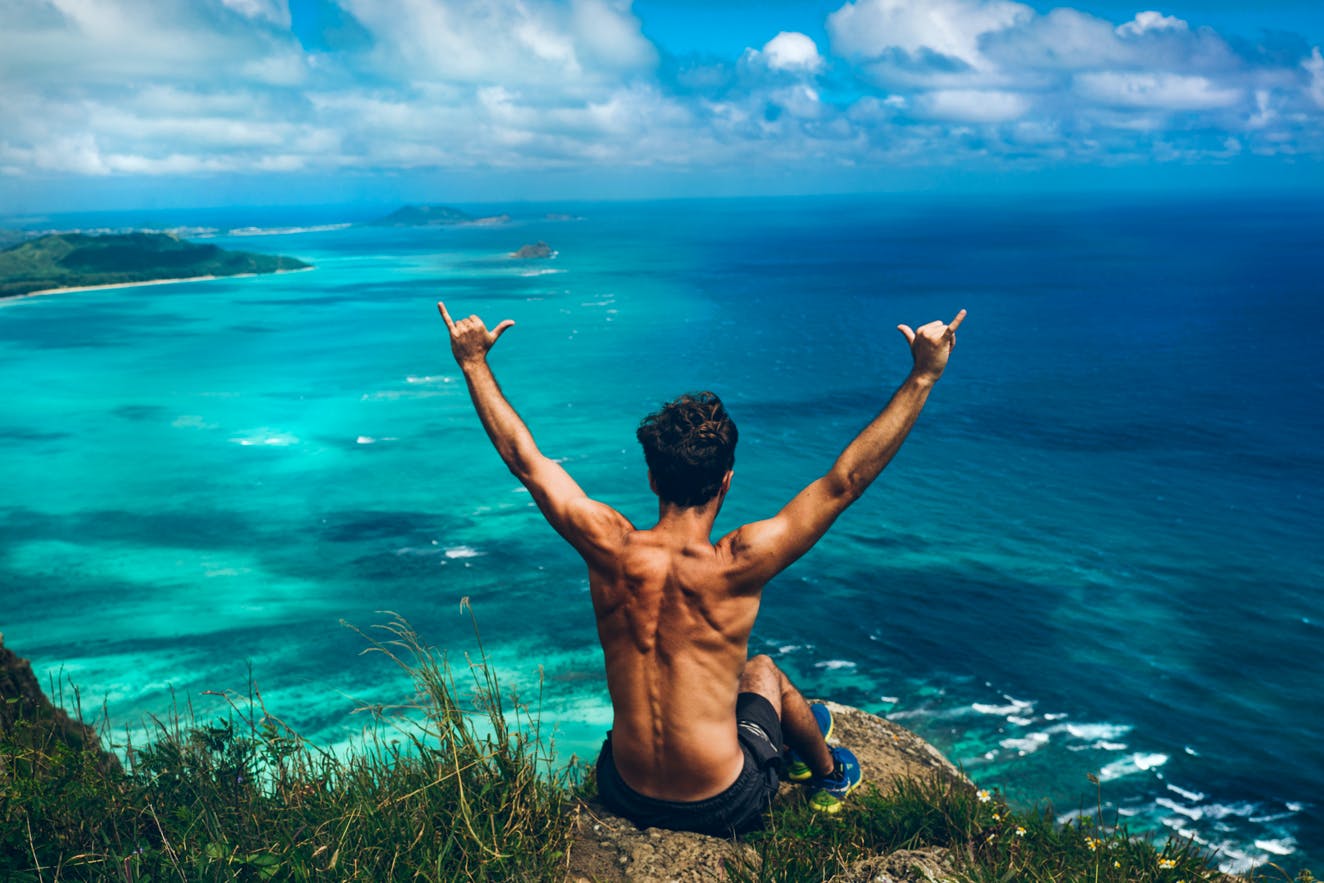 Waikiki Beach, The historic Royal Hawaiian Hotel, Pearl Harbor - all of the Hawaii icons are on Oahu close to Honolulu. And are all places that we never frequent. However, for your first time or if you're traveling with history buffs, a couple of days visiting the sights in Oahu might be on your list. Just make sure to get out of Honolulu/Waikiki while you are here! The rest of the island has so much more to offer and explore beyond the strip.
The Best Hawaiian Island for... Island Road Trips: Maui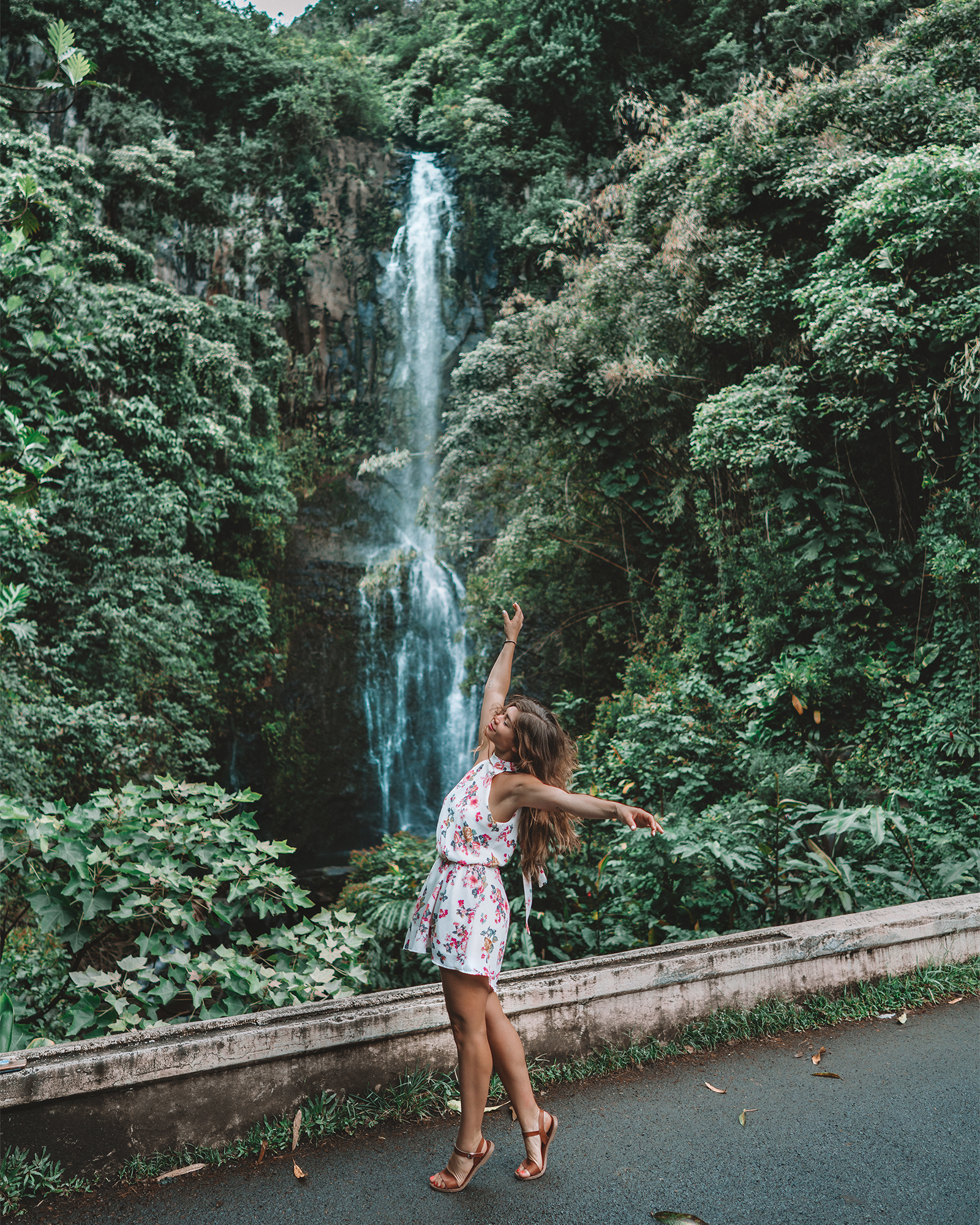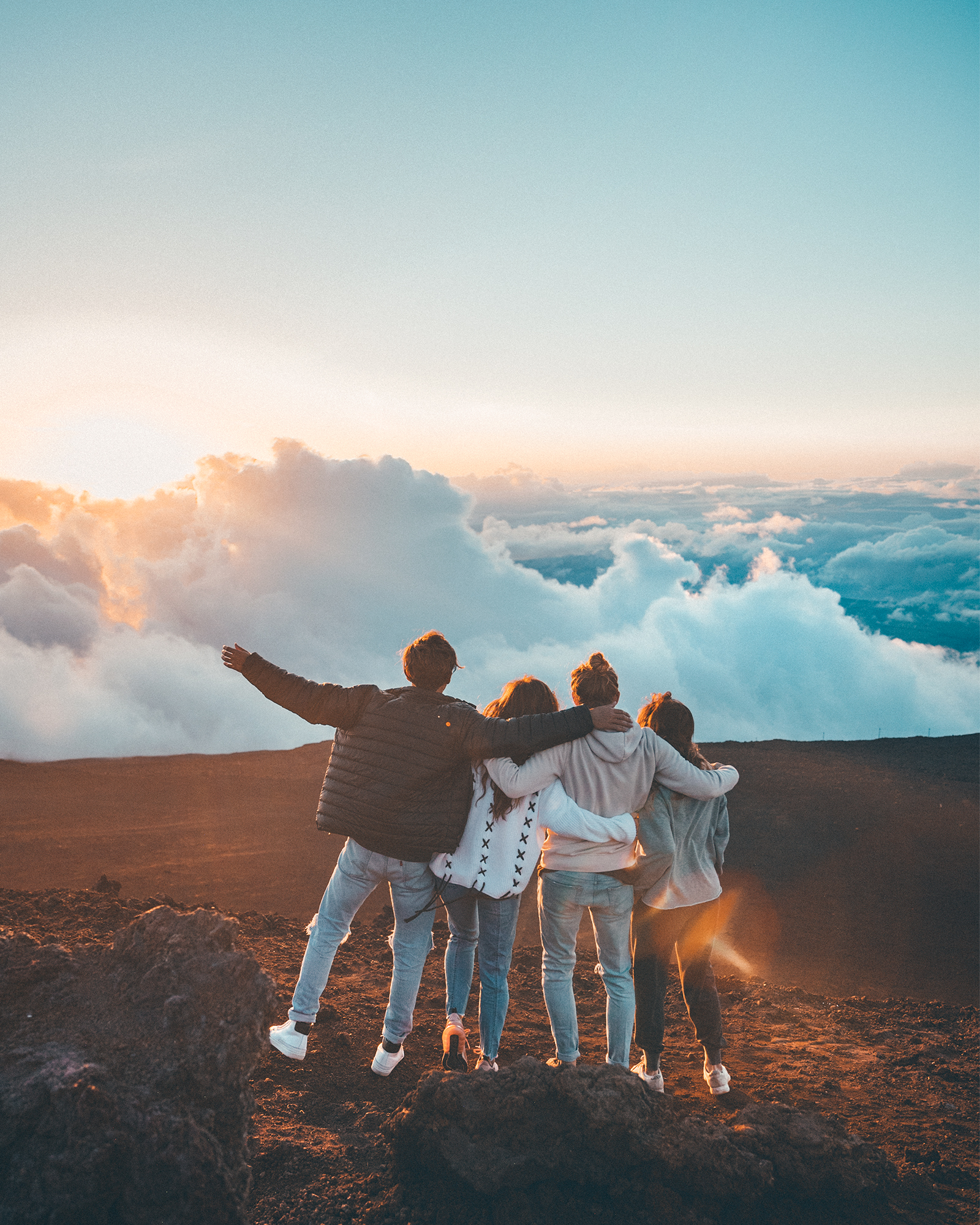 Maui's Road to Hana is legendary and every bit as beautiful and amazing as it's described - this is one experience that really lives up to the hike. We've driven the road twice in the last couple of years and have been blown away both times. For an even better experience, take the drive slowly, and book a guesthouse out in Hana for a night or two to really slow down and enjoy all of the unique beaches, hikes, and town without rushing to fit it in to a single day.
Beyond the Road to Hana, Maui is an amazing island to drive around and experience all sides of, and the drive up to the mountain top of Haleakela is also epic and stunning. Wind your way up the mountain to stand above the clouds and watch the sun rise or set (but bring a warmer jacket than you think - it's COLD up there.)
The Best Hawaiian Island for... Thrill Seeking: Oahu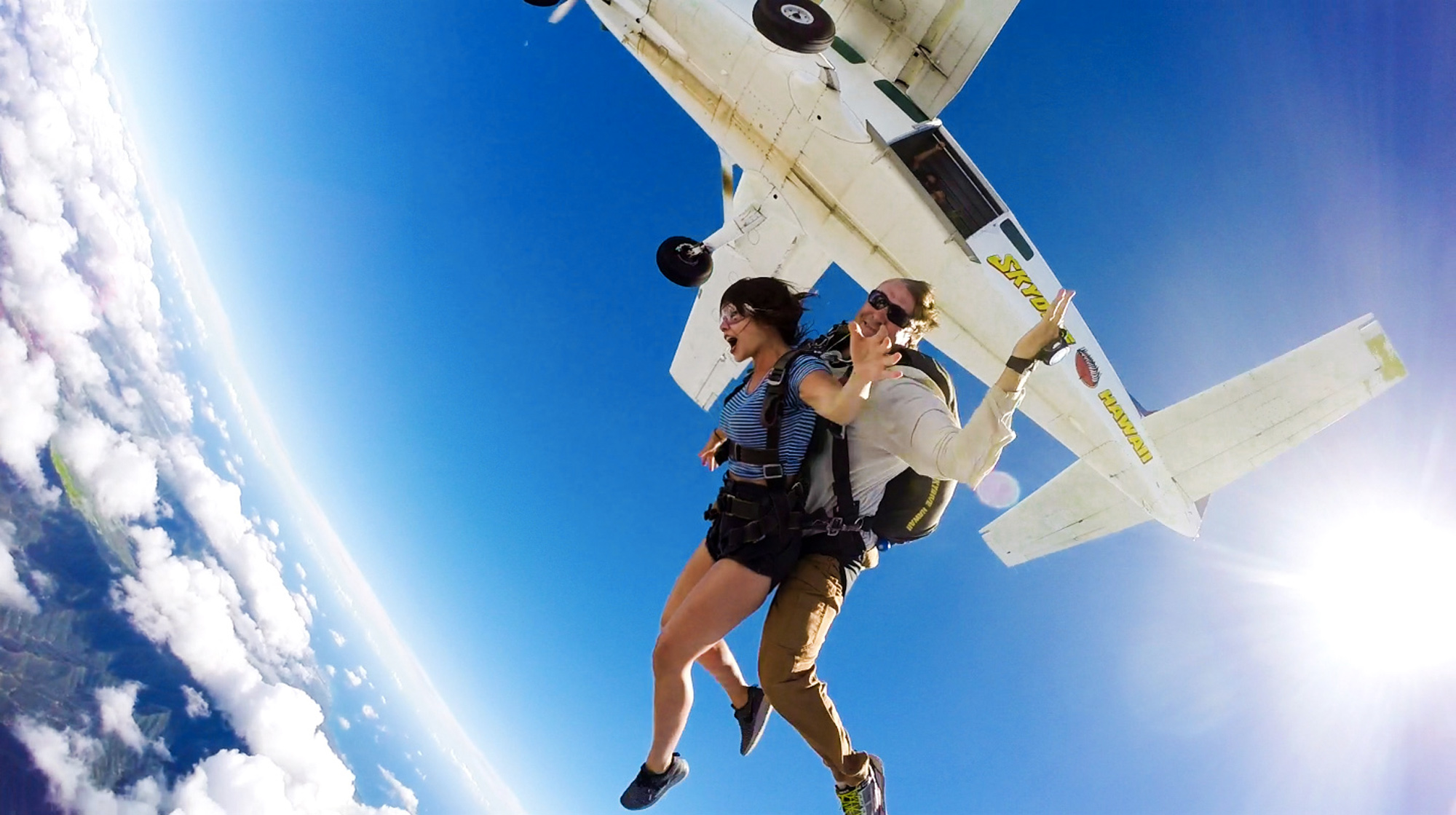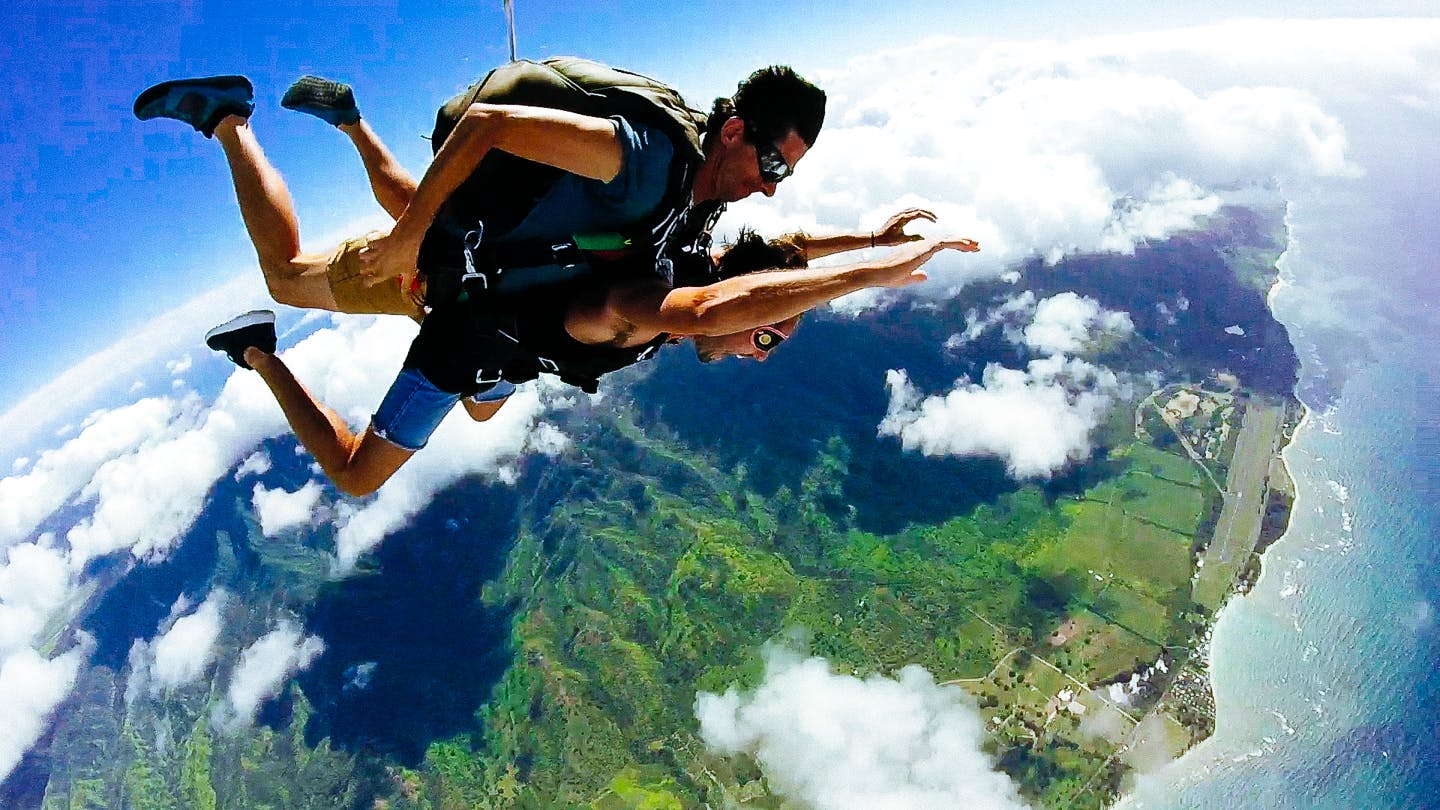 Looking to do something big on your trip such as skydive? Cage dive with sharks? Cliff jump? Oahu needs to be one of your stops! As the most developed and populated island, Oahu is at the top of a number of these lists, even though it's the one that Brandon and I travel to the least. We came to Oahu on our first big celebration trip when we left New York to travel full time (my brother lived there at the time and we crashed on his couch for free, so the price was right!), and took our first ever skydive here!
The Best Hawaiian Island for... Somewhere New and Unexpected: Molokai and Lanai
These less-accessible islands are a newer frontier for Hawaii and are somewhere new to explore if you have already visited the islands a few times. To get to Lanai, you can take a quick boat ride from Maui, either as a day trip, or book a room at the Four Seasons Lanai to stay a bit longer. To get to Molokai, you can hop a short inter-island flight from one of the larger islands.
We have not made it to either island yet - but they are top of my list for our next Hawaiian journey!
The Best Hawaiian Island for... Kids and Families: Maui and Kauai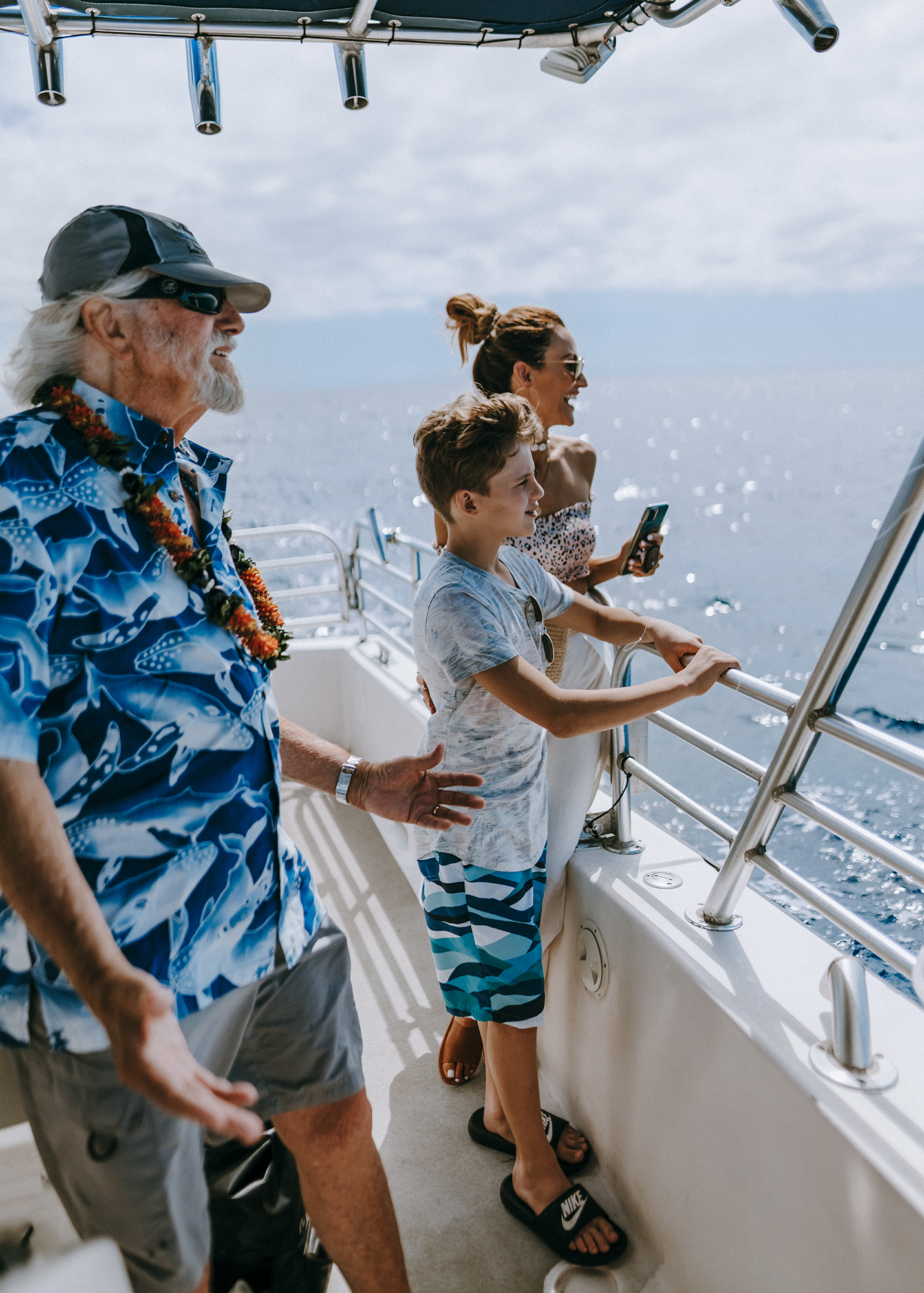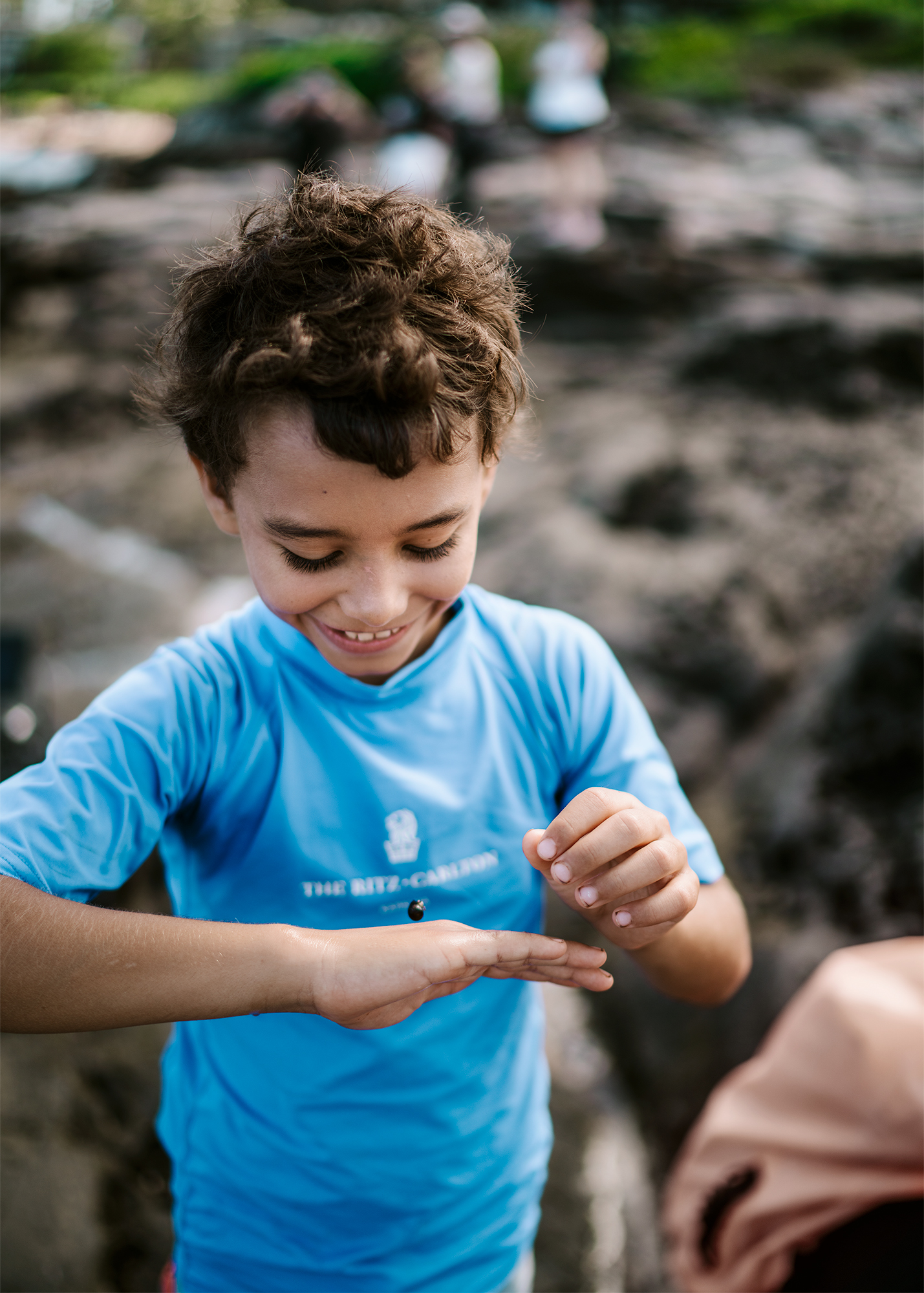 While Oahu might seem like the more obvious choice for families, I would recommend a different approach. Maui has lots of great easy walks and fun beaches, plus resorts fully set up for families. Kauai is a perfect choice for a more adventurous, casual family trip - with lots of affordable guesthouses available if you book in advance, and so much local island culture.
The Best Hawaiian Island for... Celebrity Sightings and Luxury Resorts: Maui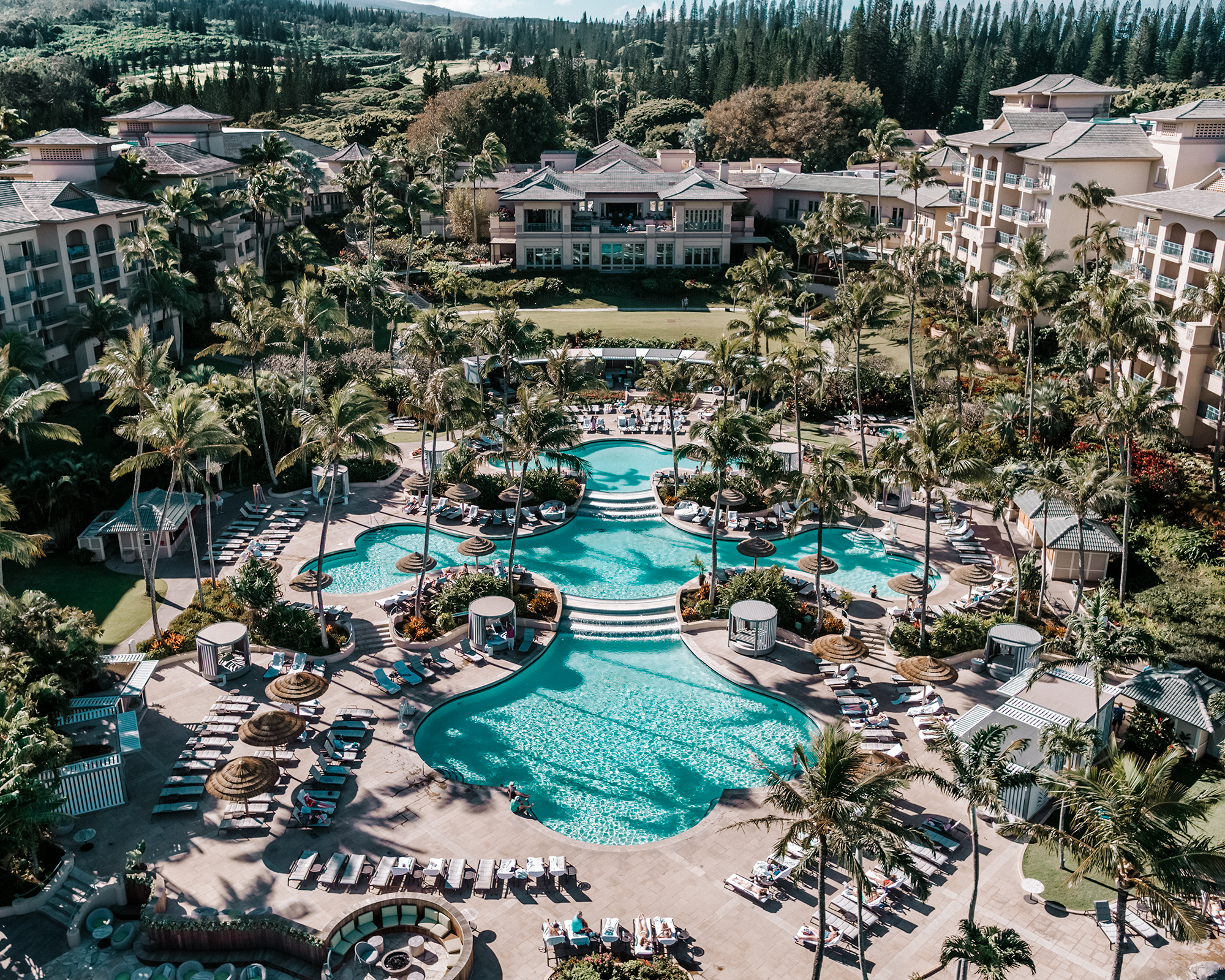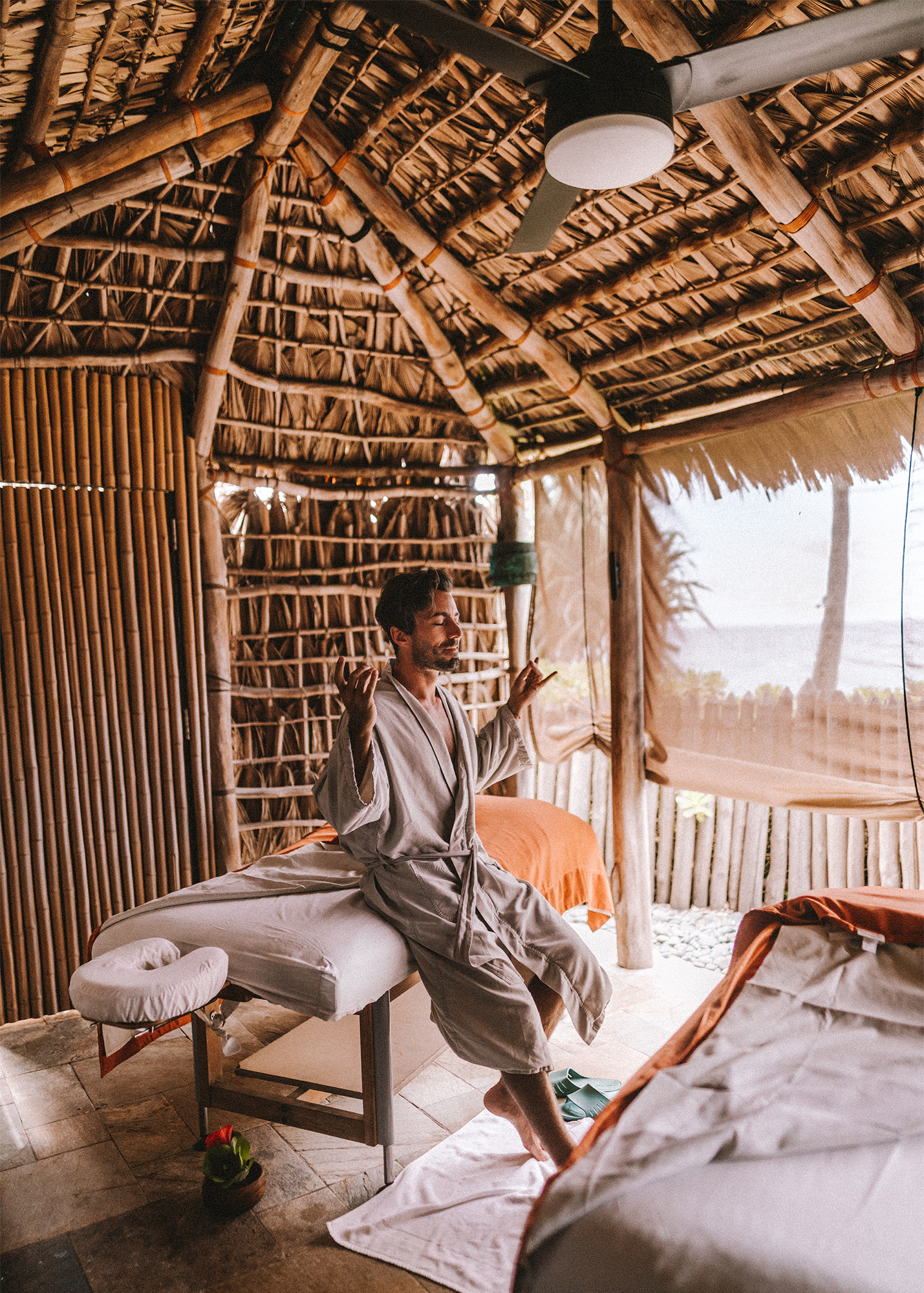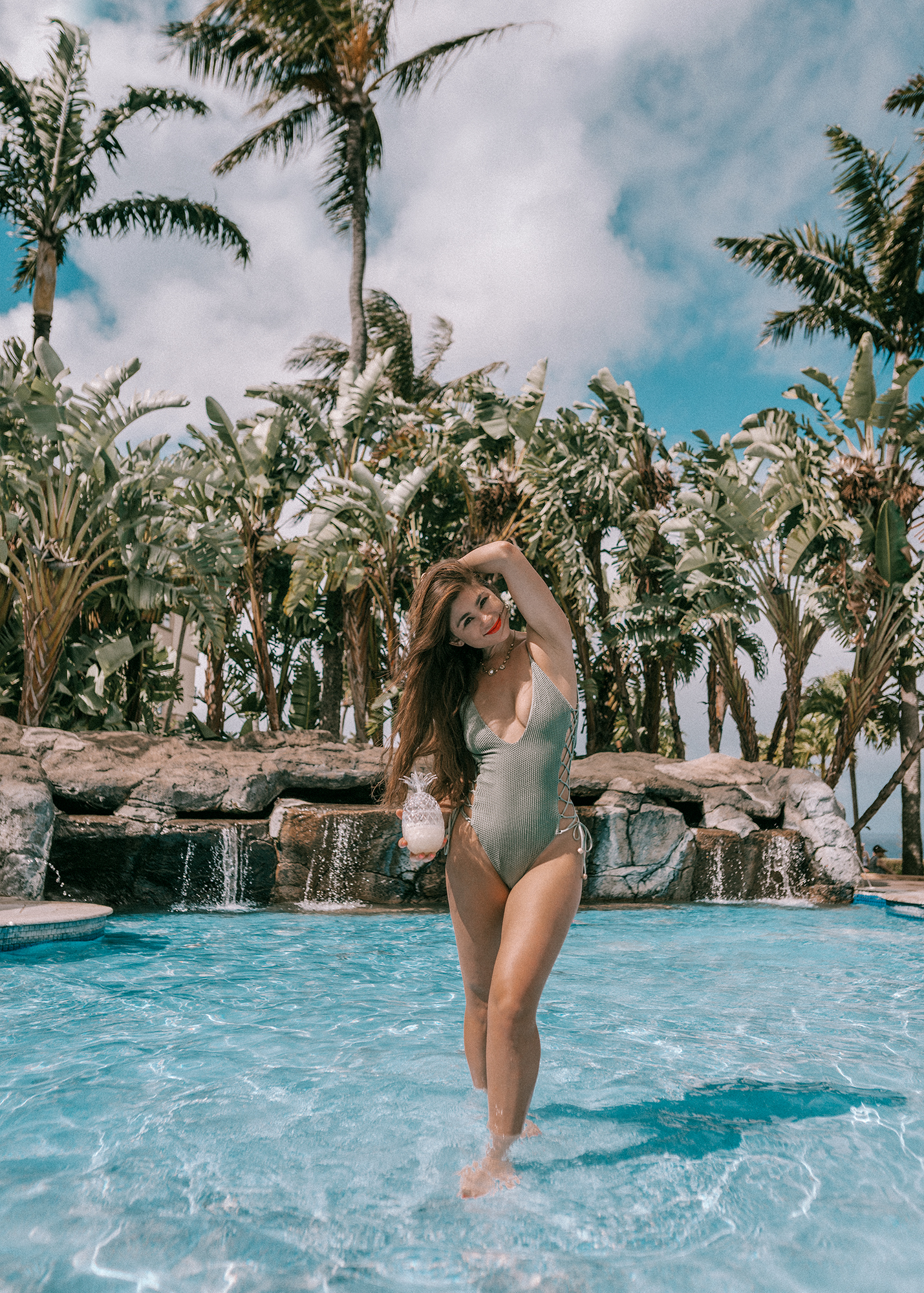 The expansive Luxury resorts all through the Waimea area of Maui are known for being some of the best and most luxurious hotel experiences in all of Hawaii - and also for their constant stream of celebrity guests, particularly the Four Seasons Maui. If your dream Hawaiian vacation is to be catered on, completely taken care of, and relax where the celebrities do, then Maui is the best choice. (Brandon's parents even met Ed Sheeran here earlier this year - something they were SO excited about.)
The Best Hawaiian Island for... My Favorite Resort: Big Island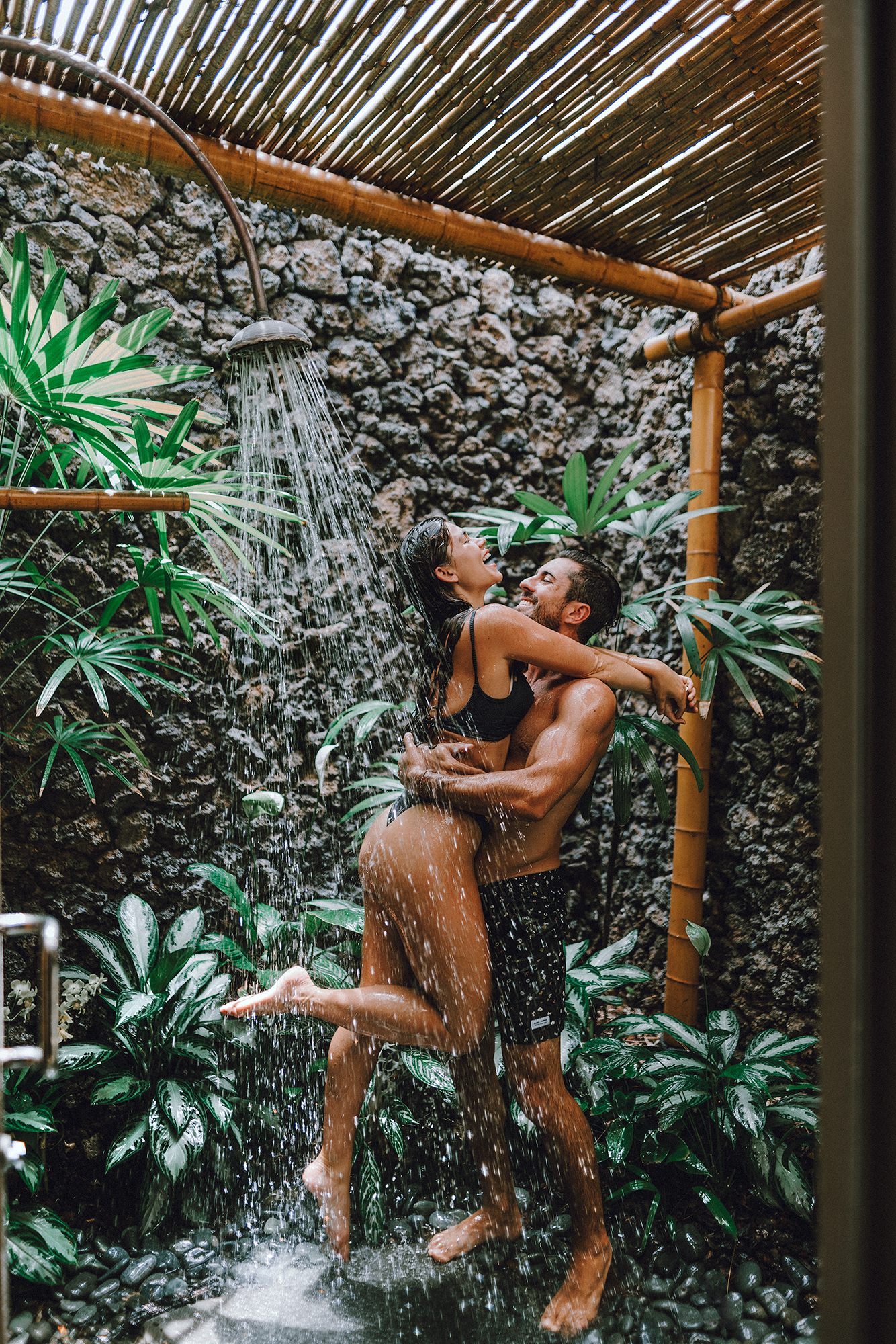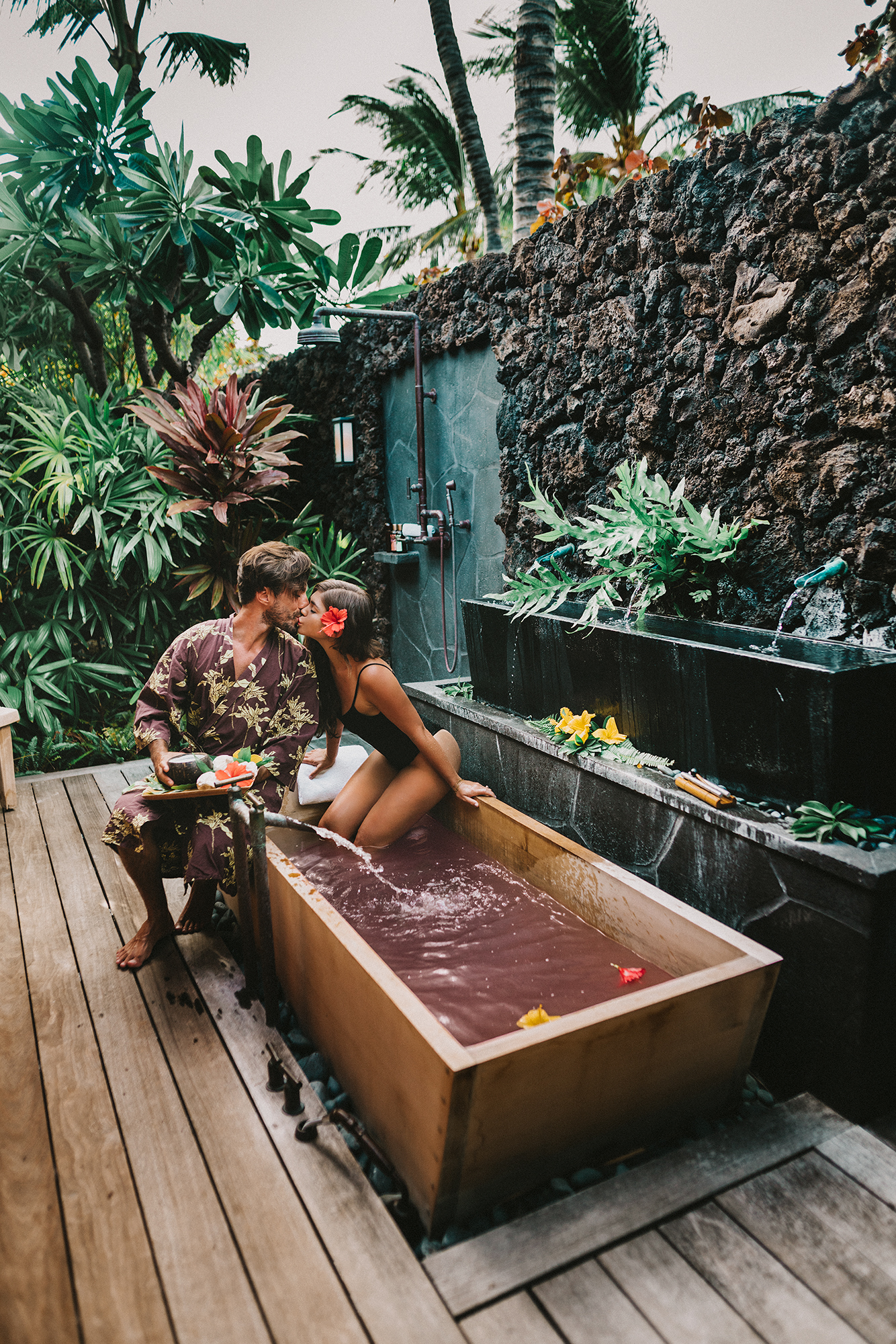 Over the years, we have become quite discerning with hotels - and have had the privilege to stay at quite a few amazing ones. But my favorite hotel in Hawaii - and one of my absolute favorites in the world - is the Four Seasons Hualalai. There is something truly special and just... real about this resort. Not only are the expansive grounds beautiful, and on one of the best beaches in all of Hawaii, but the staff makes you feel at home in a very genuine way. This is one place that we would love to return to soon - and if you are looking to splurge on one luxury hotel in Hawaii, this one would be my pick.
See and read more about Hualalai here!
The Best Hawaiian Island for... Waterfalls: Kauai and Maui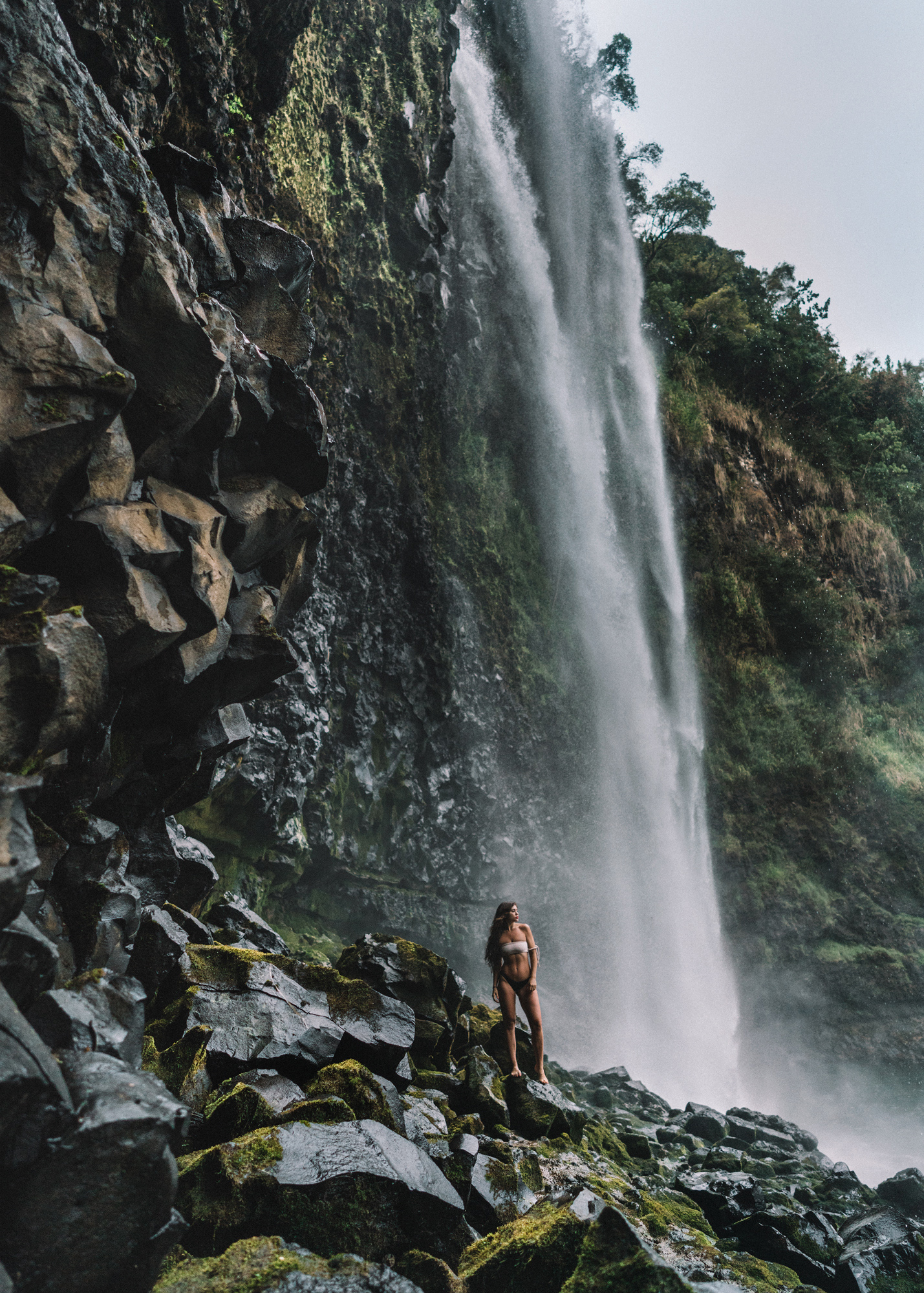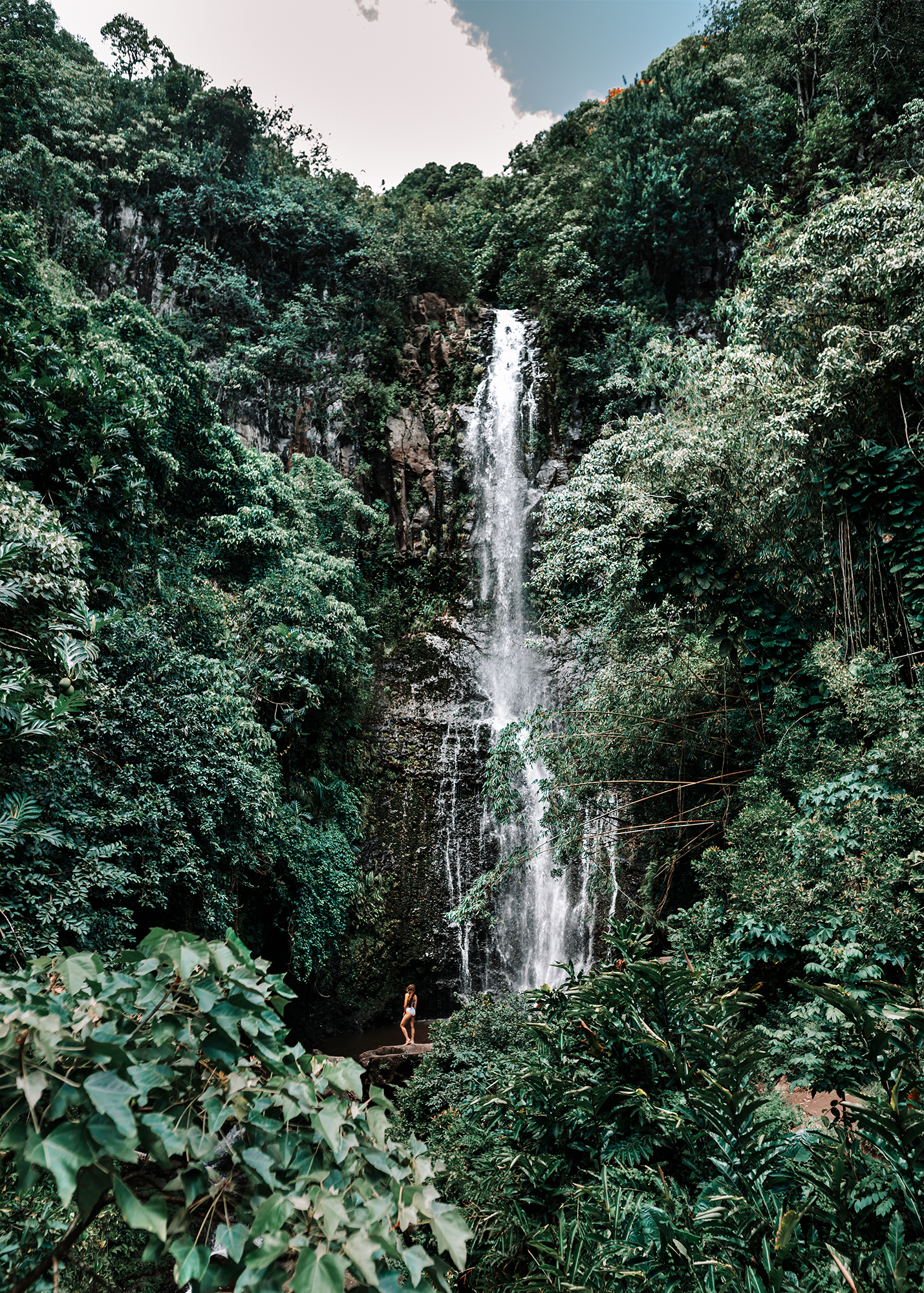 Waterfalls are one of the highlights of Hawaii, and if that's what you're really looking for - you want to make sure to have Maui and Kauai on your itinerary! Maui's Road to Hana is lined with waterfalls at every turn - some you can easily see and enjoy right from the road. Most of Kauai's waterfalls require a little more hiking and adventuring, but are well worth the journey.
Check out my Top 5 Favorite Waterfalls on Kauai here!
The Best Hawaiian Island for... Epic Adventures (if you don't mind breaking the rules): The Big Island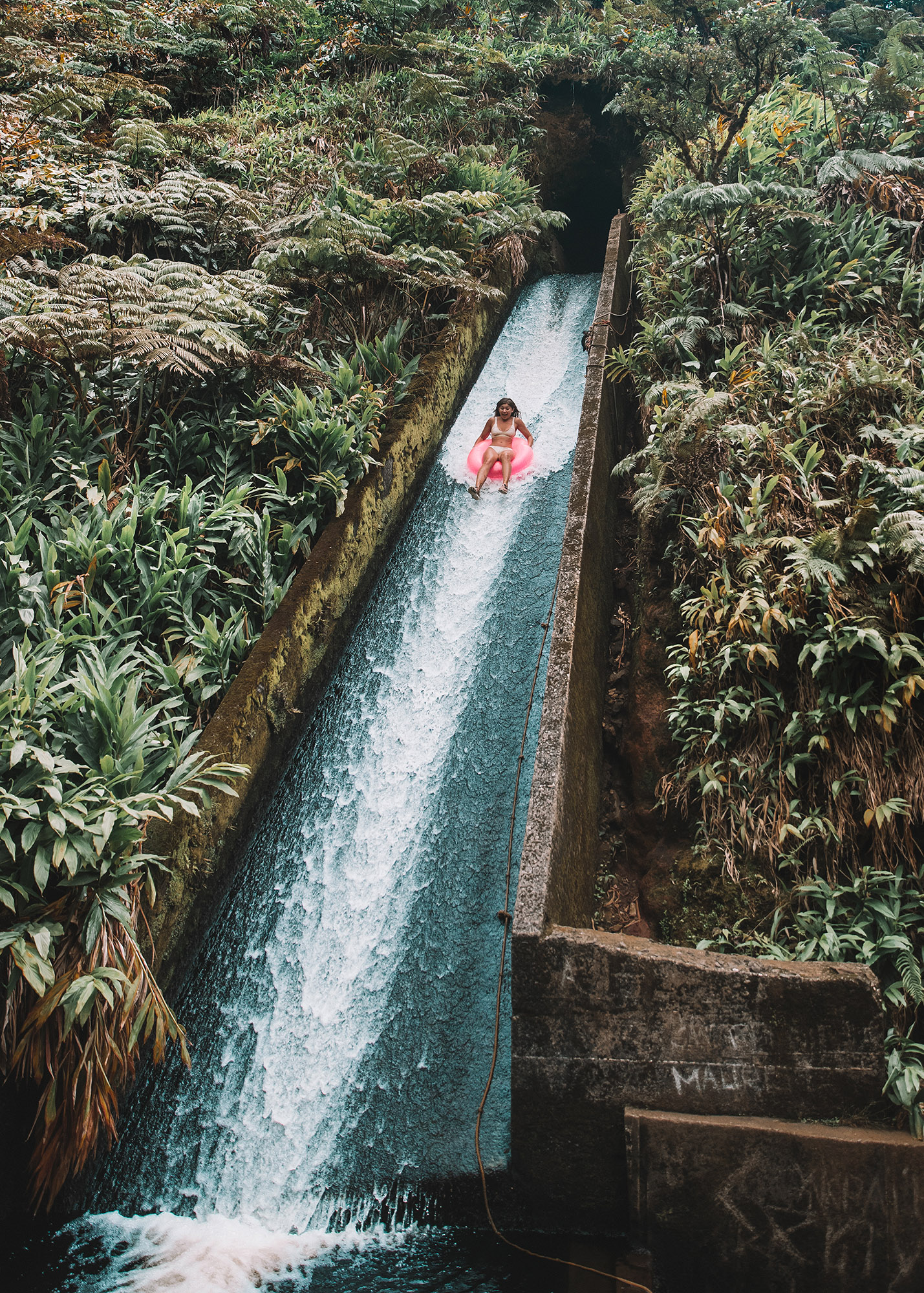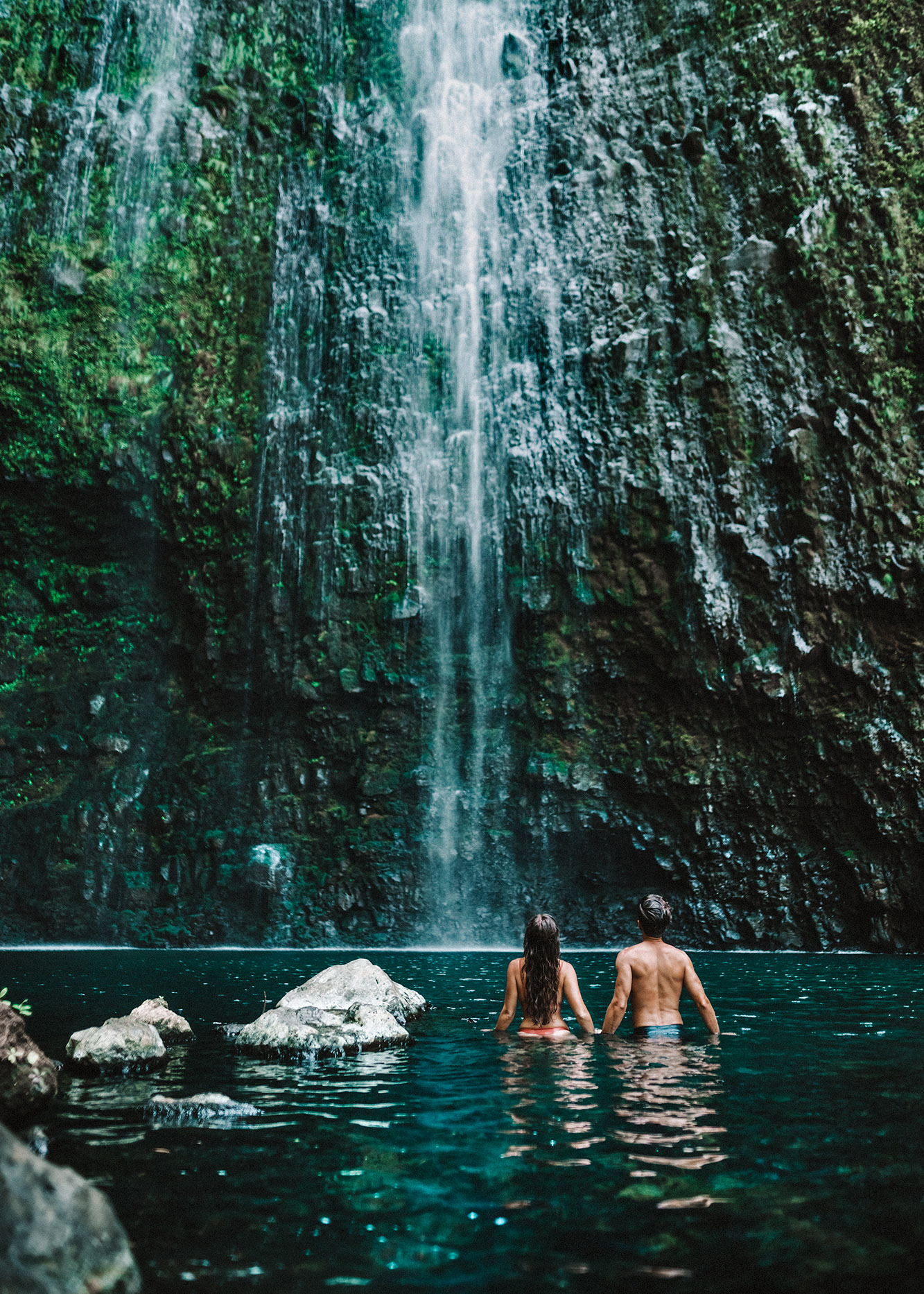 I probably shouldn't list this one here, but it is worth noting - two of the most incredible experiences we have had in all of Hawaii have been on The Big Island, and both weren't strictly legal. There is something about this island that's a bit more wild than the rest. A bit more rugged and untouched, and a bit more filled with mystery. The infamous flume slide and this incredible secret waterfall in the Valley of the Kings are two of the most amazing hikes I have ever done. But with that said, proceed at your own risk.
Did I miss anything? Leave me a comment below!


Get Packing: