July 12, 2020 Travel Guides
The Perfect Oman Road Trip 7-Day Itinerary
Situated in the Middle East, is an other-worldly landscape with ancient cities, jagged mountain peaks, endless sand dune deserts, river gorges, and a coastline and islands with some of the clearest blue waters. Oman is a country that dates back thousands of years, to the origins of civilization, and has a rich culture and history, among so many natural wonders. Oman is also one of the safest and most stable countries in the Middle East - with great highway infrastructure and very modern roads. The country's tourism industry has begun to boom in the last few years, adding more tour companies and glamorous luxury resorts in a number of different areas.
Road tripping through Oman was a huge travel highlight of the past few years, and my biggest regret is simply not planning a few extra days here. This 7-Day Road Trip Itinerary is jam-packed, but I wish we had even more time to explore, see more, and then just relax and enjoy slower in the desert and the seaside towns.
Which is why, on top of the 7-day Itinerary, is a 10-Day alternative with the best places to add additional days. If you have the time, go for the 10-day instead! You will not get bored, you will not get tired of this country, and I wish we would have taken the 10-day option ourselves. In the last few months, I have not stopped talking about how much I loved Oman - and I know you will love this country and it's varied sights just as much as we did!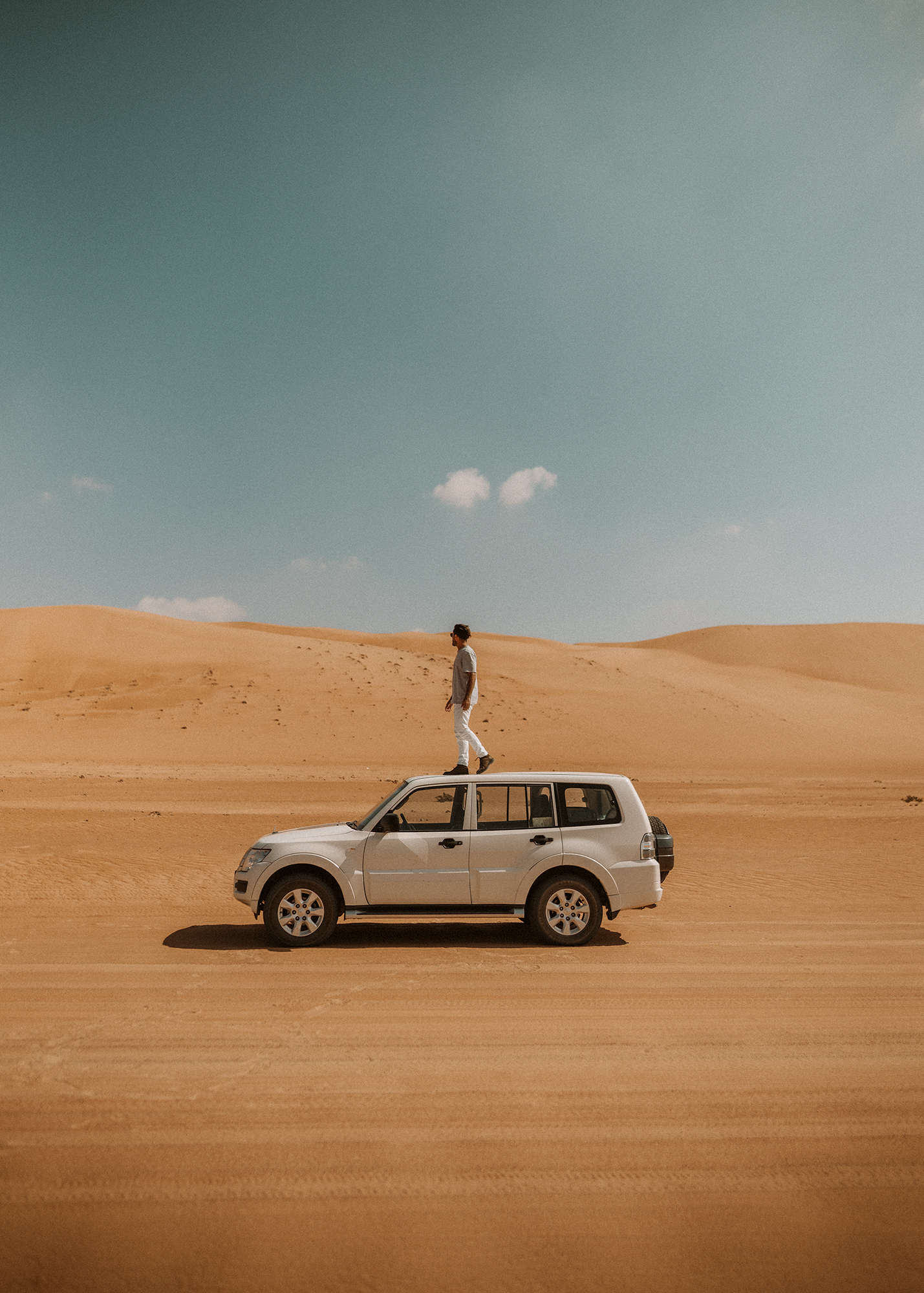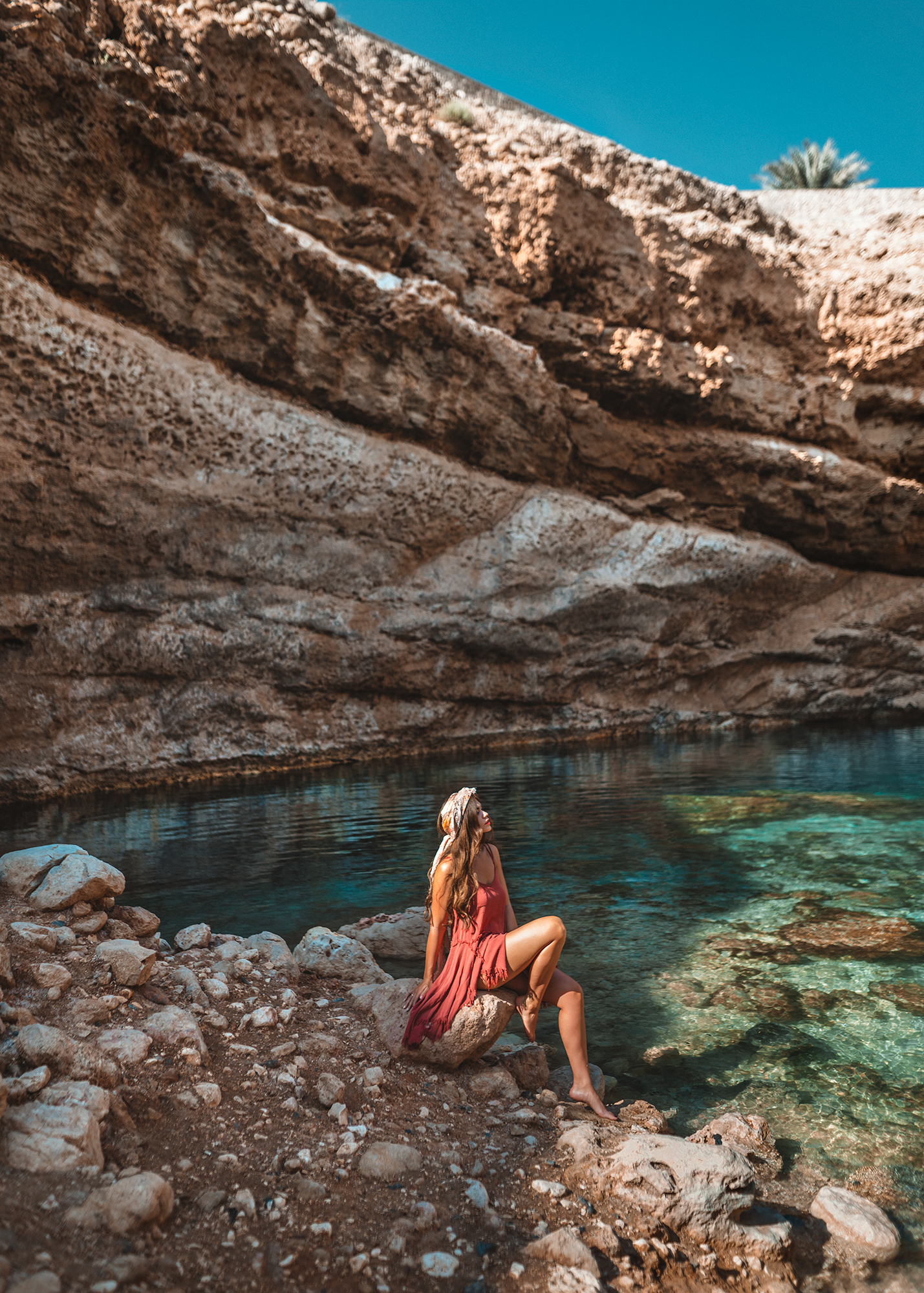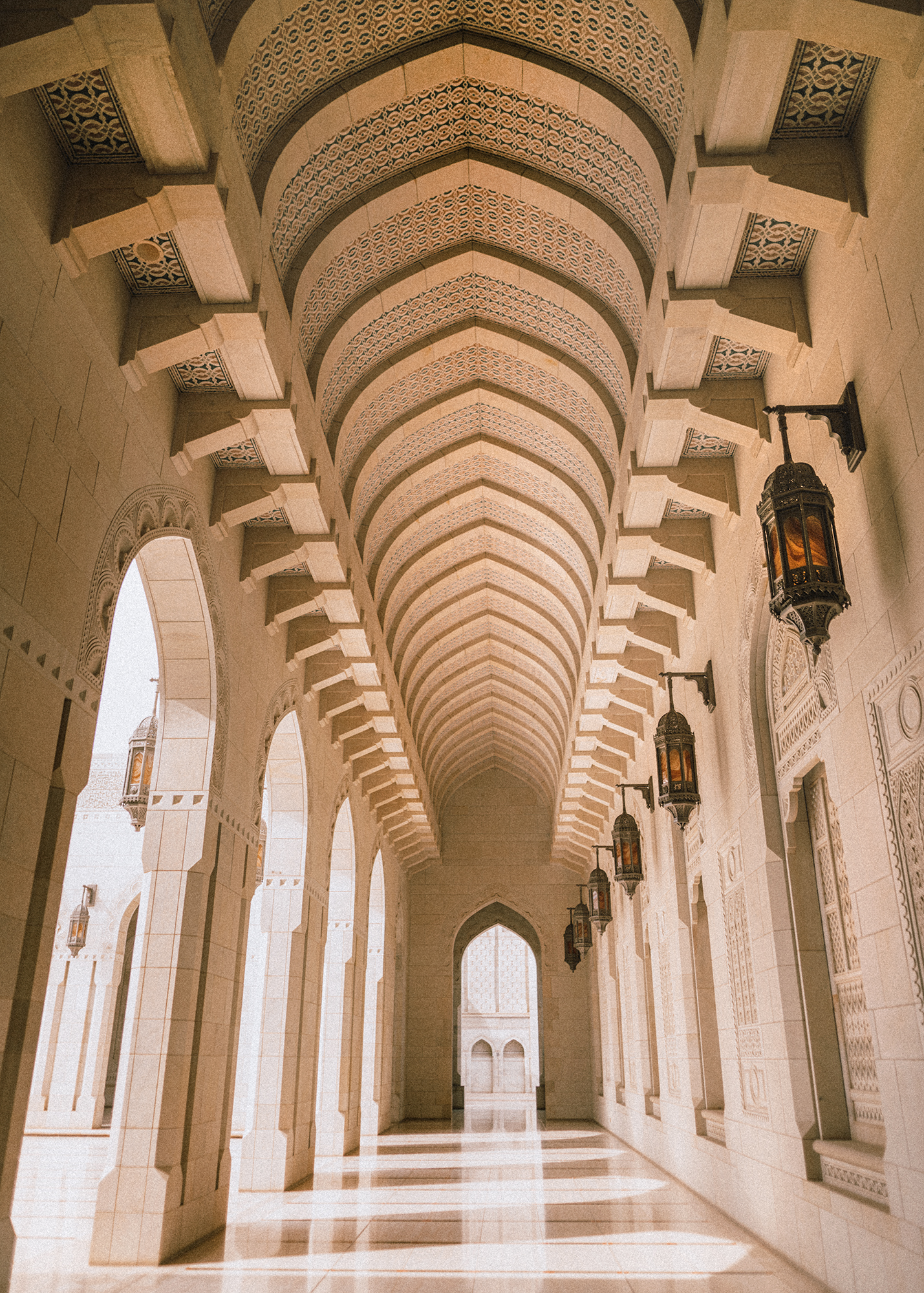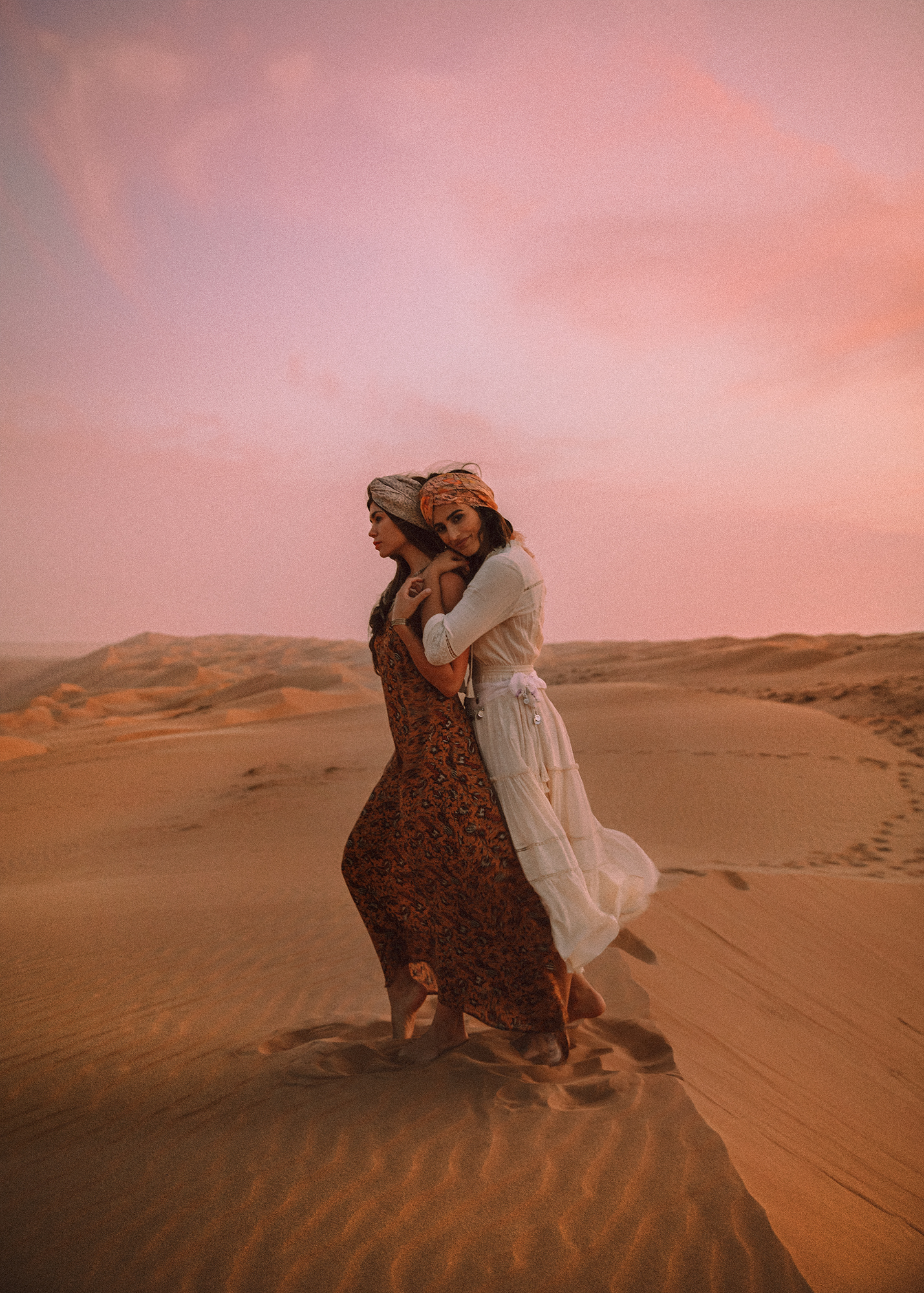 Itinerary At a Glance:
: Muscat
: Daymaniyat Islands Day Trip
: Muscat Beach Resort
: Sur: Bimmah Sinkhole, Wadi Al Arbeieen, Qalhat
: Explore Sur
: Wadi Shab to Wahiba Sands Desert Camp
: Day in the Desert
: Wahiba Sands to Nizwa
: Beehive Tombs, Al Hamra, Al Misfat
: Jabal Akhdar Mountains
What You'll Need:
: As soon as you land in Oman, pick up your rental car from Muscat Airport. This way, you have the most options and it is easy to drop your car off right before you fly out after your trip. It is very important to reserve a 4 wheel drive SUV to make the most of this beautiful country. You cannot drive out on the sand dunes or up to the mountains without one. The extra cost is not just worth it - but necessary. A 7-10 Day SUV Rental will cost approximately $500-800, and make sure to reserve your car in advance! There are a number of rental options from reputable, international brands:
2. : I use T-Mobile for international data and found the service across most of Oman to be very sufficient. Our friend Lisa bought a SIM at the Muscat airport for data - which was much faster than ours. I don't always get a foreign SIM when we travel, but for a road trip it is definitely essential! In case of any emergencies, and to book hotels and find restaurants, gas, or other needs as you go.
3. : Before you head out, make sure to download the entire area of Oman you will be traveling through to be viewable offline on Google Maps. This way, even if you are out of service or have limited service, you will always be able to pull up driving directions and know where you are going.
Start your journey in Oman's Capital city. Pick up your rental car at Muscat Airport when you arrive, stay in one of Muscat's beautiful hotels, visit the Grand Mosque, and end your day at the Mutrah Souq Night Market.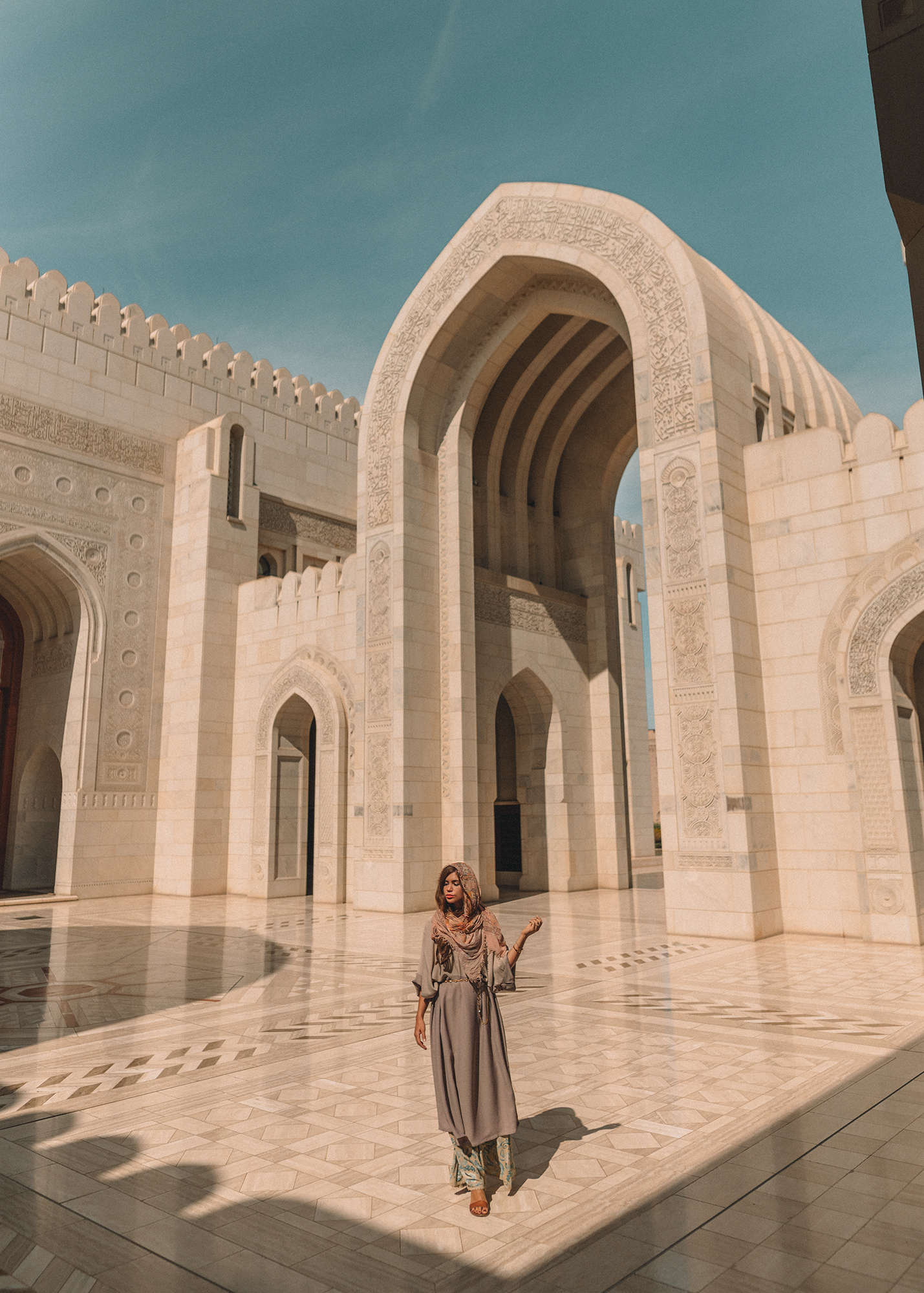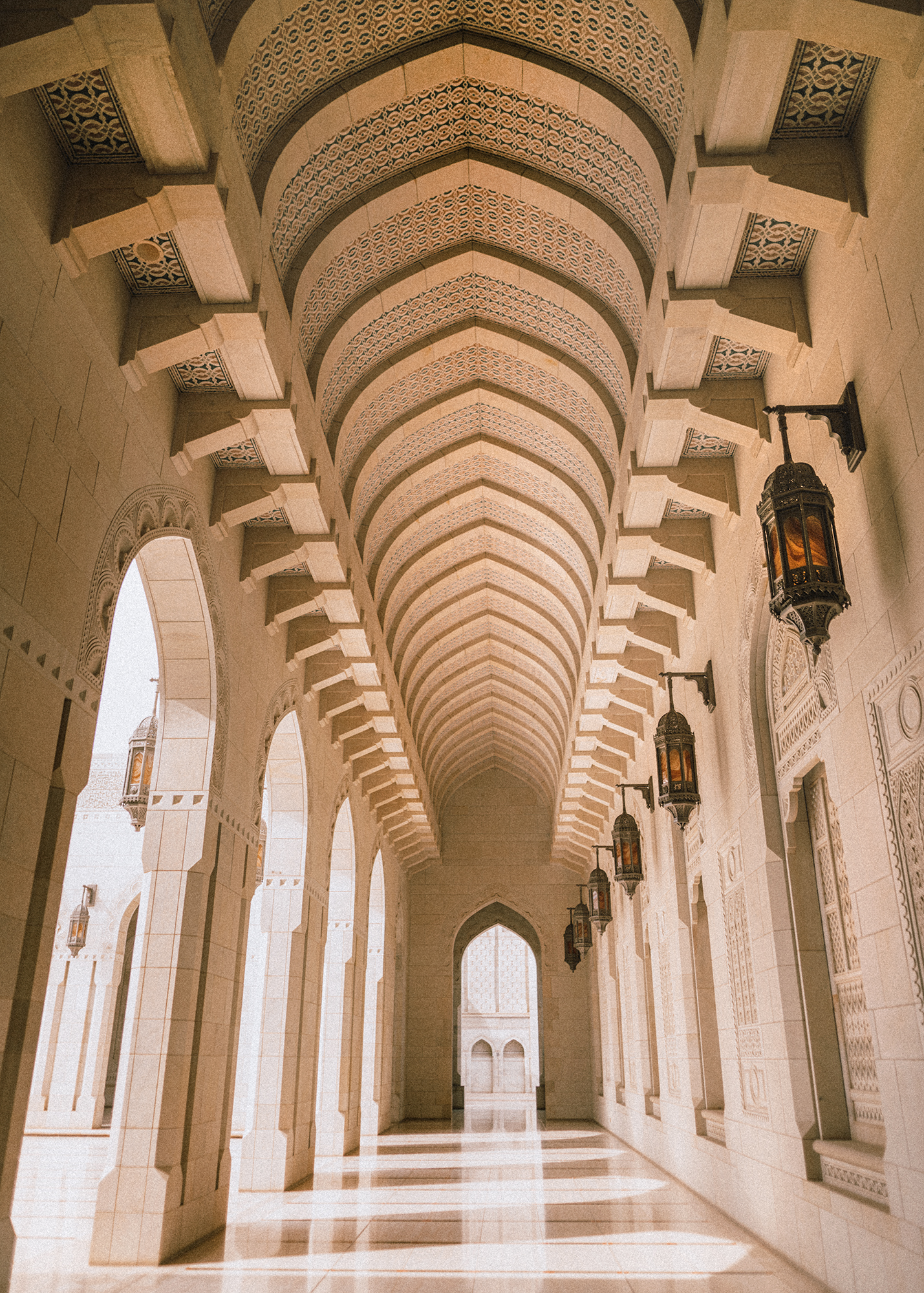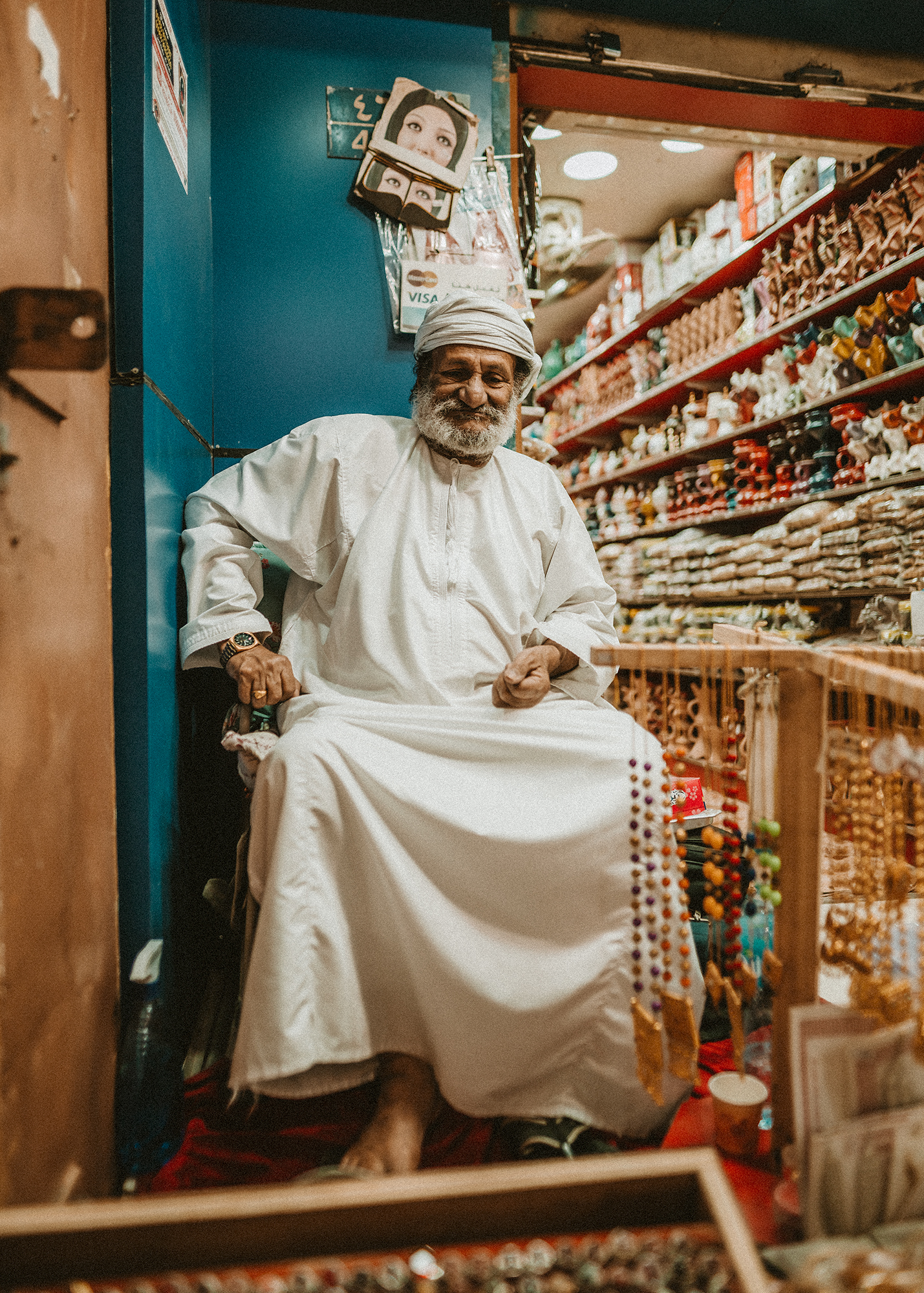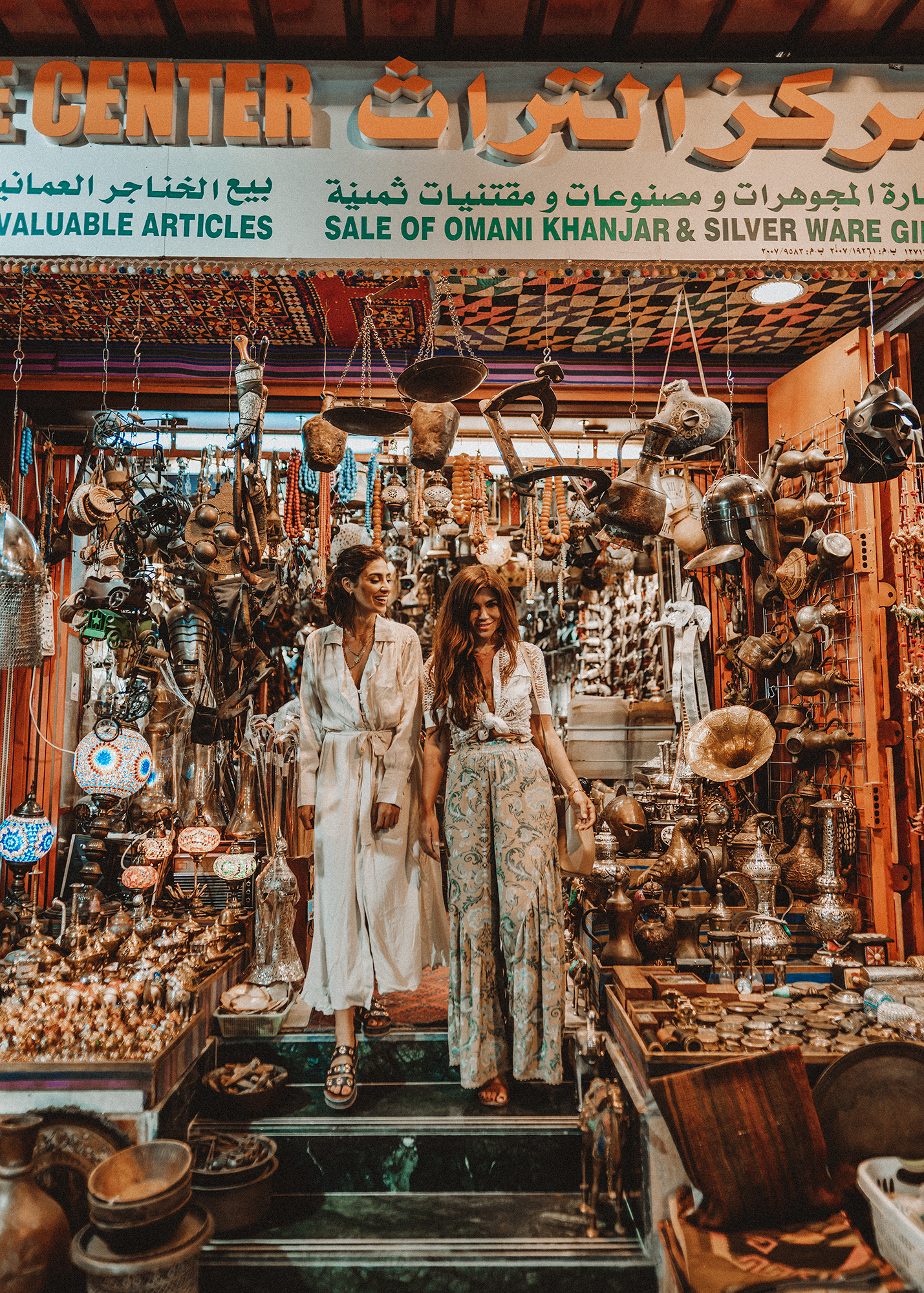 What to Do:
Sultan Qaboos Grand Mosque: The first stop after checking into your hotel is to head over to this iconic structure. As soon as you step inside this mosque, you'll feel a sense of calm and tranquility come over, you even if you're not religious. The first thing that will catch your eye is the giant chandelier located in the center of the men's prayer hall and the beautiful embellished mosaic patterns covering the walls. This is one of the only mosques in Oman that allows non-Muslim visitors, but requires adherence to a strict dress code.Women are required to cover their arms, legs, and hair completely. Men are allowed in long pants and a tee-shirt.
Entrance price – Free; Open hours (for non-Muslims) – 8 am to 11 am on Saturday to Thursday (closed on Friday).

Mutrah Souq Night Market: In the winding, old streets of Muscat is the famous Mutrah Souq market, thought to be one of the oldest marketplaces in the world. The market is a winding maze of shops upon shops sell everything from cheap souvenirs to hand-made and vintage pieces, to perfumes, gold, jewelry and the famous Frankincense perfume the area is known for. This is a great place to pick up a few scarfs or accessories to wear on your journey.
Where to Stay:
Muscat has by far the best hotels in Oman (with a few glamorous exceptions sprinkled throughout the country.) Take advantage by staying in one of the beautiful hotels in the city before heading out to more undiscovered areas.
Shangri-La Al Husn Resort and Spa: A beautiful beach resort with stunning coastline views and many high-end restaurants located just South of the city. We always LOVE Shangri-La Hotels and have stayed at many of them throughout the world. We loved our time here! Cost: $400-450/night
Kepinski Hotel Muscat: Kepinski hotels have a reputation for being some of the nicest in the Middle East for a reason, this one is truly a masterpeice. Cost: $280-500/night
The Chedi Muscat: One of the most famous and beautiful hotels in Oman, The Chedi is a beautifully modern take on Middle Eastern architecture Cost: $450-650/night
Grand Millenium Muscat: Despite its name, this hotel feels like home away from home. Located close to Sultan Qaboos Grand Mosque and many other tourist spots. Cost: $150-225/night
Park Inn by Radisson Muscat: This 4 star property offers all the bells and whistles at an affordable price. The hotel features 175 bright and colorful guest rooms, a rooftop swimming pool, fitness centre, meeting rooms, restaurants, bars and free high speed internet access throughout the hotel. Location-wise, the hotel is located near the shopping areas and is easily accessible to the Al Ghubra beach. Make sure to head up to Sama Terrazza, their rooftop bar with a spectacular view. Cost: $94/night
Ibis Muscat: If you're looking for comfortable at the lowest budget price, this is the place to go. Ibis Muscat is conveniently located in the Al Khuwair area, close to the commercial centers, making it great spot for leisure travelers. Cost: $64/night
Where to Eat:
In Muscat you'll find restaurants serving a variety of different food including local Omani restaurants, Yemeni, Indian, Turkish, and Western food. Here are some places to grab some grub on your first day.
Bin Ateeq: You'll get a taste of Omani tradition here while sitting on the floor and eating communally Omani style.
Bait Al Lubon Omani: One of the highest rated local Omani restaurants in Muscat.
Tea Houses: During your day out exploring, hop into one of the many tea houses located throughout the area. A popular beverage is a version of Indian chai tea known as karak. It's a super sweet and creamy tea mixed with condensed milk and various spices.
An unexpected must-do in Muscat is to take a Day Trip to the incredible white sand beaches and brilliant aqua waters of the Daymaniyat Islands. Book a tour and enjoy a day at sea in the Gulf of Oman - it will be one of the highlights of your trip!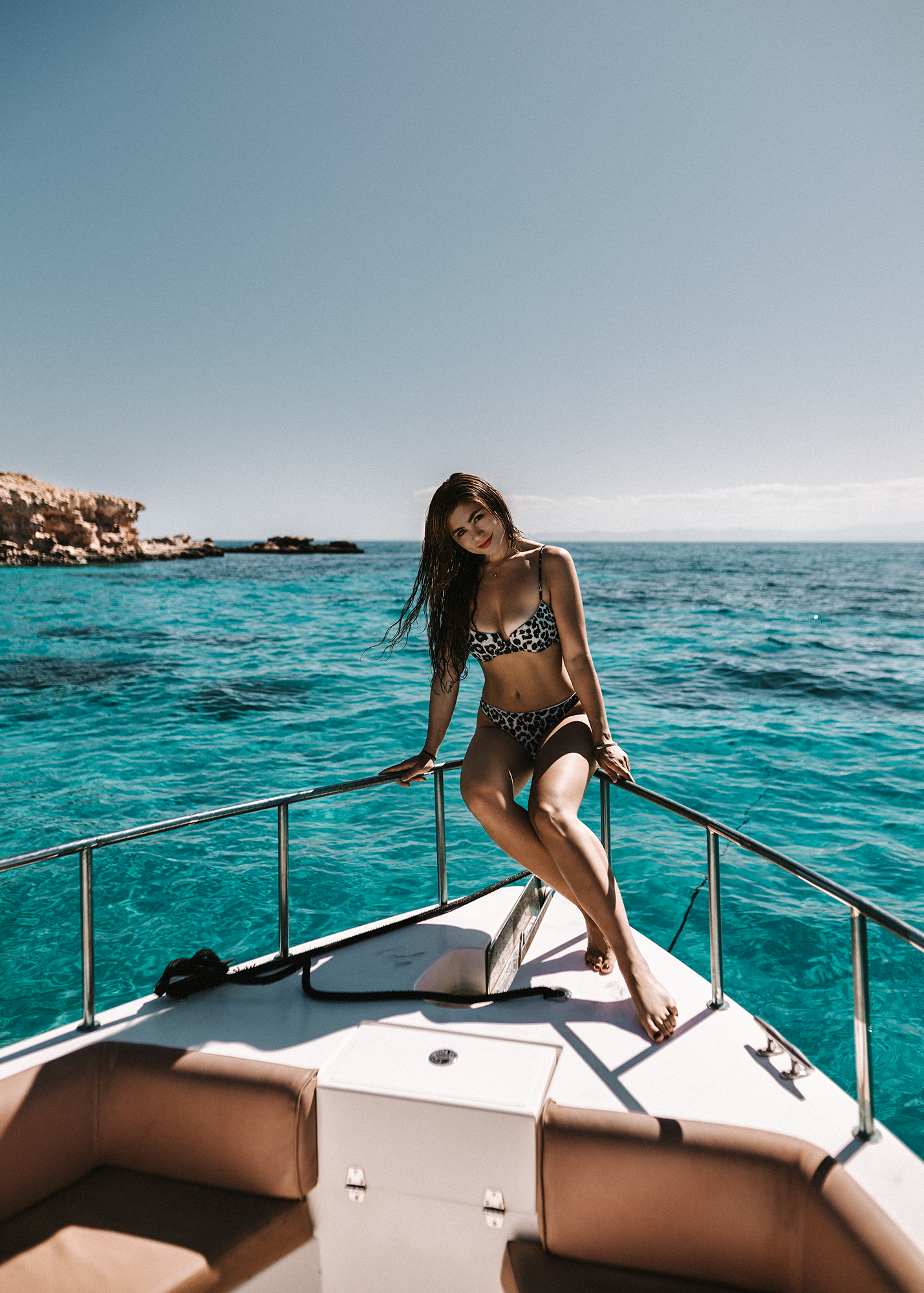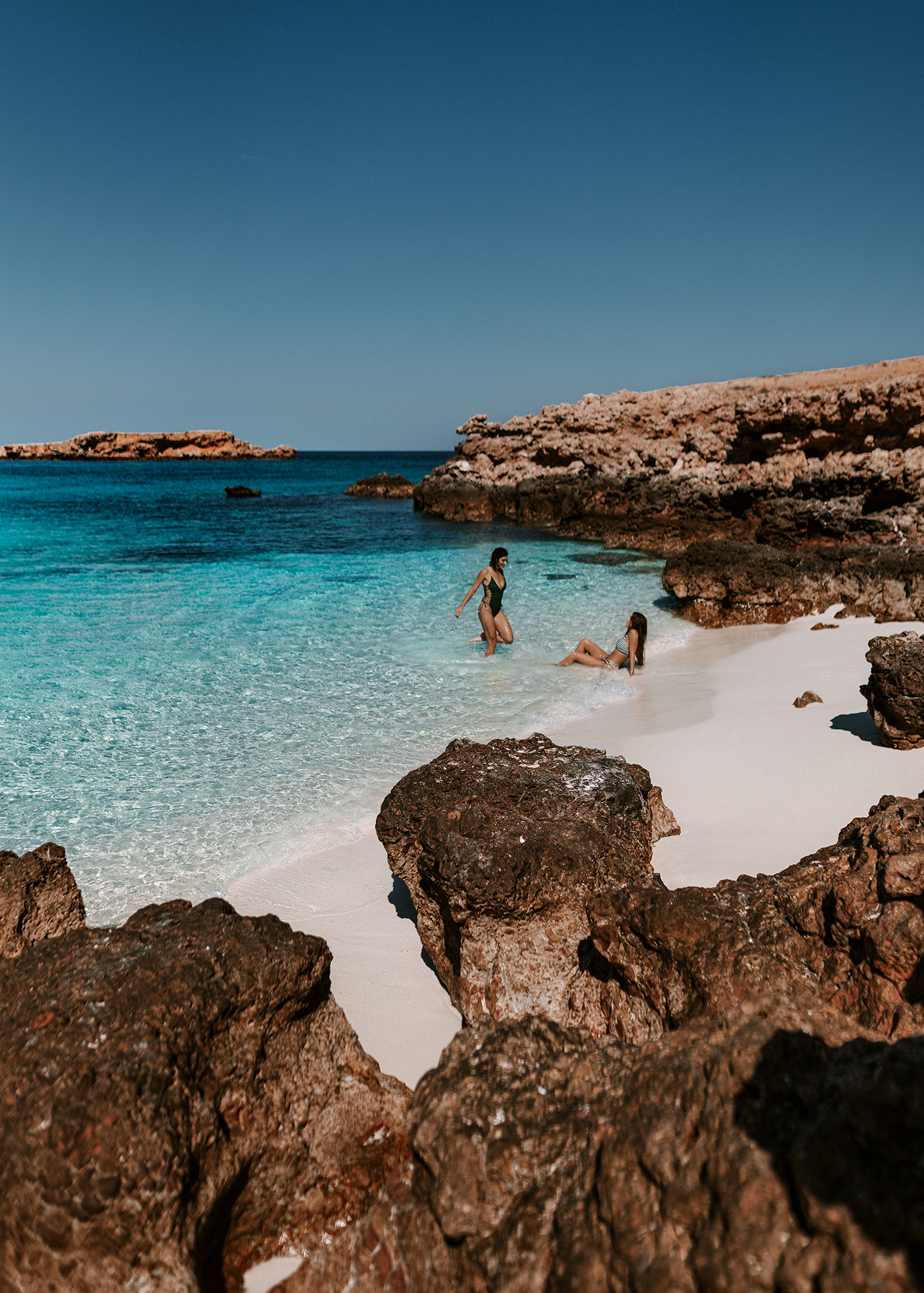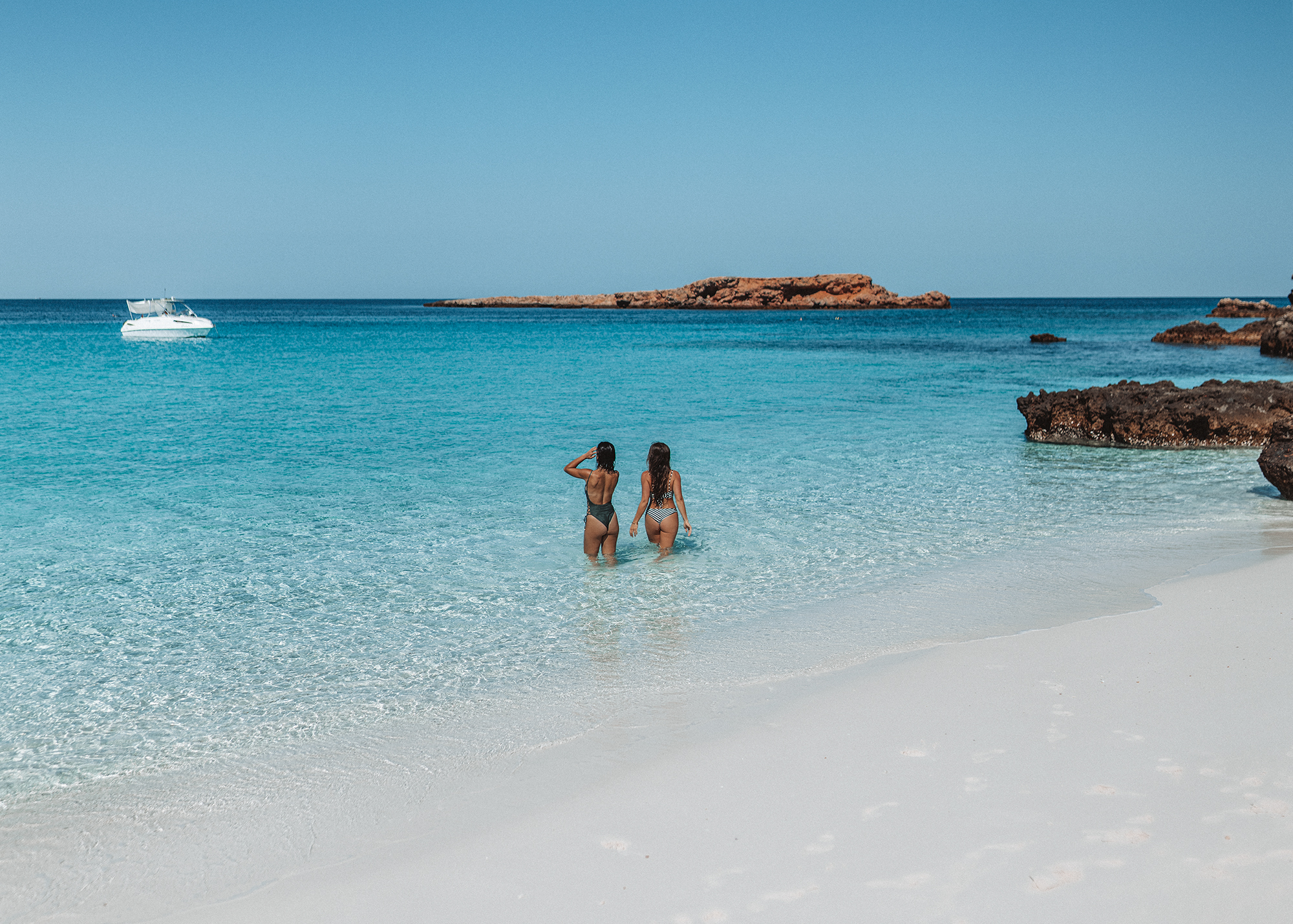 What to Do:
Island Day Trip: Touring and snorkeling the Daymaniyat Islands are one of the most surprising and must-do parts of a trip to Muscat, Oman.There are a number of private companies that offer adventure trips including snorkel or overnight camping trips. This is the company we used for our snorkel tour and we had an incredible time! We were with only 2 or 3 other couples and the experience was very private. Plus the box lunch we had on our way back was delicious and full of chicken sandwiches, hummus, pita bread, and other local treats.
We took a 30-45 minute boat ride to this stunning nature reserve, where we snorkeled at two different locations, and were completely blown away by how amazingly white the beaches were. The water is so crystal clear that you'll see plenty of marine life and if you're lucky, maybe even a sea turtle! They provide all the snorkel gear, towels, lunch, and plenty of snacks and will cost you around $75-90 USD.
The tour typically runs from around 9am - 3pm, and was one of the highlights of our entire Oman trip.
You have to swim to one of the beaches, and depending on the tide, the second beach you entire either ankle-deep or fully neck-deep. Don't forget to pack a dry bag and a GoPro to fully get the most of this amazing place!

If you have additional time in Oman, taking a day to truly vacation and relax at one of the beachside resorts would be a great way to spend it before starting on a road trip journey.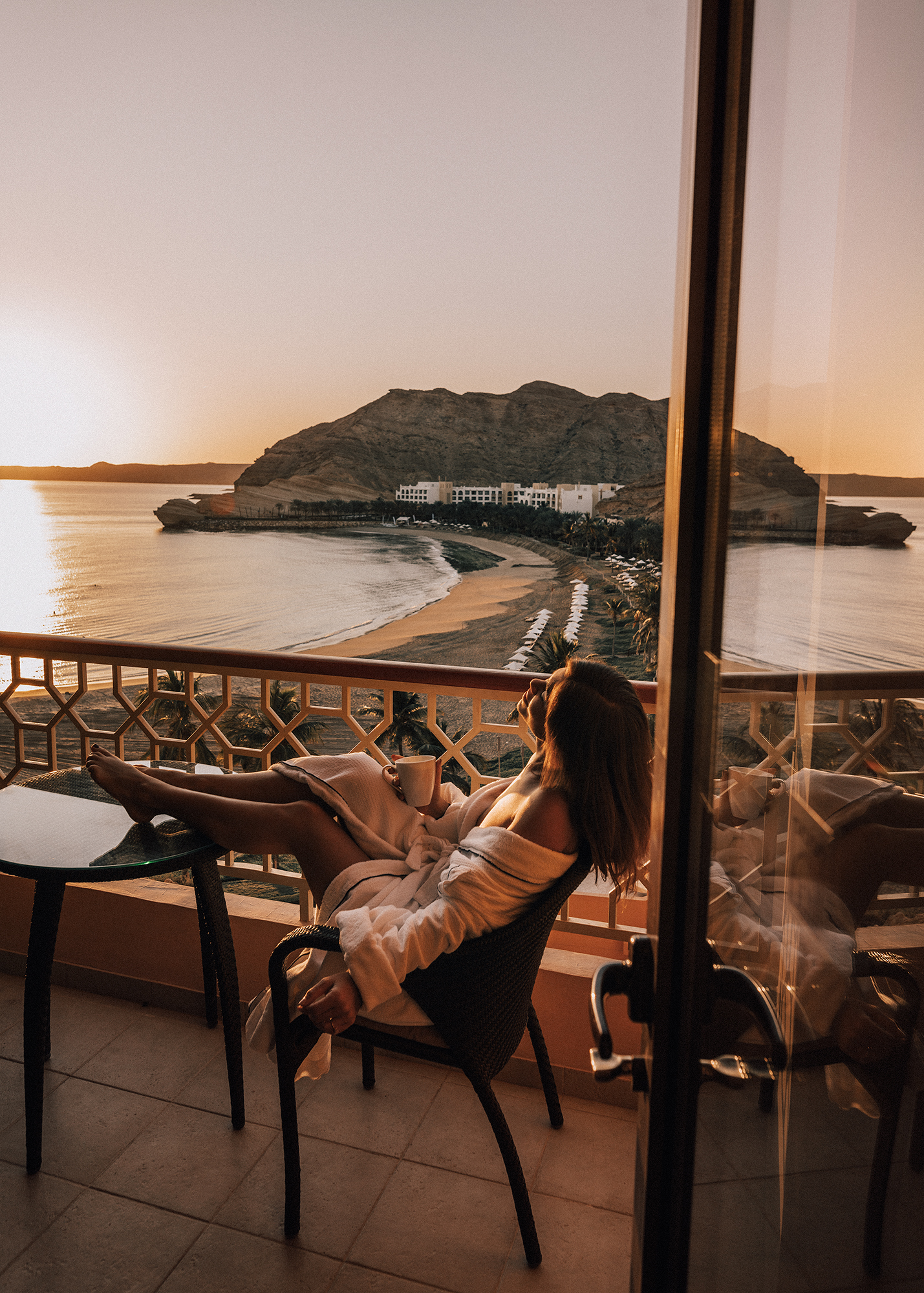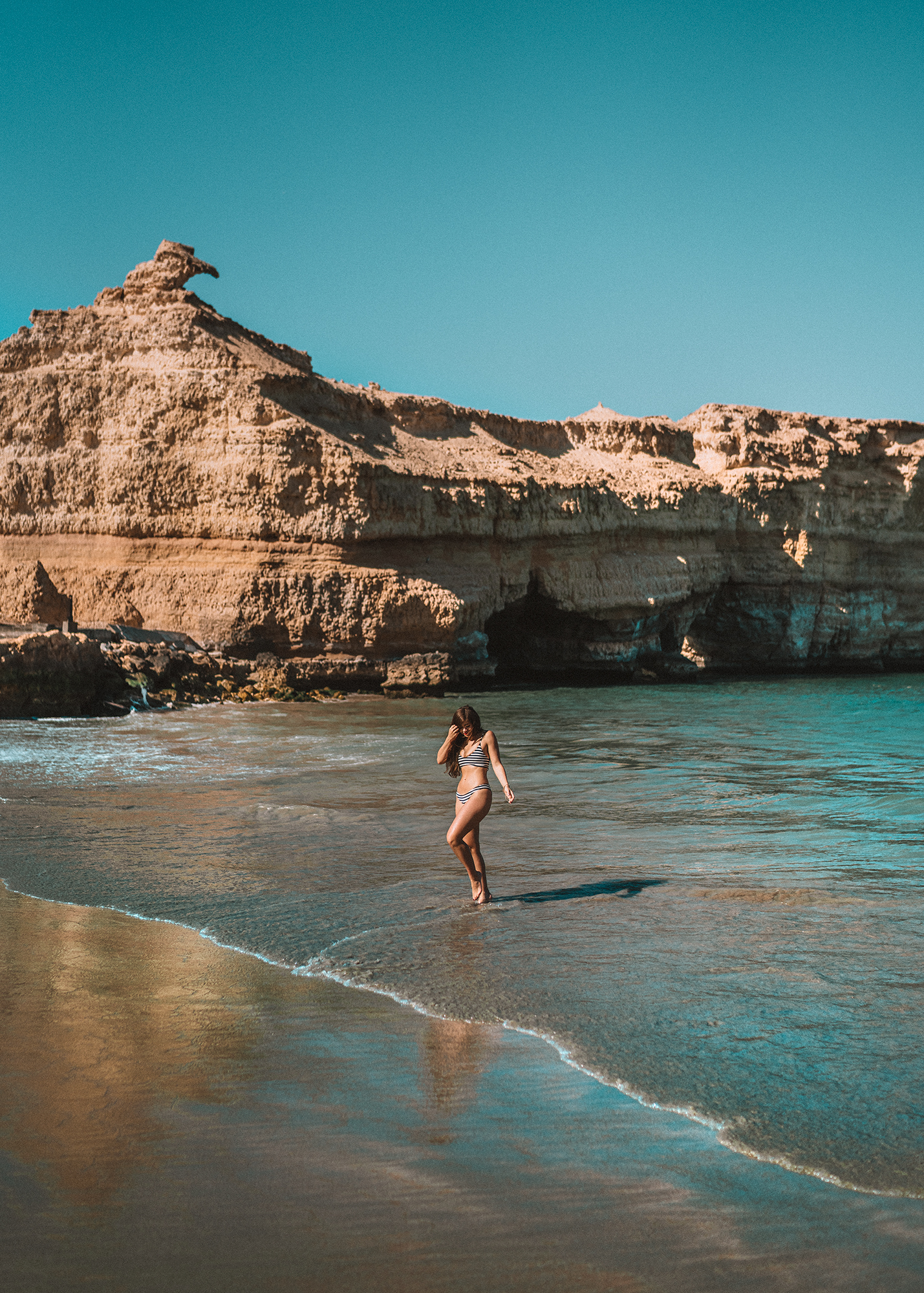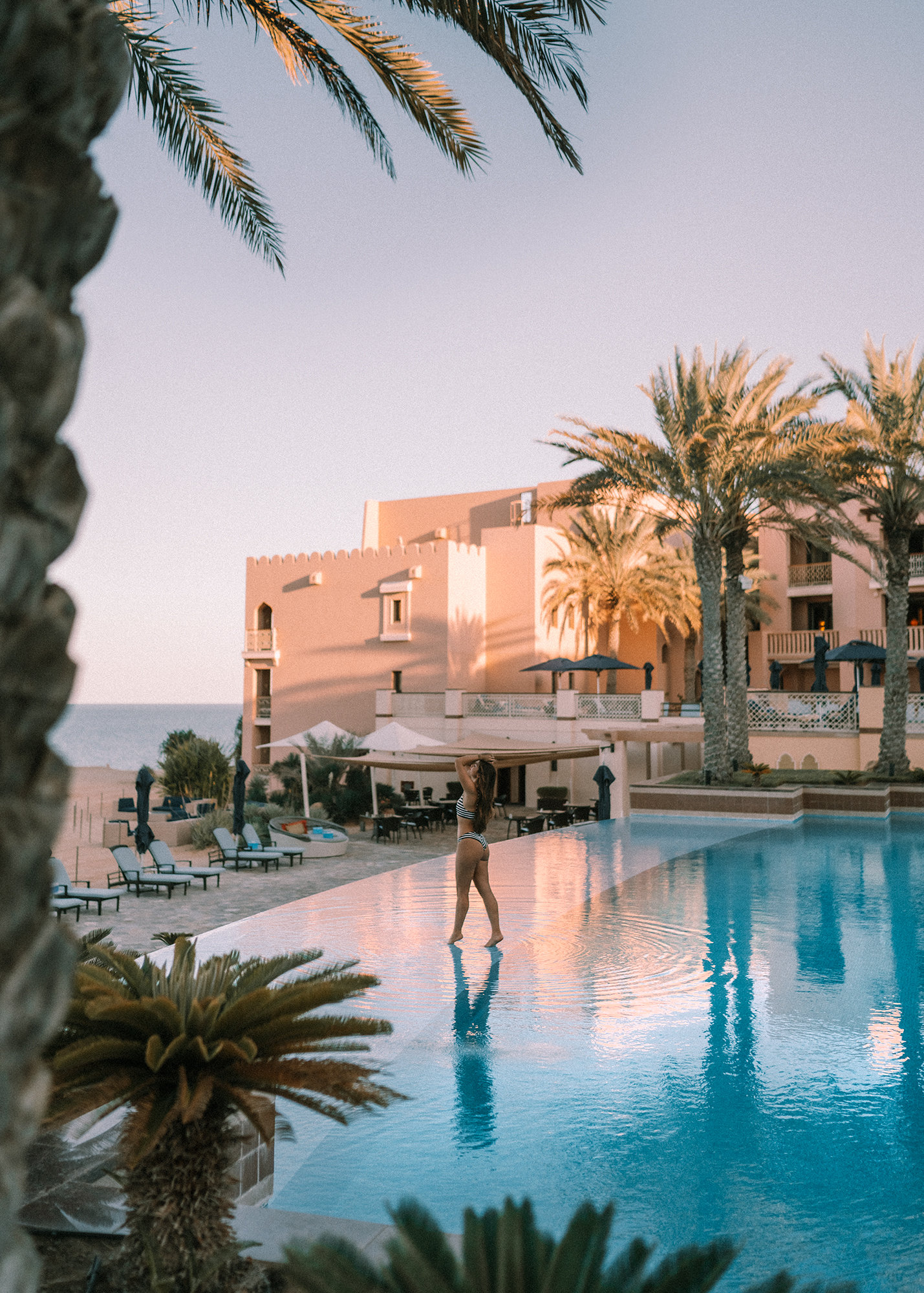 We spent a couple of days at the Shangri-La Al Husn and LOVED our time here. The pools, the ocean, the pink sunrises and the golden rocks at sunset made for a luxurious and beautiful stop. And the hotel's many restaurants were all incredible! If you want to add a little relaxation to your journey, this is a great spot to add a day.
Check out or your hotel and really begin your journey through Oman! First, head down the coastline around 90 minutes to the Seaside area of Sur.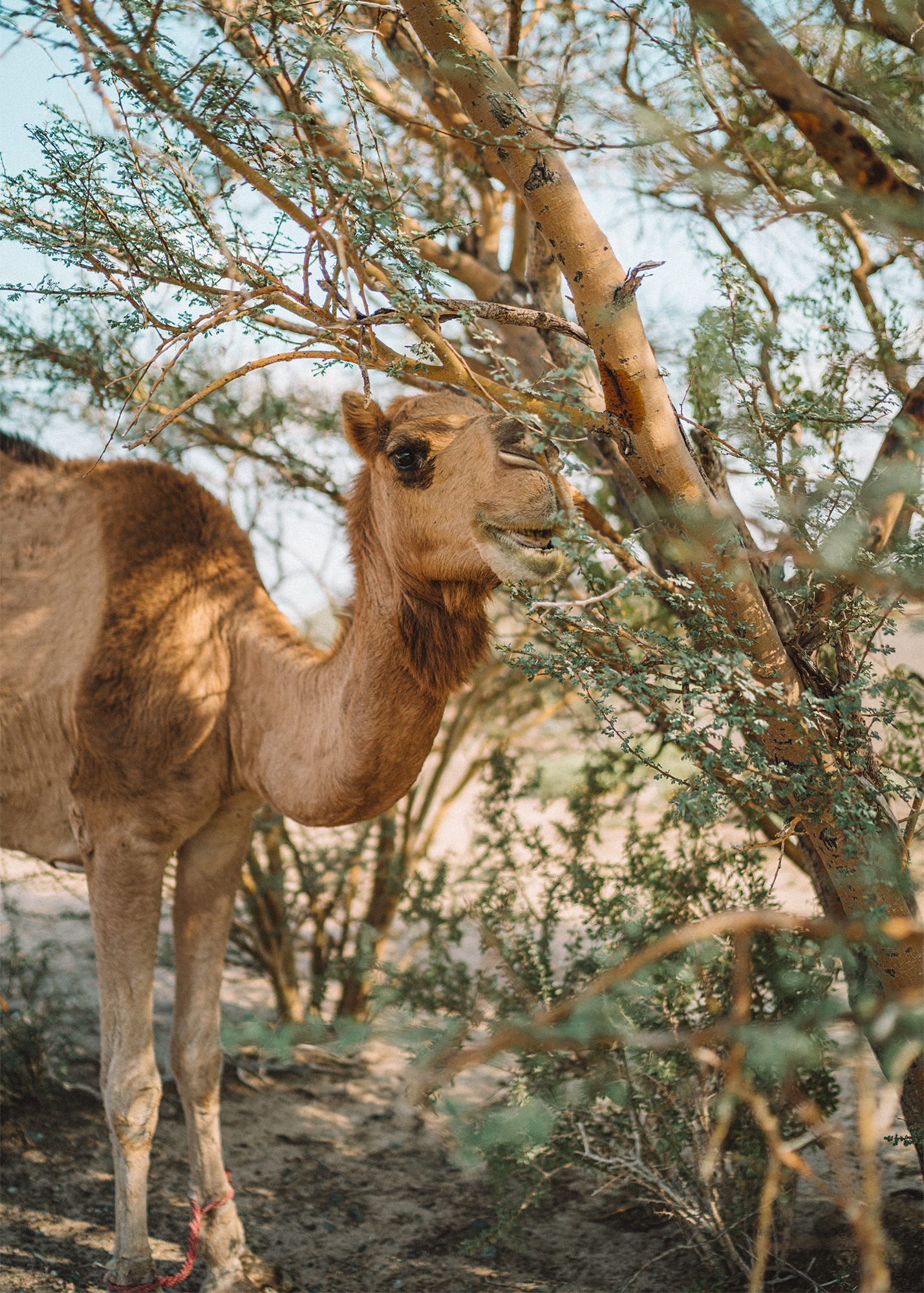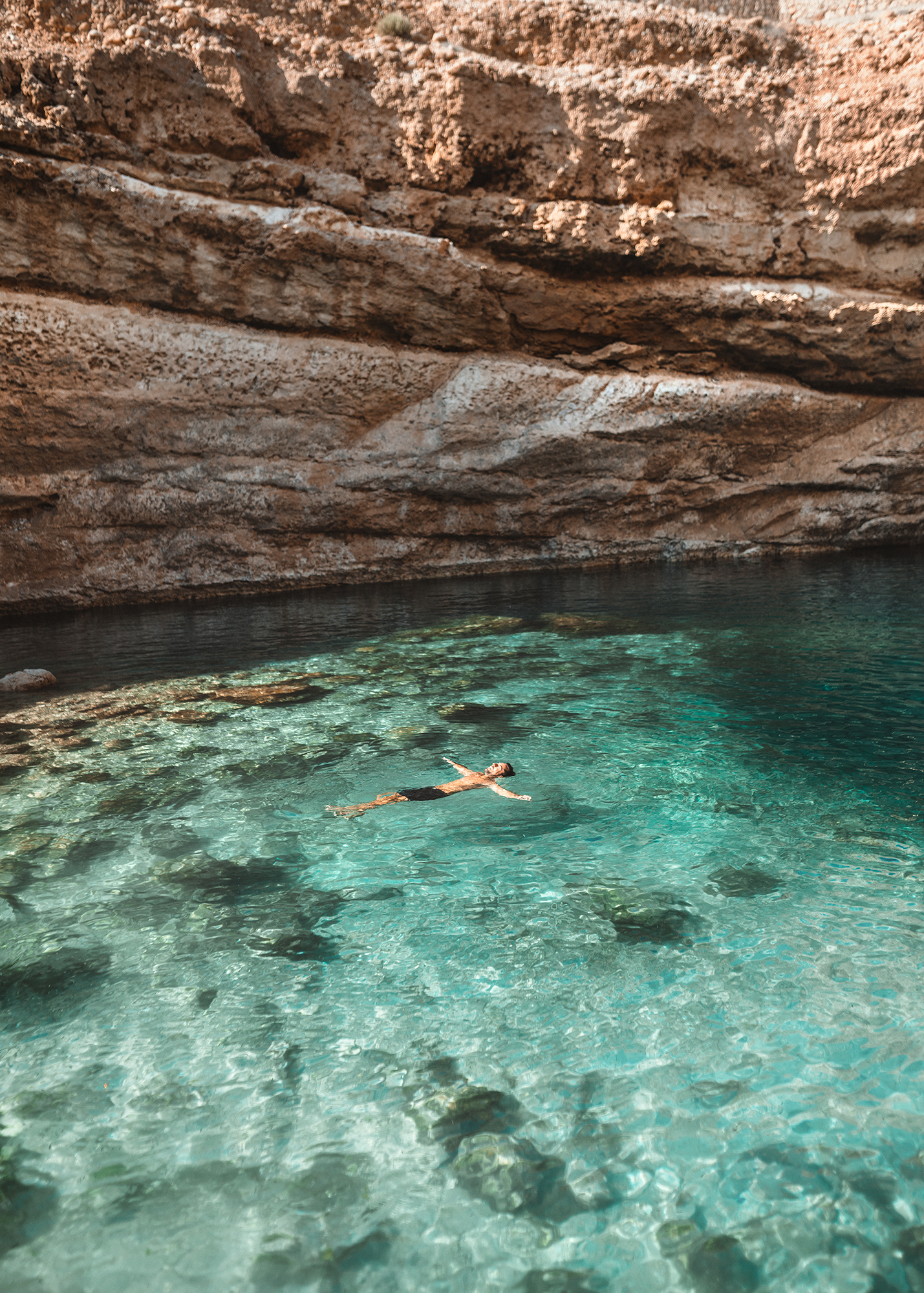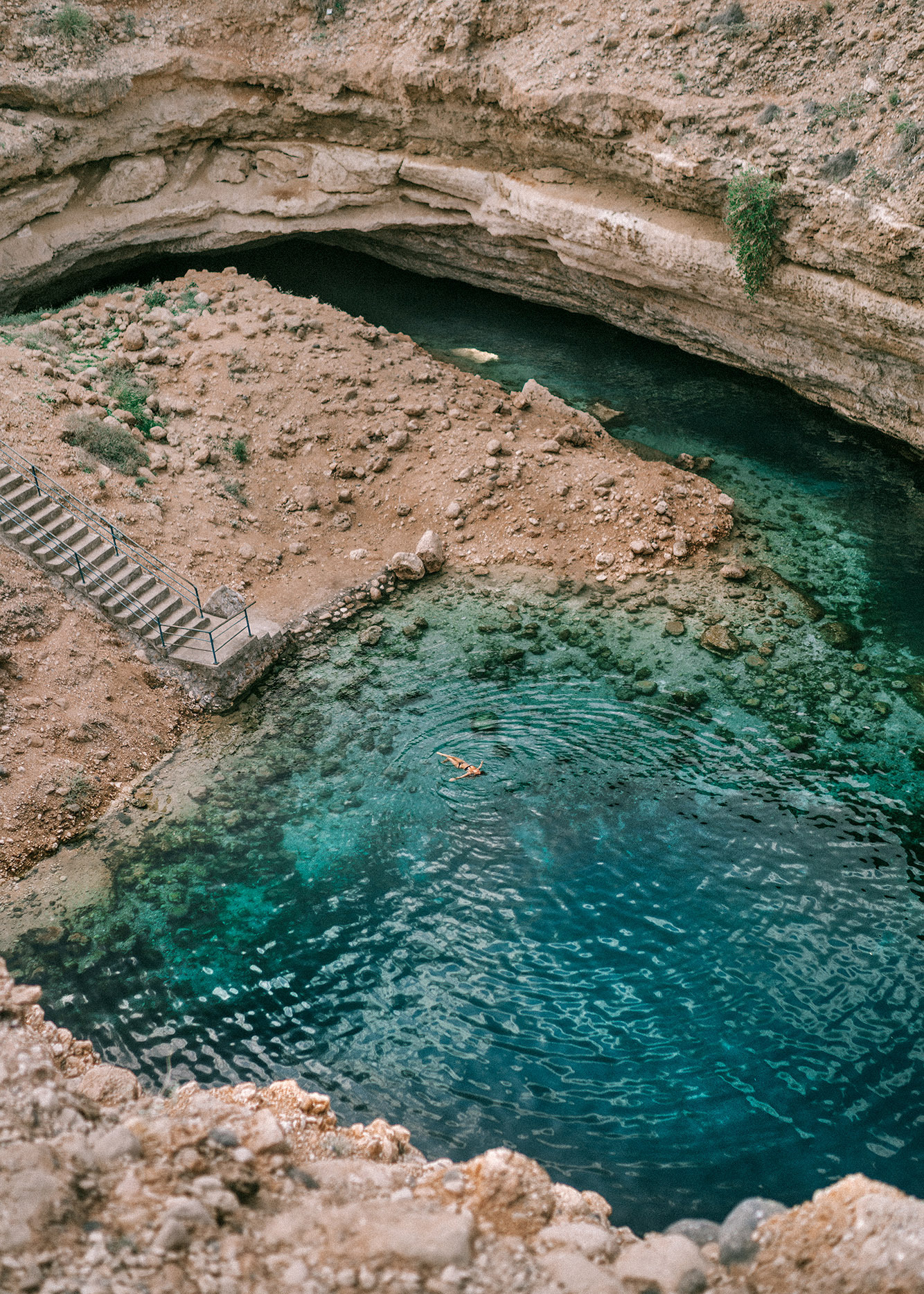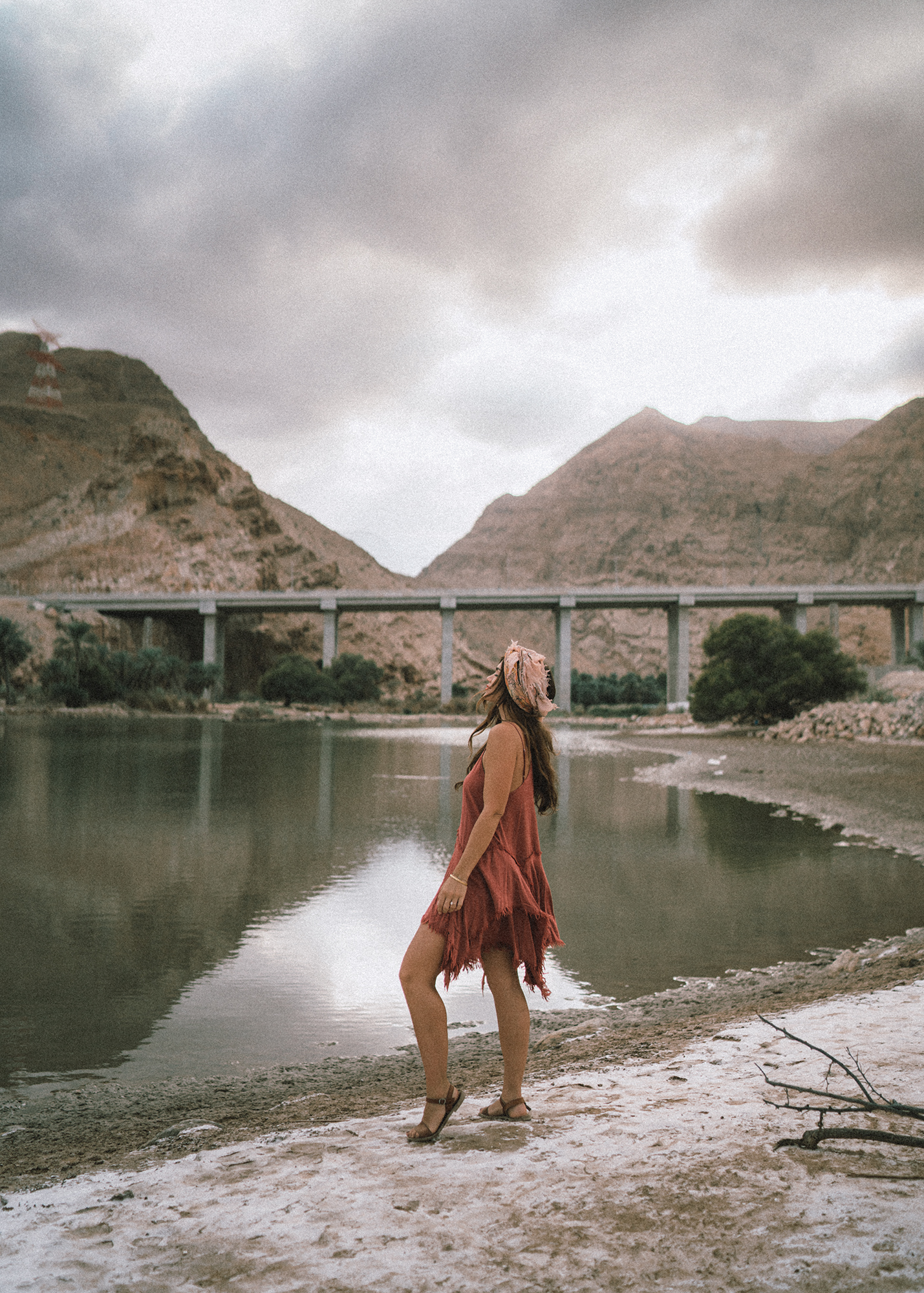 Driving Time: 2 Hours
What to Do:
Start with a morning swim at the Bimmah Sinkhole - This is one of the most beautiful natural swimming holes. Set against a mountainous backdrop with crystal clear blue water, this is a beautiful spot for tourists and locals to visit. We recommend a day trip from Muscat, leaving as early in the morning as possible to avoid the crowds. The light in the swimming hole is best before early afternoon, where it starts to become shaded. The spot is surprisingly easy to get to, located just 1.5 miles from Muscat and right off a major highway. Once you're there climb down the long staircase and take a dip in the clear water. Extra bonus, the fish will come nibble at the dead skin on your feet, giving you a free fish foot spa!

Wadi Al Arbeieen: After Bimmah Sinkhole, take about a 40 minute beautiful drive inland to Wadi Al Arbeieen, passing by lush villages surrounded with fruit plantations. This is the first drive where a 4-wheel drive comes in handy as the roads can get a little bumpy. But once you're here you'll be amazed at how serene this oasis in the middle of the desert. It's a perfect spot to bring out your lunch and go for another swim.

Ancient City of Qalhat: UNESCO recently put this site on their list of World Heritage Sites. The mausoleum is located on the hilltop and despite being centuries old, what's left of the tomb is in surprisingly excellent condition. To get there, exit at Qalhat then follow the road until you see the sign that reads Madinat Qalhat on the left side. Park the car and walk the last ten minutes to catch a glimpse of this historic site.
Where to Stay:
: To prep yourself for tomorrow's hike, the most convenient place to stay is Wadi Shab Resort, which is only a few minutes drive from Wadi Shab. It is a basic hotel that does not qualify as a "resort", but it is the only one located this conveniently. We stayed here and it was.... fine. The pool was out during our stay and the Wifi was not working, but it was the perfect spot for an early morning call. Cost: $120/Night
If that glowing review doesn't convince you if you travel 30-45 minutes down to the town of Sur, there are a couple of better options:
Sur Plaza Hotel: A well-rated hotel with a pool, gym, and restaurant in the town of Sur, From $73/night
Raz Al Jinz Turtle Reserve: The coolest hotel in the area, Ras Al Jinz, is a nesting site for green turtles. All of the hotel rooms are private cottages, with a private beach.
Where to Eat:
Zaki Restaurant: A great dining option right in the center of Sur serving Indian food. You can even get an Arabian style dinner where you eat dinner on the floor!
Sur Sea Restaurant: Like its name suggests, come here if you're in the mood for seafood. It's located in an easy to access area but can get a little touristy.
Sahari Restaurant: A good option if you have any vegetarians in your group. This is one of the few restaurants in Sur with spacious seating and a view.
If you have additional time, we would recommend spending an extra day here to explore Al Kamil Wal Wafi and Wadi Bani Khalid and more of the Sur area before heading inland to the desert. There is a lot in this area - I wish we would have had more time here to explore!
What to Do:
What To Pack: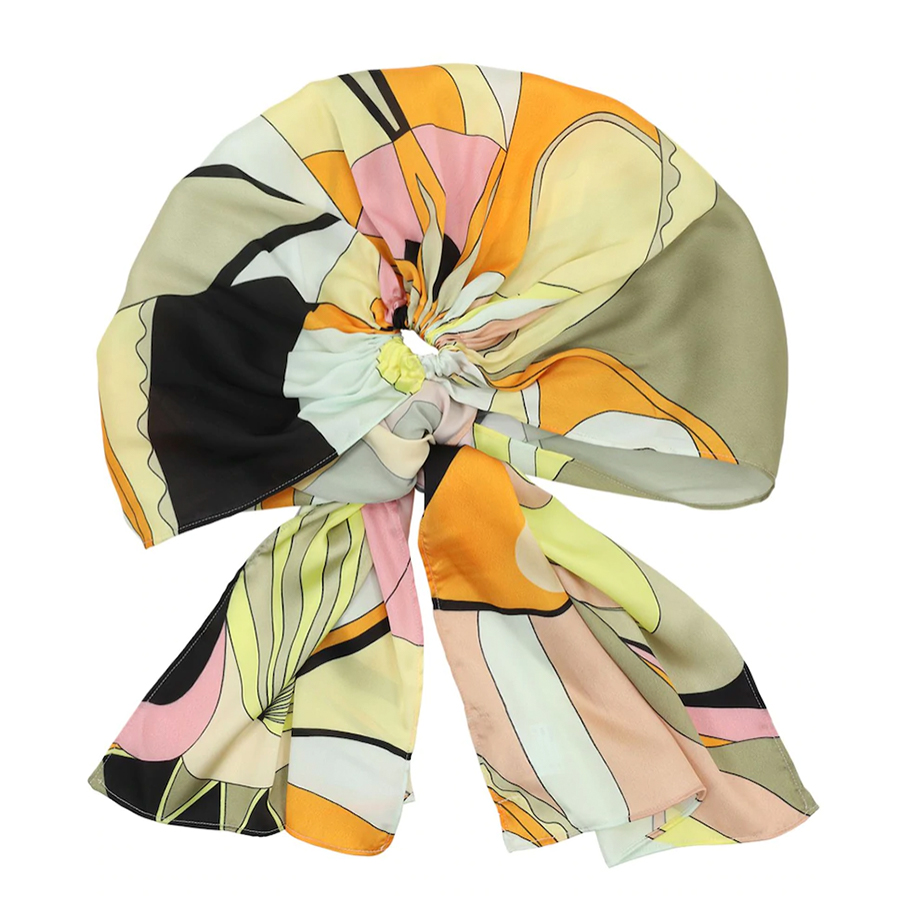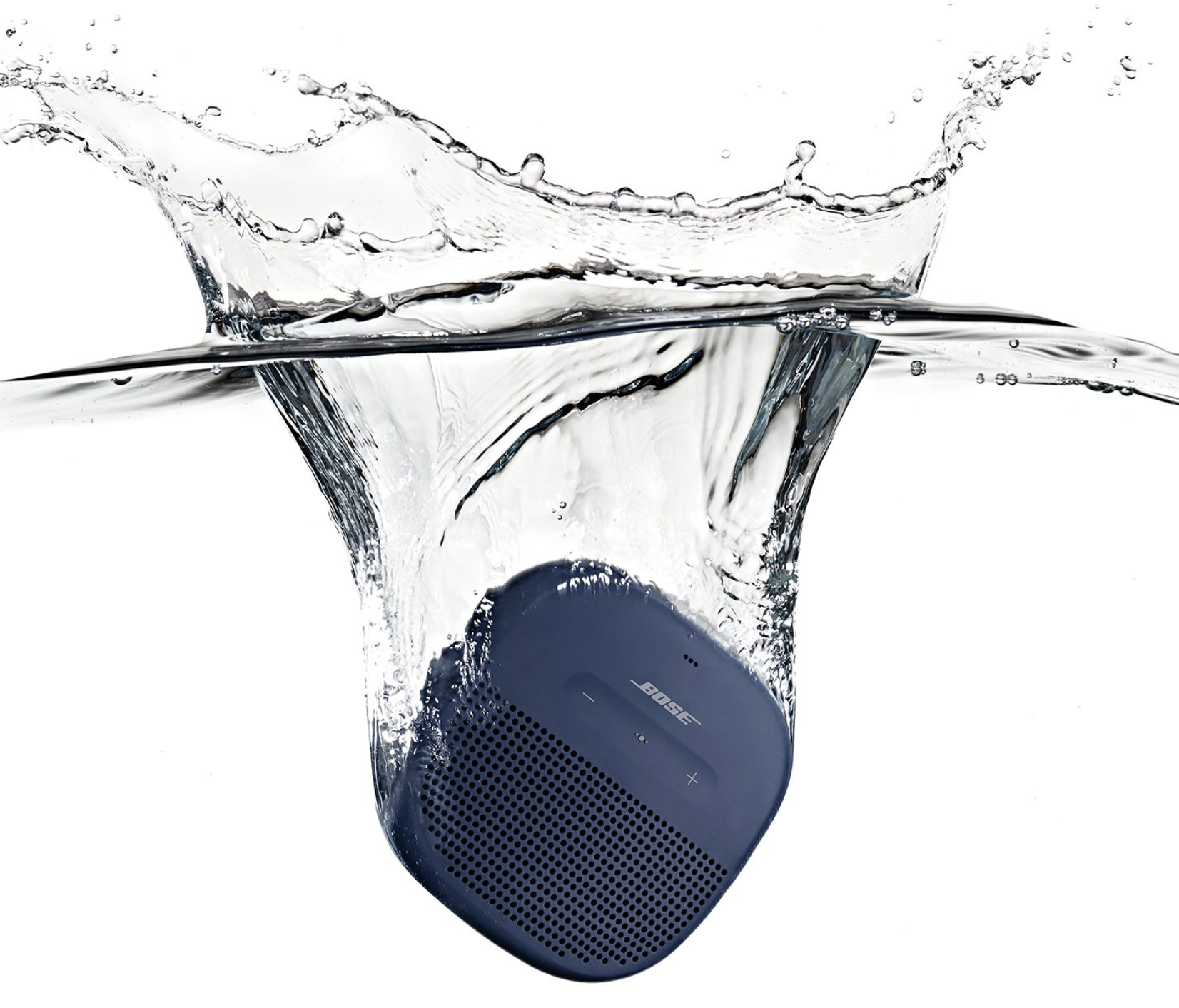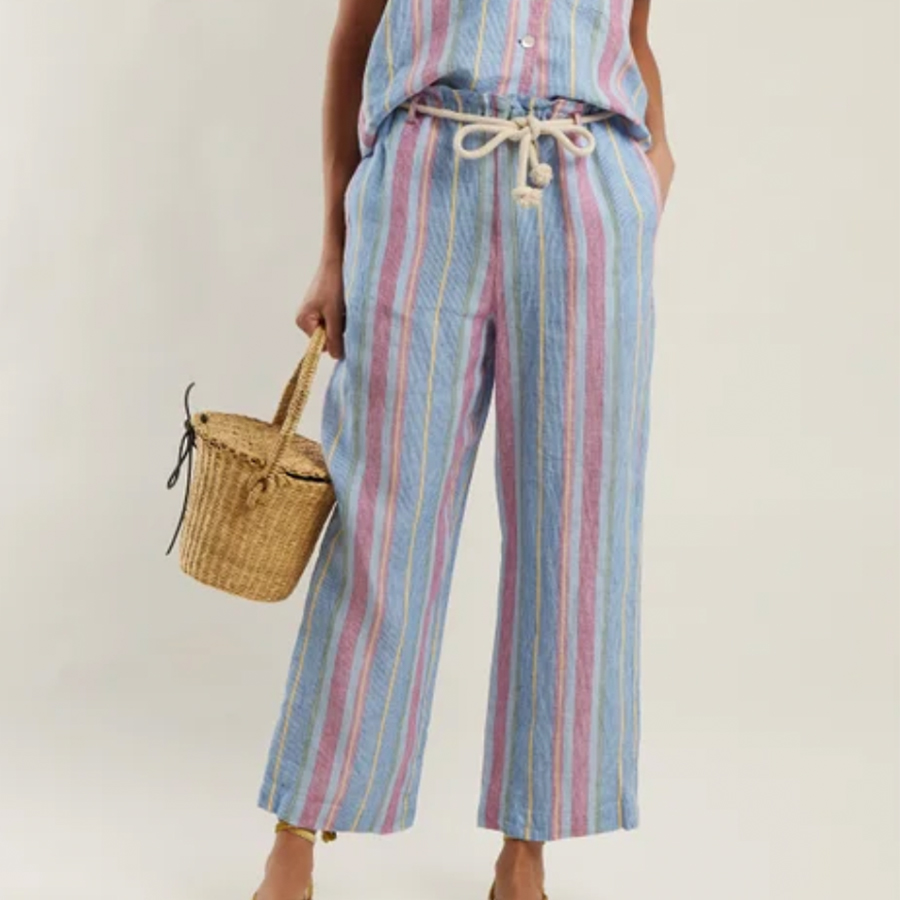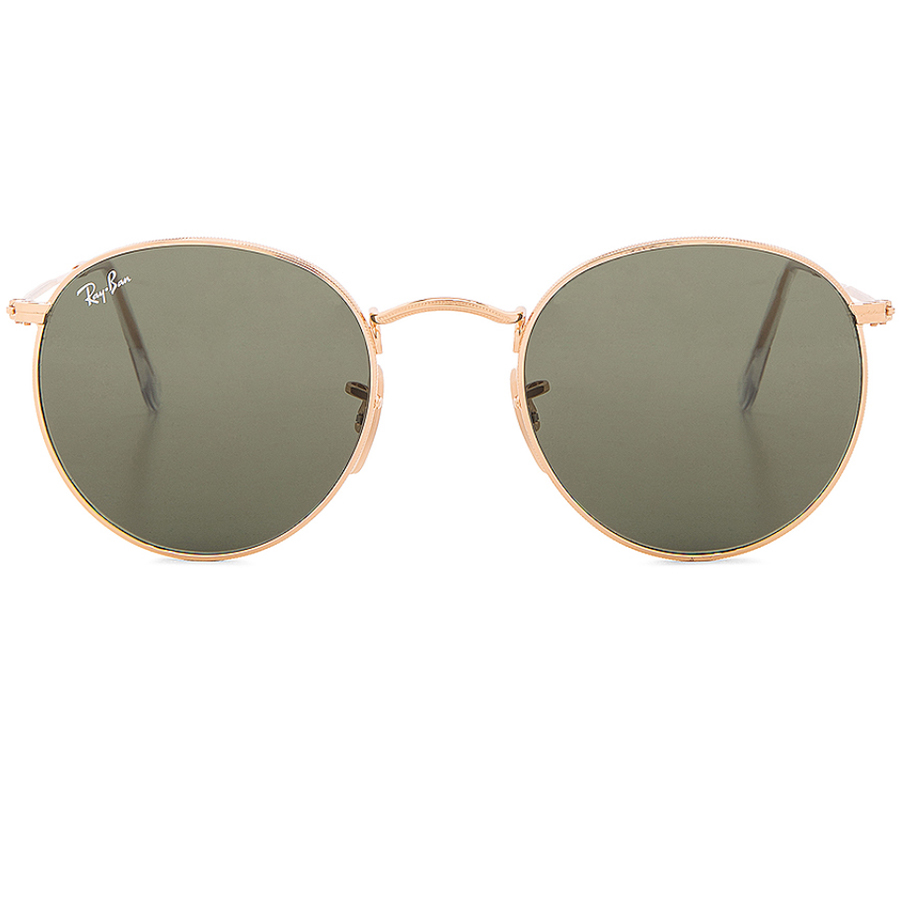 Wake up early to hike along the oasis of Wadi Shab before both the mid-day heat and the crowds. Swim in the pools for a couple of hours then make your way over to the Wahiba Sands desert for a night at a desert camp, surrounded by miles and miles of endless golden sand dunes.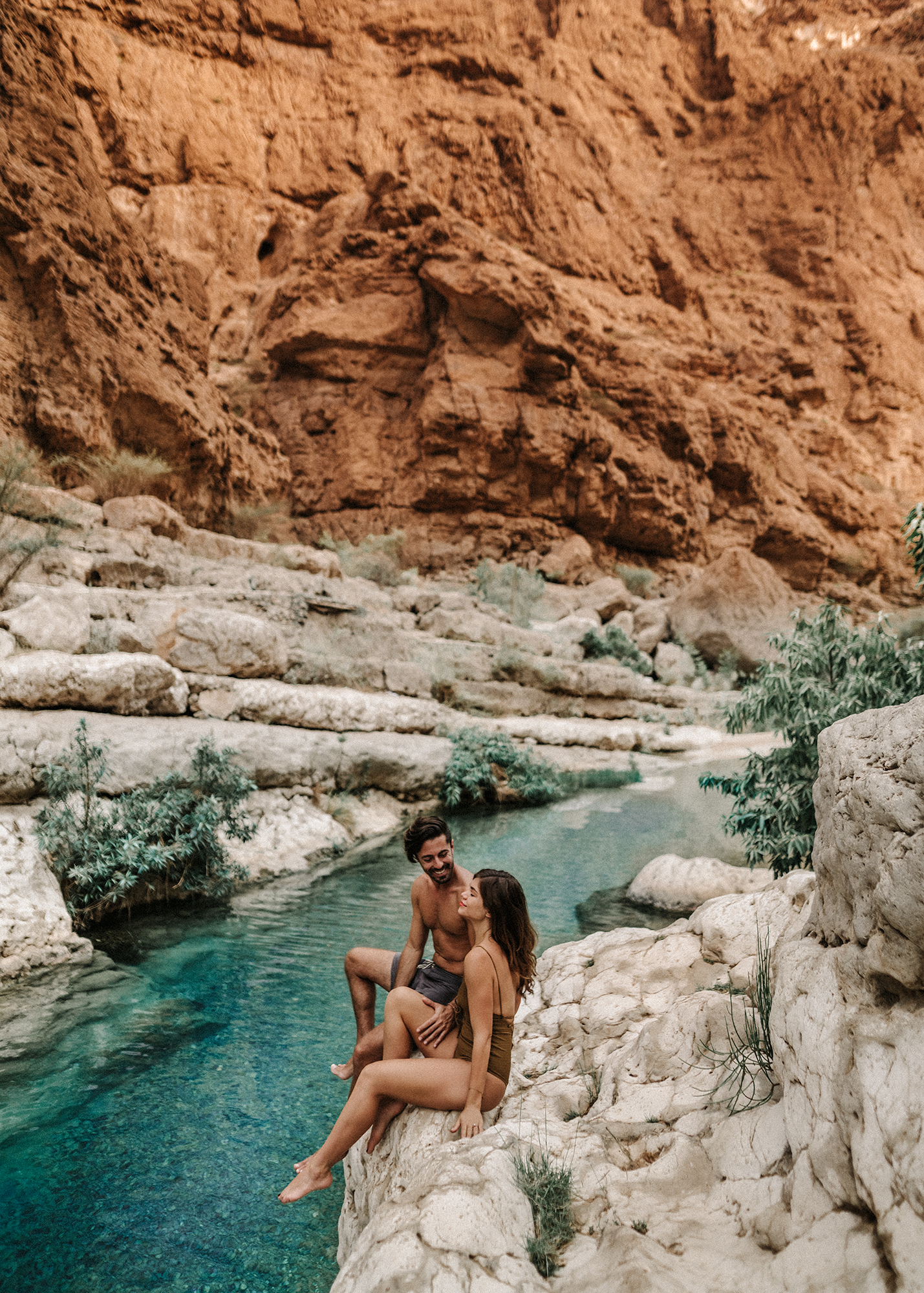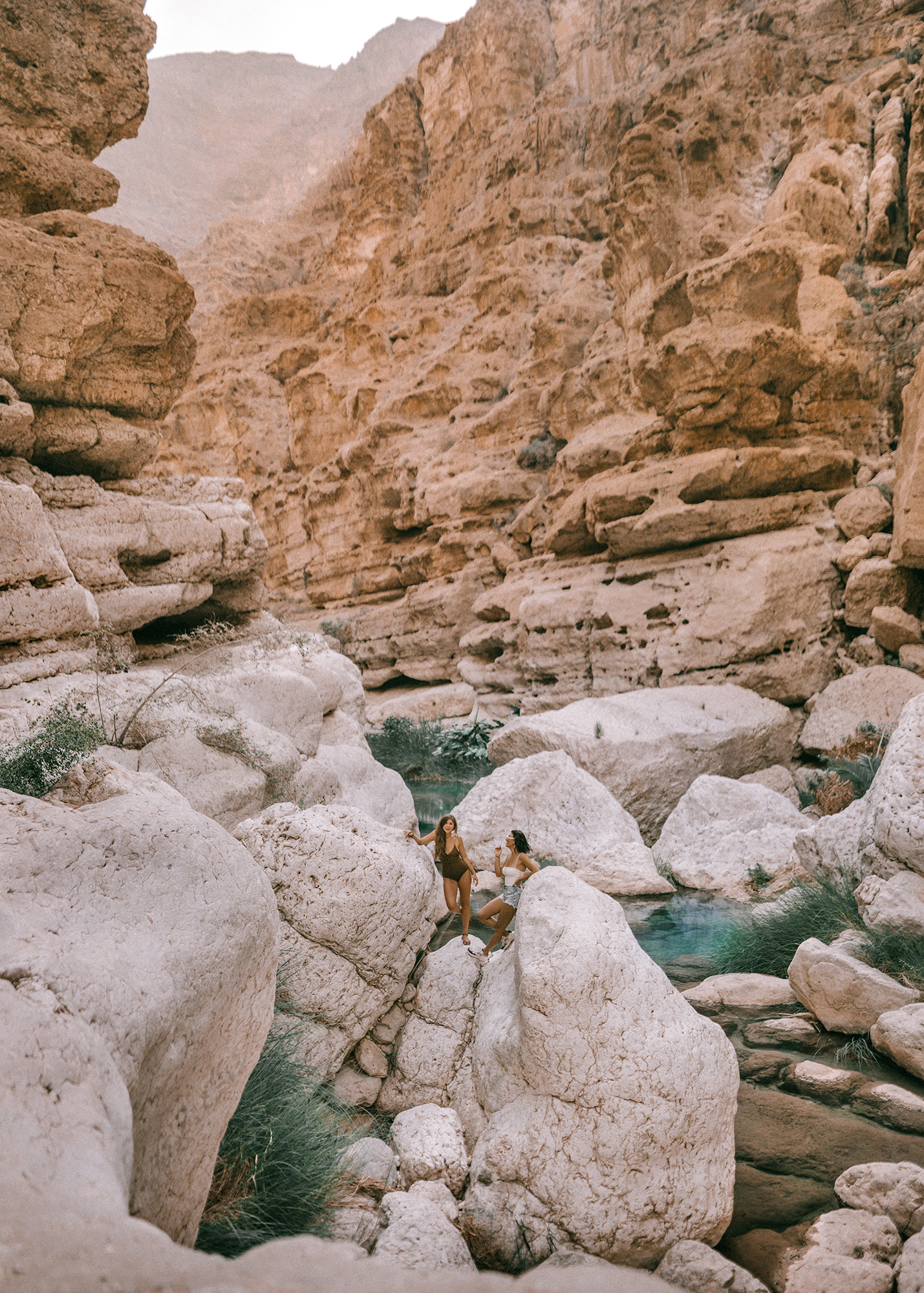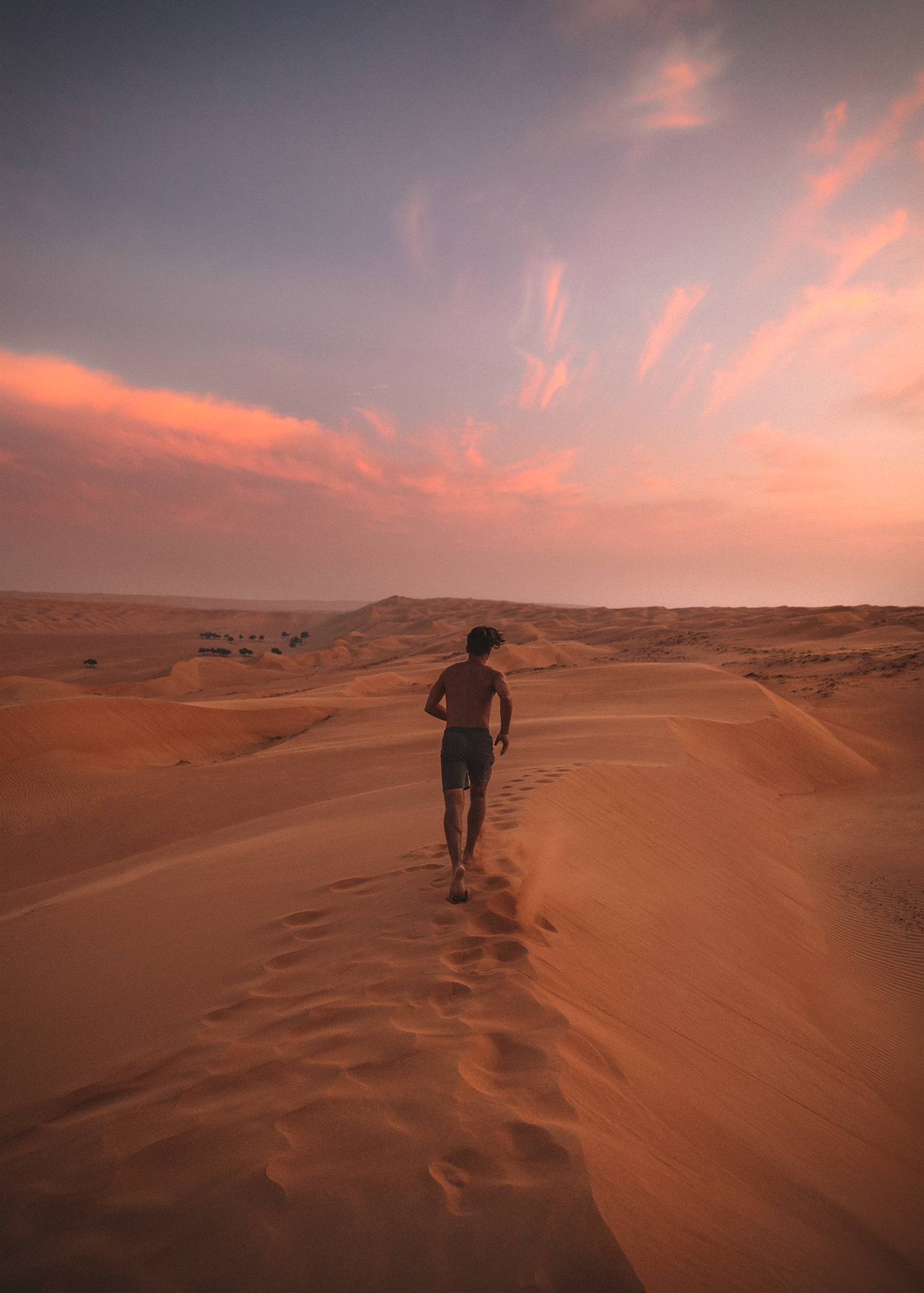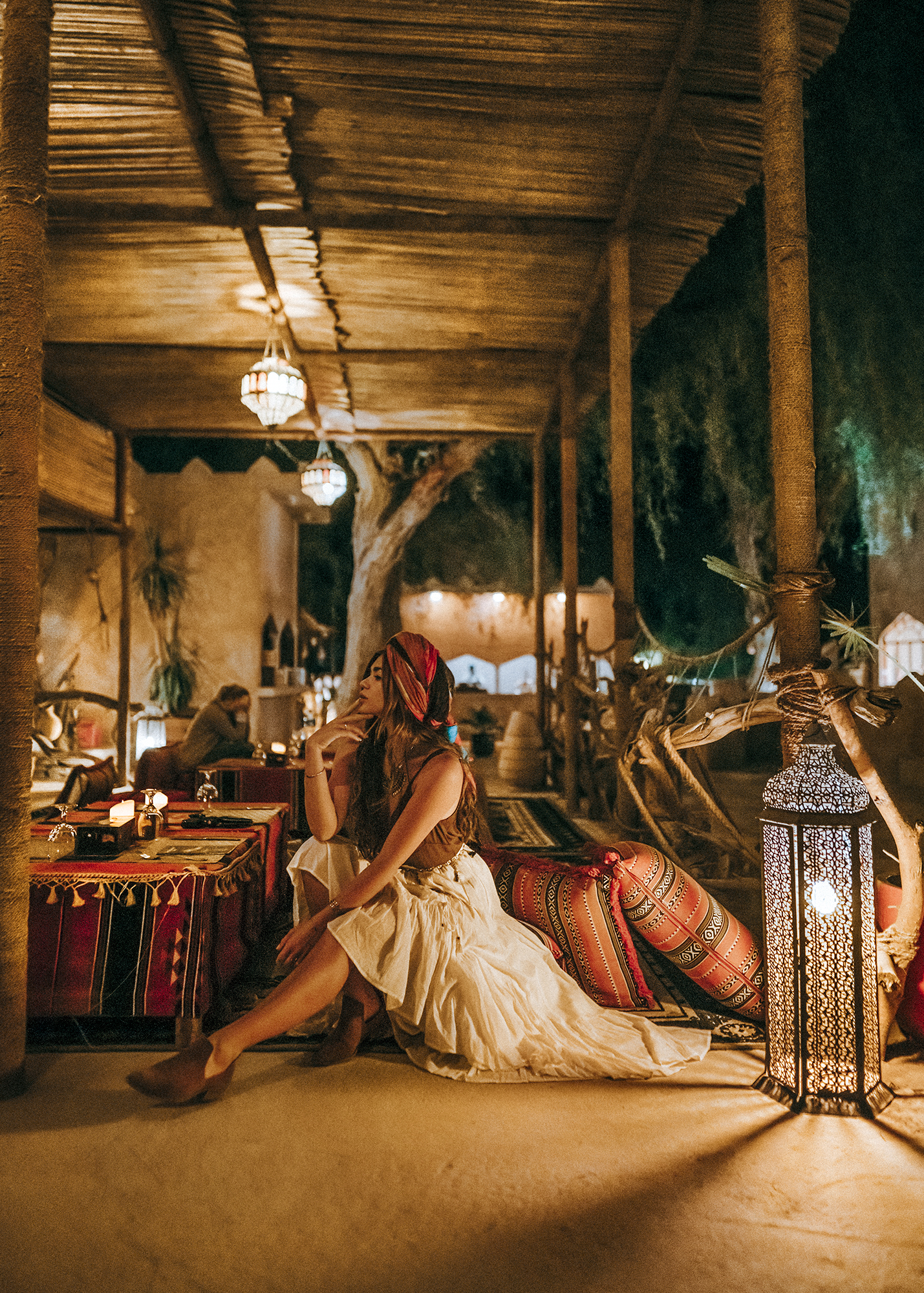 Driving Time: 3 Hours
What to Do:
Wadi Shab: This popular wadi can get pretty crowded in the afternoons so we recommend starting early and making this your first stop. The main attraction here is the water fall in the cave and the swimming pools, which can only be reached after a 45 minute hike. The hike is not difficult, but the rocks are quite slippery so make sure to wear some good shoes - I was slipping in my sandals. To get to the beginning of the hike, you will need to hop aboard one of the many boats that take you across the wide river, which run from 7 AM - 5PM. While the pools are quite small, they are definitely worth a dip in!

Read my entire Wadi Shab hike guide here!


Grab lunch nearby, then start the 2 hour drive to the town of Bidiyah, which is where the road ends and you start driving through the sand dunes into Wahiba Sands, to get to your desert camp. We had never driven on sand and were a bit nervous, but found the journey to be very simple with a couple of precautions. If you are nervous, the desert camps have a service where someone will meet you at the edge of the sand and guide you through the 20 mile drive to the camp for around $50. (You follow them in your own vehicle, but they show you exactly where to go and help you if you get stuck.) The key to driving through the sand dunes is to 1. have a 4x4 SUV vehicle, and 2. stop by a gas station to have your tire pressure lowered before entering the sand (there are a few very close by.) We found the drive to be very easy and well marked after that! If you zoom in to the exact right size, you can see the "road" as a path on Google Maps

Make sure to get to Bidiyah by around 3PM to have enough time to prepare your car and make the journey while the sun is still out - and get settled into camp well before sunset, so you can watch the sunset from the top of the dunes.

The beautiful sand dunes that stretch for as far as the eye can see are known as the Wahiba Sands. We highly recommend signing up for one of the many camps that offer an overnight stay in on of the desert camp sites. It's a wonderful look into the lives of the Bedouin people who call these deserts their home and live a traditional nomadic life. We spent the night at the amazing 1000 Nights Camp, which I cannot recommend highly enough, but there are a few different camps located throughout the desert. A typical itinerary features an authentic dinner and music followed by storytelling around a campfire and stargazing.

Your hotel reservation includes a large buffet dinner and breakfast - and both were very expansive, full of vegan and options and VERY good. We were all seriously impressed with the food quality at 1000 nights.
Where to Stay:
Our stay here was a serious highlight of the trip. The three of us split one cabin with two double beds, which featured ample electricity and running water (flushing toilets and a proper shower), which we were seriously impressed by. And the food here was very, very impressive. (we were also starving by the time we got to dinner, as we were running around so much in the day, we never had a chance to stop for a proper meal. As soon as the dinner buffet opened, we all devoured at least 3 plates full! I would definitely stay at 1000 Nights Camp again! Cost: From $225/night, including meals.
Desert Nights Camp: This luxury desert camp is also very popular, photogenic and very highly reviewed, and one of the most prestigious options in Wahiba Sands.Desert nights is full of amenties and additonal experiences - from sandboarding to camel rides. Cost: From $400/night.
If you have more time, book 2 nights at your desert camp to fully enjoy the experience and take advantage of all of the amenities and options the camps have. Book a camel riding or ATV tour, try out sand-boarding, take yourself walking deeper in the sand dunes, or just spend a hot desert day at the gorgeous swimming pool at 1000 Nights Camp. There is so much to do and enjoy out here, and it truly feels like being on another planet. If you came for the desert, spend two nights and really enjoy it all!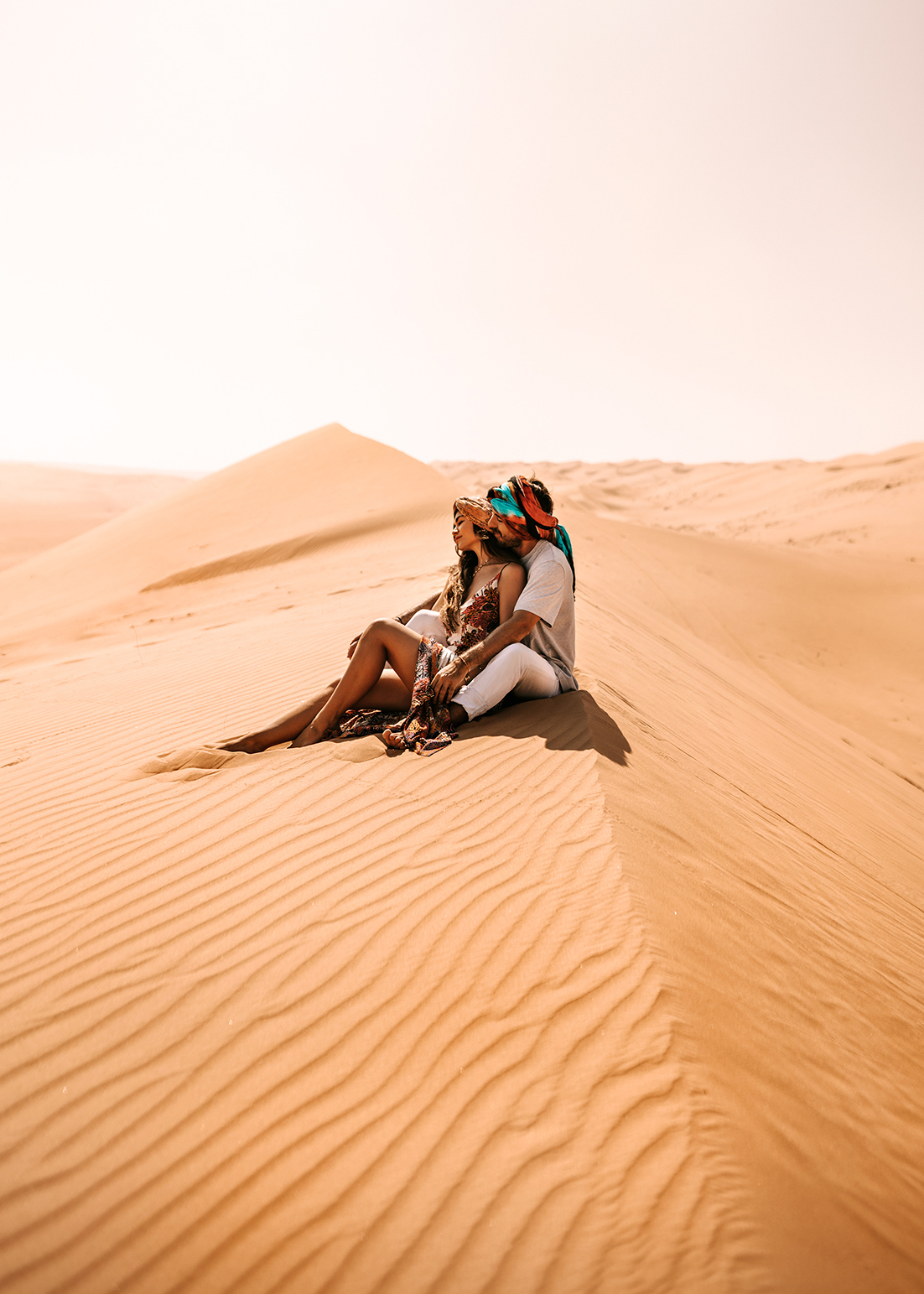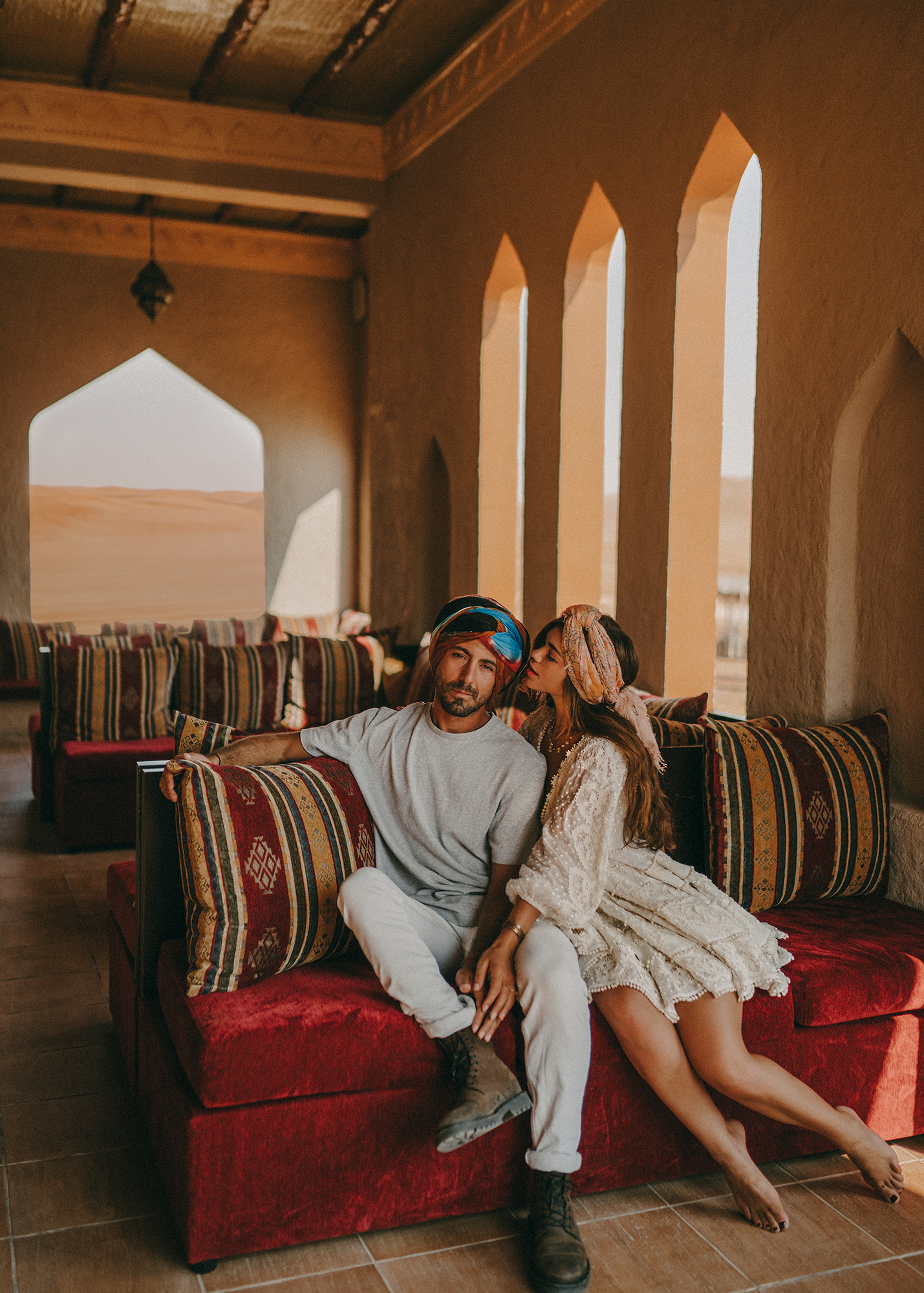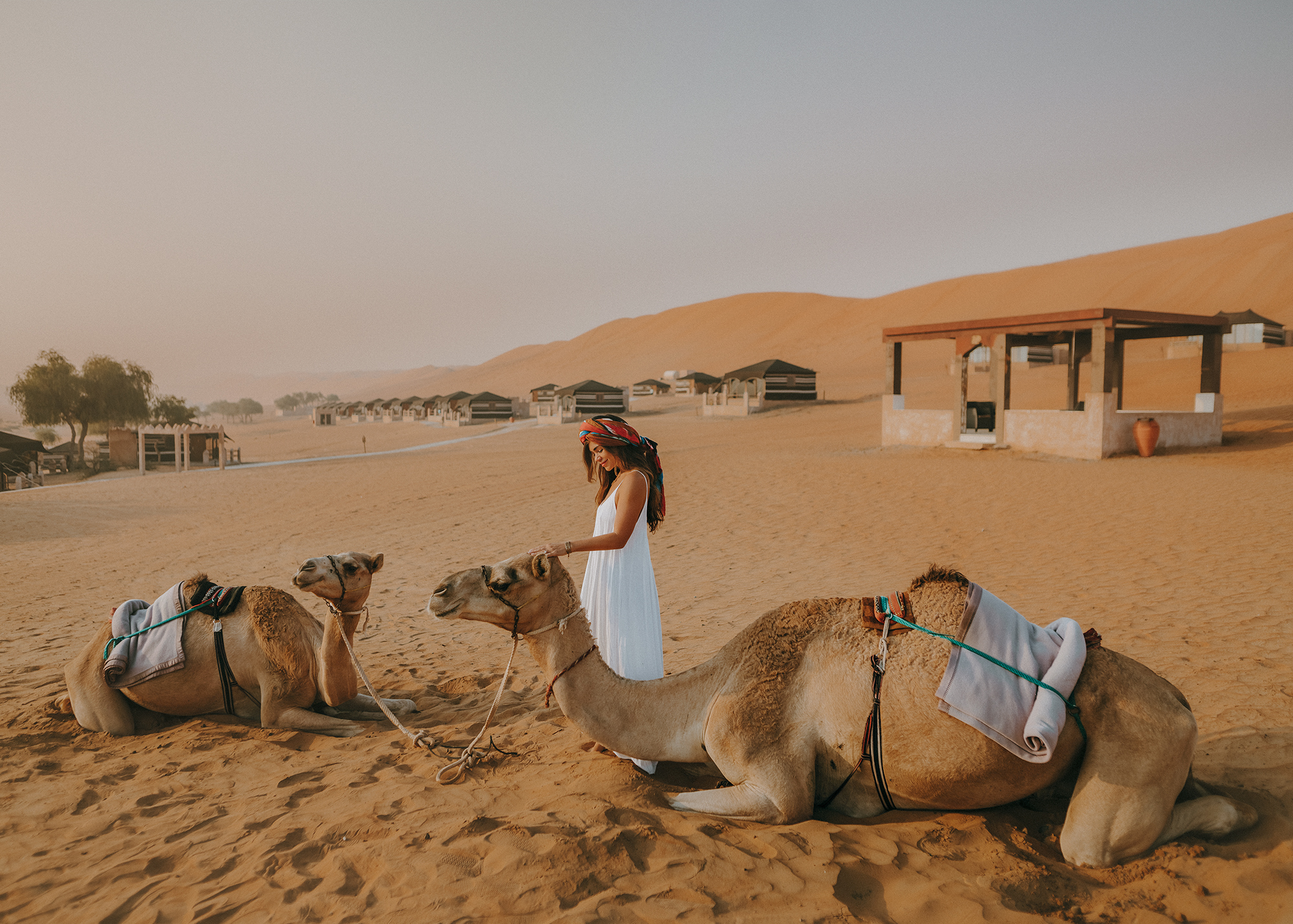 Wake up early to see the sunrise over the dunes - there is truly nothing like it! Spend your morning enjoying the desert camp, then drive to Nizwa to explore Bahla Fort and then Nizwa Fort for sunset.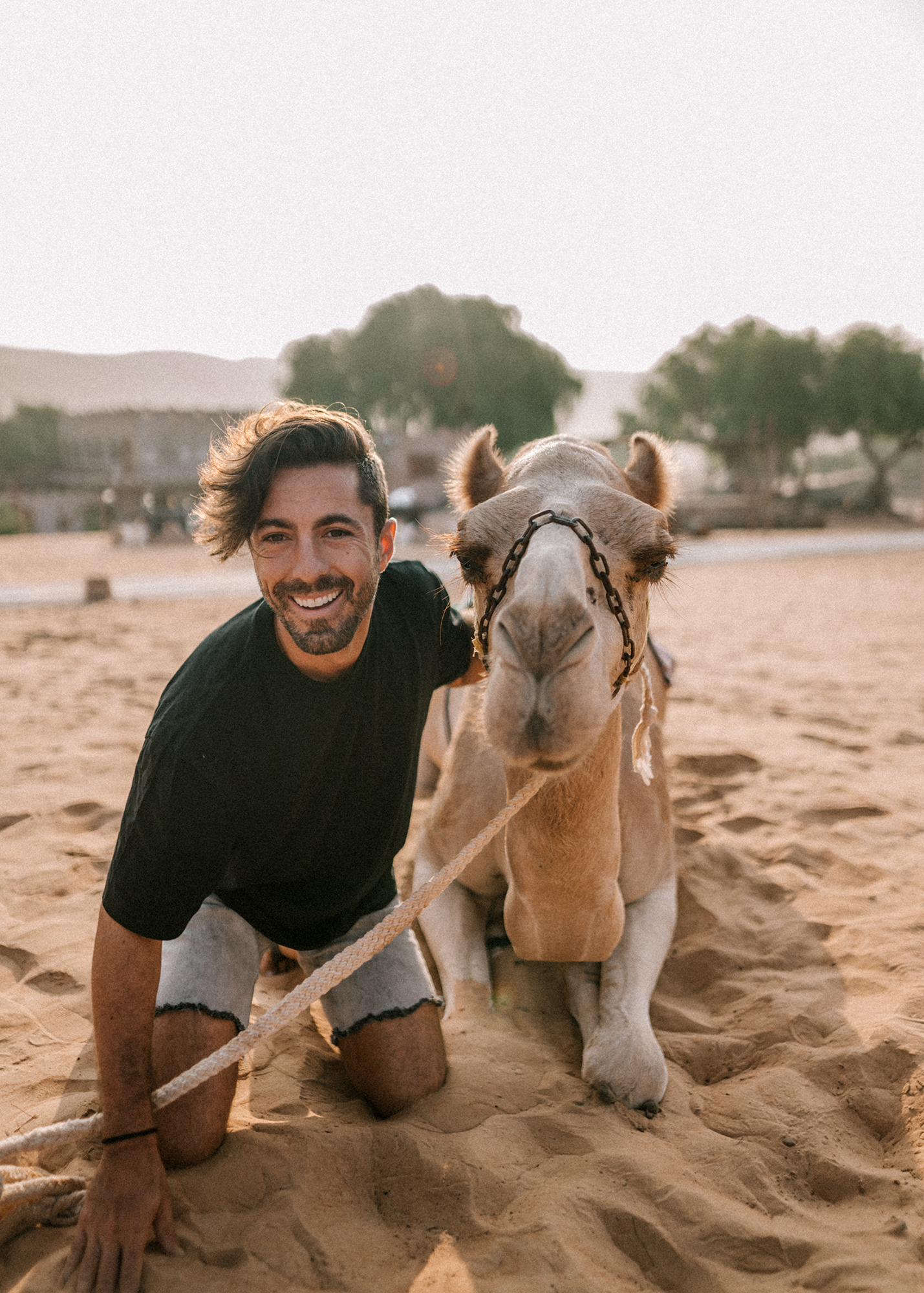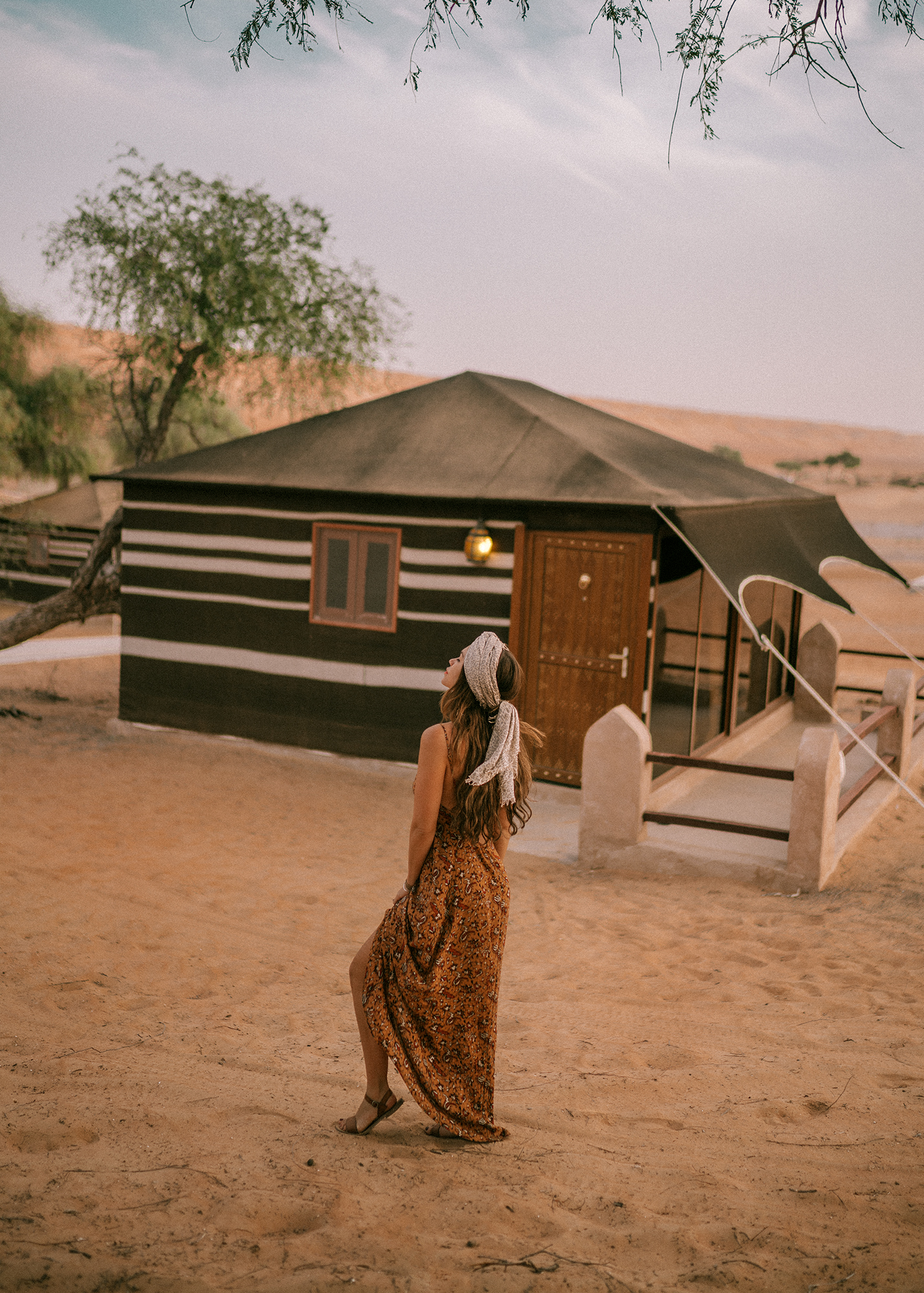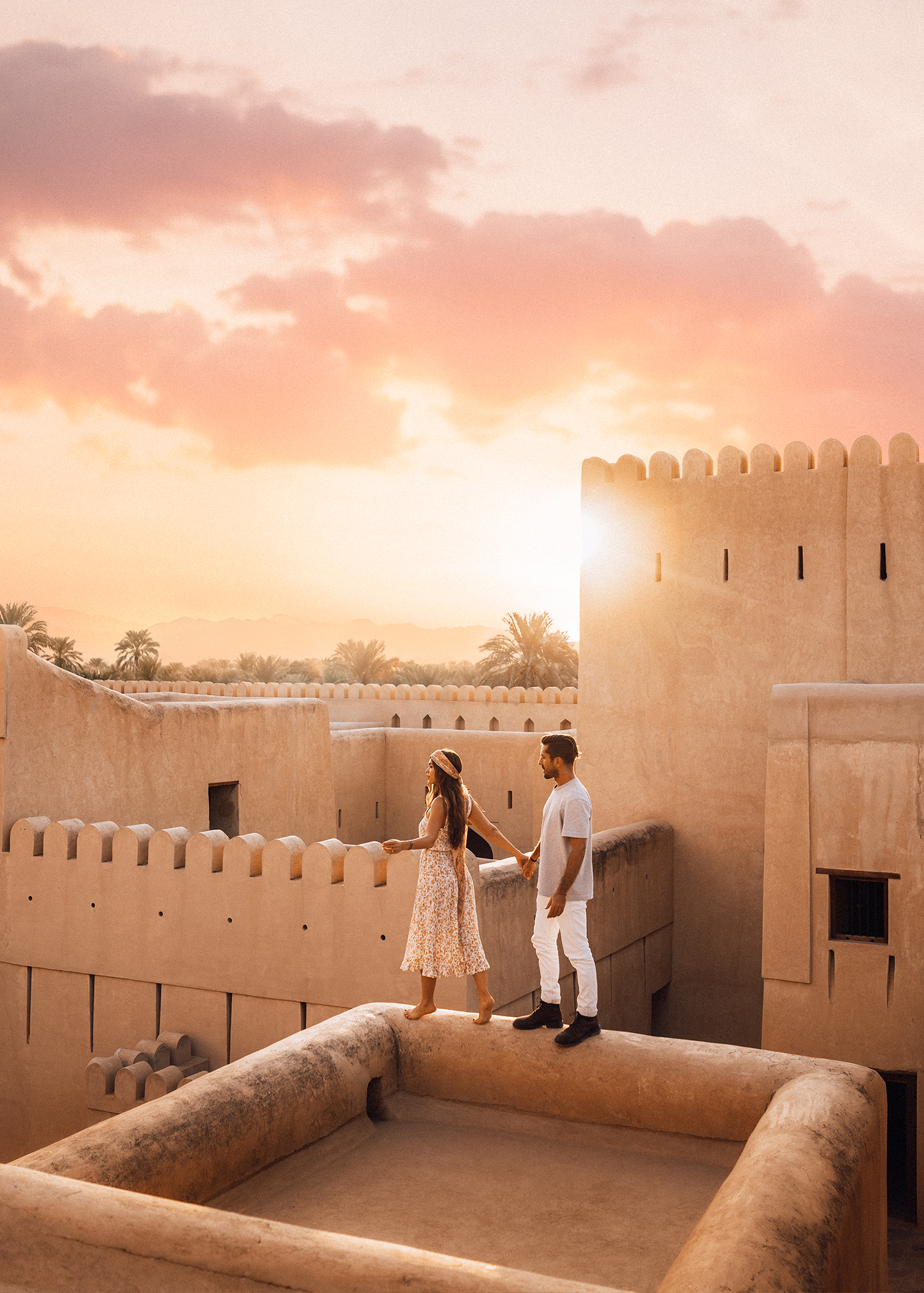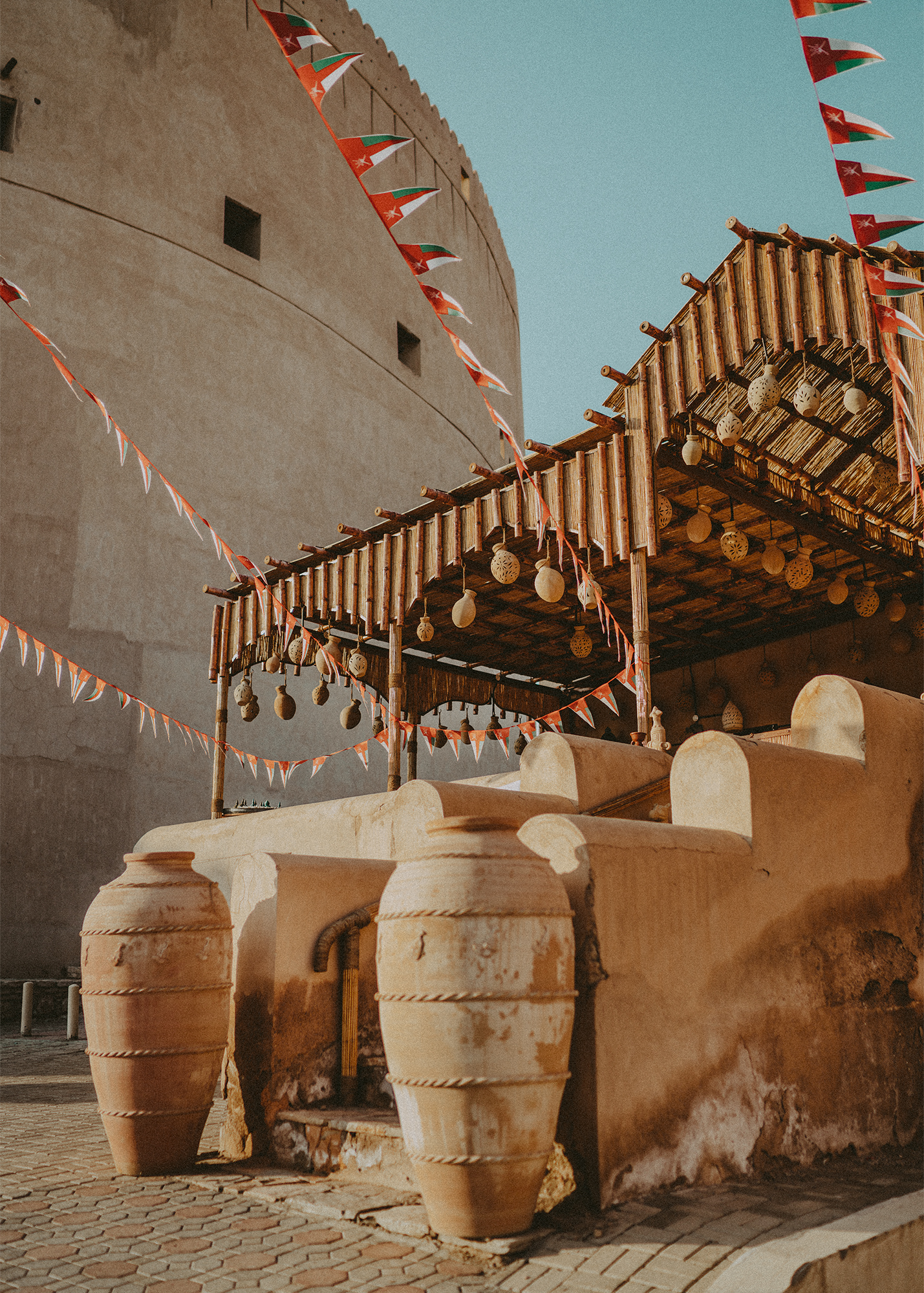 Driving Time: 2.5 Hours
What to Do:
After your night at camp, we highly recommend waking up early to catch the sunrise in the desert. The colors and are unlike anything we'e ever seen.
Take a camel ride, go for a hike in the sand dunes, or just relax at camp until check out time. Then drive our of the dunes and head towards Nizwa

Bahla Fort: If you have time, first stop by Bahla Fort, a UNESCO World Heritage Site. The fort dates back to the 12th to 15th century. Cost: $1 OMR ($2.50 USD). If you only have time for one Fort, I would highly recommend Nizwa Fort over Bahla - Nizwa is simply more beautiful and more intact - even though it is not recognized as a UNESCO site.
Nizwa Fort: Visiting this monument is one of the most popular tourist attractions, the fort is an interactive way to see what life is like in traditional Oman. From the roof, there are panoramic views of the town and the mountains. Also make sure to stroll through the souks near by, this is where we saw some of the coolest and most authentic jewelry, home-goods, and souvenirs. Cost: $5 OMR ($13.00 USD).
Stay at Nizwa Fort through sunset - the sunset here was stunning! This was one of our favorite sites in Oman and is definitely one not to be missed.
Where to Stay:
Accommodations in Nizwa area are somewhat limited to small guest houses, until you get to the luxury hotels in the mountains. A couple of nearby, well-rated options are:
The Golden Tulip Nizwa From $164/Night.
Intercity Hotel Nizwa From $131/night.
Explore more of the inner Oman with historic sites, abandoned mud villages, and a night at a local guesthouse.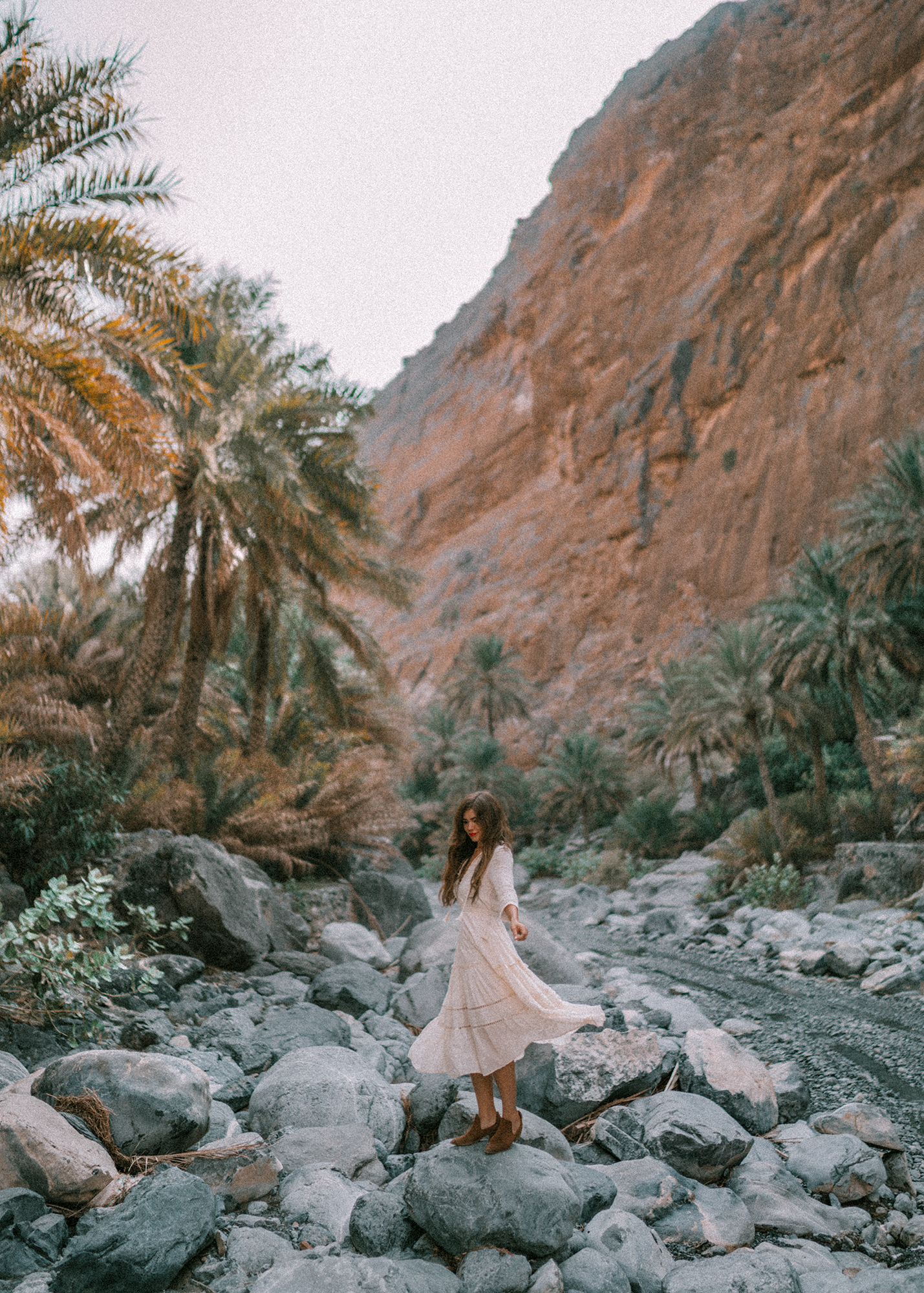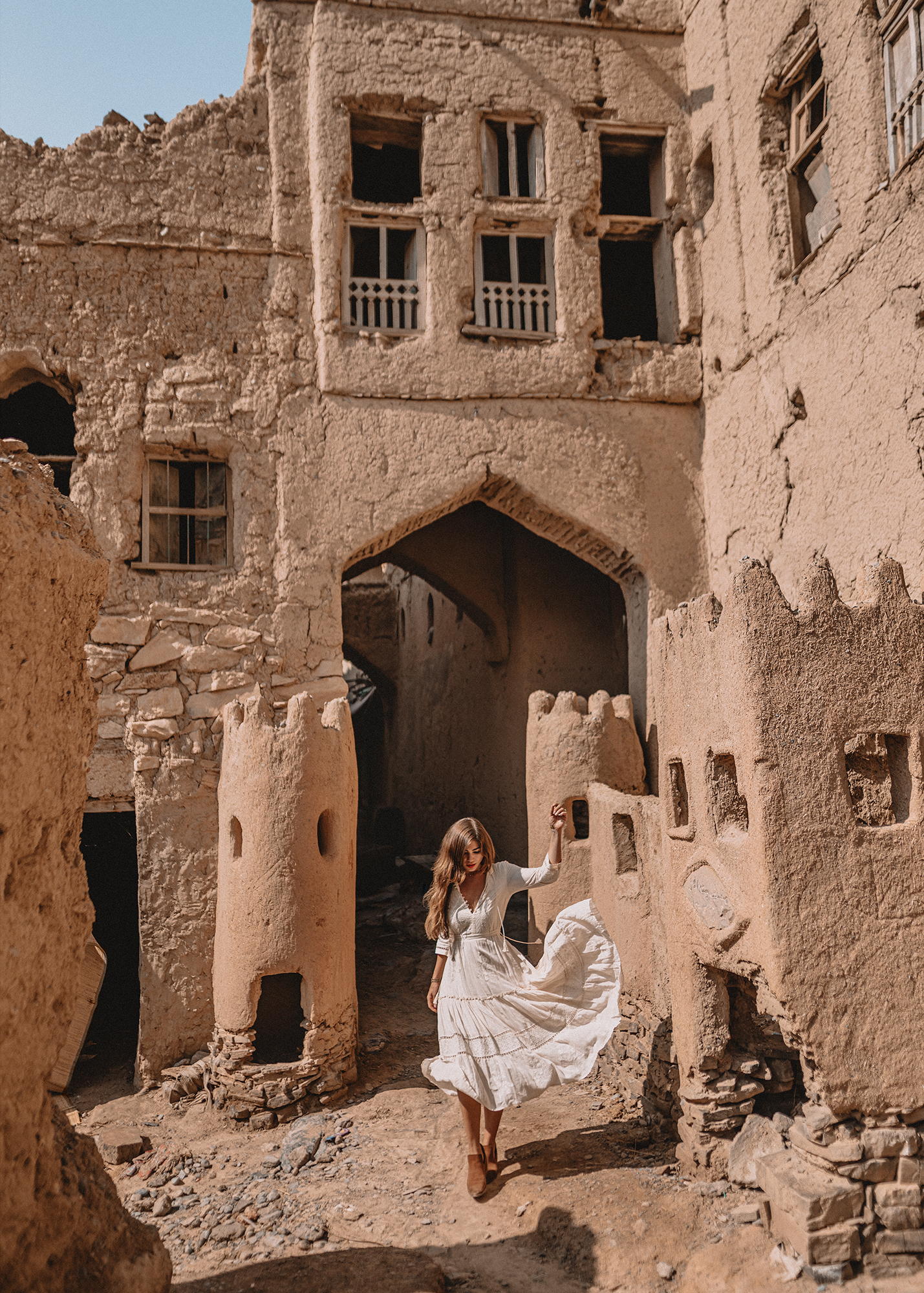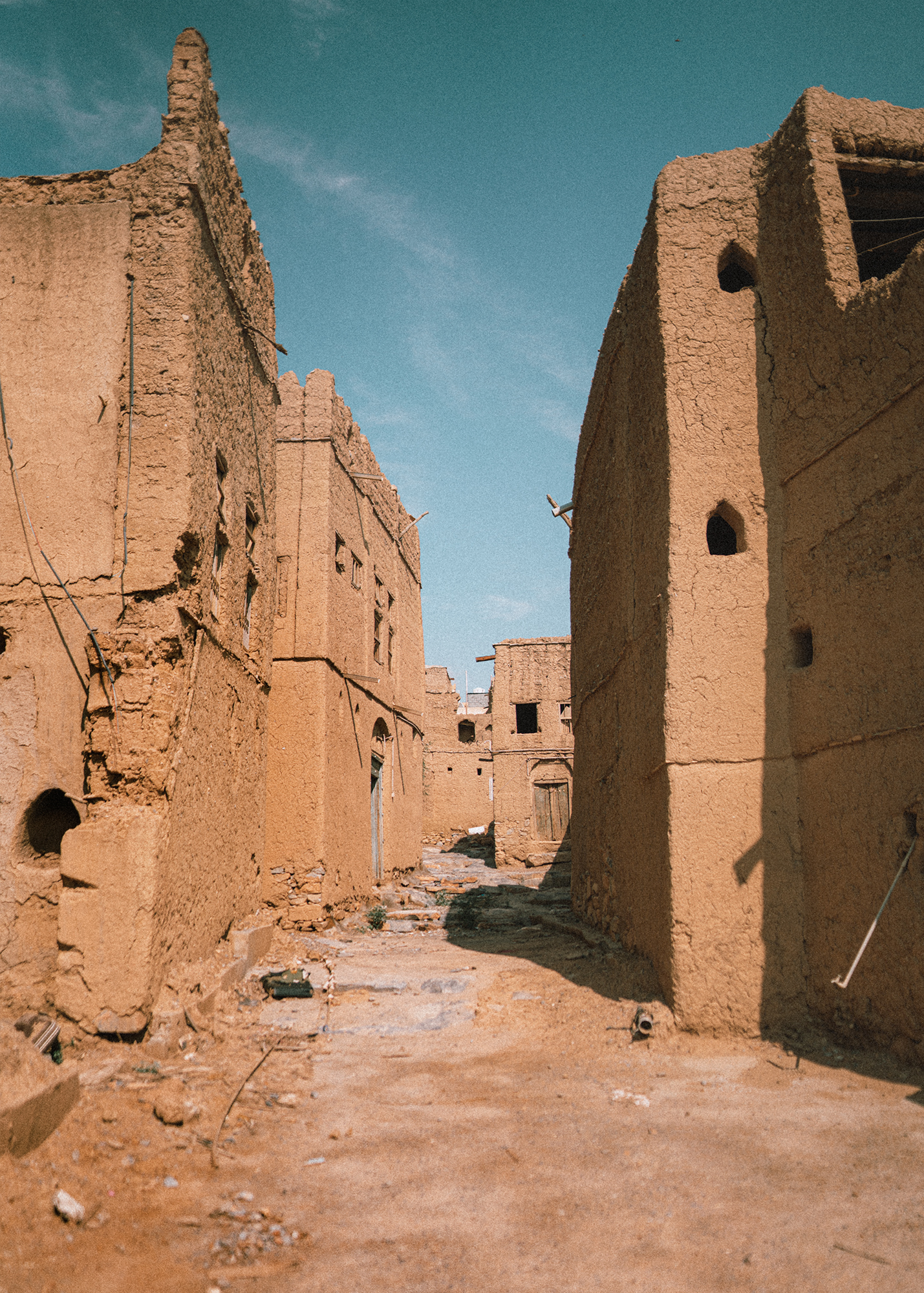 Driving Time: 3 hours
What to Do:
Start your day with a drive out to the Al-Ayn Beehive Tombs, another UNESCO Heritage site (a 75-90 minute drive from Nizwa.) The tombs are approximately 4,000-5,000 years old! The Al-Ayn Site has of a series of 19 well-preserved, stacked brick tombs lined up on a rocky hill. This site is a bit out of the way, but has so much history and is so unique. This is another spot where having a 4WD will come in handy so you can drive into the site easily. We didn't make it here, but I really wish we would have!

Al Jazirah Al Hamra Village: For the afternoon, head over to this abandoned village, a truly puzzling and bizarre site that almost feels like walking into a film set. Visiting the abandoned ruins of Al Hamra Village, a 400-year old completely abandoned mud-village, is one of the most unique things you can do in Muscat. Getting there: Al Hamra is located 45 minutes from Nizwa on Highway 21.

End the day at nearby Misfah al Abreyeen - and stay at a guesthouse in this village. Unlike Al Hamra Village, Misfah Al Abriyeen is a 'living' Omani mud village, where locals still live. The village is made up of house, a maze of alleys and passageways, and terraces and gardens, built into the mountainside. While it is somewhat well-known, the village does not have heavy tourism infrastructure and still has a very local and authentic feel.
Where to Stay:
Spend the night in the Misfah village and have a truly local experience.
Al Misfah Hospitality Inn: This is where I wished we could have stayed! We didn't have Cozy, comfortable rooms with a beautiful room and amazing hospitality, like its name says. The area really gives you a feel of what traditional life in Oman is like. Cost: $142
Durrat Al Misfah Guest House: Another low-key and affordable option in the area. Cost: $94
Finally, after islands, ancient cities, and desert, end your Oman journey in the Jabal Akhdar Mountains. Some of the countries best hotels are located up here if you want to stay a while, or you can just pass through on your way back to Muscat Airport. The mountain sites and gorges here are truly stunning and worth a visit. But bring a jacket! It's much colder and wetter up here than Muscat or the desert.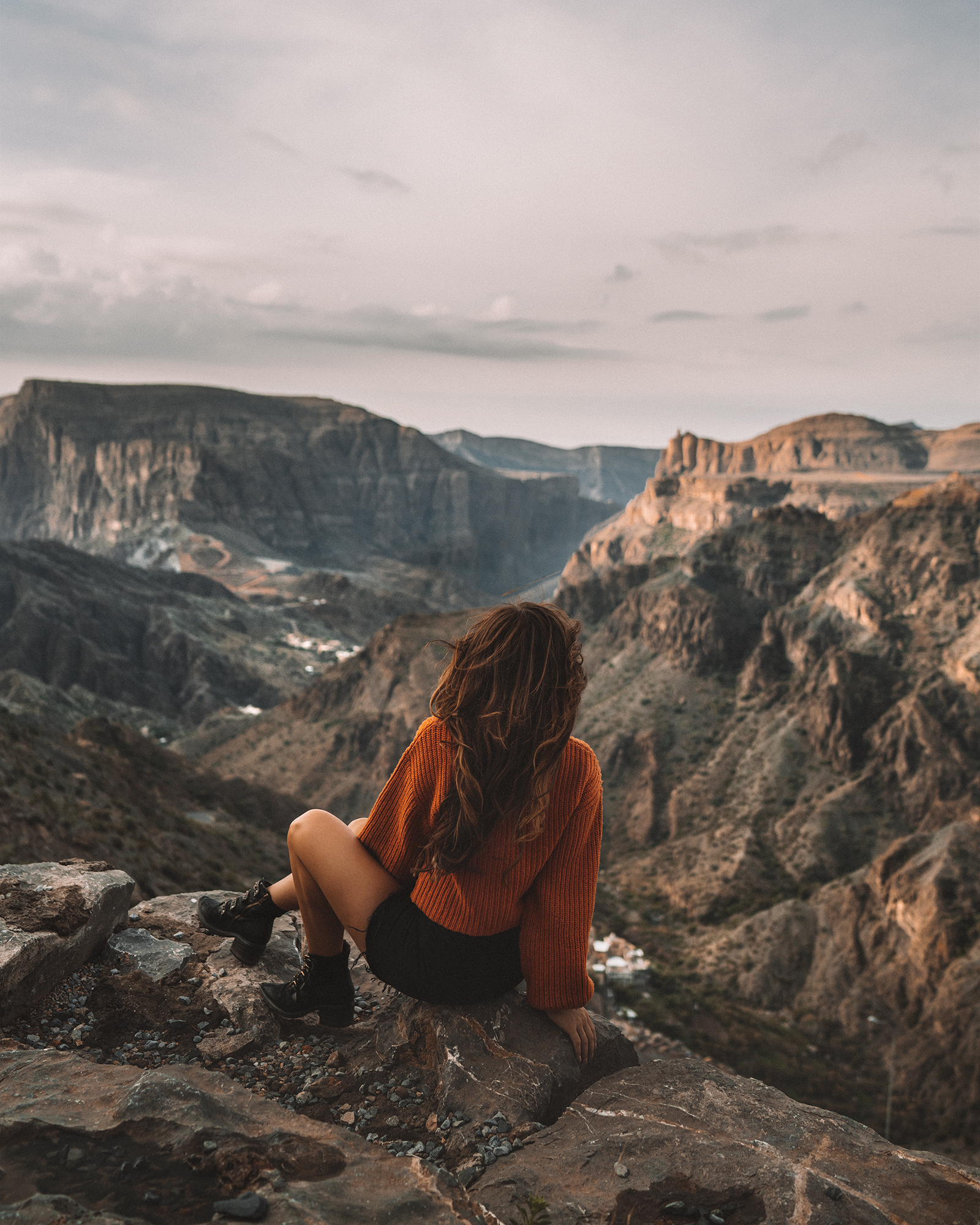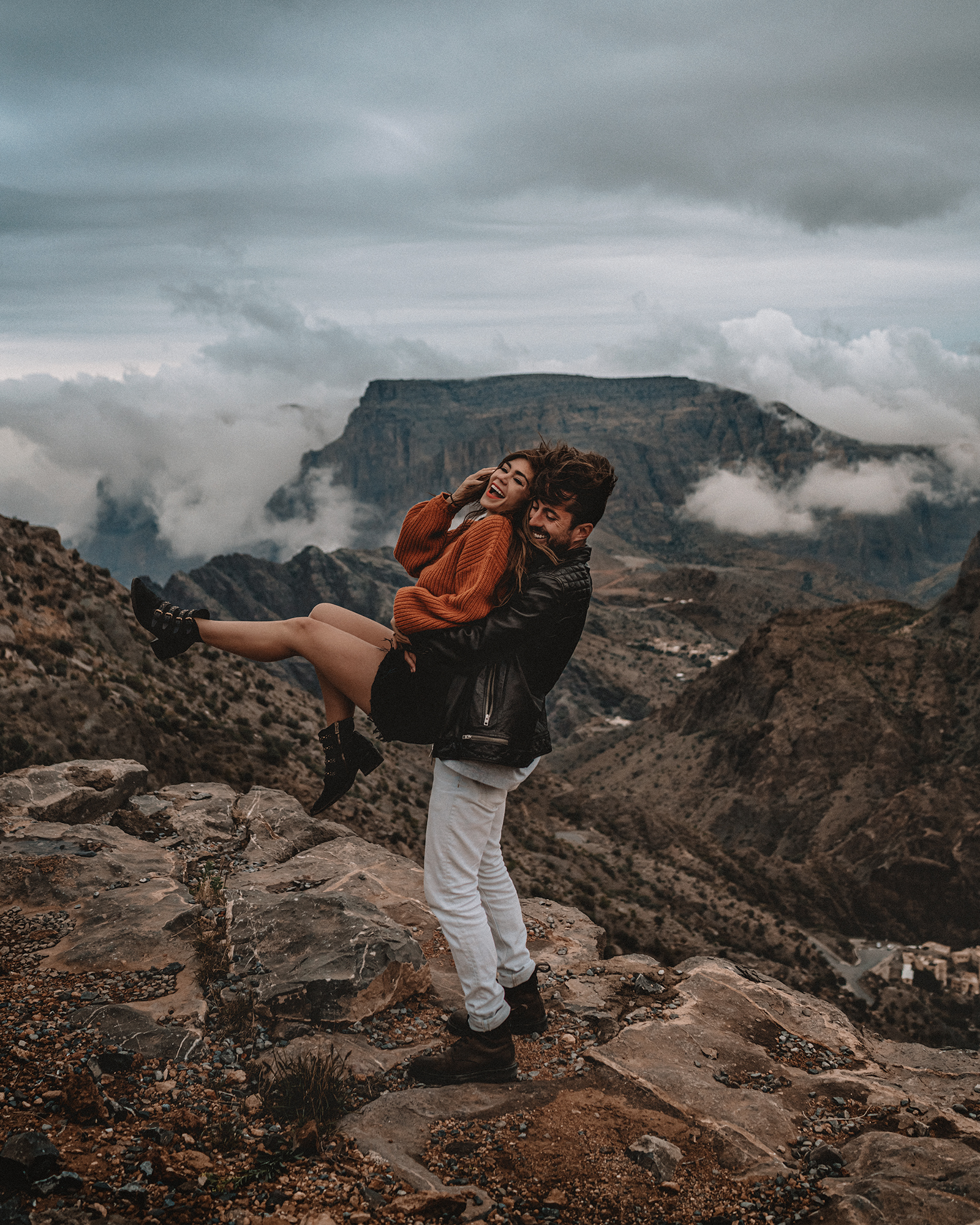 Driving Time: 2.5 Hours
Where to Stay:
Alila Jabal Akhdar: This 5-star hotel is heaven on a mountaintop. This luxury resort lies at the heart of the Al Hajar mountain range but you won't want to leave this resort. Everything from the rooms to the indoor and outdoor pool is pure luxury. Cost: From $500/Night
Anantara Al Jabal Al Akhdar Resort: Located nearby the Alila, the Anantara is equally as beautiful and the views equally as stunning. If you want to splurge on a hotel - one of these two might be the best ones in all of Oman to do so! Cost: From $450/Night.
Sahab Resort and Spa, Jabal Al Akhdar: For a lower priced but still higher-end mountaintop hotel, we stayed at the Sahab and would definitely recommend this! From $200/Night.
What to Do:
Hiking: Up for a hike in the mountains? Check out Snake Gorge Canyon or Little Snake Canyon Wadi. Both the Alila and Anantara hotels offer guided hikes and extensive information on nearby adventure and cultural hiking trails.
Jebel Shams: The Grand Canyon of Oman. Jebel Shams literally translates to "Sun Mountain" in Arabic because it's the first place in Oman that sees sunlight. As the highest peak, the mountains are a great place for all sorts of activities. There are a couple of hiking trails, or places to camp if you're interested in star-gazing or night photography. 4WD cars are definitely recommended to getting to the mountains. The roads get occasionally slippery due to the rain, making it hard for smaller cars.
Return to Muscat:
Ending up in the Mountains leaves you just a 2 to 2.5 Hour drive to Muscat airport, to complete the Road Trip Loop! Depending on the timing of your flight, you could spend a day in the mountains and make it back for an evening departure, or spend your final day here, and drive back in the morning.
I guarantee that if you follow this itinerary, you will end up being just as awestruck and in love with Oman as I am!
Map It: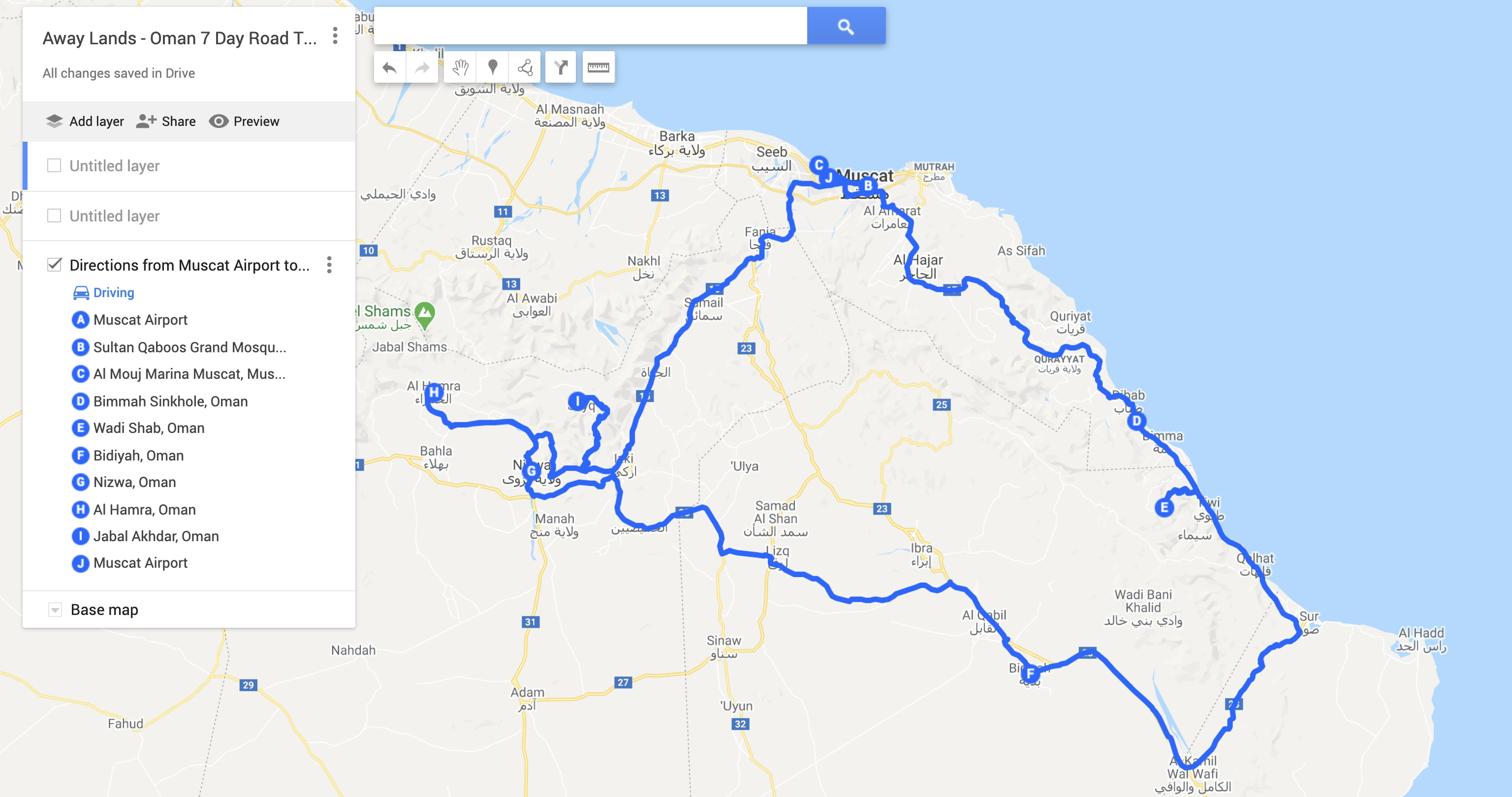 View our entire itinerary on Google Maps here!
Like this post? Pin it for later and share it with others!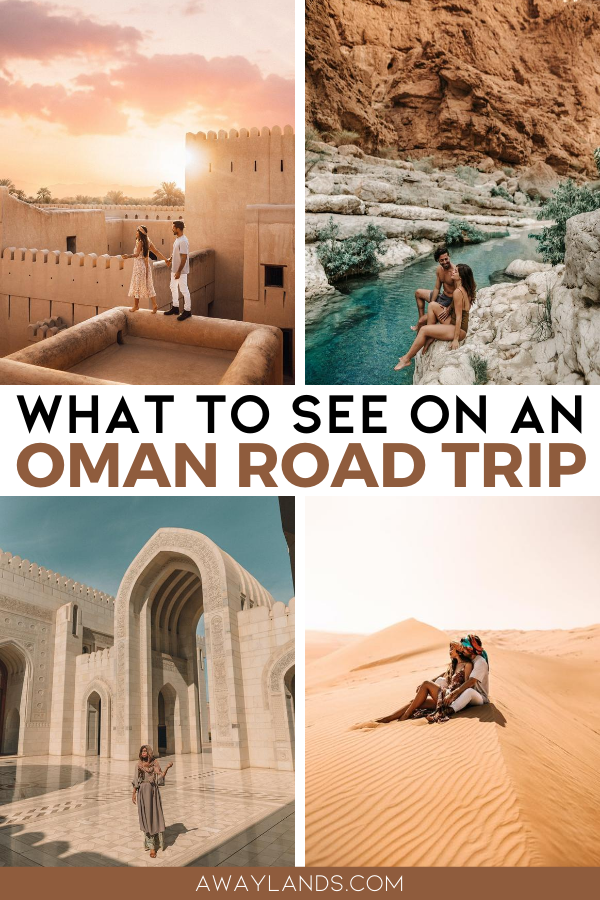 Get Packing: