February 23, 2020 Travel Adventures
What To Do in Bora Bora: The Best Boat Day Excursion
How to spend a day on a honeymoon in French Polynesia? A snorkeling tour in the lagoon, meeting sting rays and black tip sharks, a fresh-made, local island lunch, and cruising on the bluest water in the Tahiti Sun! While spending a few days in Bora Bora, The Pearl of the South Pacific, we ventured out a day from the indescribable The Four Seasons Bora Bora Resort to explore more of the island on a boat tour - the absolute best excursion to take in French Polynesia, thanks to Tahiti Tourisme North America! We always say that boat day is the best day, and this boat day was truly incredible.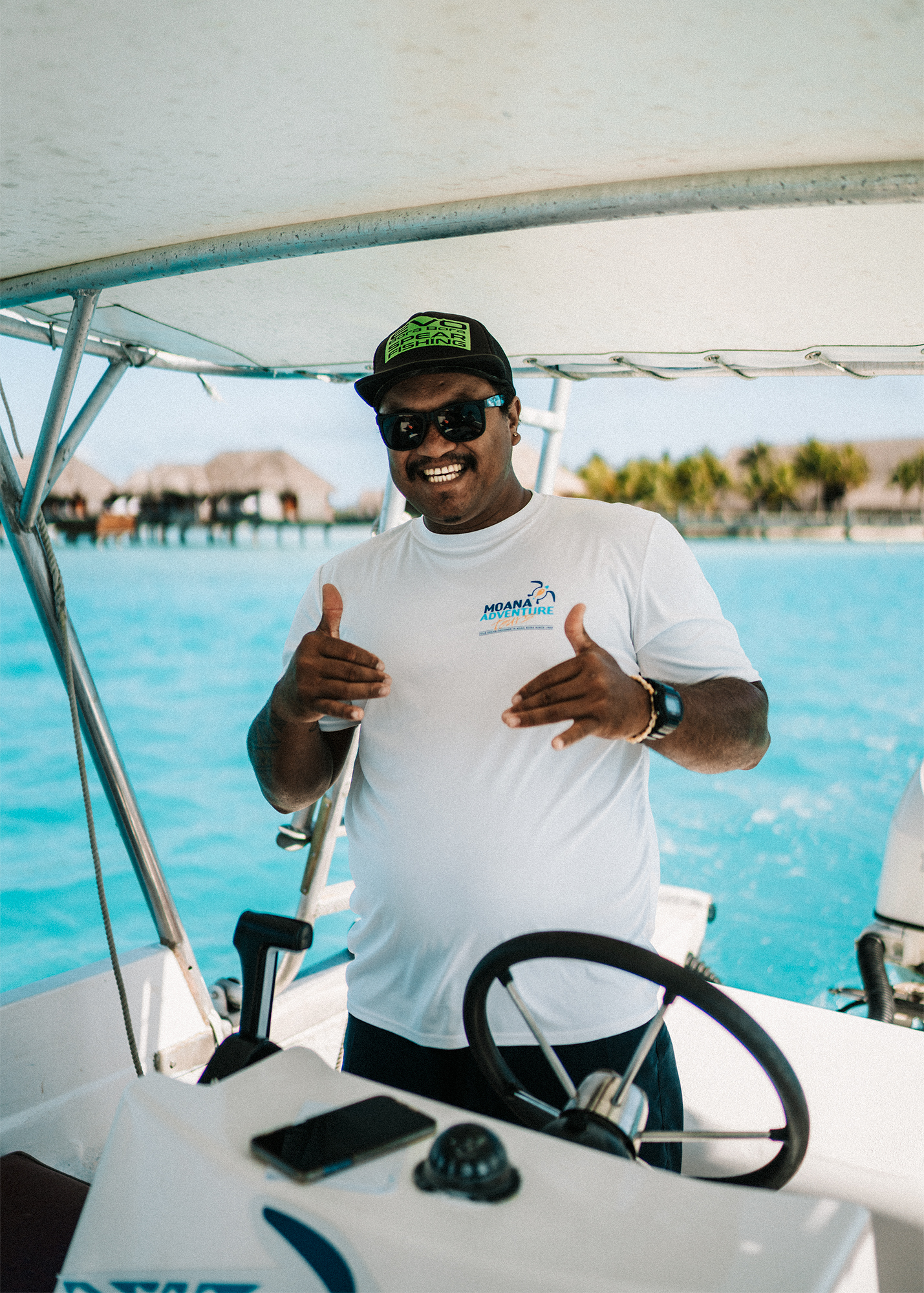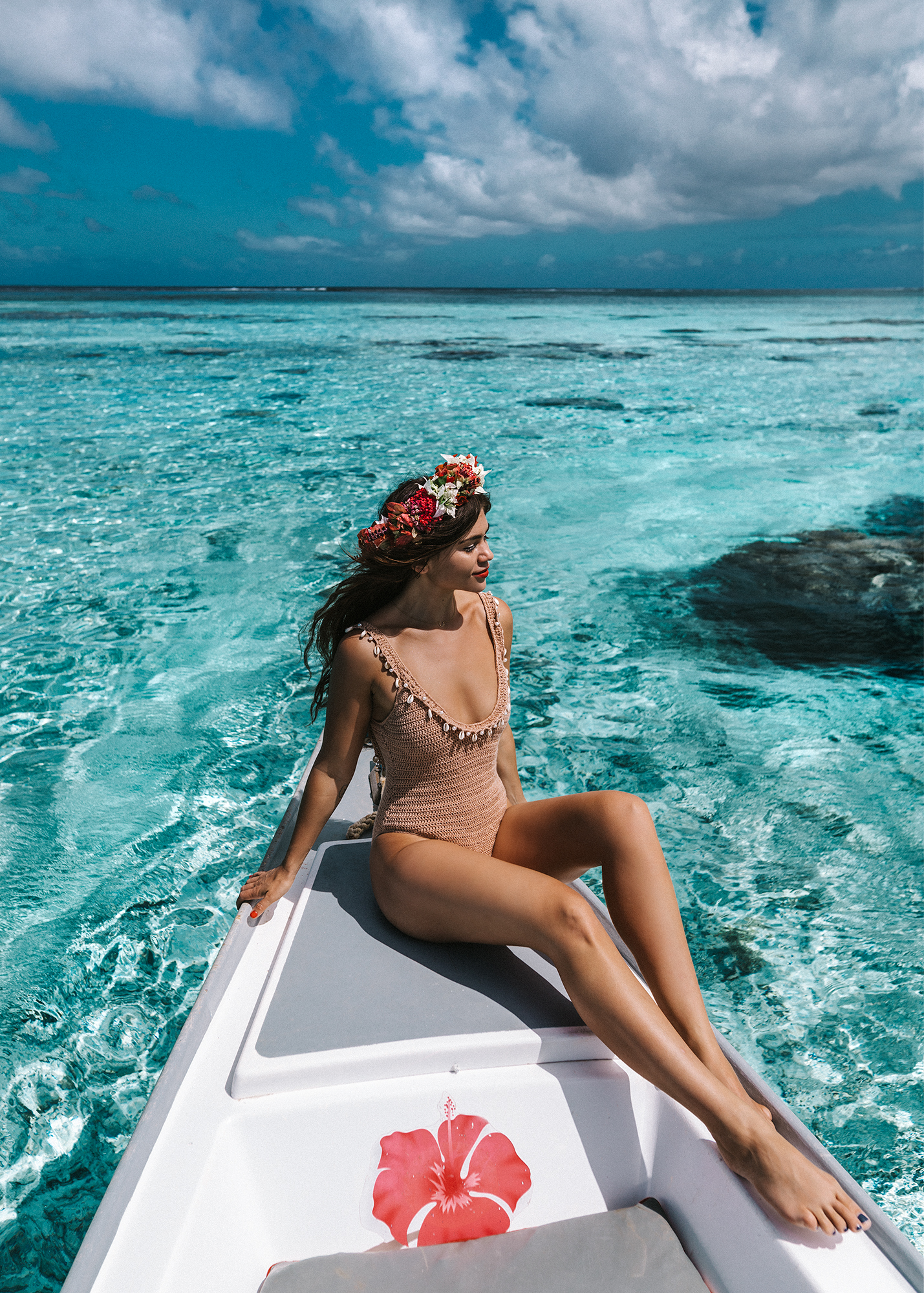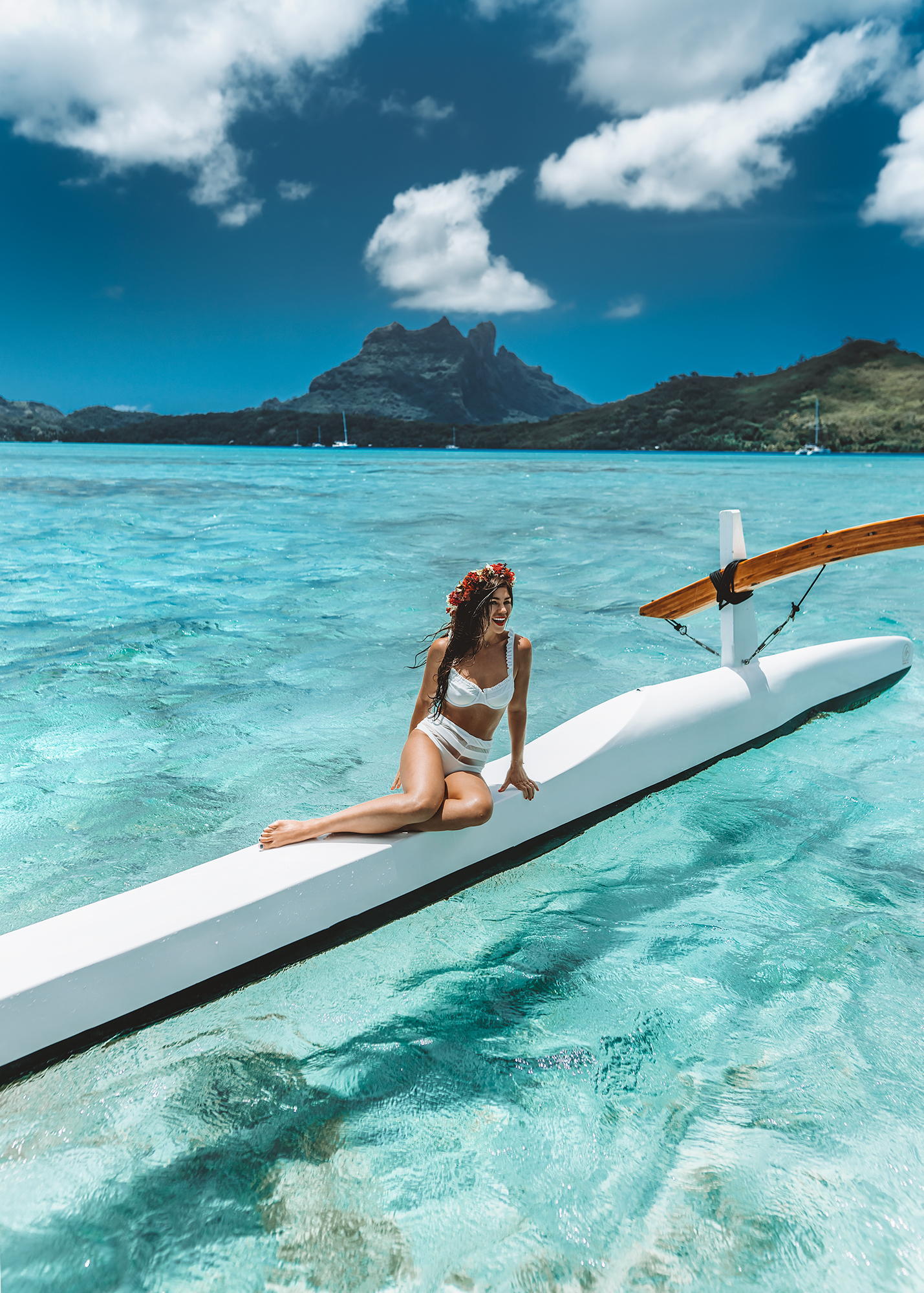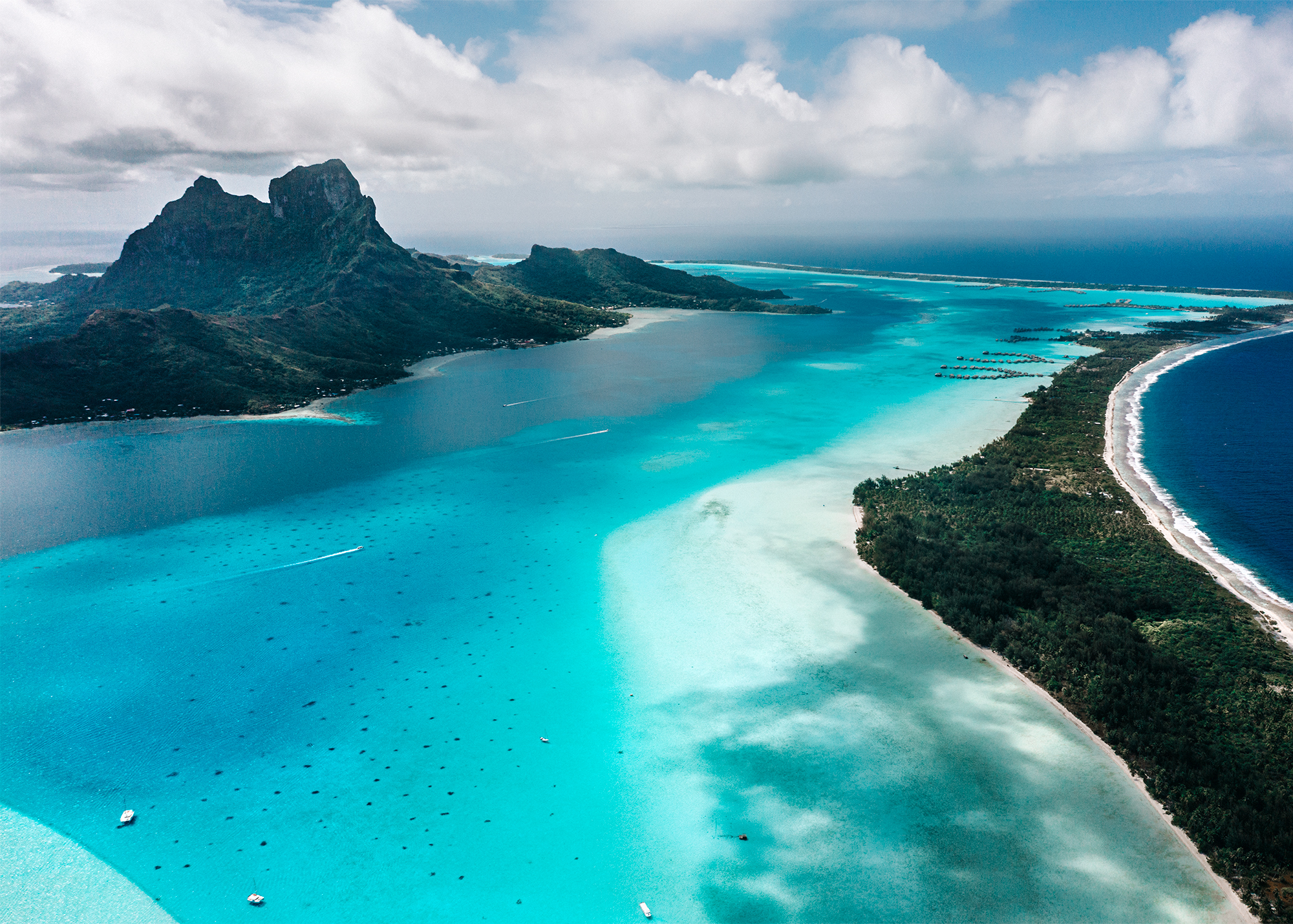 We went with a semi-private Deluxe tour with Bora Bora Romantic, who picked us up at our hotel around 8:30am in a speed boat, which took us to the main island where we met our outrigger boat. There were three other couples with us for the day, but it still felt very private and personalized. Read on for all the details!
What to Bring: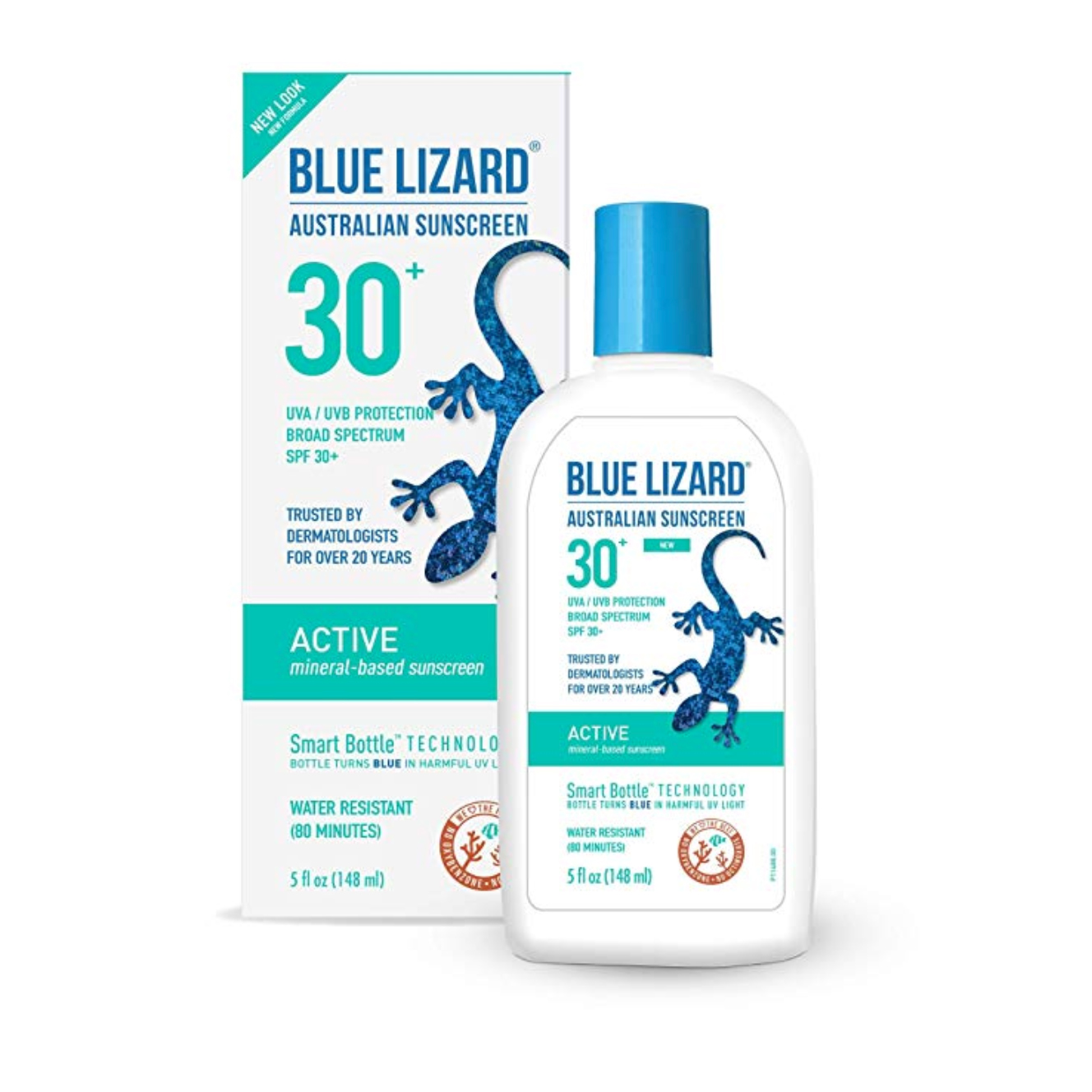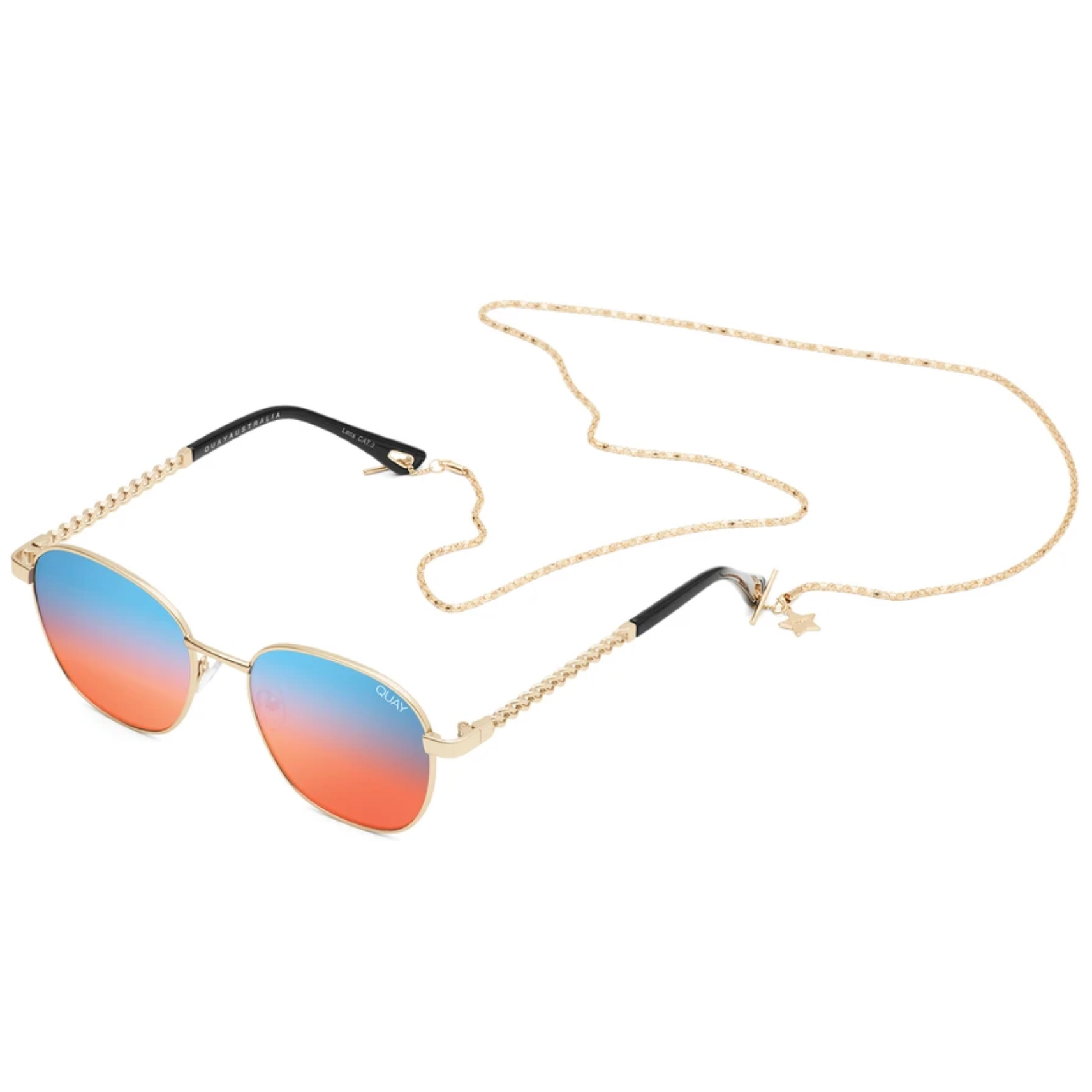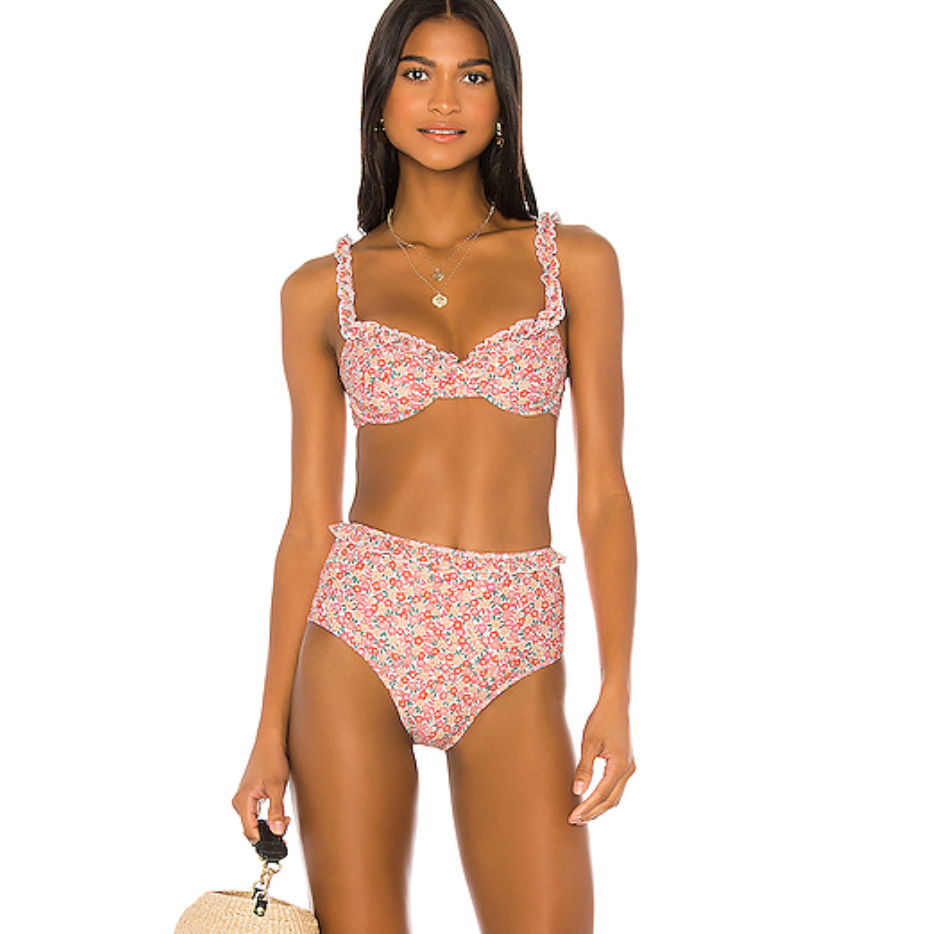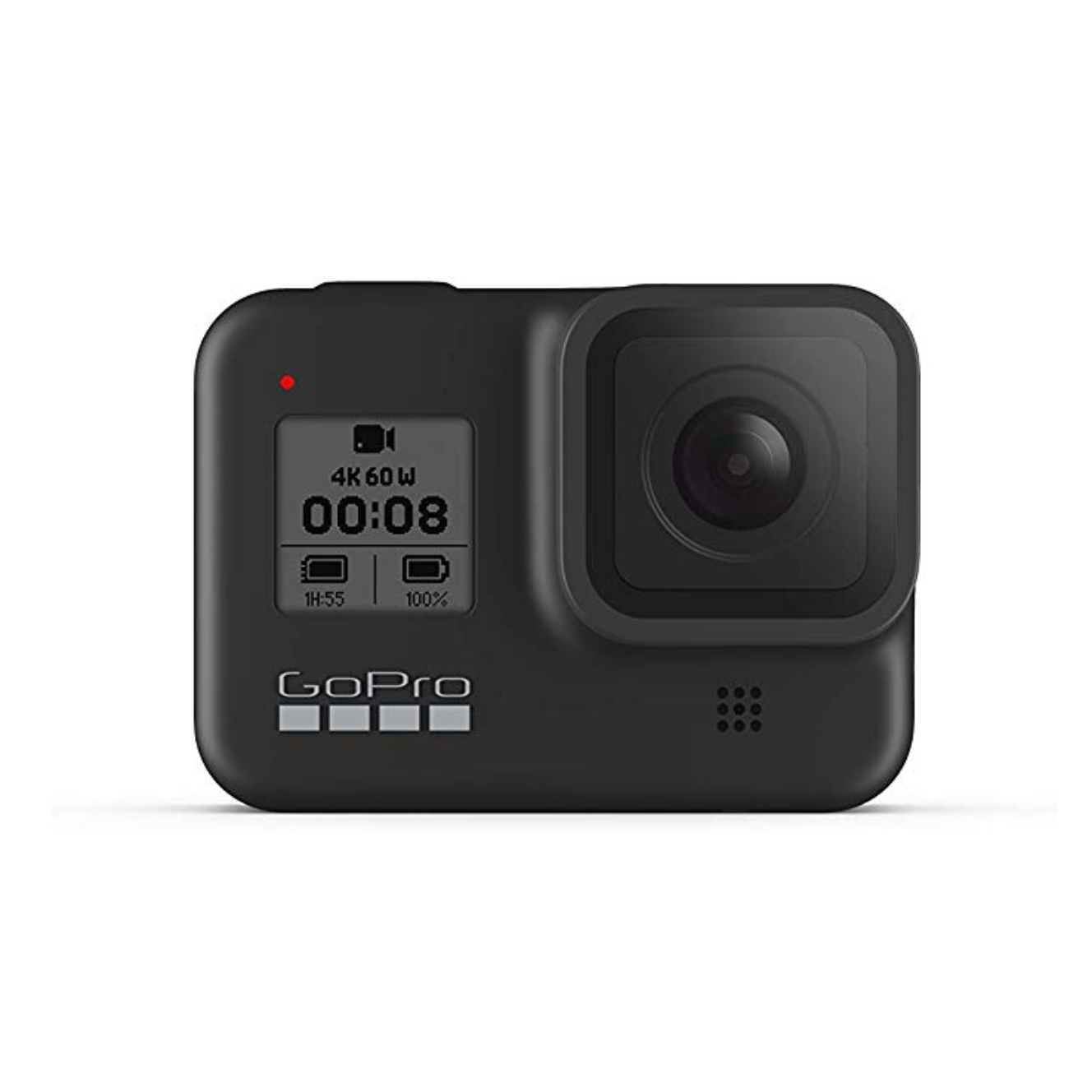 Cruising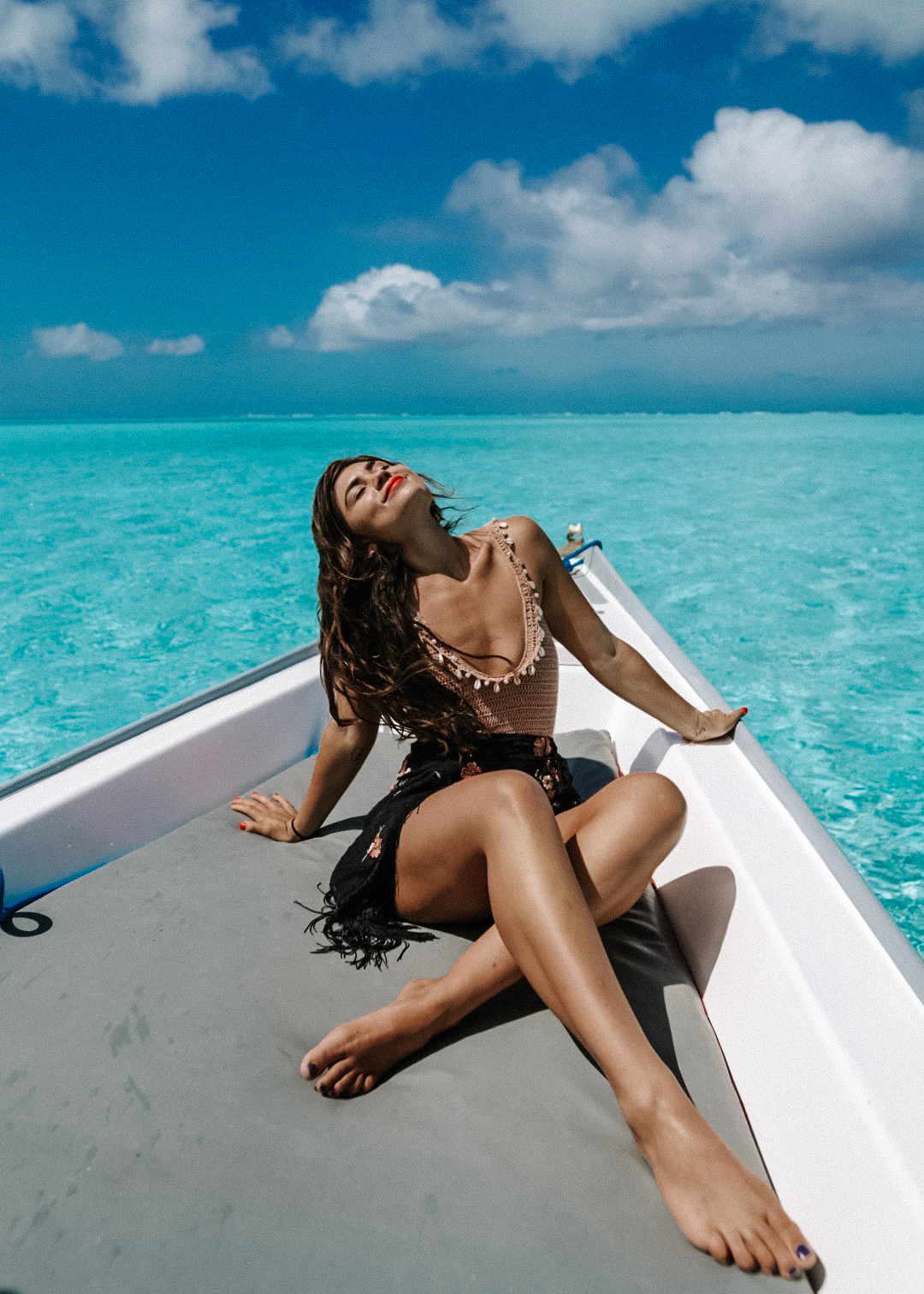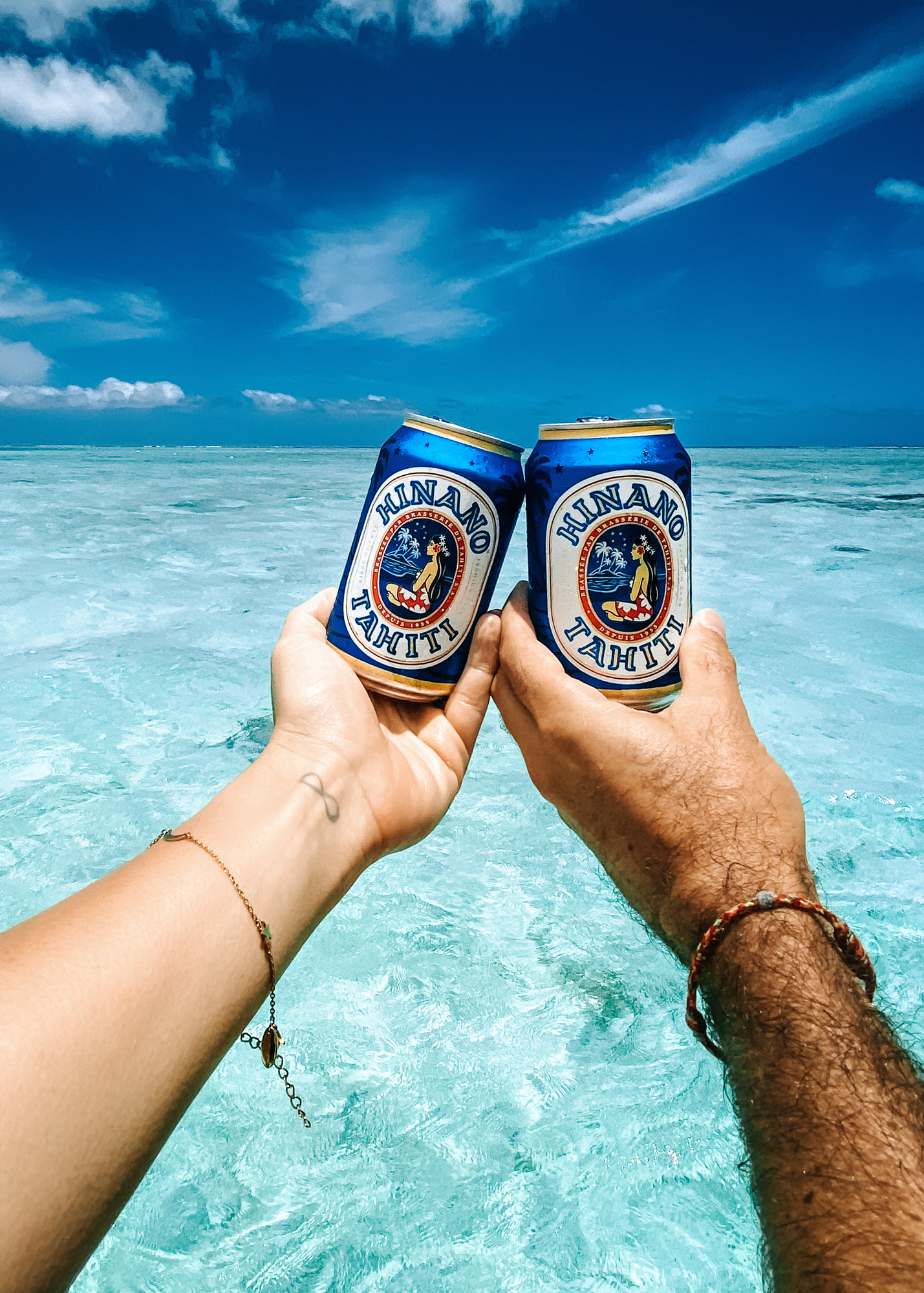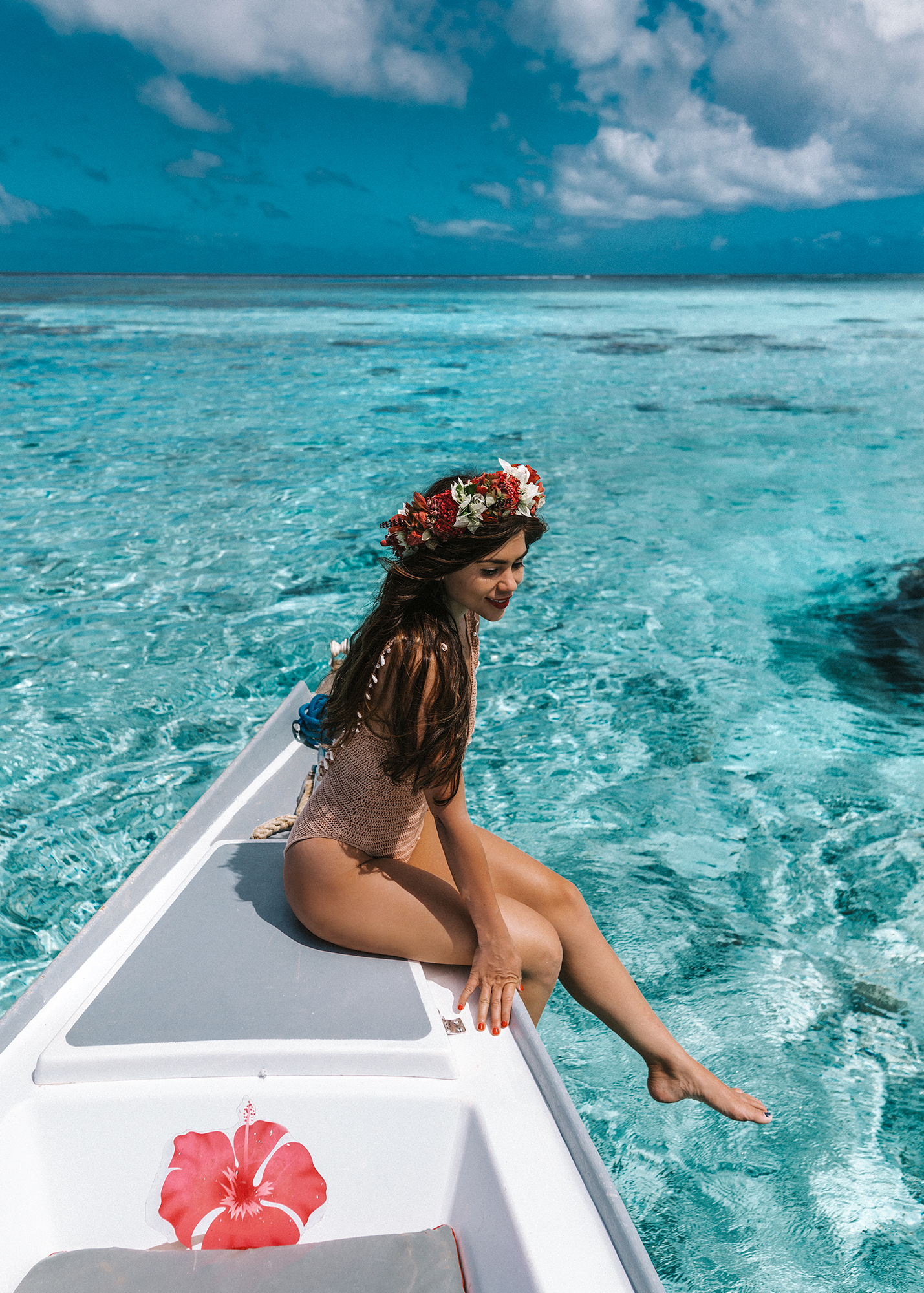 Before you ever get to the first stops, just being out on the boat and cruising through the lagoon is a gorgeous experience all in itself! Grab a local beer from the cooler, sit back, and enjoy the view.
First Stop: Snorkeling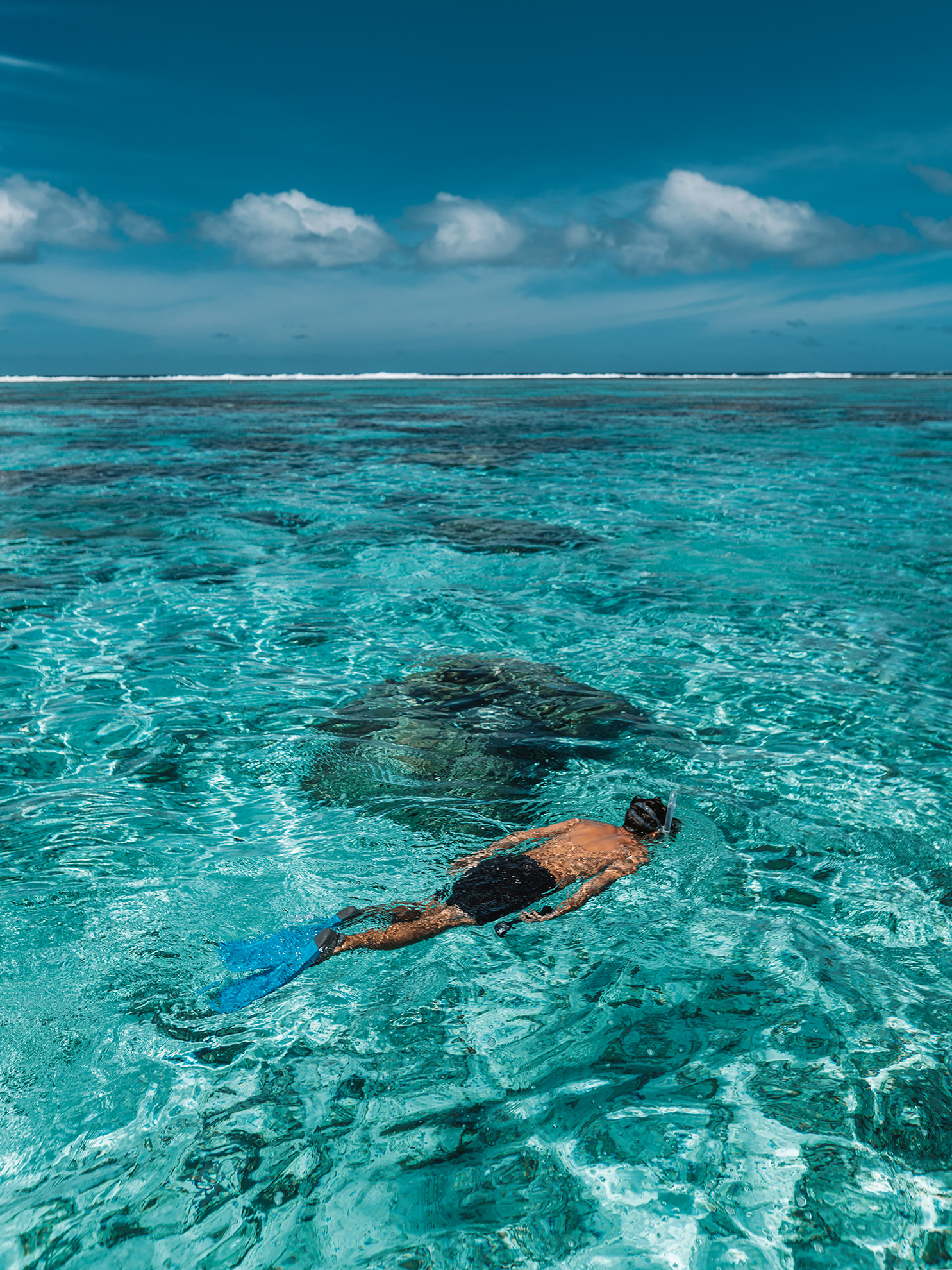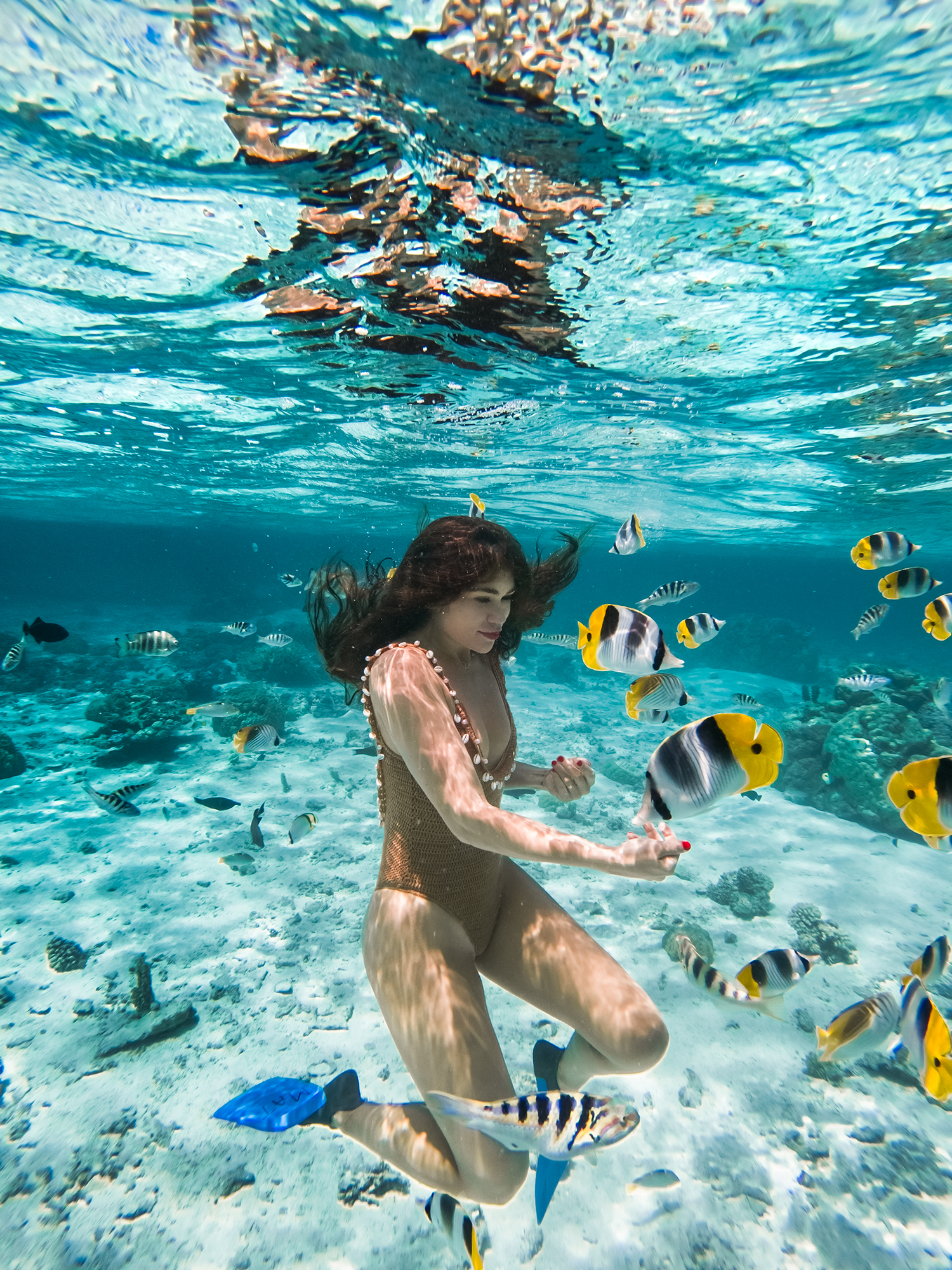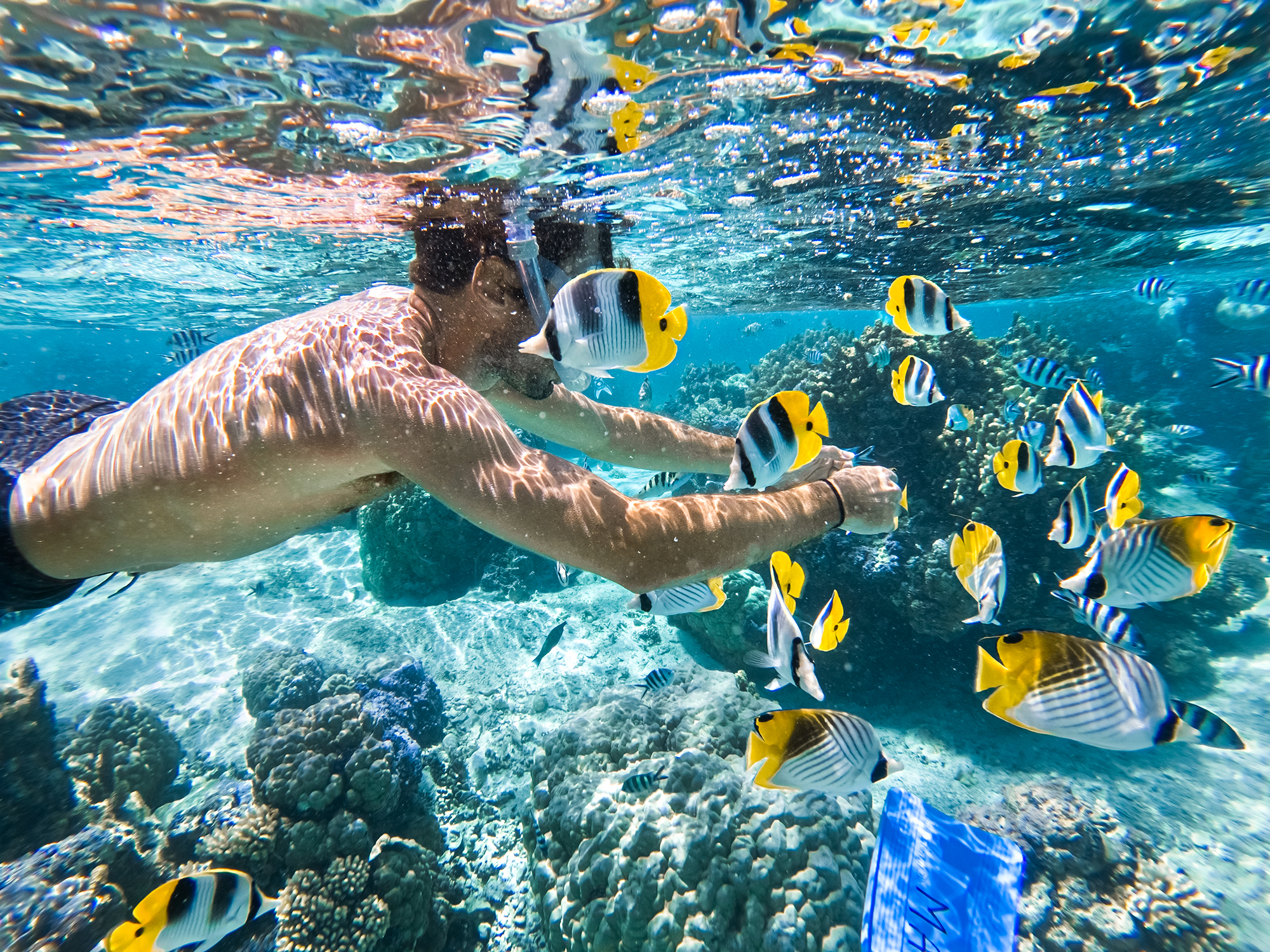 Getting in the water at the coral garden here was just unreal! We've snorkeled in a lot of incredible places, from Islands in Thailand to the Caribbean, but I don't think I have seen water this vibrant and clear anywhere. In popular places, it can be difficult to find coral reefs that still look healthy and full of color, and the dedication to conservation in Bora Bora really shows in how incredible the sea-life here is.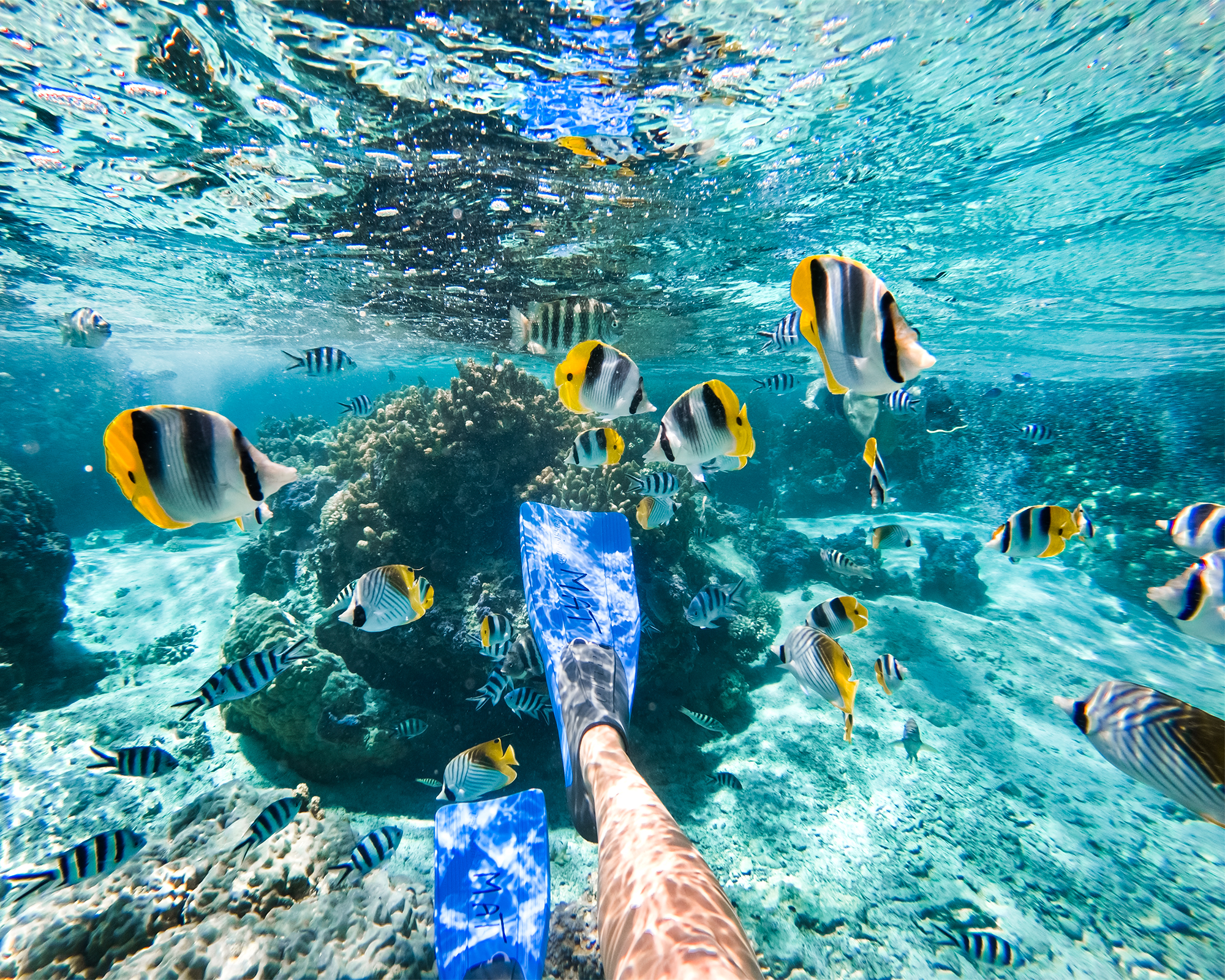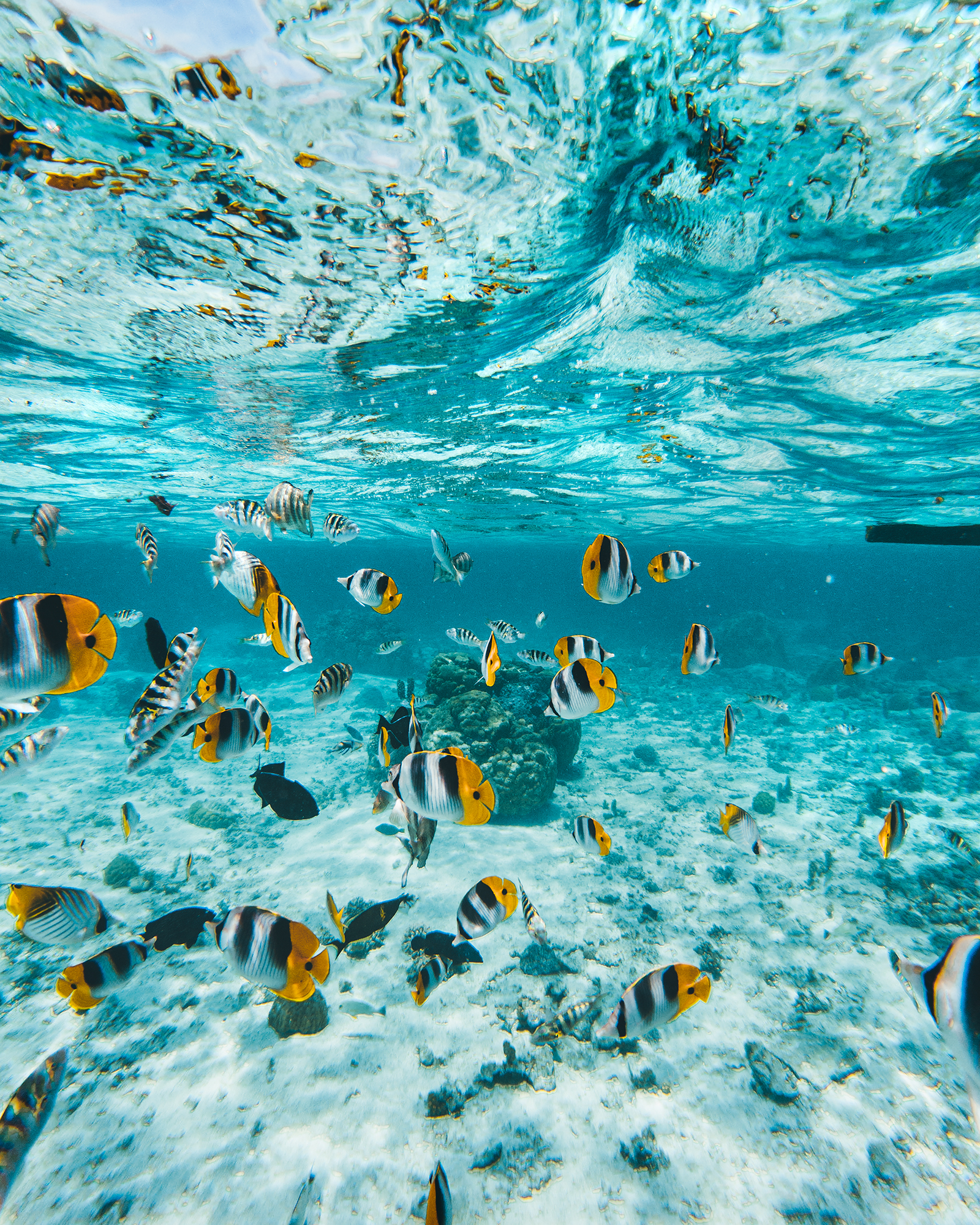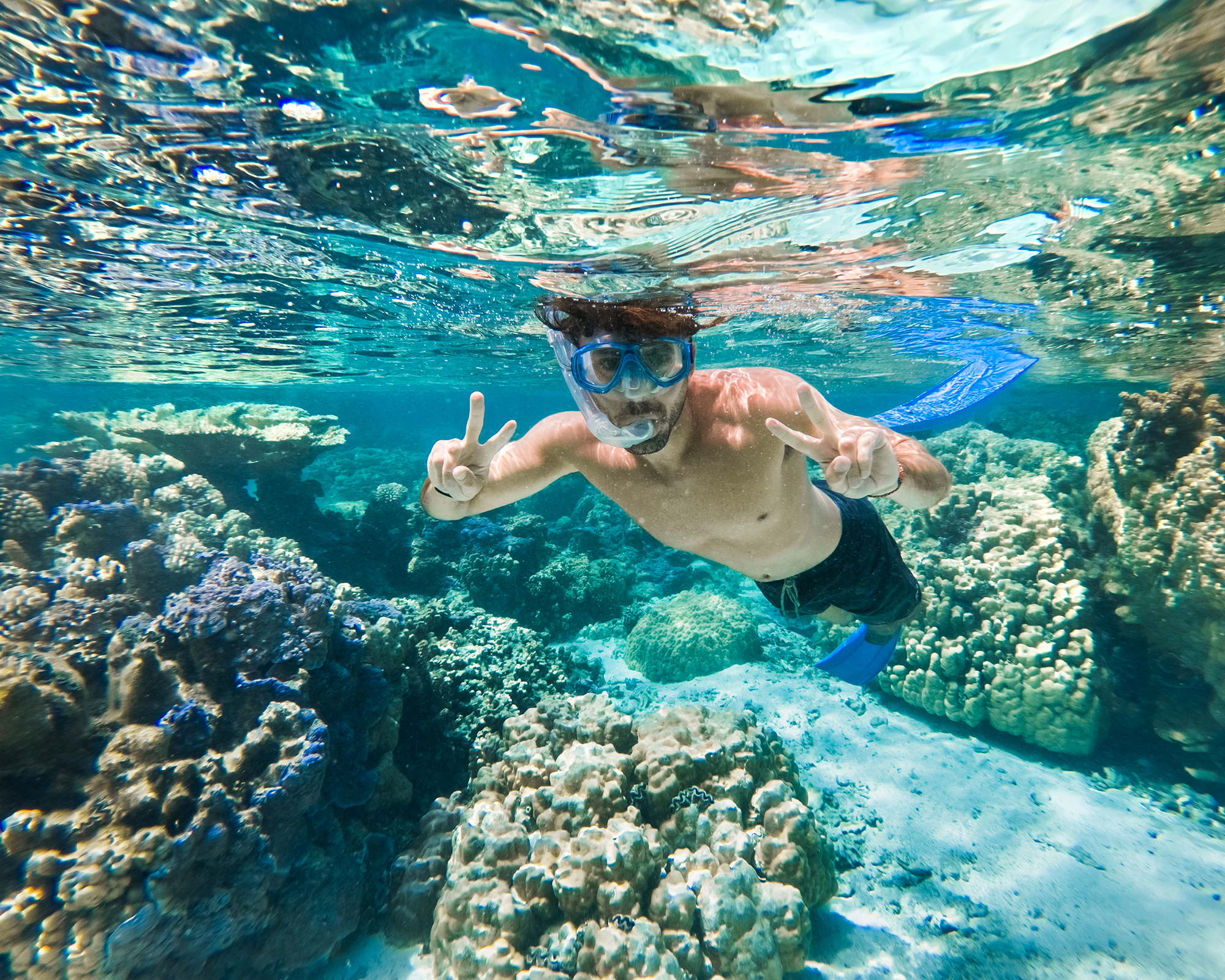 There were all shot on our GoPro 7 camera - you can see our full Photography Gear break down here.

Second Stop: Getting Up Close with Sting Rays and Sharks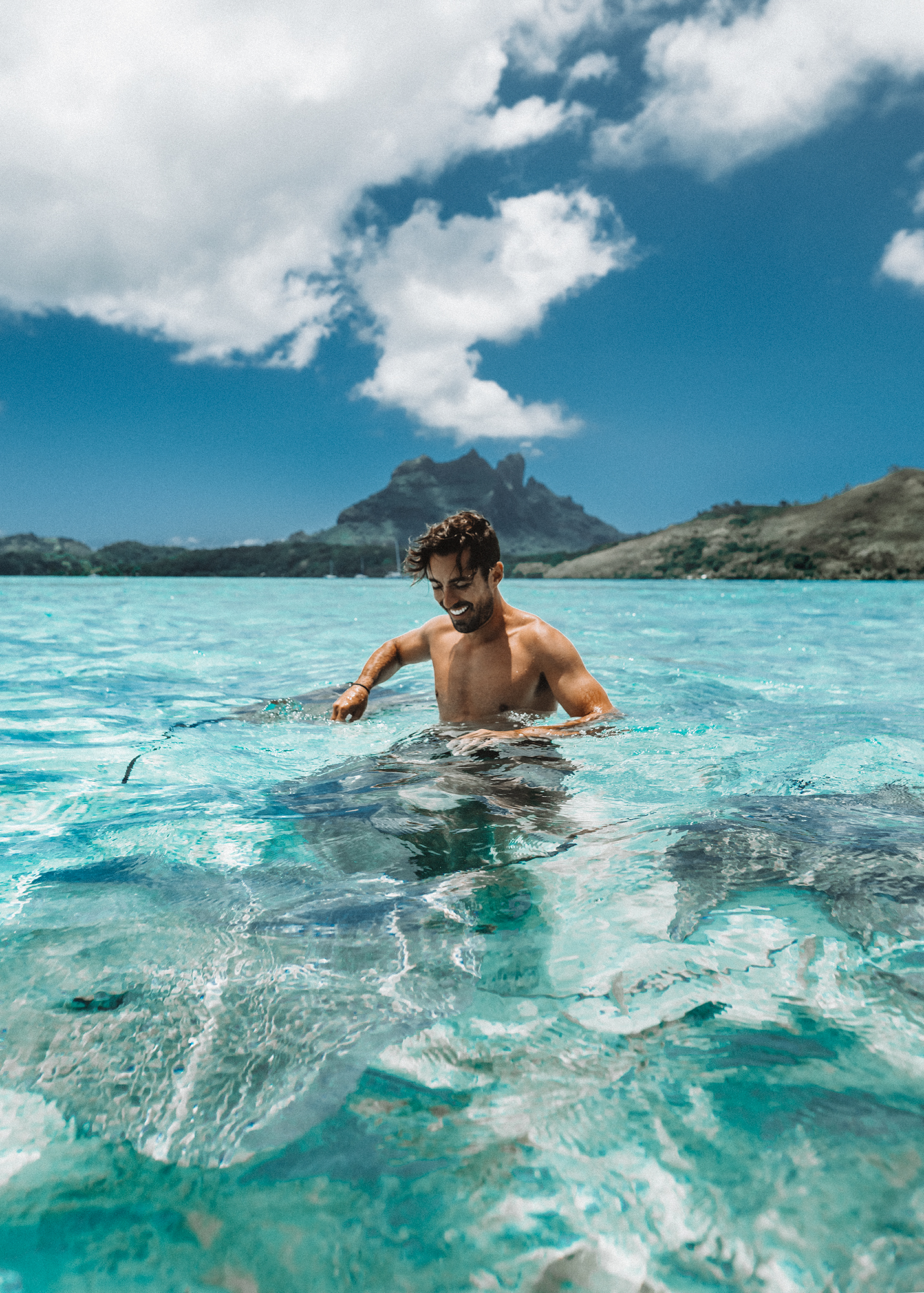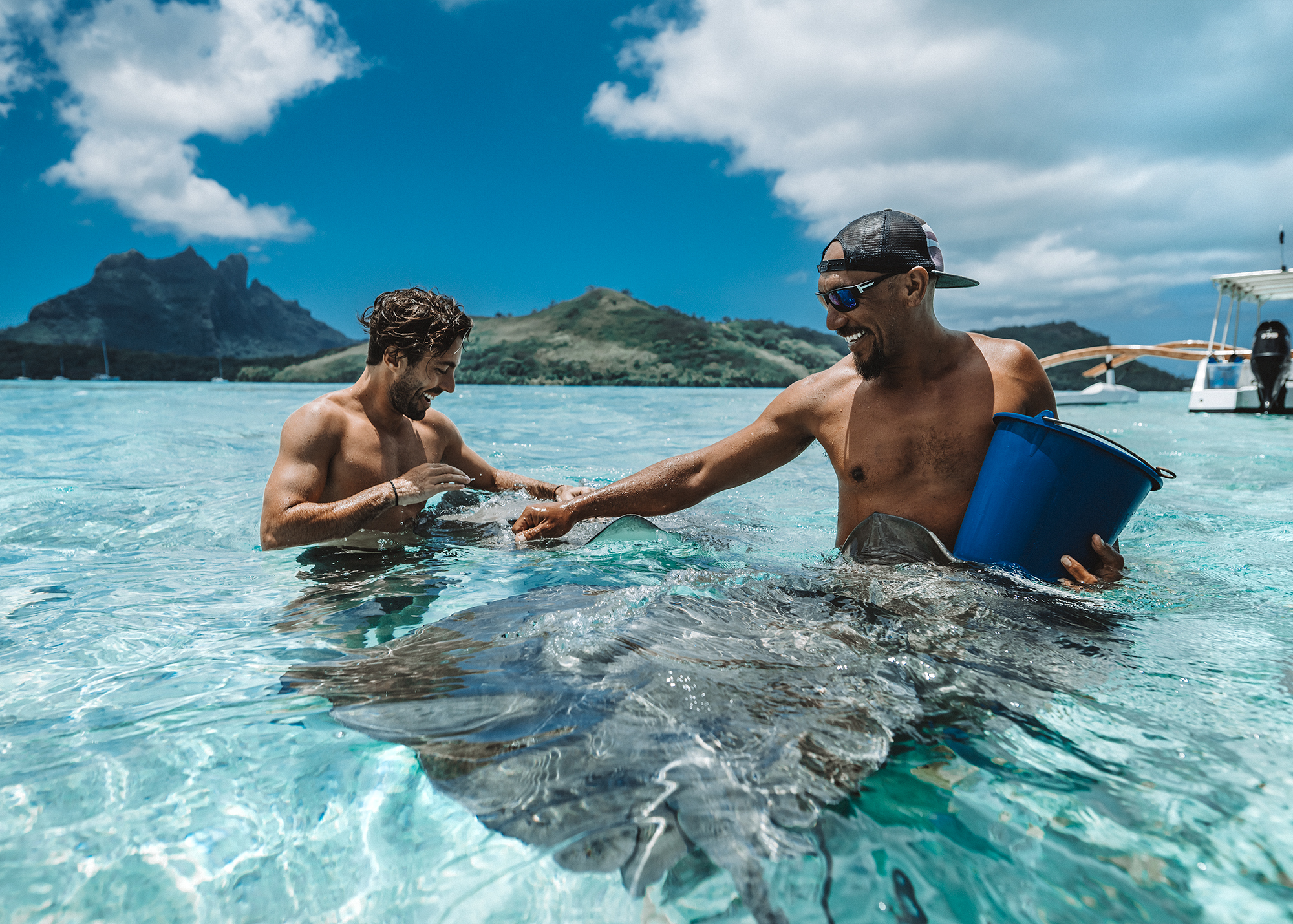 This was one of the activities we were MOST excited about when coming to French Polynesia! I had never been up close with sting rays before and always so enthralled by them, from their silly faces to how playful and puppy-like they are. But as I am terrified of pretty much all animals bigger than a breadbox, I was apprehensive to get up close at first. Our guides brought food for them and showed us how gentle they were all - and where to avoid their stingers.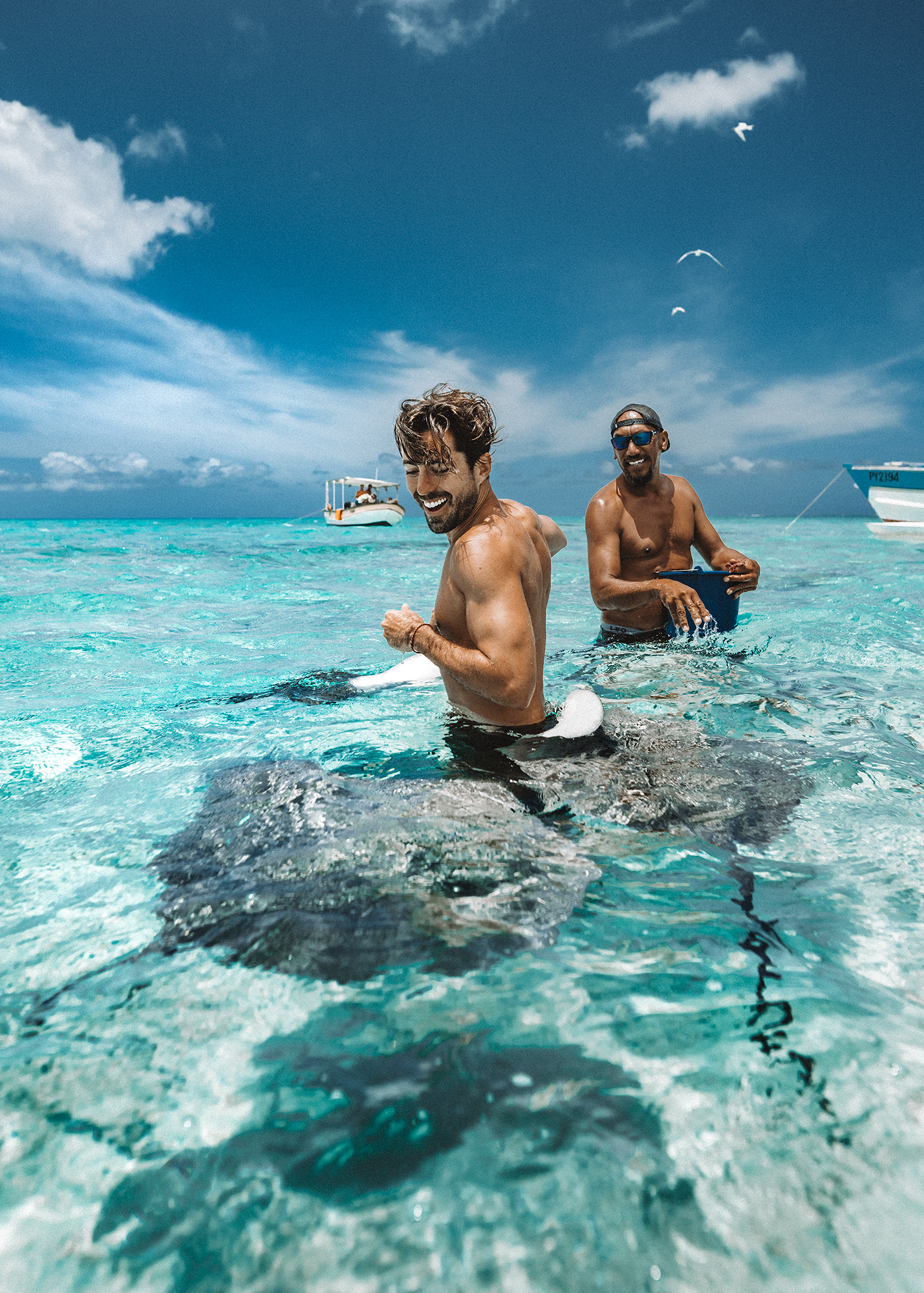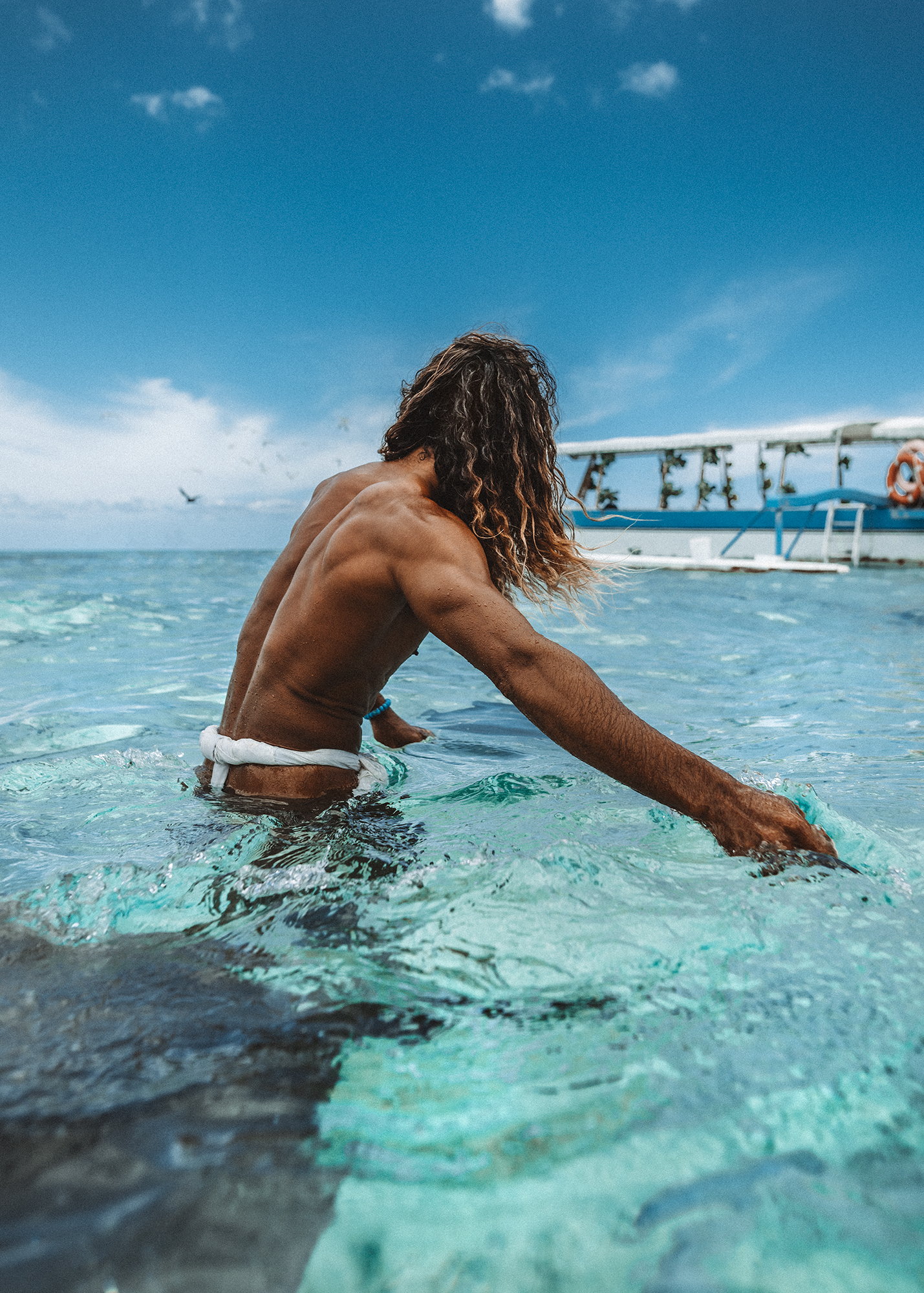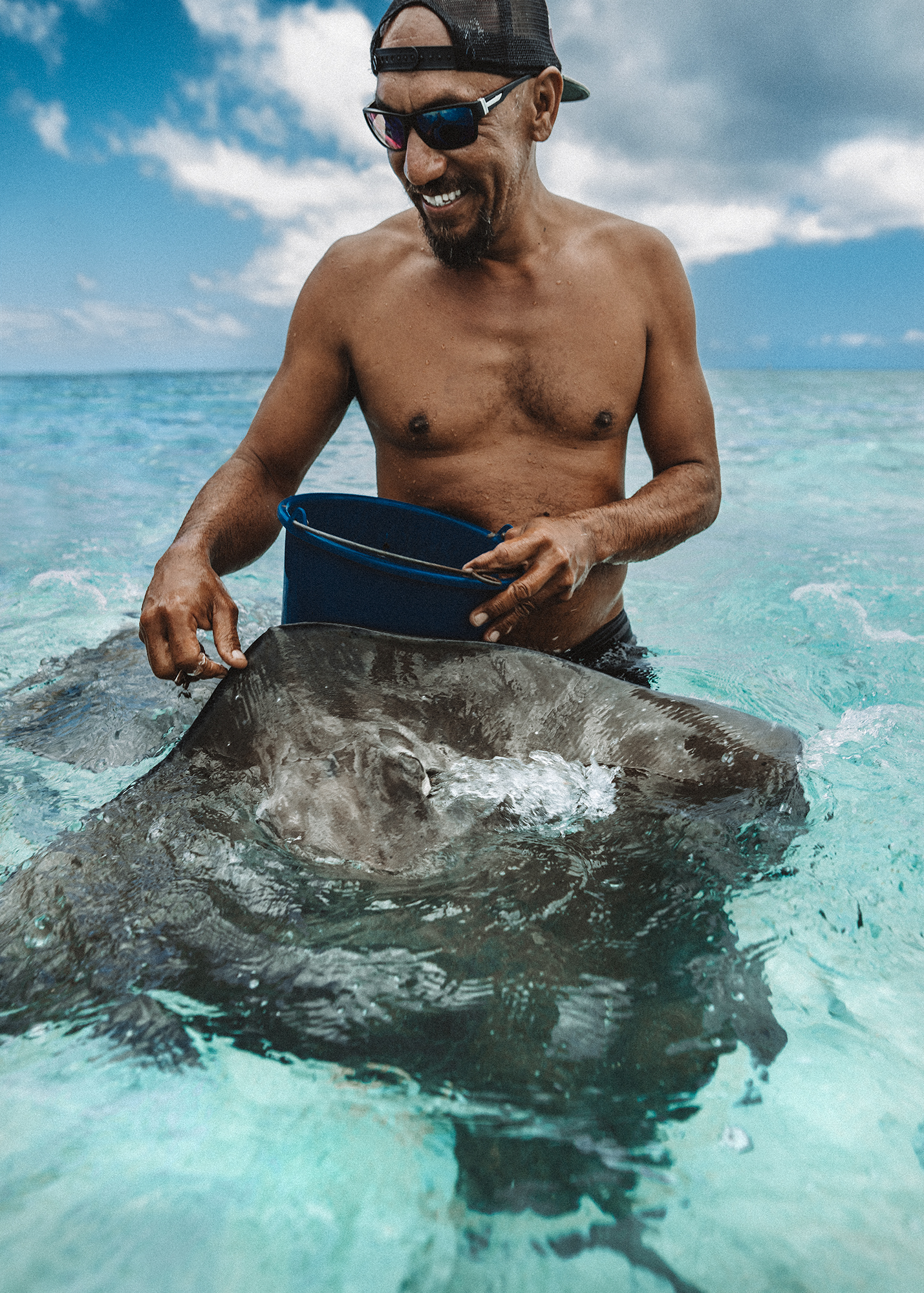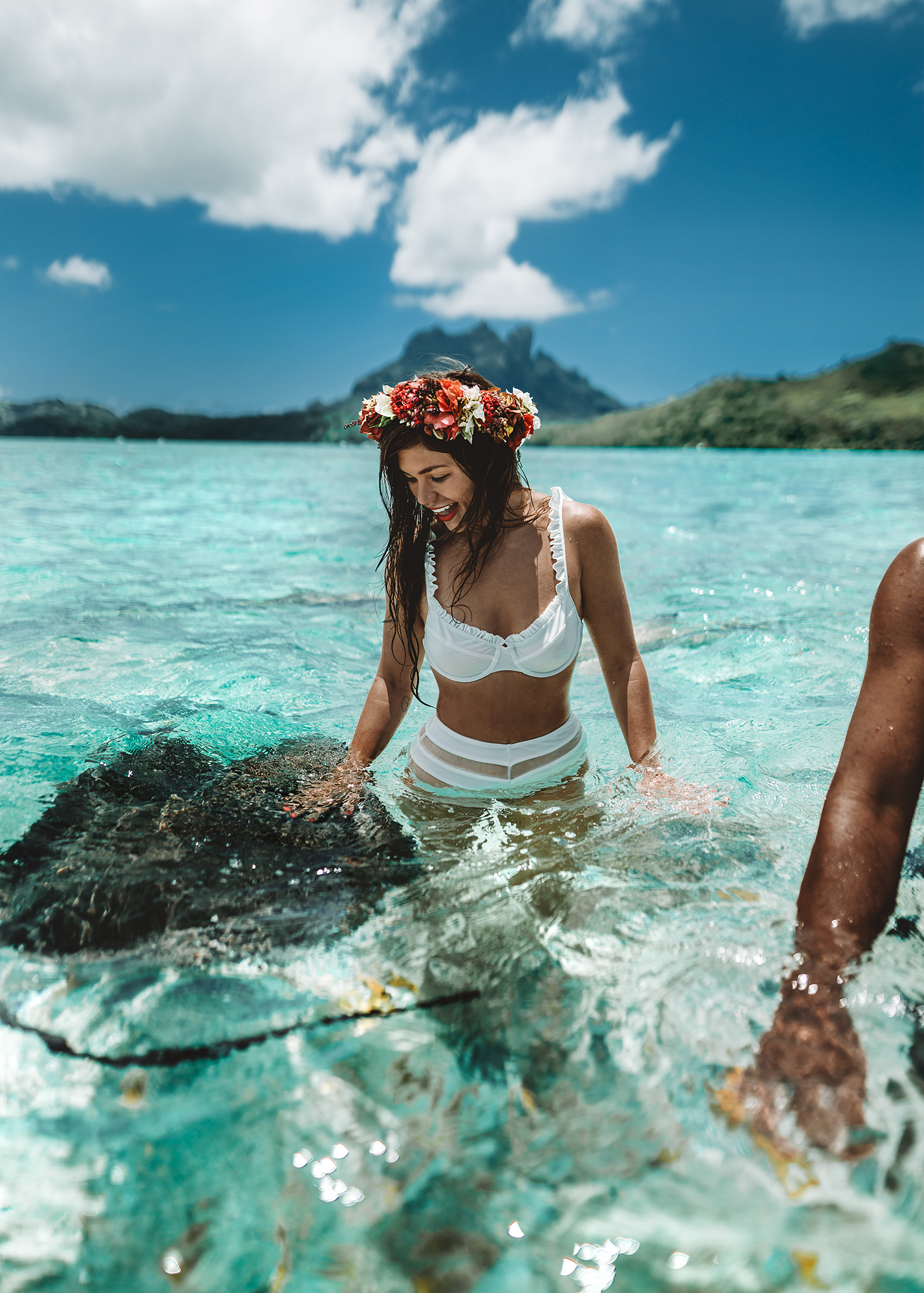 A dream come true!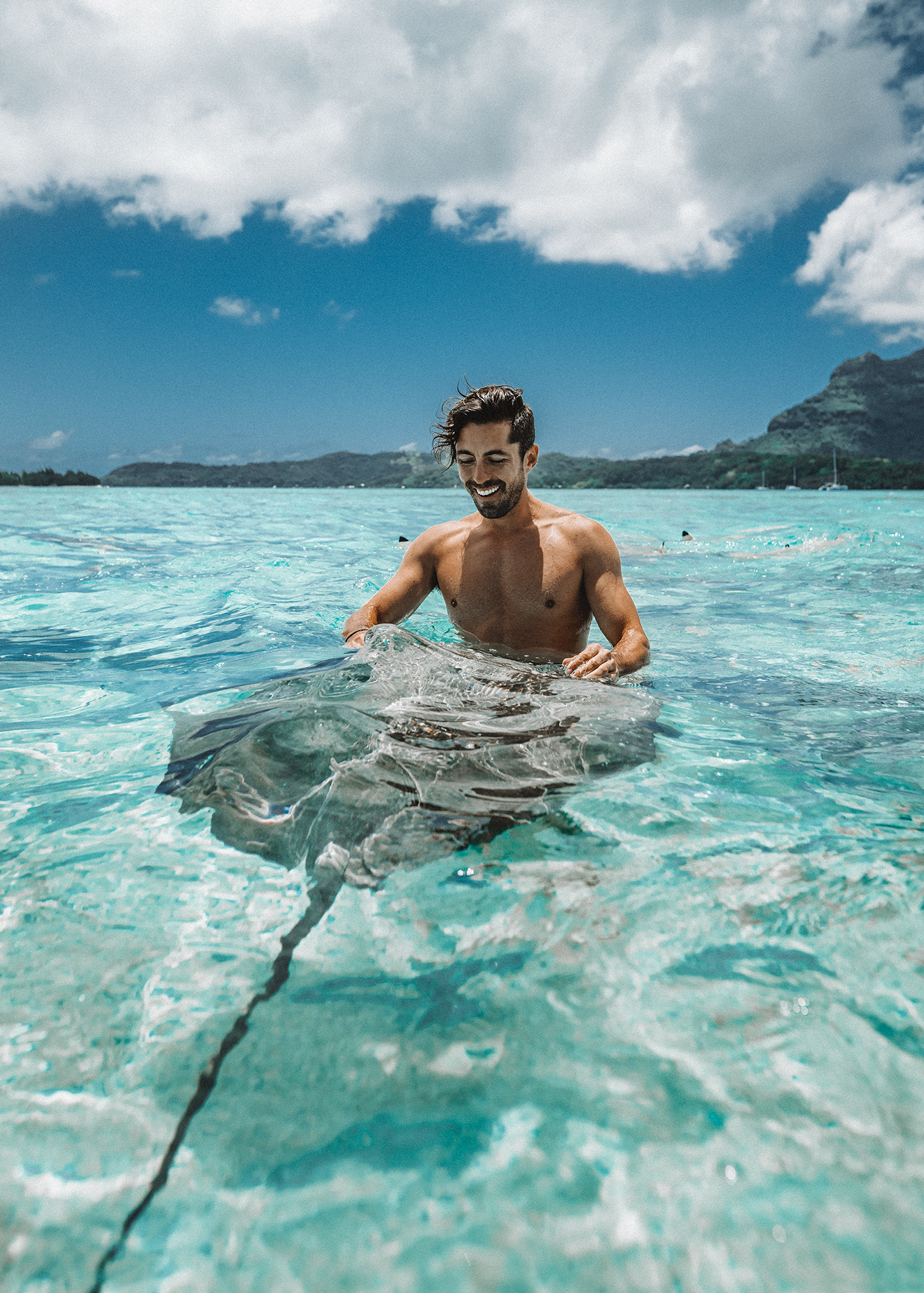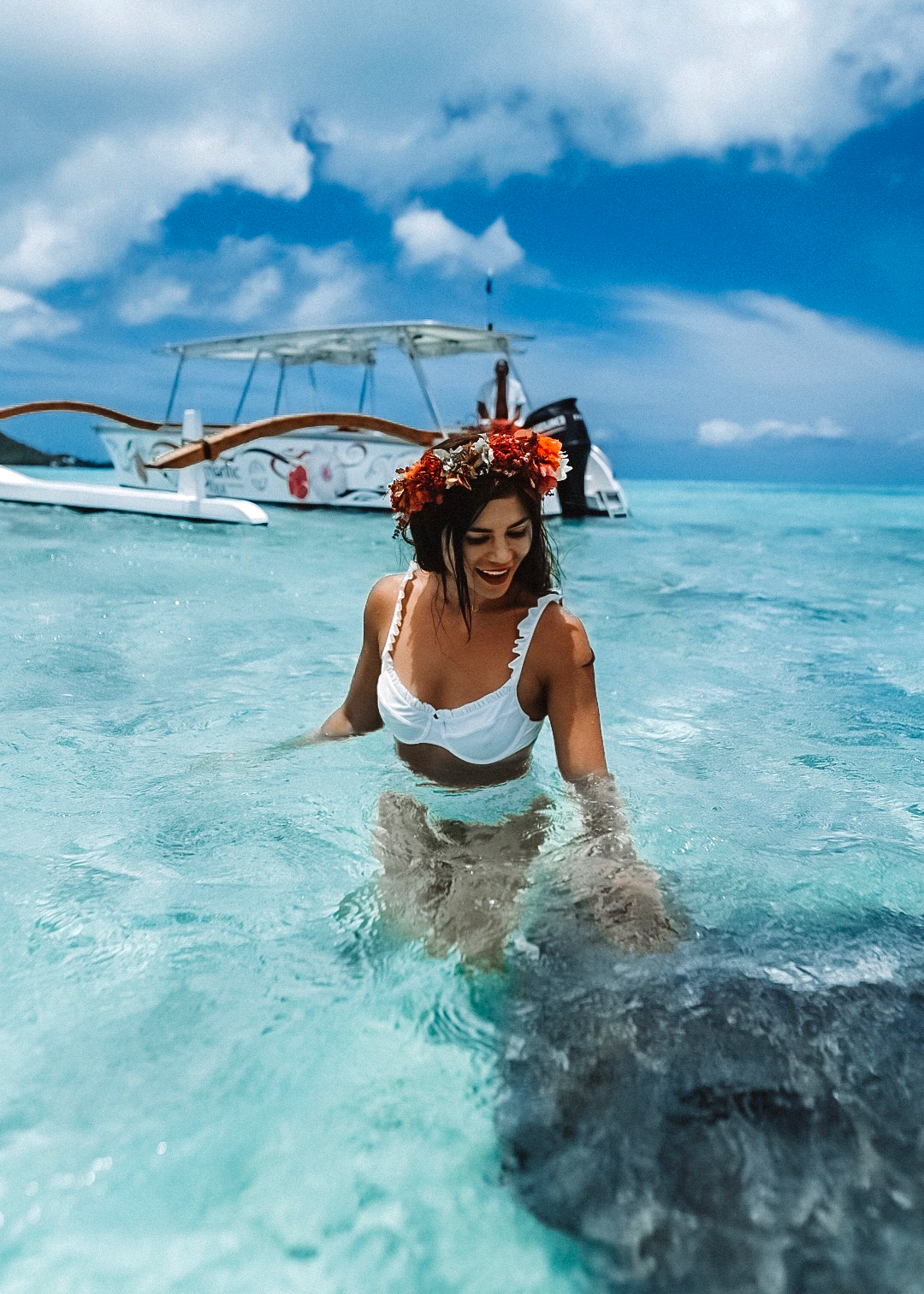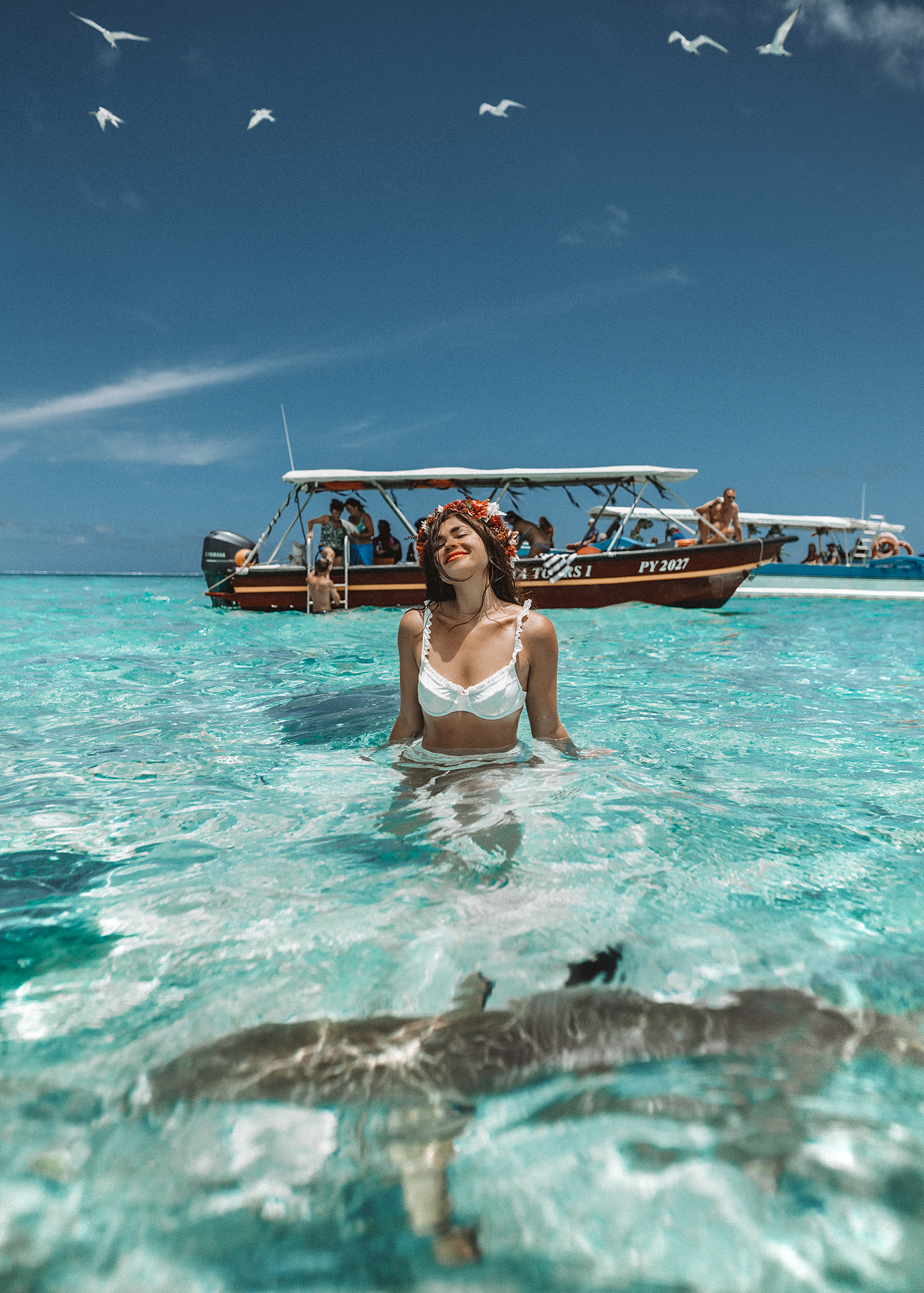 I did not want to leave this spot! When we traveled to Moorea a couple of days later, we spent as much time as we possibly could with Rays - both on boat excursions and on our own. I just love them!
Stop Three: Visiting a Local Motu Island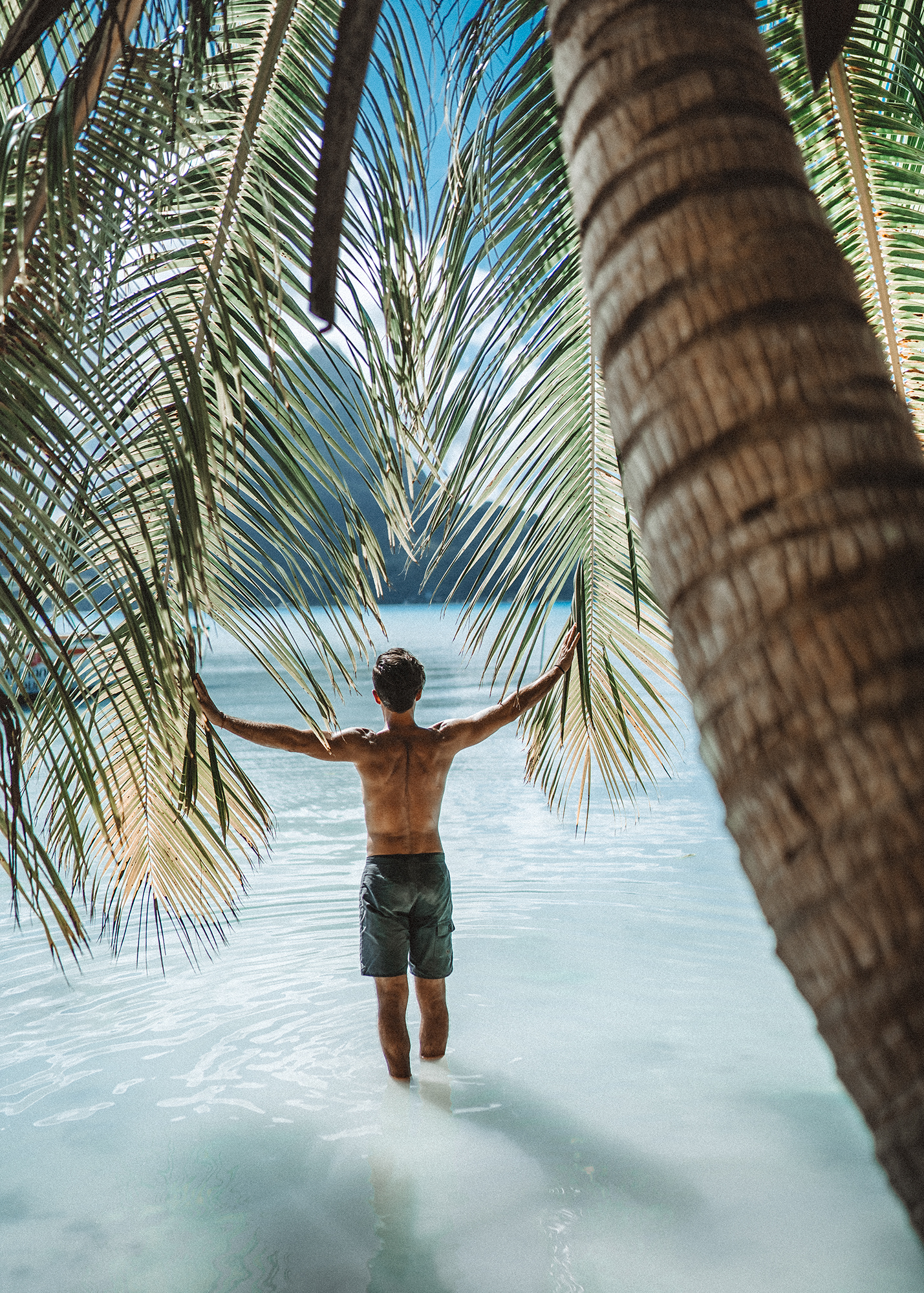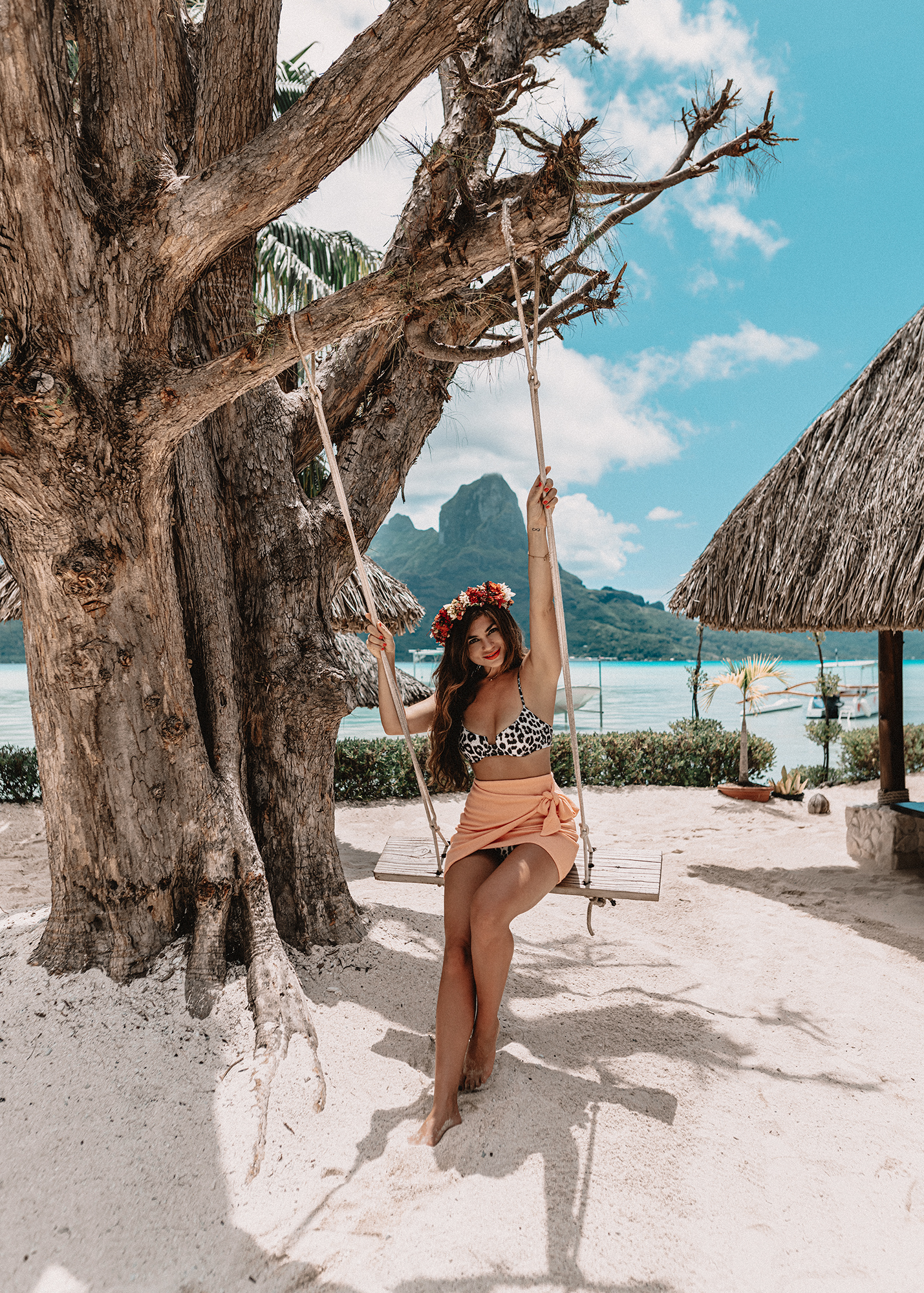 Motus are local-owned private inlets (or very small islands.) After a full morning in the water, we stopped at a beach here for sun, exploring, and meeting some locals.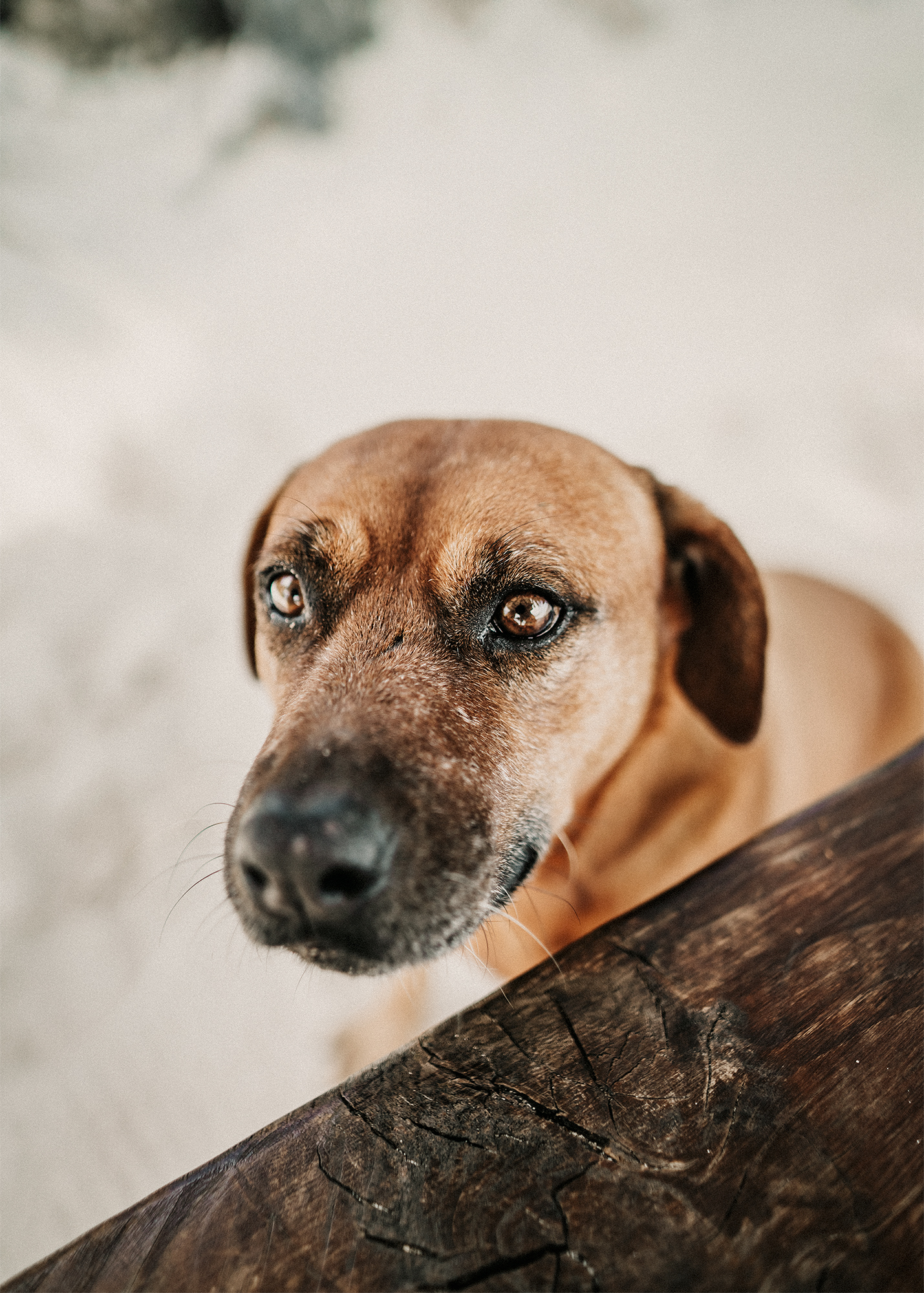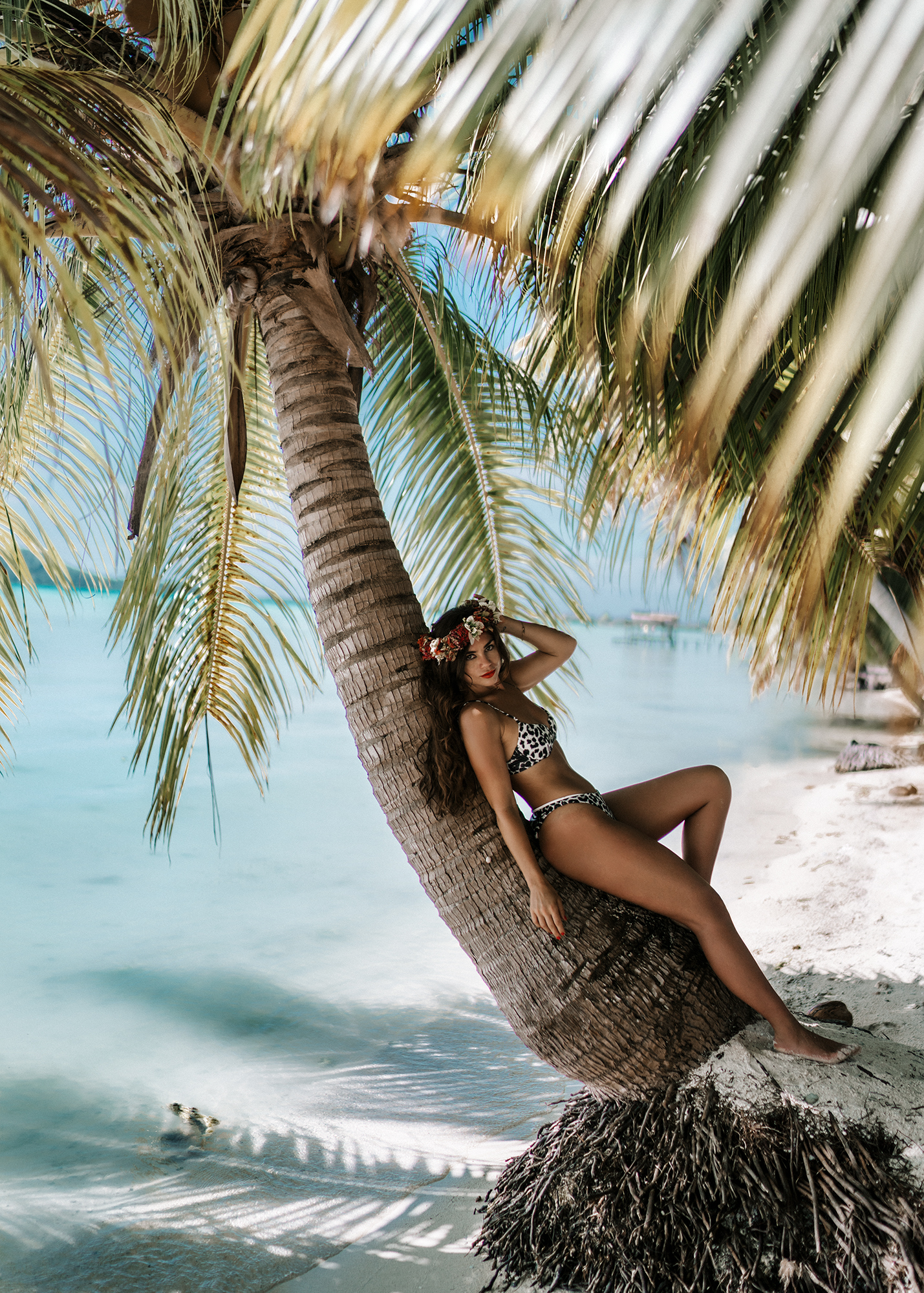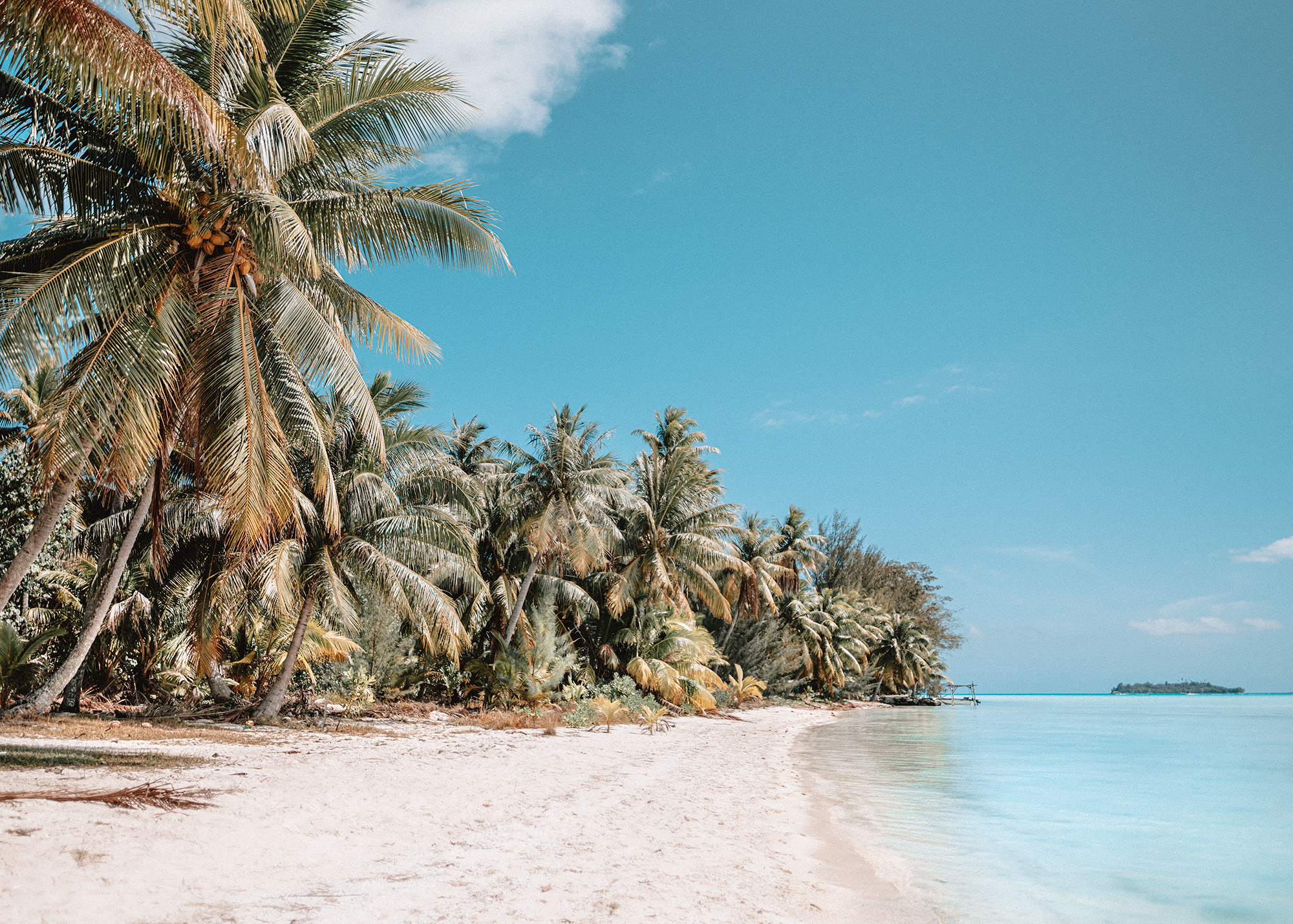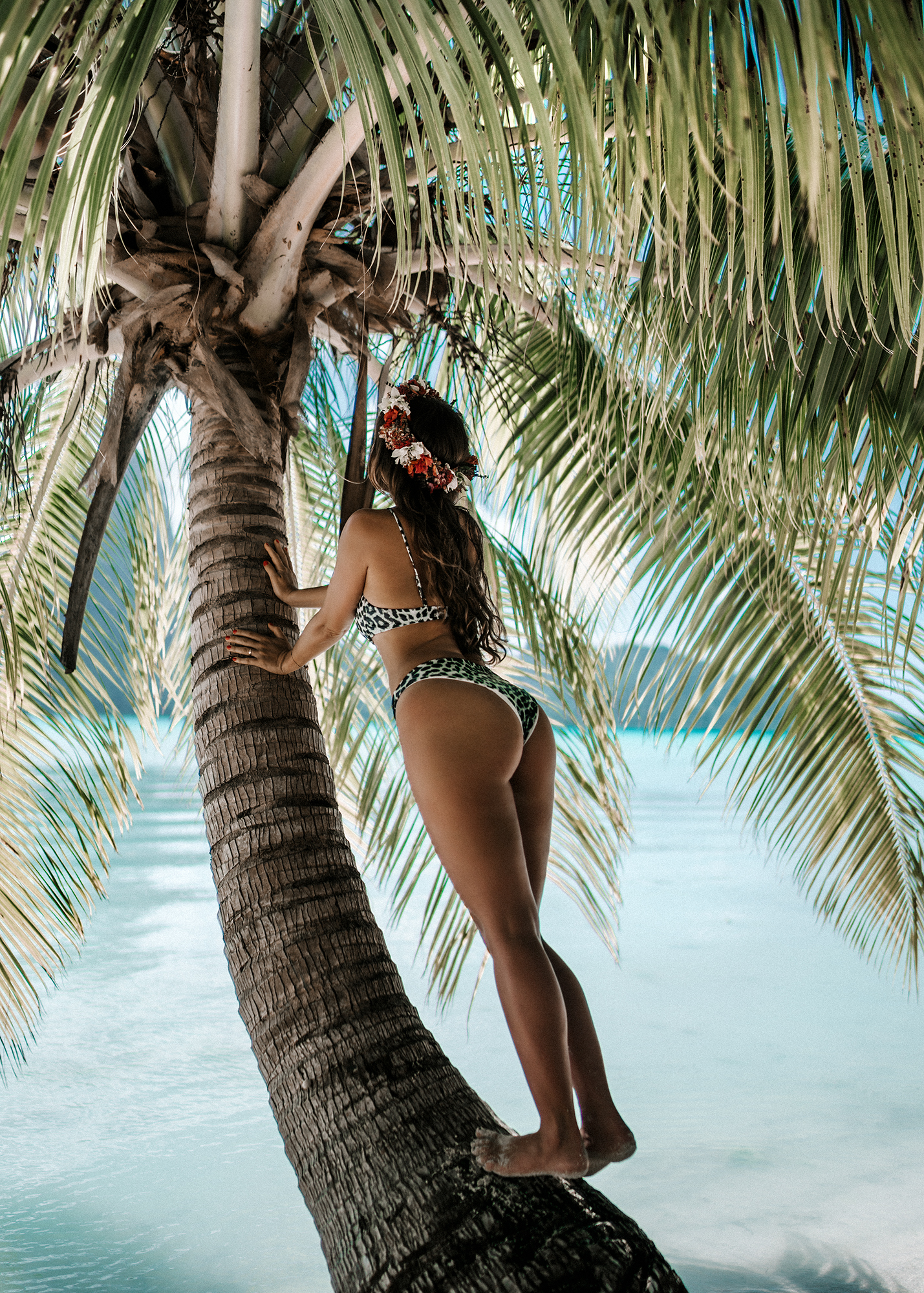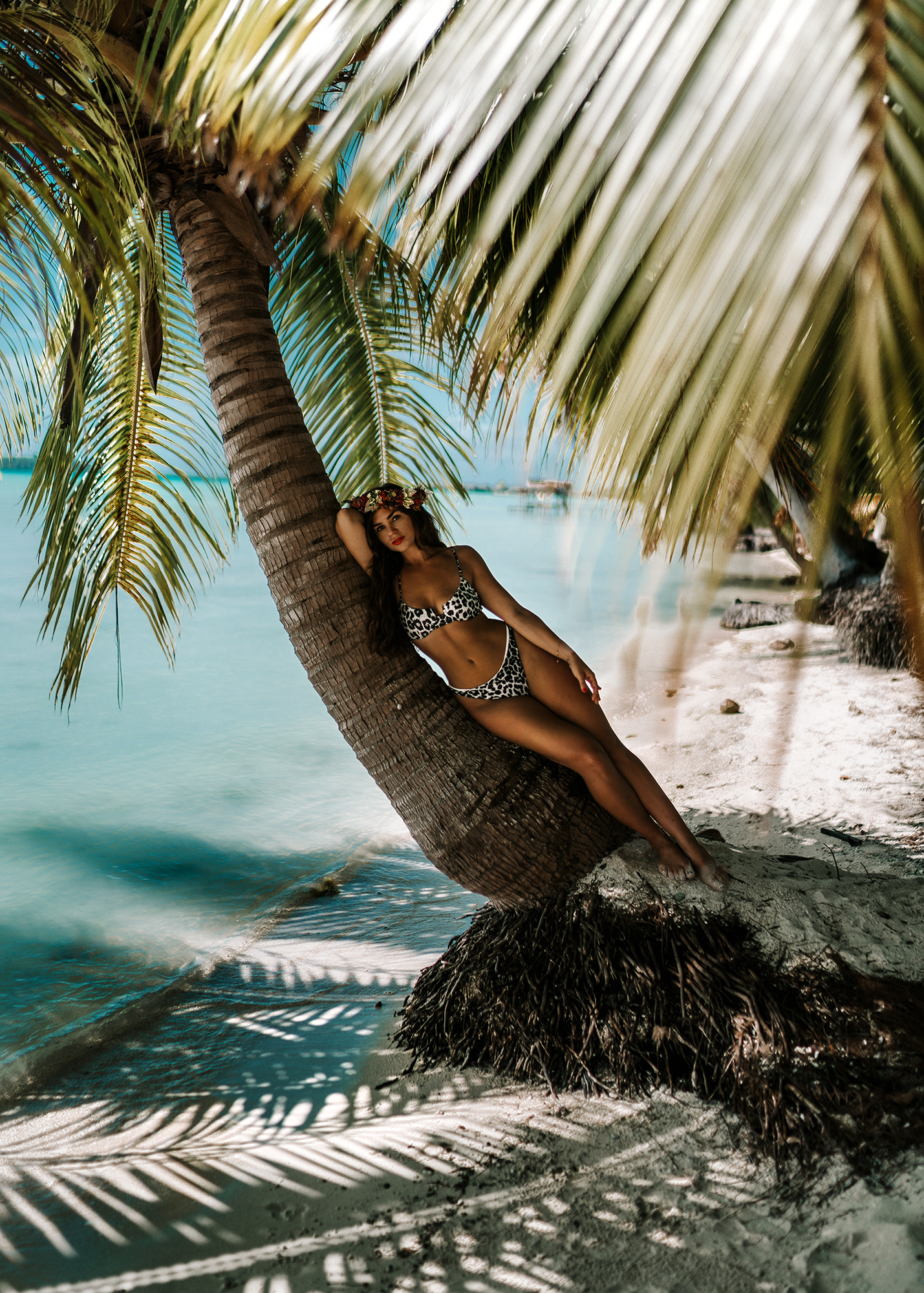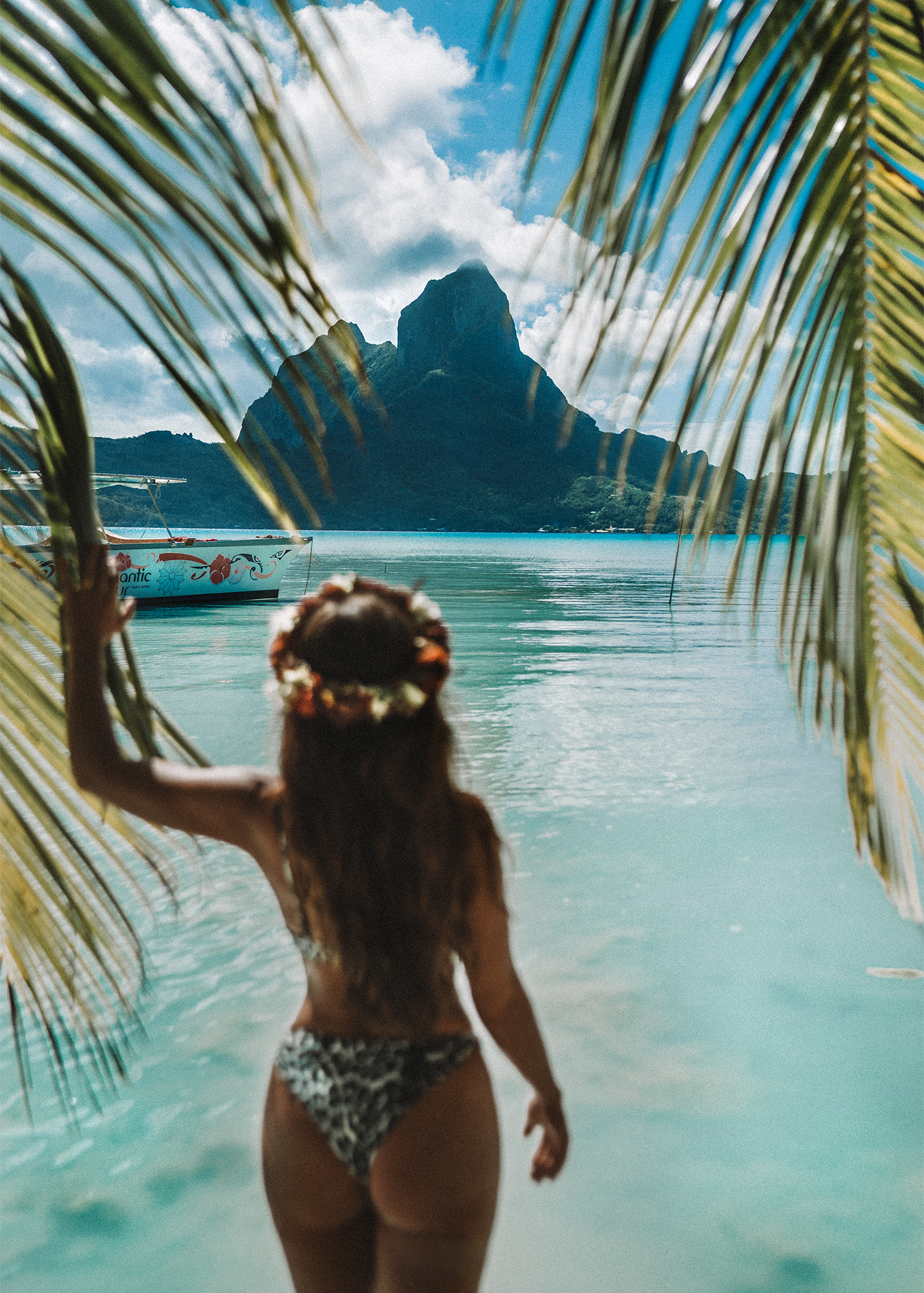 Views back to Bora Bora's famous mountain peak.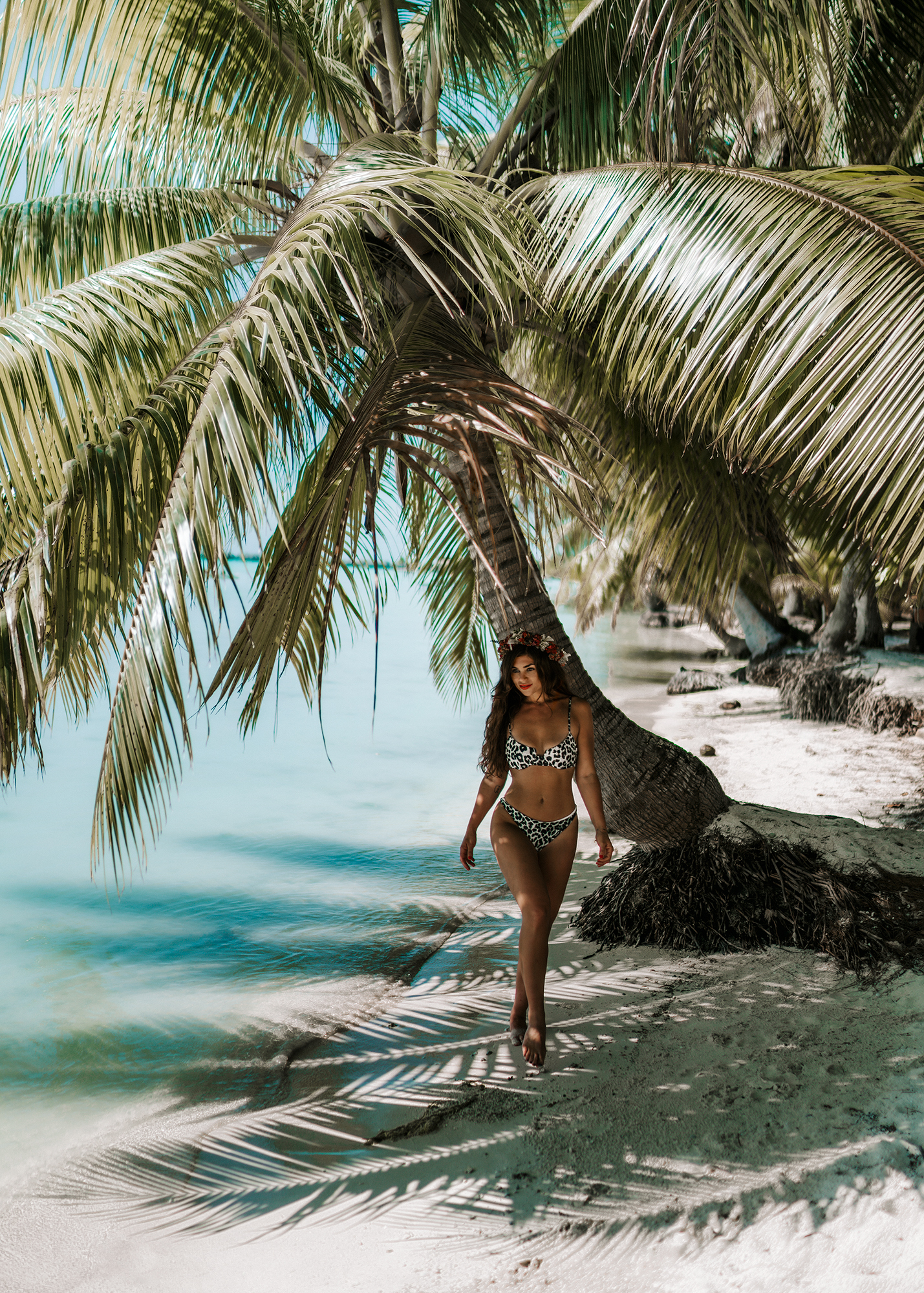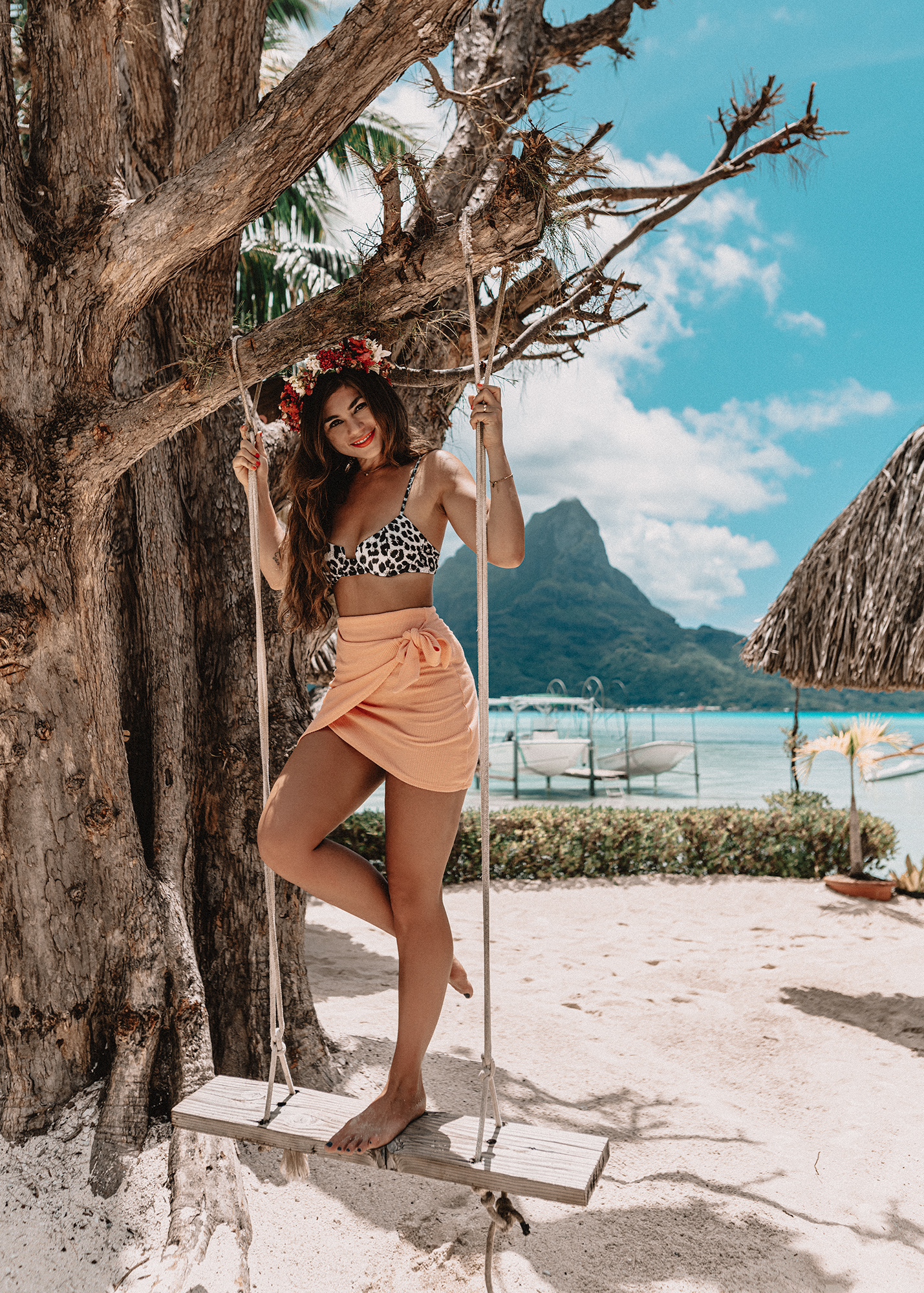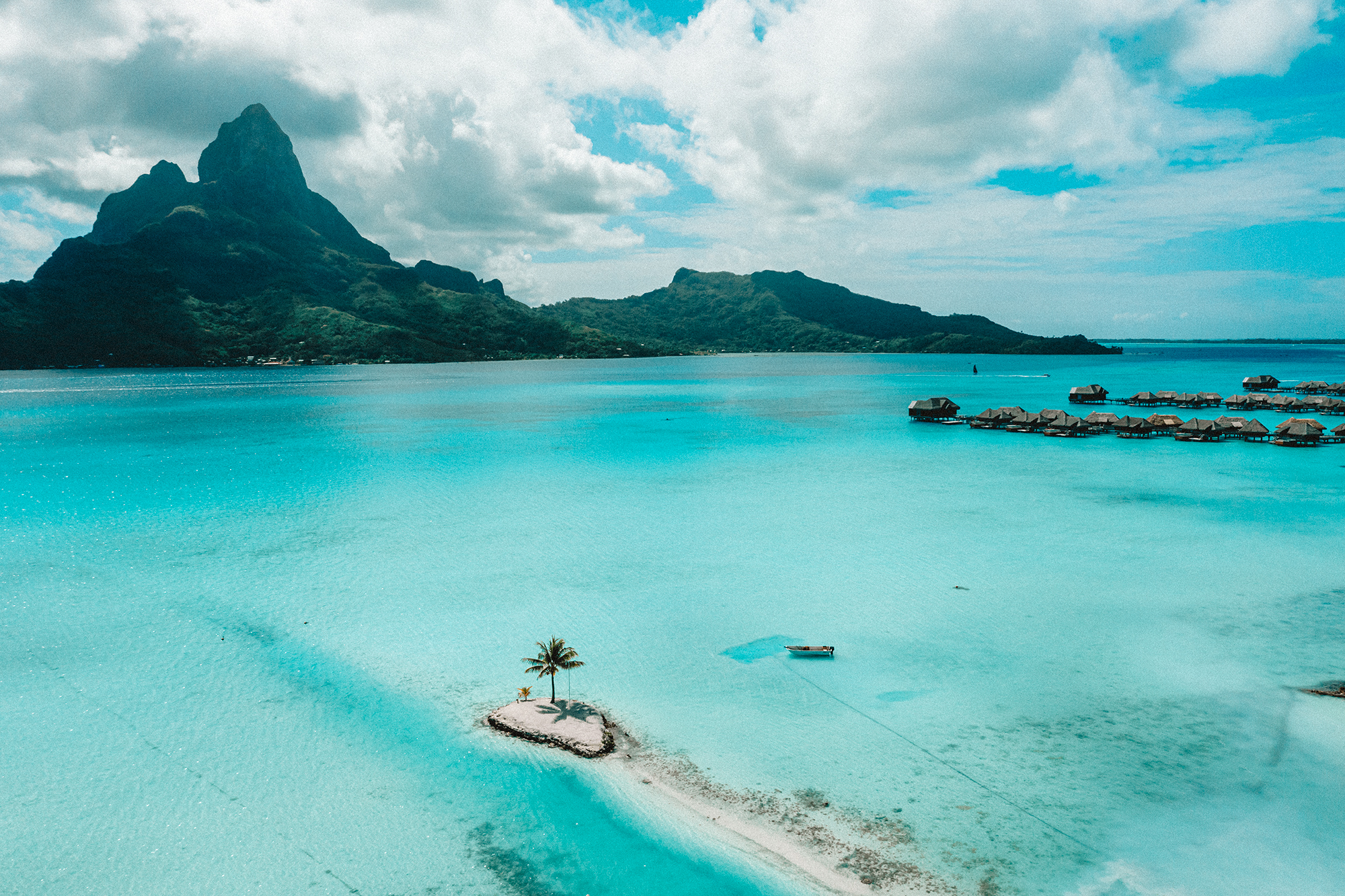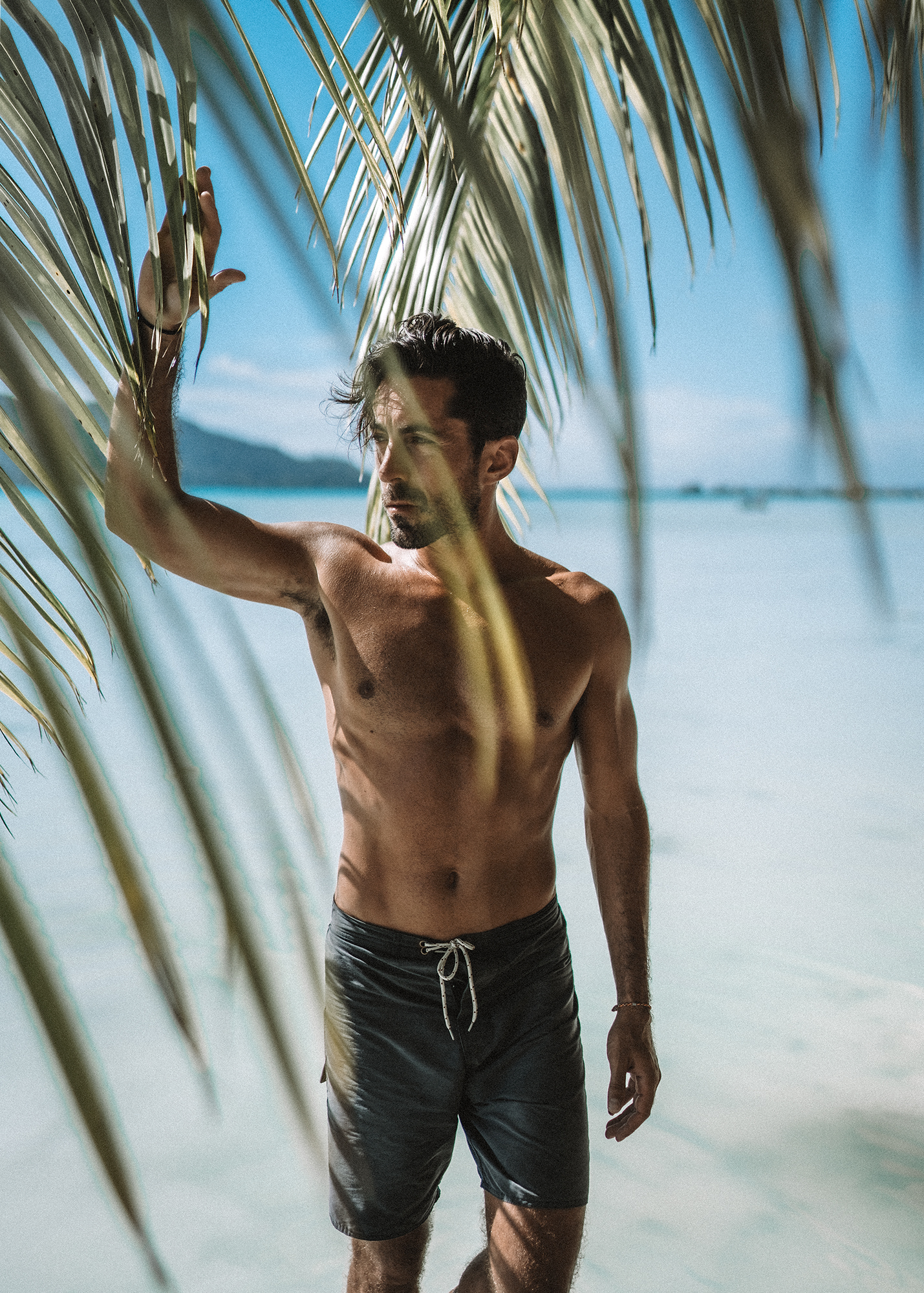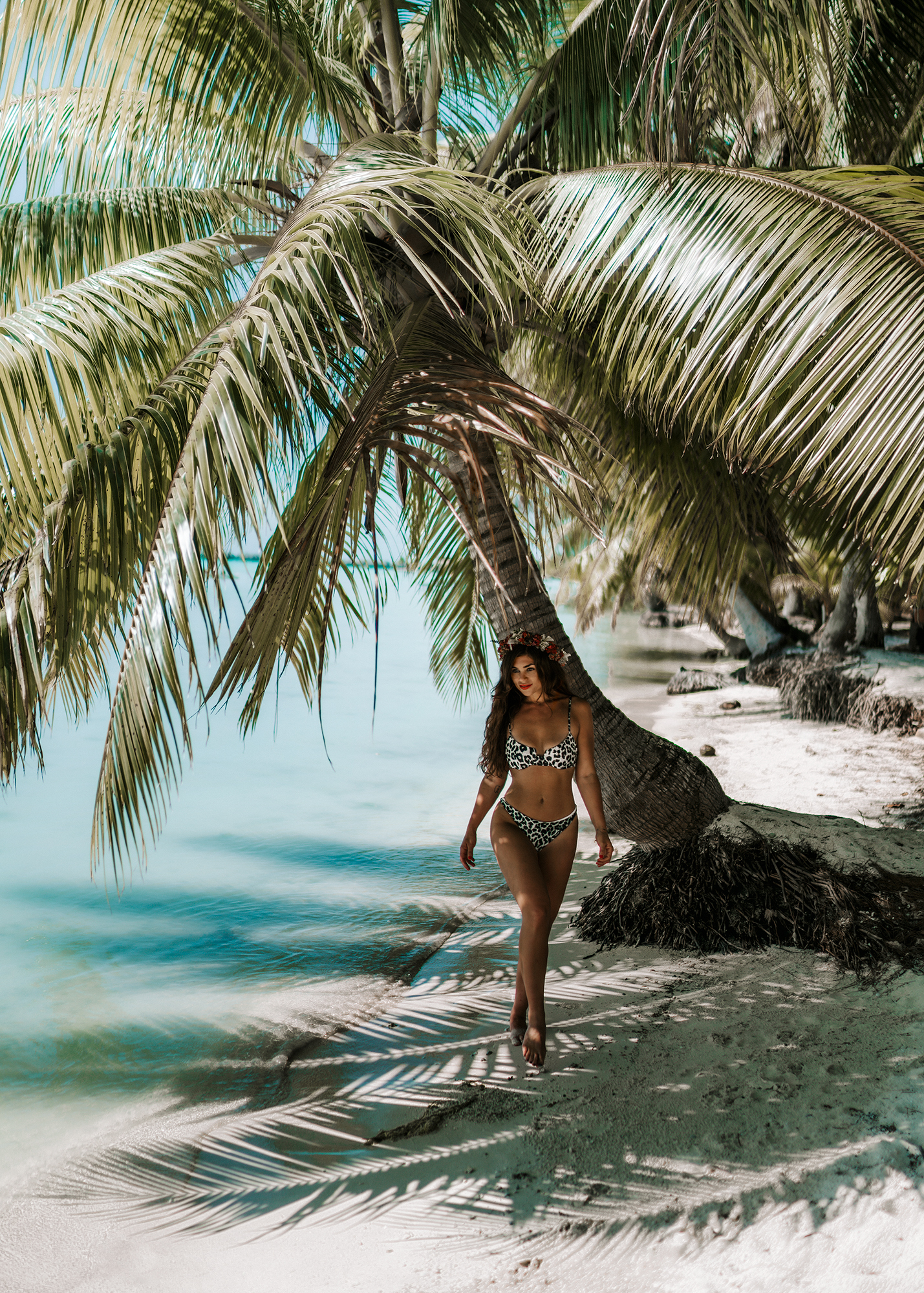 Trying to figure out how we can just pitch a tent and stay here forever...
Stop Four: Island Lunch!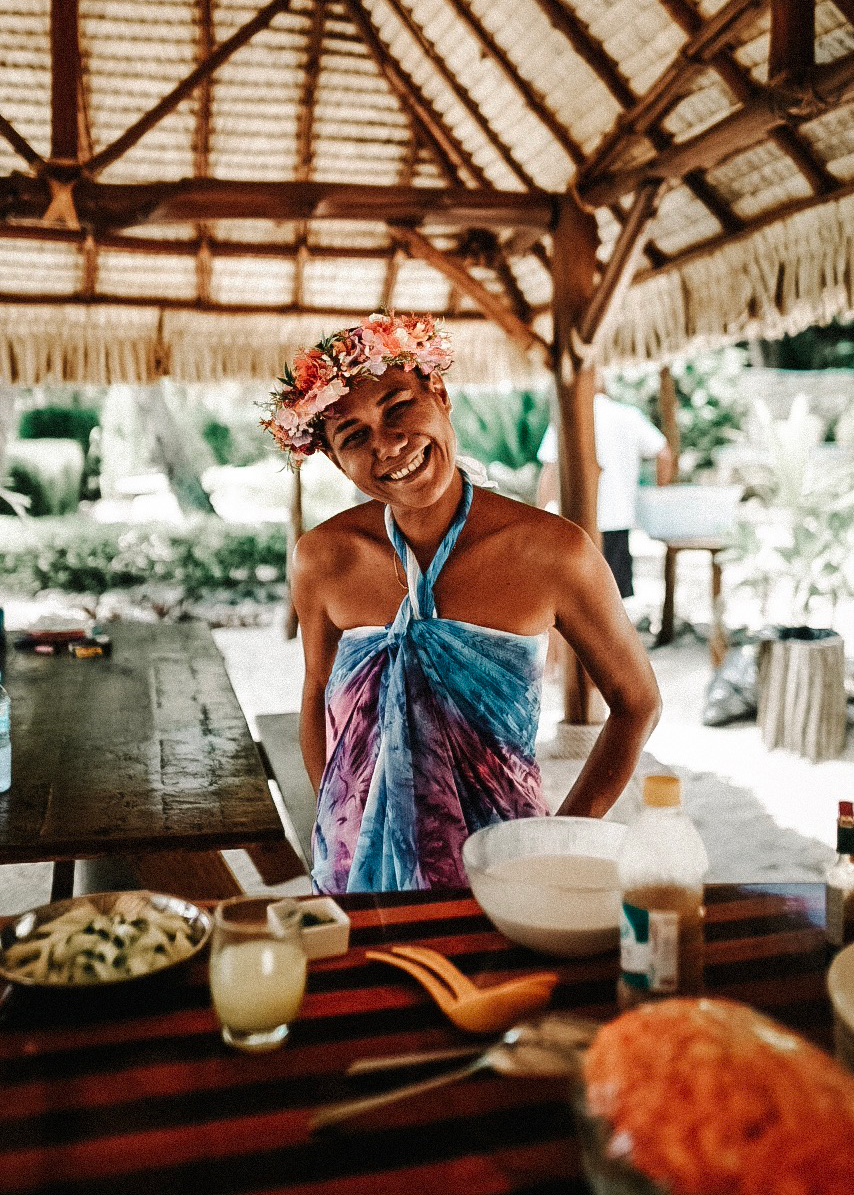 On our local Motu, we were met with a full island lunch and a demonstration on how to make our favorite dish, poisson cru.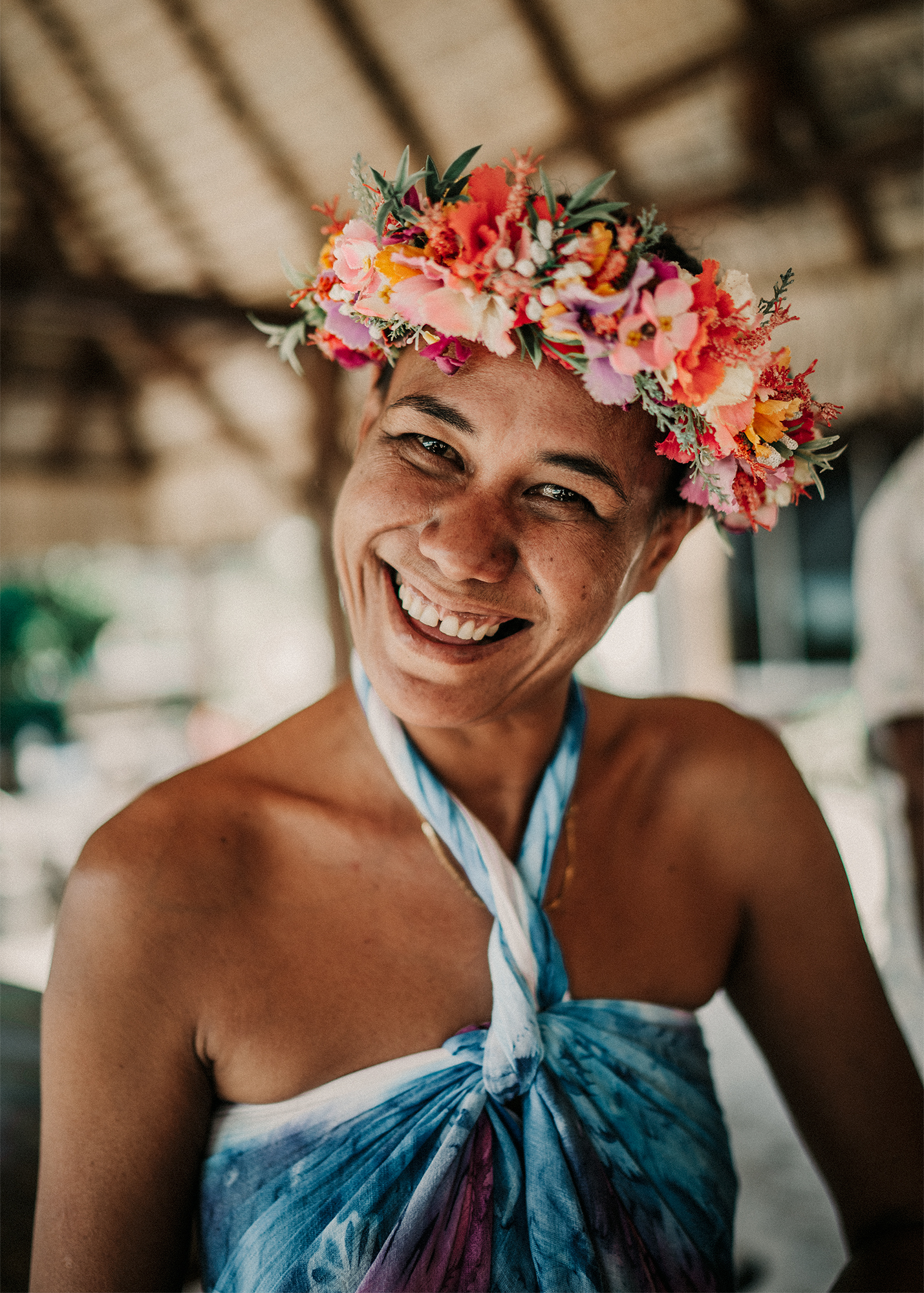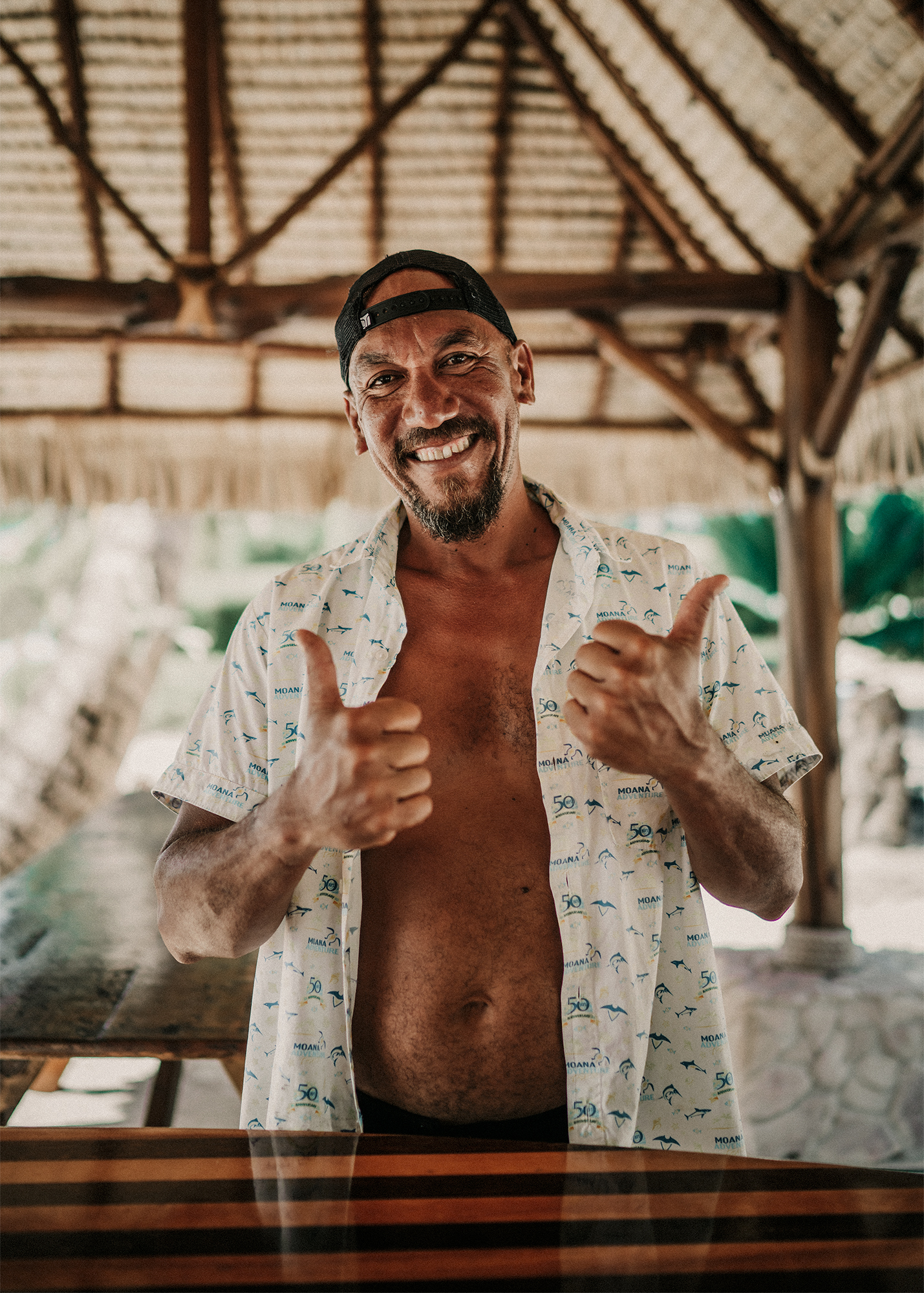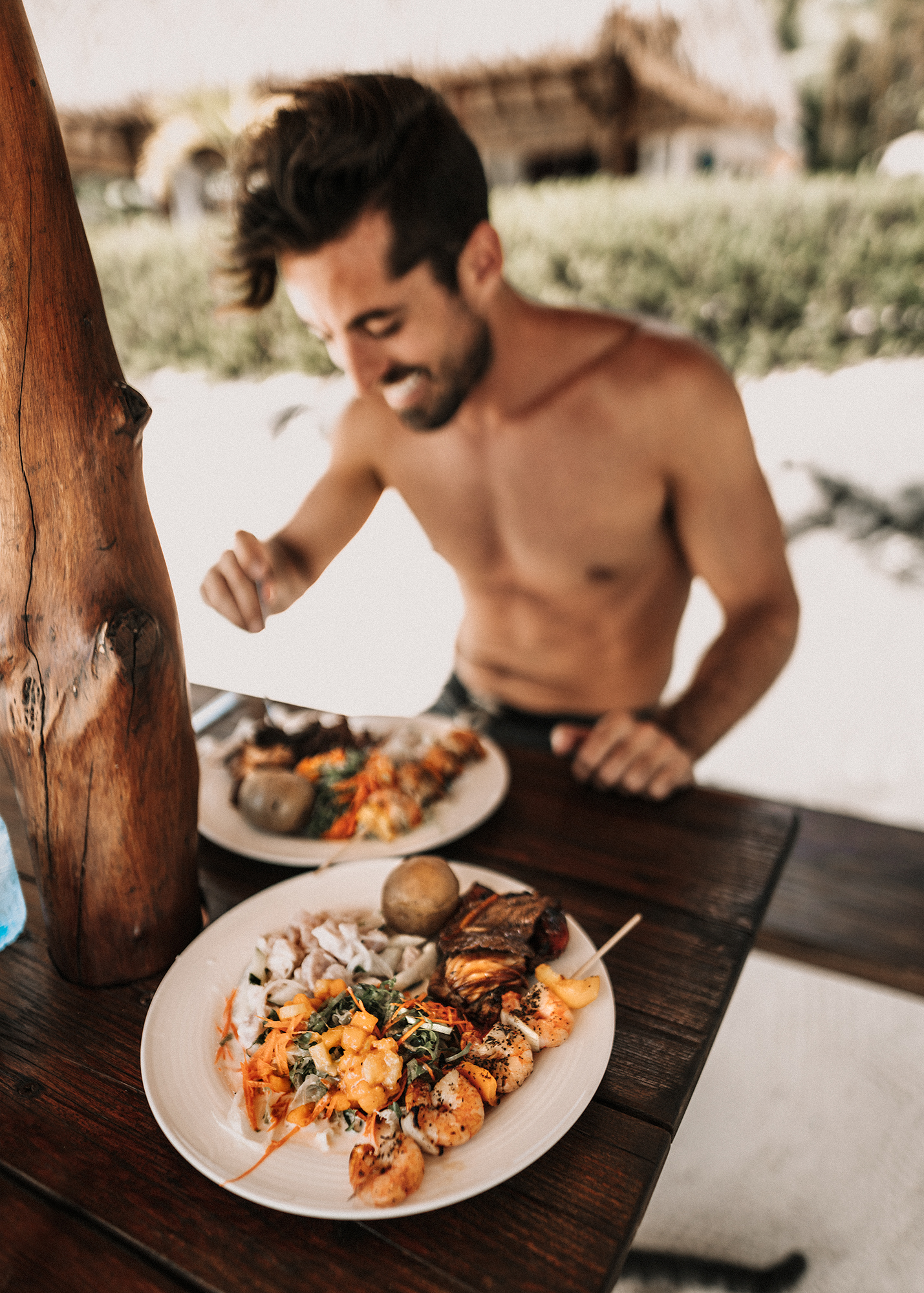 Besides Poisson Cru, our lunch had everything - BBQed meats and seafood, potatoes, salads, rice and bread and fresh fruits and homemade cakes for dessert. Every couple had their own private table with umbrella to enjoy for lunch, making the day feel even more intimate.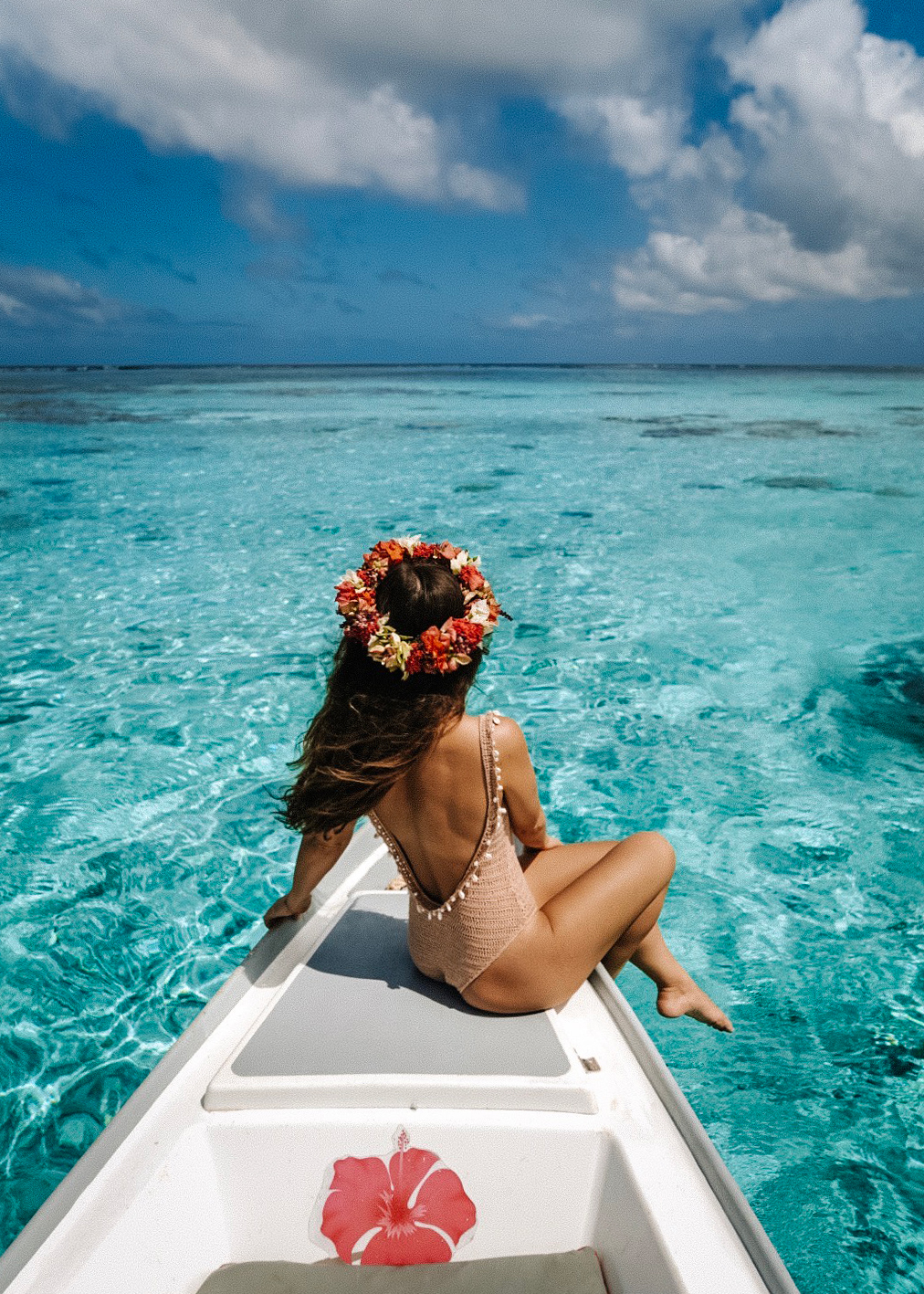 Eventually, our boat dropped us back off at the Four Seasons at around 3:30 or 4PM. The cost for the entire day comes to around $180-200 a person, including transfers, equipment, lunch, and drinks! While this price is definitely more than we typically would spend on excursions, considering the high prices in Bora Bora for food and alcohol, as well as how incredible our entire day was, we felt that the price was very fair, and I would happily do this again!
Like this post? Save it for later!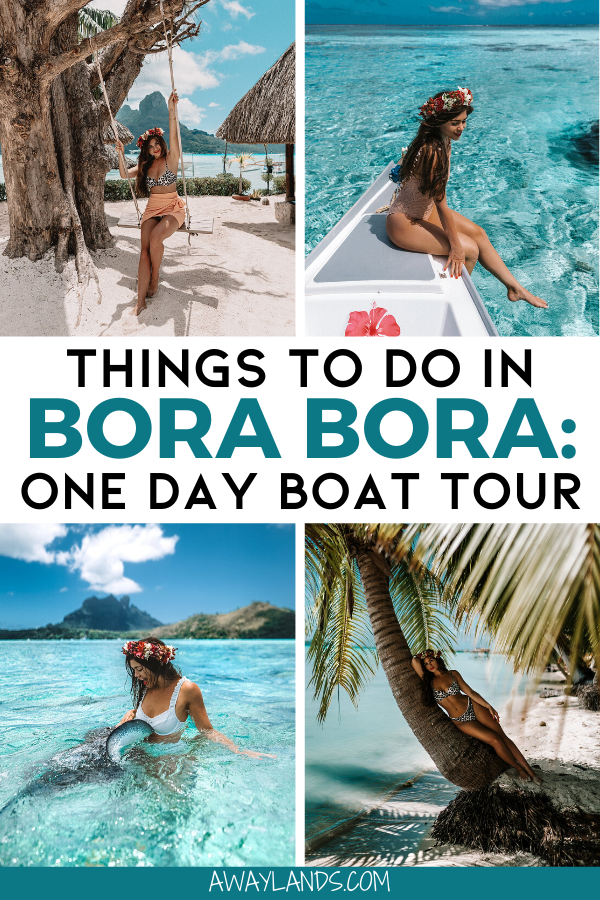 Plan Your Bora Bora Wardrobe: